Do you know that affiliate marketers earn a lot of money with Bluehost Affiliate Program? Bluehost is one of the most well-known web hosts used by more than 2 million sites globally. It is a reliable and secure hosting plan that offers blazing fast site speed and a secure one-click WordPress install.
It is also one of the highest-paying web hosting programs of the current time. Bluehost offers you a chance to make a minimum $65 commission by just promoting Bluehost hosting services to the target audience. You can join it for free as they offer one of the most accurate tracking systems and great affiliate support.
Bluehost Affiliate Program Review
BlueHost Overview
It is one of the best and WordPress recommended hosts that was founded in 2003. They have a huge team of more than 750 members that can help you get started and increase your presence online. The best thing is that their support team is available round the clock to assist you.
Bluehost offers other significant features: free SSL certificates, free domain name registration, cloud hosting, and affordable web hosting services. They have been faithful to WordPress for more than 10 years, and you would be glad to know that it is one of the most prescribed WordPress providers by WordPress.org.
They launched their affiliate program in 2004 and paid more than $5 million in commissions in just a year. One important thing about BlueHost is that it starts at $2.95, and that is a full package for people who are just beginning.
This package comprises of:
A free domain name (.com included) for 1st year
FREE SSL Certificate
Cloudflare CDN
1-Click WordPress Install
Custom Email addresses
24/7 Support
9% uptime
Because of such great features, it makes Bluehost the first Choice of bloggers and small business owners. This is one of the major reasons why selling the Bluehost Affiliate Program would not be a challenge for you.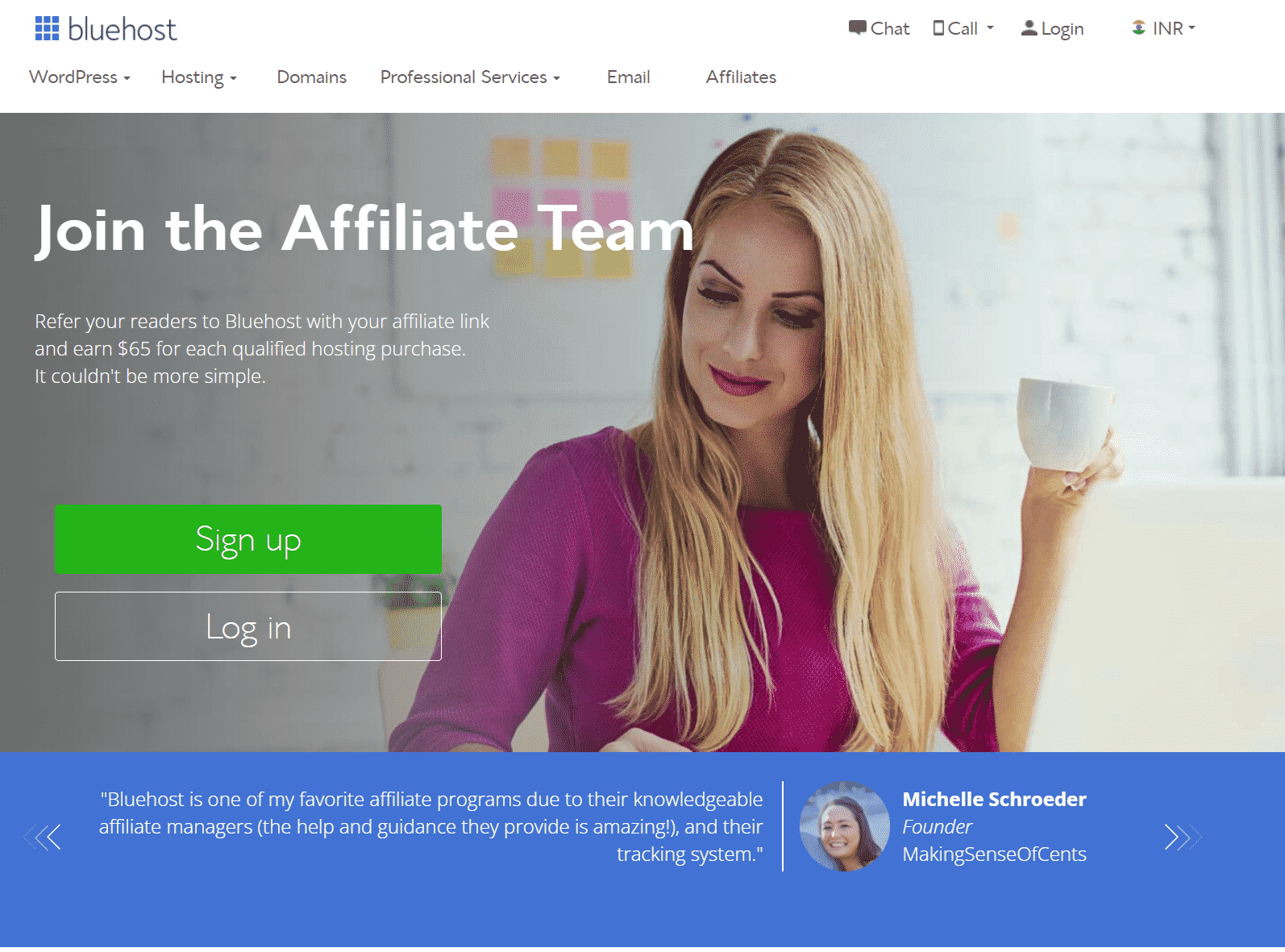 Bluehost Affiliate Program Review
First, let us know in detail about Bluehost Affiliate Program.
What is the Bluehost affiliate program?
It is the best web hosting-related affiliate program where you can signup for Bluehost hosting, which is absolutely free to join. Joining their affiliate program is very simple; it is just like signing up for a program.
Their affiliate program is highly flourishing as they provide an opportunity to bloggers and affiliate marketers to secure good commissions while selling Bluehost hosting products to your target audience. This program has become so successful because you can join them for free and yet earn a minimum of $65for every qualified signup.
Bluehost renders a massive range of hosting services classified at reasonable plans to attract beginners and intermediate web admins. Hence, you have the right to promote those plans you know will be most beneficial to your audience.
Their user interface, particularly their cPanel, is amazingly intuitive and easy to use. As a result, you can safely refer users who are new to web hosting to try out Bluehost plans without worrying that they won't be able to use them properly.
The hosting plans offered by Bluehost are:
Shared hosting
VPS hosting
Dedicated hosting
WordPress hosting
WooCommerce hosting, etc.
Also Read: 25 Best Affiliate Marketing Platforms & Networks
Bluehost Affiliate Program Pros
Bluehost is a goldmine for various affiliates because of the excellent features that it offers and that too in minimum pricing. Here are some of the advantages of being a part of this network: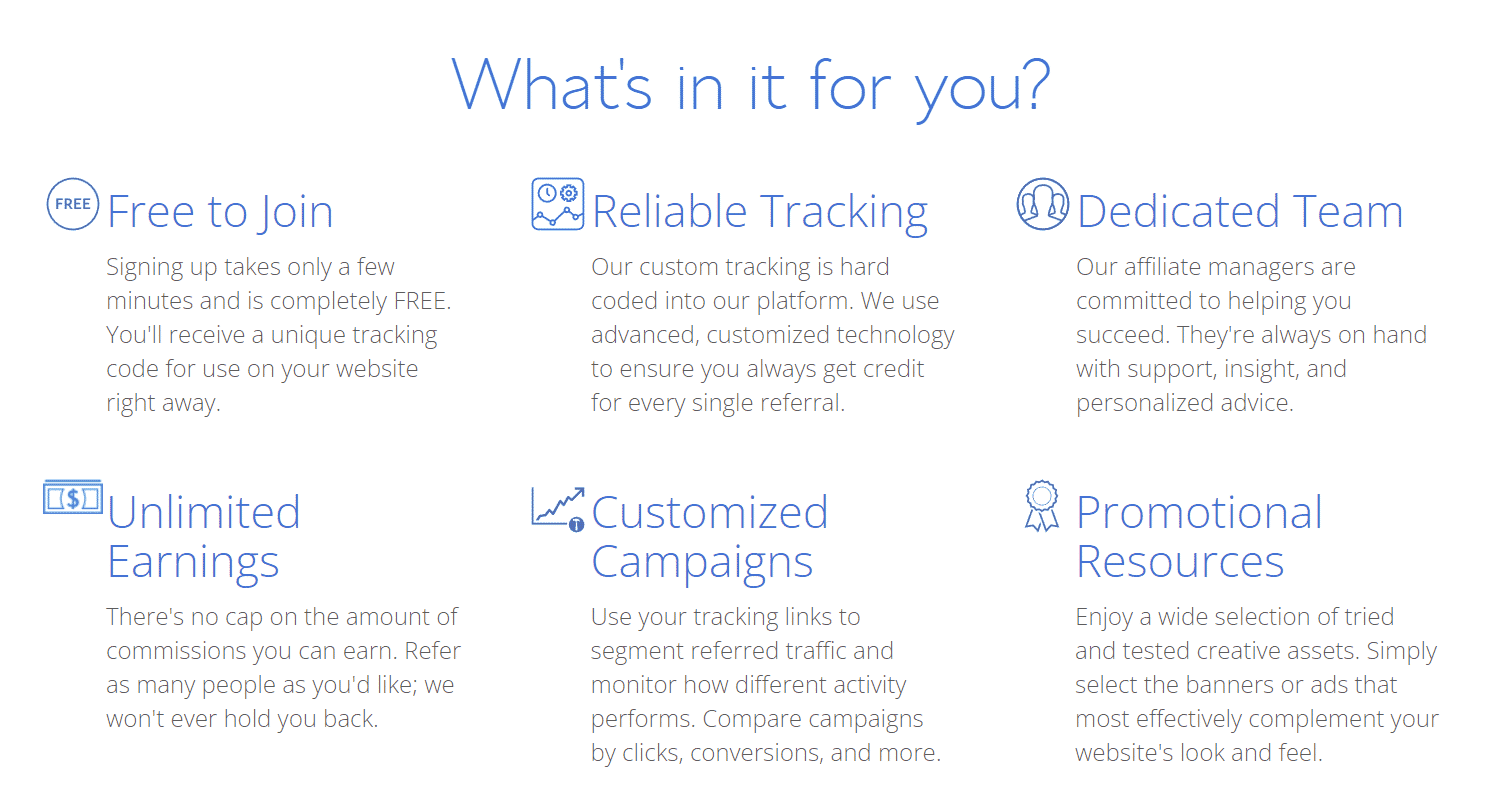 1. Best Tracking system
They offer one of the best tracking systems ever as they ensure that all the clicks are genuinely tracked so that the affiliates get paid for each and every successful referral. As per the reviews of the platform, people have never faced any issues with their payment system or any miss on the transactions.
All this is because they use advanced technology to make sure that their users get paid for every single referral.
2. Low or no barrier to entry
Various affiliate programs have some conditions about joining them. But, Bluehost has no such restriction as anyone who has their own website can be a part of the Bluehost Affiliate Program.
The nice thing is that their application process is quick and simple. No lengthy process and the application gets approved right away.
3. Regular discounts
Bluehost sends a notice about the discount coupons regularly to the affiliate marketers. You can sell these offers on your website, which can help boost your sales.
By using these discount coupons, your target audience could save some money while starting their own blogs; therefore, it is a great way of getting more conversions.
4. Leverage Banner Ads
Along with the text links, you can also include banner ads on the website to entice interested readers to the products of Bluehost. They have simple and straightforward instructions and widgets; hence you would face no issue embedding HTML code and adding banners.
5. A great choice for beginners
Bluehost is a perfect hosting plan even in terms of pricing as its basic plan starts at $2.95 per month, which is a perfect choice for beginners with a limited budget. It comes in almost everyone's budget as there are different kinds of plans and you can choose them as per your requirement and budget.
6. Free SSL and domain for 1 year
They offer free SSL certificates even with their primary shared hosting plan. The best part is that you also get access to a free domain name for a year with every hosting account.
These were some of the main benefits of using Bluehost; all these features together would convince you to opt for it. However, apart from the benefits, it is also essential to know about some of its drawbacks so that you are aware of all the sides of Bluehost before choosing it.
Also Read: 17 Best Free Image Hosting Sites
Cons of Bluehost Affiliate Program
1. Withdrawal limits: It is not possible to withdraw your earnings from Bluehost instantly. You need to make 2 sales before you can withdraw the money. But this limitation is just for the first withdrawal. But after that, you can withdraw your payments whenever you want.
2. User Downgrade Penalties: In case if your referral downgrades their plan, then your referral fee is also deducted from your future earnings.
3. Tough for those inexperienced with SEO: If you wish to become successful as an affiliate marketer, you need to be well-versed with SEO strategies. The major benefit of SEO is that it helps get your content in front of the audience seeking relevant keywords and phrases on search engines.
Getting adequate click-through on your affiliate links for making sales takes a decent volume of traffic. Thus, discover a few SEO tactics before entering the Bluehost Affiliate program.
How to set up a Bluehost affiliate website?
For becoming a Bluehost affiliate, you would require to own a website. If that is what is needed, then why not create a Bluehost website? Let us understand step-by-step how to create a Bluehost affiliate website: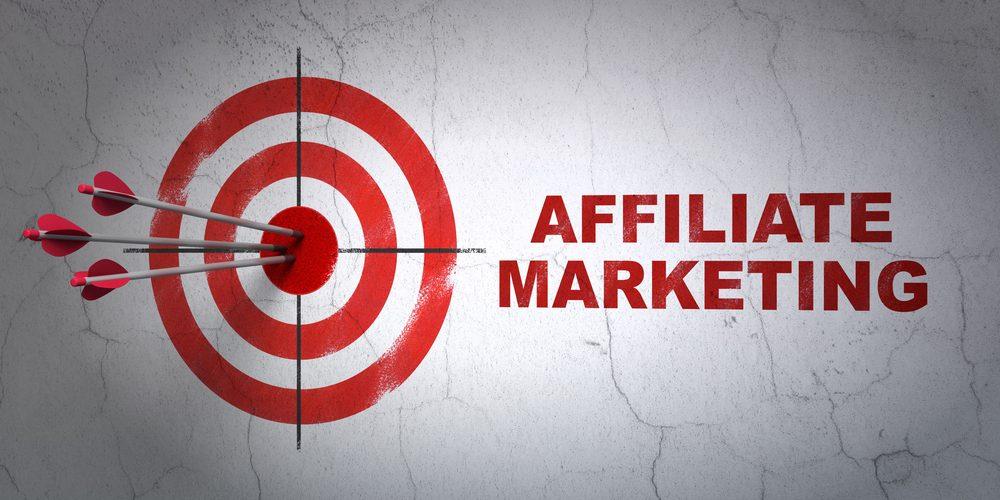 1. Visit Bluehost.com. Click on Hosting- Shared Hosting
It is completely free to sign up. Once you click on the signup option first thing you need to do is, fill in the following details:
Name
Email
Website URL
PayPal email address, etc.
Also, there would be an option of primary URL, where you need to enter the name of your blog.
After that, click on hosting and select shared hosting.
2. Choose a web hosting package
You can select any Bluehost shared hosting plan that meets the requirement of your website, and after that, click on Select.
3. Register a new Domain name or add to own to Bluehost
If you already have a domain name with another service provider, then you would have to set up your Bluehost shared hosting with that URL.
4. Add Bluehost login information.
You need to add the account details. On this page, you will have to enter your preferred Domain Name, phone number, email address, choose add-ons, etc. After filling in all the required details, click on 'Continue' to proceed further.
It will now take you to another page where you need to check the hosting plan details so that there is no error after start-up.
Once you confirm the package, it will direct you to the payment page. Enter your payment details, agree to their terms and conditions and click on 'Submit.'
 Once all these steps are finished, you will be able to use your Bluehost login and create your website by using the Bluehost hosting plan that you like.
Also Read: 50+ Best Recurring Affiliate Programs
What types of products are featured on Bluehost?
Signing up for Bluehost enables you to promote any of their services that come under their hosting services and domain registration. Various big companies in the market surround it, but to date, none of them have been able to beat the commission rates they offer and the services they provide.
There are a plethora of hosting options like virtual private servers, shared servers, and dedicated servers across distinct offers and prices.
All of its services are different in the following ways:
Number of websites you can host
Storage space for images and files
Shared and dedicated servers
Email storage limits
Domain privacy
Spam experts assigned to you
Number of email accounts
Top Reasons to promote Bluehost
There are an array of companies that manage affiliate programs, but why do people choose Bluehost over others? Here is the answer to this question which would clear all your doubts regarding this platform:
1. Large One-Time payouts
They offer a standard commission of $65 for every qualified hosting plan purchase. This amount is far more than what its competitors offer, and the best thing is that there is no cap on how much you can earn. This means that the more sales you make, the more you would be able to earn, which makes your potential income limitless.
 2. Tiered Commission Structure
As their commission starts at $65, which is fixed, but along with that, they also have a tiered commission plan for rewarding successful and loyal affiliate members. This means that if you generate more successful referrals by your affiliate link, then you can make more money from the Bluehost affiliate program.
The tiered commission is around $65 to $130 for each sale that you make.
3. Recommended by WordPress.org
WordPress officially endorses Bluehost as their favored web hosting Choice. This makes it easy for you to convince your target audience to try Bluehost as it is the first choice of WordPress as well. WordPress only recommends 3 web hosts, and when the products you are selling are one of them, it makes it relatively easy to get more sales from the affiliate program.
 4. Amazing support team
Without a doubt, their support team offers top-notch services. Like errors occur in general things you do, the same happens with affiliate platforms, but if you get such great support, the problem becomes small. Their team is available round the clock to help you with any kind of issue that arises.
 5. You get 30 days money-back guarantee
Because they are so confident, that is the reason why they offer 30 days money-back guarantee to all its users. So it doesn't matter what plan your referral opts for; they all would get 30 days money back. This means that they get a complete reimbursement if they ask for a refund within 30 days after signing up.
 6. Strong Conversion rates
Making money from an affiliate network is not easy as you need to strive hard, give a lot of time, dedication, and most importantly, a good content strategy. But, being a part of such a renowned network provides you with various benefits such as you need not promote the brand, they have a low fee for new customers and reliable conversion rates.
All the new bloggers require a web host; with such low-cost entry and excellent product, you would be able to enjoy strong conversion rates.
Bluehost Affiliate Commission rate and Affiliate earnings
Bluehost web hosting affiliate programs offer one of the highest commissions as compared to its competitors. It is $65 for every qualified signup. Various affiliates earn more than $100 commission for every sale. You can even earn $75 per sale when your sales increase to five or ten for a month and $100 per sale if you can make 10 to 15 sales in a month.
Marketers also earn up to $120 per sale if they reach more than 20 sales in a month and make $150 per sale if they start getting more than 50 sales per month.
You would be amazed to know that in 2015, they paid more than $5 million to its affiliates. The amount rises as more and more sales you obtain.
Bluehost Affiliate Payout
You get the first payment after acquiring 2 referral credits, but there are no restrictions after that. You can withdraw the amount whenever you want and as much as you want. They issue the payments within two months after they have been recorded in the affiliate account.
Also Read: How to Make Money through Affiliate Marketing
When do you get paid from Bluehost?
They analyze and process all the sales between 45-60 days after the sale is made. Then, they make the payments from 16-30/31. But, you should have a PayPal account for receiving the payment from Bluehost. With the help of PayPal, you can get all the payments quickly and automatically.
Don't worry; they do not deduct any fee from your earnings, but they might charge you a fee for invalid accounts.
Earning Potential of Bluehost Affiliate Program
The truth is that there is no limit on how much you can earn through this program. They have not capped commission or sales per month/day. The more conversions you can make, the more money you would be able to earn.
Accessing Bluehost Affiliate Dashboard
After the Bluehost Affiliate Team approves your application, you will get a confirmation email that includes your login credentials.
For receiving your affiliate link, you can also log in to the Bluehost Affiliate panel, as there, you would be able to trace all the things related to your account. For doing this, you need to:
Log in to your affiliate account by entering your username and password
As you log in, you would be able to see Bluehost Affiliate Dashboard
On this page, you would be able to see the number of clicks, signups, and earnings for a specific period. Although by default, you will see the prevailing month's data, you can edit the dates to trail your affiliate history as required.
How to get the tracking link?
Getting the tracking link is very simple and straightforward. All you require to do is go to the links section on your dashboard. You would be able to see the affiliate link, which is unique for every user. For earning commission, you would have to use your link on the blog or other medium.
So, if any user purchases the services using your affiliate link, you will get a commission for that, plus you will be able to access numerous banners which can be used on your blog for promoting Bluehost.
Benefits of Tracking Link
With the help of the Tracking Link, you will be able to track a lot of data without any hassle:
1. Campaigns- You would be able to record your personal campaign details as otherwise, you would be able to see information that would comprise of the number of signups and number of clicks date-wise.
2. Pay Period- Here, you would be able to check the total amount due, signups, Bounty per signup, and much more.
3. Referring Links- On this tab, you would get to know the information on the posts getting clicks and signups.
4. Acquisition Details- You get the information on each signup, such as their domain, term, campaign, referring URL, commission amount, and client IP.
5. Payout History- This will help you know your payment history.
Settings
This tab is really helpful as here; you get an option to make changes in your profile that you created at the time of signup. The changes that you would be able to make are the password and just some basic details. The benefit of this feature is that you can also submit the tax form here; it is essential to fill this form before getting the payment.
For submitting the tax form, you need to click on the tax form below the settings tab.
Here you need to fill in this information, where you need to click on Yes if you are a U.S citizen and No if you are from any other part of the world. If you choose No, a form would come up named W-8BEN that is required to be filled to get your payment once it reaches the minimum payout.
If you are a U.S citizen, then you will get a W-9 form that needs to be filled.
On this form, you need to provide some primary details such as your name, address, PAN number, and date of birth. Then, claim a 0% rate and in the provision of articles fill seven.
Tick on the checkbox stating Yes, I have read and acknowledged certification.
Fill in your name in the Signature box.
In the field, capacity in which acting put individual capacity.
Once the form is filled, hit enter on submitting the tax form. Within a couple of minutes, you will get a confirmation mail from the Bluehost affiliate team stating if your form was filled incorrectly or not.
If you do not get an email, then you can also send a mail to affiliates@bluehost.com from your end to check the status of your form.
Also Read: 25+ Best Affiliate Programs in India
How to Increase Bluehost Affiliate Sales?
There are various ways to increase sales and promote an affiliate product, but you should ensure that you start with the product about which you have sufficient knowledge. If you are not informed of the product, you would not be able to build confidence with your audience and promote any product efficiently.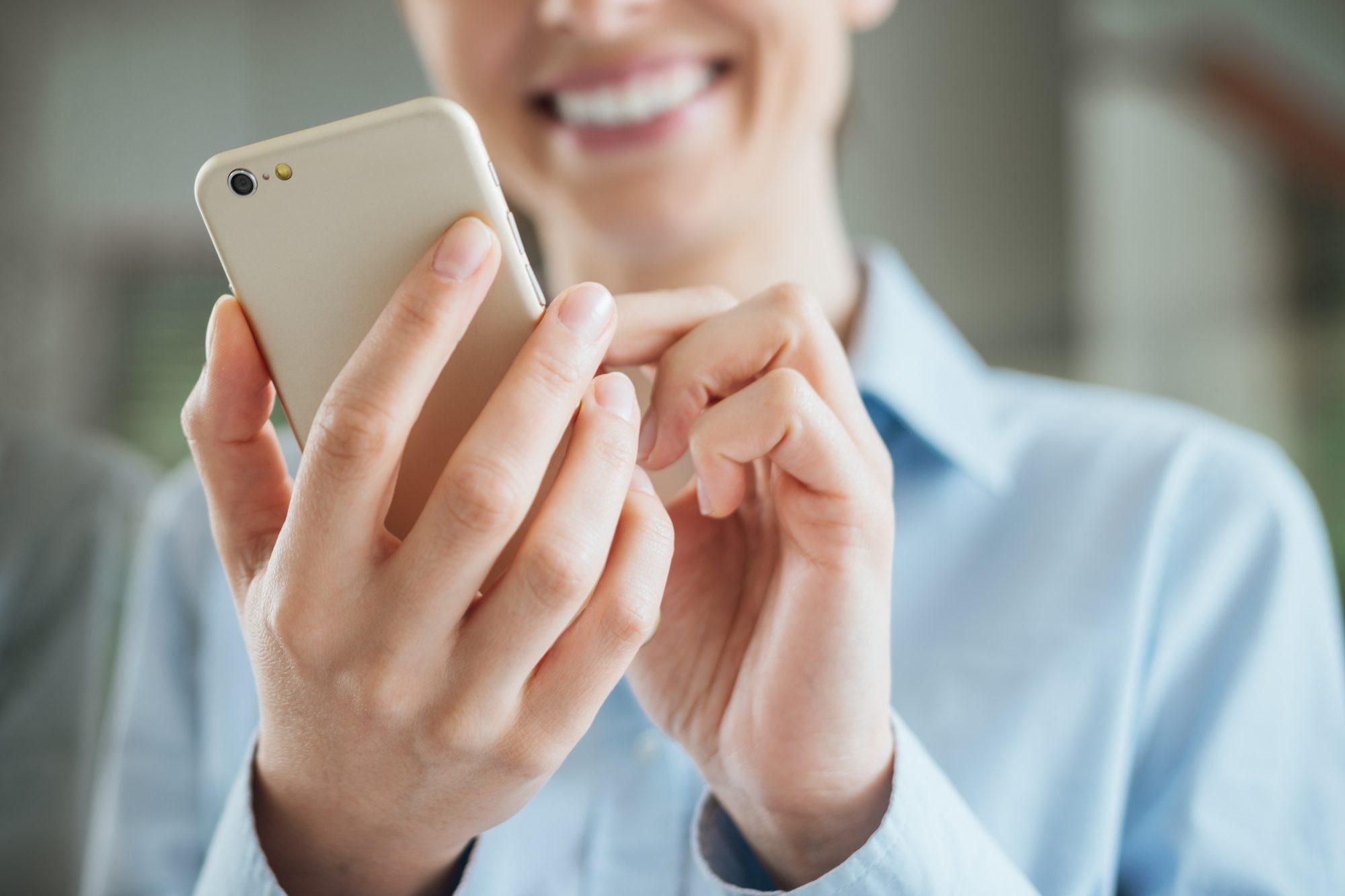 Let us know some more tips on increasing your sales or commission:
1. Setup affiliate website through Bluehost: It is one of the quickest methods for boosting your affiliate sales. Create your affiliate website as Bluehost does not allow advertising their affiliate links heavily on other social media sites because of the whack clicks.
Provide training and education to people following you so that it can help increase your sales as well. Try to host your affiliate link on Bluehost instead of using another web host, as it will give you a better overview of the Bluehost dashboard, uptime, features, etc.
Making your website on Bluehost creates trust in your audience if you also have a website on Bluehost.
Also Read: 14 Ways to Monetize your Website apart from AdSense
2. Build a robust content strategy: You must have heard a lot of times that content is the king; this statement goes perfectly when we talk about the affiliate program. Along with the sales strategy, it is also vital for you to focus on content as if your content isn't top-notch, then no one will buy from you.
For doing this, always start by making a good content strategy as it can help increase more sales from Bluehost. Draft content that reviews Bluehost products and hosting plans. Ensure that you give all the essential information and suggestions related to hosting a website on Bluehost to your potential customers.
You can create content on:
Make a review post around their significant hosting plans
Current deals or discount posts
Create comparison posts of Bluehost with other hosts
How to start a blog and make it a successful type of posts
List posts that mention Bluehost
3. Traffic sources: You might be aware of the importance of website traffic in any online business or program. If you do not have website traffic, you would not be able to make enough affiliate sales. The major currency for online business is traffic and its source.
You should drive quality traffic as there is no point in bringing useless traffic to your website. For increasing traffic on your website, you should use SEO and other social media platforms.
This was about increasing Bluehost affiliate sales, but you can also promote it with Affiliate links as well.
How to Promote Bluehost with Affiliate Links?
Once you log in to your account, your role is to build refined and captivating content that promotes the web hosting services of Bluehost and persuades the reader to become a customer.
Here are a few ways to promote Bluehost affiliate links online:
1. Write Blog posts on commencing a WordPress blog with Bluehost: Many big companies use WordPress as their CMS; some of them are Fortune, TED, and many more. You would be amazed to know that more than 30%of websites run on WordPress, and it recommends Bluehost.
Every day thousands of people search about launching a website and the tips to make it better. You can take this opportunity to write content on WordPress plugins, themes, hosting, etc., and attach your referral link with it. This would help you increase your sale quickly, and you would earn good money using this strategy.
2. Send welcome emails to new customers: For monetizing your blog, email marketing is also an essential step. This technique backs you in creating a community of loyal followers that yearn to read your content. Make a strategy and send all the new subscribers a 'Welcome' email so that they feel important.
Along with the welcome note, also mention starting a blog, discounts available, etc., so that they can consider all the points before coming to a decision.
3. Post Bluehost video reviews: These days, people love watching videos rather than reading content. You can use this strategy and revamp your written Bluehost reviews into videos. Product videos help in the decision-making process; thus, these videos are a wonderful way to transform interested readers into paying Bluehost customers.
Do not forget to include your affiliate links while posting your videos; plus, you can also direct the viewers to click on the link for further information about web hosting.
4. Develop and publish a Resources Page: The role of a marketer is not just restricted to driving sales but is also to educate potential customers. For doing this, you will have to add a Resources page to your website. This page is really helpful as here you get the display tools, strategies, platforms, and products like Bluehost that you recommend readers to use for their website.
A Resource page can also help in generating passive clicks and affiliate revenue.
Also Read: 17 Best Mobile Affiliate Networks
Alternative ways to promote BlueHost
Here are a few clever strategies that you can implement for promoting Bluehost Affiliate Program that would help in increasing the sales tremendously:
1. Blogging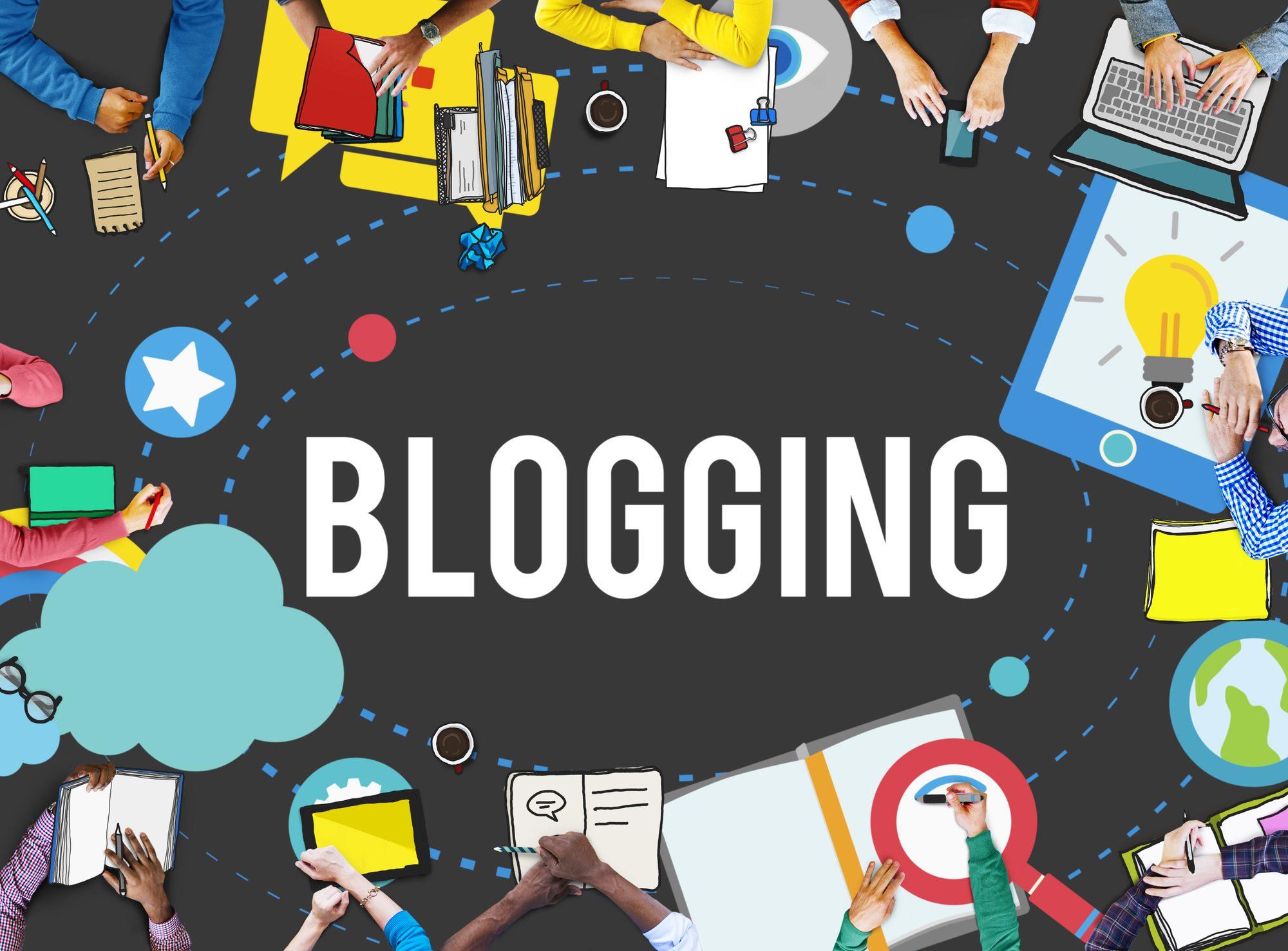 It is one of the most effective channels to make money online and for web hosting services. You would be amazed to know that 99% of the Bluehost sales are done through blogging as per the marketers. So if you create a blog with Bluehost, it would be really beneficial, and doing it takes not more than 15 minutes.
Doing this would also increase your credibility as you are endorsing a product that you actually use. You need to ensure that you plan your content smartly as it should be of high quality, and your affiliate link should fit organically.
When you post about any product, always be fair and write about its pros and cons. This is one of the best ways to build trust with your audience. Also, try and find commercial keywords around Bluehost, as keyword research really helps in multiplying sales.
Some of the commercial intent keywords relevant to Bluehost are-
Bluehost discount
Bluehost promo code
Bluehost deal 2.95
Cheapest Web Hosts for WordPress
Bluehost coupon India
Bluehost renewal coupon
Bluehost hosting deals and the list goes on
Bluehost deals
The benefit of these keywords is that people searching these terms want to make a purchase; thus, it becomes relatively easier for you to target them and turn them into paying customers.
Create Tutorials
People like reading informative content, therefore if possible, make tutorials on the topic around Bluehost so that people can understand things better. Some of the subjects you can include are:
How can you install SSL by using Bluehost
Step-by-step guide on migrating from other web hosts to Bluehost
Starting a WordPress site using Bluehost
How can you secure your Bluehost website
Steps on improvising your Bluehost site's speed and performance
2. YouTube channel
Why not create a YouTube channel on Bluehost and related things? It is the second biggest search engine after Google. In addition, creating a YouTube channel can help promote Bluehost Affiliate Program as if you create videos on Bluehost, including your affiliate link in the description that would boost up your conversion rate.
For driving more traffic to your channel, you can also add your blog posts link in the description.
Also Read: How to Earn Money from YouTube
3. Newsletter

If you already have a list of subscriptions, then you are already above other affiliates who do not possess one as experts say that "Money is in the list." Make an order of information emails that should cover all the features of Bluehost, its benefits, plus an email in the end including enticing content that would want the users to grab the services.
4. Social Media
No wonder social media is skyrocketing as people use these platforms every day. Some of the major sites that you can use to promote are Facebook, Twitter, Instagram, etc., as they can help bring targeted visitors to your website. You can also use paid ads on these platforms and see how they work; if they benefit you, you can use the free version only.
You can also take advantage of it for promoting Bluehost services. Educate people about it, tell its features, ongoing discounts, and persuade your followers to choose this platform over others. For doing this, you can search for Facebook groups where you can share your blog posts, which in turn would drive more traffic to your blog.
5. Quora
It gets you numbers that switch to sales on your online platform. Thus platform is best for bloggers and affiliate marketers as here you get a highly qualified and target audience. You can also get traffic on your website by writing answers to questions related to Bluehost and getting more upvotes, do not forget to add your blog post links to the answers.
How to launch your website using Bluehost?
Here are the simple steps you need to follow for creating a website on your favorite platform Bluehost:
1. Go to the Bluehost website, click on the "Get Started"  button to know about their hosting plans.
2. You will see 3 shared hosting plans from Bluehost. Usually, people opt for the Choice Plus plane for $5.45 per month as it offers great features and benefits such as installing unlimited sites, domain privacy, spam experts, etc.
3. Once you choose the plan, you need to set up your domain; you get a 1-year free domain with Bluehost, so you can choose whichever you like. You can also enter any other domain if you already have one.   
4. Now, you just need to enter your account details for purchasing hosting from Bluehost. Once the payment is processed, create a password and finish your account set up.
You will get a confirmation email after the payment is processed; it will comprise your login details.
FAQs 
Q1) What is the Bluehost affiliate commission?
A1) Bluehost offers a $65 commission for every sale. It also depends on the marketer, as the more sales they generate, the higher commission you can get. Their payment structure is as follows:
→ 1-5 referrals $65 per signup
→ 6-10 referrals $75 per signup
→ 10-15 referrals $100 per signup
→ 20+ referrals $120 per signup
→ 50+ referrals $150 per signup
Q2) How to connect with Bluehost Affiliate Manager?
A2) If you have any doubts about the Bluehost affiliate program or seeking tips on how to raise sales as a Bluehost affiliate, you can email at affiliates@bluehost.com.
Q3) How does the Bluehost Program work?
A3) All you need is to sign up for their affiliate program from the free-of-cost website. Once you signup after that, you need to create your unique affiliate link. As you get your affiliate link, you can start promoting Bluehost using the link and earn a commission for every successful sale.
Q4) What is the primary URL in the Bluehost affiliate?
A4) Primary URL is your affiliate link in Bluehost affiliate.
Q5) Which web hosting affiliate program pays more?
A5) various web hosts pay massive commissions. Below is the list of some of the highest paying web hosting affiliate programs:
Flywheel up to $500
Kinsta up to $500 with 10% recurring commission
Bluehost up to $150
iPage up to $150
A2 hosting up to $140
Bluehost Affiliate Program: Should you join?
It is a great program where marketers can earn unlimited amounts as per the sales they make. Numerous bloggers and affiliate marketers are competing to entice more and more users and ensure that they click on their Bluehost affiliate link. But, if you are new in this field without any existing traffic source, then it might be tough for you to get a footing.
Recommended: Hostinger Affiliate Program Review
Making money through Bluehost Affiliate Program is not easy; it requires a lot of hard work. However, if you have time and are willing to make more money, you need to make a unique sales strategy to promote Bluehost.