Many affiliate marketers often prioritize platforms like Facebook and Twitter, missing out on the untouched potential of Pinterest. Overlooking this platform means neglecting a valuable customer base, as its users actively look for inspiration and are often prepared to purchase unique products. Thus, as an affiliate marketer, your primary objective should be guiding these users towards affiliate products and services you are willing to offer. In this article, we will inform you how to use Pinterest for affiliate marketing and the necessary steps to start your journey on this platform to earn revenue.
What Is Pinterest Affiliate Marketing?
Pinterest affiliate marketing has emerged as a novel and increasingly popular approach in recent times. This innovative strategy involves harnessing the capabilities of Pinterest to promote affiliate products, thereby generating commissions.
Functioning as a visual search engine and social media platform, the platform facilitates the sharing of images and videos. In the realm of Pinterest affiliate marketing, the process entails crafting pins designed to showcase various products and services. Subsequently, individuals can earn commissions when their pins are clicked upon and result in successful purchases.
Utilizing an affiliate link within a prominently pinned image offers the potential for users to make direct purchases from the affiliated company's eCommerce platform. This could result in the acquisition of the product through your provided affiliate link, subsequently earning you a commission based on the product's price.
The practice of sharing affiliate links on Pinterest is widely acknowledged and accepted. As a result, each instance of your pin being viewed enhances the prospect of generating affiliate commissions. However, it remains essential to know how to disclose affiliate links on Pinterest and openly reveal your affiliate association with brands, thereby fostering a transparent rapport with your audience.
Can you Earn Money from Pinterest?
Certainly, generating income through Pinterest is indeed possible! When it comes to earning affiliate sales via Pinterest, it's important to note that Pinterest itself doesn't directly pay you. Instead, your earnings would come from the affiliate network or program you're partnered with.
However, there exist avenues through which Pinterest can contribute to your earnings. One such channel is the Pinterest Creator Rewards initiative. This program enables content creators to craft pins that meet specific criteria and objectives, potentially leading to compensation. Additionally, the Pinterest Creator Fund offers financial grants to a limited number of creators, aiding them in their content creation endeavours.
Aside from these Pinterest-sponsored options, there are several alternative routes to generate income using Pinterest's platform. For instance, leveraging Pinterest to drive traffic to your blog can result in revenue through increased website visits. Similarly, you can use Pinterest to promote your own products, boost visibility for your YouTube channel, cultivate a following on other social media platforms, and subsequently monetize those platforms. The possibilities for generating income with Pinterest's assistance are diverse and extend beyond direct payment from Pinterest itself.
How to Use Pinterest for Affiliate Marketing
By utilizing the effective strategies recommended by Pinterest, along with their precise targeting features and fundamental SEO principles (as even though it's primarily a visual search platform, it functions as a search engine in its own right), you can effectively connect with your desired audience at optimal moments. Furthermore, Pinterest provides access to its Insight tools, which offer valuable information about users, including their preferences, actions, and even demographic information. This empowers you to craft customized and precisely targeted Pins that resonate with the appropriate audience.
1. Discover Your Niche
If you're still in the process of discovering your niche, now is an optimal moment to embark on this journey. Defining a niche empowers you to precisely pinpoint and refine your intended audience. This, in turn, facilitates a deeper comprehension of your audience's requirements, enabling you to present what you offer as a solution to their specific challenges.
Furthermore, establishing a niche streamlines your focus when it comes to generating content for your website. This ensures that your creations remain pertinent to your target demographic. Now you know how to make money on Pinterest with affiliate links.
Moreover, delving into a niche grants you the opportunity to specialize in a specific subject, thereby allowing you to cultivate expertise in that domain. By nurturing a passion for your chosen niche, you can communicate your thoughts and passions more effectively, thereby infusing your communication with an authentic touch.
2. Define Your Objectives
Well-defined and achievable objectives play a pivotal role in any endeavour. They act as compass points, offering a distinct sense of direction and purpose. Goals not only set the course but also provide a framework for progress assessment and growth. By delineating specific aims, objectives enable focused efforts towards success.
Furthermore, they facilitate the identification of strengths and areas needing improvement, fostering a continuous journey of enhancement. In essence, objectives are the cornerstone of effective planning and execution, driving individuals and teams towards excellence. Now you know how to use Pinterest for affiliate marketing.
3. Enroll in an Affiliate Program or Network
Affiliate programs or networks grant you exclusive content to promote on Pinterest. These platforms may also offer special deals for you to share with your followers. For instance, if you have a favourite brand or product, exploring their website could reveal affiliate opportunities.
An alternative route is to become part of an affiliate marketing network. These networks provide access to a wide array of programs and merchants for affiliate marketing on Pinterest for beginners. Acting as intermediaries between affiliates and brands, they offer additional advantages like a smoother marketing process, a designated account manager, and comprehensive reporting. Moreover, joining an affiliate network can enhance your adherence to guidelines. After enrolling in an affiliate program, you'll obtain unique affiliate links for promotion through your Pinterest Pins.
4. Conduct Thorough Research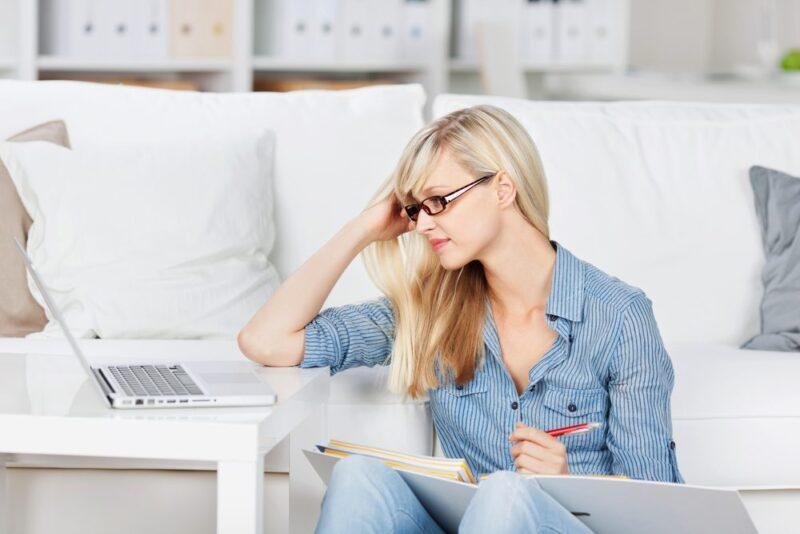 Prior to crafting your Pins, conducting thorough research is essential. Take a close look at your competitors' activities to understand their Pin content and promotional approaches. Define your target audience and explore their preferences and interests. Additionally, staying attuned to emerging trends is beneficial. Integrating all these factors will enable you to devise an enhanced strategy for your Pinterest and website content.
For instance, an emerging trend in social media graphic design involves the utilization of striking and abstract shapes. Hence, it might be prudent to integrate these design elements into your Pins. Now you know how to make money on Pinterest with affiliate links.
5. Stay Aware of the Latest Trends
The preferences of your audience should guide your promotional efforts. Engage with boards showcasing related products or competitor brands, curating content that your desired followers will come across during their Pinterest browsing.
This approach enables you to gain insights into your competitors and develop an enhanced content strategy. For instance, you might observe that in your field, flat-lay product images are gaining popularity, or that hand-drawn designs are experiencing a resurgence in viral trends. Now you know how to use Pinterest for affiliate marketing.
6. Craft Valuable Content on Your Site
Having a website enables you to generate content that aligns with the products or services you are endorsing. This can take the form of videos, Pinterest blog entries, articles, or instructional guides. Should you possess existing content, breathing new life into it by incorporating current information is an option. Infographics are also a valuable tool for conveying information. They possess strong visual appeal, are easily comprehensible, and provide an approachable means for your audience to access the information required.
Cross-Reference: Gael Breton – How He Became The World's Top Affiliate Marketer
7. Create Your Pinterest Business Account
Establishing a Pinterest business account is essential as it empowers you to utilize your profile for business-related objectives. You have two options for this: you can either generate a new Pinterest business account or transform your existing personal Pinterest account into a business-oriented one. In contrast to a personal account, a business account provides you with access to valuable analytical tools and insights. Now you know how to make money on Pinterest with affiliate links.
To create a business profile, follow these steps of Pinterest affiliate marketing sign up on their website:
Step 1: Click on Sign up located in the upper-right corner of the screen. This allows you to do Pinterest affiliate marketing sign up.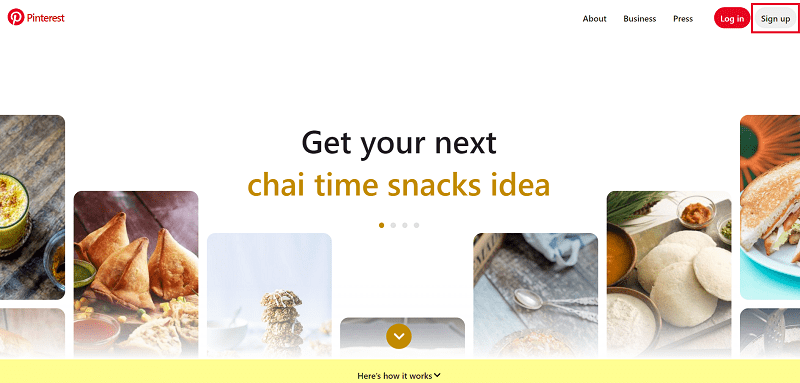 Step 2: Select the option to Create a Free business account.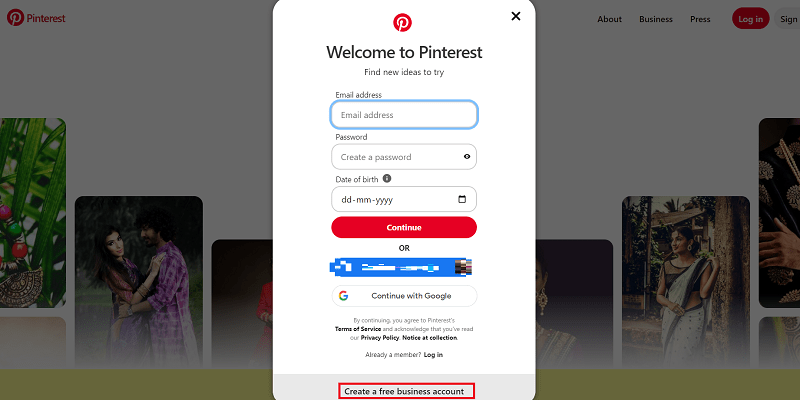 Step 3: Provide your email address, set a password, and enter your age.
Step 4: Proceed by clicking on Create account.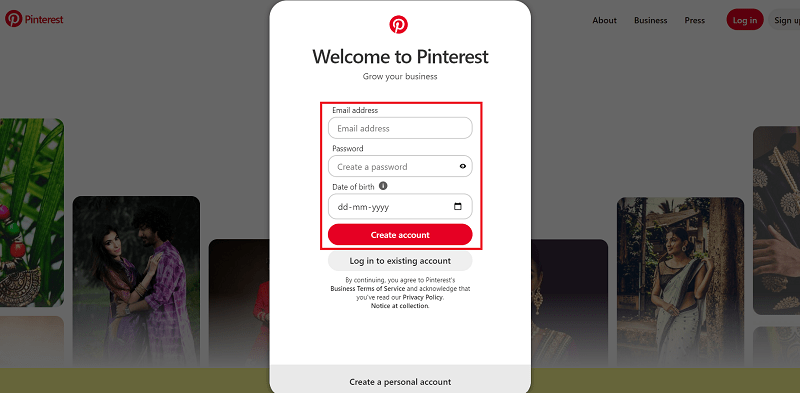 Step 5: Construct your profile by completing the designated fields, then proceed by clicking Next. This ends the process of Pinterest affiliate marketing sign up.
8. Design Captivating Visuals for Your Pins
The thumbnails or images you use for your Pins should be visually captivating, catching the viewer's attention. You have the option to take the DIY approach using graphic design tools like Canva or Adobe Photoshop. Alternatively, you can collaborate with a designer to create impressive visuals for your Pins. Pinterest provides specific recommendations for various types of Pins:
Static Pins: For Static Pins, it's best to use PNG or JPEG format, and they should have an aspect ratio of 2:3 or a size of 1000 x 1500 pixels. This ensures that your images won't be cut off when displayed in feeds.
Standard-Width Video Pins: If you're using video content, make sure your videos are in formats like .mp4, .mov, or .m4v. The ideal duration for your video should be between 4 seconds and 15 minutes.
Idea Pins: When creating Idea Pins, you can use image formats like BMP, JPEG, PNG, TIFF, or WEBP. For videos within Idea Pins, you have the flexibility to upload MP4, M4V, or MOV files.
Remember that adhering to these specifications will help ensure your Pins look great and are displayed correctly on Pinterest. Now you know how to use Pinterest for affiliate marketing.
9. Create Your Pin
After completing Pinterest affiliate marketing sign up and setting up your account, you can begin crafting your Pins on Pinterest using two distinct approaches:
A. Idea Pins
Pinterest's innovative multi-page video format tailored for Pinterest Business accounts is known as Idea Pins. With this feature, you can seamlessly share content directly on Pinterest. You have the ability to design and edit videos spanning up to 20 pages of content. Enhancements like interactive elements, music, and voiceovers can also be incorporated into your Idea Pins.
B. Regular Pins
Upon performing Pinterest affiliate marketing sign up and initiating a search, you'll come across Pins, which are essentially posts on the platform. To generate a Pin, simply choose Create Pin from the Create dropdown menu. This will lead you to a page where you can input Pin specifics such as the title and description. Additionally, you can insert images that will be displayed as thumbnails. Don't overlook the opportunity to include your affiliate link within the Add a destination link segment.
What's especially advantageous about this feature is the flexibility to designate the board where your Pin will be published. To pick a board, just click the dropdown menu adjacent to the prominent Publish button. Moreover, managing Pins is made easy – you can either delete or replicate a Pin. Achieve this by selecting the menu located in the upper-left corner of the Pin details section. Furthermore, the option to craft numerous Pins within the same interface is available by clicking the + icon situated in the far-left corner of the webpage. Once your Pins are ready, you can either publish them instantly or schedule them for a later time.
Furthermore, you have the opportunity to engage in live sessions. By selecting Go live from the Create menu, you can tap into this feature, although it's worth noting that, as of my last update, this functionality remains in Beta mode.
10. Incorporate Pin Details
This is the occasion to showcase your individuality and add a touch of your unique style to your profile. Elevate your presence by including a distinctive title and a pin description enriched with pertinent keywords. This strategy will undoubtedly captivate attention and set you apart from the crowd.
Furthermore, infuse your descriptions with both informative insights and imaginative flair. Utilize them as an integral part of the solution—recall that users visit Pinterest with specific intentions. Provide them with precisely what they seek, be it answers or inspiration. To enhance the discoverability of your pins, consider incorporating relevant hashtags.
Although many affiliate networks furnish pre-designed affiliate pins, don't hesitate to craft your own, adhering to both Pinterest's guidelines and your network's standards. While hashtags remain optional on this platform, they can substantially boost discoverability. Avoid excessive length in your title or description, as lengthy content often leads to waning interest. Now you know how to make money on Pinterest with affiliate links.
11. Add Affiliate Links into Pins
Once you've obtained your affiliate links and created your pins, the next step is to incorporate your affiliate links into these pins. The process is slightly distinct depending on the pin type you're working with.
For Standard Pins and Video Pins, it's more convenient to craft and link them using a desktop computer. On the other hand, if you're dealing with Idea Pins, the current requirement is to use the mobile Pinterest app. This implies that you'll need access to your affiliate links on your smartphone to associate them with Idea Pins.
When you encounter the Add a destination link section, this is where you can paste your affiliate link.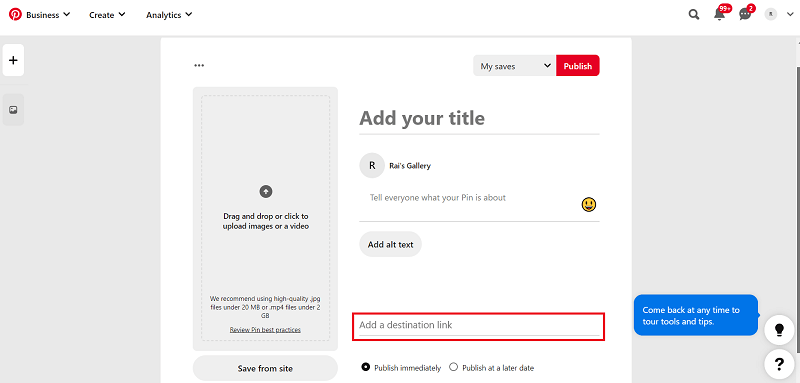 Alternatively, if you're promoting your affiliate content through a blog post, you can insert the link to that blog post here instead. To integrate affiliate links into Idea Pins, follow these steps:
Step 1: Navigate to the specific slide where you intend to include the link.
Step 2: At the bottom of the page, locate and click on the Stickers button.
Step 3: A sticker selection page will appear. Opt for the Product option.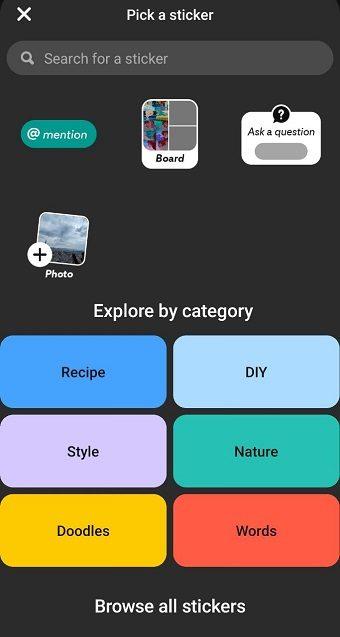 Step 4: If you wish to use a custom affiliate link, click Use a link.
Step 5: Paste your affiliate link into the provided field and initiate the search. If successful, the associated product should be displayed. Select the relevant product by clicking on it.
Step 6: To finalize the link insertion, click on Create in the upper right corner of the screen.
Keep in mind that Idea Pins only support affiliate links from specific platforms like Amazon Associates, Rakuten Advertising, and ShopStyle Collective. Although other link sources can be attempted, they may not be functional at present. Unsuccessful links might result in missing images or error messages.
A crucial step is to activate the toggle labelled This is an affiliate link or sponsored product. This is essential for adhering to FTC guidelines and properly disclosing your affiliate connections. With these steps accomplished, you can then personalize your product tag as needed before publishing the Idea Pin when it's ready for sharing.
It's important to note that, as of now, only product links can be added to Idea Pins, while links to blog posts are not supported. If your focus involves promoting affiliate links through blog content, your main attention should likely be directed towards crafting Standard and Video Pins. Now you know how to use Pinterest for affiliate marketing.
12. Include Proper Disclosures
In accordance with FTC guidelines, it is important to inform about your affiliate status. This means that certain pins or content may be sponsored or include affiliate links. You will find relevant information in the pin description. According to Pinterest's Community Guidelines, it is imperative to include all necessary disclosures that clearly indicate the commercial nature of your content. This includes using the #ad hashtag to signify that your content is part of a paid partnership.
While Pinterest generally advises against using hashtags, this particular Pinterest affiliate marketing rule serves as an exception. You must explicitly state that your content contains affiliate links and utilizing #ad is considered acceptable. For both Standard Pins and Video Pins, this disclosure should be incorporated into the description. In the case of Idea Pins, it's recommended to include this information in the notes section, even though your affiliate link is already supposed to be marked accordingly.
Neglecting to adhere to this disclosure requirement can lead to potential issues with your Pinterest account. Therefore, it's crucial to ensure that you remember and implement this step to maintain compliance, especially for affiliate marketing on Pinterest for beginners.
13. Upload Affiliate Pins onto Pinterest
To place a pin on your Pinterest board, click the plus (+) icon located at the top right corner of the Pinterest homepage. Depending on the scenario, the product originator might supply you with a pre-made pin for affiliate marketing. Alternatively, you may need to craft one yourself. It's advisable to create a minimum of three pins for each affiliate product to effectively captivate a wider audience.
Moreover, endeavour to generate all affiliate links independently, avoiding redirects as Pinterest imposes penalties on such links. Once you have a pin image ready, you can upload it onto Pinterest. Beneath the image, incorporate the affiliate link directly. Lastly, provide a concise pin description outlining the product, and include relevant hashtags to enhance its appeal. This process is straightforward, particularly if you focus on targeting appropriate keywords. Now you know how to make money on Pinterest with affiliate links.
14. Create 7-9 Boards and Commence Pinning
Resist the urge to jump right into creating boards and uploading pins on Pinterest. Take a moment to prioritize crafting relevant and keyword-rich descriptions and titles for both your boards and pins. This step is crucial as it helps your content become searchable and rank better in relevant search results.
Much like Google, Pinterest also aims to provide users with fresh and pertinent content. By employing the right keywords, you're essentially assisting the algorithm in delivering optimal results for your pins. Rather than placing your pins onto general boards, opt for boards that are directly related and incorporate the appropriate keywords. This approach prevents confusion for the search algorithm. When a pin is saved on a generic board, Pinterest's understanding of its content becomes unclear, leading to improper indexing and reduced visibility.
Remember that each time you upload a new pin, the algorithm springs into action. It analyzes factors such as the image, keywords used, and the boards chosen for pin placement. This process ultimately determines how well your pin fares in terms of visibility and engagement. Now you know how to use Pinterest for affiliate marketing.
15. Generate Multiple Pins per Article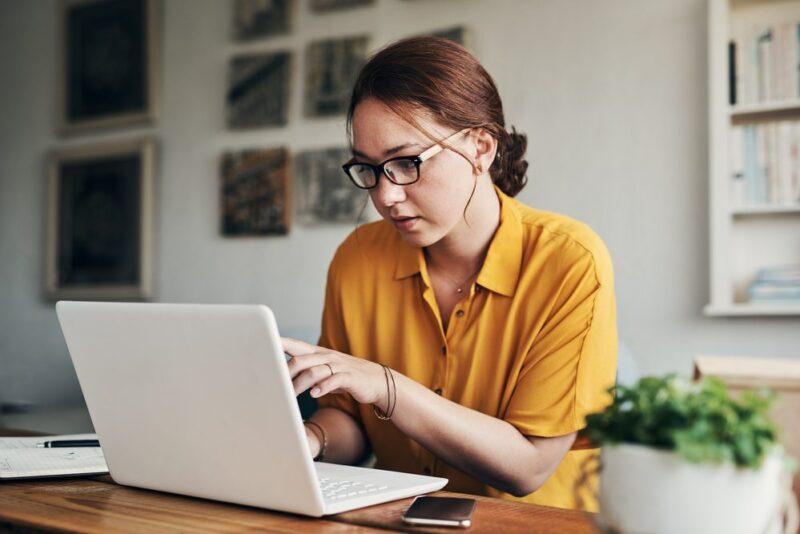 It's improbable that users on Pinterest will show a strong preference for a specific type of pin. When you explore search results within your industry, you'll likely come across a diverse array of visual content, ranging from monochrome photographs to vibrant graphics.
There are no strict guidelines dictating the quantity of affiliate pins you can generate for a singular piece of content or link. The key factor for a successful pin lies in its top-notch visual design, ensuring it stands out amidst the competition. To achieve this, leverage user-friendly DIY marketing tools such as Canva. Experimentation with various pin templates is encouraged, encompassing factors like:
Vertical versus horizontal orientations
Colourful versus black and white images
Usage of stock photos versus custom graphics
Pins with substantial text versus those predominantly visual
Employing a multi-pin strategy also presents an opportunity to target a broader range of keywords. This approach has the potential to curtail the necessity for creating an excessive amount of new content.
16. Implement Optimal SEO Strategies
Pinterest goes beyond being just a social platform and functions as a discovery-focused search engine. To effectively tap into your audience as an affiliate marketer, it's crucial to optimize your profile for SEO purposes.
The Pinterest algorithm relies on connecting pins with appropriate keywords. To start this process, it's important to identify the keywords that your target audience is actively searching for. Search for tools that not only displays the monthly search volume but also offers suggestions based on a primary keyword. Now you know how to make money on Pinterest with affiliate links.
Begin by logging into Pinterest Ads to discover keywords that fall within the 10,000 to 100,000 monthly search volume range. Integrating these main keywords prominently in your Pinboard and pin creatives is key. As the next step, take the chosen keyword and conduct a search on Pinterest to analyze the type of content that ranks well. This will guide you in generating around four to six distinct variations of content.
After collecting your chosen keywords, the implementation of Pinterest SEO requires careful attention to three main areas:
Pinterest Profile: Within your account bio, incorporate relevant keywords that align with the overarching theme of your content. For instance, if you're promoting health supplements, include terms like women's health in your account description.
Pin Description: For each individual pin, get more specific by including keywords that directly relate to that pin's content. For instance, if you're sharing a pin featuring a tutorial on tying shoelaces, ensure to incorporate the keyword how to within the pin description.
Board Description: Boards are more specialized than your profile but not as focused as individual pins. Strike a balance by utilizing middle-ground keywords in your board title and description. For example, if you're creating a board for shoe tutorials, you might employ keywords like shoe tutorials or women's health tips.
Cross-Reference: How Pat Flynn Cracked the Affiliate Marketing Code and Built a Fortune
17. Pre-schedule Pins and Publish Strategically
Eliminate the need for mental reminders to share new pins by employing automation techniques. Tools such as Tailwind, Later, and Hootsuite are designed to relieve you of this task. Establish a personalized schedule and incorporate fresh content into your queue. It will be seamlessly pinned to your board at the designated times.
The most advantageous is pre-scheduling pins significantly enhances the likelihood of engaging users when they are actively online. The Pinterest algorithm showcases novel content on a user's feed, which could be at 7 a.m. for some and 5 p.m. for others. By strategically timing your content throughout the day, you naturally amplify your outreach and visibility, positioning your presence in users' feeds when they are most active.
Especially if your niche site or Pinterest account is relatively new or not yet established, taking gradual steps is crucial. Initially, avoid aiming for an excessive output, such as publishing numerous articles and pins daily. Instead, focus on a measured approach of releasing one to three articles per week and sharing three to 30 pins weekly. Now you know how to use Pinterest for affiliate marketing.
18. Evaluate Key Metrics
Utilize Pinterest's integrated features to gain a comprehensive understanding of your performance and thoroughly assess your campaign's outcomes. This will enable you to ascertain the achievement of your objectives. Identify the Pins that have been instrumental in generating traffic and boosting lead generation.
Evaluate the Pins that are delivering strong results among your target audience. Pinpoint those Pins that are garnering the highest engagement or attracting the most views. In addition to relying on Pinterest's native tools, you can also leverage alternative analytics platforms such as Google Analytics.
19. Share on Other Platforms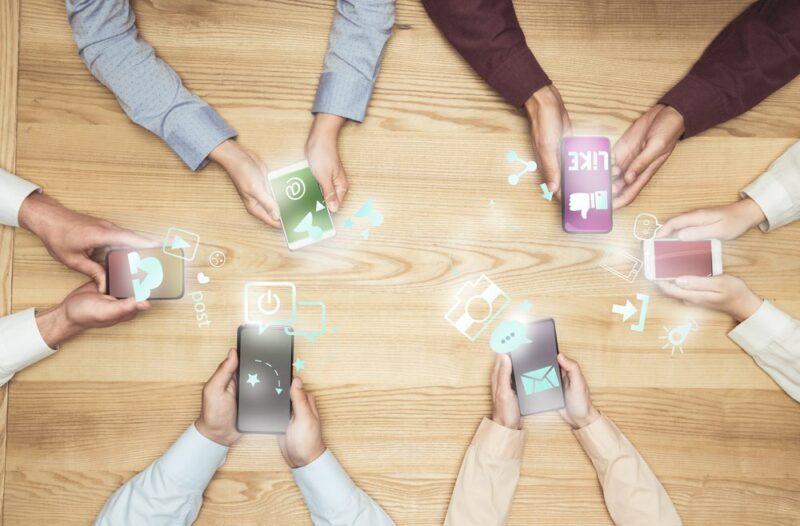 Merely sharing content on Pinterest may not always suffice. It's essential to enhance the accessibility of your links and creations by reaching out to audiences on various other social media platforms. Spread your pins across platforms like Facebook, WhatsApp stories, Instagram, and your blog. Your dedication will directly impact the speed at which your pins gain traction.
Keep in mind that the digital landscape is now saturated with content creators. To stand out, you'll need to invest significant initial efforts, ensuring you outpace the competition. Moreover, maintaining consistency is key, even if you don't experience instant gratification. The effectiveness of your endeavours might fluctuate based on your specific niche and business model, but committing to the long haul will ultimately lead you to triumph. Now you know how to make money on Pinterest with affiliate links.
Also Read: 38 Best Affiliate Programs in India
20. Boost Pin Visibility
Exploring Pinterest advertising remains an underutilized strategy worth considering. By leveraging pins that are already gaining substantial clicks and impressions, you have the opportunity to elevate their performance through paid promotion. Investing a budget allows you to extend the reach of your successful pins to a broader audience.
Pinterest advertisements yield impressive outcomes. According to Pinterest's own data, the effectiveness of an average ad surpasses that of other social media platforms by a factor of two. Additionally, the platform boasts a 2.3 times better cost per conversion ratio. While prioritizing organic growth remains a sound approach on Pinterest, it's equally important not to overlook the potential of promoting your pins through paid means. Now you know how to use Pinterest for affiliate marketing.
21. Rework and Amplify Your Approach
Optimizing your Pinterest affiliate marketing approach hinges on a deep understanding of your pins. To enhance your strategy, it's vital to consistently assess pin performance. Make it a routine to delve into Pinterest analytics and any scheduling tools you utilize for content distribution. By doing so, you'll be attuned to the effectiveness of your campaign.
Leverage Pinterest's native tools to gain a comprehensive overview of your performance and meticulously evaluate your campaign outcomes. This assessment will determine the attainment of your objectives. Identify the pins responsible for steering traffic and bolstering leads. Pinpoint the pins resonating well with your target audience.
Beyond the platform's intrinsic tools, you can also harness supplementary analytics resources like Google Analytics. Forge a tailored Google Analytics segment for individuals arriving at your site via Pinterest. This practice will unveil insights into their interactions during their site visit. Furthermore, your affiliate dashboard holds valuable data about the success of your promoted items on Pinterest. Ultimately, this dashboard mirrors the culmination of your affiliate marketing strategy.
Key metrics that warrant paramount attention during this evaluation encompass the click-through rate, duration of site engagement, and conversion rates. It's crucial to scrutinize pins that received substantial promotion yet yielded minimal product sales, alongside items that garnered remarkable conversion rates without extensive promotion. These insights should steer the calibration of your content strategy.
22. Elevate Your Top-Performing Pins with Promotion
Undoubtedly, the organic sharing of affiliate content on Pinterest yields results. However, if time is of the essence and you're aiming for swift outcomes, investing in promoted pins can be a game-changer. Research states that one out of every two Pinterest users has translated a promoted pin into a purchase. To make the most of this, precisely define your target audience and position your promoted pin prominently within their feed.
The cost of Pinterest advertising varies, contingent on factors like content type, pin style, and industry niche. To gauge your performance, consider these averages as a reference:
$2 to $5 CPM (Cost Per Mille, or cost per thousand impressions)
$0.10 to $1.50 per engagement
$0.10 to $1.50 per website visitor
Maximize your odds of success and subsequently reduce advertising costs by directing your efforts towards promoting pins that have already proven their mettle. Pins with high click-through rates have already demonstrated their ability to drive significant traffic, serving as a solid foundation for your Pinterest advertising strategy. Now you know how to make money on Pinterest with affiliate links.
Pinterest Affiliate Marketing Rules and Tips
Now that you know how to use Pinterest for affiliate marketing, here are some pointers aimed at improving your affiliate marketing performance on Pinterest:
1. Get Acquainted with Pinterest's Policies regarding Affiliate Marketing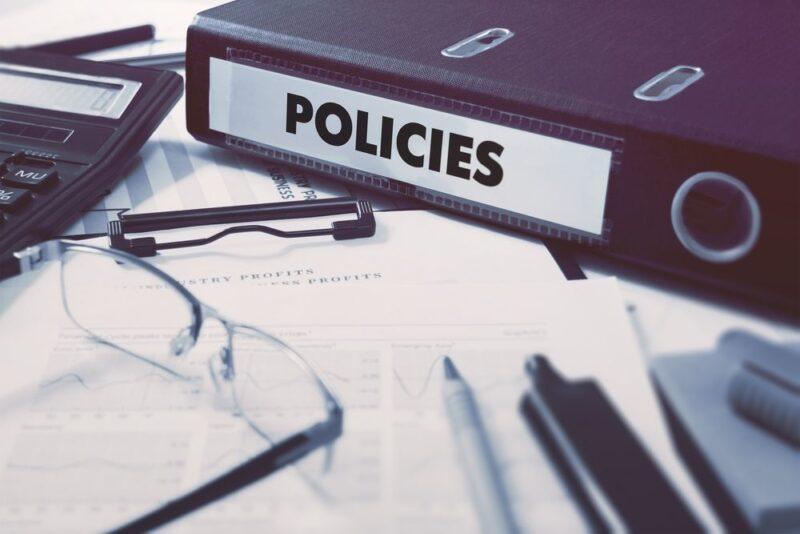 Prior to sharing your Pins, it's advisable to become well-versed in Pinterest affiliate marketing rules and community guidelines. These guidelines underscore the importance of ensuring that affiliate content is both original and contributes value, all while maintaining transparency. Additionally, it's recommended to maintain a singular Pinterest account to guarantee an authentic presence on the platform. The comprehensive guidelines can be accessed here.
2. Maintain Engagement with your Audience
Ensure you engage with your audience consistently by responding to their comments and showing appreciation for their other content. This not only fosters a stronger connection but also contributes to cultivating a devoted community of followers.
3. Incorporate Diverse Marketing Instruments
Integrate various marketing tools into your strategy to enhance your efficiency and generate more effective Pins. For instance, leverage graphic design platforms such as Canva to craft eye-catching graphics and utilize Google Analytics for gauging your overall performance. Now you know how to use Pinterest for affiliate marketing.
Also Read: 50+ Best Recurring Affiliate Programs
4. Carefully Select the Products to Endorse
When deciding which products to endorse, take into account your target audience, the demographic of Pinterest users, trending subjects on the platform, current fads, and frequently used keywords. Failing to endorse products that align with users' genuine interests might result in challenges when attempting to generate sales.
5. Continuously Innovate and Amplify Successful Approaches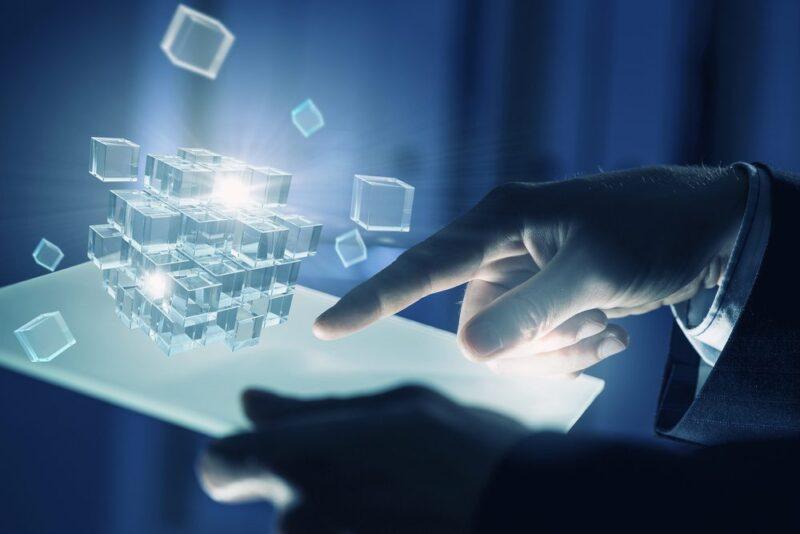 A highly effective strategy on Pinterest involves continuous experimentation with various elements such as pin formats, designs, titles, and colour schemes. This process requires patience, as Pinterest results may not manifest immediately. Now you know how to make money on Pinterest with affiliate links.
Once you identify what yields positive outcomes, channel your efforts into producing more of the same. Integrate the successful components into a greater portion of your pins. To discern the efficacy of your content, leveraging Pinterest analytics is strongly advised. For a more comprehensive data review, it's recommended to utilize Pinterest Analytics on a desktop platform.
6. Address Inquiries and Remarks regarding the Product
Engaging with comments on Pinterest is a valuable strategy for creators, particularly when aiming to boost sales. Often, users might inquire about a product or share their own encounters, making it a prime opportunity to establish trust and enhance product promotion. Accessing recent comments on your pins can be done on desktop, located in the upper right-hand section of your profile.
7. Maintain a Consistent Publication Schedule for New Pins
A crucial element of an effective pinning strategy involves maintaining a steady flow of new pins. Strive to release at least one fresh pin daily, although some experts in Pinterest marketing advocate for an even higher frequency. By consistently generating pins to endorse your affiliate links, you amplify the opportunities for your pins to gain visibility, resulting in potential conversions and commissions.
8. Exercise Caution with Repetitive URLs (or Affiliate Links)
Excessively pinning the same URL can trigger Pinterest's spam detection mechanisms and potentially subject your account to their spam filter, a situation best avoided. This spam filter essentially imposes a shadow ban on your Pinterest profile. To mitigate this, it is recommended to allow a minimum of 24 hours before reposting the same URL on Pinterest. For greater prudence, consider extending this interval to a few days. Now you know how to use Pinterest for affiliate marketing.
Also Read: 37 Best Gaming Affiliate Programs
9. Avoid Outdated or Ineffective Pinterest Practices
Steering clear of outdated or detrimental Pinterest practices is crucial for maintaining your platform's growth trajectory and account integrity. Certain practices to avoid encompass:
Omitting the use of hashtags.
Exercising caution with group boards, as their impact has diminished over time.
Emphasizing original pins over excessive repinning.
Prioritizing the creation of fresh pins while refraining from duplicating content.
Refraining from keyword stuffing and instead incorporating keywords organically.
Sustaining alignment with contemporary Pinterest practices and strategies is vital to ensure that your efforts contribute positively to the growth of your Pinterest account.
10. Enable Rich Pins
Elevate your Pinterest presence by utilizing rich pins, which offer more comprehensive details compared to standard images. These pins include additional information directly within the pin's description, making them stand out in busy feeds. This heightened visibility increases the potential to attract higher traffic through Pinterest. Now you know how to make money on Pinterest with affiliate links.
Activate rich pins for the following content categories:
Products: Display current pricing and availability information in the rich pin.
Recipes: Showcase cooking duration, ratings, ingredients, and serving portions within the rich pin.
Articles: Highlight the headline, description, and author details in the rich pin.
To better understand the appearance of rich pins once implemented and to enhance your products' chances of drawing traffic from Pinterest, refer to the accompanying image. Although the process of enabling rich pins may seem intricate, it's a one-time setup. Follow these steps, and all your subsequent pins will automatically become rich pins, provided they meet the criteria:
Embed rich meta tags into the pages where you want to utilize rich pins. This could include a blog post reviewing an affiliate product.
Employ the rich pin validator tool to verify the accurate uploading of these tags.
Choose the method through which you've incorporated rich meta tags: HTML, oEmbed, or Shopify.
If everything appears correct, click the Apply Now button and allow 24 hours for your rich pin application to receive approval.
11. Pin to Group Boards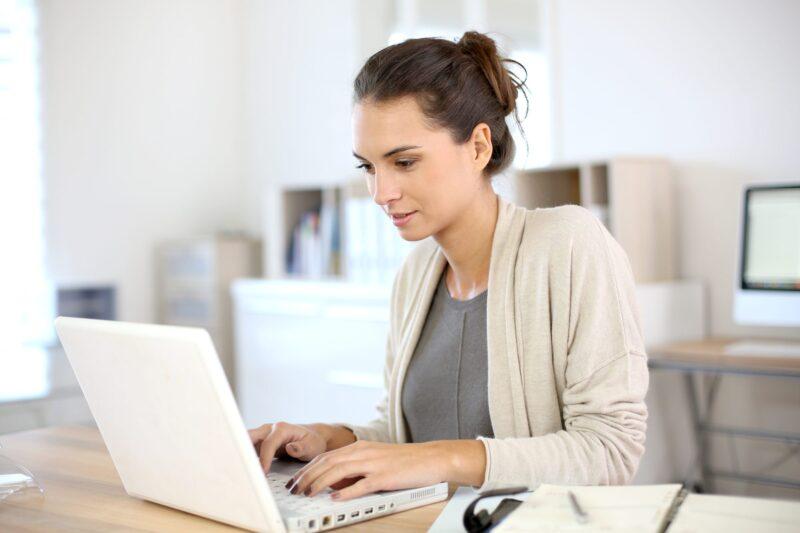 Utilizing group boards on Pinterest goes beyond individual mood boards, as they offer a collaborative space for multiple users to curate content. These community-oriented boards not only foster a sense of shared interest but also amplify visibility. By engaging in mutual promotion, users tap into each other's audiences, yielding greater exposure.
To tap into this dynamic, you can leverage tools to identify group boards relevant to your affiliate products' niche. It's important to note that some group board administrators might have guidelines for posting new content. In instances where direct affiliate links to product pages aren't permitted, a workaround involves using blog articles or YouTube videos as landing pages. This approach circumvents restrictions and maintains a productive presence on these group boards.
12. Generate an Email List using Pinterest
Constructing an email subscriber base via Pinterest presents its challenges. Users tend to engage with the platform for future-oriented inspiration rather than seeking immediate solutions or purchases facilitated by affiliate marketing. This perspective extends beyond the typical lifespan of affiliate cookies.
Given this context, the optimal approach for successful Pinterest-based affiliate marketing involves gathering readers' email addresses. This strategic move enables the utilization of drip email campaigns to gradually educate and familiarize subscribers with your offerings.
The process starts with the inclusion of an email opt-in mechanism on your landing page. By enticing Pinterest visitors with an incentive like a lead magnet, a discount code, or another valuable free resource, you can encourage them to join your mailing list.
After successfully capturing their contact information, the next step involves constructing a well-structured email campaign. This campaign serves as a nurturing journey for your subscribers. Through this direct communication channel, you can effectively maintain engagement and provide information, ensuring that the potential for commissions isn't lost when a Pinterest user leaves your site without an immediate affiliate product purchase.
13. Engage with Fellow Users
Just like on any social media platform, enhancing your online presence involves elevating your level of activity. Take the time to respond to comments made by users on your pins, discover and browse through other boards within your specific interest area, and consider repinning or leaving comments on pins that resonate with you. This active participation can help boost your visibility and engagement. Now you know how to use Pinterest for affiliate marketing.
14. Utilizing Marketing Tools on Pinterest
In our daily operations, the integration of marketing tools has become indispensable. These tools not only enhance our efficiency by automating tasks but also expedite the process of capitalizing on web traffic. Below is a concise compilation of valuable tools that can significantly enhance your performance on Pinterest:
Canva and Adobe Spark: These platforms prove invaluable for crafting captivating visuals that grab attention.
Hootsuite: Streamline your Pinterest engagement by utilizing Hootsuite to schedule your pins effectively.
Supermetrics: Gain deep insights into your performance through the analytical prowess of Supermetrics, enabling you to make informed decisions based on data.
By incorporating these tools, you can optimize your Pinterest strategy and achieve enhanced results.
15. Increase your Website Traffic and Earnings
Direct your efforts towards expanding both your website traffic and income. Consistently offer valuable and top-notch content to entice and captivate your audience. Employ Pinterest Analytics to track your progress and gain insights into the performance of your pinned images on Pinterest. This knowledge should be utilized by affiliate marketers to fine-tune their approach, enhance Pins, and escalate their earnings.
Additionally, you might want to explore the option of utilizing Pinterest ads to further enhance your brand's visibility, reach, and audience engagement. Always keep in mind that the crux of advancing your traffic and income on Pinterest lies in maintaining regularity, fostering ingenuity, and fostering active user participation. Now you know how to make money on Pinterest with affiliate links.
Cross-Reference: 7 Ways To Use Pinterest To Drive Traffic & Sales To Website
16. Choose Appropriate Boards
The success of your Pinterest affiliate marketing campaign hinges on the appropriateness of your boards. Once your affiliate pins are prepared, it's essential to save them to boards that are contextually relevant. However, this task is often more challenging than it seems, and many affiliate marketers struggle with it. The impact you're aiming for with your pins can only be achieved if they are placed in the right boards.
It's advisable to search for boards that share similarities in title and description with your targeted keywords. Pinterest places significant emphasis on board descriptions when displaying search results, making thorough research in this aspect crucial. Moreover, rather than outright deleting old boards, it's better to archive them when they no longer align with your niche. By doing so, your followers can still access them, but they won't appear in search results. This approach helps avoid confusion down the line.
17. Choose the Right Keywords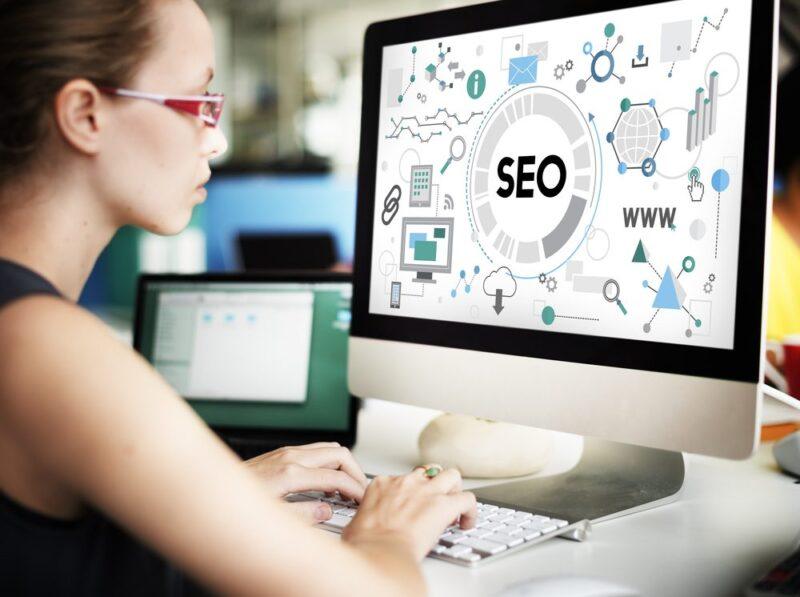 Crafting effective content for Pinterest requires a strategic approach that emphasizes high quality. By following the right strategies, you can excel in the realm of Pinterest affiliate marketing.
Begin by identifying the optimal keywords relevant to your niche. Utilize third-party tools to assist you in this endeavour. It's crucial to note that a significant portion of Pinterest users employ uncomplicated language when conducting searches. Therefore, during the keyword selection process, make sure to incorporate these straightforward terms. Remember that the popularity of keywords fluctuates over time, necessitating your ability to adjust and evolve.
In order to succeed, it's essential to rephrase and rework your content diligently. This ensures that your pins align seamlessly with the preferences and expectations of Pinterest's audience. Through a thoughtful and strategic approach, you can undoubtedly achieve remarkable results in the realm of Pinterest affiliate marketing.
18. Experiment with Various Buying Guide Links
One highly impactful approach to leverage Pinterest for affiliate marketing involves experimenting with links to your curated buying guides. These guides serve as platforms for offering insightful recommendations to your audience.
Craft a captivating image that directs users to a detailed buying guide and assess its ability to drive traffic. Within these guides, strategically incorporate affiliate links and compelling Call to Actions (CTAs) to persuade readers towards making purchases. This tactic also serves as a valuable tool for measuring the Pinterest-originating traffic directed to your affiliated websites. Now you know how to use Pinterest for affiliate marketing.
19. Do not Engage in Link Cloaking
Link cloaking involves concealing an affiliate link's true URL by shortening it and concealing the associated affiliate ID. As the ID becomes less noticeable, the commission potential remains obscured from users.
However, employing this technique on Pinterest is not aligned with transparency. The platform doesn't permit the use of shortened or cloaked links through tools like Pretty Links. To ensure compliance with Pinterest's advertising guidelines and to maintain a positive trajectory for your affiliate marketing endeavours on the platform, it's imperative to refrain from link cloaking.
20. Utilize Premium, Paid Stock Photos
Pinterest thrives on captivating visuals, and investing in top-notch imagery is paramount. Avoid opting for inexpensive images for your pins, as this could potentially harm your brand's image. To foster the expansion of your follower base, it's crucial to exclusively employ high-quality stock photos for all your pins.
The caliber of your pins directly influences the response people are inclined to exhibit. When your images boast high resolution and relevance, they naturally lead to increased conversion rates. The excellence of your pins plays a pivotal role in shaping the type of engagement individuals are prepared to undertake. By incorporating high-resolution and pertinent images, you set the stage for heightened conversion metrics. Now you know how to make money on Pinterest with affiliate links.
21. Engage Effectively with Your Audience to Maintain their Interest
Engagement on social media platforms is a two-way street. To cultivate a dedicated following, it's essential to actively interact with your audience. This involves responding to comments, appreciating posts, and sharing valuable content.
By investing time in connecting with your audience, you pave the way for reciprocal engagement. This interaction fosters a strong bond with your followers, increasing the likelihood of them becoming future customers.
22. Consider Consistency as a Crucial Factor
In the realm of Pinterest affiliate marketing, the key to success lies in maintaining a consistent presence. Aim to craft a few pins daily or curate one to three boards per week. Develop a streamlined workflow and leverage scheduling tools to ensure a steady and dependable output.
23. Keep Your Recommendations Up to Date
Both Pinterest users and the platform itself appreciate fresh and original content. To keep your pins relevant and engaging, regularly update them and share new listings as they emerge. Now you know how to use Pinterest for affiliate marketing.
24. Acquaint Yourself with and Follow Pinterest's Community Guidelines
Pinterest's Community Guidelines serve as a valuable resource for affiliate marketers, whether you're a newcomer or an experienced professional. These guidelines encompass crucial aspects such as website security, spam prevention, and guidelines for paid collaborations. By following these guidelines, you create a secure and seamless experience within the Pinterest community.
25. Learn about the Regulations of Your Affiliate Program
It's essential to familiarize yourself with the specific Pinterest affiliate marketing rules and regulations of your affiliate program. Some affiliate marketing on Pinterest for beginners might prohibit direct linking to product pages, while others allow it. By gaining a comprehensive understanding of your Pinterest affiliate marketing rules and guidelines, you can proactively avoid potential issues in the future. Now you know how to make money on Pinterest with affiliate links.
26. Own a Personal Website with Accompanying Blog Articles
Owning your own website and maintaining a blog can significantly enhance the effectiveness and sustainability of your Pinterest affiliate marketing efforts. When you have a website, you gain the advantage of directing your audience to informative blog posts or dedicated landing pages, rather than simply leading them to direct product sales pages.
This approach carries multiple benefits. Firstly, it's a safer route as you steer clear of the risks associated with sharing direct affiliate links within your Pinterest pins, which could potentially lead to penalties. Secondly, the permanence of shared pins makes it challenging to make changes to affiliate links. If a pinned affiliate link becomes broken, altered, or requires updating to a more favourable product or program, you forfeit potential sales from those reshared pins.
The importance of diversification in any entrepreneurial venture holds true for affiliate marketing as well. A dedicated website opens up numerous avenues for long-term profitability, even if your Pinterest campaign achieves remarkable success. Additionally, it's worth noting that you can effectively monitor organic traffic through affiliate marketing tools. In this context, Pinterest serves as a potent supplementary tool that enriches your overall affiliate marketing business strategy. Now you know how to use Pinterest for affiliate marketing.
27. Learn Continuously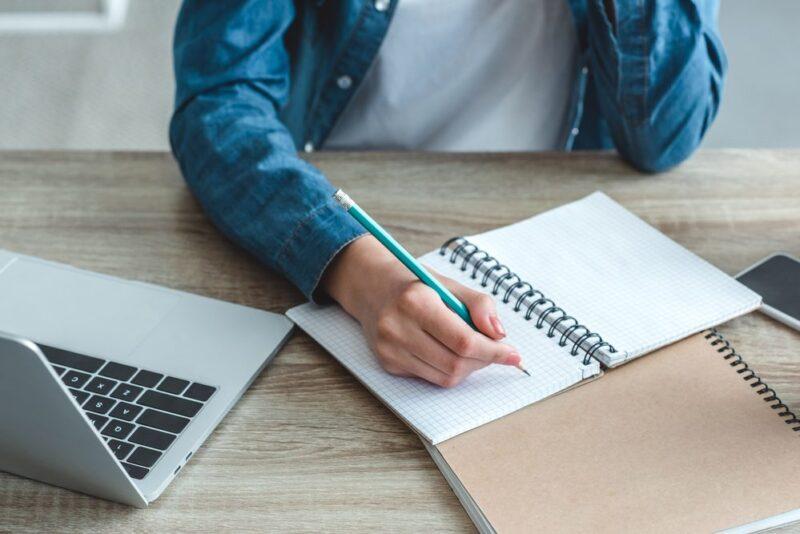 In the ever-evolving landscape of the digital realm, maintaining relevance necessitates a perpetual enhancement of your skill set. Failing to consistently acquire knowledge, remain attuned to emerging trends, and explore novel avenues of potential gain can swiftly render you obsolete. Regrettably, this reality holds true for a multitude of digital pursuits. Given the constant flux in this domain, it is imperative to fortify your proficiency in affiliate marketing to ensure unwavering competence.
How to Disclose Affiliate Links on Pinterest?
Publishing affiliate links on the internet is against the law unless you explicitly reveal your connection with the business and the possibility of you benefiting from endorsing the product or service. It's a matter of equity that your audience is informed about this affiliation. Thus, knowing how to disclose affiliate links on Pinterest is essential for starting affiliate marketing on Pinterest for beginners.
Your audience won't incur additional expenses if you receive minor compensation for suggesting a product. Moreover, being open about your potential gains can establish a sense of trust between you and your audience. The most effective approach is to incorporate the product or service within valuable content for your followers, as this will be the driving factor behind their purchasing decision.
When you do Pinterest affiliate marketing sign up and post affiliate links, it's essential to provide disclosure. A simple method to ensure proper disclosure for affiliate links on Pinterest is to include a hashtag like #ad or #sponsored within the pin's description.
You can achieve the same outcome by incorporating a disclosure statement within your pin descriptions. Here's an illustration of a disclosure statement you could use: "Please note that this post includes affiliate links. If you click on any of these links and make a purchase, I may earn a commission."
By including such a disclosure statement, you're informing your audience about the utilization of affiliate links. It's a way to ensure transparency and make them aware that the links they're clicking on could potentially generate a commission for you. This approach fosters credibility with your audience and has the added benefit of potentially boosting the click-through rate on your affiliate links. Now you know how to disclose affiliate links on Pinterest.
Benefits of Pinterest Affiliate Marketing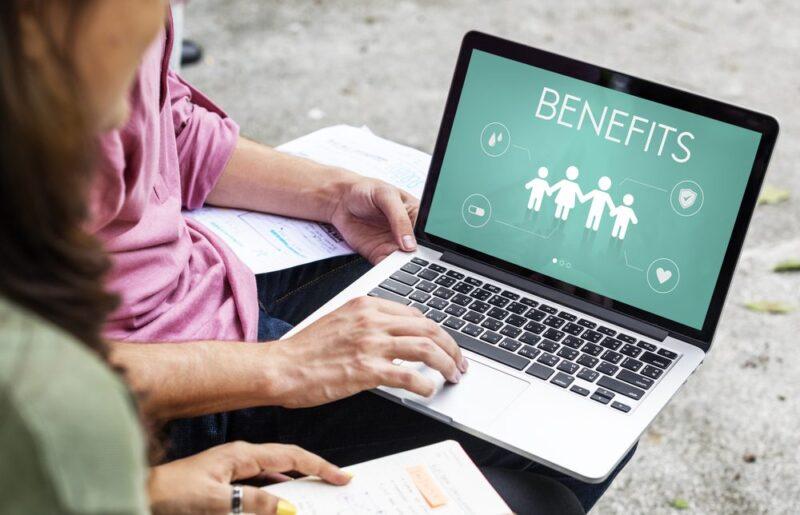 1. Valuable Traffic Source: With a user base exceeding 400 million monthly active users, Pinterest predominantly attracts a female audience. The platform serves as a hub for users seeking novel concepts and products, offering affiliate marketers access to a stream of high-quality traffic.
2. Prolonged Impact: Diverging from the norm of fleeting social media content, Pinterest maintains the longevity of its content. Pins possess the ability to consistently channel traffic and generate affiliate earnings for extended periods, sometimes spanning months or even years. This positions Pinterest as an optimal platform for perpetually relevant content that can sustain revenue long after publication.
3. Strong User Engagement: Pinterest users exhibit a high level of engagement, displaying a willingness to take immediate action. This translates to a higher likelihood of them clicking on your affiliate links and completing purchases.
4. Reduced Competitive Intensity: In contrast to its social media counterparts, Pinterest boasts a lower level of competition for affiliate marketers. This diminished rivalry simplifies the process of gaining visibility for your content, leading to enhanced traffic generation and revenue.
5. Effortless to Start: Embarking on a journey of Pinterest affiliate marketing demands minimal effort. The process of Pinterest affiliate marketing sign up, a task accomplished with a mere few clicks, acts as the fundamental prerequisite. Subsequently, you can readily craft pins and steer traffic towards your affiliate links.
6. Higher Visual Impact: An additional incentive for showcasing your website and affiliate offers on Pinterest stems from its unique status as the sole social media platform that facilitates visual search functionality. The user base of Pinterest actively seeks out products and brands. By establishing a presence on Pinterest, your affiliate enterprise can greatly enhance its brand visibility, effectively display featured products, and notably, spark inspiration among users.
7. Requires Less Time: Pinterest enables you to effortlessly suggest affiliate links and products to your followers using visually appealing pins. It's as straightforward as that. In contrast, crafting blog posts, conducting reviews, or creating tutorials demands a significant amount of time. While these methods are effective, Pinterest offers a time-saving alternative.
8. Long-Term Strategy: Pinterest offers a lucrative avenue for establishing an affiliate revenue source due to the enduring nature of pins. Unlike tweets or Instagram stories, which fade away within minutes or hours, pins can be preserved on boards for extended periods, ranging from months to even years.
9. Higher Conversion Probabilities: Pinterest users frequently adopt a receptive purchasing mindset. Their primary motive for visiting the platform is to find inspiration and options for their next acquisitions. Consequently, the likelihood of these users transitioning into buyers upon engaging with an affiliate link is notably heightened.
10. Search Engine Optimization Benefits: Beyond being a social media platform, Pinterest functions as a search engine too. Through effective optimization of your pins using pertinent keywords, you can enhance their discoverability, reaching a broader audience.
11. User-Friendly Interface: Pinterest boasts an intuitive and user-friendly interface. This means you can commence pinning and promoting your affiliate links without any significant learning curve.
12. Diversification of Income: For marketers who are already active on platforms such as Twitter and Facebook, integrating Pinterest affiliate marketing introduces a fresh avenue for generating revenue.
Also Read: 80+ Best Affiliate Programs for Pinterest
Affiliate marketing on Pinterest can be made easy with some practice. Once you grasp the concepts and learn how to use affiliate links, it presents a great opportunity to promote products and earn substantial income.