In today's digital age, affiliate marketing has emerged as a lucrative opportunity for individuals and businesses to earn passive income and monetize their online presence. Affiliate marketing websites serve as the bridge between product creators and marketers, offering a platform to promote and earn commissions for successful referrals. In this article, we will explore some of the best affiliate marketing websites that provide excellent earning potential.
What is Affiliate Marketing?
Affiliate marketing involves referring a product or service by sharing it on a social media platform, website, podcast, or blog. Once the product is sold through the unique affiliate link associated with an affiliate's recommendation, they earn a commission for every sale.
This is done by sharing direct links to enable customers to open them and make purchases quickly so that affiliates get their share of the commission.
Different types of affiliate programs include:
Coupon sites
Bloggers and influencers
Review sites
Email marketing
Search affiliates
22 Best Affiliate Marketing Websites
Affiliate marketing websites offer a variety of features and benefits for affiliates. They typically have comprehensive directories or marketplaces that showcase a wide range of affiliate programs across different industries and niches. Let us start our list.

CJ Affiliate is a leading affiliate network comprising more than 8% of the industry market share. It is an ideal platform for creating innovative tech that meets client needs.
If you are searching for an affiliate website that provides robust strategies and solutions to streamline the customer experience, CJ Affiliate is a wise choice.
The platform was founded in California in 1998 and is best known for helping affiliates to attain intelligent, scalable, and consistent growth.
It is trusted by the world's renowned brands such as BuzzFeed, Overstock, Blue Apron, Priceline, and many more. To make you aware, even Dell has migrated their affiliate program to CJ. Furthermore, Dell's customers grew from 1.2 to 2.9 times in 6 months in 2021 after integrating their affiliate services with the CJ platform.
Features:
Its Deep Link Generator tool facilitates tracking links from a brand's website, particularly for publishers.
The platform features customizable commission structures based on promotional property.
CJ Affiliate allows omnichannel integrations for product manufacturers/sellers and affiliates/advertisers.
It empowers you to connect to the global marketplace and leverage your expertise.
The tool features robust APIs to discover more products to sell.
Commission Rate: Depends on the merchant's commission rates.
Payout Schedule: Commissions are paid on the 15th of the following month. The minimum payout is $50 for direct deposits and $100 for check payments.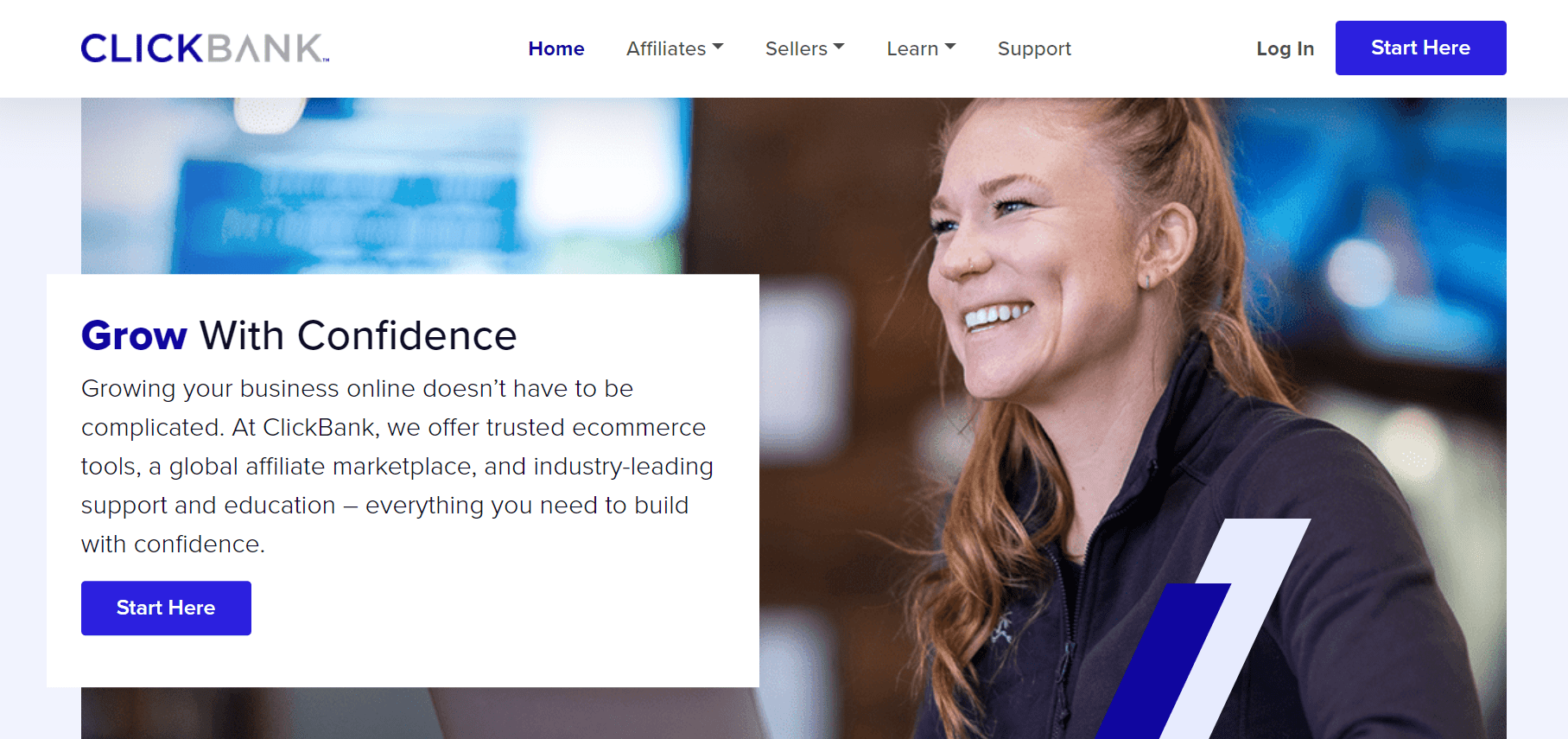 It is one of the oldest and most trusted affiliate marketing websites that support over 1,00,000 affiliates globally. Since its establishment in 1999, the platform has paid more than $5 billion to affiliates.
Do you know the best part? Creating an account on this platform is hassle-free. You are not required to go through a lengthy verification process. You can quickly start creating affiliate links and generate revenue.
It provides exclusive tools, marketing courses, and a wide selection of digital products to match your niche. Additionally, there is no limit to promoting products on this website; you can promote numerous products and maximize your commission by selling more.
Features:
The platform offers approved FDA and FTC high-quality products.
It ensures reliable and accurate payment for each sale.
This website is best known for building strategic partnerships with account management and dedicated support.
Provides extensive training and education to advertisers/affiliates based on online marketing.
Commission Rate: The average commission ranges between 50% to 70%.
Payout Schedule: It pays weekly or bi-weekly through a check, wire deposit, Payoneer, and wire transfer.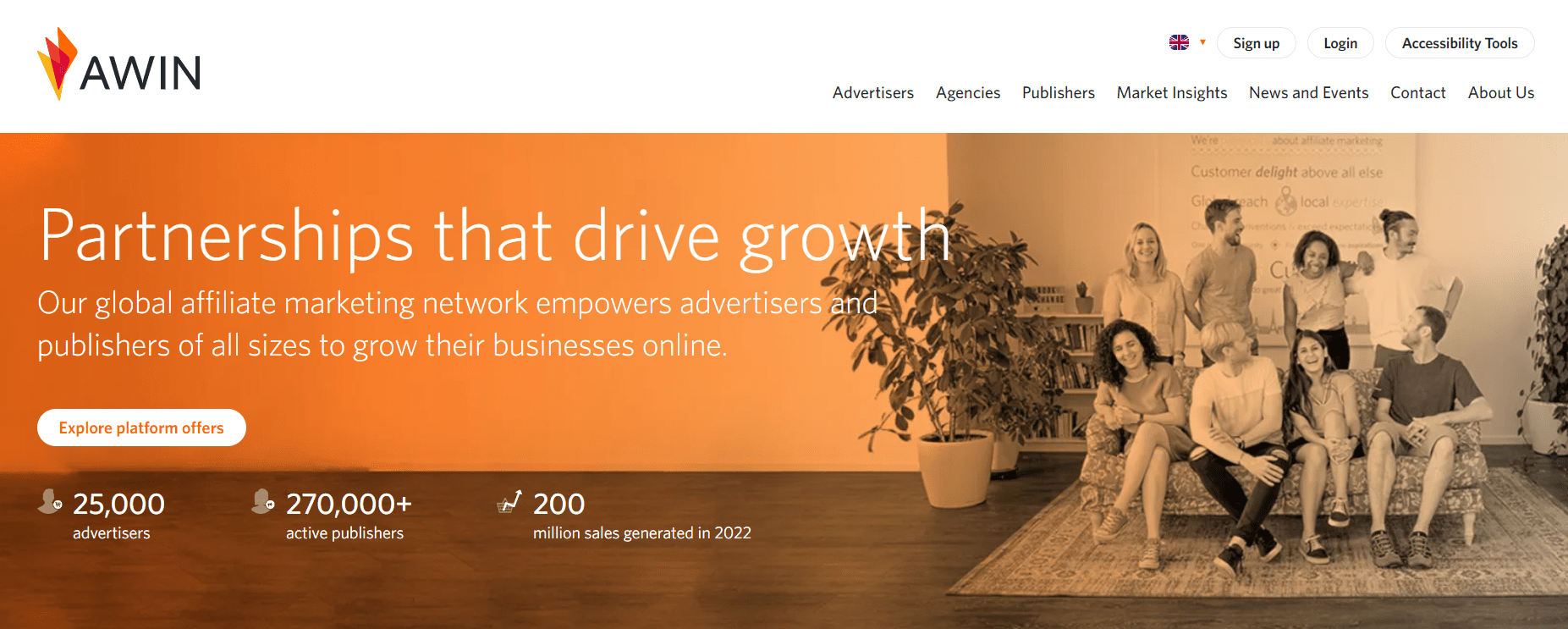 Awin is another popular and one of the leading affiliate marketing websites best known for tracking and optimizing performance seamlessly.
It is an intuitive platform for affiliates and publishers of all sizes. This tool has 21 years of experience and hosts over 21,200 affiliates and 2,41,000 publishers.
You can even opt for this affiliate marketing website if you do not have a website, as it accepts affiliates using all social media channels, like Instagram, YouTube, Facebook, etc.
If you are thinking of applying as an affiliate to Awin, your application will go through a compliance team that will verify your details. The only setback of this tool is that it charges you a $5 deposit to join the network. However, the good part is that it will be reimbursed once you have reached the minimum threshold.
Features:
Search for any program you want to join with Awin's advertiser directory.
It's a user-friendly tool to help affiliates and publishers in marketing operations by providing them with a massive set of valuable tools.
It allows you to track and record the clicked link or actions done by the audience.
The scope for payment delays is minimal as it ensures consistent payments to advertisers.
All information can be recorded on the Dashboard regarding order value, the value of commission, and more.
Commission Rate: Depends on the merchant, but it's usually around 5%.
Payout Schedule: The minimum threshold is $20. Once you reach it, it releases payments on the 1st and 15th of every month through BACS, ACH, or international wire transfer.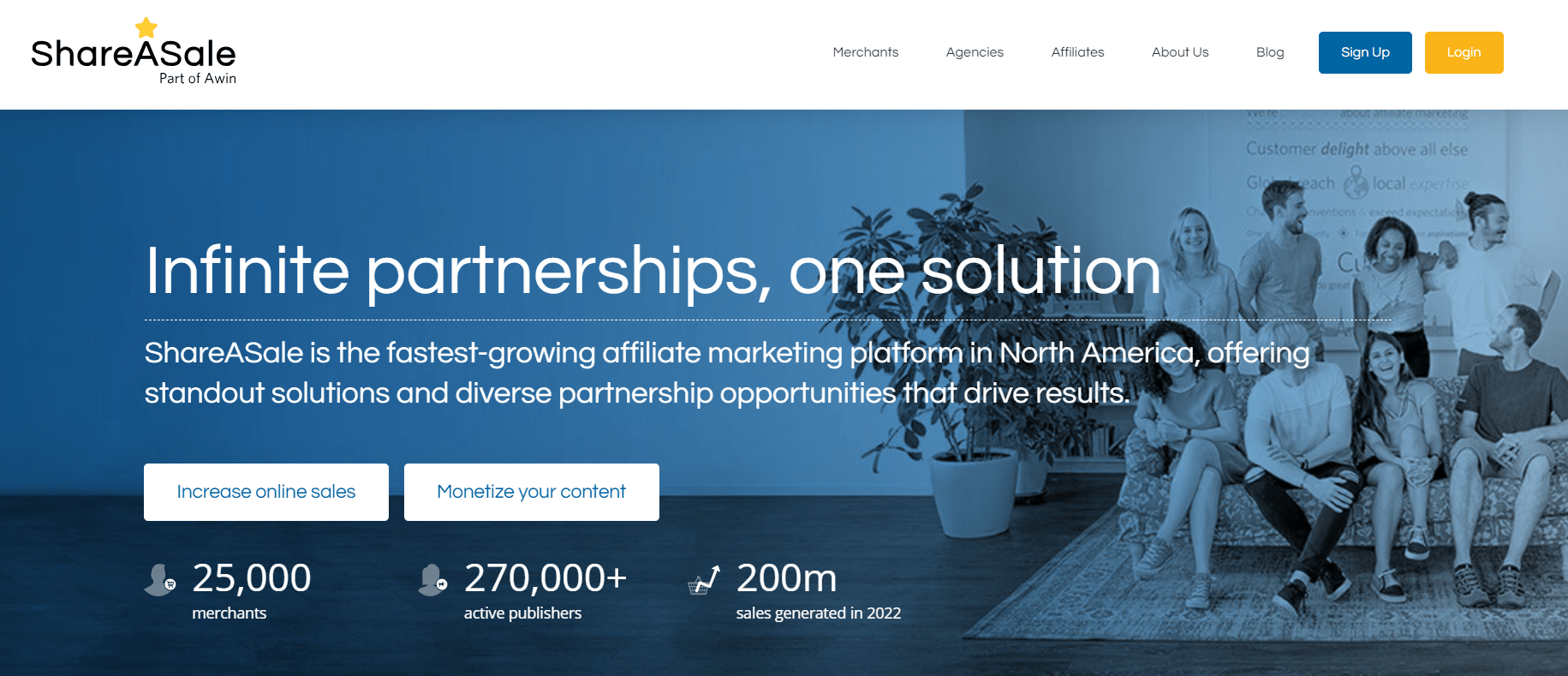 The hunt to find the right affiliate partner is no longer a hustle! With ShareASale, you can generate leads and nurture long-lasting relationships that are mutually beneficial in the long run.
The platform brings together a vast network of merchants and partners looking to boost earnings through affiliate marketing.
The platform allows you to build successful partnerships by finding the right affiliates, influencers, tech partners, and creators. It provides you with a valuable set of tools you require for decision-making, monitoring, and onboarding.
Features:
It gives you real-time insights and diagnostics to optimize your affiliate program.
Monetize publisher's content with reliable networks.
Offers a range of tools, including advanced tracking methods, attribution solutions, custom commissions, etc.
Facilitates tracking campaign performance and provides robust reporting.
Commission Rate: Depends on the merchant.
Payout Schedule: Once you reach its minimum threshold limit, $20, the payment is made on the 20th of every month. Its one-time network access fee is $550, and $100 as a deposit.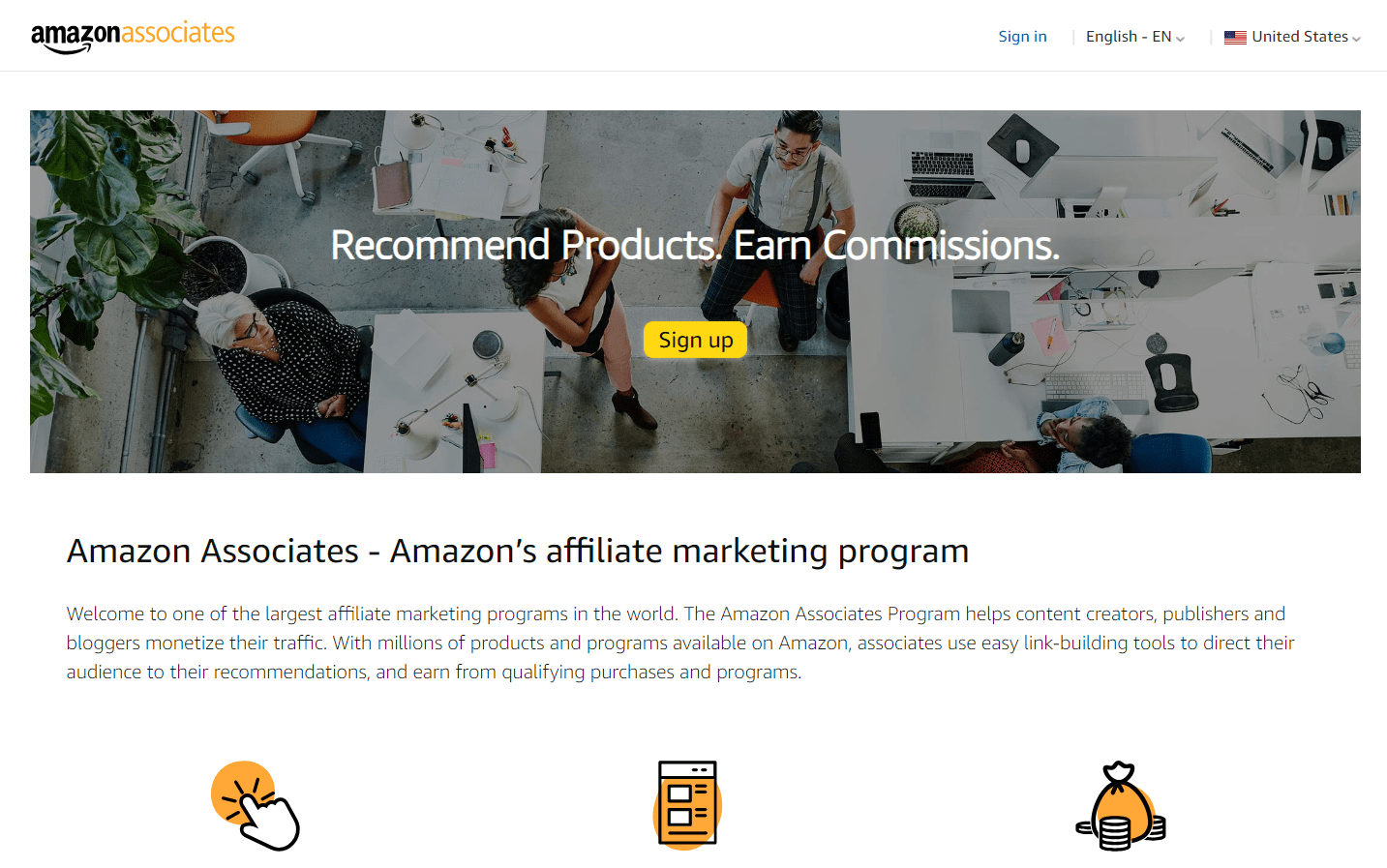 Amazon Associates is one of the best affiliate marketing websites worldwide. The program is free to join. However, you must pass their qualifying requirements to use Amazon's affiliate links.
This affiliate network is ideal if you are searching for a flexible commission structure and brand support as an affiliate.
The website offers an effective way to monetize publishers' traffic to amplify their returns. Simultaneously, numerous link-building tools are available to the publishers that allow them to earn after qualifying the purchases.
Features:
Enriched with features such as an influencer page system, top brand support, flexible commission structure, and more.
Access to more prospective clients than you may find on any other affiliate marketing website because of the credibility of the world's largest online marketplace, Amazon.
A consolidated summary is provided to track the affiliate's earnings in one place.
Intuitive interface to earn additional income.
Commission Rate: Commission ranges between 1% to 20%, depending on the product affiliates sell.
Payout Schedule: It follows a monthly payment cycle. However, you will receive payment for the current month two months after the end of 30 days.
Cross-reference: Five Key Strategies for Success in Affiliate Marketing

Flipkart affiliate program is a popular affiliate marketing website in India. It offers an incredible way to earn commissions by placing product links on your website to refer your prospects to Flipkart's website.
Like other top affiliate marketing websites, this platform allows advertisers to sell a wide range of product categories. However, all the products have different commission rates.
Features:
You can use Flipkart affiliate links if you have multiple sites.
When the customer purchases a product through your unique affiliate link, you receive a commission, which usually ranges between 0.5% to 12%.
This affiliate program offers its users an extensive range of tools, including HTML codes, customizable banners, button links, text links, etc.
It also allows you to use the search widget of Flipkart, making it easy for your target audience to watch videos or read blog content.
Commission Rate: Becoming a Flipkart affiliate partner can help you earn up to 12% of an affiliate commission.
Payout Schedule: The payments are 30 to 60 days from the day when the customer made the purchase. It may even take more than 60 days sometimes because the payments are only made for the products that the customer does not return within the first 30 days.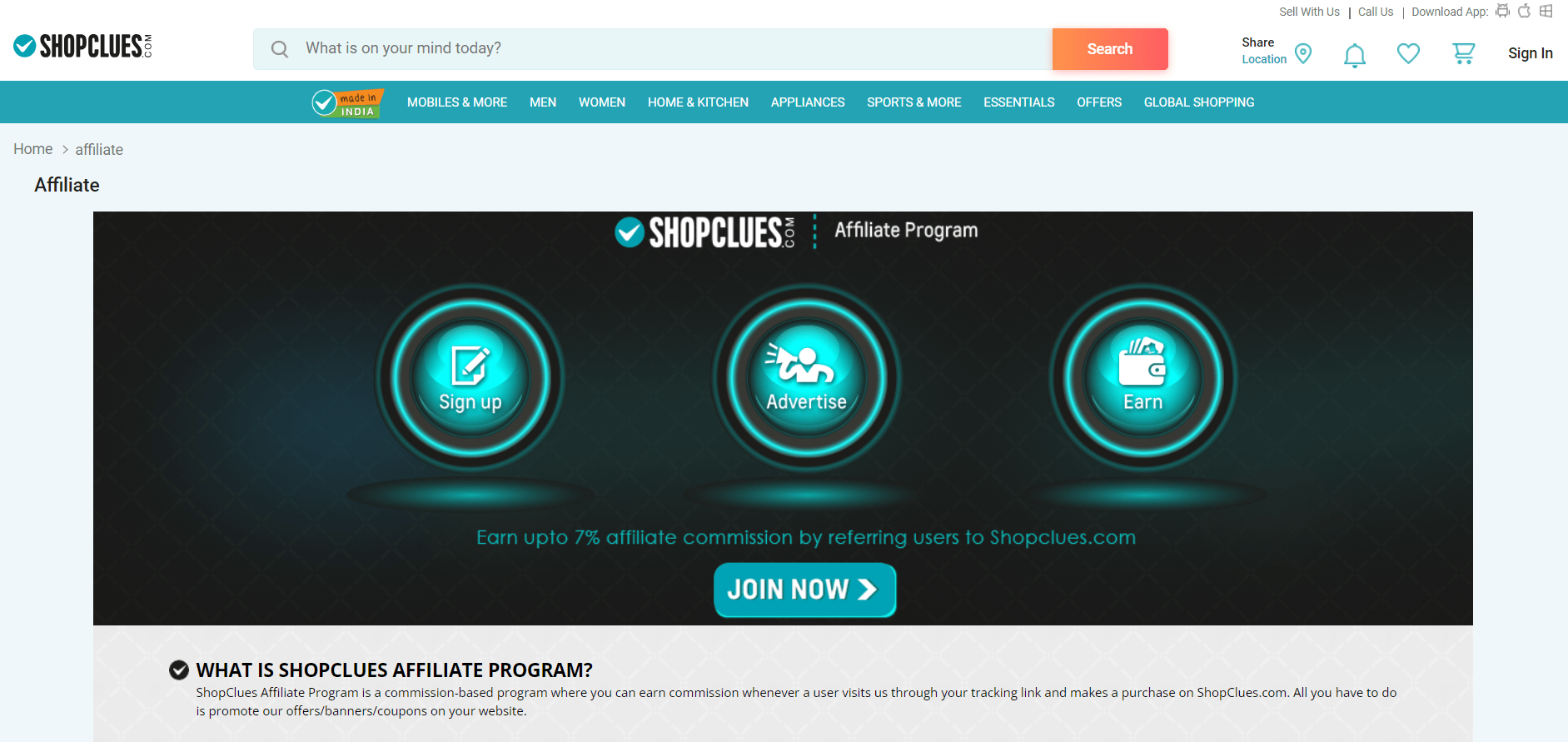 ShopClues hosts a leading affiliate program to promote its products through your affiliate links. Understanding the payment structure of this platform is very easy.
Whenever a customer buys a product by walking through your affiliate link, you will receive a fixed commission percentage, depending upon the merchant or product you are selling.
The platform gives you a detailed category-wise structure based on CPS, CPI, CPL, etc.
Features:
It lets you track all clicks generated from the links provided by you. It is done by monitoring results in real-time with its dashboard.
The team of ShopClues will mail you beforehand if any products or discounts are available on its products.
Commission Rate: Earn up to 6.6% commission by joining the ShopClues affiliate program.
Payout Schedule: It follows a monthly payment cycle. However, you must reach a minimum threshold of Rs. 5000 to withdraw your earnings. If you have earned less than Rs. 5000, it will roll off for the next month.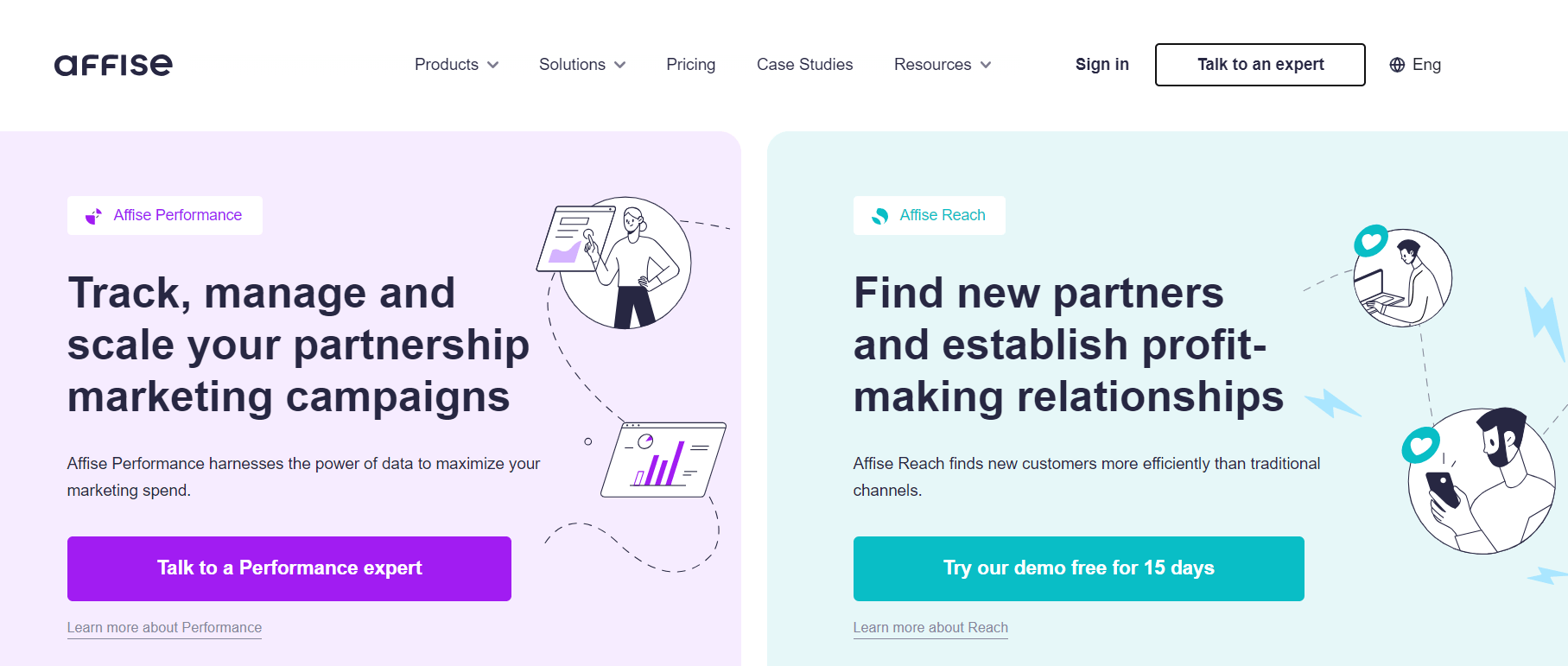 Still, searching for an innovative affiliate marketing website? Your hunt might end with Affise, which enables businesses to scale and automate their affiliate marketing programs.
The platform features potent tools to create and manage affiliate networks seamlessly. Moreover, it enables multicurrency and flexible payouts, anti-fraud protection, and third-party integrations.
Features:
Its user-friendly interface allows you to personalize & configure dashboards to manage the workflows of affiliates seamlessly.
This affiliate program offers advanced tools to optimize your campaigns through AI Smartlinks, CR optimization, and Smart targeting.
Analyze reports and monitor performance from over 50 data breakdowns.
You can test an unlimited number of campaigns until you find the one that generates massive income.
Commission Rate: Usually, affiliates are paid a commission between 5% to 25%, but this program does not offer fixed commission rates. So, depending on the product you are selling, you earn a commission.
Payout Schedule: Affiliates get paid once a month.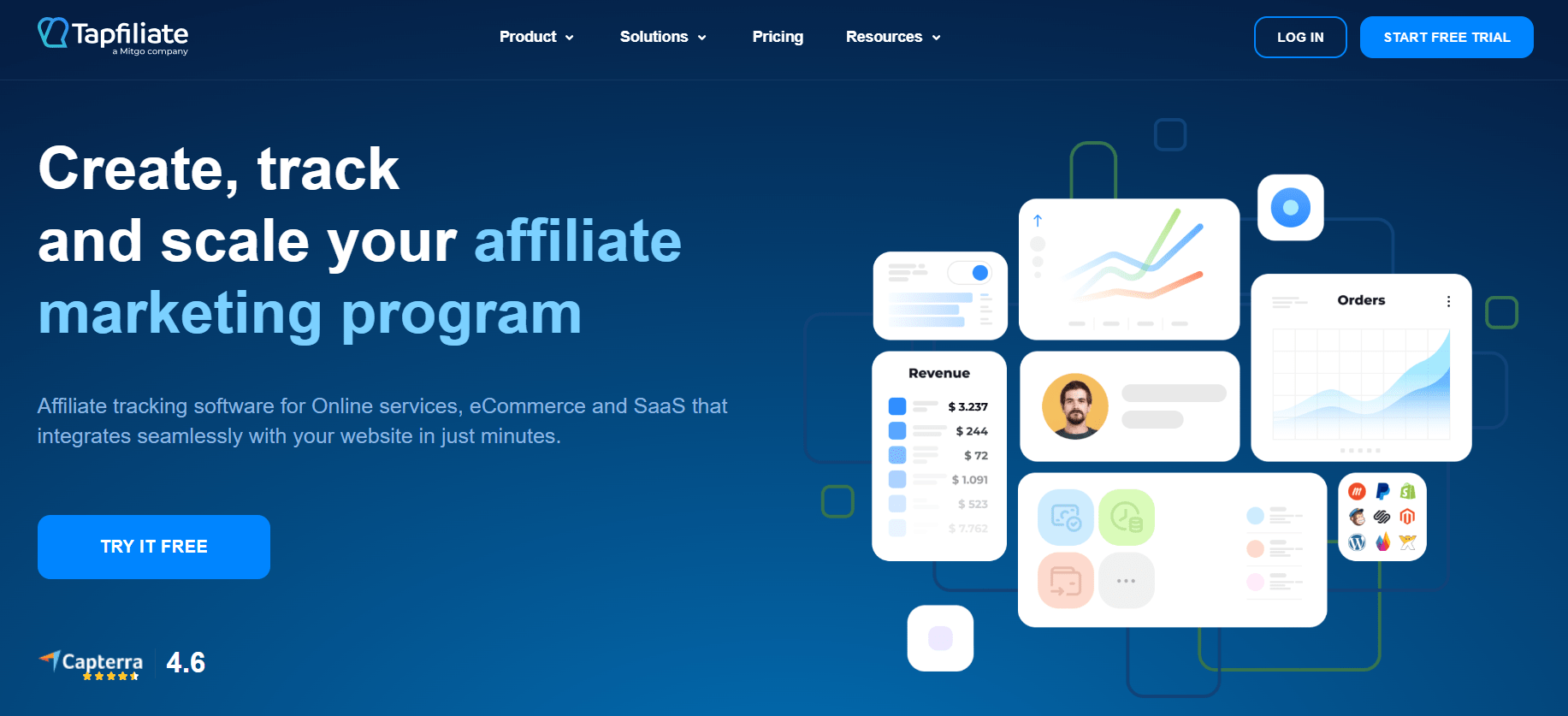 If you want to create, track, and grow your affiliate programs, Tapfiliate is the best choice. It is a cloud-based affiliate tracking software that supports referral, affiliate, and influencer marketing.
No matter your business size, this platform lets you efficiently recruit affiliates, track performance, and gain insights to boost sales. Simultaneously, this platform is ideal for affiliates that help them to earn a decent amount of commission by letting them reach a wider audience, generate leads, and increase conversions.
This affiliate program comes with a 14-day free trial. If you want to keep using this platform, opt for one of the paid plans- Essential, Pro, or Enterprise.
Features:
Its agile software is easy to set up.
This affiliate program can be integrated with 30+ platforms, including Zapier, Shopify, and WooCommerce.
The program also features robust reporting, performance bonuses, dashboards supporting several languages, and more.
You can manage content like coupons, referral partners, banners, etc.
It ensures accurate sales tracking with industry-leading tracking technology.
Commission Rate: Affiliates earn different rates depending on the sales amounts and products they sell.
Payout Schedule: To execute the actual payment, Tapfiliate creates a CSV file and pays the affiliates. This file keeps a complete record of current and settled amounts. You can choose from PayPal MassPay, or other.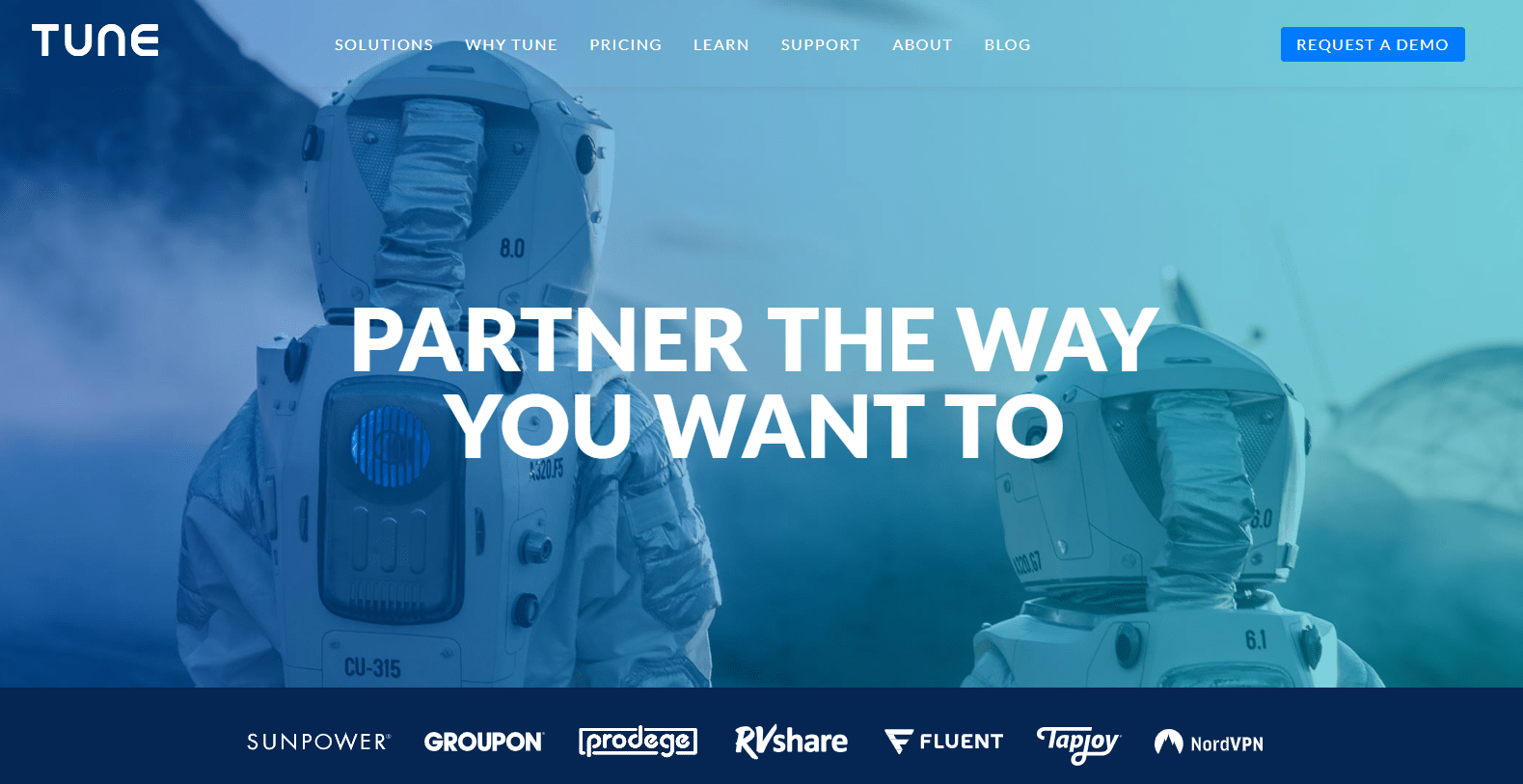 With TUNE, partner the way you want to. It is one of the best affiliate marketing websites that offers infinite scalability, advanced automation, industry-leading support, and real-time data streaming.
The platform helps you expand your affiliate network and provide you with everything you need to build robust relationships with your prospective clients.
Features:
A fully customizable SaaS-based platform offers unique tools to manage, integrate, and compensate your marketing partnerships.
The platform provides unparalleled custom functionality by featuring an API-based foundation with over 650 endpoints.
TUNE is fully equipped with a professional services team for technical consulting, custom solutions development, etc.
Commission Rate: Affiliates earn a commission for sending new customers to a business. Their commission varies depending on the sales amount and products they sell.
Payout Schedule: Take advantage of dynamic affiliate payouts with TUNE. The platform pays as per the subscription plan or SKU, whether the customer is repeated or new.
Cross-reference: I made $200,000 in revenue from affiliate marketing websites. Here's how I got started after years of struggling with my SEO business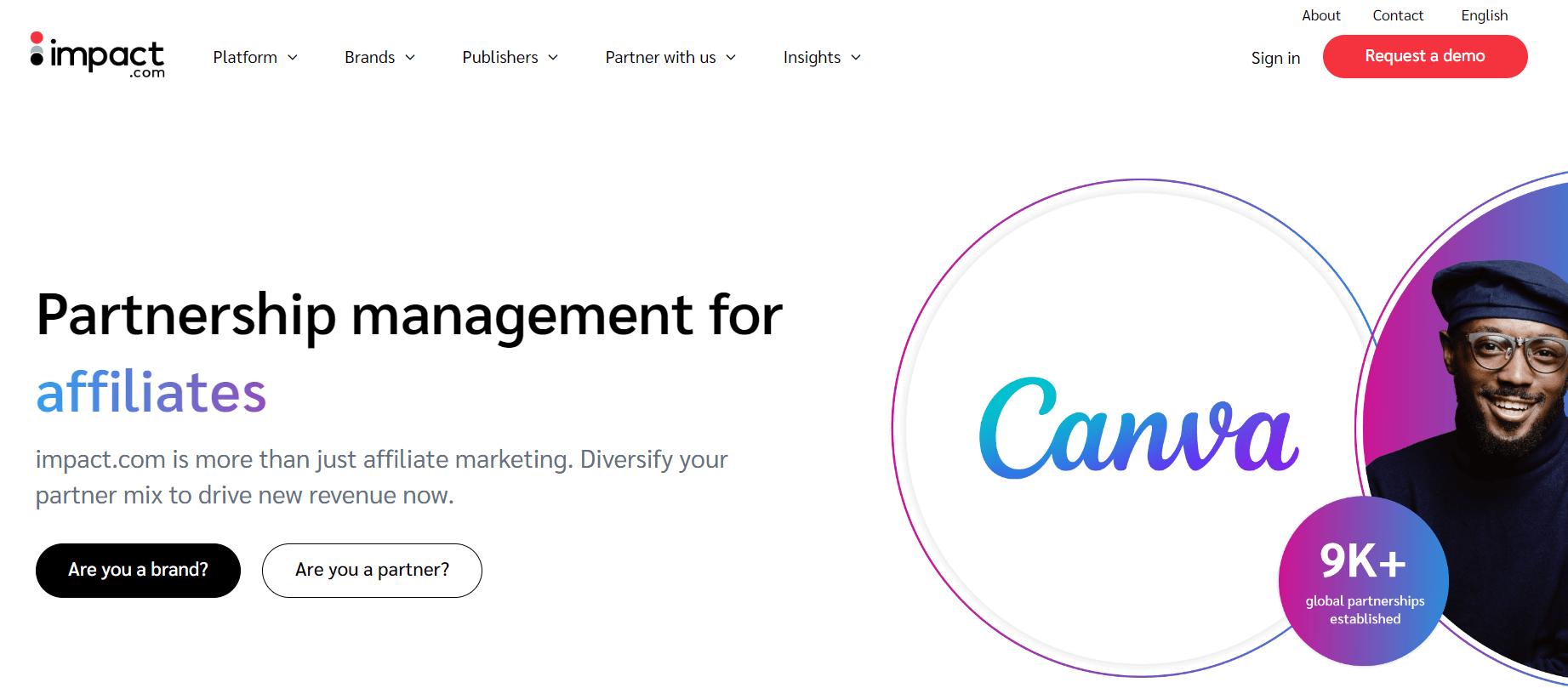 Do you believe that great partnerships can grow a business? If yes, then you can land on this affiliate program, Impact. The platform lets you tap into the exponential potential of the partnership economy for sustained growth.
It optimizes and manages all your partnerships, including affiliates, publishers, influencers, etc. The tool also ensures simplified workflows and maximized payout flexibility.
Furthermore, Impact provides access to a discovery tool that helps you find ideal partners to automate your partner drip campaigns and monitor the recruitment process through its insights.
Features:
The platform increases your engagement with your audience by featuring proactive messaging.
You can track anything with Impact as it follows a reliable approach with a future-proof plan.
With Impact, you can automate partnerships of any size hassle-free.
Do not support fake installs; it eliminates affiliates and influencer fraud by paying only for leads.
Commission Rate: Depend on the merchant.
Payout Schedule: It follows the Net30 schedule for making payments through electronic transfer, Wire Transfer/ACH, PayPal, and Check.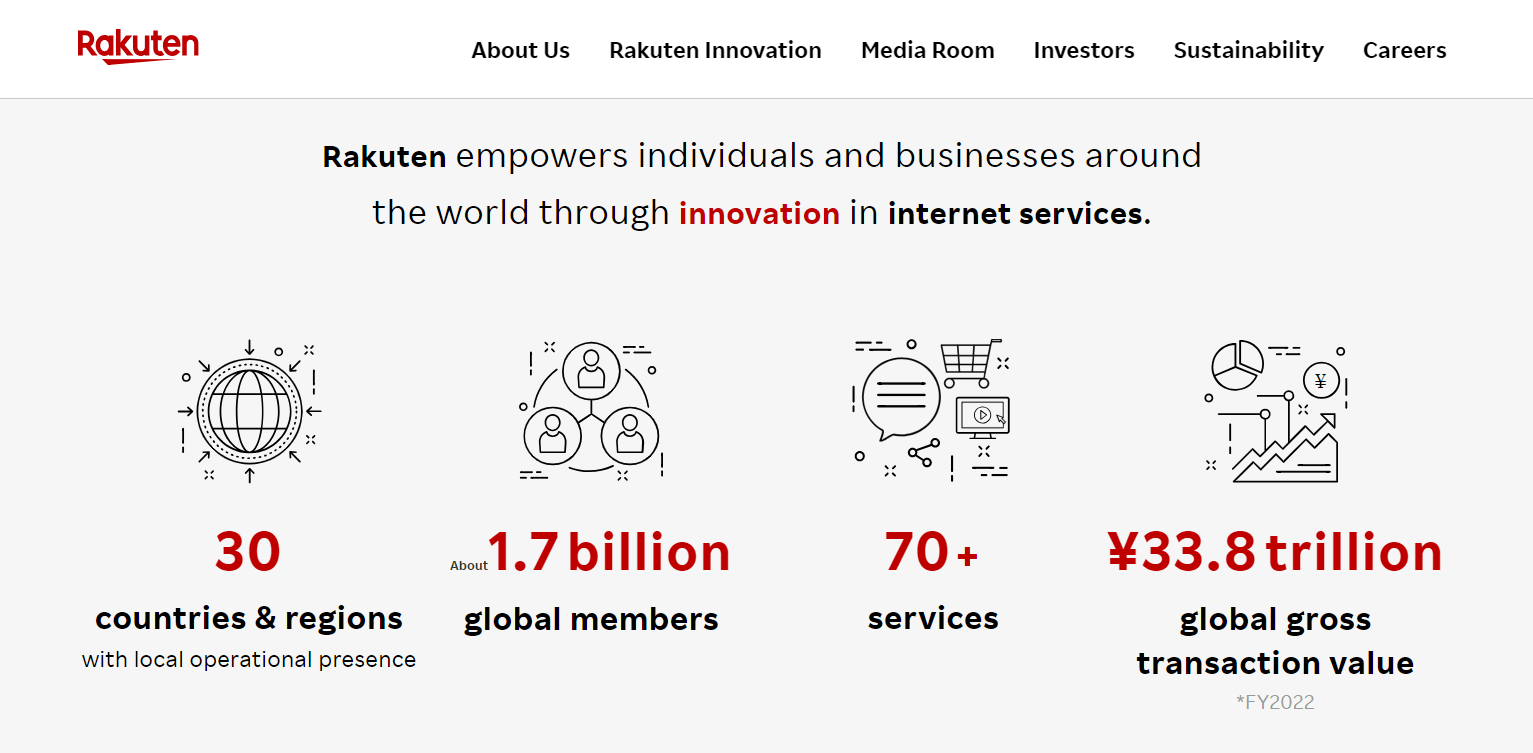 The list of top affiliate marketing websites is incomplete without listing this incredible program hosted by Rakuten.
This robust affiliate networking platform was established as an affiliate and performance marketing giant in 1997, formerly known as LinkShare.
The platform features effective solutions for brands, agencies, affiliates, and publishers to amplify their revenue by increasing sales and online presence.
The program offers 3 types of commissions to earn more sales:
Coupon Commissioning facilitates managing and monitoring rules for coupon codes.
Dynamic Commissioning scale revenue by giving insights into affiliate payouts and objectives.
Multi-Touch Commissioning enables you to get credit for your contributions at any point in the customer journey.
Features:
Joining Rakuten will let you access its global network of more than 1,50,000 active publishers with numerous marketing options.
Advertisers allow publishers to prioritize the link's importance and pay the publishers more than the average price when the visitors purchase a product using those specified links.
It follows a multi-tiered model for commissions.
With Rakuten, get dedicated customer support for affiliate marketers to promote transparency and avoid confusion for first-time users.
Other essential features of Rakuten include a placement marketplace, publisher's dashboard, mobile app tracking, welcome bonus, earn referral rewards, and much more.
Commission Rate: Depends on the individual merchant's commission rates.
Payout Schedule: The payouts are made after 90 days. Yes, it's so much time! It is because this platform pays only after the merchants pay Rakuten. However, the minimum withdrawal amount is $50, which you must reach to receive your payment via direct deposit or check.
eBay Partner Network hosts one of the best affiliate programs that allow you to earn commission based on the product categories on the eBay site.
It helps in driving traffic to boost the revenue of business of the company. Alongside this, it also facilitates monitoring and optimization of performance. Some of the most common and effective affiliate tools it provides include smart links, bookmarklets, smart placements, link generators, etc.
Features:
Features various tools that help in tracking performance data.
It provides robust solutions like bringing traffic, building ads and campaigns, monitoring performance, and optimizing results.
Smart links make sharing any link on your social media profile or blog easy as an affiliate link.
Allows you to easily customize banners with smart placements based on the type of content you publish.
Commission Rate: Commissions are based on the products you are selling. However, the average rate is between 1% to 4%.
Payout Schedule: Once affiliates reach 10 units of their native country's currency, such as 10 USD, or 10 CAD, they get eligible to withdraw their earnings earned in the form of commission.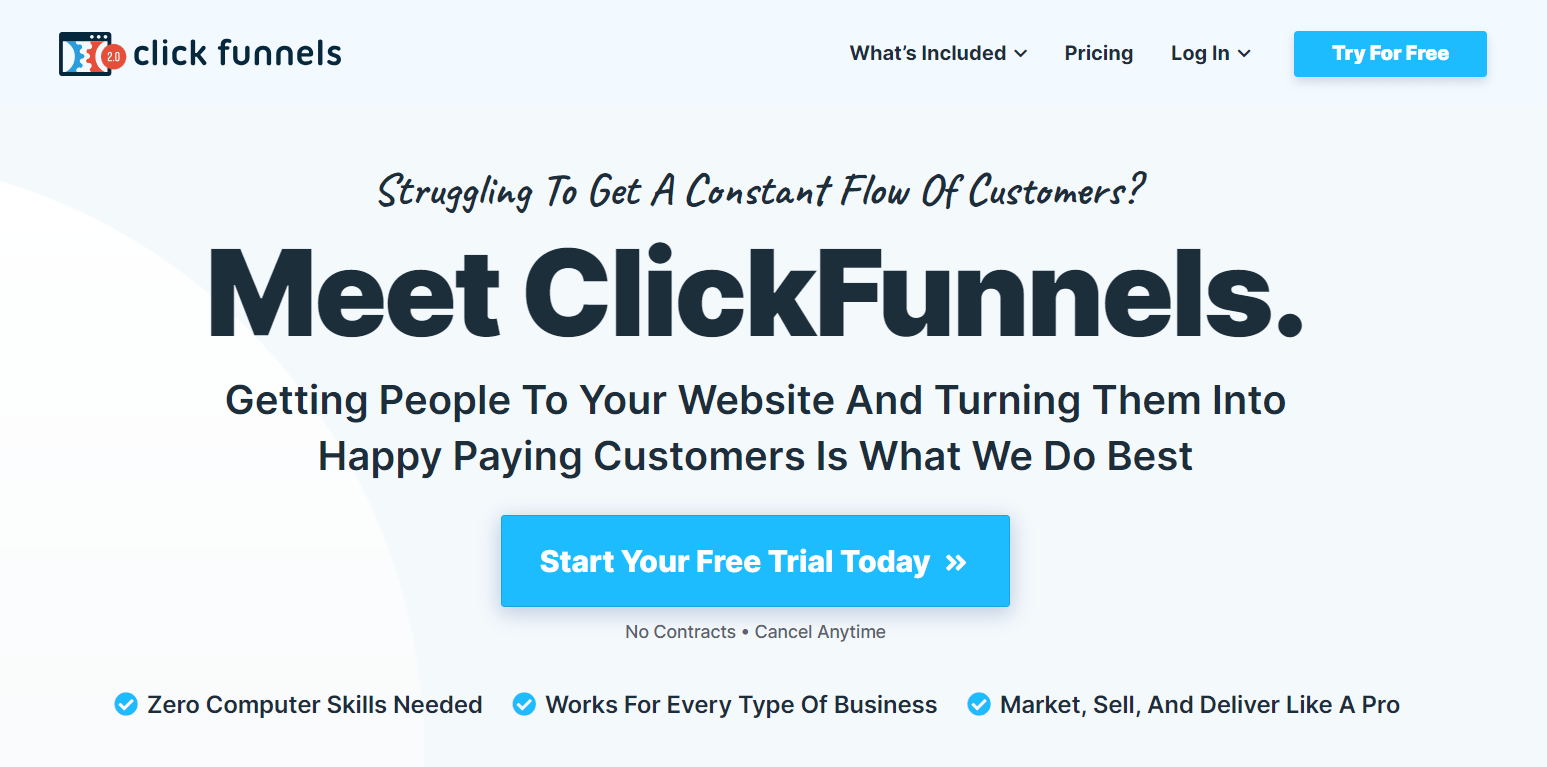 ClickFunnels is a landing page builder that facilitates automating the sales process. The affiliate program hosted by ClickFunnels provides considerable room for an affiliate partner to grow.
It's a one-stop service that enables businesses to market and sell their products & services.
To move to higher affiliate tiers, you must provide a minimum sale amount for specific number of monthly referrals. Doing this will make you eligible to apply. You will receive better commission rates once you upgrade your affiliate tiers.
Features:
It lets you nurture leads into prospects by creating targeted landing pages that collect their contact information and capture leads to convert into real paying customers.
Build a sales funnel that helps in generating traffic organically.
Allows you to integrate the payment system and begin collecting payments hassle-free.
Commission rate: Commission rates vary on tiers, and products sold as the affiliates' earnings are split into tiers on this platform. Particular products can help you earn up to 100% commission.
Payout Schedule: Affiliates receive monthly payments on the 1st and 15th. The payments are made through Tipalti.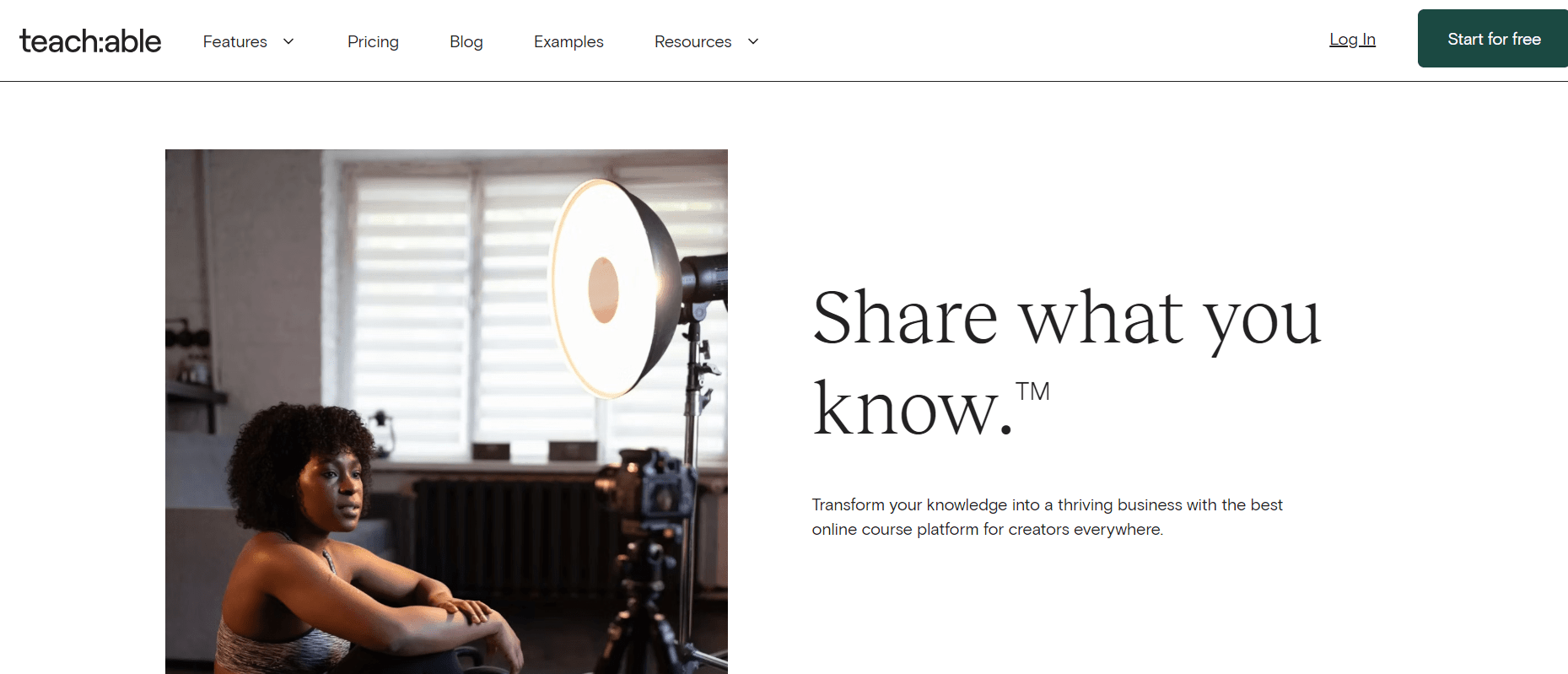 Teachable is one of the leading platforms for selling courses online. So, you can make the most of this website and enroll in Teachable's affiliate marketing program to partner with Teachable.
You get an added bonus of 30% commission on the subscription service. If your referral stays on the Teachable platform, you can generate a recurring commission with that particular sale. How cool!
Features:
The platform makes it easy to track payments and monitor performances.
Robust campaigning reporting.
Earn up to 50% commission or recurring commissions with a 90-day cookie window.
Commission rate: Recurring commissions range from 30% to 50%.
Payout Schedule: Payment is made through Impact Network. There are multiple options through which you can receive payments, including BACS, direct transfer, or PayPal in your currency of choice.
Cross-reference: The Current State And Future Potential Of Affiliate Marketing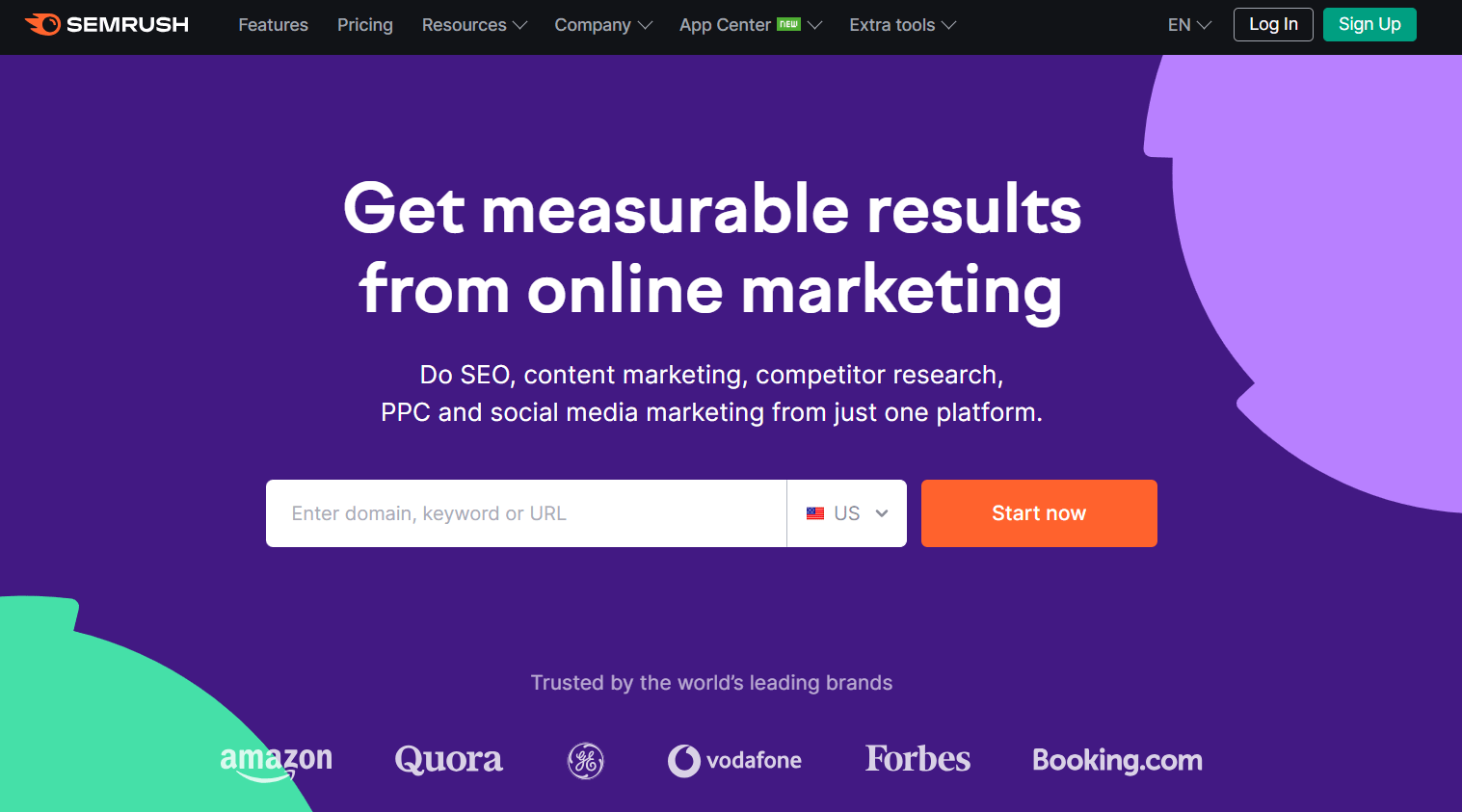 Semrush is one of the best SEO tools that host efficient affiliate marketing programs. The platform helps marketers and online businesses with SEO, keyword research, and rank tracking.
If you are an affiliate, publisher, paid search specialist, course creator, or running an agency, the affiliate program it offers can help you make ample money. Sign up for its robust affiliate network today!
Features:
Get $10 for every new trial and $200 for every Semrush sale.
Integration with e-commerce platforms.
Effective tracking and data.
Robust customer support.
Commission rate: Depends on referral type.
Payout Schedule: Its affiliate network is hosted by Impact network. So, once you receive the payment through electronic fund transfer or PayPal, you can withdraw your affiliate commission according to its payment processing.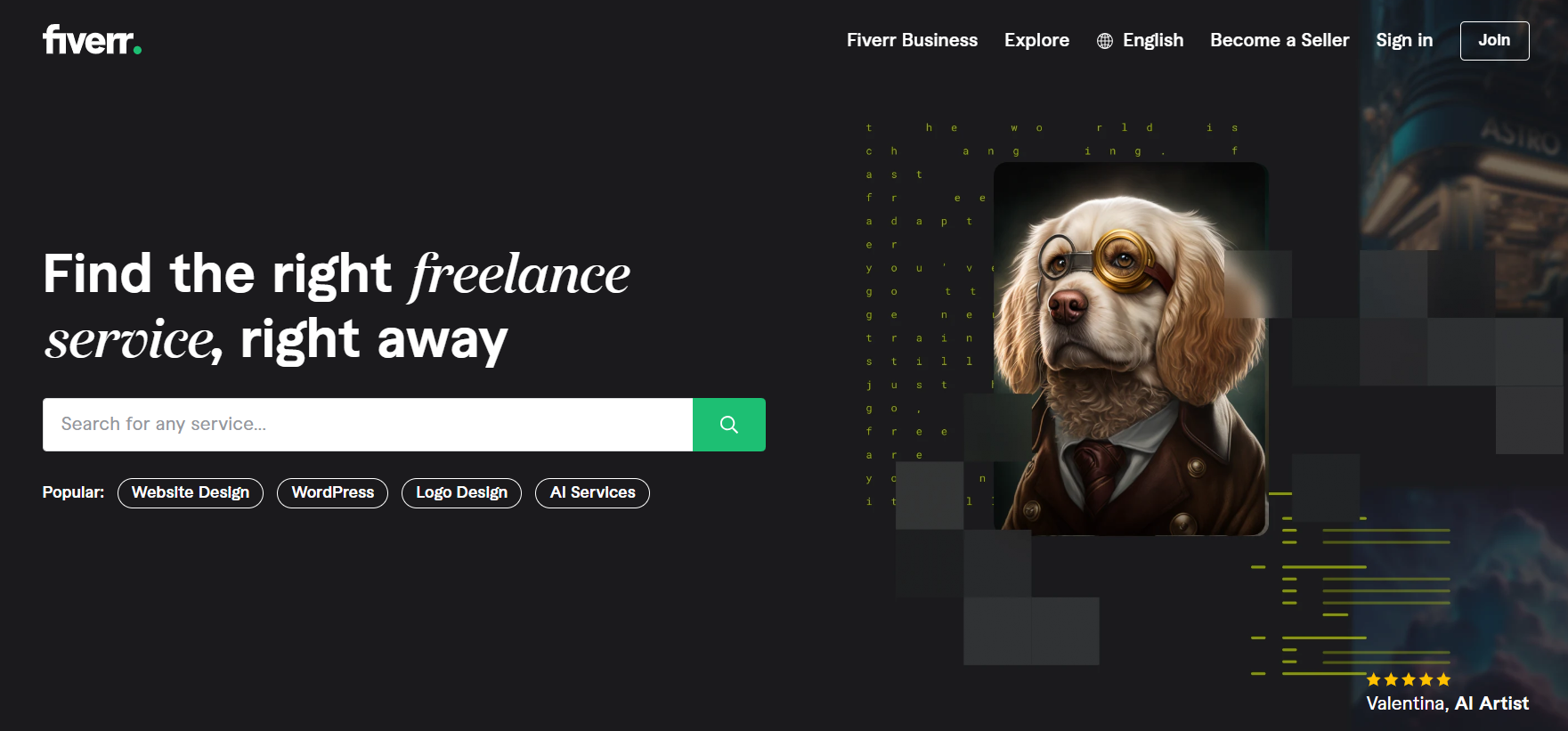 Fiverr is a networking site that connects freelancers with businesses in 300+ categories. The buyers pay Fiverr in advance for the 'gigs' created by sellers. When an order is completed and delivered by freelancers, they receive 80% of the total order value.
This incredible platform runs a lucrative affiliate program that allows affiliates to generate a decent amount of revenue. You can either receive a fixed CPA (Cost Per Acquisition) for the 1st time purchase of a subscription or course and get a share of the revenue for the referred subscription.
Features:
Its extensive FAQ page, blog, and email template adds value to its affiliate program.
You can get paid for every first-time buyer with unlimited referrals and a lifetime attribution.
Its Hybrid plan combines both Revenue Share and CPA.
You will receive a one-time $10 CPA and 10% Revshare for one year on a first-time purchase.
Commission rate: You can earn a 10% to 50% commission through Fivver's affiliate program. It entirely varies depending on the product you purchase.
Payout Schedule: Its affiliate program uses PayPal if earned commission is below $1000. If it's more than $1000, it uses wire transfers to release the payouts.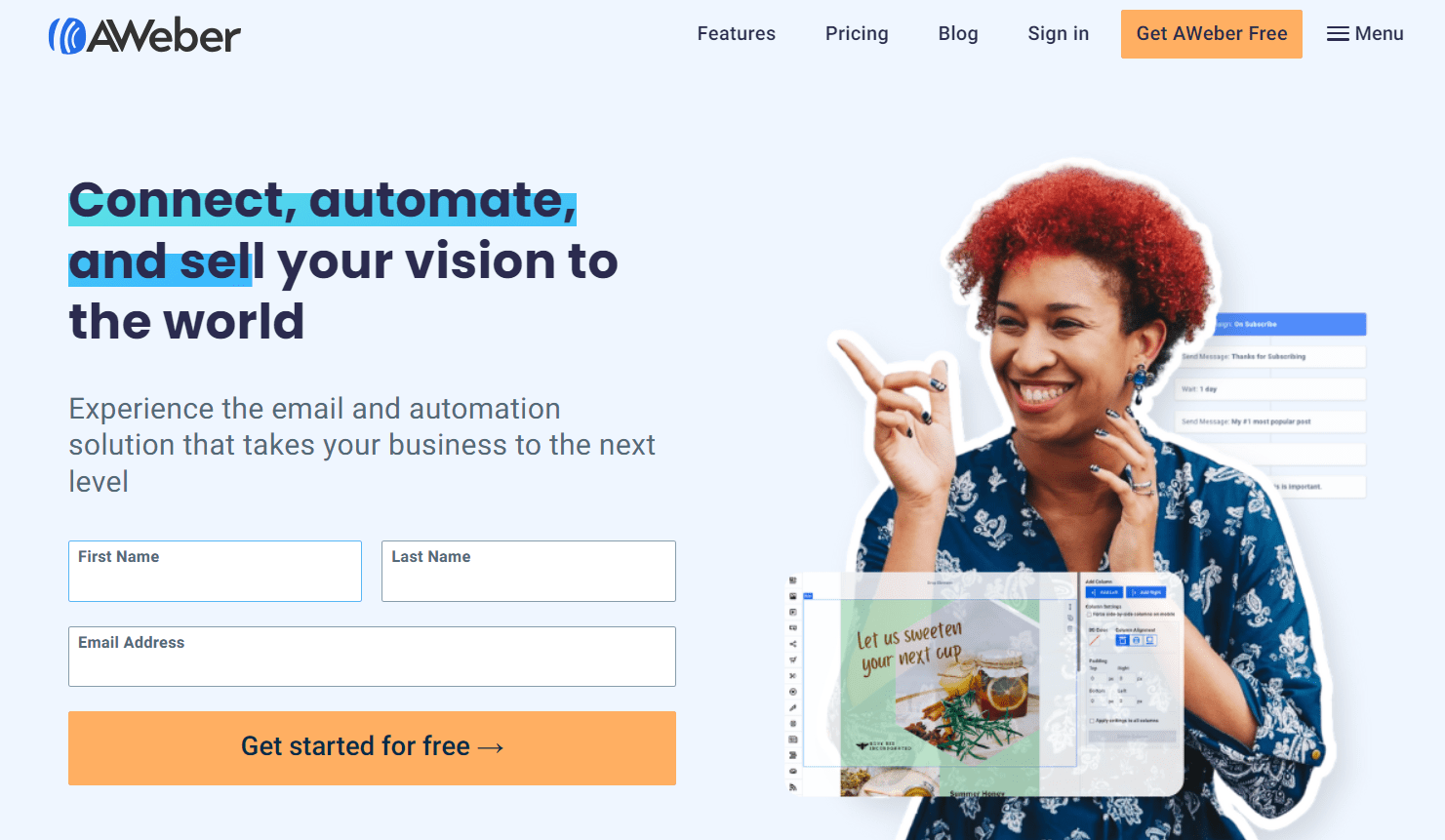 AWeber is a powerful email marketing tool that generates more leads by engaging your prospects. Using AWeber can help you increase your sales.
The platform offers subscription packages based on the number of subscribers an account has.
Its affiliate program offers up to 30% commissions on all recurring referrals as long as your prospect renews their subscription. It means you can make $360 annually as its Pro membership costs $19.99. It will be your earnings in a scenario where five people renew their subscriptions in your network.
Features:
With AWeber's affiliate program, you get a dedicated advocate manager as well!
Allows you to integrate the payment system and begin collecting payments hassle-free.
You can automate partnerships of any size hassle-free.
Commission rate: 30% recurring referral payments.
Payout Schedule: The payout is made monthly through PayPal, usually after 15 days of the commission period. However, you can only withdraw the earnings after reaching $30.

AdRoll's Growth Marketing Platform enhances brand awareness, email marketing, retargeting website visitors, and cross-channel distribution.
The platform offers many advanced features, incredible functionality, managed services, robust customer support, and comprehensive retargeting tools to develop a larger audience and streamline the sales funnel for online businesses.
Powered by AI technology, AdRoll boosts your affiliate marketing outcomes by unifying efforts across e-commerce campaigns, digital ads, and emails.
Features:
Supports external integrations with e-commerce and social media platforms to enable you to roll out cross-device ads effortlessly.
Aids in multi-user capabilities that make managing campaigns easy with your team.
Its AI tools empower your marketing campaigns with web targetting, advanced conversion tracking rules, flexible segmentation, transparent analytics, and other capabilities.
Commission rate: Varies depending upon the business to business and the product you are selling.
Payout Schedule: Can be fixed and dynamic.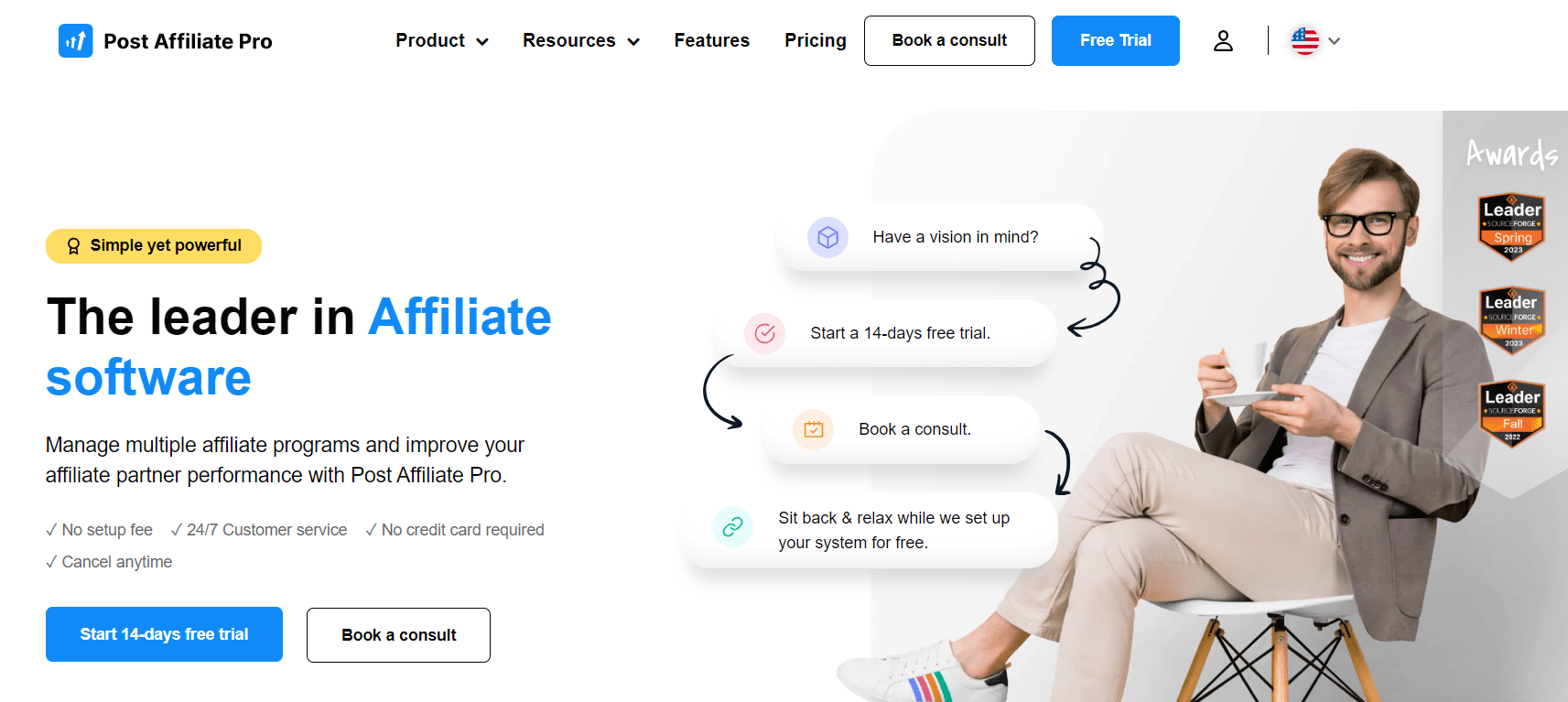 Post Affiliate Pro is one of the best affiliate marketing websites that is the first pick of many startups, enterprises, and SMEs. Its scalability makes it enticing for small enterprises and startups striving to grow their business with affiliate marketing.
Like many other platforms, Post Affiliate Pro empowers businesses by letting them run affiliate programs end to end. The platform facilitates tracking performance, managing affiliates, and creating promotional materials. Another good part about the platform is that it can integrate with almost all apps and platforms.
Features:
Supports over 170 integrations, including renowned e-commerce platforms, including Shopify, OpenCart, 3DCart, and many more.
It features advanced analytics, tracking links, fraud detection, and coupon codes.
It offers a free setup service with comprehensive customer support and lifetime updates.
Commission rate: Typical affiliate commission ranges between 5 to 10% of the sales price.
Payout Schedule: The value of the payout is decided by the advertiser. Therefore, the payments you receive may be fixed or dynamic.
Cross-reference: The people making money from just surfing the internet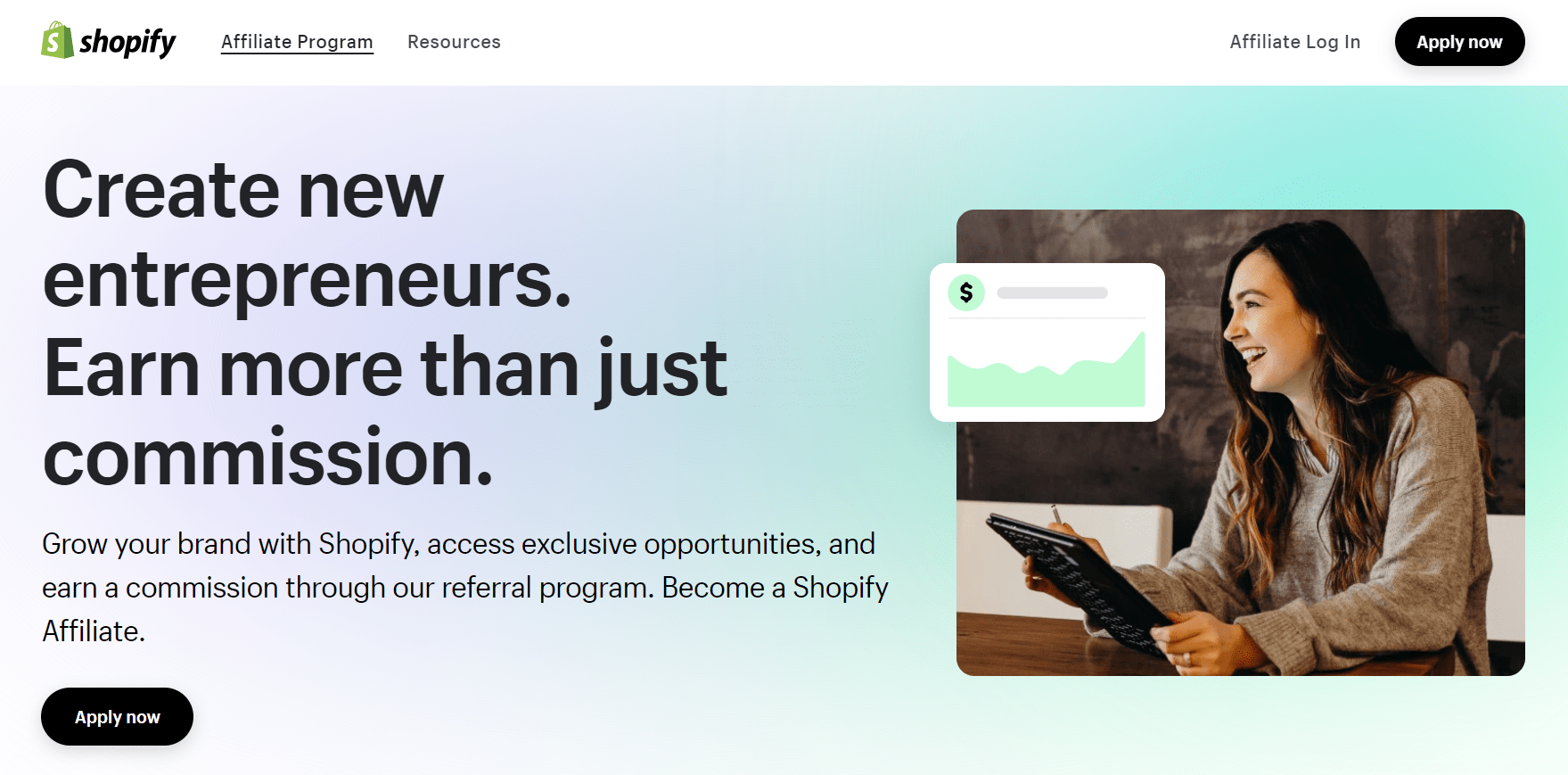 Shopify is a leading platform that helps you set up an e-commerce store. It provides everything you need, from payment processors, online store templates, shipping partners, and even marketing solutions through the Shopify App Store.
Using affiliate links, you can become a Shopify affiliate and make ample money through video tutorials, blog posts, YouTube content, social media posts, and webinars. It is listed under the highest affiliate commission provider because it allows you to receive a 100% commission on the first two payments of any subscription plan purchased by a referral.
Yes, it's even free joining the Shopify affiliate program. So, start earning easy and massive commissions based on every new referral mentioned on Shopify merchant.
Features:
Its commission rate can increase to 200% of your customer's first bill.
Besides medium and large businesses, small businesses or startups with physical stores also use the Shopify Point of Sale app.
With Shopify, SEO-friendly eStores can be built by retailers seamlessly.
The platform can easily be integrated with Facebook Ads or Google Ads.
Commission rate: This platform is best known for paying 100% commission on the first two payments of the recurring plan.
Payout Schedule: This affiliate program pays through PayPal after the 15th of every month. However, the minimum threshold is $25, which can be withdrawn after 5 business days of reaching it.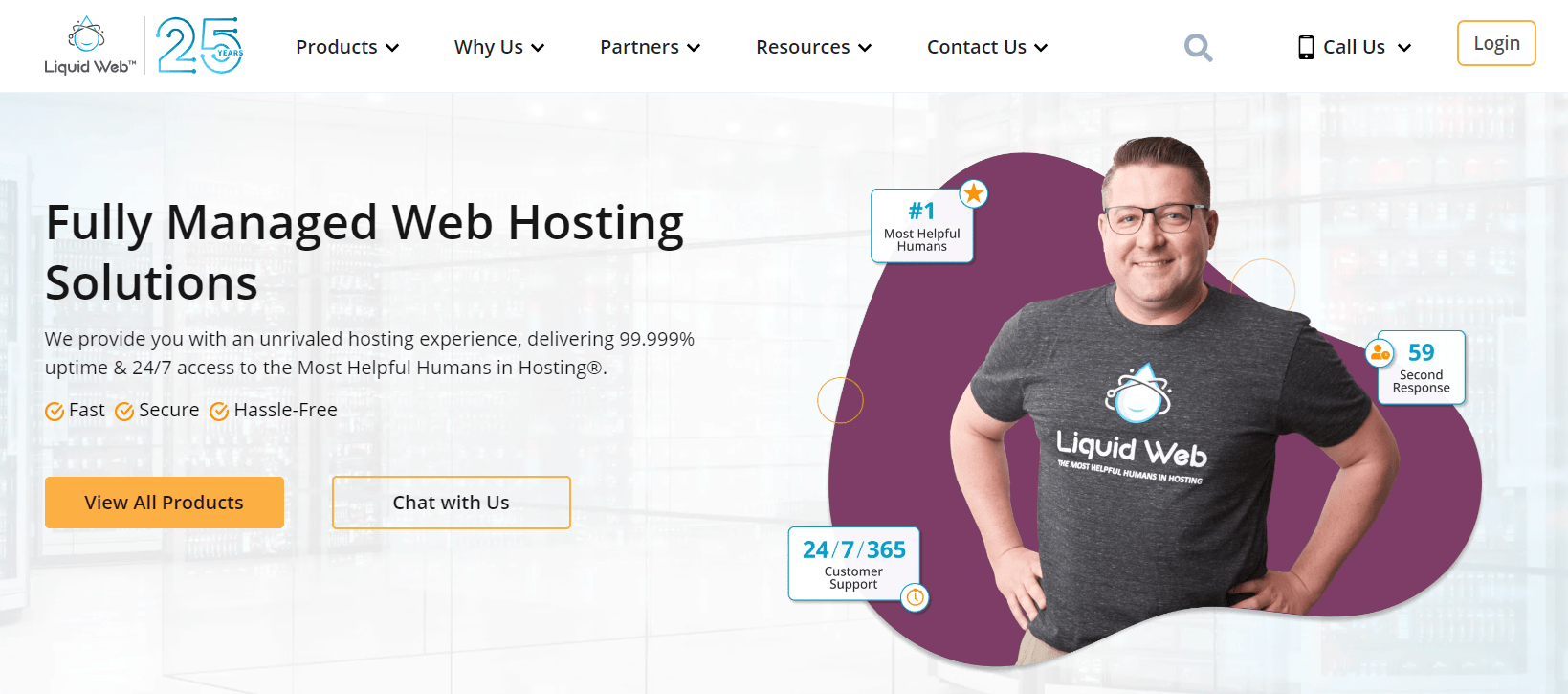 Liquid Web is a premium hosting service designed for businesses solely relying on web traffic.
Liquid Web Affiliate Program is ideal for you if your target audience comprises web designers and developers in the market. Moreover, its affiliate program offers one of the highest-paying commissions.
You can take part in the Liquid Web affiliate program for free. All you need to do is fill-up the form, wait for approval from the Liquid Web team, create a partner account, get special affiliate links, and add the links to your website or blog.
You can use these links on your website and get paid when a visitor is converted into a customer by purchasing the product from your unique affiliate link. You can also track your commission by logging in to your account.
Features:
Dedicated account managers.
Quarterly newsletters.
90-day cookie duration.
Massive commissions of up to 150%.
Commission rate: After Shopify, Liquid Web offers a high commission of up to 150%. On average, the platform provides 15% of revenue on each sale. The minimum threshold is $150, and the maximum of $7000.
Payout Schedule: The payments are made on the 15th of every month through ACH (Electronic Check) or EFT. The payouts are released if all sales are open and in good standing for 60 days before they are locked in.
Why Should You Join the Affiliate Network?
So, is it worth joining an affiliate marketing website? Inevitably, yes! Once you join the robust affiliate networks (the ones we mention below), you can increase your revenue by contacting brands and having a global audience for the product listed.
Choosing an efficient affiliate marketing website will also provide features like reporting tools, training & support, intentional security of your account, effective tracking & data, integration with e-commerce platforms, and much more.
In addition, some other benefits of joining these networks include:
Simplified progress tracking
Ease of payments
Access to reporting and analytics tools
Affiliates earn a decent proportion of commission on every sale of the products. It is a win-win game for both affiliates and businesses as a good amount of commission motivates affiliates to promote more products, increasing sales for businesses as well.
Choose any product to promote on one's social media platform, website, or blog.
Types of Ad Pricing Models Based on Which Affiliates are Paid
Affiliates are paid based on different ad pricing models, including:
Cost Per Click: CPC represents the payment for each click on your ads. Primarily, it decides an affiliate's earnings by determining the cost an adviser pays for the ads shared by affiliates on different platforms or websites.
Cost Per Action: CPA is also known as acquisition or cost per desired action. CPA is determined by the price a customer pays as subscription or sign-up fees.
Cost Per Mile: CPL is another pricing model that determines the earnings of an affiliate. It represents the cost per 1000 impressions paid by the affiliate.
Cost Per Installation: CPI is the amount advertisers receive at the time of the installation of their app by the customer.
Cost Per Lead: CPL refers to the cost paid to the affiliate by an advertiser, per lead information, who is interested in the product.
FAQs
Here are some common questions asked regarding affiliate marketing.
Q1. How to start affiliate marketing as a beginner?
Ans. Following are some of the steps that can help kickstart your affiliate marketing journey:
Choose your preferred niche before entering starting your journey as an affiliate. Your niche may include your hobbies, fashion & lifestyle, sports, health & fitness, travel, etc.
Network with a good affiliate marketing website like ClickBank, CJ Affiliate, ShareASale, and more.
Generate leads through social media platforms such as LinkedIn, YouTube, Facebook, and Instagram.
Create compelling content to attract your target audience, like Q&As, tutorials, product reviews, etc.
The next step is to convert those leads into customers by allowing them to click on your content's links, context, and callouts.
Q2. Do you need any investment to start your career in affiliate marketing?
Ans. You require little to no investment to begin your affiliate marketing journey. You should invest a little money to buy a paid website. However, you can host your affiliate marketing website on a free platform, including WordPress.
Q3. How does affiliate marketing work?
Ans. An affiliate network comprises 3 parties: the customer, the seller or product manufacturer, and an affiliate or advertiser.
So, under this marketing method, an affiliate increases the sellers' sales by sharing their products on a website, podcast, or social media platform. Subsequently, affiliates get a particular share of the commission every time a customer buys from the same link shared by them.
Q4. What is the highest-paying affiliate marketing website?
Ans. If you are searching for the highest-paying affiliate marketing site, choose Shopify. The renowned e-commerce platform sells over $200 billions worth of products by more than 1.7 million businesses in 170+ countries.
Q5. Which affiliate program is ideal for beginners?
Ans. If you are new to affiliate marketing, one of the best websites you can build a robust network is ClickBank. The best part is that it is a free platform, which just takes minutes to sign up.
You can also generate affiliate links to promote your content instantaneously. Furthermore, if you do not like the program, all you need to do is stop promoting it.
Q6. Explain affiliate marketing with an example.
Ans. Affiliates promote their marketing programs by offering bonuses to customers who opt for the deal. For example, being a seller, you can provide a free accessory to your follower who purchases a product you offer. These types of promotions encourage prospects to buy by sweetening the deal.
Affiliate marketing websites play a crucial role in the digital marketing landscape, offering opportunities for businesses and individuals to monetize their online presence.
By leveraging the power of these top affiliate marketing websites, you can maximize your earning potential and establish successful partnerships with reputable brands. Remember to choose the platform that aligns with your niche, target audience, and marketing goals to embark on a profitable affiliate marketing journey.