Want to increase the trust of the customers about your store? Inevitably, in today's world, taking the support of influencer marketplaces has become an indispensable factor for almost every business. If you want to boost sales and enhance the brand image, using influencer marketing platforms will act as a stepping stone for your business.
What is an Influencer Marketplace, and What Does It Offer?
Influencer platforms are the marketplaces helping marketers match their business needs by finding people working in their niche. All you need to do is sign up and post a brief describing the services you are looking to avail of and wait until an influencer responds.
Primarily, it is a bridge that connects marketers with influencers in similar industries or social channels. For instance, if you have a clothing business, you can find an effective marketplace just for Instagram fashion influencers. Or, if you are an artist (singer, musician, cook), you can find a YouTube influencer through these platforms.
These marketplaces provide influencer discovery tools for agencies and brands. Furthermore, they are also known for offering extensive searchable databases of potential influencers, using efficient algorithms.
Besides all this, these marketing platforms provide other basic functions, including:
Exploring and identifying the brand's content creators/influencers.
Approving influencers' posts before their publication, once after negotiating their fees on behalf of their brand.
Maximizing audiences reach and clients engagement by offering a strategy for the brand's campaign.
Running ad campaigns & capturing vital KPI in the process.
Providing access to post-campaign analytic tools facilitating the marketing for brands.
Why Do You Need Influencer Platforms?
Primarily, influencers are content producers. They have a deeper understanding of the customer behavior pattern and can analyze their reaction beforehand. Thus, letting the influencers create a native ad that resonates better with consumers is a good idea that should never be ignored.
The key to running any business successfully is when you can attract a large number of audiences towards your products and services, plus improving the overall conversions.
These platforms help you discover the right influencer for your product/service and enable tracking the progress of your marketing campaigns seamlessly.
40+ Top Influencer Marketing Platforms
Our skilled writers have prepared the list of best influencer marketplaces that will provide you with the ability to generate detailed reports about your campaigns.
Let's dive in and check out all the efficient influencer marketing tools: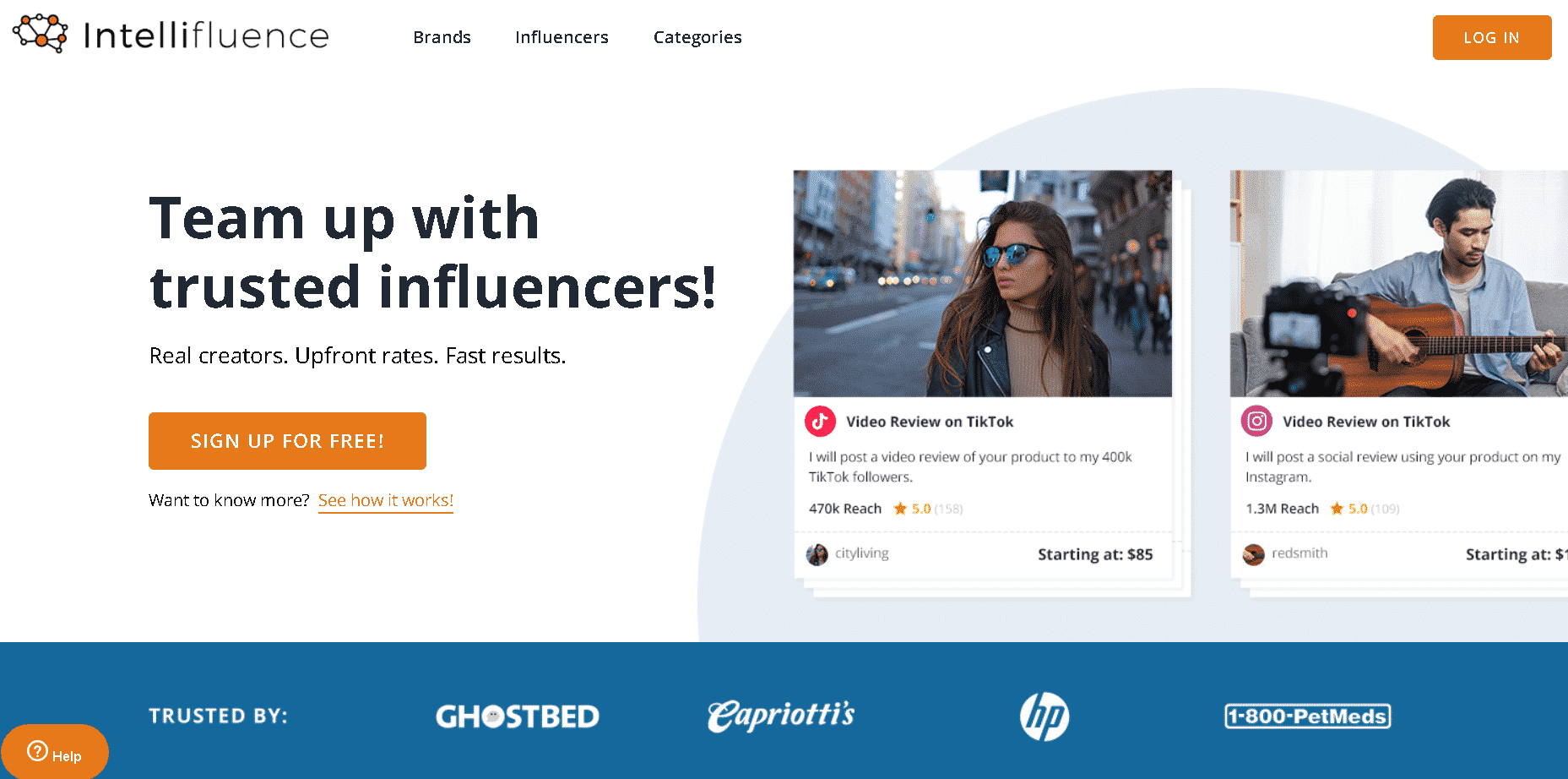 Intellifluence is one of the leading influencer marketing platforms specialized in discovering a wide range of influencers, from peer-level micro-influencers to minor celebrities with plentiful followers.
Various business owners search the influencers and find great matches through this spectacular tool. The platform collects the agreed-upon contract amount and does not release it until the influencers demonstrate the campaign paved a way to accomplishment.
The marketplace is better than many competitors as it differentiates by vetting through an opt-in process that requires profile ownership verification, self-categorization of interests, and pricing guidelines. Therefore, the process of choosing the influencers to outreach your target audience is an effective way to boost sales and revenue, compared to typical cold email contracts that have been going on for years.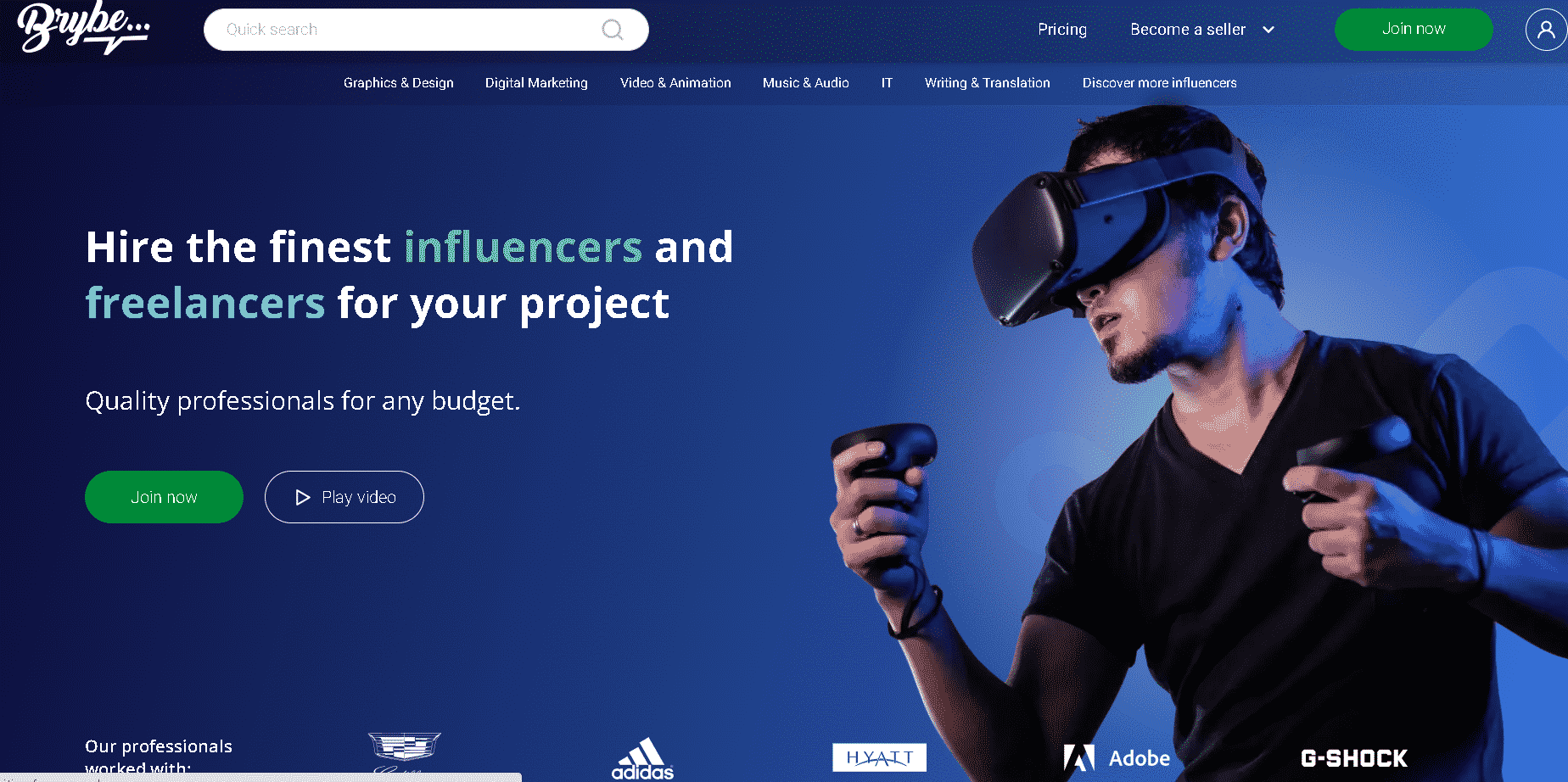 Brybe primarily focuses on nano and micro-influencers, one of the best influencer platforms. It is a perfect marketplace helping many businesses search influencers as per their product/service and set their prices by paying a 15% fee on top after both parties agree. The tool can create custom packages and offer a ton of services in a specified amount.
The best part about this platform is that it also targets collaborating with freelancers, allowing business owners to get competent individuals at an incredible price apart from having buyers and influencers.
The marketplace primarily aids small and medium enterprises and hire low-profile influencers. However, the platform also uncovers renowned celebrities and mega influencers, including Leo Messi and Colleen Ballinger.
Also Read: 20 Best Freelance Marketplace and Platform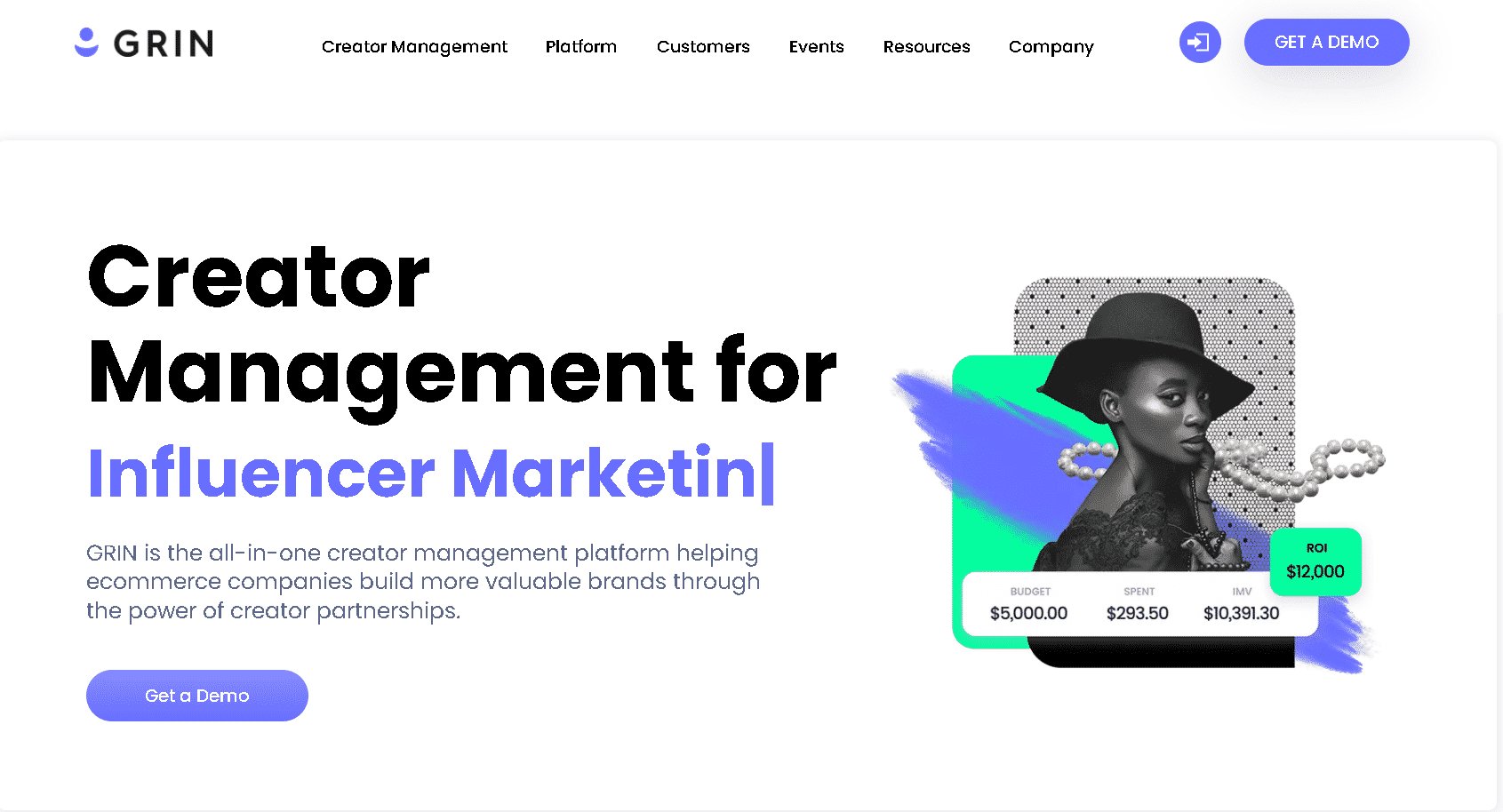 An impeccable influencer marketing software, Grin is an AI-powered tool that includes campaign management, influencer search, and discovery, third-party analytics, and an influencer marketplace.
Grin helps build a strong relationship between the businesses and the target audience as it provides access to search influencers through social media platforms including Instagram, Twitter, YouTube, Facebook, and Twitch. It provides you with a list of influencers alongside their relevant characteristics (informing you of all your clients who purchased your product before and liked it).
The platform is user-friendly and features a top-tier marketing management system. Plus, it organizes the data very well by fetching all the registered users from their e-commerce site and finding their social media profiles. The tool allows you to search 100+ million influencers, amongst which 37 million profiles have mentioned email addresses.
Not able to find the right influencer platform yet? Upfluence is an all-in-one tool enabling business owners to find advanced search filters and AI recommendations.
It provides you with ample features and a robust influencer relationship management system. Subscribing this marketplace will allow you to access its massive database of 500 million content items, spreading across multiple social media sites, including Facebook, Instagram, Twitter, Pinterest, YouTube, and blogs.
It allows business owners to search through specific criteria and provide you with a perfect match based on your business requirements. Moreover, the influencer management system provides tools for brands to manage their relationship with each influencer.
Located in Detroit, The Outloud Group undoubtedly deserves to be on the list of top influencer marketing platforms. It is an influencer marketing agency bridging the gap between numerous businesses and influencers to meet through one marketplace, The Outland Group.
The platform allows marketers to build and execute strategic campaigns to deliver measurable results.
The software has many renowned clients running successful advertising campaigns such as Wix, Dollar Shave Club, Warby Parker, 23andMe, and Legal Zoom.
The marketplace helps you find proficient influencers, especially working with YouTube and Podcasts, that are apt to boost the sales of your business's products/services.
6. Fourstarzz Media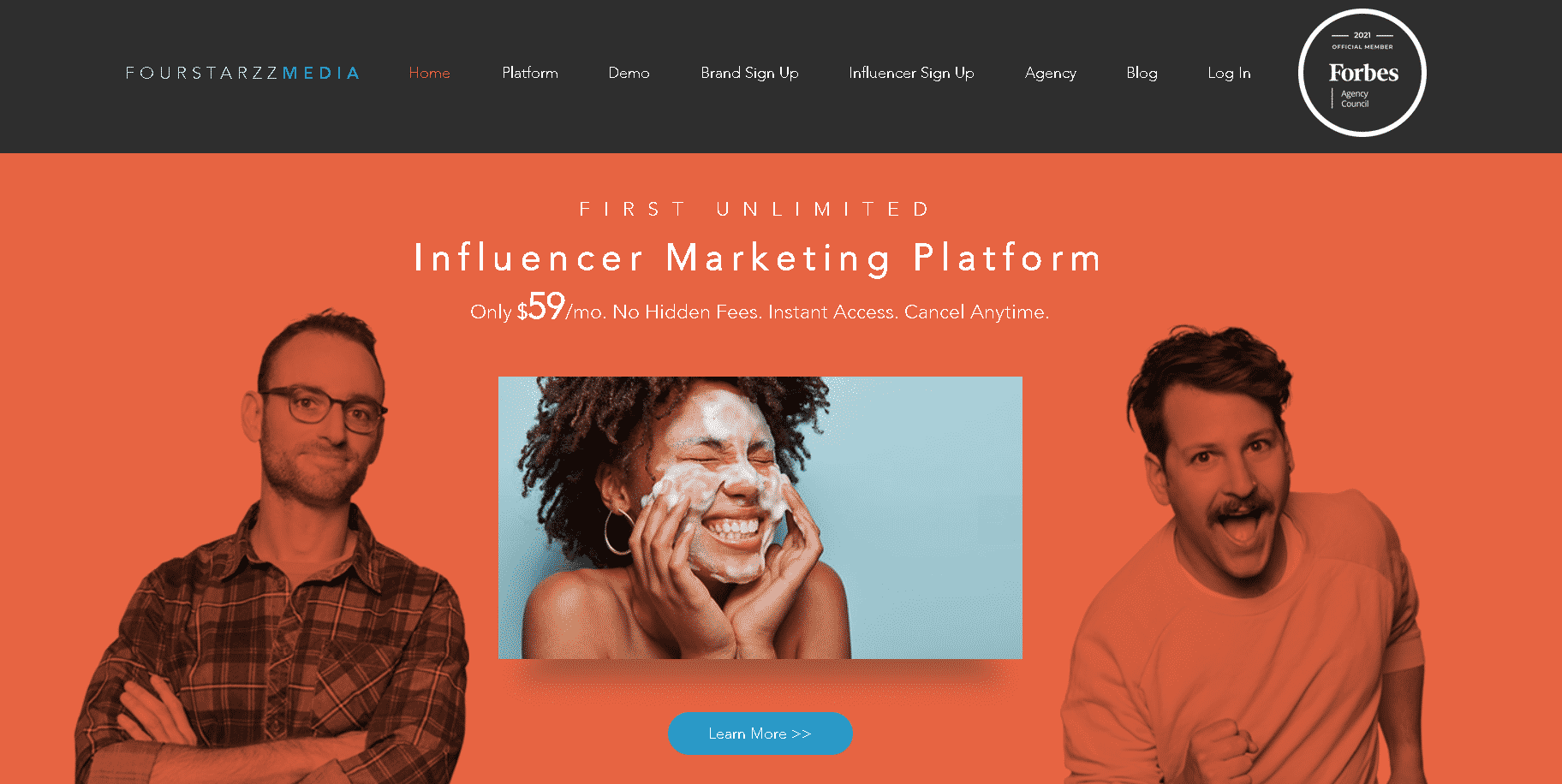 The unique platform, Fourstarzz Media, gives unlimited access to more than a million pre-qualified influencer profiles alongside providing detailed influencer reports, including their quality ratings, personal details such as age, gender, demographic location, etc. The platform follows a filter functionality based on demographics, language, location, engagement, estimated price, reach, etc.
The platforms facilitate branding affinity searches, keyword searches in bio, and hashtag searches. Plus, the platform provides you with full control over your campaign progress by using the app campaign tracking tool and comparing influencers with one other.
This marketplace offers the highest value for the lowest price. However, it does not offer a free trial. The subscription of Fourstazz is monthly based and is cancelable anytime. At the same time, unlimited access depends on the price plan you choose and the quality of the database.
Also Read: 25 Best Affiliate Marketing Platforms & Networks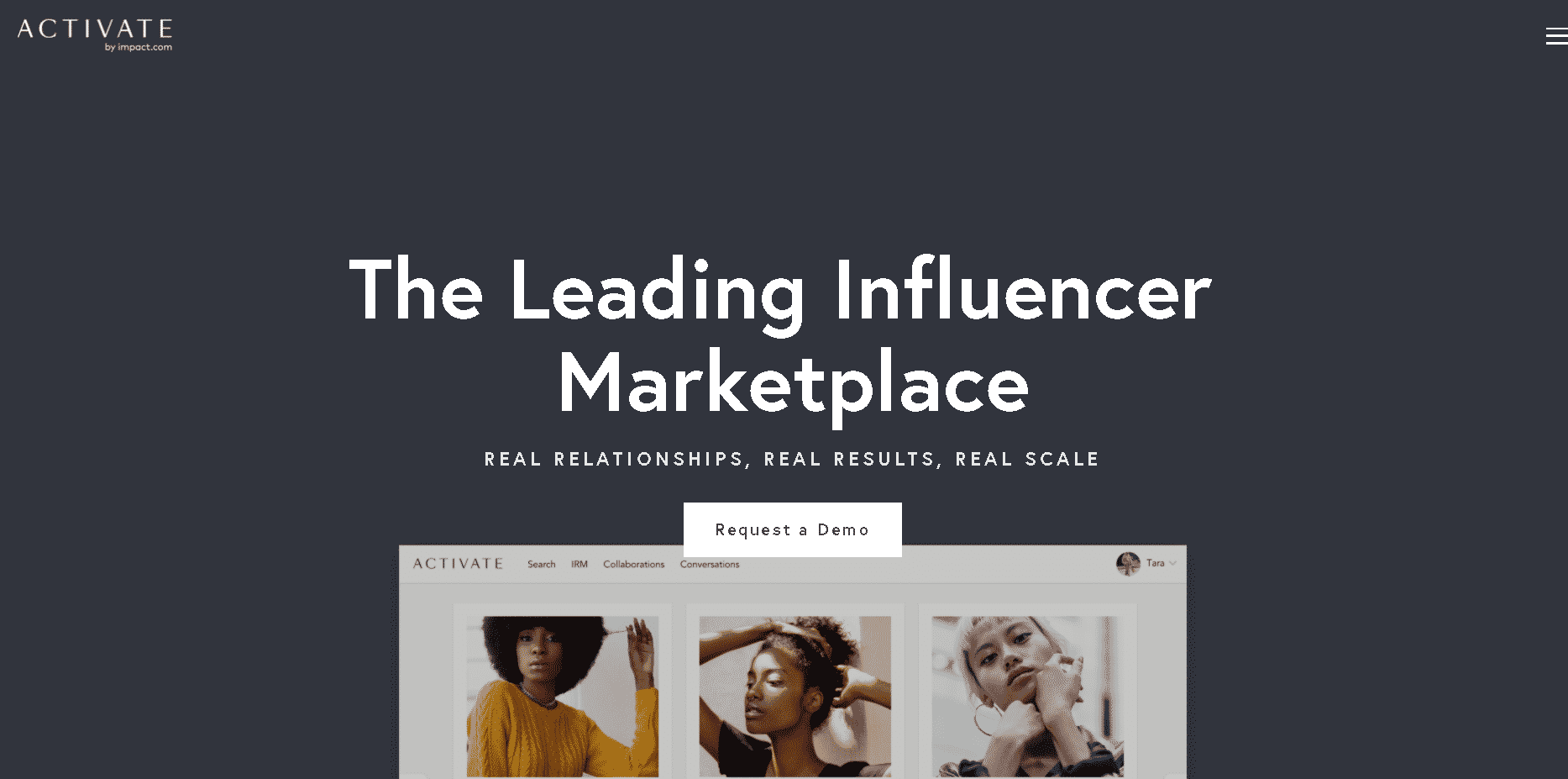 Searching for a one-stop solution for all your marketing campaigns? This platform has the potential to do a lot more than just help you find the best influencers.
The influencer platform is packaged with an added payer of human expertise. Moreover, Activate also boasts a range of renowned influencers, celebrities, models, sports stars, etc.
It also facilitates creating and customizing pitch decks for influencers; the reports are based on readily available data. This tool has proven to be a life-saver tool for those looking to compile an influencer pitch desk manually.
Not only you will meet the influencers, but this platform also helps you solve problems such as inflated reach metrics, follower fraud, and disguising influencers.
CreatorsIQ is integrated with social media platform APIs. In addition, it is empowered with an AI algorithm that analyzes over 1 billion public social accounts.
Overall this software simplifies the influencer marketing process as the AI assigns each influencer an 'Integrity Quotient,' which helps you evaluate the authenticity of your audiences. Once you have found your potential clients, you can send them an invite via email to join your network.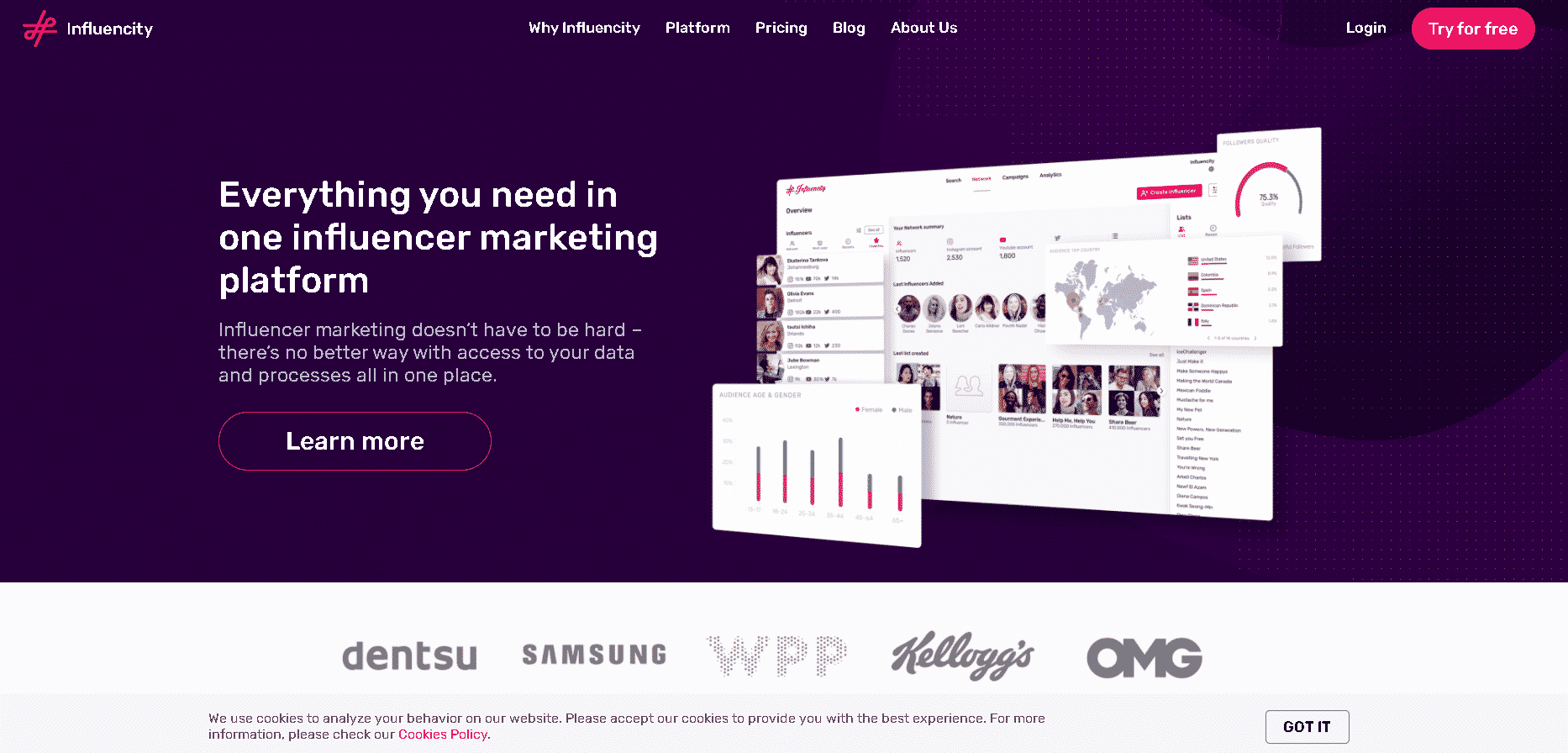 A user-friendly platform featured with an intuitive interface, Influencity allows end-to-end campaign execution. The platform was introduced in 2014 and included over 70 million influencers, 10 million on YouTube, and 20 million on TikTok.
The software provides an ample amount of data. Plus, the best part is that you can apply filters to your search, enabling you to dig deep into an influencers' profile.
An ideal platform for small and medium enterprises allows you to manage influencer relationships and perform campaign ROI forecasting.
Besides its 7-days free trial, they offer 4 paid plans. To know the pricing of each of them, you can visit their website and contact their team.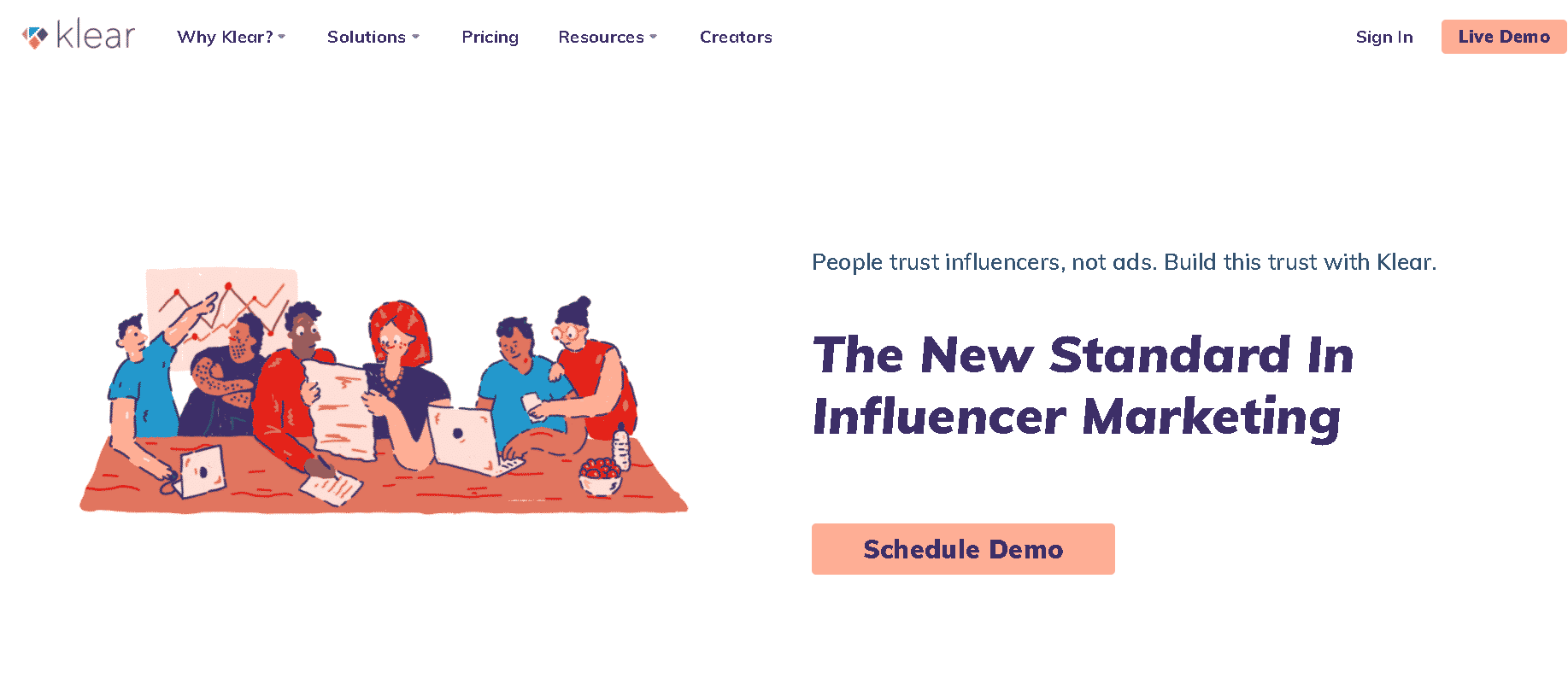 A social media influencing marketing platform, Klear offers an extensive database of 900+ million influencers in more than 60,000 categories, according to influencer marketing hub.
The platform is best suited for large and global agencies/brands. It is also viable for a startup, that is, for companies under 20 employees, as they offer an excellent customized startup plan for those companies.
The extensive depth of insights and data on Klear is better than many competitive influencer marketplaces.
You can opt for its free plan; however, that enables you to access limited influencer search and social profiles. If you are looking to avail of more features, opt for its advanced plan, which will allow you to explore plentiful influencers, operate relationship management, undertake influencer research, work on social monitoring, and even undertake the entire campaign monitoring.
Also Read: How to Make Money through Affiliate Marketing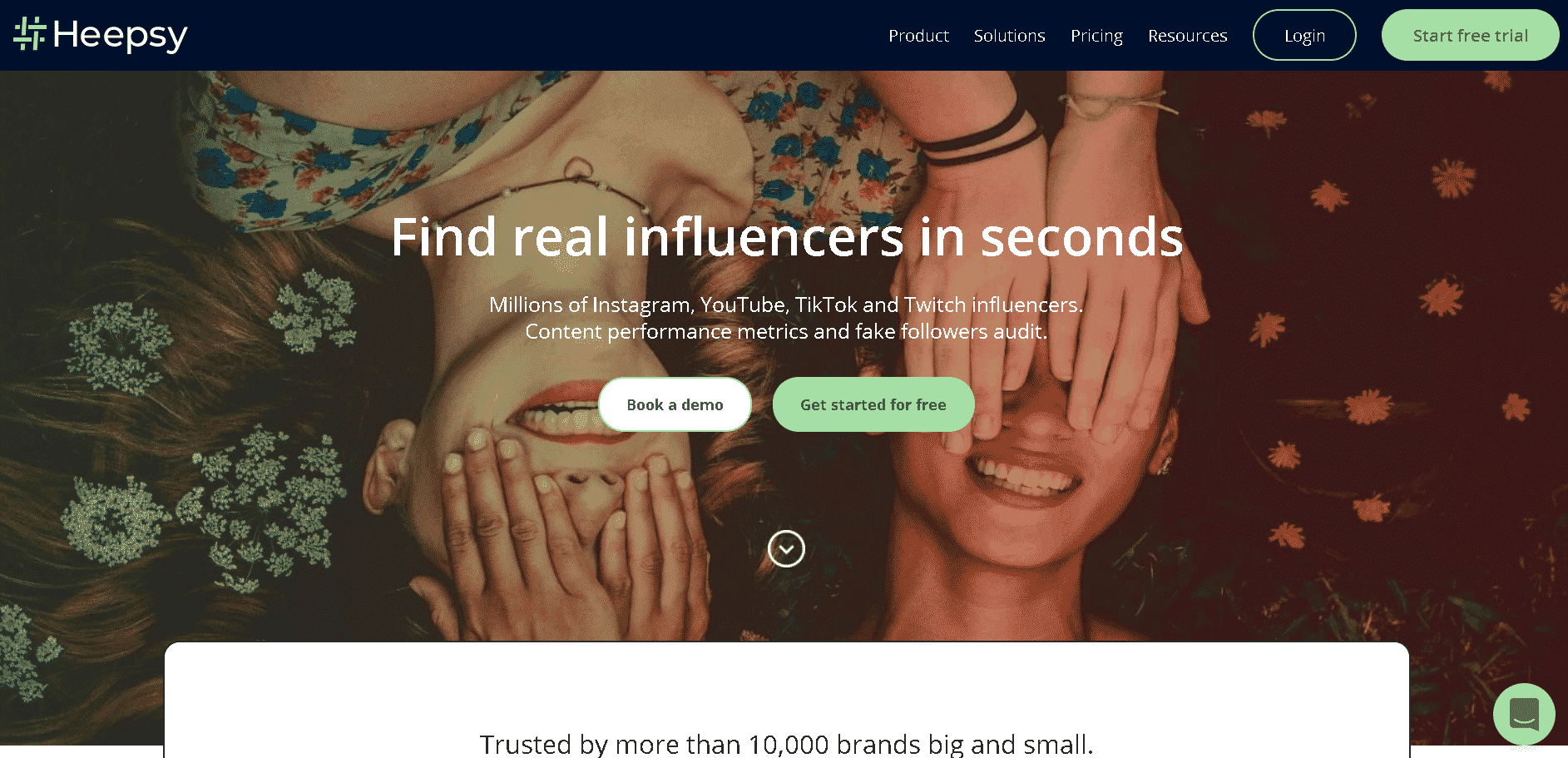 Still, confused about which platform is authentic and where to find real influencers? Heepsy is one of the best influencer marketplaces, having an extensive range of networks with macro-influencers and micro-influencers (having less than 5000 followers). Primarily, it allows you to find and choose the most suitable influencer for your brand within your budget.
Heepsy is best-known for providing advanced reports to evaluate each influencer's audience demographics and authenticity before choosing. Moreover, it lets you access their background by checking their previous collaborations, which gives you a brief indication of their costs.
In addition, this platform also helps you create export data and influencer lists even in their free trial. Isn't it what you were looking for? Go for it, and request its free demo now!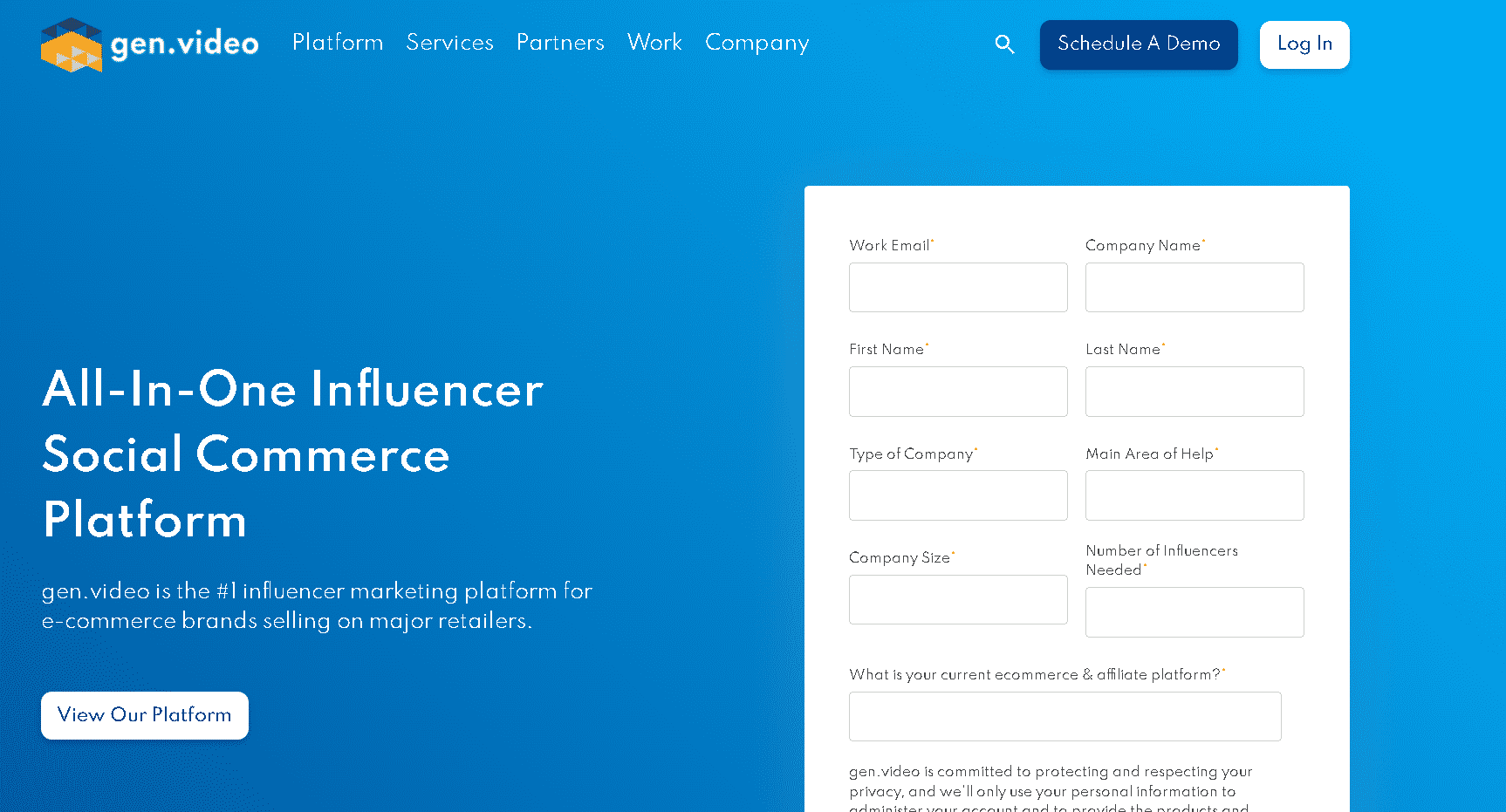 Gen.video is the premiere influencer marketplace, an ideal platform to find efficient influencers. It is a performance-based marketplace that allows you access to the lower and upper-funnel performance metrics. These metrics include in-depth shopping visibility, traffic, and sales conversions from e-commerce giants such as Amazon, Walmart, etc.
It primarily focuses on analytics and is optimized for every touchpoint in your customers' journey.
So, what makes gen.video to be deserving in the list of top influencer marketing platforms? Besides offering the immersive customer experience that fascinates customers to opt for the shopping deals and collecting valuable insights once the customers shop for your products. The easy-to-use platform manages every part of your influencer marketing campaign and lets you run it on automized mode, be it briefs, timelines, influencers, budget, content approvals, contracts, and analytics.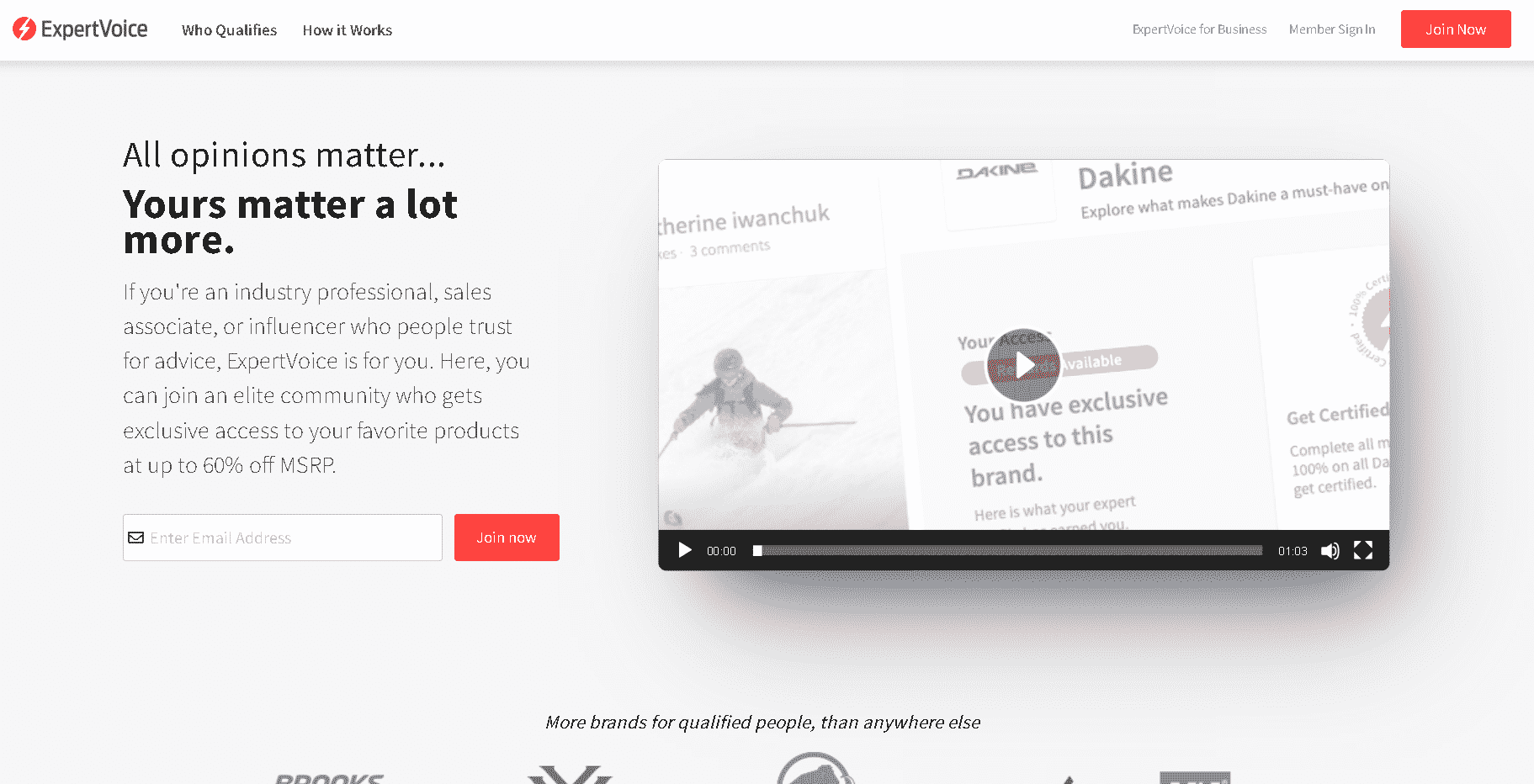 Like to know what precisely you are dealing with? With ExpertVoice, you will get qualified influencers who already know about the type of products or services you are selling.
The platform enables you to join and explore the massive community of influencers, having access to brands within that particular area of specialty.
Some renowned brands using ExpertVoice include Lenovo, Mammut, and Skull Candy.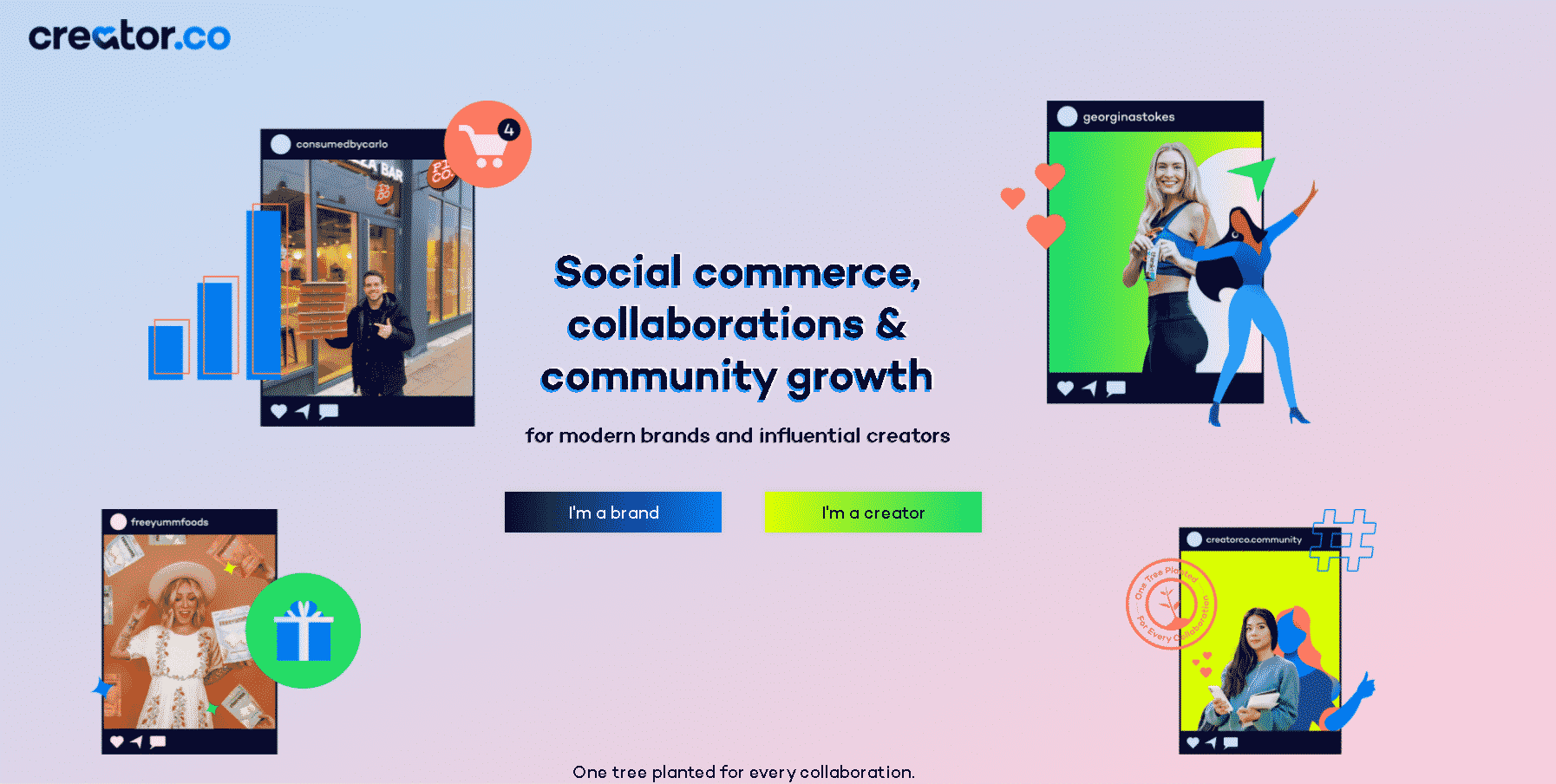 The platform was introduced in 2018 and was previously named Shop and Shout. One of the best influencer platforms, creator.Co is a specialized marketplace that focuses on small enterprises and micro-influencers, having a few followers.
One thing assured by creator.Co is that it delivers quality content that acts as a stepping stone for your business
With a database of 500 million influencers, you can easily find a competent influencer who should fit your brand. Moreover, the platform also provides in-depth data on the influencers and their followers. This helps you evaluate whether the influencer is apt for your organization or not.
Also Read: 23 Best CPA Networks for Beginners
Started its operations in 2017, HypeAuditor is an excellent engagement auditor that dominated the market with accurate results.
The platform resonates with your brand values by letting you find appropriate influencers suitable for the products/services you sell.
With HypeAuditor, you can launch influencer campaigns, individual campaigns and track the performance of your social media accounts (Instagram and YouTube).
The platform offers an excellent user experience and allows you to identify the fake followers of the influencers by evaluating their engagement rate with them.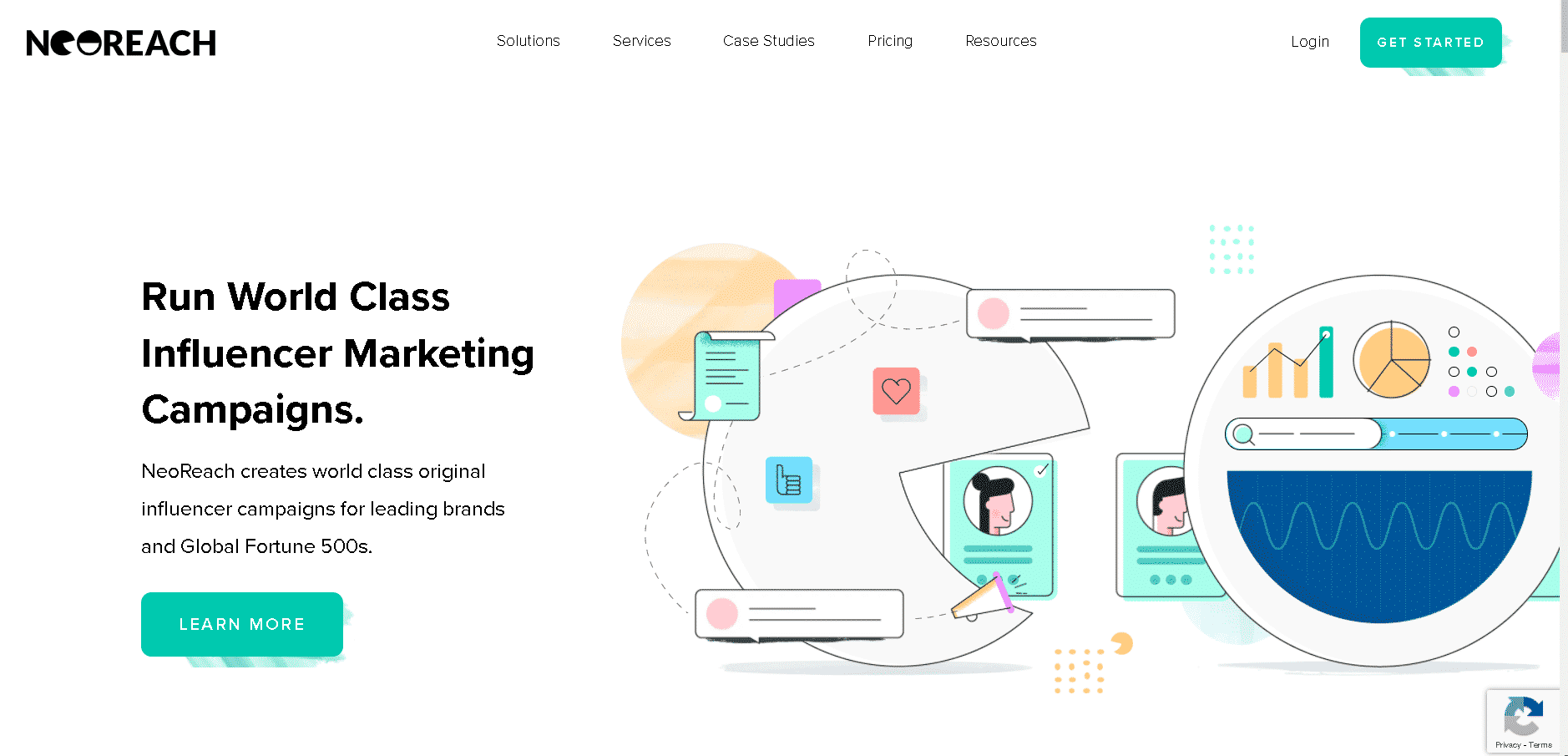 NeoReach is a magnificent digital marketing platform that emerged with the idea of connecting social media platforms with brands. The marketplace uses an algorithm that mines the social web for indexes and data through their platform.
You will have access to more than 3 million influencers with NeoReach. Plus, the tool collects a huge and necessary quantity of data to evaluate the efficiency of each influencer.
The platform also provides you with a wide range of tools helping you to find influencers, track campaign performance, report the performance, run and manage influencer marketing campaigns.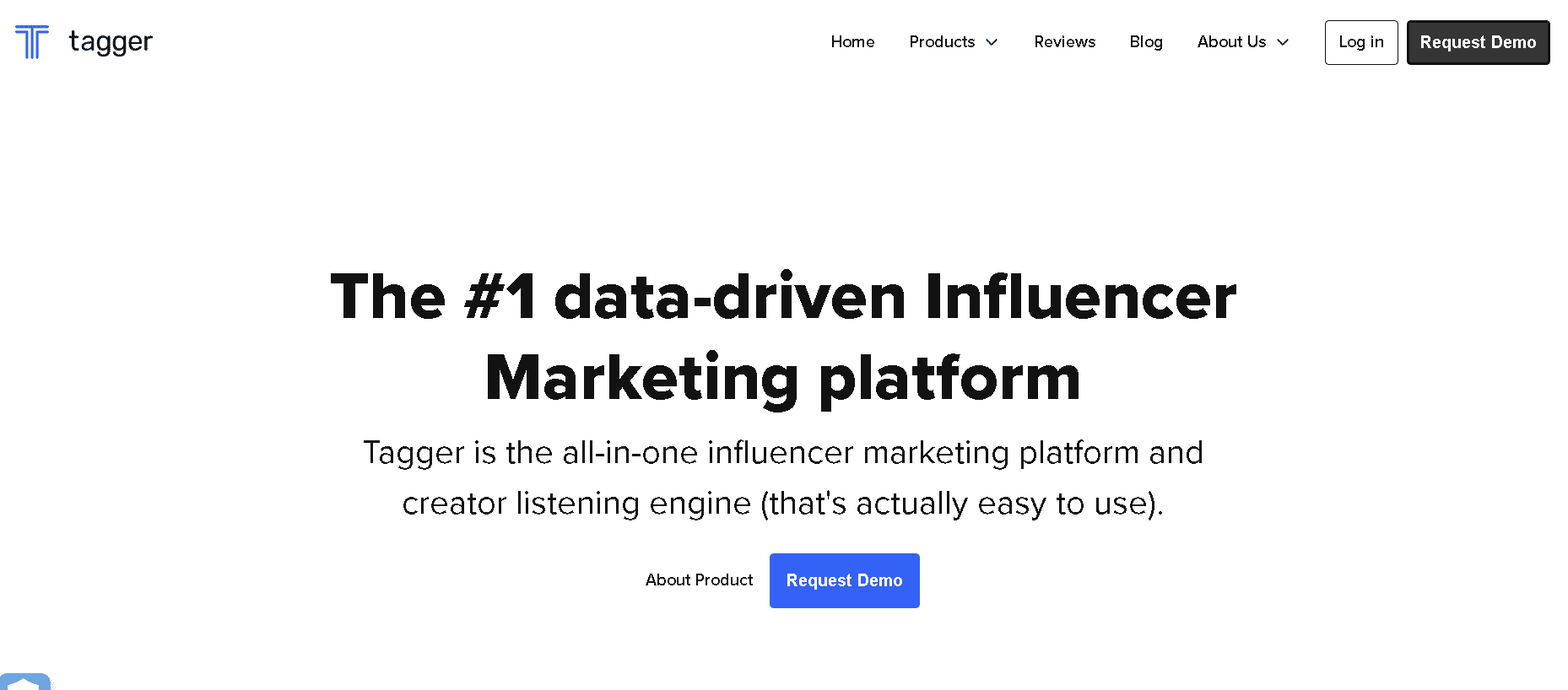 Have you ever felt you are not utilizing your time and wasting it by selecting the wrong influencers? Even if the influencer is good, sometimes they may not prove to be fruitful for your company as they may not have the competency to sell the products/services you are dealing in.
Tagger understands this part very well and brings marketing back to its relationship-based roots. Moreover, it offers a detailed dashboard making it easy to organize your marketing efforts.
It is an award-winning platform and social listening tool that places a strong emphasis on scrutinizing data. This software has plentiful things to offer and is not ideal for small businesses. Usually, it is opted by medium and large enterprises.
The influencer tool determines your ROI by analyzing the performance of all posts of influencers. Plus, it enables you to use influencer psychographics that helps you understand your potential client's interests and affinities.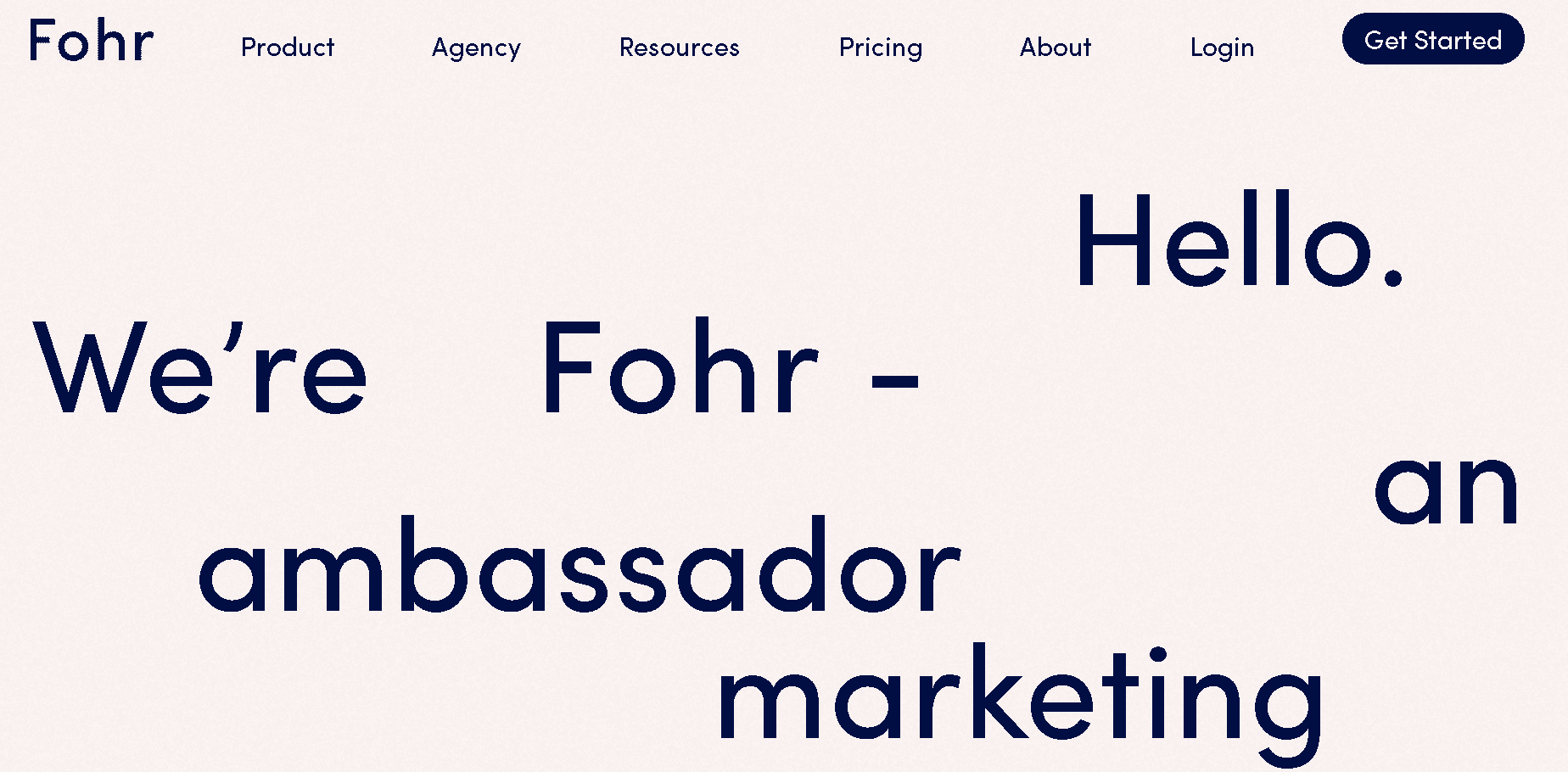 Tired of seeing recommended 'Influencer' option who knows nothing about the products you are selling? Fohr has got you covered if you are facing this issue.
This platform will let you know exactly who you are dealing with and allow you to access a database of more than 5 million influencers. The best part is you can analyze the fake followers of influencers as it determines the interaction of those followers with the influencers. The fake followers are eradicated, helping you to choose a robust influencer for your brand and improving your sales.
The platform provides you with advanced filters and simplifies finding who you should work with. An ideal platform for small and medium businesses, Fohr also lets you create in-depth campaign briefs, get detailed reports, send offers, etc.
Also Read: 25 Best Craigslist Alternatives For Selling Your Stuff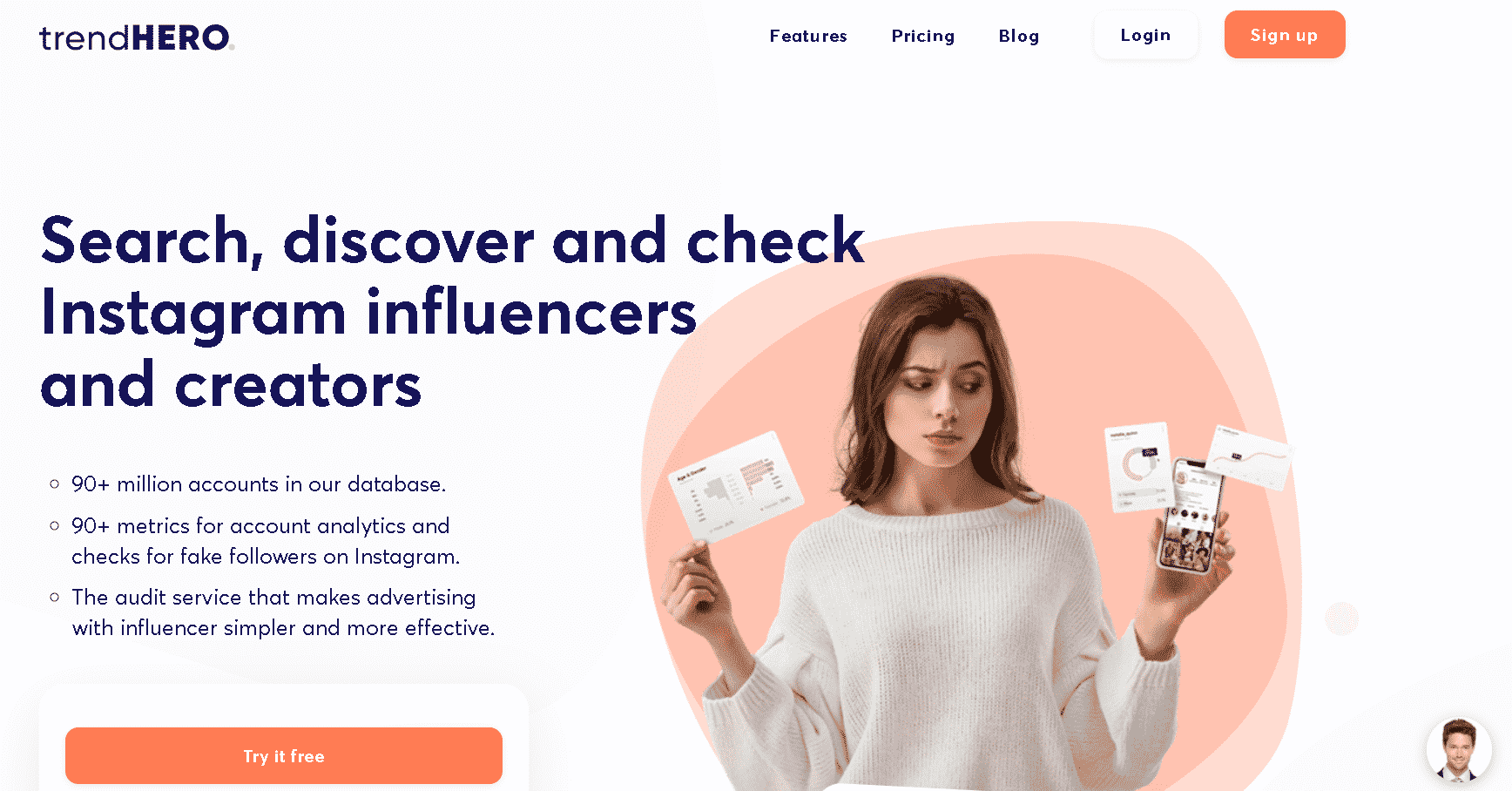 One of the best influencer marketplaces, trendHERO is a tool to detect fake followers. It serves as a one-stop solution that offers analysis, search, audience overlaps, tracking, and competitor monitoring.
The platform allows you to multiply your influencer marketing ROI tremendously with relevant and real followers. The tool has 90+ metrics, including ad return and influencer engagement.
The easy-to-use software enables you to track follower growth, ad efficiency, and content analysis accounts. The best part about trendHERO is that it allows you to opt for its free trial and cancel its subscription anytime. The only disadvantage of this platform is that it only works with Instagram.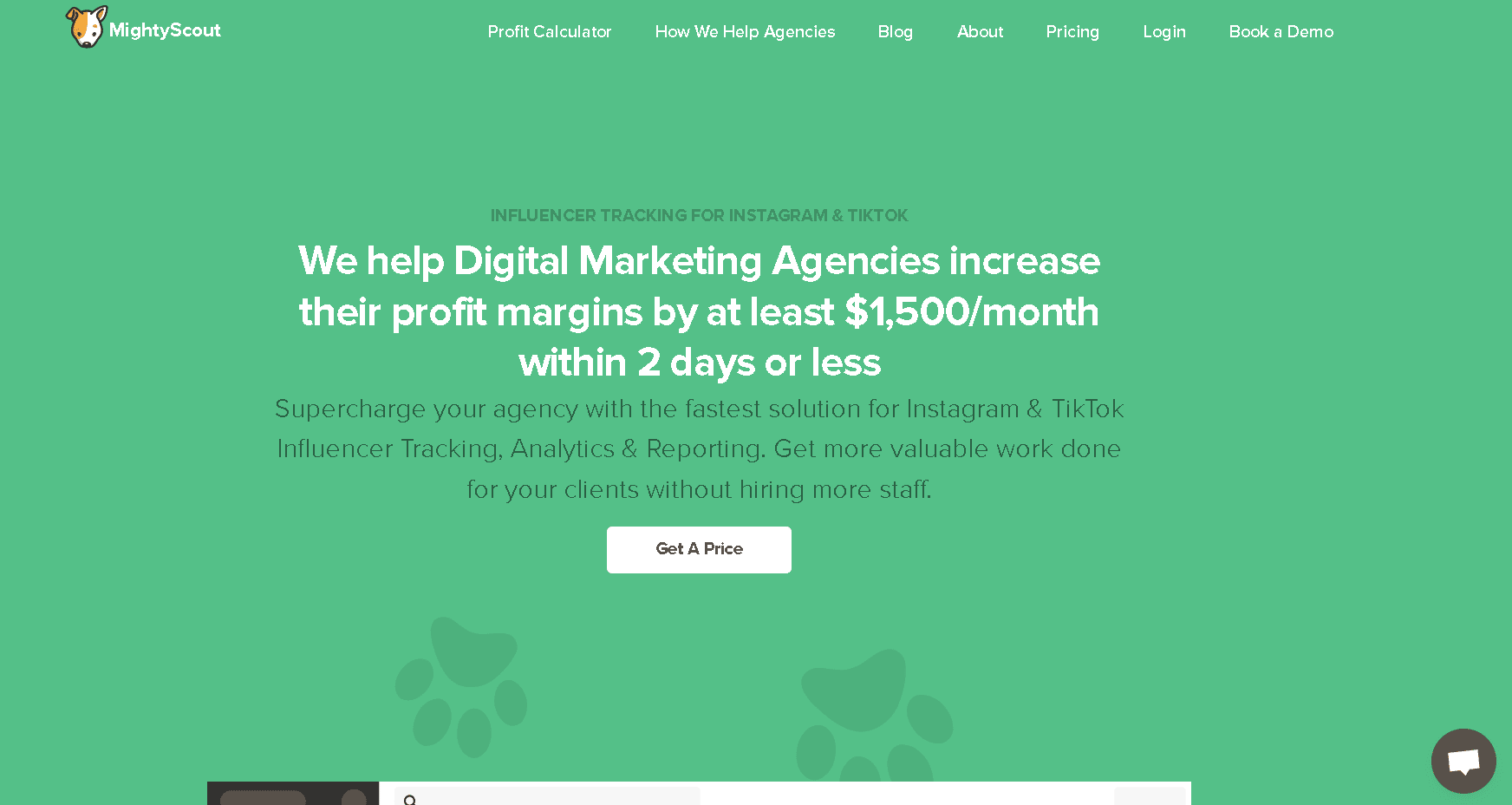 While most of the tools are brand-centered, Mighty Scout primarily focuses on simplifying influencer marketing campaigns with ease. With this tool, you can access 24×7 influencer content tracking in real-time. In addition, it is also ideal for agencies as it helps them identify performers and lock in campaign ROI.
We can conclude that this platform is a front runner in its niche, which is why many renowned clients, including small and large enterprises, use it to search for efficient influencers.
With the robust reporting and tracking feature, you can quantify sales attribution of influencers and create detailed reports straightforwardly. The platform is an ideal choice for e-commerce brands and digital marketing agencies who want to create a powerful network and analyze live data sales integration to enable data-driven decision-making.
It also provides useful metrics to forecast and calculate ROI and scrutinize valuable insights.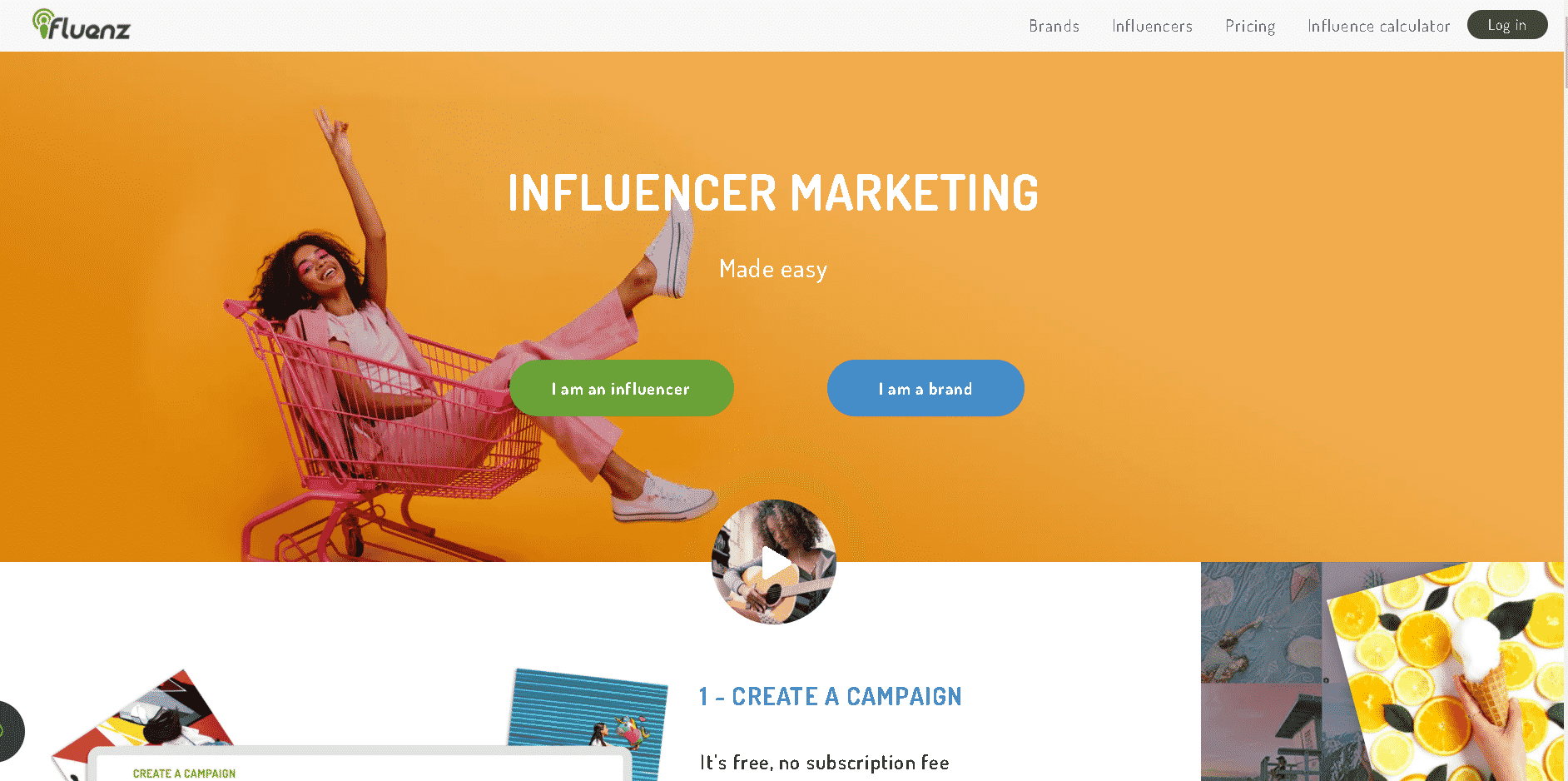 Are you a hardcore Instagram follower? If you are, you must check out this spectacular platform. iFluenz enables you to create effective Instagram marketing campaigns, further helping you meet the influencers of great value for your company.
The tool also boasts about managing 100+ influencers effortlessly as it searches influencers and tracks them online in real-time. So, we can say that it does not work on guesswork.
Another good part about the iFluenz is that it allows you to pitch campaigns in front of the influencers and vice-versa. Suppose an influencer proposes a campaign to you; you get to know that he/she is interested in your product. So, you only pay for the content used, not for the overhead. Isn't it great?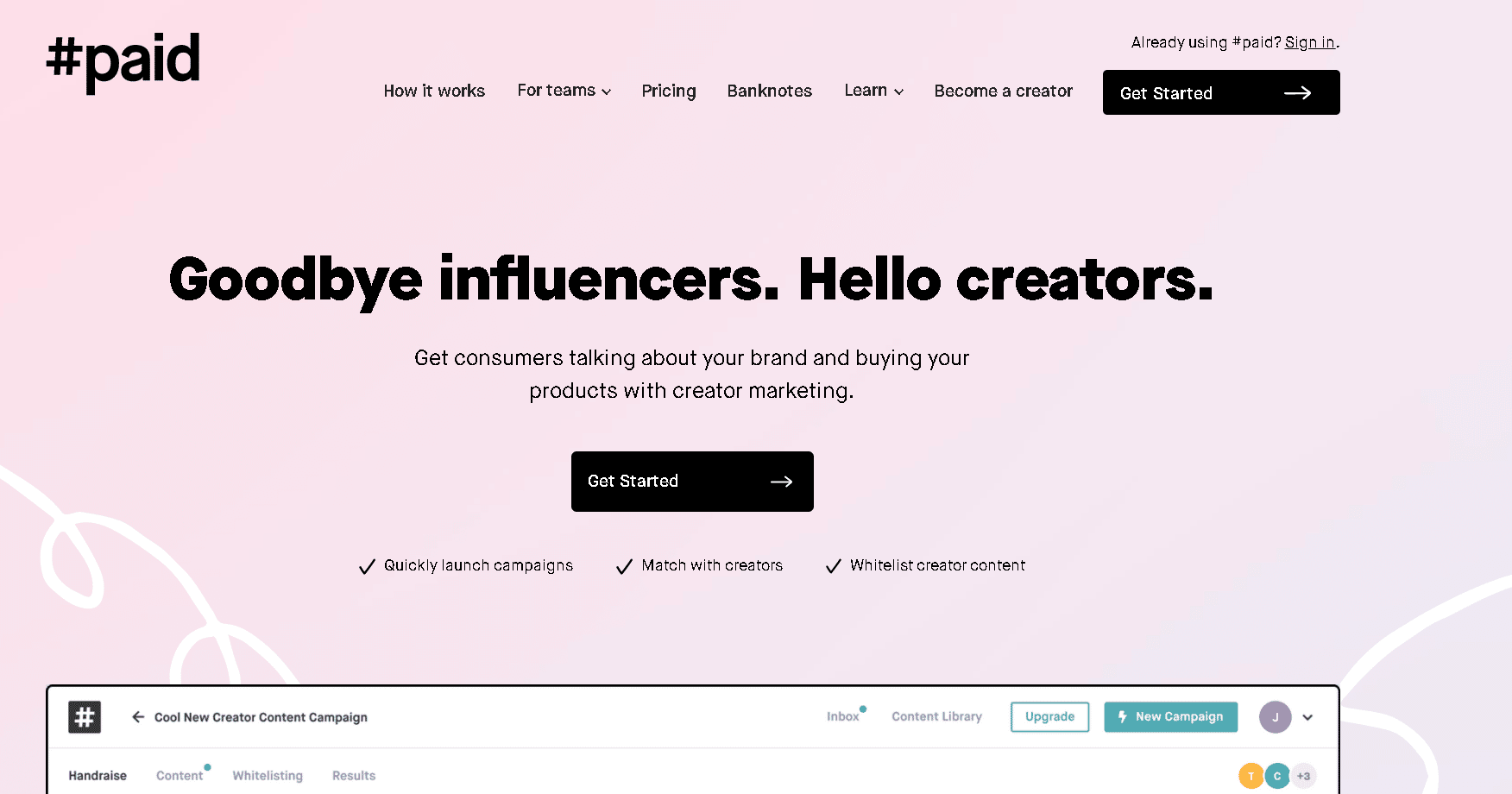 The platform is well-known for not using traditional methods of influencer marketing. This tool is ideal for targeting campaigns for the different sections of your sales funnel.
It helps you find compelling influencers and enables you to recognize their status and how they can benefit you and your business by analyzing their type of followers/audience.
It can be a perfect fit for your brand if you want to create powerful campaigns briefs describing its goals, ideal creator, and the scope of desired content.
It also allows the influencers to raise their hand to indicate their interest to participate in any brand's campaign and persuade their clients that they can be a good fit for the campaign.
Also Read: Swagbucks Review: Is it Legitimate?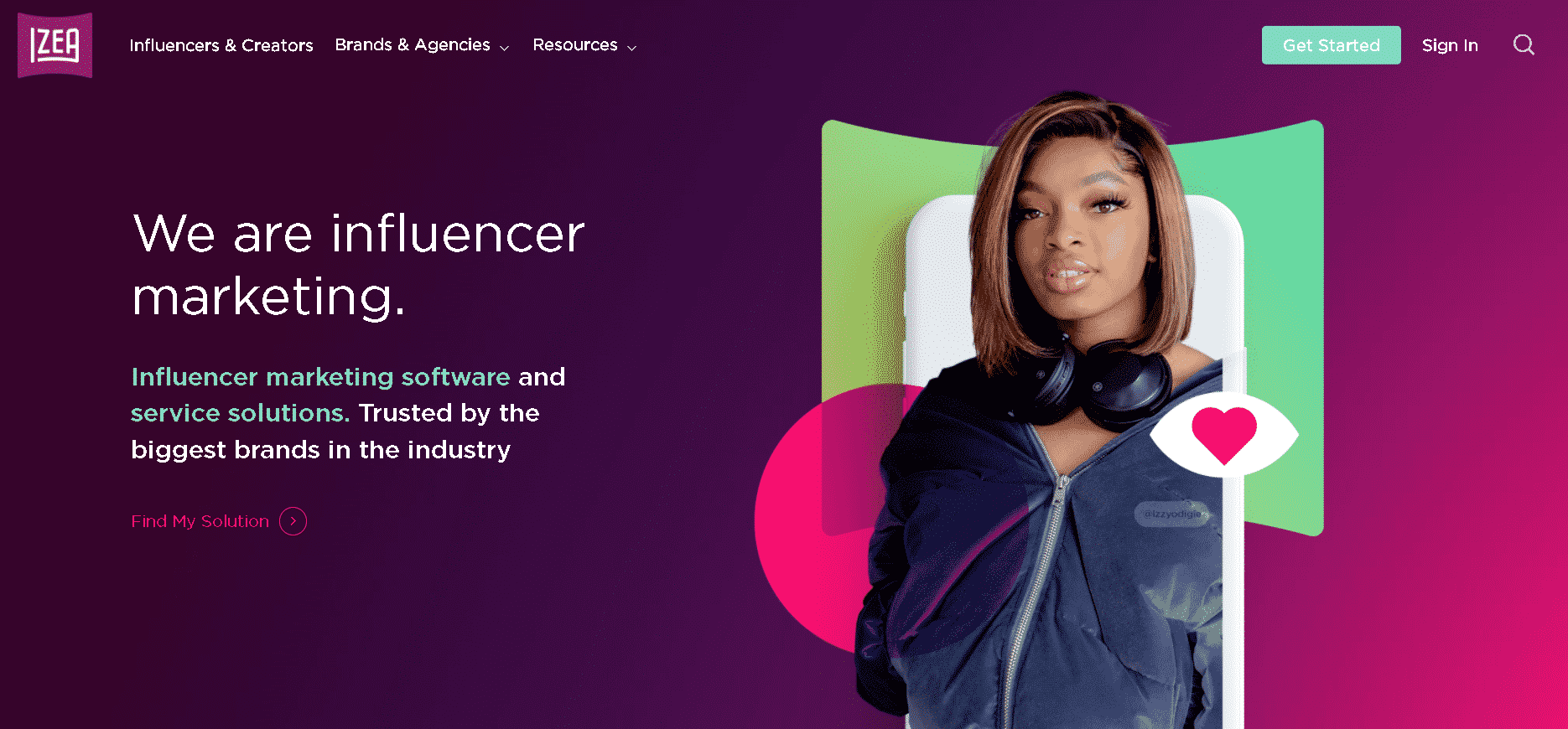 IZEA is one of the oldest platforms mentioned in this list that has helped many businesses meet robust influencers through social media platforms, including Facebook, Instagram, LinkedIn, Twitter, YouTube, WordPress, and several other blogging sites.
Moreover, it offers all the benefits of a competent influencer marketplace by offering a campaign management tool and influencer relationship management features.
The tool covers every aspect of content creation and distribution by influencers on their blogs. IZEA also makes it easy for the marketers to perform a comprehensive platform search enabling them to create a list of the influencers who could meet their requirements and choose the best option.
This marketplace also offers other features such as allowing marketers and business owners to create opportunities, bid on opportunities, accept bids, target compelling influencers, promote posts, review content, and seamless payment process for influencers.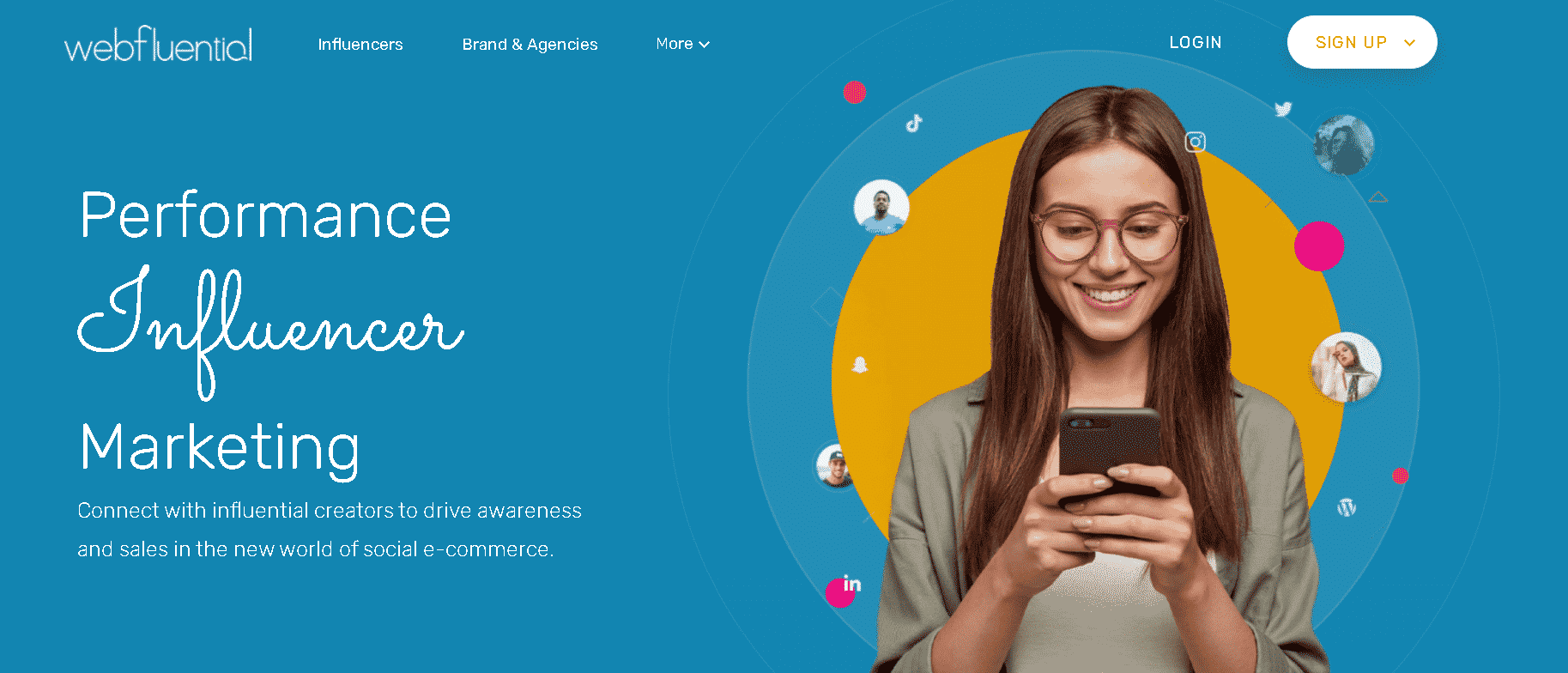 One of the biggest platforms, Webfluential, focuses on finding brands a suitable influencer that helps them convert leads into prospective clients.
The platform's primary purpose is to amplify brands' revenue by producing high-quality social media content and working with celebrities on Facebook, YouTube, Twitter, Instagram, and WordPress to help companies get easy/early recognition.
The marketplace works with several social media influencers that are thoroughly vetted, scored, approved, and identified as influential personalities. This process prevents fake profiles from being a part of this magnificent marketing campaign organizer.
They, too, charge a 10% fee on an approved campaign that is published, just like Famebit. Moreover, you can list your campaign proposal free of cost.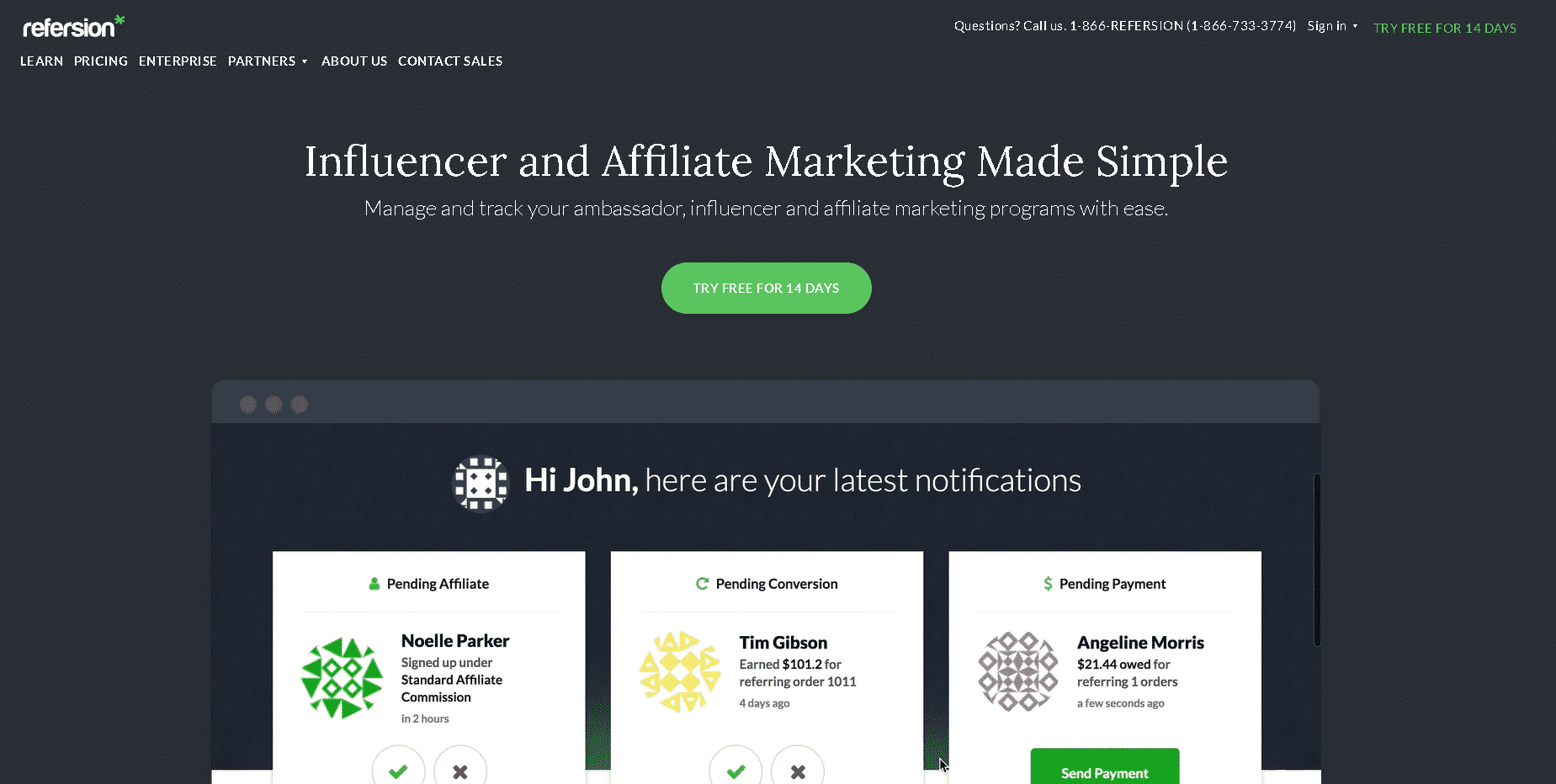 Want to make influencer and affiliate marketing simple? Opt for this astounding platform that will help you achieve both objectives. It allows its users to access its massive content library, automated recruiting, e-commerce tool, forms, and compliance.
The platform has a powerful e-commerce network. Plus, it also makes API readily available for all other marketplaces. The platform is best known for its flexibility as it works very well with other influencer marketing platforms such as Cohley, Upfluence, and #paid.
Unlike other platforms, this marketplace allows you to adapt your offers to fit with all campaigns flawlessly, whether the commission rates are fixed or if the prices increase.
It features a portal for influencers as it tends to recognize the 2 parties to an influencer marketing transaction. Apart from this, you can list and set your requirements for your campaign.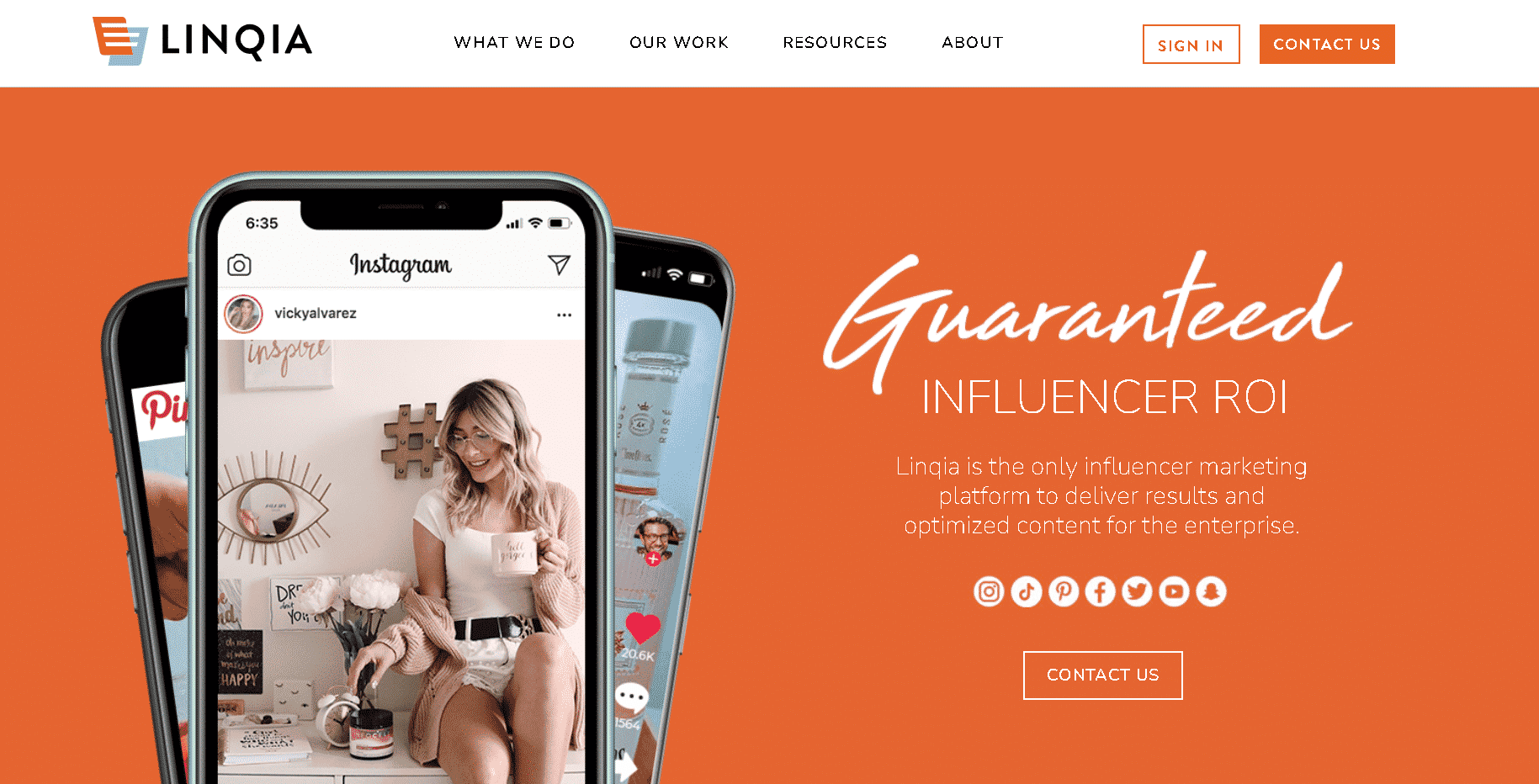 For an exclusive 'content first and data-driven approach, try Linqia. It is an AI-based influencer discovery and management platform.
One of the best aspects of Linqia is that it does not let you work on the guesswork. The marketplace works on an algorithm that helps businesses with 100% assurity by knowing what kind of influencers are right for your brand and what criteria you should consider before their selection.
The platform helps you manage and track the campaigns and enables you to create the analytics data in real-time. Moreover, the tool also facilitates handling legal compliance by monitoring influencer-generated content.
The third parties provide extensive information on this platform, making their analytics more superior than others.
Also Read: 55 Ways To Advertise Your Business For Free On the Internet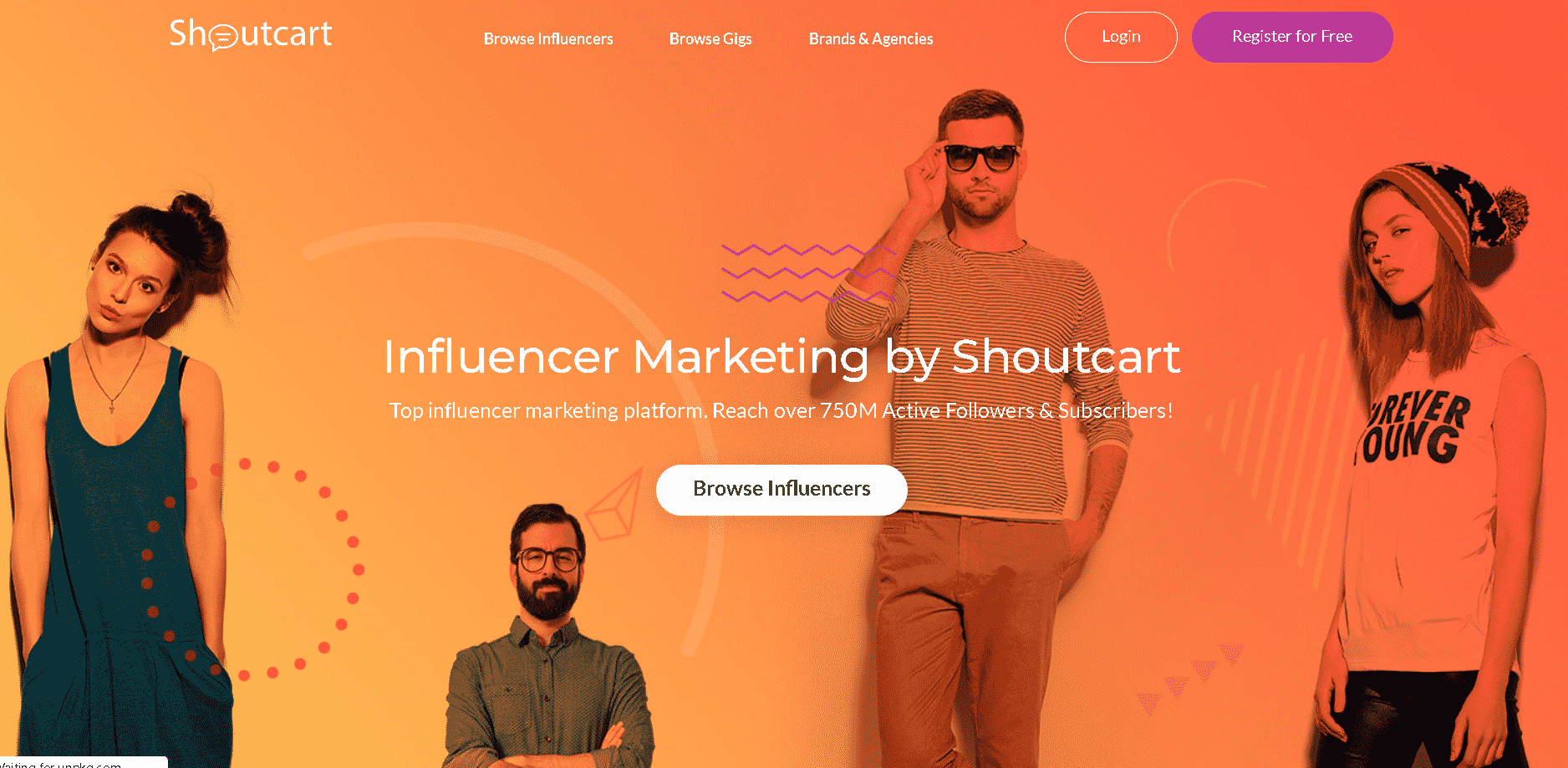 Feeling like you are not able to choose the right talent to help uplift your brand?  Shoutcast is a magnificent platform that primarily focuses on Instagram shoutouts, unlike other marketplaces.
The tool works by using content you have already created on social media platforms. According to this software's pattern, you get a 'Shoutout' from the selected influencers. Once you log in to the tool and find the influencers that appeal to you, the next step is to provide them with your advertisement requirements and the date you want them to be published.
One of the major benefits you get while using this platform is that you need not worry about the content at all. You can relax and be assured that you will get quality content from the influencers to meet your standards. If the influencer creates the content, you can also get multiple influencers to publish the same content.
Once the content is published, the platform provides you with analytics data about the campaign to help you perceive how it will work with your brand.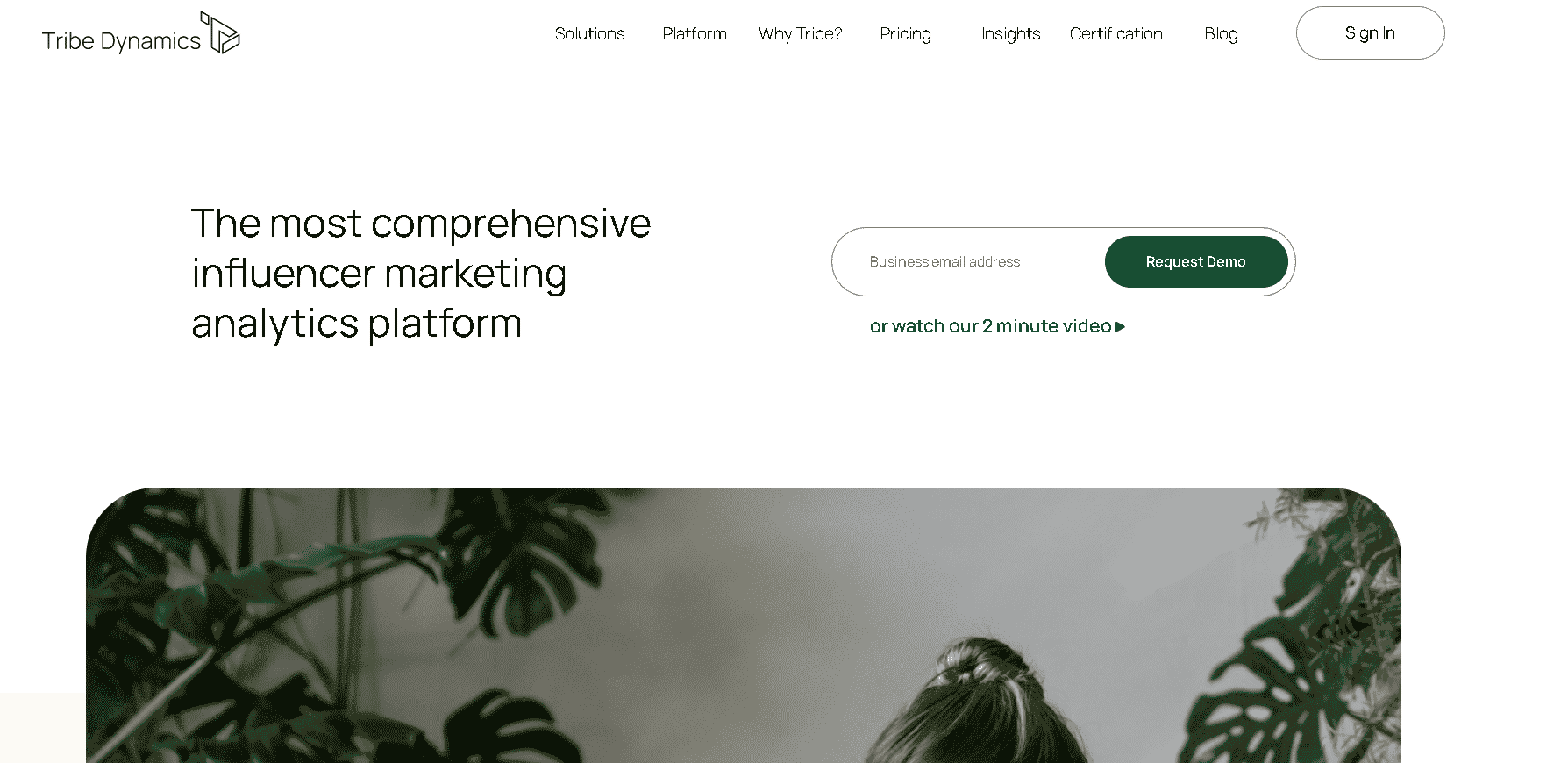 Searching for an all-in-one solution to meet your influencer requirements and pulling more customers from your site? Tribe Dynamics is the tool you can opt for.
One of the most comprehensive influencer marketing analytics platforms, Tribe Dynamics helps you discover benchmarking analytics and insights, content capture search, relationship and campaign management, influencer content amplification.
Opt for this platform to facilitate tracking and evaluating influencer relationships using advanced engagement metrics. Plus, access community analytics and earned media data via a user-friendly dashboard. The client feedback is also integrated into software updates and features that encourage transparency.
Besides managing small and medium campaigns, it organizes & manages large marketing campaigns as well.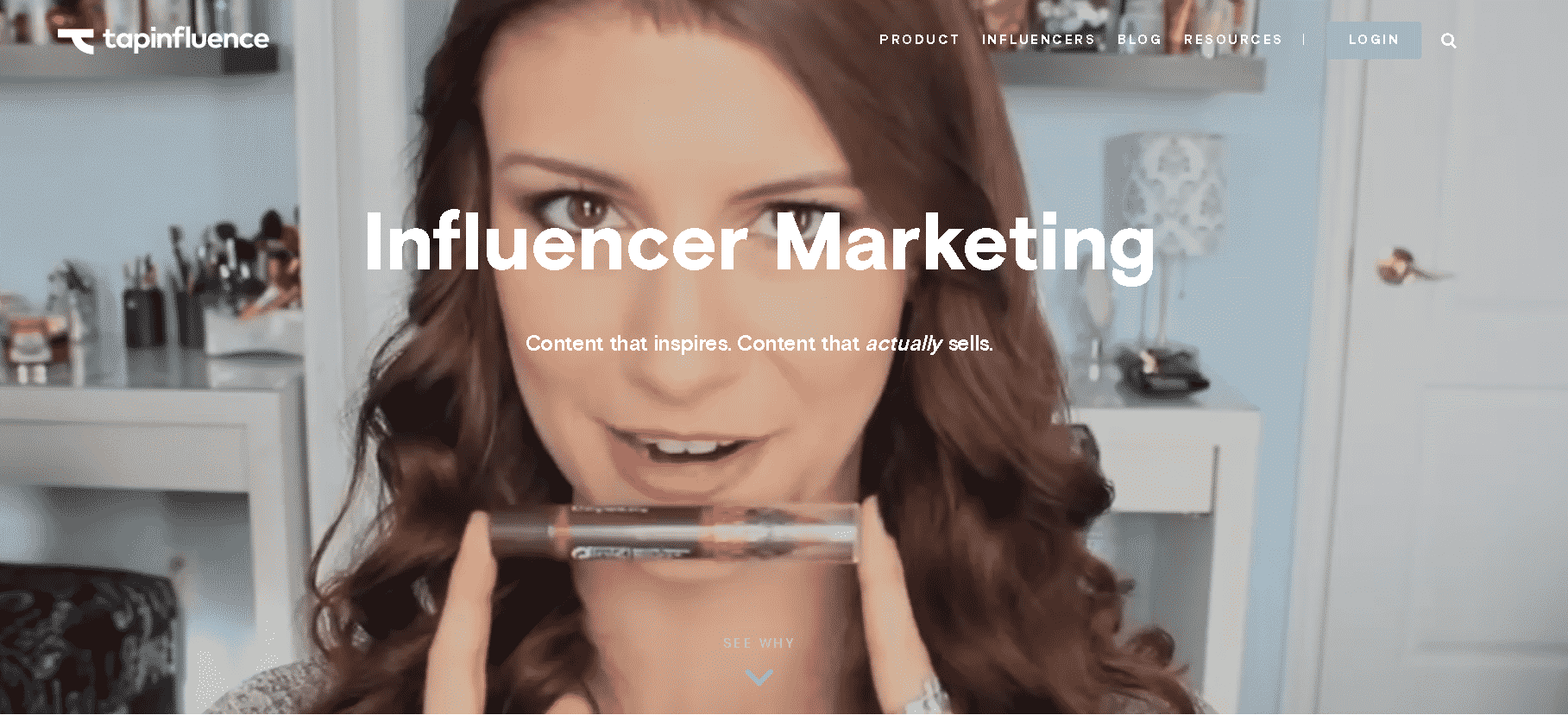 An ideal platform for large enterprises, TapInfluence will help you provide a 360 view of the influencer by letting you identify their audience and real-time Cost Per Engagement (CPE).
The platform is packaged with numerous automation tools providing you with an extensive range of features for all-around managing of the campaign.
One of its unique features enables you to identify influencers through keyword search and provide detailed analytics for your campaign. In addition, the tool simplifies the communication process, review, content creation, campaign briefing, and determining industry benchmarks.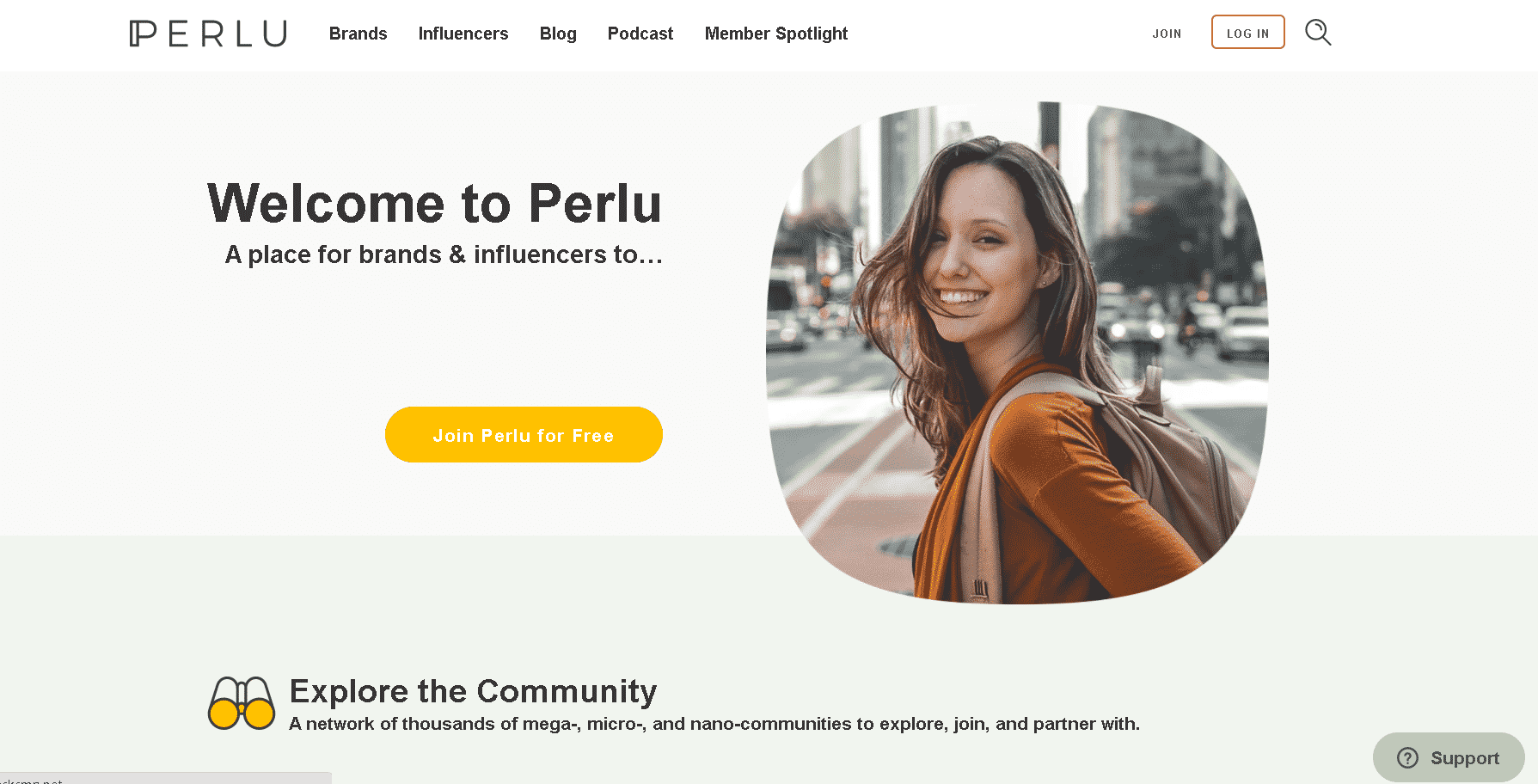 Check out Perlu if your hunt to find competent influencers is still on! The tool is the new entrant in the influencer marketing world and believes that long-term relationship is the key to success.
According to Perlu, if you are able to sustain a relationship with the customer, your business can never fall apart. As simple as that! It is consistently strengthening the relationships by letting brands interact directly with their customers and engage more than one influencer for the same campaign.
In addition, it also ensures that the influencers you are collaborating with have no fake followers. Simultaneously, you can also their profile meticulously and determine if they are competent in the given area.
Also Read: 20 Best NFT Marketplaces
Formerly known as Revfluence, AspirelQ is a self-service marketplace with a database of more than 2,00,000 influencers. The process of signing up to this platform is hassle-free.
This tool primarily works with YouTube and Instagram and enables influencers to view brands or marketing campaigns by checking their requirements. At the same time, it also enables marketers to search for the appropriate influencers needed for their organization or company to sell their products or services effortlessly.
The marketplace provides an exceptional range of campaign tools that makes it easy to organize and manage all types of marketing campaigns.
As per this platform, an influencer needs to have at least 2500 YouTube views and 500 Instagram likes to be considered one.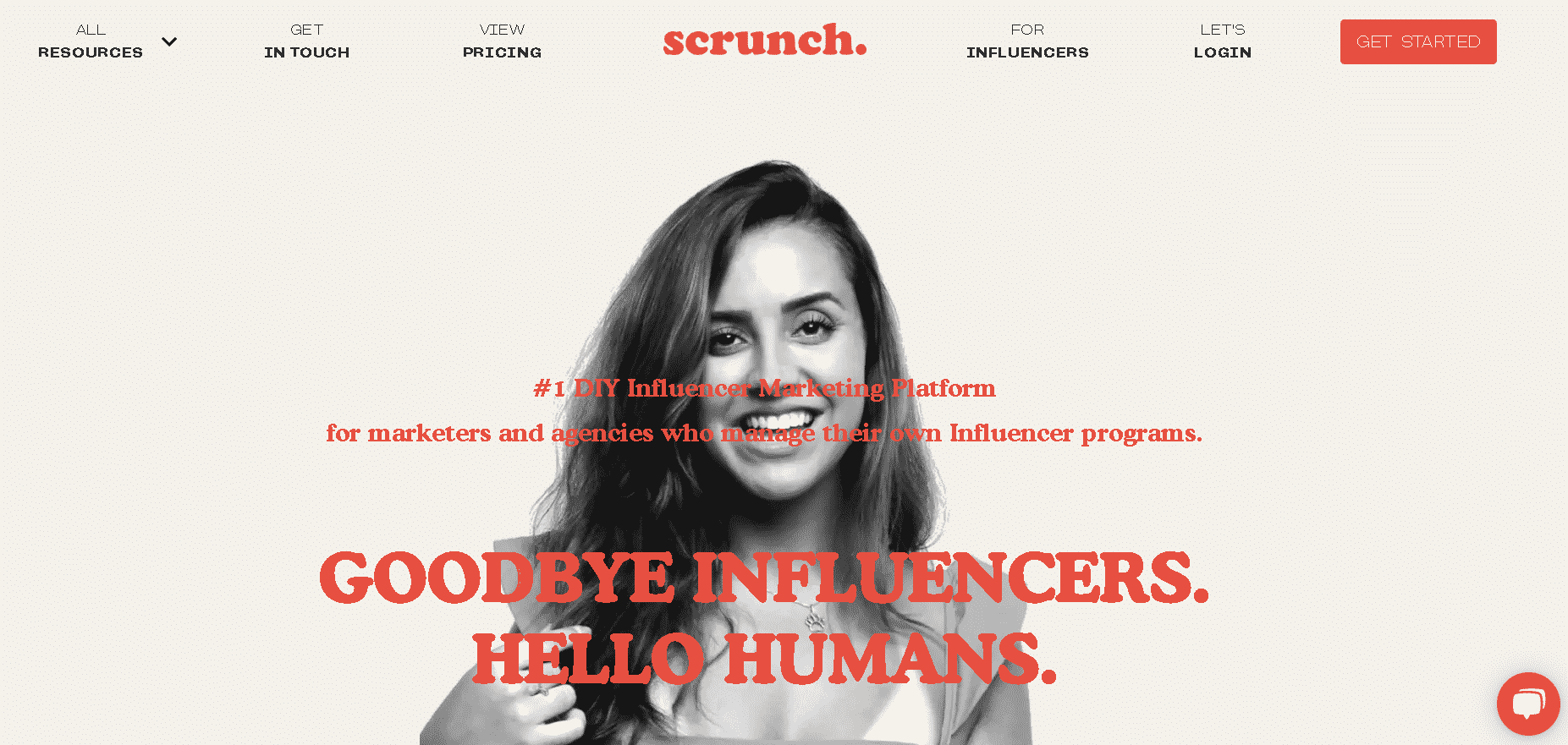 Scrunch, one of the best influencer marketplaces, is featured with an excellent line-up of brands such as Subway, Vogue, GQ, and RedBull. The platform provides more than 20 million influencers profiles' to choose from. Plus, more than 10 billion posts are indexed by their algorithm.
One of the best parts about Scrunch is its free plan that enables you to run an effective marketing campaign. The only thing you require is to reach your target audience by partnering with the right influencers for your company.
Small enterprises and agencies mostly opt for this platform. Moreover, it facilitates fetching all the information about the influencers, which minimizes the risk of being in a situation where you waste your time & energy with the wrong influencer.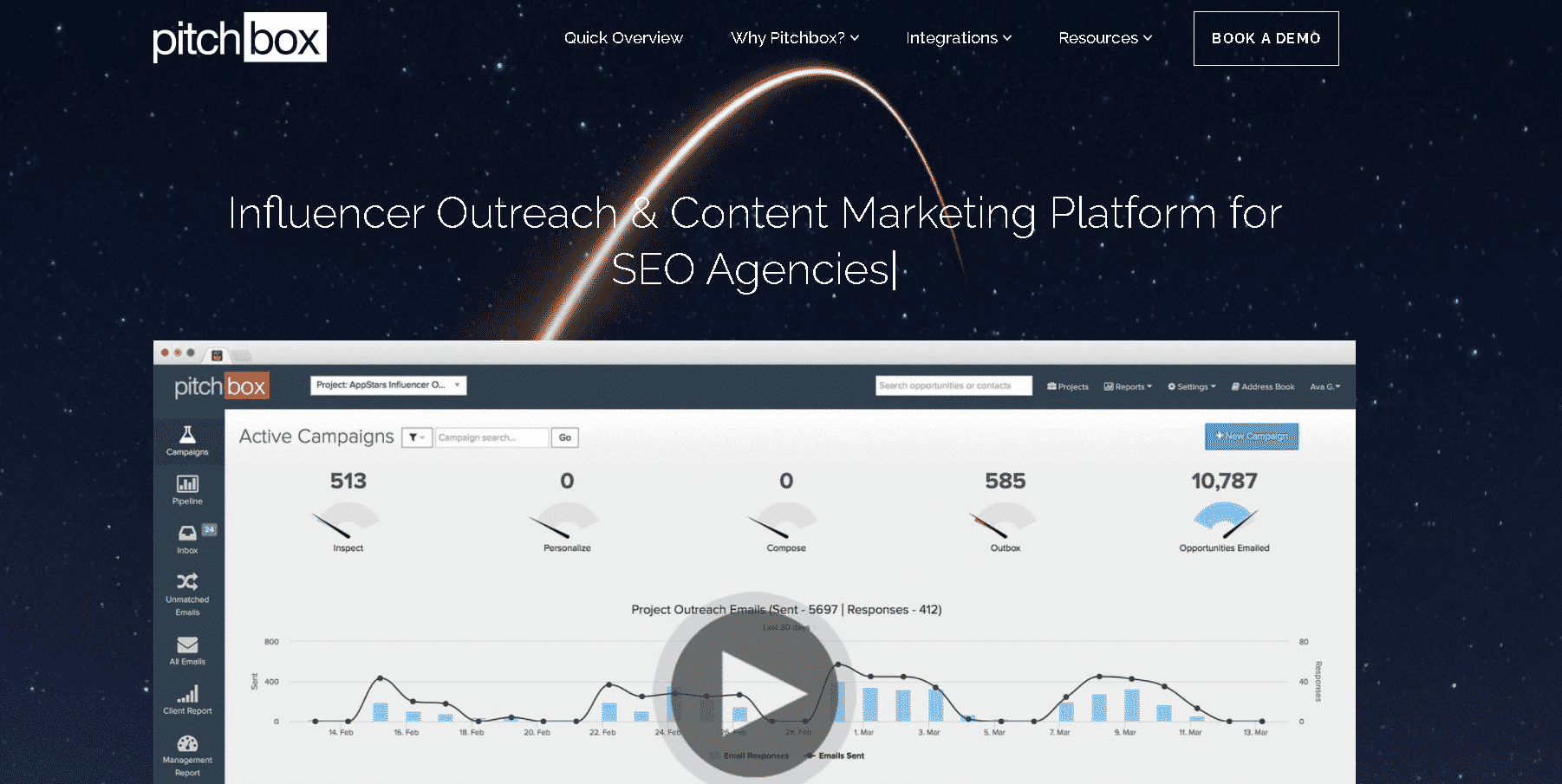 Searching for a top-notch platform that allows you to choose from a wide range of influencers? Pitchbox has got you covered!
Yes, you can opt for this high-rated link reach tool primarily used for influencer marketing and maximizing the power of SEO.
Thinking about what makes this platform unique? The answer is here. It delivers accurate data-driven insights by integrating with excellent SEO solution providers, including SEMrush, Moz, Ahrefs, and many others.
The platform has received bountiful positive reviews from users worldwide due to its amazing functionality and the power of making prospective clients by drawing their attention.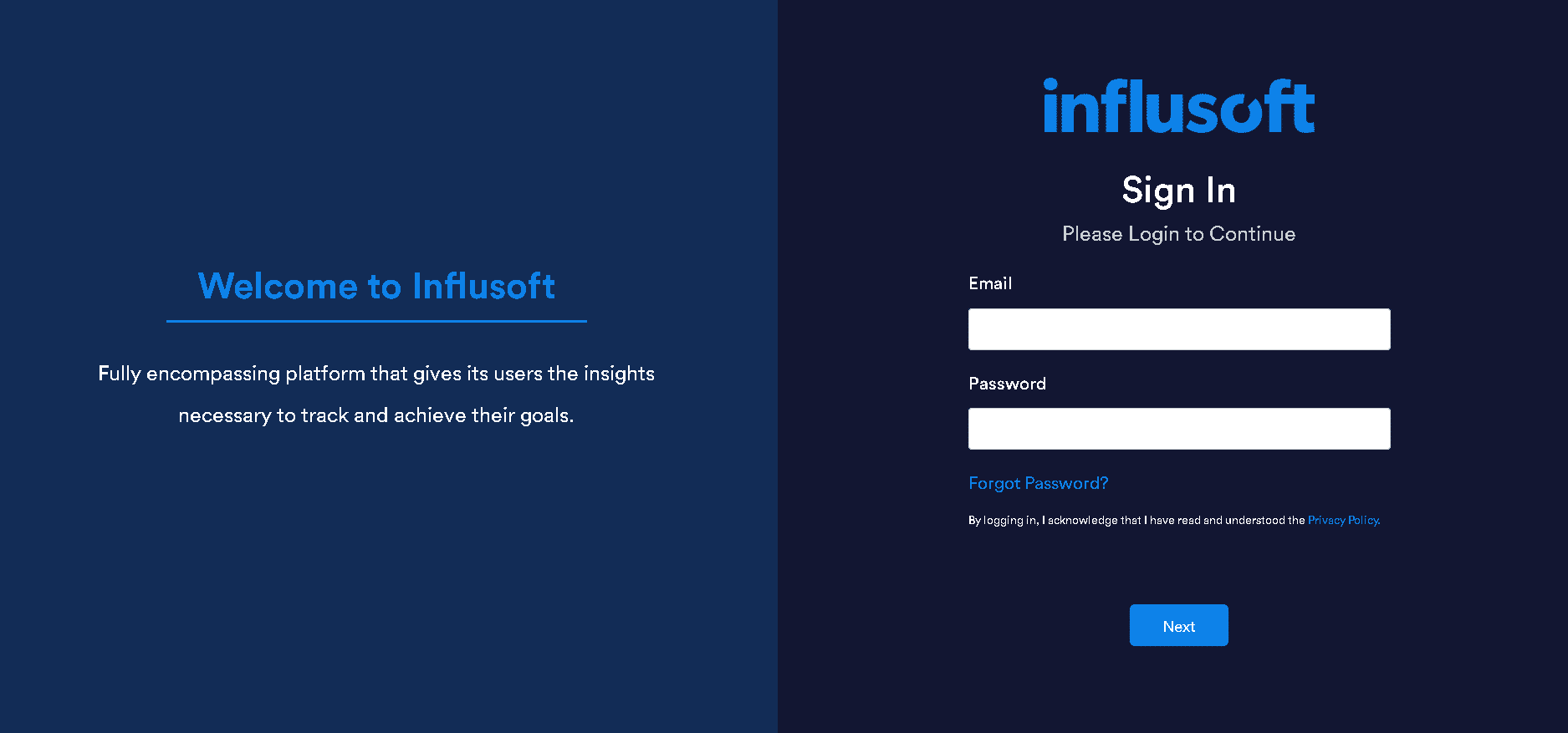 Designed by a team of award-winning influencer marketing pioneers, one of the best influencer platforms, Influsoft, fits all requirements for small and medium businesses.
The tool claims to work with popular clients, including Tencent Games, Activision Blizzard, Facebook Oculus, Canon, and Elite Model World.
The marketplace allows you to undertake all the upfront tasks required to run a dynamic campaign as it provides you with different modules, be it the Plan module, Measure module, and Listen to the module. The primary objective of each module is to enable you to track the performance of your campaign and perform the sentiments analysis (of every emotion, be it positive, negative, or neutral).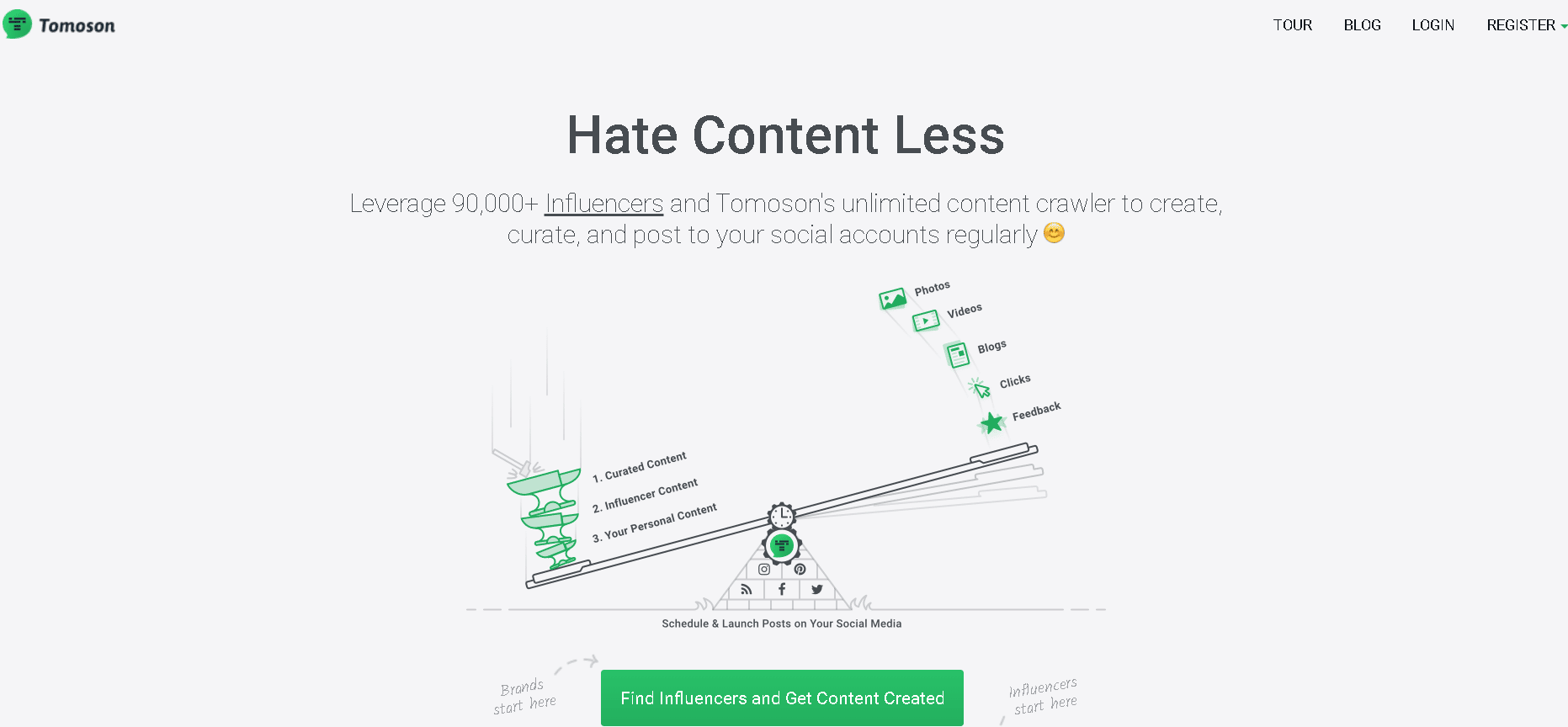 Do you believe in product reviews before purchasing any product or opting for a service? Not just you, the majority of the people check reviews before making their decision. Tomoson understands this very well. It helps create influencer marketing software that is based on reviews.
You might be thinking, how does it work? Usually, brands provide a product/service at a reduced price or sometimes for free to the influencers who post their products on their social media profiles. Brands leverage the influencer's platform by drawing the attention of influencers' audiences, further helping them gain wide recognition.
The platform also provides you an option of escrow payment service and verified influencer information to ensure the safety of brands and influencers.
Also Read: 14 Best Linktree Alternatives For Your Bio Links
A flexible platform helps all scaled organizations be it a startup, small, medium, or large enterprise, to generate more revenue by converting more leads efficiently.
Ambassador comprises a massive community of influencers, affiliates, and employees, one of the finest referral software tools.
The platform facilitates determining which influencer is appropriate for your brand and will give you the best results. Plus, you can manage all your influencers from one dashboard, which allows you to track their performance in real-time.
The platform optimizes your campaign and runs cohort analysis in real-time. The tool has a free demo available and features several payment methods. Still waiting! For what?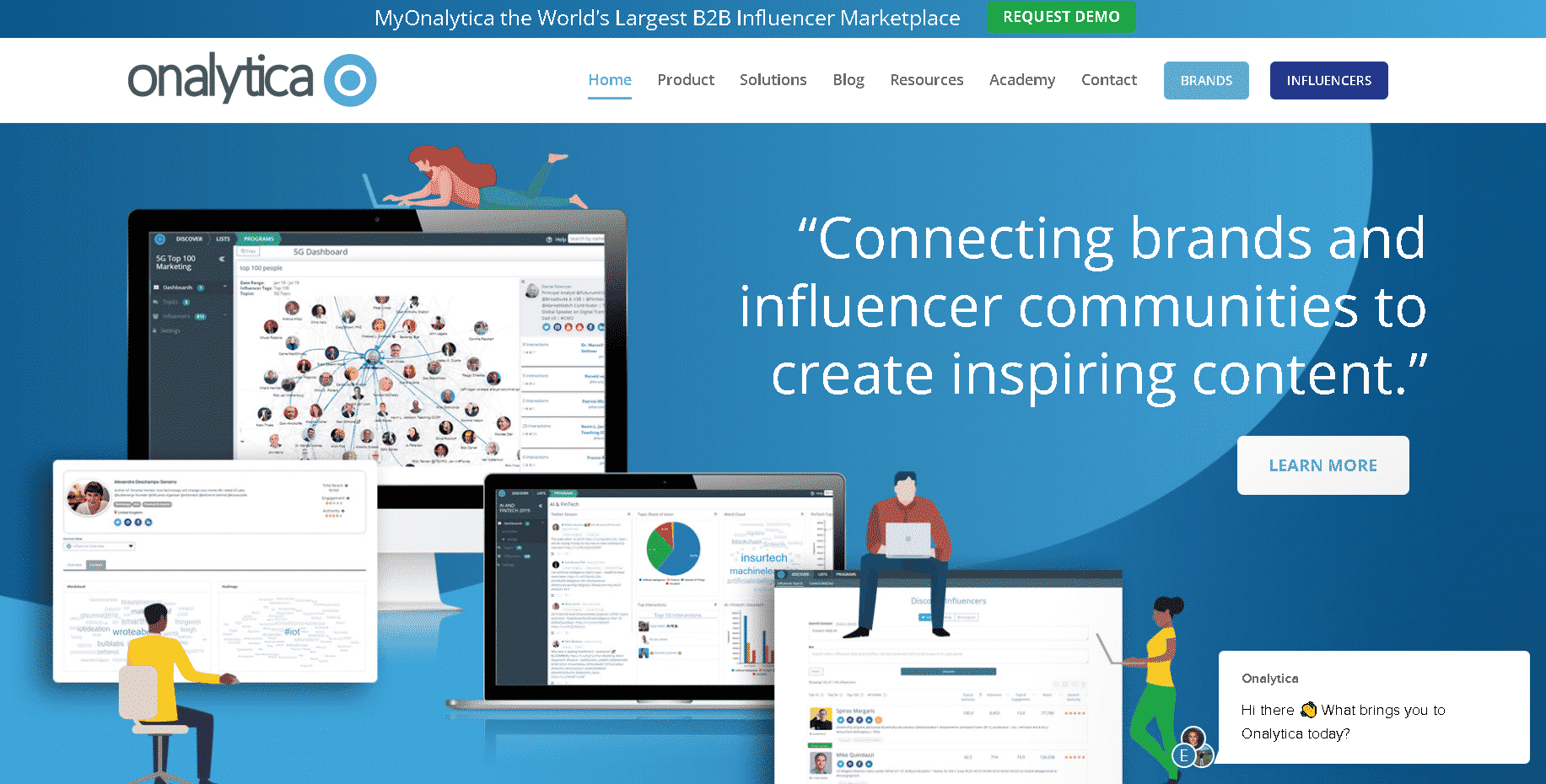 Connecting brands and influencers became easy with Onalytica. The platform helps discover skilled influencers that meet your brands' requirements among a wide range of influencers, from more than 700K.
Many medium and large businesses use this marketplace to reach their target audience and make more prospective clients than ever before.
The tool also gives you detailed insights into your influencer community, making it easy for you to sustain long-term relationships with influencers. Plus, you are also allowed to measure the impact of your campaign through detailed analytics.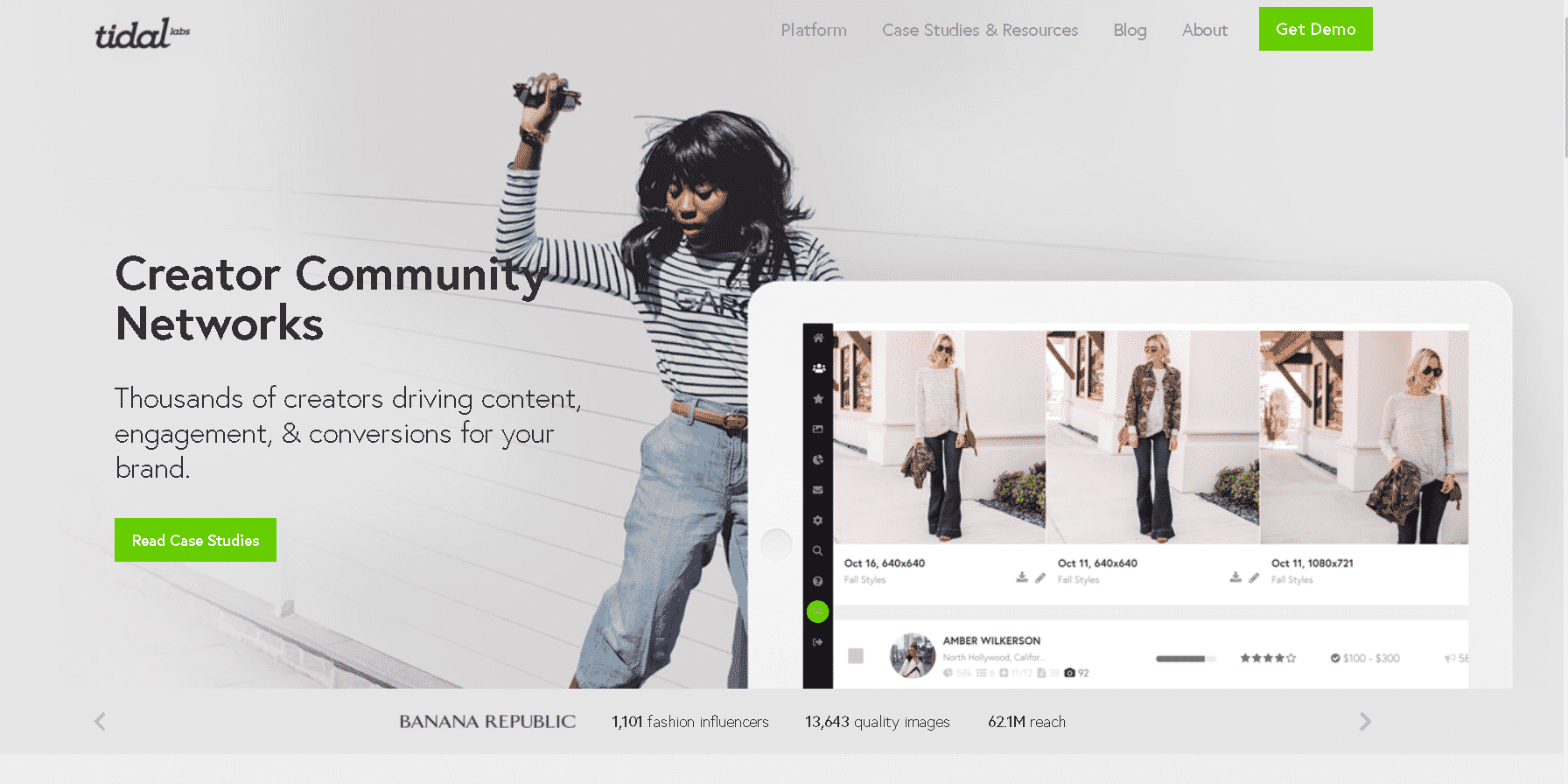 Want to recruit the perfect influencers for your brand? Tidal Labs is the solution that will help you explore through a wide range of influencers, segregate them according to their skills & followers, and AI-powered influencer discovery feature. Cool? Right!
With Tidal Labs, you can seamlessly create, organize, and scale your influencer programs by automating your influencer workflow.
It also allows you to get audience insights, apply filters based on the performance, and choose accordingly. The platform facilitates the process of reviewing, rating, editing, and amplifying your influencer content with ease.
You must opt for this platform to build robust influencer relationships through enticing communication templates.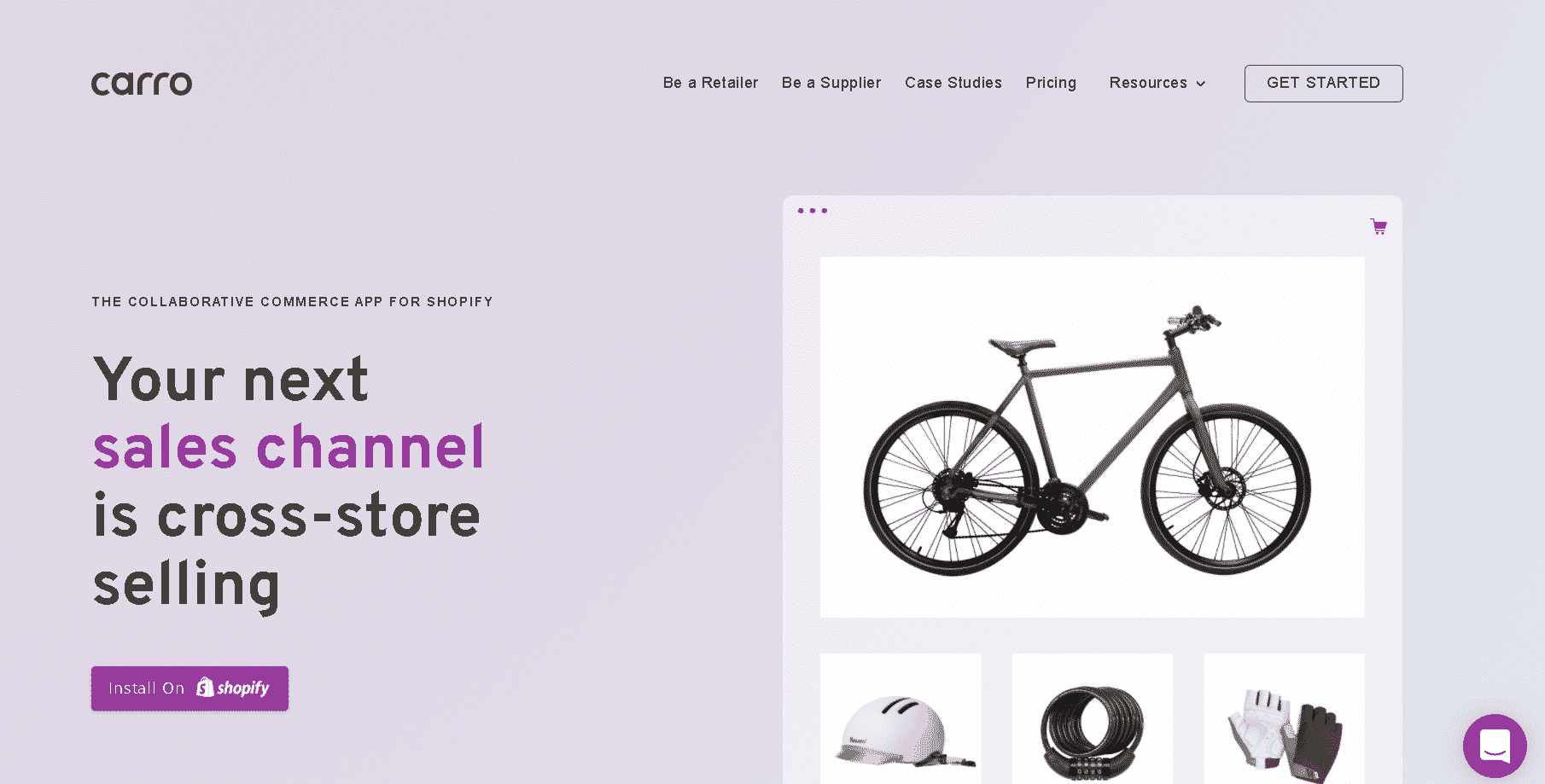 It is a Shopify marketing platform that many brands and organizations use. One of the best influencer marketing platforms, Carro helps you choose among the best journalists, influencers, and media personalities who are your customers, followers, or email subscribers.
The platform has also launched its brand partnerships, facilitating collaboration with influencers and other reputed brands too. This marketplace also makes it easy to partner with your prospective clients and influential followers. So, we can conclude that Carro promotes full transparency while running any influencer marketing campaigns.
Furthermore, it also offers a range of influencer discovery tools, an easy setup process, discovering influencers familiar with your brand, and astounding product gifting that integrates with your Shopify store.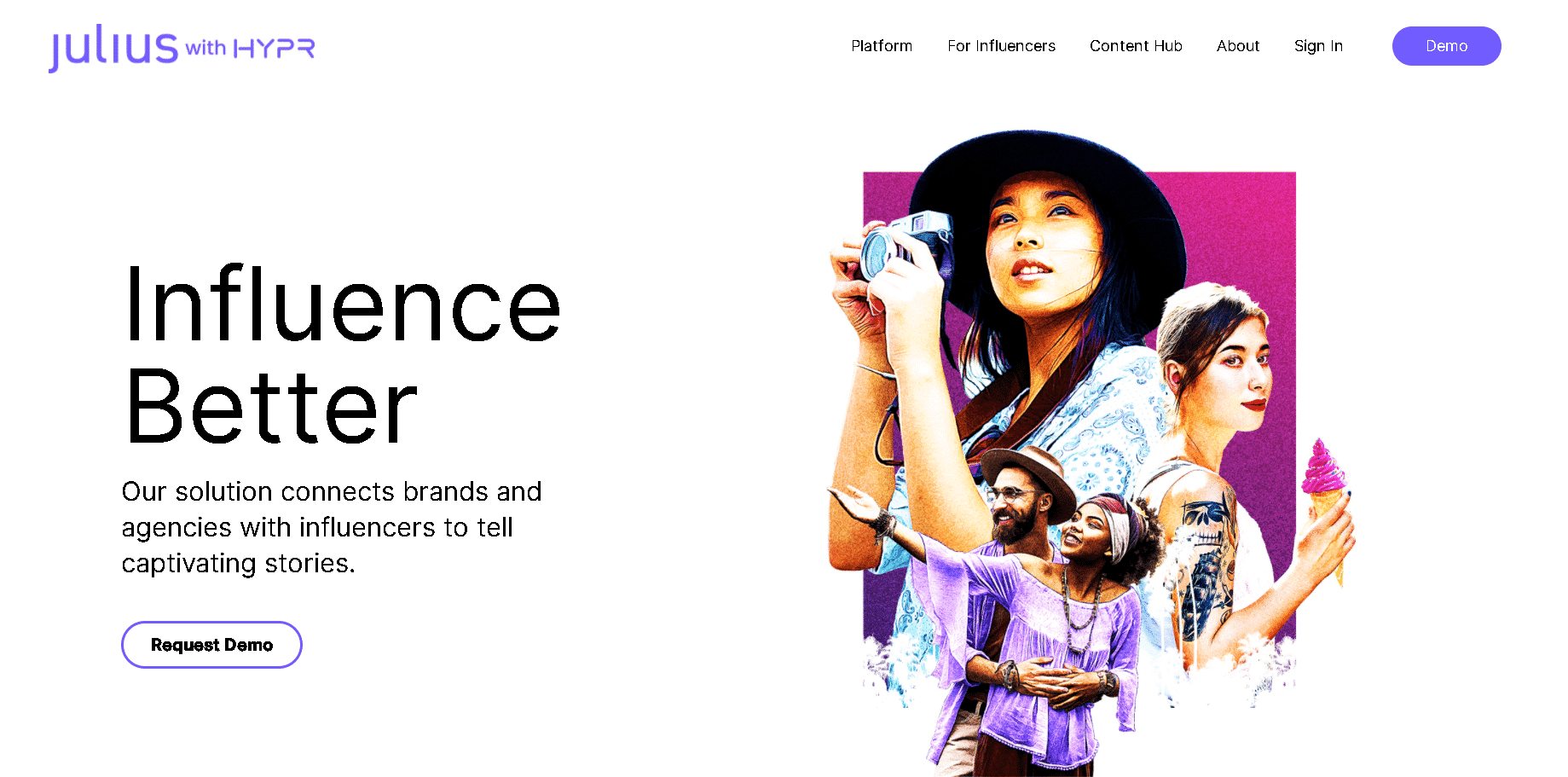 Julius is one of the top influencer marketing platforms that established its roots in sports endorsements.
It is a web-based talent agency, especially for those looking to earn additional money with endorsement deals and appearance fees. The platform was initially launched as Thuzio, simplifying the influencer search process and serving as a powerful discovery tool.
There are more than 50,000 influencers to choose from if you use Julius. Moreover, you are able to check every influencer's profile comprehensively along with the type of followers they have to ensure if they will be able to represent your brand well.
The tool collaborates with multiple social media platforms, including Twitter, Instagram, Facebook, Pinterest, Vine, YouTube, and Snapchat.
It is integrated with a unique aspect offering you over 50 astounding search filters facilitating your influencer search and separate projects for each client.
Features of Influencer Marketing Platforms
 1. Extensive Search
The influencer marketing platforms are featured with a built-in search mechanism to find skilled influencers based on the criteria that characterize your target audience. The type of search these platforms allow is classified by follower count, influencer demographic information, and influencer's audience demographic information.
2. Contract management
The platforms help find the appropriate influencers who can perform the task. These marketplaces provide contact information of suitable influencers, communicate, negotiate, and hire them for a specific campaign. These platforms are also liable to manage other regulatory compliance matters.
3. Content Management
These platforms allow managing ad campaign features such as managing ad text and graphic creatives, sweepstake details, deadlines, hashtags, campaign duration, and mentions.
4. Influencers Compensation
Handles the entire payment process from appointing influencers to remunerating them and comprehensively assists them in payment escrowing, electronic payment transfers through PayPal, and tax compliance.
 5. Promotion
Reinforcing a powerful impact by showcasing influencer content via paid advertising is how these marketing platforms promote and amplify their content on social media.
6. Analytics and Reporting
These marketplaces meticulously analyze the impact of the influencer ad campaign. The reports built by these platforms include publication confirmation, real-time analytics, views, ROI, audience reach, URL tracking, etc.
FAQs
Q1) What Factors To Consider While Selecting The Best Influencer Marketplaces?
It is very important to know all the factors you should never ignore before choosing your ideal influencer platform. The list created by our writers is based on the user reviews from top software sites, price range, demos or trial experience, personal experience with the platform, product features, functionality, added value, and satisfaction with the tool.
Q2) What Are The Different Marketing Platforms?
There are multiple types of marketing platforms. Although, this blog is primarily focusing on influencer tools that help you find competent influencers.
However, there are other marketing mediums or platforms that enable you to find your potential audiences and boost your sales, such as television, email, word-of-mouth, paid advertising, social media, search engine marketing, undercover marketing, diversity marketing, affiliate marketing, PPC (Pay-Per-Click) marketing, transnational marketing, and mobile marketing.
Q3) What Social Media Platforms Are Best-Known For Marketing?
One of the most crucial factors to consider while choosing an influencer marketplace is the social media platform you select to discover the capable influencers. The top-rated influencer platforms cover nearly all predominant social media platforms. Once you select the influencer tool and the social media platform, you need to identify your target audience and work towards impressing your potential customers.
For instance, if you sell clothes, footwear, and apparel (B2C) for the young generation, Instagram and Facebook will be the perfect choice to upload all your products. If you deal in B2B products/services, LinkedIn may be the right platform suiting your business requirements.
Recommended: Top 100+ Social Media Sites & Platforms
These were all about the best influencer marketing platforms. To know more about the related topics or effective marketing strategies, visit our website money mint.
Let us know which platform you have chosen and how it helped you boost the sales for your brand.