In today's time, Instagram Biography has become an inevitable part for anyone who yearns to make money on the Instagram platform. It is one feature that creates trouble in both marketer's and creator's heads as you get only one link on your Instagram Bio. A couple of years back, if you were required to make any changes, you had to swap links every time you started a fresh campaign.
But, now that time has evolved as today, you can use one link for numerous objectives. The major benefit of using it in bio tools is that it helps optimize that one link.  This can aid you in driving traffic to your site, improving your Instagram marketing strategy, helping you measure clicks, and driving sales.
Linktree is one of the most well-known tools that emerged in 2016 and has solved the one link in the Instagram bio issues. It facilitates the users to combine more than one hyperlink to their social media profiles.
But, as you know, no tool is perfect and has some of the other disadvantages; the same goes for Linktree. For example, all the Linktree profiles, whether paid or free, include the string "linktr.ee" in the URL. Thus,  below are some of the best Linktree alternatives that you might want to consider.
Benefits of using a link-in-profile tool
With the help of this tool, you can edit the page as you want, plus you would not have to be concerned about any third party monitoring your tools. Using these tools is pretty beneficial and an important Instagram marketing tool for brands, influencers, and marketers. Here are some of the principal causes to use them:
1) Cross-platform promotion- You can use this to cross-promote by linking them with your social pages, which makes the promotion easy.
2) Improved CTR- If you render your Instagram users more click choices, then it raises the probability that they would actually click through. That would increase the likelihood of improving your CTR.
3) More targeted- If you get more links to choose from, you would be able to do more targeted Instagram campaigns with distinct links aimed at different buyer traits.
4) Increased affiliate sales- You get the option to pick one or more affiliate links to your custom landing page and personal links.
5) Improved branding- You get the access to put brand pictures on your landing page for improving your branding and visual identity.
What is Linktree?
It is a tool that helps you share multiple links in your bio. This was the first such tool that became pretty popular and is also the most reliable platform. You would be amazed to know that they have more than 17M users worldwide. It empowers you to build a free landing page and make a link to the landing page, which you can place on your Instagram profile.
With Linktree, you can efficiently optimize your Insta traffic by getting one link that combines all the other links to the content. The major advantages of using this tool are:
One of the best reasons to use it is to eliminate the one-link limit on Instagram by guiding your audience to a landing page with multiple links.
It is spontaneous, easy to set up and use. With the help of a drag and drop interface, all you require is to put the links and rearrange them.
Linktree lets you advertise your multi-link landing page with your Instagram profile and name at the top.
The best part is that you can collect payments on it to monetize your audience, which is a great feature for creators.
Linktree is super clean. The reason behind it is that you add all the links to your website and create a button in every case. But, the target user's interface still would seem crispy clean. It won't look messy even if you share over 25 links.
Another advantage is that you can set a lot of things with the help of Linktree within a couple of minutes. Some of the items are combining links to your portfolio, about pages, opt-in landing pages, YouTube channel, and your blogs.
These were some of the reasons why Linktree is so famous, and people love joining it. But, there are some of the best Linktree alternatives that are in the market which possess some advantages over its disadvantages.
Why should you not use Linktree?
There are certain drawbacks of this tool which is why people opt for its alternatives, such as users who want more customization over the design do not like it. Some of the other reasons are:
1) It's a Freemium tool: There are so many features that you get in the free version that there is no need to go for the premium version of $6/month. More than 80 % of the features they provide you in the free version, such as adding unlimited links to your Linktree, getting four background theme choices, viewing the number of times each link has been clicked, and adding thumbnail images to every link button and much more.
All these things are a big thing for free, then why would you pay.
2) It's undoing to your brand: Linktree has invested a lot of time and money in designing various themes and backgrounds that can be used for branding. Still, when you try to search, they might not match your needs. The worst thing is that they add the name and image of Linktree on your Insta bio URL, at the top of all your landing pages, plus a logo at the end of the page. This happens with the free version, not premium ones.
People might get confused whether it is your website or Linktree's; you never know next time they end up typing the link of Linktree when trying to visit your website.
Also Read: 55 Ways To Advertise Your Business For Free On the Internet
What to watch for in a Linktree alternative?
Before we get to the list of Linktree alternatives, it is paramount for you to understand the factors that you should look for before selecting any tool-
1) User-friendly Page Builder: One of the most important factors is that you should be able to build the page easily and create an engaging landing page. The page builder should be fast to learn, enables you to make excellent designs, and should possess a drag & drop feature.
2) Pre-designed Templates: The tool that you choose should possess pre-defined templates, as it would help you create any layout within a couple of minutes. Also, it should have a feature that if it does not have a particular template that you are looking for; then it should enable you to create one.
3) Facility to add various social networks: The tool should let you join varied social networks. It should enable you to insert as many Social Networks as possible such as Instagram, Telegram, Discord, etc.
4) In-depth Analytics: This is one of the most important points that you should check on. The tool that you choose should help you monitor click rates, monthly revenue, conversion rate, which keywords are performing the best, etc.
5) Visuals: Before choosing a link-in-bio tool, see if it allows you to add visuals like uploading images, GIFs, embed YouTube videos, etc., to keep the audience engaged.
Now, you are well-versed about the things to consider before selecting a Linktree alternative; now, let us know about some of the best ones for you.
14 Best Linktree Alternatives For Your Bio Links
Here is the list of some of the paid and free Linktree alternatives. This list has been curated after a lot of research so that you can choose any as per your requirements: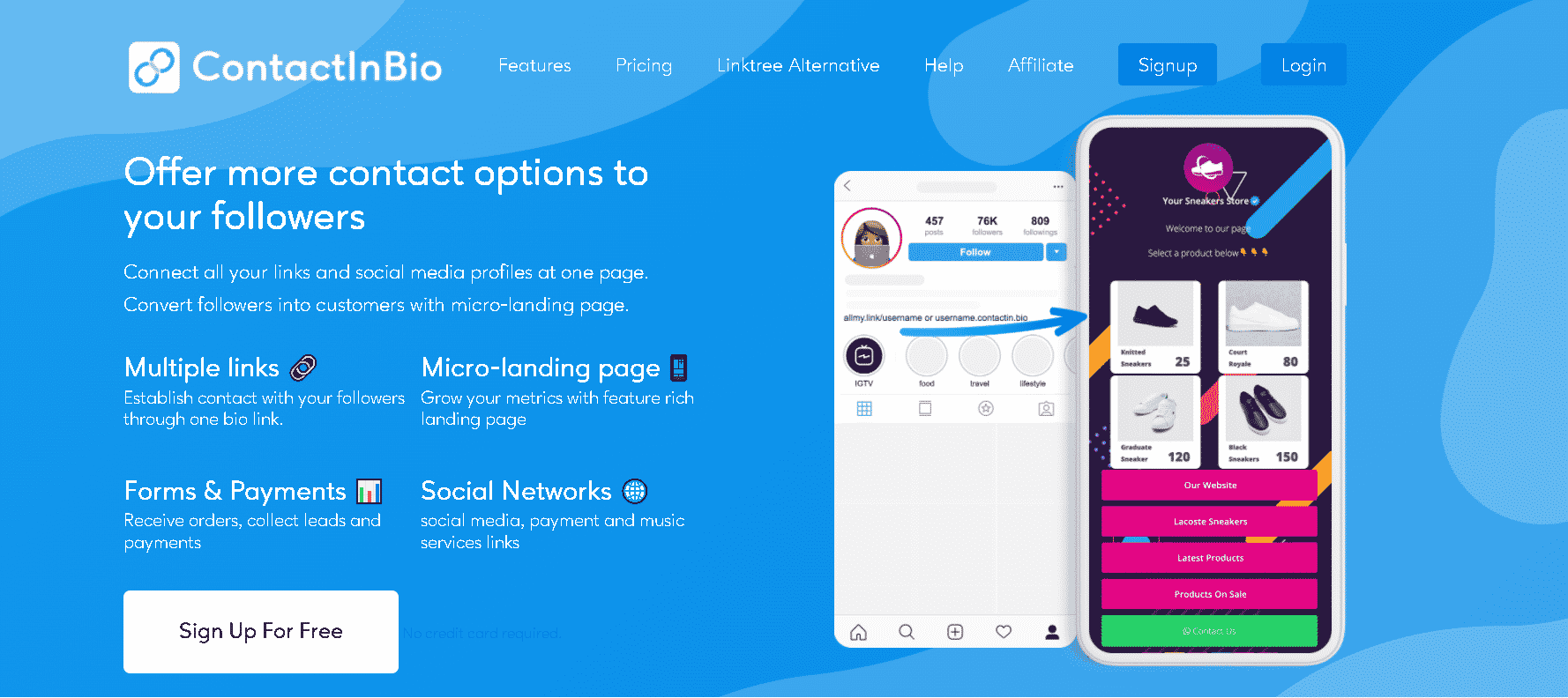 Undoubtedly, it is one of the most renowned link-in-bio tools as it aids users in building a landing page to store all your links in one place. People prefer this platform because it is affordable, easy to practice, and full of high-level features. If you compare it with Linktree, it might win in all the categories.
This tool aids you in connecting your followers with other links and content, plus you can also add a contact sheet. It is a great platform to get fresh potential clients for your business on Instagram as it opens up a communication channel between you and your users.
Features
You get to pick from 8 distinct 'blocks' to include on the landing page. These blocks constitute an image carousel, text block, social media buttons, and video blocks.
Along with unlimited links, it also enables you to secure payment forms, music services, social media posts, etc.
It is a super clean and easy-to-use tool with a drag and drops editor and numerous pre-designed content blocks.
ContactInBio has many other features such as accepting payments, using numerous links, and converting customers into followers with a lot of micro-landing page tools.
A custom profile URL can customize links, texts, and colors.
Users can modify the size, width, color, font size, and background of the links and landing page as per their specifications.
Minimal link-in-profile branding
Video uploading is also available on the Pro version
Pricing
Basic – Free
Business – $7 per month
Enterprise – $28 per month
If you opt for premium plans, it gives you access to more high-level features.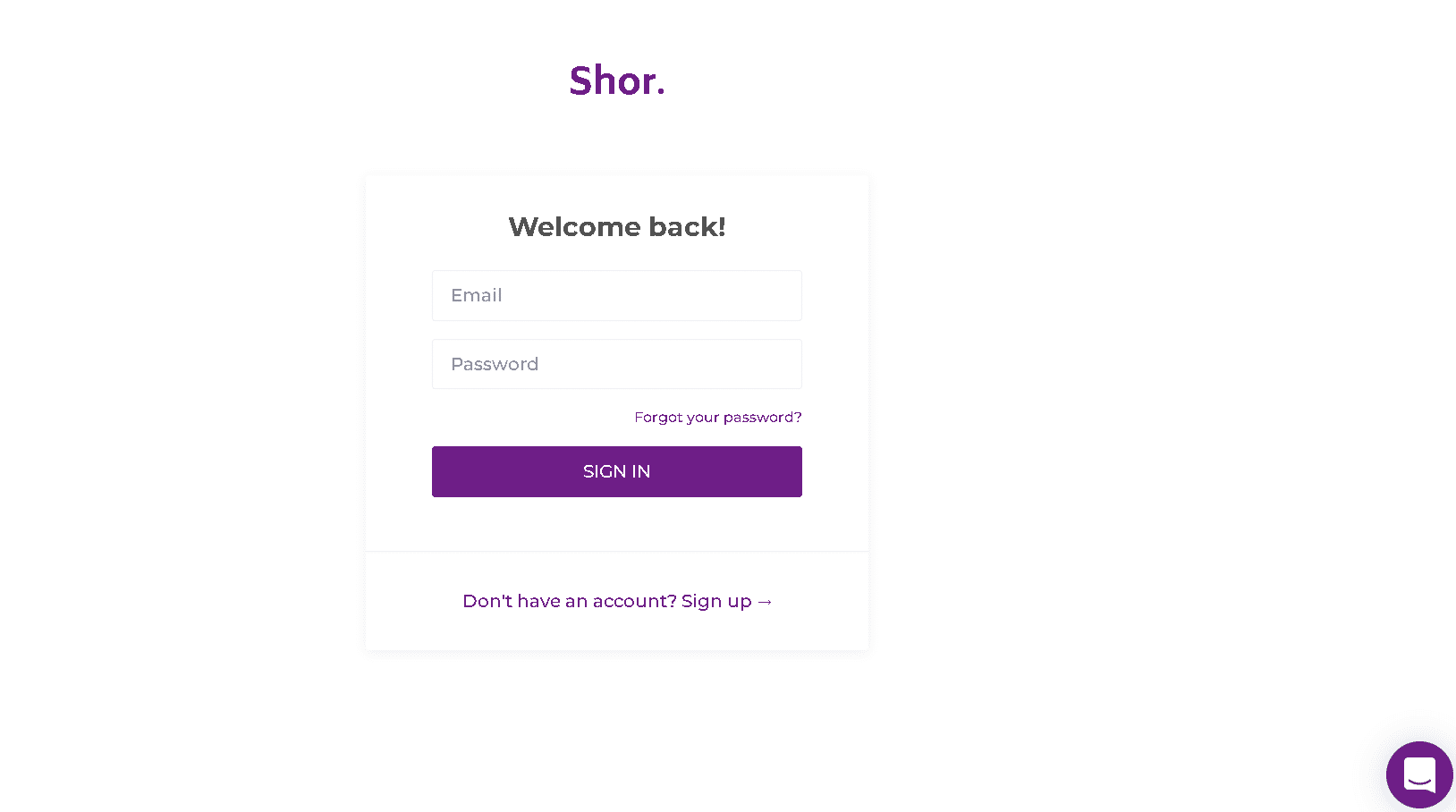 The features of Shorby are pretty much similar to that of Linktree. It is well-known for its retargeting feature as it enables you to create shortened, traceable Shor.by links and retargets any user who clicks on these links. It streamlines the process of assigning multiple links with your users on the social media platform, blog posts, and product pages.
With Shorby, you can put infinite links in a landing page plus add other functions like unlimited clicks, personalized URL, and much more. They also have a Block feature with the help of which you can add buttons, subtitles, cards, text, countdown timer, and dynamic feed.
Features
With the help of Shorby, you would be able to share links to your Snapchat Stories, YouTube, Twitch, and Patreon pages, as well
It enables you to make your own landing page and can out multiple links and create a link to that page which can aid you in reaping the maximum benefit out of your Instagram bio.
Other significant features include access to replace the background image, inserting direct messenger buttons, native integration with Google Analytics, etc.
There's also a feature where you can join team members to it
On Shorby, you would be able to insert rich links, GIFs, text blocks, and catchy headlines
Cross-link to other social profiles, which helps boost engagement across different channels
Pricing
Start plan – $9 per month
Pro plan – $29 per month
Agency plan – $99 per month
Also Read: Top 35 Affiliate Marketing Agencies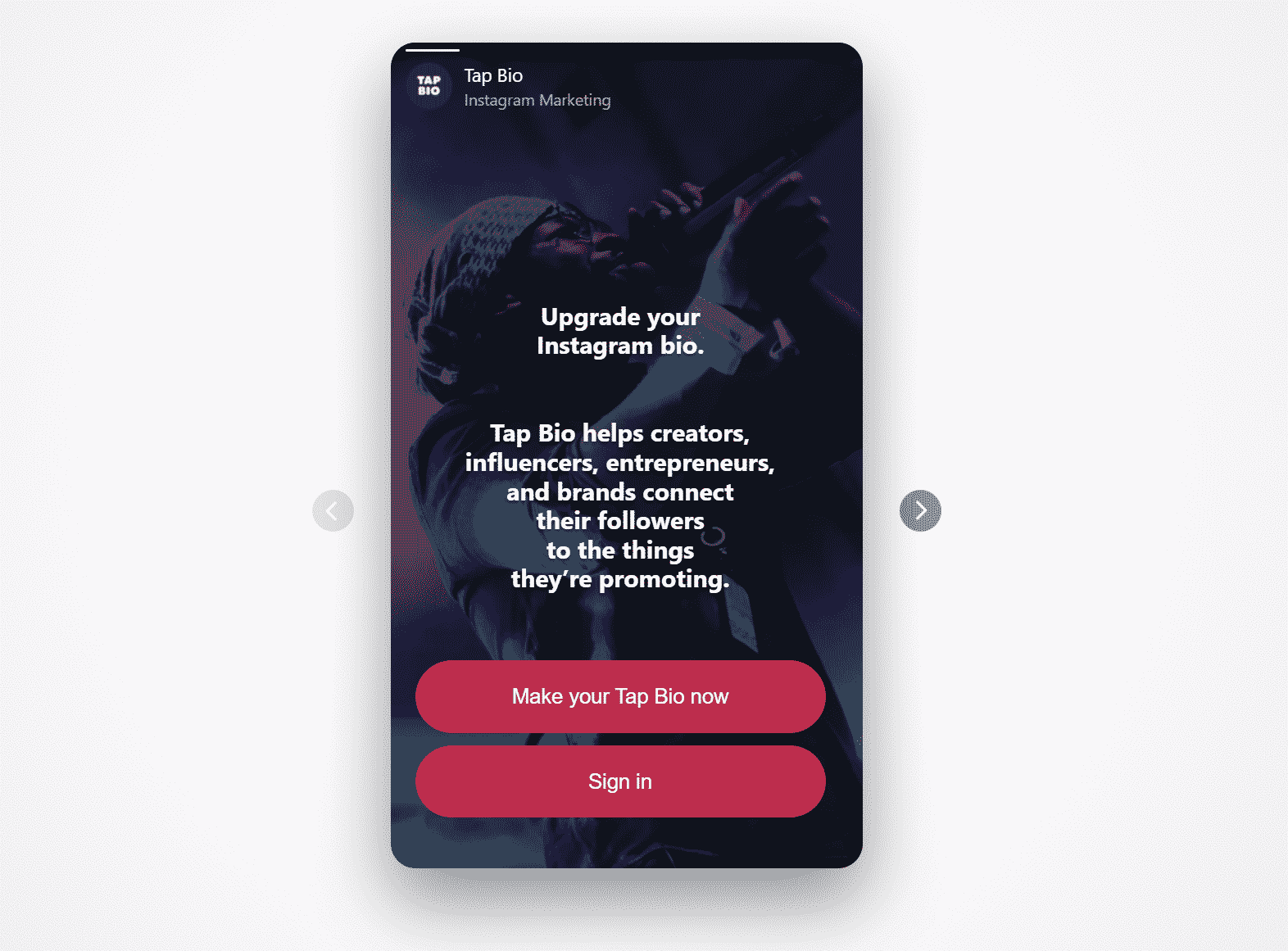 It is one of the best free Linktree alternatives as the idea on link-in-bio tools was of Linktree, but Tap Bio came in the market as a complete game-changer. It is packed with features that help you personalize and brand mini-websites to curate all your content in one place.
Their interface is user-friendly, where you have an option to built landing pages designed for your mobile followers. The best thing is to customize the page as per your requirements and insert the buttons with the links to your landing pages. Furthermore, you can also combine your social media platforms to address your link in bio concerns.
Features
Tap Bio renders you the option to add cards and provides the privilege to select from multiple card types, including an image gallery, Twitter posts, YouTube videos, Instagram posts, etc.
You can also design CTA buttons for particular sections of your link in the bio.
It has a quirky yet interesting design.
Tao Bio enables its users to alter the background, insert your name, put a title, and enter a link to your website.
It fetches the data for your cards automatically from the linked Instagram and YouTube accounts.
It lets you retarget your followers through Google AdSense, Facebook advertising, and Instagram.
Pricing
Tap Bio comes with four pricing plans:
Basic (Free plan) – It allows you to design only one profile card plus one additional card
Silver ($3/month) – In this plan, you would be able to build up to three cards and review stats
Gold ($8/month) – This plan offers unlimited cards, Facebook Pixel Tracking, view stats, and Google Analytics integration.
Platinum (Quote-based) – It is the same as the gold plan; the only additional feature is that you get custom branding.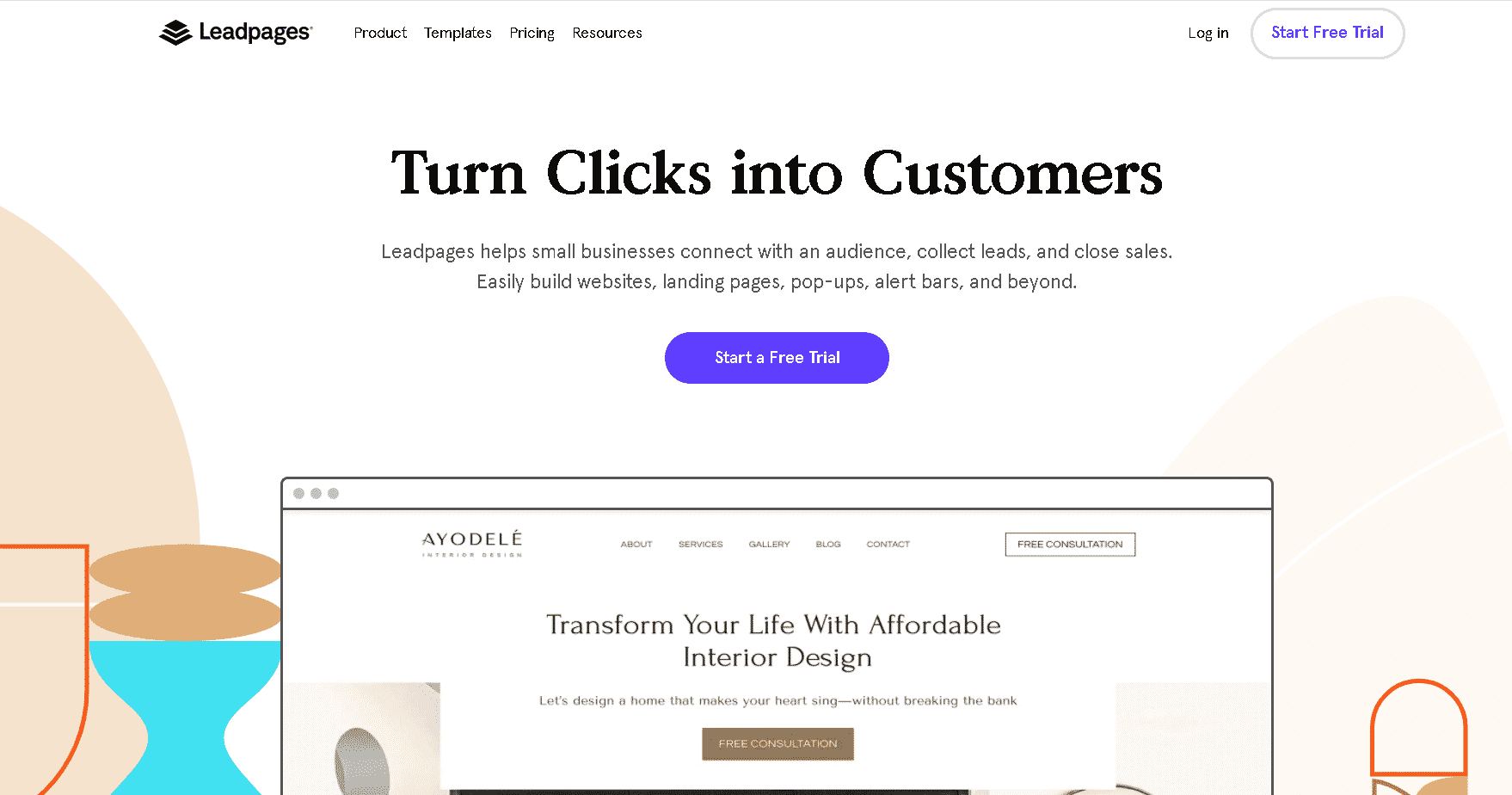 It is a great Linktree alternative and is also popular for being one of the leading landing page builders. They enable you to design and host landing pages, plus can shorten the URL and add it to your social network bio. A lot of marketers are using this tool as it enables them to create high-converting landing pages.
You would be amazed to know that they have a particular team called Instagram landing page creator, who takes care of all the queries and issues. On Leadpages, you would get a variety of templates and customization options as it is basically a landing page builder. Almost all of its plans provide you access to templates that are pretty simple to use.
Features
It has built-in conversion guidance that offers suggestions on improving your page, increasing its engagement levels, and specifies what changes to make for higher conversion.
You also get the option to choose the templates based on your industry, goal, style, and color preference.
Leadpages also render drag-and-drop, with the help of which you would be able to build landing pages without having to code. The best part is that all of them are mobile-friendly, so they'll work on tablets and phones.
It enables you to do the tracking with Google Analytics and Facebook Pixel
You can also run an A/B test to see which variant of your Instagram page attracts your audience the most.
Pricing
It comes with three paid plans:
Standard ($26/mo) – This plan comprises a free custom domain, unlimited leads, mobile-responsive templates, email support, lead notifications, and more than 40 integrations.
Pro ($59/mo) – Similar to the standard plan, the additional features you would get are online sales and payment, email trigger links, ten opt-in text campaigns, and A/B testing.
Advanced ($239/mo) – Additional features comprise 5 sub-accounts and 50 extra opt-in text campaigns
They also offer a 14-day free trial available with every plan.
Also Read: How to Earn Money with Google AdSense?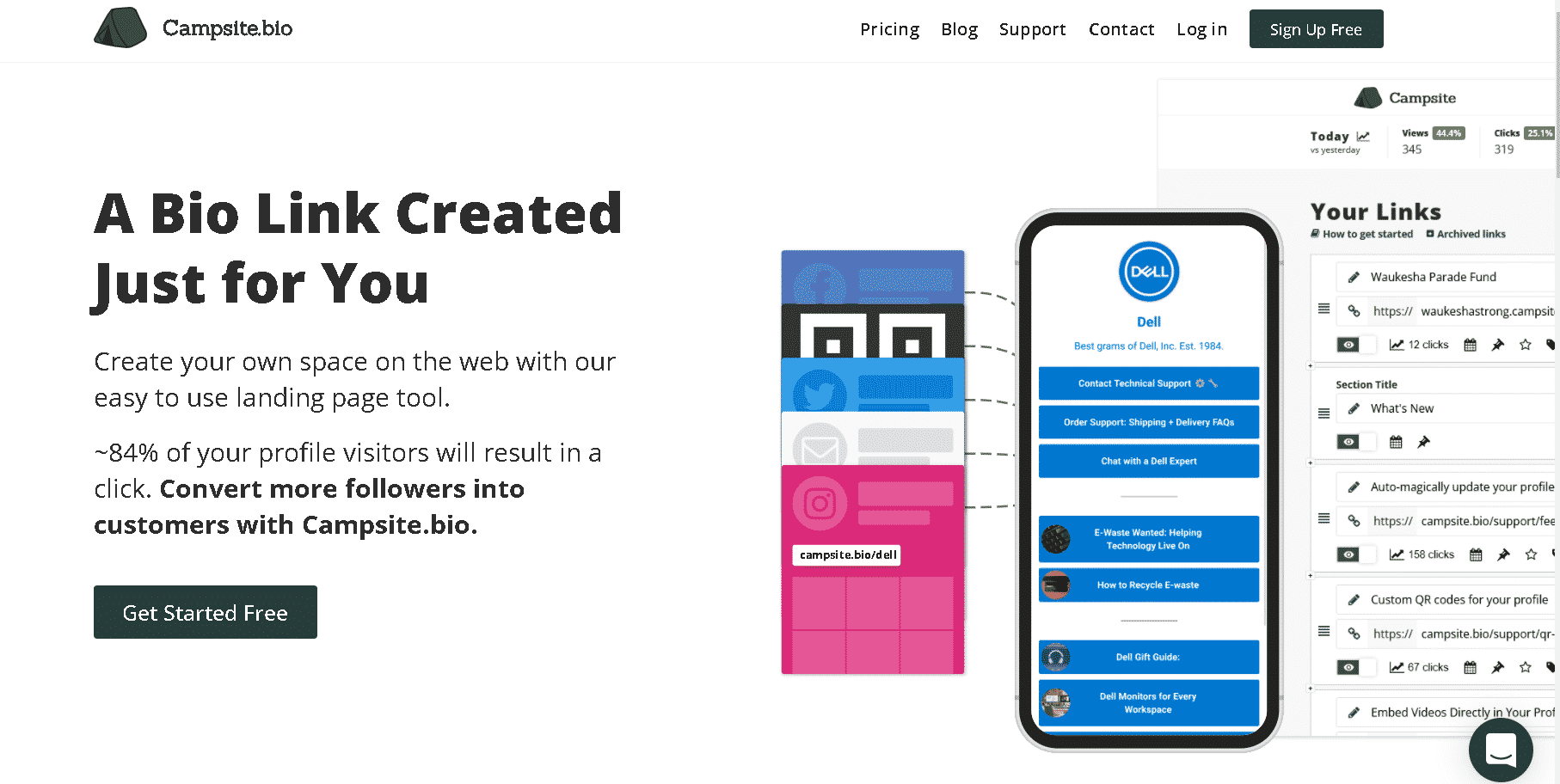 This tool comes with tons of premium features that can help solve the one link in bio issue very easily. It enables you to form links that you can utilize on social media platforms like Facebook, Twitter, LinkedIn, etc. With the help of Campsite, you would be able to insert numerous links to your Instagram bio; all you need to do is link your own landing page instead of social media platforms.
One major drawback with Campsite is that you would be able to add thumbnails just from your Instagram posts only as there is no other method of uploading your own images. But, you would be able to modify the theme colors and get the data of where your users are clicking the most.
Features
The campsite provides its, users, a space for page introduction
You can also retarget visitors with Google AdWords or Facebook Pixel
Offers you a choice to attach unlimited links.
It provides you with an option to add the email address that offers users more choices to get in touch with you.
The campsite also offers an option to schedule links to publish them prior to launching a fresh Instagram campaign or contest.
With this tool, rearranging and editing links is simple
Swap effortlessly between several Campsite accounts
Pricing:
It offers two price plans:
Free – In the free plan, you get unlimited links, full control over branding, can trace clicks, post images from the Instagram, archive and restore links, and much more
Pro ($7/month) – Free plan + added integrations, daily breakdown of your link clicks, animated link, custom subdomain and much more
It comes with a 10-day free trial.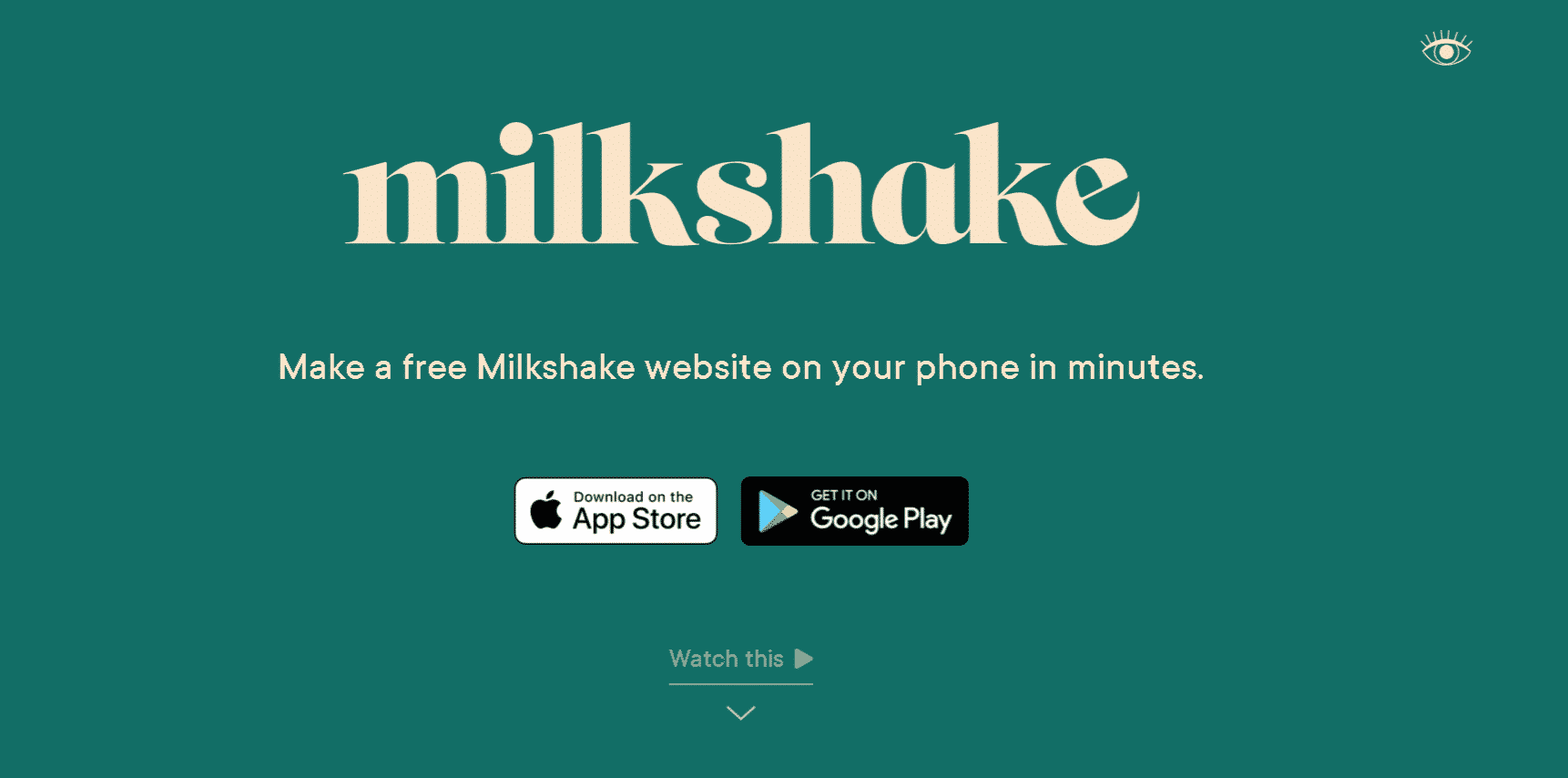 This is a relatively new tool compared to the others in the list but can be perfect for you if you do not own a website as it turns your link in bio to a free website. Isn't it great? It enables you to create, an Insta website on your device, and the link in bio will become an Insta website where your followers would be able to connect with you.
It is perfect for influencers who like to refresh their Insta posts and bios while on the move. With the help of this tool, they would be able to promote the premium content irrespective of where ever they are. Milkshake provides you the option to add images, multiple links, videos, online stores, social networks on your website.
Features
Milkshake renders you a feature where you can do variations in the color, font, styling, and logos in your cards as per your brand.
You also get access to insights and analytics.
You can put a Buy button that would guide your customers to a purchase page on PayPal. If you want, it can be done for individual products or services.
Designing your page with Milkshake is very simple. All you need is to select a card, add content, change the looks, and publish it once you're one. Now, just attach the link in your bio.
The best part is that you can observe advanced metrics such as which content has the highest conversion rate, daily and monthly breakdowns of card views and link clicks, and much more.
If you have different Instagram accounts, you can also swap through the different cards you made for these accounts from one dashboard.
Pricing:
It is free to use. But you would be able to build your link in your profile only if you download the app from the App Store or Google Play Store.
It is one of the best free Linktree alternatives as it lets you add as many links as feasible on your Instagram landing page. It has a minimalist design, and the tool is pretty easy to use. Lnk.Bio is said to be one of the best tools for creating a visual landing page.
It provides an array of choices to your customers when they hit enter on your bio link. You just need to enter one link, and it will give you full control over what online profiles you can add to your Instagram bio. It works really well for influencers who partner with companies to increase their brand awareness.
Features
Bio enables you to build a mobilized landing page that would comprise all of your links.
You can select from over 90 social, music, and contact icons and use them to link to your different online profiles.
Access through a web browser is also available.
The unique thing about Lnk.Bio is that you would not have to generate a separate password for registration with them, as they use the official Instagram API.
The good part about this tool is that you just need one link — meaning you can alter the content and links on your landing page without the requirement to update your unique URL every time.
Link stats and analytics
Registration takes only a couple of minutes.
Bio is apt for you if you want to set apart your CTA buttons that point to your YouTube channel, Soundcloud account, Spotify shop, and others.
Pricing
Free forever – $0 per month (Random URL, unlimited links)
Mini – monthly – $.0.99 per month
Mini – one time – $9.99
Unique – one time – $24.99
Also Read: 22 Top Money Earning Websites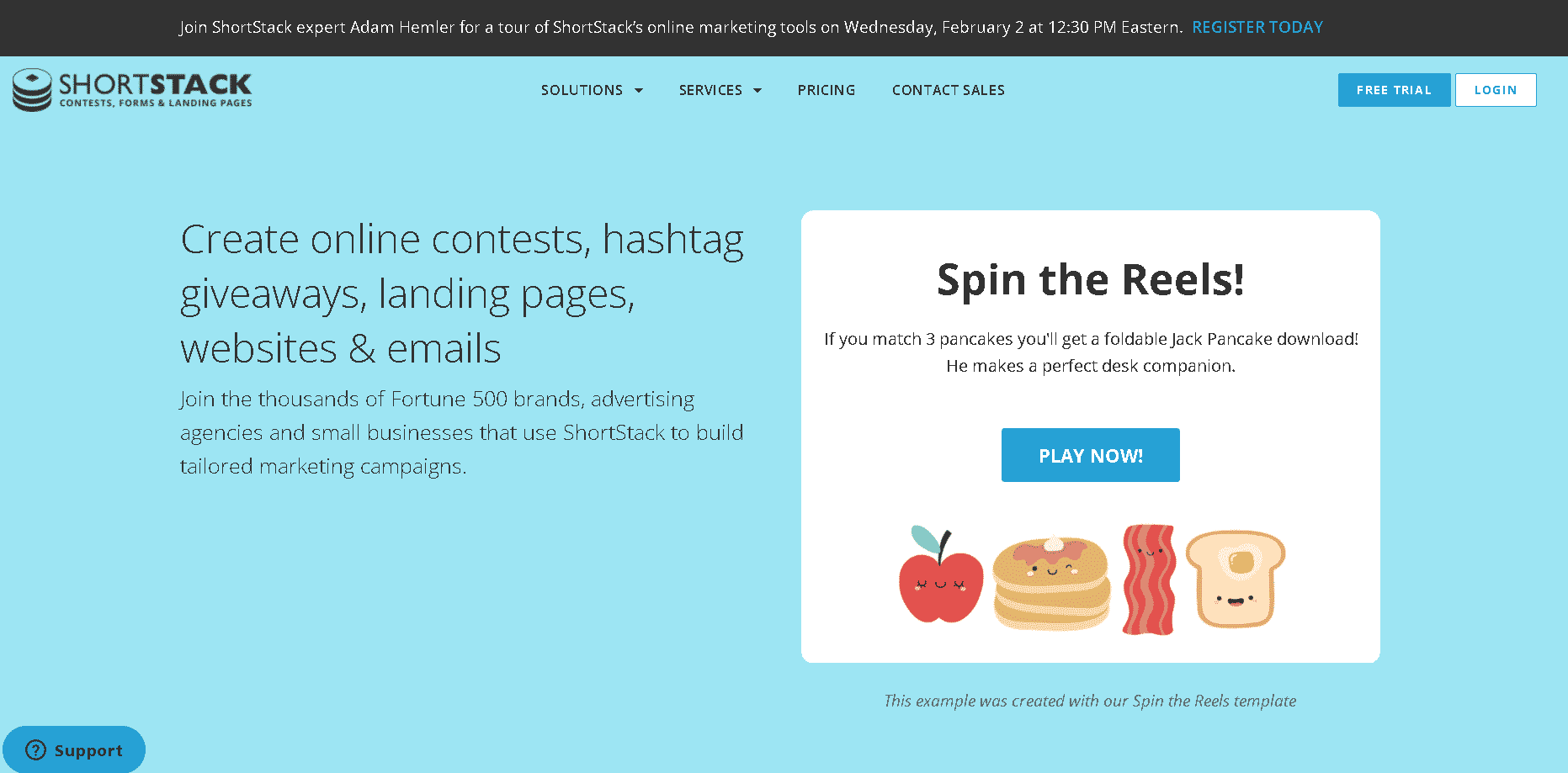 It is a customizable contesting platform that specializes in helping users in creating campaigns, user-generated contests, and giveaways. ShortStack enables you to built landing pages and run social media contests. Remember that nothing is more engaging than social contests as it appeals to more and more customers, increasing brand awareness and sales.
You can create different kinds of contests through it, such as quizzes, refer-a-friend, video or photo contests, user-generated content, etc. The features that you would use would rely on the type of content you want to launch. They offer you numerous templates to run your contest, and you also get multiple customization options as well.
Features
It gives you an option to embed the contest landing page on your personal or business website to increase visibility and generate more entries
With the help of ShortStack's action-gating feature, you can collect relevant customer data in exchange for a giveaway or a coupon code,
Each contest type comes with its own set of features
The best part is that it enables you to send auto-responders with coupon codes to your email subscribers
You can also offer your team members and clients their personal logins if you want to keep them in the loop.
Pricing
It comes with four pricing plans:
Business ($79/month) – In this plan, you can do social media comments to enter contests, instant win, and refer-a-friend contest
Agency ($159/month) – Same features as Business plan plus the additional features are video uploading contests, hashtag and retweet contests
Brand – ($399/month) – Same features as Agency plan plus the additional features are 5 team member seats, dedicated account manager, unlimited hashtag and retweet contests
Enterprise (Custom plan) – Same features as Brand plan plus custom templates, integrations, and settings.
It also has a free plan that offers all the features that the Business plan comprises, such as 20 entries and 100 views per 30 days.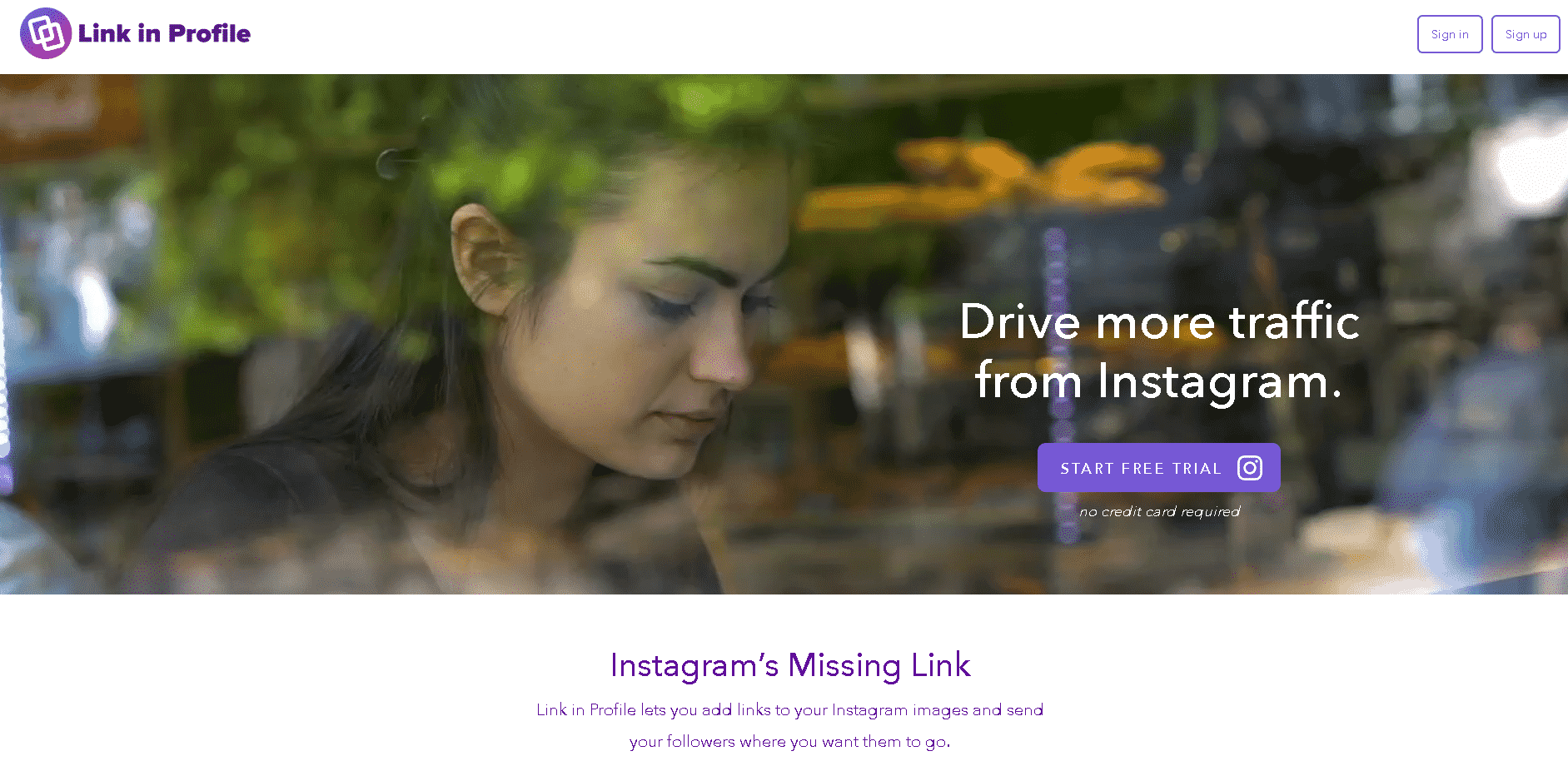 This tool is relatively different from the others on the list. Instead of creating a custom multi-link landing page, it makes a similar version of your Insta feed but has clickable images. Your followers can use the links to direct traffic to your website. It takes the content from your feed and directs users to linked content by using a particular photo.
This tool works as a landing page tool as it will direct people to the different web pages of your business, a sales webpage, and a blog post without any restrictions.
Features
With Link in Profile can measure conversion rates, monitor traffic sources, and analyze the overall performance of Instagram.
The best part is that you don't require regularly editing your landing page to add new links. Therefore, this tool is best for influencers who do a lot of sponsored posts and are persistently working on fresh campaigns with new affiliate links.
Zero effort management
Well-optimized for both mobile and desktop
Infinite scroll of media
Includes your Instagram branding in the top left
Pricing:
It comes with a fixed-paid plan of $9.99 per month. Link in profile also offers a 30-day free trial.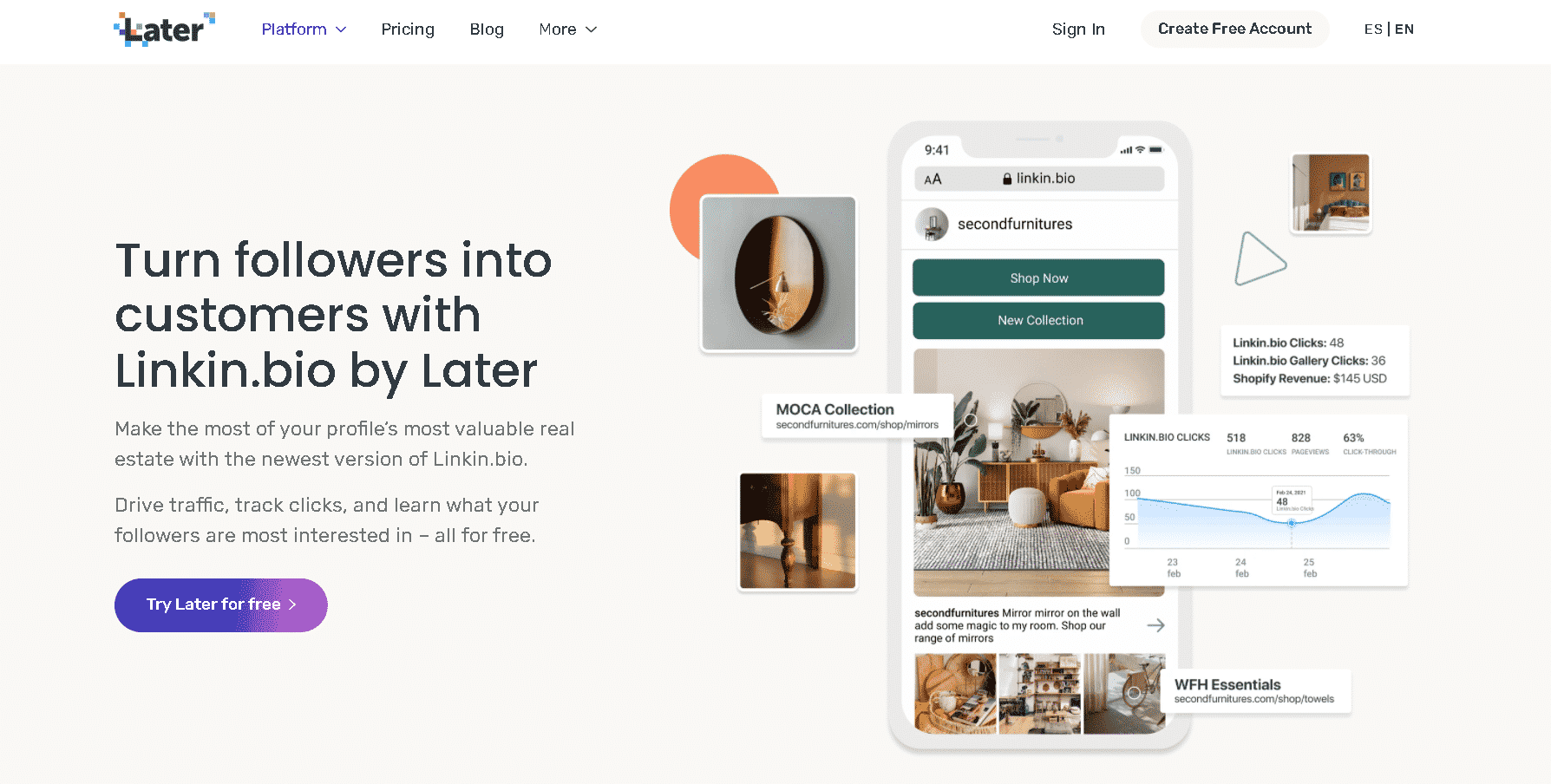 This platform is perfect for recreating and tagging links to Instagram posts. It is an Instagram marketing platform that aids users to schedule posts and create insights from their results. This tool empowers the users to make and share short links to their favorite content.
It is also said to be a free mini-website builder for Instagram that enables you to tag links from your Insta posts so that the users can click on them.
Features
Bio facilitates users to recreate your Instagram feed on a custom landing page and enables you to tag links to particular Instagram posts.
With this tool, you will be able to add up to five links to every Instagram post.
It is a perfect platform for brands who prefer to sell their products/services from the Instagram posts they share
You can enable Google Analytics UTM Tracking for reviewing advanced sales and conversion analytics.
It also provides you the option to embed the Linkin.bio feed on your website to attract more customers.
Pricing
Lite Plan (Free – $12.50/month) – In this plan, you get one link for every post, which has the banner of Later on the landing page, analytics, Google Analytics UTM tracking.
Standard ($20.93/mo – $33.33/mo) – Lite plan features + multiple links per post, Shopify integration, and no Later banner on the landing page.
Also Read: 23 Best CPA Networks for Beginners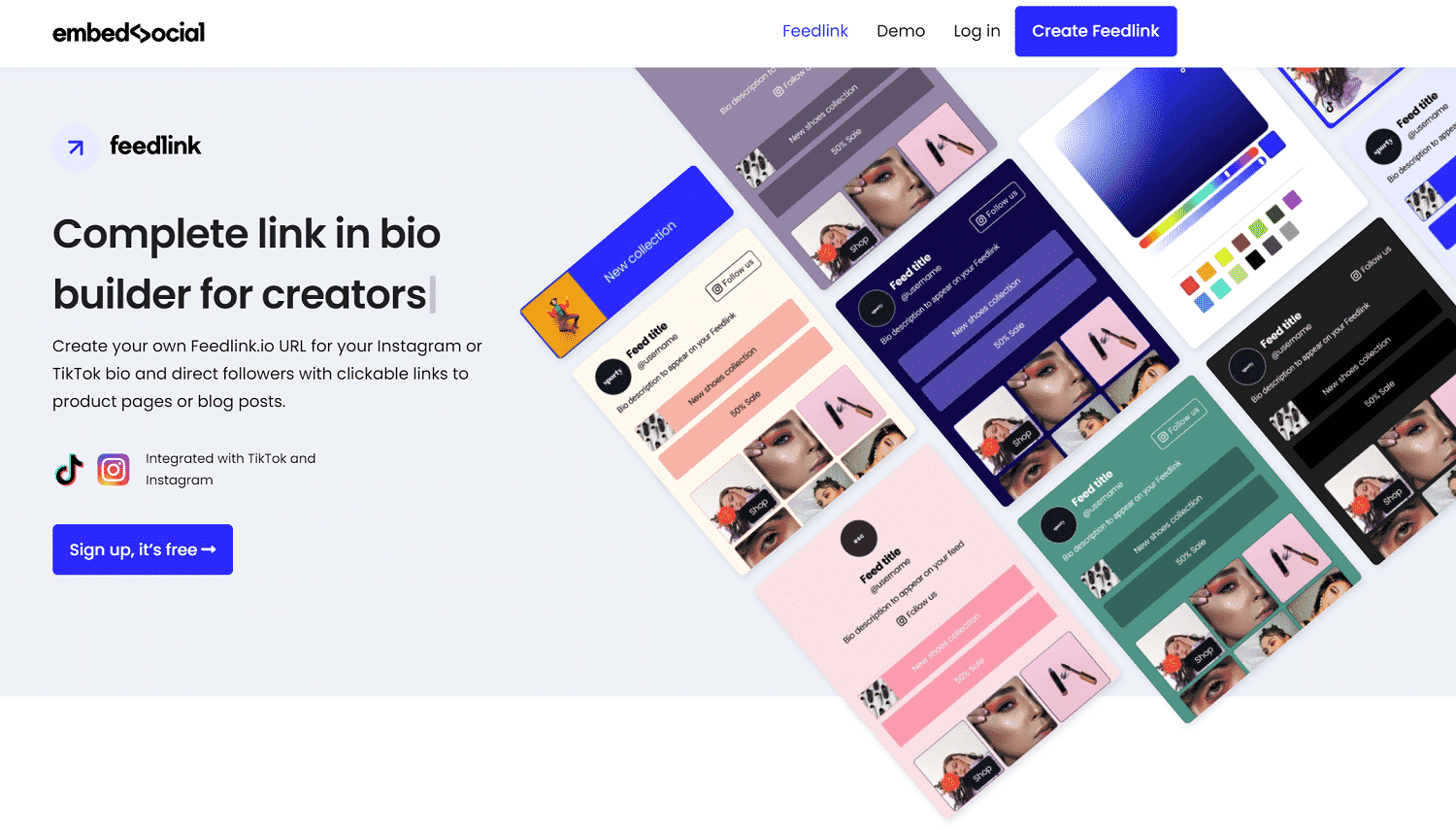 This tool is by EmbedSocial; it is one of the best Linktree alternatives that offers excellent support. It is an apt tool for people who are searching for a free Instagram link in the bio tool. The best part is that it operates as a web and mobile-optimized landing page that summons a clickable Instagram feed at one place.
Features
With Feedlink, you can easily create a clickable, one-link Instagram landing page, and there you can exhibit your multiple links.
It facilitates users to tag every photo in the feed with a unique link to increase the chances of sales and distribution on your Insta account.
You can create 10 albums with either Facebook or Instagram. These are basically 10 link-in-bio links that you would be able to create for free
You get a reusable link that you can apply on other social media networks
Its Instagram bio link page loads pretty faster, and the credited goes to its AMP version
Pricing
It has a free plan that you can use if you are using photos from one source. Paid price plans start from $19 to $99 per month. The plan you choose would depend on the number of sources and additional features you require.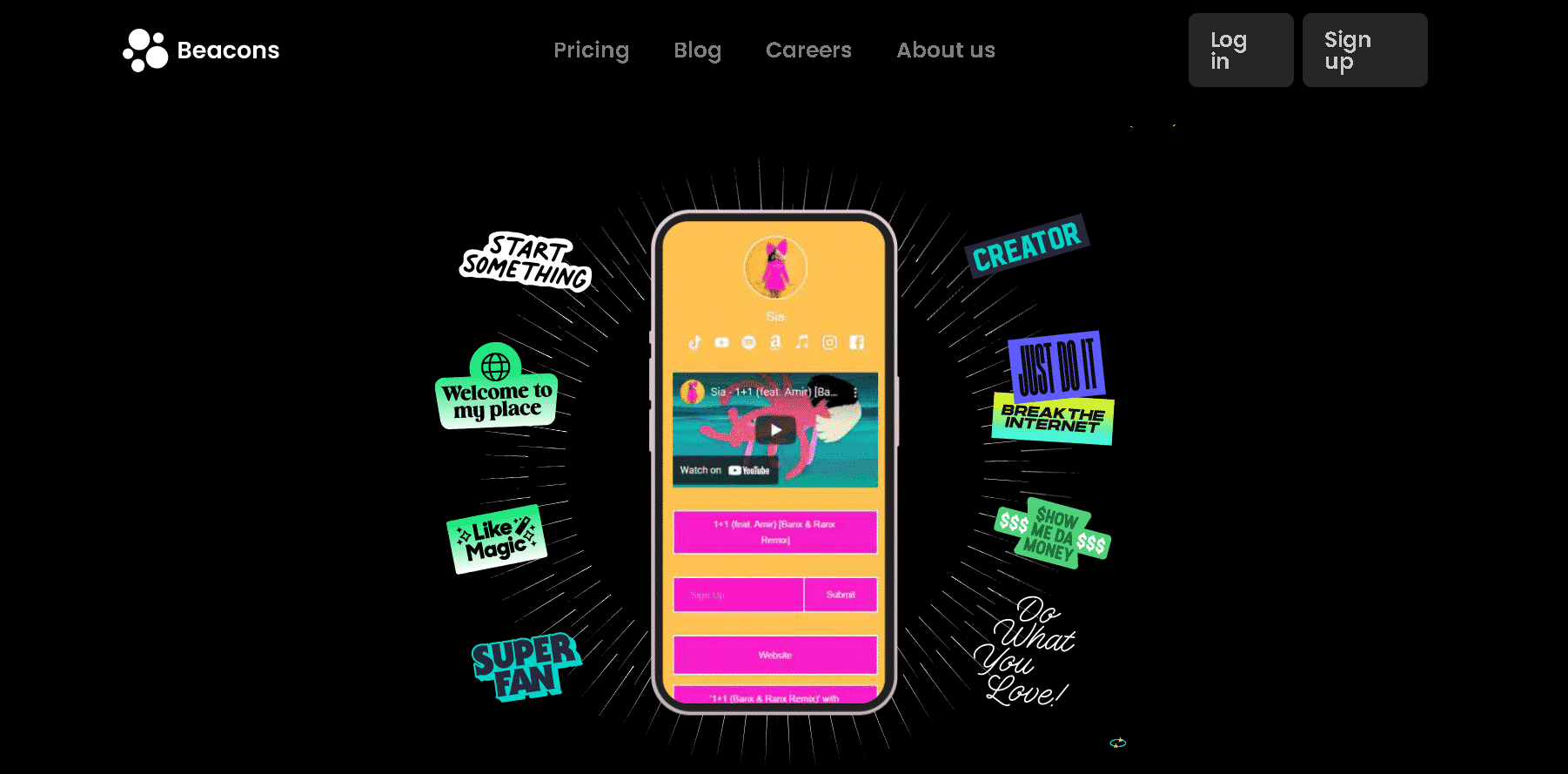 It is the only Linktree alternative that renders, users with a robust suite of monetization blocks. Creating a landing page with them is pretty easy; all you require to do is answer some questions, and their AI team will create a beautiful landing page for you.
Beacons offer four tools that are perfect for creating revenue just by an online presence. The tools are: taking direct requests from your followers, digital store, taking financial help from your followers without any transaction fee, and a shoppable Tik Tok; the best part is that all these features are for free.
Features
With Beacons, you can embed video, music, and Twitter
They also render users with an Email collector & MailChimp integration
Analytics means that you can get information on CTRs, link clicks, historical charts, and much more
It provides an entirely customizable layout. It possesses the competence to insert your clickable social media icons at the top and present a piece of content such as a YouTube video, which is perfect for video creators or brands that are launching new media products.
Monetization Blocks
Pricing
Creator plan – This is a free plan
Entrepreneur plan – It costs $10 a month.
Also Read: How to Make Money Blogging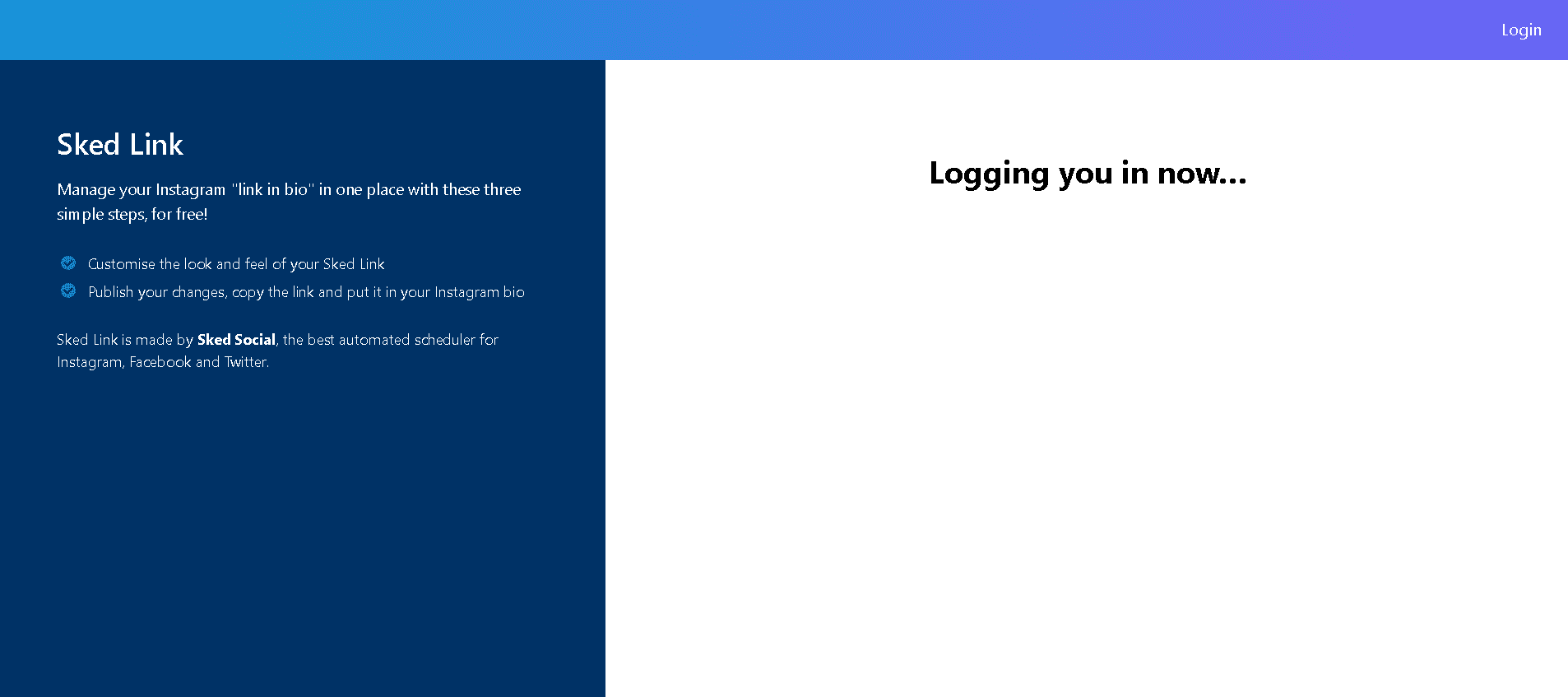 This is one of the best Linktree alternatives as it renders you an option to link followers on various platforms such as websites, blog posts, products, email newsletter signups, etc. It is different from others in the list because it lets you use customer CSS for added configurability and offers a live preview to view the changes when you add elements to it.
It loads the page four times faster than other tools mentioned in the list. The best part is with Sked Link; you can easily integrate Google Analytics and Facebook Pixel.
Features
Access link analytics
CSS Customisation
Include UTM parameters
Faster loading time
Change links
Instagram gallery display feature
Pricing
Fundamentals – $25 per month
Essentials – $75 per month
Professional – $135 per month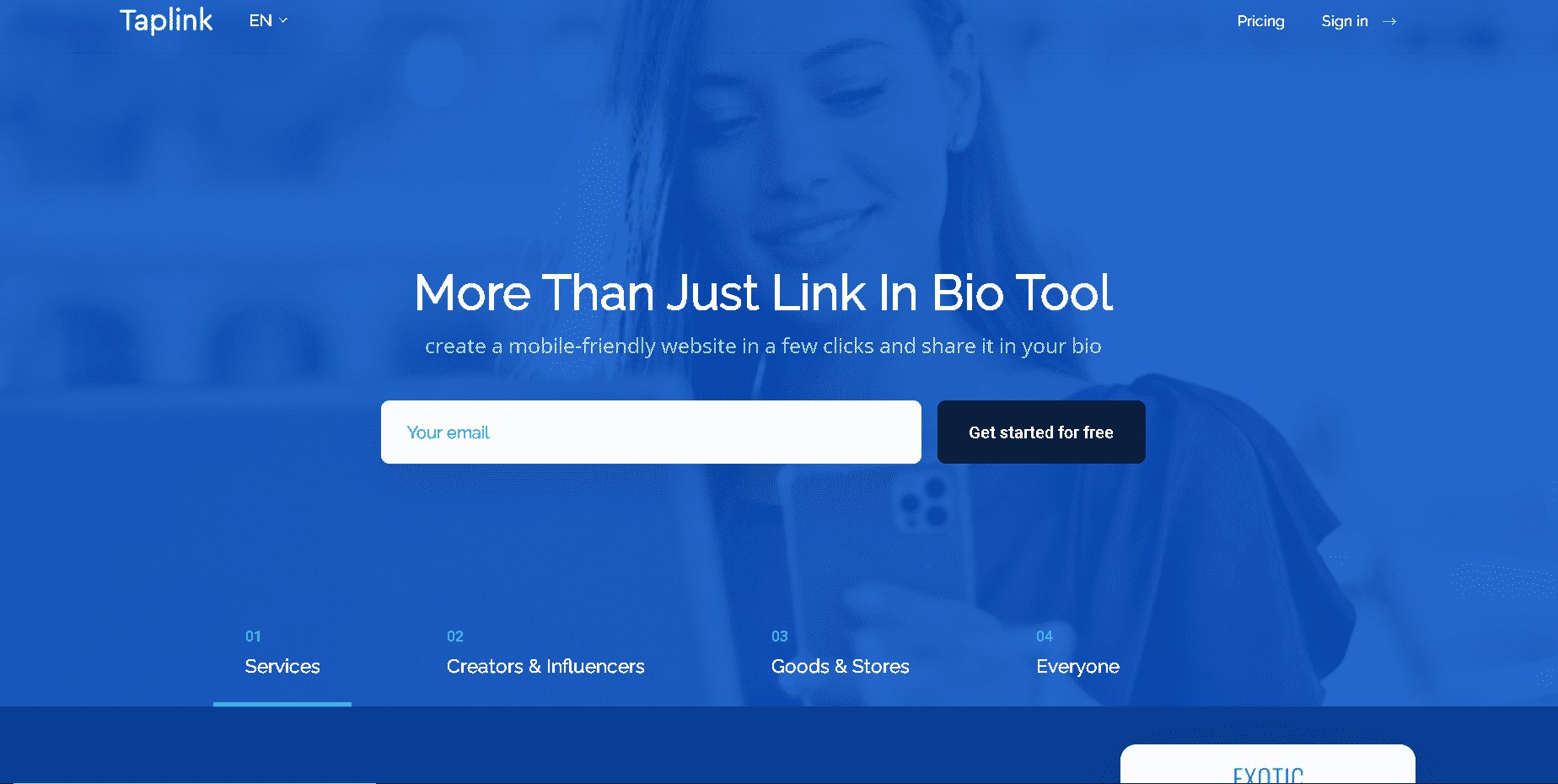 It is one of the most comprehensive alternatives to Linktree as it helps drive leads and sales on Instagram. Tap link facilitates users to insert the links on blog posts, social media profiles, take orders, accept payments, and much more all on one page. It enables you to connect numerous email marketing platforms straight away to the lead generation tool.
The best part is that they provide different block types where you can insert any content you want. This means that there are distinct blocks for adding videos, images, messengers, regular links, etc.
Features
It offers wonderful customization features such as countdown timers, engaging videos, and images, high-converting landing pages, etc. These features aid in increasing your potential customers and increases the possibility of the audience clicking on the CTA button or taking a particular action
A few other features comprise lead form capture, payments, high-converting text, and instant messenger integration
With their feature Run a time-limited, you can start a campaign or offer with countdown timers on its micro landing page
Use the answer block feature of the Tap link to give answers to the FAQs.
This tool has its own order management system; it alters you every time an order request is received.
Pricing
It comes with three pricing plans:
Basic (Permanently Free) – You get unlimited links, headers, shared access Q&A blocks, pre-designed themes, text blocks, and page-view statistics
Pro ($24/month) – Basic features + link clicks analysis, customization options, Facebook Pixels, links to messaging apps, scheduled display of blocks, links to social networks, etc.
Business ($54/month) – Pro features + custom domain, remove Tap link logo, CRM system accepts payments online, countdown timer, notifications to messengers, etc.
Micro websites are becoming popular day by day. But, the problem is that marketers and customers are on different social media platforms. Thus it becomes essential to feature various links in one place. Linktree is the solution to this problem and the above-mentioned Linktree alternatives.
Recommended: 13 Best Hootsuite Alternatives
So, if you are looking to include more than one link on your Instagram Bio, select any of the above tools from the list as all of them have great features, are reliable, and can help resonate with your audience on Instagram. But, the best alternative is the one that suits your requirements and above all your budget. Remember to choose the tool that would help in reaching your Instagram marketing goals seamlessly.