Are you looking for a fascinating WordPress theme that too paying not even a single penny? If yes, then you can go for one of the most renowned WordPress themes named GeneratePress. The best part about GeneratePress is that it comes with great features and functionalities available in the free and premium versions.
What is GeneratePress?
GeneratePress is a widely known freemium WordPress theme that primarily focuses on speed and usability. GeneratePress provides the user with a free and premium plugin that adds more options to build your website.
This WordPress theme has over 2.7 million downloads and 3,00,000 active installs. The figures clearly manifest that this theme is an exceptional choice that one can go for. Also, it has a 1000+ 5 star rating, signifying the founder of the GP theme 'Tom Usborne' is working consistently on improving and making it better than before.
Numerous people use this WordPress theme because it is a secure, fast-loading, SEO-friendly, mobile-friendly, and encoded theme. Are you searching for the ideal option, which one you want to go for, GeneratePress Free vs Premium? Hold your horses; you will be able to select the suitable option as per your needs.
The primary purpose of including GeneratePress free vs premium review in this guide is to clarify what factors you should consider before opting for any WordPress theme.
GeneratePress Free vs Premium: Comparison (2021)
What should you opt for, the free theme or the premium one? It will be easier for you to decide once you get extensive information about GeneratePress free vs premium comparison.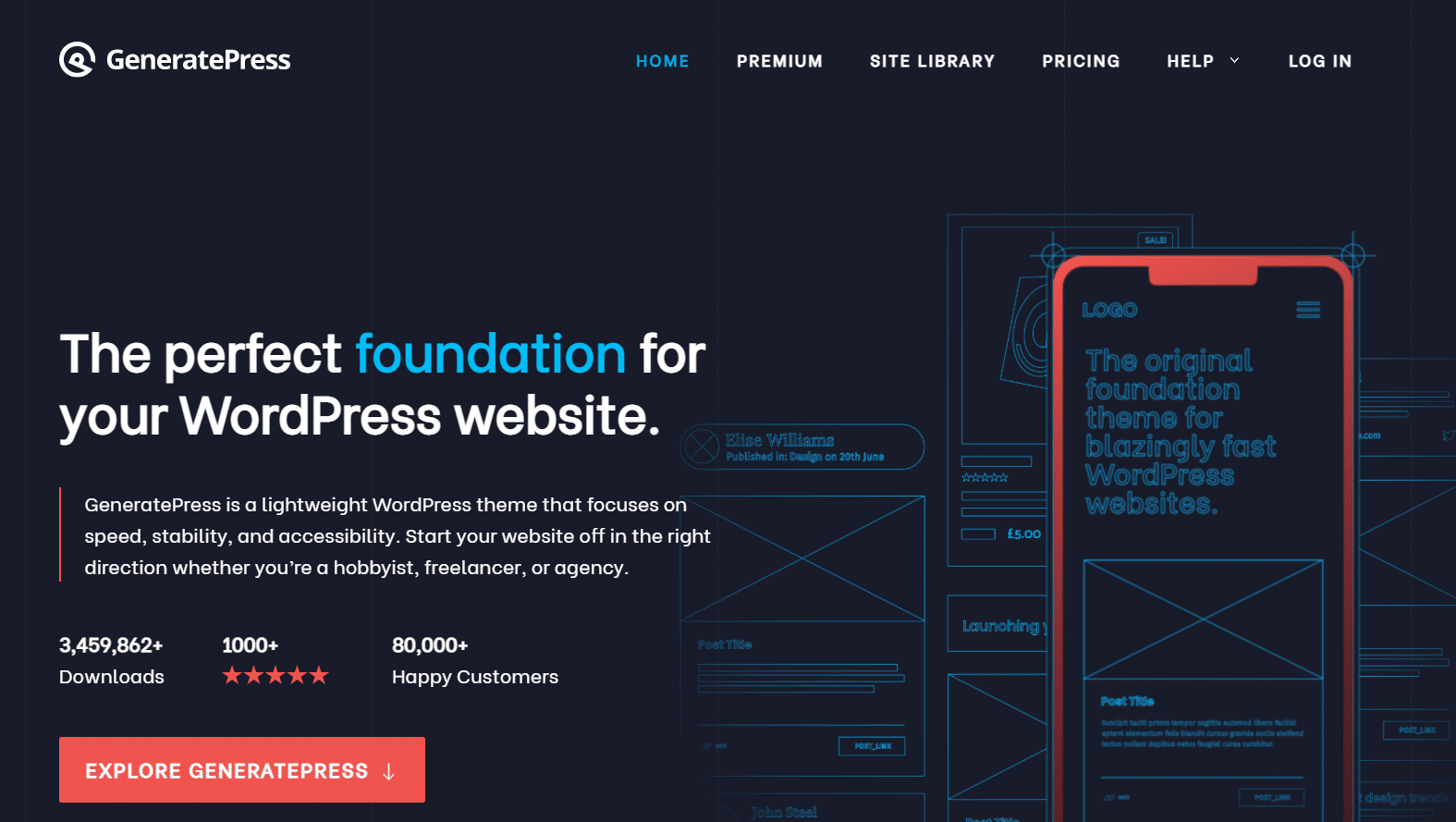 It is imperative to know their pros and cons, features, specifications, price, and review before selecting the free and premium models.
1. GeneratePress Free
GeneratePress free is a fast-loading free parent theme for WordPress websites and blogs. The light blue color represents the free theme.
The best part about this variant is that it does not involve any cost. You can avail of and activate it entirely for free of cost. Simultaneously, you will also get pro features with this theme for a lifetime.
The free GeneratePress theme is simple yet attractive compared to many WordPress themes available in its library.
Features
Mobile-Friendly: The free version is Fully mobile responsive.
Light-Weight: This version occupies a very minimal space which is 1MB, which reduces the site loading time immensely.
14 Pro Models: With 14 pro models, you can customize your website efficiently.
Reset options: It is designed with a click and reset option, which means you can reset everything in just one click.
CSS Customisation: Every part of this theme can be customized with the CSS option
Typography and Font Editing: More than 100 free font and typography options are available to choose from the GeneratePress free theme.
Documentation: Thousands of GeneratePress documentation tutorials are available, facilitating your website's activation and advanced customizations.
Pros & Cons
Pros
No additional cost is required.
Use unlimited sites for a lifetime.
Equipped with Typography, Font editing, and other cool features to activate on your site.
Light-weighted theme allowing your site to load fast.
Fully SEO optimized and mobile-responsive theme.
14 add-on modules.
Cons
The customer support team is not responsive.
Non-removable powered by GeneratePress.
No import/export functionality.
You need to be well-versed with CSS to design various parts of the theme.
Also Read: 10 Ways To Make Money With WordPress
2. GeneratePress Premium
GeneratePress premium includes extra functions and modules apart from the parent theme, which is free. This premium theme is denoted by the dark blue color, unlike the free version.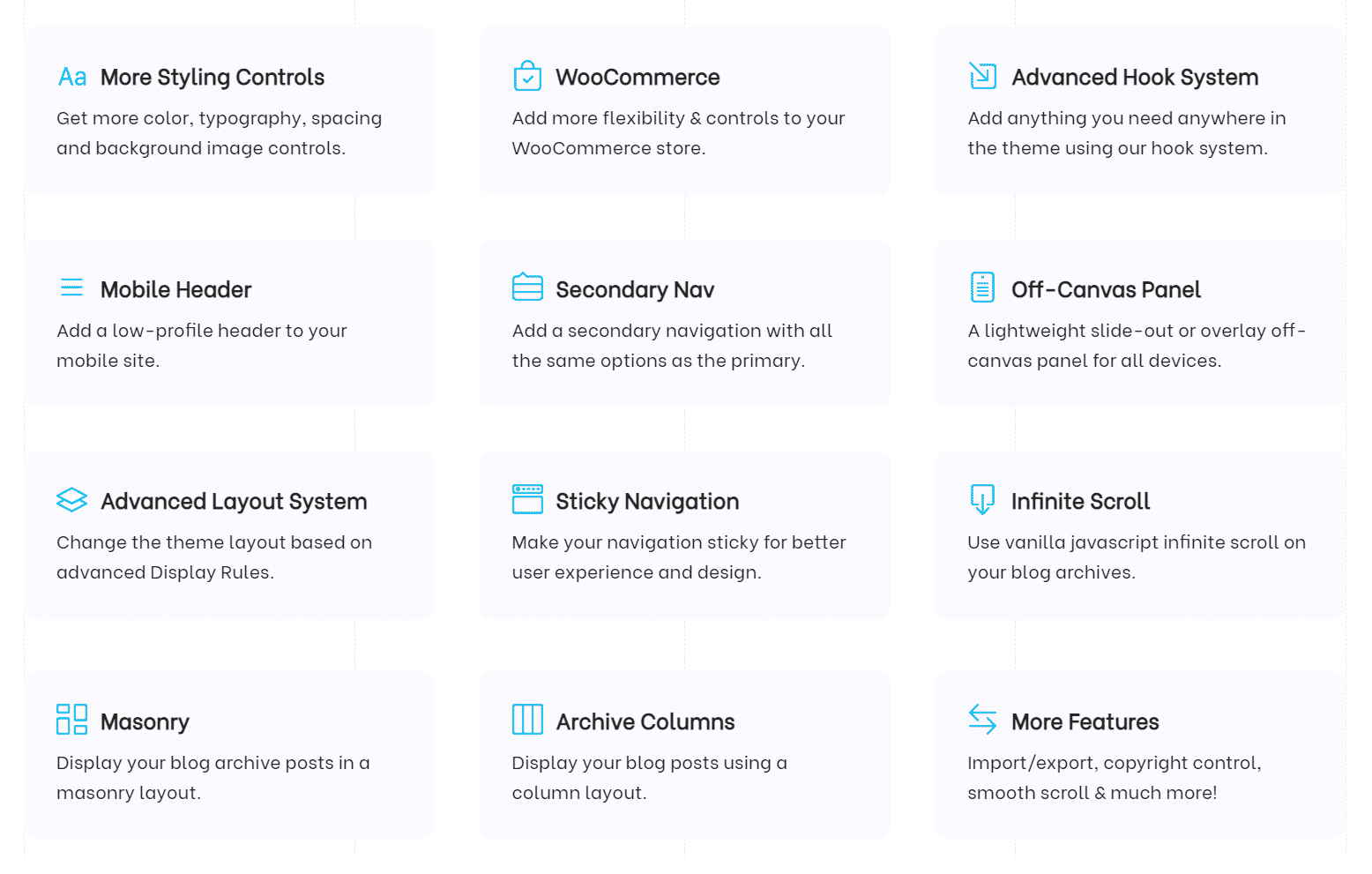 Features
Site Library: Out of 33 premium theme demo sites, you can import any in just three clicks.
Page Header: A transparent header and custom logo image are added in full screen and parallax format on site.
Backgrounds: You can remove and add background images and also design them with available parallax effects.
Blog: The blog can be styled and designed with the premium version as you like. You have several options to post into the grid, column, and masonry layouts.
Colors: Plentiful color options up to 60 are available to manage any area of your website, whether it is a heading, paragraph, or link.
Typography: More than 100 fonts, 70 typography options are available to enhance your blog's outline and make it look attractive.
Elements: A set of 14 elements are available that enables activating and deactivating any aspect of the site, including footer, background, menu, navigation, site collection, etc.
Spacing: With this premium theme, you can manage your site elements' sizes, padding, and margin.
Menu Plugins: Create off-canvas navigation, sticky navigation, mobile header, etc.
WooCommerce- This module allows you to customize and style your WooCommerce site's visual aspects, including color, typography, and layout options.
Secondary Navigation: It is similar to primary navigation, enabling you to add new mega menu links on the site.
Hooks: Add PHP code to display the widget on the area of your website.
Disable Elements: Certain theme elements can be turned off if you do not require them on particular pages on your site.
Copyright: The theme footer enables you to change the copyright text.
Sections: Press the tab 'Use Section' to create a post/page into the sections, appearing right side of the post or page editor.
Import/Export: This feature allows you to migrate your theme settings and import/export from one WordPress website to another only after a few clicks.
24×7 support: Unlike GeneratePress free version, you will get 24×7 support from their designated customer care support officials.
Pros & Cons
Pros
100+ customizing options.
Get GeneratePress premium models.
Child theme supported.
SEO optimized and mobile-friendly.
Lightweight and fast-loading.
30 days money-back guarantee.
Use this theme on unlimited sites whether you own those sites or not.
Get access to all premium models and site libraries.
No need to opt for any extra page builders such as Elementor, Beaver Builder, etc.
24X7 expert support.
GP Premium plugin size is less than 30kb.
Cons
3. Premium Price Renewal cost and discount code offers
GeneratePress premium will cost you $59.95 for the first year, and you can avail 40% renewal discount next year onwards. All you need to do is renew the subscription before it gets expired. Whereas if you opt for lifetime access, it will cost you $249.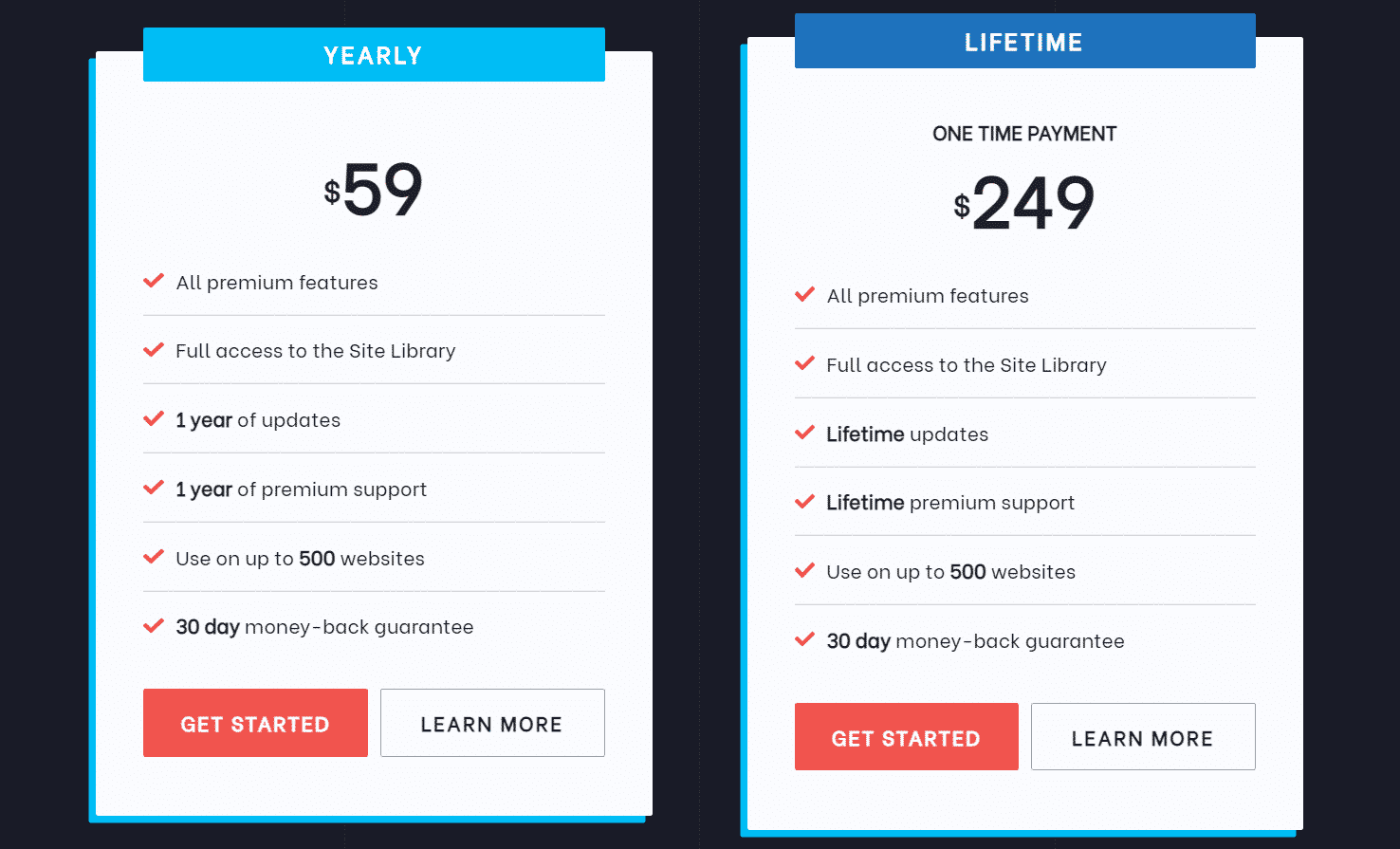 You can avail extra discount on certain special occasions such as Cyber Monday and Black Friday.
It is recommended to purchase its lifetime subscription after the first five years, and you will use the GP premium version for free if you sum up 5 years (yearly) cost.
Also Read: 800+ Free Directory Submission Sites List
Top 5 Plugins List for GeneratePress
It is an excellent plugin that allows you to create a table of content for any blog post. Furthermore, it helps to improve your ranking in search engines, including Google.
Rank Math not only enhances your ranking in the Google search engine but also includes multiple features that will help you organize all your SEO works seamlessly.
3. Elementor
It is a page builder plugin facilitating creating header, footer, and blocks for any niche website.
4. WP Rocket
This plugin helps to speed up your website immensely. Without this plugin, it isn't easy to provide visitors an exceptional user experience.
5. Social Snap
Thinking of creating social icons for your blog post? Social Snap is here to help you with this. The leading WordPress social sharing plugin consists of ample useful features that help you drive more traffic and increase customer engagement by leveraging social media's power. Great, isn't it?
GeneratePress Free vs Premium 2021 (Review)
Millions of users have reviewed the GP WordPress theme as top-rated because of its impeccable features and functionalities. Any niche website can be easily built through this WordPress theme. If you are a blogger, a GeneratePress (GP) theme is ideal for you when you are about to publish your own blog.
Still confused whether you should go for the free version or the premium one? You can go for the free version if you want to create a simple website without much customization. However, if you want to create a business or professional website, you need to spend some money to buy its premium license.
Also Read: How to Make Money Blogging (10 Legit Ways)
Other factors you should consider before you opt for the free or premium version:
1. Choose the Free theme if:
You have expertise in customizing the theme with CSS and HTML coding.
You want to create a website with a different niche to earn through Adsense.
If you have page builders like Beaver Builder and Elementor.
2. Go for the premium plugin if:
You want to create a WooCommerce store.
Want to access premium models, features, and functionalities.
You are looking for an SEO-optimized & mobile-friendly, lightweight, and fast-loading theme.
Looking to use a theme for the lifetime with good features.
The best part about the premium version is that even if you find that it's really not worth it (we guarantee you won't once you start using it), you can ask for a refund within 30 days. The team will refund the entire amount in the same source from which the payment is made.
However, you can also start with its free version; take a look at its demo. If you like it, go for the premium one. Perfect! Right?
If we missed some information, we have gathered helpful information and particular questions about the GeneratePress free vs premium theme that most users ask in the comments section.
Also Read: High DA Dofollow Social Bookmarking Sites List
Frequently Asked Questions (FAQ)
Q1. What happens if I do not renew my license key?
A1. Your website remains as it is. It won't break or change even if you do not pay the premium version's renewal fee. You are still free to use it for as long as you like.
Q2. What happens after one year of updates and support?
A2. If you continue to pay the renewal fees, you will receive constant updates and priority support in forums.
Q3. Are there any hidden fees on the prices mentioned here?
A3. No, absolutely not! The prices are fixed and precise. For comprehensive pricing information, you can visit the GeneratePress Premium Pricing page.
Q4. can I make the payment through Paypal?
A4. Yes, GeneratePress supports the PayPal, Credit/Debit card, and net banking payment methods.
Q5. How to activate GeneratePress premium after paying for the subscription?
A5. Once you have installed GeneratePress free theme from the WordPress dashboard, click the 'Premium' labeled tab.
Then, download the GP premium plugin from the GeneratePress dashboard and upload it to your WordPress site. Then, entering your license key will allow you to activate the GP premium theme.
Q6. Is it true that we can use the GP premium theme on unlimited sites?
A6. Not only the GP premium theme but even the free one can be used with up to 500 websites.
Q7. Does GP premium support FAQ schema?
A7. Yes, it supports the FAQ schema. You can effortlessly add FAQ Schema through any of its SEO plugins, including Yoast SEO and Rank Math Plugin.
Q8. What kind of support do I expect if I buy GP premium?
A8. GeneratePress is always there to help. With the help of their proficient support team, they can solve every user's query.
Q9. What do updates include?
A9. It includes all types of performance enhancements, improved features, the latest modules, and bug fixes.
Q10. Does the yearly plan renewal fee automatically deduct?
A10. No, you need to make the payment every year and renew the license. The amount will not be deducted automatically. If you do not want to get into this hassle of making a payment every year, you can opt for its lifetime subscription, which is available for $249.
By the time you know about GeneratePress free vs premium in every particular.
The GeneratePress free vs premium comparison will help you choose between both options. A thorough read of the GeneratePress free vs premium review will also clear all your doubts about pricing and the renewal costing.
Recommended: 17 Best Mobile Affiliate Networks
We hope this article and all our extensive research will prove helpful and help you save time on blog customization the way you want. If you are interested in buying the GeneratePress WordPress theme, you can opt for it.