Are you looking for alternatives to SEMrush to take your online presence to the next level? Look no further! We've curated a list of the best SEMrush alternatives that will empower you with advanced features and unrivaled insights.
SEMrush allows you to audit on-page SEO and improve the pages by increasing the amount of traffic to your website. What if we tell you there are many SEO tools like SEMrush, even better than SEMrush, helping your business pave a definite path to success.
What is SEMrush?
SEMrush is a leading intelligence-gathering tool that works exceptionally well to conduct detailed marketing, perform competitor analysis, SERP analytics, monitor backlinks, and dynamic rank tracker.
The tool was launched long ago in 2008, and there are many reasons you might want to explore the best SEMrush alternatives. The first and foremost reason is when you do not want to shell out ample money for a suite of marketing tools.
Before jumping on to free and paid SEMrush alternative tools, let's quickly go through its features:
Discover effective keywords (Keyword Research), allowing your website/business to bring more traffic
Access to Content Marketing Toolkit
Find Toxic Links Effortlessly
Provide On-Page SEO Tools
Link Building
Rank Tracking
Social Media Management
Content Marketing
Competitor Analysis
Even we love the SEMrush tool because of its ability to perform a wide range of activities, be it site audits, backlink analysis, or keyword analytics. However, it might hurt your pocket a bit as the tool is expensive, costing you more than whooping $120 a month.
Looking for the best SEMrush replacements? Scroll down, and check out the top 16 websites like SEMrush.
16 Best SEMrush Alternatives (Free and Paid)
You will find the best SEMrush alternatives in this article. The best part is that the list contains the paid as well as free SEMrush alternatives helping you discover the great potential of your business: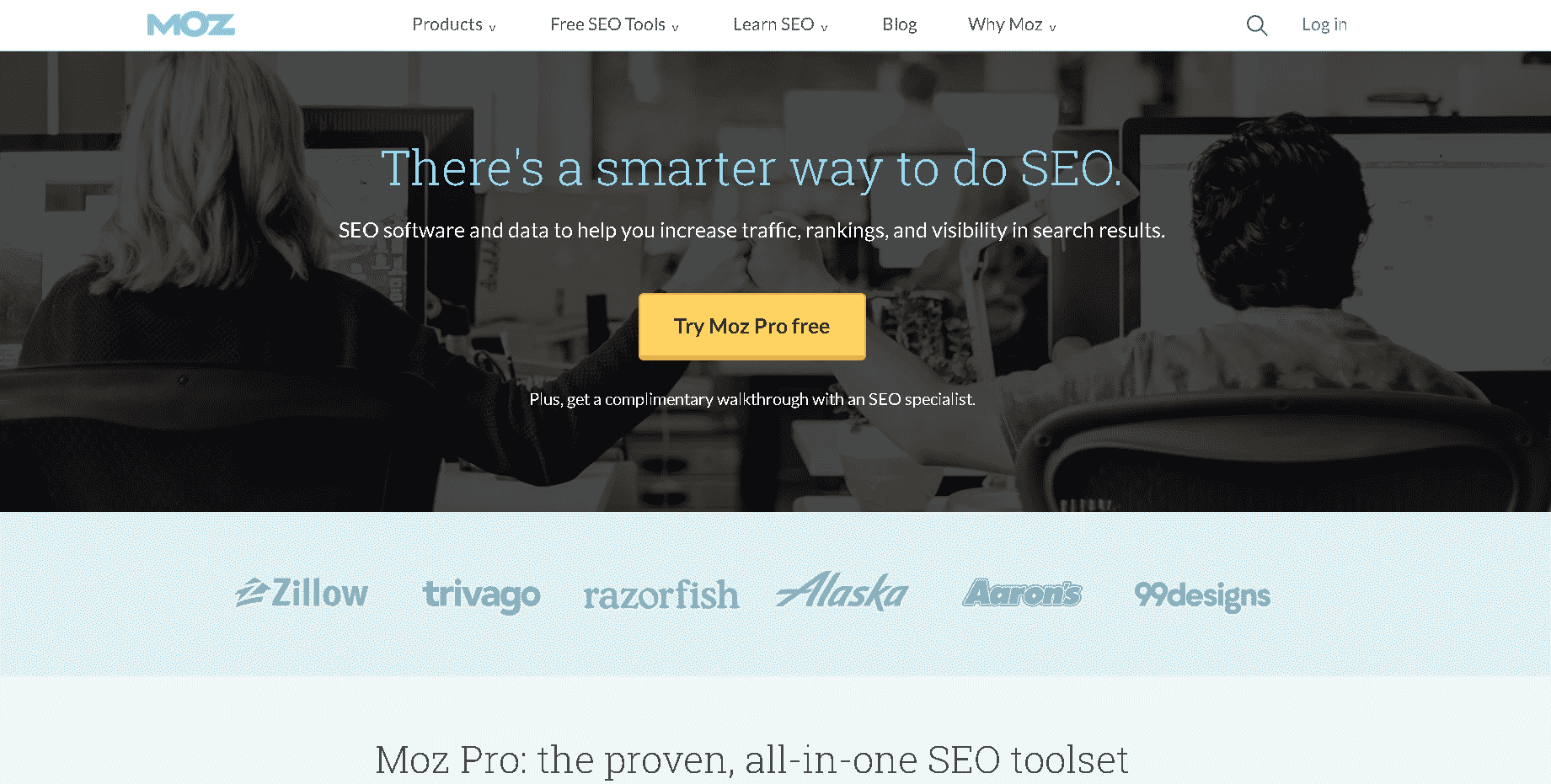 Moz Pro is the leading SEO tool in the industry that has helped many businesses optimize their website and online presence. The software provides you with a bunch of great SEO tools allowing you to perform effective keyword research to link analysis to page optimization effortlessly.
The platform provides a wide array of features such as analytics and reporting, links building and domain analysis, SEO Audit, domain content optimization, etc. The tool also features 500 million suggestions showcasing search volumes for specific keywords to a higher degree of accuracy, up to 94%.
You can reap the benefits of this tool for up to 30 days without bearing any cost. If you like the tool (surely you will), you can continue by paying $99 per month, ideal for small businesses.
Features:
Moz has made it easy for you with one simple tool, so take advantage of this helpful service.
Its Keyword Explorer is a great tool to help you research and analyze keywords.
It tracks your website's rankings in Google and other search engines with Moz's Rank Tracker.
The tool will crawl your site and find any technical issues that could be holding back SEO efforts.
Analyze the links pointing to your website with Link Explorer.
Pricing:
Moz is offering 30 days of the free trial. The tool's pricing and plans offer great value for small businesses.
Standard: $99 per month. The price plan features 300 keyword rankings.
Medium: $179 per month. Medium plan offers 1500 keyword rankings.
Large: $299/month. Large plan collects more than 12000 total search results and provides 3000 keyword rankings.
Premium plans: $599 per month. There are 4,500 keyword rankings offered in this price plan.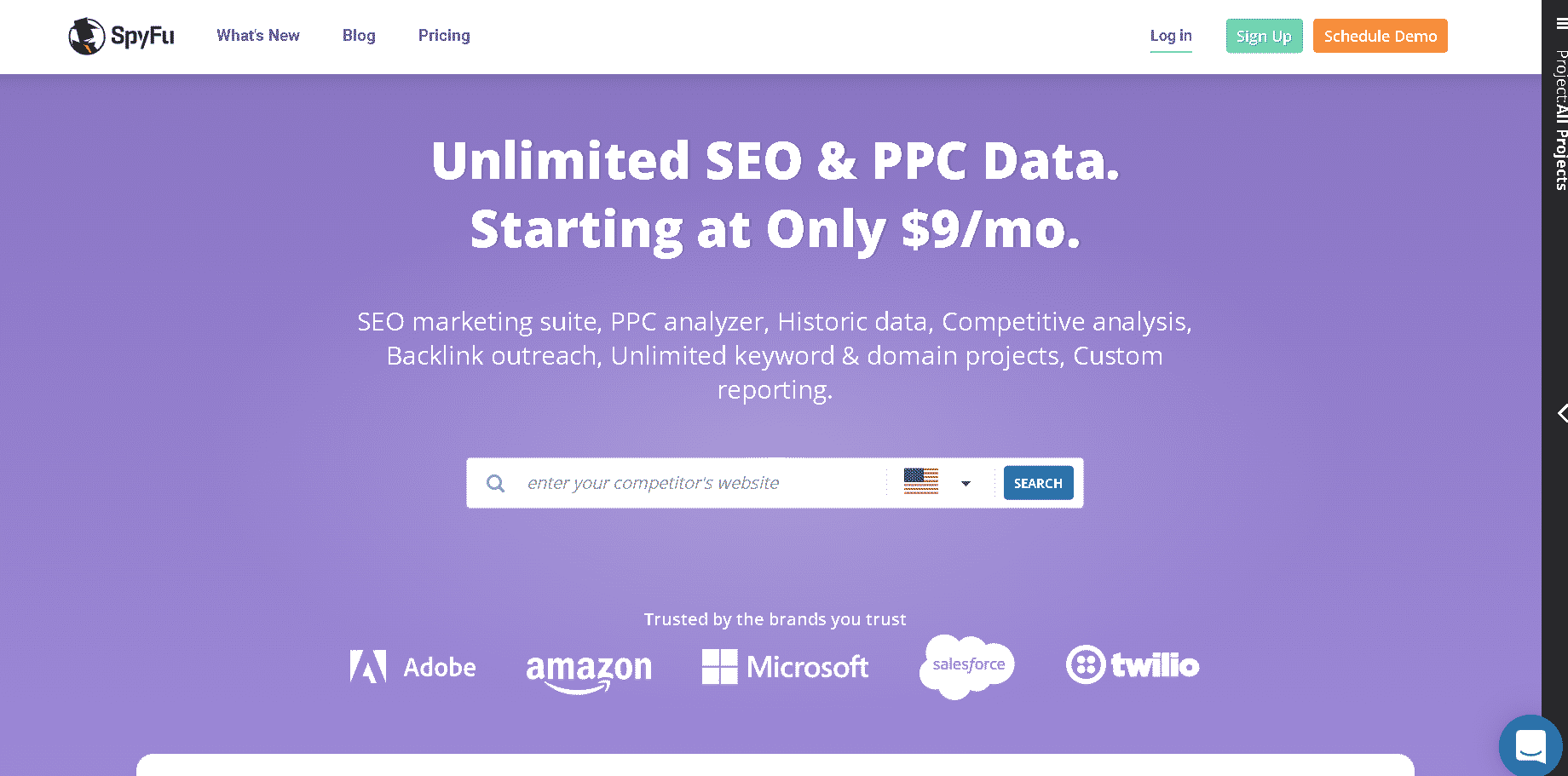 Offering similar metrics as SEMrush, Spyfu has dynamic and diverse competitor analytics. It is the sole reason Spyfu is used to track more than 80 million domains and 5 billion results.
The tool offers an intuitive interface helping you fetch a depth breakdown of your competitor's traffic resources, their Google ad spending and backlinks, and their top ranking keywords. The platform proves to be the best SEMrush alternative comparison helping you get all the dynamics of your competitor.
Furthermore, opting for premium plans will allow you to search unlimited pages. It is one of its best parts, as with SEMrush, you do not get this privilege, even if you opt for its premium listing. Spyfu will also enable you to access the 20 years of competitor data which can be compared to the SEMrush database going back to 2012.
It is an ideal choice for agencies or businesses looking to understand their competitor's SEO strategy.
Features:
Spyfu provides a keyword suggestion tool that helps users find new keywords to target.
It allows users to track their website's ranking for specific keywords and spy on their competition to see what keywords they are targeting.
Spyfu allows users to track their PPC campaigns and optimize them for better results.
The software also provides detailed reports on website traffic and conversions.
Pricing:
Spyfu offers yearly subscriptions. They also have plans for generating custom reports every month.
Basic: $33/month (annual), $39/month. It has 5K weekly tracked keywords
Professional: $58/month (annual), $79/month. It provides access to 15 K weekly tracked keywords.
Team: $199/month (annual), $299/month. It offers 40K weekly tracked keywords.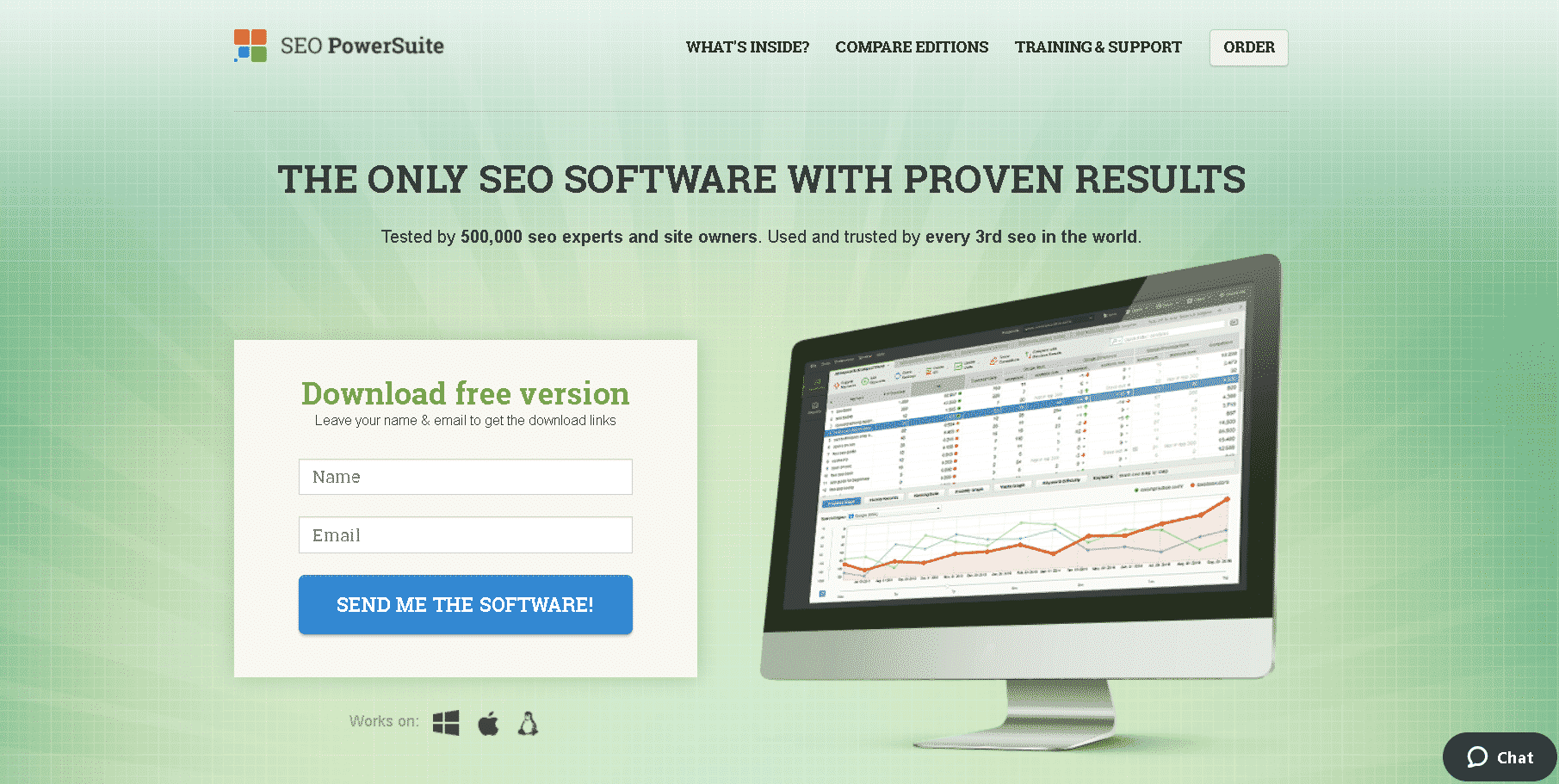 SEO Powersuit is one of the free SEMrush alternatives. It is one of the most effective tools for streamlining your website's SEO strategy. The software combines excellent features such as white label reports, search engine compatibility, and great customer support.
Opting for its premium version will get you unlimited site crawls and a keyword planner that helps outline every keyword's traffic and bounce rate on your radar. Plus, the platform also facilitates link-building recommendations while weighing backlinks to create accurate reports.
The program also helps you know your competitor's content strategy, and crack their backlinks and keywords.
Features:
Popular all-in-one SEO software provides users with a suite of powerful tools to help them improve their website's search engine ranking.
SEO Powersuit's keyword research tool allows users to find the most popular keywords for their websites.
The competitor analysis platform helps users identify their competitors' strengths and weaknesses.
The link-building software helps users to build links to their site from high-quality websites.
Pricing:
It is a free tool. It gives unlimited keyword ranking for each plan.
Free SEO Powersuite: $0
Professional SEO Powersuite: This price plan can be accessed for $299/year for a single user
Enterprise SEO Powersuite: The enterprise plan can be opted for $699/ year for a single user.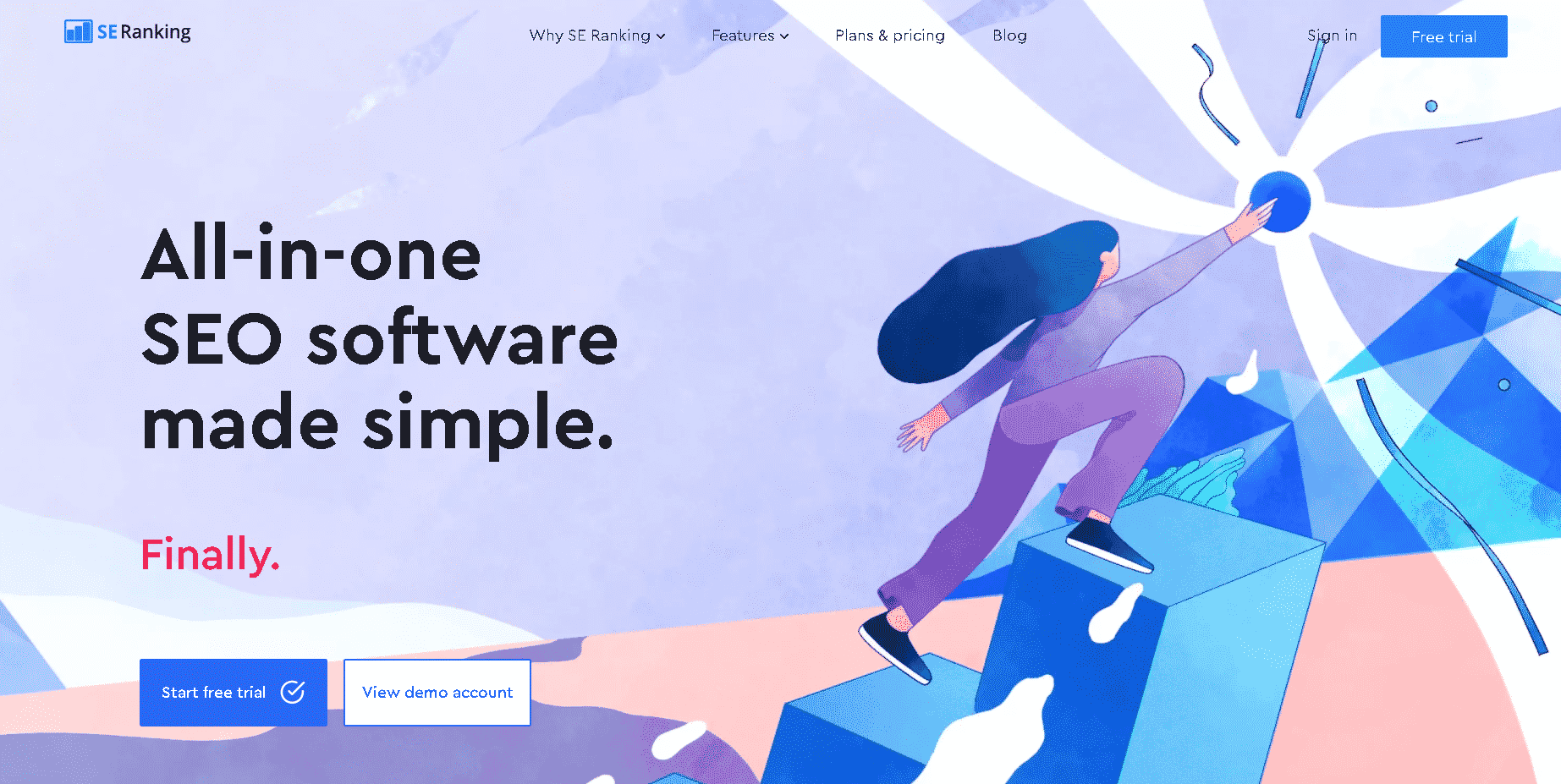 SE Ranking is one of the best SEMrush alternatives serving as all-in-one SEO software. The platform is quite new compared to the other platforms mentioned in this list but fully reliable. With over 3 lac+ users, this software is comprised of a suite of tools.
The unique aspect of this cloud-based software is its in-depth keyword research tools that provide you with more than 2 billion options of keywords. Moreover, this program enables automatic software updates and desktop installations effortlessly.
With this software, one can evaluate their backlinks with 15+ variables such as Google index status of each link, social popularity, Majestic Trust Flow, and Moz Domain Authority. SE Ranking also allows you to develop an overall strategy for your site with Keyword Grouper Tool by segmenting keywords and planning your PPC words.
Features:
SE Ranking's keyword research tool allows you to find high-volume, low-competition keywords ideal for your business.
The keyword research features of this platform make it easy to find the perfect fit and enable auto-update, which means that you will never be without fresh content.
The auditing tool of SE Ranking helps you identify technical SEO issues that could prevent your website from achieving its full potential.
The platform is also known for analyzing your website and giving a detailed report.
The site's rank tracking tool lets you track your website's progress in the SERPs over time. By monitoring your competitor's ranking and performance against the site, you can see who is winning in this race for keywords.
Its analysis tool provides valuable insights into your rivals' SEO strategies. Using the data from this research, you can make your website more competitive on Google search engine results pages (SERPs).
Pricing:
The cost of this platform is extremely affordable.
Essential: $31.20 /month. It has 450K keywords ranking in total.
Pro: $71.20 /month. It comprises1800K keywords ranking in total.
Business: $151.20/ month. The business plan features 4500K keywords rankings in total.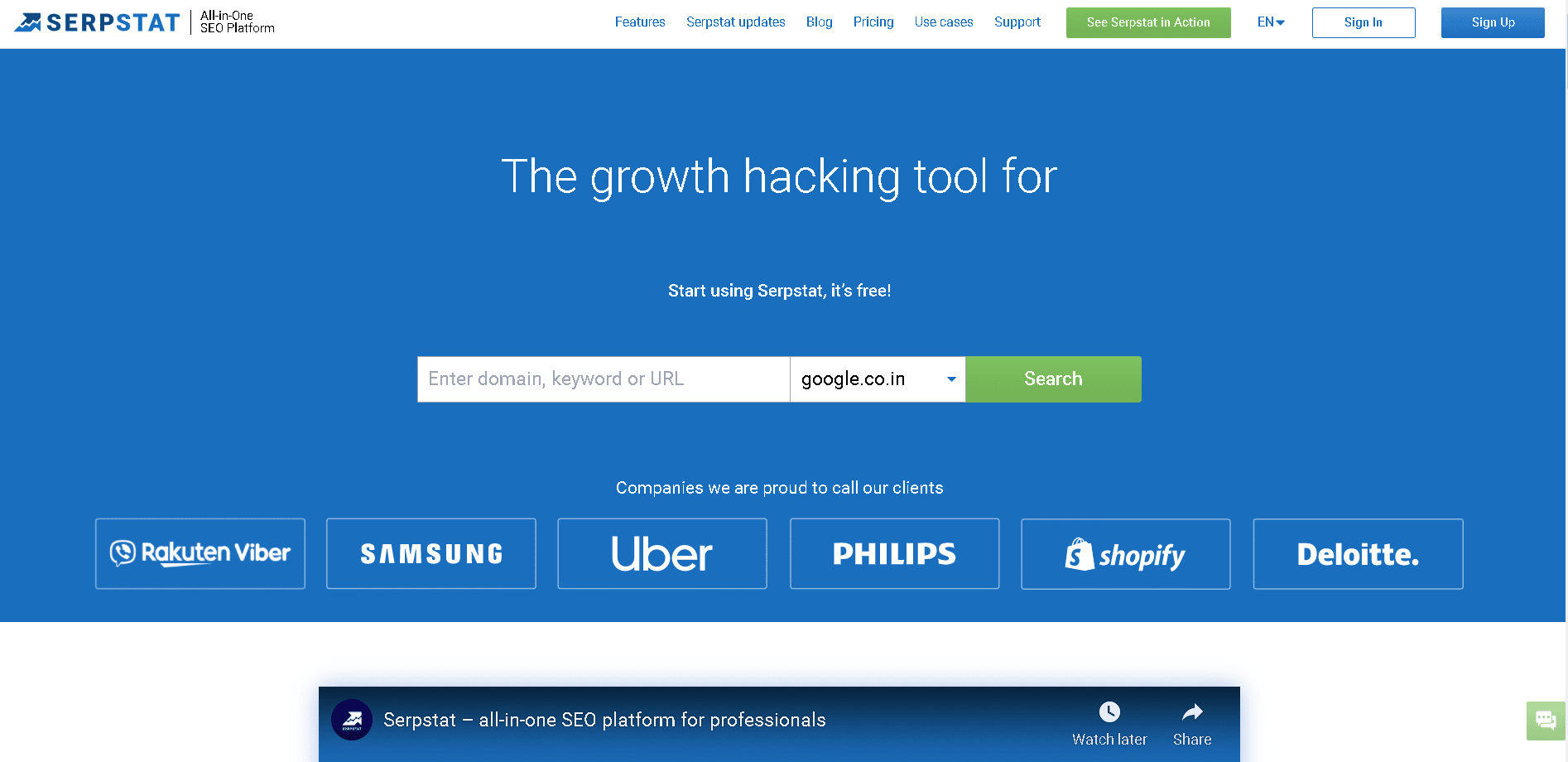 One of the most affordable SEMrush alternative comparisons can be done while opting for this software. It offers many useful features as it helps businesses perform competitor analysis, position tracking, keyword research, advertising research, backlink research, and site audit with ease.
The efficient SEO tool has made it easy to discover international data, search for PPC ads, track domain position changes, and analyze keyword trends effortlessly.
One of the best parts about Serpstat is that it enables you to identify all the redirect issues your site is having, be it 301, 303, or any other redirect issues. It is also used to boost your site's speed by facilitating image optimization, fixing compression errors, and browsing caching.
Features:
Serpstat's site audit tool helps you identify and fix technical SEO issues on your website.
With Serpstat, you can improve your website's ranking and visibility on the search engine.
The platform also empowers you to keep tabs on having an edge over your competitors and stay ahead of them.
This information will help you tailor a more successful SEO strategy for you.
Serpstat's backlink analysis tool helps track your website's link popularity and identify high-quality backlink opportunities.
The platform's rank tracking feature allows you to monitor your website's search engine rankings for certain keywords.
Its PPC analysis tool helps optimize your pay-per-click campaigns for better results.
With Serpstat's site explorer, you can get detailed insights into any website, including information on its traffic, backlinks, keyword rankings, and more.
The API allows you to access your custom applications' platform features and data.
Serpstat's user-friendly interface makes it easy to navigate and use, even for those unfamiliar with SEO.
Pricing:
Four plans are available. This tool solution provides free access to certain advanced features such as competitor analysis and reports.
Lite: 69 USD. It has a 15K keyword ranking.
Standard: 149 USD. It offers a 60K keyword ranking.
Advanced: 299 USD. It provides 1250 K keywords rankings.
Enterprise: 499 USD. It allows its users to access 2500K keyword rankings.
Also Read: 55 Ways To Advertise Your Business For Free On the Internet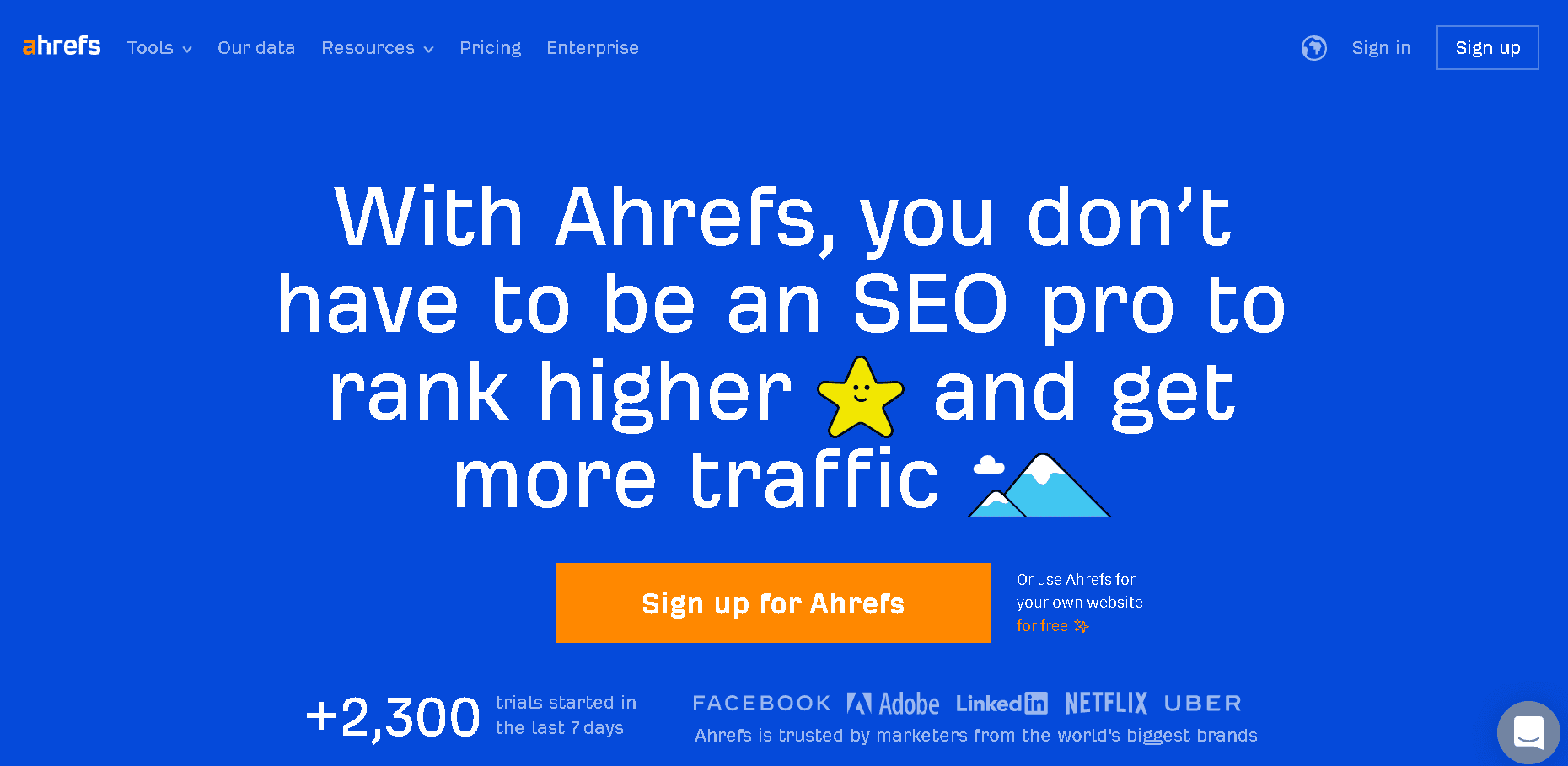 One of the leading SEO tools similar to SEMrush is best known for providing profound data analytics, growing your search traffic, researching your competitors, and monitoring your niche.
The platform boasts of advantageous market tutorials and skilled SEO community on Facebook. The platform helps you find your tough competitors and get informed about what makes their ranking high and things you need to do to outrank them. Cool, right?
It has astounding internet-wide and site-specific crawling capabilities. You may find its interface a bit complicated initially. However, once you start using the platform, you will perceive it's an authoritative option for professional makers.
Features:
Site Explorer is Ahrefs' flagship tool that allows you to see detailed information about any website, including its backlink profile, traffic statistics, top pages, etc.
Keyword Explorer is a keyword research tool that helps you find compelling keywords to maximize the results of your SEO campaigns.
It also provides detailed data about keyword difficulty, search volume, and more.
Content Explorer is a content discovery tool that helps you find the most popular and engaging content on the web. It is a great way to find new content ideas or see what works well for your competitors.
The Backlink Checker tool allows you to see all the backlinks pointing to a website and the strength of each link. This is useful for identifying which links are most valuable and monitoring your backlink profile over time.
Site Audit is a website analysis tool that helps you find and fix technical SEO issues on your site. It provides detailed reports about broken links, duplicate content, and more.
Pricing:
With their most popular plan at $179 per month, it lets you manage up to 10 projects. You can get two free months with their yearly subscription!
Lite: $99/month. There are 750 keywords ranking.
Standard: $199/month. Standard plan is offered with 2000 keywords rankings.
Advanced: $399/month. There are 5000 keywords ranking.
Enterprise: $999/ month. It has 10,000 keywords ranking.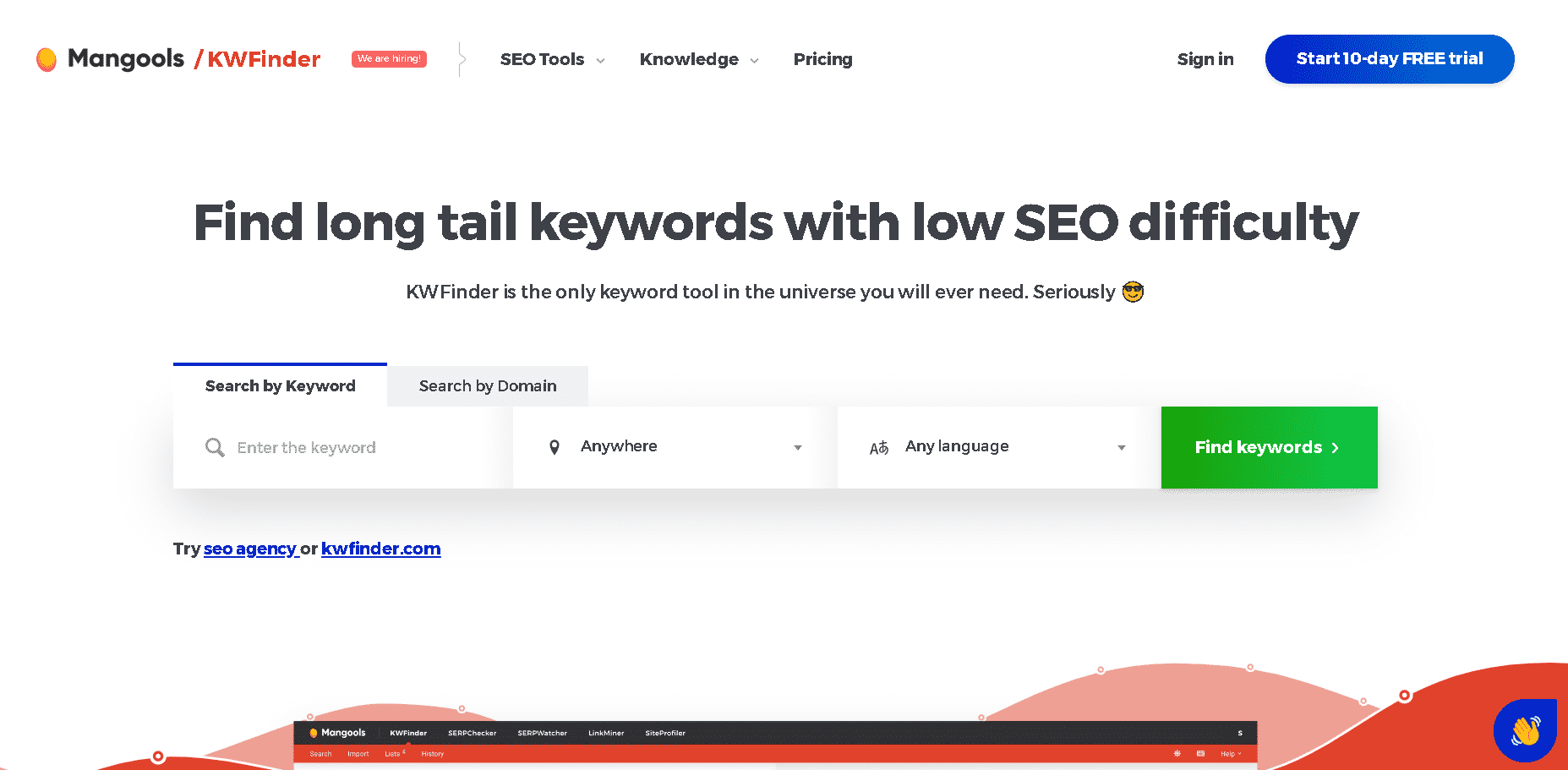 A widely-known keyword analysis and research tool that serves as a robust SEMrush alternative are KWFinder.
This platform is primarily geared towards keyword-intensive SEO along. Plus, users can access backlink monitoring and management with the tools provided by KWFinder.
This platform offers many magnificent features, including long-tail keywords, SEO metric reports, SER analysis, local keyword research, Google suggest keywords, competitor keyword analysis, and bulk keyword importation. Furthermore, you can also check the historical search volumes and trends with this tool to analyze seasonal trends and create every piece of content, your masterpiece.
It is one of the free SEMrush alternatives, as the platform is an ideal choice for users who are not willing to spend much.
Features:
SERP overviews give you an at-a-glance view of how your target keyword is performing in the search engine results pages. This includes the number of results, average click-through rate, and much more.
Filter options let you narrow down your keyword list to only show the most relevant results. For example, you can filter by word count, search volume, CPC, etc.
KWFinder also includes some cool features like "trend" scores that show you if a particular keyword has been used enough to ensure targeting them is worthwhile or not.
Pricing:
Try out this app for free by opting for a one-month free trial period, but if you like the platform and find it an ideal choice, you can buy its monthly subscription. It is pretty reasonable at only $29 per month for starters.
Mangools basic: $29/ month. It has 200 of 700 keywords ranking and 25 competitor keywords.
Mangools Premium: $39/ month. It has 700 of 700 keywords ranking and unlimited competitor keywords.
Mangools Agency: $79/ month. It lets you access 700 of 700 keywords ranking and unlimited competitor keywords.
Also Read: 14 Best Linktree Alternatives For Your Bio Links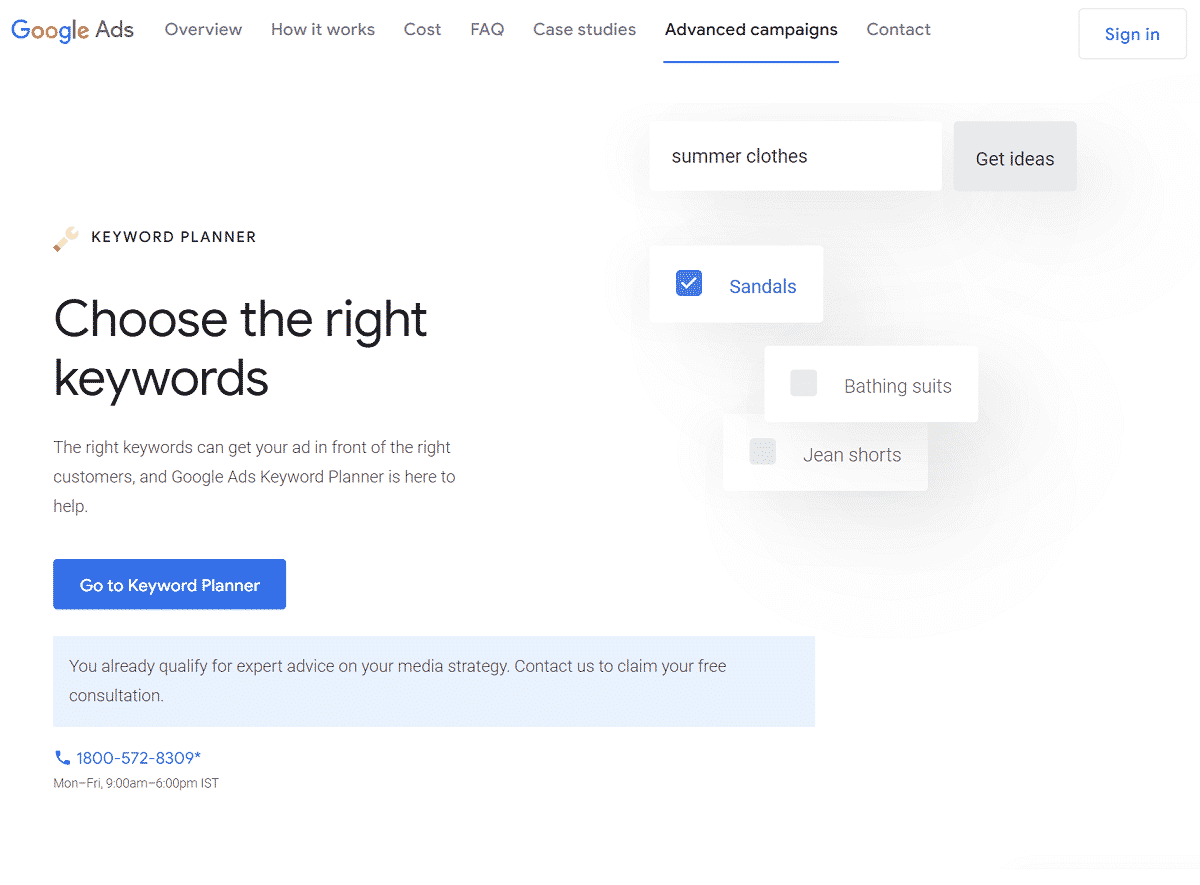 Google Keyword Planner is one of the free SEMrush alternatives mentioned in this list.
It is a user-friendly platform that enables you to access historical data such as competitor analysis and average monthly searches for keywords. In addition, it also facilitates finding keywords by domain, product, or service.
Primarily, this platform is best-known for suggesting effective keywords serving as the best remedy for conducting a dynamic SEO marketing campaign.
Furthermore, the users can also avail advanced sorting features through this tool, including average CPC, clicks, CTR, and impressions to filter your search results. The tool is also featured with integrated advertising tools and helps you in mobile ad creation.
As informed, you can use this platform for free. However, you can also opt for the paid version and subscribe to this remarkable SEO tool at different prices depending on your budget and requirements.
Features:
Google Keyword Planner allows you to research the demand for certain keywords and phrases.
The tool helps you estimate how much traffic those keywords could bring to your website.
This tool facilitates you to check and find the most searched keywords.
The platform helps in providing ideas for new keywords to target.
You can learn more about new keywords and the competition such keywords hold.
Pricing: Google Keyword Planner is free to use and needs no cost!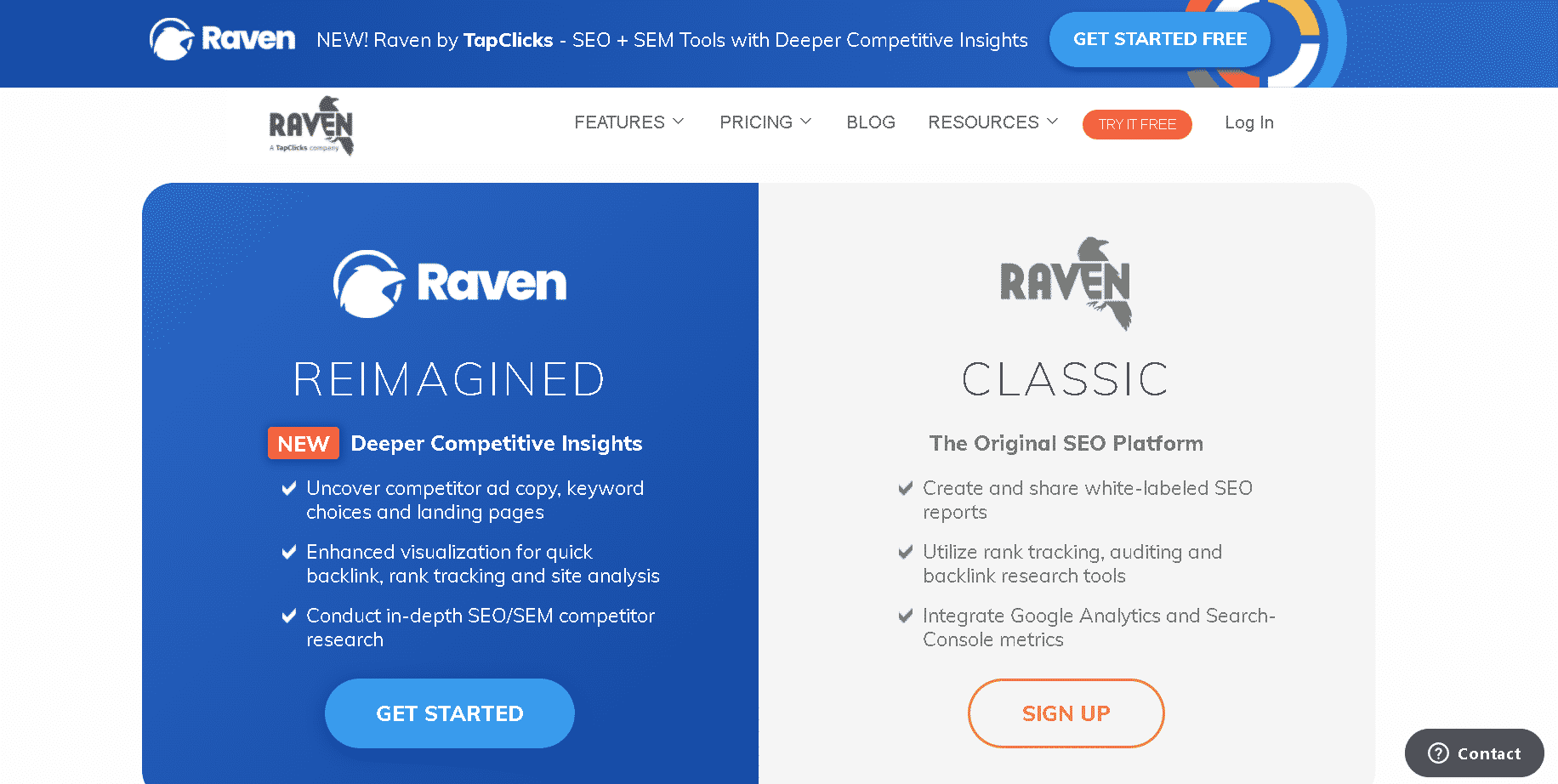 Although it is a paid SEMrush alternative tool just like other SEO software mentioned in his list, the platform's features make it worthwhile such as link building, competitor analysis, track keyword ranking, backlink recovery, brand monitoring, and structure, and reverse engineer competitor links.
One of the best aspects of this tool is that it helps eliminate all the bad links that may damage your site in search results. It also notifies you whenever someone removes a connection or gets a new incoming link to your site.
The superlative SEO tool uses robust data from other tools such as Google Adwords, Moz, and Majestic, which helps you monitor your site's performance and offer search console data.
Features:
Apart from keyword research and website auditing to link building and social media management, one of the most useful features of Raven Tools is the ability to track your progress and performance over time.
The platform provides detailed reports on your website traffic, search engine rankings, social media engagement, etc. This data can be used to identify areas where you need to improve your online marketing efforts.
Another great feature of Raven Tools is the ability to create custom reports. These reports can share your progress with clients and determine the scope of improvement.
Reports suggested by Raven Tools can be customized to include relevant data and information, making them incredibly valuable online marketing tools.
Pricing:
With this package, 20k position checks are available, which is a great choice if your website needs more tests.
Small Biz: $39 per month. It has 1500 keywords tracked.
Start: $79per month. It can track up to 15,000 keywords.
Grow: $139 per month. It can allow up to 20,000 keywords to be tracked.
Thrive: $249 per month. It has 25,000 keywords tracked.
Lead: $399 per month. The list of 30,000 keywords can be tracked.
Also Read: 23 Best CPA Networks for Beginners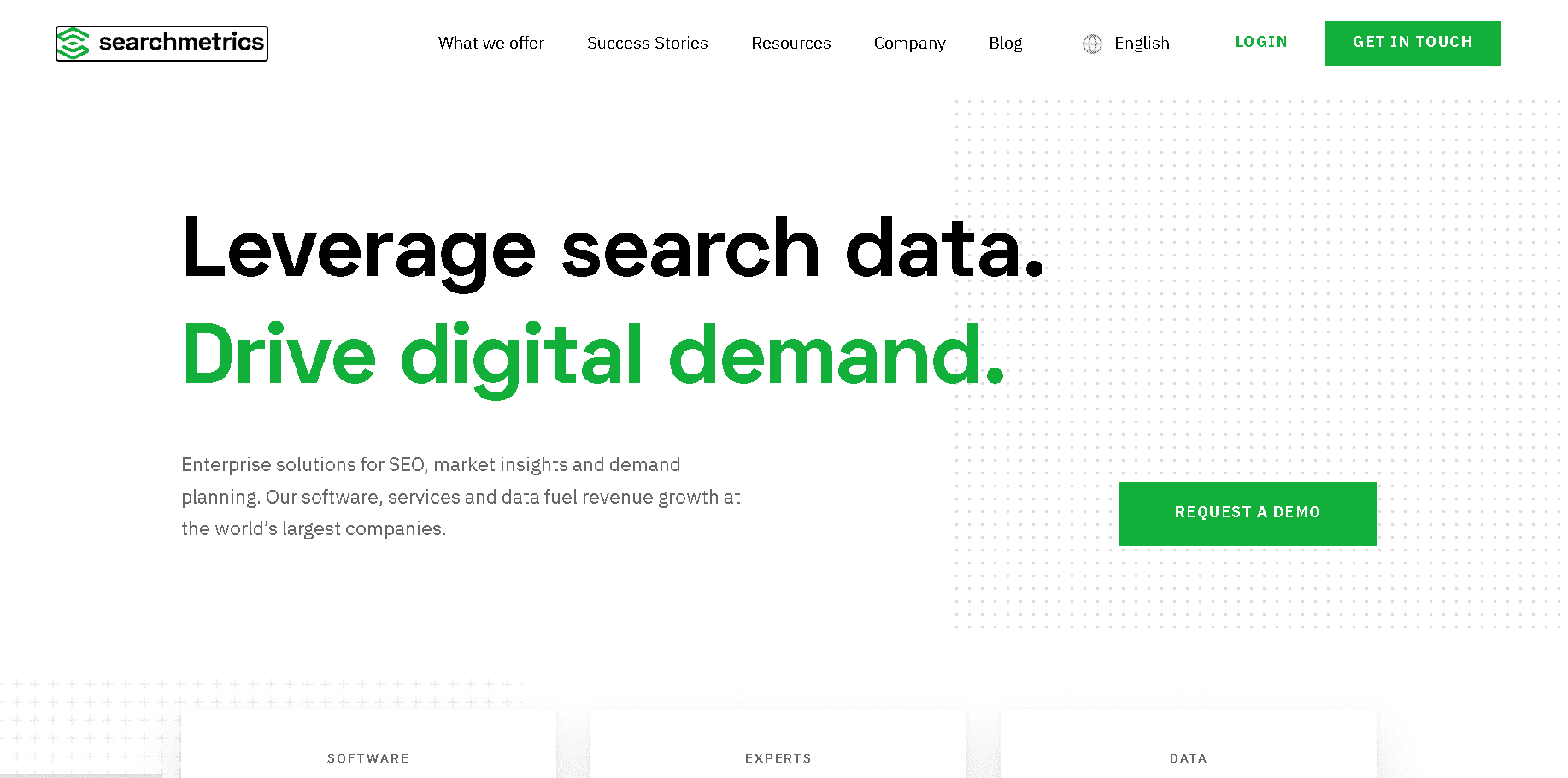 Undoubtedly one of the best SEMrush alternatives, Searchmetrics provides you with a great search experience, content experience, research cloud, and site experience. It is also featured with an extensive range of SEO practices helping you in competitor analysis, track social links & backlinks, advertising & PPC data, content creation tool, tracks website rank, and vertical industry reporting.
The users are allowed to access historical search data for a period of 5 years, 130 domains, and 30 countries. Moreover, its local SEO feature facilitates you to monitor SEO trends across 14 countries.
Furthermore, Searchmetrics provides you with intelligent suggestions to optimize undiluted comparison of PPC and organic activities.
With a broad range of capabilities and serving as an all-in-one tool, this paid SEMrush alternative tool can be opted for free by asking for a demo from their website.
Features:
Searchmetrics gives you access to historical search data for 5 years, 130 domains, and 30 countries. It also has a local SEO feature that enables monitoring trends across 14 different nations!
The platform helps you optimize your SEO campaign to achieve the best results.
The tool helps you make intelligent decisions about your advertising campaigns with the help of data analysis.
Being one of the most reliable tools, Searchmetrics offers a suite of tools for link building, competitor analysis, and reputation management.
Pricing:
You can avail all of its features by paying $69 every month. You can get 10,000 keywords ranking.
Wordtracker is a reliable tool for keyword research, competitor analysis, and searching ways to outrank your competitors. The platform is used by several SE experts worldwide.
This impeccable SEO tool generates plentiful lucrative keywords for your business and helps bring more traffic from search engines. It also enhances the search visibility of your website with ease.
The platform also offers SERP preview, search volume for the keyword, negative keyword search, and SEO competition metrics. Plus, subscribing to this platform will enable you to access its excellent live chat support services.
Features:
With Wordtracker, you can get detailed keyword information, including search volume, competition, CPC, etc.
Research keywords, and help you find new keyword ideas using the Keyword Discovery tool.
Generate effective keyword lists for your SEO or PPC campaigns that help you drive organic traffic and boost conversions.
The platform facilitates analyzing the website's performance with the Rank Tracker tool.
Pricing:
This tool offers 7 days of free trial for a user. Their basic plan starts at $27 per month.
Bronze: $27/month. It has 1000 keywords ranking tracked.
Silver: $69/month. It has 5000 keywords ranking tracked.
Gold: $99/month. It has 10,000 keywords ranking tracked.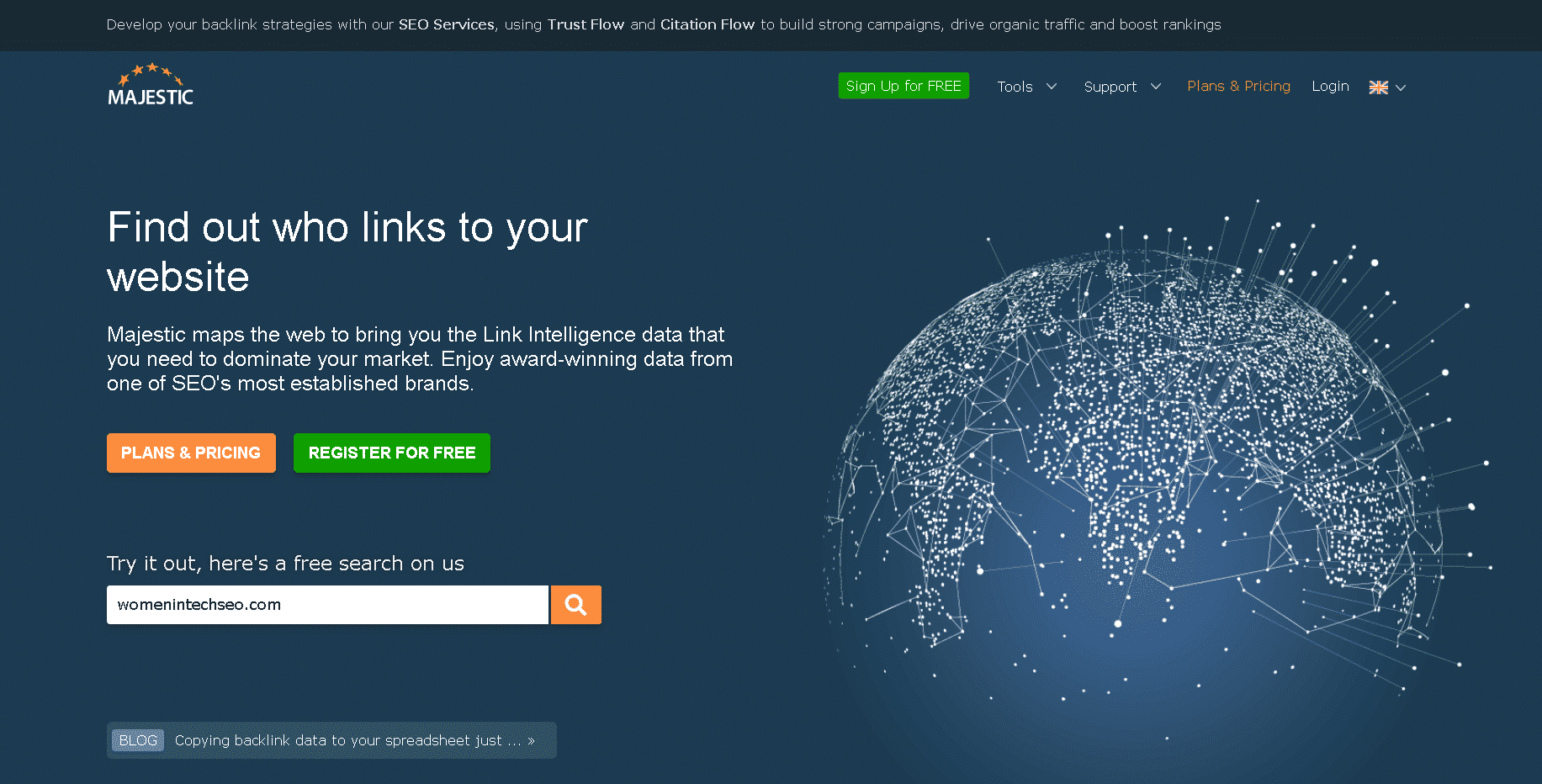 As we are reviewing SEMrush alternative comparison in this list, how could we miss out on a crucial SEO tool, Majestic? It is best-known for offering keyword analysis tools and backlink checkers.
The software is featured with pivotal nuggets of information, proving to be a significant component for building a robust SEO strategy. Moreover, the software aggregates link intelligence data that lets you explore and analyze all the details of your and your competitor's domain. Its site explorer feature briefs you about the trust flow, link quality, anchor text, backlinks, and page information.
The world's largest backlink database index is best-known for crawling tons of URLs each month. Plus, its bulk backlink checker allows you to evaluate the backlink data for up to 400 links at once.
Features:
The Majestic tool lets you see how many backlinks a given website has, helping you gauge its popularity and authority.
You can also use the tool to check the strength of a given web site's profile and identify any potential issues that may need to be addressed.
The tool can also research your competitors' backlink profiles to understand their link-building strategies.
One can also use the tool to generate custom reports on your website profile. These reports can help you identify the potential areas of improvement.
Pricing:
The tool provides amazing features with a plan starting from $49 per month to $399 per month.
Lite: 39 Pounds per month for single user
Pro: 79 Pounds per month for single user
API: 319 Pounds per month for 5 users.
Also Read: 13 Best Hootsuite Alternatives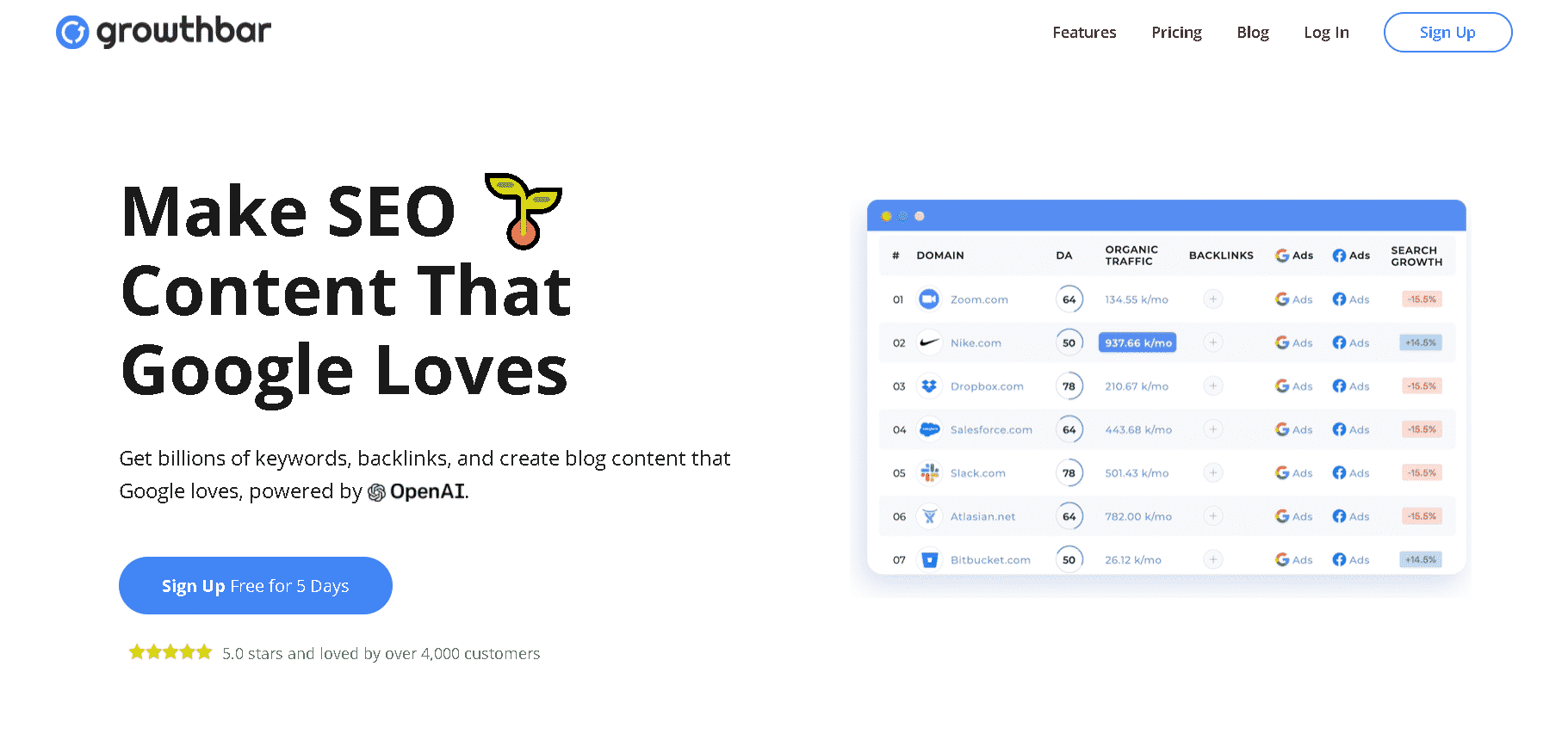 GrowthBar is one of the best SEMrush alternatives not only for marketers but bloggers as the name suggests, the software was specifically designed for growth, which makes it 10x easier to fetch new customers and generate traffic.
The magnificent app helps in a wide array of activities such as keyword research, content generation, lead generation, and competitor's rank tracking with one click away.
The most spectacular feature offered by this software is its Content Generator tool which is designed with AI technology. It will help you create an impressive content outline that will brief you precisely in writing the matter allowing you to rank better.
Features:
With a simple click of a button, this AI-powered tool will help you create an outline that briefs your business precisely in writing.
Its 'Content Generator,' empowers you to create a content outline that is precise and comprehensive.
The visualizations in GrowthBar help you see your progress at a glance. The dashboard allows you to monitor your progress over time and identify areas for improvement.
GrowthBar makes it easy to share your progress with others. Sharing your data and insights with friends, family members, or colleagues can help them understand how you've been doing.
GrowthBar is highly customizable that can cater to all your needs of link building and optimizing the content with SEO to enhance the ranking in the searc engine.
Pricing:
With the help of a user-friendly app, you can build your effective SEO strategy at an affordable price of $29 per month. You can enjoy its free trial for 5 days after joining this tool.
Standard: $29/month. It gives unlimited keyword research and competent in tracking 25 keyword across 1 site
Pro: $79/month. It gives unlimited keyword research and tracks 1000 keywords across 3 sites.
Agency: $199/month. It gives unlimited keyword research and allows to track 5000 keywords across 10 sites.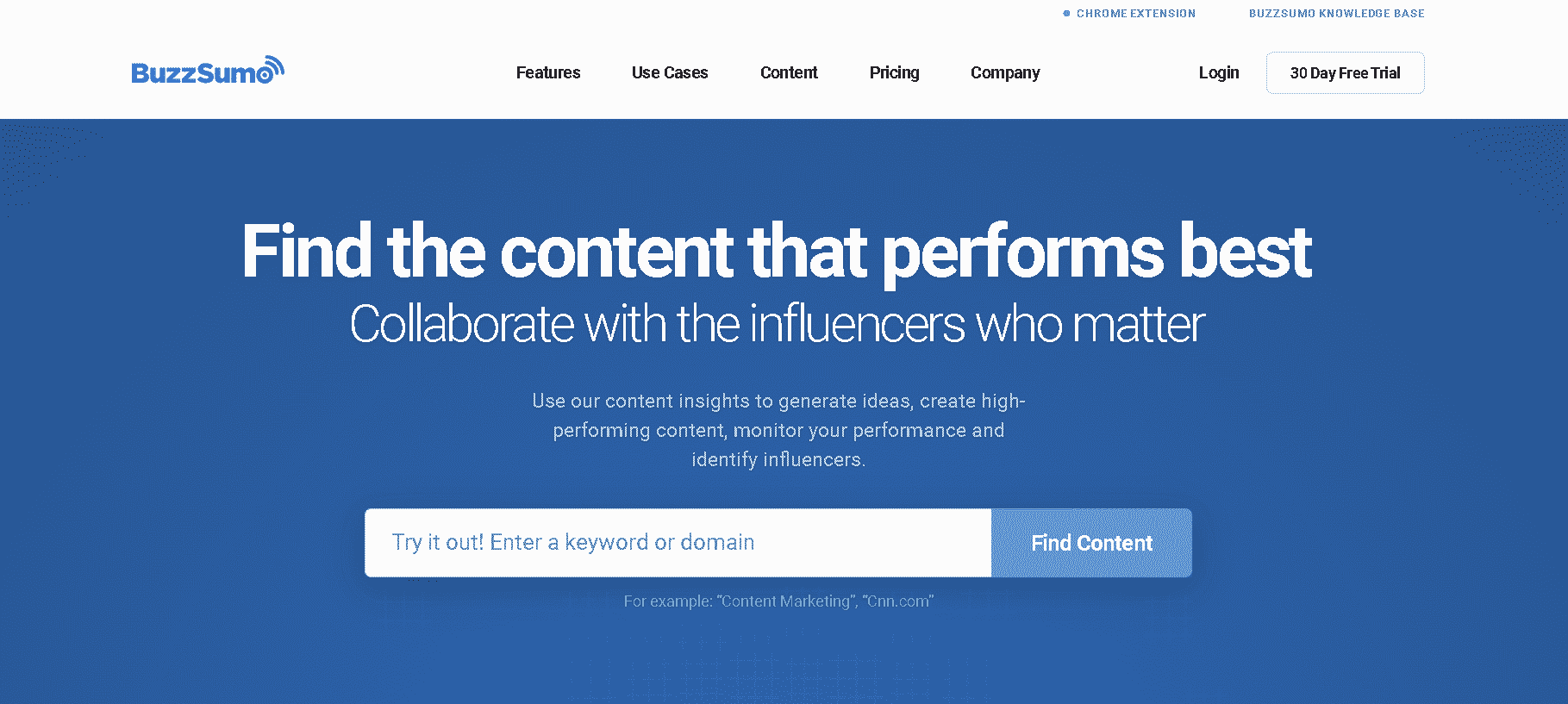 BuzzSumo is a powerful content marketing research tool used by millions of users across the globe to explore ample backlink opportunities, find high-quality content, influencer outreach, and brand monitoring.
The platform facilitates making data-driven decisions for marketers who wish to test the waters and search for the content that works the best on the web.
A key part of its effective SEO strategy includes discovering valuable influencers who impose the capabilities to cater to your target audiences.
Other valuable features offered by this tool include social media analysis, content alerts & insights, and content curation.
Features:
With BuzzSumo's research tools, you can find the most popular content hassle-free.
The tool is featured with special filters narrowing down the search results for your audience.
Keep tabs on your competition with BuzzSumo's analysis tools. With the help of its social media analytics, you can find the trendy content they feature.
Curate the best content on the web for your audience with BuzzSumo's curation tools. You will be easily able to find the right content to produce that will be more engaging and valuable to your audience.
Pricing:
The tool is offered at a price range starting from $79 per month. However, its premium plan can be opted for $499/month, which offers unlimited content searches, mentions & alerts, and many more features.
Free: 10 free searches per month.
Pro: $99/month
Plus: $179/month.
Large: $299/ month.
Also Read: Top 35 Affiliate Marketing Agencies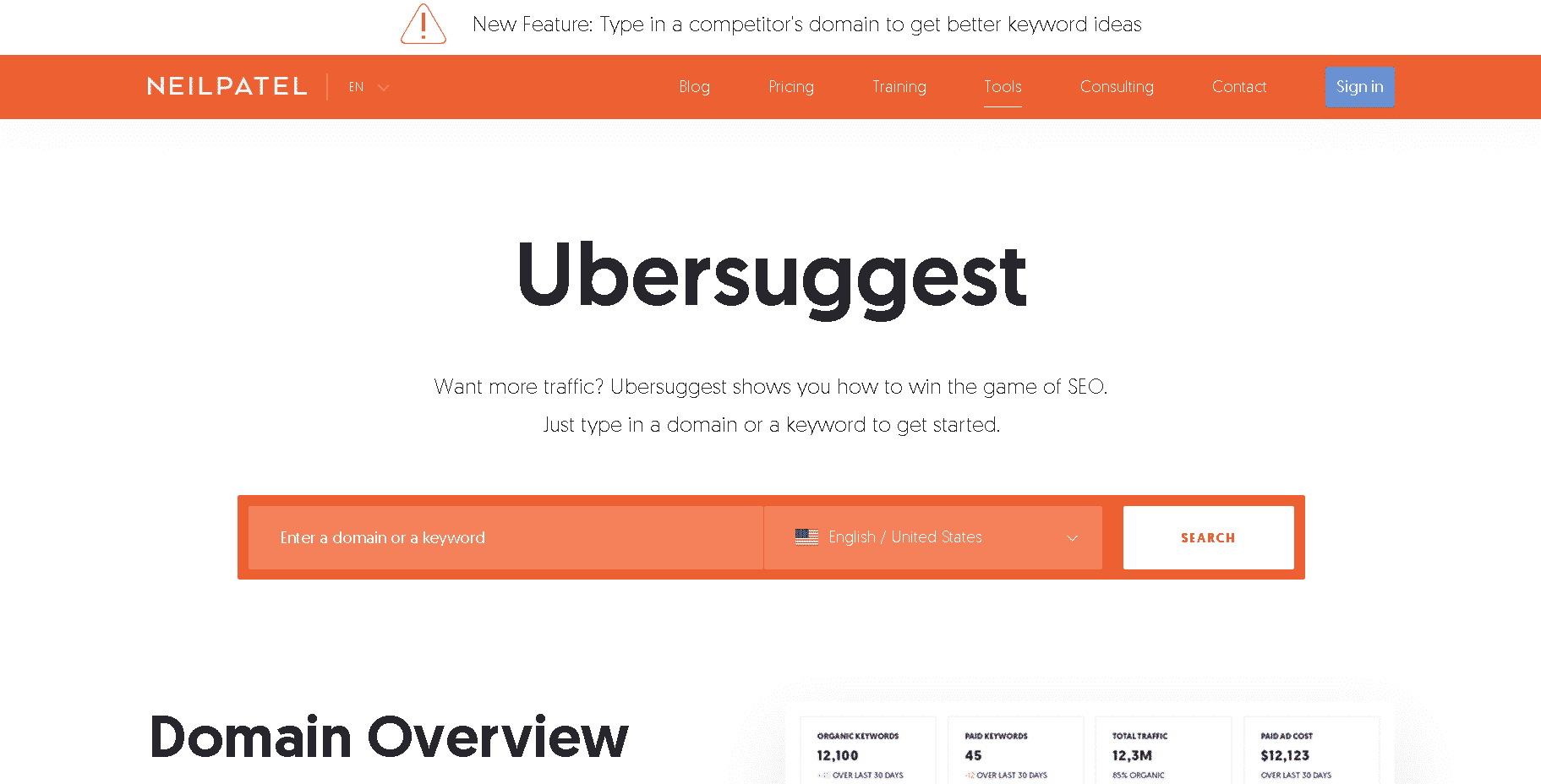 Looking for a free SEMrush alternative? Ubersuggest is the platform you can trust and also enables you to get a 7-day free trial. It is an ideal SEO tool for beginners exploring SERP analysis in a bid to master their implications.
Ubersuggest enhances the visibility of your website in the search engine by generating more traffic and tailoring the SEO strategy to let you outrank your competitors. The powerful tool helps you analyze the type of content on your website; audiences are captivated the most. Besides backlink analysis, it also shows the range preferred by the social media sites based on which it provides meticulous SEO reports.
Features:
The powerful tool helps you analyze the type of content on your website and shows how it may be improved in pursuit of your target audiences.
Besides backlink analysis and range on social media sites, this program provides meticulous SEO reports.
Ubersuggest suggests users with a list of keywords relevant to their prospective clients. It can be incredibly helpful in finding new keywords to target.
The platform shows users the average monthly search volume for each keyword. It is valuable information when choosing which keywords to select among so many options.
This SEMrush alternative also shows users the estimated cost per click for each keyword.
Pricing:
The platform provides a 7-day free trial. The basic price for subscribing to Ubersuggest is $12 per individual.
Individual: 12 USD/month. It gives 100 keywords per project.
Professional: 20 USD/month. It provides 150 keywords per project.
Enterprise/Agency: 40 USD/month. It offers 200 keywords per project.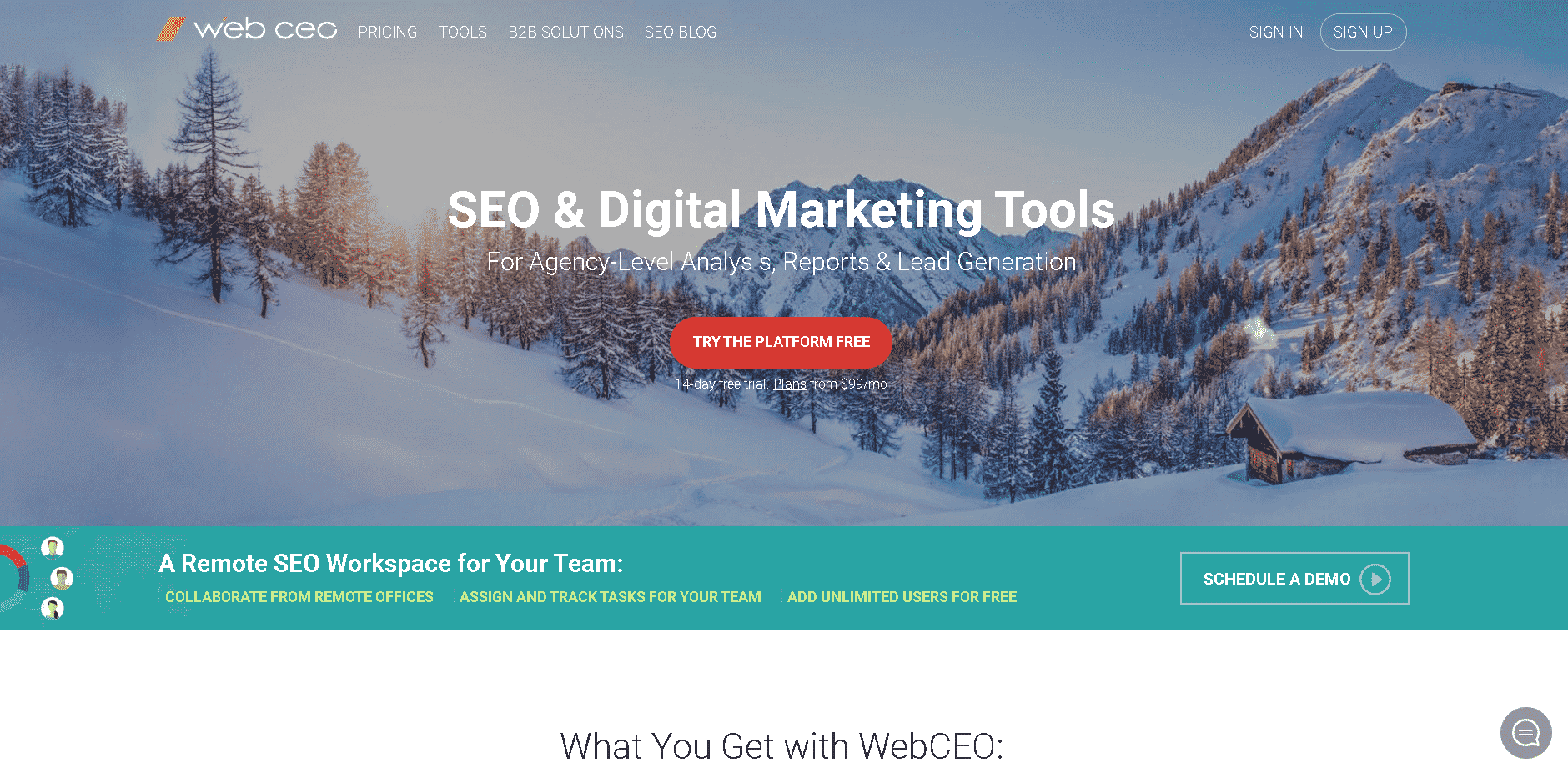 Web CEO is one of the leading SEO tools best known for providing impeccable services, be it keyword research, SEO analysis, or technical audits. It is a great replacement for SEMrush and is immensely used to boost traffic for the website.
You get great SEO keyword suggestions that help you to rank better in the search engine. Moreover, it also enables you to collect leads and emails, especially if you are running an e-commerce store or building an online business.
The software also offers you a DIY checklist with every price plan. The checklist comprises SEO backlinks, social media promotion, and much more. In addition, the tool is featured with Google Analytics and Search Console Integration, Customizable Dashboards, Page Speed Test, Competitor Metrics, Mobile Optimization Check, and Accurate Local Rank Tracking.
Features:
The platform offers a wide range of features, including keyword research, on-page optimization, link building, and competitor analysis.
A user-friendly interface that makes it easy to use for even the most inexperienced SEOs.
The software offers an extensive checklist that includes everything from social media promotion to Google Analytics integration, which can be customized according to individual needs.
One of the best things about Web CEO is that it offers a free trial, so you can try out all its features before deciding whether to purchase the full version.
Pricing:
Solo: $37/month. It has 100 keywords ranking.
Start-Up: $99/month. It provides 600 keywords ranking.
Agency limited: $99 /month + scanning fees. It provides unlimited keywords ranking.
Corporate: $299/month. It offers 2400 keywords ranking.
Also Read: 25 Best Affiliate Marketing Platforms & Networks
Is SEMrush Still Worth?
It solely depends on your budget, purpose of use, and business model. If your business is working well with the cheaper and free SEMrush alternatives, why would you spend a hefty amount for marketing, SEO, and other website requirements?
Here are some pros and cons of using SEMrush, which will give you a more brief idea about using SEMrush:
Pros:
Facilitates monitoring your backlinks.
Manage your organic rankings seamlessly.
Analyze and track social media effectiveness.
Uplift the content marketing.
Build dynamic PPC campaigns.
Cons:
It can be challenging to use this platform with multiple team members as extra seats are expensive. This can turn out to be frustrating in an agency.
Tracking multiple keywords involve hefty costs.
Lacks efficient backlink data as there is a great scope of improvement by adding a lot of vital backlinks.
Not a beginner-friendly tool, as only advanced SEO experts can operate a bunch of tools provided by this platform.
FAQs
Q1) Is SEO a Requisite for the Business?
SEO is an indispensable part holding the utmost importance for a majority of businesses. If you want to increase the number of visitors to your website and bring more traffic, then you need to optimize the website. Featuring the content with keywords relevant to your business helps boost your website's visibility in the search engine. Hence, SEO is a vital part when it comes to maximizing the potential of your business.
Q2) What are UR and DR in SEO?
URL rating (UR) is an indication of the quantity and quality of backlinks, demonstrating the potential of the target's page backlink profile on a logarithmic scale, ranging from 0 to 100. Higher UR pages tend to rank better in organic search results.
Whereas, Domain Rating (DR) is an indication of the quantity and quality of backlinks, demonstrating the potential of the target's site backlink profile on a logarithmic scale, ranging from 0 to 100.
Primarily, the DR and UR help you identify the backlink profile's rank of your or someone else's website.
Q3) How Does SEO Work?
To improve your website's SEO, you are required to:
Choose an appropriate URL.
Create titles and descriptions for each page.
Add alt text to the images.
Utilize anchor texts.
Structure the website with the right headers.
Q4) How Does Search Engine Rank Websites?
3 significant factors used to determine the rank of the websites includes:
1. Authority- Helps to evaluate the reputation of the website.
2. Relevancy- depends on the keywords you have used so that the search engine sends the content to the right audience after understanding it.
3. Navigating- The ease of navigating your website.
Q5) Can I Buy Backlinks?
Yes, you are allowed to buy the backlinks, but you must not buy them. If you do this, it may plunge down your site's ranking in case the search engine catches you do so. Instead, you must invest in building high-quality backlinks and engage other bloggers to link to your site.
Q6) Can I use SEMrush for Free?
Yes, there is a 30-day free trial to avail of many features provided by this tremendous SEO tool such as keyword, paid search, SMM, competitor analysis, etc.
Q7) What is the Cost of SEMrush?
SEMrush offers 3 price plans to its users named Pro, Guru, and Business. The Pro plan costs $119.5 every month, whereas you can reap the benefits of the Guru plan at $229.5 per month, and opting for the Business plan will cost you $449.5/month.  All these prices are applicable with yearly billing.
Q8) Can I Research Keywords for Free?
Yes, opting for the free SEMrush alternative will help help you research keywords for free. Some of the platforms that allow you to do so include Raven Tools, Monitor Backlinks, Google Keyword Planner, Ubersuggest, etc.
Q9) Which SEO Tool is Ideal for Finding Backlink to Websites?
Ahrefs is a robust tool featured with superlative backlink checkers. As per the SEO experts using Ahrefs, the platform has the second-most powerful web crawler after Google. The SEO tool boasts high crawler checks, which are more than 6 billion pages every day. It implies the software is equipped with an exhaustive backlink database.
Ahrefs Vs SEMrush
Ahrefs offers extensive features letting you improve your optimization tasks. Plus, it is a user-friendly platform that will also inform you of the number of backlinks you need to enhance the ranking. While SEMrush is not ideal for performing such tasks.
When it comes to deep data analytics, both tools offer great utility. Whereas, when the price is concerned, Ahrefs clearly wins the race as its yearly subscription is much more affordable than what SEMrush offers its users.
Besides SEMrush, you have got to know all the game-changers for your business. Right? Also, the myth of considering SEMrush as the only effective SEO tool is busted.
Even if you are well-versed with SEO, still; you can check out the competition to see if you are missing out on any new features provided by the tool you are using.
Before conducting a SEMrush alternative comparison, you must think about which features are your priority, your team size, your budget, and the number of sites you will be monitoring.
It's just a matter of finding the right SEO platform that works well for your business. As every SEO tool cannot work for all kinds of companies.
So, which SEO tool have you chosen, and how have the best SEMrush alternatives helped you outperform your competitors?