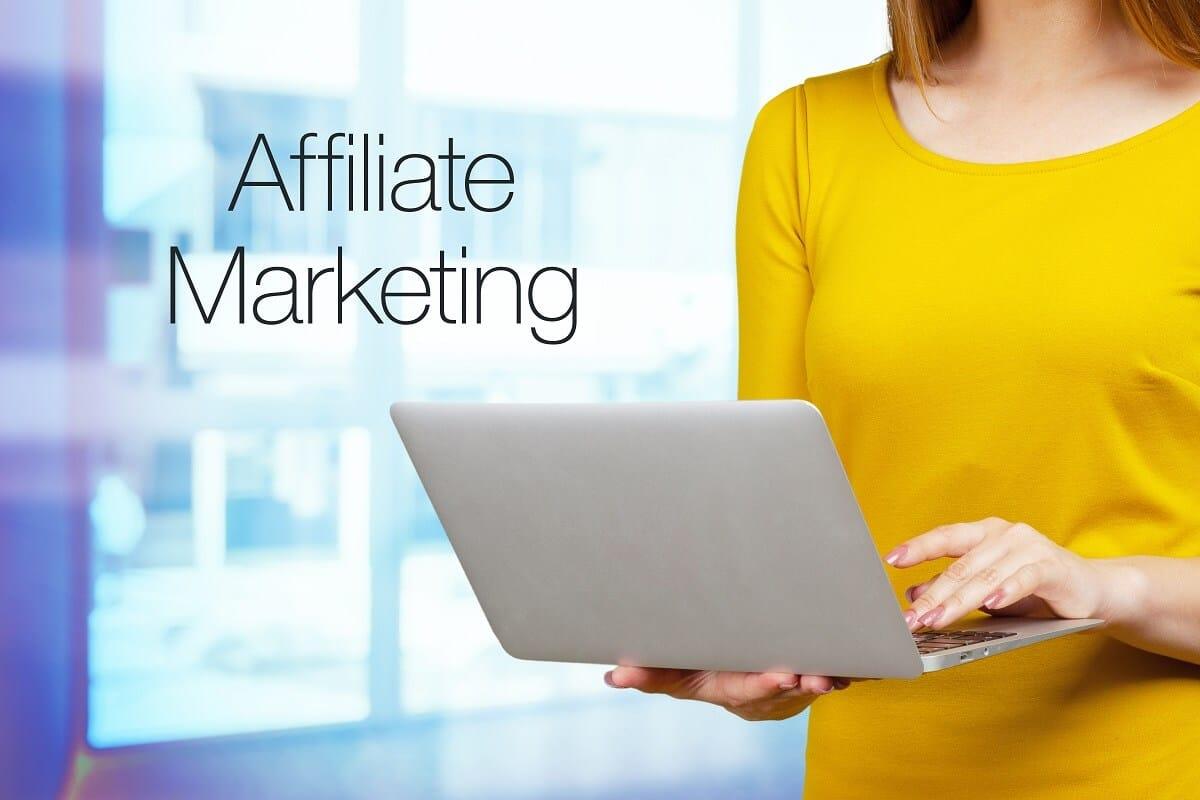 Affiliate marketing is a massive industry and has become a primary source of revenue for thousands of bloggers. Selecting the best affiliate marketing platforms is an essential part of becoming a prosperous affiliate marketer.
Affiliate marketing is one of the most renowned and efficient ways of making passive income. If it is done appropriately, then it might mature into a self-sustaining business model.
For doing it in the right way, it is essential to create an affiliate network for getting the maximum outcome. An affiliate network helps web and app publishers monetize their inventory by offering various options and required tools to run the campaign.
25 Best Affiliate Marketing Platforms & Networks
What is Affiliate Marketing?
There has been an increase in online businesses getting involved in affiliate marketing, because of which the opportunities for bloggers have also increased. Affiliate marketing is a tweak on a traditional idea: receiving a finder's fee when you refer a customer. It can also be said to be the practice of making money by promoting other people's products.
Let us understand the process of affiliate marketing. In this, you show the product or service to your audience, and if they purchase it using your unique affiliate site link, then you get a set commission for it.
There are different types of affiliate programs; one is CPC, called Cost per click; you get paid whenever someone clicks your link. The Second type of affiliate program is CPL, i.e., Cost Per Lead; in this, you get paid whenever you send them a prospect.
For earning money through affiliate marketing, you must create your brand and attract a loyal audience. Plus, you should pick the products that would connect the right chord with your audience.
Primarily, three parties are involved in Affiliate marketing:
Advertiser- You can also refer to the advertiser as a seller, retailer, merchant, or vendor. He is the one who owns or creates the product. The product can be from a well-known brand, a new venture, or a solo entrepreneur.
Affiliate- He is the person in charge of promoting the vendor's product and is also known as the publisher. Each time they get the sales done of the product, the advertiser pays them a commission. Various advertisers pay affiliates for driving traffic to their websites.
Audience- They are the target audience or customers. They are the real buyers and are on the receiving end of the affiliate marketing efforts. Even the best affiliate marketing program will not be successful if the audience is not interested. The affiliate marketer's charge is to build this audience.
Numerous brands use affiliate marketing to form brand awareness and increase sales. Along with choosing the best platforms for affiliate marketing, it is also essential to make an affiliate network.
What is an Affiliate Network?
An affiliate network links publishers with companies that want to advertise their products or services. A lot of companies also provide reporting tools and training to help them become a successful affiliate marketer.
How does Affiliate Network work?
An affiliate network is an online marketplace where the merchants signup and list their products. They also state the affiliate program's terms & conditions and the commission they would offer on each sale.
Similarly, the affiliate can signup on to the network and get an entree to the registered products. You can choose from the products that would relate to your audience. Once you get the right product to promote, you just need to apply and go through a verification process. If the application gets accepted, then the affiliate network would provide you with a unique link.
You can promote the products through this link, and when someone clicks on the link, it will direct them to the merchant's website. If they purchase the product, then you would get paid as agreed.
You can keep track of sales, commission, and other things on the personal dashboard provided to you. There are various affiliate networks, but be vigilant and choose the best affiliate marketing platforms as it protects you from fraudulent sellers.
Why should you join an Affiliate Network?
An affiliate network can benefit you by connecting to thousands of brands and merchants. Also, it makes the process simple and straightforward, and the best thing is that both advertisers and affiliates can benefit by signing up on an affiliate network.
Benefits to Advertisers
The boon of joining an affiliate network to an advertiser is that they need not manually track affiliate links and transactions. The process becomes really easy for them as they would just have to sign-in to their dashboard, and they would get all the information there.
They can also invigilate the performance of each product and the associated marketing campaign. Affiliate networks choose the affiliates after a verification process; hence there is a surety that you only collaborate with reliable and trusted affiliates. The network also ensures that affiliates comply with the terms of the affiliate program.
If there are any suspicious or illegal activities happening, then you get notified immediately. The benefit of this to an advertiser is that they can deal with such situations quickly before it goes out of hand. Plus, it is also reasonable because you only have to pay them when the transaction completes.
Benefits to Affiliates
The primary benefit is that they do not have to chase payments as the affiliate network handles it for you. By joining the network, you can be sure of the brands' credibility and the merchants as they ensure that you work with verified and trusted advertisers only.
Another advantage is that you can obtain a list of products and sellers from all over the world, making it easy for you to pick the products you wish to promote. If you are a new seller, you can also use various promotional creatives uploaded by the merchant.
Affiliate network ensures full transparency between merchants and affiliates by providing dashboards to track every sale and transaction.
Few things to keep in mind
There are a few things that you should be careful about and consider before selecting a network. Asking these questions might help you choose the best affiliate marketing platforms:
Commission- The first thing you should check is how much they would pay you for each sale? Different networks have different commission rates, so always compare the pay and see where you can earn more.
Product/service selection- The next thing you should check on is that if that network offers the brands that your audience would be interested in? For example, if your audience wishes to buy luxury items, but the network only offers reasonable price products, that would be a big drawback. Hence, always see what brands and products in the network offer.
Approval requirements- A few networks have the criteria that your website should be well-established or you should have a specific amount of traffic.
Fee- There might be various networks that charge a fee for training or setting up the account; therefore, you can choose to opt for a network that charges a fee or want to join a free affiliate network.
Cookie duration- This term might sound new to you; it means how long a program tracks and gives you credit for a prospective buyer. Durations can vary immensely from platform to platform, such as the cookie duration of Amazon is 24 hrs whereas it is 120 days of Avangate.
Best Platforms for Affiliate Marketing
It is vital to choose the best affiliate marketing platforms for both advertiser and an affiliate. It makes the process simple and eliminates the hassle of keeping track of every small piece of information.
When you search for affiliate programs, you will find numerous options. It is essential for you to diligently analyze every platform and see its pros and cons before choosing to sign up. Here are some of the most popular and renowned platforms from which you can opt for:
1. ShareASale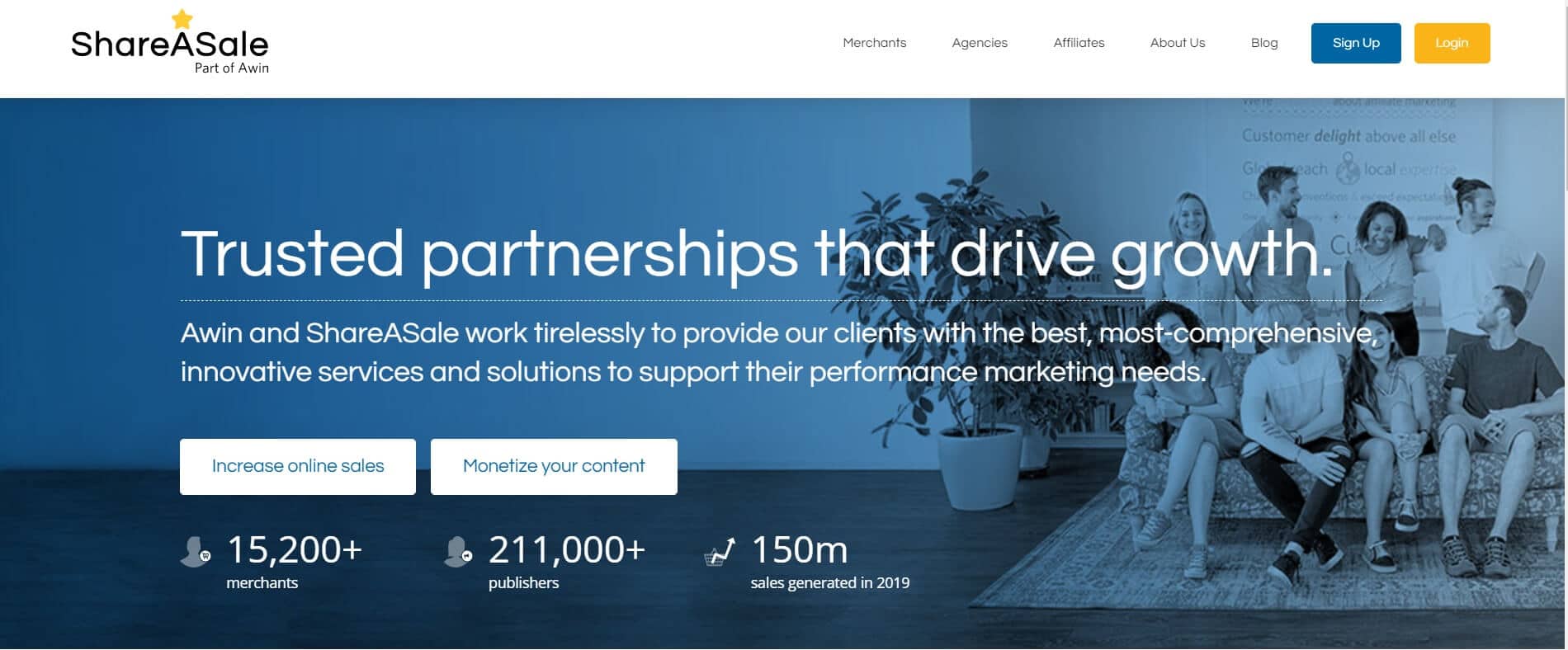 This network was founded in the year 2000, and since then, it has paid millions of dollars to its affiliates. It is one of the most well-known and best affiliate marketing platforms as it houses more than 4800 merchants and has over 1.2M registered publishers participating. Out of 4800, 1000 merchants are exclusive to them, which can significantly benefit an affiliate.
It is one of the largest players in affiliate marketing, and they offer high commission rates compared to its competitors. The best thing about them is that they are safe and secure to use because they have a record of zero customer complaints on file.
ShareASale has a fantastic selection of affiliate programs ranging from home, fashion & retail, and automotive products to education. People prefer joining this network because it is a straightforward, simple, and user-friendly platform.
Pros:
More extensive partner network- Thousands of advertisers for both physical and digital products
Trustworthy network as they have been in the market for more than 20 years
Numerous exclusive merchants, like a thousand of them, just work with ShareASale
Their payment cycle is good as they pay on the 20th of every month; if your account balance is more than $50
They have a lot of payment options such as paychecks in the mail, direct deposit, or wire transfer
Cons:
Dashboard design is not that great
High payment threshold
Visit Now
2. CJ Affiliate (formerly known as commission junction)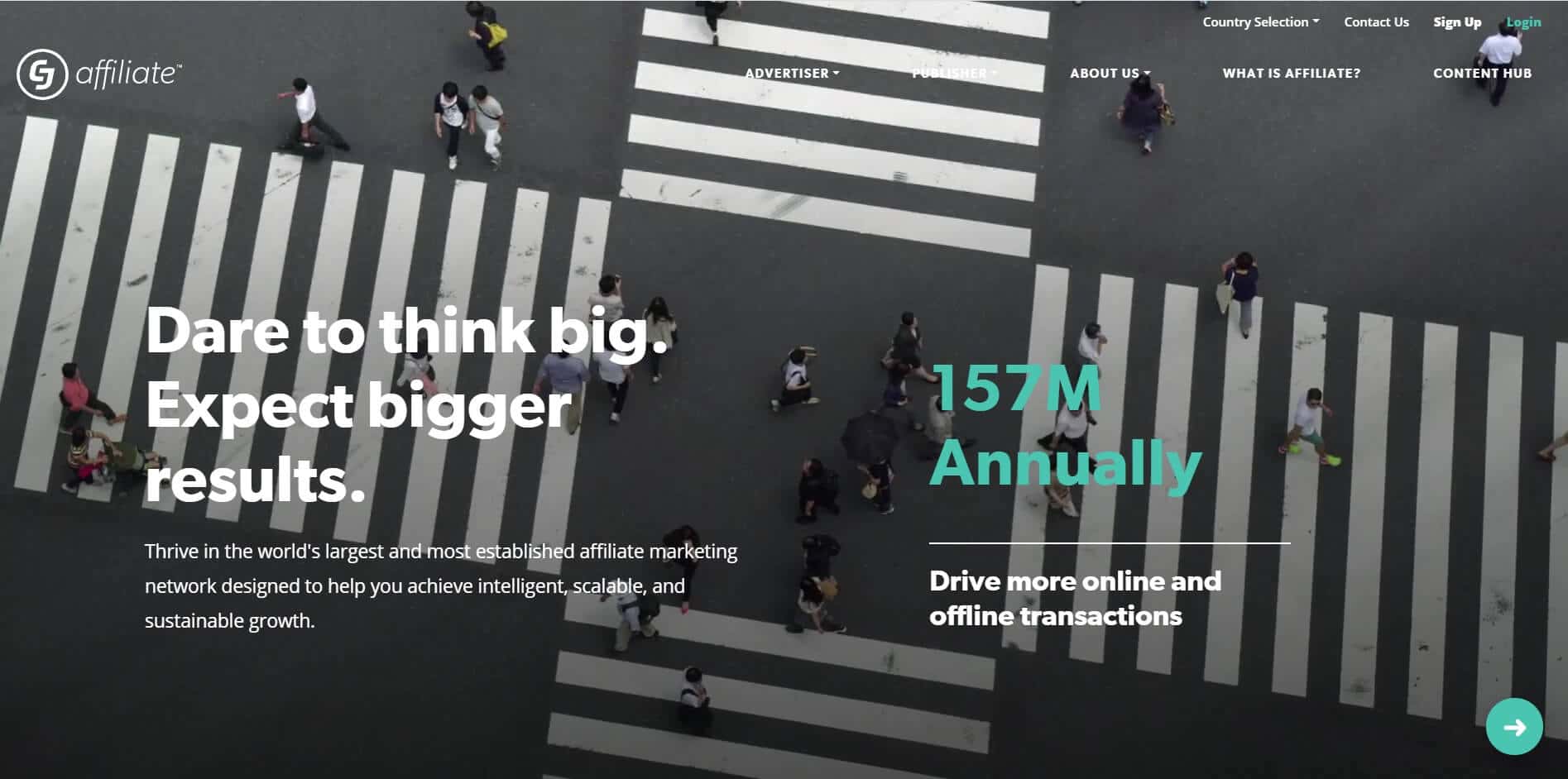 This affiliate network was endowed in 1998 and is probably one of the biggest affiliate networks. It is a part of Alliance Data Systems, which is part of Fortune 500 companies.
It has tons of affiliate programs to choose from, and many big brands and merchants use it for advertising their products, such as Priceline, Overstock, etc.
They connect marketers with brands, and one of the unique things about them is that they deactivate affiliates who do not make sales for a longer period. For faster revenue creation, they provide their users with tools like product widgets and in-depth link automation. These tools help them in saving time, monetizing, and leverage sites.
Their approval process is also swift, plus you do not have to pay any fee for working with them. Every product is ranked based on earnings per click (EPC).
Pros:
More than 3000 big and small merchants to select from
Excellent dashboard to help you manage your affiliate marketing efforts
Their payment method is excellent and reliable as they pay monthly and that too in time. They have two payment methods- Direct deposits or checks in the mail.
Advanced real-time tracking
Free and quick signup process
Cons:
No standardization of terms and conditions
Limited customer support
Visit Now
3. Awin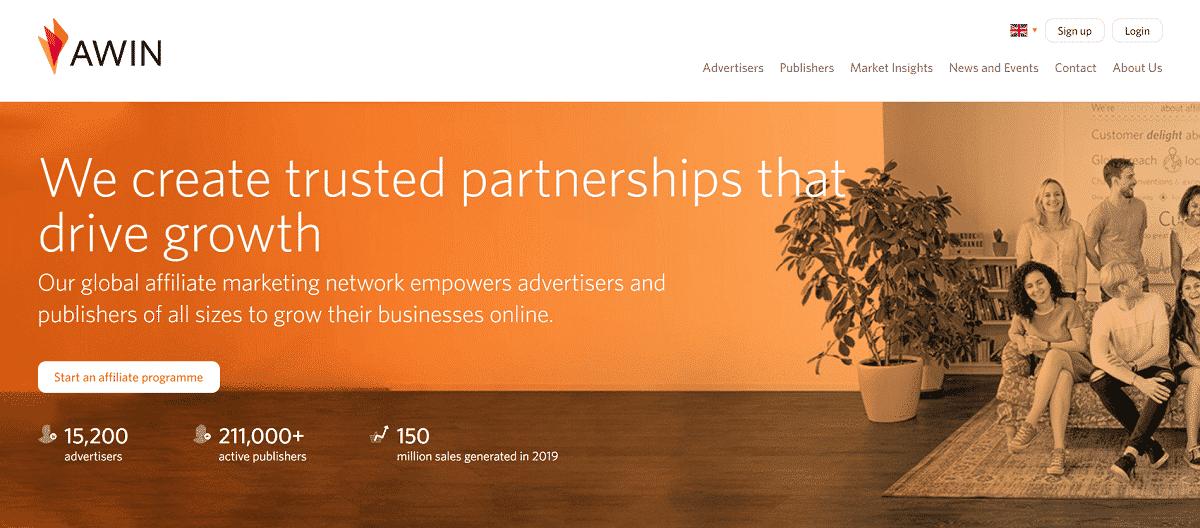 It was previously known as the affiliate window. It is a well-known website with more than 15,000 advertisers and 1,00,000 publishers. Awin acquired ShareASale in 2017, but they are running both the network as different entities and have separate merchants.
It was founded in the year 2000 and is currently active in 11 countries. You can get a lot of merchants in both physical and digital products. They have access to big merchants like Hyatt, Ali Express, StubHub, etc.
Awin offers a comfortable and user-friendly dashboard plus several useful tools to increase your affiliate marketing campaigns. You would be amazed to know that they have made over 150 million sales in 2019 alone.
Also Read: How to Make Money through Affiliate Marketing
Awin focuses on four sectors: telecom, travel, retail & shopping, and finance & insurance. They charge a small amount of application fee to work with them, which is $5. It can also be said to be a deposit that is returned if you are approved.
Pros:
Intuitive and user-friendly dashboard
Lots of merchants to choose from
Real-time reports
Low minimum payout ($20)
Flexible payment options in various currencies
Cons:
Lack of online knowledge base
%5 signup fee
Visit Now
4. FlexOffers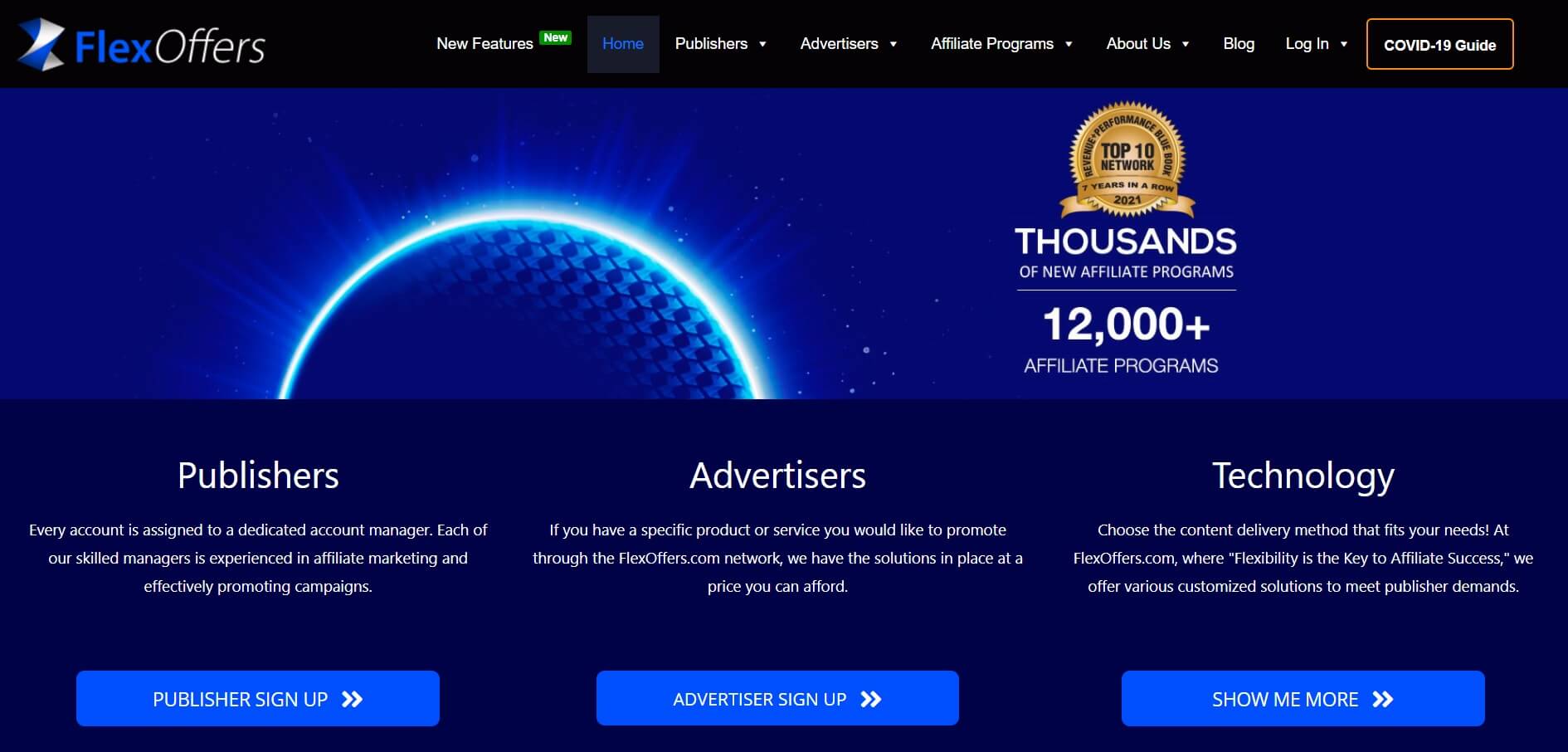 It is one of the best affiliate marketing platforms as it is a very reliable platform for both advertisers and affiliates. They give you access to more than 12,000 advertisers and merchants. Their dashboard looks better and is easy to work on. As per the reports, they add around 50 new merchants every day; this means you can easily find new offers.
It is free for the affiliates, but merchants have to pay a hefty amount of $500 as a one-time registration fee. But, they pay you a lot faster than the other affiliate platforms in the industry, plus they also provide a lot of tools that can help in your campaigns.
FlexOffers have many big and small brands to choose from, such as Lenovo, Skechers, Macy's, Nike, etc.; you can sign up and see all the other brands available. Their registration process is fast and simple, but you would need to have a functional website/blog or show them the details of your traffic source.
Pros:
Real-time tracking
Nicely created backend dashboard
Dedicated Affiliate Manager
Efficient customer support
Quick payments
Cons:
Not free for advertisers
For users outside the U.K, the only payment method is PayPal.
Visit Now
5. Tradedoubler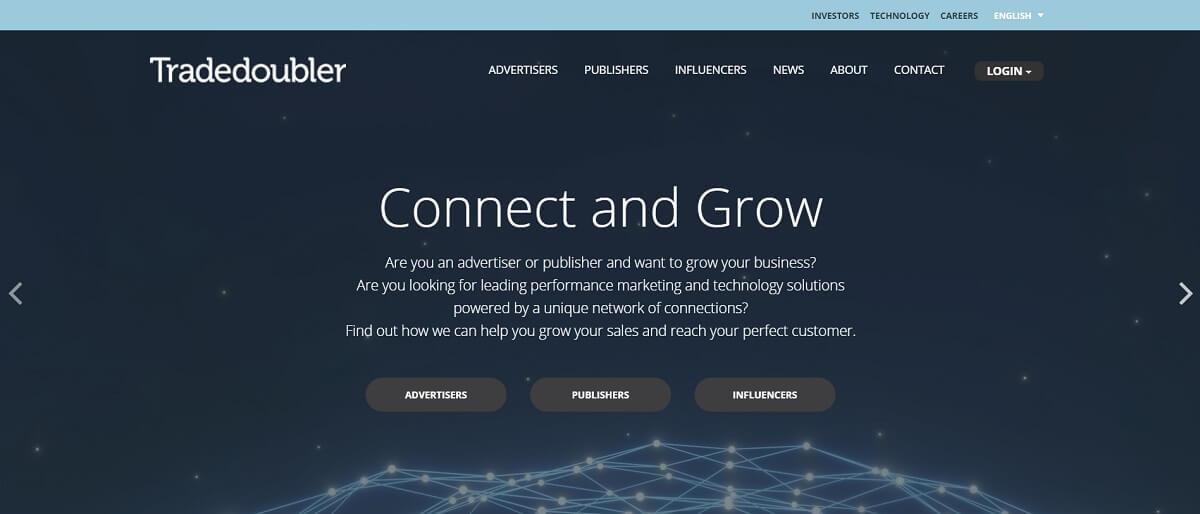 It is a famous as well as the best affiliate marketing platform that connects over 2000 merchants with 180 000 publishers. It was founded in 1999 by two Swedish entrepreneurs; they have an office in the U.K and various European countries such as France, Germany, Sweden, Spain, and Poland. Thus, if you have a large European audience, then you can earn a lot from this.
One small drawback with TradeDoubler is that their dashboard is slightly clunky and is not that modern as the other affiliate platforms. Other than this, no issues are using this network; they have many big brands that you can efficiently market, such as Philips, HP, Puma, etc.
They offer various affiliate programs based on numerous CPS models (Cost per sale), CPA, and CPL (Cost per lead). To make it easier for the publishers, they have a unique feature to add several affiliate websites to the same account.
Pros:
24*7 customer support
Cookieless tracking
Reputed clientele
Cross-device search with mobile support
Cons:
Lack of digital payment options
Known for not staying up to date with their user interface
Visit Now
6. Sovrn/ /Commerce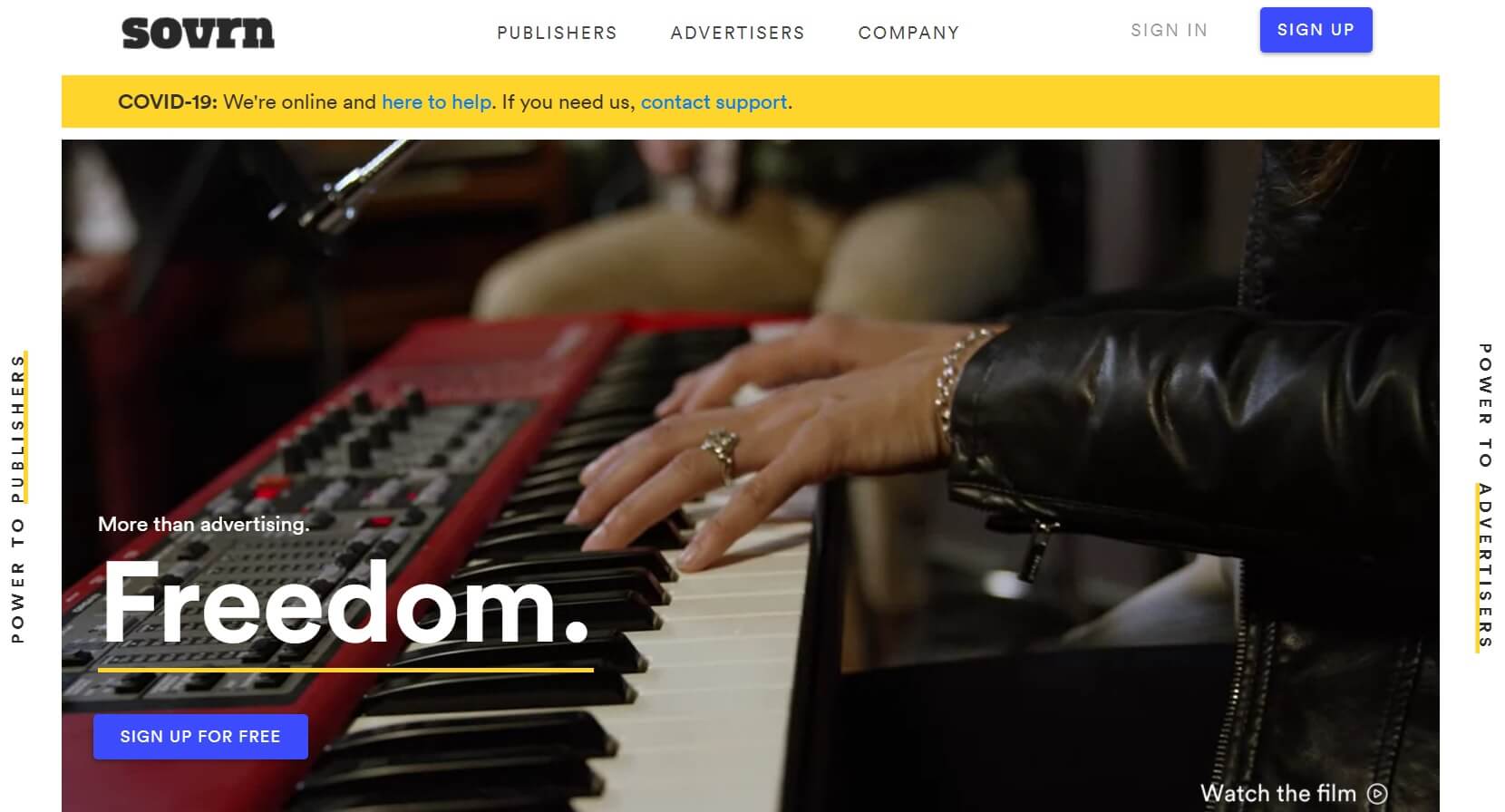 It was formerly known as This network works a little distinctly compared to the other platforms as it is particularly designed for bloggers. They offer access to detailed performance metrics so that you can increase conversions.
Here, you do not have to choose and pick which merchants to work with; instead, they use active links that change automatically to work with merchants whom Sovrn/ / Commerce has determined that offer high conversion rates or commission.
It enables you to earn money from your blog posts by converting outbound links into affiliate links. Doing this is very easy; just signup on to the network and paste a line of code in the source code of your blog. After that, it automatically adds relevant links to your content whenever a product or merchant is mentioned.
Also Read: How to Start Affiliate Marketing Business in India (2021)
They have various new features, such as an anywhere tool that enables you to monetize links in your media posts. It also provides multiple tracking tools; with their help, you can keep an eye on the sales and commission.
Pros:
It works nicely across websites/social media apps.
Instant signup and easy setup
The one-page dashboard is easy to use but very powerful.
Automatically assigns the highest paying merchant.
A great option for people banned from Amazon or other affiliate programs.
Cons:
We need to get approval from each merchant separately.
Requires a JavaScript-enabled web browser.
Visit Now
7. JVZoo
It is a vast affiliate network as it has more than 800,000 active affiliates. The highlighting part of this network is that they make the payment as soon as the conversion is done; you would not have to wait for a week or a month to get the payment.
JvZoo was founded in 2011, and since then, it has been among the best 10 affiliate networks because firstly, they do not charge any fee from affiliates or advertisers to join them. Secondly, it is a reliable and secure platform where you get many brands to choose from.
This network is famous for digital products, artificial intelligence, online courses, e-commerce, and internet marketing. They have an easy-to-use dashboard, which makes it facile for you to track your performance.
They have more than 9.5 billion products across 22 categories, which rarely any other program offers. It has also been listed in the Inc 5000 list of the fastest-growing companies.
Pros:
Instant payment using PayPal
Integrated with Warrior Forum
Perfect for marketing new product launches
Free to join
Massive range of products with detailed stats on every program/merchant
Cons:
You have to sell at least products to get instant payment.
Non-responsive website design
Visit Now
8. eBay Affiliate Program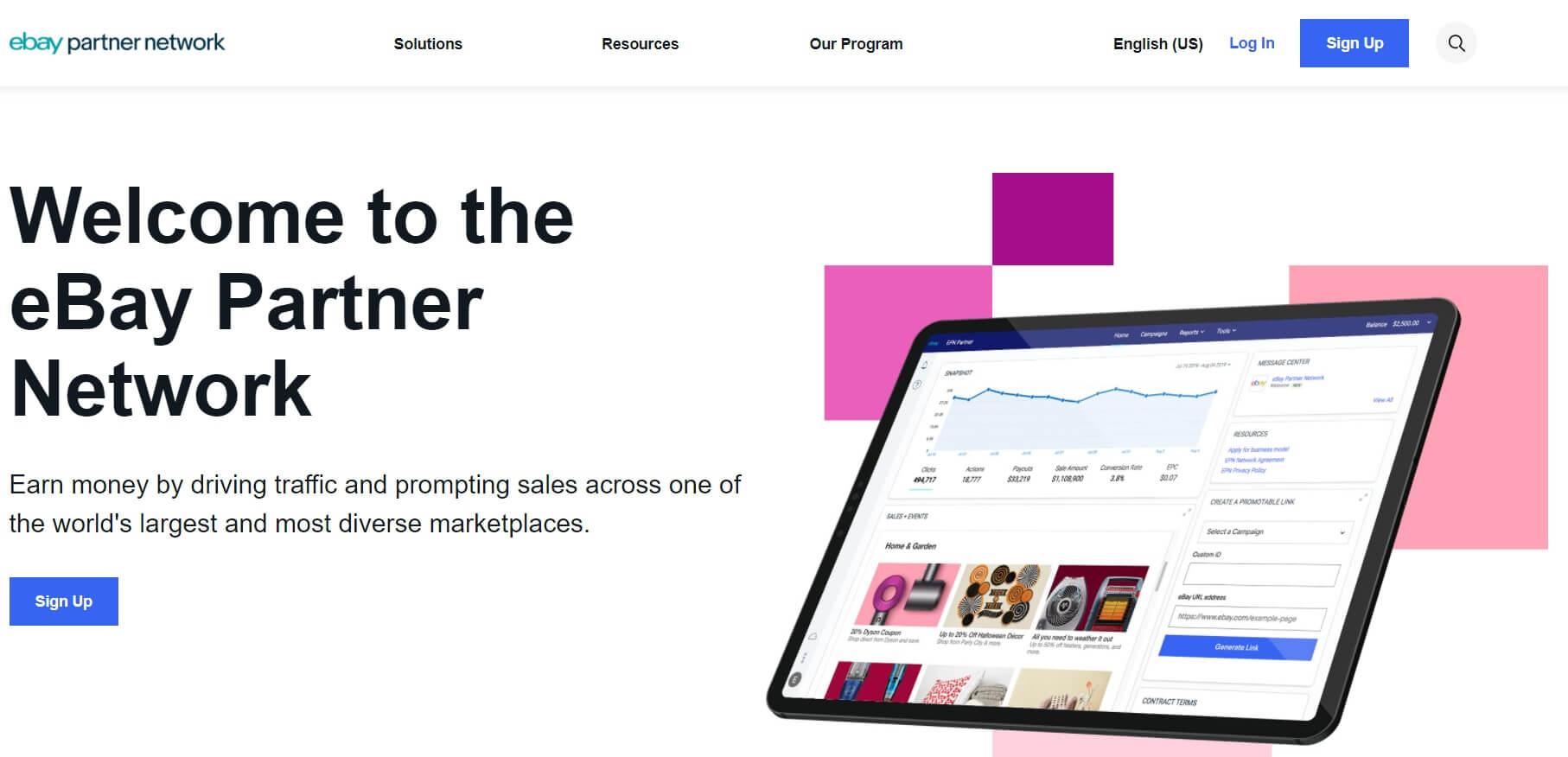 It was founded in 2008 and was formerly known as eBay Partner Network. It is a newcomer in the affiliate network market; its parent company is eBay, which has been around since 1995. In no time, this network has become one of the best affiliate marketing platforms as it has 1.3 billion listings with more than 182 million active buyers.
It is in 13 countries and offers different incentive schemes globally. Registering with them is free as there is no charge for both advertisers and affiliates. If you are a seller on eBay, you can promote your products as well if you want.
You can earn good money from this network, but it would solely depend on the product that you choose. The commission level on eBay differs from country to country, but one benefit is the same for all the affiliates that they can earn a double commission when they sign up for three months.
Pros:
They offer free to use link generators
Billions of opportunities
Reliable Payment schedule
They make payment through PayPal as well
Hassle-free signup
Cons:
24-hour cookie duration
Lack of a dedicated account manager
Visit Now
9. Rakuten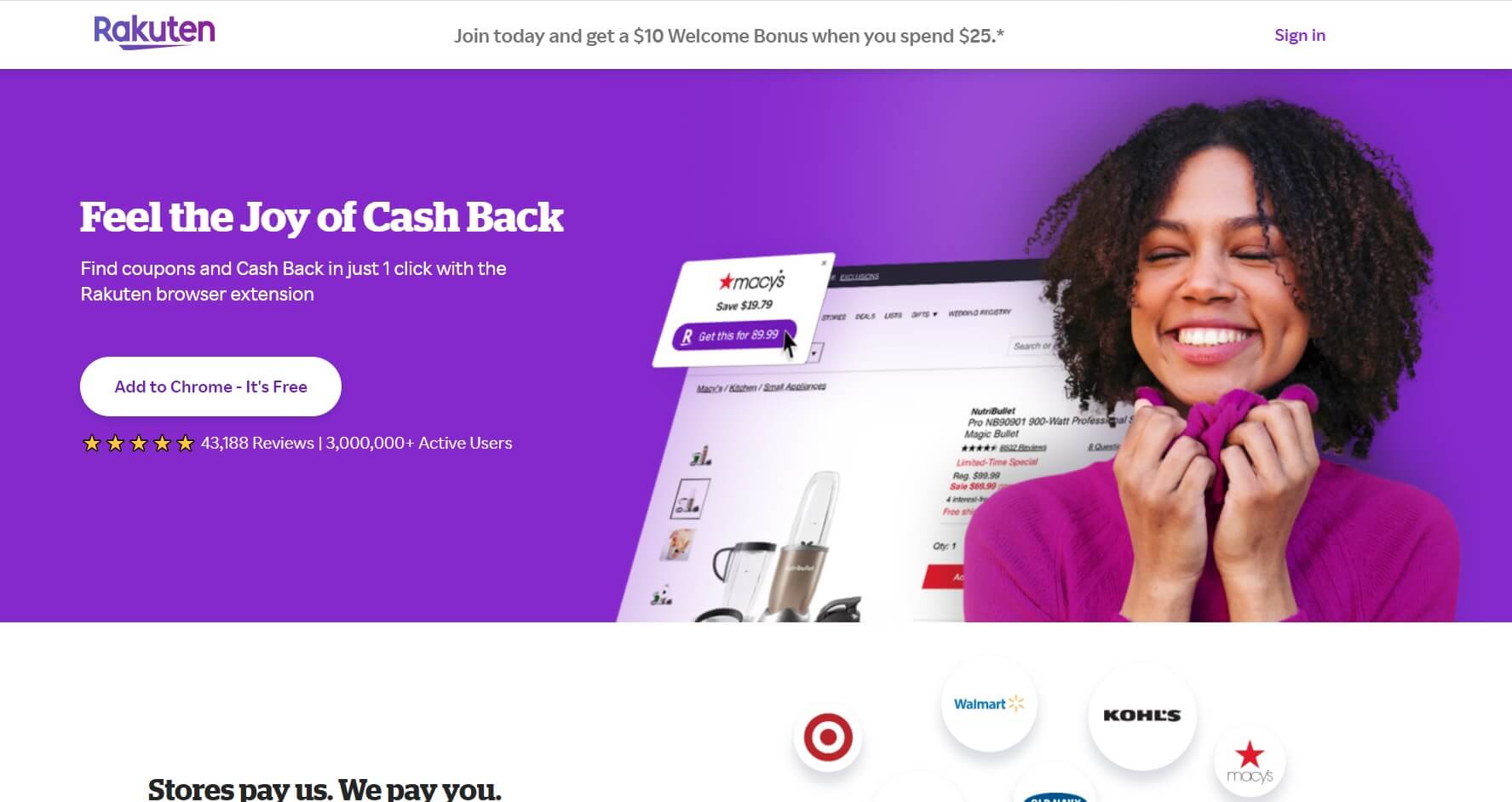 It was said to be the fastest-growing affiliate network as it is a new network but has made its name in just a couple of years. Founded in 1996, they have won various awards and are still working hard to keep their platform updated along easy to use.
They have many big brands but comprise only 1000 merchants, which is lesser than many other affiliate networks. Rakuten makes the payment once they receive the merchants' payment, which means that you might get paid after a month or two after the conversion has been done. The good thing is that they have various payment options such as direct deposit, check, and PayPal.
Also Read: 19 Best Netflix Affiliate Program Alternatives (2021)
They focus mostly on physical goods and have several big brands under them, such as Walmart, Sephora, New Balance, etc. They also give various creatives to select from. You can increase sales by using technology like rotating ads and flexible linking options.
Pros:
They serve more than 1.1 billion customers globally.
They can process payments to over 200 countries in 25 currencies.
Free and easy signup
Advanced campaign monitoring
Deep Linking options
Cons:
Smaller network
Unpredictable payments
Visit Now
10. ClickBank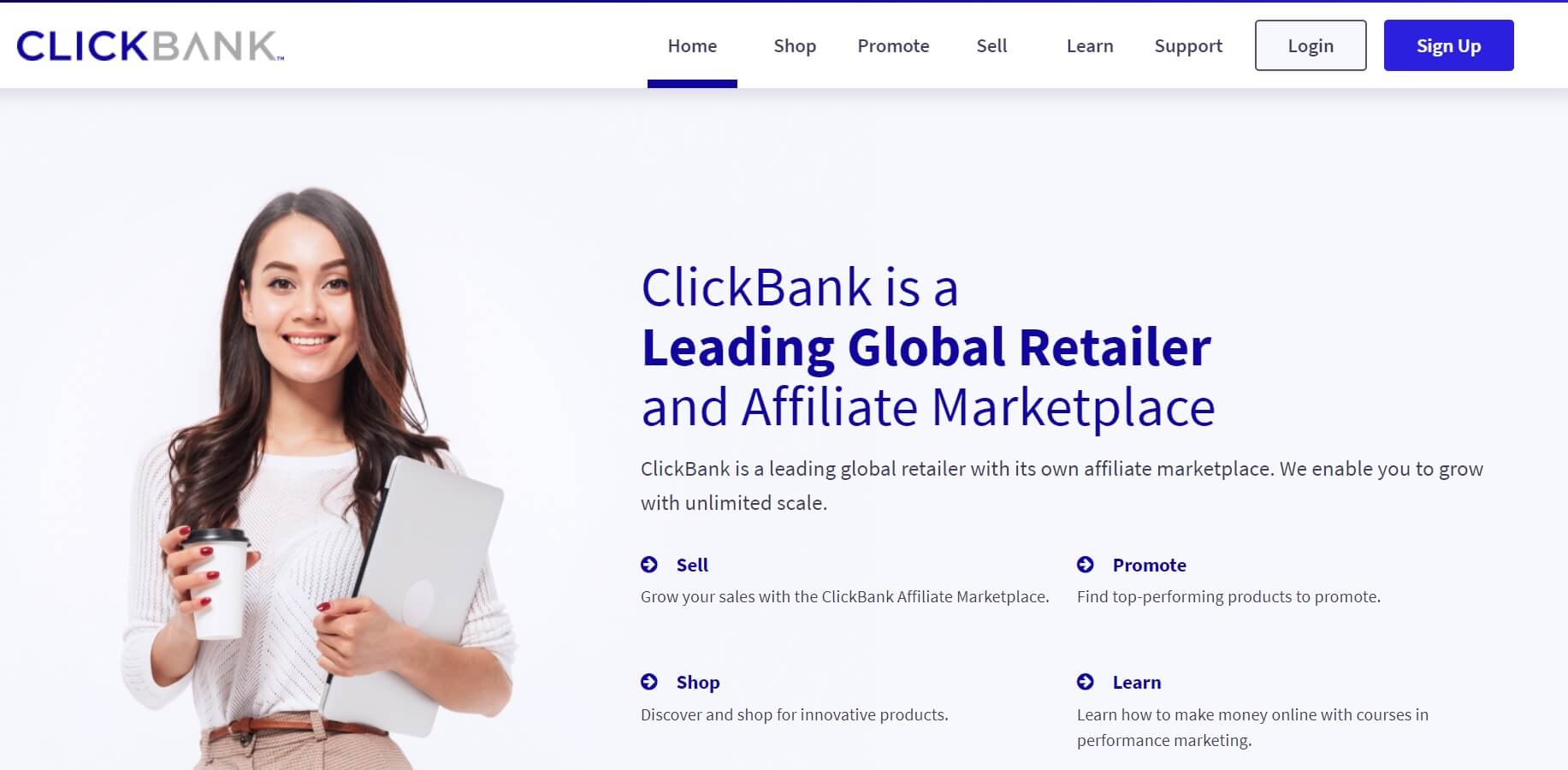 It is an extensive and longstanding network that focuses on digital information products, product launches, and other internet marketing products. It was founded in 1998, and since then, it has been well-known for its safe payment options and reliability as they have zero unresolved complaints.
They have more than 6 million unique affiliate products, and they currently reach over 200 million customers. It is the first platform that comes to mind when promoting digital products, website templates, webinars, or email marketing.
The good thing is that you can get relatively high commission rates compared to the other affiliate networks. The reason behind it is that there are no shipping, production, or logistic cost associated with the products. Hence, you can expect a commission of 70%.
They do not focus much on digital products, but you can find a wide variety of products to promote. You can join them free of cost as there is no charge for both advertisers and affiliates. It can be an excellent choice for people who are new to this field as it is straightforward to use, and their dashboard is also straightforward.
Pros:
Fast approval process
Flexible payment schedule
Variety of payment options
Higher commission rates
Comprehensive knowledge base
Cons:
Lots of low-quality and unreliable products
Refund policy raises conversion rates but can eat into your income.
Visit Now
11. Amazon Affiliate Program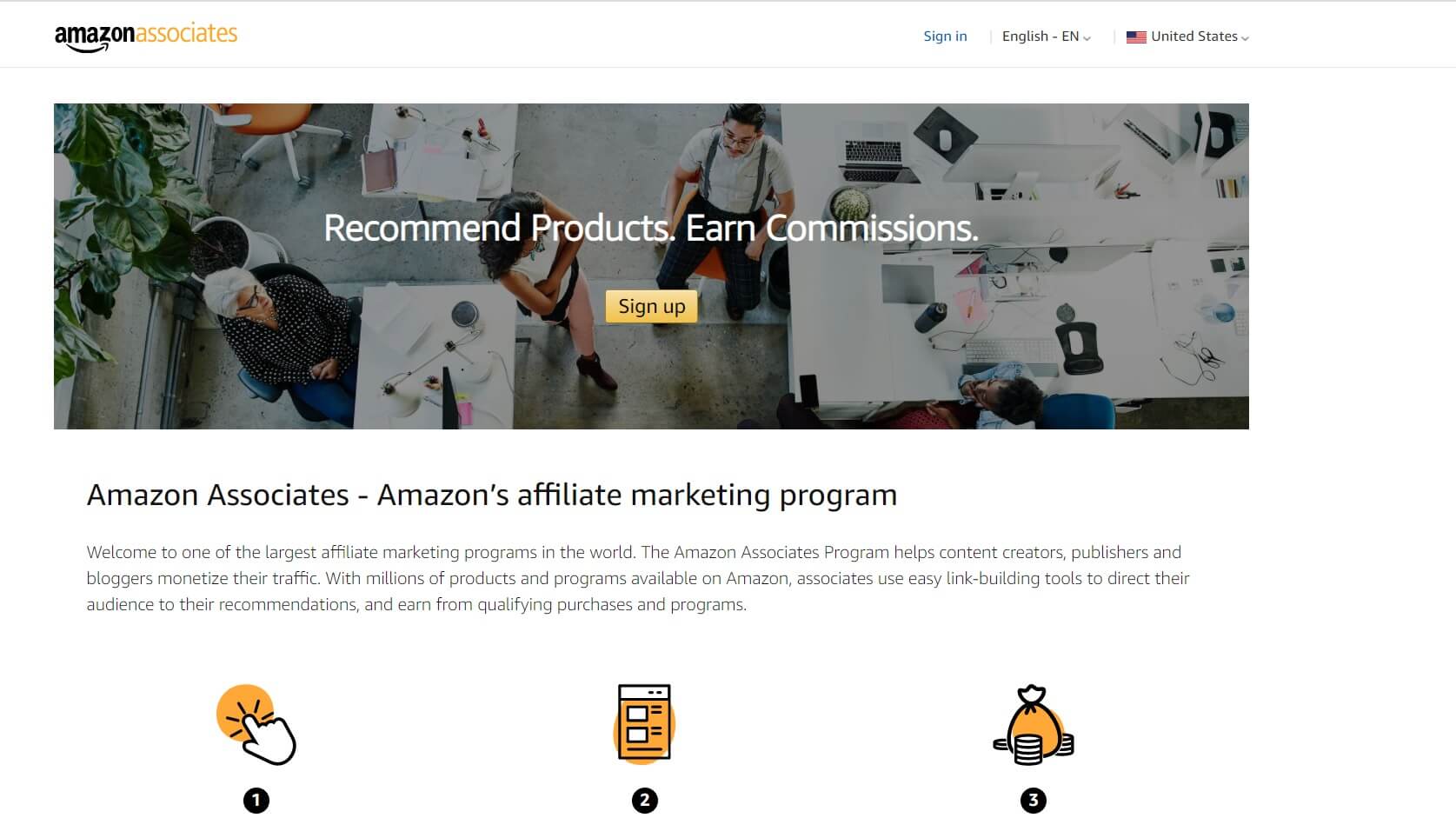 The list would be incomplete without listing Amazon Affiliate Program as it is one of the best affiliate marketing platforms. This program works in every niche and offers you a huge opportunity to earn money from it. Here you can earn commission on anything sold at Amazon.com.
They provide affiliates with the biggest choice of goods to sell and earn more than 10% commission. You would not need any third-party approval to work for them, and you can register with them quickly and select the product you want to sell.
You can sell both physical and digital products here, and they have a lot of big brands and merchants to choose from. You would be amazed to know that they have over 90 million paid subscribers in the U.S and are valued at over $1 trillion.
The nice thing is that it is easy to use and the massive range of physical goods and brands you can sell. Several people earn in 5 or 6 figure monthly income by joining their affiliate program.
Pros:
Several payment options
Biggest range of affiliate products
Easy to use
Very flexible
Low payment threshold- $10
Cons:
Lack of flexible payment options
Low commission rates.
Visit Now
12. Skimlinks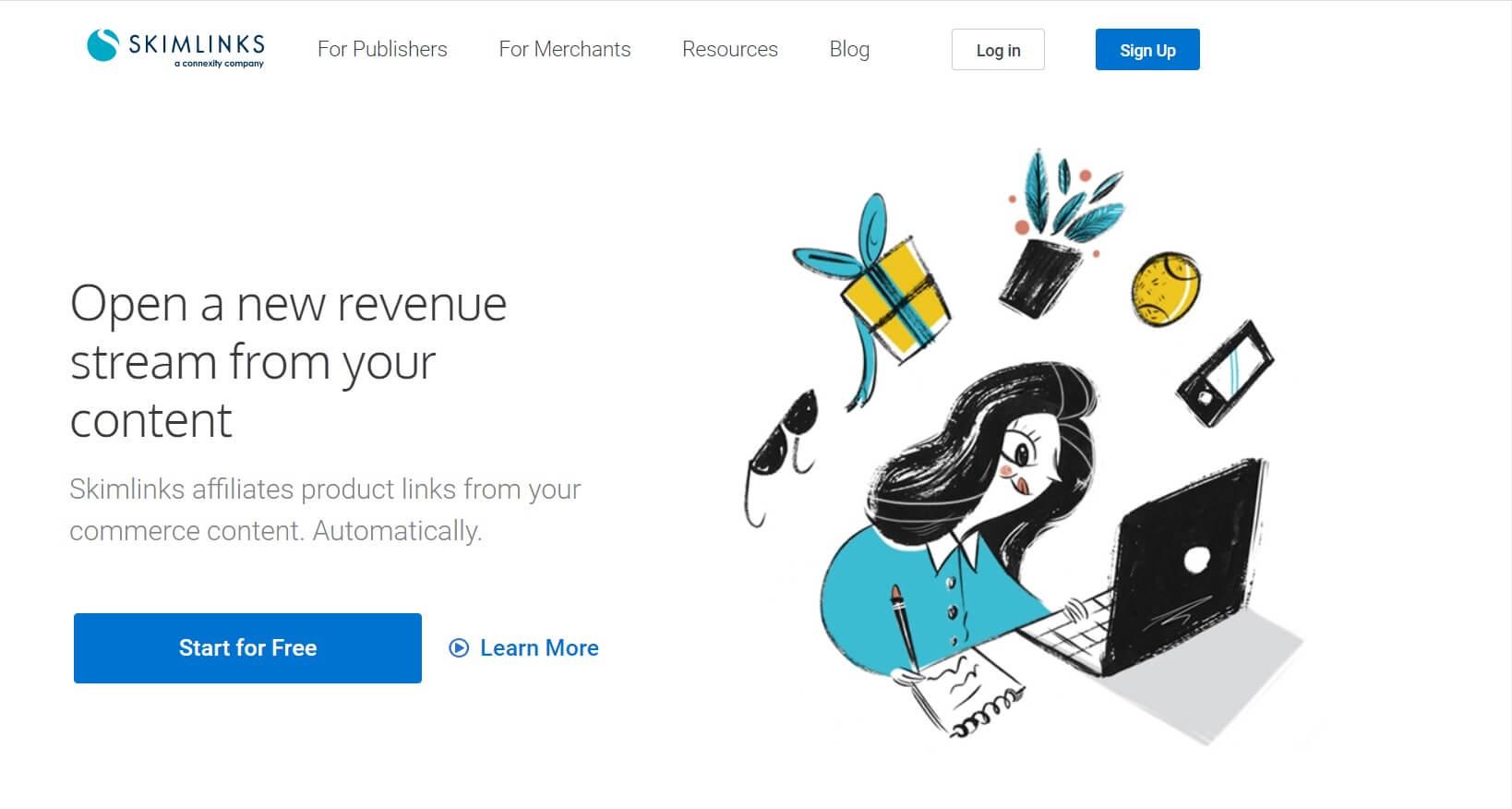 As a beginner, it can be challenging to pass the merchants' test, but with Skimlinks, you do not have to worry as they connect you with the most suitable merchants. In fact, they automatically convert your regular product links and brand name mentions into affiliate links.
They use a plugin or script to build dynamic links in your content to send visitors to the highest paying offers from advertisers. They have more than 40,000 merchants, and you can work with any merchant or program on its platform.
You can signup with them for free, and the process is also very simple and straightforward.  There is a small verification process; if you clear that, you can choose any merchant you want to work with. Ensure that you provide the correct details of your website, traffic sources, and marketing strategies.
Also Read: 14 Ways to Monetize your Website apart from AdSense
They work with both physical and digital products, but they are more inclined towards physical products. Payment is released at the end of the month, and they have several payment methods, which include PayPal as well.
Pros:
Easy to use
Great customer services
Timely payment
Simple integration into your existing website
Alerts for merchants you have selected as your favorite
Cons:
Lack of real-time tracking
It is free to join, but they take 25% of all commissions.
Visit Now
13. 2Checkout (Avangate Network)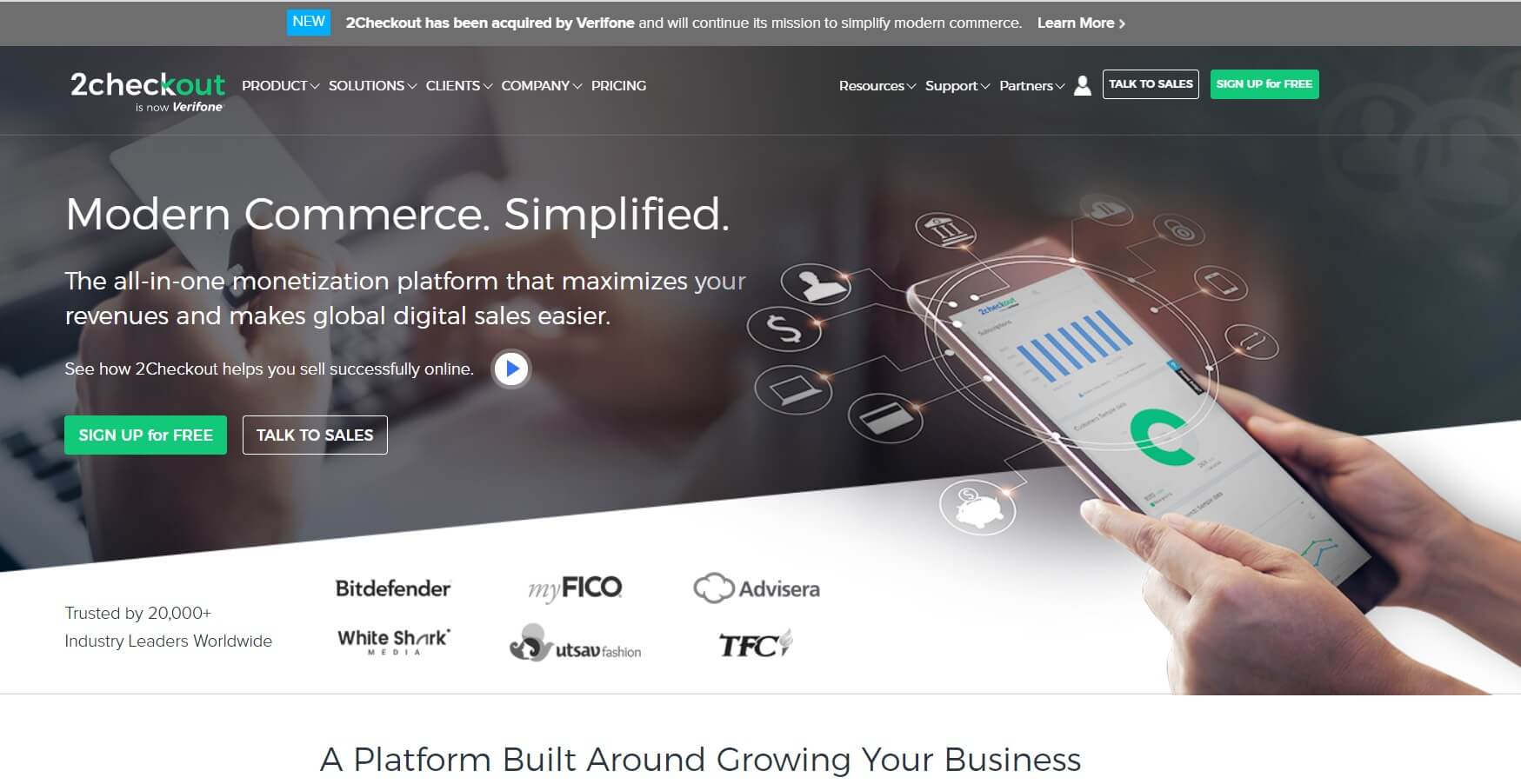 This network is focused primarily on digital goods and software and has fewer physical products. They have various renowned software merchants such as Awario, Hide my ass, Bitdefender, Malwarebytes, HP, etc.
They have also been ranked number one affiliate globally by Blue Book Global for the last six years. It is a secure and widely-used payment gateway. They have more than 22,000 products to choose from and have various big brands and merchants registered.
They offer up to 85% of the commissions, but it also depends on the merchant to the merchant. 2checout has one of the longest cookie duration of 120 days and enables affiliates to create coupons to increase sales.
This affiliate platform is user-friendly and intuitive, making it one of the best affiliate marketing platforms for beginners. There is no fee to signup with them, and you can start working as soon as your account gets approved.
Pros:
Round the clock customer support
Lengthy cookie duration
High commission rates
Can create unique coupons
Multiple payment options
Cons:
High payment threshold- $100
The dashboard has limited search options.
Visit Now
14. LinkConnector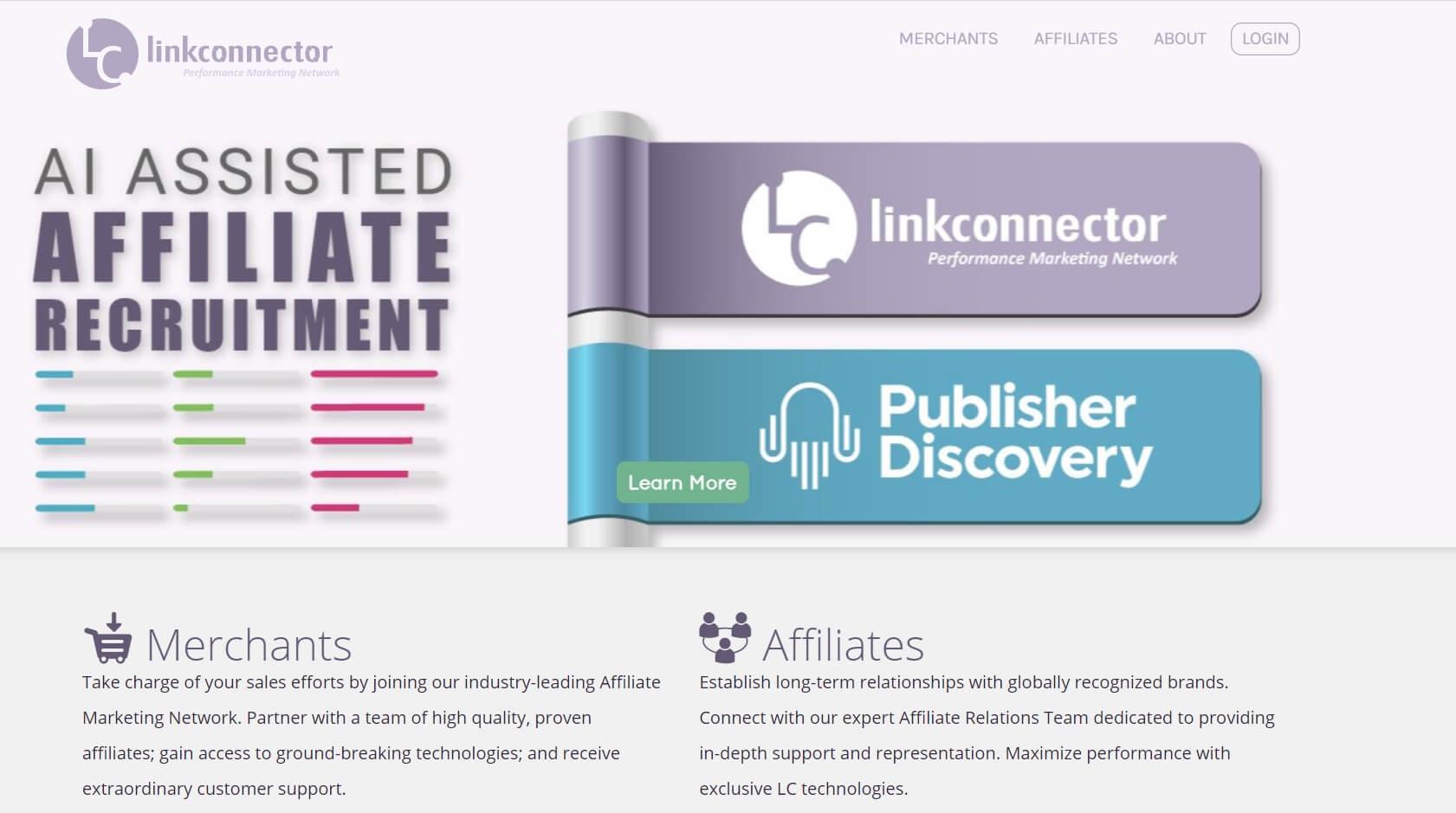 This platform was launched in 2004, and since then, it is known as a reliable and trusted platform. It has various big brands and merchants such as Writer's Digest, Everly, and Disney Store. They have a strict screening process for both advertisers and affiliates, which means that you can rely on the quality of the products they offer.
They have a wide variety of affiliate programs in various niches such as fashion, health, beauty, and much more. One major drawback is that its platform looks slightly outdated and is clumsily designed. Other than that, all the things are good, including customer support and various real-time tracking tools.
They have different price models such as CPL, CPS, and CPA; you can choose one as per your preference. Additionally, they also give you private coupon codes, making it easy for you to promote the products.
Pros:
Flexible pricing models
Good customer service
Supports naked links and promo codes
Access to some big brands
Supports real-time tracking
Cons:
Poorly designed website
Limited range of physical products
Vendors can control where and how their links are displayed.
Visit Now
15. Warrior Plus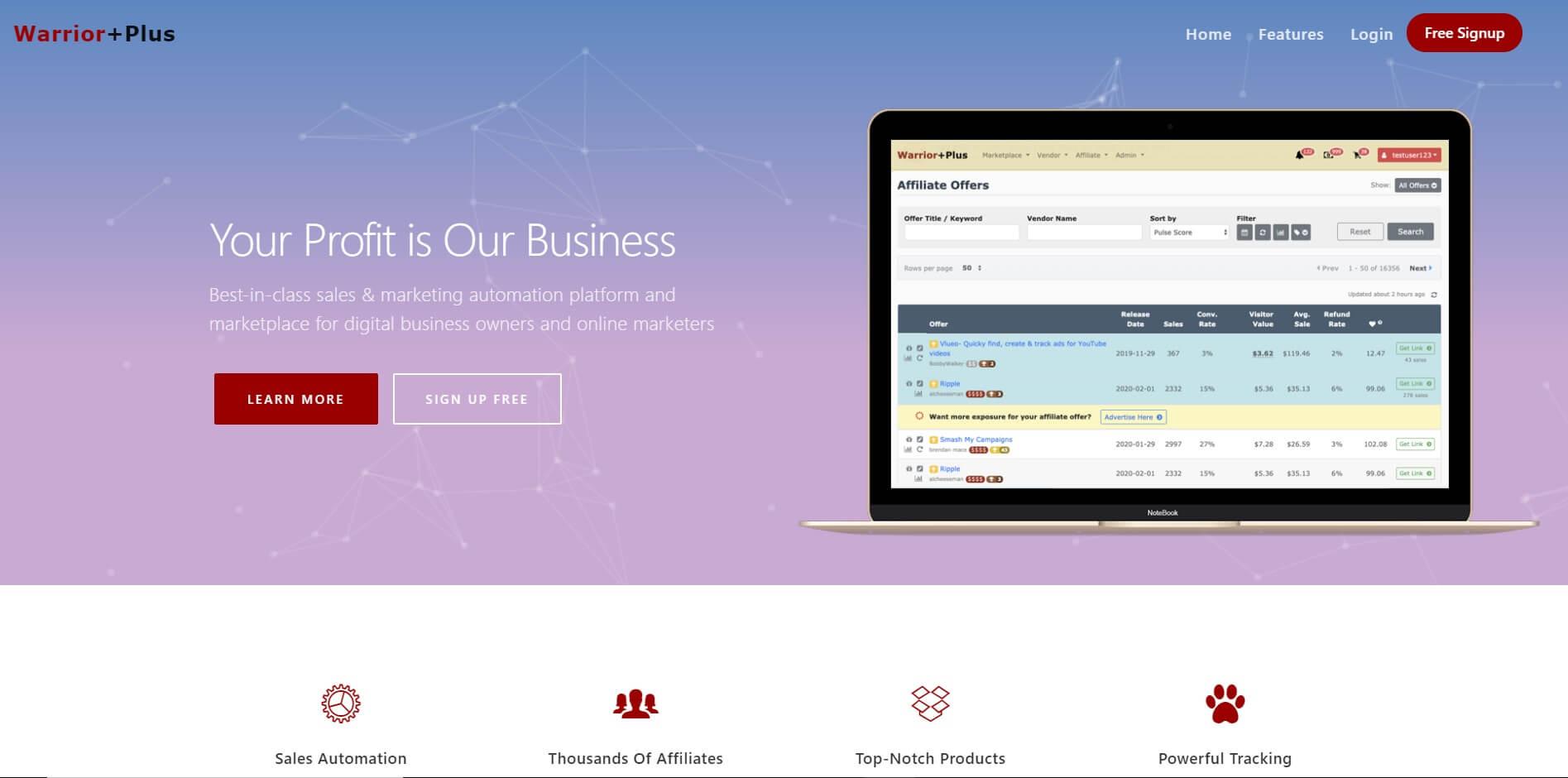 Warrior Plus's website and interface might look a little traditional and old, but it is a strong competitor in advertising online courses and "make money" marketing programs. It is, particularly for software and information products.
As a content creator, you can benefit from this platform in two ways; if you have built your digital products, you can also feature them. If you wish to monetize your blog traffic, you can search for the best products to promote on your blog.
Its good part is that they make instant payments through PayPal and payout for all the funnel products. This can be the best affiliate marketing platform for experienced marketers who yearn to earn more commission on a large range of programs.
Also Read: Top 20 Money Earning Apps In India (2021)
Also, this program is very transparent as here you can get the complete details of the sellers. You can signup for free, and their registration process is straightforward; you can do it in a couple of minutes.
Pros:
Multiple payment modes
An easy and free approval process
Proactive customer support
Useful metrics on vendors
A large number of products
Cons:
Unpredictable payment schedule
Sells a large number of low-quality products.
Visit Now
16. Clickbooth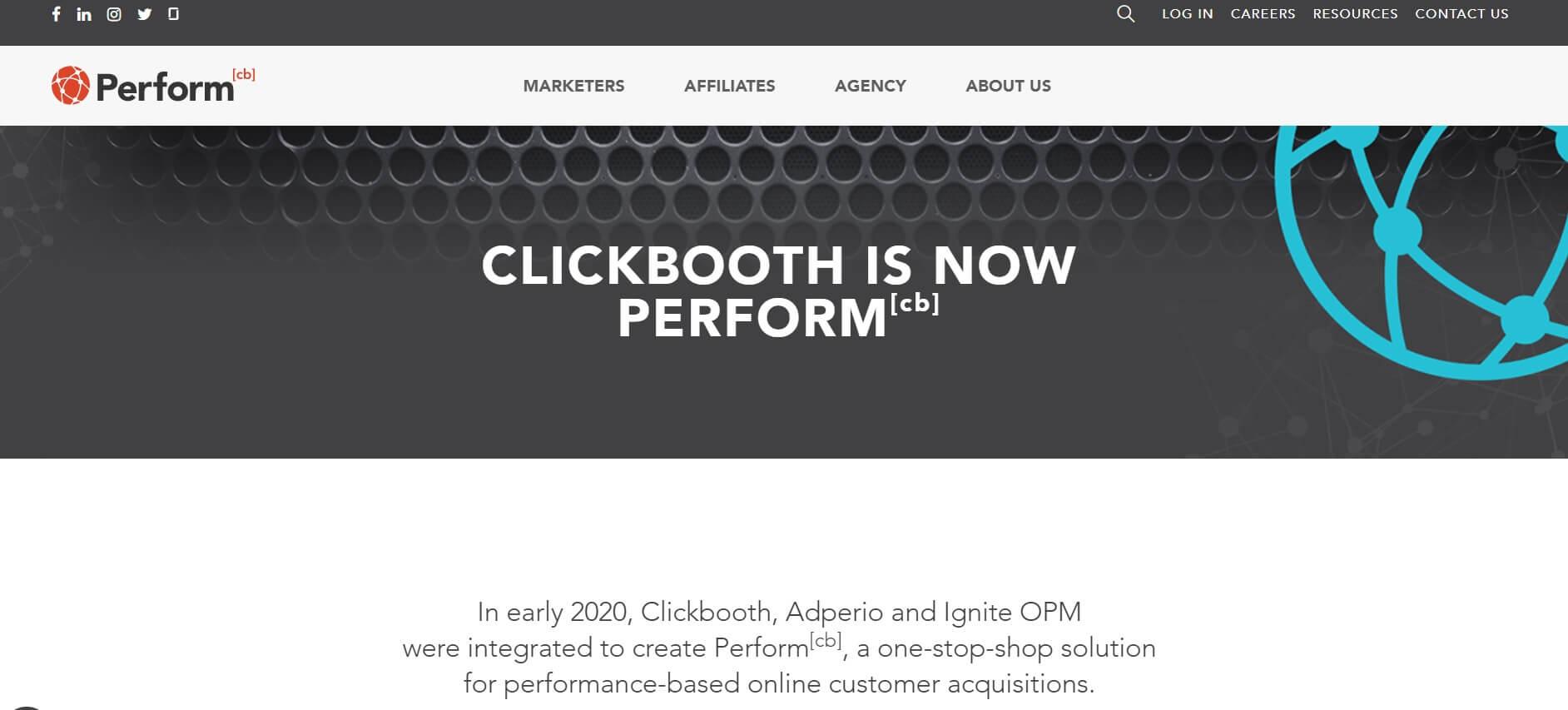 They have been rated as the best affiliate marketing platforms by various users and forums because of their global reach and affiliate-friendly technology. They have thousands of affiliate programs in different niches such as health, finance, insurance, etc., from which the content creators can choose as per their interest and target audience.
The highlighting part of this affiliate program is that several advertisers and programs are exclusively just on Clickbooth. You can signup with them without any trouble as the steps are pretty straightforward, but they take 72 hrs to approve new accounts.
This network is best for beginners as it is not a mandate for you to have a website for joining them. It motivates affiliates as they reward the best-performing publishers with incentives.
They are very strict with the rules and regulations to safeguard merchants against fraudulent activities. Hence, you would have to be cautious before you start promoting the brand as you would have to take approval from Clickbooth for every promotional banner, mailer, etc.
Pros:
Website is not mandatory for working with them.
Multiple payment modes
Timely payment
Dedicated account manager for every publisher
Easy and free signup
Cons:
Limited customer support
Need approval for all the promotional material
Visit Now
17. Pepperjam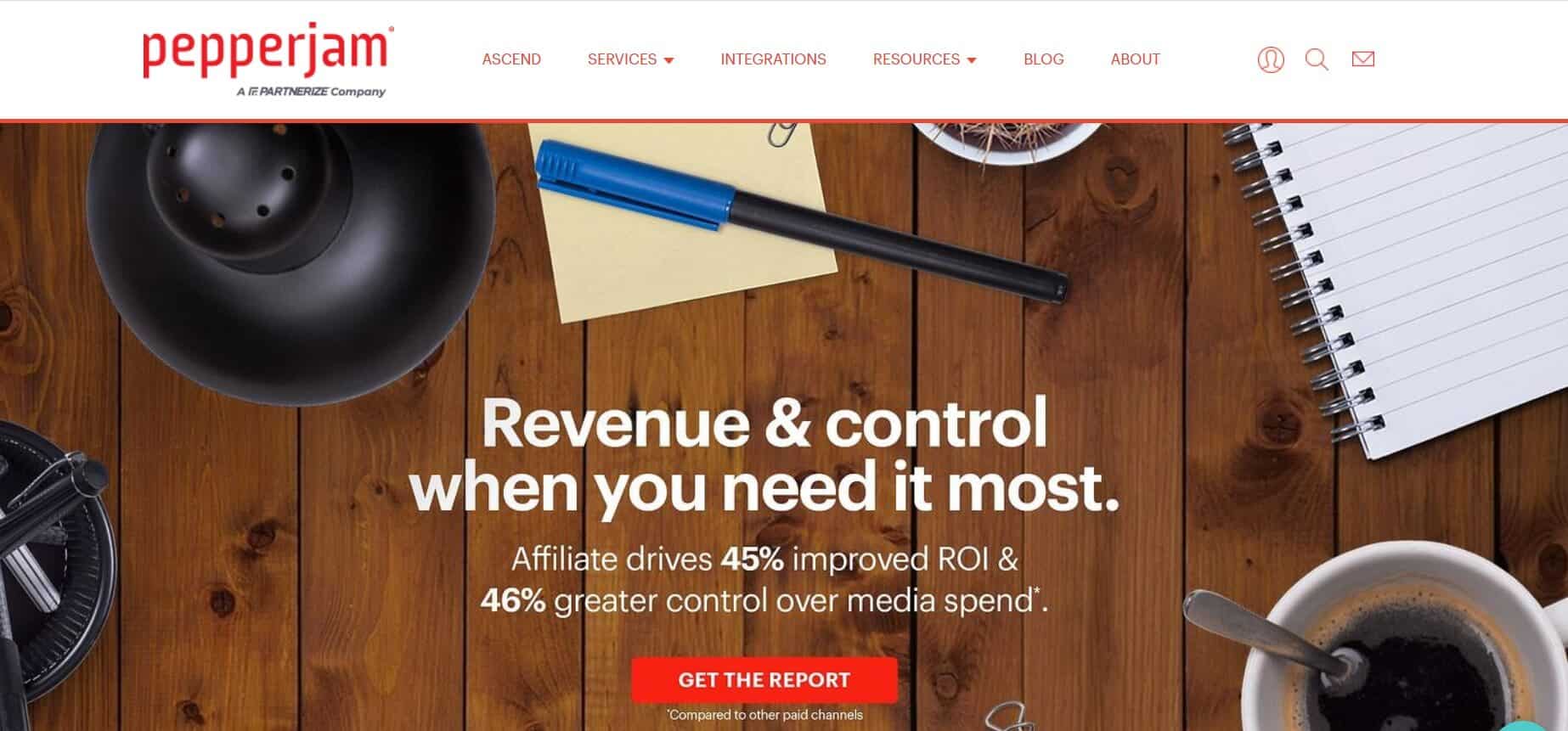 They started the affiliate network in 2015, therefore, they are very new to the industry, but they have been in the digital marketing business since the 90s. But, they have become popular in affiliate marketing very soon because of the transparency in their working style.
They have only 1500 merchants to choose from, but they prefer quality over quantity; that is why they have only selected advertisers so that affiliates can be saved from the fraudulent ones. Also, as per Pepperjam, they only work with people they love and think are reliable.
The highlighting part is that they are very open and transparent as advertisers and affiliates can communicate inside the pepper jam system.
This is a unique feature that very few platforms provide; it is a great way to encourage communication to create a strong relationship.
Their payment method is also pretty good as they pay twice a month as long as you earn $25. There are various payment modes to choose from, such as PayPal, check, or direct deposit; you can choose anyone at your convenience.
Pros:
Transparency
Great customer support
Various payment options
Generous commission rates
Super easy setup
Cons:
A limited number of products
Strong competition from other affiliates selling the same products.
Visit Now
18. Affiliate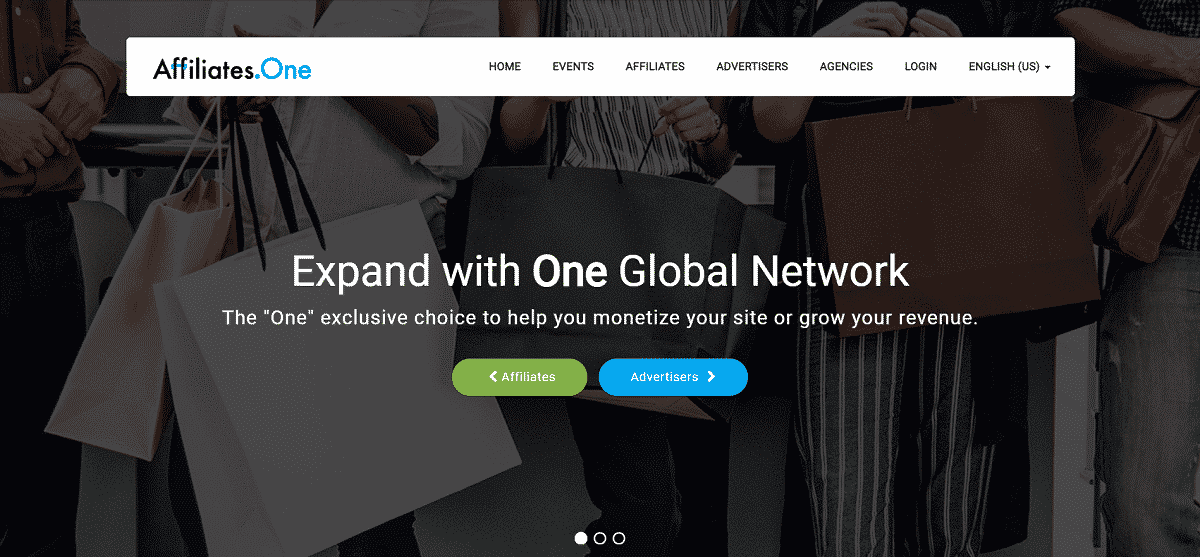 They are said to be one of the best affiliate marketing platforms for experienced marketers. To keep the program exclusive, they have an invitation-only approval process, which many affiliates find frustrating. But people who get the invitation and approval do enjoy the benefits that they provide and high commissions.
Some of the benefits they provide are more than 700 offers in profitable niches to select from, including entertainment, wellness, mobile content, and dieting. They also offer affiliate managers who render a lot of guidance on making and improving the campaigns.
Their commission structure is also good, plus their payment schedule is also reliable. You can get paid through various modes as per your convenience, but their minimum payout is pretty high, i.e., $100, which is a lot.
Also Read: Top 24 MLM & Network Marketing Companies In India
They have a nice collection of features which can help you in making money easily and quickly. If you are experienced and have proper knowledge about affiliate marketing, this can be the best platform.
Pros:
They offer various programs such as CPS, CPL, and CPA.
Lots of payment options
User-friendly website
Quality over quantity
Cons:
The minimum threshold for payment is $100
Limited range of physical products
Visit Now
19. ReviMedia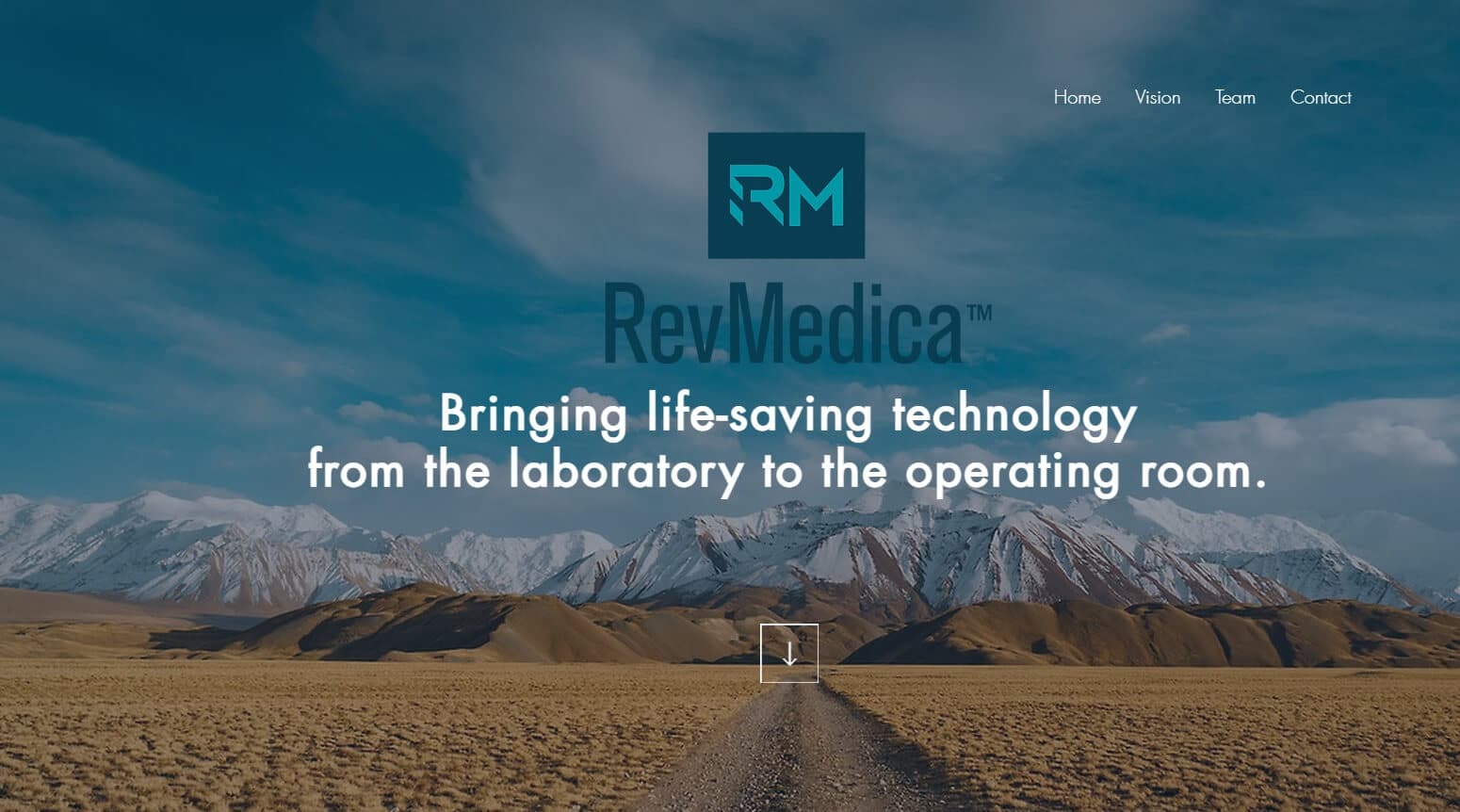 This affiliate network mainly deals with insurance, financial verticals in the global market, and home services. If you are a lead generation champion, this can be one of the best affiliate marketing platforms for you. They provide a full-service platform that aims to use superior technology to automate lead generation entirely.
Affiliates would love this network because they offer verification technology and lead scoring, with the help of which they can do more conversions and maximize their revenue. They pay a fair amount of commission, plus they have various modes of payment to avert any sort of discomfort to its affiliates.
Pros:
Secure and reliable payment structure
Numerous payment modes
Intuitive and user-friendly dashboard
Search-friendly platforms
Cons:
High payment threshold- $50
Affiliate marketers aren't notified about the abrupt closure of ongoing programs.
Visit Now
20. MoreNiche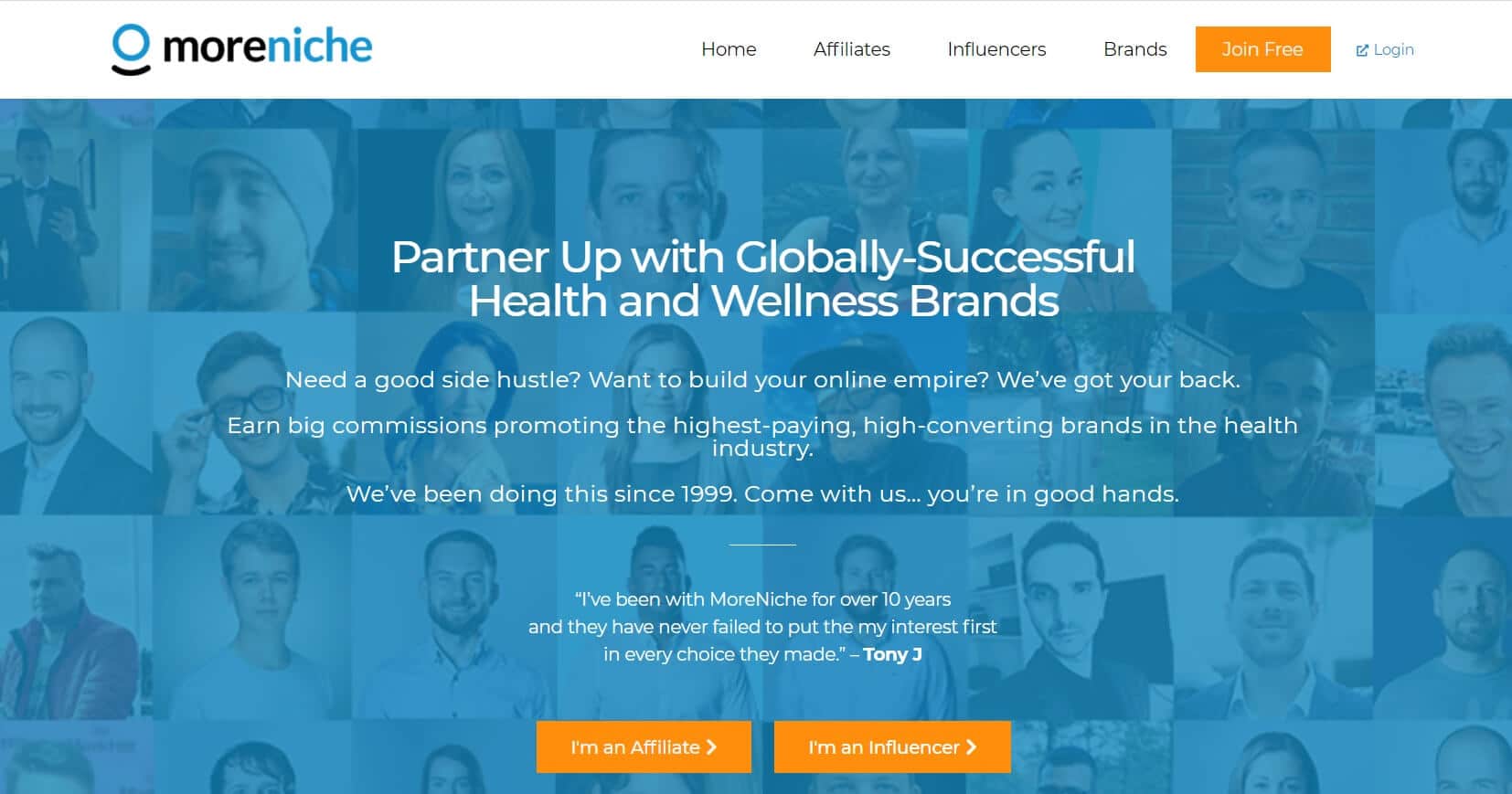 This affiliate network was started in the year 2002. They offer limited products, but the good thing is that they only have well-known and reliable merchants to avoid any fraudulent or illegal activity. All the products they offer are good, and you would get a high commission on most of them.
This is a reliable and free network where you do not have to pay anything as an affiliate or a merchant. One major factor that sets them apart from other affiliate platforms is the way they treat their people.
They have affiliate managers who guide the affiliates in various ways, such as providing them with up-to-date SEO advice, proactive support, CRO suggestions, and do website audits. You would be amazed to know that MoreNiche also keeps mastermind events that are really helpful for affiliates.
Pros:
Various payment modes
Free and quick registration
Great support
Specific affiliate managers for affiliates
Cons:
High payment threshold- $100
Programs offered: CPS only.
Visit Now
21. Market Health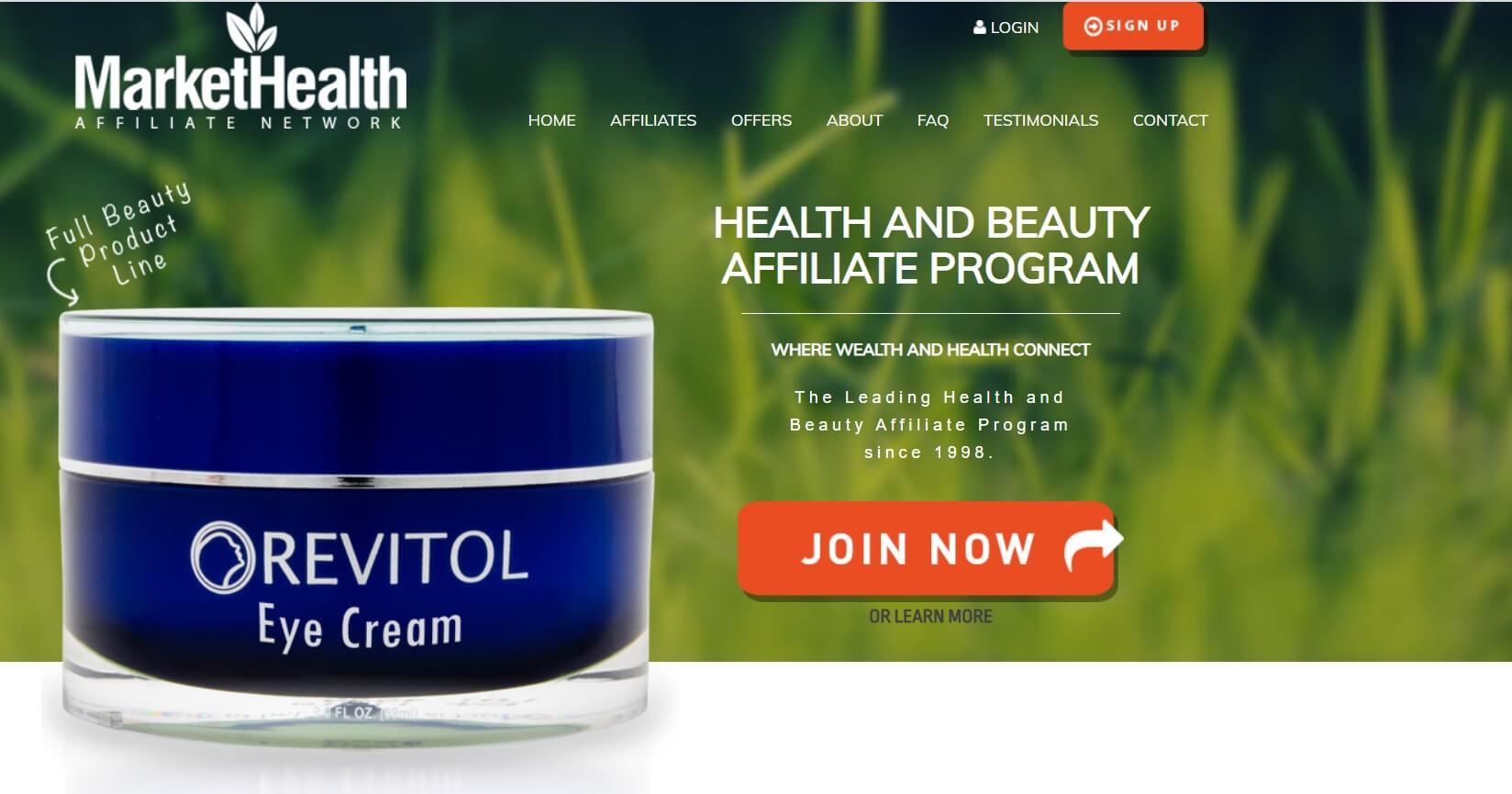 This affiliate marketing platform is very user-friendly and can be the first choice for you to be interested in health and beauty products. They specialize in health and beauty products as there are more than 200 products that they manufacture themselves.
It is a great platform if you are operating outside the U.S and is also a good choice in the U.S if you meet those conditions. Market Health has one of the best payment methods as they offer various payment modes plus their minimum threshold is also less, which is $20.
Their commission rates are also reasonable, and you can negotiate on them if you can make 20 sales in a day. They have a vast network in more than 100 countries, and a lot of offers come complete with localized language and payment processing, which else an affiliate can expect.
Also Read: How Much Do Freelance Digital Marketers Make In India?
Market Health offers other benefits to its affiliates, such as comprehensive tracking software and free advertising resources.
Pros:
Minimum payment amount: $20
Programs offered: CPA, Profit-sharing.
Numerous payment methods
Free and easy signup
Cons:
Intense competition from other affiliates selling the same products
Customer service can be relatively slow.
Visit Now
22. Avantlink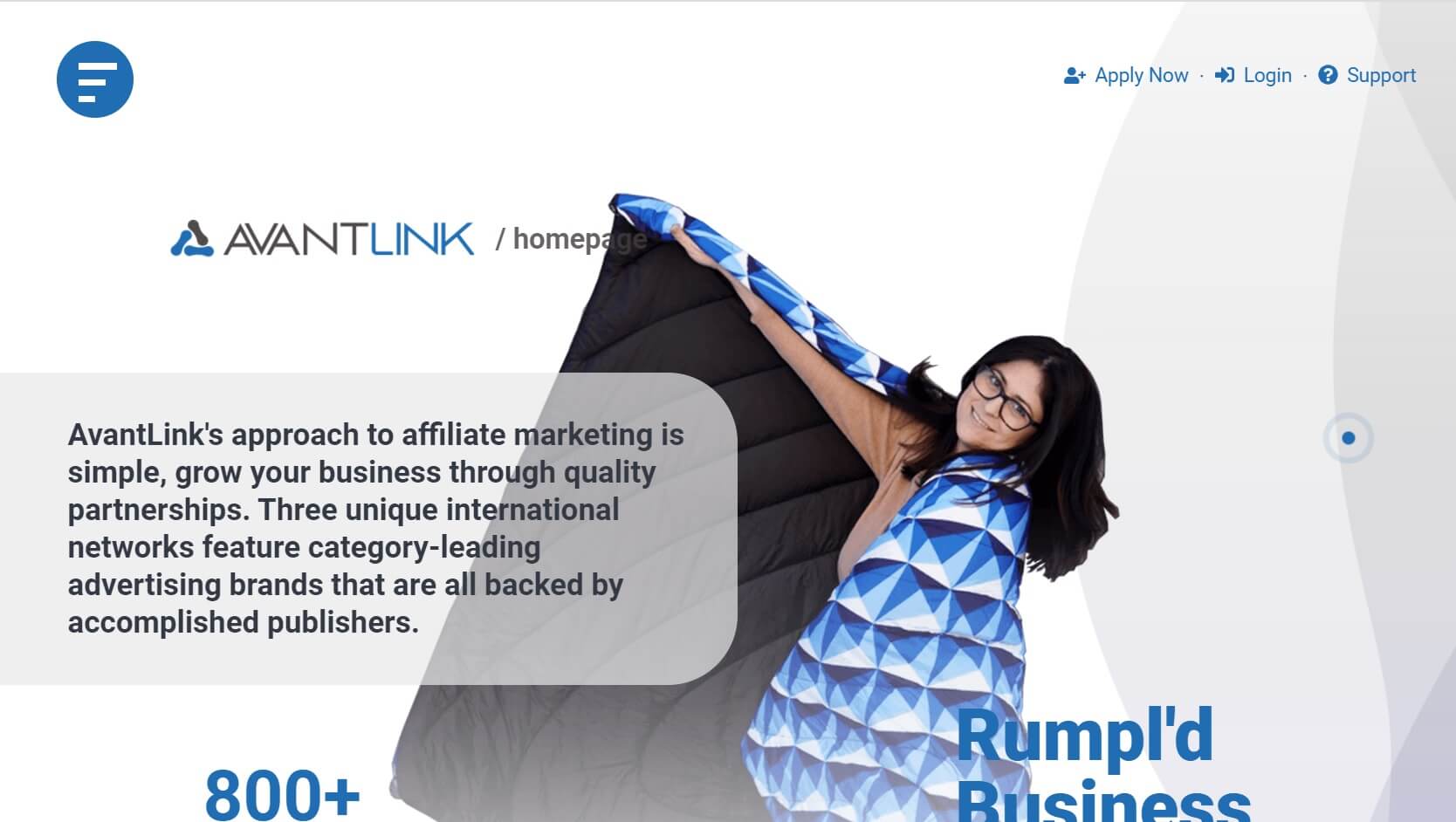 This is one of the leading and best affiliate marketing platforms, especially for people who deal with catalog products. They have 10 years of history and an amazing track record for attracting premium merchants. If you have issues working with the eBay partner network or Amazon, this should be the alternative you should think of.
They have a wide variety of products and services, starting from outdoor suppliers, major appliances, and even vacations. You get a lot of options and offers to choose from as per your interest and target audience.
Another notable thing about Avantlink is the transparency that they keep between merchants and affiliates. They enable the affiliates to see every detail about the advertiser's program before they sign on. This is one feature that is liked by both affiliates and advertisers.
They have a customized setup that offers access to add either third-party or your own proprietary apps. In fact, you can also easily customize their tracking program as well. You should expect a little delay in the application process's approval as only 1/3 of applicants are invited to join.
Pros:
The minimum threshold is just $25
Reliable and well-known merchants
Variety of products
Transparency in their entire process
Cons:
Programs offered: CPS only.
You will have to show some traffic numbers then only you can work with them.
Visit Now
23. AdWork Media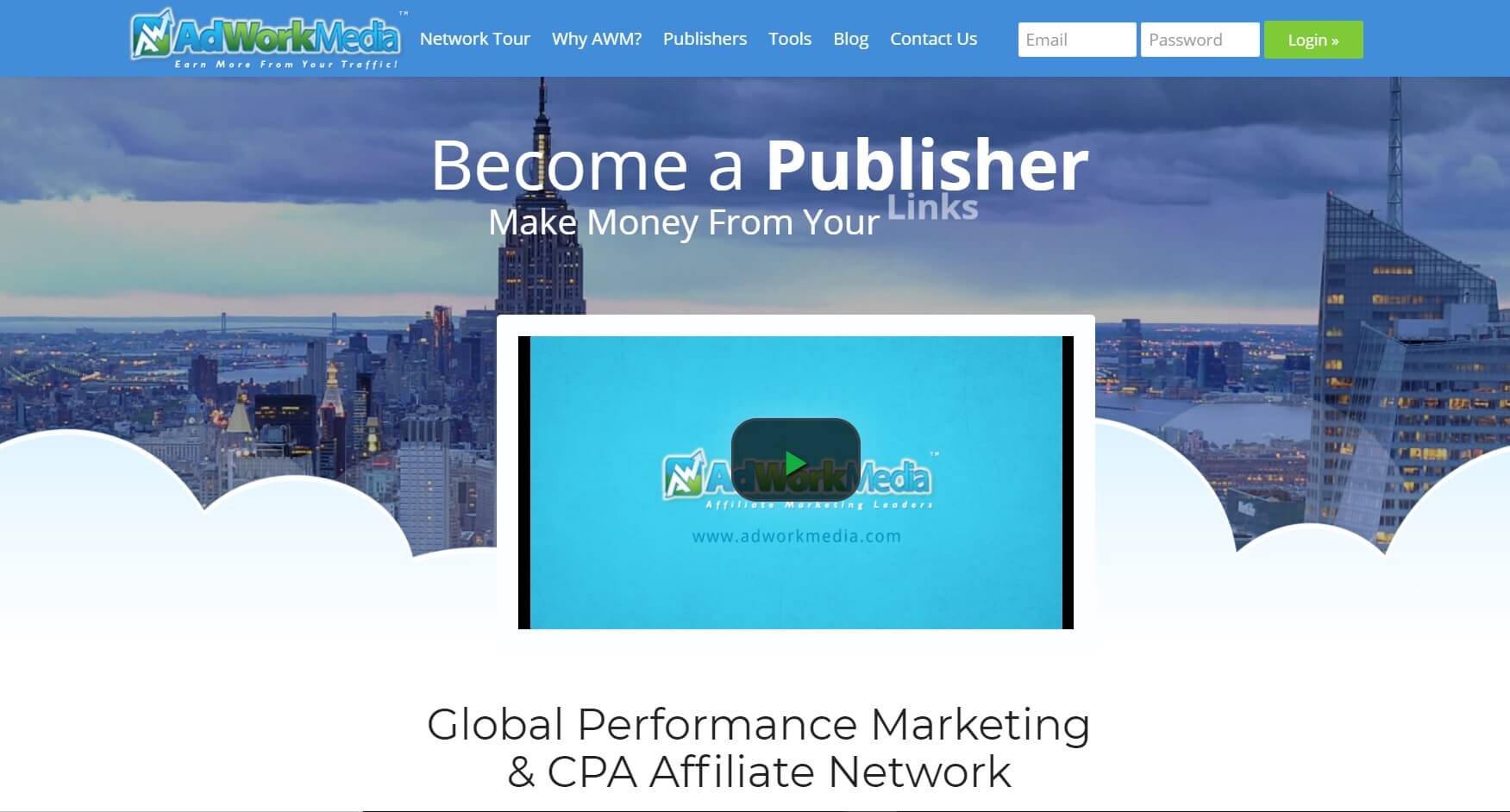 If you have traffic on your website or blogger and wish to monetize your traffic, this can be a great affiliate marketing platform. You can get over 2500 affiliate programs on their website, spread in more than 250 countries.
They just work on the CPA model, which means that you would get your commission each time a website visitor closes the deal. They offer you multiple automated monetization tools like Offer wall, Content Locker, Product Locker, etc.
These tools help affiliates to lock high-value content such as case studies, e-books, apps, games, etc. You can also integrate them on your mobile app or website by using plugins and APIs. Many affiliates like this platform because they can monetize the website traffic on any device and any location.
Pros:
Multiple payment options
Daily performance reports
Payments are made weekly, bi-weekly, and monthly
24*7 customer support
Cons:
The strict verification process for affiliates
The threshold is high for beginners- $35
Visit Now
24. Affiliate.com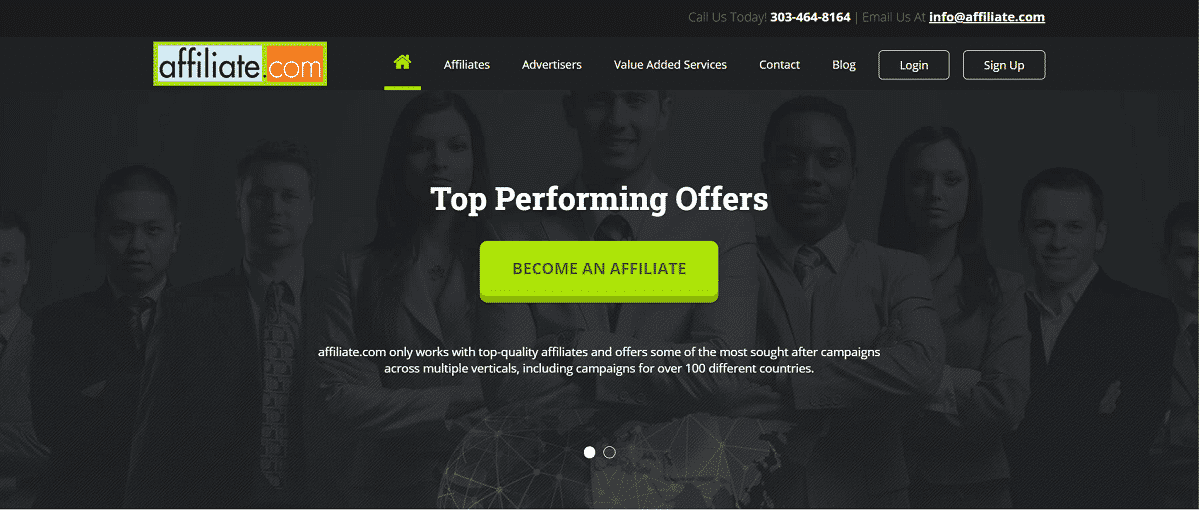 It was formerly known as CPA Empire. This platform is renowned but is worth being a member of it as they have a high commission rate based on the CPA pricing model. You can be a part of their top-performing affiliate program in various categories from more than 100 countries.
This is a great choice, especially for beginners, as their registration process is speedy, and there are no charges to sign up with them. They also assign an experienced account manager with every account, which helps them earn more money. They also help you find the right affiliate program as per your interest and design promotional creatives for your campaign.
They have an excellent payment method where you can get your payment weekly through various payment modes.
Pros:
Dedicated account manager for every account
Top-performing offers in over 100 countries
Reliable payment method
High commission rates
Cons:
High payment threshold- $100
Visit Now
25. Target Affiliates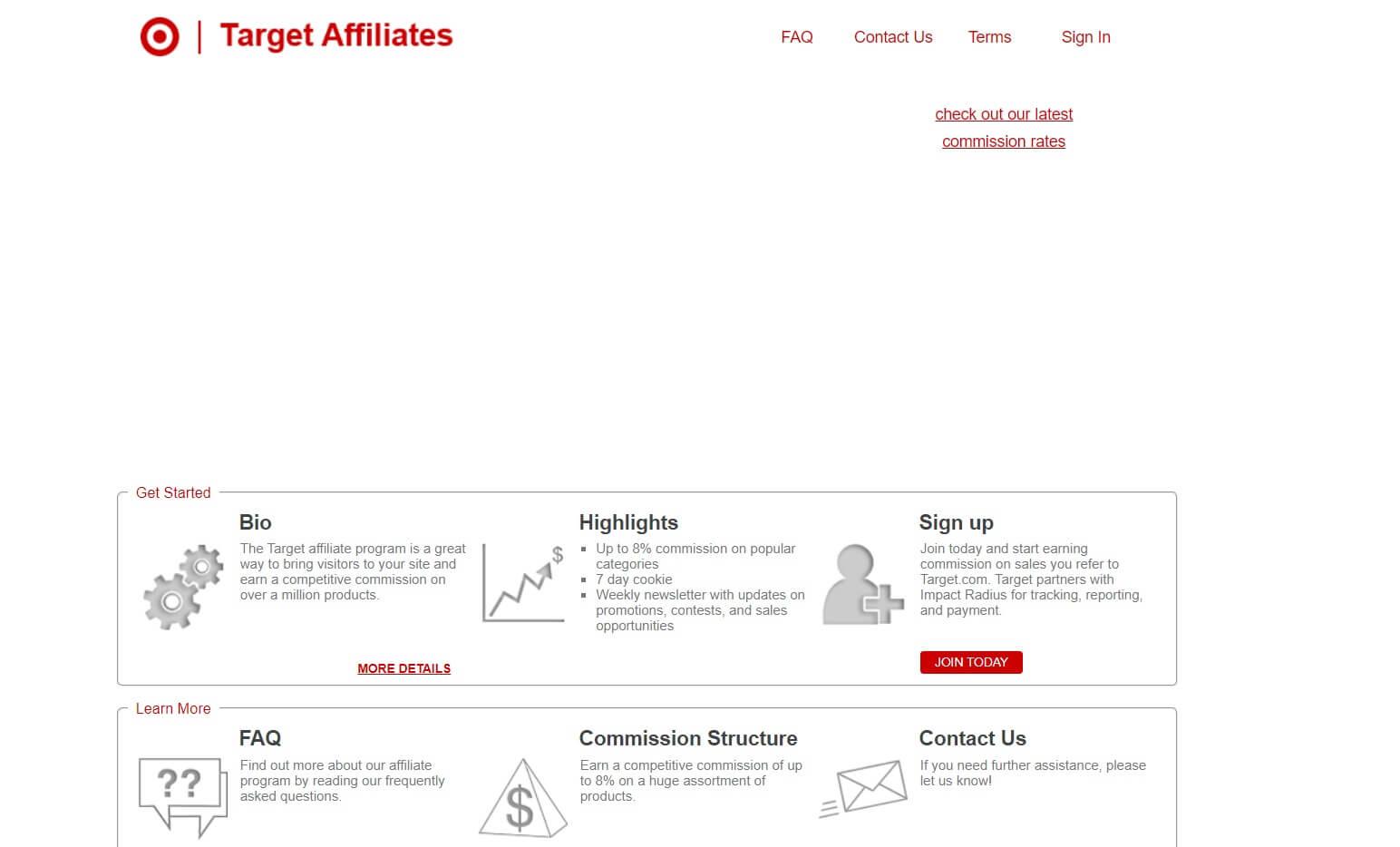 This affiliate marketing platform has dominated the U.S market for a couple of years now. Here you can find a great collection of various products such as health, home, apparel, and much more. Their variety and styles are unique because they have well-known merchants that offer excellent quality products.
Their registration process is very ingenious, and once you become their member, you can earn up to 8% commission on every sale that the affiliate makes. You must choose products as per your target audience as only then you would earn well.
They have great customer support; if you face any challenge while signing up or in any other area, you can directly contact them and resolve the problem as soon as possible. The best thing is that you can subscribe to their weekly newsletter and get updates on the latest offers and sales.
Pros:
Supports 7-day tracking cookies
Access to more than 150 up-to-date banners
Easy signup process
A diverse range of products
Cons:
You would need a large U.S based audience.
Commission rates differ as per the product.
Visit Now
This was about the best affiliate marketing platforms which you can choose from. The primary question that comes to many people's minds is what makes a good affiliate network? Let us understand a few points to consider before choosing a network.
Points to consider before choosing an Affiliate Network
1. Size: This is an essential factor to check on as if you are an advertiser, you would see if they have enough affiliates. Likewise, if you are an affiliate, you would see if they have numerous affiliate offers to promote. This factor is vital as not every vendor or affiliate can match each other.
If there are many merchants and advertisers, people like the network and its policies, which is why they are loyal to it.
2. Experience: Operating an affiliate network is not an easy task as a lot of cash flow is required, plus you have to stick to the legal requirements, transparency, and much more. There have been a lot of networks that disappeared overnight, and people never got their money.
Thus, it is paramount for you to choose an experienced network to avert such kind of trouble.
3. Reputation: It might be slightly tough to know and research, but you can get some information by reading the reviews. You can read reviews about various affiliate networks and see the ratings; this is the only way you can get to know their reputation and sense of working and payment.
Recommended:  20 Best Freelance Websites to Work From Home
Which network are you planning to choose? There were some of the best affiliate marketing platforms to choose from. You can select any platform as per your interest and preference as all of them are reliable and secure networks. This research would make it easier for you to find the right platform and save a lot of time and effort.