The era of freelancing has come as many have left their 9-5 jobs and have started to work as a freelancer. For those who are new and adapting to this culture, here are 20 best freelance websites to work from home.
Freelancing has now become the approved choice of working for professionals in different fields. Many people in India have started switching from regular 9 am to 5 pm jobs. The sole reason for this major change is that various other options help to earn a handsome amount without the need to strain ourselves by working for long hours. One of these options is freelancing.
Before we proceed further, let's have a look at what is freelancing?
What is Freelancing?
Freelancing is referred to the working style of a self-employed individual, without any long-term commitment to its employer.
In this guide, we have made an incredible list of those freelancing sites in India which will benefit you in finding excellent projects to match your skills, competence and assure you that you get paid timely. Trust us, working for these freelance websites will be worth your efforts. The earning may differ from site to site. It also depends on the type of work which you are going to apply for. Some sites afford the entire range of jobs while others narrow themselves to only one type.
Best Freelance Websites to Work From Home in 2020
Accordingly, you have to choose which freelancing site suits you the best. Listed below are the top 20 best freelance sites:
1) Upwork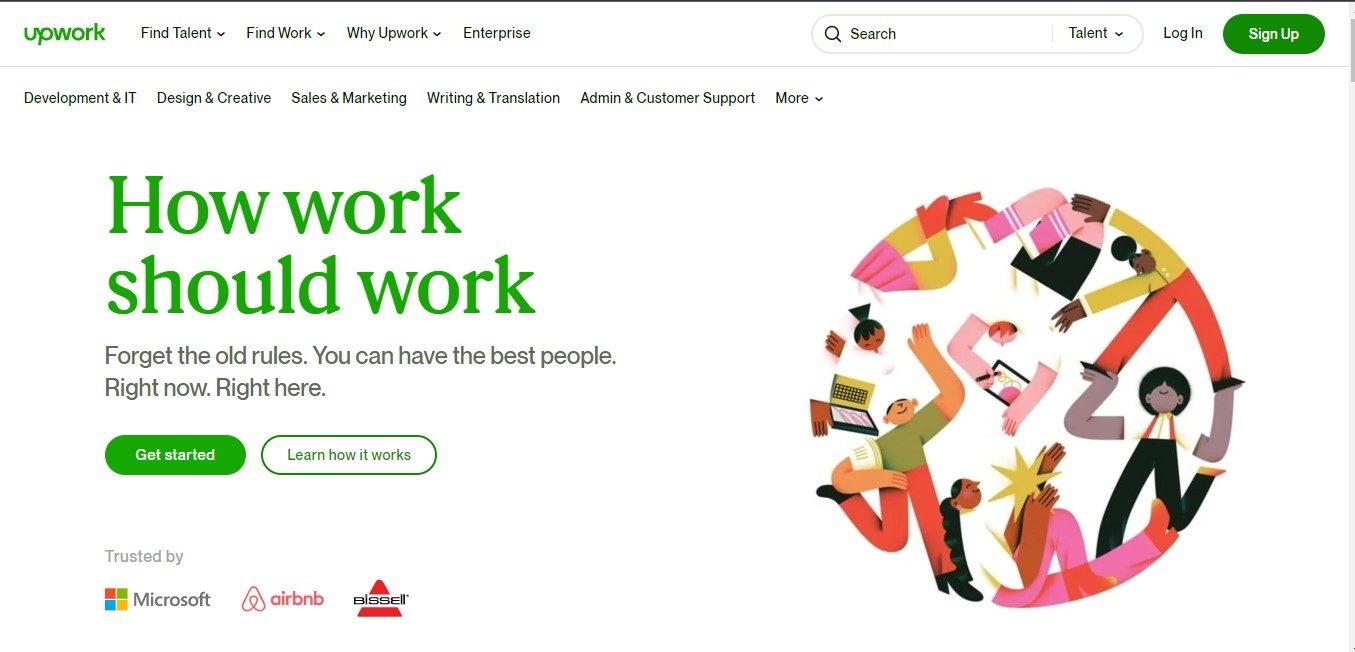 Upwork's former name was oDesk. It is one of the best websites for freelancers. It has more than 4 million clients and becoming more popular day by day. Upwork is one of the top-rated websites across the world. There is a wide variety of jobs such as writing, designing, sales, customer support, accounting, ethical hacking, and many more jobs. Upwork is mainly for top-rated professionals. Moreover, getting the profile approved on this site can be daunting. The payments made through Upwork are always secure.
Upwork has an impressive client list that comprises of names like Panasonic, Zendesk, Unilever, etc. It provides an array of jobs across various domains. Millions of people have shown trust in it. This website provides work for beginners as well as advanced/professional freelancers in any freelance job category.
Visit Upwork
2) Freelancer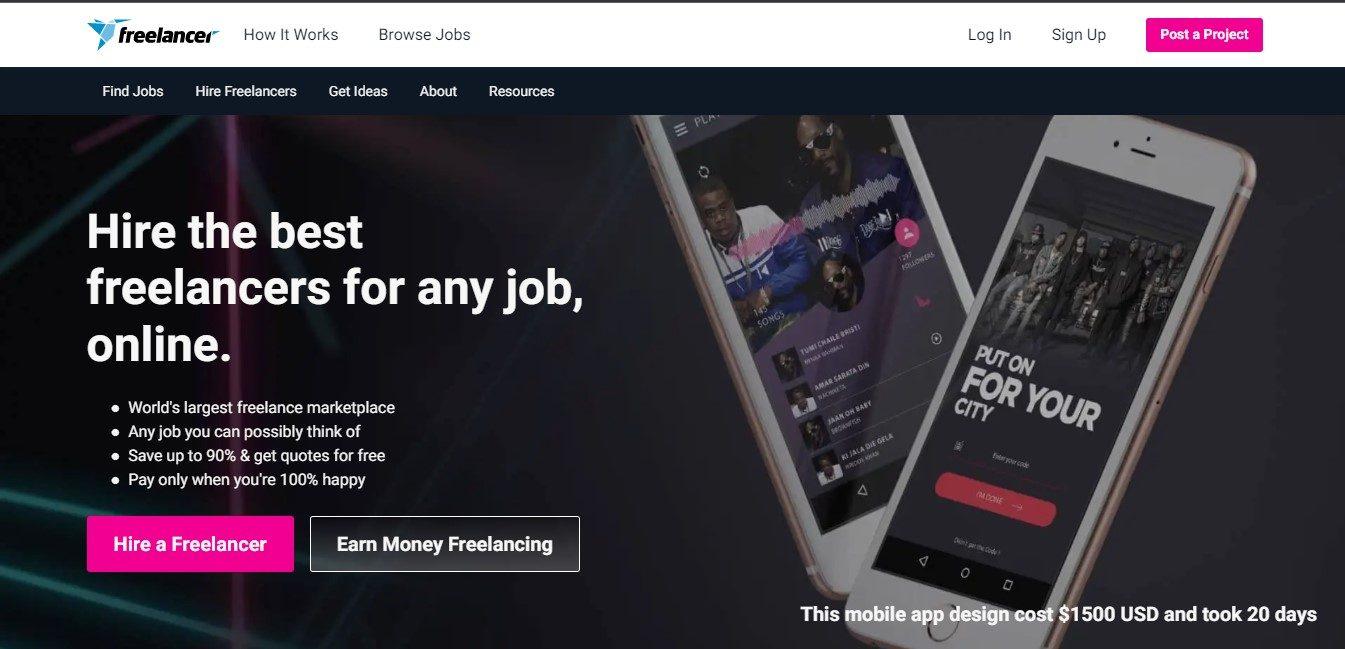 As the name itself suggests, it is one of the most straightforward websites and is used by lots of IT freelancers, usually in India, Pakistan, the United Kingdom, and the United States Of America. Freelancer is similar to Upwork. It has more than 17 million freelancers. All the jobs provided by these sites are legitimate and authentic.
Furthermore, Freelancer has a very fast payment process which gives it an upper-hand. This site also allows its freelancers to create Google listing of work completed by them. You need to compete for projects with the freelancers who might be working already on the same project and the client will pick an ideal which is they think is suitable for them.
Visit Freelancer
3) Fiverr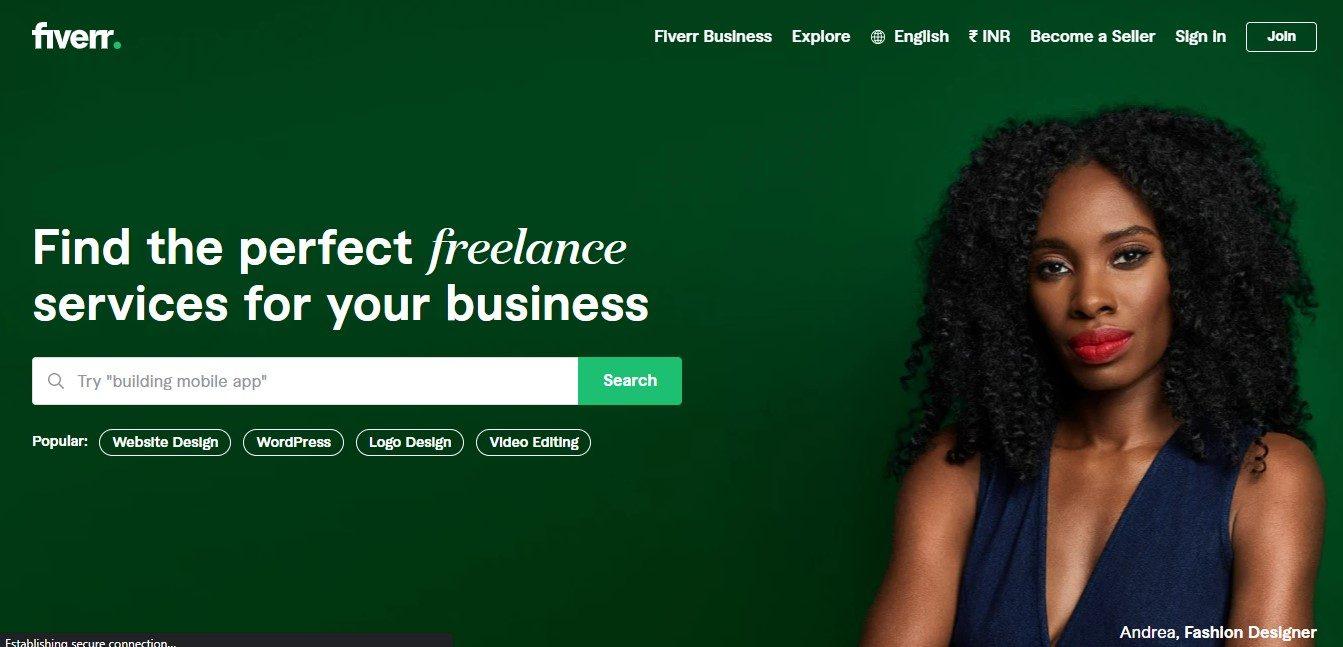 Fiverr is one of the best Indian freelancing websites offering jobs to many individuals. Fiverr started in 2010 with the fresh concept of dealing with freelance services globally. The price would depend on your skills, ability and the duration of the job you chose. It has now been used by millions of users. It provides you free learning courses to develop your competence level. It is simple and user-friendly.
Visit fiverr
4) Guru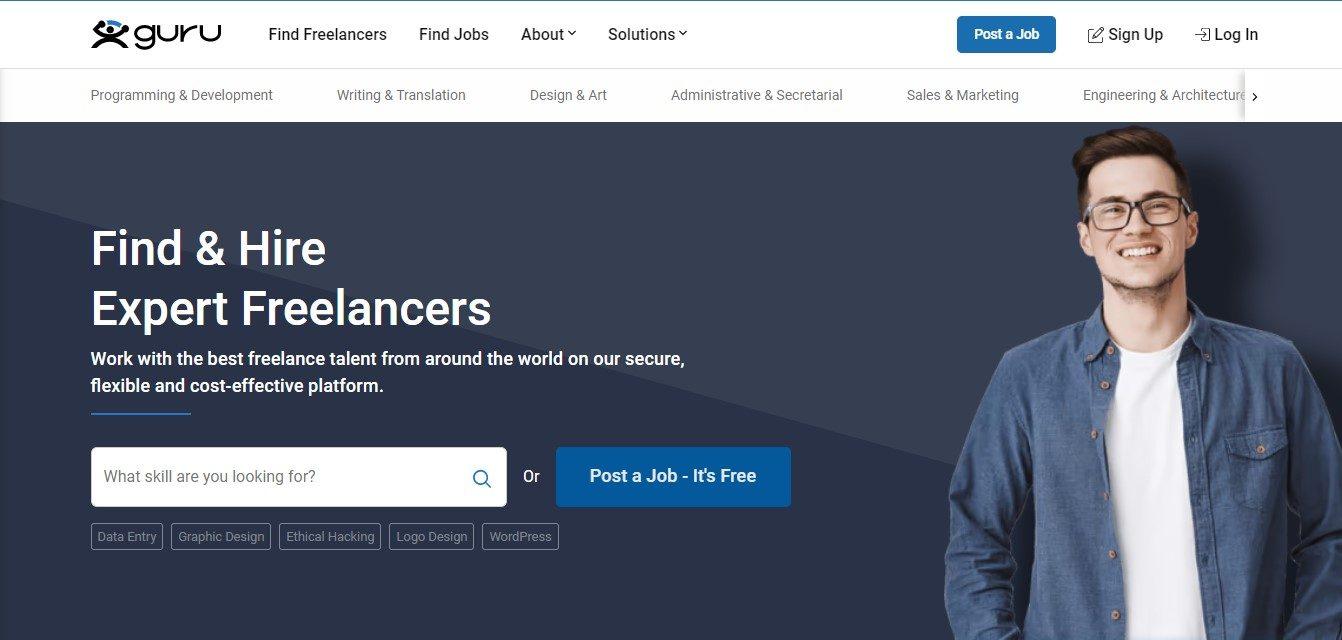 Guru was established in 1999 and was previously known as eMoonlighter.com. It is an online portal for advanced level freelancers. They work on the bib system and make really fast as well as secure payment. You can easily work on projects based on your experience. It offers you more than 3 million services. Moreover, it also helps you to decide whether the client will be a good match for your work or not.
Also Read: Online Jobs from Home Without Investment in India (2020)
Guru provides jobs in architecture, web development, writing, marketing, sales, administration and so on. Freelancers can create their profiles on the site and get their jobs. Freelancers can manage their activities from the workplace, no matter if it is their abode or some other place. It allows you to get paid not just by working hours but as per the number of tasks completed. One of the drawbacks of this website is that it does not handle the client accounts well.
Visit Guru
5) People Per Hour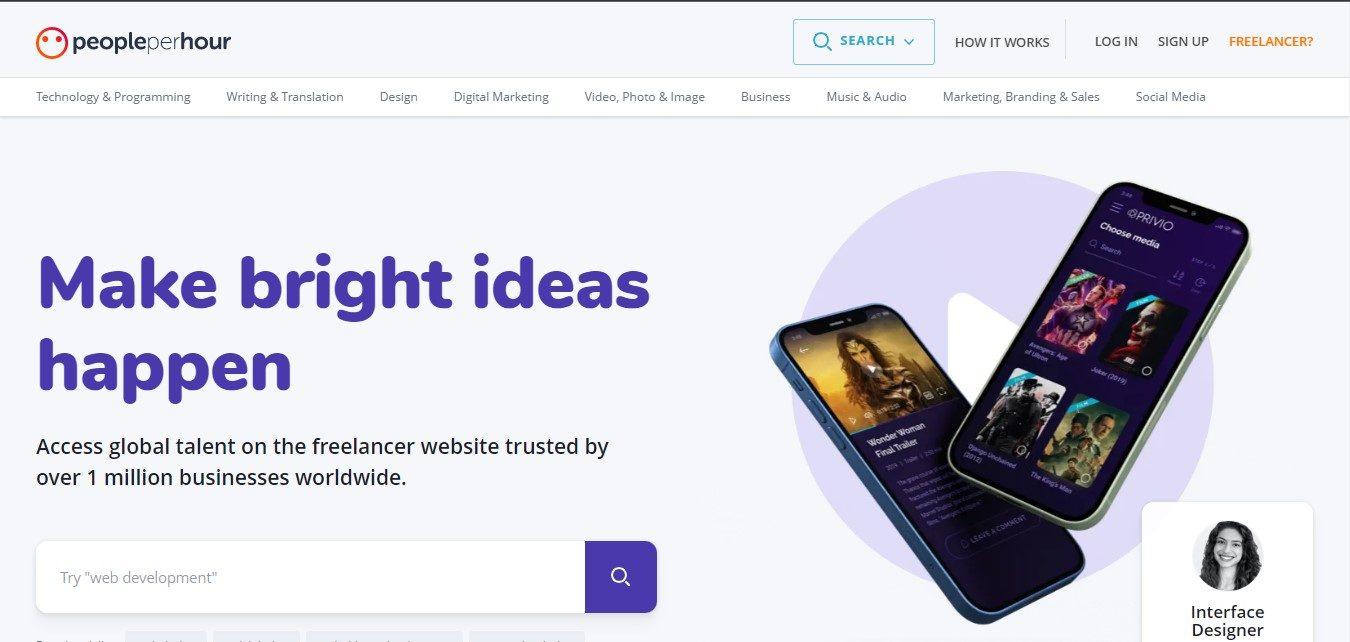 People Per Hour is an online market place to appoint a person with specific talent and pay them on a per hour basis. It is an ideal platform for freelancers who are looking to get their jobs in coding and designing such as logo design, 3D graphic, Word press, etc. This website has a Workstream that keeps all the records of work that you have done. It also helps the freelancers to grow their network exponentially.
Visit People Per Hour
6) Toptal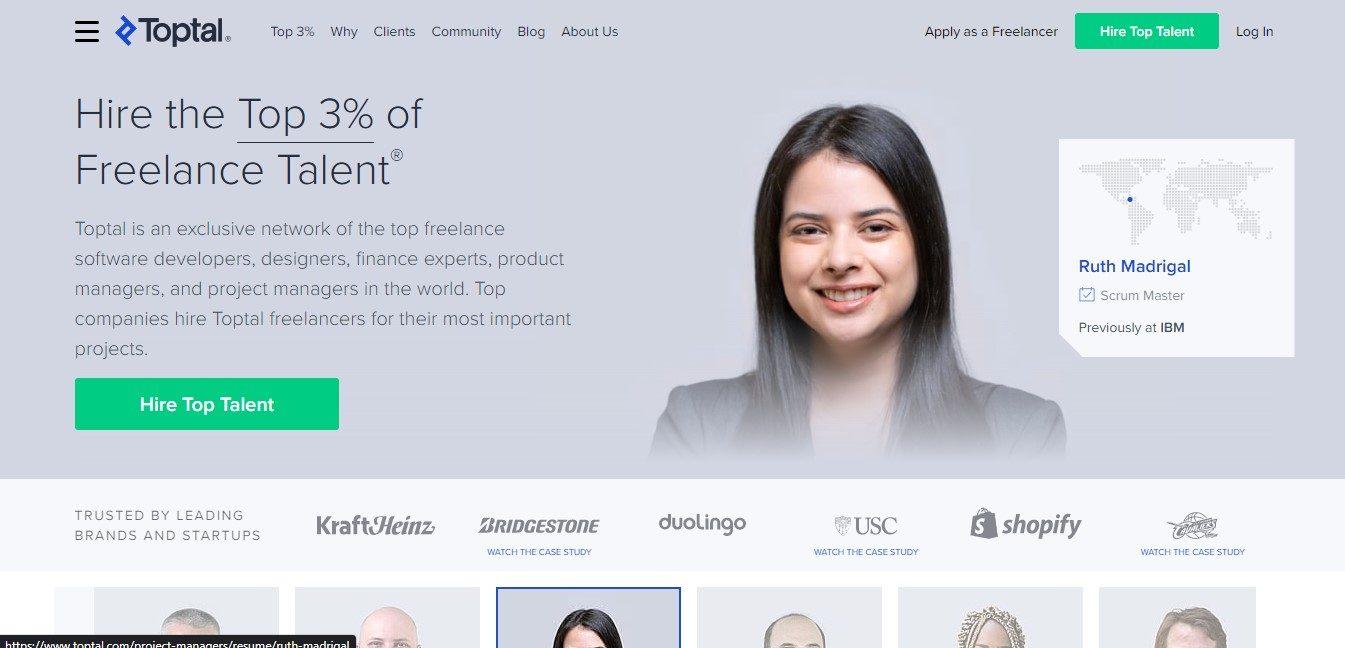 Toptal is a portal for qualified freelancers and is considered to be one of the leading freelance websites. This platform has been used by many developers and designers. They are very selective about the freelancers and based on the screening test, they appoint the freelancers to work for their websites.
If you are able to get over the screening round, it is a pretty great setup. They pay you a higher rate as compared to the other sites. If you are searching for a higher qualified developer for your startup then appoint your developer from Toptal. Entrepreneurs can make use of this site to get their work done within a reasonable budget.
Visit Toptal
7) Truelancer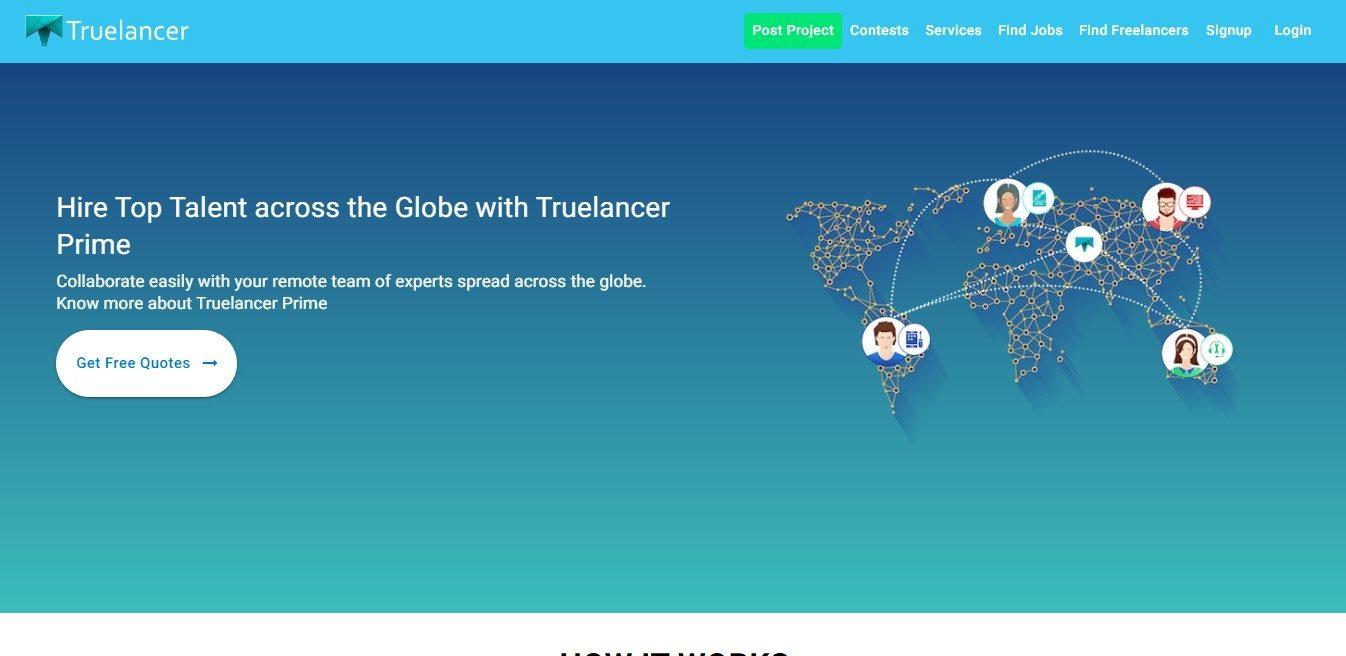 Truelancer websites include various projects in distinctive categories including Web designing, Computer programming, Marketing, Logo designing and much more. The process of the truelancer website is meticulously designed which assures freelancers that they will receive the payment hassle-free. Furthermore, this website is also app-friendly as you can use it through an app that provides you regular notifications of all the crucial job postings. This is one of its best features.
Visit Truelancer
8) 99designs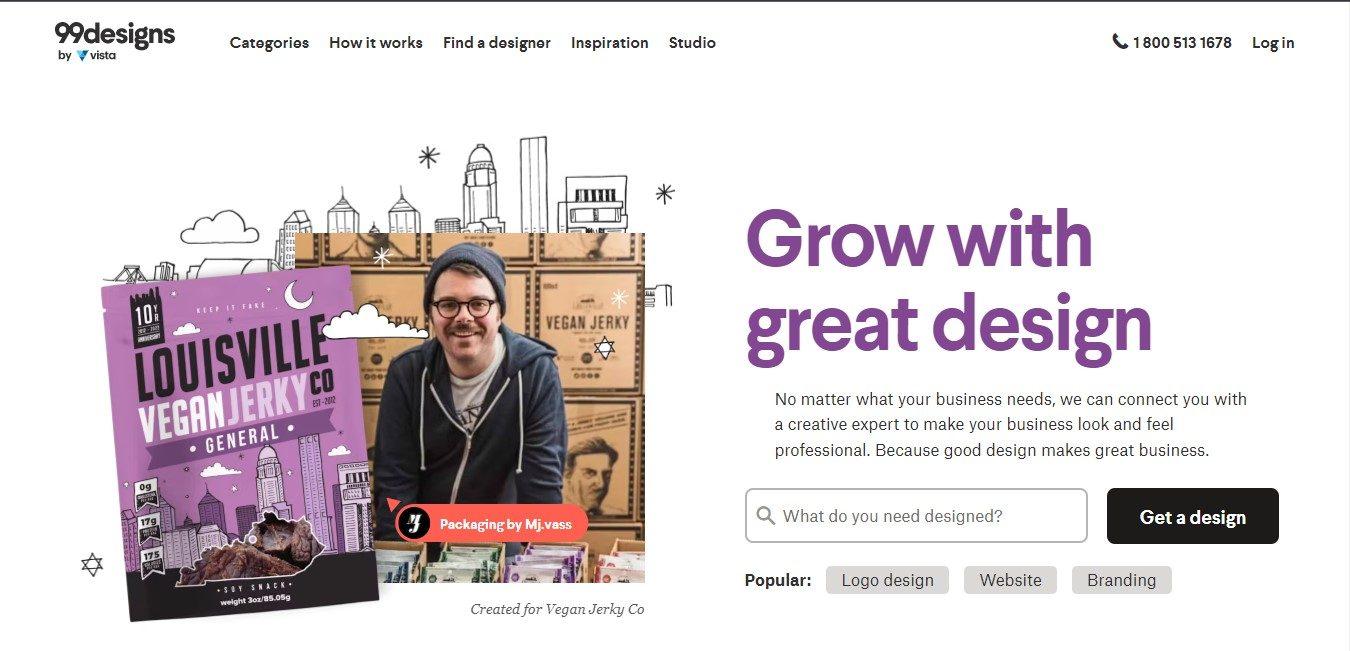 99 design is an ideal website for freelance logo designers. The website only leases out the freelancing projects on designing various categories be it website, t-shirt, app and many more. You can also enhance your creativity and knowledge with its up to date articles and video tutorials. This site provides ample opportunities for aspiring designers.
Visit 99designs
9) Envato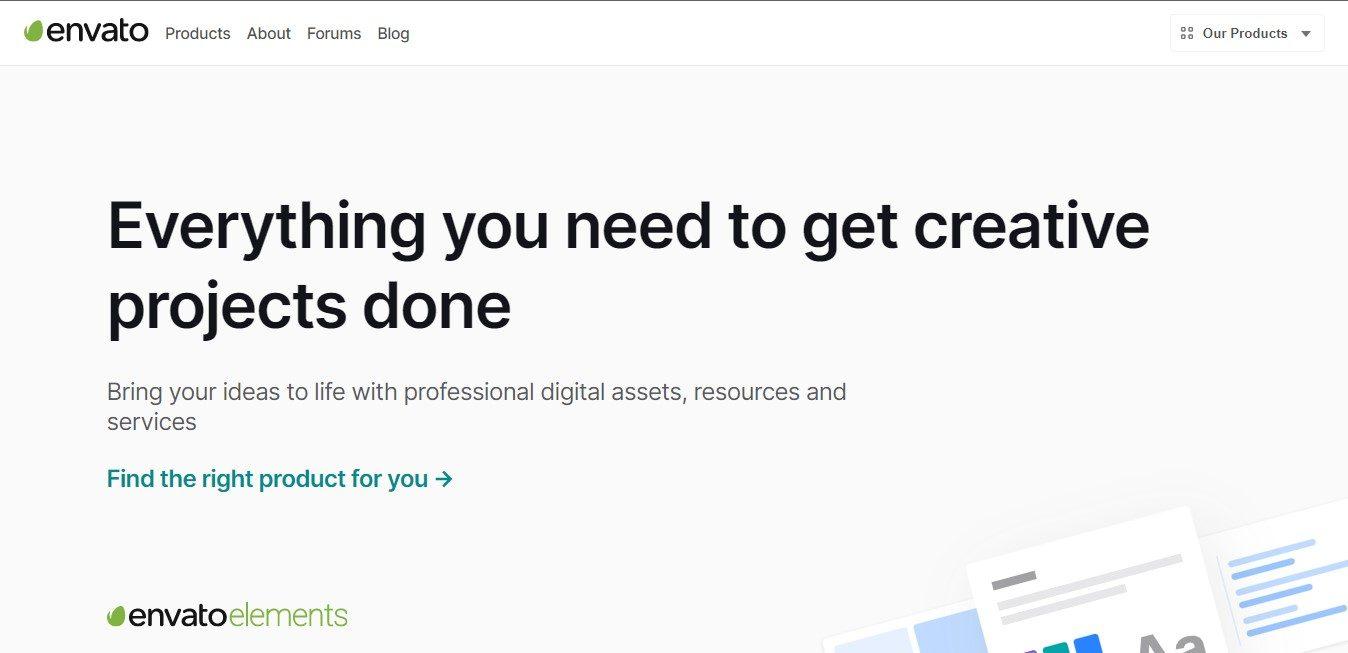 Envato was established as a freelancing website that targets mainly professionals looking for short term and long term projects on various job categories including web designing animation, Graphics, and video editing. This website also allows its clients from around the entire world to appoint not just the talented WordPress developers and designers but also app developers. Freelancers working with this website upload their sample work, and expected payroll for giving high-quality work.
Visit Envato
10) WorknHire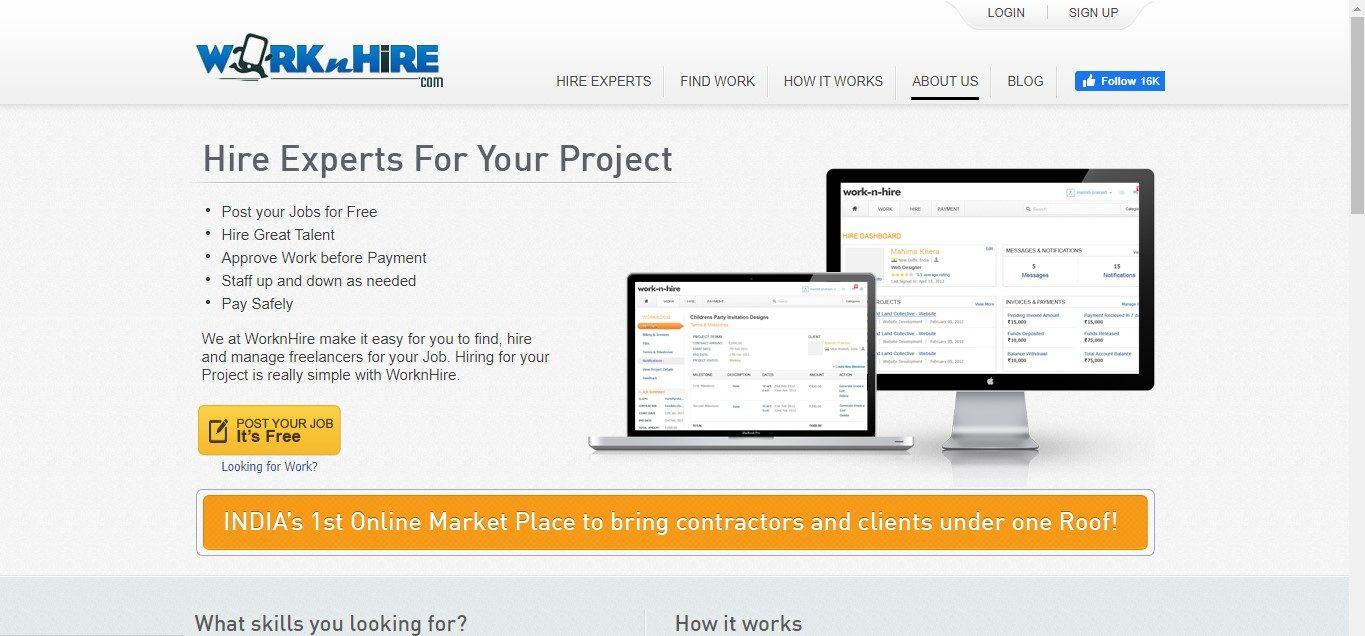 WorknHire is one such freelancing website in India that connects contractors and clients under the single roof. WorknHire includes numerous job opportunities for freelancers across the world such as programming, copywriting, data entry, logo and graphic designing. This site also provides a virtual desktop to manage your project and it is one of the best platforms for beginners. As a freelancer, you are assured when you are working with WorknHire as it is featured with the escrow system of payment which makes your payment safe and secure.
Recommended: 18 Best Online Part-Time Jobs For Students To Earn Money
Being a freelancer, you can easily connect with the clients through this website who are nearby to your location. You can also connect with them while you are offline and assure them more job opportunities in the future. You can opt for this website even if you are a freelancer or owner of any reputed company as it can help you get your jobs/tasks done within your budget.
Visit Worknhire
11) Dribble
Dribble allows freelancers to display their work which helps them to find the job suitable for them. You can ask for help, ask questions, answer queries and do a lot more. Dribble website is not comprised of bid culture. One of the major benefits of this website is that you get feedback from the other designers who are your competitors which helps you to improve and grow.
The payment method could be dependent on the task or the client. Dribble is an online community for designers who searched the job through the list and then apply directly from the websites. You also have an opportunity to create a freelance business profile and provides you ample opportunities if you are a seasoned designer.
Visit Dribble
12) Simply Hired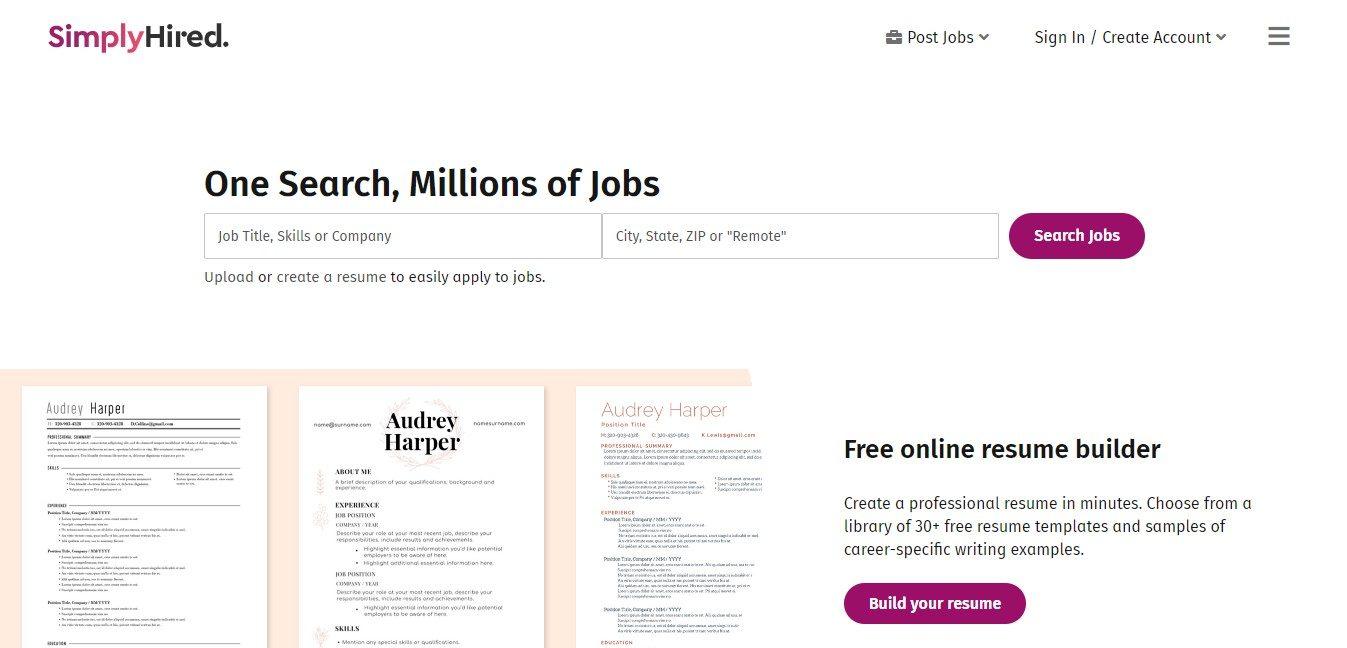 One of the best things about Simply Hired is that you can peruse those freelance jobs which are nearby to your location. It will also help you to set a benchmark for a specific work you want to do.  You can earn a handsome amount but it also depends upon the project you are undertaking and on what payment terms you and the client have mutually agreed upon. Simply Hired is not limited to freelancing jobs, as it comprises of full-time salaried job options too.
Visit Simply Hired
13) Youth4Work
Youth4Work is a portal that includes part-time and full-time job opportunities which are specifically for students. Various types of tests needed to be cleared by the students in order to get selected. Whatever you sore in the tests will be reflected on their portal. Clients and companies will select and give you the work according to your performance and the marks you have scored in the tests.
Visit Youth 4 Work
14) Freelance India
Freelance India is running as a freelancing site in the country for more than a decade. This site provides work in numerous categories and permits the freelancers to create Google listing to their work. You can opt for Freelance India membership free of cost or you can also go for the paid membership. The benefit of opting for the paid membership is that you get more work out of it and boost your scope of earning. One major disadvantage of this portal is that it is difficult to find jobs.
Visit Freelance India
15) Design Hill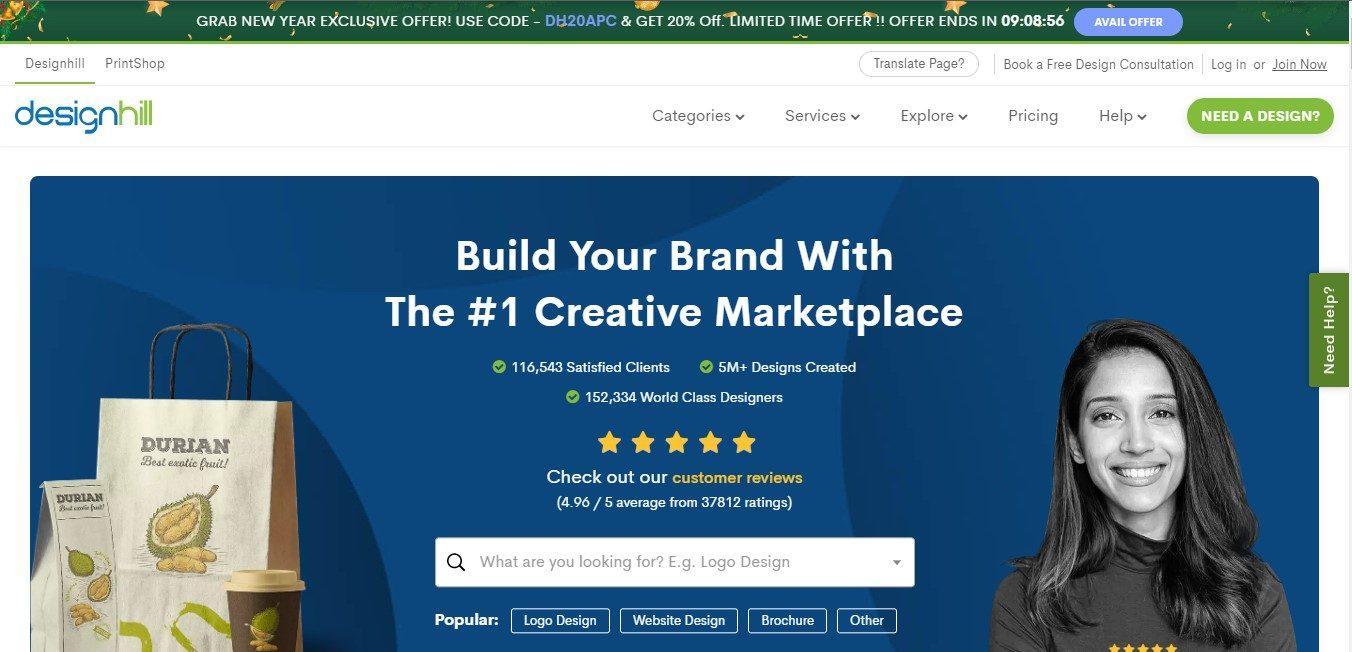 Design hill is a leading graphic design freelance websites in India. Design Hill is basically for the graphic designers which further helps them to connect to the client from all over the world. If we talk about how it works, then the clients post their design requirements. Freelancer designers will approach those posts and when they get work from those clients who have posted it, they complete their tasks and submit their application.
Visit Design Hill
16) Behance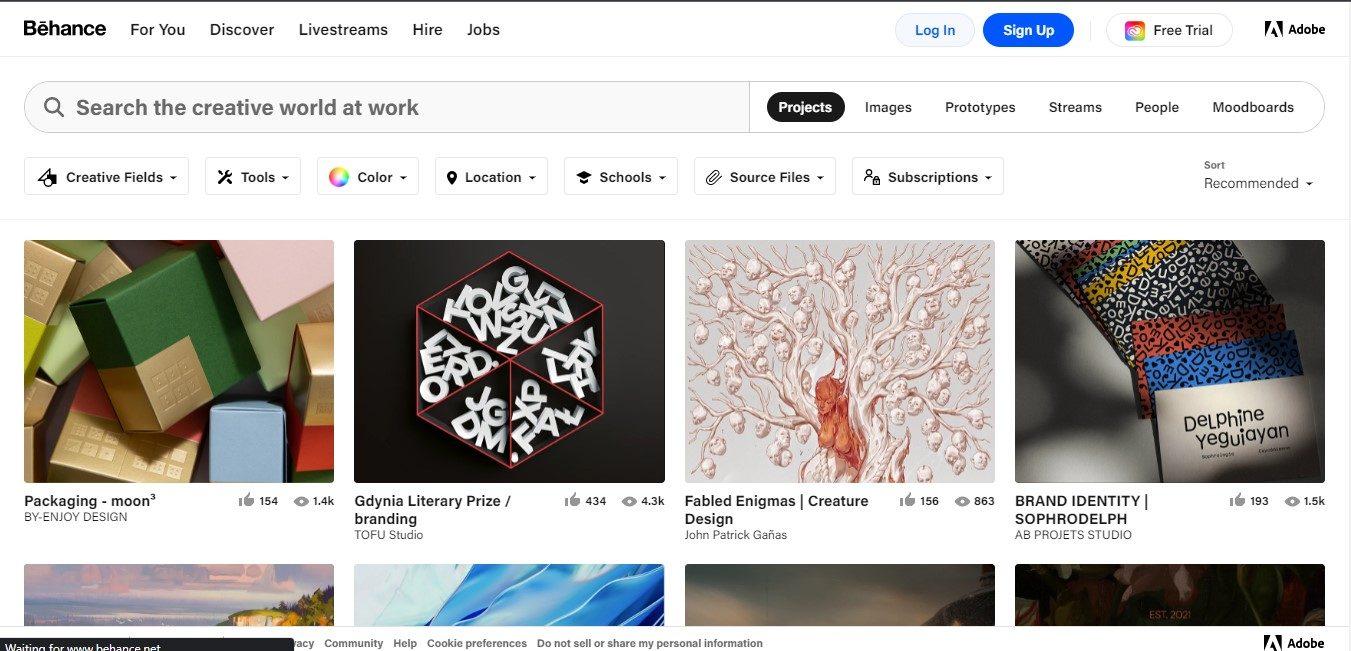 You can discover and display your work on this website. This website facilitates you to perform creative work be it photography, graphic designing, architecture, etc. The pricing of the project entirely depends upon the client. Behance is one of the best platforms for designers to display their talent and lets them explore many new opportunities.
Visit Behance
17) Publoft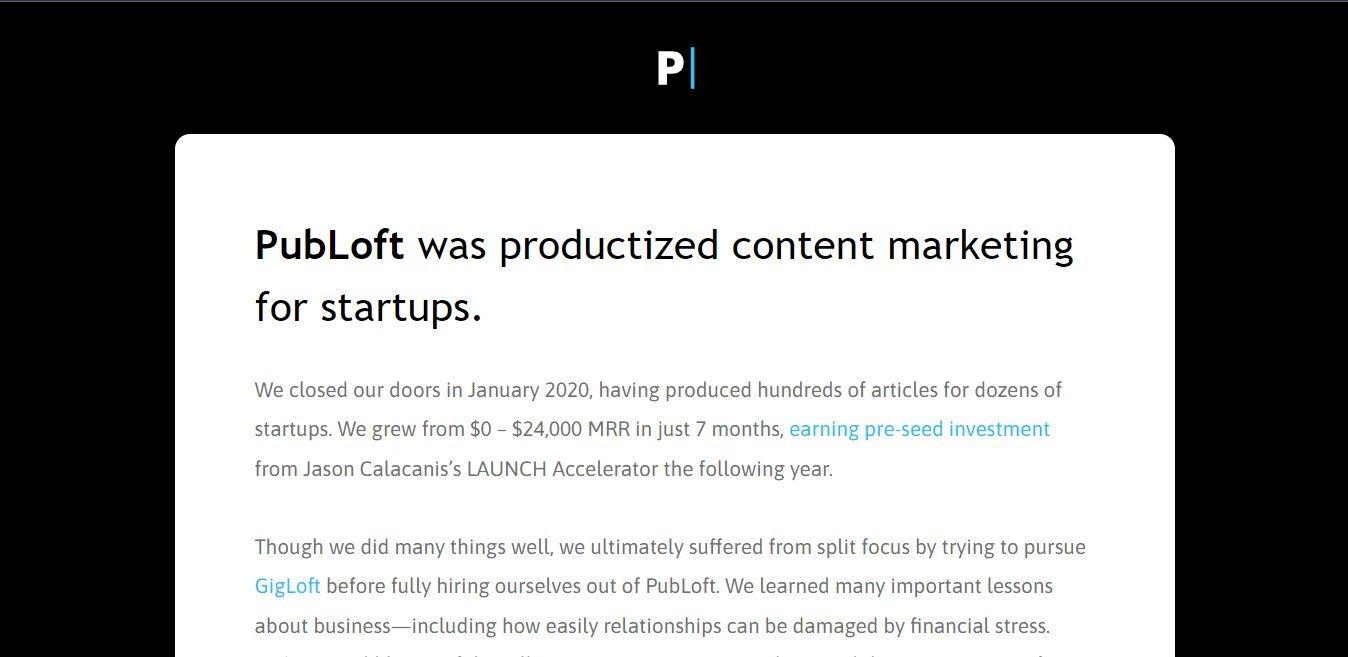 Publoft is a marketing service startup assigned to provide businesses and startups along with marketing strategies. You can easily find a job without client interaction. The freelance program at Publoft can give an excellent price for your content if the quality is up to the mark as per their requirements. As a freelancer, your work is handled by editors who further help you in the correction.
Visit Publoft
18) Freelance Writing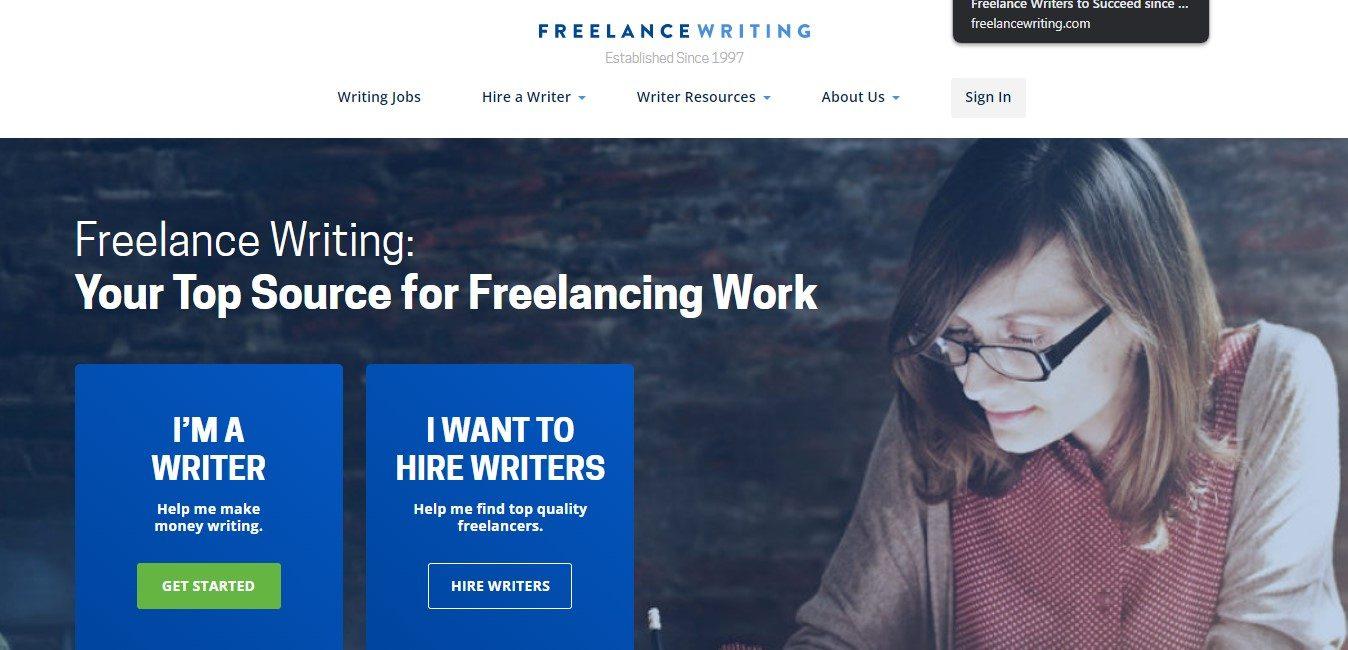 Freelancing writing was established in 1997. Freelance writing is a platform for freelance content writers which helps them get the best possible writing gigs and the price per word. The site is for writing poetry, SEO articles, newsletters, etc. It is convenient for any kind of person who is looking to find a freelancing job to do in their free time. You can become its member for free of cost. The scope of content writers is increasing across the world and so for this website.
Visit Freelance Writing
19) Craigslist
Craigslist acts as a channel through which you can find work. A freelancer can find a job in a nearby city or area and becoming a member of this site is free of cost. It includes many jobs related to telecommunication through which you can earn a decent amount of working for your clients without leaving your comfort zone.
Visit Craigslist
20) Kolabtree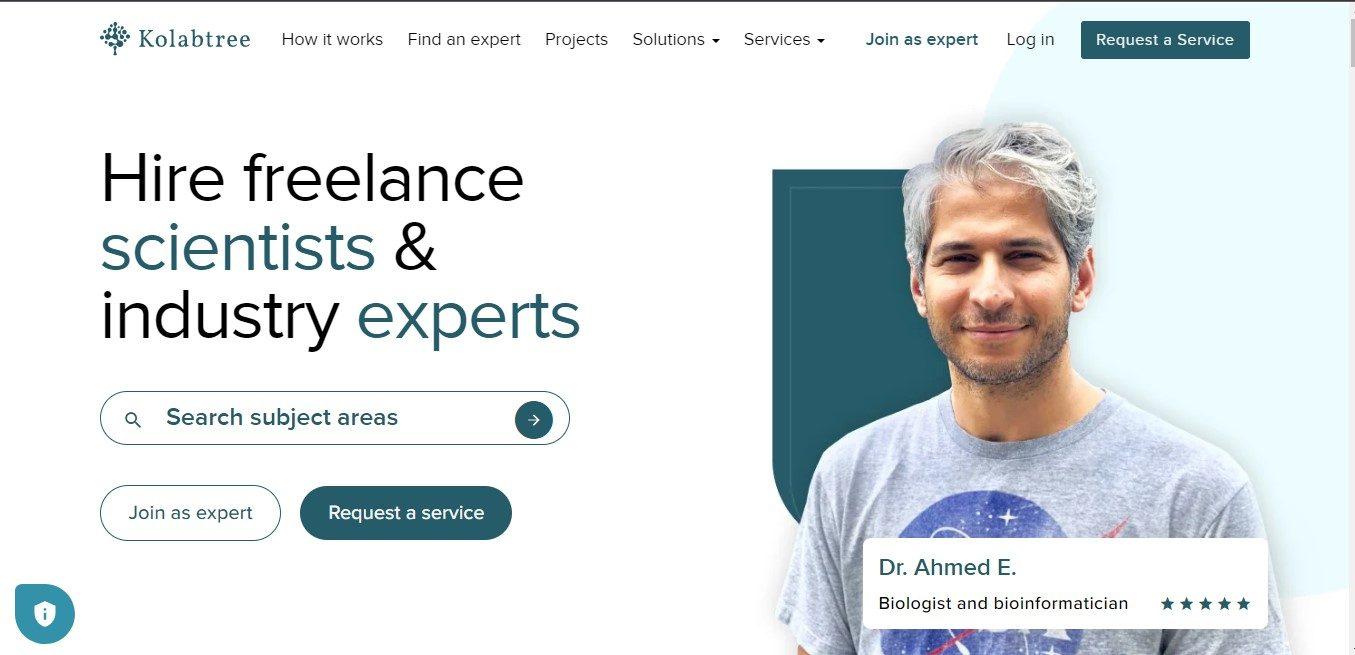 Kolabtree is a freelance platform for medical and scientific streams where you can appoint and consider the top-level scientists from all over the world. Projects related to medical writing completed by a professional or someone with the degree of bachelor's or master's degree. It is not an ideal platform for regular content writers who have not written anything over medical and scientific streams.
Visit Kolabtree
Also Read: 10 Best Credit Cards For Freelancers In India
Conclusion
As now you have got to know that freelancer is the one who has much flexibility in choosing your profile and job type. You can find plenty of jobs type in all the websites mentioned above. The payments through these sites are fully verified be it any projects you work on. These freelance sites provide you projects based on your experience, whether you are a novice or seasonal. Create your profile on these sites and live your dreams.
Happy Freelancing!