In today's fast-paced world, where everyone is looking for ways to earn money quickly and easily, mobile apps have emerged as a convenient solution. With the rise of smartphones and internet connectivity, there are now several money earning apps available in India that offer a range of opportunities to make money, from taking surveys to completing microtasks and even investing in stocks.
These apps not only provide an additional source of income but also offer flexibility and convenience, allowing users to work from anywhere and at any time. In this article, we will take a closer look at some of the best money earning apps in India and explore how they can help you boost your income.
Top money earning apps in India to boost your income
| | | | |
| --- | --- | --- | --- |
| Money Earning Apps | Ratings | Reviews | Downloads |
| Roz Dhan | 4.1 | 281K | 10M+ |
| Meesho | 4.3 | 3.25M | 100M+ |
| mCent | 2.8 | 726K | 10M+ |
| TaskBucks | 4.0 | 997K | 10M+ |
| Cashbuddy | 3.5 | 85.4K | 10M+ |
| Userfeel | 3.4 | 1.84K | 100K+ |
| Dosh | 4.5 | 46.3K | 1M+ |
| U (You) Speak We Pay | 2.5 | 14.1K | 500K+ |
| Sheroes | 3.6 | 7.63K | 1M+ |
| ySense | 3.0 | 3.37K | 1M+ |
| EarnKaro | 3.9 | 16.4K | 1M+ |
| Swagbucks | 4.2 | 82.1K | 1M+ |
| Pocket Money | 4.3 | 367K | 10M+ |
| Google Opinion Rewards | 4.3 | 3.13M | 50M+ |
| FeaturePoints | 3.4 | 122K | 10M+ |
| Frizza! | 4.2 | 93.8K | 5M+ |
| Inbox Dollars | 4.6 | 7.89K | 50K+ |
| Toloka | 4.4 | 294K | 10M+ |
Are money earning apps legit?
Yes, there are legitimate money earning apps that offer users the opportunity to earn money. However, it's important to be cautious and do your research before downloading and using any money earning app.
Some money earning apps may require you to complete tasks or take surveys in exchange for money or rewards, while others may involve investing in stocks or cryptocurrencies. It's important to read the terms and conditions carefully and understand the risks and potential rewards associated with using the app.
50 Best Money Earning Apps In India
Looking to make some extra cash? Check out these top money-making apps! From taking surveys to selling your unwanted stuff, there are plenty of avenues to consider. Don't worry about comparing them, as they are all superlative in their own way. So why not give them a try and start earning a decent amount of money today?
1. Roz Dhan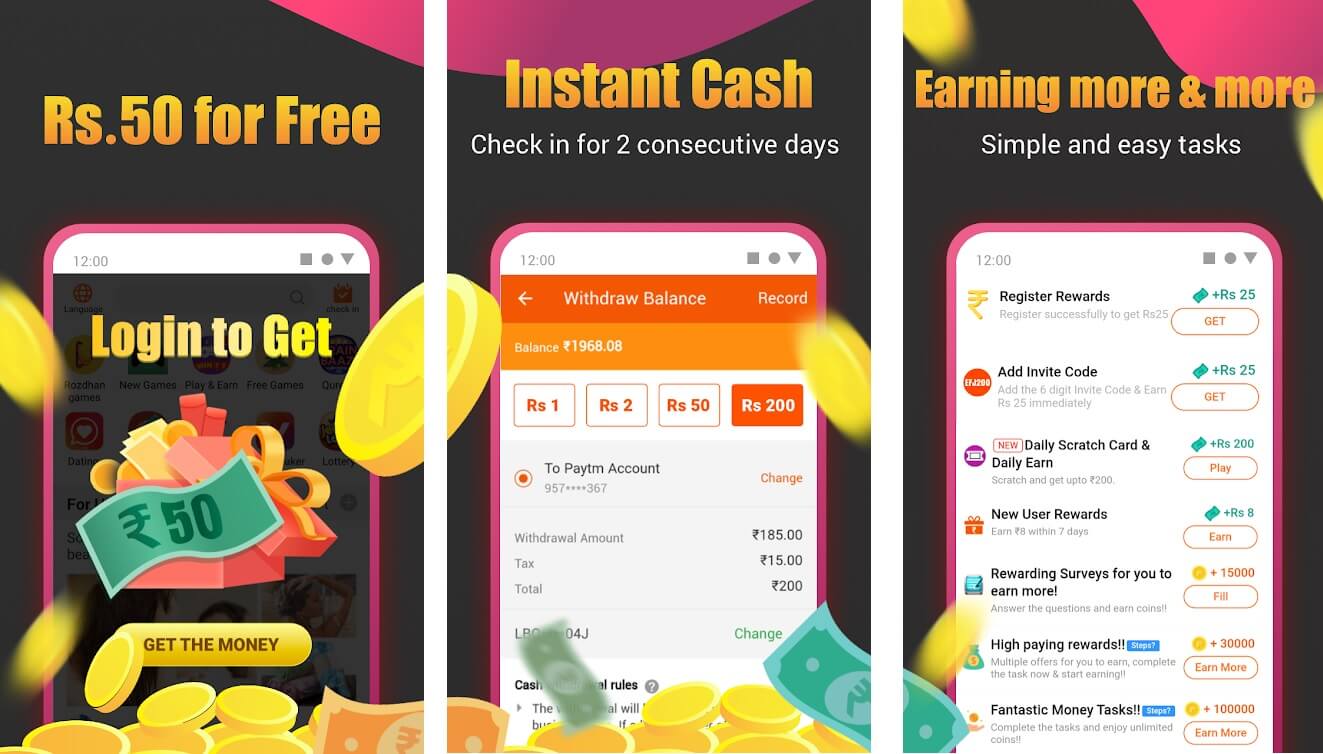 Roz Dhan is one of the most trusted apps that is best-known for earning money online. It is an entertainment app offering multiple options such as earning rewards for inviting friends, participating in contests, reading the news or latest updates, installing other apps, playing games, completing surveys, etc.
Have you ever thought of making money along with burning calories? You might be glad to know that one can even earn money by walking and counting their steps with this app. Some other tasks that help you make bonus revenue include checking your daily horoscope, visiting famous sites, and solving puzzles.
Just like many other apps, Roz Dhan uses a Paytm wallet to credit your earnings. This app is translated from Hindi, which means daily money. Along with providing good entertainment, Roz Dhan provides all users with robust earning potential.
| | |
| --- | --- |
| App Name | Roz Dhan |
| Ratings | 4.1 |
| Signup Bonus | ₹50 |
| Referral Bonus | ₹10/Refer |
| Expected Monthly Earning | ₹1000 |
| Download App | Download |
2. Meesho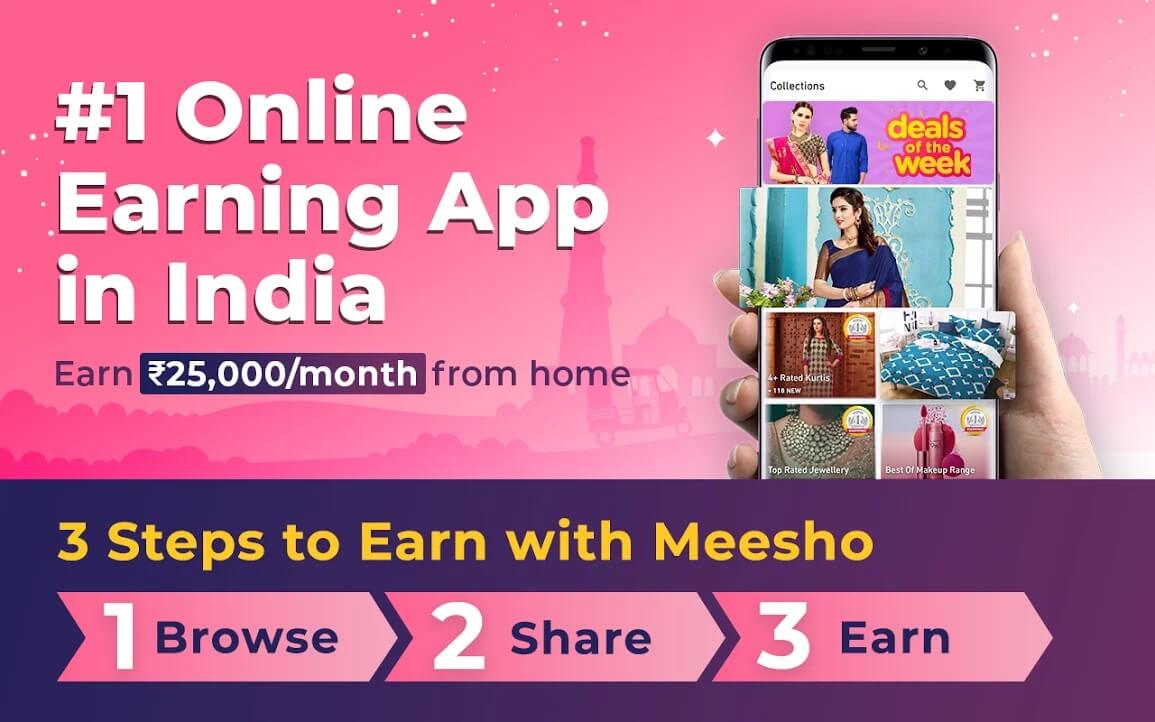 Signing up with Meesho can help you become an entrepreneur. It is an excellent reselling site that provides you with flexible options for people who want to start their own business online.
No matter if you are a student or housewife, and looking for earnings without investing capital. You just need to download this app, choose the product type, and category you want to deal in. You will get the wholesale prices for all the products over this enormous reselling platform.
You can share images, and product descriptions of the product over social media platforms, including Facebook, Whatsapp, Instagram, Twitter, etc. Let everyone know the final price of the product after keeping your marginal profit.
| | |
| --- | --- |
| App Name | Meesho |
| Ratings | 4.3 |
| Signup Bonus | ₹200 |
| Referral Bonus | ₹350/Refer |
| Expected Monthly Earning | ₹2000 |
| Download App | Download |
3. mCent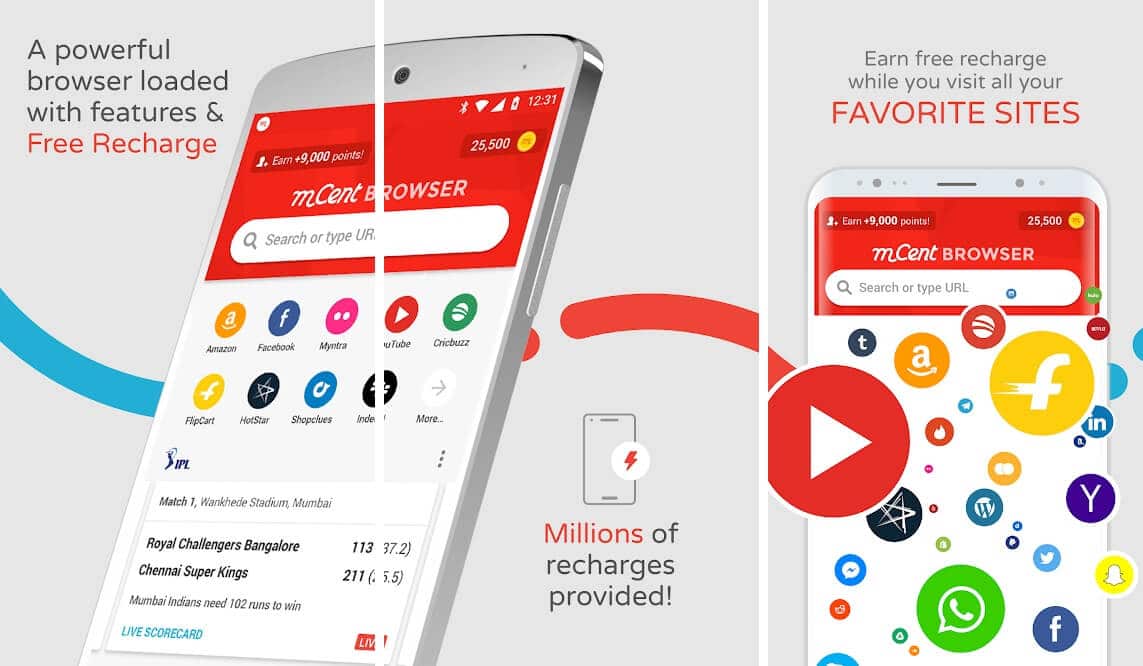 Want to earn money for simple referral tasks? mCent app is the most feasible option for users who focuses on getting money rewards for referrals. It also allows you to earn free mobile recharges through a set of tasks such as downloading specified apps, visiting other websites, watching videos, and opening affiliate links.
This app links your Paytm account for seamless processing of cash rewards. With mCent, you also do not need to worry about your data pack, as it also rewards its users with a free data pack, which applies to all mobile networks in India.
You are rewarded for completing online tasks, reading the latest news, browsing a specific piece of information over the internet, checking Facebook, watching movies, and videos.
To earn rewards, you simply need to download this app on your smartphone and start using this app (Instead of Safari or Google Chrome) as your browser. It is available for Android and iOS users.
| | |
| --- | --- |
| App Name | mCent |
| Ratings | 2.8 |
| Signup Bonus | ₹50 |
| Referral Bonus | ₹25/Refer |
| Expected Monthly Earning | ₹1000 |
| Download App | Download |
4. TaskBucks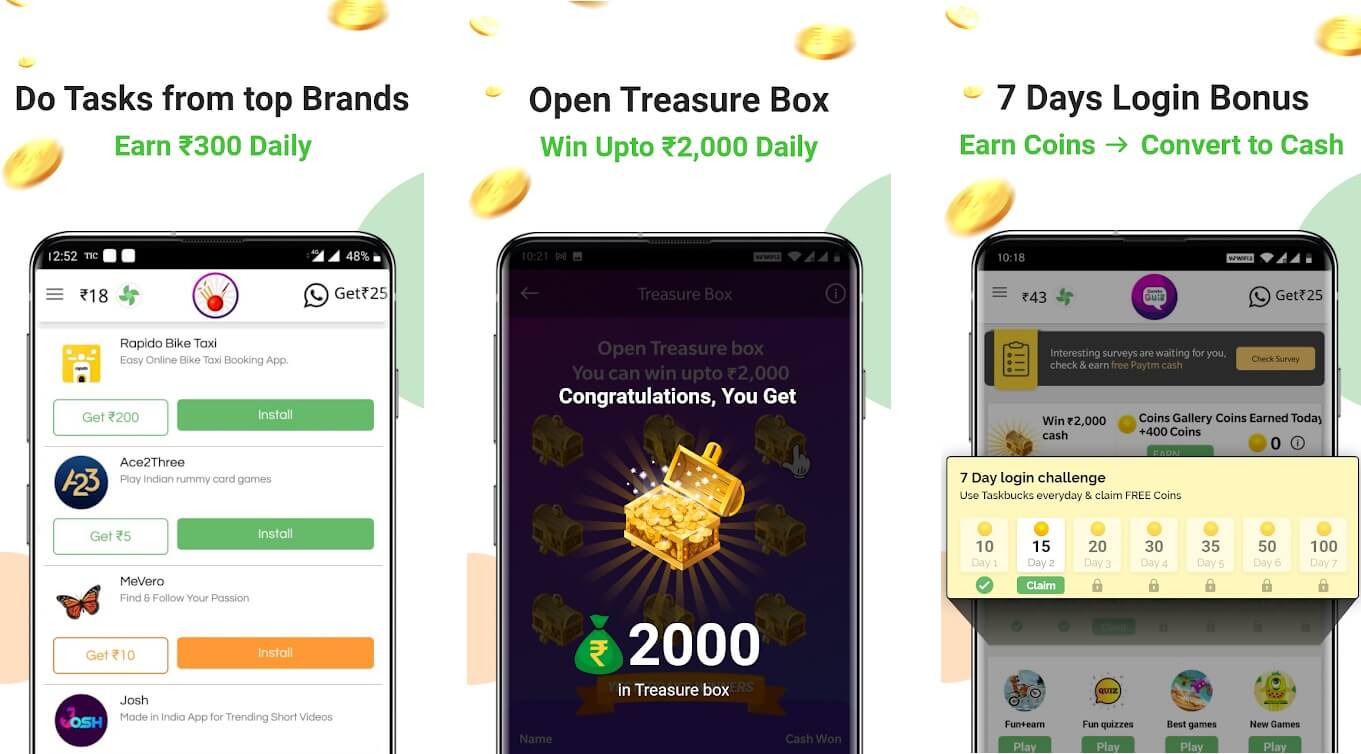 TaskBucks is one of the best money earning apps in India that help you earn bonus revenue for executing simple tasks such as downloading other apps, visiting other websites, viewing ads and videos, referring to your friends or relatives, sharing opinions, completing surveys, and participating in contests. From referrals, you can earn up to Rs. 70 per day through TaskBucks.
You can earn up to Rs. 70 per day through referrals. Yes, you have heard it right! This app is not available on iOS. Only Android users can take advantage of this app.
The money earned can be redeemed by recharging your mobile phone or you can also take cash out via Mobikwik or Paytm wallet.
This app is best known for providing free Paytm cash, mobile recharge and data recharges, Mobikwik money, and Postpaid mobile bill payments up to Rs. 500 per month.
The coins you earn through this app need to be transferred to your Paytm or Mobikwik wallet. Moreover, you can also win Extra coins that are up to 10,000 coins each day by participating in daily contests and playing Quiz.
| | |
| --- | --- |
| App Name | TaskBucks |
| Ratings | 4.0 |
| Signup Bonus | ₹9 |
| Referral Bonus | ₹63/Refer |
| Expected Monthly Earning | ₹1500 |
| Download App | Download |
5. Cashbuddy
Cashbuddy app rose to prominence in the Paytm cash niche. You can make decent money with this app by downloading specific apps, sharing pictures and GIFs on social media platforms, and completing tasks.
The app lets you earn cashback by shopping on multiple e-moe-commerce stores, including Jabong, Amazon, Flipkart, Myntra, and many more. Primarily this app acts as the middleman between the interface and your Paytm wallet.
Moreover, your Paypal balance can also be transferred to your Cashbuddy account. The app also offers the user with some other additional benefits such as:
Find top trending deals and coupons

Discover the highest cashback deals and redeeming them seamlessly

Additional discounts above the sale

Earn cashback on a successful purchase
| | |
| --- | --- |
| App Name | Cashbuddy |
| Ratings | 3.5 |
| Signup Bonus | ₹10 |
| Referral Bonus | ₹220/Refer |
| Expected Monthly Earning | ₹4000 |
| Download App | Download |
6. Userfeel
Userfeel app is based on a different concept and pays all its users for usability testing on desktop, mobiles, and tablets. But why? Usability testing is imperative to increase and enhance a website's performance. It allows businesses to see themselves through their user's eyes.
It is effortless to make money with this app as it asks you to participate in tests. After the completion of tests, you get paid for exploring and visiting new websites, providing feedback, and performing other simple tasks on the website.
However, if you want to earn money with Userfeel, you need to undergo a 'qualification test' recorded for both voice and screen as you walk through allotted tasks. The video of your qualification test is recorded and uploaded on the Userfeel server.
| | |
| --- | --- |
| App Name | Userfeel |
| Ratings | 3.4 |
| Signup Bonus | N/A |
| Earn per test | ₹500 |
| Expected Monthly Earning | ₹10,000 |
| Download App | Download |
Each test's duration ranges between 15 to 25 minutes that can be completed with your desktop, mobile, or tablet, and you are paid up to Rs. 500 for completing a test.
7. Dosh App
It is an excellent app as if you shop or dine using Dosh, you would get rewards and cashback. They give cash back on various kinds of spending, but you get extra on booking hotels, shopping, and dining. The reason why people like using it is because you get paid when you shop.
You get paid for doing nothing; all you require is to link your debit/credit card with the Dosh App, and it would automatically give you cashback whenever you shop, travel, or eat using your card. In addition, this app is easy to use, and there is no signup fee, and the registration process is also pretty simple. Thus, Dosh App is a great way to earn passive income.
| | |
| --- | --- |
| App Name | Dosh App |
| Ratings | 4.5 |
| Signup Bonus | ₹80 |
| Referral Bonus | ₹800/Refer |
| Expected Monthly Earning | ₹10,000 |
| Download App | Download |
8. U Speak We Pay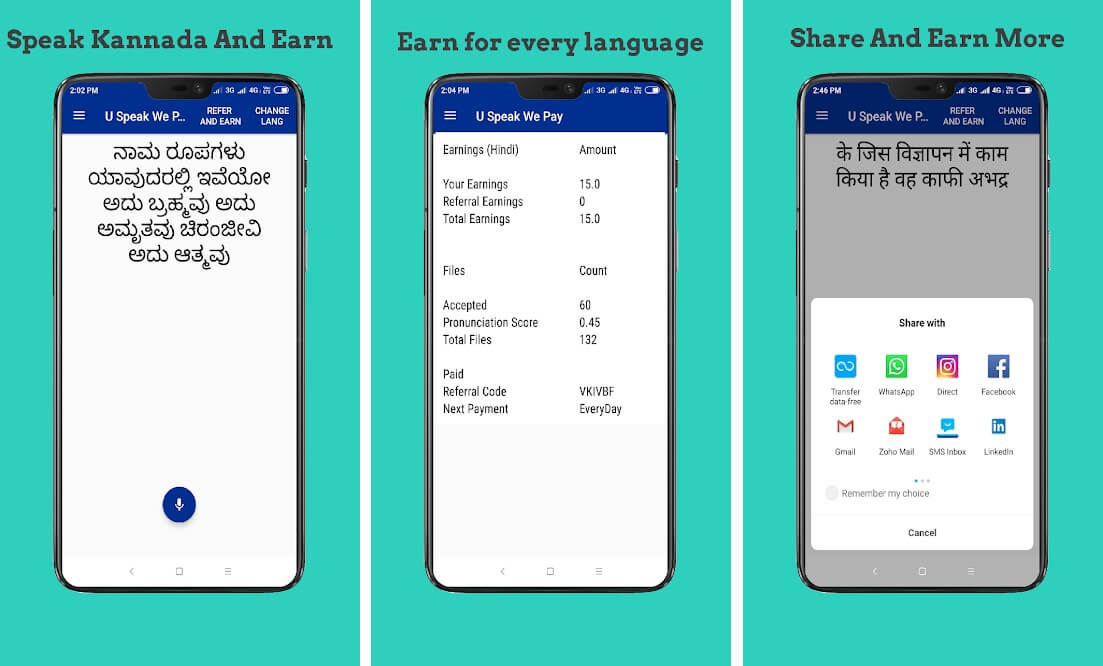 The name itself implies the concept and rewards system of this app 'U Speak We Pay.' It merely pays its users for reading out the messages on display. Once you finish reading, you are offered actual cash into your accounts.
You might be wondering what benefit the company is getting for making other people read the messages. These messages read by various users from all over India is being used as a database to train AI systems in speech-related capabilities and voice recognition. 
There are more than 2 lakh registered users of this app and more than 13000 reviews on the Play Store. 
Listed below are the steps to follow to earn money through this app:
Download the app to your device, and sign up using your Gmail ID

Select your preferred language between Malayalam, Punjabi, Urdu, Kannada, and English.

Click on the record button while ensuring you speak correct pronunciation of each word with clarity

On successful completion, you will receive money in your account
This app also offers referral bonus rewards, just like other money earning apps.
| | |
| --- | --- |
| App Name | U Speak We Pay |
| Ratings | 2.5 |
| Signup Bonus | ₹25 |
| Referral Bonus | ₹50/Refer |
| Expected Monthly Earning | ₹1000 |
| Download App | Download |
9. Sheroes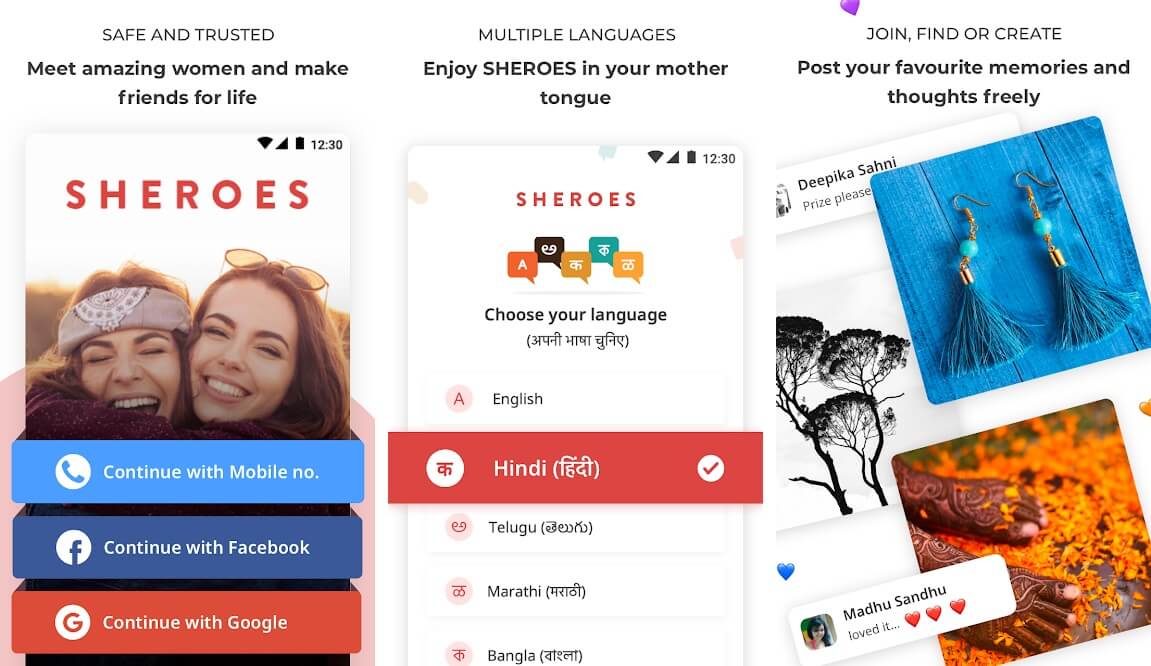 Sheroes is a safe, secure, high empathy, and reliable social platform only for women. It is a chat-based helpline powered by communities developed in the interest of women. 
It is considered to be the largest social networking app for women helping them share their interests through various videos and posts, find and share food recipes, get free health and legal advice, use the free women helpline, get free beauty and fashion tips, work from home opportunities with renowned companies, and learn about reselling.
Even if women are not qualified with a degree, they can still get ample opportunities to work through this app and get certified as a MARS partner to find full-time or part-time remote work.
This app also allows women to get free career counseling from career professionals, attend workshops, do online courses, learn new skills, and much more. Apart from offering these opportunities, Sheroes provides counseling services for domestic violence, treating clinical depression, getting the right pregnancy advice, parental tips, baby care advice, and vaccinations.
Also Read: Top 20 Money Transfer Apps & Wallets in India
10. ySense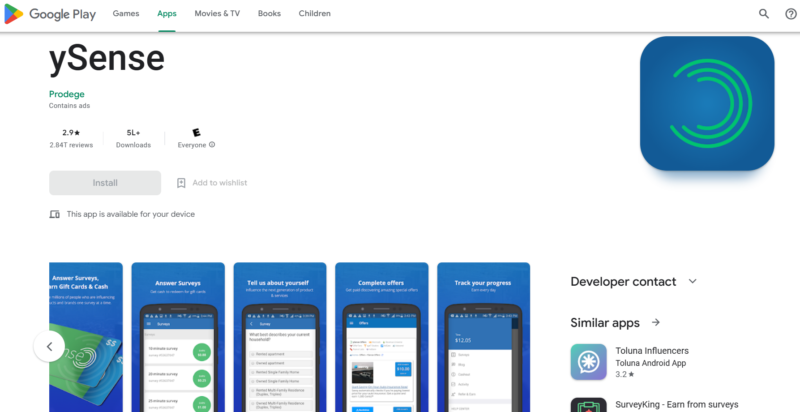 One more of the best money earning apps in India is ySense, which enables you to make money by completing paid surveys, signing up for apps and websites, watching videos, experimenting with new goods and services, and engaging in affiliate marketing. By using this money-making tool for affiliate marketing, you may make a respectable income.
You can easily make up to $1,000 per day as all of the app's revenues are in US dollars. Once you request a payment, they carry it out within 5 to 7 business days. PayPal, Payoneer, and Skrill all offer withdrawal options for your earned money.
| | |
| --- | --- |
| App Name | ySense |
| Ratings | 3.0 |
| Signup Bonus | ₹20 |
| Referral Bonus | ₹150/Refer |
| Expected Monthly Earning | ₹3000 |
| Download App | Download |
11. EarnKaro App
Swati Bhargava founded this app; she is the co-founder of CashKaro, one of India's best cashback apps. Making money from EarnKaro is pretty easy as all you need to do is share deals with your friends and followers. You can switch your e-commerce link into EarnKaro links and share them on social media platforms.
It is similar to the affiliate marketing programs, as here, you need to promote products and services listed on Earnkaro's app and website. If someone shops using your link, you get your commission paid in cash. You can transfer this money into your bank account without any issue. Therefore, it is a very easy and simple method to make money for students, mothers, and homemakers.
| | |
| --- | --- |
| App Name | EarnKaro |
| Ratings | 3.9 |
| Signup Bonus | ₹30 |
| Referral Bonus | 10% of friend's earnings |
| Expected Monthly Earning | ₹10,000 |
| Download App | Download |
12. Swagbucks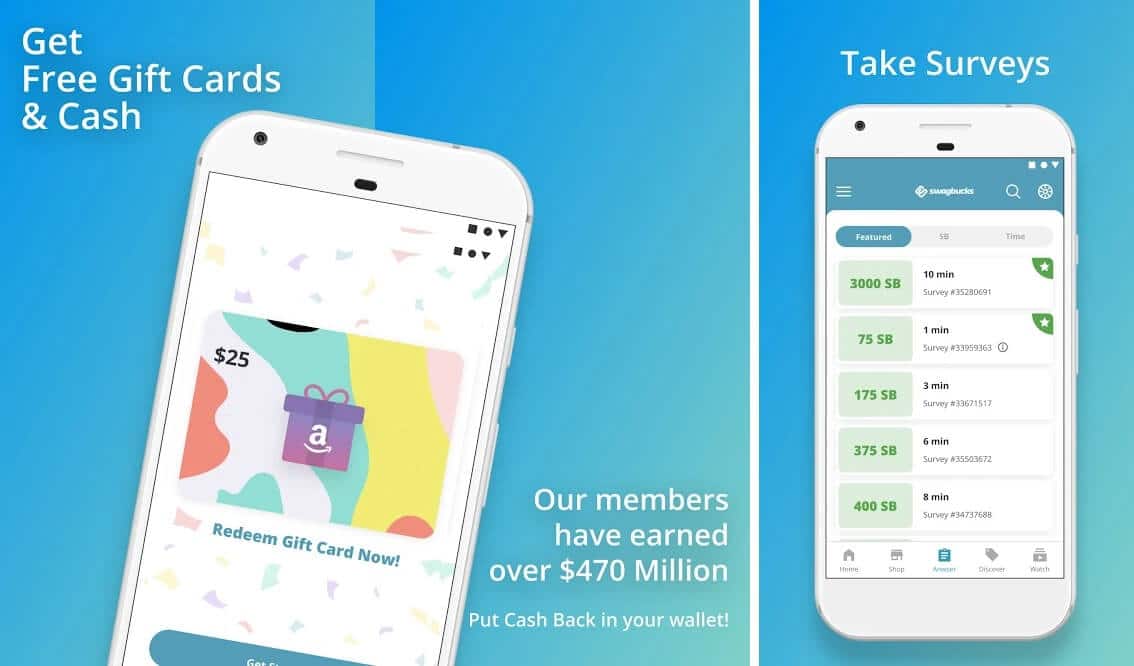 Members using Swagbucks can earn daily. Users need to play games, complete quizzes, fill surveys, browse through the internet, read the latest updates and news, watch promotional videos and ads, open other websites, and do lots of entertaining stuff to earn immensely.
The app does not process the cash rewards directly; instead, it rewards you with Amazon, Starbucks, Walmart, Flipkart, and PayPal vouchers.
It is hassle-free to earn money with this user-friendly app. You just need to download this app on your device and log in daily to earn Swag points on every activity. Do not forget to invite your friends to earn more (10% lifetime commission); yes, that's true! You will be able to request a cash out via PayPal once you reach 750 Swag points and redeem the amount.
| | |
| --- | --- |
| App Name | Swagbucks |
| Ratings | 4.2 |
| Signup Bonus | ₹800 |
| Referral Bonus | 10% of friend's earnings |
| Expected Monthly Earning | ₹15,000 |
| Download App | Download |
13. Pocket Money
You can earn extra money with Pocket Money app by locating well-liked and lucrative offers, doing tasks, watching films, and participating in tombola. They provide a referral programme as well, which pays out Rs. 10 for each referral. The app's user interface is really simple and updated often with fresh deals.
It's not even necessary to establish an ID or password to register on the app. Various types of offers can be found on the app, including high-paying offers, time-sensitive offers, gaming offers, quizzes, etc. You must perform certain tasks for each category, such as downloading applications, completing survey forms, playing games, or recommending apps to your contacts to earn cash. You can make up to Rs. 500 if you do all of the activities of the day. To request a withdrawal, you must have at least Rs. 20 in your Pocket Money app wallet.
| | |
| --- | --- |
| App Name | Pocket Money |
| Ratings | 4.3 |
| Signup Bonus | ₹5 |
| Referral Bonus | ₹160/Refer |
| Expected Monthly Earning | ₹7,000 |
| Download App | Download |
Also Read: How to Earn 10000 dollars Per Month?
14. Google Opinion Rewards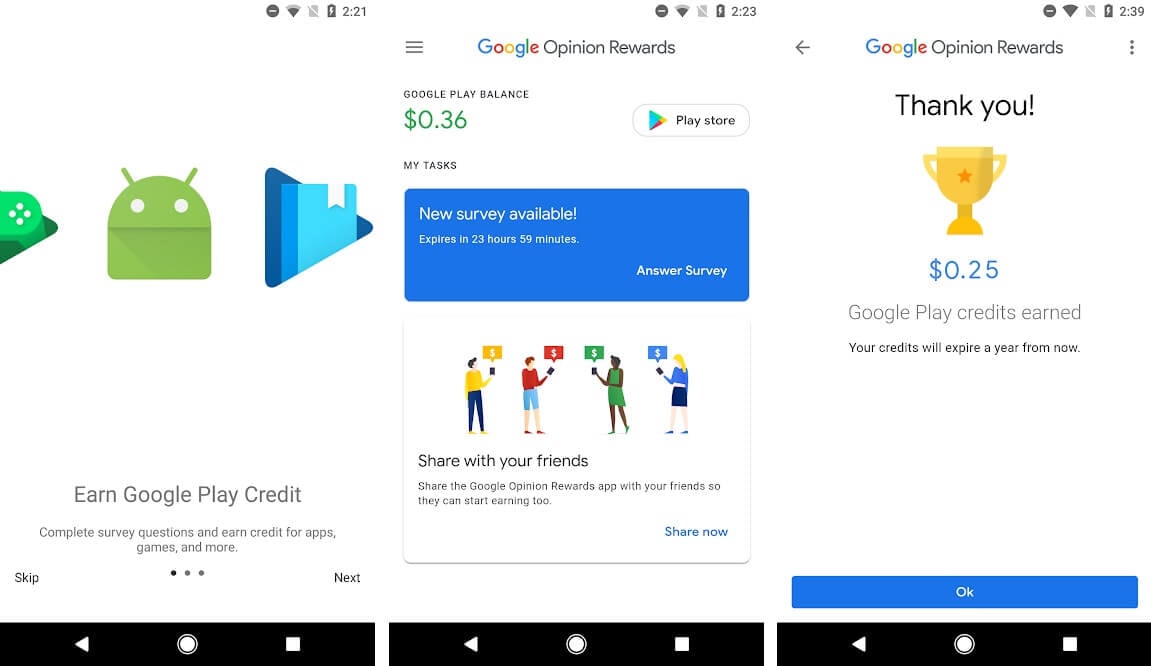 Google Opinion Rewards is one of the most famous money earning apps in India. It is a paid survey app that offers you to pay for completing surveys for cash.
Signing up with this app is straightforward. Just after you download the app, create your account and register yourself. Once you sign up, answer quick surveys and earn Google Play Credit with this app.
It provides you with another opportunity to earn money by asking you a simple set of questions. If you answer those questions, it will pay you up to Rs. 32 for each answer. The questions it asks may include what your ideal travel destination is? Which product has a significant demand? Which promotion is most compelling? Or any other.
However, if you think of randomly answer the survey questions to get away with it and just to earn money, the practice can be easily detected, and you will not receive more surveys to fill in the future.
The money earned as Google Play Credit through this Google Opinion Rewards can be redeemed to purchase games, online shopping, purchase movie tickets, music albums, and other Play Store apps.
15. Feature Points
Customers can earn FeaturesPoints by using applications, participating in surveys, making purchases online, and scratching cards to win real money. Customers receive more than $5 each survey from the business, which has paid consumers more than $6 Million since 2012. The official website of FeaturePoints is also available to PC users other than android and iOS users.
If you enjoy what FeaturePoints has to offer, asking your friends to join will allow you to earn more points. You can take part in free contests as part of FeaturePoints' most recent promotion. For daily contests, the prize will be $5; for monthly contests, it will be $100. You score points when you win on FeaturePoints. $1 is equal to 600 points. You can get rewarded in three different ways. Payment options include gift cards, PayPal, and Bitcoin.  After earning $5, you can already cash out.
| | |
| --- | --- |
| App Name | FeaturesPoints |
| Ratings | 3.4 |
| Signup Bonus | 50 Points |
| Referral Bonus | Up to 50% of friend's earnings |
| Expected Monthly Earning | ₹5,000 |
| Download App | Download |
16. Frizza!
Frizza is a one of the best money earning app that offers rewards and cashback to users who complete tasks or participate in offers. It is primarily used in India and is available for both Android and iOS platforms. Users can earn money by completing surveys, downloading and trying out apps, watching videos, and inviting friends to join the app.
Once a user reaches a certain amount, they can withdraw the money through various payment methods, including Paytm and bank transfer. Frizza is a popular app among people who are looking to make some extra money online, and it has received positive reviews for its user-friendly interface and quick payment processing.
| | |
| --- | --- |
| App Name | Frizza |
| Ratings | 4.2 |
| Signup Bonus | ₹50 |
| Referral Bonus | ₹6/Refer |
| Expected Monthly Earning | ₹1,000 |
| Download App | Download |
17. Inbox Dollar
Inbox Dollar is a rewards website and mobile app that pays users for completing various online activities such as taking surveys, reading emails, watching videos, playing games, and shopping online. To start earning money with Inbox Dollar, users can sign up for free and complete their profile. Then, they can browse through available tasks and select those that interest them. As they complete tasks, they earn cash rewards, which can be redeemed for cash or gift cards from popular retailers such as Amazon, Walmart, and Target.
In addition to the cash rewards, InboxDollars also offers a referral program, allowing users to earn money by referring their friends and family to join the platform. For each referral who signs up and earns their first $5, the user can earn up to $5.
InboxDollars is a legitimate way to earn some extra cash online, but users should be aware that it may not provide a substantial income and that some tasks may not be worth the time and effort required to complete them. Additionally, users should be cautious of scams and phishing attempts that may try to take advantage of their personal information.
| | |
| --- | --- |
| App Name | Inbox Dollar |
| Ratings | 4.6 |
| Signup Bonus | ₹2500 |
| Referral Bonus | ₹80/Refer |
| Expected Monthly Earning | ₹10,000 |
| Download App | Download |
18. Toloka
Users of the Toloka app can select activities, carry them out online or offline, and receive bonuses and rewards. All customers need is a smartphone, an internet connection, and some free time. Toloka has an excellent mix of inside positions and field work. Users that are looking for field work can edit or update business information.
People looking to work from home can determine whether several websites fit their search criteria or whether site descriptions are correct. Additionally, viewers may label videos as smartphone-friendly or not after watching them. Utilizing PayPal, Skrill, or Payoneer, individuals may withdraw their earnings in their own currency after being calculated in dollars.
19. Loco
Loco is one of the best money earning apps that allows users to earn money for watching gamers play games. Isn't it incredible! You are being paid for leading a live streaming platform for the Indian gaming community. 
This app is free to download, and you are allowed to play games in all preferred languages, including Hindi, Marathi, Bengali, and Tamil. The features and the opportunities this app provides have made it widely known, especially among school and college students. 
You can get paid for watching gaming videos and play multiplayer games such as Bull Bash, Ludo, Pool, Carrom, etc. You can create your own room and play these games with your friends. Not only multiplayer games, but you can also play single-player games including Knife Ninja, Furious Road, Aqua Shooter, Bubble Shooter, Merge Mania, Tetroid, and many others.
The icing on the cake here is that the app also pays you for the number of quiz questions you get right. Although the quizzes are timed, still you have high chances of making a handsome amount in a day. 
The earned coins can be redeemed into Google Play Vouchers. The only drawback of this app is that you get a limited amount of gold per day, and you are required to earn substantial gold every day to get the minimum amount.
20. Make Money: Earn Cash & Crypto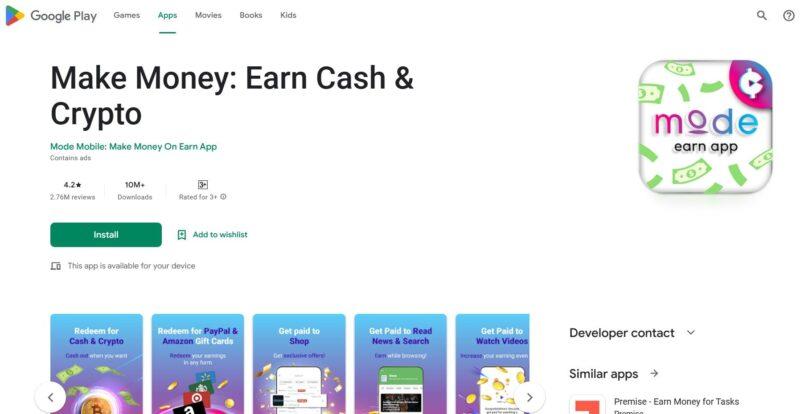 Download this app and sign-up with your Gmail or Facebook ID. Making money has been made easier with this app as you can get paid for listening to music and playing games. Simple, isn't it?
The app is subscription-free, which is available on the Play Store. Make Money: Earn Cash & Crypto app offers a seamless streaming experience with built-in online money-making opportunities in India. The app is comprised of more than 1 lakh radio stations with the world's best songs in each genre. Also, it contains games of topmost graphics and quality. 
You can redeem your earnings with Google Play gift cards, Amazon gift cards, PayPal gift cards, Walmart gift cards, and Target gift cards. Furthermore, the app has more than 300000 reviews so that you can trust this app blindly.
21. Poll Pay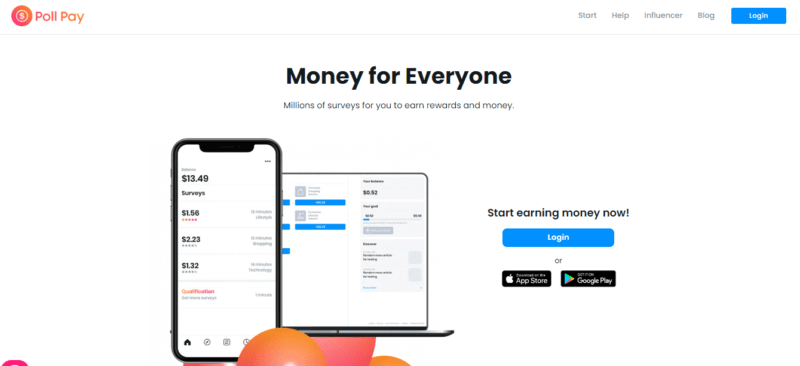 Millions of people participate in Poll Pay's community of survey-takers who can easily create a passive income stream. On Poll Pay, anyone from all around the world may sign up, do surveys, and receive prizes. These benefits can be given to them in the form of PayPal credits, Amazon gift cards, iTunes gift cards, Xbox gift cards, Netflix gift cards, and more.
Through the very secure network of Poll Pay, customers may anticipate rewards in real-time. By taking part in their referral programme, you may increase the amount of money you make through paid surveys. 15% of anything they make on Poll Pay will be given to you. After that, you may deposit your money into your PayPal account. In certain nations, you can withdraw money as soon as you earn $5 to $10.
22. SquadStack (formerly SquadRun)
Do you want to earn ample money through the money earning app in India, try SquadStack! It will not disappoint you.
It provides a flexible workforce to e-commerce giants, including Amazon, Flipkart, SnapDeal, Ola, etc. You earn a Squad coin for every task you complete.
The best part about this money earning app is that there is no limit to your earnings, as it can provide you with plentiful tasks in a day. You can boost your profits by referrals. Currently, this app is available only on Android.
23. MooCash
You can earn money through MooCash by playing games, watching videos, and completing surveys. This app pays you in cash, pre-paid recharge voucher, and bitcoin cryptocurrency. 
The app is best known for entertainment; getting rewards for watching entertaining videos, what else one could wish for!
MooCash also provides the user with various gift cards of Google, iTunes, and Amazon. It also allows you to earn cashback on mobile recharges and offers free game codes and free vouchers. The rewards can be redeemed once you accumulate 3000 coins in the app.
It is also straightforward to sign up to this app, you can use your Gmail or Facebook ID, and you are all set to go.
24. WONK
Wonk is one of the biggest platforms where a plethora of online tutoring is earning ample revenue. The app does not only provide its services within Indian boundaries but all across the world. 
It is an impressive platform that helps people earn a piece of living and enhance their teaching skills and effectiveness. To apply for an online tutoring profile, one needs to have:
A graduation degree

Good communication skills

Student empathy and a good listener

Expertise in using internet-based tools and resources for online teaching

Subject matter proficiency
You can get on board and start teaching online over these platforms if you have all these qualities. The WONK team will certify you as a teacher, and you can immediately start earning handsome revenue as per your total teaching experience and qualifications. 
Your earnings may also depend upon other factors such as which class students you are teaching, subjects, and the board of the student. WONK allows all online tutors to earn between Rs. 250 to Rs. 1000 on average per hour of teaching. 
Being a certified online teacher is not very difficult, as even with little or no teaching experience, you can opt for this decent earning profession.
25. Cointiply
Cointply is one of the popular money earning app in India. You can get paid for taking surveys, participating in contests, viewing ads, watching videos, installing other apps, and playing games. 
This app pays you in Bitcoins and Dodge coins, which can further be converted to hard cash using WazirX and Coinbase overseas. It also offers loyalty bonuses up to 2x the rewards.
More than 1 million members are earning free coins through this app. You can also download this app to finish your quest of making cryptocurrency.
26. Dream11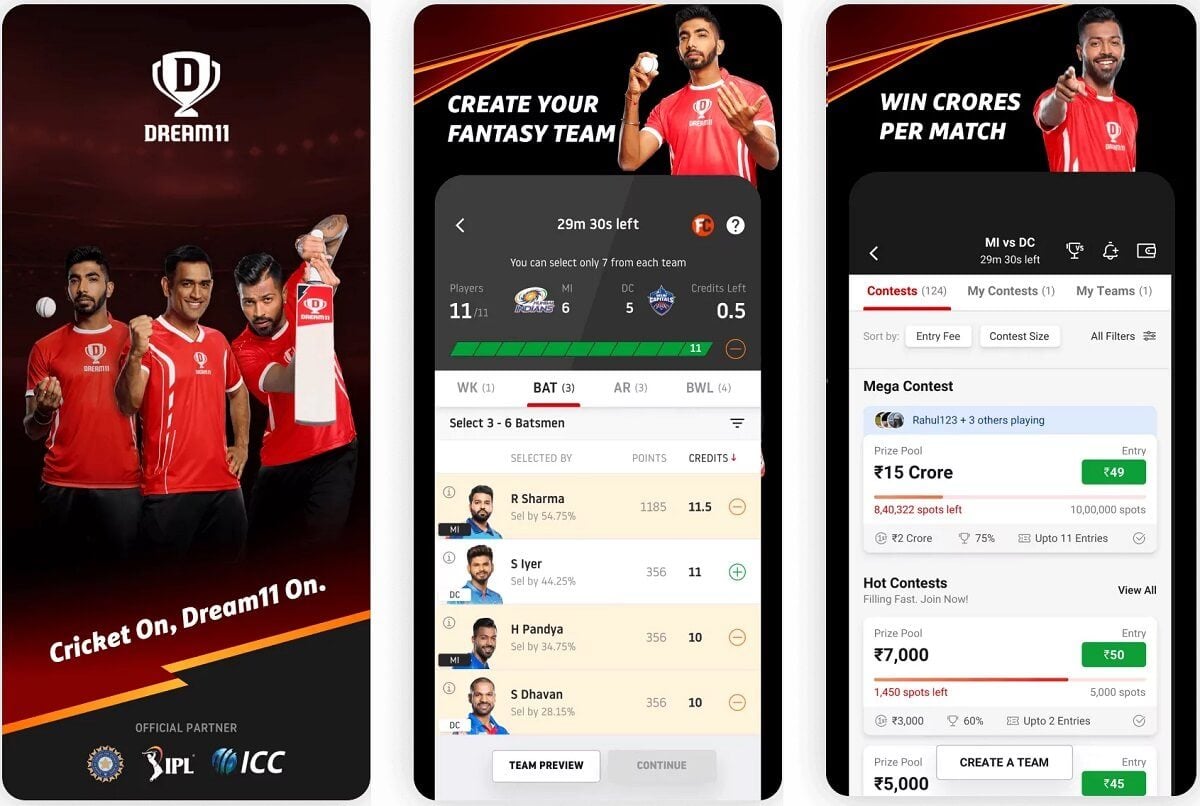 Dream 11 has gained utmost recognition in past few years in India. It is widely prevalent among youths who adore Cricket. Dream11 app is based on the cricket fantasy league.
You just need to download the app and sign up for free using your Gmail ID. The possibility of earning money through referrals is relatively high with this app compared to all other apps.
The app is magnificent. If you want to try your luck, do not hesitate! Go for it and play the game to win big. 
Evidently, it is not entirely based on luck. You also need some planning and execution strategies before investing your hard-earned money and amplifying it. Even if you are an iOS user or Android, the app is available on both.
| | | |
| --- | --- | --- |
| Dream 11 | Download App | 4.3 Ratings |
27. HealthyWage App
It is one of the best money earning apps in India and is fantastic for motivation. There are various people whose intentions are good, but they lack motivation and confidence. If you use this app for some time and follow what they instruct, it would surely help you make a drastic change in your life.
For example, they have weight loss and fitness challenges, and if you win, you would be able to earn more than Rs.50,000. So, this would help you not only in losing weight, but you would also earn a decent amount of money through it.
There is a monthly fee that you would have to pay for completing the challenges; if you win, you get the prize. But, if you do not win the challenge, then the amount you pay goes to support HealthyWage.
28. Skrilo
This money earning app is based purely on the luck factor. They have a lucky draw system that can let you earn $10 to prizes ranging in thousands. You only get a restricted number of tries, so you need to count whenever you try your luck. They also provide their users with exclusive offers and deals every now and then; thus, there are fair chances to earn good prizes through them.
This app is only available for Android users as of now; this means that Apple users do not get the opportunity to earn money through them.
29. Honeygain App
Money-making through this app is very straightforward, and the best thing is that you do not require making any efforts for it. All you need is a blazing fast internet speed; if you have a good internet connection, you need to share it using the Honeygain app, but unfortunately, this is also for Android users only, not for iOS.
You can earn effortlessly through them as all you have to do is sharing your internet. Moreover, they have a Content Delivery Beta software which is different from the Default Network Sharing, and they guarantee their users with the assured flow of passive income.
Remember that you cannot use a VPN while using this app, as it will use your data very quickly and reduce your phone's battery life. Therefore, download the Honeygain app only if you have an unlimited data connection with excellent speed, but keep in mind that it will impact your system's battery life.
30. EarnEasy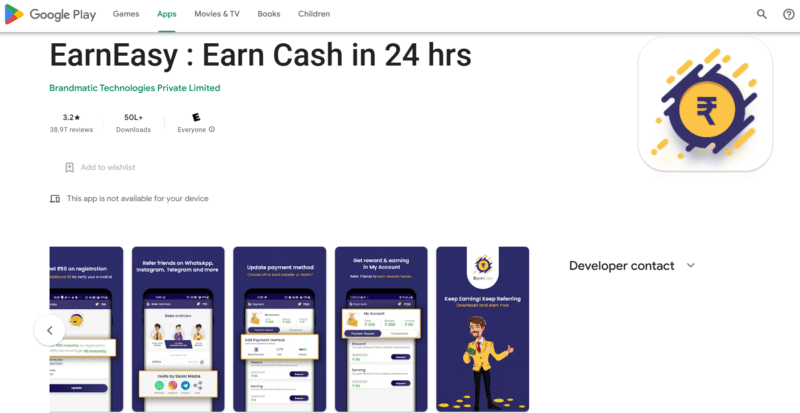 One of the top money earning apps in India on the Google Play Store is EarnEasy. The platform operates by rewarding users for downloading apps from a list of its offerings via wallet, bank transfer, or UPI. In addition, EarnEasy offers incentives for purchasing accessories, booking trains, recharging mobile phones, and much more. One can easily complete various tasks and get money deposited in the Earn Easy wallet which can be withdrawn directly without nay hassle of reward point collection. The daily income potential of the app is up to Rs. 3000!
31. PhonePe
PhonePe is the original UPI harbinger in India. Signing up with this app will offer you various cashback deals on specific payments and get you various cash rewards by referrals. The earned reward is directly credited to your bank account. 
PhonePe is considered to be one of the safest apps to make payments where seamless transactions take place at a faster rate. The cashback is earned on certain online payments, mobile or DTH recharge, electricity or water bill payments, etc. This payment merchant app is available on Android and iOS platforms.
Moreover, if you make payments with PhonePe, you will also get great deals on some shopping e-commerce giants such as Flipkart, Jabong, and Myntra. Users can also make the transaction of up to 1 lakh per day if they have completed their KYC information.
32. The Panel Station
Using the survey software, The Panel Station, you will have to respond to questionnaires from reliable groups, organisations, and people. You too can get polls from government organisations. So, the compensation is not problematic. The time allotted for surveys ranges from 30 to 10 minutes. You will be paid more the longer the survey takes and the longer it takes. Both iOS and Android users can get this important app from the list of top money earning apps in India. They are also connected to names like Amazon, Flipkart, and Paytm.
You will basically provide the companies with insightful data, and the brands compensate "The Panel Station" on behalf of each survey field. They then compensate you by slicing a commission in half. That is how the app and you both earn money.
33. Streetbees
This app Streetbees uses artificial intelligence and is based on consumer surveys and reviews. Join the platform and begin participating in the surveys that the app suggests. You have the choice to post yor everyday activities via chat as well. The developers want you to provide the most thorough description of your activity, including with images and videos.
For short polls lasting 3 to 4 minutes, the typical reward is approximately Rs. 8 to 10, whereas lengthier surveys lasting 6 to 10 minutes can pay up to Rs. 50 each survey. The business processes this data using AI to produce useful insights for businesses like Unilever, Carlsberg, Sony, and many more.
34. Paidwork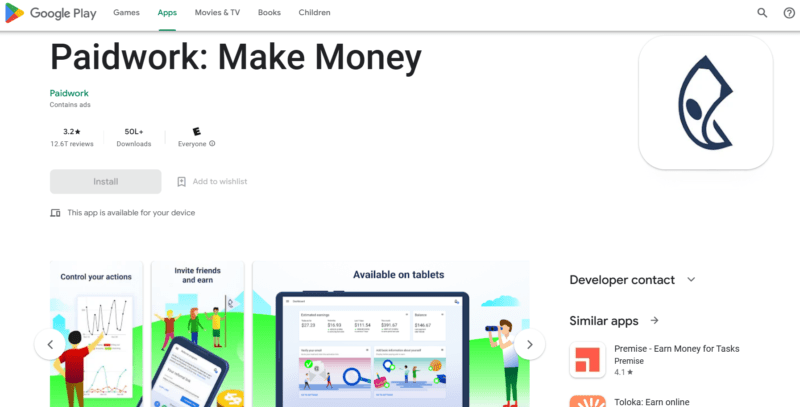 A Get-Paid-To (GPT) website named Zareklamy, which is now called Paidwork, claims to pay you for doing microtasks and even claims you can generate a full-time income as a member. You can watch video ads of various applications to get some earnings from the app. You can also do surveys to increase your earnings as well. Simply click the Earn button to get the list of surveys you may participate in.
You can access a number of fantastic cashback deals through the app as well. If you invite others to join the site, you'll be able to make money from it as part of their referral program. Your Zareklamy account will be credited with a set amount for each task you complete on the website. In most circumstances, it will be in your country's currency. You must earn $10 in order to withdraw your earnings.
Also Read: How To Get Paid to Advertise on Your Car?
35. Growfitter
Growfitter is ground-breaking fitness app that encourages people to get fit by making the exercise process fun. Walk, run, bike, or take various health assessments to earn cash. You can create objectives based on the fitness outcomes you want to achieve, such as weight loss, increasing your daily step count, or any of the other innumerable advantages. Growfitter has more than 50 million users and has assisted various clients in making money by keeping active.
The app awards money for activities including counting steps, meditation sessions, bicycling, jogging, yoga, sports, swimming, dancing, boxing, etc. via direct deposit, PayPal, gift cards, or charitable donations. On the Growfitter app, there are also a tonne of prizes up for grabs, including trips, accessories, clothing, speakers, tech gadgets, workout equipment, and much more.
36. Taurus
Taurus is a lucrative app that compensates users for participating in several 5-minute games on the platform. The nicest aspect about Taurus is that there are no commercials, so you don't have to worry about them spoiling your gameplay. The most commonly played game on the app is the Teen Patti card game which is also called as the Indian Poker.
A variety of withdrawal options, including UPI and bank transfers, are available to players. You may ask your friends to become your affiliates by referring them to the Taurus App. Then, you can receive a commission of up to 30% of their earnings. You will also get a sign up bonus of Rs. 92 on creating an account to play the games. Also, for every cash deposit, you will get a cash bonus.
37. Earny
This top earning app on Google Play, iOS, and Chrome Extension is called Earny. This app has a direct connection to your online purchases and can help you save money as well as make money. You can even apply this to your friends' purchases to increase your savings. By utilising your link, it is simple to receive up to 20% cash back on every transaction.
The best feature of this app is how it tracks your prior purchases and suggests the best deals in line with them. The cost of Earny+ has fluctuated throughout the years, but currently, the annual cost is $19.99. You can ask to be paid after you have $15 in your account that is available for withdrawal. PayPal is the only method of payment, and the withdrawals reflect on the account in 5–10 business days.
38. Cash Baron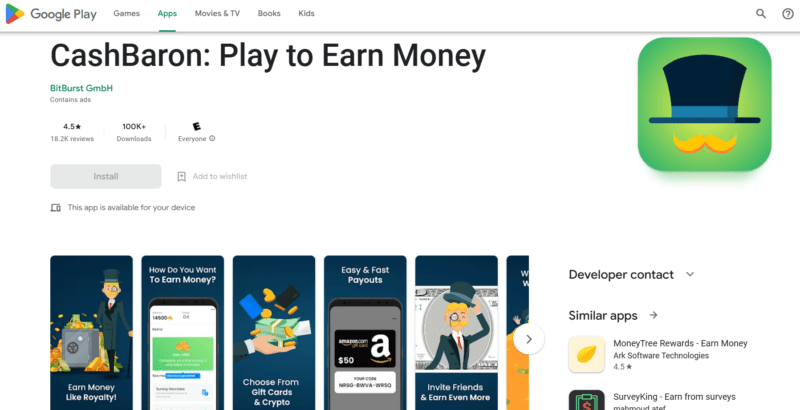 Over 1 lakh Android users have used Cash Baron, which is one of the top online money-making applications available. Users can make real money in a variety of ways, including by playing games, responding to polls and surveys, and referring friends and family to use the app.
Users receive rewards for completing various game levels and tiers, for participating in surveys that support market research, and for driving additional traffic and users to the platform. Through simple surveys or a single offer, users may make up to $100. PayPal, Google Play Gift Cards, Amazon Gift Cards, Xbox Gift Cards, iTunes Gift Cards, and Bitcoin are just a few of the many payout choices on Cash Baron.
39. Rupiyo
Rupiyo is a Made in India rewards platform where you can earn money every day by finishing small tasks/offers, playing games such as spin the wheel, attempt high-value offers accessible on the site, or recommending the app to your friends/family. Through bank transfers or Rupiyo coins, one can earn real money. To earn Paytm Cash, you can also use the Daily Check-In, Spin & Win, and Playing Games options available on the app. Users may also utilise the Rupiyo App's Referral feature to earn 50% of what their referred users earn. This is one of the top money earning apps in India.
40. Atta Poll
With the help of the paid survey platform Atta Poll, users can earn money by responding to these surveys. The business has strong connections to MNCs and other groups. Through online surveys, it helps businesses obtain market data and comprehend industry trends. Only £1.28 per hour will be paid for completing the top survey.
Customers may choose the survey lengths they wish to complete on Atta Poll, and there is no cap on the number of surveys consumers can get each day or each week.  You ought to be able to do this within a few days given the modest payment of £2.50/$5. By introducing friends, you can potentially make extra money.
41. Premise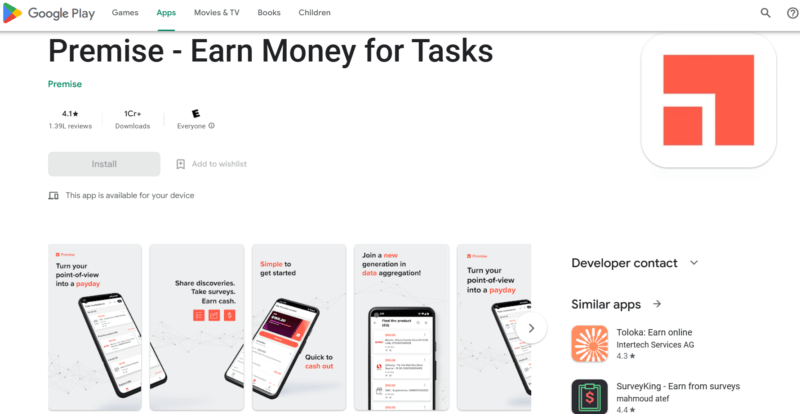 With the Premise app, you can earn money by doing surveys and disclosing details about the neighbourhood, grocery store pricing, and locals. The assignments on Premise include questionnaires and questions specific to each city.
Earn money by disseminating knowledge that is crucial to you and the residents of your community — it's like getting paid to perform a public service! By photographing, charting, and expressing your ideas, you can make some money on a daily basis.  Expect earning $5 for 20 to 30 minutes of effort. Some users claim to have earned up to $20 with exploratory activities.
42. Glowroad
In India, GlowRoad is another well-known reselling app from the list of top money earning apps in India, similar to Meesho, which was already mentioned. The way they make money and how much they make are identical to Meesho. Meesho and GlowRoad have comparable customers who purchase goods from more than 1,000 categories, making them direct rivals.
Any product may be sold without having to carry it home. By can add on to your profit by selling the goods to your close friends, family, or other relatives. The fact that you don't need to maintain any sort of stock in it is the largest benefit. In this, any product is directly delivered to the client by the business. Your profit will increase as more of your goods are sold in this. You can also get Rs. 250 when your friend places their first order, and your friend will also receive Rs. 200 upon registration. For a year, you can also receive 5% off of your friends' sales.
43. Shop 101
You can resell items and earn money from the convenience of your home with the Shop 101 app.  Up to Rs 25,000 can be made through this reselling and dropshipping app. On behalf of the clients, you place orders, and you profit from each transaction. By adjusting the margin in the product provided in the application, you can sell various products to your customers from Shop 101 inventory. Your margin is paid to your bank account when the merchandise is delivered to the said customers.
You can also refer others and be paid. Additionally, there is a weekly bonus. In order to sell the goods, you must meet a goal. If you reach that goal in a week, you'll win a nice bonus.
44. Spin to Win Cash
Spin to Win cash is the perfect option for you if you enjoy playing casino-style games and want to make money from them. Customers of Spin and Win may choose from approximately 1000 games from top developers like NetEnt, Microgaming, and Play'n'Go. Additionally, they provide a selection of table games, scratch cards, roulette, and even some top-notch live casinos supported by NetEnt. It has a licence from the UK Gambling Commission.
This online casino gives a first welcome bonus of up to £500 along with an extra £500 in bonus cash that might be claimed over the course of your subsequent two deposits. By spinning their promotional wheel, you may also enter to win 100 free spins. There is a 30x wagering requirement, thus you must wager 30 times the bonus cash amount to the cashout the winnings.
45. Media Rewards
Brands including Google, McDonald's, Gillette, Pepsi, Pampers, and Specsavers are connected to Media Rewards. This demonstrates that you can make a respectable amount of money with this top money-making tool. You can get paid for completing surveys, watching TV, listening to the radio, and enjoying music. Withdrawals are possible via Paypal Gift Vouchers. You give the app permission to measure your exposure to TV, YouTube, and radio advertisements when you download it on your mobile device.
The app measures the frequencies around your smartphone while it functions. To earn prizes, you don't need to use the app frequently. Put it in place and walk away. It'll be active in the background. You will instantly receive a higher score, which may be exchanged for gift cards worth $5 to $10.
46. mGamer
You can complete simple activities on this app mGamer in exchange for in-game currency and cash incentives. By completing paid offers, surveys, viewing movies, playing games, and recommending friends, you can earn coins on this app. Currently, three games are available to play: Touch Piano, Fly Bird, and Fly Bird 2. The majority of surveys last between 5 and 30 minutes and payout is less than $1.
A number of gaming currencies, including Free Fire Diamonds, PUGB UC, Call of Duty CP, and Castle Clash Gems, can be traded for coins earned afterwards. Each activity also comes with a sizable Paytm cash reward that you can add to your PayPal or Paytm account.
47. Real 11
Play fantasy games with the Real 11 app easily. It makes an effort to give its players the greatest fantasy sports platform possible and to build a sports community where people can interact while playing online fantasy cricket. In terms of entry costs, contest size, the number of entries from your team, and the number of winners, you may participate in the various competitions at your leisure.
Users will take a Rs. 50 cash incentive after downloading and signing up for Real11. At the same time, users will each receive a Rs. 50 cash bonus and a Rs. 25 additional Cash incentive if they recommend the app from the list of top money earning apps in India to their friends and get them to download it. There are two categories of withdrawal probability in Real 11. Your bank account or your Paytm Wallet is two other withdrawal options for your prizes. The smallest sum that a user may withdraw is 200 rupees. Users should just need an email address, a phone number, and a pan card number to complete KYC.
| | | |
| --- | --- | --- |
| Real 11 | Download App | 3.5 Ratings |
48. Cash Karo
On whatever transaction you make on just about any e-commerce platform, CashKaro, an e-commerce referral website, will provide you cashback. Amazon, Flipkart, Ajio, Mamaearth, Pharmeasy, Tata Cliq, Beardo, and many more e-commerce sites are linked to CashKaro.
Copy links and share them with your connections and social media groups to increase your earnings so that you may receive extra cashback on items purchased via your links. Those that do this on a regular basis make between Rs. 500 and Rs. 700 each day. You can withdraw your winnings to the bank account, in your Paytm Wallet, or as gift cards.
49. Click Worker
You can discover work related to content writing and proofreading on the online data entry jobs app Click Worker, where you can also locate other tasks and make a respectable living. With Click Worker, you can work both full- and part-time hours. The other ways to get money include through surveys, internet research, app testing, and audio and video recording. With this software, it is simple to make up to INR 1,000 per day. Weekly payouts are made through Paypal and bank transfers.
Also Read: 5 Realistic Ways to Make $1000 a Day
50. Money Tree Rewards
This Get-Paid-To (GPT) app called MoneyTree Rewards will pay you for completing little chores. Paid offerings are the typical jobs that will enable you to make money with the programme. The majority of paid offers require you to play mobile games, complete surveys, or download additional mobile apps. To gain points for rewards, one can also watch videos.
Your points may be redeemed for different gift cards or converted to cash via PayPal. In order to withdraw any money, you must also finish at least 3 paid surveys or offers. From sponsored offers, you often get 100 to 200 points, and from surveys, you typically earn 300 to 500 points.
Conclusion
In conclusion, the above-mentioned money earning apps in India are some of the best in the market, offering users a range of opportunities to earn money. Whether you're looking to take surveys, complete microtasks, or invest in stocks, there's an app out there for you. These apps not only provide a source of additional income but also offer flexibility and convenience, making it easier for users to work on their own terms.
However, it's important to note that while these apps can help you earn money, they should not be seen as a replacement for a full-time job or career. With that said, if you're looking to make some extra money in your free time, these apps are definitely worth checking out.