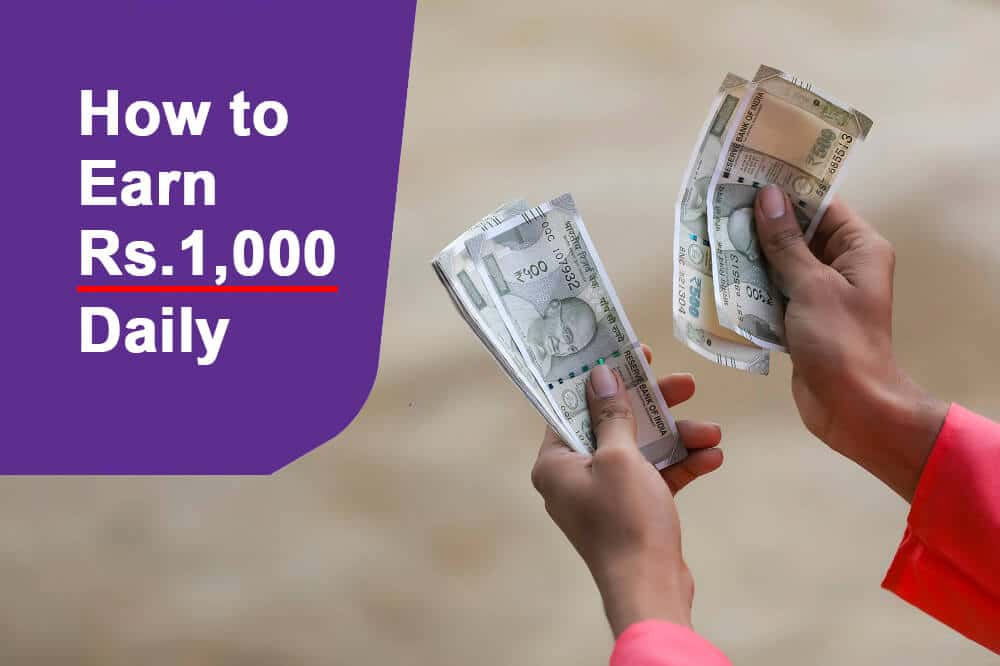 We all are now living in this wonderful age of technology. This technology has made it possible for all of us to do a lot of things without having to step out. We can shop for things, watch movies, learn new skills, and even get university degrees from the comfort of our homes.
Along with all this, we can now also earn money online without having to step out. If you are not someone who likes going to an office or being answerable to a boss, the internet has you covered. You can pick and choose from a variety of well-paying jobs online which you can do from the comfort of your home and at your own pace. These online jobs can fetch you a minimum of Rs.1000 a day if you are willing to put in some effort. Be it a student, a housewife, or a working professional looking to make some extra bucks on the side; there is something for everyone.
How to Earn Rs.1000 per day Online in India
We have carefully created this list of jobs where you can work remotely and get paid online upwards of Rs.1000 per day.
1) Data Entry
All companies nowadays deal with data in one form or the other. Since companies keeping sending or receiving data on a daily basis, the need for people who can handle this data and enter it into their systems increased exponentially. Most companies outsource such clerical jobs, and that is how data entry as a gig became increasingly popular.
Regardless of which company you choose to work for, data entry jobs do not have very high requirements. If you have a laptop/pc with a secure internet connection and some basic typing skills, you are good to go. Data entry includes several categories under it, like typists, coders, transcribers, word processors, and data processors. Depending on your skill level and expertise, you can choose to work under any of these categories. These data entry gigs are suitable for anyone who is looking to make some money online.
Probable earnings: Rs.300- Rs.1000 per day
2) Online Educator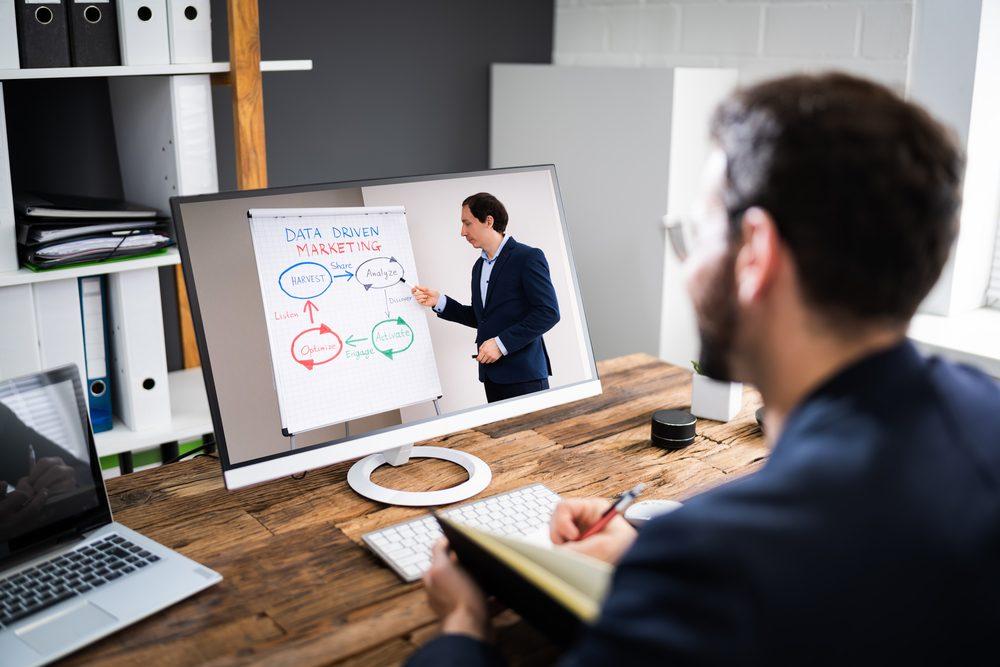 As technology advances, more and more services are being brought to the comfort of our homes. Education is one of them. Most students nowadays prefer studying online as it is convenient and saves travel time. Apart from this, online courses give students the flexibility to work at their own pace and choose their classes and modules. As online education is gaining prominence, the need for online educators is also on the rise.
If you are a trained teacher or an expert in a particular field, this might be just the job for you. You can earn ample amounts of money by educating or tutoring students online. Depending on your experience in the field of teaching, the paycheck for this online job only gets higher.
Probable earnings: Rs.1000 – Rs. 3000 per day.
3) Virtual Assistant
A virtual assistant is usually a self-employed professional who provides assistance remotely to entrepreneurs or small businesses. This assistance could be technical, creative administrative, or managerial. This job also rose to prominence in recent times with the advancement of technology.
The job requirements for a virtual assistant could vary from client to client. As a virtual assistant, you might have to schedule meetings, make presentations, receive phone calls, and manage websites on behalf of your client. Good communication skills, efficiency is using applications like MS Office, and good time management skills are usually needed to be considered for this gig. For this gig, you are usually paid on an hourly basis.
Probable earnings: Rs.500 – Rs.1500 per hour
4) Content Writer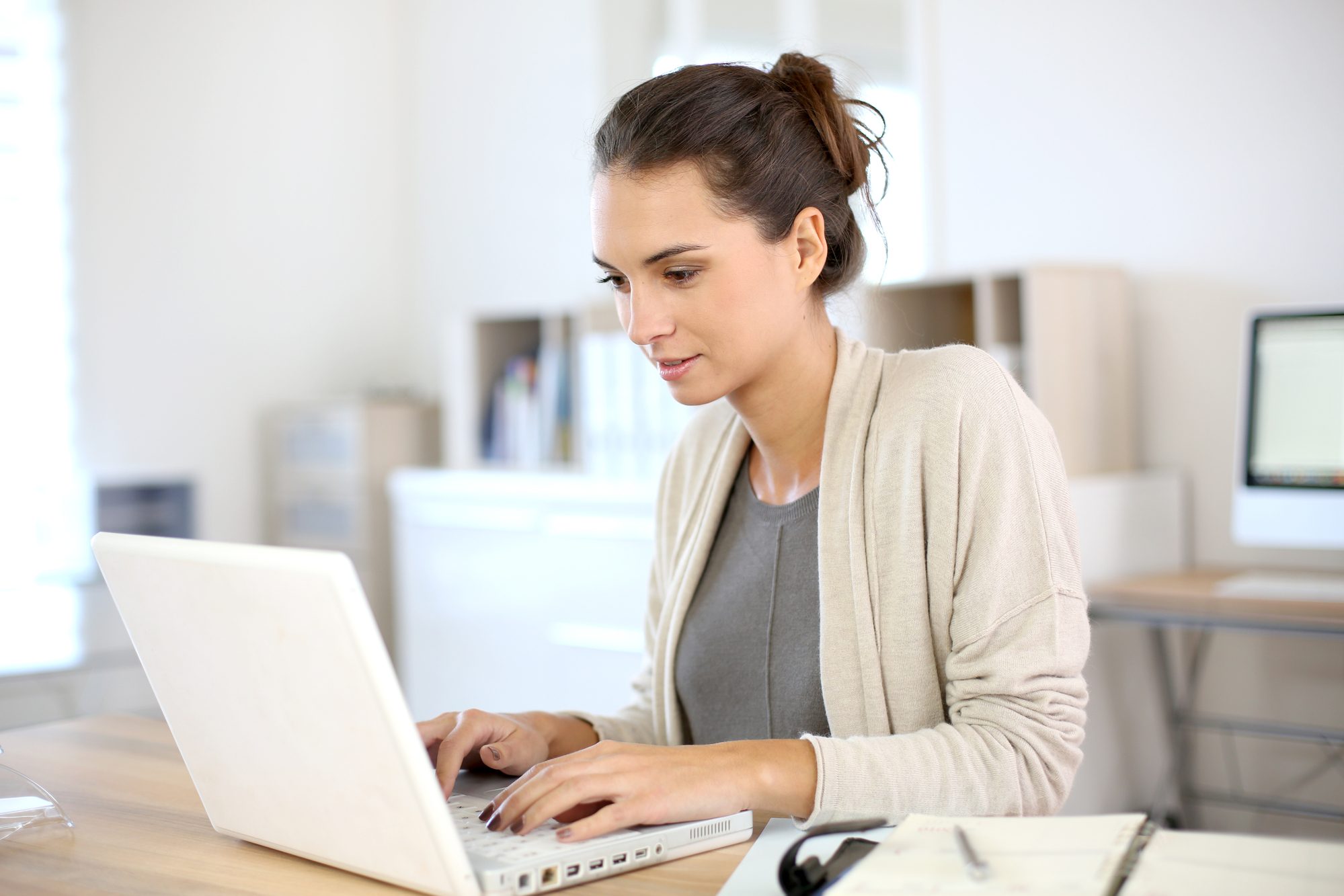 We all know that content is king. This is truly the age of content. It is one of the best ways to earn Rs.1000 daily online in India, provided you know how to write content and have knowledge in a particular niche. Online presence has become extremely important for businesses. Having a well-maintained website can work miracles for a company. This is where quality content comes into play. Good content on a website drives in more traffic, and it has the power to convert the audience into customers. Quality content writers are the need of the hour for every business.
Also Read: 8 Best Virtual Assistant Companies in India
If you are good at writing engaging content and have a passion for researching a variety of topics, this is the right job for you. Writing also has several categories under it which include Resume Writing, Legal Writing, Creative Writing, SEO writing, and sometimes Proof Reading.
Probable earnings: Rs.100 – Rs.1000 per day (Depending on experience)
5) Social Media Manager
Just like online presence, social media presence is also extremely important for the success of a business. Social media plays a huge role in building a brand image for a business. Therefore, companies need creative and strategic minds to handle their social media and build a brand out of it. If you are someone who gets a lot of likes on your social media posts and if you think you have creative juices, this job is something you can consider.
As a social media manager for a brand, you must be able to create engaging content, plan out social media campaigns, and build a potential customer base for the company. This job requires you to be able to use applications like Photoshop and Hubspot with ease.
Probable earnings: Rs.1000 – Rs.4000 per day
6) Transcriptionist
A transcriptionist is someone who listens to audio or video recordings and converts them into written documents. If you are someone who can pay great attention to detail and can type, this is a fun job to try out. How much you can earn out of this job purely depends on your skills and how much time you can invest.
Probable earnings: Rs.300 – Rs.1000 per day
7) Translators
A large number of international businesses, authors, and scholars need translators so that their work can reach every corner of the world. If you are someone who is fluent in 2 or more languages, you can definitely encash on it.
As a translator, you might have to translate website articles, letters, books, and sometimes audio clips from a foreign language to your language with utmost accuracy. The paycheck for quality translators increases by the day, and this could be a great earning opportunity.
Probable earnings: Rs.1 – Rs.5 per word.
8) Micro Jobs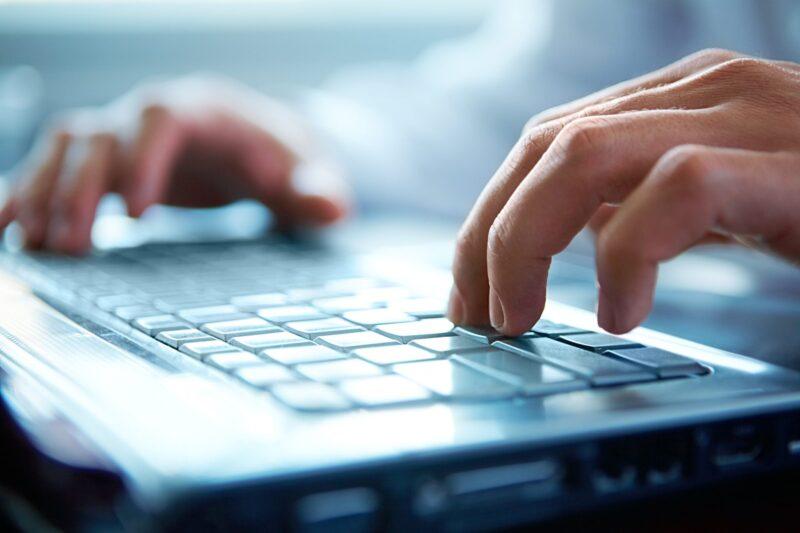 Micro jobs are usually small temporary tasks/jobs that are given to you to complete within a set time frame. Here, you are not limited to doing one kind of job. If you are someone who is easily bored or likes variety in life, this is something you can try out.
These small tasks could include things like writing a blog post, filling out surveys, extracting data, and sometimes evening running some offline errands. The pay depends on the type of job and how many jobs you can do in a day.
Probable earnings: Rs.200 – Rs.1000 a day
9) Sell Online Course
While you have the option of being an online educator and making money from it, not everyone is comfortable interacting via the camera in real-time nor are all skills teachable online via an interactive method and so this is where the option of selling an online course comes in. You can pre-record your videos where you capture your dance moves, cooking videos, or other skills and package them as a course and sell them on websites like Unacademy, Udemy, or others, and from this, you can get paid online just as you would from selling a book or teaching in person.
Probable earnings: depends on the price you charge for the course
10) Virtual Bookkeeper
As a bookkeeper, your job would be to check how much money flows in and out of the company. So if you have a degree in the finance or accounting field then you could simply provide your services to multiple companies by keeping track of their invoices, expenses, etc., and by doing this you can make more than a decent amount which may well exceed 1,000 rupees a day as well.
Probable earnings: you can set your rate and it can be set at 1,000 rupees a day or much more
11) Affiliate Marketer
Anyone who has a good social media following can go ahead and become an affiliate marketer. You tie up with brands that you think your followers may end up purchasing on your recommendation and you start posting links and ads for them on your social media handles. The more your followers go and get the product using your website the more you earn out of it. What's more, is that you also don't have to invest in this skill, you just need to have a good social media following and you can start earning right away.
Probable earnings: depends on the commission percentage offered by the brand that you tie up with and the sales you bring them
12) Vlogging/Blogging
You can write stuff or you can shoot stuff and upload them on relevant websites or even go ahead and create your website where you post stuff written or recorded by you. You can write or shoot stuff on various topics like makeup, food, travel, music, art, etc. and once you have got yourself a community of readers or a huge audience interested in your articles or videos, you can then sign up with advertisers to put ads on your website and even through it or you can monetize the blog/vlog using other methods.
Probable earnings: depending on the brand you sign up with and the number of audiences your website brings in you can charge 1000 rupees or more
13) Beta Testing
Various apps and websites before going live to the general audiences plan to go ahead and get their platform tested by releasing it to a few selected users who are known as testers. You can head to websites like Test Birds, TryMyUI, or other similar websites where you can get hired for a job as a tester for various companies. You will then be provided with the trial version of the app that you will have to run on your device and use for a specified period. You will then have to provide your feedback for the same. That is all that your job will be.
Probable earnings: depends on the brand or company you sign up with
14) Online Surveys
The internet is full of websites and apps of all types. There is stuff out there that you might not even have thought of. Amidst all this, you have websites and apps that go by the category of online survey platforms. These websites or apps allow you to take surveys on their platform where the data received from your answers is shared with brands, companies, or other relevant parties (don't worry they ask for your permission, and your identity and privacy are intact). And in return for your time and honesty, the apps and websites pay you for the valuable information provided to them by you.
Probable earnings: it depends on the number of surveys you fill in a day
15) Freelancing
Sometimes you have skills that you don't know the value of but if you check online you would find that such stuff can get you decent money. It can be something as common as Content writing or something as unusual as posting a brand or company's ad on your social media handle that you could take up and get paid for. You don't necessarily have to sign up with a company on a contract or employment basis as you can share your skill with them on a freelance basis and make decent money doing the same.
Probable earnings: depends on the skill you offer and the number of hours or days you give to the task
16) Online Food Business
Opening a shop and selling goods might be a good option but one that would require huge capital and so you could consider getting a food license and starting a home kitchen service. You could sign up with event management companies to provide them with catering services or you can start a tiffin service for houses and companies around you. Selling popular dishes like Momos, Chinese food and other such stuff can help you make much more than 1,000 rupees a day.
Probable earnings: well above 1,000 rupees a day if you fulfill a handful of orders every day
17) Proofreading
If you are not interested in writing content then you can also consider editing and proofreading a piece of content already written. Publications, website owners, advertisers, etc. need their written content to be proofread and well-checked before it goes out to the public, and if your grammar and language proficiency are on point then you should go ahead and consider this option.
Probable earnings: as much as a content writer or even more
18) Reviewing
You can review a product, a move, a service, or anything under the sun and make money from it. A lot of people rely on reviews before they go ahead and engage with anything and so the demand for people providing honest and unbiased reviews is growing. If you know a certain subject and can write about it in detail while keeping the content simple for readers to understand then you can score yourself a job as a reviewer.
Probably earnings: depending on what you review the future can go much higher than 1,000 rupees a day
19) YouTuber
If becoming a YouTuber doesn't help you make 1,000 rupees a day then we don't know what does. Build yourself a great social media following and come up with engaging and entertaining content or at least something worth people's time and attention and then create videos based on it and post them on YouTube. Sooner rather than later you will see audience engagement on your page and once you have crossed the requirements of the app you will start seeing checks come your way.
Probable earnings: much more than 1,000 once you have a sizeable audience
Also Read: Best Online Typing Jobs for Students Without Investment
20) Web Development
If you know how to code and can design a web then you make not just 1,000 rupees a day but even 2,000 or more. A lot of big companies outsource web development and people or organizations that take up this task bag huge sums for it. You can start working as a web developer as a freelancer or get a job with a company that is in this field and start earning great sums doing so.
Probable earnings: you can make 20,000 rupees to 1 lakh based on a single project
10 Websites to find jobs online
We are now aware of the various ways you can earn rs.1000 per day online in India, but where do you find these jobs? Where can you find ideal clients?
We have also created a list of trustworthy websites where you can find jobs with little to no experience.
Fiverr is probable the best freelance service marketplace out there. This website provides clients for a variety of freelancers including writers, translators, virtual assistants, and even micro-jobs. Everyone from freshers to experienced professionals can find jobs on Fiverr. All you need to do is create your gig, quote your price, and start finding clients.
Upwork is yet another wonderful marketplace for freelancers. Upwork is free to sign up with, and you can find a variety of gigs on the website. The only drawback of Upwork is that it picks and chooses its freelancers. Sometimes even when you sign up, your gig might be rejected due to a lack of expertise. But, if selected, it could provide for some great earning opportunities.
Also Read: How to Earn 10000 dollars Per Month? Easy Ways
This website allows freelancers to market their services easily to a large client base. You can bid your service to clients of your choice directly without much effort. It is free to sign up for an extremely easy to use.
Clickworker is an amazing website for those who want to do micro-jobs. The website provides you with a variety of small tasks that you can complete on a daily basis and get paid immediately. It is free to sign up.
This is yet another marketplace that allows freelancers to find jobs that suit their qualifications. It has a variety of features like in-app-messaging, invoicing, and proposal viewing, which makes it extremely user friendly. You might have to pay to sign up to this website, and you have a variety of payment plans to choose from.
Founded in 1977 Naukri.com is one of India's largest if not the largest job search site. From Data Entry to HR to many more fields the website has job listings for tons of categories.
Also Read: 5 Realistic Ways to Make $1000 a Day?
Having a presence in 60 countries around the world and 20 crore unique visitors each month certainly makes a good case for Indeed to be the world's number 1 job search website and that is also a reason good enough for you to make it your number 1 job search website.
Blinded in 2008 this job search website has been used in more than 1,000 cities and has thus established itself as one of the best job search websites in India. Be it a full-time, part-time, or any other kind of job requirement that you are looking for, all of it can be found here.
It is not just one of the best job search websites in India but also one of the fastest-growing websites of its kind. The website was founded in 2007 and since then it has helped and is helping millions of people score their dream jobs.
Founded in 2008 this is India's second-largest job-searching website. The website has more than 2.5 crore candidates and more than 3 lakh vacancies waiting to be filled by people like you and me.
Recommended: 30 Ways To Earn Extra Income From Home In India
In this article, we have tried our best to familiarize you with a variety of ways to earn Rs.1000 per day online in India. If you are just starting out as a freelancer, you might also want to brush up your skills by taking up some courses online, before you dive. Having a certificate makes it easier for you to find potential clients. As a fresher, it might be a little difficult to find work online but keep trying, and you will eventually find your suitable clients.