Today, we are going to discuss 15 passive income ideas using which you can build real wealth.
Passive income – does this term ring a bell in your mind when you hear about this word? Well, it is precisely, what it says — income that you can earn, which requires minimum or no effort at all.
That sounds fantastic, isn't it? Making money while doing other chores of your life, isn't it awesome? I mean, who hates money, right? The only problem everyone faces is that most 'passive' income ideas are not passive at all.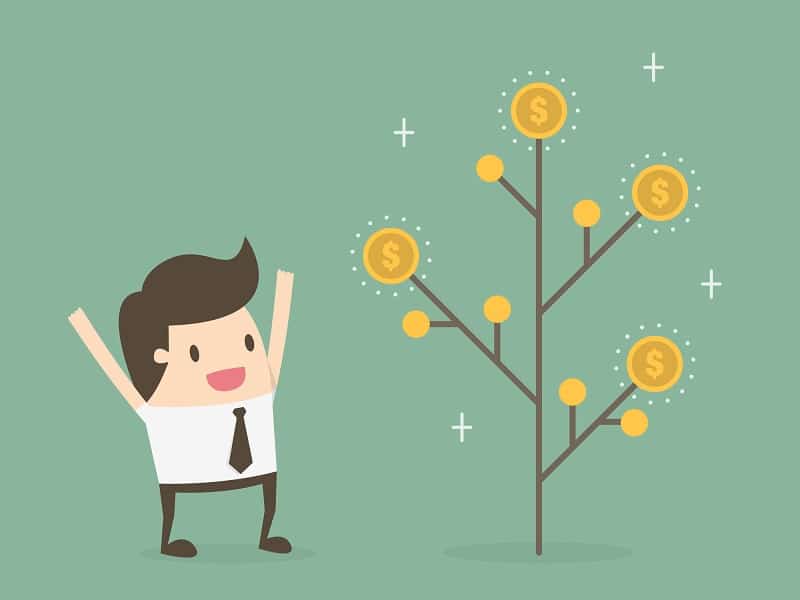 Since you already are working or studying, which takes up most of your time, you won't be investing in something you don't have time for. Which comes to the second point; most passive ideas require lots of time.
So that's what you require to achieve a successful passive income, i.e., time, money, and work.  Apart from this entire thing, the question that remains is why one needs a passive income. Well, the answer is that this passive income can be your life career. It is also called progressive passive income as your little efforts can grow the income, cash-flow for you.
Before jumping into this very sought after and often misunderstood wagon, you need to know what it takes to receive passive income.
Recommended: How to Check EPF Balance Online
How you can Earn Passive Income?
Passive income is generally the cash you receive from your controlled assets. (Simply assets are items that other individuals' value; money, real estate, physical goods, etc). The only disadvantage of passive income is that the assets in the question generally takes a lot of time to build. If you fail to do so, then the output of it may not come out to be positive always. You may incur huge losses for the same. This will not only affect you financially but also mentally. When you don't get what you wanted from your efforts, you lose faith in doing something new.
Therefore, it is necessary to take corrective measures and invest your time, money, and work in something productive. There are four types of passive income that will further help you know about your passive income interest.
Purchasing cash-flowing assets – This type of passive income is when you make money with money. You invest in different shares, mutual funds, etc. And get money in return. This also includes real estate, business lending, dividend investing, and much more stuff. So basically, you need to invest money to make money in return.
Building assets –Another type of passive income is to build your assets. The word asset here means that you can create your website or digital product, etc. These will enable you to earn from advertisements. Although in this type, popularity is the main key. Without people knowing your asset, they won't view it, and you may not attract the advertisers as well.
Sharing or selling your assets – For generating a passive income, you also have the option to share or sell your assets. For instance – if you have extra space in your house, you can always invite PG seeking students. Also, there are things available at your home, which are of no use to you and are collecting dust only; you can put up a sale for them.
Reversed passive income – By reverse passive income, it means to start developing the habit of saving. This type is concerned only with cutting down your extra expenses like try to save on your utility bills. Look for alternatives that are cheap but are efficient enough to satisfy your needs. Try to make payments online, which will help you get cashback. Therefore, saving you save your money while you also earn that much.
15 Passive Income Ideas to Help You Make Money 24/7
#1 Start a Blog
One of the crucial methods of earning a passive income stream is by starting a blog. Blogs can generate a large amount of money, but it doesn't happen overnight.
One needs to work on it by investing time and working dedicatedly to earn a good amount of revenue out of it. If you know SEO, Social media marketing and can write some high quality of content, you will earn income in no time.
Once it becomes popular, you will able to earn money by putting up Ads in your blog or by marketing suitable products and services to your visitors.
Here are a few steps you need to take when you start your own blog page/website:
The first thing is to know is what topic you are comfortable with. The world is a large place and has many subject matters to choose from. You need to search for the perfect topic for yourself that you want other people to know. Also, the topic you chose must be able to highlight you from others on the same topic.
The next step would be to create your account, i.e., your website, or blog page. Nowadays, many online sites are available by which you can make your blog page and/or website in no time.
After this, you need to claim your domain name. The domain name must tell the readers what your blog is about. Then you need to register your domain name, which should be different and unique from other domain names in the whole internet world.
Then comes the designing part where you need to design your page/website, which will attract the viewers. You can customize and change your designs again and again whenever you desire.
Then you need to show your magic and write or upload your first content. Remember to make it unique and impressive as the first impression is the last one.
One of the most important steps after this is that you need to publicize your work as much as possible. You can do it by posting on social media. You can take help of your friends and relatives for the same.
Once it becomes popular, you will able to earn money by putting up Ads in your blog or by marketing suitable products and services to your visitors.
#2 Publish an ebook
If you have good knowledge of certain things or any particular thing which can educate the public, then you should write a book on it (non-fiction) and publish it as an ebook.
Topics can vary from social media marketing, self-made business, or maybe something related to coding is going to sell better as people are hungry for knowledge. This is one of the best passive income ideas which is followed by already a large number of people.
If you are already a known writer and famous in the community, you can even generate more revenue by selling fiction books. The reason why e-books are now a growing trend is that they are of lower price and comfortable to read. You can increase or decrease the font size, adjust brightness according to your convenience. And moreover, e-books are available on movable devices like mobile phone laptop, etc. This allows you to read anywhere at any time you want.
E-books are comparatively less space-consuming than the actual books. Thousands of books can be read without worrying about space to keep real books. E-books also give you the facility to find the meaning of a word then and there itself. Here are a few steps you can follow to start up your e-book:
Tuning your content would be the first step to publish an e-book. Most of the people are a good content writer and can write well. But that doesn't mean that everyone will like what you write. The tuning of content is concerned with understanding the important part that needs to be put up in your e-book.
Some people publish their book with very less content that does not allow people to understand the depth of the story. Whereas, writing too much content can also cause the readers to lose interest in your story.
It is always recommended to proofread your story at least three to four times before publishing. Make edits if you feel to and try to make it more comfortable and interesting to read. You can take the help of your friends, relatives, and colleagues to know their feedbacks and make changes accordingly. Moreover, make certain that your content is grammatically accurate.
Creating the cover page is very vital for an author. Although it is said that never judge a book by its cover but it's true for most of the people, if the cover of the book is not attractive, then you may lose many readers before they read the content itself. The cover should be attractive but make sure that it depicts and clarify the subject matter of the book. In other words, the cover should be able to speak what the story of the book is related to.
Picking up the right format will be the next step. You must be thinking, why does the format of an e-book matter? Well, it matters and is dependent upon your targeted market of readers. There are three types of format one can use. They are:
Reflow able e-books – This format is used for those who like to change the size of the content according to their choice and convenience.
Fixed layout e-books – This format is fixed and cannot be changed. This is useful to those who want others to respect your deliberate design decisions.
PDF –This format is also fixed. The only difference is that this format file can be transferred or sent to your near and dear once without much effort. This type of format files are quite large and are not suitable for mobile or tablet devices.
The next step would be to write 'book metadata.' It means that you have to give a short introduction to the book, yourself, etc. This is essential as it helps the readers to find your book online. Think of the keywords that will help readers to search you as well as your book easily.
Setting up your prices will be the next in the line. The production and distribution costs are nil in the case of e-books. This helps you to have a higher profit margin. But do not become greedy. You should keep the prices as expected by the users. Keeping the price near to the price of other already established books of related subjects is the best choice for beginners.
Now, the step you need to take is to promote your e-book. Just writing a book is not sufficient. You need to promote it, publicize it so that people can come to know about your book. You can use social media like WhatsApp, Instagram, Twitter, etc. for this.
So now, when you know that e-books are a great source of passive income, and if you have the talent to write a book and express your views, then don't wait and go for it.
#3 Create an Online Course
Do you know how to code? Do you have technical skills but don't know how to use them to make some money. Fret not; you can easily create a course on Udemy as it is a great way to generate passive income sources. Just like Udemy, there are many online courses available for people to learn online through videos, etc. The users mostly need to purchase these courses before starting.
Now taking about passive income, the role of creating an online course is when you are not the customer or user of these courses. Rather, you are the provider of the videos. For this, you need to be confident and knowledgeable enough to make a video and spread it. For this, you don't need the space and resources as required in the traditional teaching system. Here, you can easily reach out to many users globally, as well.
Here are the steps you need to take if you want to start your online course.
For your first step in any online course, you need to find a problem. The problem only leads to the solution, and you provide the solution. It is the idea on which you want to start your course.
The subsequent step is to confirm your initiative. This is termed as the Smoke test. This test is concerned with whether people will be interested in your course or not. Before making the video, you need to analyze the market requirement. Otherwise, it would be a complete waste to your time, energy, and resources if the ultimate consumers are not ready to spend their money on your course.
The next step would be that you need t make your course unique. In this internet world, people will get their information from some of the other sources. You need to step up your game and provide the users with something that only you can provide. The best way to do is to try to take up the already existing information and make it new using your skills and ability. Your efforts will pay you off well.
Then the most important step comes that is your first batch of students. This is termed as a beta test. This will tell you whether your course is a success or not. Also, many dos and don'ts are known through this only. If this succeeds, you are going in the right direction. If it does not, then it is an indicator that you need to make some changes. The changes can be in your teaching style, your content, or any other things, as well.
When you succeed in all these steps, then you are ready to earn some money through it.
However, like any other passive income stream, the front end requires a considerable amount of effort. You can opt to teach not only technical skills but also language skills, art skills, etc. as long as you know deeply about the course.
#4 Produce an Audiobook
An Audiobook is something that you get to listen to instead of reading it. This facility is very much used for giving information. For example – when you go to a tourist place you will not require a guide or a book to know more about the places. The Audiobook is available for you to explore the place all by yourself.  Many people all over the world prefer to listen to audiobooks for various reasons, and this is why the audiobook business is growing fast.
Many a time, these books are published to get knowledge too. For example – some people love to hear the poetry and the preaching of saints through an Audiobook. Many people all over the world prefer to listen to audiobooks for various reasons, and this is why the audiobook business is growing fast.
If you have the confidence that you have a clear voice and the capability and knowledge that other people will listen to you, then producing an Audiobook is the best source for you to earn a passive income. And it is not so that your Audiobook will get expired or something. An Audiobook, if it becomes popular, can be used for many years. If you want to make your Audiobook, here are a few steps for you:
The foremost step would be to acquire the right equipment. The microphones on your phones and your computers are not so good. The Audiobook needs to be clear without any background disturbances. You should have a good mic, garage band or audacity, and many more devices for it.
The next step is to select the space for your recordings. The recording place should be quiet. Try using soundproof materials around you like a blanket, carpets, curtains, etc. Cut all the sources of sounds around you. Machines such as dishwashers, washing machines should be switched off. Pets should be kept in other rooms while recording.
The next step is related to your voice for the Audiobook. Have water whenever you feel that you are feeling thirsty. Try to record the Audiobook at the same time of each day as your voice has a different tone throughout the day. Listen to your last recording and try to think over you are lacking and find a solution to it.
The Audiobook you recorded must be sent to an audio engineer for editing.
After all this, you just need to upload your Audiobook on different platforms available online with a cover. Then you need to wait for ACX for further review.
You don't even need to record your book. Amazon enables you to communicate with skilled narrators through ACX, the Audiobook Creation Exchange. Some of them will even read and record your book free of charge, in return for a share of royalties.
#5 Create a Mobile App
In today's modern world, where technology is respected a lot, if you create a mobile app or software which solves a common problem, then you can earn a lot by selling it to unlimited customers.
Now, it is known that everyone can't be good at developing apps as it requires great skill and bit money to invest. You can always go for premiums to upgrade your app and give out monthly subscriptions to users to get money in return. This will ensure that your app or software remains in the market for long.
If creating mobile apps is your niche, you can expect some good passive earnings from it. Now, it is known that everyone can't be good at developing apps as it requires great skill and bit money to invest. But if you understand how the market and dynamic of mobile apps work, this will definitely earn some buck for you.
To create a mobile app or software, you need technical knowledge of how to code the app and perform its function. But in layman's sense, here are few steps telling you how you can create a mobile app or software.
The first step is to identify the problem that the app is supposed to solve. An app or software is designed in the first place to solve a certain problem or to do work more efficiently and effectively.
The next step would be to create the app. It includes all the things from selecting a prototype to platforms where it will work to UX/UI emphasis etc. all the technical part is to be done in this.
Then the turn of conducting a beta test will arrive where you need to check whether the users are comfortable using your app or not or you need to make some more changes.
After all this, then comes the time where you need to come up with updates to improve your app or software with new features and much more. This is very necessary as in this competitive world; if your app is not updated frequently, then you will lose some of your users.
#6 Put Your Real Estate to Work
For a long time, real estate has been the origin of passive income. Investors and tenants have chosen to lease houses, flats, suites, and office space to generate good monthly revenue.
It is not a secret that real estate is an excellent source of automatic income generation, but it also needs substantial upfront finance. You can opt to invest in some real estate if you have additional money lying around. You can buy property to lease to long-term customers or attempt your hand at holiday rentals through locations such as Airbnb or VRBO.
It is not a secret that real estate is an excellent source of automatic income generation, but it also needs substantial upfront finance.
You can opt to invest in some real estate if you have additional money lying around. You can buy property to lease to long-term customers or attempt your hand at holiday rentals through locations such as Airbnb or VRBO. Either way, if you have the money lying around, you should look at it, this is an excellent passive income idea.
Either way, if you have the money lying around, you should look at it; this is an excellent passive income concept.
To start with it, you need to make plans regarding it. You need to make your priorities for the same as you want your estate to be used as a residential purpose or for commercial purposes, etc.
The next would be to promote your work. Without people knowing about your estate would be of no use to you.
Apart from all this, you can always take help from mentors regarding it. They can help you to know the secrets of how to make money while putting your real estate to work.
#7 Earn Royalties from Jingles or Audio Records
If you're into music and practice it or work as a professional, one option to generate some passive income could be to compose jingles or audio songs that you can then license through famous services like Audio Socket, Sound Cloud, or Song Freedom, etc.
Do your study and work hard in creating audio recordings that appeal to a wide crowd. Search for other famous songs that are highly licensed and see what they're doing that you might attempt to reproduce them in some format while not duplicating them completely.
#8 Sell Professional Photos Online
Another passive income route is to utilize photo-selling websites like iStockPhoto and Shutter Stock to make cash while you're sleeping. If you want to succeed in the photo-selling business, you need to know photography and stuff like Photoshop.
When involved in this line of job, there is a lot of rivalries. If you have a penchant for photography, it is natural for you to sell your photos in a professional way. Get really good software for photo editing and discover your niche. Portrait photography or landscape or something else, find it in yourself and get glued to it for life.
For this, you can also take orders from customers. They will provide you with the details for which they want professional photos, and you need to click it and edit it. Many of the newspapers and magazines are also interested in getting photos of different models, celebrities, etc. Therefore, it can also be a great source of earning.
Although the step to achieve success in this business are based upon your skill and publicity, but here are a few more steps to lend you a helping hand for the same.
Get equipment to click high-quality photos. Suppose you take a photo from your phone, and the same is taken by a DSLR, which one would be better. The DSLR one is the answer. Therefore getting the right equipment is very important.
Then you need to create a website to showcase your work to the public. Many online websites making sites are available through which you can effortlessly create an attractive website of your own. The site should contain all the necessary information like your contact details and other facilities provided by you, etc.
The next would be to get intellectual rights for your photos. If you don't get it, then somebody else will, and your taken photos can be a source of profit for others.
Then the last step to promote your business is left. You can use social media and other platforms to make people know about your talent. Then only they will buy your photos and your skills.
Recommended: Long term investment vs Short term investment
#9 Purchase Dividend Stocks
Dividend stocks are an excellent asset for passive income generation. You don't have to sell the stock to produce that revenue either. However, to see a good income stream from whatever dividend stock you end up choosing, you will need to purchase a substantial quantity of stocks.
Properly analyze it and that too with persistence to find the right dividend stock. You don't have to begin by understanding everything, but to learn and grasp the matter, you need a desire. Start from small and accumulate from there while keeping a close eye out for dividend stocks that produce high income.
There are, as such, no steps required for a dividend stock. It's totally up to your knowledge and analysis. Make wise decisions while investing, so you don't have to face the wall of loses.
#10 Invest through Peer-to-Peer Lending Platforms
P2P loans are the method of lending cash to borrowers who are not typically eligible for traditional credits. As the lender, you can choose the borrowers and divide your investment to mitigate your danger.
You just lend your cash, and on that loan, you get paid back principal and interest. The average cash flow yield is 4.1 per cent-greater than any money industry grant you'll discover today.
For this lending business, you should be careful of some points. They are:-
Never become too greedy and charge any rate of interest you feel like. Just like you, many people are willing to lend money. And if you charge high, then no customer would be willing to take a loan from you.
Choose your customers wisely. Don't lend your money to anyone before lending check whether the person is capable of giving back your money or not. If not, then be cautious because then you may not be able to recover the money from the customer, and you will lose all of it.
#11 Amazon Merc
This is a low overhead, low-investment way to obtain a little passive income that can generate about $60-200 a month. You upload t-shirt (and now other items) designs to Amazon, and the giant e-commerce does the remaining work for you. Simple, isn't it?
They will print it in the chosen size and color when someone requests it, and send it to the client. You receive the share between the prices you set and the printing costs. Suppose your design got famous, then you will be able to earn royalties. Through this, you can even get sponsorships from branded companies to design for them as well.
For this, you first need to have a unique design. Then you need to see whether the customers like your design or not. Will they be willing to buy your design or not. If your designs are a success, then don't stop and try to make new designs as it will increase your popularity among different brands.
#12 Earn Money through Youtube Ad
Do you take pride in having more than 1000 subscribers? If yes, then you are eligible for Google's built-in monetization. Through youtube ads, you can make some bucks, but it can be only possible if you can create a large audience base who regularly watches your video and new people subscribe to your channel. This is one of the best passive income ideas which a large number of people are already following and making money.
Everyone does not much like advertisements on YouTube videos. Therefore, you require paying extra attention to it and be careful. The ads on the video should not decrease your followers.
To make a YouTube video means that you have to stand out from your competitors. So, try to be as creative as possible and be the odd one out. As people only prefer those who showcase something new and different from others.
Remember, this passive income only works when you have a good number of subscribers. Therefore, try to have as many subscribers as possible. Make sure to upload new videos and other stuff to keep your subscribers connected to you.
#13 Rent Your Car
Some people are not comfortable while lending out their room to a stranger, but if you have an extra car lying around in your garage, rent it out to earn some extra cash while staying at your house. This can be genuinely passive because once you list your car online, it can make you revenue even when you aren't the one driving it.
Although it sounds exciting, it is not as easy as much as you think. You need to keep your car in good condition all the time. Also, you may need to go for regular repairing for the damages done, if any. You may also be not willing to give your lovable car to someone.
But apart from all these difficulties, renting your car can be a good way to keep your car moving while earning money as well. The main thing in this business is to promote your business. Let people know that your car is available for rent. And by people, it refers to both the ultimate driver or customer and the renting car.
#14 Rent your Storage Unit
Do you have empty storage units which you are thinking of selling? Then you should consider renting it out instead of selling as people who are selling goods require storage to store their items. And you will be the one to give them what they need – STORAGE UNIT.
Through this, you can earn a lot like people, for something or other has storage issues. They don't want to sell the thing but are short of the storage facility. Here comes the role of your extra space. A lending storage facility in your neighborhood can be termed as a healthy source of passive income.
Apart from it, you need to be sure of the security of the store. By any chance, any theft or damage takes place, your whole reputation will be crushed in seconds, and you might not be able to regain it back.
Also, make sure that your storage space is clean enough so that rodents and other inflammable substances cannot destroy the goods as then if any damages are done, then you will be liable to pay for the loses.
#15 Refer Products to your Instagram Followers
Are you an Instagram plus beauty and fashion addict and want to use your knowledge about beauty and fashion products while making a profit out of it? Then you are for some good luck because many brands look for influencers who have a large number of followers on Instagram.
You can review a product on your account and tag the brand, who can then pay you as per your contract with them while getting some freebies from them. Triple luck, isn't it?
Bonus Tips
Use credit cards
When, as a passive income, it is suggested to use credit cards, then that means to use it for cashback. To increase their users, many financial institutions provide you with many benefits as well as cashback. With this money, you may not get rich, but it can help you with your day-to-day expenses. This also improves your credit score, which further helps in getting credit facilities at a lower interest rate and therefore leads to savings.
Outsourcing your business
While all the above points can be considered as a start-up sort of thing. By outsourcing your business, you can earn passive income while already owning a business.
As said in reverse passive income, the more you save, the more you earn. Therefore, you can outsource some of your work to avail of the facility of cheap labor without hiring new staff. This also provides some relaxation to existing employees.\
But for this, you need to be careful as your business information can get leaked to your rivals. Also, the work done can be non-efficient and can incur loses. Therefore, be careful while outsourcing your business.
Remember, truly passive income generation needs creativity and some original work to set up stuff. It's even more true for you if you're someone who's already extremely busy. But if you can take a moment to learn anything, you can earn some additional cash if you believe you'd be great at it. Perhaps a great deal of extra income.
Set your financial objectives and decide how much time, vitality, and cash you're willing to spend on your business and accordingly prosper from passive income.