Looking for options to startup with less investment? There are a lot of people who have fewer budgets but want to do something of their own or wish to start a manufacturing unit. But the question that comes to their mind is what kind of small scale manufacturing they can opt for?
Starting a big business requires a lot of money and involves equally high risk. On the contrary, a small scale business needs fewer funds and involved fewer risks. It is always advisable to first start with a small scale business and then expand as you generate revenue.
Starting a small scale business
Things might seem easy and simple, but when you actually implement them, then you realize how tough it is to plan even a small scale business. Don't worry, all you need is right planning to keep the plan working as you wish.  
You should always know your budget, then calculate the fixed expenses, know how much production needs to be done initially and also add petty expenditures. Follow up regularly as per your plan so that you can make the changes instantly if anything goes off track. If you follow your list diligently, then success is not far from you. 
25 Profitable Small Scale Manufacturing Business Ideas in India
1. Coconut Oil Manufacturing
Coconut oil is used by various people to cook food. Not only is it used in kitchens; in fact, it is also used in manufacturing oil, hair tonics, soaps, cosmetics, etc. This can be a fantastic small scale business as you can start it with a small amount of capital which can be below 1 Lakh.
The primary raw material required for making coconut oil is dried coconut. If proper standards and quality is maintained, then you can sell it not only in the local market but also in the international market and earn a decent amount of money.
Its demand has increased immensely because of the growing awareness about naturally prepared oils among people. You can either start it at your home if you have vacant land or hire a small space to commence the business.
2. Soaps and Detergent Manufacturing
It is a very low investment business but is an evergreen business as people use soaps daily for bathing and washroom purpose. But, before you start this business take a small training and understand the right process of making the soap.
The primary thing required in manufacturing is the raw material, and for making the soap, we have abundant raw material which America does not have; therefore, they import the soaps from India. Hence, you have an excellent opportunity to export and expand your business.
Soap and detergent manufacturing business would need an investment of around Rs.6,00,000. You can either start this business at home if you have a spare room or take a small area on rent and place your soap manufacturing plant there.
3. Paper Manufacturing
Paper is mostly used in schools and colleges plus is also used extensively in industries for billing and recording business transactions. Paper is used in almost every industry, and it has a high demand, but its investment is not so high.
You just need to search for a commercial place where you can set up your papermaking machine. The space that you would need would depend on the paper size, quantity, and volume. Its demand has increased a lot since the ban on plastic as people have started using paper bags. The capital required to start the business would be around 1-2 lakhs.
4. Handmade Biscuits
Manufacturing cookies and biscuits can be a great business if you love cooking and baking. Various people look for new tastes when it comes to biscuits and cookies and prefer homemade biscuits over others. You can set up a small scale industry as it takes minimal capital to start this business.
It is also said to be one of the most profitable small scale business as you just need a small space, raw material, and only a few people for your help. For getting success in the bakery business, you need to take care of marketing and know the taste that your clients are looking for.
As per the demand, you can choose the products you need to make. The primary things that would be required for setup are an electric oven, grinder, mixer, and raw materials.
5. Candle & Wax product Making
It can be a great idea for a smart start as fancy candles have a lot of demand these days. People light candles not only for religious purposes but also for decoration.
If you make pretty candles with good fragrance, you can not only sell them online but can also approach the hotel industry and restaurants as they always buy scented candles for creating a pleasing ambiance. 
You would not need a lot of space to start this business; it can be created in a single room as well. The capital required for starting this business is just Rs.50, 000 if you have your own space. This business can also be done part-time by students, homemakers, or people who hate doing 9 to 5 jobs.
Also Read: Top 20 Franchise Business in India (2021)
6. Homemade Chocolates
Almost everyone loves chocolates, and starting this business can be great if you love making chocolates. This business does not require must investment, nor does it require a lot of marketing. People who love chocolates like trying new flavors and variants.
Nowadays, people prefer homemade products over chemically made products, and the same goes for chocolates. Homemade chocolates are healthier and even tastier, so there is a massive requirement for them in the market.
The demand increases even more during the festive season as people gift each other chocolates. You can also take orders from a pastry shop or can deliver in hotels in their bakery.
7. Fertilizer Production
There is a high demand for fertilizers as they are essential for plant growth. Local farmers are always in need of fertilizers, pesticides, and insecticides. If you are into farming, then you would have various ideas for making fertilizers.
As India is an agricultural country and two-third of the land is used for cultivation; hence farmers need fertilizers to make the soil more fertile to increase production.
These days organic farming has become a trend because people are more and more awareness on healthy living. Thus, you can start preparing organic fertilizer with natural products; it would help you earn a lot of money from it. 
You would need a small space, or you can also start this business at home with an investment of around Rs. 50,000.
8. Papad Making
In Tamil, we call papad Appalam, it is a very tasty snack and can be an excellent home-based manufacturing business idea. Along with papad, you can also make sabudana fritters as it has a huge demand all around the year. Starting this business is very simple and requires very little workforce.
The essential thing required to start this business is a good recipe and equipment such as a gas stove, utensils, raw material, and a sheet for drying the papads. If you want to start it on a commercial basis, then you would also need packing sheets and a sealing machine.
Homemade papads can be sold easily in the local market, or you can contact any departmental store and supply them with all your production. You can start this business with just Rs.20,000 to Rs.30,000 and expand as the demand increases.
9. Cottage Butter, Paneer and Ghee
These are a few things that everyone used and prefers buying of the best quality. You might be surprised to know that India is one country that is the highest producer of milk. There are various villages in India where 5 out of 10 homes have a cow, buffalo, or goat.
But, in cities, people do not get pure ghee or paneer; therefore, they have to buy chemically made products.  Cottage butter has various health benefits, and there are very few manufacturers of it. Therefore, if you have sources, then you can start your own small scale business of producing cottage butter, paneer, and ghee.
If you make pure ghee and it tastes well, then you can earn a lot of money by selling it in the cities. This business would require a capital of around 2 lakhs as you would need to buy cattle and rent a space where you can keep them plus their feed.
10. Manufacturing Incense Sticks/Agarbatti
You would need less space, less capital for this business but have growing opportunities in this business as India is a holy country and people light incense sticks while worshipping temple or even at their homes.
India has a vast market for this business, and along with it, people also buy kumkum, oil, etc. The investment required for starting this business is just Rs.25,000, which is needed to buy bamboo sticks and oils for giving fragrance to the sticks.
The process of making it is as straightforward as you just require to coat the oil on sticks and leave it to dry for 24 hrs. Once they are dry, just pack them, label them, and they are ready to sell in the market.
Also Read: How to start a Tea Shop Business in India
11. Automobile Parts Manufacturing
This industry is flourishing in India as all the automobile requires spare parts to assemble the units. If you become a giant in automobile manufacturing, then you can earn huge profits from it.
It is always advisable to start small in this business as it would require less capital and less labor. Once you make a market, then you can expand and convert it into a large scale unit.
This business requires high-tech machinery and a big space; hence you would need a capital of 5 to 10 lakhs for starting this business. You should focus on producing those products which are required on a regular basis as it will help avert dead stock.
12. Soda & Flavoured Drinks
There are various small scale soda and flavored industries in India, and its biggest example is Goa. There are a plethora of small enterprises there, and they sell flavored soda for just Rs.5 for a 300ml glass, and they are making good profits from it and so can you.
This business runs best in summer or at tourist places when people love drinking something cold or refreshing when they are tired. Either you can prepare these drinks at home, or you can make them through machines.
This business can be set up at a meager cost, and you can also start it at home and expand if you create a good market.
13. Furniture Making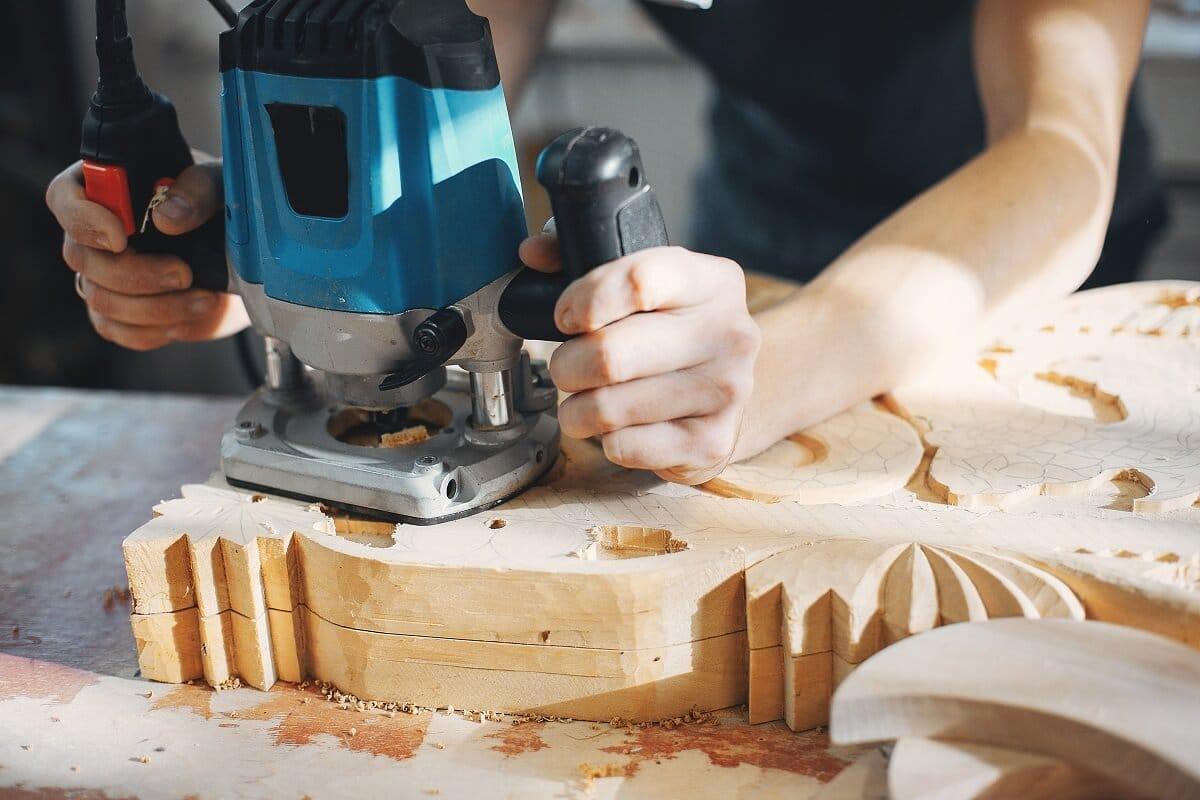 Who does not love beautifully designed furniture? In fact, in today's time, everyone wants a magnificent interior, and it is incomplete without the right furniture. This business has excellent growth prospects in India and has good export potential as well.
It is an indispensable item for households, schools, and even businesses as each one of us needs a table, chair, beds, sofa, etc. Hence, starting a small scale furniture business can be a great idea.
You would need a capital of 1 to 5 lakhs, but there is no such limit in this business as it depends on the quality of wood you use and the type of products you manufacture. Just like any other business if you do hard work, make good quality products, and offer great prices only then you can earn the right clients. 
14. Readymade Chapati/Parotha making
In the big cities, there are a lot of people who are staying alone and do not have time to cook or do not know how to cook, or they do not have permission to cook where they stay. Also, both the spouses work so that they can earn more and live a better life.
Therefore, because of lack of time and other facilities, people order food from the restaurants. Roti or chapatti is the primary diet for most people in India, thus, people buy readymade, or pre-packed chapatti's from the departmental store, which is half-cooked.
You can start roti making business and sell them at a reasonable price. People would love to eat homemade chapatti/s. This business will need an investment of 2 lakhs if you buy machines for making dough and chapattis.
15. Fruit Pulp Manufacturing
In the food industry, there is always a requirement for good quality fruit pulp. In fact, there is a considerable increase in the demand for fruit sauce such as tomato sauce, jam-jelly, chili sauce, etc.
Million of rupees are spent annually for making this pulp; this wastage is because there is no advanced cold chain logistic system. The high-quality fruit pulp is in great demand, especially for seasonal fruits such as mango, tomato, strawberries, kiwi, etc., for cake, ice cream, squashes, etc.
You would need an investment of around Rs.10 Lakh as you would also need to buy a fruit pulper machine for making the pulp.
Also Read: 15 Passive Income Ideas To Help You Make Money In 2021
16. Frozen Fruit and Vegetables
You must have heard a lot of times that tons of fresh fruits and vegetables are wasted. But, this huge quantity of fruits and vegetables can be used by putting it in cold storage by freezing it. For example, apple can be stored, and jam can be made, tomatoes can be used to create a paste, frozen peas, etc. are all in high demand today.
If you store these in the seasonal times, then you can sell them later at high prices and earn a tremendous amount of money. These frozen fruits and vegetables are high in nutrition and have a vast demand globally. 
As of now, awareness is less; hence, the producers are less. Therefore, you can start this small scale business with less investment initially but can expand it as you get more and more clients.
17. Jewellery Making
Imitation jewellery has always been in done, firstly, because of trend and secondly because of economically weaker segments of the society. Also, women are too much fond of matching jewellery; therefore, they like buying imitation jewellery for matching.
If you want to enter this field then you need to follow the trend and use your expertise to make the youth look better. This business is gaining more and more popularity because of the increasing prices of gold, diamond, and silver.
You can design and create this jewellery and sell it online or open a small store or can also sell it to a third party store. This business needs a minimal amount of investment, and you can start this work from your home initially. 
18. Disposable Plates, Cups & Crockery
This low investment business has gained a lot of demand because of the ban on plastic lately. Hence, entering into this business of disposable crockery can be very profitable for you. 
These items are vastly used in parties, functions, picnics, and get together. People prefer buying them because they need not wash them and are very light in weight. In fact, street food vendors also use disposable plates and crockery.
In traditional times, people used to serve in banana leaves, but now the trend has changed to disposable plates and crockery. In fact, now the straws, knives, forks, and cups are also made of paper. These disposable items are pretty expensive if designed well; hence, you can try your hands in them. 
19. Hand Sanitizer Production
Along with the other businesses on the list, this one has become a must. After the current situation of Covid-19, every person is using hand sanitizers immensely. Its demand is really high as every person has more than one sanitizer. For example, one at home, one in the car, in the office, etc.
There were a lot of shops and supermarkets where it was out of stock too. Hence, you just need to learn how to make a sanitizer at home and start production. It would not take a lot of investment; you would just need the procedure, raw material, and bottles for packaging.
Therefore, starting a small scale sanitizer business can prove to be a good business idea for aspiring entrepreneurs.
20. Tempered Glass Manufacturing
This business is not going to end as every person with a mobile phone asks for tempered glass to safeguard their phone. Just like the demand for mobile phones is increasing so for tempered glass. This industry is flourishing for a couple of years now.
You would be surprised to see its growth rate as it has become one of the most profitable business ideas. There are a lot of people opting for this business because of low investment, huge potential, and high profits.  
As per the reports, 3 crores smartphones were sold, just imagine how many tempered must have been sold plus existing people also change their tempered glass. Opt for this business and earn a handsome amount of money every month.
Also Read: 30 Profit-Making Small Scale Manufacturing Business Ideas
21. Concrete Block Manufacturing Business
Concrete blocks or tiles are the precast solid cement concrete products. India has been witnessing a boom in the construction business because of both residential buildings to making of bridges, malls, or industries. 
A couple of years back, the red bricks were in trend, but now people have started using these concrete bricks because of their looks and durability. The major reason why builders use these concrete blocks is that as they are readymade, it helps them complete the projects timely.  
Nowadays, they are widely used in making a garden path, pavement, flooring, wall, etc. You can start this business by using simple machinery and raw material. Its investment is low, demand is high, and profits are enormous.
22. Mineral Water Plant
Bottled mineral water is always in demand because of its high usage in weddings, parties, hotels, etc. You can set up this mineral water plant, but it needs attention to detail as hygiene is paramount in this business.
As compared to other businesses mentioned, this would need a considerate amount of money, but it has equally high profits as well. For starting this business, you would need a good plan and strategy for marketing and sales.
The best part of this business is that the competition is comparatively low. The investment required in this business is 40-60 lakhs excluding land, but as per the research, the profits would be approximately 1.5 to 3 crores a year if things go well.
23. Spice Powder Manufacturing Business
When you talk about Indian food, the first thing that comes to mind is spices, such as turmeric, coriander powder, red chili powder, etc. Indian food relies a lot on spices. If you hold on to this field, then there is no looking back for you.
Making spices and packaging is one of the most profitable businesses as the large scale manufacturers are not able to give the local taste because they have a generic taste in their spices. 
These spices work as a tastemaker in the food, and if people love your pure and authentic taste, then you can make a great market share. Along with the spices, you can also make chicken masala, chat masala, vegetable specific masala, etc.
24. Bedspreads and Blankets Manufacturing
There are a lot of locations in India that are well-known for bed sheets and blanket manufacturing such as Panipat, Solapur, Davangere, Thiruppur, and many more names are there in the list. But, all these places are famous for making traditional bedsheets.
If you work on making good quality cotton bed sheets and warm blankets, then it would be easier for you to sell your product. This business is easy to start as you just need some workforce and the right loom machines for manufacturing. It can be slightly expensive as you would need ample land to set up the manufacturing unit.
The demand for the bedsheets and blankets never reduces as it is a household item and is used every day. The cost of manufacturing is less, but you can sell it at a fair if the quality of the product is good. You can also contact big hotels for selling your bed sheets and blankets to them.
25. Toys Manufacturing
Toys are the only thing that every kid asks for as it is their favorite item, and its demand never slows down. If you are creative and can think of some innovative designs, then it would be great as kids love using different kinds of toys.
In fact, along with the new toy ideas, you can use the old epic characters like Winnie the Pooh, Donald Duck, Mickey Mouse, etc., and create them differently. The investment in this manufacturing business is moderate, but the profits are comparatively high.
Ensure that you do proper research before entering this business as to what sort of toys are in demand? What age group would you target? Type of toys, etc.
Recommended: 40 Best Small Business Ideas in India for 2021
Starting your own small scale manufacturing business can be an excellent opportunity for anyone to begin his career. However, one must keep in mind that they need to do planning not only before starting the business but one should be equally passionate and dedicated towards their work even after they achieve huge success in their business.