Smartphones and their advanced cameras have made everyone a photographer. The ease of access has allowed normal people to become professional photographers. Such an abundance of photos has created many platforms that offer free photos which means they need photos as well. These companies are willing to pay photographers a decent amount in exchange for their photos. If you have the proper skills then you can easily monetize your photos using these sites. In this article, we will list down the best photography websites to sell photos online and explain the full process of how to make money selling your photos online.
How do Stock Photography websites work? 
Stock photography websites work as a salesperson. You just need to upload the pictures you want to sell, and the website will take them from there. From selling your work to making your profits grow, it will do everything to increase your profits.
Photos sold by these websites are used in blogs, ads, books, newspapers etc. Every time a photograph is sold, a certain margin is kept for the actual owner of the picture. A single photo can be sold an unlimited number of times. The better the image's quality, the more the demand will be.
Sometimes you might need to submit a collection of your best photos to make some profit. You might even get rejected in some cases, but you need to keep the belief and keep trying. You can join multiple sites to achieve better results. That will increase your coverage and build your chances of selling your work.
23 Best Photography Websites to Sell Photos Online
The Internet is filled with stock photography websites but for you, we have compiled the best ones. These websites are easy to use and pay a good commission for your precious photos. Let us start our list.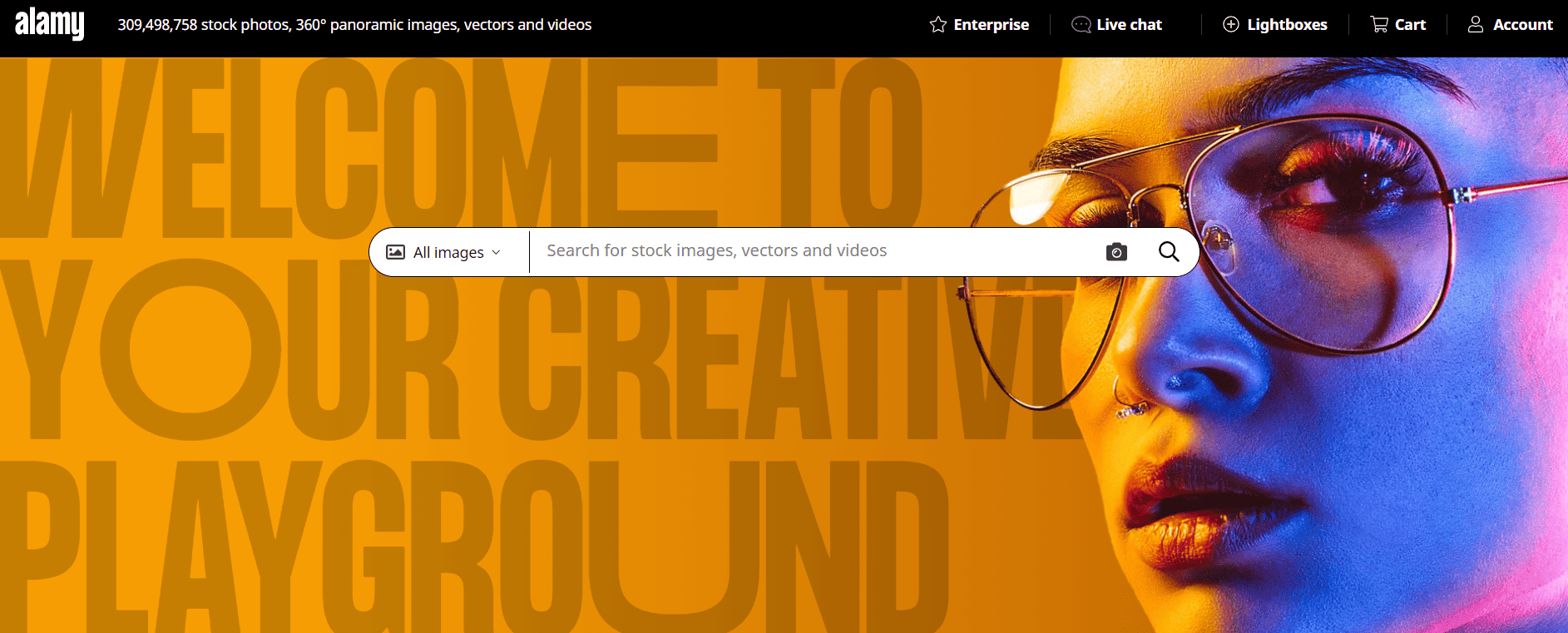 Selling photos online for beginners can be challenging and confusing. A beginner is usually unaware of trends and the right strategies. That's why they need a user-friendly website that does not have excessive terms and conditions. It will provide the proper exposure before putting your foot forward in the industry.
As a student, you have an absolute advantage if your university is registered with the website. Alamy has a student contributor scheme that provides total money earned on the sold image for two years. The website does not charge a commission for the fantastic services it offers.
If your university isn't registered, then you won't be able to reap the benefit of getting 100% of the sale price. However, you would earn about 50% of the cost your photo was sold for.
A photo is priced depending on the purpose of its usage. For example, a photograph for a famous magazine would fetch more money than a photograph sold to be published in a local kid's book. Alamy sells a picture for about £65 each. Again, it depends on its purpose and type. But you can easily earn between £15 and £360 per picture.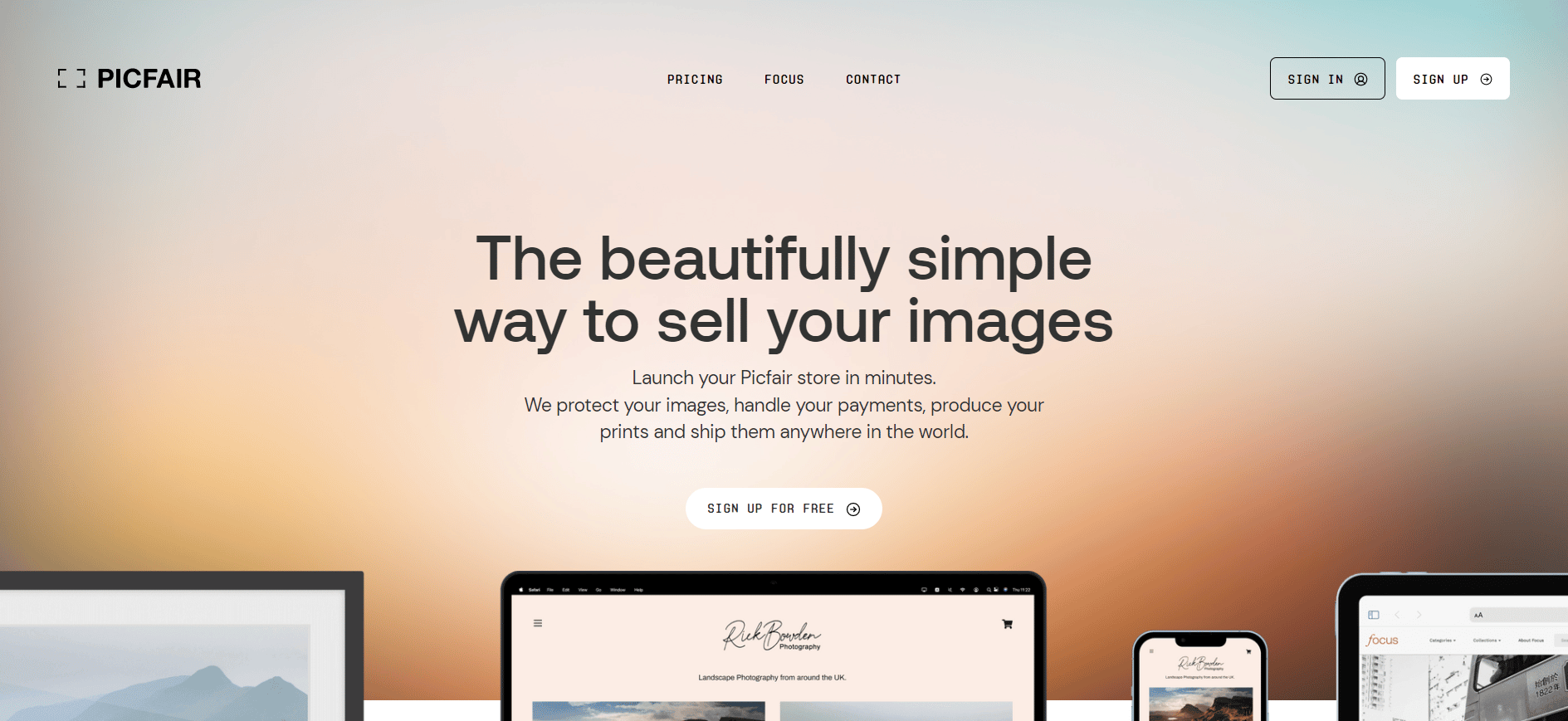 This site is for you if you have a stock of high-quality images. People passionate about photography wouldn't like that a random buyer decides the worth of their photos. A photographer knows the real intent, determination, and hard work that go behind taking a perfect shot. A good picture deserves a reasonable price.
Picfair understands that and can save you from the trouble of going through a challenging phase. The website facilitates the choice you can contribute in deciding the price.
It's a simple process. You decide the price of your photograph. The website will increase the price by 20% and sell the photos. The 20% is kept by pic fair, and you get the price decided by you. The lower the price, the more the demand will be. But a top-quality image will fetch the desired price.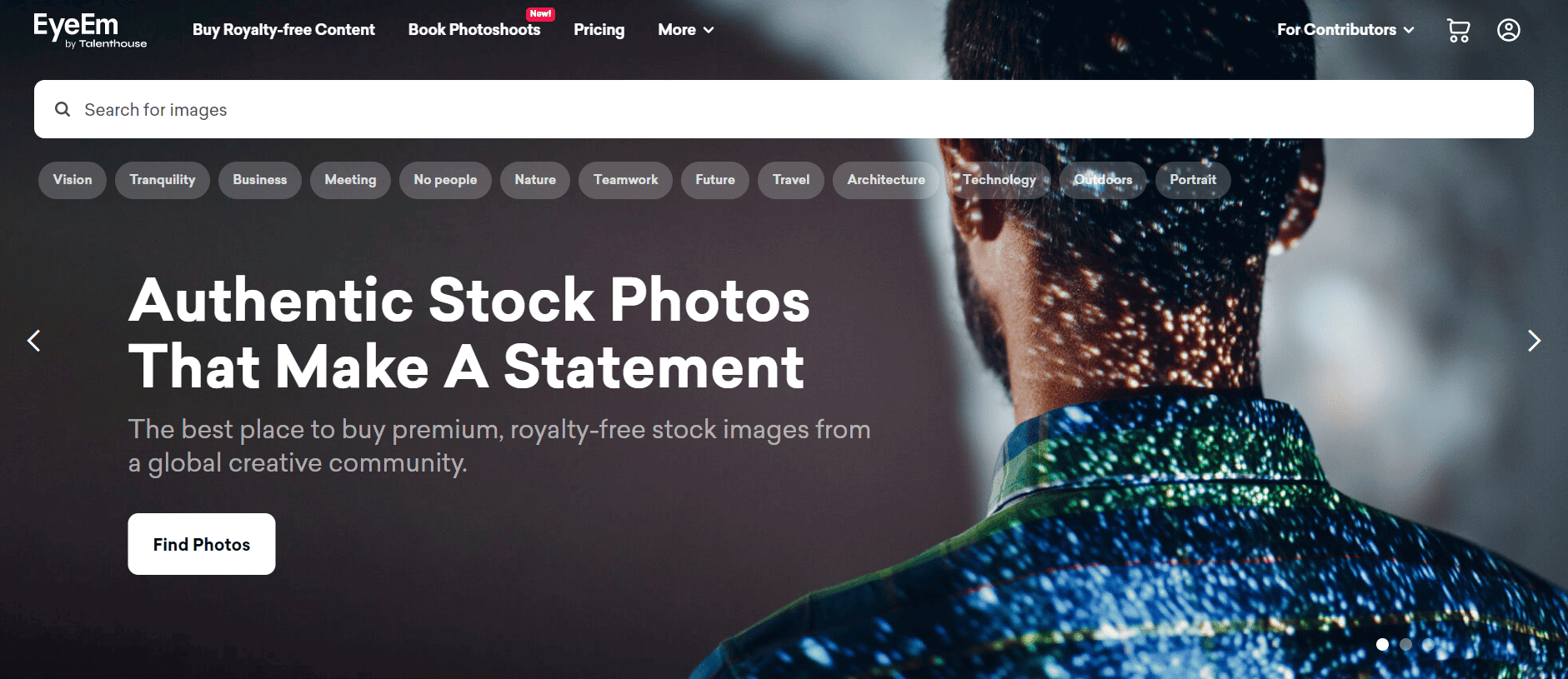 EyeEm is one of the best photography websites to sell your photos online. It's like Instagram, where you can share your best shots, socialize and get likes. But it is somewhat similar to Alamy, where you can earn money selling these pictures. It acts as a marketplace for your photographs.
You can earn a decent 25% to 55% on the sale of your pictures. The website also provides value-packed articles to develop your skills and saves you time by bringing a marketplace on your phone or web. This medium can be beneficial for selling photos online for beginners. It is also great for those who want to learn how to make money selling your photos online.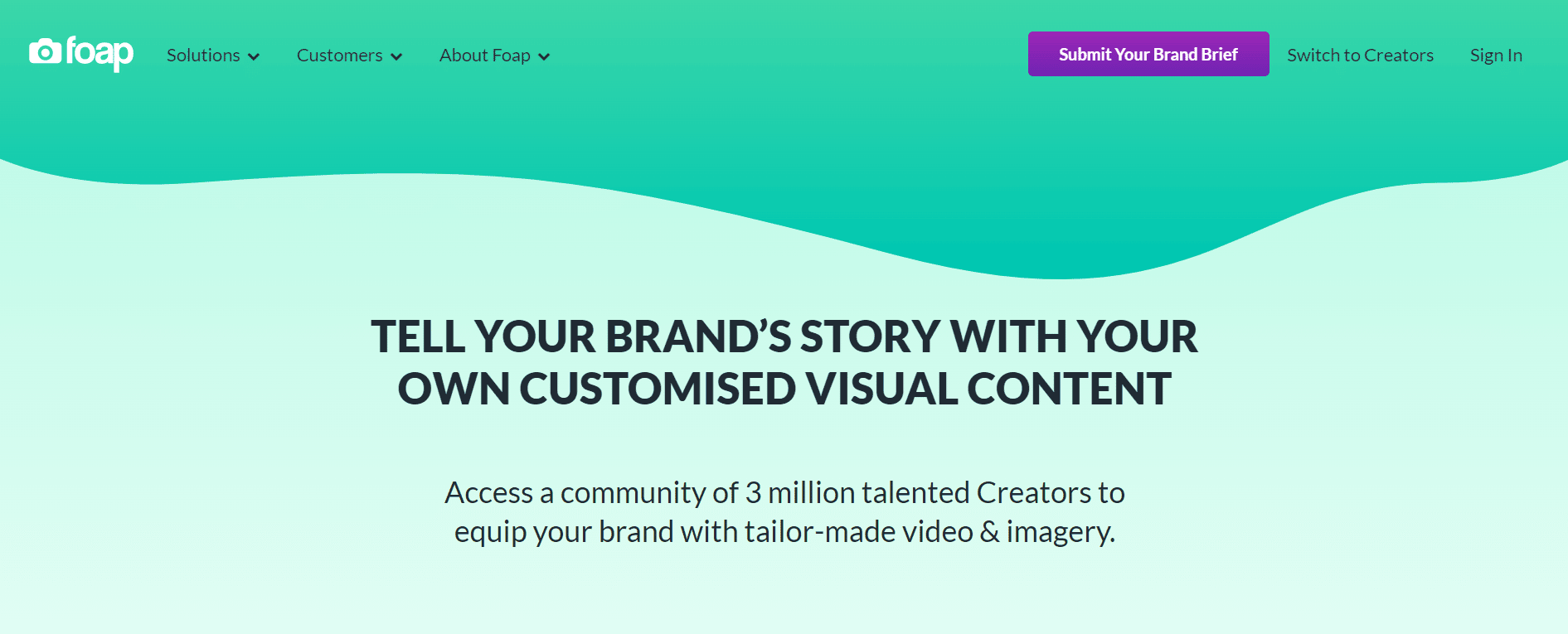 This platform is a complete package. It has numerous advantages for its users. First, you can download the app on your phone for free from an app store. Next, it is a friendly platform for phone photographers.
Several brands associated with the app periodically run themed missions to encourage photographers. The theme includes anything ranging from cute dog photography to bikes and cars. A good photographer stands to win awards in the form of extra money. A photo on Foap sells for about £7 – £8. You get around 50% after the deduction of all the taxes and commissions.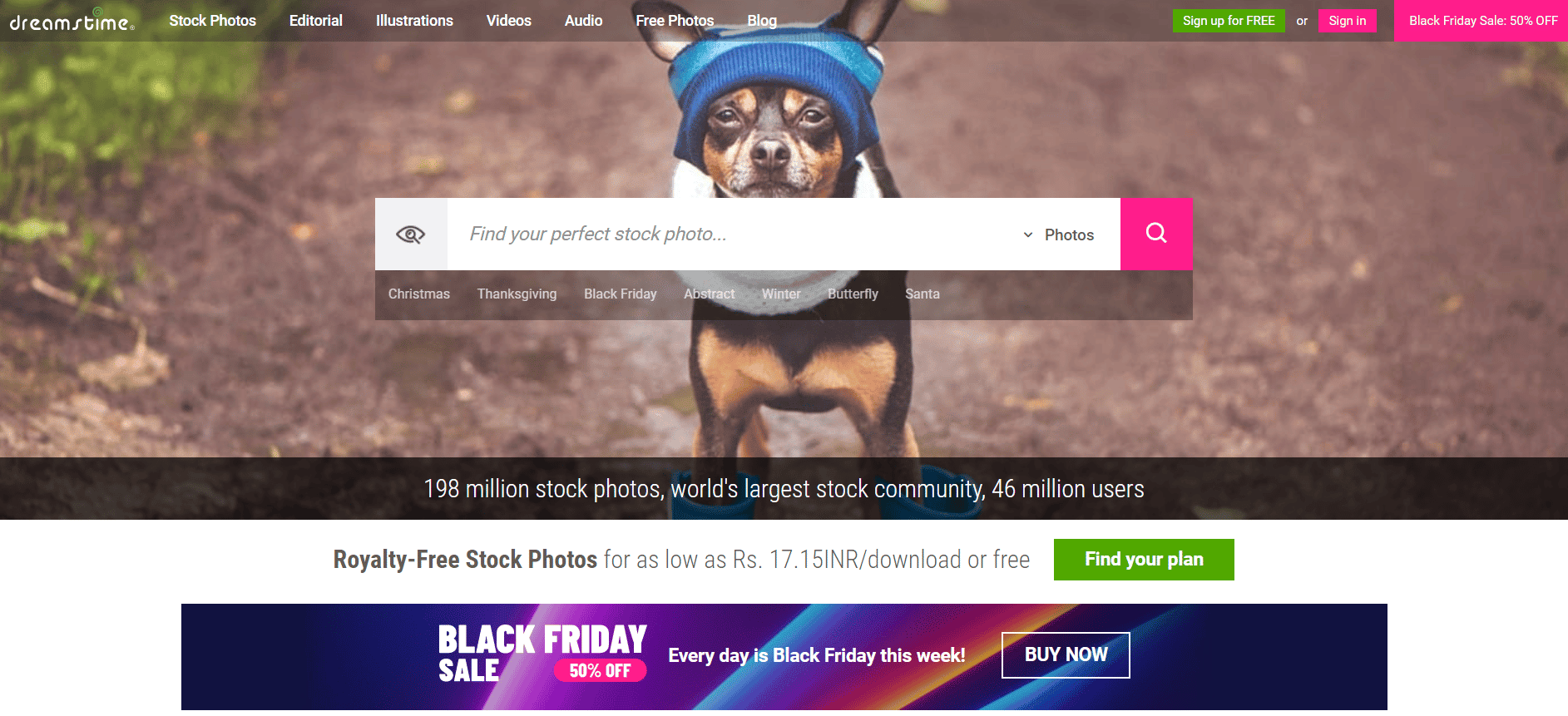 Dreamstime supports small photographers who use high-quality phones instead of professional DSLRs. A beginner can sell a photograph for £0.25 – £3.50, which is a reasonable price, considering you only used your phone to click the shots.
The app also requires you to add at least 70% of your portfolio for six months. It has a big payout for its contributors. An exclusive picture can easily generate about 55% of the profit from sales. You can even earn money through referrals.
The app is free to download for iPhone and Android users. It provides up to 60% of the margin for its exclusive users. The contributors can expect consistent growth if they remain constant on the platform and work towards improving their skills and products.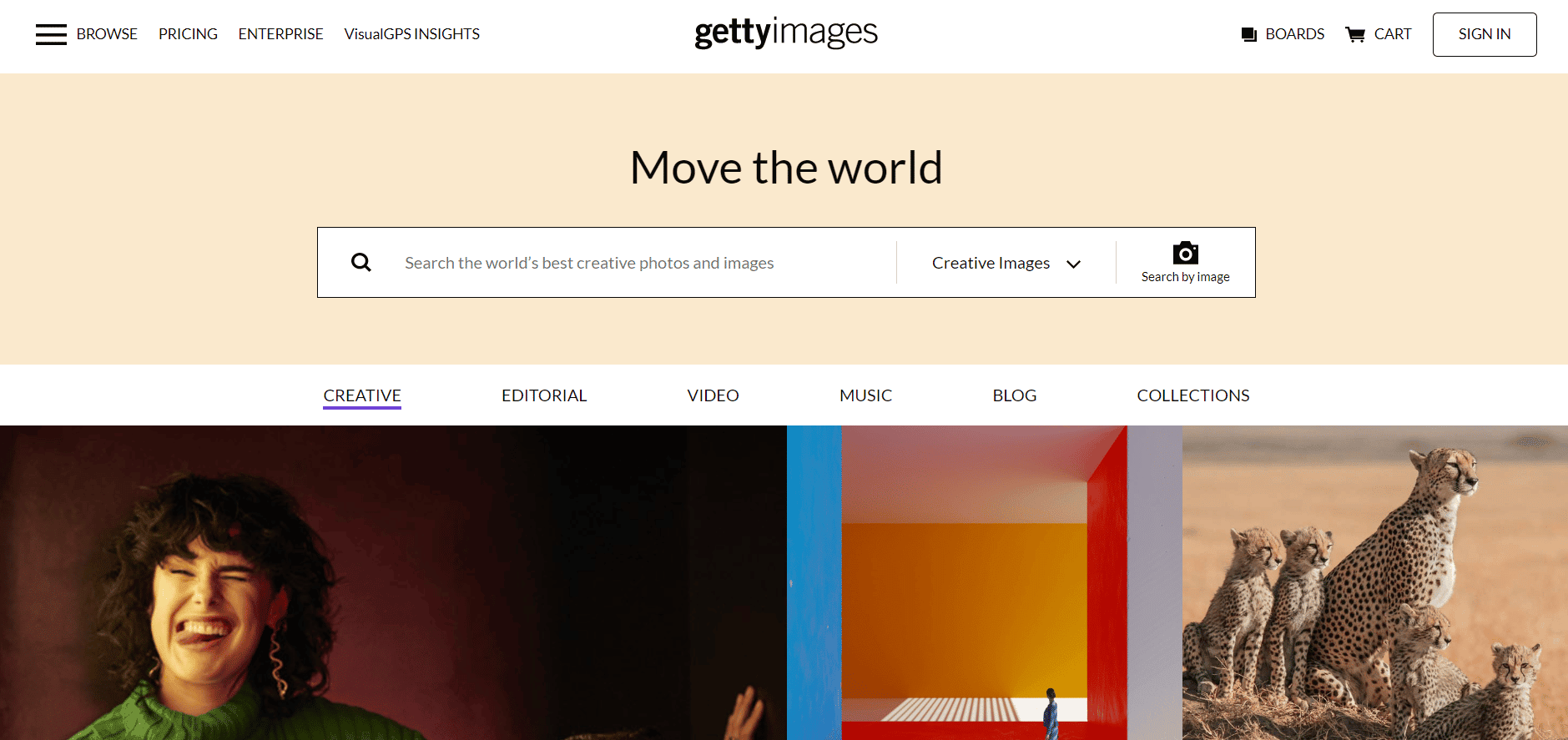 Getty Images is another beautiful app that can help you earn money by selling your –photos for you. It provides 15% of the sales price to the photograph's owner. However, one can expect a more significant margin if the image is exclusive to Getty Images. It can be as big as 45%.
The app has several unpaid features, but you can get access to premium features in exchange for a small fee. These premium features will help you reach your work to a broader audience, and you can expect a more significant margin on the photographs you sell.
On average, an image is sold for about £50, but as we mentioned earlier, it depends on the type and demand of that specific photograph. Usually, publishers or buyers of pictures use this platform in search of exclusive images to license.
Also Read: 51 Ways to Make Money Online For Beginners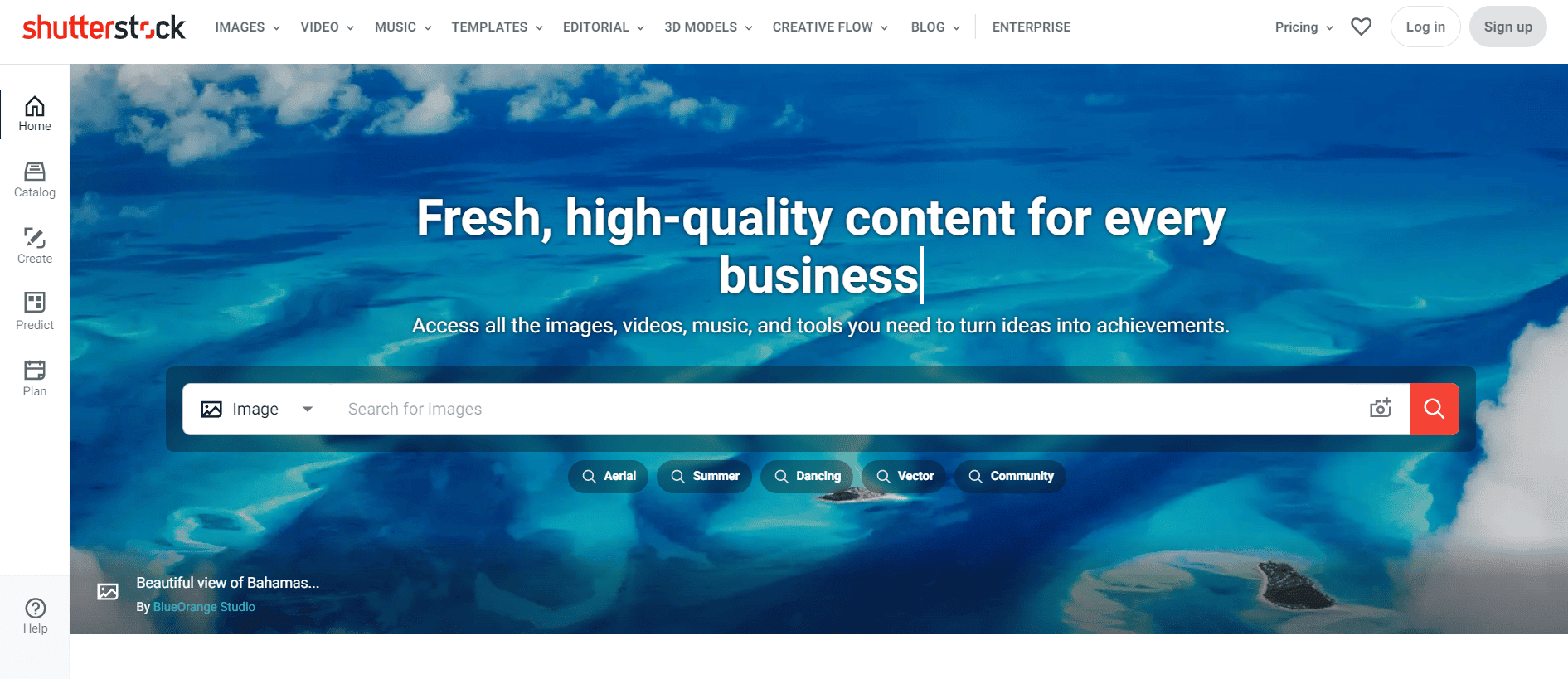 Shutterstock is one of the best photography websites to sell photos online. You would have heard of this website even if you hadn't started selling photos online. Like other sites, the percentage of profit directed towards you is based upon the license & type of subscription you have.
As a beginner, you can expect a decent share of 15% when your image is sold to a prospective buyer. It is obvious that the more you sell more your earnings will be. However, one must be ready for rejection as selling a photograph involves your attention to specific parameters. For example, picture quality, demand, attractiveness, uniqueness, background, etc.
The platform has a unique feature: the margin share for a consistent seller keeps increasing. If you lose track between, you go back to 15%. You can earn extra money by referring other photographers.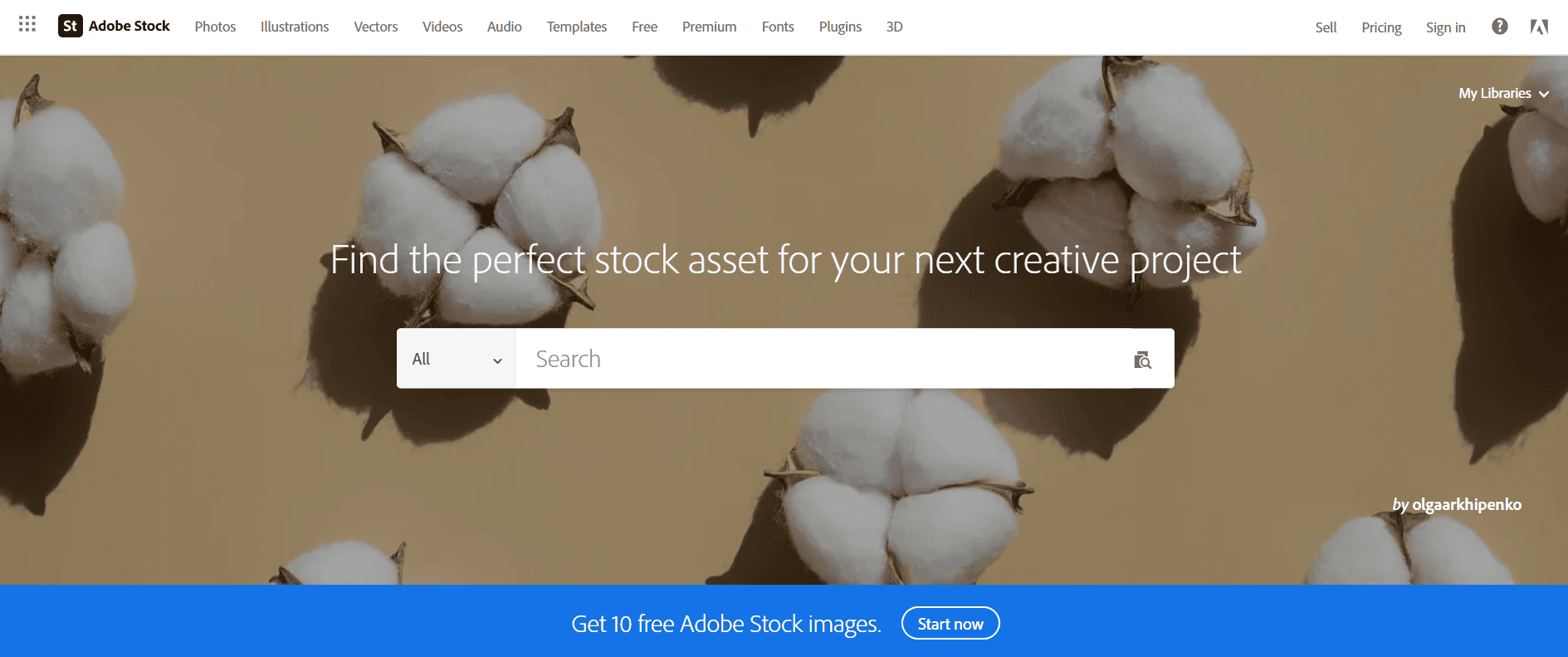 Adobe Stock lets you earn a decent commission of 33% on the photos sold to buyers. This platform provides quality services and is one of the favorite apps of photographers. If you ask how to sell photos online and make money, this app answers your question. The app is easy to navigate and provides a user-friendly interface.
The best feature of Adobe Stock is that when you upload photos to sell, they are also listed on another stock site: Fotolia. This ensures the picture reaches a broader audience, which increases the chances of your image being sold.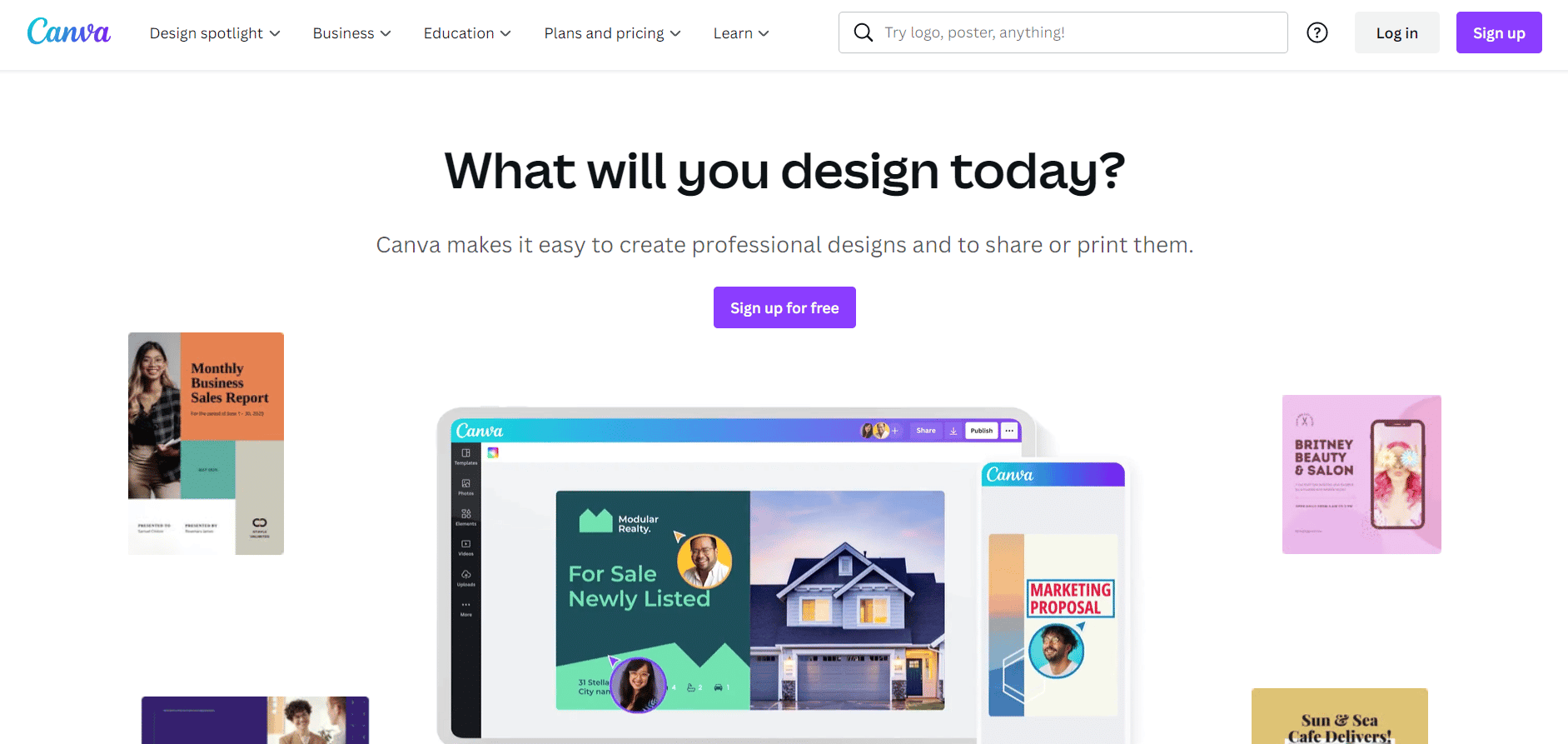 This must be the most popular site of all. It is a blessing to graphic designers, content creators, artists, and a million others. It has a user base of 65 million from 179 countries, and this number is increasing exponentially. With this fantastic app, you can easily reach a wider audience from all over the globe but also use its brilliant design tools.
The app offers an incredible opportunity to its contributors to earn a passive income in exchange for worthy photographs that can benefit its users. The option is mainly for content contributors like videographers, designers, etc. You can easily build your portfolio through Canva and start pitching potential clients or simply uploading it on stock websites.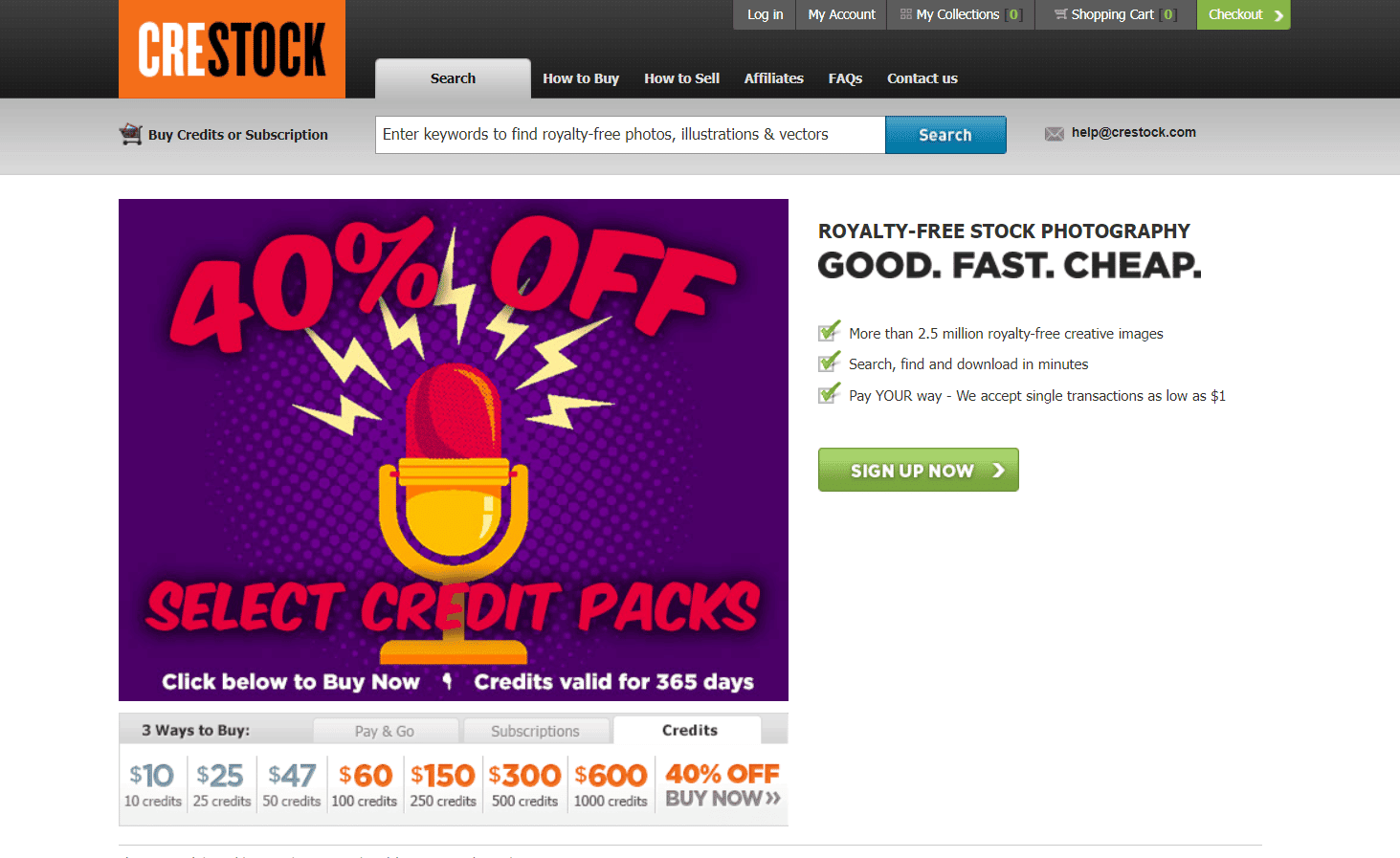 You can earn a sizeable amount of profit through Crestock. It provides around 40% commission on the sale of your photographs. The profits are mainly dependent on the volume of downloads. The more the number of downloads, the more will be the profit percentage. The app also provides affiliate programs through which you can earn decent money online.
Crestock pays contributors 20–40% commission rates based on the total number of downloads. They also have several affiliate programs through which you can earn money.
Using this platform requires a constant check on your status. Your performance matters a lot when you use this app. Since the commission distributed to photographers is based on the total performance, you must perform consistently well.
Other parameters for deciding on the commission percentage are the licence type, subscription to the premium package, and resolutions. On average, you can easily earn a commission of about 40% on the total profit.
12. Fotolia
Fotolia is a part of Adobe Stock, as mentioned earlier. Uploading an image on one platform automatically gets promoted on the other. The platform uses two payment models for its photographers: subscription and pay-as-you-go.
Pay as you go: selection of this pricing model can earn you a decent commission ranging from 10-63%.
Subscription: This model guarantees a minimum percent of profit. This means that you can expect a fixed percentage of profits. Apart from that, it generates about 33% of the price at which the photographs are sold as an income. This feature makes this platform unique and it is worth giving a shot.
Note: Fotolia has been acquired by Adobe.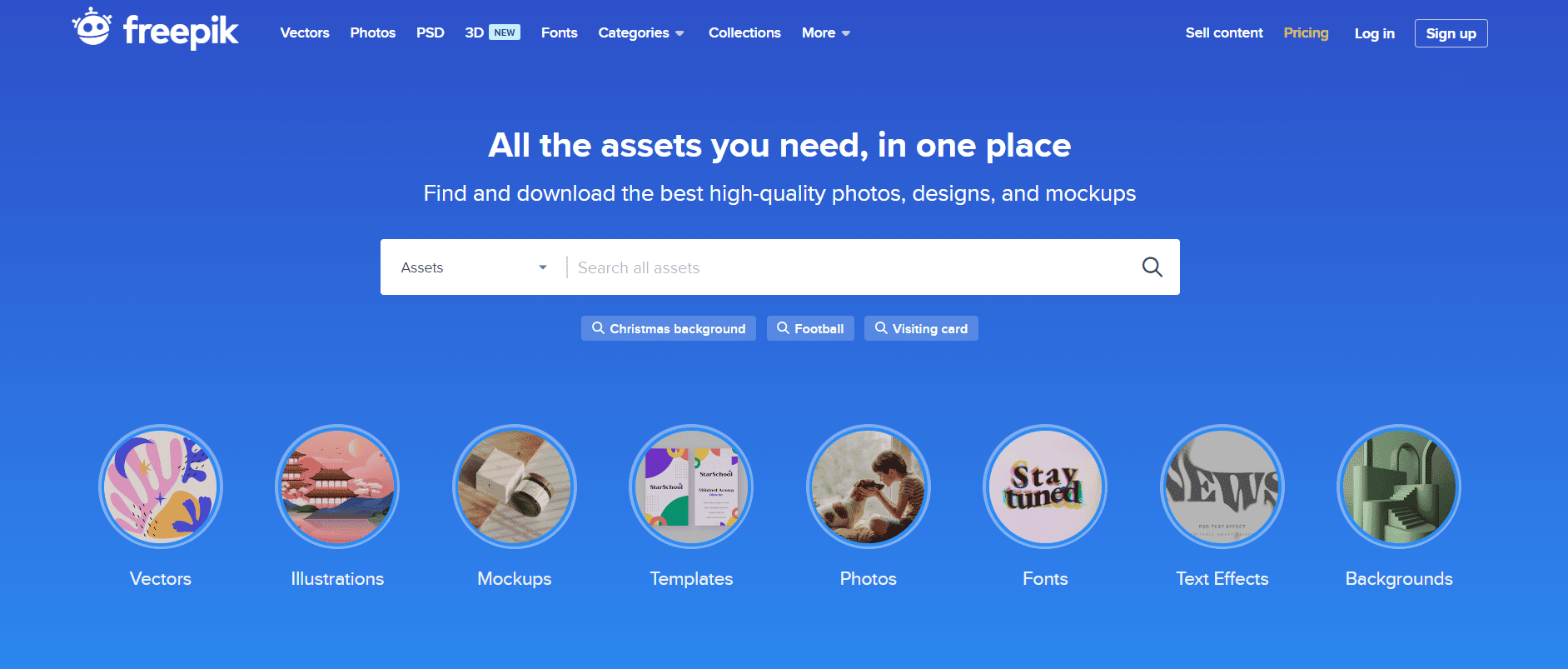 A vast user base is what every photographer needs to reach a wider audience. With a user base of 32 million, Freepik is an absolute delight. It has other sites associated with it that act as an additive advantage. Flaticon, its associative site, has a vast user base; when combined, they account for 100 million+ downloads every month. Imagine the volume of content (photographs) uploaded on this site daily.
Although it may sound like a competitive site, if you look on the bright side, you get to learn a thousand different things from the picture content posted by others. On average, the site pays 50% of the share to its photographers as their commission, which is very decent compared to others.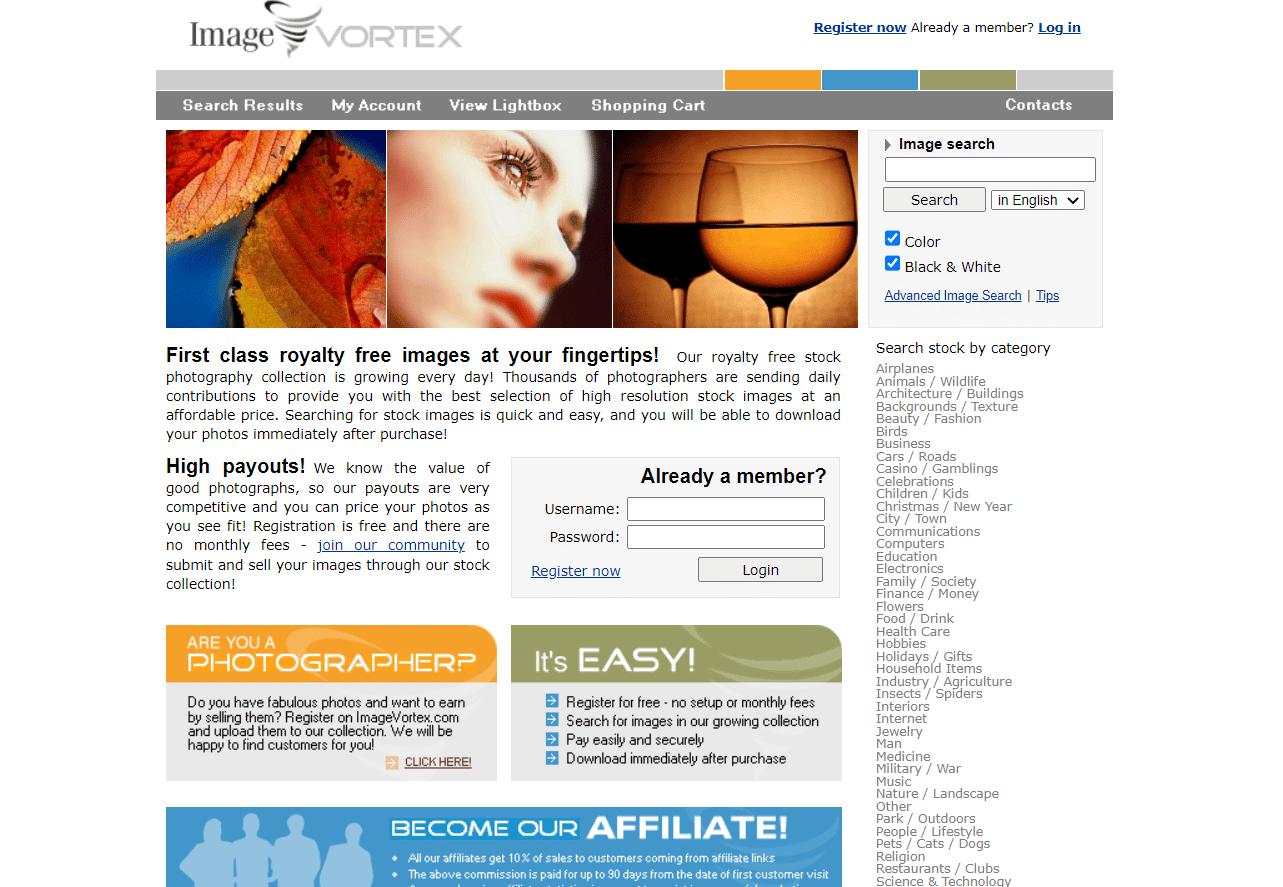 This app will sound like a dream come true. It does not limit a user in the name of exclusivity. Hence you are free to upload images on other sites as well. You get to set your price for your work which makes it one of the best photography websites to sell photos online. If you talk about a commission, you can earn a substantial profit margin of about 70% with this platform.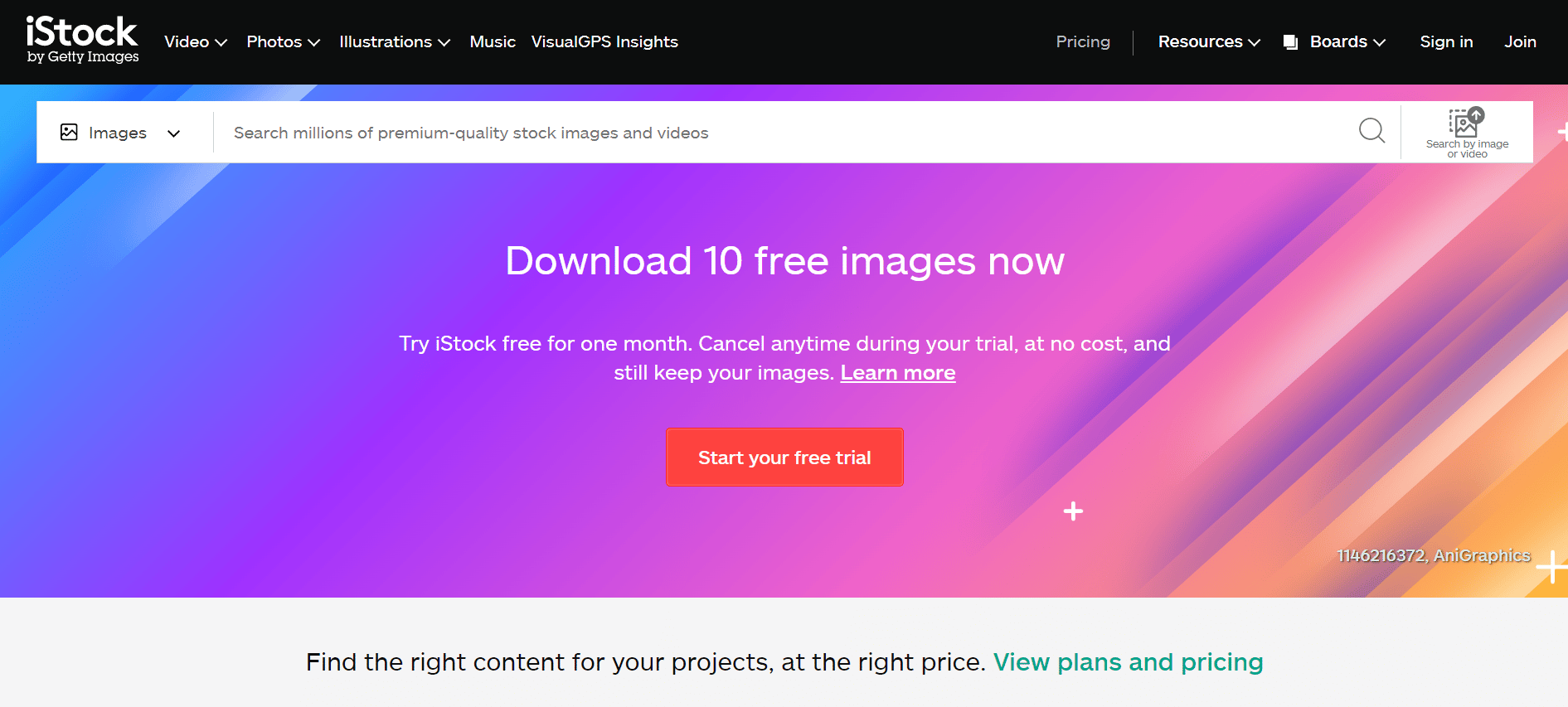 Istock segregates images that are exclusive and non-exclusive. It distributes commission based on the quality of images contributed, exclusivity of pictures, subscription type, etc. This site is considered one of the best photography websites to sell photos online.
Istock is owned by Getty Images, adding an advantage to its active users. If you are consistent on this app, you can fetch a good commission as high as 45%. So you need a willing heart, and you can start pleasing your wallets with dollars.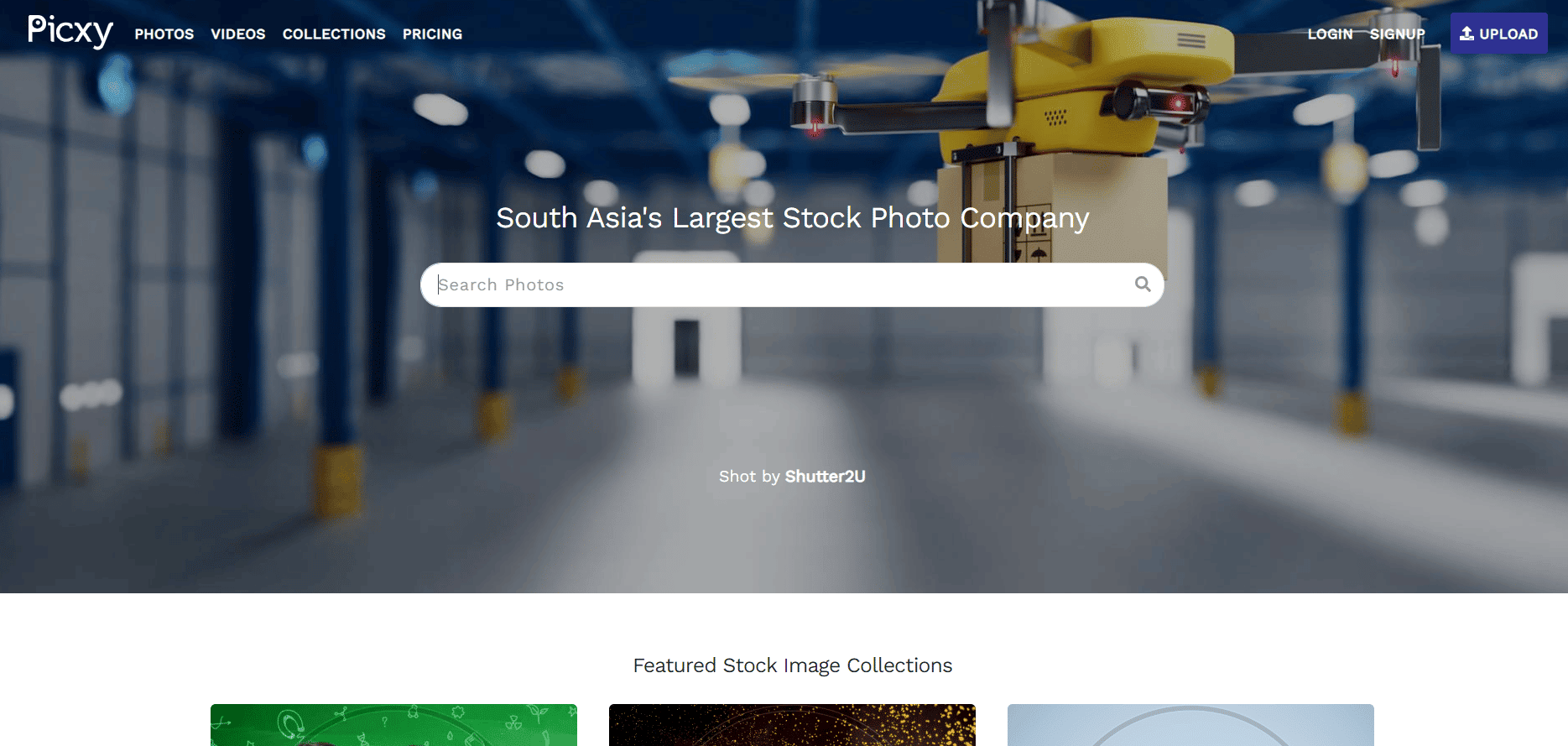 Another fantastic platform available at your ease is Picxy. The platform is easy to use for selling photos online for beginners. It has a few terms and conditions that can be met without any hassle. One of them is to upload 20 images that are your best shot before you start earning a commission.
Usually, it offers 20% of the income earned by selling your images which gradually increases with time as you increase the volume of your upload. It also has a referral program that benefits its active users.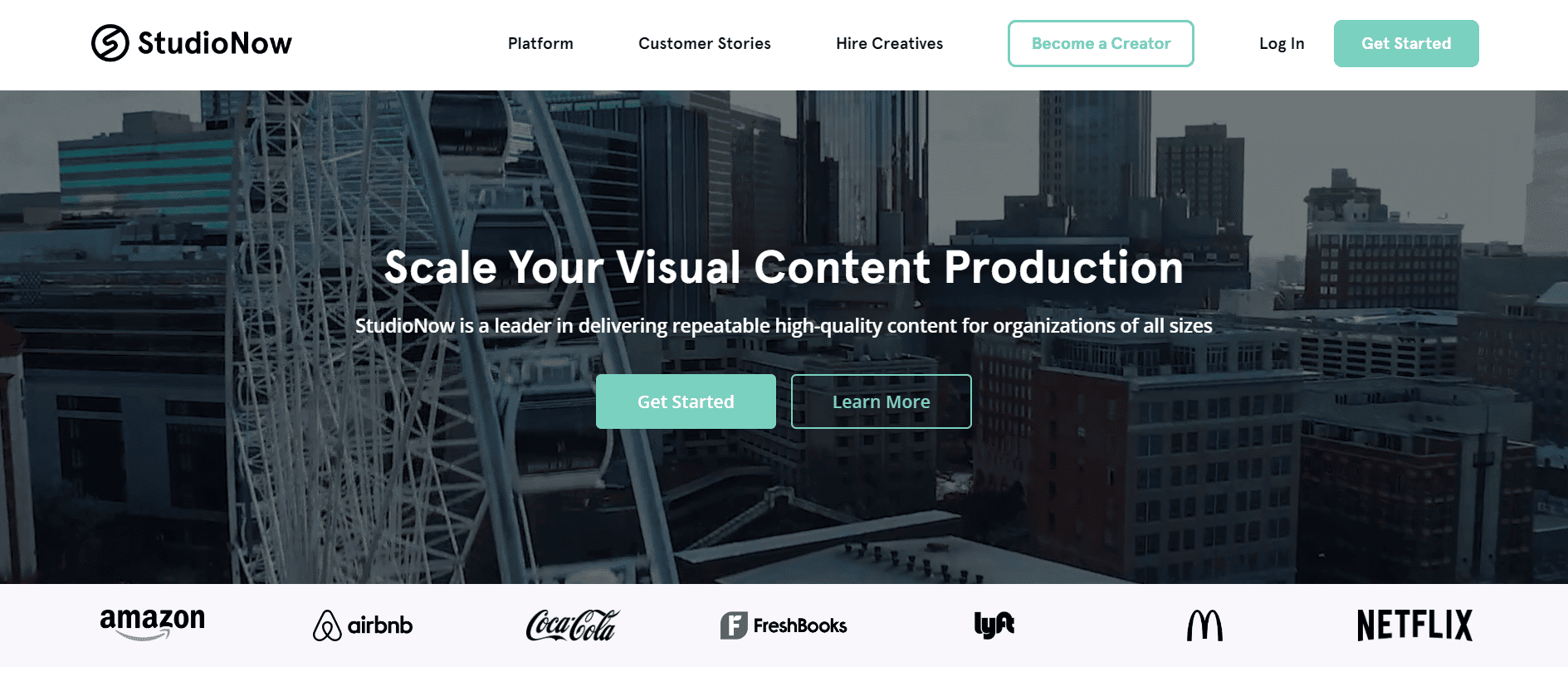 If you ask how to sell photos online and make money hassle-free, we will say: use StudioNow. It works in the most efficient way possible. It has two methods to go about using this platform. The first is to create a stunning portfolio of your best shots and compete with other users on this platform.
The contests are held regularly, and you can gain confidence and money. These contests are usually held at the request of clients so that they can get the best images out there.
Another method is to sell your hard work directly to clients and prospective buyers that frequently visit the site in search of high-quality photographs. There are no lengthy procedures when it comes to payment. Your money is immediately credited into your account when a buyer purchases your work.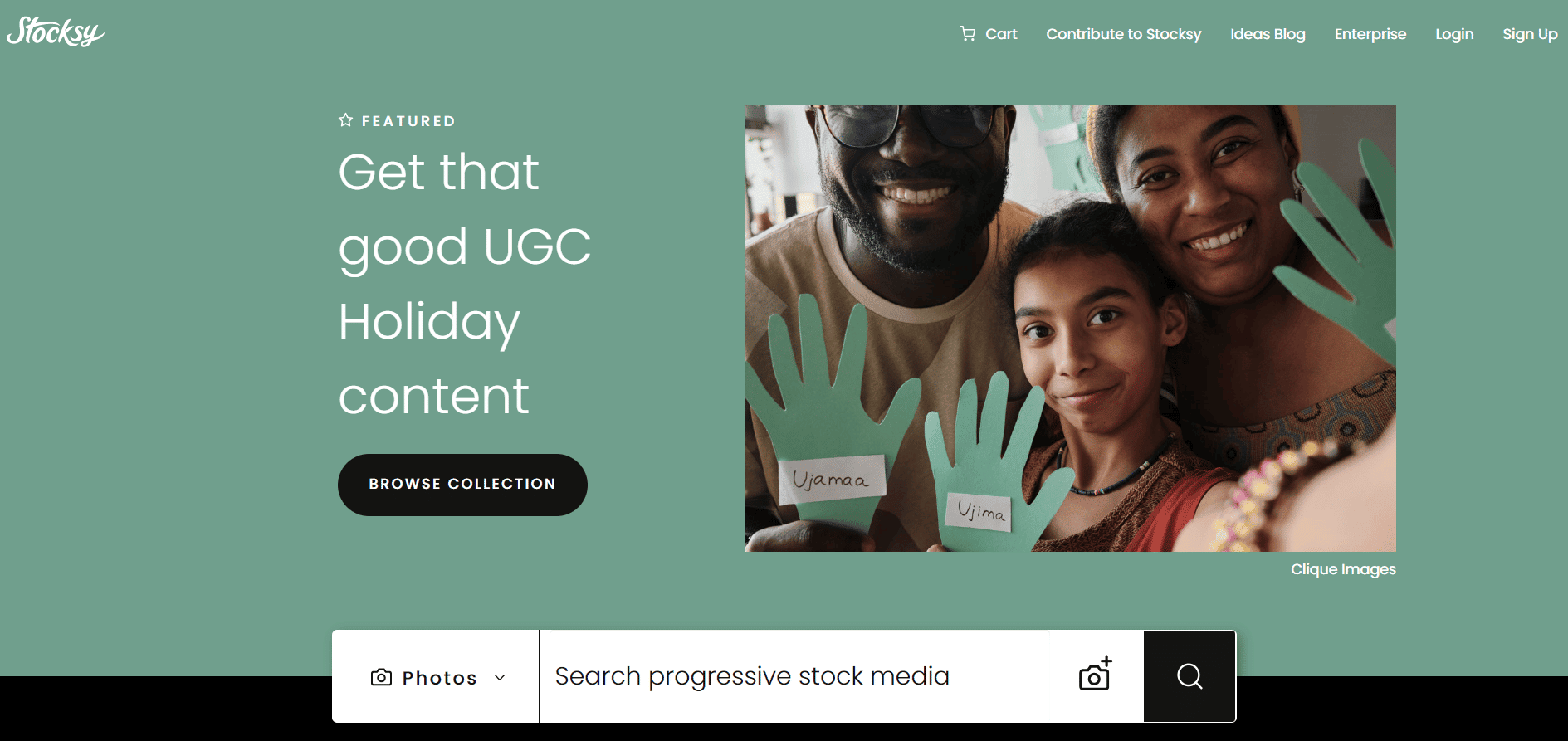 If you are an expert photographer, this platform is a must. You might not get deserved recognition for your hard work. A beginner's website is designed so that it does not give dues to expert artists. One cannot put high-quality and well-researched shots in the same basket as the pictures clicked through mobiles for fun.
This is where Stocksy enters! Here, only exclusive and top-notch images are sold and purchased. Naturally, the reward is higher too. You can expect a massive commission rate of up to 75% to fill your bank account.
The website is frequently visited by publishers who seek high-quality images for printing in expensive magazines, books, etc. When asked how to make money selling your photos online, most pros suggest going to this site.
Also Read: 55 Best Online Side Hustles Ideas
19. Thinkstock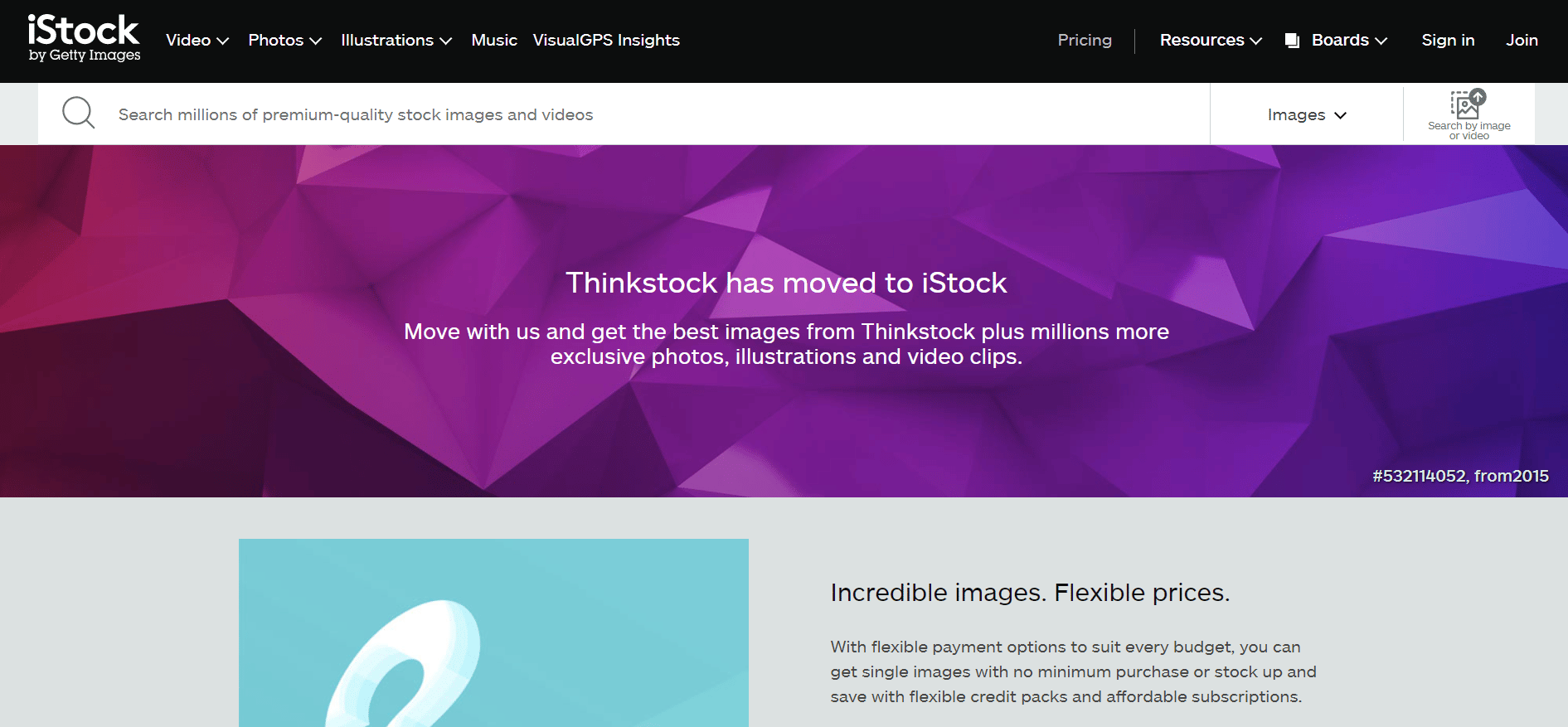 Thinkstock offers customized packages for its users. The benefit of using these packages is clarity. You know how much money you can earn by selling what type of images. The platform is well associated with Getty Images. Selling high-quality images fetches more money than regular pictures.
Note: Thinkstock has been acquired by iStock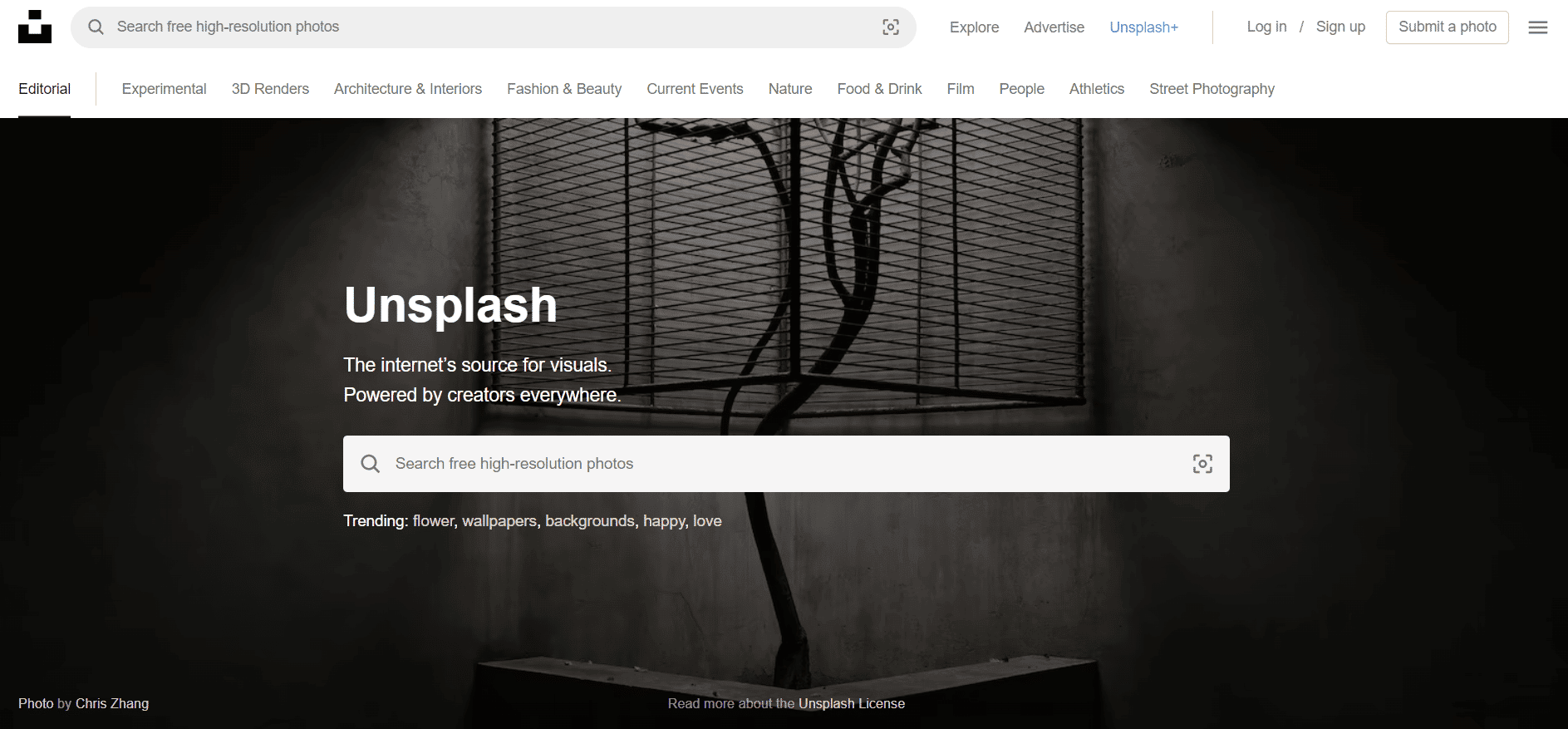 This platform is top-rated among the community of photographers. Even though the forum doesn't pay directly to its contributors, it helps establish a network with other impactors in the community. It also builds an engaging network with people who find your portfolio impressive and who would like to use it in the near future.
The platform offers messaging services to reach out to people via emails and cold messages. You can also integrate your bank details into your portfolio to get direct payments from your clients.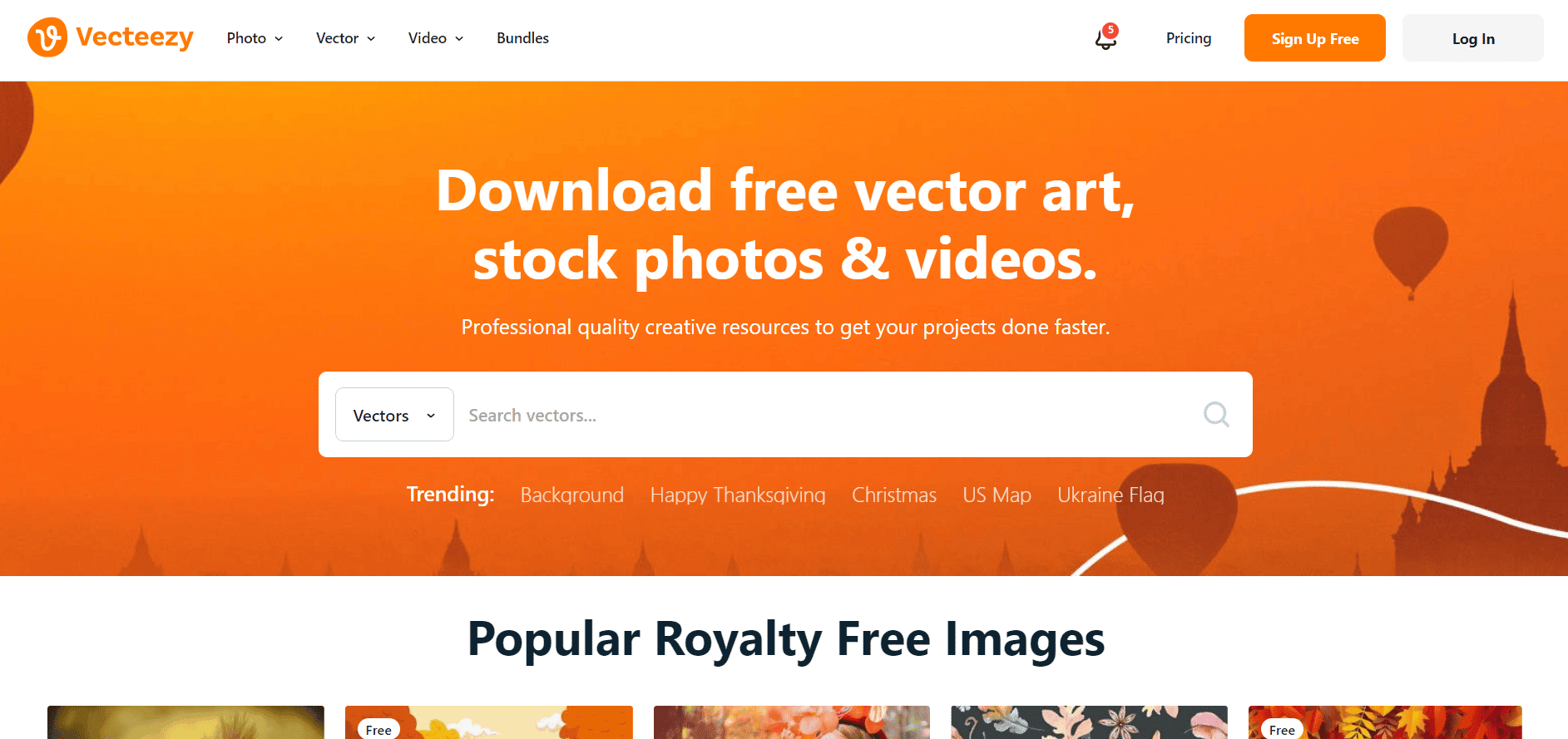 Vecteezy is a fantastic platform that offers free license photos under their free programs. As a drill, it pays its users for each download made by buyers. You can earn extra money by uploading high-quality photographs under its pro licence policy as an extended feature. If you maintain consistency and improve your skills over time, you can earn good profits through this platform. This site is among the best photography websites to sell photos online.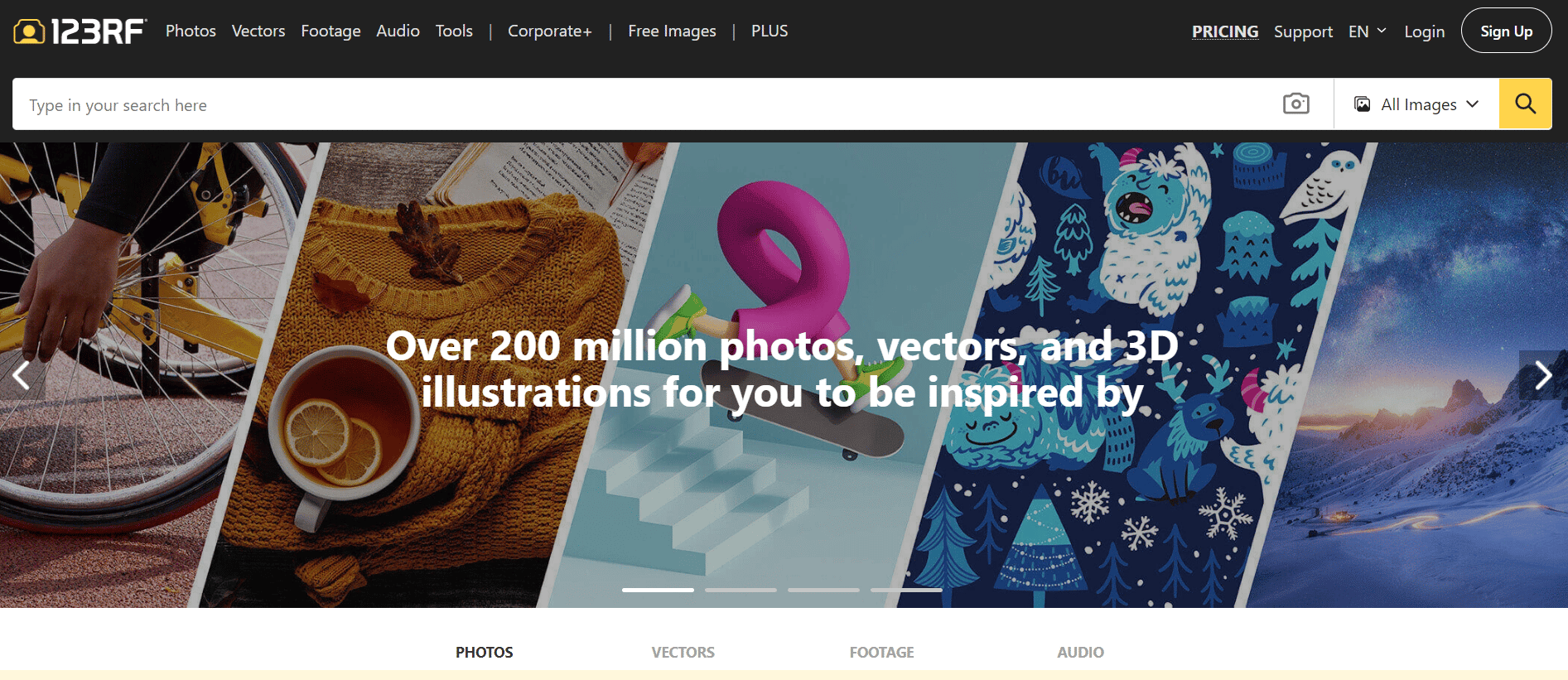 The platform isn't that popular but is a perfect tool to start selling photos online for beginners. It provides a considerable percentage of commission even to beginners. There is no rule that beginners can't be as good as professional photographers. If you contribute high-quality images, you can earn a higher commission of 60%. On average, making a margin of 30% is no big deal while using this app.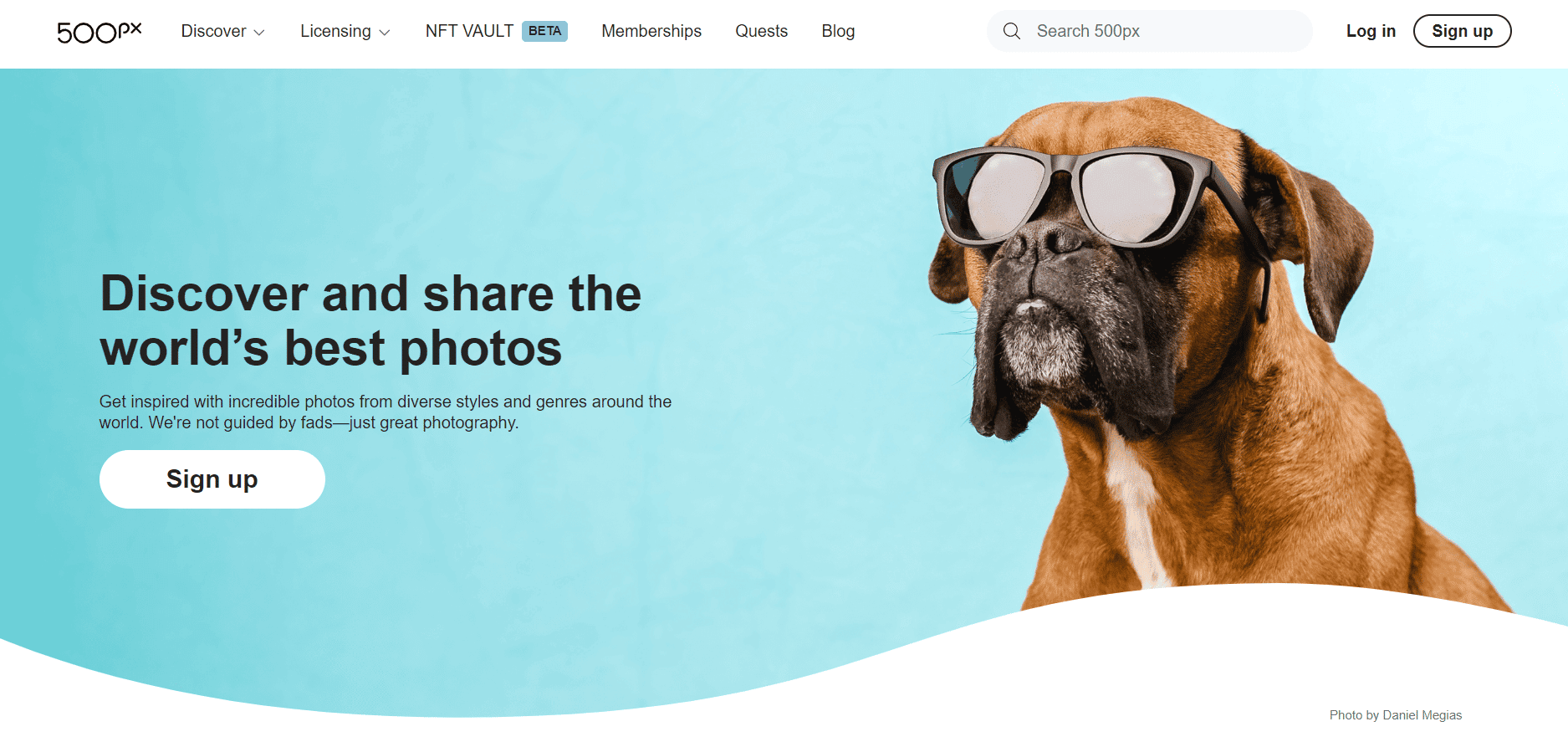 500px is preferred by users when they are not just looking to start earning money by selling photos but also to be a part of an impactful community of photographers. You can follow fellow photographers, engage with their content, and get inspired. Among the best photography websites to sell photos online, this is a premium one.
The platform provides a wholesome package for its users. It creates an engaging marketplace to sell your perfect clicks and compete in competitions for rewards. Since it sets high standards for its users, it pays a decent margin of 30% for non-exclusive pictures and 60% for exclusive photographs.
Disadvantages of using Stock Photography websites

We have listed some of the best photography websites to sell photos online and they all have different perks but they are some drawbacks to these sites. Some of them are mentioned below.
These platforms are highly competitive. Huge volumes of content are uploaded and downloaded daily. This makes personal branding difficult. It would be best to work hard to make your identity and personal space in this community.
This requires consistency, determination, and constant improvement of your skills. However, the sites mentioned are freely accessible, so they are worth a shot. You have nothing to lose here, and you might gain valuable experience.
As a beginner, it can be difficult to edit photos without losing their originality. Also, editing is not an ordinary skill a person acquires while studying. It requires a particular focus on the subject and practice to edit your photos like a pro.
Sometimes the websites have strict guidelines that are hard to adhere to. This loses the interest of a user in using such websites.
Also Read: 25 Best Micro Jobs Sites to Make Money Online
How to become a Professional Photographer? 
In the 21st century, technological advancements have made it easier to access high-quality courses on any subject. You can pick up photography courses for free on sites like YouTube. Broadly, the process to become a pro photographer involves these three steps.
1. Find Your Niche
Every photographer has a specific tone and style that interests them and ultimately becomes their brand. You might be into wildlife photography, food and drinks photography, and anything ranging from human aesthetics to travel. Identify the type of photography that suits you. It would help improve your credits as a photographer and make it easier for prospective clients to reach you.
After picking a niche, you need to build a fantastic portfolio showcasing the best of your work. You can use the following websites to create a portfolio that helps your branding.
Squarespace
Behance
Wix
Format
Adobe Portfolio
SmugMug
2. Build Your Audience
After creating a portfolio, you need to reach the right people that will ultimately become your clients. For this, you need to keep your networking game strong. Being active on social media can help you network with the right people. Join online photography groups, submit your photos in competitions and exhibitions to expose your work to a large audience.
3. Set up a Payment Portal
After building the right audience that engages with your work and networking with your potential clients, you need to set up a payment channel. For example, you can add your Bank A/C details to your portfolio to receive payments or use platforms like PayPal. Once you have understood how to make money selling your photos online then setting up a strong payment portal becomes crucial.
Tips to become a Freelance Photographer
Freelancing is gaining popularity day by day. The freedom and flexibility it gives is attracting many people. It is one of the answers to how to make money selling your photos online. Many photographers are working as a freelance to hone their skills and make some money. Here are some tips that you should keep in mind as a freelance photographer.
Research your area of expertise well before. On platforms like LinkedIn, you can create your profile, connect with like-minded people and start cold emailing your potential clients worldwide.
Be consistent in posting content and improving your skills over time. No one likes to get involved with people who do not upskill.
Show your work frequently and help others in your community who are still struggling to build their brand in E-space
Set your rates in advance. This help in the long run by saving time in negotiation. Initially, you can work for low rates and gradually increase the rate of your services once you gain enough experience.
Even as a photographer, you must learn marketing to market your skills. Cold-pitching isn't easy. But with practice, you can achieve unexpected results.
How to Deal with Photo Theft? 
With vast volumes of content exchanged online, it becomes vital to protect the rights of your work. There are copyright laws to protect the interest of photographers and other artists. But what if you are unaware that your work is being utilized commercially? After learning how to make money selling your photos online, you should have a firm understanding of the legal side of selling photos.
One of the most common ways to protect your interests is to watermark your images. You can also take legal action if you feel the need. People can also copy your work and give you credit for it. In that case, the choice lies in your hand. Either you can be happy with the recognition or ask the person politely to remove your content.
Also Read: 26 Best Jobs for 18 Year Olds

FAQs 
After learning how to make money selling your photos online, you might be having some doubts. We have answered some of the most common ones below.
How much money can I earn by selling photos online?
The answer depends on your ability to market yourself and create your brand. There is no fixed or minimum amount that you can earn in this profession. It can make you a millionaire, or you could achieve nothing. More, the quality of your services as a professional photographer will be your income. But with a good portfolio and consistent efforts, you can see better results.
What categories of photos are in demand?
Tools like SEO and keyword extension can help you analyze what categories of pictures are in high demand. Keyword extension will help you determine the volume of searches for a specific category of photographs.
You can make your decision based on these results. Pictures that are searched in high volume have a higher chance of being sold since they are clearly in more demand.
Is it essential to have professional photography devices like DSLR?
Absolutely not! You can easily start earning money by selling your mobile photographs. Certain websites accept the quality of mobile photography. Try these websites to gain exposure to the real-time industry before investing in expensive photography devices like DSLRs. However, you can later purchase professional devices to improve your quality of work and generate more income.