One of India's leading payment gateway merchants Paytm has made it very easy to make payments and send money to anyone, anytime, anywhere. It is one of the primary reasons RBI gave rights to Paytm and granted them a license to start their payment bank, which is called Paytm payments bank.
The platform was founded in 2010 by Vijay Shekhar Sharma in Noida, UP, with an initial investment of $2 million. It commenced its operations by providing the prepaid and DTH recharge services, but later postpaid recharge, data card, and electricity bill payment services in 2013.
The gained abrupt recognition soon after the prime minister of India made the announcement of demonetization on 8th November 2016. The two of the highest valuing notes circulating in value were scrapped with immediate effect. During that phase, Paytm gained abrupt prominence and became one of the predominant sources to run the economy.
Since then, Paytm has revolutionized digital payment services and added much more to make it intriguing and become one of your earning sources. Yes, you can earn considerable rewards and Paytm money with the best Paytm cash earning games that we will mention in this guide. Besides, Paytm also offers different money earning games on the 'Paytm First Games' platform, which helps you win exciting gifts.
The best part is that it offers games in multiple genres, including a quiz, cricket, football, horse race betting, mobile rummy, and much more. The only thing you require to play and earn rewards through these games is an internet connection and a smartphone.
36 Best Paytm Cash Earning Games Online Free
One can find numerous money earning games online in India. It might become difficult to choose what games are legit, and will pay you Paym cash. Thus, we have gathered the list of Paytm money earning games that are fully trusted and allow you to win great rewards easily.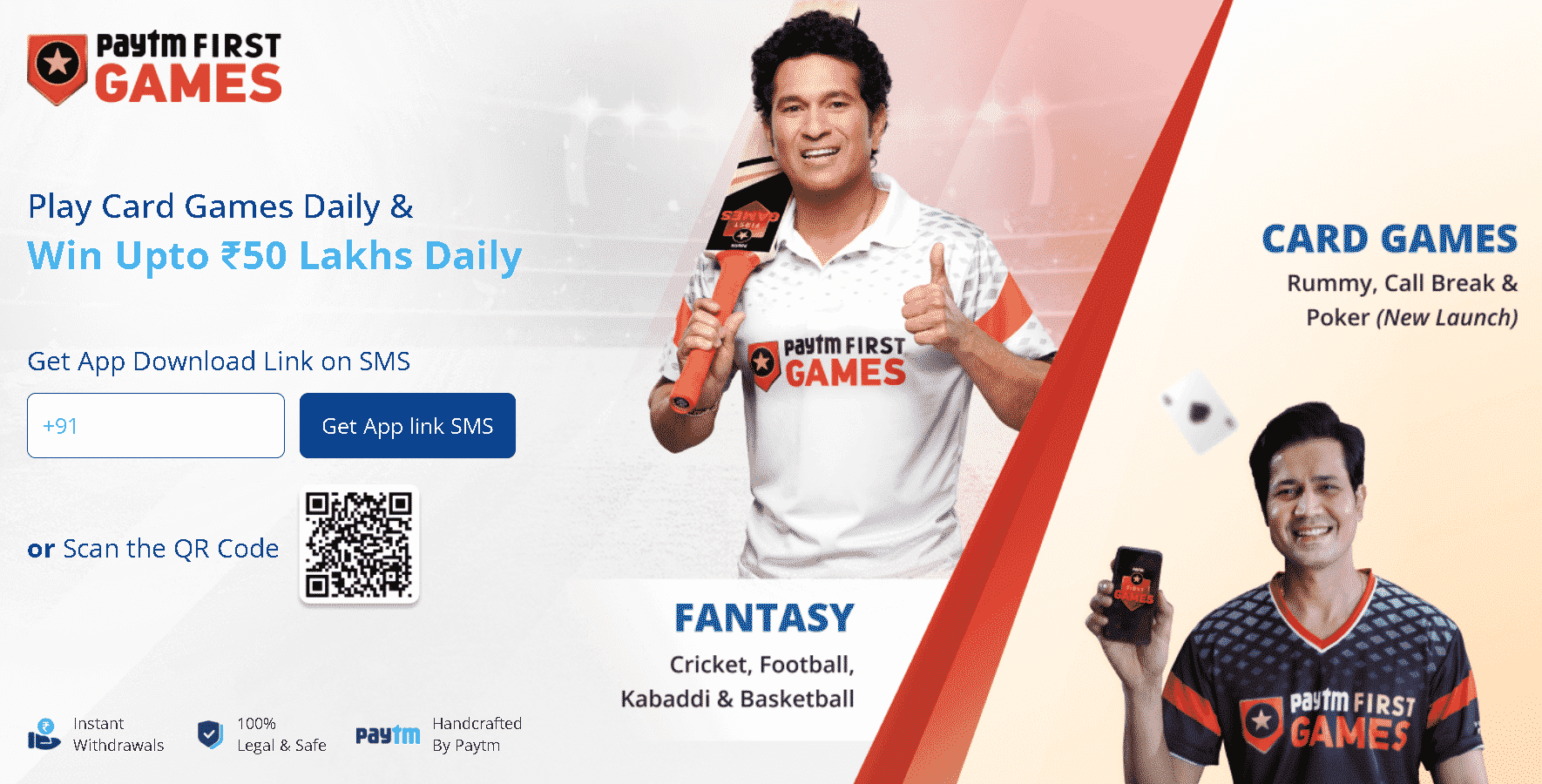 As the name suggests, Paytm First is the gaming platform introduced by Paytm itself. It allows you to play ample interesting and interactive games, allowing you to earn Paytm cash. Through these games, you can keep collecting rewards. The platform is featured with more than 200 enticing games of different types such as fantasy games, quizzes, participating in contests, rummy, etc.
Some of the best Paytm first games that pay handsome cashback and rewards include Loco, Tic Tac Toe, Howzat, Swag Bucks, Qrumble Box, Top Quiz Game, Pass the Bomb, Trivia Live, and many others.
Also Read: How to Earn Free Paytm Cash Online? Watching Ads, Surveys, etc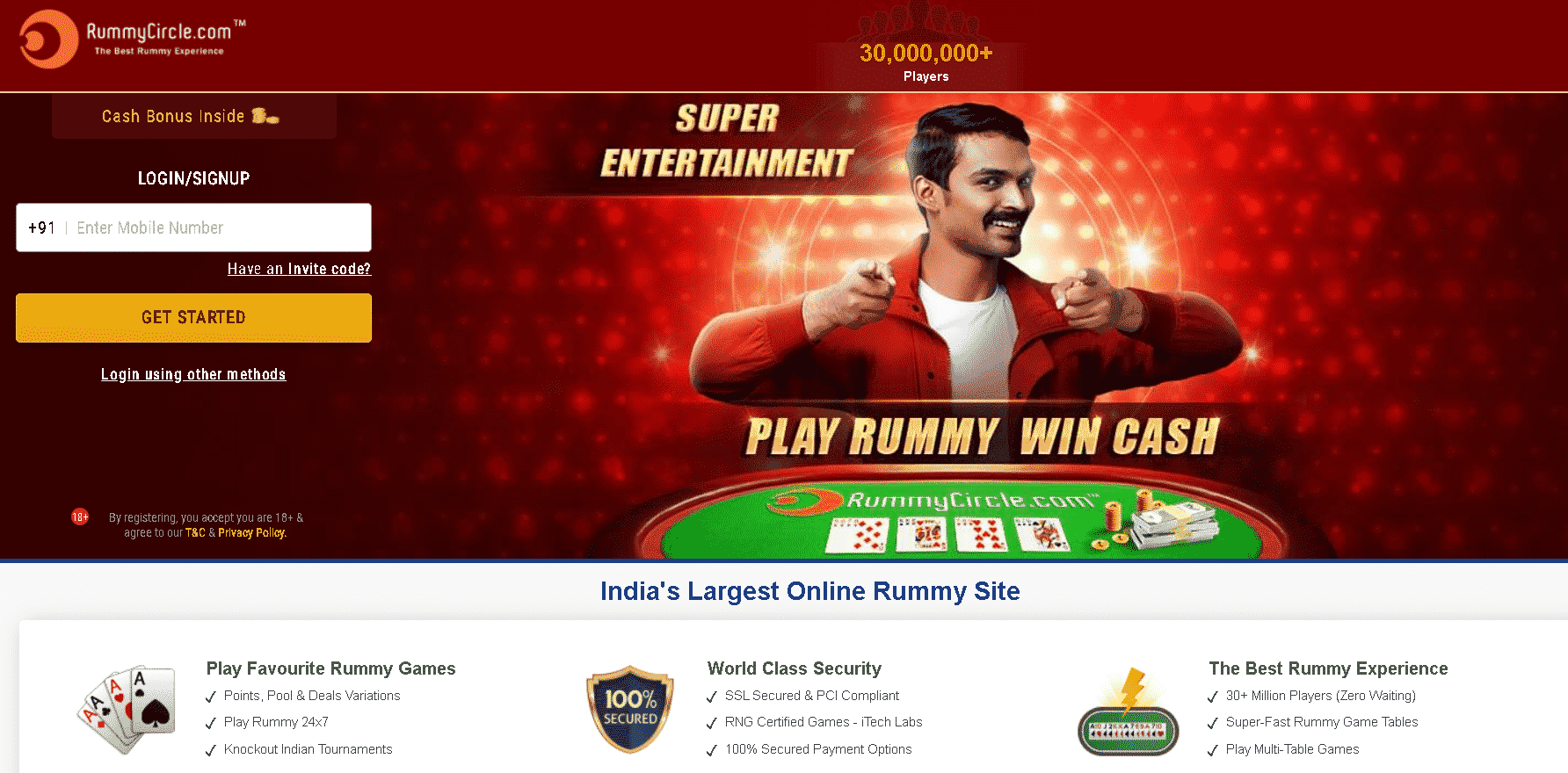 RummyCircle is another best paytm money earning game that is considered a trusted and legal platform to play rummy with your friends and win rewards points.
The app is available for PC and mobile. Once you download it, you can register your account for free. On every new registration, you get a joining bonus of Rs. 2000. Start playing, refer the game to your acquaintances, and earn more Paytm cash up to Rs. 500.
Millions of people play the game all across the globe. A majority of the users are availing of the extra cash and rewards using the exclusive Paytm offer on this magnificent game.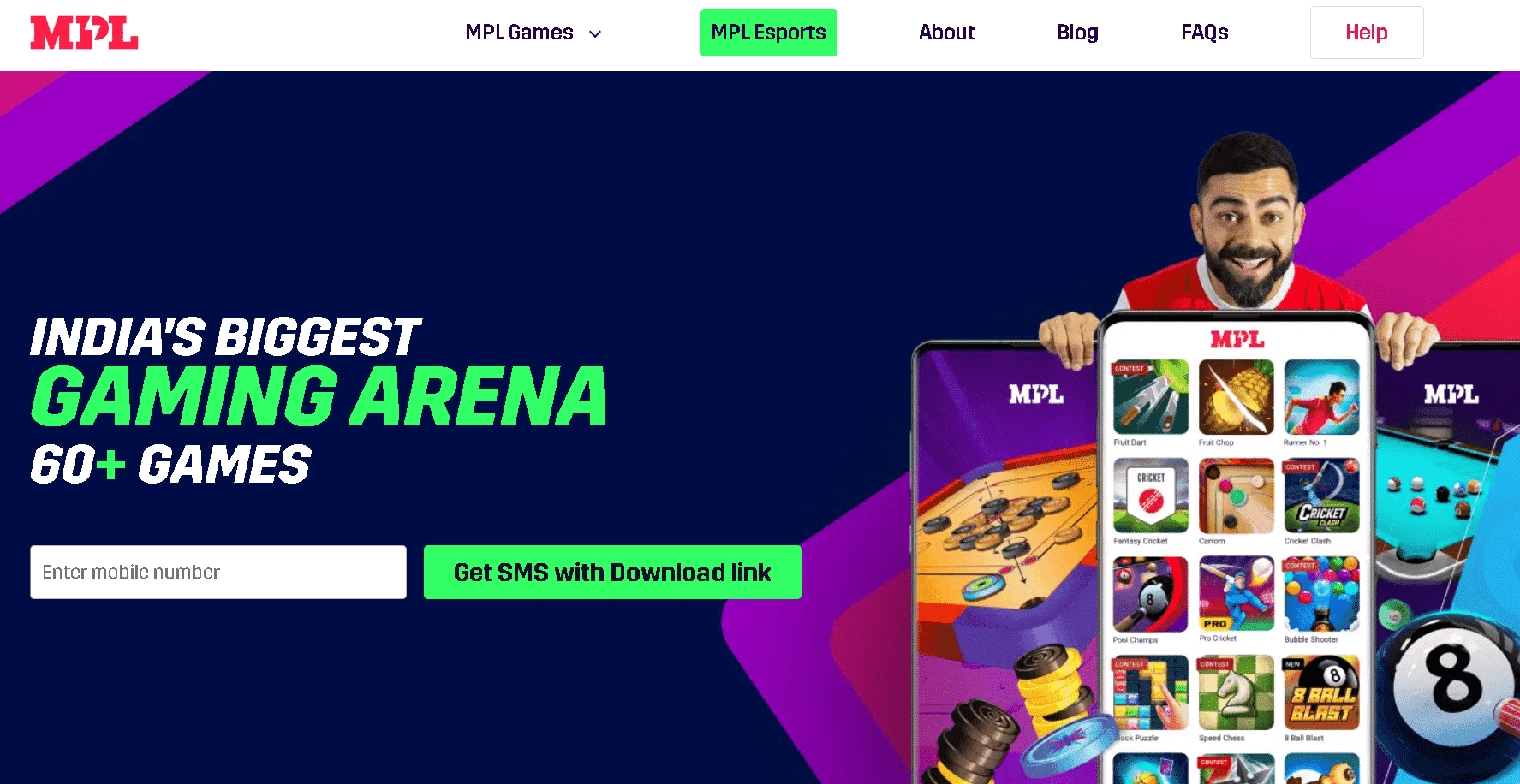 MPL is a recognized e-sport and gaming platform that most people are already aware of. It is the most successful Paytm money earning game in India. You might be wondering if this game is specifically built for cricket lovers, but it is not true. Even if you do not adore cricket, you will still love the games and win a great sum of Paytm cash.
MPL hosts more than 60 games, including Fruit Dart, NEW, Pirate Tanks, Ice Jumpd, Fruit Cutter, Tiny Militia. In addition, MPL is also the best-known host of PUBG and Garena Free Fire tournaments.
The app provides you with a signup bonus of Rs. 50 and allows you an opportunity to make referral earnings of up to Rs. 75 on each referral.
Are you a Ludo lover? Did you ever imagine that you can earn great rewards while enjoying and playing your favorite game? No, here is an opportunity provided by Ludo Supreme.
The game offers a lucrative opportunity by allowing you to play with your friends and defeating them to win extra reward points.
Showcase your skills to the world and collect a decent amount of up to Rs. 2 to 150 Paytm cash on every tournament you win. The best part is tournaments are available throughout the day, and one match is only for 10 minutes. Plus, Ludo Supreme allows you to earn rs. 15 per referral and provides you considerable tokens if you log in every day.
The best part about Gamezop is you are not required to download the app and consume your internet Megabytes. You can play all day long on your browser seamlessly.
Gamezop comprises a great collection of games that help you earn substantial Paytm cash rewards by playing games, ranging from Rs. 100 to Rs. 2000. You are even allowed to create your own tournaments and earn 5% to 10% commission. Not just 1, 10, or 50, Gamezop is featured with 250+ high-quality games.
Some of the most popular games on Gamezop include City Cricket, Dead End, Slit Slight, Light Tower, Ludo With Friends, Memory Match Up, Pirate's Pillage! Aye! Aye!, and many others.
Also Read: What Is Paytm and How to Use Paytm Wallet?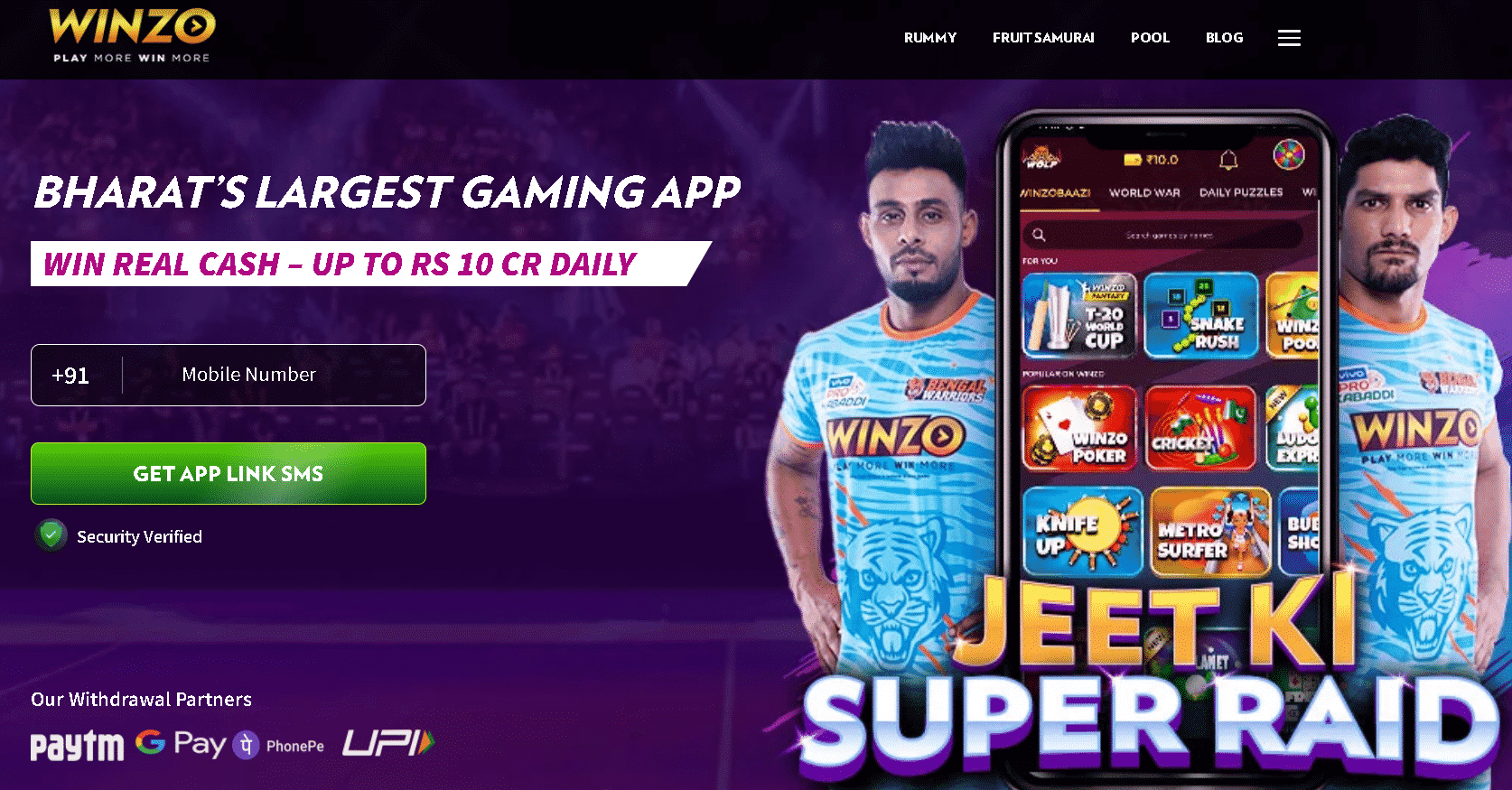 Winzo Gold hosts 15+ games that allow you to earn Paytm cash if you play them regularly and win. It is one of the oldest Paytm earning platforms featuring a wide variety of games.
Sharing the referral code with your friends allows you to earn Rs. 34 on every download through your referral link. Cool! Isn't it? Plus, you will get Rs. 50 as a signup bonus.
The app also hosts a referral program for influencers which is called Winzo Superstar. Once you join this program, you can earn real cash to withdraw into your bank account. So, if you are a game freak and play games like Call of Duty, Clash Royale, Free Fire, etc., you can earn ample rewards and real cash for winning tournaments for this game.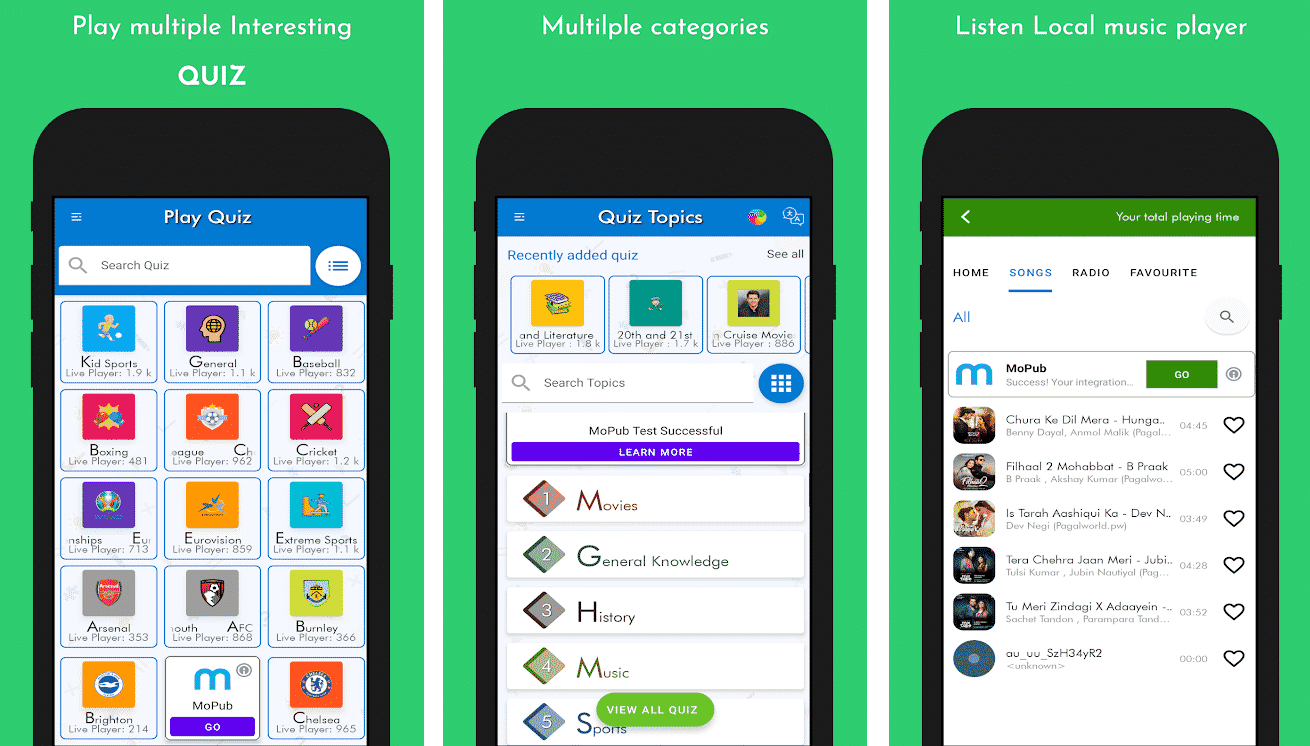 One of the best mobile gaming applications, Real Cash Games, provides you with plentiful ways of earning rewards and winning surprise gifts. The games on this platform also allow you to make real money in Paytm cash.
Various types of games are available on this gaming site, such as Clan Samurai, Knife-Ninja, Treasure Iceland, and Knife. The best part is all of them are free and consume minimal space on your PC or mobile.
The games you play on this platform allow you to grab up to 50 coins and earn a daily bonus of up to 20 coins. The platform also facilitates earning cash by playing quiz games and referring the app to your friends or relatives.
If you check out the Real cash Games app reviews, you will realize it is a spectacular gaming application.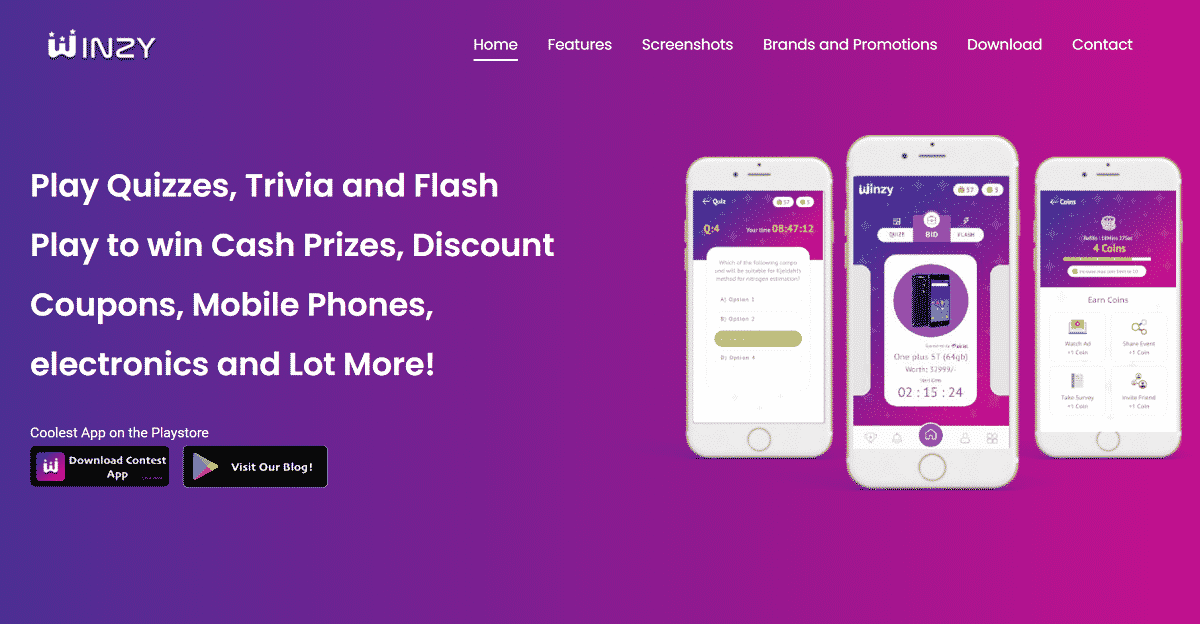 Winzy offers a wide variety of Paytm money earning games online. The platform is best known for providing the coolest games to play for free and earning a decent amount of Paytm cash each time you play and win the game.
The app is user-friendly and is featured in Hindi and English language. Plus, it is played by 2 million+ users, with more than a 4.8 rating.
Want to know the best games this platform offers? Out of all, the games you must try to win exclusive gifts and rewards include Knife Up, Pizza Slice, Feed me, Bubble Shooter, and 100 Seconds Crash.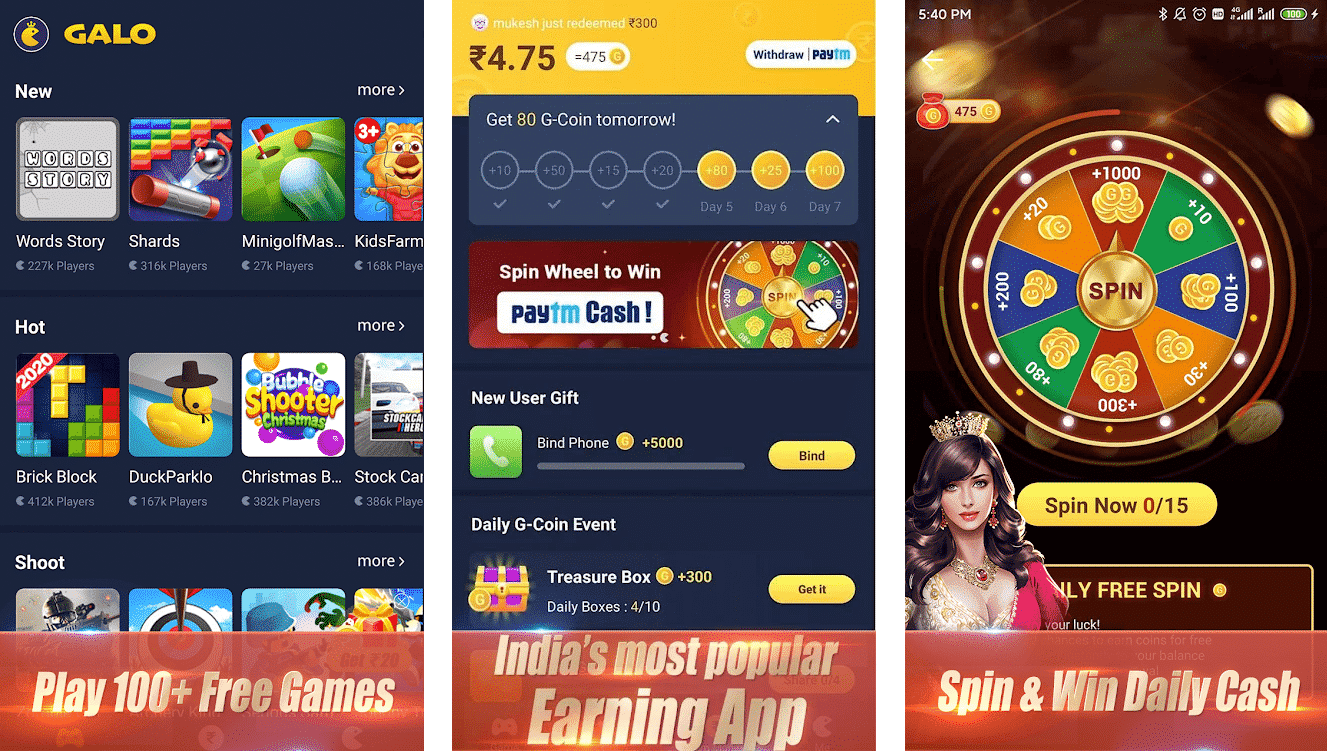 Galo is an excellent gaming platform allowing users to choose from over 100 Paytm money earning games. Unlike many other platforms, you do not need to pay any extra penny to play the games available on this Galo app. The platform allows you to earn a signup bonus of Rs. 50.
Playing and winning the games will help you earn up to Rs. 300 to Rs. 500 Paytm cash. The app also lets you win Rs. 100 just by spinning the wheel.
Users become entitled to earn bonus rewards by signing in daily, watching ads, and earning 50+ coins by opening the treasure box.
The best part is that the money you earn with Galo can instantly be withdrawn into your Paytm wallet.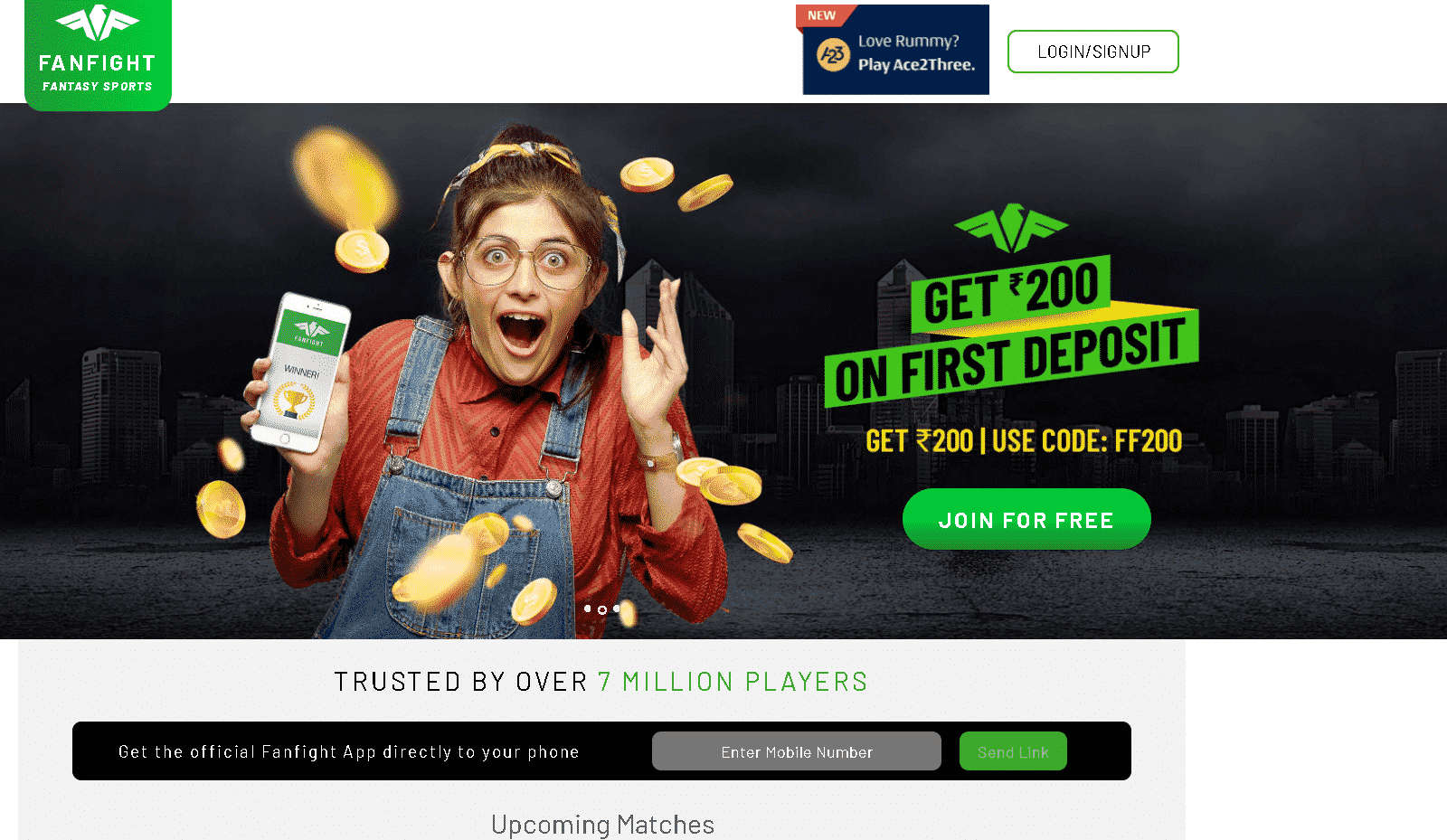 An amazing online fantasy sports game, Fan Fight allows users to play and win plentiful gifts and reward points.
The game allows you to get on board soon after being allotted a team to play with. If you win the match, you can earn a handsome amount of Paytm cash and other gifts. Users can also earn cash by creating football, or baseball team, and playing quiz to win Rs. 30 to Rs. 50 per game.
In addition, you can also create your own team, play with your friends, and earn rewards. Downloading Fan Fight is very easy as it is available on both platforms, Android and iOS.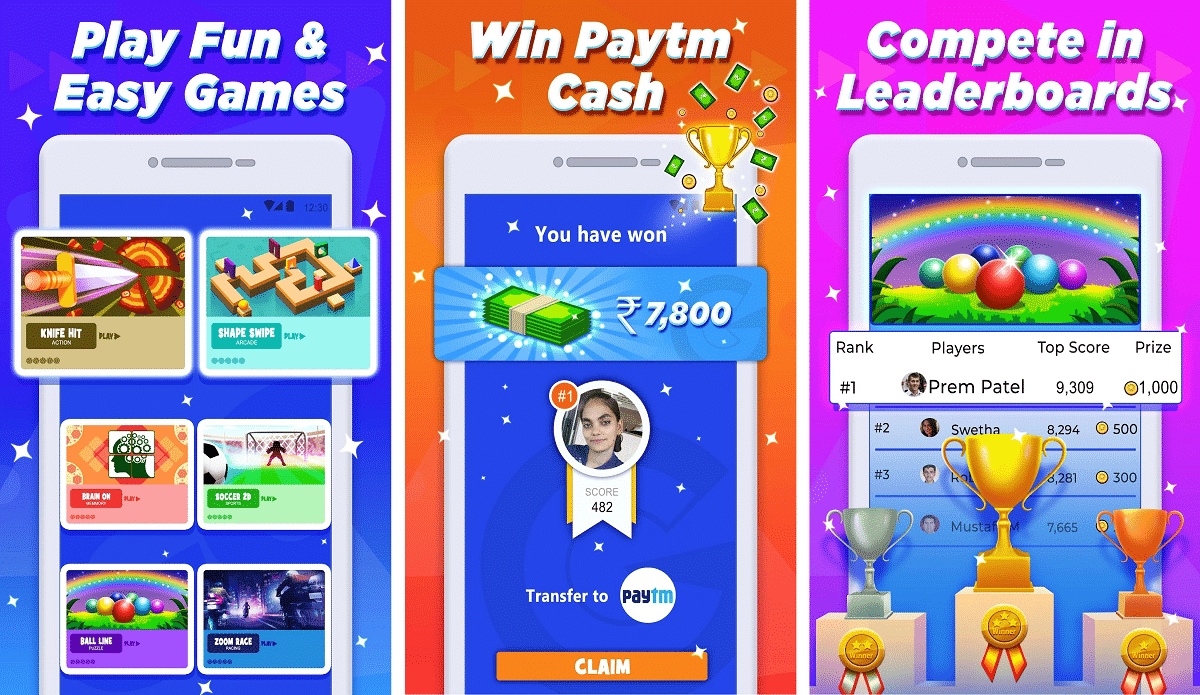 GameGully is featured with astounding 3D graphics and a robust map. The game is available only on Android and allows you to earn a good amount of Paytm money on completing every level. You will be entitled to earn Rs. 10 on each level you complete.
Plus, you get scratch cards if you play them daily to win rs. 10 or more. New users can also avail of a signup bonus of up to Rs. 150 for downloading the game.
Some of the best and most common played games include:
Gully Runner
Bubble Shooter
Basketball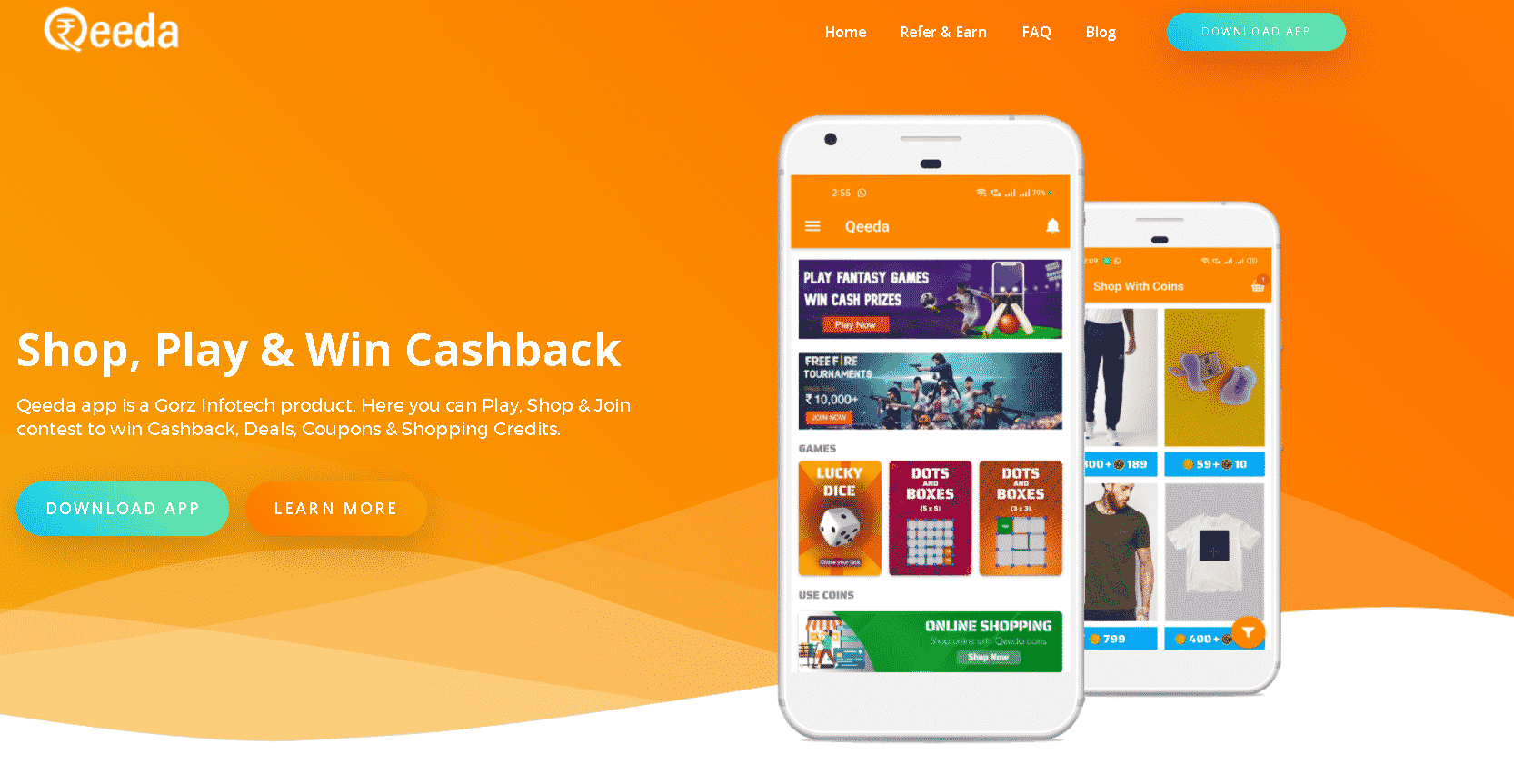 Qeeda is another renowned game app that provides a lucrative opportunity to earn surprising gifts and Paytm cash while playing.
The platform is loaded with multiple games based on different genres. You can choose any based on your preferences. Some of the popular games offered by this gaming platform include Lucky Dice, Dots and Boxes, Free Fire Tournament, etc.
Users can earn money by referring the app to others. Every download through your referral link will help you fetch a good amount of money that you can use for multiple purposes. The best part about Qeeda is that it allows users to transfer the earned money to their bank account.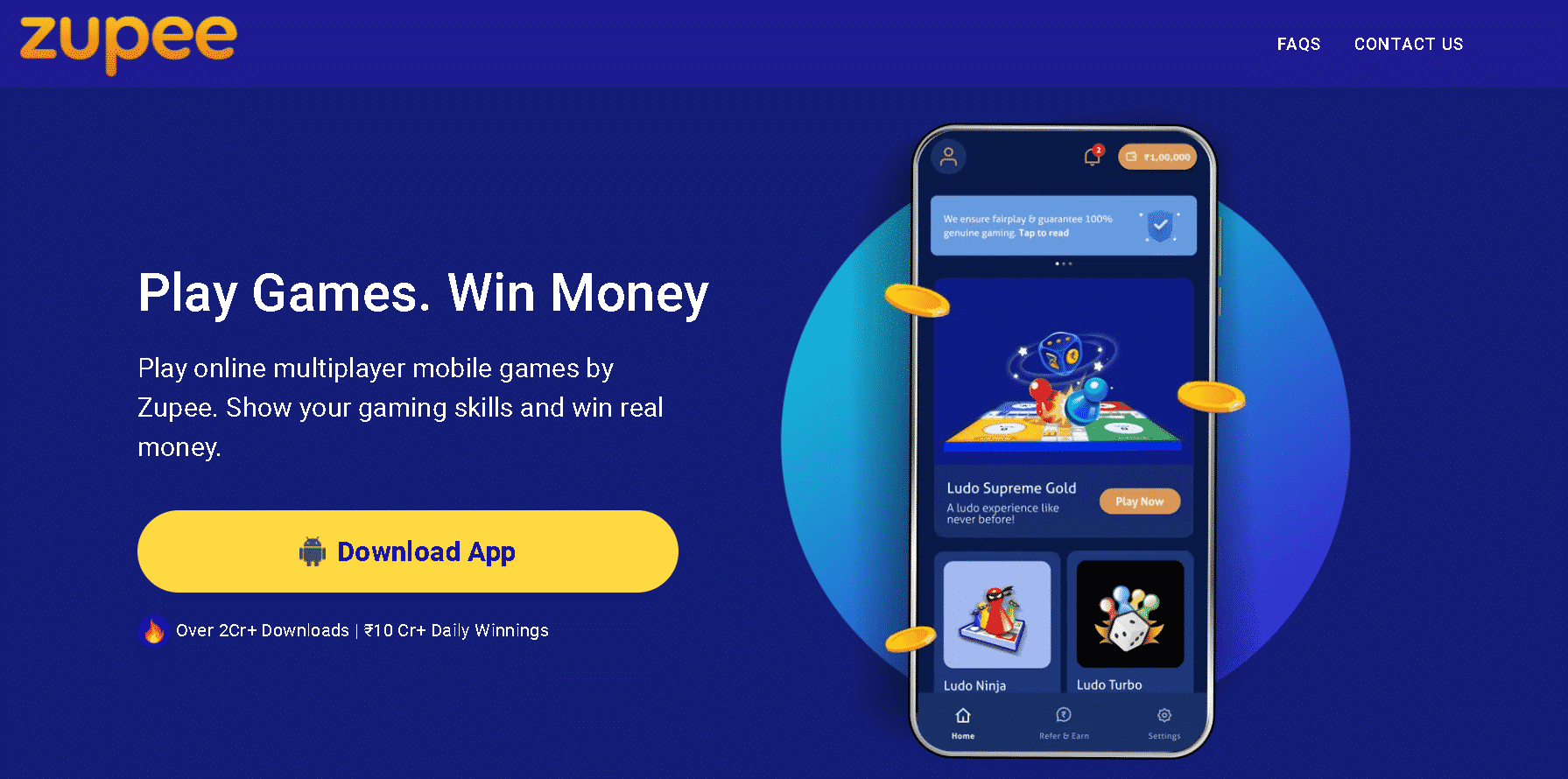 If you are an avid reader, and curious about what is going around the world, and know the trending news, this game is for you.
It is an online Trivia game that is featured simple questions. Providing the correct answers to those questions will help you earn Paytm cash online.
Users get a choice to choose a topic from over 500 topics and play a quiz based on what they selected.
You can earn as long as you want to, and there is no limit on how much you can earn through this app.
Also Read: Top 25 Money Earning Apps In India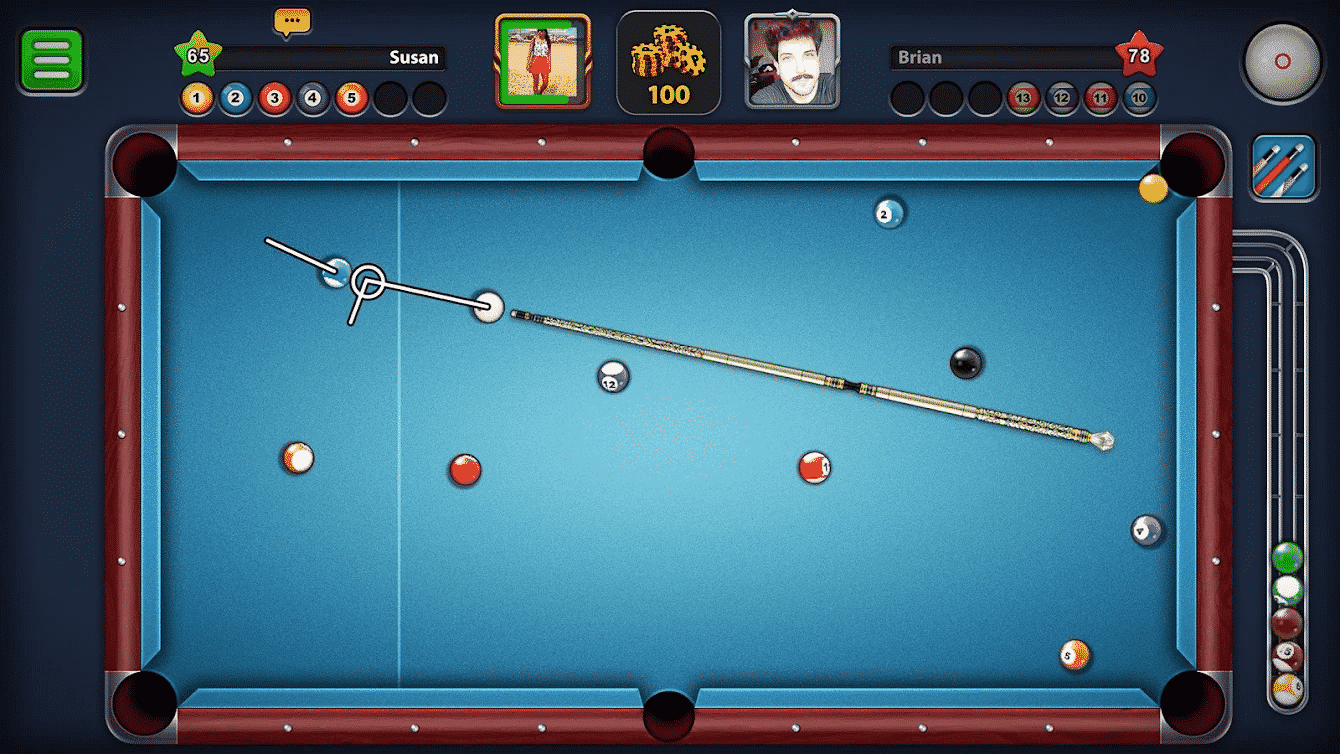 8 Ball Pool is one of the most popular games known by a majority of people. It is a top-rated game by Miniclip, and undoubtedly the best Paytm cash earning game one can play online.
The game has a whopping 500 million+ downloads and also pays you on every successful referral, up to Rs. 15 per referral as Paytm cash.
As the name suggests, it is a two-player pool game that also hosts a tournament. Winning those tournaments also allows you to win the amount that can be directly transferred into your Paytm account, which can be used later for any purpose.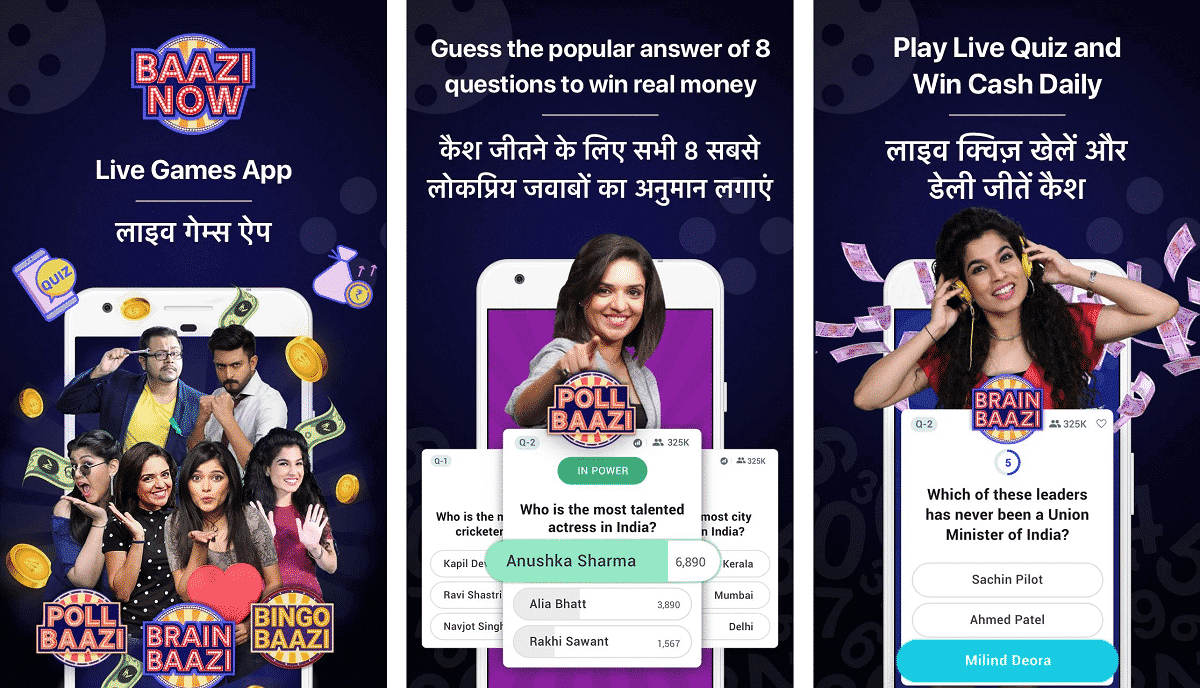 BrainBaazi is a game that lets you keep loaded with cash prizes and help you crack numerous competitive exams. The game gives a tough competition to other Paytm cash earning games.
It hosts a quiz twice a day, from Monday to Friday. The first show goes live at 1 pm and the second round in the evening at 8:30 pm.
The platform offers different types of quizzes such as GK, Maths, Bollywood, sport, etc. Similar to other apps, BrainBaazi also pays you handsomely on every successful referral.
Playing the live quiz games and giving the correct answers will help you earn Rs. 20 to Rs. 30 per quiz. The platform is ideal for school and college students, as it helps them build their passive income and increase their knowledge.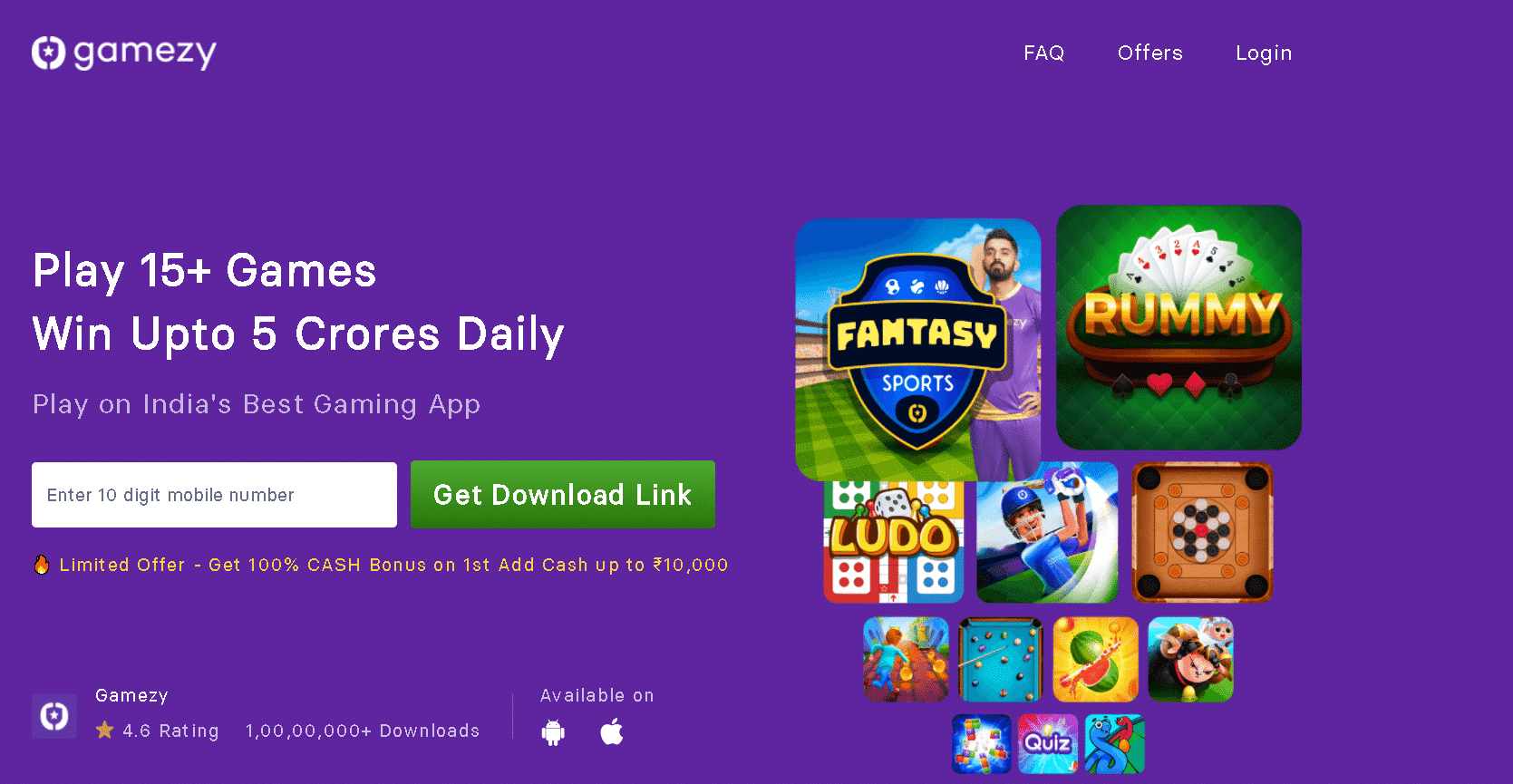 Gamezy is a platform full of a wide array of games allowing users to earn handsomely. This mobile gaming platform is specifically designed for game freaks who want to showcase their analytical skills and earn great rewards and gifts.
It is one of the best online fantasies apps where you need to play the fantasy leagues and win for earning real cash in your Paytm wallet.
The platform provides you an opportunity to earn a signup bonus of Rs. 30. In addition, it also allows its users to earn up to Rs. 10 on each successful referral. The best part about Gamezy is that it is featured with instant Paytm withdrawals, with a minimum threshold of Rs. 25.
Also Read: 22 Top Money Earning Websites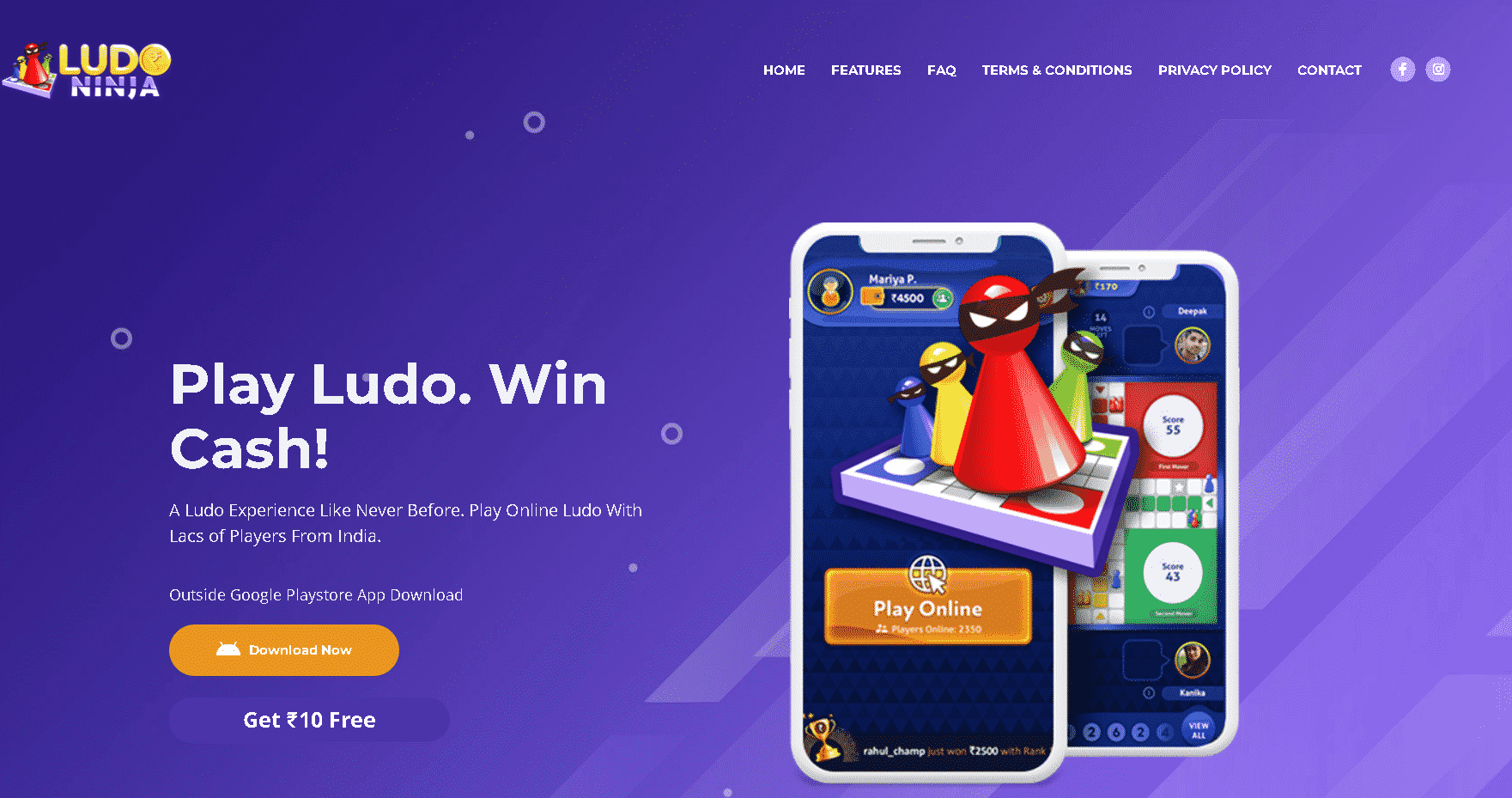 Ludo Ninja is an extremely fast game that allows you to win plentiful gifts, prizes, and Paytm cash. Ludo Ninja's most interesting part is that the game is based on 24 moves (10 seconds for each move, otherwise you will lose your turn), out of which the winner will be concluded based on the average scores.
It does not let the game last for longer. Thus, helping your make more Paytm cash and earn rewards by playing more games. Cool! Right?
Ludo Ninja is RNG Certified and lets each user play with one another. It implies you do not have to complete and get bored by playing with computer players.
It uses swift payment gateways for making payments such as MobiKwik, Cashfree, and Razorpay. Go, refer, and earn commission while enjoying your 24 moves!
Also Read: 30 Ways To Make Money Online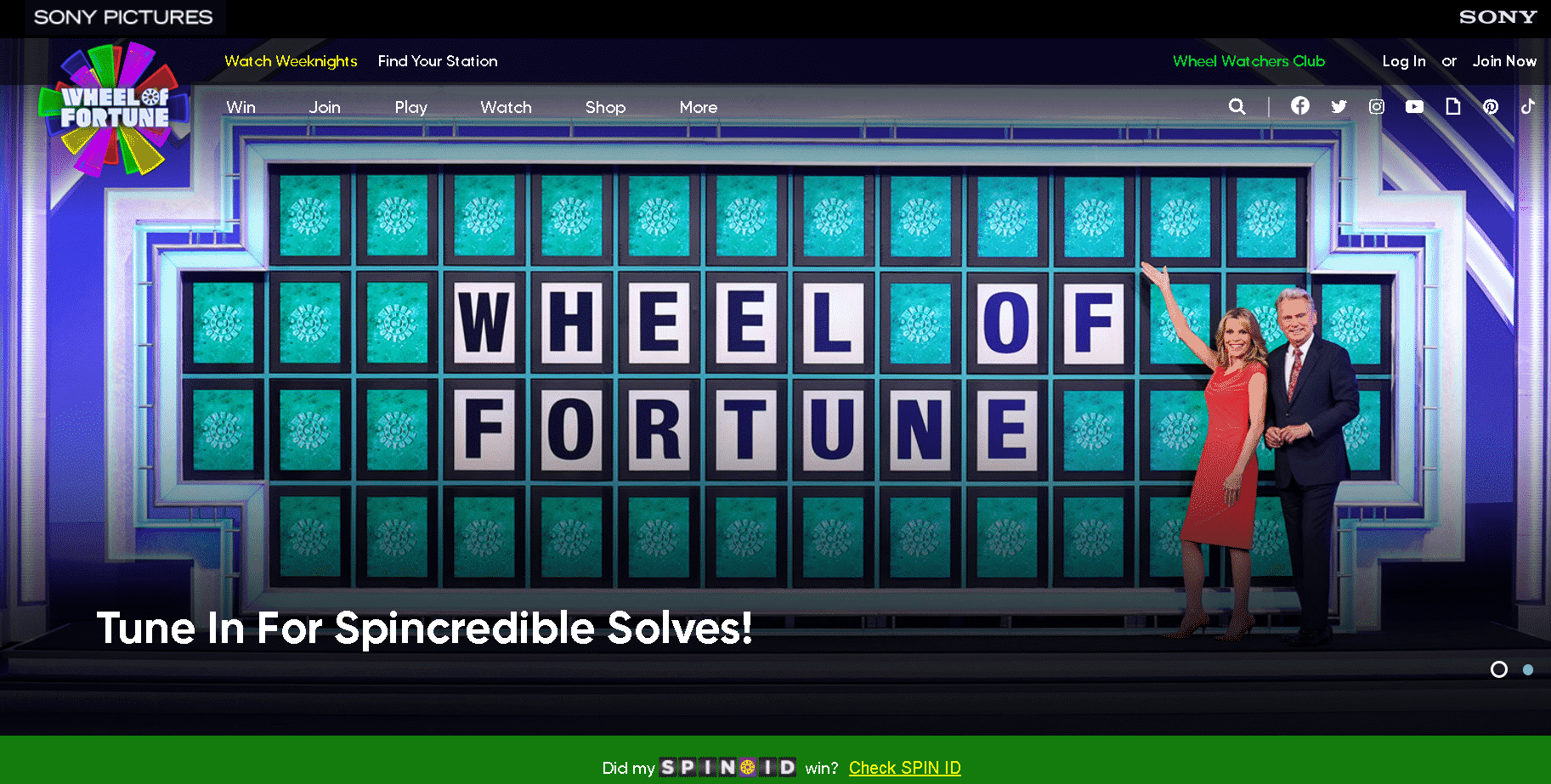 Talking about Paytm First Games, and heard of Wheel of Fortune? It is a luck-based game played by lakhs of people to try their fortune and pave the way to earn some extra bucks.
The game requires you to bet on a particular number or a set of numbers/multiple numbers. For instance, if you choose the number 5; you will get twice the number of beans you have bet.
The game is simple and rewarding. Moreover, it has a seamless payment method allowing you to earn immense gifts and rewards compared to many other games out there.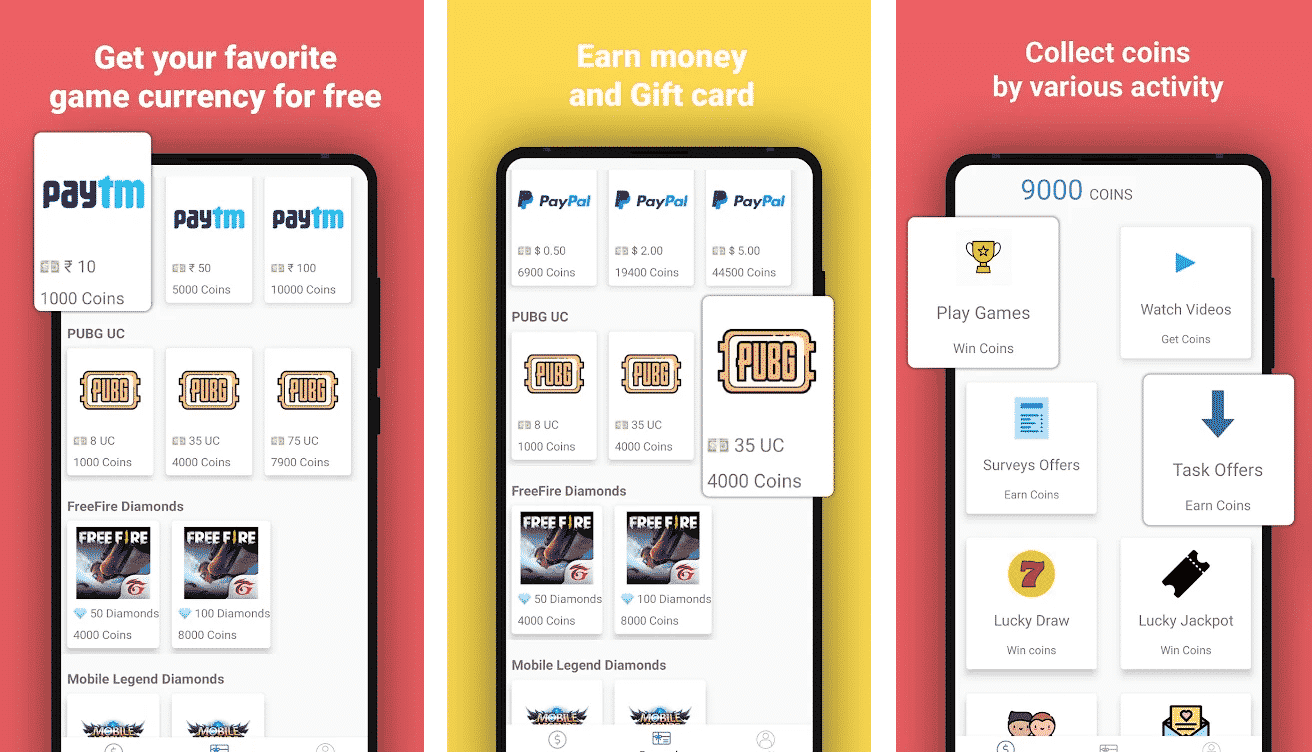 One of the newest apps listed here is mGamer. You can play renowned games on this gaming platform, including PUBG, Free Fire, and many other games for free, without investing anything, and win exclusive gifts and rewards.
The app gained recognition very soon because of many reasons. Most of the games allow you to earn up to Rs. 25 per referral or 150 coins + 15% of your friends' coins. The platform also allows you to earn a signup bonus of Rs 20 on every account you register.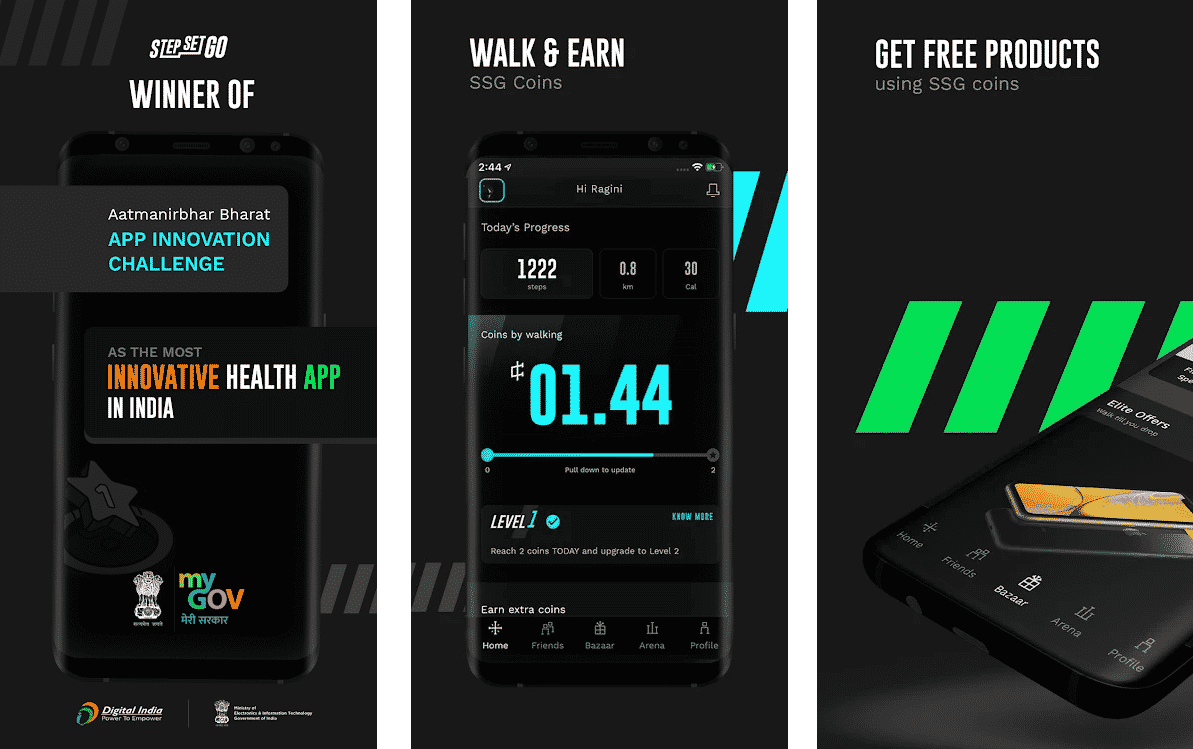 Are you a fitness freak? If yes, then this app is an ideal choice for you that helps several athletes and fitness enthusiasts who do extensive exercise and play sports.
StepSetGo is one of the best Paytm money earning games online. This app motivates you to keep perfecting your body and allows you to win reward coins on every step completed. The earned gifts and rewards can be redeemed to Paytm cash.
You can also avail some freebies from this platform, such as Smart Fitness watches and bands.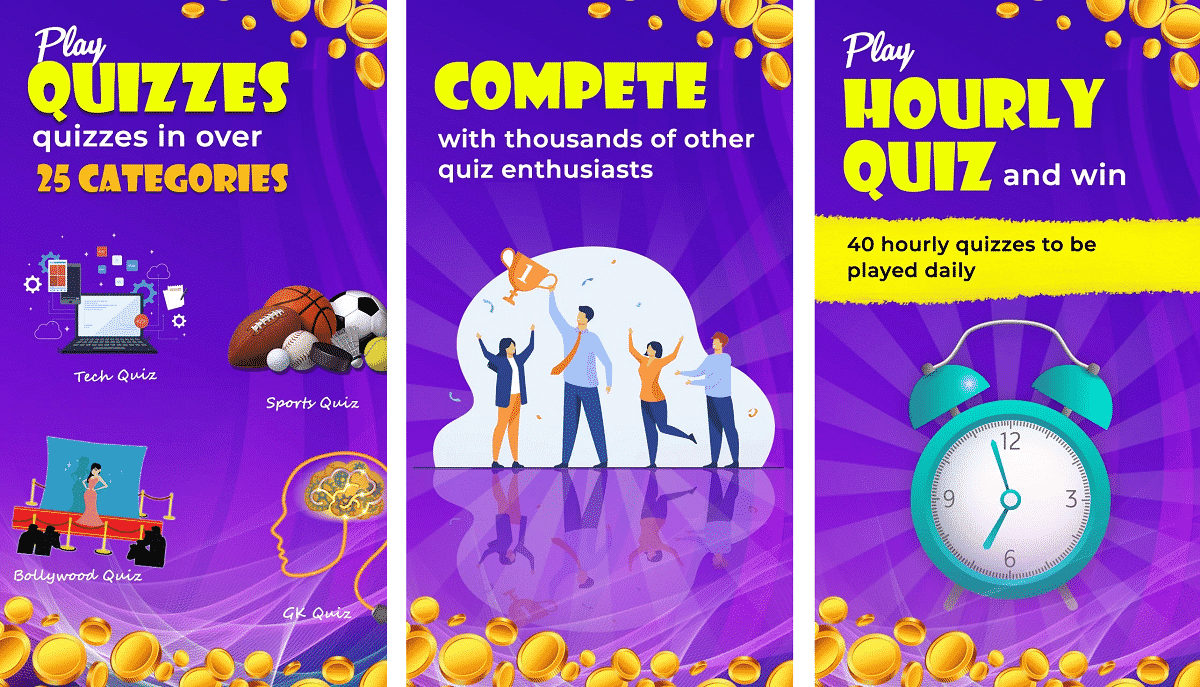 The app is an ideal choice if you are looking to brush up on your knowledge. Just like BrainBaazi, it is also a trivia game where you get new quizzes live after every other hour.
The app has set a limit of allowing users to play up to 25 quizzes per day. The platform pays well for completing challenges, watching ads & videos, providing the right answers to the questions, and participating in & winning the tournaments.
You get to earn a decent amount of Paytm cash if you play it daily. Plus, you also get entitled to earn a signup bonus once you register your account with Qureka Pro.
You can also play with Qureka; the only difference is that you have an opportunity to earn more in Qureka Pro compared to Qureka. However, you may need some cash to play particular quizzes in Qureka Pro and win more. If you have profound GK and Maths knowledge, opt for Qureka pro, explore your potential to earn more.
Also Read: 14 Ways to Monetize your Website apart from AdSense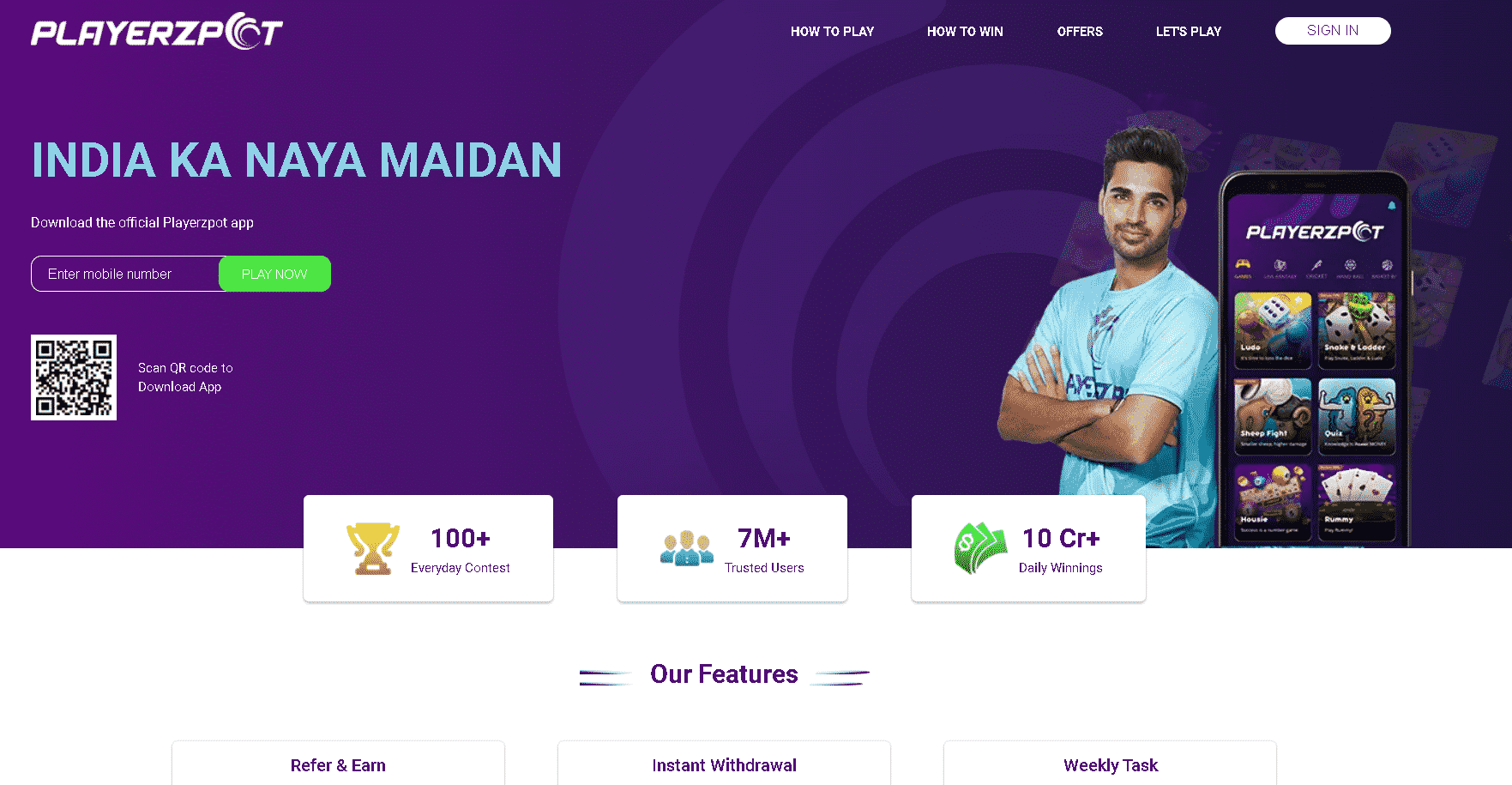 It is a massive platform best known for offering fantasy sports games. Some of the most popular games this platform hosts include Snake and Ladder, Ludo, Sheep Fight, and Chess.
Inviting your friends using your referral code can help you earn a decent amount in every successful referral.
PlayerzPot is a reliable platform from which you can win impressive gifts and reward points and credit them to your Paytm wallet.
OneTo11 is a renowned gaming application offering big contest prizes, referral income, and regular commissions. Isn't that what you were looking for? Alongside playing the game, earning rewards with an astounding feature of 11-level network income that could be withdrawn increased this app's users significantly.
The app lets you earn a signup bonus of Rs. 100 as soon as you register your account. The reward points and Paytm cash you earn can also be withdrawn to your bank account.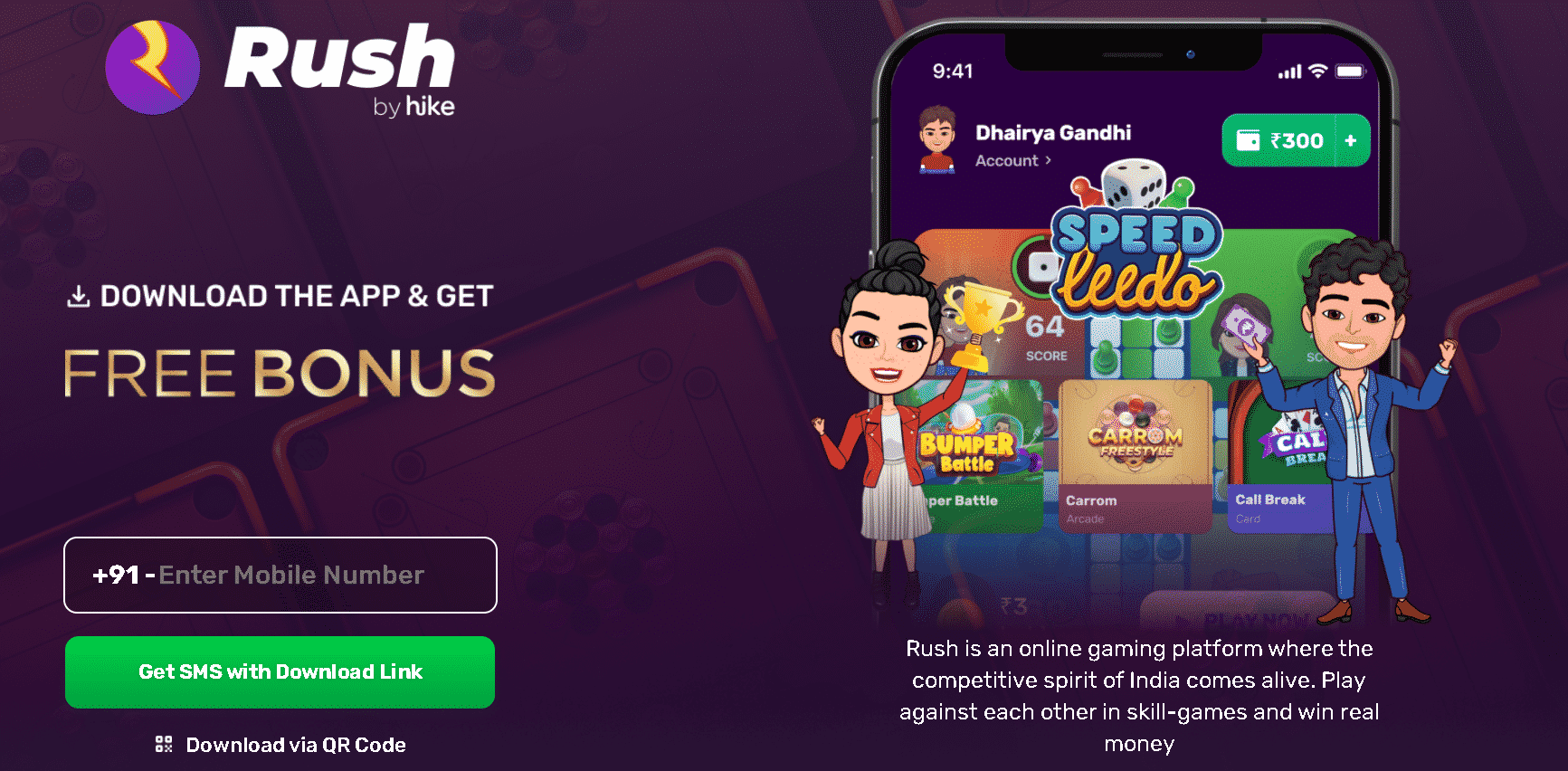 The gaming platform Rush is designed by a reputed and trusted Indian Youth centric brand which is Hike. The Hike is a brand best-known for building superior quality technology products for emerging markets.
All the games it offers are designed to test human skills, so it comprises a human community with real players and no bots.
Most played games on this gaming platform include Pool, Carrom, Bumper Battle, and Fastest Finger Quiz.
All the games offered by this application do not need any investment. It implies you play games and earn Paytm cash for free. Also, the signup bonus you earn through the app (up to Rs. 67) is added to deposits. However, The minimum payout of the platform is Rs. 50.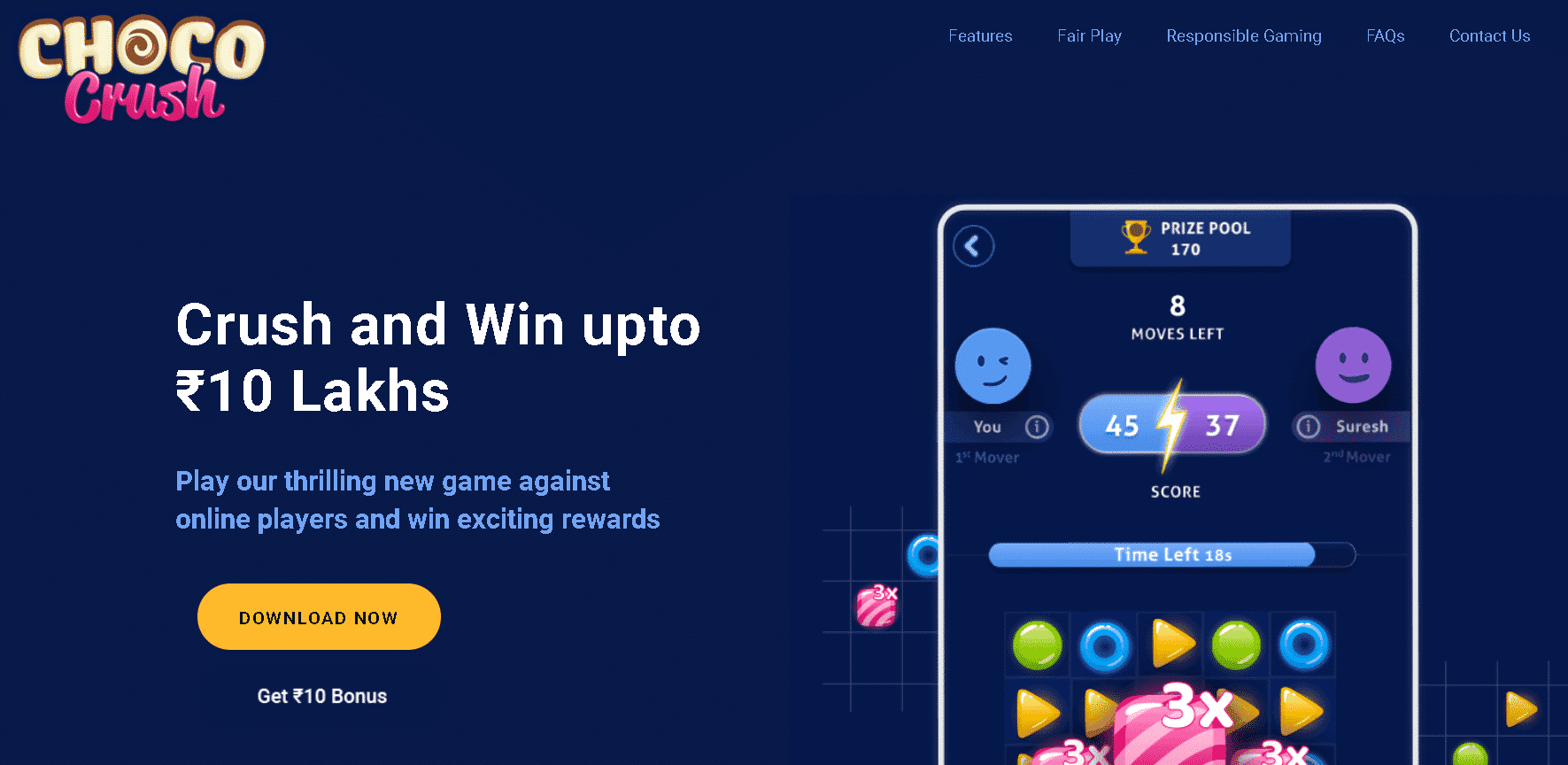 One of the best Paytm cash earning games, Choco Crush, is the newest addition compared to all other gaming platforms mentioned in this list. The app gained recognition swiftly because it offers intriguing games that have never been witnessed before in the industry.
The game is featured a user-friendly interface. Primarily, Choco Crush is a match puzzle game just like Candy Crush, where you can register for tournaments of your choice.
The puzzle game will bring you colorful chocolate adventures and offer captivating gifts and Paytm cash that can be redeemed as per your requirements.
You need to play the game daily and crush more chocolates than your opponent to earn more rewards.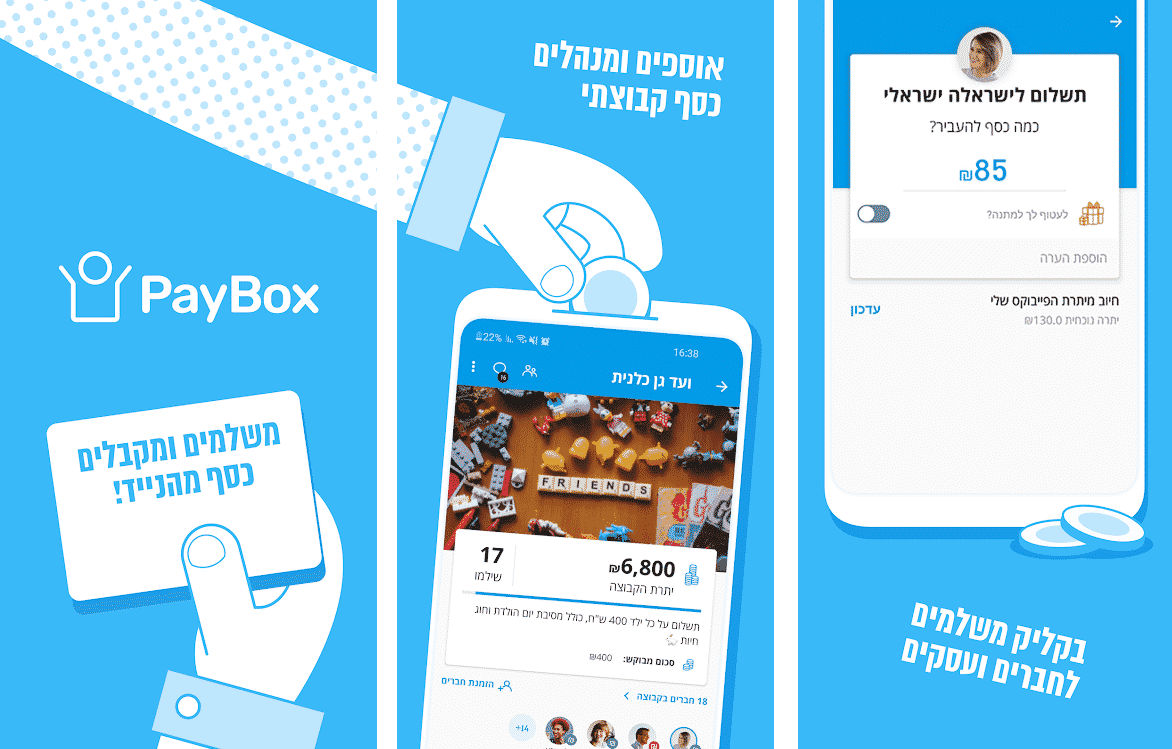 Are you searching for a website that helps you make money just by playing the game? How can we forget about the Pay Box app?
One of the best Paytm cash earning games in India, Pay Box offers you multiple ways through which you can earn immense reward points and surprise gifts such as spin & earn referral earnings, posting a poll, completing daily tasks, 100 days login challenge, lucky vouchers, and watching videos.
Once you register your account with Pay Box, you get Rs. 75 as a signup bonus and up to Rs. 20 after playing games every day. The money earned can be withdrawn through your Paytm or Mobikwik account once you earned Rs. 30 by playing games.'
Also Read: 20 Websites Where You Can Earn $100 Daily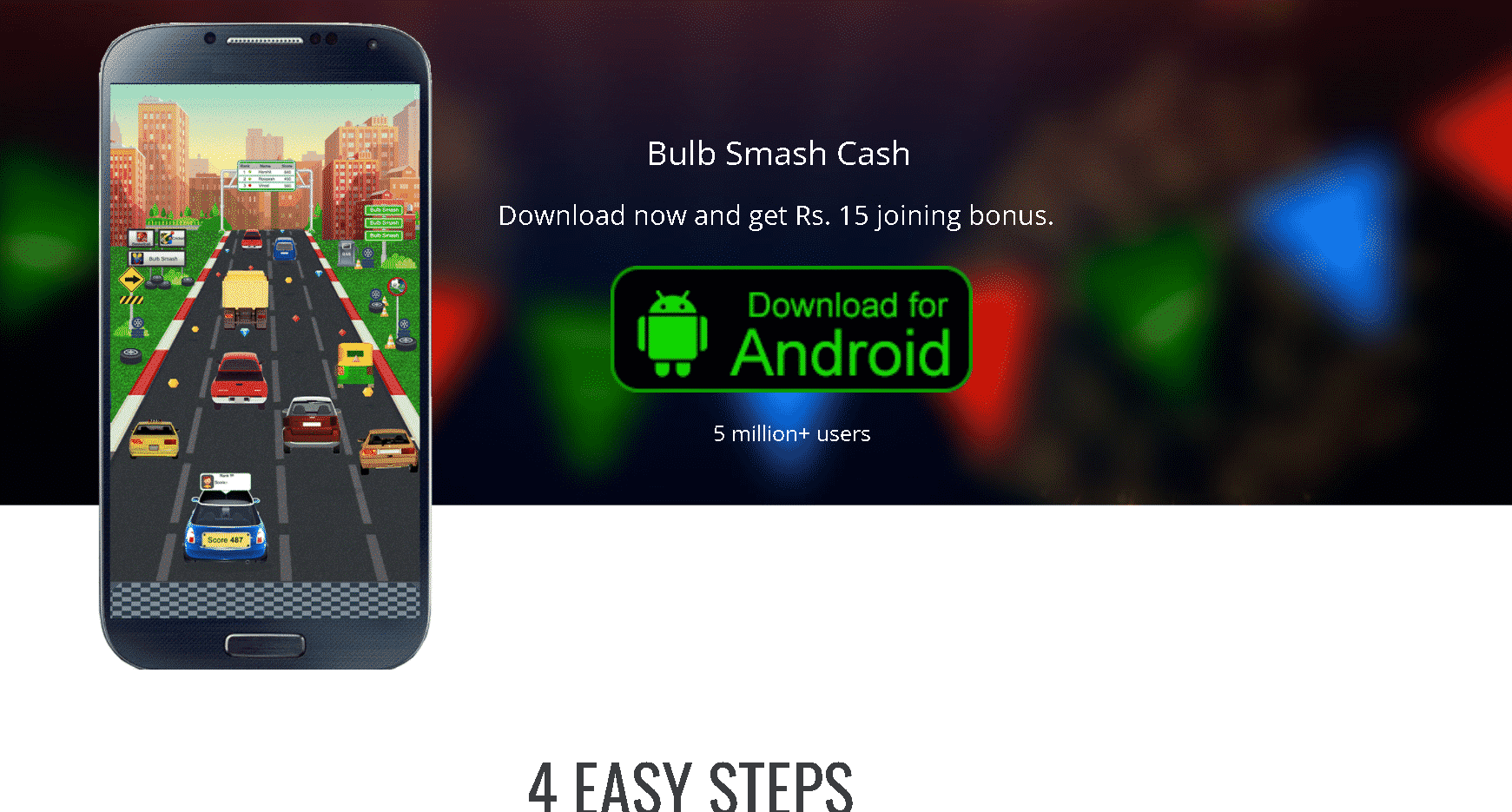 Bulb Smash is a legit website to earn money that is credited instantaneously in your Paytm wallet. It is a fun game that includes a real light bulb shooting game. It requires the players to break the light bulb within the timer by using the slingshot. On completing each level, you get to earn rewards.
The platform also offers other games such as Poker, Rummy, 8 Ball Pool, Fantasy Cricket, etc. All the games listed on this platform are free to play and provide a lucrative opportunity to earn Paytm cash.
Once you download the app from the PlayStore, you get a signup bonus of Rs. 10. Plus, the app allows you to earn Rs. 19 per referral once you start referring it to your friends.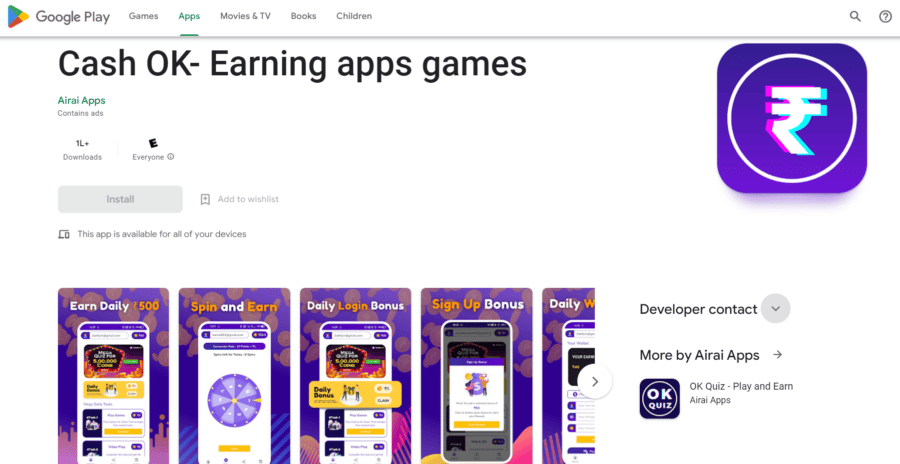 Cash Ok is one of the most popular apps through which you can play quizzes and complete easy and quick tasks. What's more is that you can earn Paytm cash for free, without any investment – you can earn Rs. 40 bonus Paytm cash by signing up using the referral link. Also, you get the chance to earn Paytm cash daily which can be easily transferred to Paytm wallet or PhonePe. Download the game from Google Playstore and enjoy!
Also Read: 14 Apps to Earn Paytm Cash by Watching Videos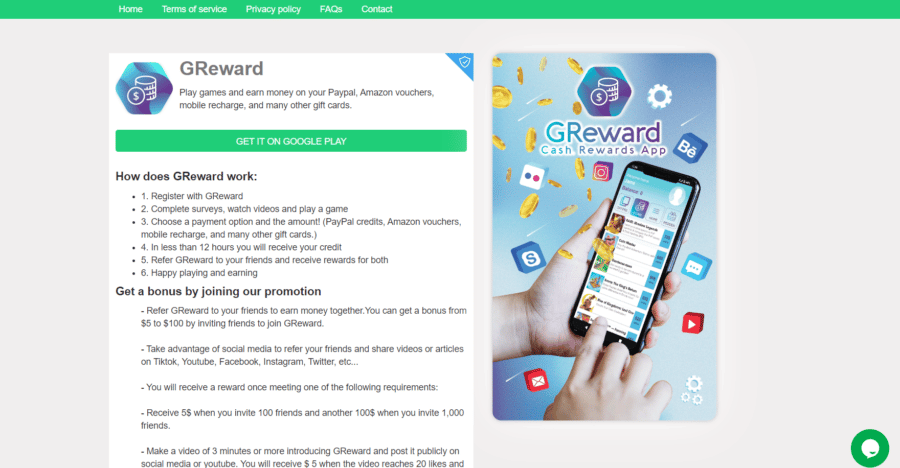 Greward is an app where you can participate in surveys, watch videos and play games online. No investment is required – just by engaging yourself in this app, you can earn Paytm cash for free and easily. The more you play, the more you earn!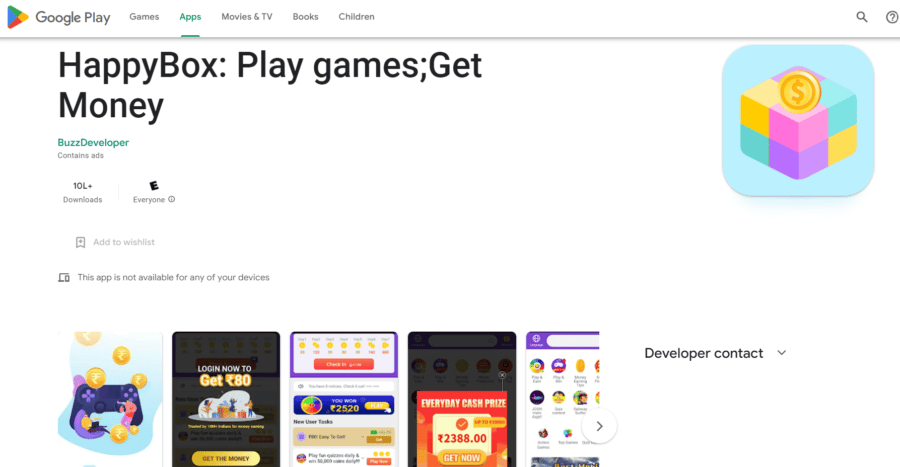 HappyBox: Play games; Get Money is a free Paytm cash earning platform, which can be used to complete simple tasks, check in daily, play games etc. It is a good source of entertainment and income – where no investment is required. You can get a chance to earn regular Paytm cash. Also, you can invite your friends to get some additional cash, besides the Rs. 25 for logging in.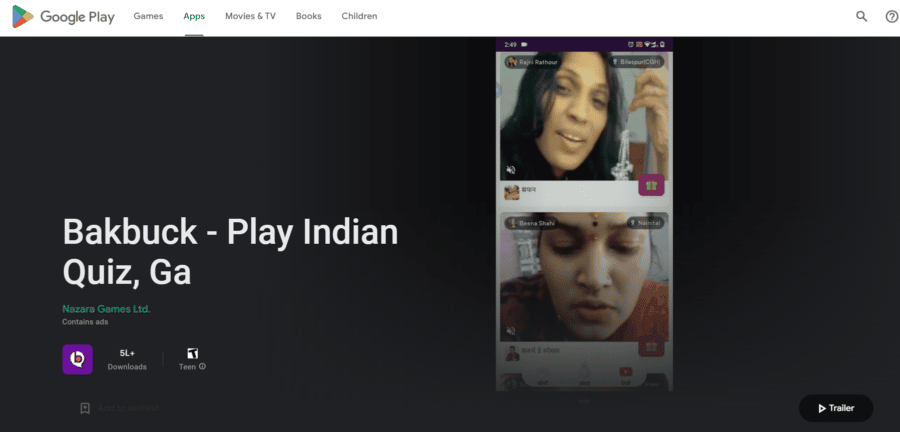 This app can be used to earn free Paytm cash by participating in quiz, watching videos that are trending and viral, taking part in contests and playing games. You can both earn and enjoy yourself here – without any prior investment. All the Paytm cash you earn will be directly transferred to your Paytm wallet. 
Also Read: Solitaire Cash App Review – Is It Legit or Scam?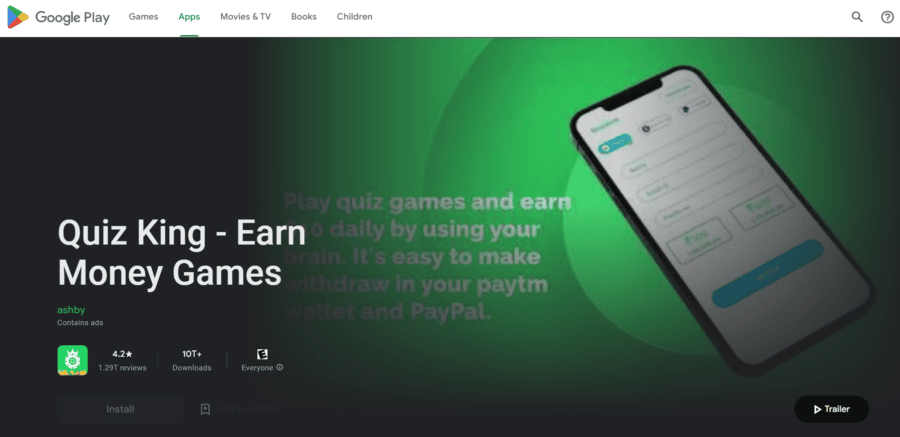 Quiz King is a Paytm cash earning app. You can earn points by taking part in quizzes and playing games, that are then converted into Paytm cash. You get the chance to earn about Rs. 1000 Paytm cash daily without any investment.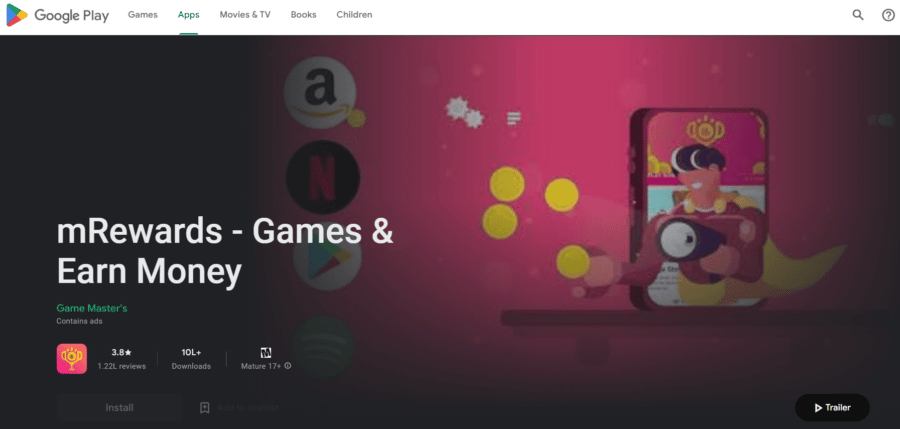 mRewards gives you various options to choose from – play games, complete surveys, invite friends and much more. You can earn Paytm cash through all of them. You can easily play by selecting games for a given period to earn coins. After collecting 1000 coins, you can convert to Paytm cash and redeem them. The minimum redemption amount is Rs. 10 for once per day.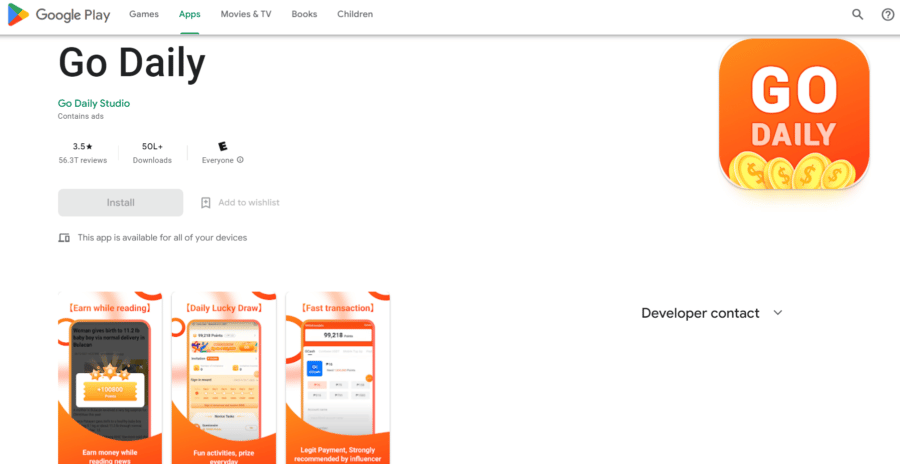 Go daily is a popular app for earning real Paytm cash without investing anything. You can earn money by logging in daily and reading news articles. Also, their referral program helps you earn additional cash. There is no limit to the number of articles that you can read daily. The minimum redemption amount is Rs. 50 per day. You can transfer earnings to your bank account.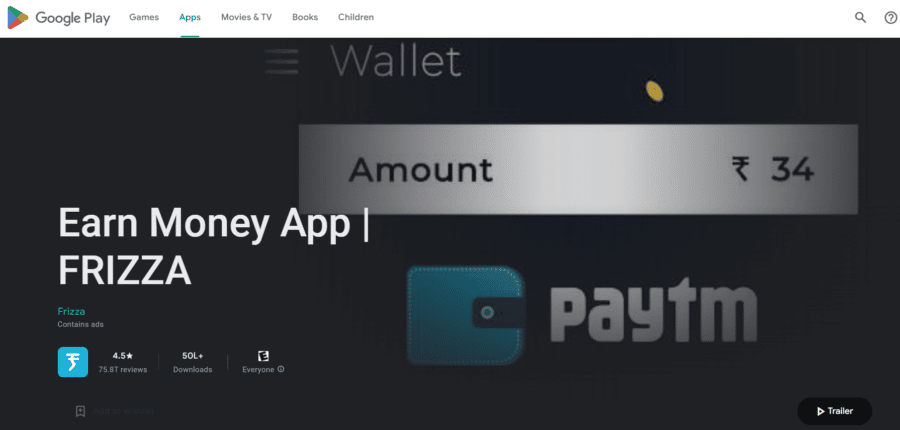 Frizza offers rewarding tasks and a smooth user experience. You can get bonus for logging in daily alongside assured earnings by performing tasks, such as downloading different apps, watching videos, and playing games. You can transfer money from Frizza wallet to Paytm. The recently introduced UPI payout option is a useful alternative. The minimum redemption amount is Rs. 30, and the maximum is Rs. 100 at one point of time.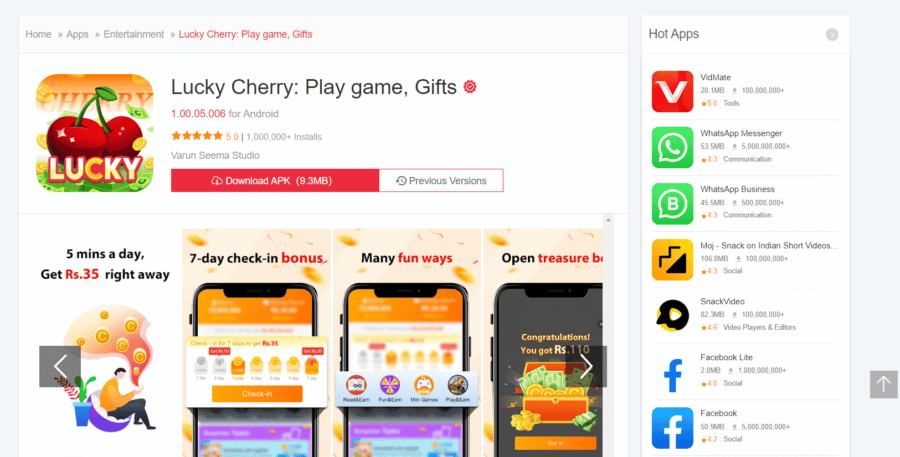 Lucky Cherry is a popular and growing app to earn free Paytm cash. Its perks are instant payment and various tasks to choose from. You can receive the payment within just 24 hours in your account. The minimum redemption amount is Rs. 5. Their referral program is also good for earning additional income, through which you can earn 10% off your friends' earnings. All these make Lucky Cherry an amazing app to earn online and regular passive income. 
FAQs
Q1) Which game is the best to earn money?
Precisely, there is not anyone game that can be considered the best. However, if there would be an option to choose between them, Paytm First: Ludo is the best Paytm cash-earning game that lets you win up to Rs. 1000 referral bonus.
Q2) How can I earn Rs 100 Paytm cash every day?
Playing games regularly and inviting your friends to play games can help you earn Rs 100 Paytm cash each day.
Q3) Can I earn Paytm cash without investments?
Yes, various apps let you win numerous cash simply by playing games. You are not required to invest a single penny. The only thing you need to do is play these games and earn free Paytm cash, including Frenzy Bubble Shooter, Galo, Winapp, Ludo, Carrom, and many more.
Q4) How to earn money from Paytm games?
It is very simple to earn money from Paytm games. All you need is to play the games regularly and win the tournaments you have entered. Most of the games include online or paid tournaments and playing quizzes. Winning the quiz contest and the tournaments will enable you to grab various rewards depending upon your ranking and the entry fees.
Q5) Are Paytm money-earning games legal in India?
All the games mentioned in this article are fully reliable and legal. Without letting you put in much effort, these games can become a great source of earning. However, we still recommend you read all the terms and conditions before getting started.
The earned Paytm cash can be used to recharge, pay electricity/ water or other bills, book air tickets, hotel booking, and much more.
Recommended: 30 Ways To Make Money Online
Once you start using any of the money earning games mentioned in this guide, please share your experience by commenting in the drop-down section!