Meesho, a startup, was founded in 2015 in Bangalore. Vidit Aatrey, who is an IIT graduate, is the co-founder and CEO of this spectacular platform. This online store is a safe and secure shopping platform that enables you to shop for clothes of comfort, shoes, home furnishing products, and accessories for your home at a budgeted price. You can browse through a wide range of products and purchase them in one go. Meesho also offers a convenient return policy, so you can return any items that you are not satisfied with. This Meesho Products List has the latest trends in every category, including women's sarees, kurtis, dresses, tops, inner wears, men's jeans, formal shirts, t-shirts, and footwear to create different looks and be ready for all kinds of occasions. The store also offers a lot of products for children.
Meesho currently has over 60 thousand suppliers across India and 17 million resellers who supply products under quality inspection before being stocked on Meesho's shelves so that customers can be assured about their perfect buy.
Plus, you get an additional benefit, too. The site offers cashback/refunds, allowing sellers to transfer their inventory over when they redeem points, which means more savings are possible now. Doesn't that sound amazing!
Meesho enables women entrepreneurs to start and grow their businesses by providing access to a wide range of products at wholesale prices, along with robust marketing tools and customer support.
Its spectacular clothing range is a great option for those who want to avoid going to a store and save time and energy.
Like Amazon or Flipkart, with Meesho, you can get your hands on the latest fashion trends without spending a lot of money. One of the advantages of Meesho is that you can also become a seller and expand your product's reach to your potential buyers hassle-free.
Meesho Marketing Strategy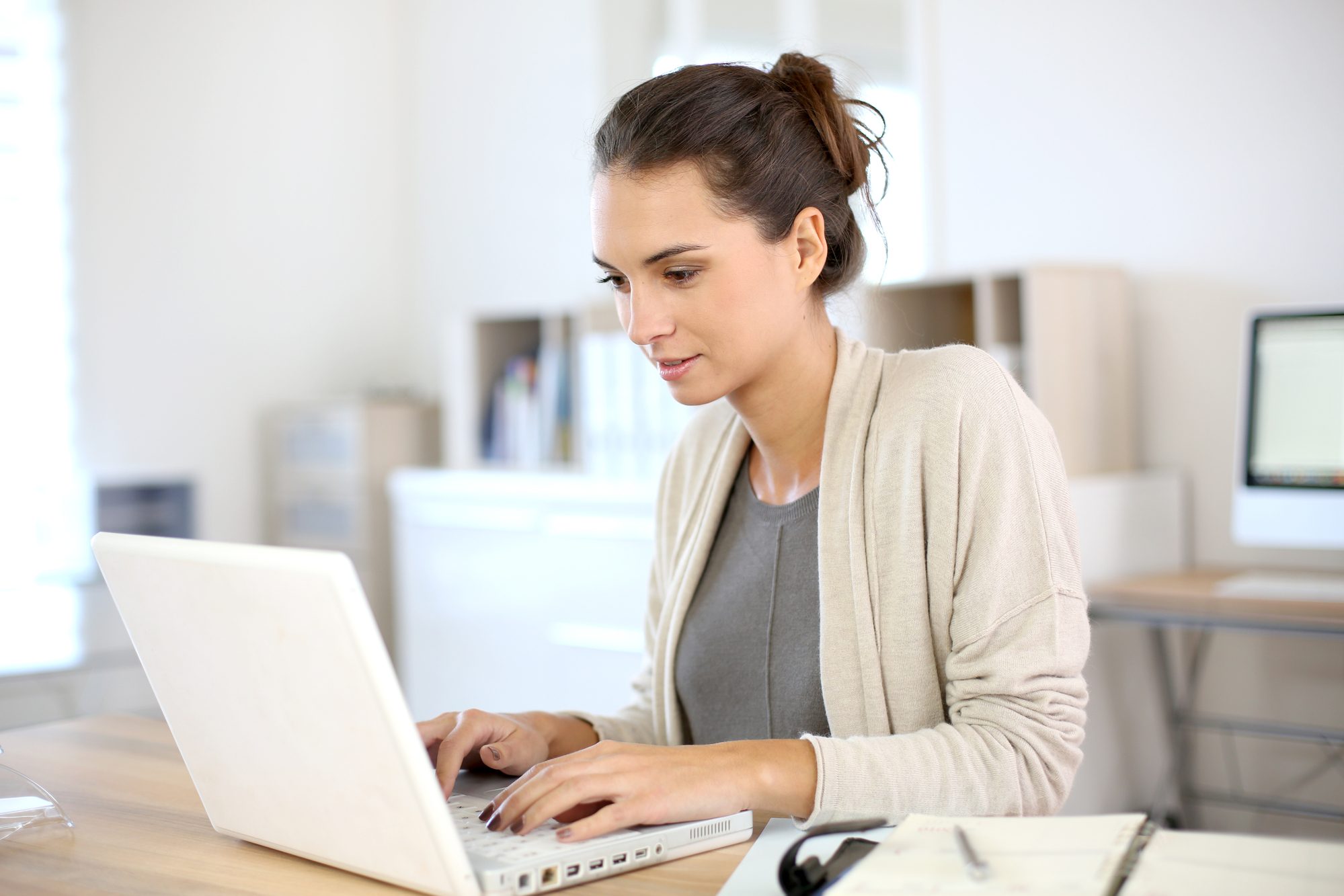 As a startup with limited resources, Meesho needed to deploy an effective marketing strategy at the beginning of its launch. The best part is that the platform succeeded in enticing more customers and successfully competed with other already established big players in this e-commerce industry.
The strategy used by Meesho was simple. They allowed people to earn loads of money and make their dreams a reality. They worked on a straightforward method that will remove all obstacles between buyers and sellers.
Meesho is an ecosystem for women entrepreneurs who want to make money without any investment. They are helping such entrepreneurs fulfill their goals with zero investment policy and by providing the means to support their talent for stitching and creating designs. With Meesho, you can start your own business without any financial burden on yourself!
There are several different tactics that Meesho uses as its marketing strategy. One of the most important is content marketing, which involves creating valuable content to engage potential customers and encourage them to purchase your product.
Blog posts, videos, and infographics on products sold on Meesho help improve the site's visibility to gain organic traffic to the platform, which retains the prospects' attention and boosts conversions.
Finally, Meesho needs to focus on building brand awareness. Meesho also uses various social media platforms like Facebook and Instagram to reach out to potential customers. This helped them immensely to create a loyal customer base that is more likely to make repeat purchases.
It can be done through paid advertising, creating and sharing engaging content to encourage people to visit Meesho's website or app. These are some of the business tactics that Meesho uses as its marketing strategy.
This article will take you through Meesho Products List. So what are you waiting for? Let's dive in and know what you can get by visiting Meesho online shopping store:
Meesho Products List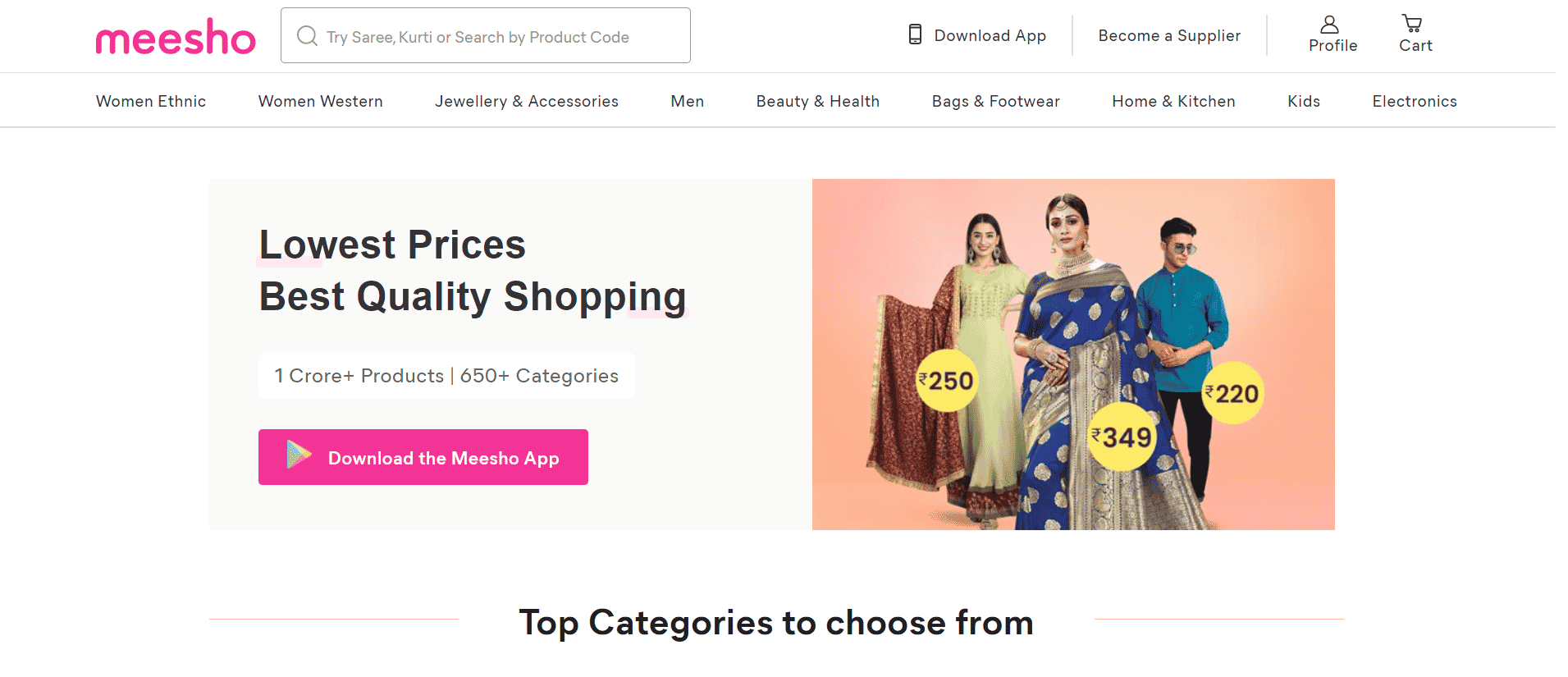 As already discussed, Meesho offers an array of products, from clothing to crockery to home furnishing items, to meet your daily needs. Here is the Meesho Products List divided into categories:
1. Meesho Kitchen Products
If you are looking for all the kitchen essentials that help you cook like a pro, look no further than Meesho Kitchen Products! This online shopping store has all the tools and crockery sets that you will need to wipe up your favorite meals from morning to night.
Whether it is a Dutch oven for braising your meats or a wok stir fry set for making several delicious Asian-inspired cuisines, the website has got what you need to make any recipe.
You can also find some nice storage boxes, designer plates, mixers, an oven, etc., here. Plus, all Meesho kitchen products are manufactured with the highest quality materials to withstand even the most vigorous cooking styles. And the best thing is you will find them at cheaper rates compared to other online shopping stores.
Also Read: 28 Best Highest Paying Jobs in India
2. Meesho Home Products
We all need home appliances in our regular lives. Meesho has become one of the leading e-commerce platforms in India, that too in a very short span. All the home products offered by this platform are sourced from India and meet the highest quality standards. They offer a wide variety of home decor items, kitchenware, bedding, etc.
They even provide a wide variety of furniture and decor items to furnish your home impeccably. Their products are available at wholesale prices that do not hurt your pocket and enable the buyers to make significant savings when you buy in bulk.
With Meesho, you can even start and grow your business on your terms. You can also join the site and see how you can make progress. They also offer several marketing tools and support services to help you promote your business and reach more customers. Let us continue this Meesho Products List with the clothing options offered by Meesho.
3. Meesho Western Outfits for Women
If you are looking for western outfits that are stylish and affordable, Meesho is the perfect place for you. They offer a wide range of women's western clothing, from dresses and tops to pants and jeans.
Whether you are dressing for a night out or a day at the office, or a festival, they have something to suit your needs. Plus, their prices are unbeatable! On the other hand, you can also easily sell any women's western dresses like palazzos, jeans, dresses, shorts/skirts, lingeries, outfits, etc. So why not grab the opportunity!
4. Meesho Cotton Wears
Cotton Sarees are a traditional part of the Indian wardrobe. They come in different designs and colors, depending on your preference or the outfit of cotton fabrics that people have preferred because they make comfortable clothes that you can wear anytime without hassle.
You will find Meesho offerings with different varieties of cotton wear like kurtis and tops, plenty more than just sarees. You will also find a wide range of ethnic wear suited ideal for Indian festivals and occasions. There are blouses & sets made from other types, such as chanderi fabric which feels softer and lighter against the skin during the warmer days.
There is a huge variety of ethnic wear available on Meesho. High-quality cotton wear is listed by different sellers here. You can download the Meesho app and get ready for your purchase.
5. Meesho Men's Wear
Meesho has a men's clothing line that offers a wide range of stylish and affordable clothes. The company's mission is to provide young Indian men with access to great fashion at an affordable price. The company offers a wide variety of shirt styles, including formal, casual, and party-wear shirts for men.
Meesho also sells jeans, chinos, and other bottoms for men. The platform's products are designed by its in-house team of experienced and professional designers. The company uses high-quality fabrics and trims to create stylish and pocket-friendly clothing.
Whether you are looking for a formal shirt or casual jeans, Meesho has something for every man. The company's wide selection of styles and cost-efficient prices will make you opt for this platform regularly.
Also Read: 50 Best Cheap Clothing Websites to Shop on a Budget
6. Meesho Kid's Wear
Meesho sells fashionable kid's clothing at affordable prices. Whether it is a lovely little girl dress with matching shoes or cute boy shorts paired with colorful tees, Meesho Kid's Wear has your child's needs covered. With a wide range of sizes, colors, and styles, children of all ages can always find something they like.
Whether you are looking for basic shirts and pants or party dresses for kids, Meesho Kid's Wear has something for everyone. If you are looking for the perfect baby gift or birthday present, look no further than Meesho Kid's Wear!
All products are made from high-quality material, safe and comfortable for kids of all ages. Be sure to check out Meesho Kid's Wear today!
7. Meesho Jewelry & Accessories
The next item in this Meesho Products List is Jewelry. Meesho has a stunning collection of handmade jewelry created by talented artisans worldwide. Each piece in the collection is unique and features intricate designs that will impress you. Whether you are looking for a statement piece or a simple accessory, Meesho meets the needs of all types of buyers.
Meesho Jewelry is committed to supporting fair trade and ensuring that its products are made with sustainable materials. They also work closely with their partner organizations to help empower women and provide opportunities for economic growth in developing countries.
Starting from anklets, toe rings, nose rings, and bangles, they have a variety of beautiful pieces of fashion accessories to groom you.
Are you looking for beautiful, handmade jewelry that supports fair trade? Meesho Jewelry is a perfect choice. Browse their stunning collection today.
8. Meesho Beauty Products
Meesho has a wide range of beauty and cosmetic collections for men and women. Meesho is a leading provider of beauty products and accessories, offering everything from hair care products to nail polish and eyeshadow.
Whether you are looking for a new shampoo or want to treat yourself to some luxurious facial cream, Meesho has got you covered. If there is something you need for everyday use or to pamper yourself with some special occasion-worthy items, Meesho is the perfect place to shop.
Their selection includes both high-end brands and affordable options that are great value for money. It is easy and affordable to stock up on all your favorite items.
9. Meesho Furnishings Products
Meesho provides a variety of furnishing goods that you can choose to decorate your houses and office spaces. You can buy an item directly from the app by clicking on the category of furniture or placing a wish for it with Meesho, who will offer to get it for you at a discounted price.
With Meesho, you will find a variety of home décor and organizing products. You will find a variety of decorative lights, wallpaper collections, flower vases, showpieces to light up your home corners, wooden racks, organizers, etc.
Home hygiene items such as detergents, sanitaryware, cleaning liquids, etc., are available on the site to meet your everyday requirements. Overall, Meesho Furnishings Items are generally more affordable than any of its competitive websites.
10. Meesho Electronic Appliances
Meesho sells a wide range of electronics and appliances, including televisions, refrigerators, washing machines, mobile phones, headphones, power banks, smartwatches, etc.
Whether you are looking for the newest products on the market or refurbished models that are still in great condition and at a lower price point, Meesho has what you need with free shipping on most orders and provides options to all its buyers of cash-on delivery, making your purchase easy and stress-free.
At Meesho, you can opt for the newest product on the market or even the refurbished models in great condition. At an extremely low price point, Meesho Electronics refurbished appliances can be purchased. This completes our Meesho Products List. Now it is your turn to buy what you like!
Also Read: 17 Best Ways to Make Money Online Without Paying Anything

Is GST Number required for selling products on Meesho?
Meesho is an India-based e-commerce platform where you can buy products without taxes. The Reseller side of Meesho doesn't require a GST number on a small scale level, but if you intend to start up selling products on Meesho in bulk, some mandatory rules must be followed.
You must have a proper GST Number registered for every state as a seller. Ensure that all necessary documents are submitted along with the application form, or else they might reject your application due to a lack of these requirements. As per recent reports, Meesho has become one of the best online shopping sites for home products in India. So here is your chance to earn big with Meesho.
It has been great sharing this Meesho products list in detail. As always, we hope you found this post helpful and informative. We wish you amazing shopping at Meesho!
If you have any queries or want to know more about Meesho or any other e-commerce platform, please let us know in the comments below, and we will get back to you as soon as possible. Keep reading for more money-related content.