Which Bluehost Plan to Choose? Today, in this guide we will answer which Bluehost hosting plan is the best fit for you. 
Bluehost is said to be one of the most successful brands that offer excellent web hosting plans, which is why it has over 2 million sites that are active and used globally. Are you also studying its plans but puzzled about which Bluehost plan to choose? Especially for beginners, it is even more challenging to select a cheap web hosting plan that offers excellent services.
One of the biggest mistakes people make is choosing a free plan, but they do not realize that hosting a blog on a free web hosting plan has various drawbacks. Instead, they should opt for an economical web hosting plan like Bluehost shared plan; they get a plan starting at $2.95 per month.  First, let us understand in detail about Bluehost and how it is better than its competitors.
About Bluehost
It was founded in 2003 and has become one of the few hosts that WordPress officially recommends. In 2010, it became a part of the EIG (Endurance International Group), but they continued to work under their name only. You would be amazed to know that EIG is one of the largest web hosting groups globally, with massive hosting companies in their name.
It aims to deliver comprehensive web hosting solutions along with numerous advanced features. They have a presence of more than 18 years in the market, and since then, their services have been top-notch, and that is the reason they are the number one choice for web developers globally. It offers excellent uptime.
This web hosting platform is for people who are looking for a reliable and affordable plan. Thus, if you are an individual blogger or a business owner, the plans offered by Bluehost give you the best hosting solutions.
Other than the fantastic web hosting services, they also provide the best SEO services, marketing training, graphic designing, etc., which is why it has earned a lot of fame.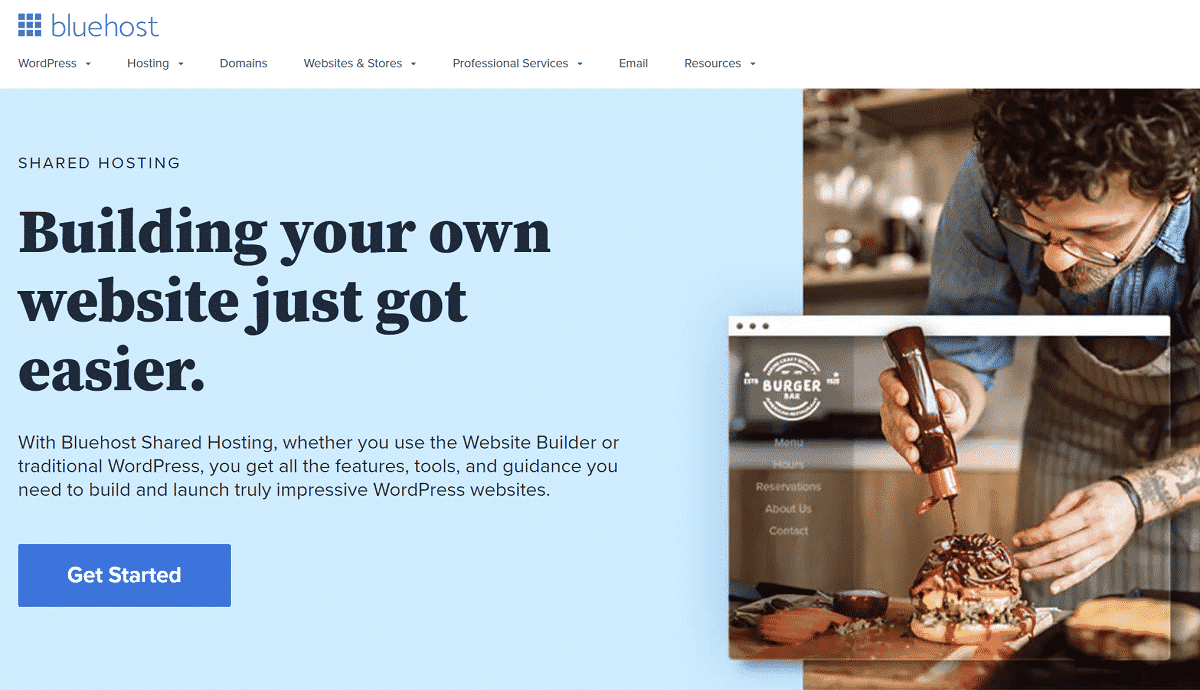 Why should you choose Bluehost?
Bluehost has grown so much that it has become a world in aspects of offering hosting services. It is a versatile platform where you can get different types of packages and services along with the reliability of such a big name. Here are a few advantages of using this platform.
1) Good Speed: This is one of the significant reasons why everyone chooses Bluehost. If your site gives good speed, then only you would be able to make your online business strong; otherwise, it would not run. Even Google also favors a website that loads quicker, plus even the visitors would forsake your website if it takes more than 3-5 seconds to load.
Bluehost has great speed as it has advanced servers that do not take more than 2 seconds to load a website.
2) Uptime: When you select a hosting company, another vital factor to consider is its uptime. Bluehost offers a 99.9% uptime guarantee, and they also have a record to prove that. However, no one can give you a 100% uptime guarantee. Thus, while choosing a platform, choose a platform with maximum uptime reliability.
3) Better Reliability: If your Hosting is not operating, then you and your visitors would not be able to visit the website. But, this is not the case with Bluehost as you can rest assured about their reliability. They have been in this industry for 18 years, and they have made sure to build a considerable trust base among bloggers and web admins.
4) Support: Their team is available round the clock to assist you on the phone, email, and live chat with any hosting-related issues. This is an essential character as all users need aid when using a web hosting service. They have an expert team that can supervise you at every step if you are doubtful.
The highlighting part is that if you are not happy with their services, you can even ask them for a refund within one month when you buy their plan.
5) Economical: As a beginner, people always seek options that are cheap yet reliable. Bluehost offers both as its hosting plans are affordable; their basic plan starts at $2.95.
6) Easy to use: It is one of the easiest-to-use hosting services that make it the top hosting provider for beginners. They have tutorial videos and easy-to-follow setup wizards, making it the first choice for almost everyone. In addition, they offer an exemplary user interface, and the services and tools they offer are essential for any hosting company.
Also Read: 17 Best Free Image Hosting Sites
Why choose Bluehost over its competitors?
Although there are numerous reasons why Bluehost is better than others, some of the main reasons to choose it above others are:
1) Unlimited Domains and Space: The big benefit of Bluehost is that you can host unlimited files and use bandwidth with Bluehost's unlimited hosting resources. If you select its Plus or Prime Plan, you would have the option to host indefinite domains in the same Bluehost account.  You can install up to 200 WordPress sites with unlimited database space or bandwidth on one hosting account. Although there is a fair usage policy it is unlimited only.
2) SSL certificate: For all shared hosting plans, you get a free SSL certificate. Bluehost very well knows the value of website security, plus it also helps secure great rankings in the search engine results. Thus, the benefit with Bluehost is that you would not have to pay extra for making your website safe, which makes all its plans a complete value for money.
3) WordPress Friendly: They render their users with a one-click installation option with SimpleScripts. The good thing is that they do not have any permission issues; thus, you can install numerous WordPress sites on one hosting account. Your WordPress would work lightning-fast without any error.
4) Open Source Hosting: It has become prevalent nowadays and also one of the most liked. Open Source Hosting renders you with various excellent resources and expertise that would come with your hosting account. Moreover, you can do all this in just a click without any hassle or big process.
5) Domain Manager: With all the shared hosting plans, they also provide you with a domain manager as well. The significant benefit of this feature is that it backs you in doing activities like transferring, purchasing, updating, and managing your domain name via a centralized location. In addition, it can be of great help if you work on multiple domains as it makes domain management easy.
6) Scalability: Scaling your website with Bluehost is pretty easy and fast. Even if you start with their basic plan as per your requirements, you can also scale up your hosting needs. Thus, they provide you with an option to increase your plan as your website flourishes.
This was about the benefits of Bluehost over others. Now, let us know about its plans so that you become sure that you are choosing the right platform.
Bluehost hosting plans: Which Bluehost plan is best for bloggers? 
Bluehost offers the following shared hosting plans:
Let us discuss each plan in detail so that you can choose the best plan for you.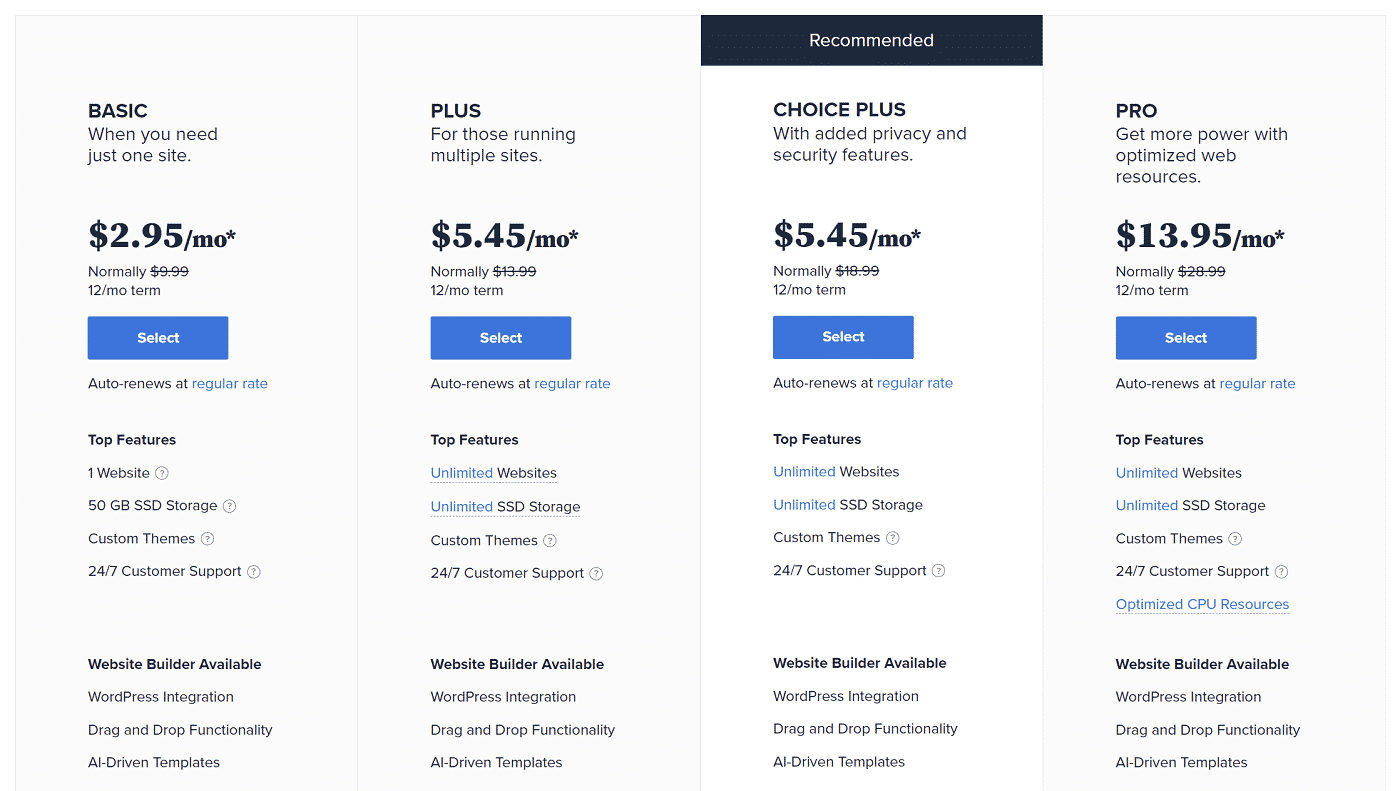 1) Basic Plan Review
This is the basic Bluehost plan; if you are a beginner and just commencing your online journey, this can be an excellent plan. This plan has the lowest features amongst all the plans, but the Basic Plan is a good choice if you want to opt for an economical plan.
It is recommended for beginners because it offers all they need for starting a website, such as:
One Website
50 GB Storage Space
Five Custom Email Accounts
200000 Max File Count
Secure Data Transfer
25 Sub-domains
High-Speed Website
Unmetered Bandwidth
Backups
User-friendly Platform
Free Domain Registration
Easy Customer Support
This plan is suited for people who are happy with one website that does not need more than 50GB of storage space and has confined traffic.
Pricing
It has a lot of features when you compare it with the prices for the plan. The different price packages are:
12-Month Price: $4.95 / Month
24-Month Price: $3.95 / Month
36-Month Price: $2.95 / Month
The higher the duration, the better discounts you will get. You can consider any plan that fits your budget and requirement. Thus, you can initially start with this plan and learn; later, you can switch to other programs with higher costs and features.  All the peculiarities that you get in this plan would certainly meet your expectations.  Some more features that would come along with this Basic Plan are:
Free Domain Name
Free Let's Encrypt SSL Certificate
100 MB Per Email Storage
Standard Performance
1 Domain Included
5 Parked Domains
5000 Data Tables
20 SQL Databases
5 GB Max Database Size
10 GB Max Database Usage
Max 150 Concurrent MySQL Connections
Who should opt for this plan?
Although anyone can opt for this plan as you get so much with it it is designed particularly for:
Beginners
Newbie Bloggers
Small to Medium Business Website owners
WordPress Beginners
You would get so much in this plan, which can be a complete package for a beginner at affordable prices. It is just ideal for securing an online presence.
Also Read: Bluehost Affiliate Program Review
2) Bluehost Plus Plan Review
Your confusion would still be there as to which Bluehost plan to choose? As you will read about its plans, your confusion would fade away. This plan is a favorite of many users as it possesses almost all the features that a blogger might need.
If you are serious about blogging and can afford this plan, this can be the most suitable plan. On this plan, you can host various sites with unlimited SSD storage. In addition, you get various other things with this plan, such as unlimited parked domains, email accounts, free spam experts, and much more.
Almost everything you get in this plan would be unlimited and can be a fabulous pick for people seeking web hosting with unlimited needs.
Pricing
It is relatively expensive than the basic plan, but the pricing is definitely apt as per the features it offers. Here are its plans-
36 Months at just $5.45
24 Months at just $6.95
12 Months at just $7.45
Features
Email Accounts Unlimited
Host Unlimited websites
Storage (GB) Unlimited
File Count 50,000
Unmetered Bandwidth
Domain Hosting: Unlimited
Standard Performance
One Free Domain Registration Yes (for 1 year)
Unlimited Parked Domains
SubDomains Unlimited
One Free Domain Privacy No
Spam Expert
Free Dedicated IP No
5000 Data Tables
Free SSL Certificate No
Max 200000 File Count
MySQL Databases Unlimited
10 GB Database Usage
1 Office 365 Mailbox Free for 30 days.
The list of its features is enormous. Two features need to be highlighted and discussed in detail:
a) Spam Expert: In this plan, you would get a spam expert for one website free of cost. You get many spam emails every day that can be really irritating and can also put your system and website on a threat.
To avert this situation, spam experts scan every mail for spam, virus, and other attacks before they reach your mailbox. Thus, you can be tension-free as you are getting it for free with Bluehost Plus Plan.
b) Microsoft Office 365 Mailbox: You get this feature free for a 30-day trial. This is one of the reliable and trustworthy email programs from Microsoft. It helps you become a personal brand, and the nice part is that you can try it for 30 days without paying any charges.
Who should opt for this Plus Plan?
Newbie bloggers
All kinds of WordPress users
Beginners
Bloggers who are looking for an affordable hosting
It can be said that this plan is the answer to your query about which Bluehost plan to choose?
Also Read: 32 Examples of Successful Blogs for Your Inspiration
3) Bluehost Choice Plus Plan Review
It is a more superior plan to the plus plan as it offers Domain Privacy & Protection and CodeGuard Basic Site Backup. Thus, it is recommended for progressive bloggers as it has many additional features that they might require.
In this plan, you get all the characteristics that you get in the Plus plan, along with two extra security features. Let us know in detail about them:
a) Domain Privacy & Protection: The primary benefit is that it averts your personal data from being exposed to the public or audience. You might not be aware that whenever you sign up for any plan on any web hosting site, any data that you provide them, such as your name, address, number, email address, etc., gets stored in the WHOIS database.
Therefore, if you want to protect this data from being visible publicly, you would require domain privacy & Protection. With Bluehost Choice Plus Plan, you get this point for free.
b) Code Guard: Keeping the backup of your web files is vital. In case of any accidental crisis, you might lose all that data; therefore, you need to have a recent backup of your website to restore this data when you want. Thus, with this feature, you get an automatic backup with just one click.
Other Features
Email Accounts Unlimited
Unmetered Bandwidth
Storage (GB) Unlimited
Standard Performance
File Count 300,000
Unlimited Parked Domains
Network bandwidth Unlimited
Spam Experts
Domain Hosting: Unlimited
One Free Domain Registration
SubDomains Unlimited
FREE Backups
Site Backup- CodeGuard Basic
FREE Domain Privacy and Spam Experts
One Free Domain Privacy Yes
Free Dedicated IP Yes
Free SSL Certificate Yes
MySQL Databases Unlimited
Database Tables 3,000
Pricing
The discounted price of the Bluehost Choice Plus Plan is:
36 Months at just $5.45
24 Months at just $6.95
12 Months at just $7.45
Who should opt for this Choice Plus Plan?
Established bloggers
WordPress users
People who are searching for site backups option
This package is best for people who need excellent security and free backup for 1 year. The best part about this plan is that it gives you ownership and command over your domain name.
4) Bluehost Pro Plan Review
This is the most advanced plan of Bluehost that offers a dedicated IP, high performance, and 2 spam experts. These additional features make it the most expensive shared Bluehost plan as it takes it to the next level because of its price and performance.
You get excellent features and website security with this plan that you might not get anywhere.
Features
Install Unlimited Websites
Unlimited SSD Storage
Get unmetered space and bandwidth
Free SSL Certificate
High Performance
1 Free Domain (for 1 year)
Unlimited Parked Domains and Subdomains
Unlimited Parked Domains
2 Spam Experts
Unlimited email accounts and email storage
Domain Privacy + Protection
Site Backup – CodeGuard Basic
$200 worth marketing offers
Dedicated IP
30 Days Free Office 365 Mailbox
Pricing
Here are the discounted prices for the Pro plan:
36 Months at just $13.95
24 Months at just $15.95
12 Months at just $18.95
Who should opt for this Choice Plus Plan?
All professional bloggers and WordPress users
People who are looking for a dedicated IP along with other features like site backups, domain privacy, etc.
Verdict on Bluehost Plans
It is essential to make an informed and appropriate hosting decision as per your housing requirements. Bluehost is well-known for rendering affordable and reliable hosting plans and amazing features to its users. You are well-versed about the features it offers and its plans. Thus, always do research and select the right program depending on your needs and budget.
But, if you are ready to spend some extra money, then Choice Plan is recommended over the basic plan as it is for beginners, and Pro Plan is for advanced bloggers.
| | | | | |
| --- | --- | --- | --- | --- |
| Which Bluehost Plan is Best | Bluehost Basic Plan | Bluehost Plus Plan | Bluehost Choice Plus | Bluehost Pro Plan |
| Websites | 1 | Unlimited | Unlimited | Unlimited |
| SSD Storage Space | 50 GB | Unlimited | Unlimited | Unlimited |
| Bandwidth | Unmetered | Unmetered | Unmetered | Unmetered |
| Email Accounts | 5 | Unlimited | Unlimited | Included |
| Site Backup | No | No | Included | Included |
| Spam Experts | No | Included | Included | Included (2) |
| Domain Privacy | No | No | Included | Included |
| Performance | Standard | Standard | Standard | High |
| Dedicated IP | No | No | No | Included |
| Regular Price | $7.99/mo | $10.99/mo | $14.99/mo | $23.99/mo |
| Discounted Price | $2.95/mo | $5.45/mo | $5.45/mo | $13.95/mo |
How to sign up for Bluehost hosting plans?
Once you choose the platform and are sure about the plan, you need to sign up with Bluehost to get started. Here are the steps-
1. You need to go to the website of Bluehost; if you are a new user, then you would need to follow the sign-up process. If you are an existing user, then put in your details and log in.
2. As you open the website, you will see an option of "Get Started on the landing page." As you click this button, you will see all their exclusive plans.
3. This is the final step where you need to choose the hosting plan as per your needs, enter your domain name and process the payment. Once the payment is completed, you can begin using the services.
Also Read: 20 Best Web Hosting With Free Trial
Bluehost Shared Hosting Plans Comparison: Basic vs Plus vs Choice Plus vs Pro
Still, finding it tough to understand which Bluehost plan is best for bloggers? A comparison of the Bluehost plans will give you the answer and help you decide the best plan for you.
Bluehost Basic vs Plus
If you just want to create one simple website like creating a portfolio, you can opt for the basic plan. It is the perfect choice as at just $2.95 a month you can get many features. But, if you have to host more than 1 website, then Plus can be a better option for you.
Pricing Comparison
The basic plan starts at $2.95 a month, whereas Plus is $5.45 a month. If you can pay just some extra dollars, you will be able to get various additional features that would be worth it. Although it is half the price compared to the Plus plan, if you compare the features, Plus is better.
Also, initially do not sign up for a 24 or 36 months contract as they offer a 30-day money-back guarantee. So, try to plan and choose 12 months contract so that you are not locked in for a very long time. 2 or 3 years are too much in the online world, so do not get stuck in the contract just to save some money.
Ideal users
This information will tell us which package will be suitable for beginners or professionals:
a) Bluehost Basic: If you just want to check the speed and services of Bluehost, then you should opt for this plan. At such reasonable prices, you would be able to create one website with one domain. Thus, it is for people who want to make a basic website for presenting their products or services.
This plane offers 50GB SSD storage that is sufficient for hosting a primary static HTML website.
b) Bluehost Plus: In this package, there is no limitation on the number of websites or domains you can host. Furthermore, there is no boundation on the SSD storage and bandwidth.
Thus, if you opt for a Plus plan and go for a 12-month contract, you would just have to pay $30, but the services you will get would be completely worth it.
Bluehost Plus vs Choice Plus
If you are looking for some additional safety for your website, you can opt for the Choice Plus plan. Otherwise, opt for the Plus plan only. The pricing of both plans is quite similar, so you can also opt for the Choice Plus plan and get additional security for your data and website.
Pricing
Both the plan starts at $5.45 a month. Thus, at the same price on the Choice Plus plan, you would be able to get some advanced features like domain privacy and Site Backup, then why not opt for the Choice Plus plan.
Features Comparison
Choice plus includes Codeguard website backup service and Domain Privacy registration that Plus plan does not comprise of. Hence, opt for the Choice plan if you are concerned about the security of your website, data getting corrupted, hacked, or infected from malware; as with these features, you will be able to back up quickly.
Ideal Users
These plans are the best fit for:
a) Bluehost Plus: Opting for Bluehost plus would be a great option if you are planning to expand your business, as in that case, you would need more than one website.
You get unlimited SSD, domain and unlimited website development plus a lot more added features than the basic plan. This plan also includes $200 worth of marketing offers and one Office 365 mailbox that is free for 30 days.
b) Bluehost Choice Plus: It offers two additional features as compared to the Plus plan. Thus, this plan is recommended for people who are serious about their website or blogging. If you make money from your website, then having a backup feature is very important.
You can get that safety from the domain privacy and CodeGuard basic features.
Bluehost Choice Plus vs Pro
If you are sure that your site would have a lot of traffic, then the Pro plan is best suited for you as it offers high-performance servers and a Dedicated IP. So, if you want to buy a dedicated IP, then by just paying $5.99 per month, opt for the Pro plan only. It is an economical and better choice instead of registering to the Choice Plus and paying $13.95 a month.
Pricing
Choice Plan begins at $5.45 a month, and the Pro plan is for $13.95 a month. So you just need to pay some extra bucks and get high performance with a dedicated IP. The other difference is that you get a 300000 file count compared to 200000 in the choice plus plan.
Ideal Users
These plans are apt for:
a) Bluehost Choice Plus: This plan has the features of both basic and plus plan, but with choice plus, you get control over the privacy of your domains, backup and restore options. Hence, if you seek a feature-rich and advanced hosting plan, this can be a great plan for you.
This plan is perfect for people who want to host a serious company and make money from their websites.
b) Bluehost Pro Plan: The only reason why you should choose this plan is if you want a dedicated IP address. Higher performance and speed can be gauged from other ways such as Cloudflare CDN, caching options on the website, etc.
Also Read: WPX Hosting Coupon Code
Cons of Bluehost Hosting Plans
Along with the advantages come a few disadvantages as well. It is essential to know about them so that you can take an informed decision on which Bluehost plan to choose:
a) No Monthly Plan available: This is one of the major drawbacks that they do not provide any monthly plan. But, you can try their 30-day money guarantee policy so that you can use and understand if it suits your requirements or not.
b) Manual Backups: In the Choice Plus and Pro plan, Bluehost offers CodeGuard, where you get automatic backup of 30 days, and after that, it replaces with the new data. But, in the Basic and Plus plan, you would have to take the backup manually with the help of cPanel.
c) Prices: Renewal rates change every year and usually get expensive. Hence, if you wish to save money, opt for 36 months plan so that you do not have to pay extra money every year.
Bluehost Shared Pricing vs Competitor Pricing
| | | | |
| --- | --- | --- | --- |
| | Bluehost | HostGator | InMotion |
| Shared Hosting | $2.95 | $2.75 | $2.49 |
| Free domain | Yes | Yes | No |
| Storage | 50GB | Unmetered | 10GB |
| Free SSL | Yes | Yes | Yes |
Bluehost VPS Pricing vs Competitor Pricing
| | | | |
| --- | --- | --- | --- |
| | Bluehost | HostGator | InMotion |
| VPS hosting | $18.99 | $29.95 | $29.19 |
| Storage | 30GB | 120GB | 75GB |
| Bandwidth | 1TB | Unmetered | 4TB |
| Dedicated IPs | 1 | 2 | 3 |
Bluehost Dedicated Pricing vs Competitor Pricing
| | | | |
| --- | --- | --- | --- |
| | Bluehost | HostGator | InMotion |
| Dedicated Hosting | $79.99 | $119 | $105.69 |
| Free domain | Yes | No | No |
| Cores | 4 | 2 | 4 |
| RAM | 4GB | 8GB | 16GB |
Bluehost Shared WordPress Pricing vs Competitor Pricing
| | | | |
| --- | --- | --- | --- |
| | Bluehost | HostGator | InMotion |
| WordPress hosting | $2.95 | $5.95 | No |
| Free domain | Yes | Yes | No |
| Auto install & updates | Yes | Yes | No |
| Storage | 50GB | Unmetered | No |
Hidden costs that you should know before signing up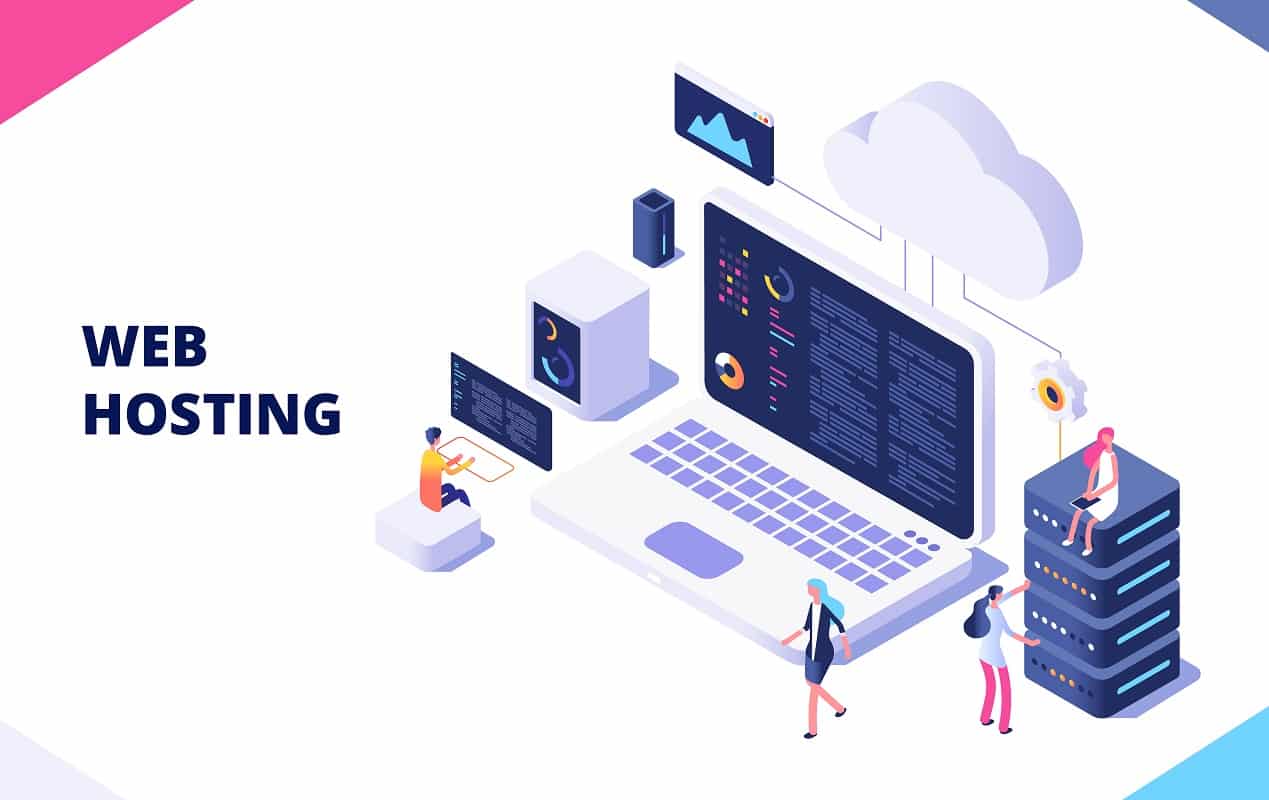 Before you choose any plan, it is essential for you to check if there are any hidden or extra costs associated with it. It might be difficult for you to calculate the exact cost as you should see the existing discount offers, add-ons that you might require, plus the extra amount pooping up when you check out:
Here are a few hidden costs that you should check on before choosing any plan:
a) Checkout Extras: Whenever you choose a plan, in the end, it will direct you to the checkout page. On this page, you would get the option to select the length of your contract, enter your payment details and create an account. You can also check your package details and choose package extras if required.
Bluehost is a little tricky when it comes to selecting add-ons because sometimes it automatically checks some of the boxes for you. Thus, if you don't look carefully, you might end up paying a massive bill for your plan. So, ensure that you uncheck the features or add-ons that are not included in your plan.
Do not forget to read the disclaimer and any terms and conditions before processing your payment. Also, your hosting subscription automatically renews unless you cancel, and this renewal will be for the same length as your original contract. It resumes at the regular rate rather than the discounted price, so always make sure that you cancel the payment, or else it would debit automatically.
Also Read: Hostinger Affiliate Program Review
b) SSL Certificates: Do not forget that all Bluehost hosting plans come with a free SSL certificate, so even if you see any notification about the charge, ignore that as it is absolutely free for all Bluehost users.
But, if you want more advanced security, only then you should buy a premium SSL certificate. Otherwise, it is free, and you are not required to pay anything for using the basic SSL certificate features.
c) Domain Name Cost: Domain is your website's name and your unique identity on the web. In some of their plans, they provide you with a free domain for a year, and it automatically renews at the regular price once the year is completed.
But, the catch here is that what would be the regular rate of the domain? It would depend on the top-level domain that you select. Thus, the charges vary, starting from $4.99 to $12.99 a year. Therefore, choose the plan as per your requirement before it charges you extra.
d) Backups: CodeGuard Basic: This software does the daily backups for your website. It checks if any unnecessary changes are happening on your website plus stores copies of your data at various secure locations.
This feature comes free in some of the plans, but in a few plans, it is chargeable, so you would have to choose this add-on if you are looking for additional security.
e) Extra Features: Refund Policy: All the Bluehost sharing plans come with a 30-day money-back guarantee. Thus, if you are not happy with the plans, you can either change the plan or ask for a complete refund.
But, this would not imply the domain name; this means that if you have paid extra for the domain name, then you would not get that amount back.
Frequently Asked Questions (FAQs)
Q1) Can I upgrade my Bluehost plan?
A1) Yes. You get an option to upgrade your current plan in your Bluehost dashboard; you can upgrade the plan whenever you want. But, there is one drawback that you would not get the discounted prices. Thus, try and choose the right plan at the beginning only.
Q2) How much does Bluehost cost for building a website?
A2) They do not charge any fee for building your website. You can install a website with WordPress installation in just a few clicks with plus you can also get round-the-clock support with them.
Q3) Which are the best alternatives to Bluehost?
A3) If you are looking for Bluehost shared hosting alternatives, the best ones are SiteGround and A2 Hosting.
Q4) How much is Bluehost per year?
A4) The prices depend on the type of plan you choose. They have plans starting from 12 months to 36 months contracts. The plan starts at $2.95 per month and goes up to $13.95 if you opt for the 36 monthly contracts.
Q5) Is WordPress free on Bluehost?
A5) This is one of the major benefits of Bluehost that WordPress is completely free with it. All you need is to sign up for any plan, and after that, you can install WordPress, CDN and do SSL activation in just a few clicks.
Recommended: Fiverr Affiliate Program Review
So, what do you think about which Bluehost plan is best for bloggers? As per the research, a Basic plan is best for beginners who have a single domain requirement. On the other hand, if you are looking to host more than one website, you should choose Choice Plus Plan as you get the website back up and security. In contrast, the Pro plan is for advanced bloggers who need a dedicated IP.
Thus, now it is time for you to buy the Bluehost package of your choice.