No one could imagine in their wildest dream about losing all the data on their laptop. It may be because you lost your backpack or it might be possible that your laptop is broken. Whatever reason it is, you would absolutely be terrified with the thought of losing endless hours of work and not getting the remuneration you deserved.
We have got it covered for you! Securing all your data with free hosting sites at no additional cost is the best way one could ask for. Isn't it what you were looking for? In addition, saving your content has become effortless on external servers as you have a reliable backup no matter if you already have it on your hard disk or not!
The best part about image hosting sites is that you do not need to save the images on your laptop or mobile. It implies you can save massive space on your devices which will help them work faster, plus you would have swift access to all your photos anytime, anywhere, on any device.
Top Free Image Hosting Sites
What are Image Hosting Sites?
Image hosting service allows individuals to upload, share, and manage their photos efficiently without worrying about backup or data loss. The images uploaded on these sites are primarily stored onto its server, displaying different codes allowing others to see the picture.  Many hosting platforms are providing this service for free. However, some of them charge. It also depends on the space you require. As you need to pay if you want unlimited space for sharing and storing your photos. Some standard features offered by a majority of the image hosting platform include:
1. Sharing the pictures across multiple sites, forums, or blogs.
2. Image editing and enhancements.
3. Full control over privacy; means which you allow to see your uploaded images.
How Does the Image Hosting Site Work?
In the best free image hosting sites guide, it is imperative to know how these image hosting sites function. Isn't it?
Photo-sharing websites or apps can automatically upload all your photos effortlessly after syncing them with your account. You just need to download the app, enter your email ID for registration, and start uploading. For instance; Installing the Google Photos app will require you to enter your google account details, and it will do the rest by setting up your Google Photos account and uploading all your pictures onto its server.
Basically, the image hosting websites are featured with an upload interface allowing you to post pictures from your laptop or desktop. However, some websites may not allow you to upload all your photos automatically, or you might want to select specific images to upload on the site. In that case, you need to press the 'Submit' tab after selecting the photos that you want to be uploaded onto its server.
The primary benefit for these sites is that you can manage/organize, and view your images from any device once the HTML code is linked through them. Most of the image hosting sites provide unlimited storage (Few of them offer it for free, while most of them charge). In addition, a majority of the photo-sharing sites restrict users on the image upload size and allow them to upload a particular size of the image.
The paid image hosting sites have a wide range of services, due to which the cost might oscillate between $2 to $18 per month.
Benefits of Image Hosting Sites
Saves storage space
Seamless uploading
Editing
Backups
Ease of sharing on social medial
Help photographers to gain global exposure
Image management
File format support
Security
Increases site speed
17 Best Free Image Hosting Sites (2022)
You should opt for the top free image hosting software suiting all your requirements once you compare their features.
Here is the rundown of the best free image hosting sites in 2022 that allows your website to complement captivating add-ons such as online stores, integrated editing tools, or access to a professional photographers group.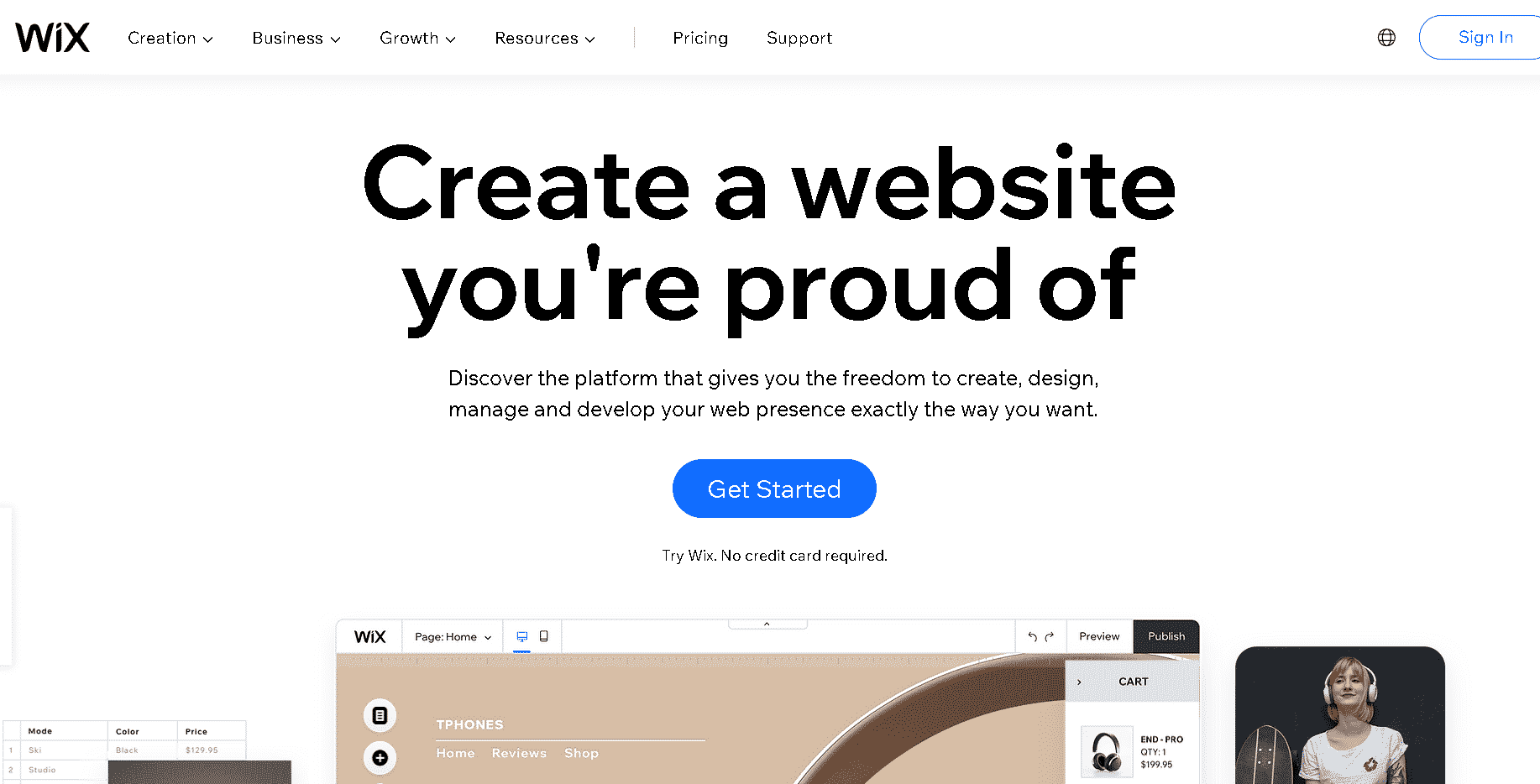 Wix is one of the best image hosting sites ideal for showcasing your work online. In addition, the platform provides a lucrative opportunity to join and interact with the community of shutterbugs and help you fetch potential clients looking for a talented photographer, just like you.
Primarily, Wix is a site-building and hosting service provider which allows you to create a store to license and sell your work as you see fit.
The platform lets you tweak design elements to your heart's content with a bunch of features at your disposal. It is also equipped with watermarking features, and the platform also provides you with social media implementation. Plus, you can also create an exquisite site within a few minutes with the help of its premade layouts.
Also Read: 20 Best Freelance Websites For Beginners
Wix offers distinctive membership tiers with various storage capabilities and prices. If you do not wish to use a paid plan or check its efficiency, you can use the free hosting option, which includes 500MB of cloud storage. You can sign up for Wix here.
Why Choose Wix?
Create and share private photo albums
Easily customizable
Images can be easily found as the platform is featured with easy indexing
High quality of photos.
Do not charge any commission or fee on selling photos online, even in print or digital form.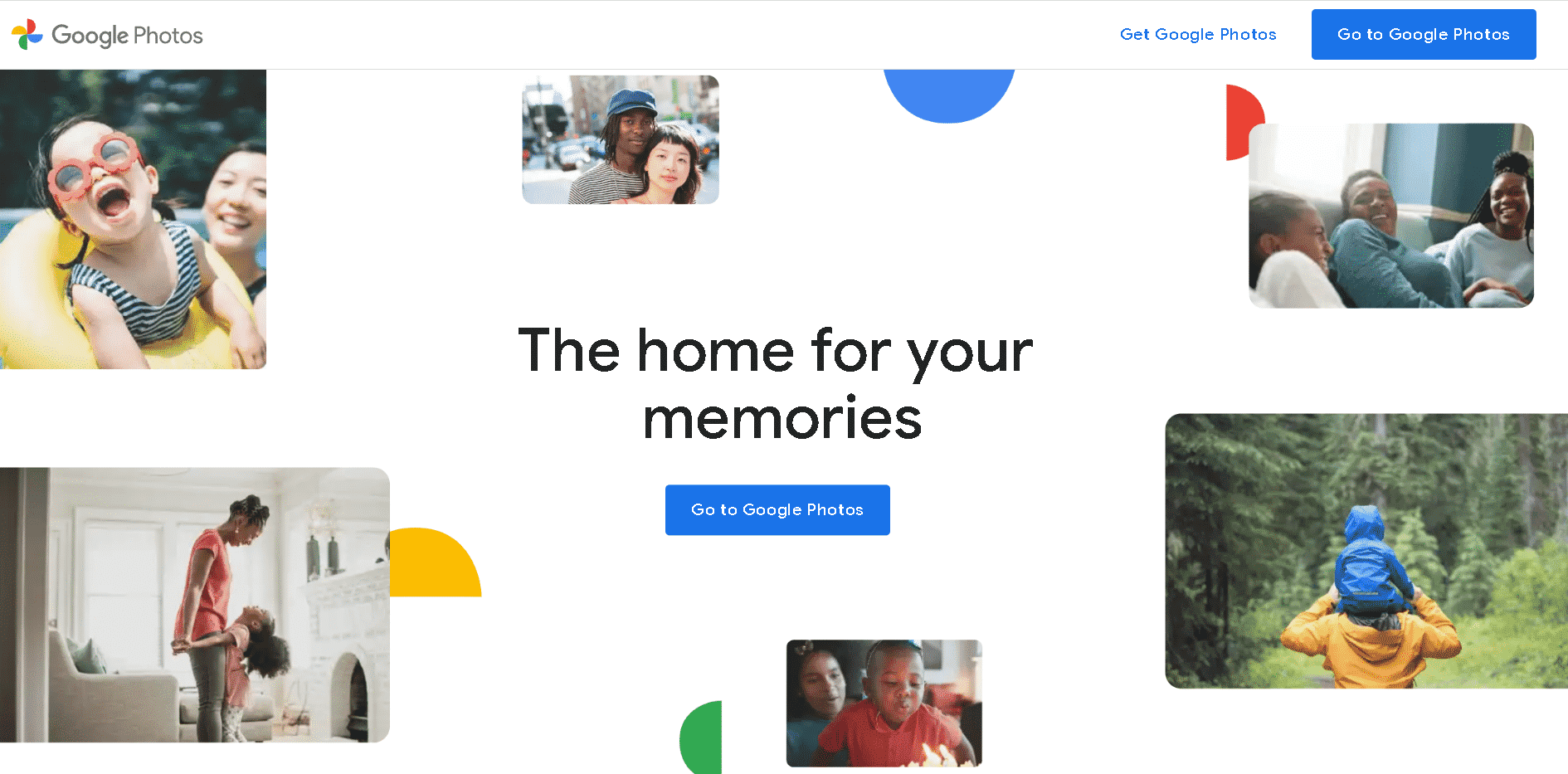 Sharing photos with friends and family become easy with Google Photos. The platform allows you to make room for more memories by helping you manage phone storage. It also allows the backup for unlimited images and videos for free, up to 16MP.
Google Photos is featured with a unique tool that helps you create animations and collages based on the uploaded photos. At the same time, it proves to be one of the best free image hosting sites as it ends up sorting content and pictures automatically for you!
The platform can be synced with your other Google accounts. Moreover, it offers you up to 15GB of image storage to use across Google Photos, Google Drive, and Gmail. This image hosting site also allows you to upload a wide array of filename formats such as PNGs, GIFs, and JPGs.  

ImgBB is a phenomenal image hosting site that makes the photos uploading and sharing process effortless. The platform is featured with drag & drop, remote upload, image re-sizing, and many other functionalities.
The platform uses a plugin that adds image uploading functionalities to your website, blog, or forum. Easy, right? As you just need to use that button to upload the images from your website directly. Plus, the button placed will match the target editor toolbar.
The HTML code required for uploading the image will be handled automatically, and you are not required to create an account or register your email address.
Also Read: 20 Best Web Hosting With Free Trial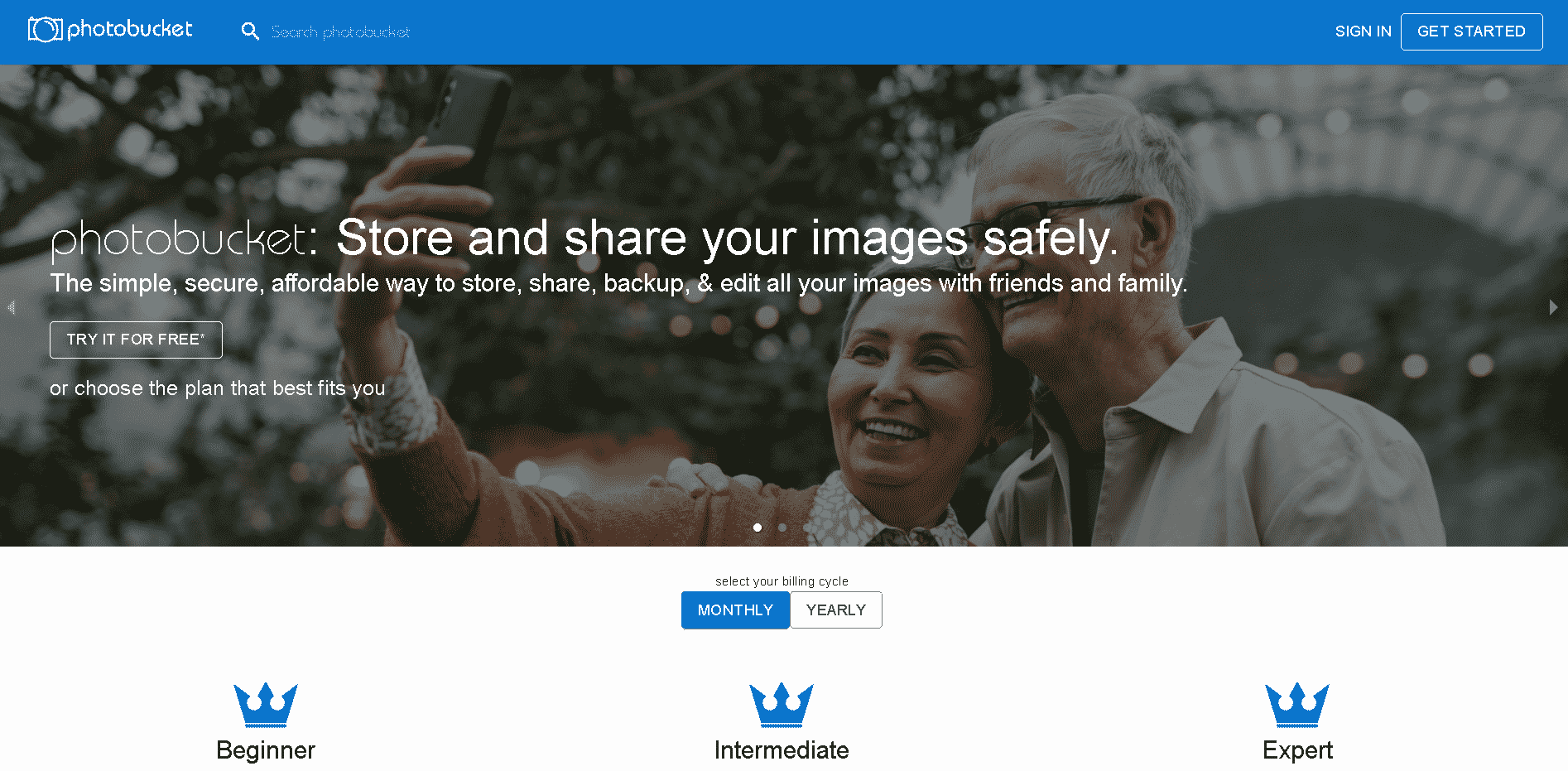 It is another best free image hosting site best-known for offering free services to numerous photographers for photo hosting and sharing. Its intuitive interface allows you to control the privacy settings and the individuals who will be able to see your photos.
It offers an impeccable feature of embedded and sharing, making it effortless to upload the same picture on multiple platforms, sites, blogs, forums, or online marketplaces. All you need to do is copy the embedded link to share the photos.
The incredible image hosting application also offers you the option to add filters, stickers, annotations, and cropping pictures. In addition, editing pictures through this platform is mind-boggling. You can enhance the resolution and effects of a photo, making them unsurpassed.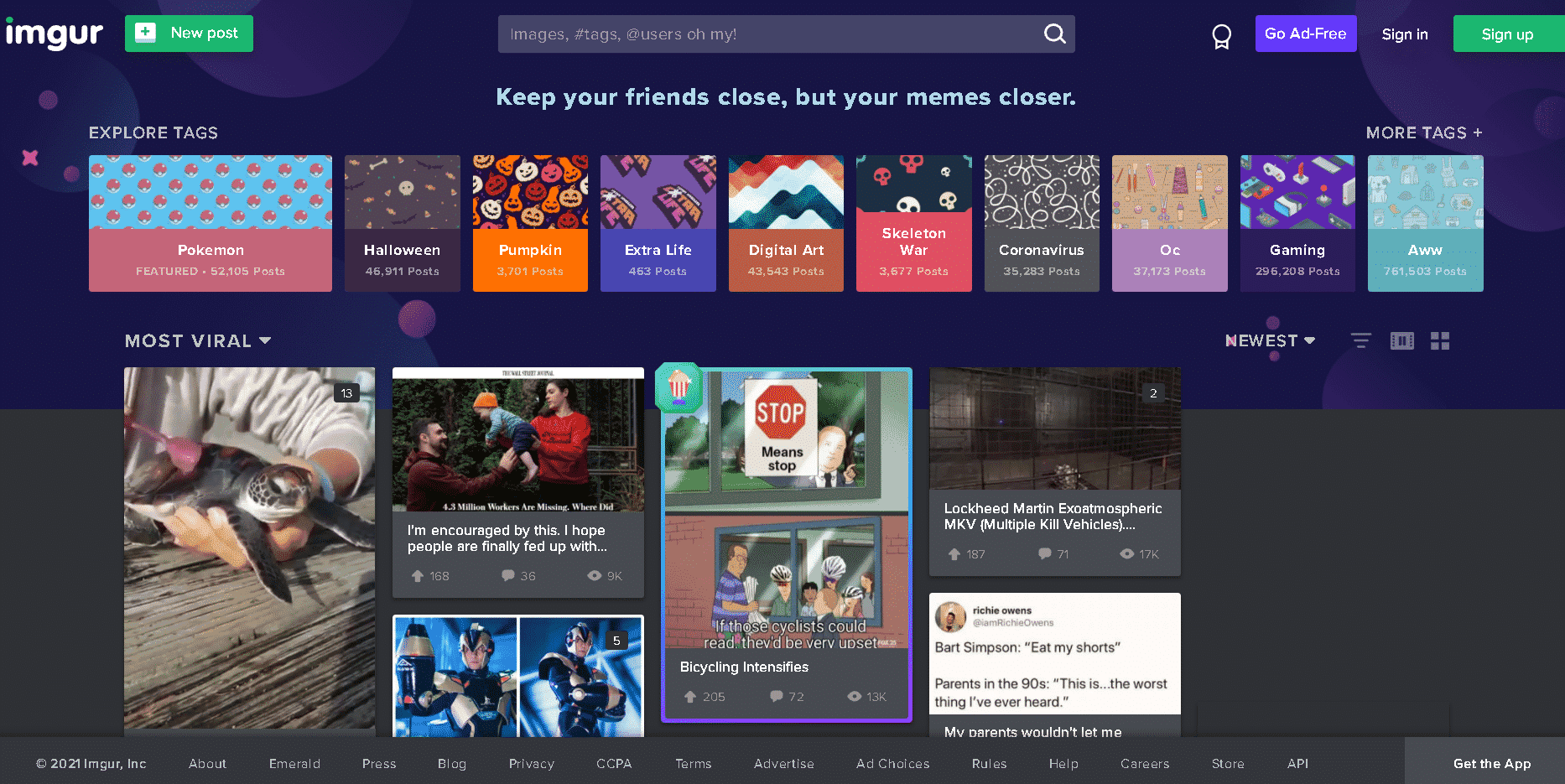 Imgur is software that lets you explore the magical journey of the Internet. Whether you are searching for informative, funny, or motivational images, visual stories, or GIFs, you can discover everything on Imgur.
The tool has a user-friendly interface, supporting drag and drop uploading options. Alongside, it offers a phone verification feature with unlimited free image storage.
It is an excellent image hosting site best known for letting photo addicts post all kinds of shots, including cutest, hilarious, and silliest photos. Almost every day, thousands of photos take the Internet by storm. Most likely, Redditors are fond of the Imgur website.
The image hosting site also allows you to upload your content without clicking the 'share to Community' tab if you do not want to participate in the competition. By doing this, you will be able to store the images as long as you want, and you can always share them with the community by using their URL, as per your wish.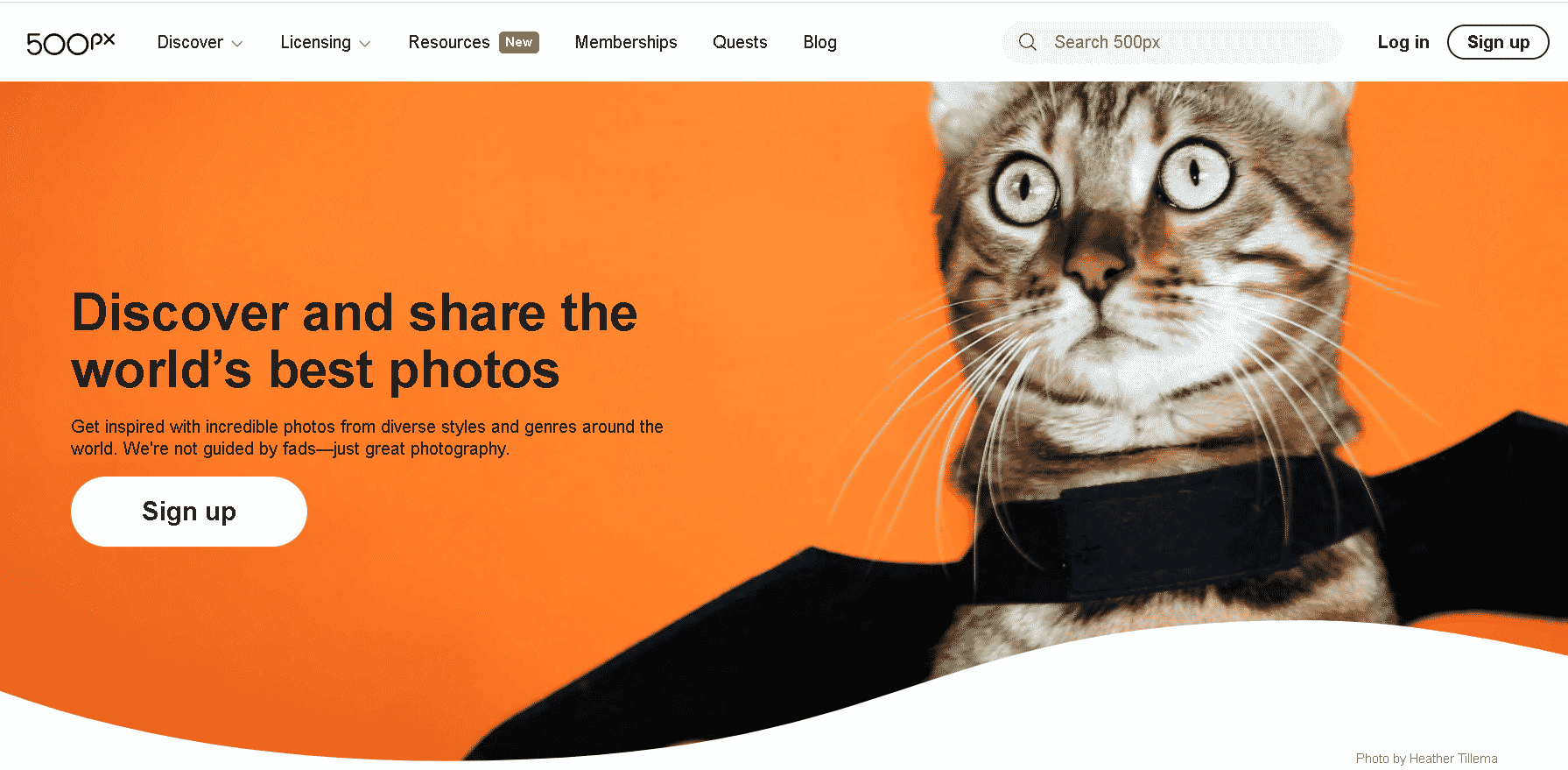 500px is a recognized tool used in more than 195 countries. Joining this community will help you become a member of a massive group of more than 15 million photographers, which help you get global exposure and allow you to earn handsomely for your work and skills.
The platform is featured with exceptional products that enhance the photography work and give it a unique touch.
Also Read: 32 Examples of Successful Blogs for Your Inspiration
It works similar to social media sites as it provides you with an option to follow the members, post a comment on their pictures, or like/share their posts. The best part about this network is that it provides you with an opportunity to explore your potential and hone your skills by giving you a fair idea about a professional global photography network.
A widely-known software, 500px, helped many individuals find new clients to sell photos online. The platform allows you to post 7 pictures per week and a maximum of 2000 photos in total.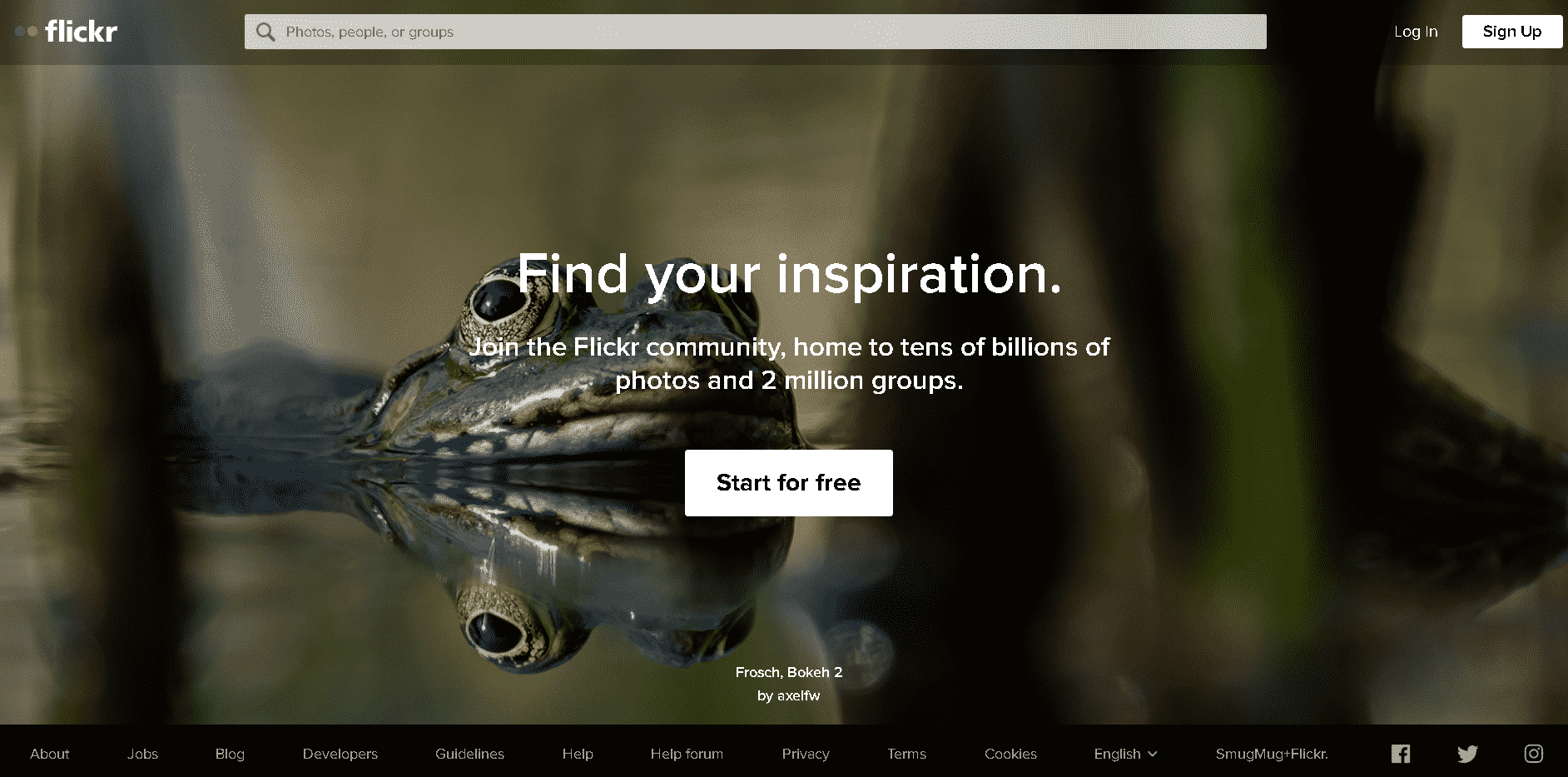 Flickr was launched in 2004, founded by Caterina Fake, and Stewart Butterfield in Canada. Some photographers may have forgotten about this magnificent platform, but still, it is in trend.
The hosting site provides you with an option to edit your privacy settings to control the views of your photos. At the same time, it also allows photographers to mark their favorite pictures or videos and save them into a separate folder.
Organizing your pictures has become extraordinarily easy with this free image hosting site. The website organizer tool is best-known for offering ample storage for free and a beginner-friendly interface. However, if you require unlimited access to storage and access to advanced statistics, you can opt for its Pro plan.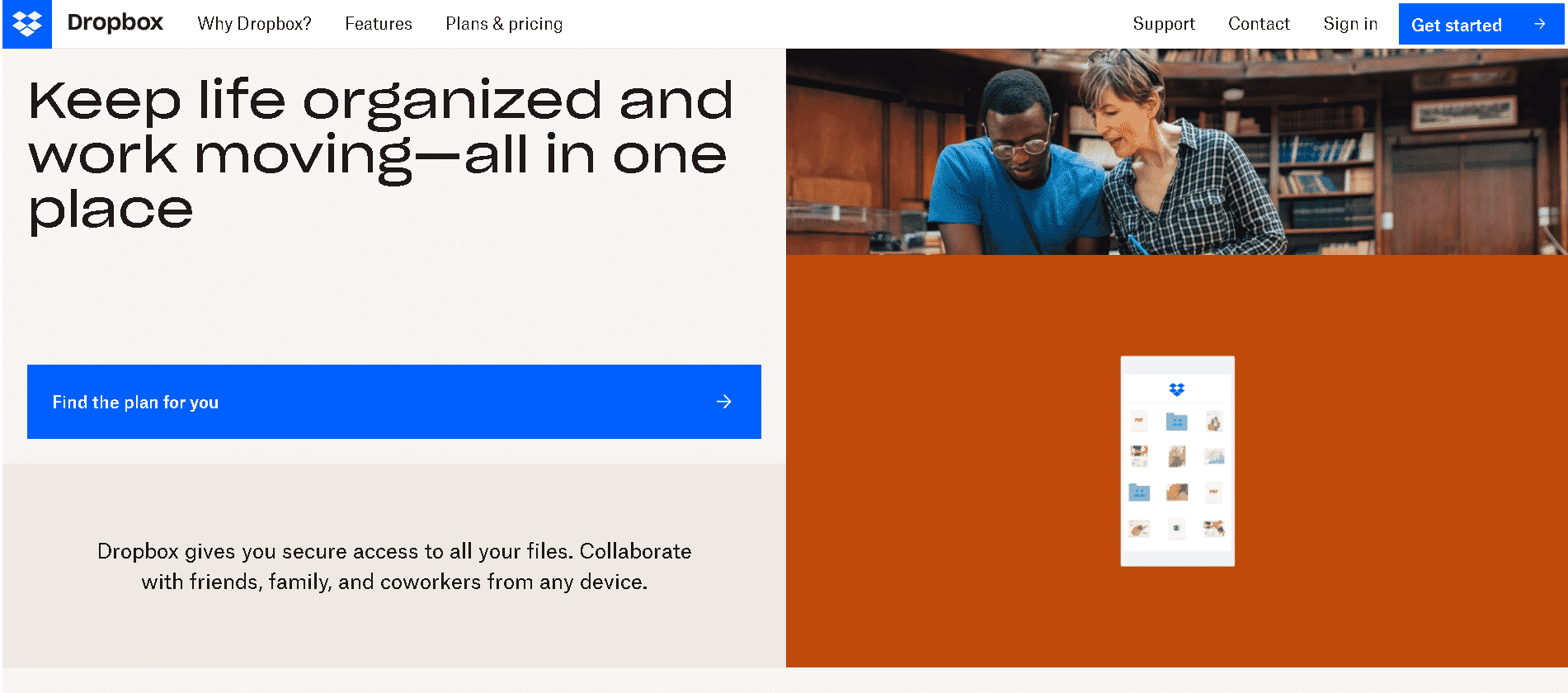 Dropbox is a beginner-friendly software that helps to store your photos. You can sync your photos to a folder on your desktop. Once the images are synchronized with the cloud, you can share them directly with the other Dropbox user effortlessly.
The platform does not let you lose your data as it backup automatically. Plus, organizing your sub-galleries and folders became easy with Dropbox, as it allows sharing links to individual files or folders. Moreover, the website does not re-size, change, or edit the photo in any way; your original images will be available on Dropbox.
If you provide a user with access to your photos, they can also download your pictures easily and provide up to 3GB of storage for free.  The platform does not provide a unique tool for photographers; however, storing your edited or original pictures on this platform for multiple purposes is a good idea.
Also Read: 32 Best Online Jobs for Students to Earn Money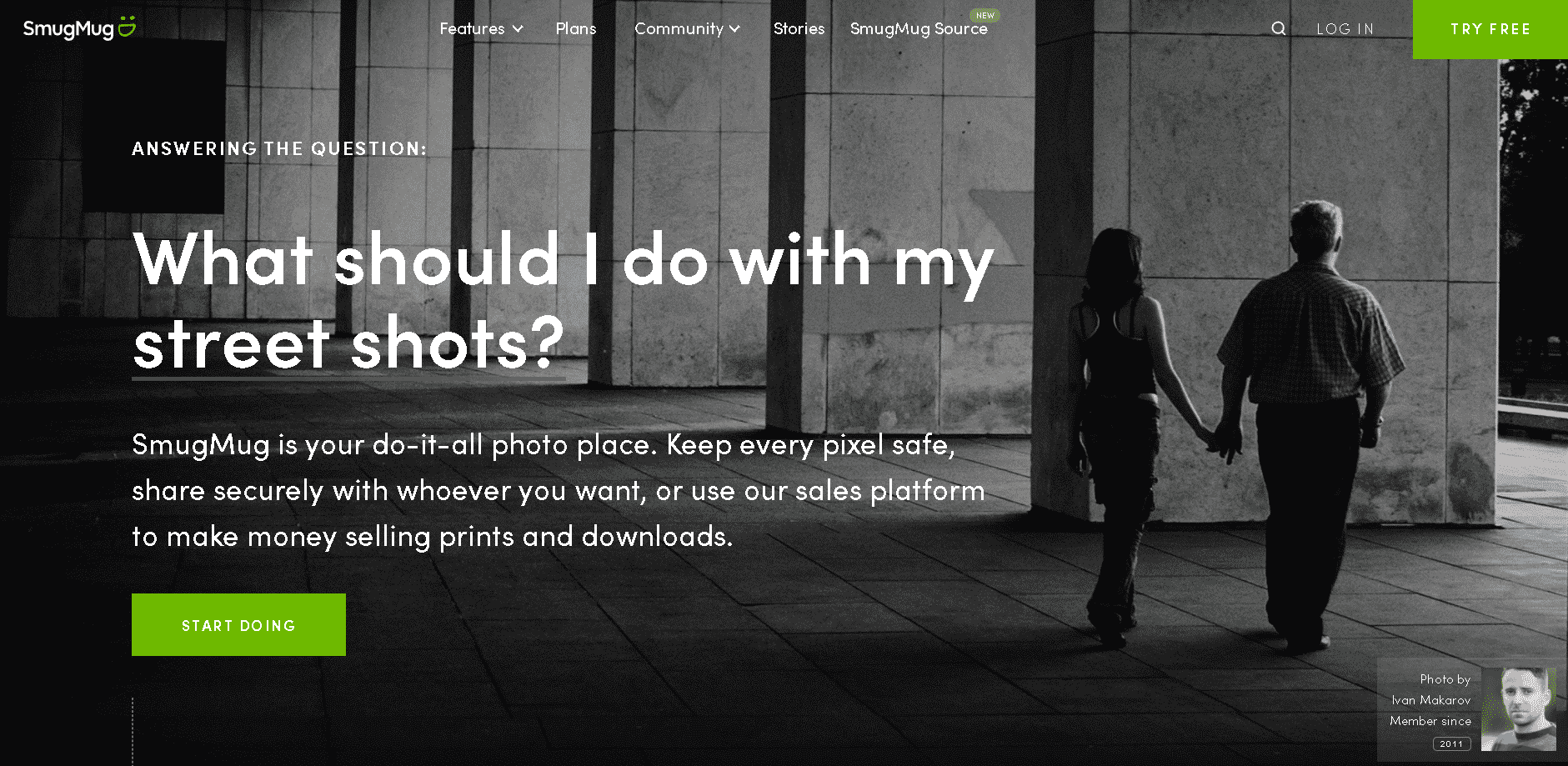 If you are looking for a free image hosting site, check out SmugMug. It offers a responsive design that can quickly adapt to monitors, tablets, and mobiles.
It is an ideal platform for photographers to showcase their work and earn a good amount of money. SmugMug lets you create a customizable photo site and provide you with numerous designs layouts.
SmugMug provides you with unlimited photo and video upload options and enables you to utilize robust SEO tools such as XML sitemaps and meta tags.
Primarily, it is a fully hosted platform that has no option for free accounts, due to which it is majorly used by photographers who want to display and sell their work for a particular cost. If you are looking for massive storage options, more customizable, and other features, you can check out its expensive yearly plans providing all.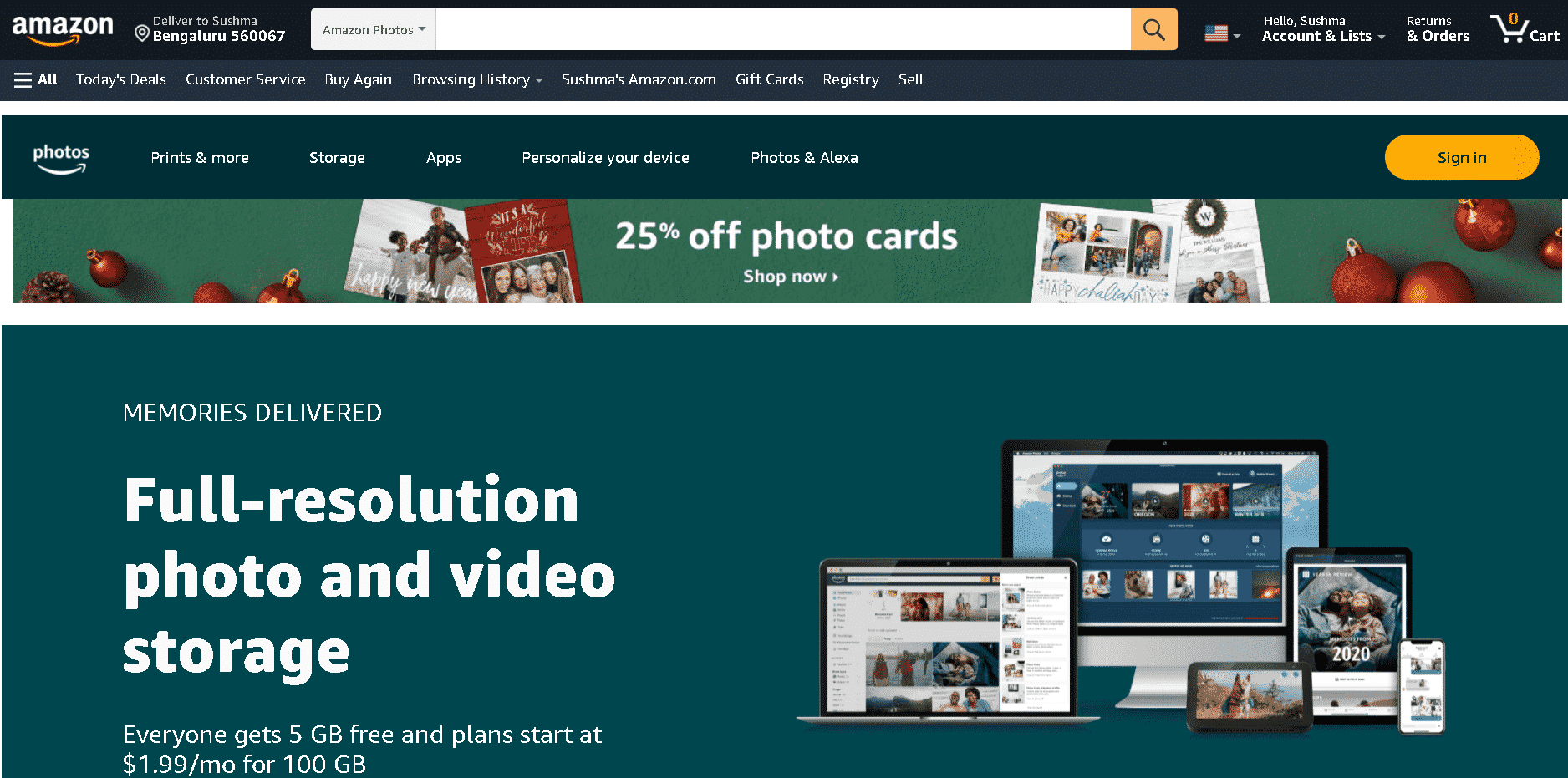 One of the best image hosting sites, Amazon Prime Photos, provides top-notch security to your uploaded private and public pictures. Plus, you have access to its customer support 24×7.
It is a spectacular choice to share your work/photos with other people, groups, or communities. The platform provides unlimited and full-resolution photo storage that levels up the quality of your clicked picture. In addition, the prime members also get an additional 5GB space, exclusively for video storage. Amazing, right?
Moreover, the Prime Photos tool provides you with unique features that help you see a slide show of your favorite photos on any screen. It also enables you to create custom prints, cards, custom wall decor, holiday cards, and other products using your admired photos.
One can make the full-utilization of this platform as it allows its members to upgrade to receive a fuller suite of services.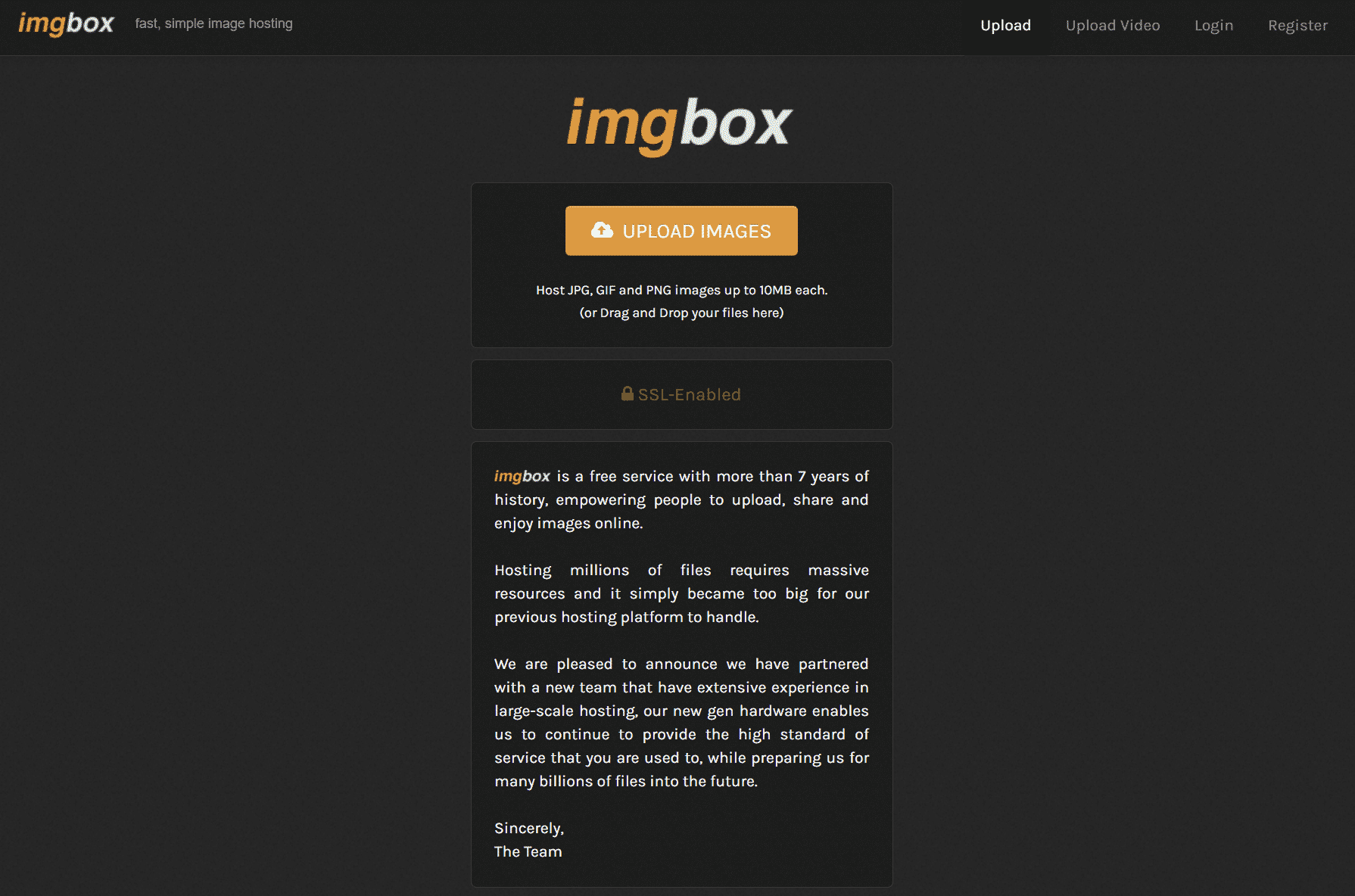 Imbox is a multi-tasking image hosting website used for uploading and sharing all kinds of images, be it GIF, PNG, or JPG. You can also share the videos through this magnificent site.
However, one can only upload the image consuming up to 10MB. The best part is that you can use this platform for free and directly drag & drop a photo on the website.
Also Read: 11 Best Cheap Domain Registrars
In addition, the image hosting tool offers several other features, including image galleries, direct links, unlimited storage space & time, and hotlinking.
One of the exquisite features offered by this website is that the pictures you share on your social media profile enable comments on those pictures through Imgbox. Great, yeah!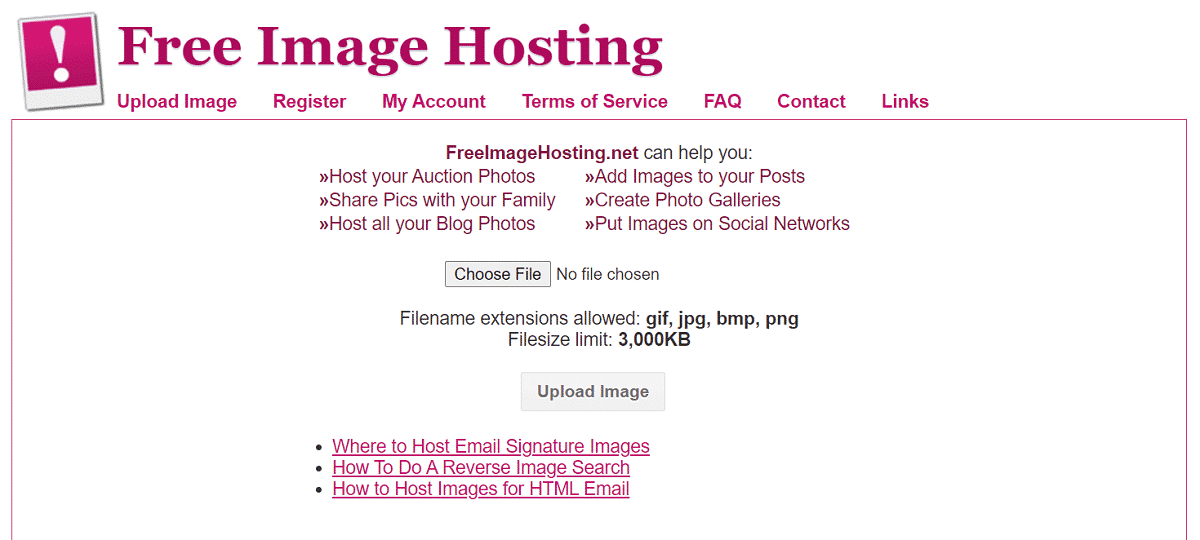 An incredible image hosting tool, Free Image Hosting offers a simple and easy-to-use interface. The platform provides you with an HTML code to link to your photo. Once linked, you can easily share your files, whether it is a BMP, JPG, GIF, or JPEG file. However, the file should be up to 3MB.
Uploading your pictures with Free Image Hosting is an effortless task. The website also allows you to share your uploaded photos to other sites, despite its not featured with a hyperlink shortener.
The hosting tool offers you a dedicated service bandwidth available for free. Moreover, it also helps to organize all your blog photos and host your auctioned photos.
PostImage is an incredible platform used to upload, share, and organize your pictures. The intuitive platform allows you to upload multiple images at once and set a size for your files. It even allows you to set visibility duration for your files.
Through PostImage, you can re-size the images into a series of pre-determined dimensions, including message boards (648 x 480), a 21-inch monitor (1600 x 1200), 15-inch monitor (800 x 600), and avatar (100 x 75).
The best part about this platform is that it does not require you to log in or register to store your photos and create a gallery. You only need to submit your picture, which will allow you to upload images from their URL. The tool supports different types of files, including PSD, PNG, JPG, GIF, TIFF, BMP, and PDF.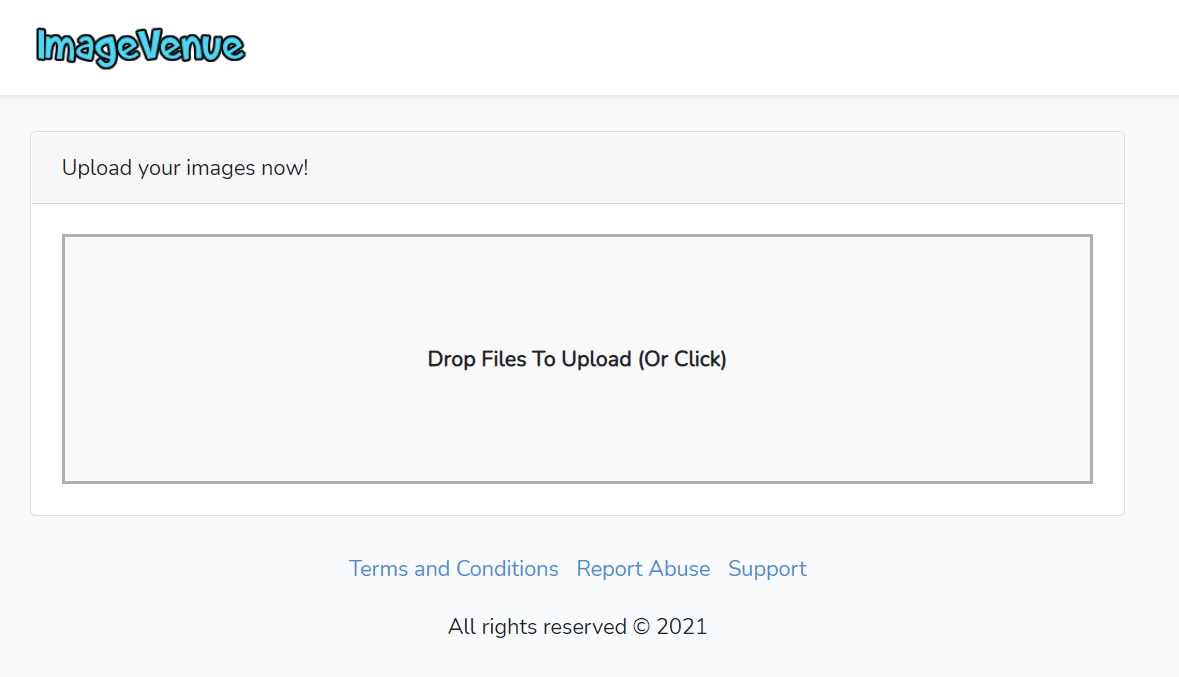 ImageVenue allows you to upload all JPEG files and re-size larger pictures while retaining and enhancing the quality of photos. You can store up to 3GB of files per month. At the same time, the image size allowed to upload is up to 3MB.
The platform is the best choice especially for bloggers, message board users, forums, and eBay sellers. Usually, photographers opt for this platform who upload, sort and share images in a huge volume.
Also Read: 50+ Best Part-Time Jobs You Can Do Without Leaving the House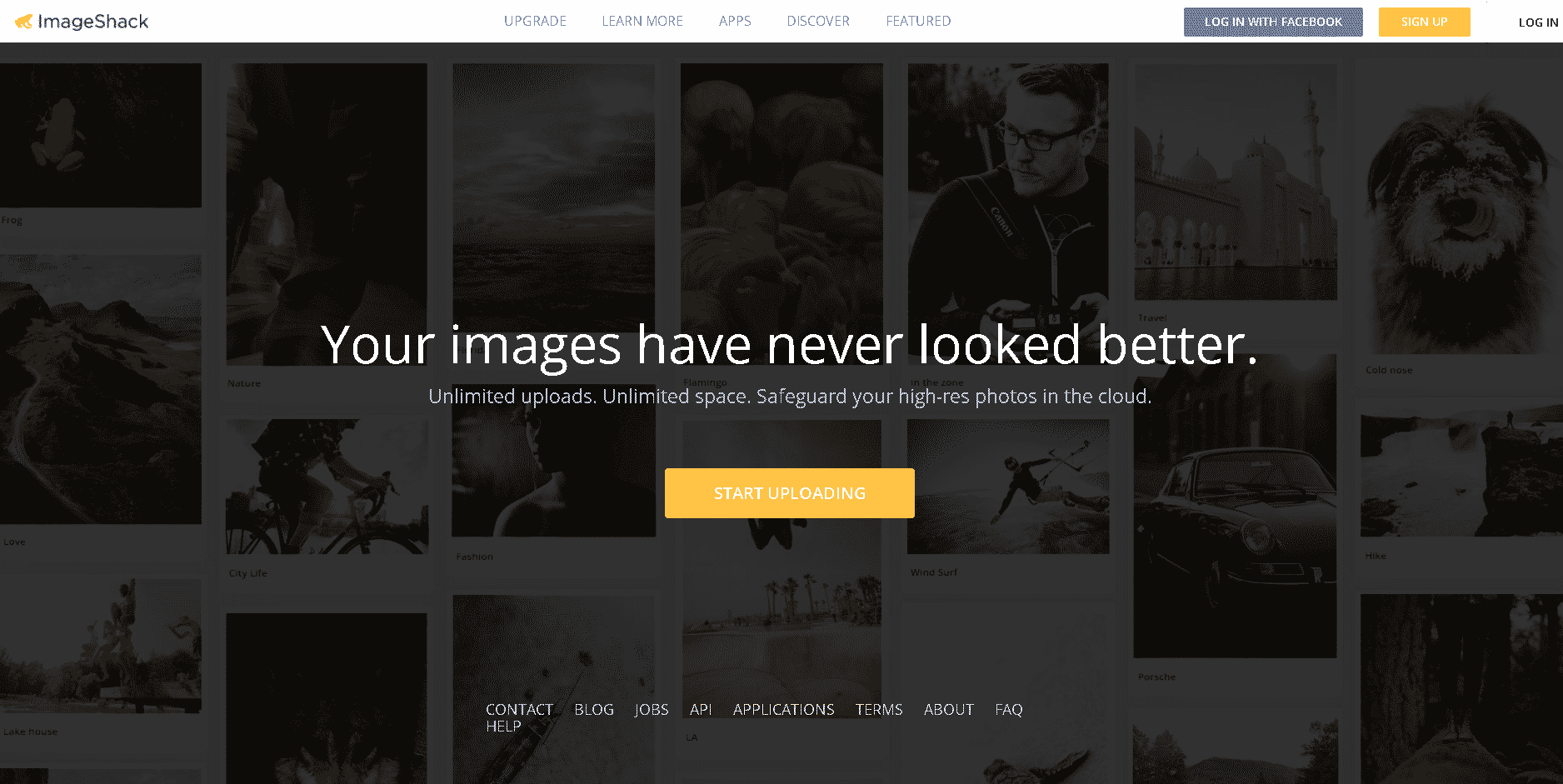 Want to upload a large number of photos at once? ImageShack is an excellent option that allows you to upload photos in bulk and facilitate in creating and sharing private photo albums.
The platform allows you to use its 30-day free trial and continue using its premium features up to that duration. In addition, the ImageShack tool helps to sync the images data with your desktop, which ensures automatic and uploading, and hassle-free sharing.
Furthermore, it offers diverse mobile and web applications featuring image links, sharing tools, image stats, bulk image management, private albums, and much more. And, the best part is the premium plans start at $4 per month, that too offering unlimited space.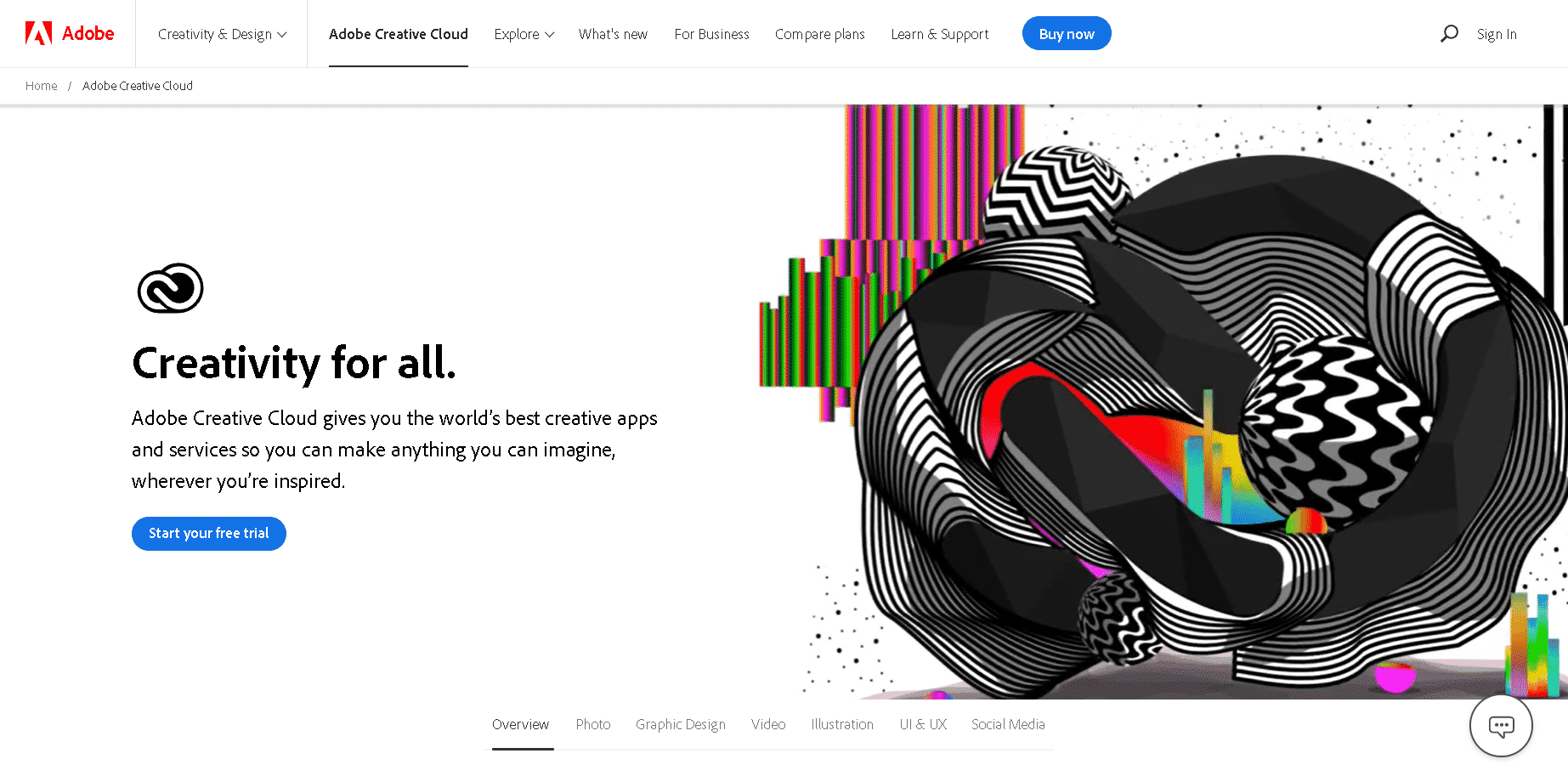 The best free image hosting sites list is incomplete without mentioning this remarkable application named Adobe Creative Cloud.
One of the top free image hosting software allows you to manage, edit, store, and share images straightforwardly. It also facilitates social graphics creation, web page building, and video making.  You can even build your own website through this platform.
The platform helps you maintain and organize your full-resolution pictures with minimal effort. Moreover, you can upgrade your plan anytime and transform your photo with ease.  The image hosting website offers you the maximum cloud storage space of up to 1TB.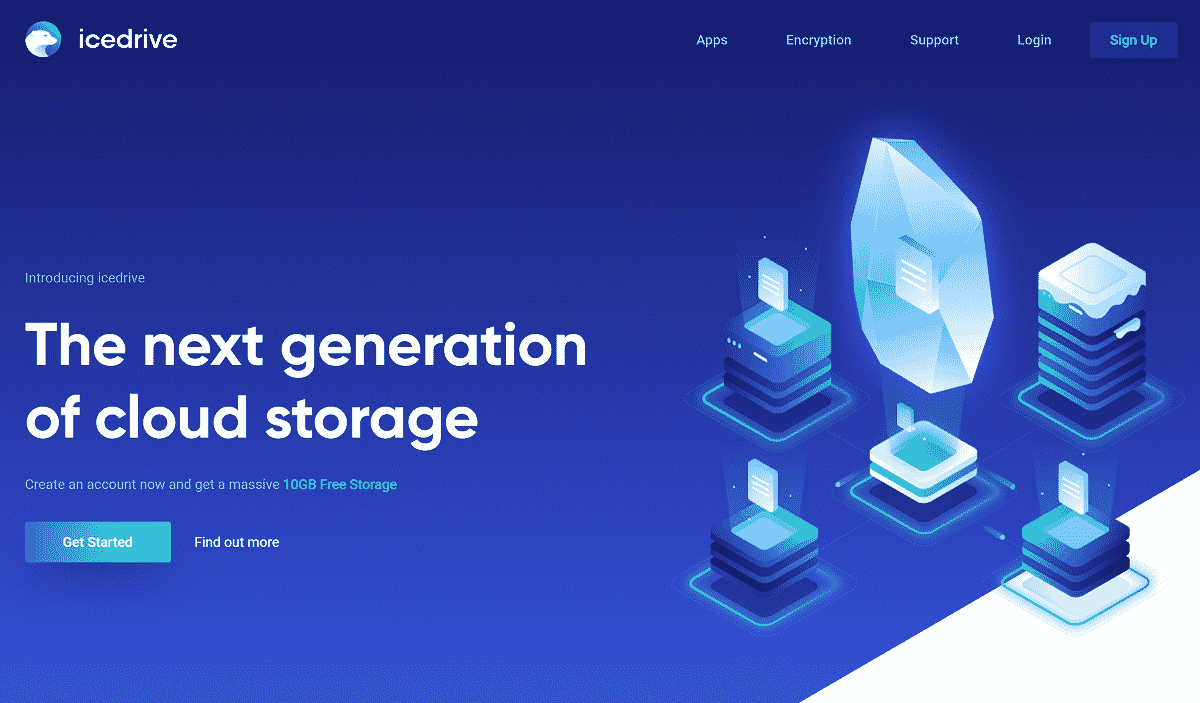 Icedrive is an exceptional image hosting site that allows you to access & manage your images effortlessly. The platform is an ideal choice for all photographers looking to upload pictures or videos in bulk regularly. All the data is encrypted at the client side which protects your images from any misuse.
The image hosting website does not restrict you on the storage, band with, and file-size criteria, and all the file-size remain on the site permanently. The platform accepts JPG, PNG, GIF, BMP, and TIF files. With a free account, it allows you to store files up to 10 GB.
You can control the views of your uploaded pictures or videos by marking them private.
Also Read: 50+ Best Recurring Affiliate Programs
Comparison Of Best Photo Hosting Sites
Sites
Best for
Video formats support
Supported Image formats
Platform
Limitations
Price
Flickr
Overall image hosting.
MP4, AVI, WMV, MOV, MPEG, M2TS, OGG, OGV, & 3gp.
JPEG, PNG, GIF, etc.
Web, Mobile, and desktop
Photos up to 200 MB & videos up to 1 GB.
Start for free.

Monthly Retail Price: USD $6.99 + tax

Google Photos
Free and secure photos storage and sharing facility.
MPG, MOD, MMV, TOD, WMV, AVI, MOV, M4V, 3GP, 3G2, MP4, etc.
JPGs, PNGs, GIFs, etc.
Any device. Or Android, iOS & website.
Images should not be larger than 75 MB or 100 MP.
Free up to 15 GB.
ImgBB.com
Plugin for image uploading.
—
JPG, PNG, BMP, GIF, TIF, WEBP, HEIC, and PDF.
Web-based
32 MB
Free
Photobucket.com
Photo hosting and photo sharing.
AVI, ASF, MP4, MOV, MPG, MPEG, DVD, 3GP, etc.
JPG, JPEG, PNG, GIF, BMP.
Android, iOS, etc.
50 MB for images & 500 MB for videos.
Free Tire:

The pricing plan starts at $5.99/month

500px
Pro Photographers
—
JPEG files
Android, iOS,
Minimum 3MP of file size. Images must be RGB color code.
The first membership is $3.99 per month.
Some other
free images hosting sites
worth mentioning in this guide include
Icedrive
Photoblog
iCloud
A2 Hosting
Imgbb
4shared
Freeimages
Pexels
Unsplash
Cluster
All the information is scrutinized; only then our writers jotted the information on all the websites based on their reviews, features, and services offered.  Evidently, there is no application that is perfect for all. Thus, you might need to use a mixture or a couple of services to complement each other, catering to all your image hosting requirements. Gone through the entire guide? Have we missed any site to mention? If you think we have missed mentioning any image hosting site in Best free image hosting site guide, you can leave a comment in the drop-down section, and we will add them later in this post. You can also ask questions; if you have any related to this topic, we will answer them promptly.