In an era where the internet has become an integral part of our lives, preserving the vast amount of digital content created over the years has become increasingly important. One of the most well-known tools for accessing archived web pages is the Wayback Machine, an initiative by the Internet Archive. It allows users to step back in time and explore the internet's past by accessing snapshots of websites captured throughout history.
However, while the Wayback Machine is undoubtedly a valuable resource, it is not the only option available. As technology advances and new platforms emerge, alternative solutions have emerged to meet the growing demand for web archiving and historical data retrieval. These alternatives offer unique features and functionalities that cater to different user needs and preferences.
So, if you've ever wondered what the internet looked like years ago or need to retrieve a lost webpage, join us on this exploration of the best Wayback Machine alternatives. Discover the tools that can take you on a journey through the digital timeline, enabling you to unlock the hidden treasures of the web's past.
What is a Wayback machine?
It is said to be an internet archive as it is built in such a way that it operates as one but offers access to millions of people every day. WayBack machine is the digital archive of www and other information on the internet that is produced by the Internet archive. It is also used for creating strategic plans and evaluating their competitors, a lot of companies are dependent on it.
With the help of this online platform, users would be able to access the content which was published on the web but is no longer available. Thus, if you are making a fresh website and yearn to explore well-known websites from the past for navigation, design, or aesthetic inspiration, this can be the best platform for you.
17 Best Wayback Machine Alternatives
WayBack Machine is one of the most trustworthy internet archives, yet various other internet archives perform similar operations. So here are some of the top Wayback Machine alternatives in case you do not find all the pages you are looking for on them.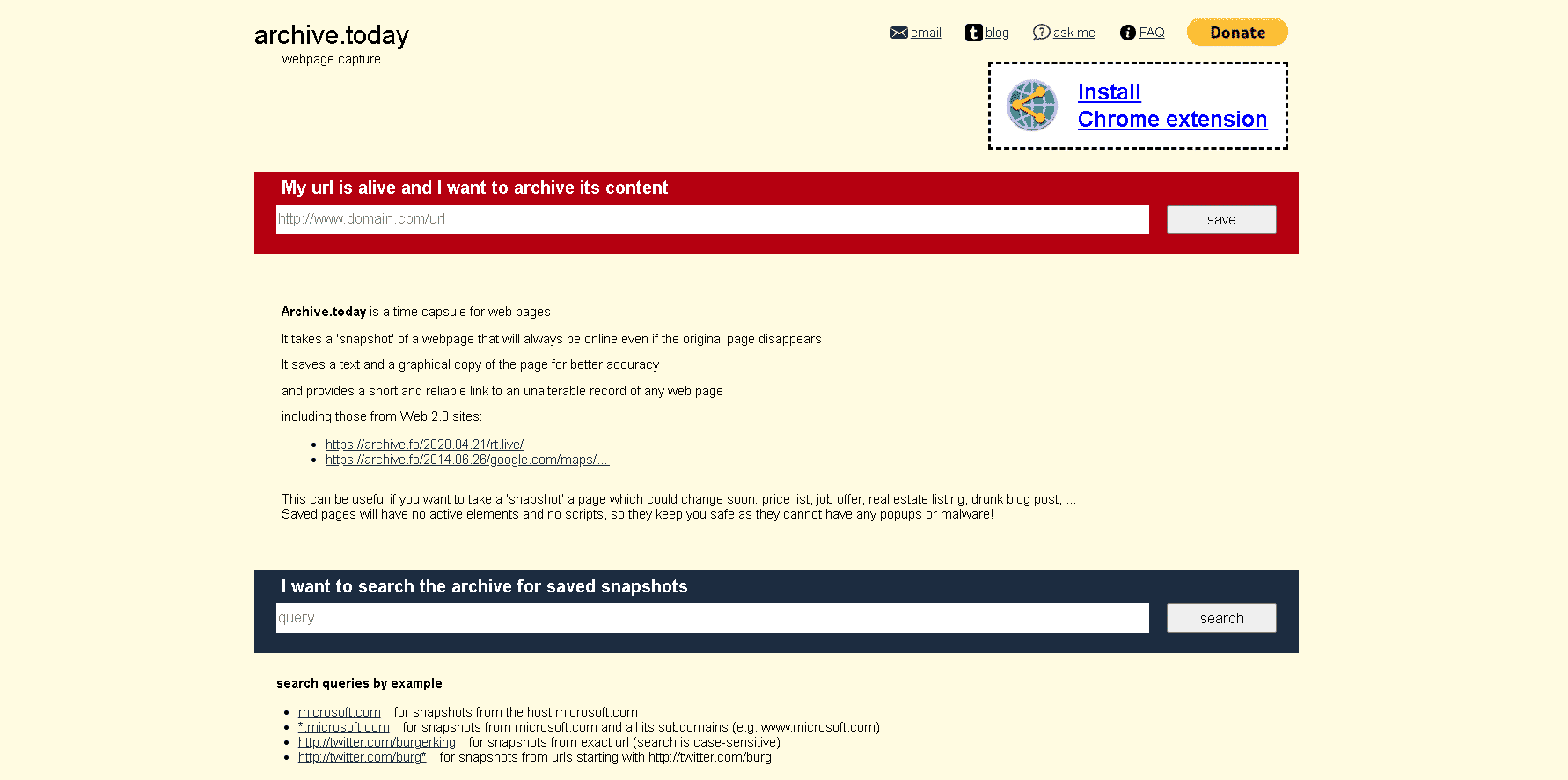 It is a free website that helps you create a copy of the web page. It is also said to be the time capsule for web pages, as it takes a snapshot of the webpage, which makes it always available online even if the original page is no longer available. Another thing that you can do is review the history of the website and take a screenshot of any on-demand domain.
It has a sophisticated database and index process, which is why it is becoming so popular everywhere. With the help of the archive.today it becomes easy to use and search for the content.
Features:
Salvage images off a domain
It preserves text and a graphical copy of the page for more precision. Furthermore, you can also archive the content of the live website.
Archives are saved permanently.
It also helps you trace the website changes, commencing from about us, blogs, products, and specifications to graphic designing.
The best thing is that it saves the page's text and graphical copy as well
This platform renders a short link to an inevitable record of any web page.
Price: This platform is free to use. Nevertheless, they take donations.
Archive.today is suitable for anyone who wants to examine previous accounts of a website.
Also Read: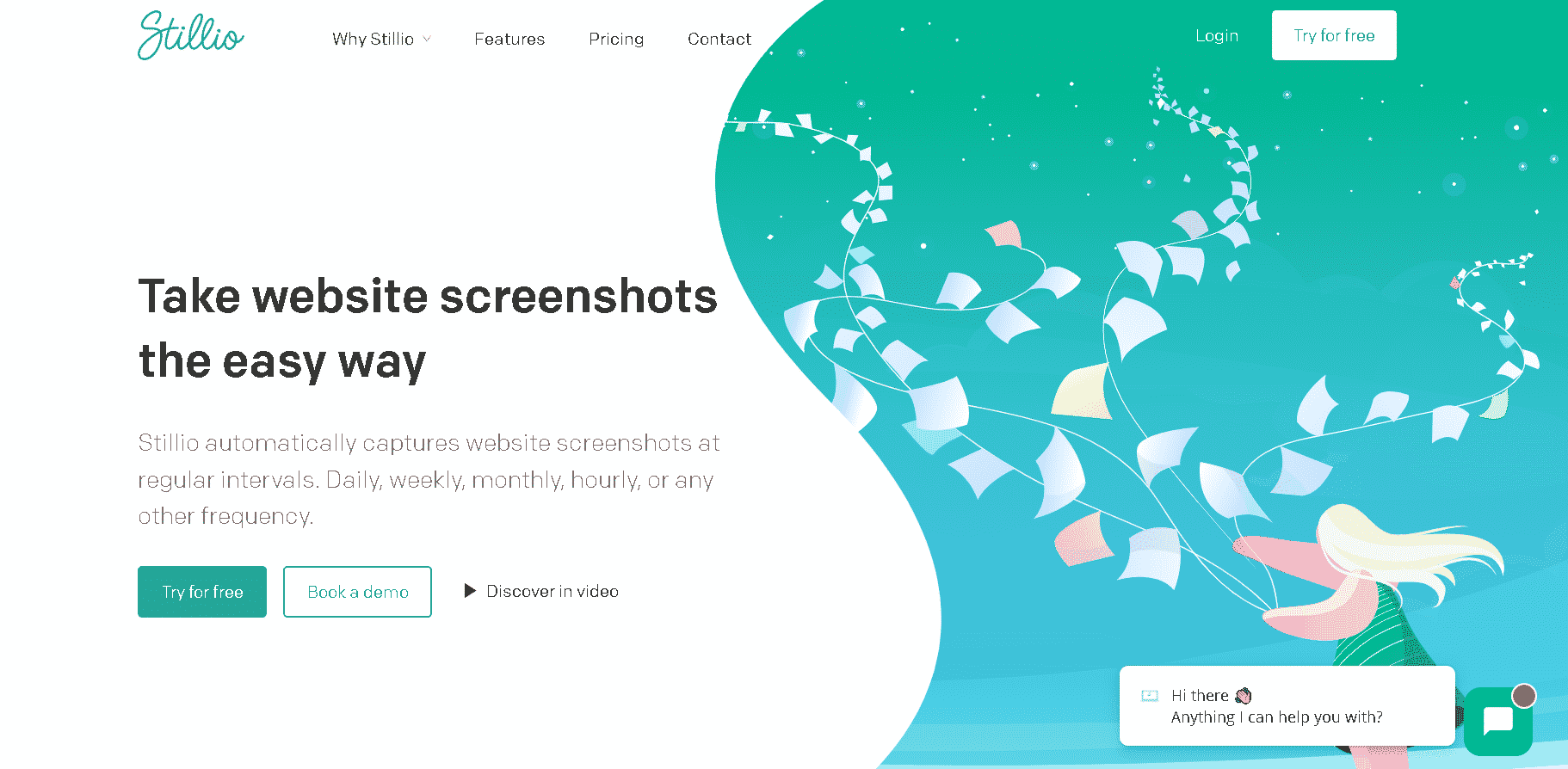 This tool automatically takes website snapshots periodically, archives them, and shares them with other users. It archives screenshots periodically like hourly, daily, weekly, monthly, or at any interval that you want. It is a great WayBack alternative as it renders more authority to the users when it comes to website pointers like SEO ranking, website compliance, brand, and search engine complicate.
It is very simple to use; just archive, then obtain and share the screenshots. The best thing about them is that there is a 14-day free trial which means that if you do not like it, they will refund the complete amount you paid.
Features:
Stillio is very straightforward to access as all you require to do is put the URL and set the period at which you wish to take the screenshots. It is an advanced and completely automatic platform that provides you full authority over screenshots. Furthermore, no one can delete any screenshot from your database except for you.
Competition tracking
With the help of this platform, you would be able to trace trends, competitors, and proctor SEO ranking.
You can save the screenshot to Dropbox.
Screenshots get erased after 36 months.
It is a receptive, appealing, and user-friendly platform that facilitates managing and examining your brand and website.
Price:
It is a subscription-based tool; here are its price plans-
Snap Shot – $29/month
Hot Shot – $79/month
Big Shot – $199/month
Top Shot – $299/month
You can set up a free account on all these plans and use them free for 14 days.
Stillio is apt for freelancers or small businesses who want to capture and organize screenshots of their sites quickly.
It is a web and social media archiving platform that uses cloud-based technology to make archiving effortless. It works fully on an automated process for taking screenshots. It is not only simple to set up, but the best part is that it validates stored materials entirely by using digital signatures and timestamps.
It is one of the best Wayback Machine alternatives as it not only captures the past information of the website but also gives social media mentions information as well. PageFreezer is perfect for capturing online conversations, plus it also validates the authenticity and integrity of your records using an online app.
Features:
With PageFreezer, you can avail real-time access to dynamic web content
It can also obtain internal social media networks
The unique thing is that it renders you access to replay your archived website exactly as if it was live.
It automatically incorporates archive blogs, websites, and social media. In case you own or run a financial firm, you would be able to encapsulate the corporate chat conversation with PageFreezer
Keep a record of actions for possible risks
You can also archive SMS or text messages
It also helps meet regulatory compliance and eDiscovery requirements.
Price:
It is a subscription-based tool that charges $99 a month.
PageFreezer is perfect for enterprise, financial, or government organizations that require archiving for compliance purposes.
Also Read: 11 Best SimilarWeb Alternatives & Competitors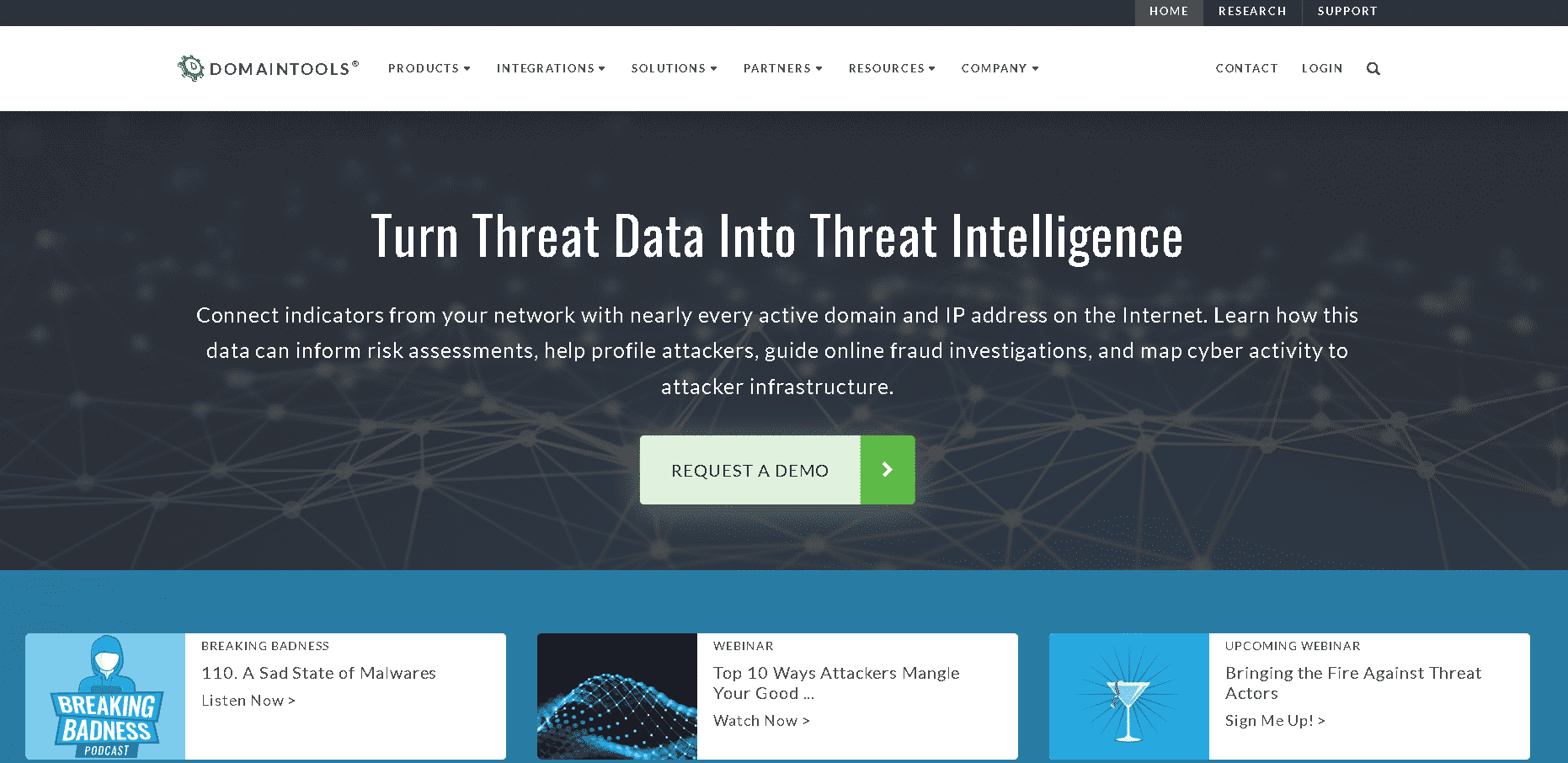 It is an online web WHOIS service that can be used to find out the actual ownership of a website. This aids in getting complete information on a website by providing IP address records of the website. It digs all the information which is no longer accessible on the internet, making it an excellent Wayback Machine alternative.
It houses two websites, Screenshots and Whois, and offers the most effortless methods to obtain historical data on the internet. When it comes to the functionality of Domain Tools, it offers screenshot-based archive services. All you need to do is put the URL, and it will give you the information about how the website's design progressed and other such information.
Features:
With the help of Domain Tools, you can avail all the information on one website.
If you are searching for a handy tool that renders you screenshots plus complete website information, starting from the IP address, domain expert date, hosting history, and contact information, then Domain Tools should be the first option for you.
It offers a free screenshot-based internet archive service.
It takes very little time to present you with a website report. In just a couple of seconds, it offers you screenshots and Whois of the websites.
With the help of this platform, you will be able to see how many times a website's design has been altered over the past years.
It also takes a comprehensive snapshot of exactly how a page seems just before the updates or revisions are done.
Price:
It sells at $99 a month or a yearly charge of $995.
The best option is if you're looking for a free screenshot-based internet archiving website.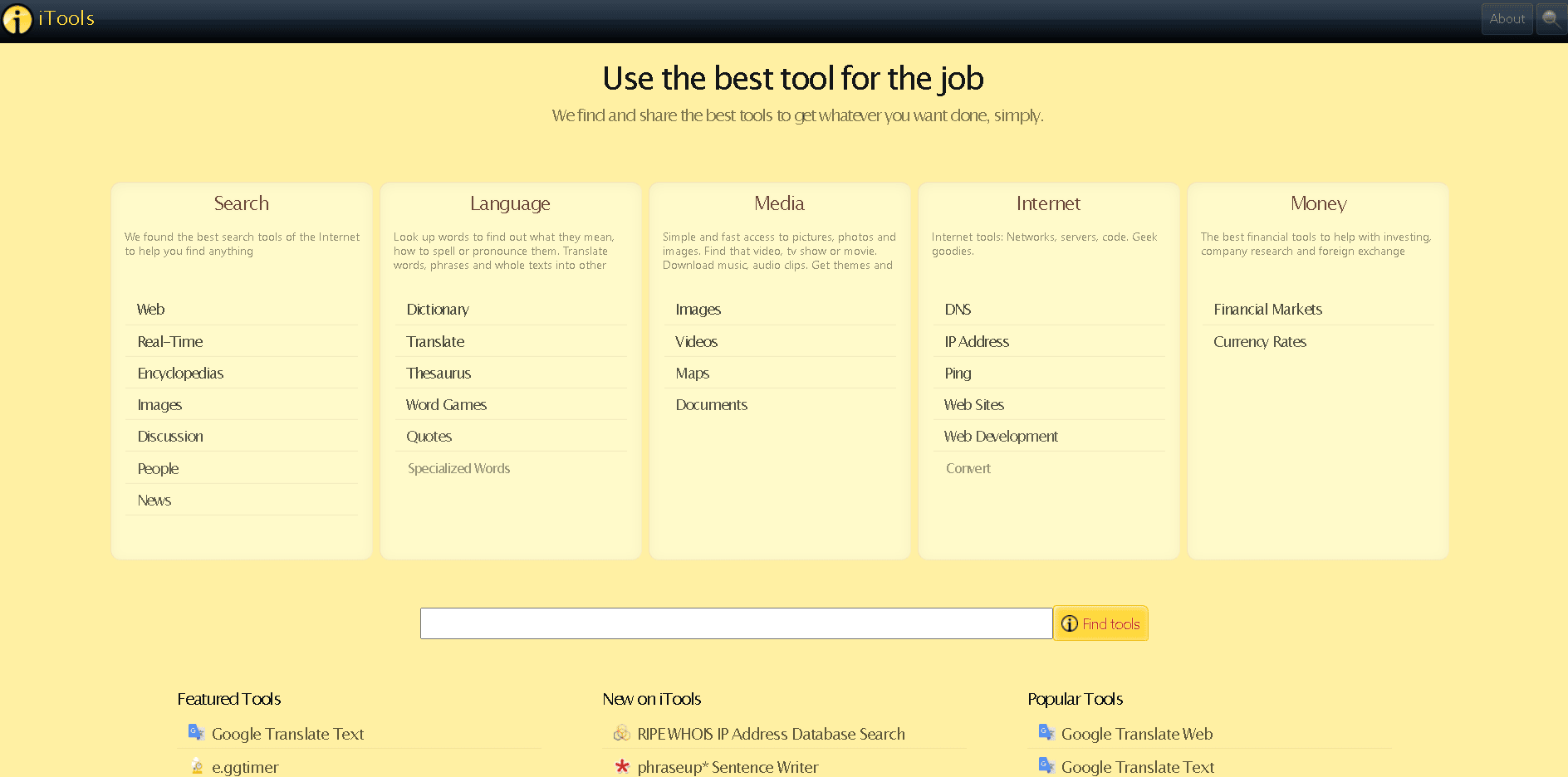 This is an amazing platform as it gives you the complete information of a website and is relatively different from others on the list. Here, you would also get information on the popularity and traffic analysis of any website. iTools examines websites with the help of data given by the help of the Alexa tool.
It is an undistinguished website repository like WayBack machine; it multiplies as a website analyzer. This means that you can get a lot of additional information like ratings, contact information, traffic volume, competitors of the desired website, etc. Thus, iTools is a one-stop solution for both repository and analytics.
Features:
Website analyzer
If you are hunting for a platform that provides you with information about a website in addition to the screenshots and its coding structure, then this is the perfect tool for you.
Website archive
It's a unique solution for the people who want characteristics such as website analyzer, website achiever, and access database. iTools empowers you to monitor the website traffic, statistics, Alexa rank, and much more.
Access 'database' of Alexa by it
It offers its users with other latest tools such as paraphrasing; Google translates to the web, dictionary, YouTube Video search, etc. 
iTools is the perfect option for you if you are an SEO and wish to examine website statistics.  Hence, it is best to get the entire information on the website.
Price:
iTools is free to use.
It is an excellent option for you if you seek a tool that caters to knowledge apart from the screenshots and their coding structure.
Also Read: 16 Best SEMrush Alternatives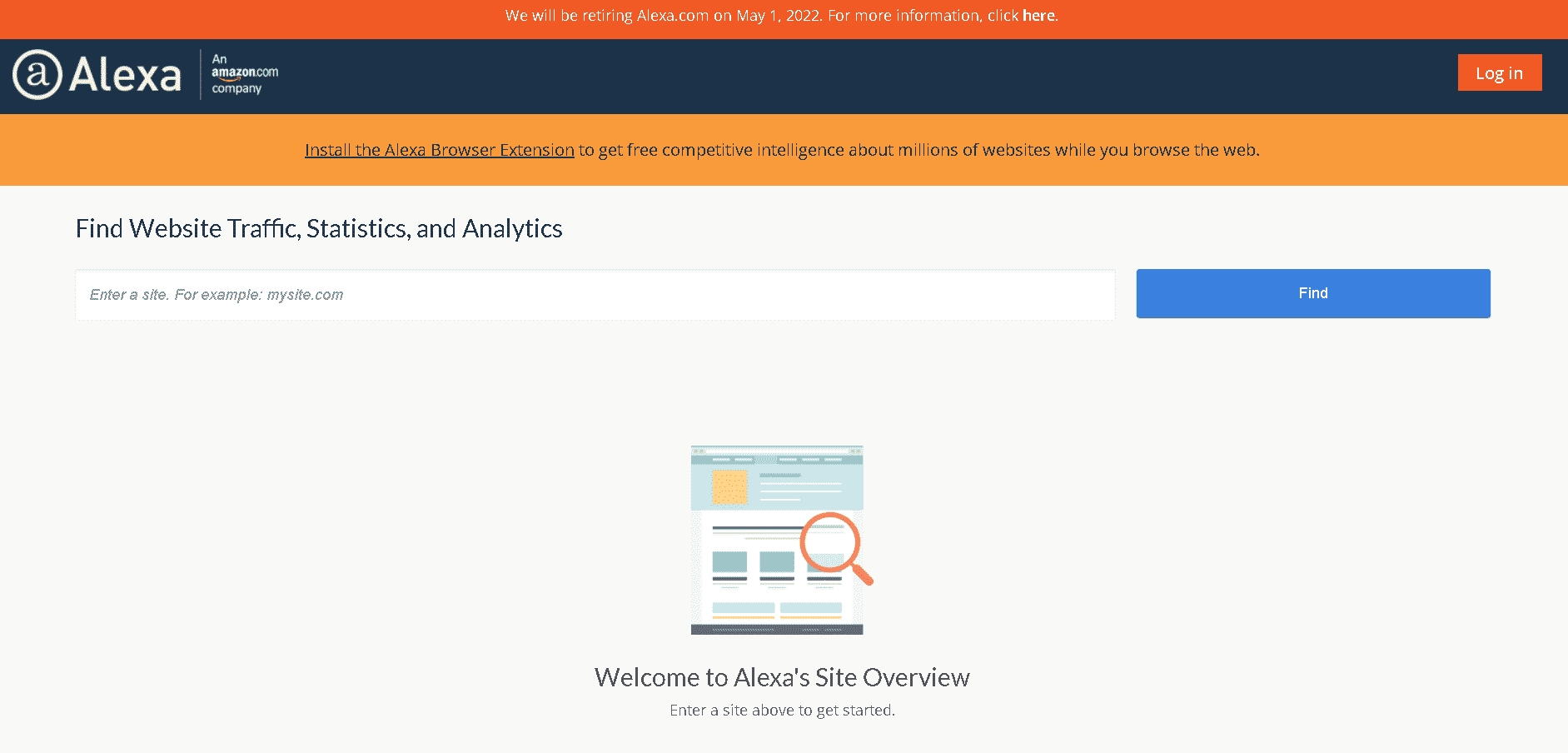 This is a pretty well-known name as it is recognized as a part of the Amazon family; hence it needs no introduction. It is one of the top Wayback Machine alternatives as you can use it to get the website records and other information vital for contentious analysis.
On Alexa, you can find information like browsing details, the complete history of a website, website ranking, duration of visits, frequency, and keyword research for competitive analysis.
People prefer it over WayBack because it provides traffic indices like no one else, plus its traffic ranking is also pretty famous. You must have heard the reference 'Alexa Ranking', and a lot of people trust it.
Features:
You can get complete access to a website's history
With Alexa, you would be able to easily complete keyword research and audit site performance
With them, you can find data on the past visits, where it was frequently visited, and the duration.
Access audience insights, engagement matrix, competitive benchmarking, Alex rank, and traffic statistics.
Alexa offers you insights above the competition.
Price:
Alexa is subscription-based.
Advanced – $149 per month
Agency – $299 per month
The advanced plan comes with a 14-day free trial, but you get access to just one website and one user. On the contrary, with the Agency plan, you get a 30-day free trial period which is amazing, and you also get access to 35 sites and 20 users.
It is best if you wish to analyze competitors' information.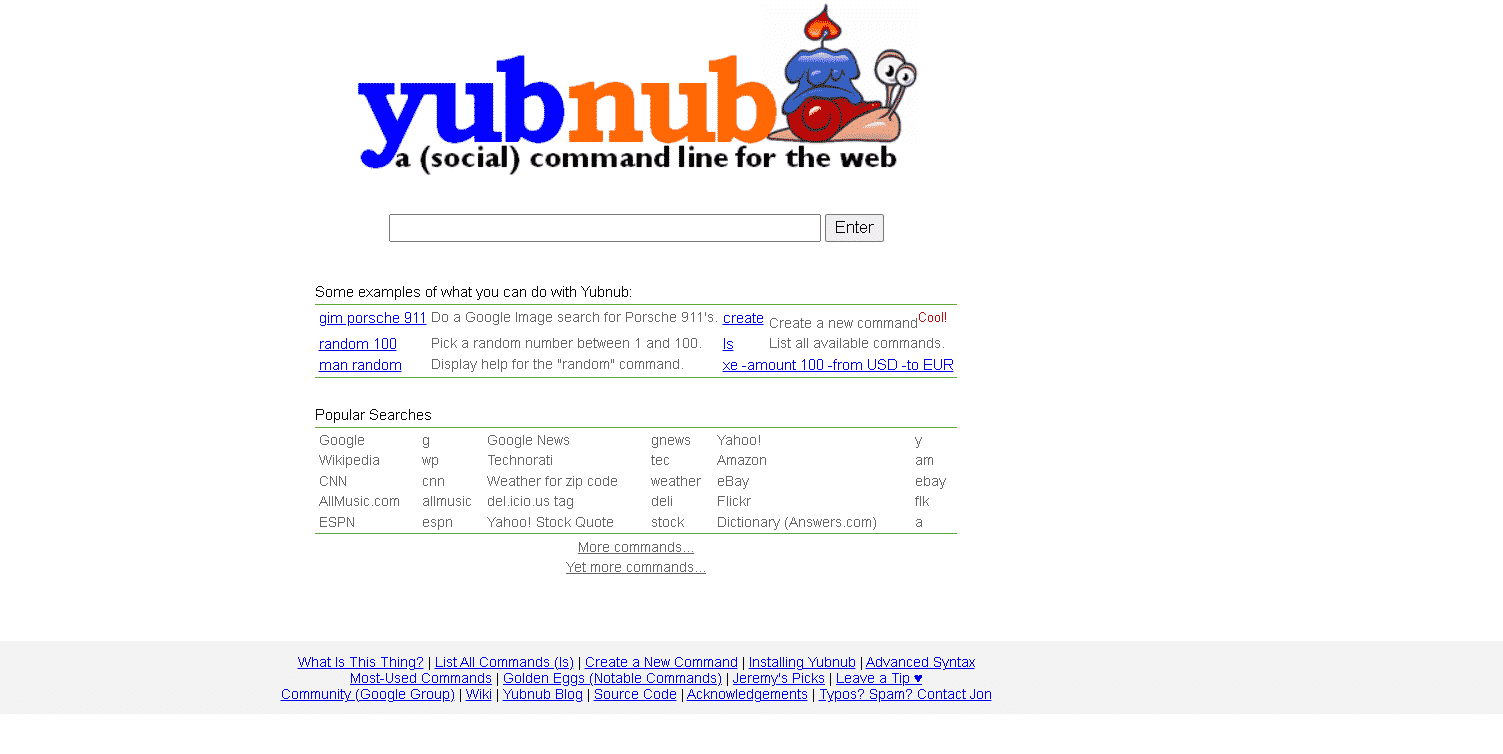 This archive tool is popular for locating business-related data on the internet. It is very user-friendly and operates as a search engine. This platform is different from others because it facilitates the users to create and use commands linked to the web pages and services.
For getting the required information from the website, all you need to do is enter the web address in the search bar on the home page and wait for a couple of seconds to get the results displayed. It is just like a search engine, which means that you sure can use this platform if you can find anything on Google.
Features:
Simple, responsive, and easy to use the tool.
The best part is that Yubnub automatically gives you a sense of how to use the website to reach any website's business-related information.
Yubnub works like a search engine.
It doesn't take more than a couple of seconds to get the required information. Then, within 5 seconds, it will provide you with the website report that comprises all the business-related data you seek.
If you are starting a new venture and yearn to know more about how your opponents are doing in the market, you should opt for Yubnub. It renders you with complete business-related details that will aid you in branding.
Price:
It is helpful for a beginner as it solves basic needs plus is simple and user-friendly.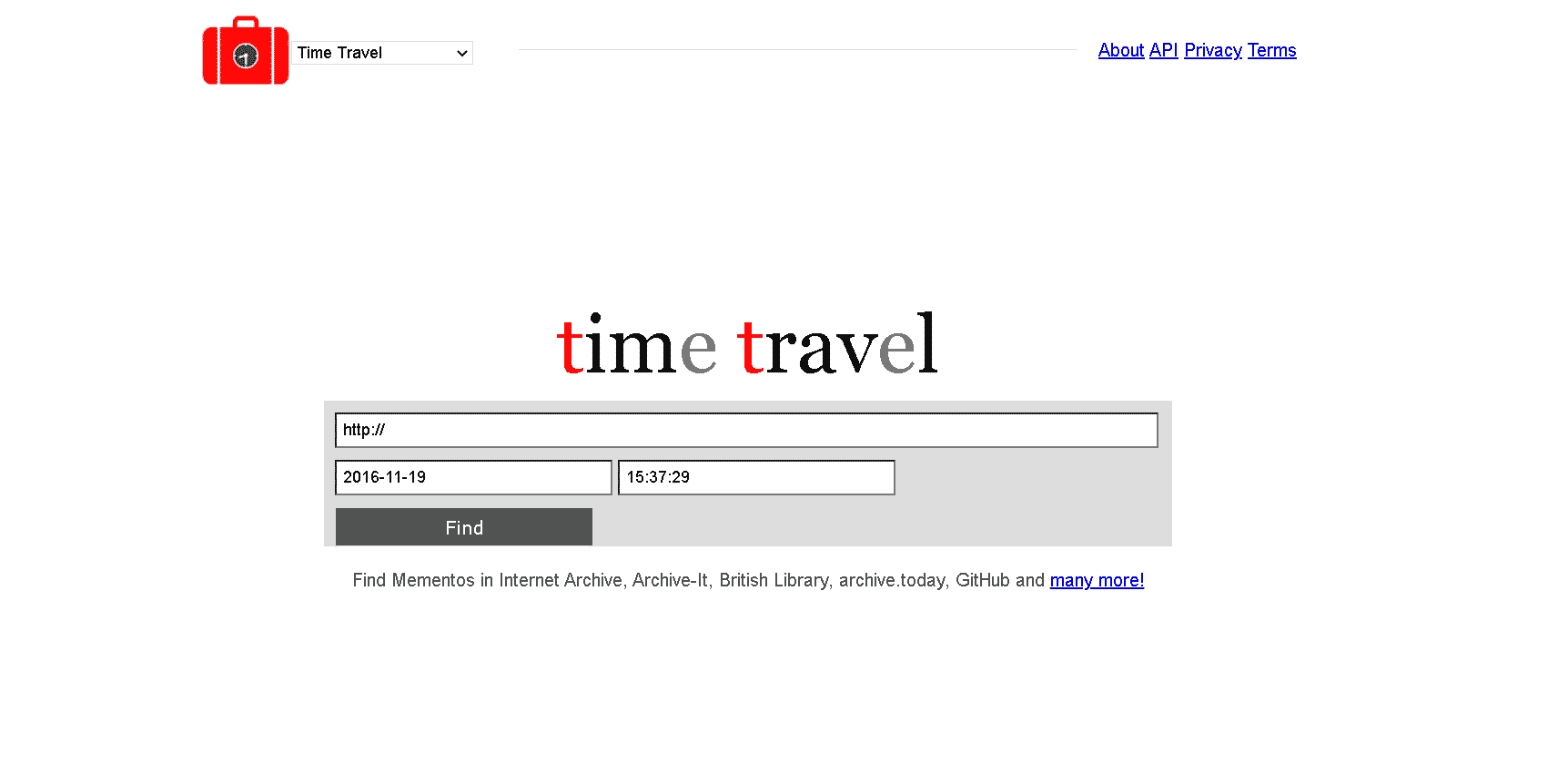 This is an excellent tool as it facilitates the users to travel back in time and see how the website looked at in history or at a specific time. The best part is that it is user-friendly and free to use. In addition, people prefer using this tool because it enables them to select from any website archive, which means that your preferences will be gratified.
The major difference between Wayback Machine and this tool is that it enables you to visit the web pages with complex visualizations. Thus, you would be able to visit the archived sites with components beyond stylesheets, text, and images.
Features:
It is pretty straightforward to access. If you wish to know how a website looks at a specific date and time, this tool will help you completely. You would just need to put the URL of the website, date, and time, and will get the information in no time
It searches the complete server set to look for web pages.
This is an excellent place to get precise data of a website in just a couple of seconds.
Time Tool comprises a bar chart displaying the elements that are tested and are missing.
As a website developer, if you want to know a specific website's changes, Travel Tool is the best for you.
It self-archives material on webservers.
This tool is very user-friendly, responsive, and commences with typing URL, date, and time.
Price:
Time Travel is free to use.
It should be the first choice for searching and viewing a website's version that existed previously.
Also Read: 14 Best Linktree Alternatives For Your Bio Links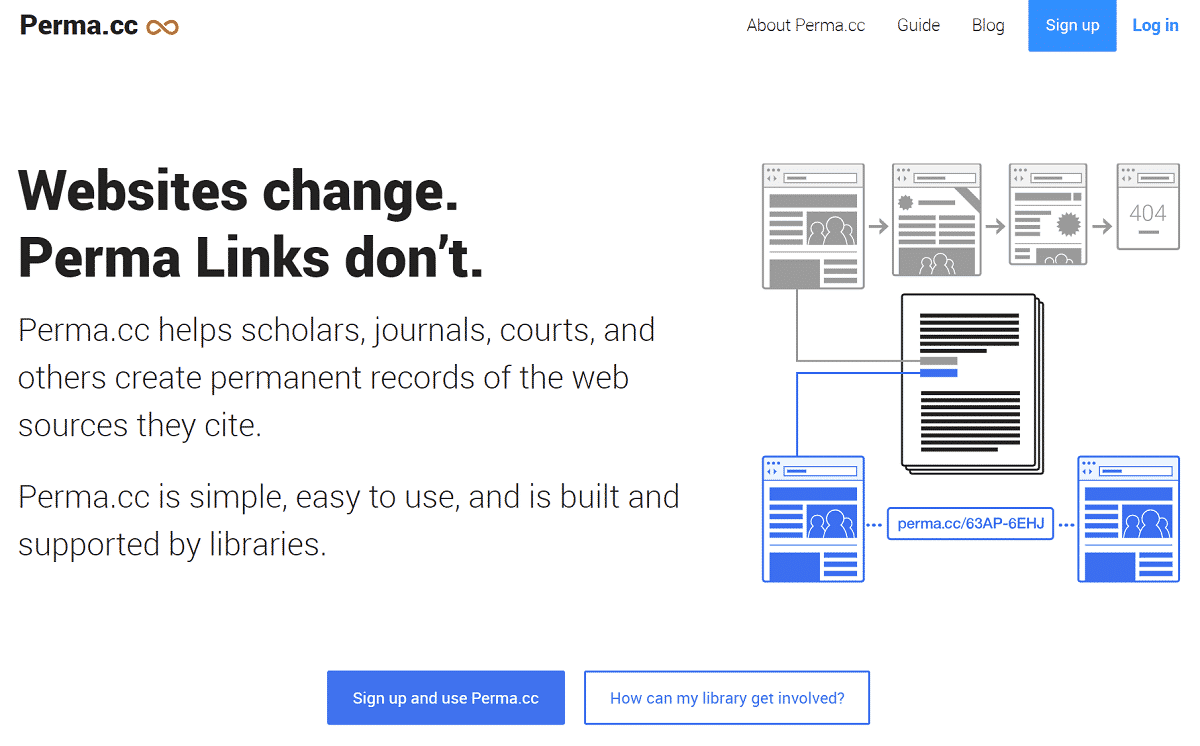 This is one of the best Wayback Machine alternatives; it is an app that the Harvard Law School Library has created. It is different from others because it lets you create permanent records of the websites. In addition, it is an interesting alternative to Wayback Machine because, on this platform, you can enter the URLs through blog or paper articles, and you can delete the links within 24 hrs of their creation.
For creating the permanent records of the website, all you have to do is find a URL, add it to the website of Perma.cc and create a permanent link. Thus, it aids scholars, courts, and journals to get the unchanged record of the web page they have cited.
Features:
With the help of Perma.cc, you can add users to any organization by just putting their email addresses to the cloud-based program.
This platform facilitates you to visit sites and build a record of the content on that website. It also enables users to create a PDF or image file. This service can be accessed through a tiered subscription model.
It aids you to see archived records via Perma.cc link
This tool comes with an API feature that enables you to add/delete pages
In case the protection fails, Perma.cc will render you with choices to upload a PDF file or image
Price:
You would require to purchase a premium plan. If you want to use their free plan, you can only save 10 pages a month.
It's an excellent platform for users who require permanent, unbreakable, untailored, and reliable links to online sources they refer to.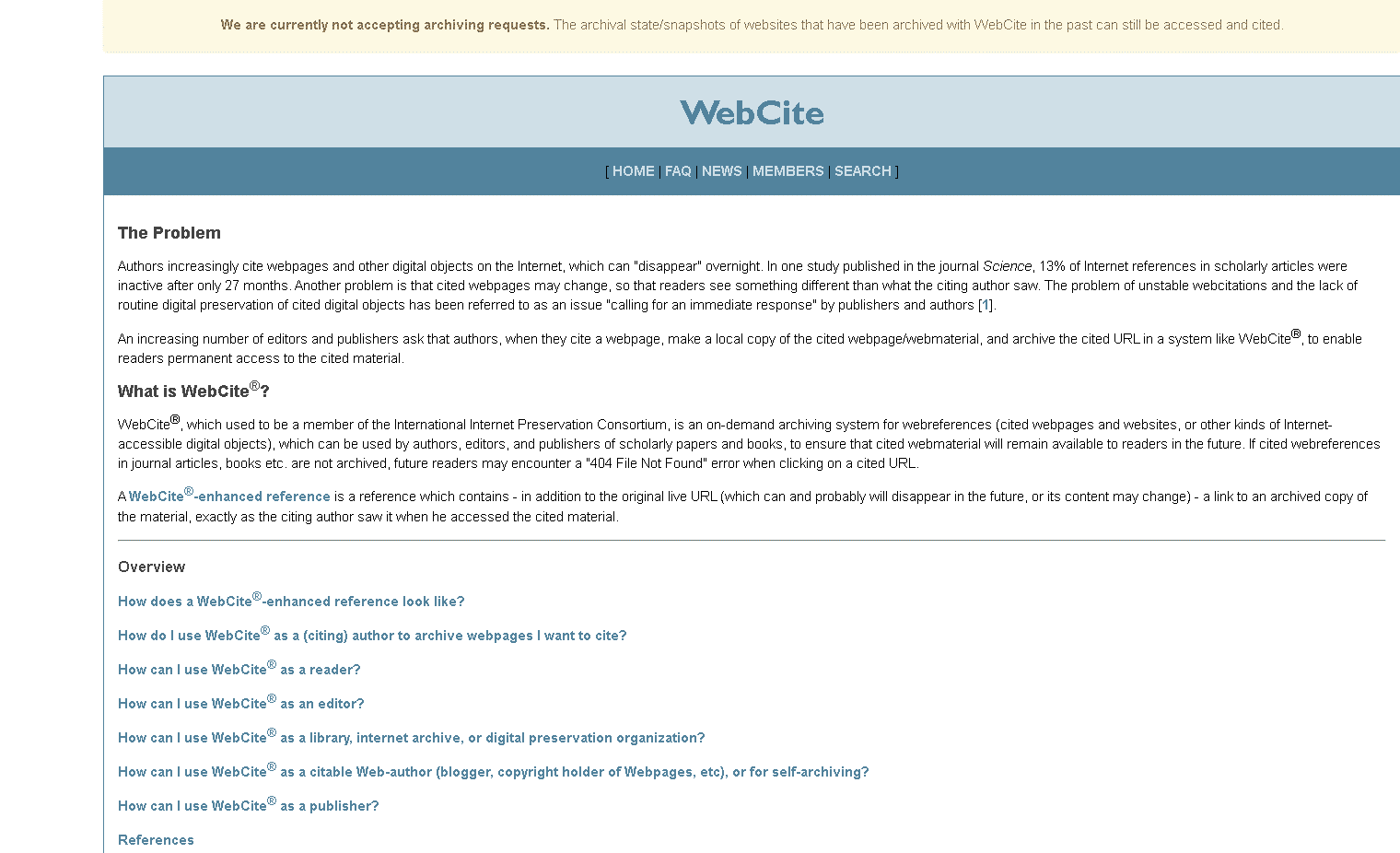 It is an on-demand archive website that is free to use and is mainly used to permanently preserve websites. WebCite is majorly used by editors, publishers, authors, and academic scholars to make sure that education material and references are available for use in the future. It comprises various formats such as HTML, images, PDF files, and CSS-driven pages.
The major difference between the Wayback machine and WebCite is that it provides important material and references with detailed snapshots. However, there is one significant feature that WebCite does not possess, and that is web crawling.
Features:
This tool comes in two formats: Opaque and Transparent. You can add the Opaque format to a specific URL while the transparent replaces such URL. Thus, you can use opaque URLs only where the original URL is still there.
Glitzy design.
WebCite materials are easily accessible through these URLs, making it an easy-to-navigate tool.
You can quickly access the content directly from the link given by the WebCite publisher
It indexes the mentioned web page, its text, and any photos or documents associated with it.
Price:
It is free to use
WebCite is best for users who want to get detailed snapshots of author-cited references.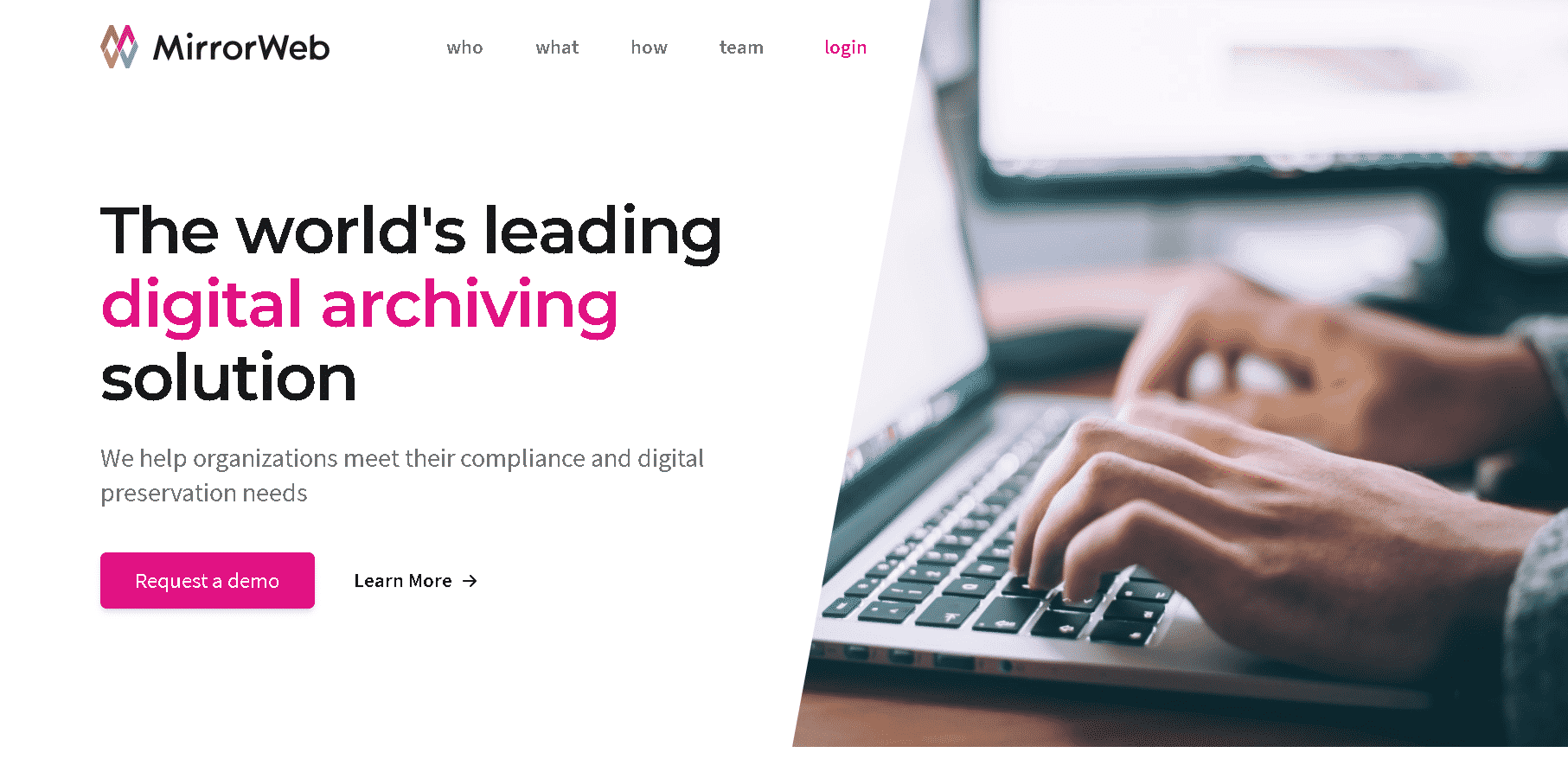 They are a great Wayback Machine alternative, especially for the finance industry. They render cloud-based digital archiving and monitoring services for the information-driven enterprise. It also keeps records of the website because of compliance and eDiscovery. The UK government trusts MirrorWeb because it preserves archived web pages to look exactly the same when required in the future.
This website enables organizations to create permanent and untailored records of all online communications. You would want to use this platform if you have a financial firm and do not want to be found wanting by the SEC and other regulatory bodies.
Features:
With MirrorWeb, you can replay your archived website in the same way as if it was life.
It helps comfortably search and match the content for you, for eDiscovery, and the possible case of litigation.
It is said to be a specialist tool for securing web and social media channels.
Along with web capturing, it also saves social media channel data
The best part of MirrorWeb is that it assures that your company meets compliance needs and details of commercial, cultural, or historical value are never erased.
Price:
It is subscription-based. The plan starts at $200 per month.
MirrorWeb is best suitable for financial services firms that require precise, regulatory compliant web and social archives.
Also Read: 15 Best Robinhood Alternatives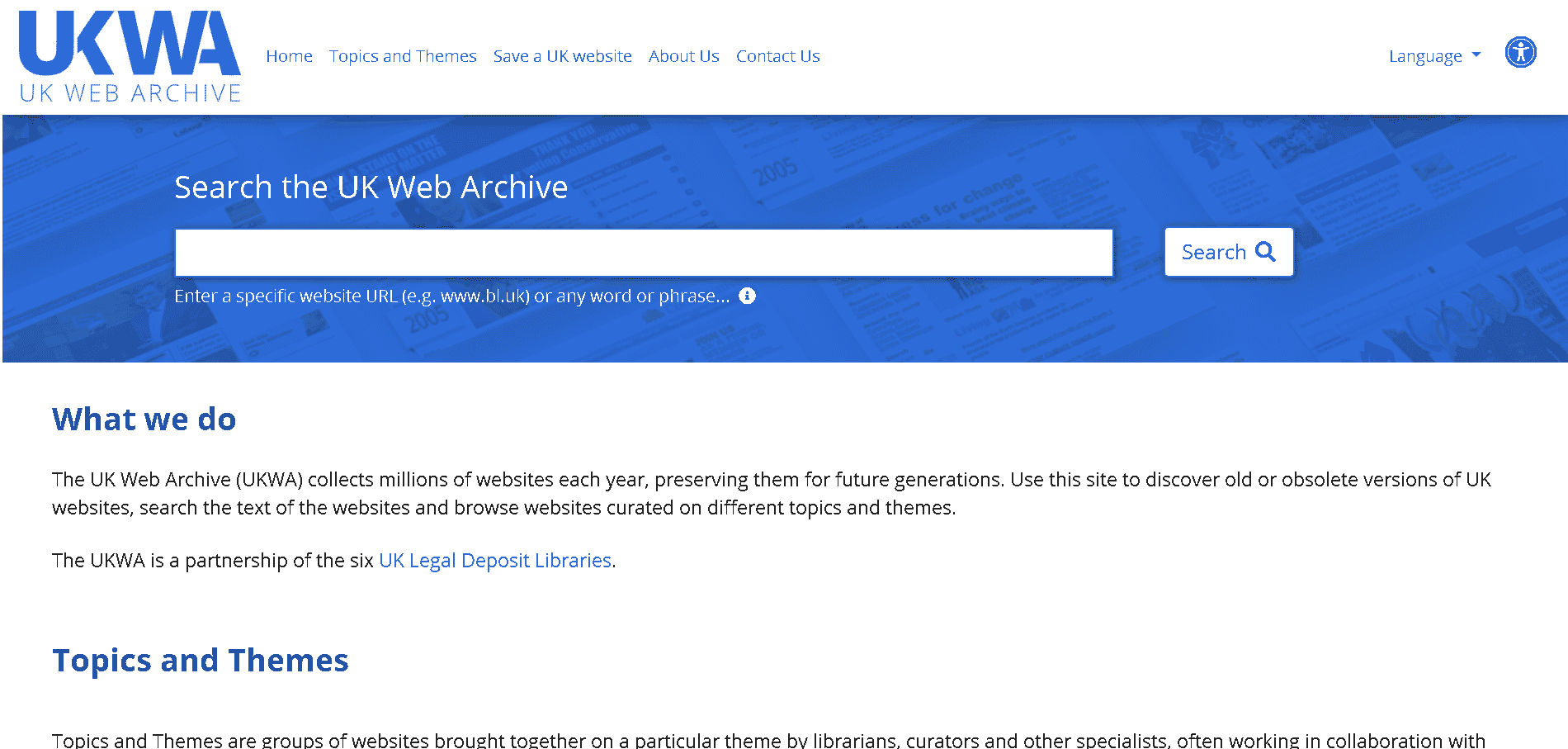 If you are looking for a platform for recovering old and obsolete versions of the UK, this platform should be the first to consider. They collect millions of websites yearly just to secure them for future generations, which isn't that great. However, it is one of the best Wayback Machine alternatives as it targets events or areas of interest, subjects, and social media to archive.
On UK Web Archive, along with the coding content, you can also get images, videos, and PDFs.
Features:
It can be sued for searching UK web archives.
The best part is that it empowers its users to search the website as per themes and topics.
You can view not only coding content but also get images, videos, pdf, HTML pages, and much more.
UK Web Archive is an excellent platform as it does an automated collection of the UK in just a year.
Price:
It is free to use.
It is best for people who want to archive data of UK websites.
Also Read: 16 Best SEMrush Alternatives (Free and Paid)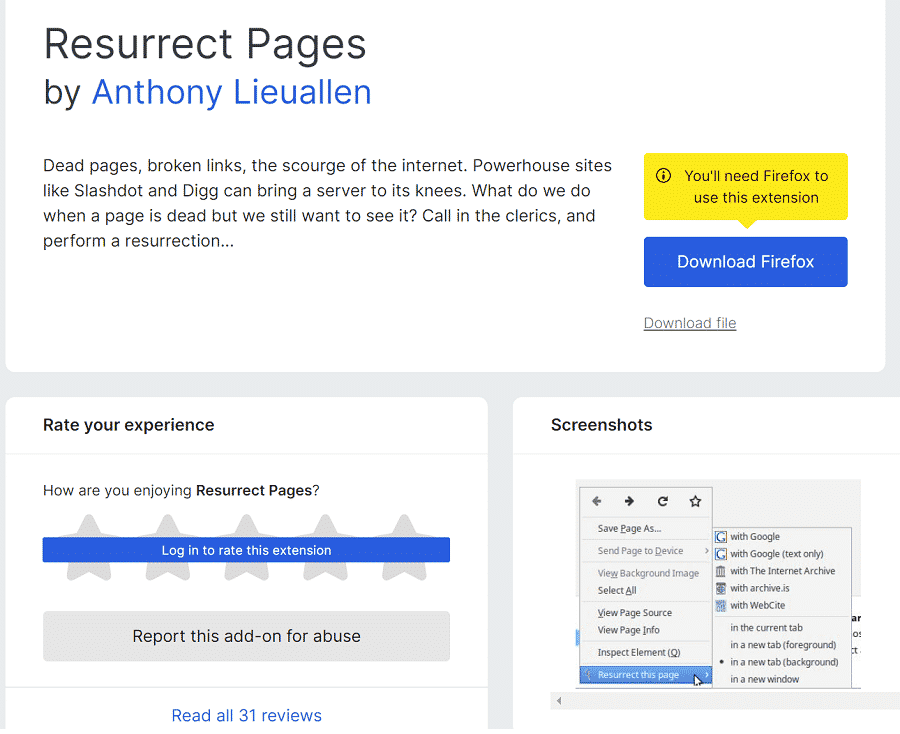 This tool connects with archive.org and other web pages for bringing dead pages back to life, just like its name suggests. They let you view the content from the pages that have been deleted and broken links as if on the original page.
With the help of Resurrect Pages, you would be able to see the old version of your competitors' site, Google Cache content, WebCite content, internet archive, and content from various other websites. You should remember that it is a Firefox add-on, which means that it is compatible with just Firefox only.
Features:
You can do searches via big page cache: The internet archive, Google Cache, WebCite, and archive.is
Life-saver to conveniently retrieve an archived/cached version of an unavailable page
Free and open-source works great under Firefox 57+
Price:
It is free to use
Resurrect Pages is suitable for people who want to view content from deleted pages and broken links.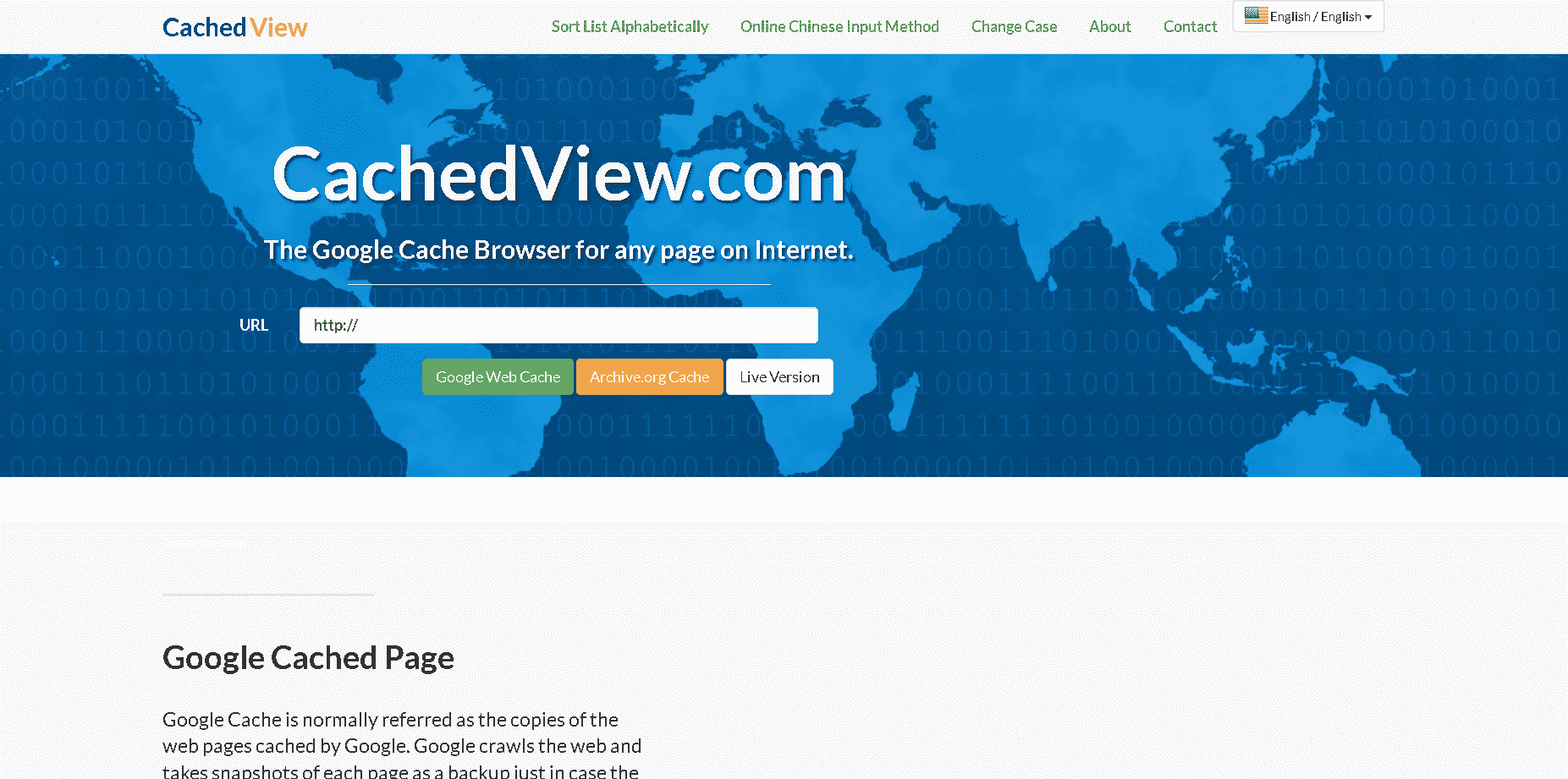 It is an excellent Wayback Machine alternative. It enables the users to access the site from Google Cache, Internet Archive, and the Coral Content Distribution Network, all in one single network. Thus, if you are looking for a tool that archives sites from distinct sources all at once, CacheView is the perfect tool for you.
The best part is that it is free to use and possesses a Google Chrome application that facilitates the users to read the cache folder of a Chrome browser by showing all the files in the cache.
Features:
The cache files mostly comprise useful details like URL, type of content, server name, server response, etc.
CacheView makes it simple and quick for you to copy and extract files you wish to monitor
It also crawls the web and takes snapshots of each page as a backup just in case the current page is not available.
This tool uses the bandwidth of a worldwide network of web proxies and name servers to mirror web content, often to lessen the load on websites servers in general.
Price:
It is free to use
It is best suitable for companies who want a tool that archives websites from various sources.
Also Read: 11 Best Cheap Domain Registrars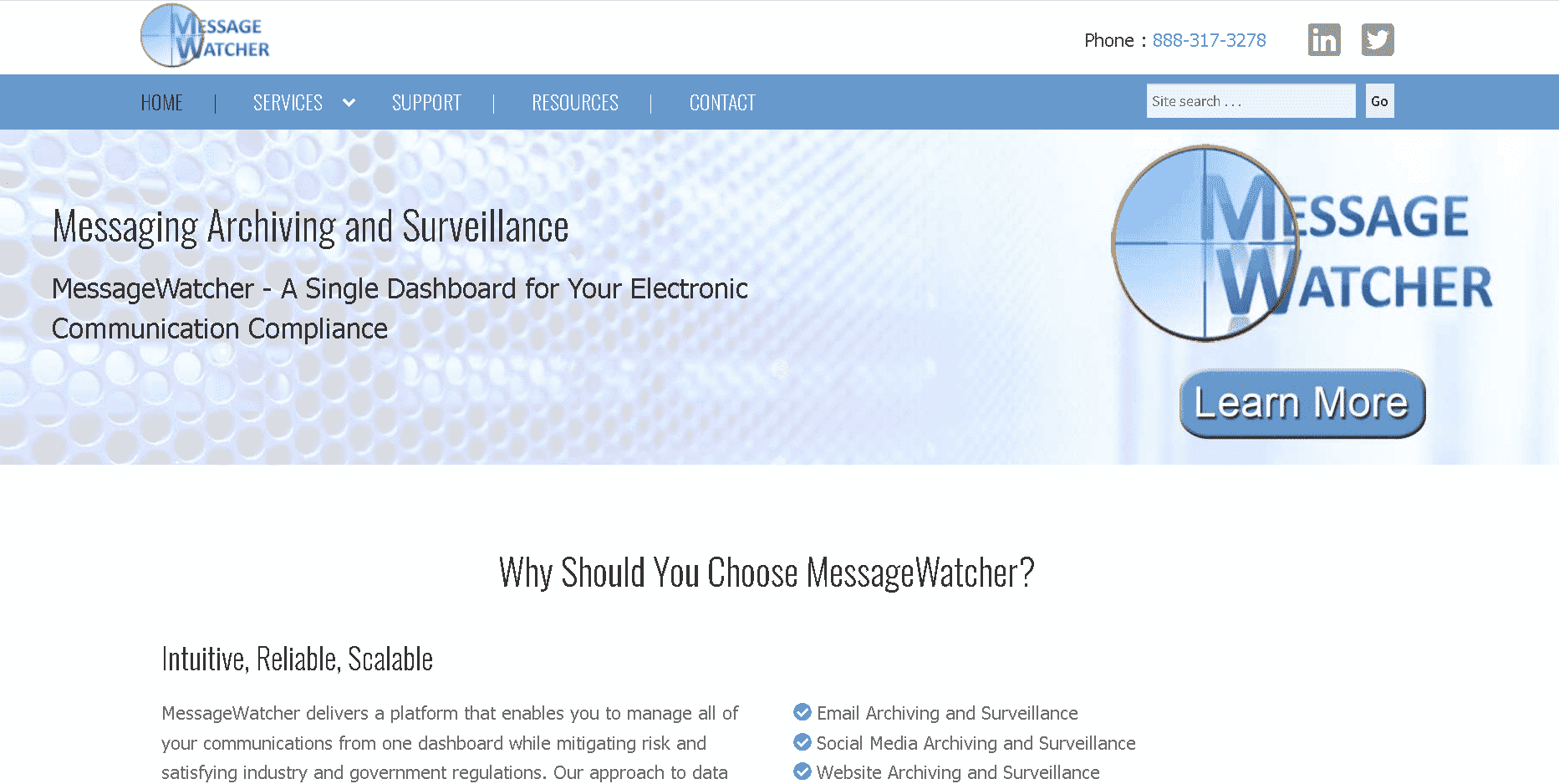 This tool is pretty similar to Wayback Machine but can also be said to be a good alternative to it. It keeps a record of the copies of your website plus also offers tools for peripheral services like email, social media content, and text.
People like this tool as you can manage everything from one dashboard, which makes it easier to use. But, there is one disadvantage of MessageWatcher: it only captures the screenshots, not the complete version of the website. Thus, in the future, when you view, then there might be some pieces of the archived site missing.
Features:
MessageWatcher enables you to operate all of your communications from one dashboard while minimizing risk and fulfilling industry & government regulations.
They aim to provide quick, direct, and reliable solutions for monitoring your company's electronic communications.
Email Archiving and Surveillance
Social Media Archiving and Surveillance
They render policy tools that are straightforward and automated, enabling you to keep a check on email, social media, websites, instant messages, and much more.
Website Archiving and Surveillance
Text Message Archiving options
Bloomberg, Teams, Slack, and Salesforce Archiving and Surveillance
Price:
It is subscription-based. Their plan starts at $300 per month and would increase if you export large amounts of data.
It is best suited for people who want to save money and time by automating their compliance, reporting, and monitoring needs.
This platform helps you find and see the versions of web pages that existed in the past. It uses various web archives and version control systems for searching or reconstructing a webpage. This site supports more than 80 channels, just like the Wayback Machine. Actiance helps enterprises in capturing and archiving electronic communications.
People love using this platform because it captures relevant communication and enables you to save and view it on-demand. In addition, this app is very easy to navigate because it is cloud-based, and the good part is that its dashboard presents analytics in the form of visualized data.
Features:
It secures all the pertinent communications.
Actiance enables you to analyze risk and administer the value of your business' data.
It facilitates you to create, package, and deliver content on-demand.
They also provide customizable reports to their users
For better visualization of data, this cloud-based app offers an analytics dashboard
It provides the users with advanced and proximity searches across various channels.
Price:
It is free to use
Actiance is perfect for businesses that want their data to be explained in an easy-to-read manner.
17) Screenshots.com (Discontinued)
It is also said to be a time machine that possesses more than 250 million website screenshots. It is a great WayBack Machine alternative as it is very to navigate. This tool takes archived screenshots of websites from different times.
It has a user-friendly interface that provides you with an exact copy of how it looked earlier. Getting the information is also very easy as all you have to do is type the URL in the search bar and wait a couple of seconds for the results.
Features:
Screenshots provide the domain registration information
Easy to use
It also allows you to zoom the screenshots
Price:
It is free to use.
Thus platform is best suited for people who want an exact copy of the website how it looked in the past.
These were some of the best Wayback Machine Alternatives that you can use. But, their effectiveness would solely depend on your requirements.
Also Read: 13 Best Hootsuite Alternatives
FAQs
Q1) How many alternatives are there to Wayback Machine?
A1) There are two types of alternative sites to WayBack Machine: One is the support community that aids you browsing through any past website, for example, archive.today. From another type of website, you will be able to create a private "WayBack Machine" for different domains, for example, Pagefreezer.
Q2) How is WayBack Machine used?
A2) It is very simple and straightforward to use; here are the few steps that you need to follow:
Open the Wayback Machine website.
Put the site URL (you can either put the URL or words related to the site's homepage)
After the hit the enter button
Choose the year of the site on the bar graph
Select the date
Search multiple archived versions of the website
Q3) How to access archived websites?
A3) You can do it either through Wayback Machine or from its alternatives using a mobile, tablet, or laptop. Just navigate to the website in the browser and seek for the archived versions to see them.
Q4) Is doing web archiving legal?
A4) Wayback Machine and its alternatives are non-profit legal repositories of old sites and pages archived for a long time.
These were some of WayBack Machine alternatives; now you know the advantages and disadvantages of them, it can help you choose the right platform as per your requirements. Although no one can match the database of WayBack Machine, these alternatives are pretty similar, and some of them also have additional features that even WayBack does not offer.
Recommended: 16 Best Cryptocurrency Brokers
Choose the one that suits you, as all of them are full-fledged, automatic, and highly recommendable.