SimilarWeb is a market intelligence platform that helps you find and analyze insights on traffic, engagement, and insights for any website you want. It also enables you to understand how you can boost your site's credibility, reach, and engagement, plus guides you on taking digital marketing strategy in the appropriate direction.
With SimilarWeb, it is no more a challenge to find out your competitor's business analytics. You can easily track the traffic of your website and even others. This tool is used by various popular brands like Google, Microsoft, eBay, and many other such companies.
But, there might be many more things that you might want to look at across channels, such as SEO or PPC. Or, in case you have a budget constraint, you can look for some of the best SimilarWeb alternatives as they might offer you more features at less cost.
SimilarWeb Features
Here are some of the must-know features of SimilarWeb:
1) Traffic: You can monitor the traffic data of any website in just a few clicks. It can be conducive for you, especially if you are doing competitive analysis. You can review a lot of data like total visits, average visit duration, bounce rate, and page views.
2) Traffic Sources: You can also get information on the percentage of traffic sources, such as how much traffic you are getting from email, social media platform, search, direct channels, referral traffic, and display advertising.
3) Top destination sites: It uncovers the data on how people leave the site that you are monitoring.
4) Search, social, and display: With the help of this section, you get an insight into the most significant traffic sources a lot of websites get.
5) Audience interests: It offers you information on what the website visitors do after leaving the site. This way you would get to know about their interests and other websites which they visit.
6) Competitors & similar sites: With SimilarWeb, you get to learn more about your competitors, their traffic sources, and the keywords that drive them more traffic.
Why do you need SimilarWeb alternatives?
The data that SimilarWEb offers is pretty reliable and trustworthy. But it is always recommended to cross-check the data when they are just estimates. This is true that traffic data is just an approximate idea of how many views a website gets in a month or any specific period. So here are a few reasons why you need to look for SimilarWeb alternatives & competitors:
Its free plan offers you data of just the past three months, so if you want data before that, then opt for an alternative or their premium plan.
Their data is limited to a particular number of rows
The information it shows is not precise and has discrepancies
Mostly all the alternatives are either free or partially free, which can help you get another source for data and insights
SimilarWeb takes a pretty long time to add fresh domains to their database
They are not transparent about pricing. Furthermore, after doing research, it was observed that their prices are pretty high
This software does not offer enough features & value to money.
Thus, you can use its alternatives as it would help boost your advertising intelligence and your web analysis accuracy.
11 Best SimilarWeb Alternatives & Competitors
SimilarWeb is one of the most renowned platforms when we talk about estimating the traffic of a website. But, this platform is not for everyone as it has a few drawbacks; hence people look for its alternatives. Here are some of its alternatives that have been chosen carefully based on the accuracy of traffic estimation, complete value for money, and more features: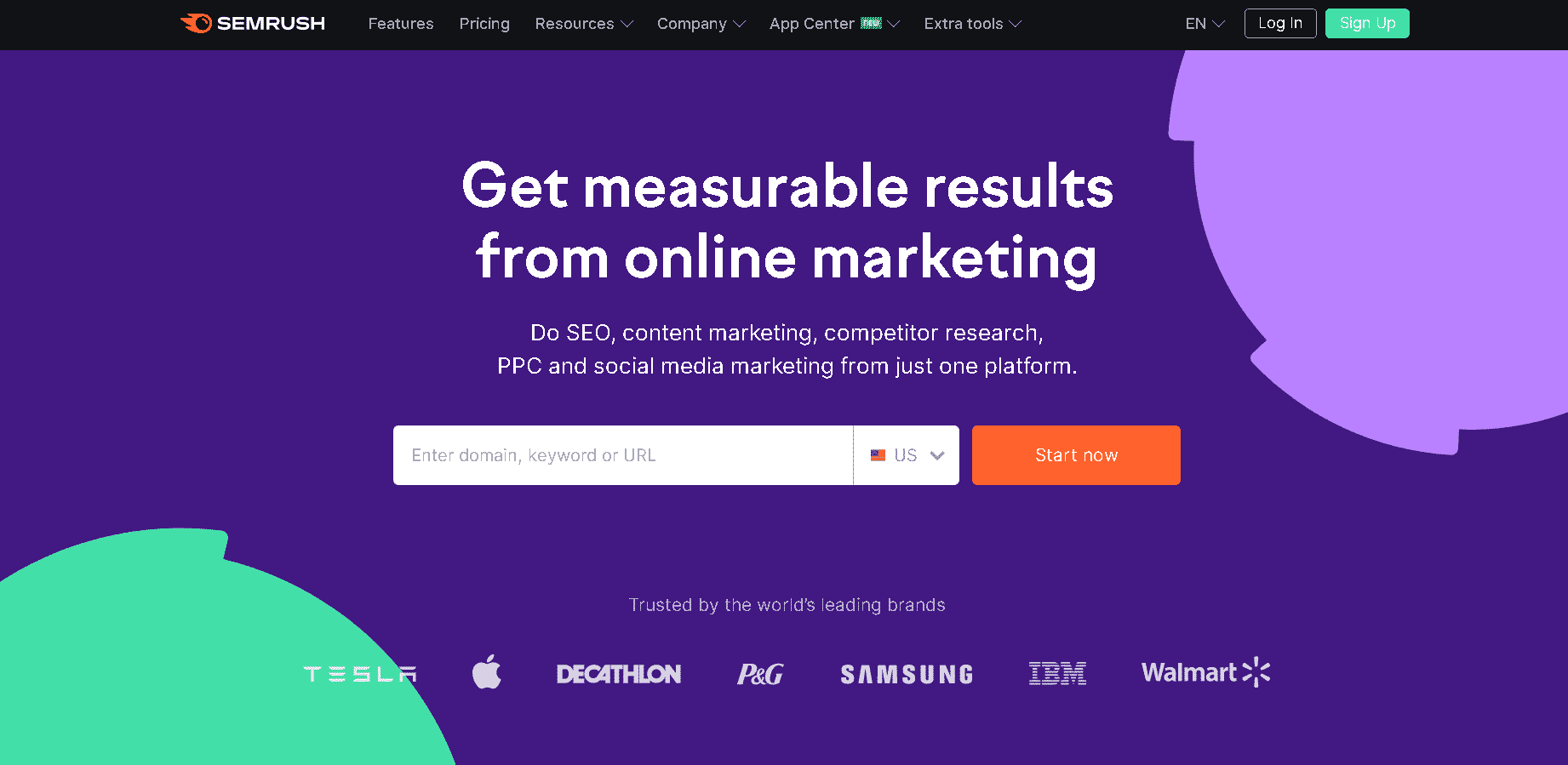 It is the top alternative as it is the only tool in the list that enables you to review all traffic channels and get insight into individual keywords and particular referring sites. They display information like advertising techniques, site credibility, social media exposure, etc., of competitors in a simple way.
As an audience, you know that people usually use simple words for searching for any product or service. Hence, they use easy-to-find keywords to get more and more traffic. It is said to be the all-rounder software in the digital marketing industry because of the excellent features that it offers such as
SEMrush helps you find information about your new close opponents.
This toolkit facilitates you to review your competitor's keywords, ad copy, landing pages, ad budgets, and keywords.
As a one-stop content marketing tool, it comes with an array of characteristics to govern your/clients' online businesses.
With SEMrush, you can administer every trait of your competitors' online traffic strategy.
It enables you to get the exact traffic information of any website effortlessly. You'd also have the option to go through the desktop and mobile traffic.
It counts on both keyword data and clickstream data for a more precise traffic description.
Pricing:
This tool is pretty impressive, which is why it doesn't come cheaply. Their price plan begins from $99.95 a month.
SEMRush has three paid-price plans by the name Pro, Guru, and Business. Their charges are $99.95 a month, $199.95 a month, and $399.95 a month, respectively when paid yearly. If you opt for paying monthly, then here are the prices:
Pro – $119.95/month
Guru – $229.95/month
Business – $449.95/month
You also get a 7-days free trial (with full access to the tool), in which you can decide if their paid plans are worth it or not.
Also Read: 16 Best SEMrush Alternatives (Free and Paid)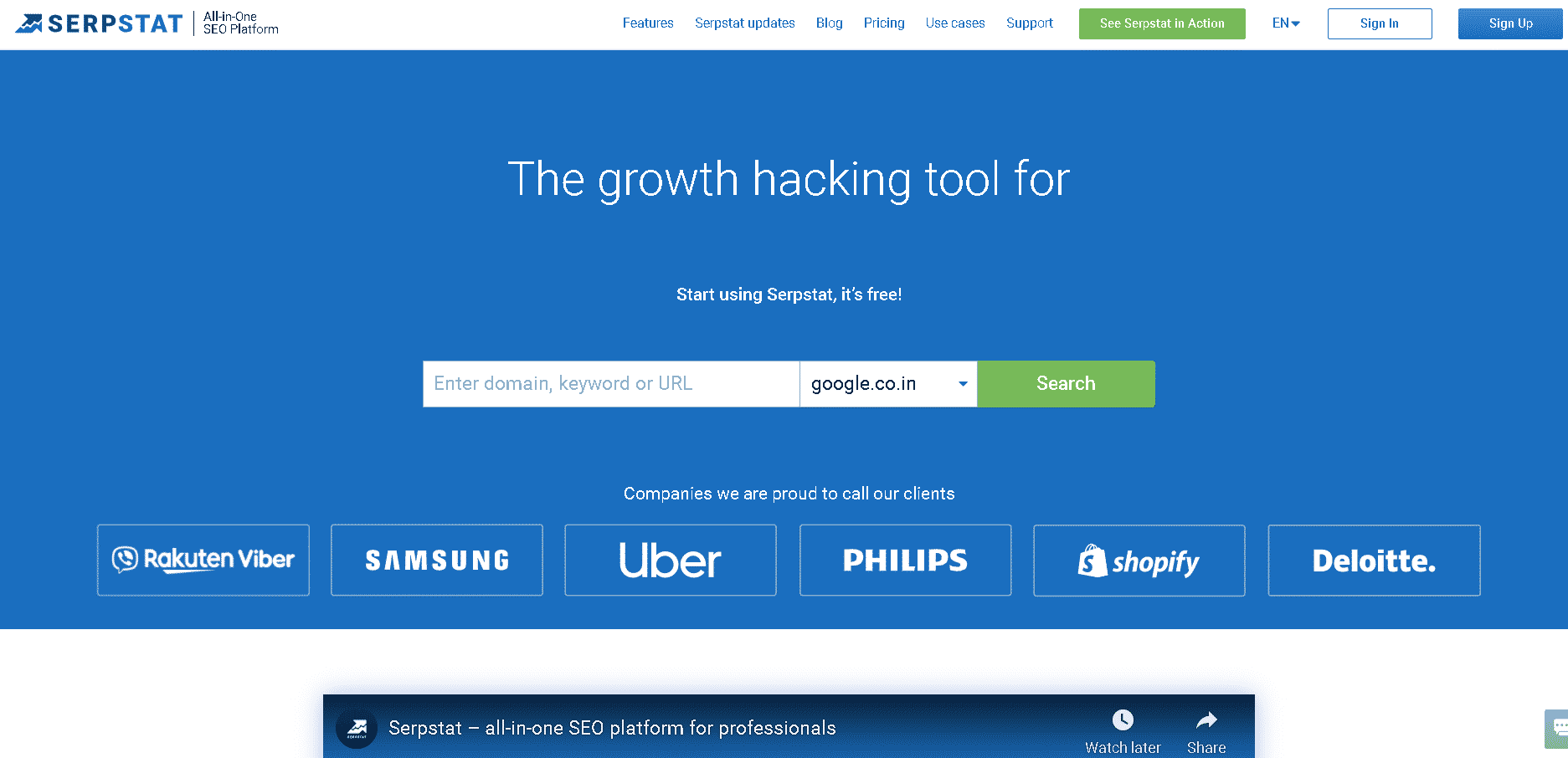 If you are looking for SimilarWeb alternatives & competitors, then SERPstat should be the first to consider. It is an affordable alternative that gives insights to the users on competitors' organic and paid traffic. Serpstat is said to be an all-in-one SEO tool and comes with tons of features created to help you with competitor analysis research and much more.
It was just launched a couple of years back and still is competing aggressively with reliable tools like SimilarWeb and SEMrush. It aids you in identifying which opponents' pages rank for the most keywords and also helps you get information about the topics that your competitors are using for driving traffic.
Features:
This online software helps identify not just one but various leading competitors. Other alternatives need manual competitor inspection, but SERPstat does this automatically, which saves a lot of time and energy.
With the help of this platform, you can get proven, money-making, and leading keywords for your website's content and ads which can help increase your online presence.
It renders you with a site audit feature that lets you audit your site periodically.
For finding the top backlink sources of the competitors, they do Reverse-engineer.
It gives a feature called the Batch Analysis tool that facilitates you to research around 200 competitors in just a few clicks.
With Serpstat, you can research your competitors' advertising campaigns and get the maximum possible ROI from your PPC activities.
They regularly roll out new features, unlike others on the list.
Pricing:
The usage limit is different in every plan, just like the features. Serpstat offers monthly and yearly billing cycles; you can choose as per your convenience. These are price plans offered by Serpstat:
Lite – $69/month
Standard – $149/month
Advanced – $299/month
Enterprise – $499/month
It also comes with a free plan, but it has limited features.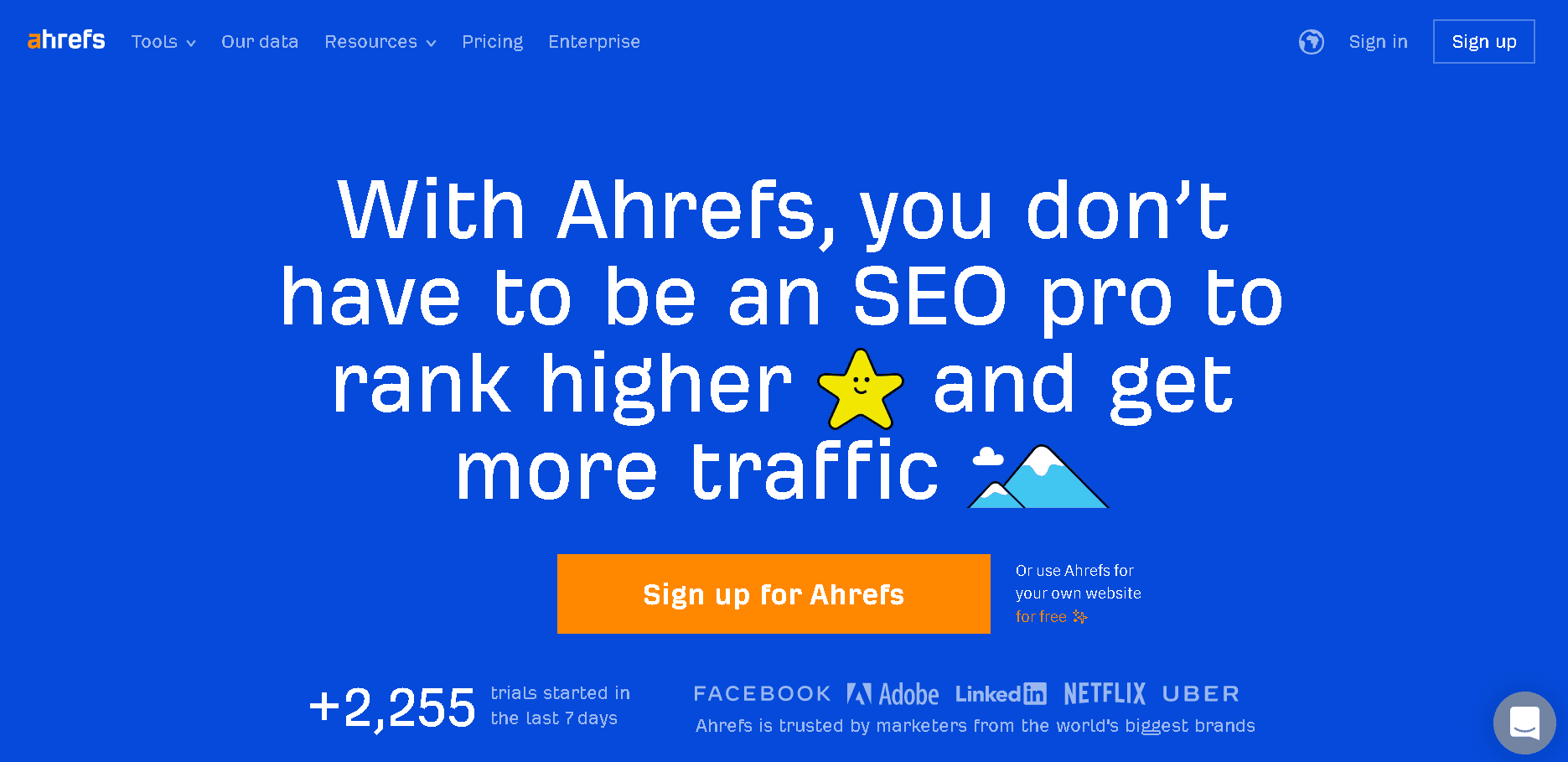 It is an excellent tool for monitoring the organic traffic performance of the competitors and doing opponents' backlink analysis. They have an awesome backlinking analysis toolset that facilitates you to filter and search for referred domains and discover which links get follows; thus, it will be even more impactful for your authority domain goals.
Therefore, if you want to know which keyword your competitors are using for ranking purposes, then Ahrefs is the best platform to get this data. All you need to do is click on the 'Organic Keyword' section, and you will get all the required data.
Initially, only SEO executives were using this platform, but now affiliates, performance marketers, and even media buyers are using it for keeping an eye on their competitors.
Features:
With Ahrefs, you can get the data on the amount of traffic, organic keywords, backlinks, and traffic source of the competitor's website.
It lets you check if your opponents are using PPC ad campaigns and what keywords they are using.
You can get to know about the top shared content in any particular niche, search for viral content, and gain authority links.
It also has the ability to see the number of clicks a specific keyword may drive.
The best part about Ahrefs is that it has a massive database of backlinks. They update these backlinks persistently.
With Ahrefs, you will be able to identify the leading traffic generating subdomains, subfolders, and pages on any website.
Superior UI/UX
Pricing:
Ahrefs pricing structure is relatively expensive. But, it is well justified when you compare it with the features that it renders.
It offers all the features in every plan, but the usage limit is different. They have a 7 days trial period with a $7 fee, in which you would get an insight into all their features. Its price plans are:
Lite: $99 per month for 1 user
Standard: $179 per month for 1 user
Advanced: $399 per month for 3 users
Agency: $999 per month for 5 users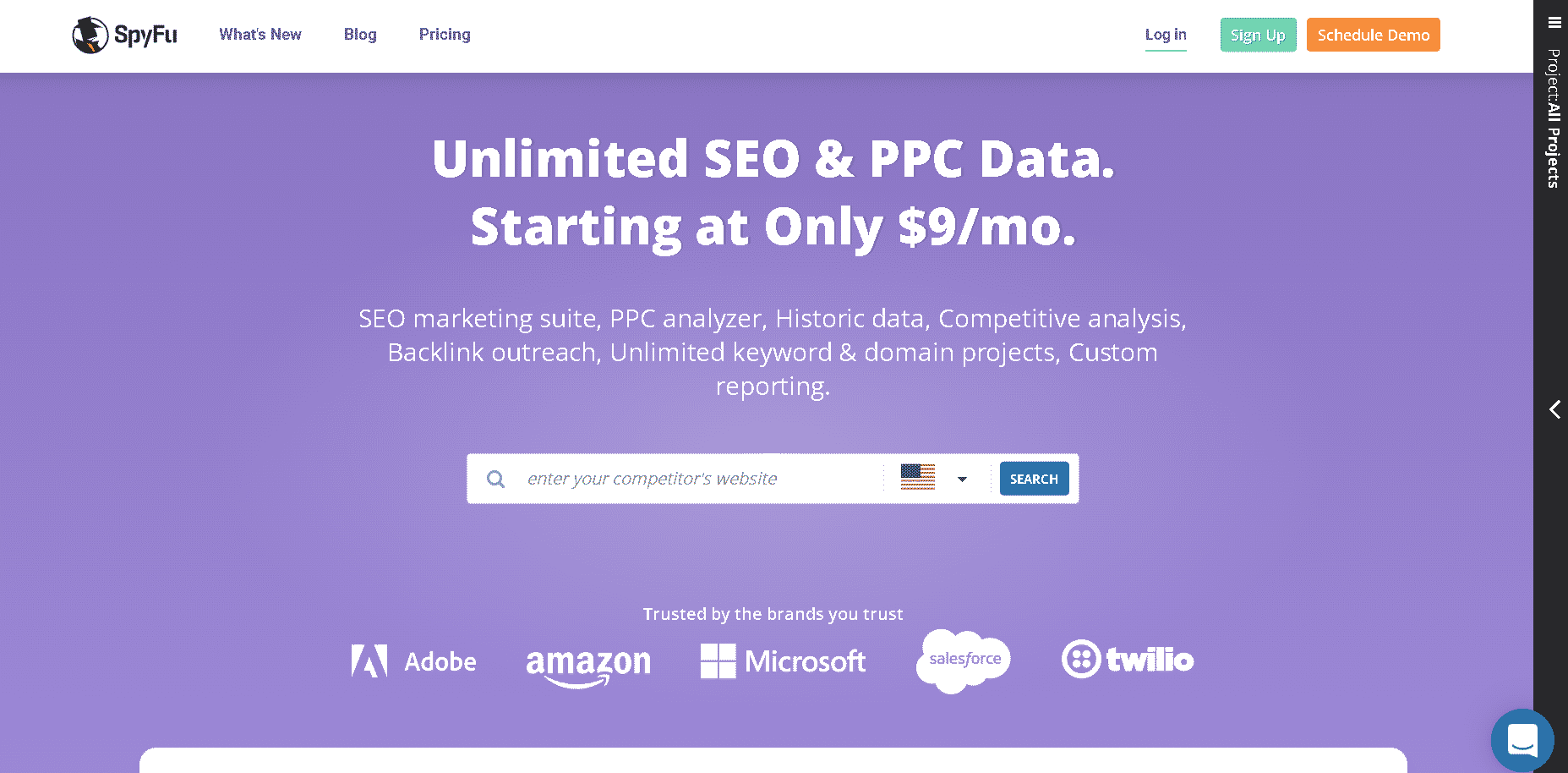 It is one of the best SimilarWeb alternatives as it offers both organic and paid traffic analysis capabilities. It is an excellent platform to spy on your rival's strategies. SpyFu does not limit you from any feature access and usage; this means that you can do competitor analysis without any restrictions.
With them, you would be able to search for any domain and see where they appeared on Google and which keywords they ranked for; furthermore, it also gives information on every keyword they purchased on Google Ads and how they varied the ad copy.
Features:
SpyFu helps in examining your closest competitors. Plus, it also lets you track their top keywords and ranking as well.
The good part is that it comes with an excellent domain comparison tool for competitive benchmarking.
With the help of SpyFu, you can quickly download your competitors' most rewarding keywords and cast them to your campaigns.
It aids you in staying ahead of your competitors in PPC ad campaigns. As it discloses their ad cost and bidding strategy
A unique feature is that you would be able to analyze the keyword overlap your website has with three competitors and check on the keywords that aren't working for you, but they are ranking on them.
It also renders a backlink outreach feature to rank even more link juice.
Pricing:
SpyFu does not limit you on feature usage. But, there are certain restrictions on results such as rank tracking keywords, sales leads, API, etc.
They offer various plans that are reasonable and come with flexible billing cycles:
Basic – For 5,000 keywords rank tracking and 100 domain overview PDF's, you would have to pay $39/month or $33/month when billed yearly.
Professional – It is for $37/month for the first month, then $79 every month. Or, $58/month with a yearly billing cycle. You get Unlimited domain overview PDF's and 15k weekly tracked keyword rankings.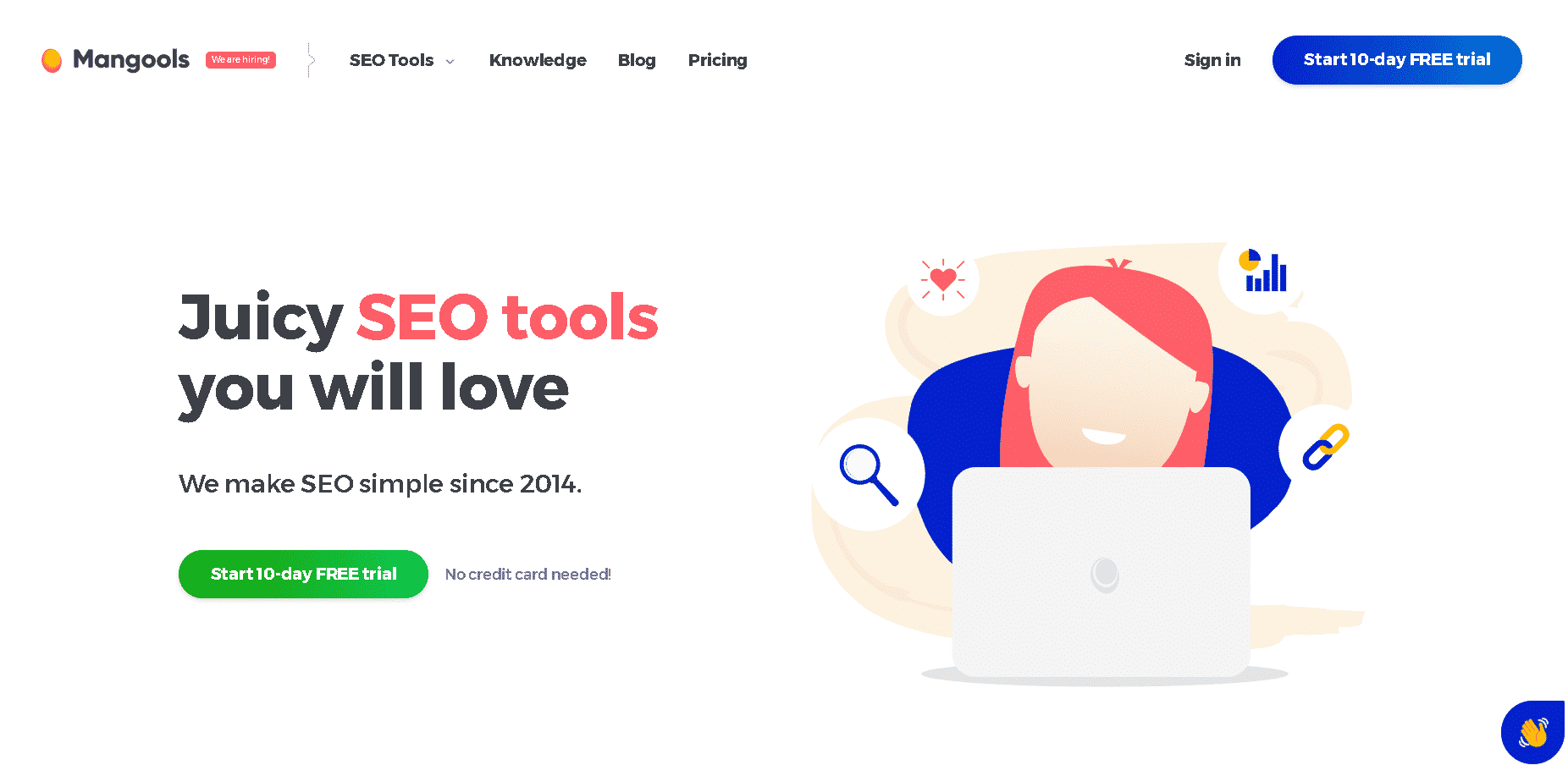 This one is said to be one of the most reasonable and user-friendly platforms. It is perfect for beginners who only want to get a granular look at their competitor's organic traffic strategy. This tool comprises 5 powerful yet simple SEO software and tools; it is created for seamless workflow and processes.
It is one of the most reliable platforms used by agency owners, web admins, and digital marketing experts globally.
Its 5 tools are site profiler, SERPwatcher, KWFinder, SERPchecker, and Link Miner. Let us know about them in detail:
Site Profiler– It is a unique website authority checker for checking the high-level SEO authority of your opponent's website. This SEO analysis tool comes with all the required SEO traffic metrics and insights on their backlink profile. With this tool, you can also discover audience demographics as well.
SERPwatcher– It is used to track your keyword rankings and search volumes for measuring your performance on any device
KWFinder– This keyword research tool aids in finding long-tail keywords. It provides you with a more granular look at the keywords that are driving traffic to your competitors' websites. You can also say that in Mangools, this tool is in charge of keyword research.
SERP checker- This software is used for doing competitor analysis and research, plus it also helps you get data on potential keyword targets by color-coding the scores so that it becomes easier for you to identify the strongest and weakest competition
Link Miner- If you wish to review your or your competitors' website's backlink profile, this tool is the best way to get the information. The best part is that it creates the list of opportunities based on different metrics, such as Citation Flow, etc.
Pricing:
All the tools of Mangools have similar pricing. They're all under one roof.
There are different price plans and has restricted access to what you get on each plan.
The subscription begins from $49 a month for the basic plan, and the Agency plan is for $129 a month. You save up to 40% if you opt for their annual package.
Also Read: 23 Best CPA Networks for Beginners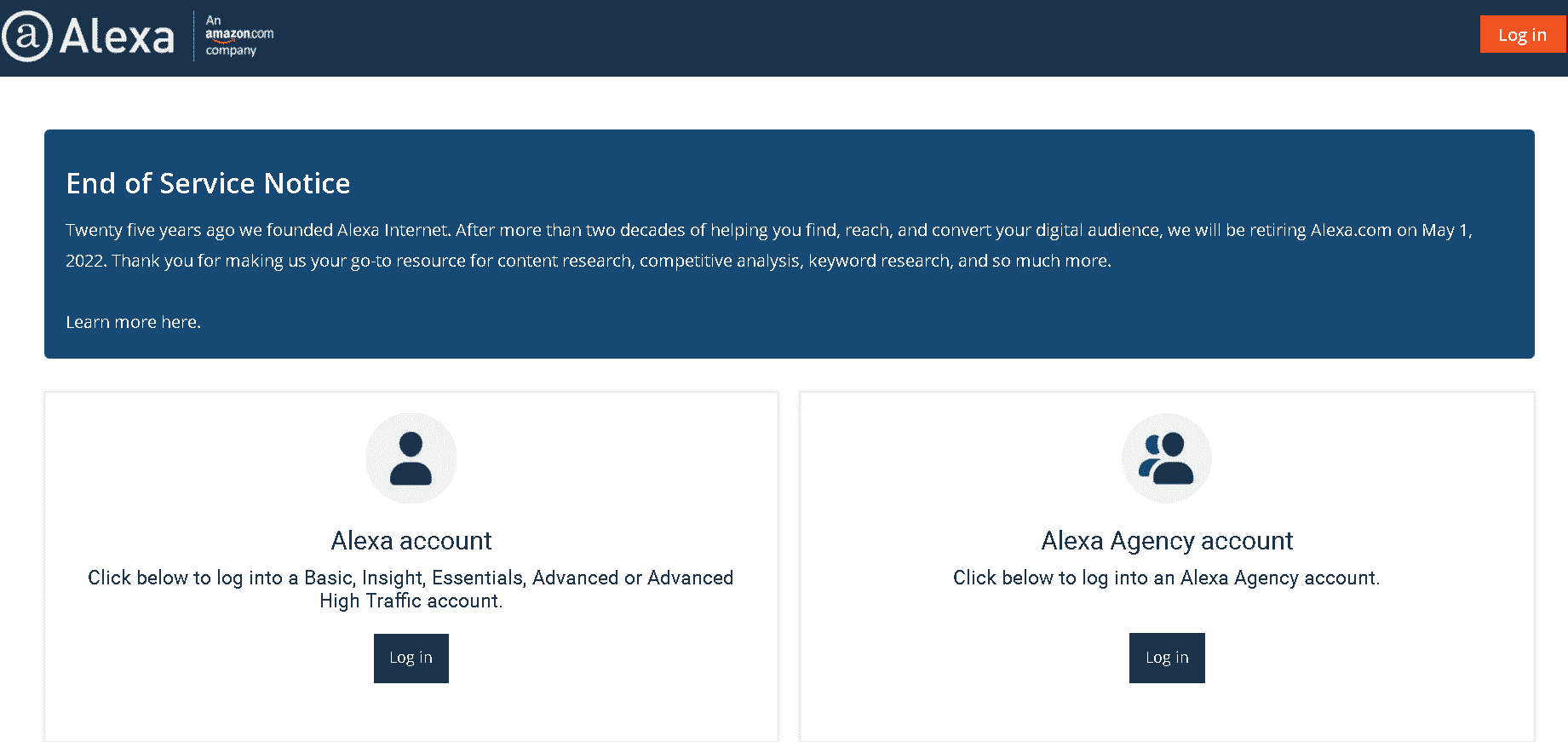 If you are looking for SimilarWeb alternatives & competitors, then Alexa can be your first choice because of the excellent features that it provides. This platform is well-known for helping web admins and online marketers to find great examples of websites with desirable web rankings.
This is a competitive analysis website tool where you can compare the traffic metrics of numerous websites and see the keywords they are ranking for.  On Alexa, you can get information on any website, review them and look for opportunities to boost your SEO and website performance. Other services that it offers are API, keyword research, SEO analysis, and backlinks tracking.
Features:
With Alexa, you can seek unexpected opportunities for reaching your target audience by uncovering new and existing competitors.
You would be able to determine your opponents' top-performing keywords, find keywords gaps, and spot high-value buyer keywords.
Alexa has the ability to analyze or determine your close competitors that are actively taking heed of audiences.
You can also obtain a thorough report of keyword's position replacement
It also helps to make your content strategy better by examining the keyword share of voice
With Alexa, you can easily find gaps/drawbacks in your marketing strategy. You can also find your competitor's strengths and weaknesses and see how you can beat the competition in terms of traffic, keywords, backlinks, and more with Alexa.
You can also spy on the broken links of any website and search for backlink opportunities.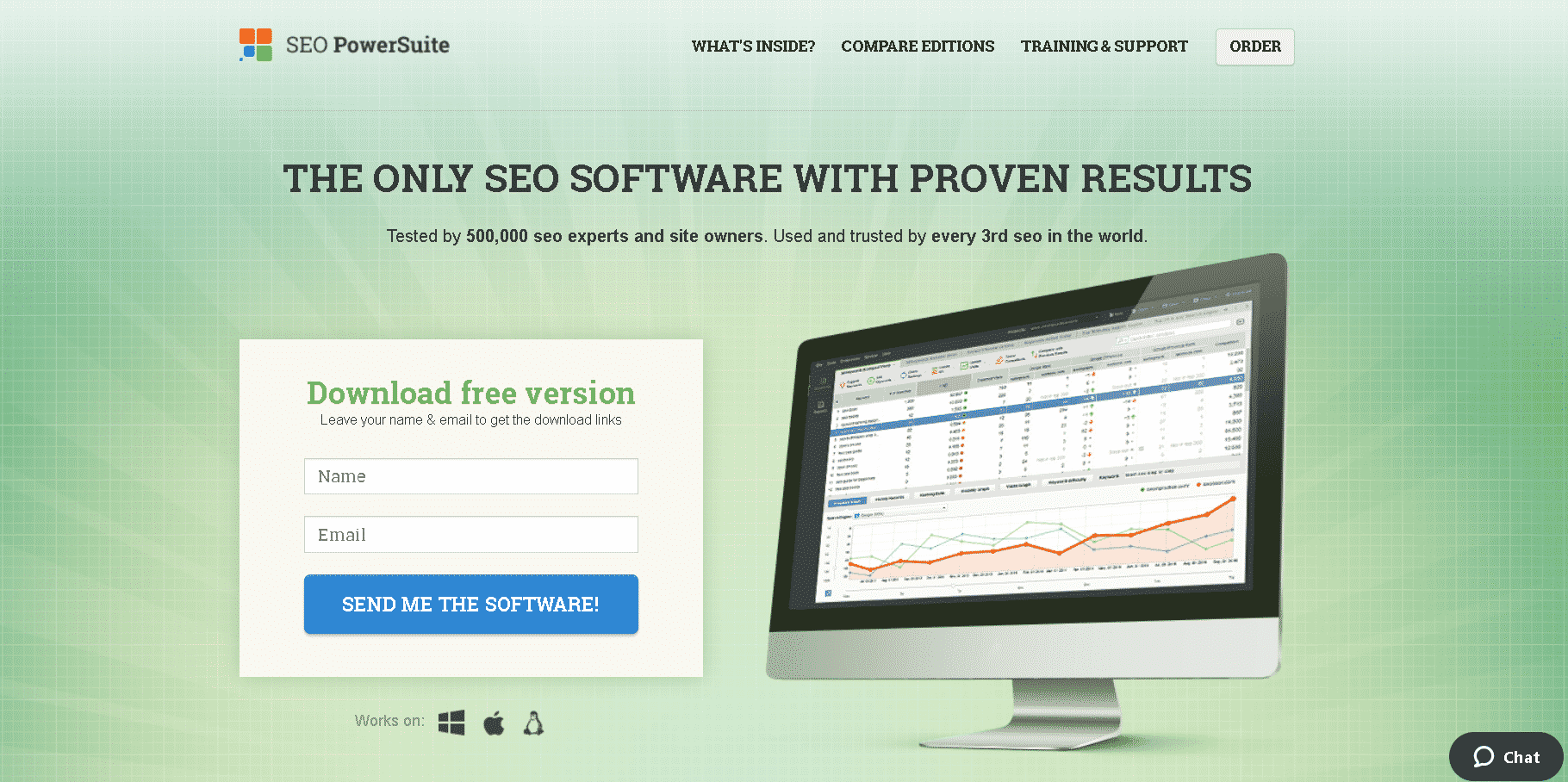 It is an excellent tool but is said to be underrated SEO software and is used by comparatively fewer SEO experts. SEO PowerSuite is a set of 4 tools that assist users in every step of their SEO campaign. These are its four tools, which are worth knowing:
Rank Tracker- With the help of this tool, you can do various things such as review competitors, research keywords, and track web rankings of your competitors.
SEO SpyGlass- This tool would give you more insight into your website's backlinks.
Link Assistant- It enables you to run link building and outreach campaigns.
Features:
This amazing software is available on every platform, whether it is Mac, Windows, or Linux. Also, it has an intuitive UI which makes it beginner-friendly.
It is the only SimilarWeb.com alternative that is available as downloadable desktop software, and the best part is that it is free.
SEO PowerSuite enables you to enhance websites, revamp the content, run backlink campaigns, and trace your progress with the tools.
It allows you to research keywords & backlinks and provides you access to get the information on the ranking keywords for your competitors.
Pricing:
It offers various pricing plans with yearly billing. Plus, there's a forever free plan which is available with very little software that consequently makes it a free SimilarWeb alternative.
Free Plan– Occasionally check your site rankings and other SEO factors.
Professional Plan ($299/year) – You can track unlimited keywords and backlinks for your website. But, it permits only 5 competitor rank tracking.
Enterprise Plan– With a yearly cost of $499/year, the competitor tracking limit is increased to 40.
Also Read: 14 Best Linktree Alternatives For Your Bio Links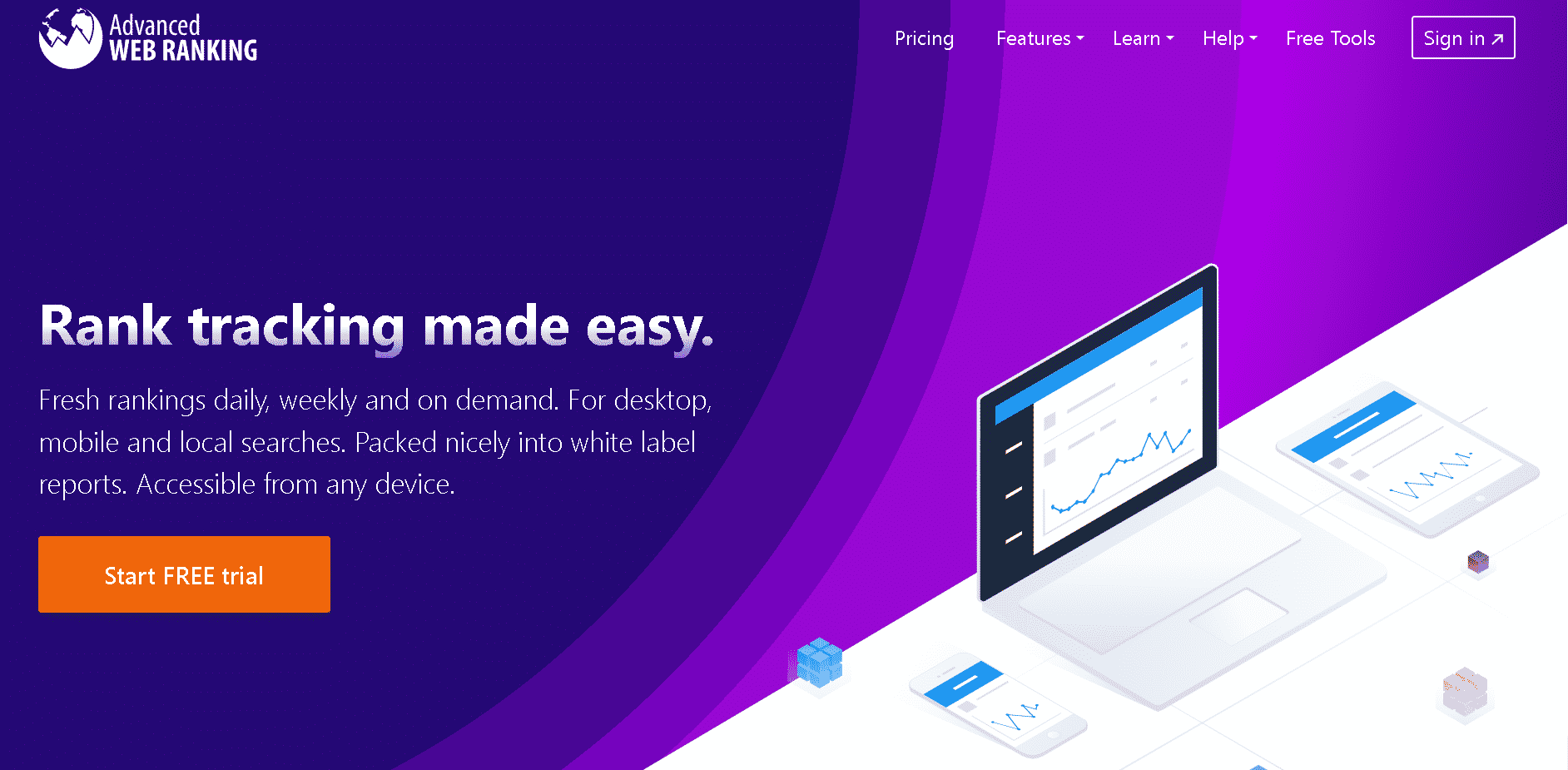 The complete form of AWR is Advanced Web Ranking Cloud. This web-based Cloud-SEO tool provides you with web rank tracking solutions for both individuals and agencies. It is one of the best SimilarWeb alternatives in terms of rank tracking features.
They have experience of more than 15 years in the market, and you would be amazed to know that they have joined with more than 20,000 customers globally. It can be very beneficial to partner with them as they offer numerous exciting features.
Features:
This software renders your comprehensive data by tracing ranking positions for your keywords.
One trait that differentiates AWR Cloud from Similarweb and various other SEO tools is that it supports multi-language queries; very few tools offer this facility.
You can get accurate reports seamlessly on local searches based on your chosen locations.
It also enables you to integrate your social media plus review engagements on various social media platforms like Facebook, Twitter, Google+, LinkedIn, and Pinterest.
Pricing:
AWR Cloud offers a 30-day FREE trial to test the features, and if you do not like it, they return the total amount. They come with three premium plans:
The price plan starts at $49/month for beginners; it is $99/month for the PRO plan and $199/month for the Agency plan, and $499/month for Enterprise. It supports both desktop and mobile devices.
This is a less-known tool, but as per its users, it is one of the most sophisticated digital marketing analytics tools. Some of its services are content research, market research, competitive research, site audit, and much more. All these features together make Searchmetrics one of the most advanced alternatives to SimilarWeb.
Features:
It comes with an SEO performance tracking module that discloses your and your competitor's conduct on SERPs.
This platform renders competitive market analysis that supports you in analyzing the potential of expansion in international, national, and local markets.
Searchmetrics also comes with a distinct feature that offers targeted recommendations about SEO and traffic inflow to outperform your opponents.
Pricing:
Searchmetrics does not disclose its pricing plans. Hence, if you like its features and want to opt for this platform, you will have to get in touch with its sales team representative. Although, it feels better when there is transparency about the price plans.
Also Read: 20 Best Freelance Marketplace and Platform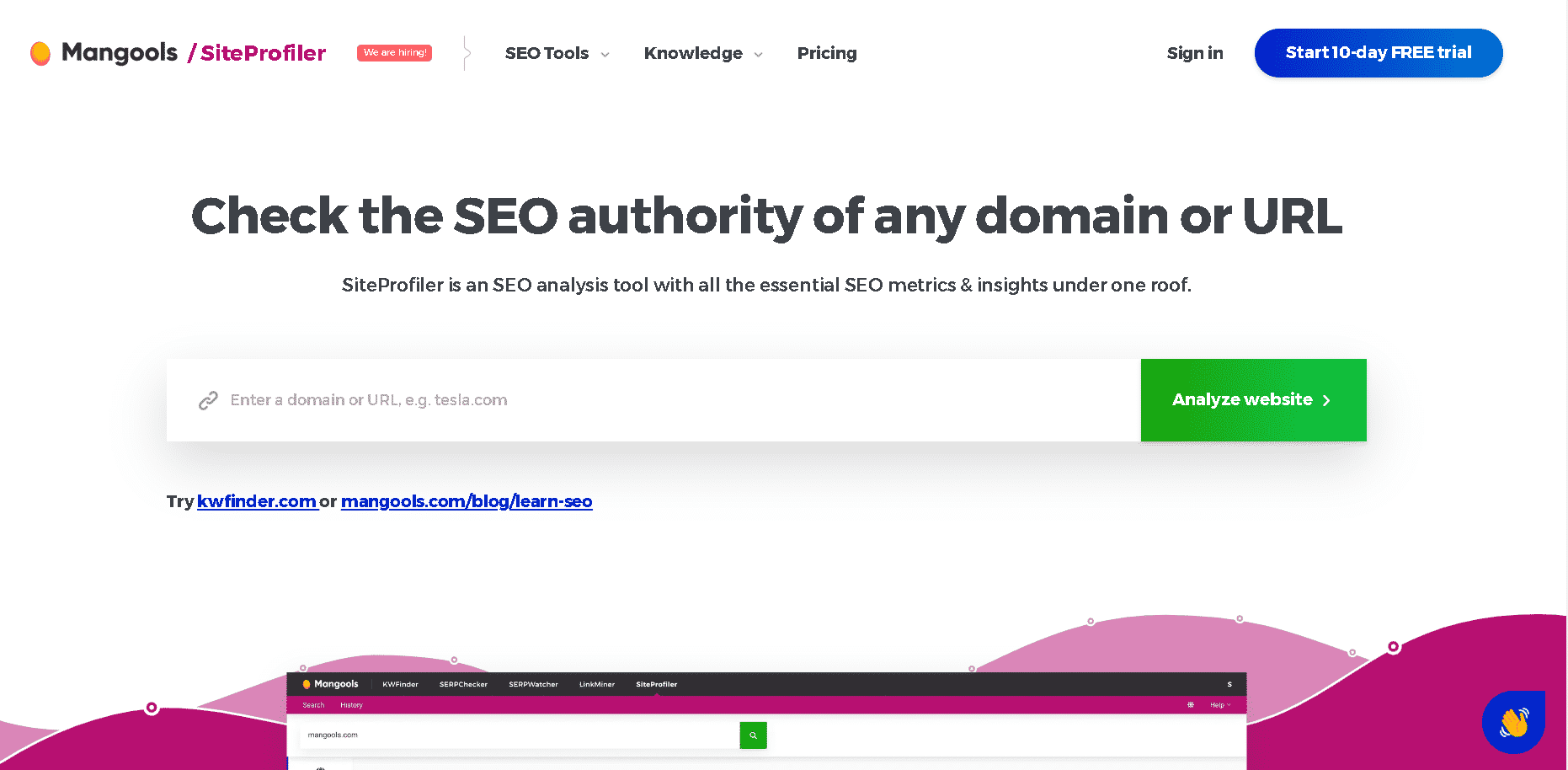 It is one of the leading SEO and competitive analysis tools. This platform was created by Mangools that is a popular brand in the SEO industry. This tool might sound new to you, but really it is a fantastic platform with some excellent features at reasonable prices. It is a great alternative to SimilarWeb not only because of pricing but is also very accurate.
You would be amazed to know that SiteProfiler uses numerous data points from third-party sources like Alexa rank from Alexa.com, Citation flow & Trust Flow from majestic.com, and Domain Authority &Page Authority from moz.com.
Features:
On Siteprofiler, you can easily find the pages that rank high on search engines.
The best part about this platform is that you can also get information on keywords that create most of the traffic and beat your competitor's website.
Similar to Similarweb, Siteprofiler comes with a feature where you can uncover similar sites.
You can also monitor and keep an eye on the real SEO authority of any site on the web.
It also helps in watching the backlinks profile and seeing how healthy the backlinks are.
Pricing:
Their pricing plan starts at $49/month and $29.90 per month if you opt for the annual plan, the premium plan is for $69/month and $39.90 per month if you opt for a yearly plan and the agency plan is for $129 and $79.90 if you opt for an annual plan.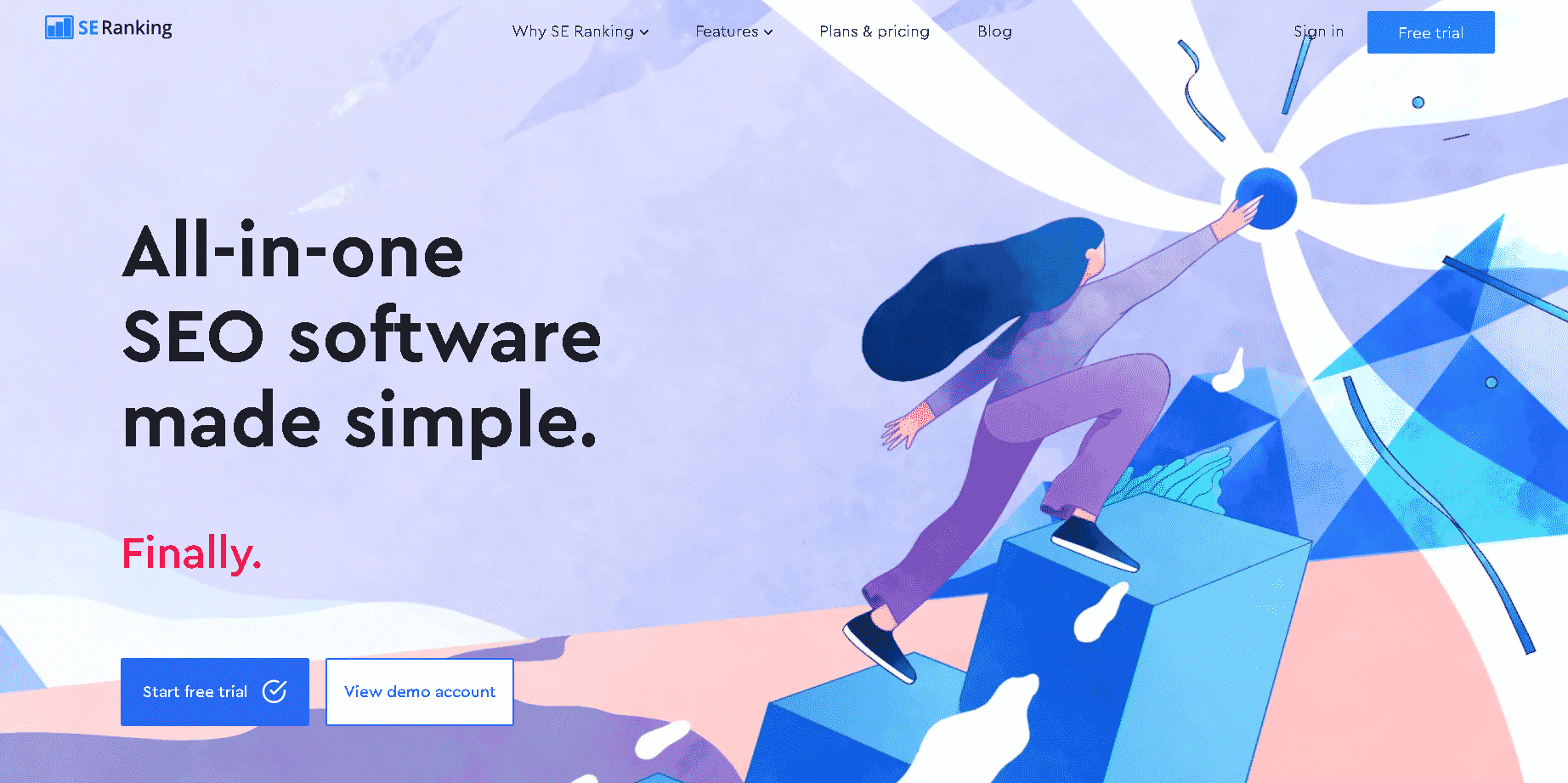 It is one of the best SimilarWeb alternatives because it provides its users with all the SEO and competitive analysis tools. People love using this platform because it is easy to navigate and very user-friendly.
SE Ranking helps learn the latest strategies from competitors. So whether you are an agency, business owner, freelancer, or SEO professional, this is the perfect platform for you to get insights on your competitor's traffic, keywords, and ranking.
Features:
It helps discover your competitor's PPC campaign plans and position in SERPs.
SE Ranking is the only alternative mentioned that also presents past data of advertisers plus their most renowned ad copies.
It is also said to be a one-stop solution for all the data required of your competitors.
Pricing:
The best part about SE Ranking pricing is that it is pretty flexible. They provide you with the option to select the billing cycle, plus you can also set the rank checking frequency as well.
They come with a 14-day free trial, which you can use and see if it's worth investing in or not. Some of its price plans are:
Optimum Plan ($39/month) – In this plan, you get a website audit for 40,000 pages, 100 competitor reports a day, 1,000 results in every report, and 1 user seat.
Plus Plan ($89/month) – In this plan, you get a website audit for 250,000 pages, 5,000 reports a day, 5,000 results/reports, and 3 user seats.
Enterprise ($189/month)– In this plan, you get a website audit for 700,000 pages, competitor reports limit to 10,000 a day, 100,000 results/reports and 10 user seats.
These were some of the best SimilarWeb alternatives & competitors; you can choose any as per your requirements, budget, and features.
Recommended: 15 Best Robinhood Alternatives
Were you able to find the best SimilarWeb alternative?
All the SimilarWeb alternatives mentioned in the list are equally good; it solely depends on your needs as per your business and, most importantly, budget. These tools can help your business get more power, creativity, and action-taking control in your online marketing campaigns.
It would help if you used them to increase traffic for your site, content ideation process, monitor and discover backlinking opportunities, and make better decisions for your business.
So, pick one and get ready to give a kick to your business that will take it to another level where you would see more growth and expansion that would for sure increase the revenue.