The big reason behind cryptocurrency's popularity is its volatility index. The crypto assets allow traders to make money through extensive price movements. One of the most recognized cryptocurrencies, Bitcoin (launched in 2009), has proven its worth impeccably. The current Bitcoin price, which is worth more than 35 lakhs (INR).
Undoubtedly, crypto assets are considered a renowned trading vehicle in India and worldwide. Being a trader, if you are looking to ride the waves to profit, it is also imperative to understand that risk involved by investing your money in cryptocurrency is also high.
There are plentiful ways to trade in the crypto market. Some investors opt to own the cryptocurrency directly, while others may turn to the futures market. Entering the futures market can magnify your gains (along with losses) as traders can leverage their money to 10 times. However, the futures option is only recommended for skilled investors having extensive experience in this market as it involves extraordinarily high risk in exchange for that potentially high reward.
Want to jump into the world of cryptocurrency? Wait! Before that, you need to know the best cryptocurrency brokers providing you with an option to invest in crypto assets. But, before informing you of the best crypto exchanges, it is vital to know the basic elements of cryptocurrency.
Things You Need to Know Before Investing in Crypto Market
Listed below are some key terms used by cryptocurrency market operators just like other financial markets:
1) Decentralization- All the cryptocurrencies are decentralized, which means there is no centralized place to transact the crypto, and you can only eliminate the high transactional fees while transferring funds. No person or entity has control over any cryptocurrency; it is because the crypto tokens are maintained through a ledger technology called blockchain, which encourages transparency and enables your transactions/assets to be safe and secure.
2) Blockchain- It is a technology-based on which the entire crypto market functions. The technology helps to record the transactions of the growing list of crypto assets in a peer-to-peer network.
3) Block- All the financial transactions are recorded on a digital ledger occurring recurrently on a blockchain.
4) Cryptocurrency Wallet- It is a digital wallet solely responsible for holding crypto assets. The wallets are used to send, receive, and store digital currencies. The wallets comprise 2 types- the first one is a cold wallet, which is used for storing crypto coins in an offline environment. The other type of wallet is hosted wallet, hosted by 3rd parties to provide robust security for stored crypto assets.
5) Cryptocurrency Exchanges- The platforms where an investor is allowed to buy, sell, and hold crypto assets in exchange for their fiat currencies or other crypto assets are known as cryptocurrency exchanges. They are also called digital currency exchanges.
6) Distributed Ledger- The distributed ledger connects the decentralized nodes to the network where all the financial transactions and other data are recorded. The ledger can either be permissioned or private.
7) ICO- ICO (Initial Coin Offering) is a process in which the discount is offered to the first set of investors on the newly launched crypto coin. ICO is the first step a company takes to raise their funds to support their coin's development and maintenance.
8) Fork- Also known as the Split Chain that builds an alternative version of a blockchain after leaving 2 blockchains running simultaneously.
9) Mining- A computationally-intensive process of adding new cryptocurrencies by solving cryptographic equations and verifying transactions on its distributed ledger. Every miner is rewarded with a certain set of crypto coins for their successful compensational efforts.
16 Best Cryptocurrency Brokers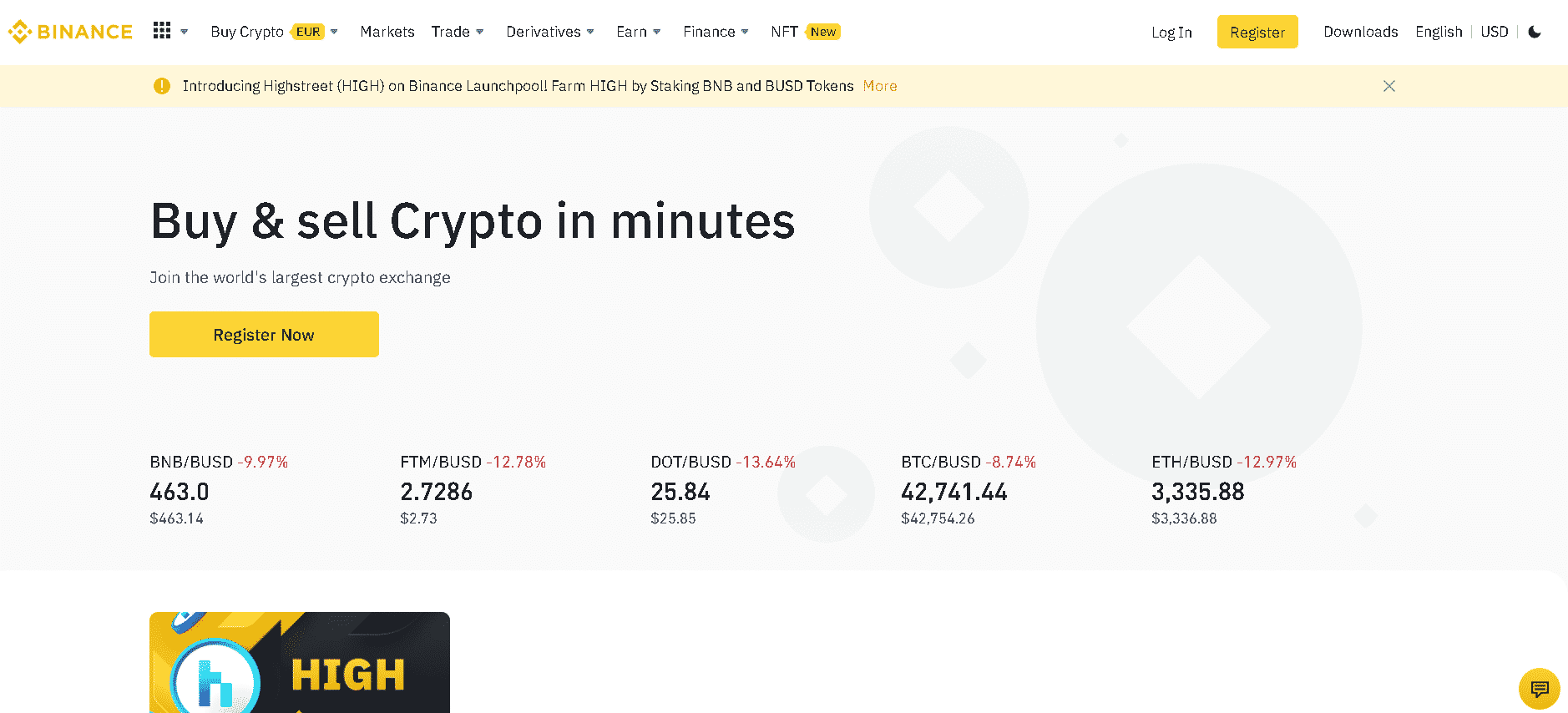 One of the best cryptocurrency brokers and exchanges worldwide is Binance. The platform is exceptionally secure and reliable.
Binance is a simple, user-friendly platform that allows investors to buy, sell, and store digital assets on its exchange. The platform has entirely changed the definition of trading & investing by providing a myriad of trading order types, including market & stop-loss limits, futures contracts, and limits. It also serves as a useful tool for checking 52 weeks high price, 24 hours low, and trading volume of a particular coin.
The platform offers a wide range of coins to trade (more than 300). The best part is the transaction charges implied by Binance are nominal. Plus, you will be getting high cyber security compared to all other platforms. So what else you want, Ah?
Also Read: 15 Best Staking Coins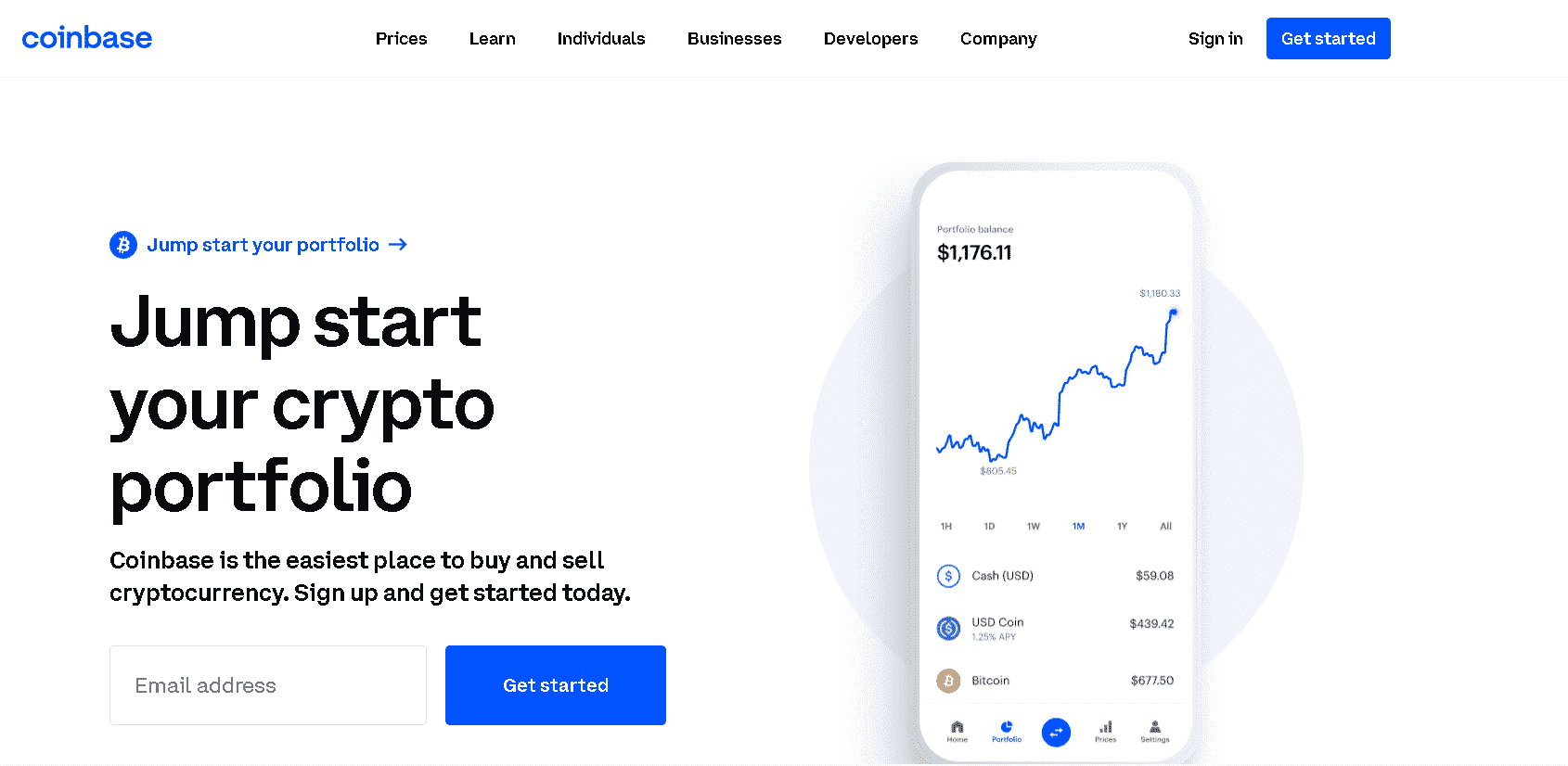 The platform offers 70+ cryptocurrencies to all its 65+ million users. One of the best features of coin base is that it follows an easy registration process with quick approval, so the new users need not wait long to start trading.
Coinbase also offers its users multiple deposit options and crime insurance cover against cybersecurity breaches.
The fee charged by Coinbase is also nominal, ranging from 0.5% to 4.5% as per the type of transaction. Plus, the exchange is secure and ensures that all your digital assets are safe if there is a hack.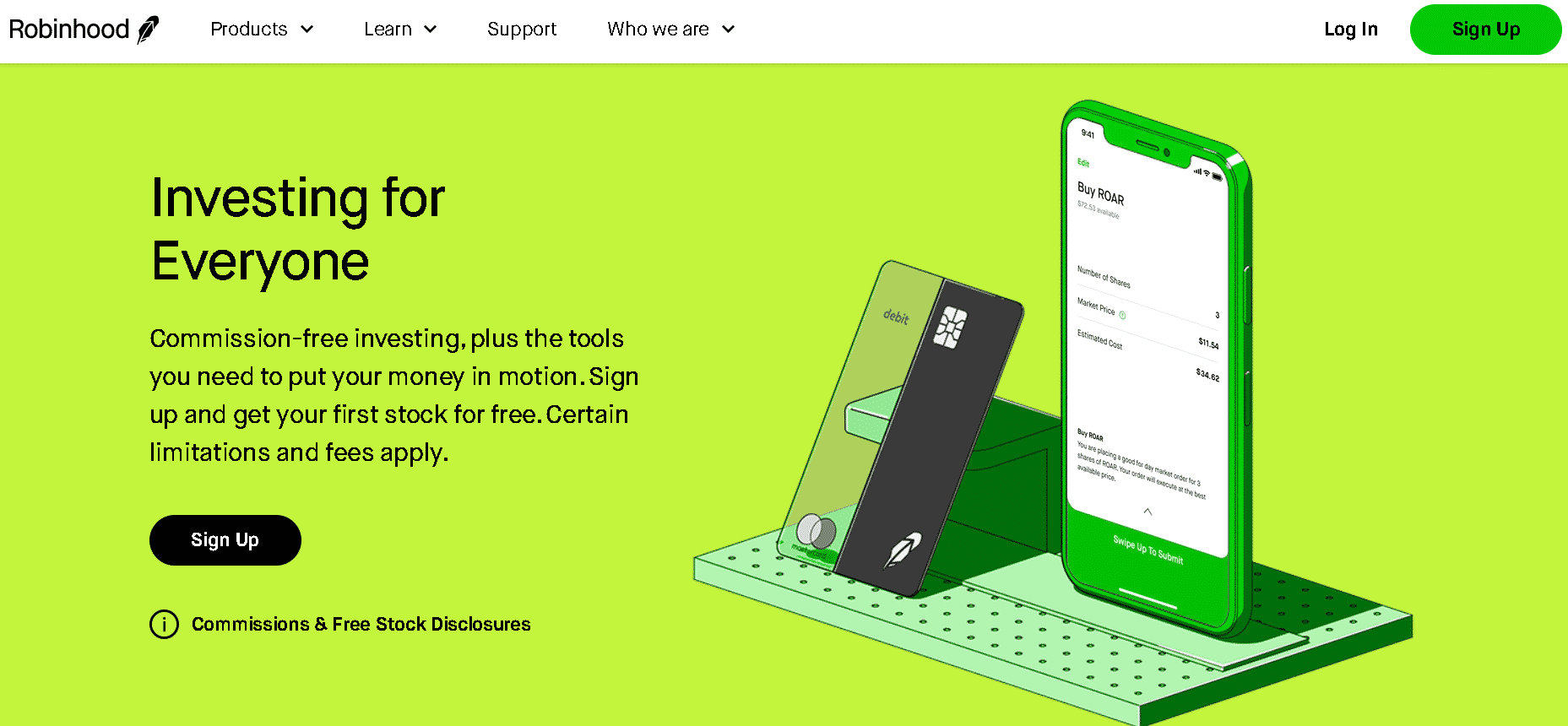 Robinhood provides an easy-to-understand layout without any whistles and bells other exchanges offer. Even if you are a beginner, you can swiftly master the streamlined platform.
All you need to do is transfer the funds from your bank or debit card and purchase a crypto asset you want to, at the current market price. Also, you can effortlessly access the account statements and tax documents through this platform.
The platform is entirely transparent as brief explanations are written against every buy/sell order to help you learn to trade quickly. Users can also access Robinhood Gold features by keeping a minimum balance of $2000. However, standard accounts are not required to hold any minimum balance.
If you are looking to trade with a small amount, the platform serves as one of the best crypto exchanges.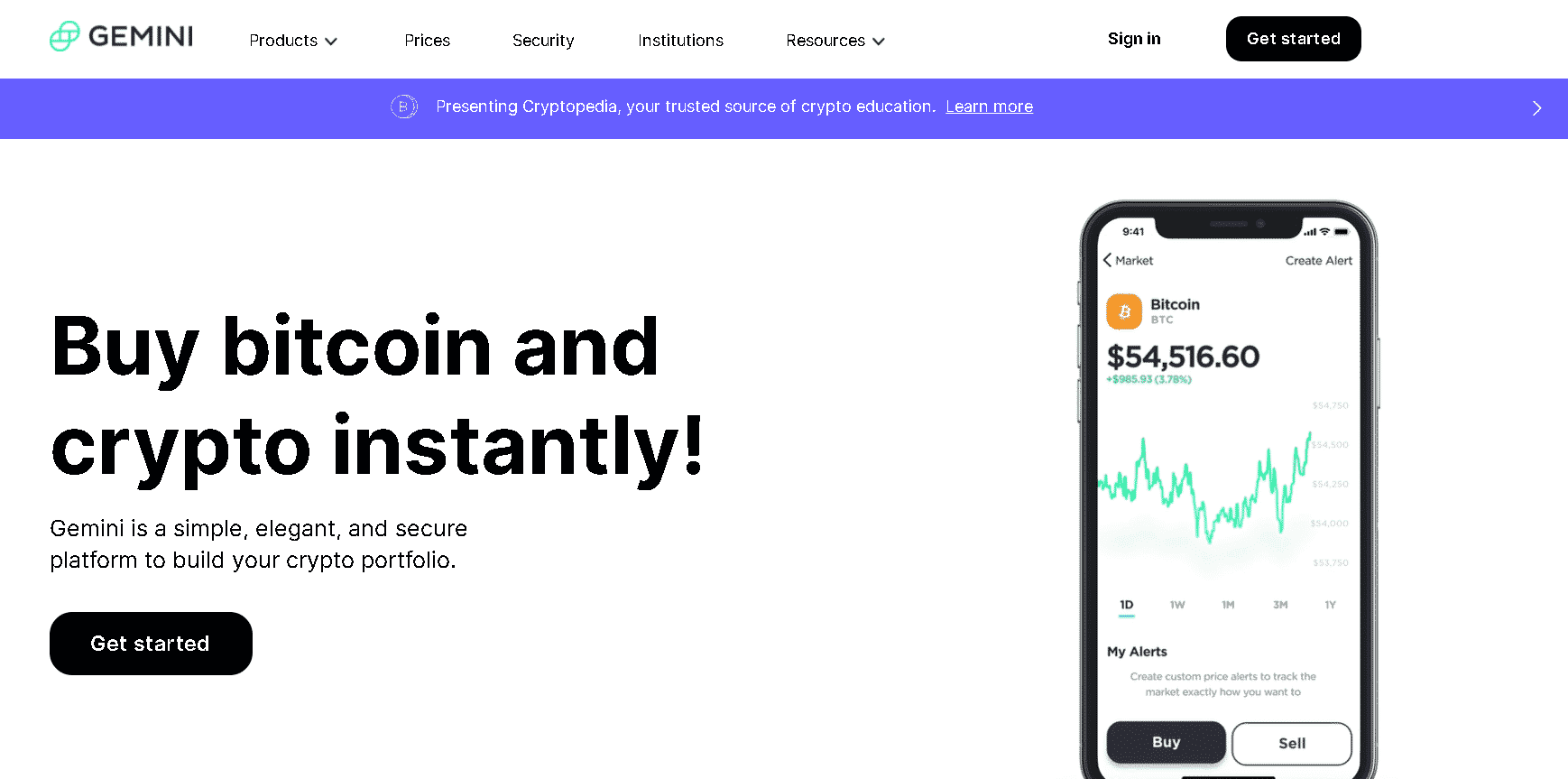 The platform follows a structure quite similar to Coinbase. The trading fees depend on the purchase amount. However, a fixed convenience fee is charged for 0.5%.
It is a massive crypto broker as it offers its users 600+ crypto coins. It proves to be an excellent option for active and advanced traders who do not want to opt for common altcoins.
Gemini app is also available on the app store. Plus, the app helps you track altcoins prices and real-time market prices. It also allows you to set price alerts to enable you to act promptly on price movements.
The platform is also equipped with an advanced feature allowing you recurrent purchase on all cryptocurrencies it offers.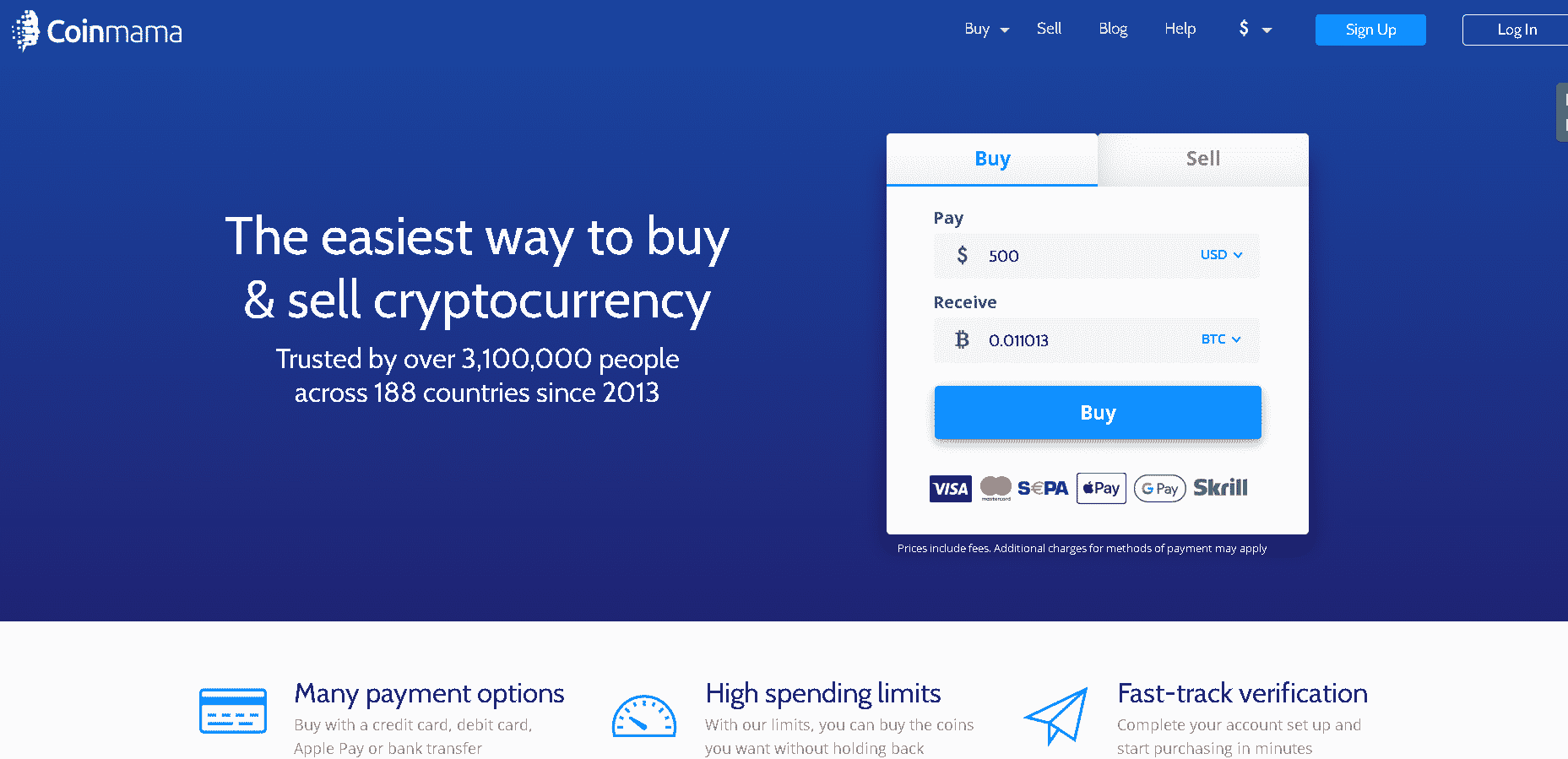 One of the best Cryptocurrencies brokers, Coinmama is a secure and legitimate platform. The exchange offers 10 altcoins to its users.
The platform does not charge any withdrawal fee, unlike many other platforms; however charges a higher trading fee of up to 5.5%, which is quite higher than many other recognized crypto brokers.
The traders are allowed to purchase crypto assets via bank transfer, credit/debit cards, SWIFT, and Wire transfer.
Also Read: Top Cryptocurrency Exchanges In India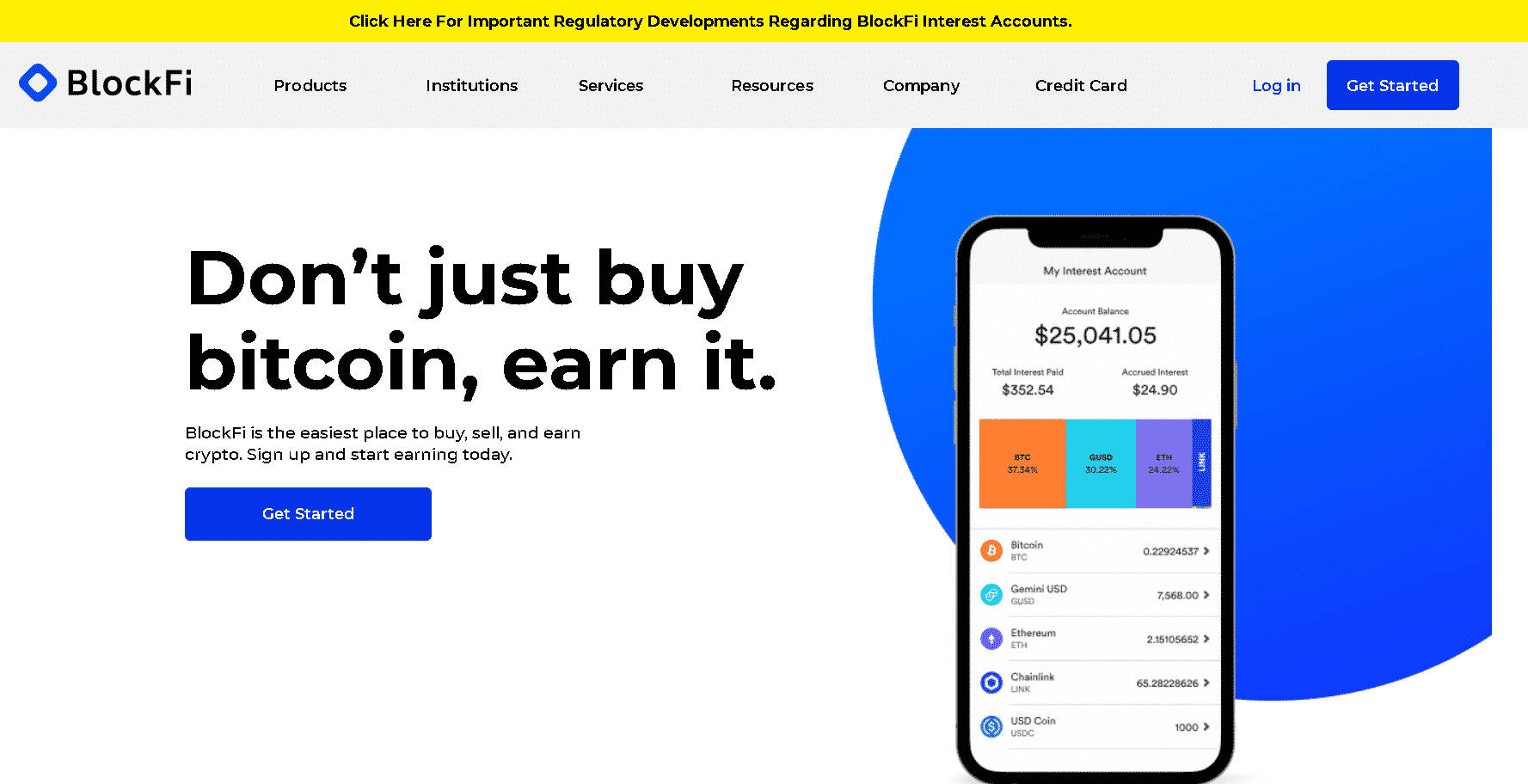 Besides providing 8 altcoins to all its users, the platform allows you to maximize your crypto balance through BIA (BlockFi Interest Account). Isn't that what you were looking for?
The crypto broker offers you a choice of earning money by appreciating the value of your portfolio by allowing you to earn interest of 8.6% on stablecoins and up to 6% on Bitcoin. Moreover, the exchange offers an interesting feature of allowing you to calculate how much interest you will earn for a cryptocurrency balance in your BIA for a specific time period. This feature helps you store your crypto assets with peace of mind.
BlockFi is free to use with no minimum account balance requirements. Plus, it is very easy to open and get approval on this BlockFi. Still, thinking? Go for it, open your account, and start earning interest on all the altcoins you purchase.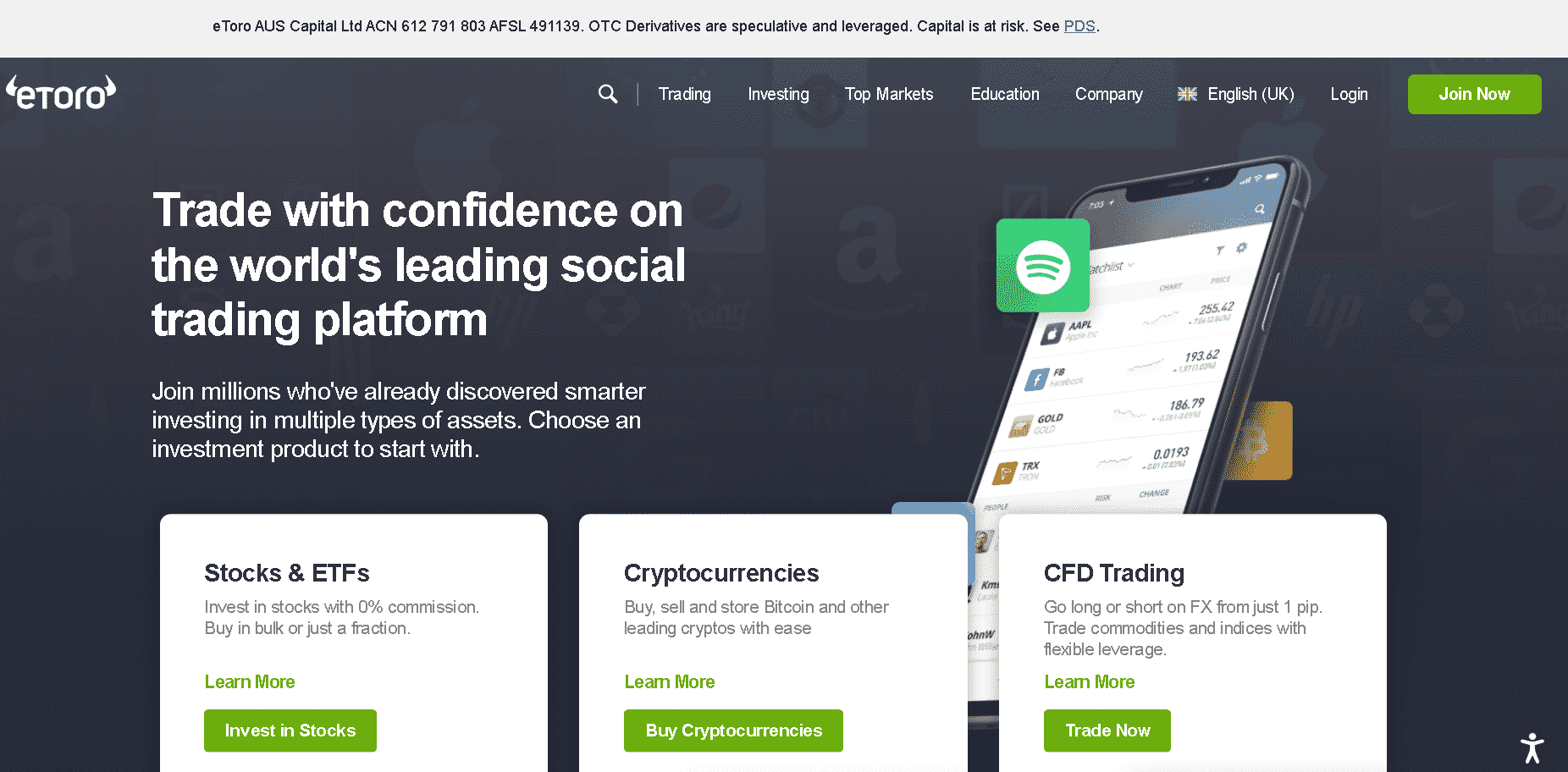 eToro is one of the best cryptocurrency brokers, especially for newbies/beginners and semi-serious investors, as it provides users with a helpful demo account training feature. The platform offers a user-friendly interface and provides you with a wide variety of coins to choose from. You simply need to deposit the money into the eToro account and start investing. As simple as that!
You can view all the coins you have purchased from the portfolio tab. You can check your coin's purchase price compared to the current market price in your portfolio and make a decision to add that coin more, sell it completely/partially, or store it.
eToro is an ideal crypto exchange if you like to play in recreational trading. The platform also offers an astounding feature by allowing traders to copy move-for-move options (of renowned traders), helping automate your investment strategy.
The platform offers 14 cryptocurrencies that can be purchased with PayPal, bank transfer, and debit/credit cards.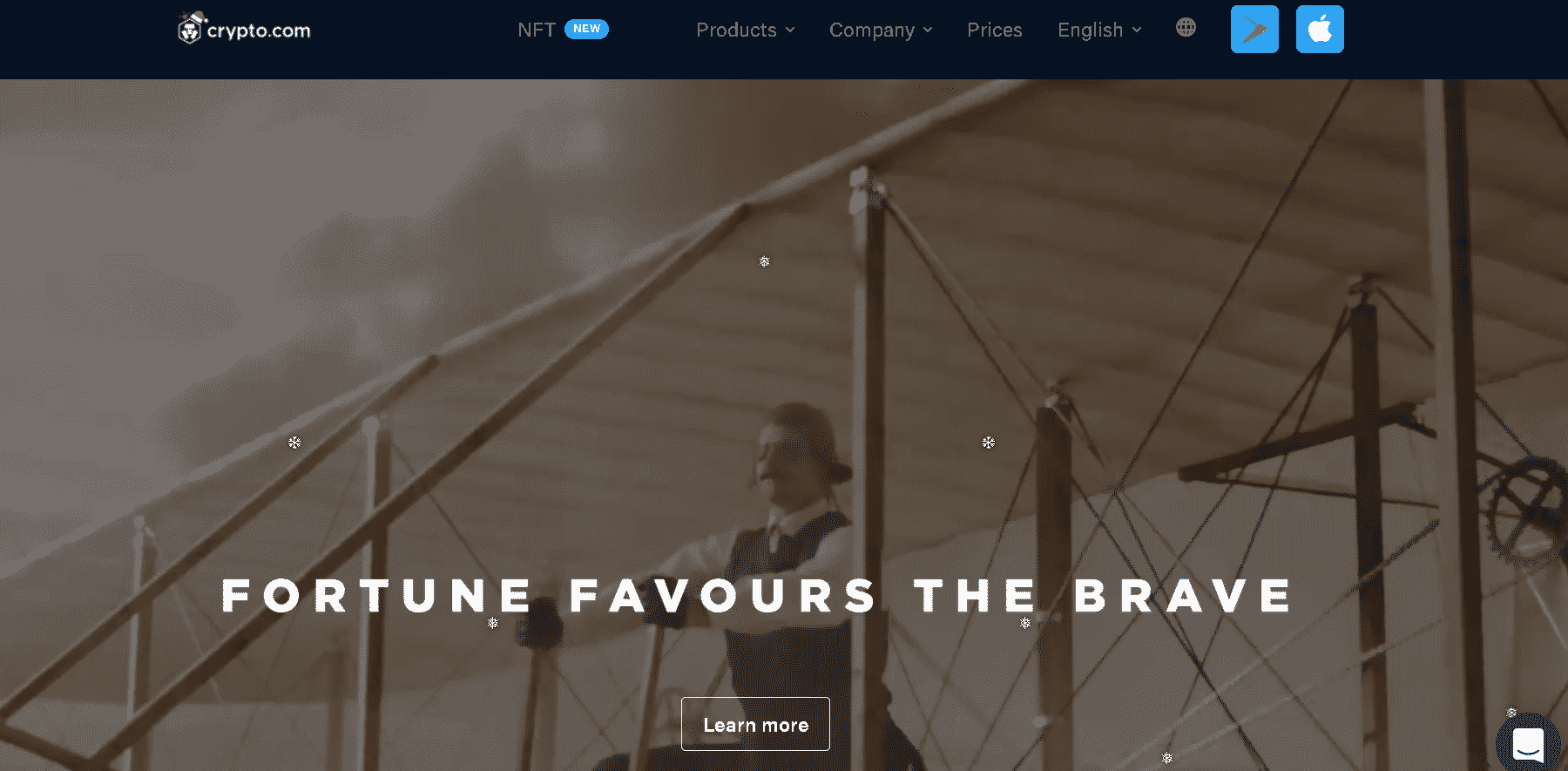 Open an account with Crypto.com and get a crypto reward debit card and avail of coin-based rewards.
The secure platform provides a sheer amount of altcoins, more than 70, along with unique perks such as limited margin trading, high cybersecurity settings, and availing considerable discounts on trading fees of up to 8% back on debit cards spending.
No minimum balance is required on crypto.com. It implies you can top off your bank account directly with cryptocurrency either from its website or mobile app.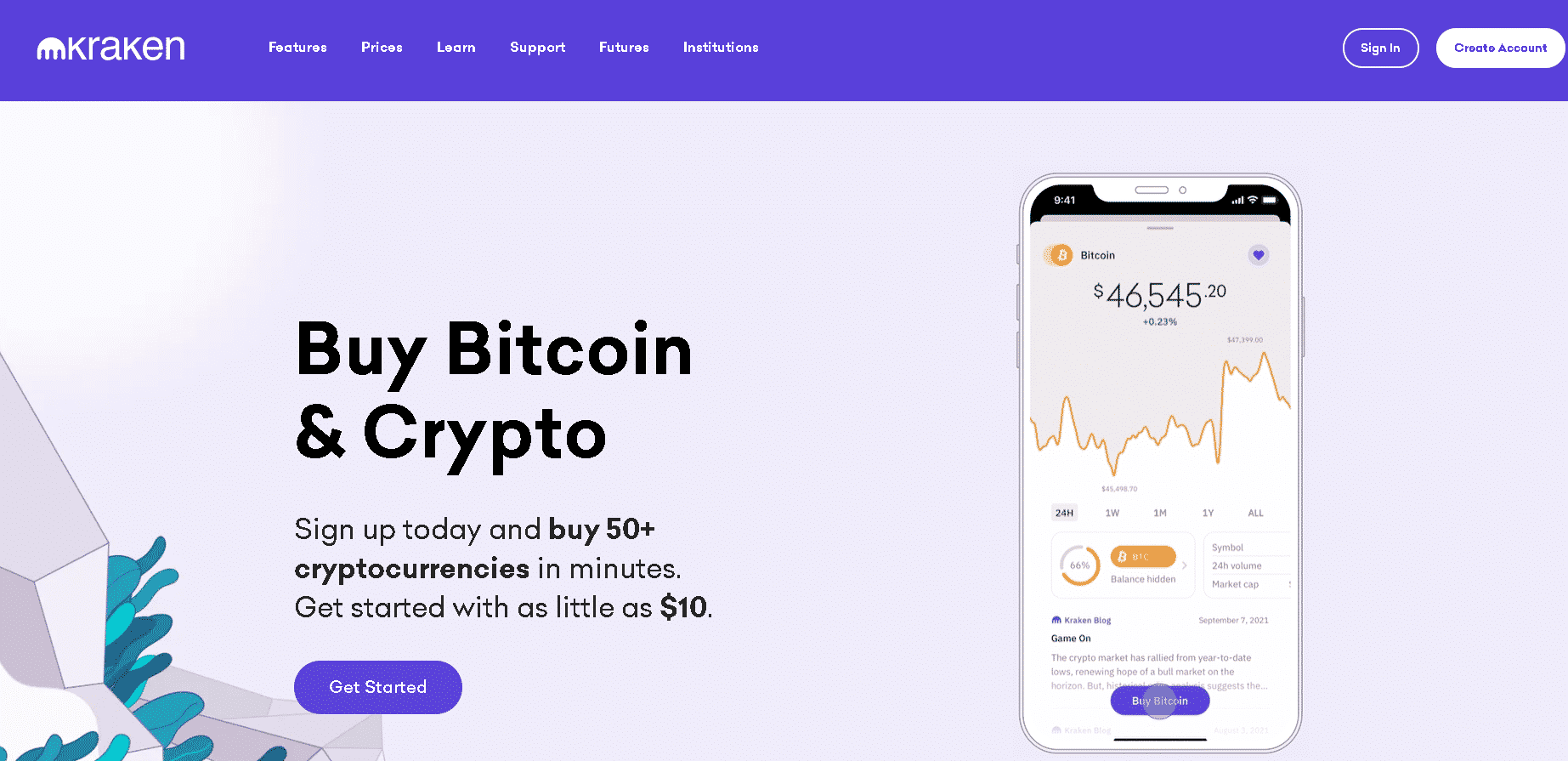 Kraken is one of the oldest and recognized crypto brokers founded in the paleolithic era of cryptocurrency in the United States in 2011. Kraken offers a wide array of coins with nominal trading fees.
Other attractive features this platform offers include margin, price trigger feature, setting stop-loss limit, and many other features that may appear intriguing for advanced users.
The platform has high-security ratings that ensure your digital assets are safe against any cybersecurity breaches.
Also Read: 11 Best Cryptocurrency Apps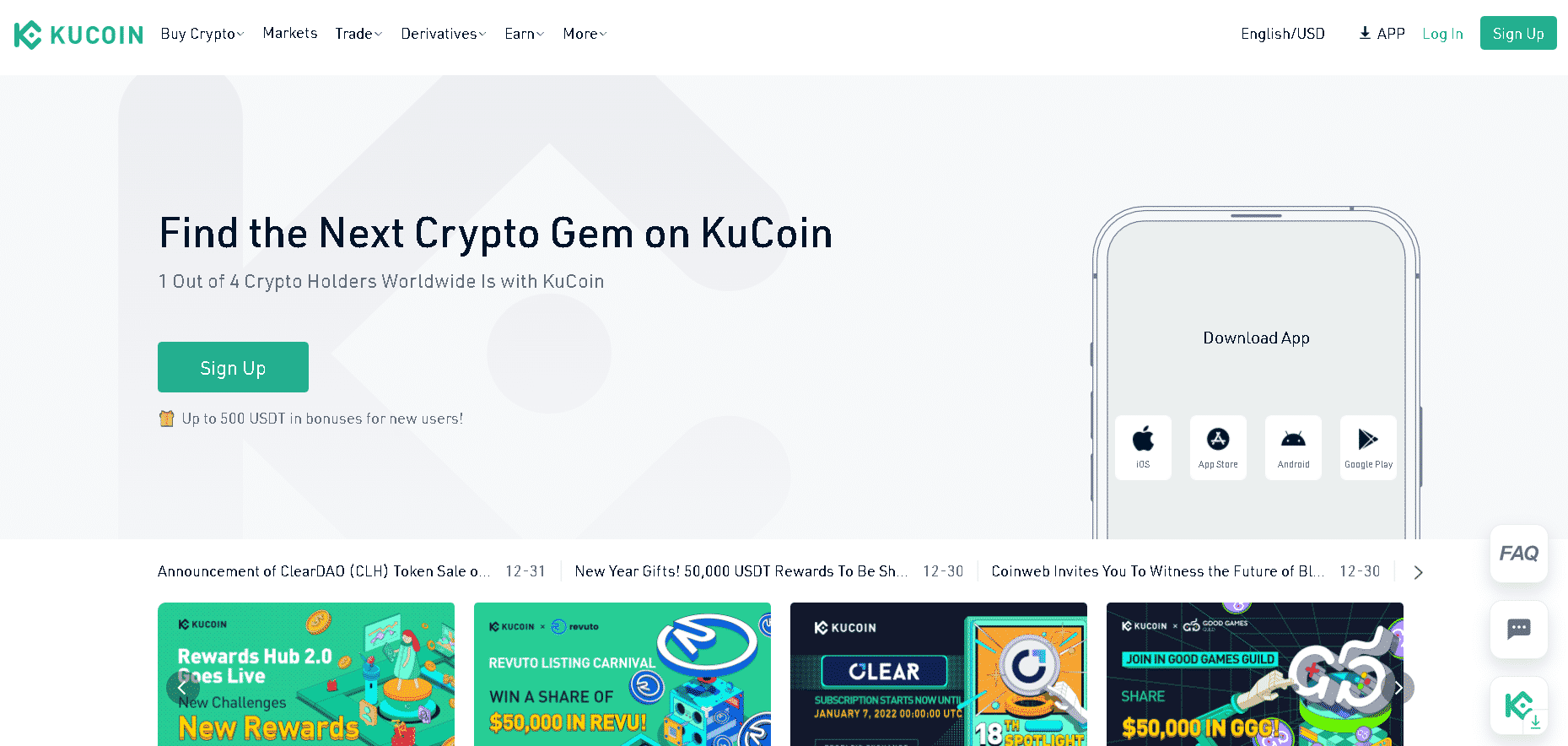 KuCoin is an impeccable crypto broker if you want to trade with a sheer amount of coins, more than 200, with low transaction fees starting from 0.1%. Moreover, it is an easy-to-use platform that opens an account instantaneously without extensive verification upon sign-up and does not require deposit fees.
The platform offers automated and margin-based trading. Another benefit available exclusively for users paying with KuCoin's proprietary KCS stablecoin includes the significant reduction in original transaction fees, up to 20%.
Furthermore, KuCoin enables you to deposit funds in over 40 fiat currencies via bank transfer (ACH), Interac e-Transfer, and PayPal.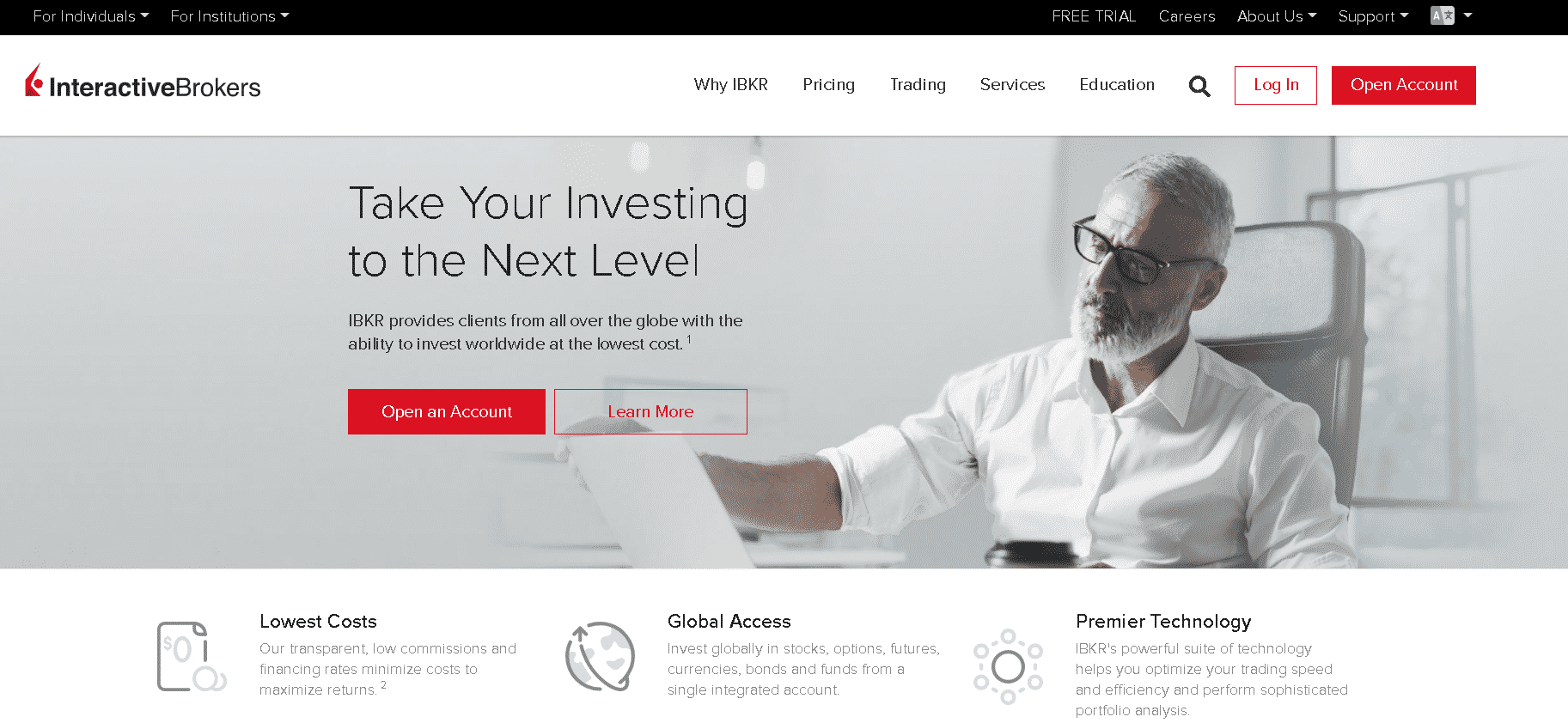 Want to play big in less amount? Interactive Brokers is an ideal platform for you if you want to buy futures contracts.
The crypto broker allows you to buy futures contracts by charging $15.01 with 5 bitcoins per contract. The best part is you need not invest all the money. Instead, you will be required to block a portion of your money to buy a specific contract. It implies you will not own the currency directly, which can lead you to earn big/lose big depending on the price movements in the currency you have purchased a futures contract for.
The broker offers you 4 cryptocurrencies, including Bitcoin, Ethereum, Litecoin, and Bitcoin Cash.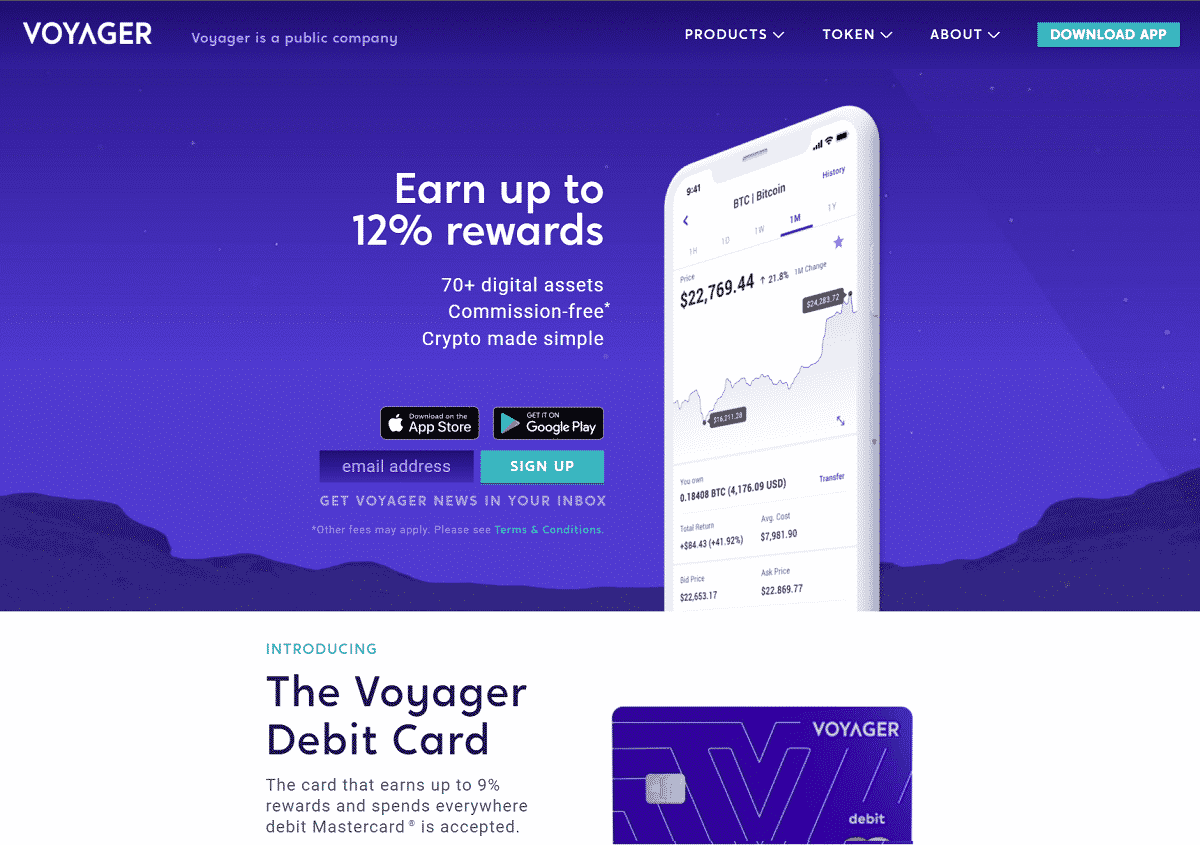 Voyager provides you access to several reputed and secure crypto exchanges to provide you with faster, seamless, and reliable execution of your funds in exchange for the right choice of crypto assets
Primarily, the platform is partnered with different cryptocurrency brokers, which helps you fetch a competitive price on your trades or the currency you are looking to buy. Voyager is one of the best crypto brokers because the platform operates commission-free to help you save money.
It has been reviewed that all the orders placed through Voyager achieve immense price improvement on over 90% of customer orders.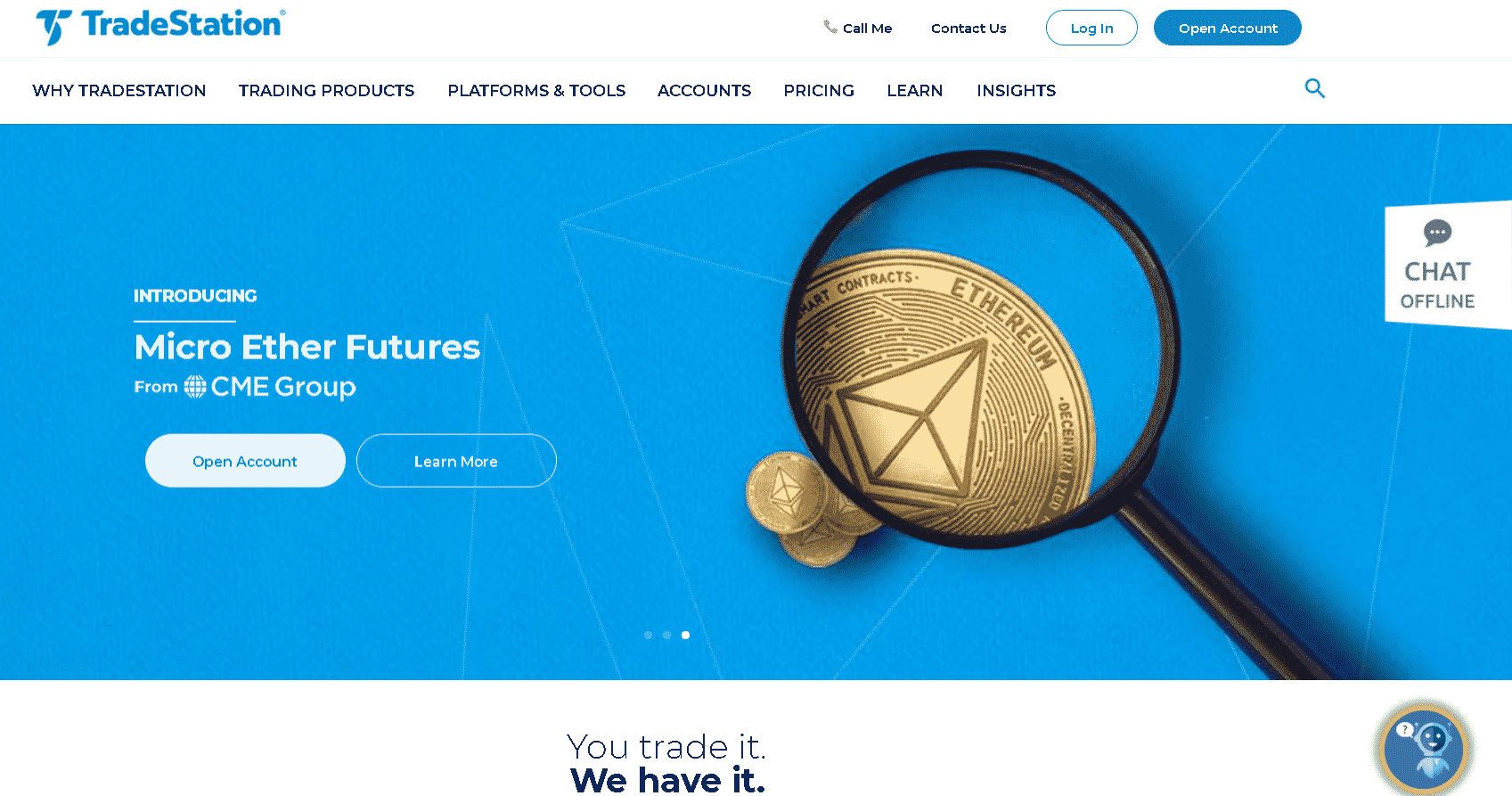 The investors are offered multiple options for trading. The platform has also introduced direct currency trading via TradeStation Crypto, which showcases the prices to traders after charging the commission, promoting transparency.
The trading fees range from 0.05% to 0.3%, depending on your type of transaction. The pricing structure may also vary depending on whether your order is directly marketable or not.
The platform helps you take advantage of substantial volume trading accounts by allowing you to buy/sell bitcoin futures.
Also Read: How to Make Money with Bitcoin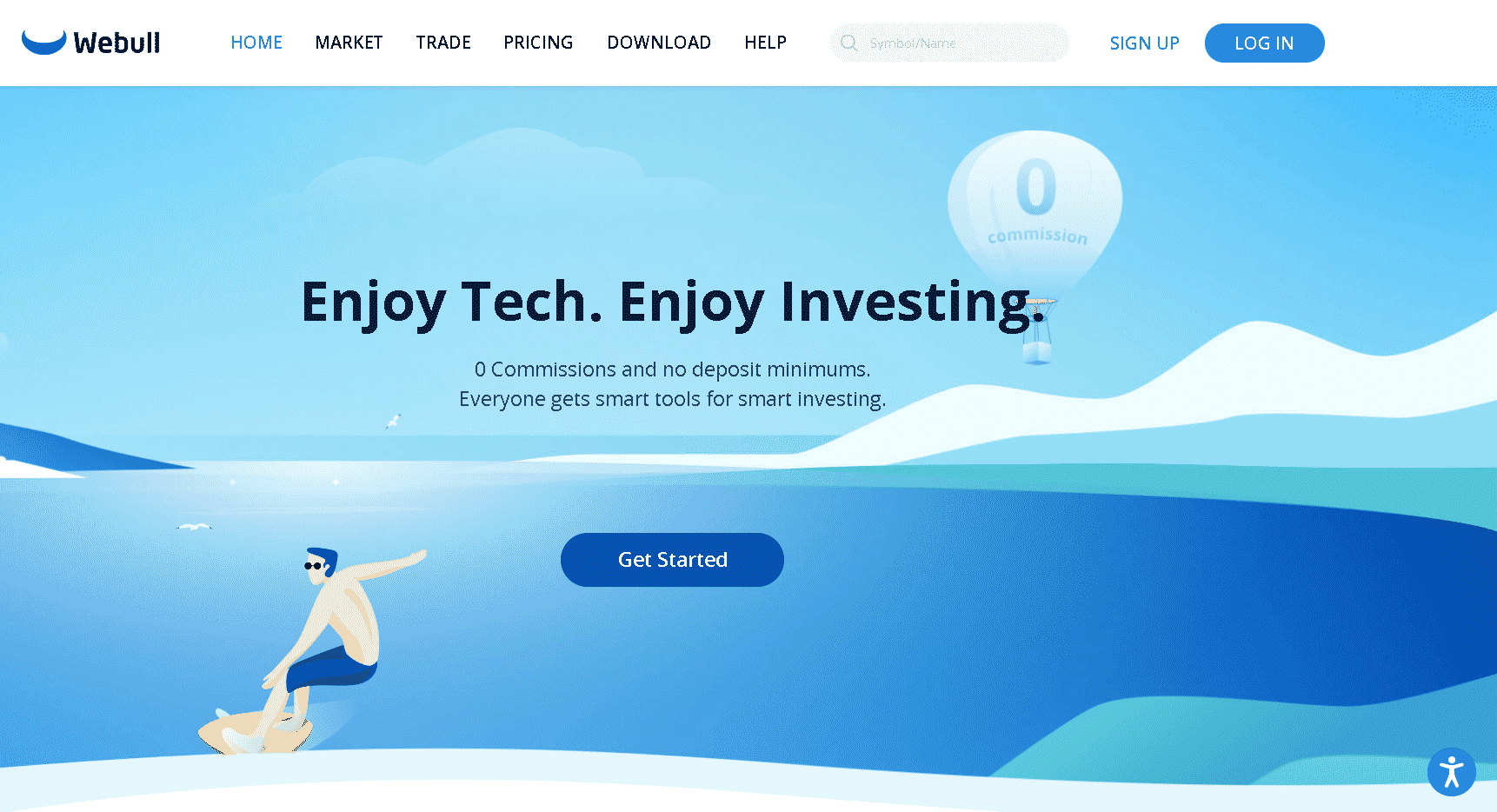 The most intriguing aspect about WeBull is that users do not own crypto assets. They do not even have any access to any of them. It means they are not allowed to transfer crypto-assets outside of the platform. However, they are only allowed to trade their crypto and yield high returns in fiat currency. Isn't it great?
It is a one-stop solution for all types of investors as it offers a wide array of cryptocurrencies such as Bitcoin, Ethereum, Dogecoin, and many others. In addition, investors are allowed to trade over this platform instantaneously, which is imperative to extract profits in this highly volatile market.
The platform also offers immense flexibility to all types of investors by using trading indicators and real-time data. Thus, it helps them make the decisions of which crypto asset they would opt for. Plus, the minimum account balance requirement is only $1, which removes barriers for the new investors to trade through this platform.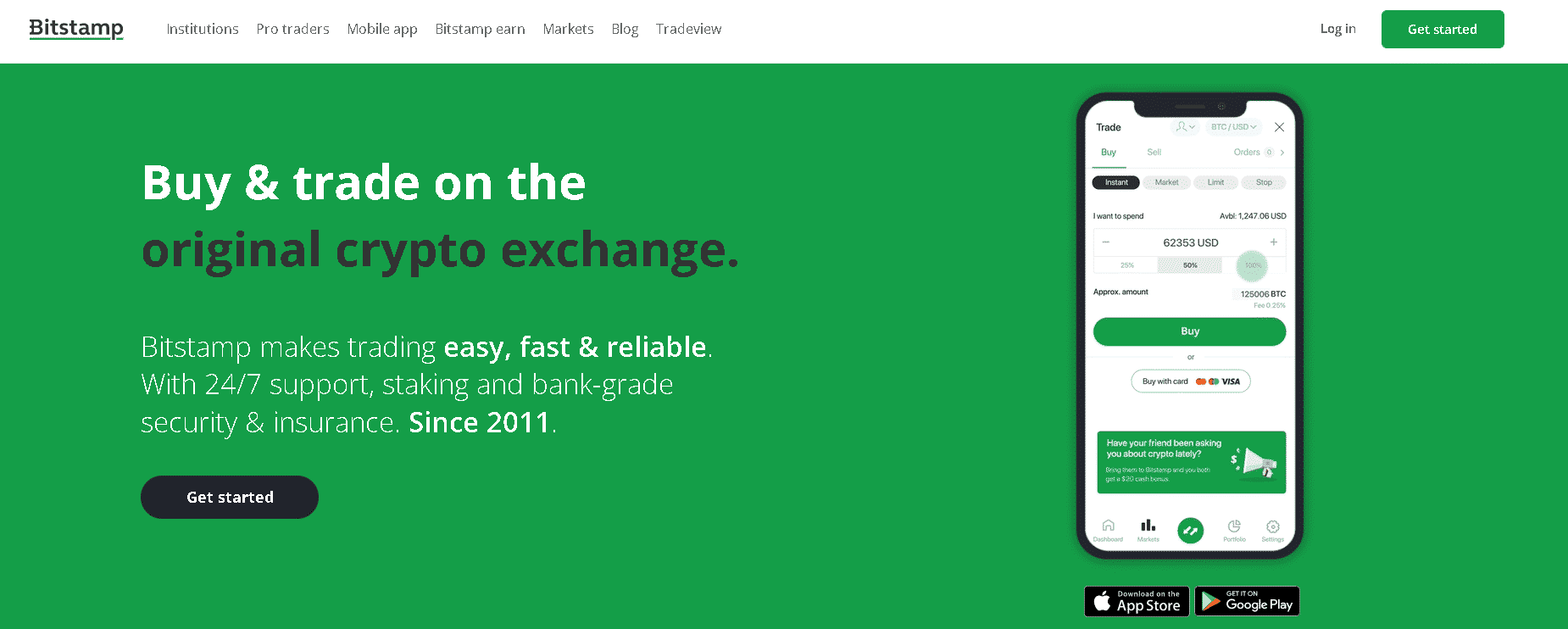 Based in Luxembourg, Bitstamp is one of the oldest cryptocurrency exchanges founded in 2011. The platform provides limited cryptocurrencies, including Bitcoin, Ethereum, Litecoin, Ripple, Bitcoin Cash, USD Coin, PAX, XLM, Link, and OMG Network.
The platform is best known for charging low trading fees for all cryptocurrency users. Plus, it provides high security against hacking and ensures your digital assets are in safe hands. Bitstamp also offers advanced charting capabilities, especially for active traders.
Bitstamp is primarily recommended for experienced traders, as it is equipped with functionalities that may confuse newbies or amateur investors.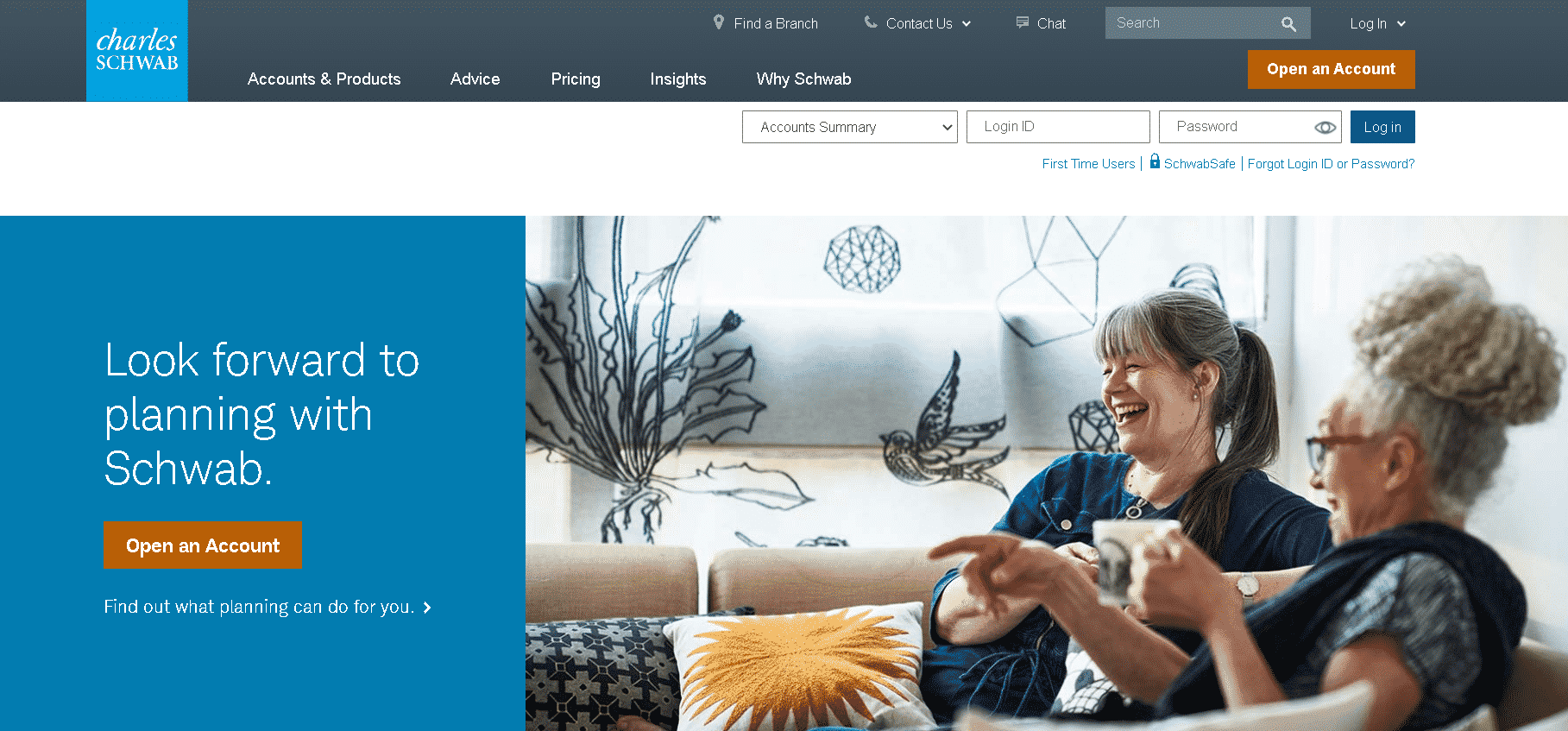 Another best crypto broker that deserves to be mentioned in this list, Charles Schwab, provides an intuitive interface. The platform offers to trade in Bitcoin futures.
The best part about this crypto broker is that it does not require you to keep a minimum account balance. However, you will be asked to keep some margin of the transaction for holding any futures contracts.
You will be eligible to receive a welcome bonus if you are able to bring money to the table, as the platform offers a captivating commission of $1.50 per contract.
Also Read: Top 15 DeFi Lending Platforms
Cryptocurrency – Pros and Cons
As you know, the amount of risk involved in trading or investing in the world is very high. But, simultaneously, the possibility of making quick money and yielding higher returns is also one of the lucrative facts due to which ample investors are captivated and yield higher returns.
Numerous investors have witnessed the ability to be immersed with this business as very satisfying and an inevitable shortcut to success, which is also driven by other factors such as knowledge, skills, luck, patience, risk-taking capacity, and timing.
However, the volatile crypto market has some upsides and downsides. Therefore, before investing your hard-earned money, one should understand the pros and cons and make a decision accordingly:
Pros:
1. Low Transaction Fees- Best cryptocurrency brokers eliminate intermediaries like financial institutions. Also, a majority of the exchanges imply low transaction fees on all crypto transactions.
2. Secure- One of the best parts about these digital currencies is the strict security protocol it adheres to. Usually, the technology advancement leads to increased intrusions of your privacy and hacking.
However, all the factors are deeply gauged and designed once after considering all the possible flaws that can boost the morale of a cyber-criminal. In addition, all transactions and assets are completely secured in the digital currency environment.
3. Yielding Higher Returns
The potential of yielding returns by investing in cryptocurrency is great. If you make wise investment decisions, the crypto stream can help you develop and expand your wealth to a great extent and translate into higher returns in the future than all other investments/businesses.
4. Decentralized- One of the biggest advantages of investing in cryptocurrencies is that all crypto assets are based on blockchain technology to record transactions. In addition, cryptos use encryption techniques to control the creation of the monitory unit and verify the funds' transfer process.
Cons:
1. Volatile- The crypto market is highly volatile in nature, making it extremely risky. As observed, some digital currencies have made some investors millionaires, while other crypto assets have proven out to be worthless, due to which those investors have to bear a huge amount of losses. Thus, it is said that crypto investment is not a good idea for everyone, especially those with a low pain threshold and aversion to risk.
2. Taxes- According to the IRS (Internal Revenue Service), All digital currency transactions are taxable under the law, just like any other transactions in other businesses.
3. Acceptance- Most businesses do not accept cryptocurrencies as the medium of exchange, limiting them to a specific jurisdiction. However, the situation is changing with time as some platforms/payment gateways have started adopting crypto assets as forms of payment, such as PayPal.
4. Illegal Activities- Virtual currencies are also being used for money laundering, drug & human trafficking, and dark web transactions. The crypto accounts can be registered in exchanges once you provide your personal and bank details. It has motivated many people operating outside the law to use digital currencies for illegitimate activities.
What Factors to Consider When Choosing a Crypto Exchange?
Choosing the best crypto exchange can be a complicated process. Therefore, it is imperative to look for the points mentioned before choosing a crypto exchange to trade, buy, or sell the crypto assets:
1) Method of Purchase
Different crypto exchanges offer distinctive methods of payment to purchase cryptocurrencies. For example, some platforms support bank transfer, credit/debit cards, while some use PayPal and bank transfers only for purchases. So, always ensure what method suits your requirements, and hence, opt for the exchange accordingly.
2) Security and Authenticity
The foremost important characteristic to look at before investing your money through any exchange to buy any crypto-asset is legitimacy and security. The platform you choose must not support malicious activities and provide robust security to secure your crypto assets. As traders have lost billions of dollars to scam platforms. So, do not forget to check the reviews and ensure the reputation of the platform.
3) Transaction Fees
Platform charging higher transaction fees will lower down your profits. So, opting for those who charge a nominal commission on all purchases and sales will be better, especially if you are into short-term trading. However, some platforms charge a hidden transaction fee, so always ensure that your platform follows a flat transaction rate structure.
4) User Experience and Customer Support
Being a cryptocurrency trader/investor, choosing an exchange with an intuitive interface and impeccable user experience is significant. It will allow the investors to trade the crypto assets seamlessly. In addition, check the customer support services of the crypto exchange before putting your money into the platform.
5) Coins Offered
Predominantly, the best crypto exchanges offer Bitcoin and Ethereum on their platform. However, there are plentiful cryptocurrencies nowadays (thanks to the cryptocurrency miners), and many investors are looking to gain exposure to rare coins whose trading volume is low. So, a few platforms like Binance offer thousands of cryptocurrencies to grant huge exposure to investors.
Other important factors to consider include:
Minimum deposit to open an account
What are you allowed to trade with each broker
Trading platforms offered by the crypto brokers
Spread type for each brokerage (If applicable)
Also Read: 12 Best Penny Cryptocurrency to Invest
Why do Cryptocurrency Brokers Need To Be Regulated?
Regulatory management needs to be stipulated to keep a check on crypto brokers and exchanges. It lowers the risk of an investor and helps them ensure they are working on legal grounds.
The regulation also ensures that the broker is involved in legitimate activities and protects its users from all cybercrimes such as hacking. As a result, little or no regulation might lead to poor services and financial harm.
Another purpose behind broker's regulation is to separate the agent's working capital and client's funded account and stop fraudulent activities if they are taking place. The client money is not allowed to be used to conduct the business, which is ensured by regulating the crypto authorities.
Difference Between Cryptocurrency Exchange and Cryptocurrency Broker?
1) Crypto Broker
A cryptocurrency broker is an individual, company, or entity allowing you to buy or sell crypto assets at their prices. They act as an intermediary between the crypto market and the investor and simplify buying and selling crypto on mobile trading platforms or desktops/laptops. Before investing your money and investing through a cryptocurrency broker, always make sure that it has a good reputation and substantial user base.
2) Crypto Exchange
In contrast, cryptocurrency exchanges are online platforms where buyers and sellers meet to undergo digital coins trading. These platforms promote transparency in the entire process of buying and selling crypto assets. Furthermore, it allows the investors to buy/sell the crypto coins based on the current market prices.
Some crypto exchanges allow fiat-to-fiat trades, while some provide an option for crypto-to-crypto trades.
Note: The crypto exchanges and brokers make money by charging trading fees/commission on the purchase or sale of all crypto tokens.
ICO vs IPO
ICO (Initial Coin Offering) is a fund-raising plan for new startups in the crypto world. The process is carried out by selling underlying tokens against Bitcoin and Ethereum.
ICO is similar to IPO (Initial Public Offering) in the share market where the traders become a shareholder of a company by buying its shares. Taking entry at an initial stage of the project boosts the chances for investors to generate higher returns with the company's success. However, the primary difference between the two is that people from all across the globe can participate in ICO.
FAQs
Q1) How to Open a Crypto Exchange Account?
Certain documentation is required to open a crypto exchange account. You can either download the app or visit the website to complete the registration process (Name, Date of Birth, Unique Identity Number, and Mailing Address- In General). With the evolving time, the Indian government has made it mandatory for every customer/investor to enter the KYC (Know Your Customer) details, preventing money laundering and malicious activities.
Q2) How To Buy Crypto Assets?
Once the account is created, registered, and approved on a particular cryptocurrency exchange, you are allowed to trade digital assets. Of course, you will also need a cryptocurrency wallet to store, buy, and sell crypto. However, your exchange may also provide one.
Once you have selected what exchange you want to create your account in and the wallet you want to store all your crypto assets, you may also buy one crypto in exchange for another. Or you can also buy it with your credit/debit card. It is recommended to never use a credit card for investing in crypto as the transaction fees are quite high, up to 5% of your transaction.
Q3) How Does a Cryptocurrency Exchange Work?
Even the best crypto exchanges are similar to brokerage platforms. You can create different orders to purchase, sell, or store your virtual currency. The crypto exchanges can be centralized, unlike the crypto brokers, which are decentralized. These exchanges distribute the verification powers to the person willing to join a network and certify transactions. This process further ensures accountability that the investor's money is secured in case of insolvency of an exchange.
Q4) What is the Primary Role of a Cryptocurrency broker?
Best cryptocurrency brokers provide speculative contracts on every purchase of crypto assets. These contracts signify that you can buy or sell digital assets as prices tend to change, but not the digital currency/cryptocurrency.
Q5) How Much Money is Required to Buy a Cryptocurrency?
Different crypto exchanges have different requirements. It depends on the type of cryptocurrency you will purchase on that exchange, along with the quantity. You are also allowed to buy the fraction shares of coins for a few dollars or even pennies.
The apparent future of capitalism is in the hand of digital currencies. Many renowned cryptocurrencies, including Bitcoin, Ethereum, Litecoin, Cardano, etc., are serving as a prototype digital currency for establishing a digital financial institution.
People have started exploring the potential and ideology of cryptocurrencies, making it a sustainable plan to invest in crypto right now. While no one can predict the future, crypto-assets seem destined to become significantly used for online payments in the coming few years.
Recommended: 20 Best NFT Marketplaces
Thus, if you have a strong risk-bearing capacity, you can go for the long-term investment in your favorite cryptocurrency.