You might have heard or seen some articles online claiming that earning money through stocks, ETFs, and cryptocurrencies is not for everyone. However, choosing a reliable and efficient trading exchange will increase the chances to earn immensely by investing in crypto tokens, stocks, and other options.
The idea of investing in cryptocurrencies boosted tremendously, especially from the beginning of 2021. Numerous people started trying their luck by buying crypto-assets and stocks through the world's eminent platforms Interactive Brokers, Charles Schwab, TD Ameritrade, and many others.
With the emergence of so many platforms, it has become challenging for an investor to choose the right platform to trade.
You might have also heard about another trading platform these days named Robinhood, as predominantly it has gained recognition as it allows commission-free trades and no minimum account requirement.
Furthermore, the platform allured new investors with its flexible online brokerage policies. However, you can easily find the best Robinhood alternatives if you consider investing in crypto-assets or trade stocks. But first, let us comprehensively understand what Robinhood is and why it might not hit the mark for you.
What is Robinhood?
Robinhood is a free desktop platform and stock trading mobile app that allows you to trade stocks, cryptocurrencies, ETFs, REITs, and Options without incurring commission charges. However, the only fees charged by Robinhood are associated with ETFs and nominal regulatory fees.
The platform also features a paid account, Robinhood Gold giving you access to pre-market and post-market trading. Moreover, it also allows you to trade on margin in exchange for an account maintenance fee.
The app of Robinhood regularly unveils new products, allows you to access fractional shares and automatic contributions.
Despite all its features, the platform has also been the focus of complaints from SEC, lawsuits, and public outrage over some of its practices. Because of this, the company has paid massive penalty fees of up to $70 million in fines and restitution, levied by the Financial Industry Regulation Authority.
Why might Robinhood Not Be The Right Pick For You?
If you are looking to open an account if Robinhood, it is imperative to know the facts related to this company and the features this platform lacks in:
1. Candlestick Charting Options: Robinhood's interface allows the investors to see candlestick charting options; however, it is hard to view shadows on the white mobile background. The platform lacks in providing clear design and aesthetics.
2. Analytic and Tools: Efficient trading platforms such as Webull, TradeStation, and Public.com want their traders to succeed by offering them useful resources and educational tools, helping the new investors to make lucrative trade. However, Robinhood lacks in providing all these trading analytic tools.
The platform allows you to create a basic watchlist and view real-time data; however, you are not provided with any stock analysis tools or educational resources to inform your investing decisions. It is something an investor sorely needs, especially the beginners.
3. Tax-Advantaged Accounts: The platform offers individual taxable accounts but does not offer tax-efficient investment accounts. It implies if you want to open an IRA (Individual Retirement Account) to save money for your retirement, you need to find a Robinhood Alternative.
4. Mutual Fund Access: Want to play safe and invest a proportion of your money in mutual funds? Do not count Robinhood in that number, as this platform does not offer you access to any mutual fund.
15 Best Robinhood Alternatives
Let's get started with Robinhood Vs. The Alternatives: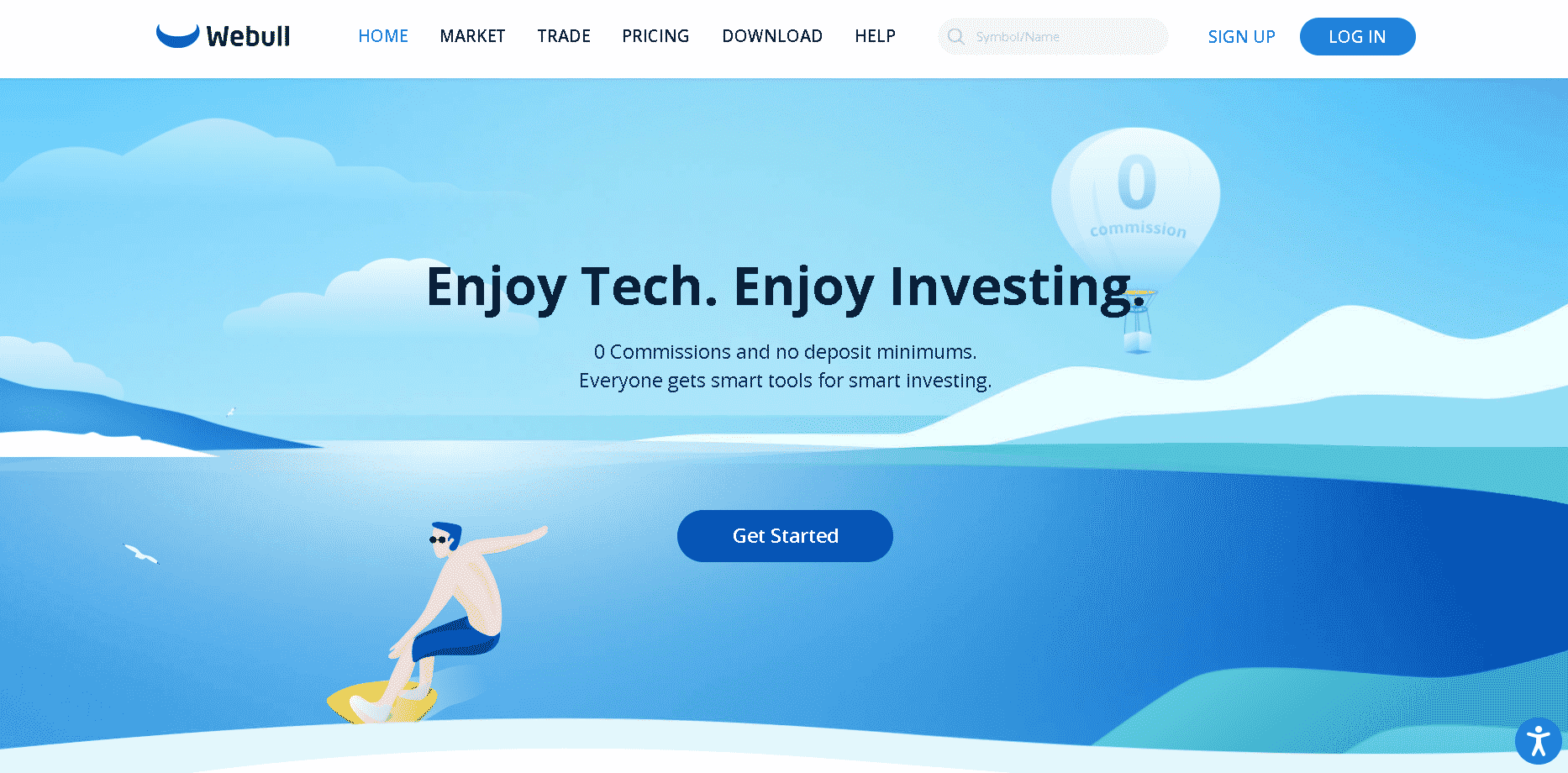 One of the leading platforms, Webull, is considered to be a top-rated trading platform. The trading exchange has gained significant recognition because of its impeccable services.
The platform has designed an efficient app for iOS, Android, and desktop versions. The best part about Webull is that it does not restrict the user from keeping any minimum account balance.
Webull is featured with taxable accounts, IRAs, and even rollover IRAs are available. Plus, the platform provides a wide array of stocks, options, and cryptocurrencies to trade. Unlike, Robinhood it offers a massive range of analytic tools that are appreciated by beginners and advanced traders.
Also Read: 120 Best Affiliate Programs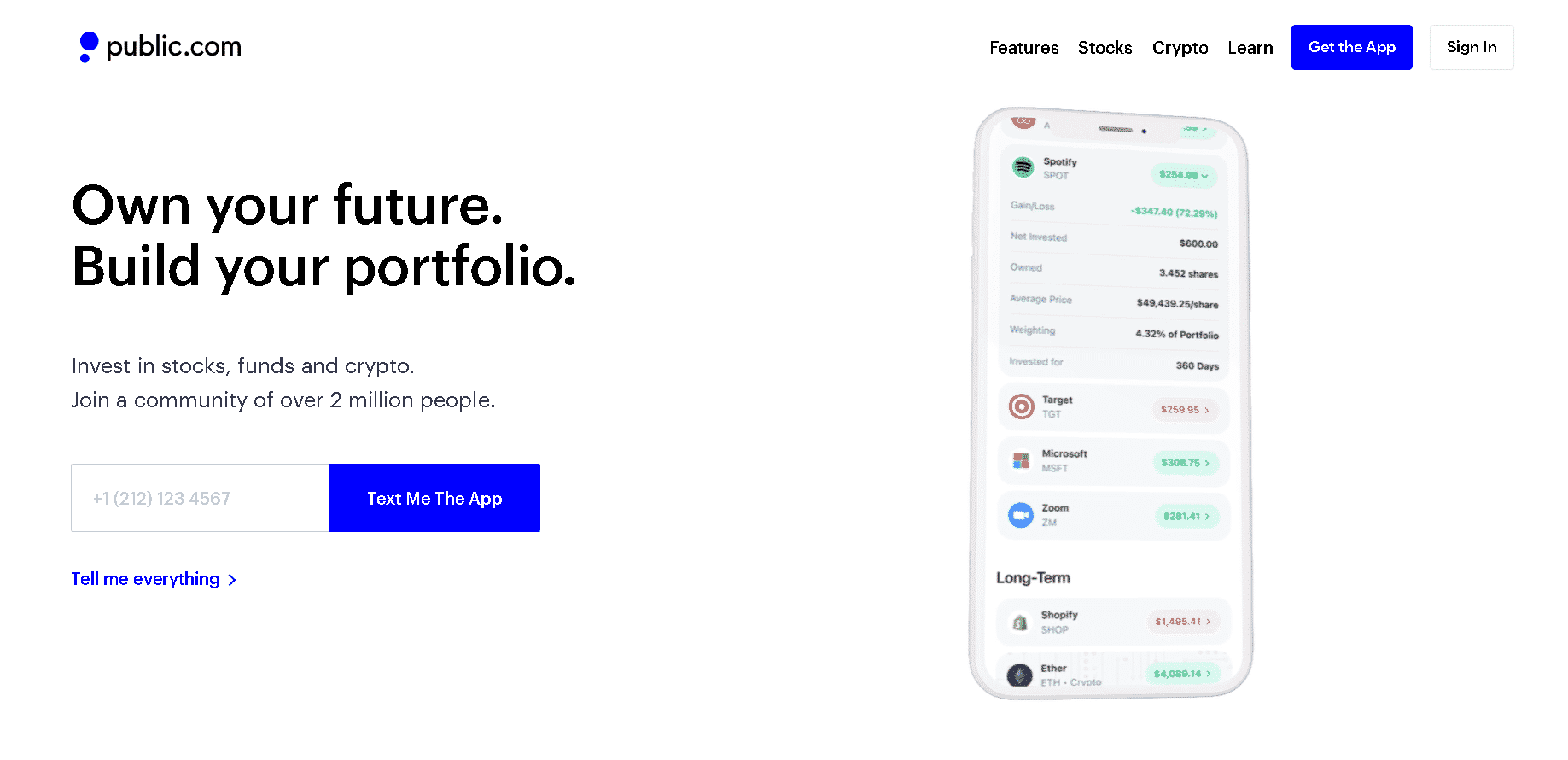 The public is a trading exchange allowing you to buy fractional shares of stocks and ETFs. This platform offers a social network where you can build your online community by following others and sharing ideas inside the investor's community.
If you are a beginner, opting for this exchange is the right choice as you can build your own community of investors, which helps in building your confidence and gaining knowledge.
Just like Webull, it also offers commission-free trades and $10 of free stocks for signing up.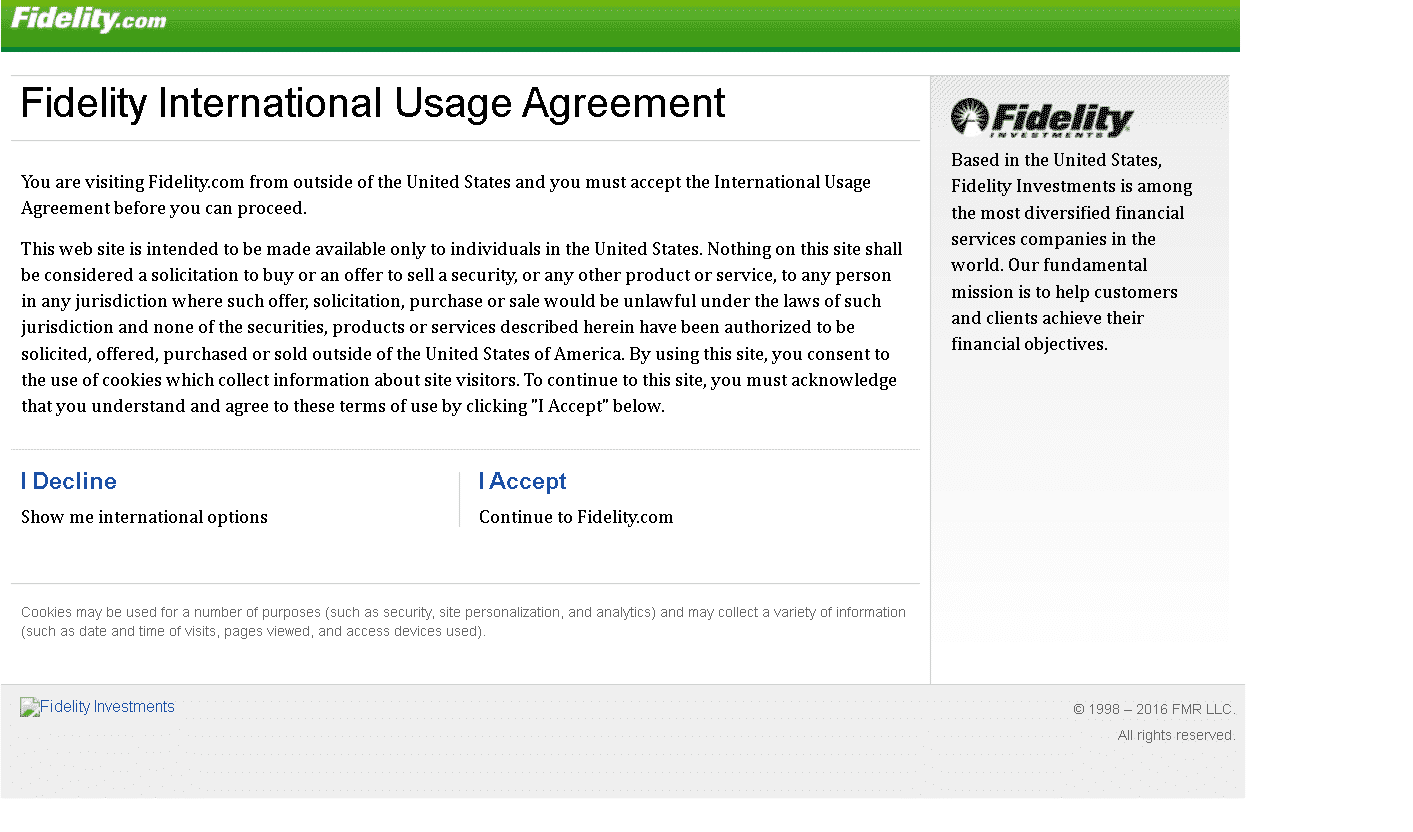 Fidelity proves out to be one of the best Robinhood alternatives. It is a powerhouse trading firm that caters to long-term investors who are consistently looking to find more options to trade. The platform provides an extensive range of stocks, ETFs, options trades, bonds, commodities, bonds, and international investments.
The best part is it charges no commission fee on US stocks and ETFs.
Unlike Robinhood, it is featured with a powerful pack of research tools, allows fractional share trading, offers a wide variety of account types, charges minimal brokerage charge, and so much more.
Even if you are not an experienced investor or a beginner, this platform is an ideal choice as it is flexible and known to grow with its investors as their investment needs evolve.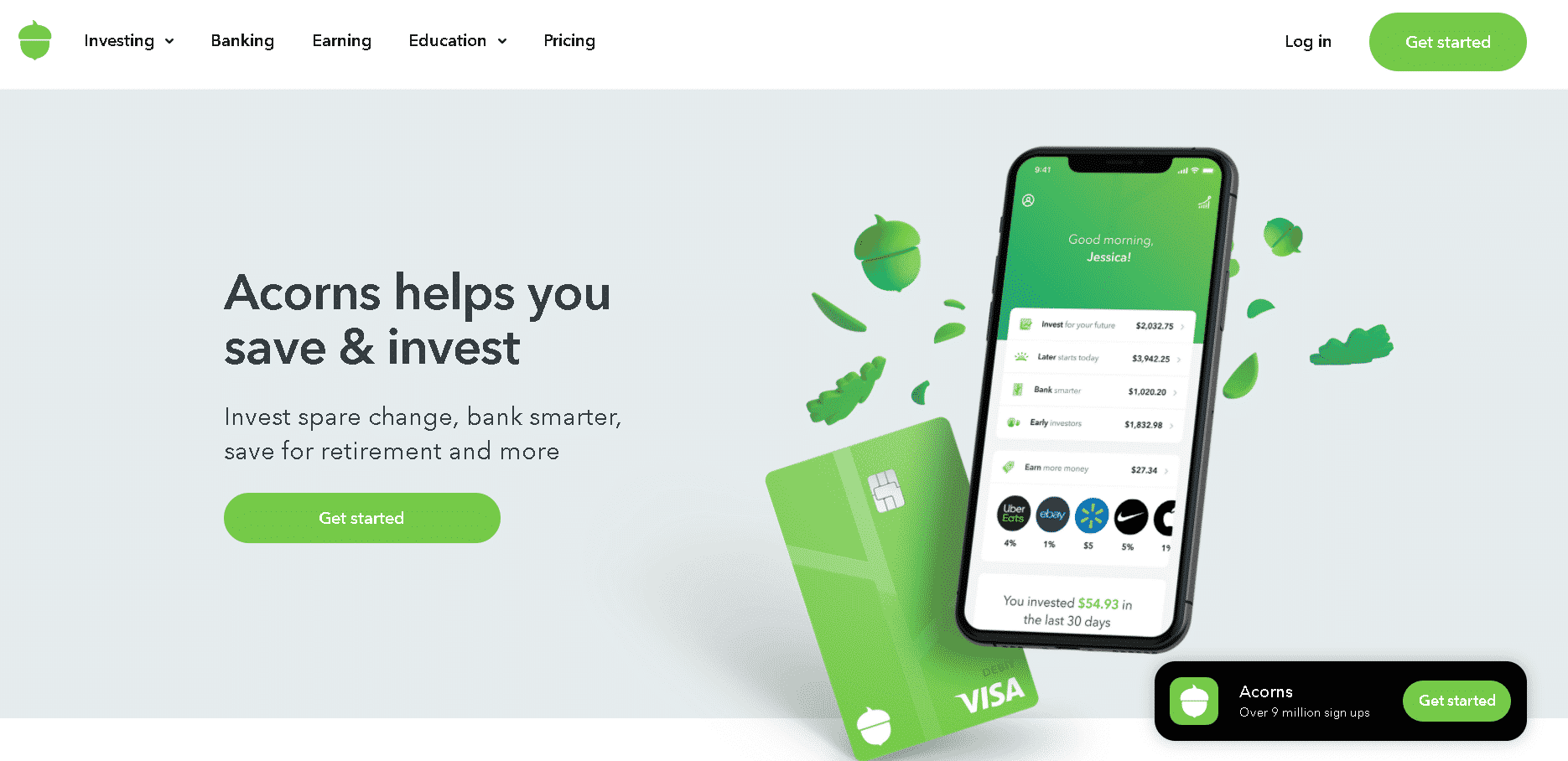 Many newbies/beginner investors enter the world of trading through this platform and enjoy the $5 account bonus they get instantly at the time of signing up. This signup bonus can be further redeemed to pay their $1 account management fee.
The brokerage firm is categorized more of a Robo-advisor as it helps you to build your diversified portfolio and never lets you put all your eggs in one basket. It means it does not allow you to pick individual stocks and offers three tiers of service for 3 different flat monthly fees.
The platform offers free automatic rebalancing on all accounts. However, if you are looking to invest your money into international bonds, in that case, this platform is not for you as it provides significant exposure to build your portfolio with ESG ETFs at no additional costs.
Also Read: 12 Best Stock Portfolio Trackers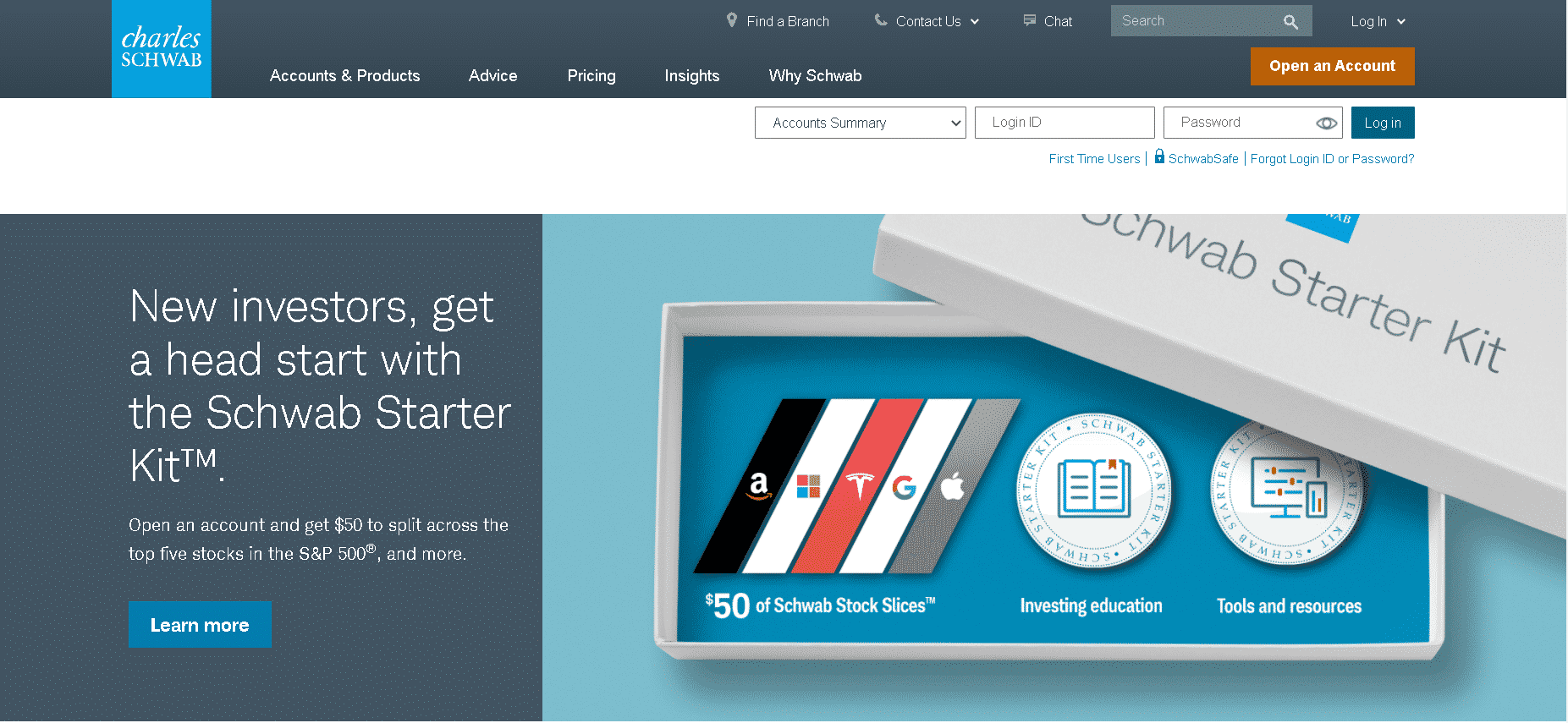 Charles Schwab, one of the best Robinhood alternatives for non-US citizens, is a great place, especially for individuals looking to invest a portion of their savings for retirement.
It is a leading platform offering valuable tax benefits to individual retirement accounts. In 2020, the platform managed nearly $6.7 trillion assets and was listed in one of the biggest brokerages firms, offering commission-free stock, options, ETF trades, and fractional shares of S&P 500 companies.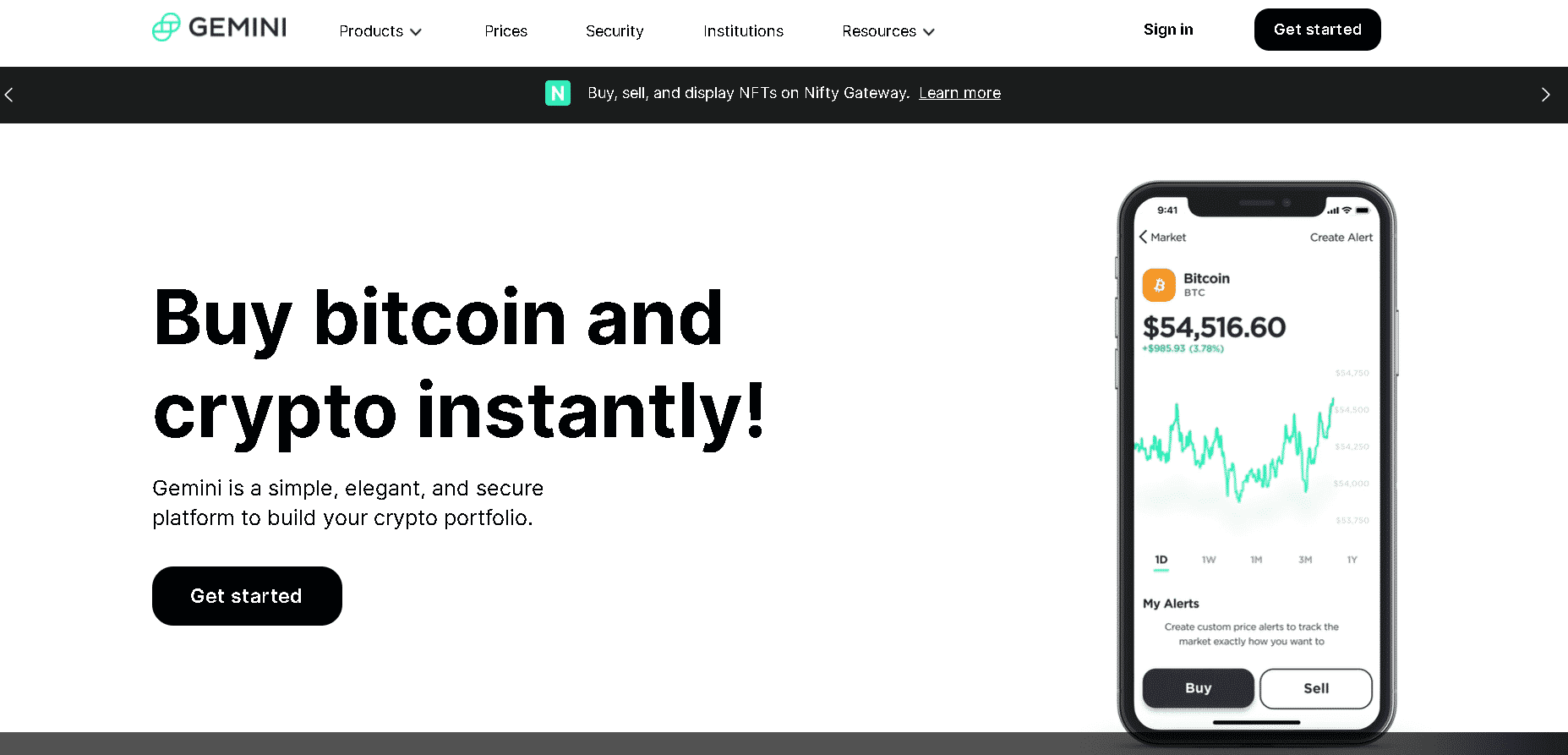 Unlike Robinhood, which does not allow you access to receive or send crypto coins, Gemini's focus is to promote effortless stock trading and give you full control over cryptocurrencies. It means the platform provides you more control over the digital assets you purchase, and you can easily send or receive coins directly from/into your Gemini wallet. Isn't that great?
The app lets you trade on the move, which is launched for iOS and Android users. The best part is that the exchange offers you the renowned cryptocurrencies to invest/trade, including bitcoin, ethereum, bitcoin cash, litecoin, and Zcash.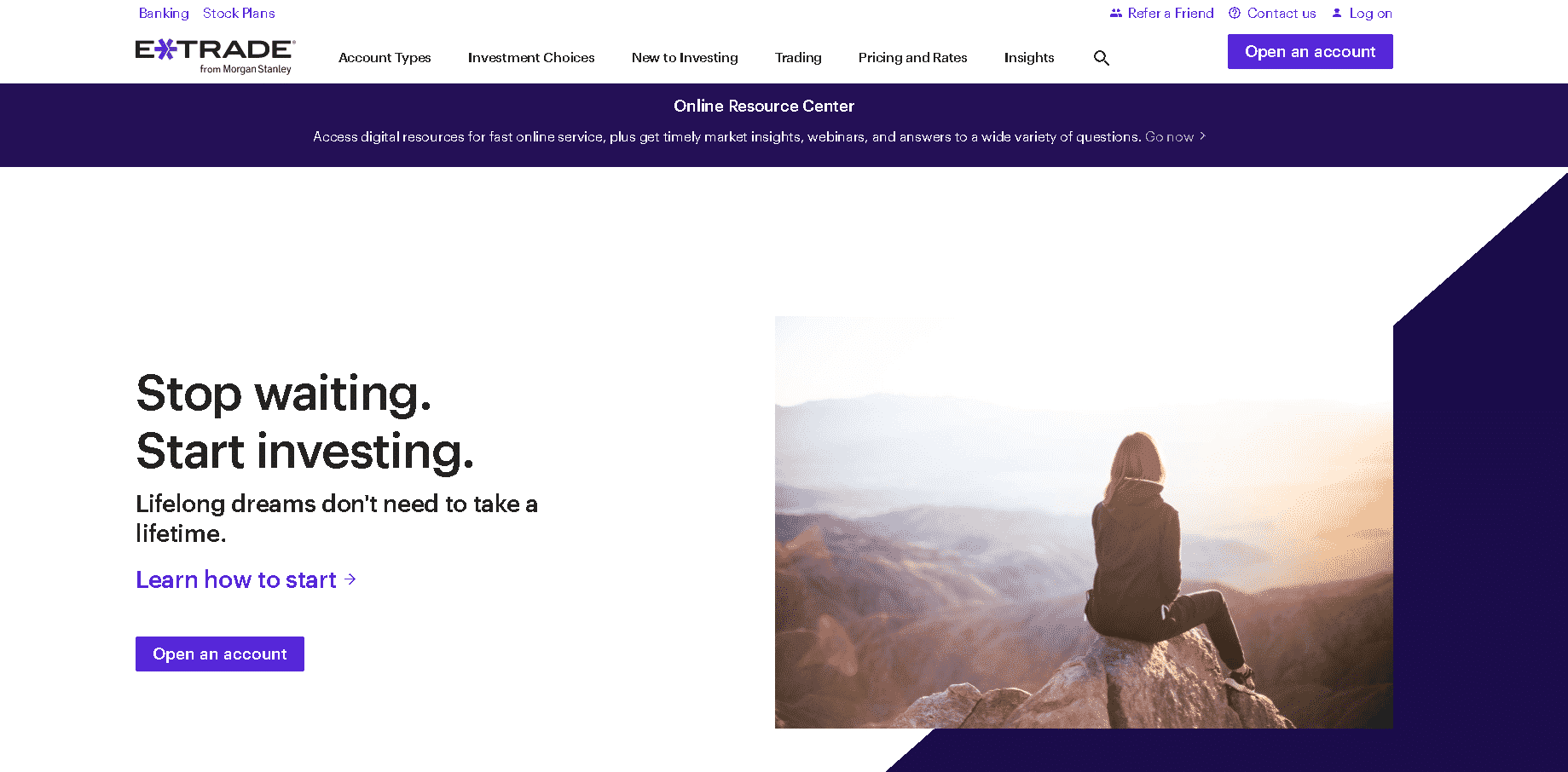 It is a platform offering commission-free trades similar to Robinhood. Once the account is registered on this exchange, you get an instant bonus.
The trading exchange also provides you a full range of investment options, including ETF, US-listed stocks, options trades, and supports professionally managed accounts and best-in-class online, mobile trading platforms.
Moreover, it is featured with a cash credit option (ranging between $50 to $2500). It means you will get a certain cashback on the amount you deposit into eTrade's account. The cashback may vary depending upon the amount you deposit. For instance, you will get a cashback of $50 on depositing the amount between $5000-$9999 and earn $2500 on depositing more than $1,000,000.
Also Read: 60 Best Ways to Advertise Your Business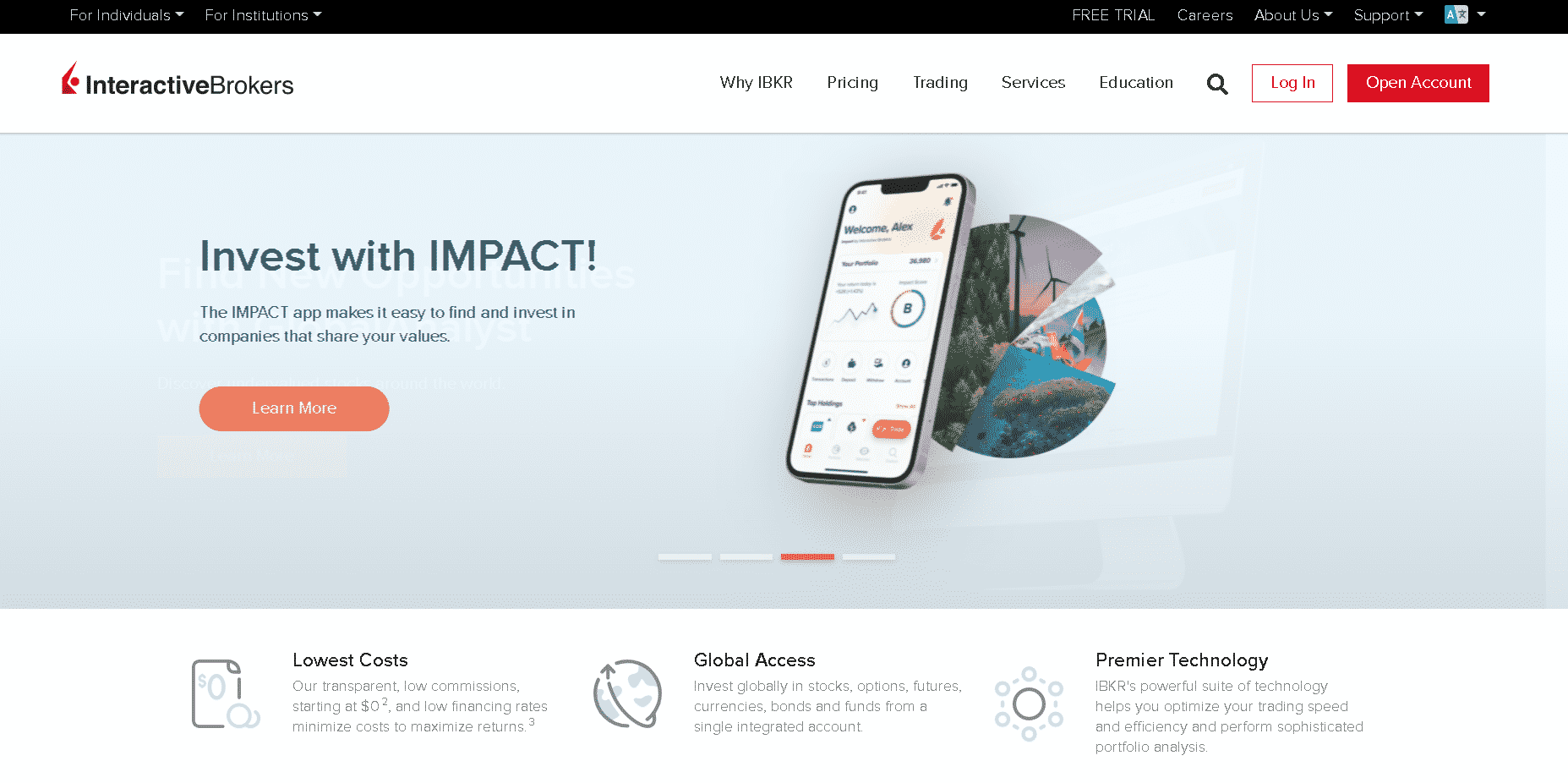 The trading exchange is an excellent choice to go for if you compare it with Robinhood in every outlook. The platform is already opted for by many advanced traders who want access to a wide range of securities-related to stocks, ETFs, and options.
It is a reliable platform offering more than 100 types of trades, from limit orders to advanced options similar to algorithmic trading. The firm has also designed a robust desktop/mobile app featuring built-in trading tools such as Order Entry Wheel, Options Spread Grid, etc.
In addition, Interactive Brokers does not restrict you to keeping a minimum account balance.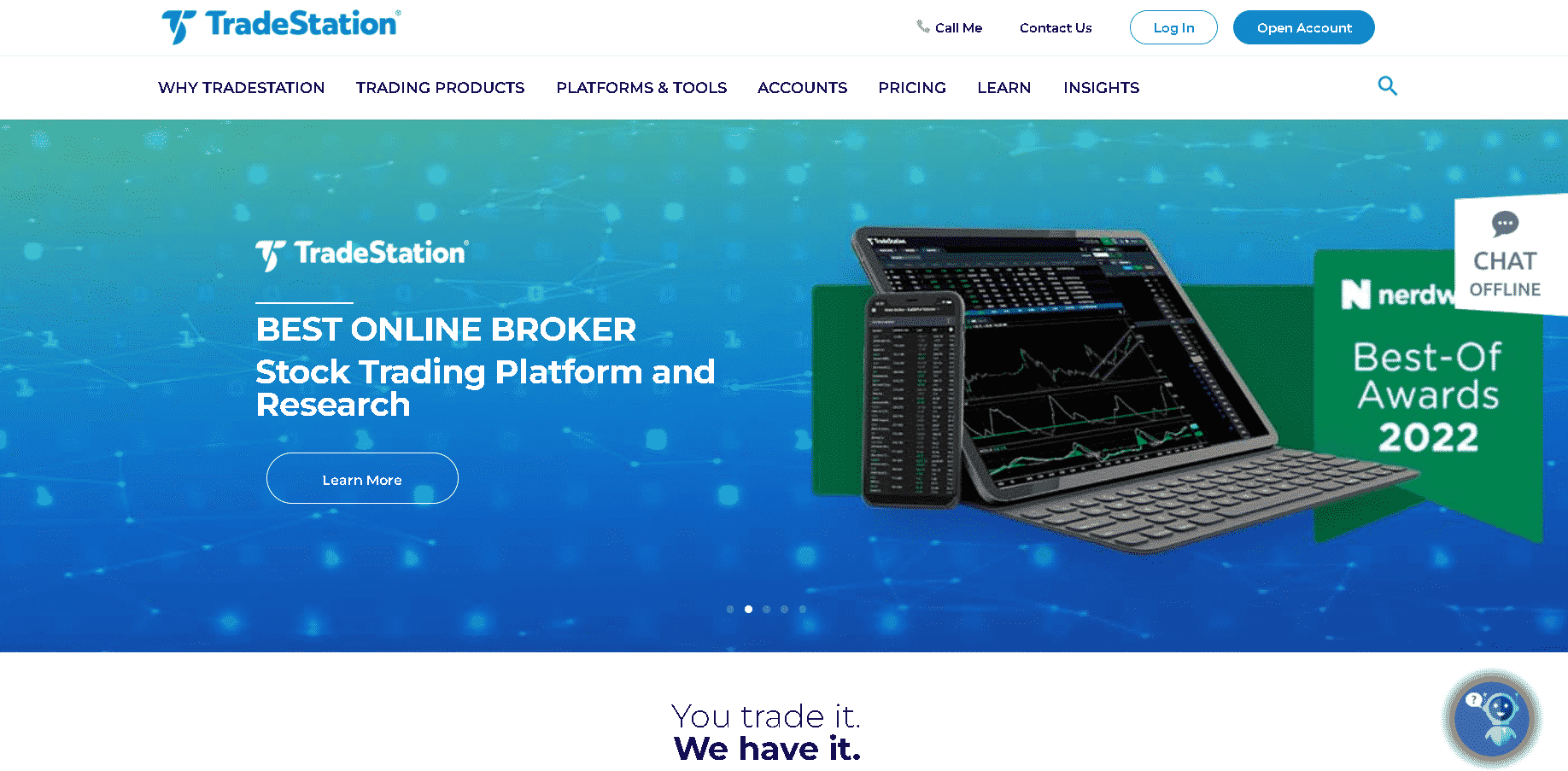 Looking for high powered Robinhood alternative for non-US citizens? TradeStation is a dynamic trading exchange allowing investors to trade with analytic tools useful to seasoned investors and new traders.
The exchange allows traders to invest money in futures, bonds, stocks, mutual funds, and cryptocurrencies.
The platform is equipped with trading educational resources and brokerage services recognized by potent industry reviewers.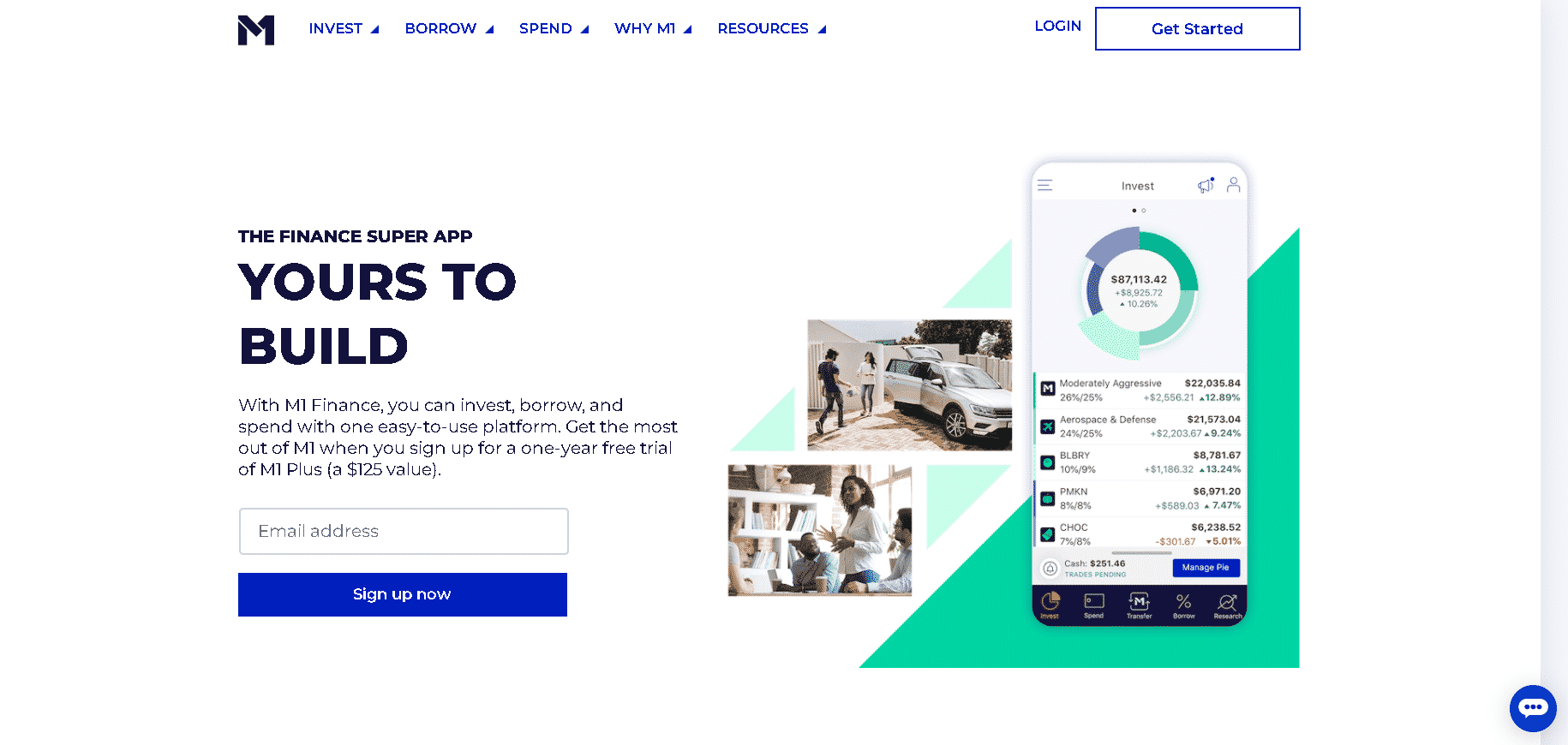 M1Finance is a hybrid platform that allows users to cross between a traditional investment management service and a Robo-advisor.
One of the exquisite features offered by this platform is that it provides full control to the investors to use a 'Pie' system. It supports amateur traders by providing them an intuitive interface with 80+ created portfolios called Pies, pre-built for users to invest.
The brokerage firm allows you to invest in a basket of hand-picked stocks, ETFs, and REITs. You can also choose to invest in pre-built investment 'Pie.'
Moreover, the platform also allows investors to put their money in fractional share investments and offers a $20 signup bonus.
Also Read: 33 Best Cryptocurrency Exchanges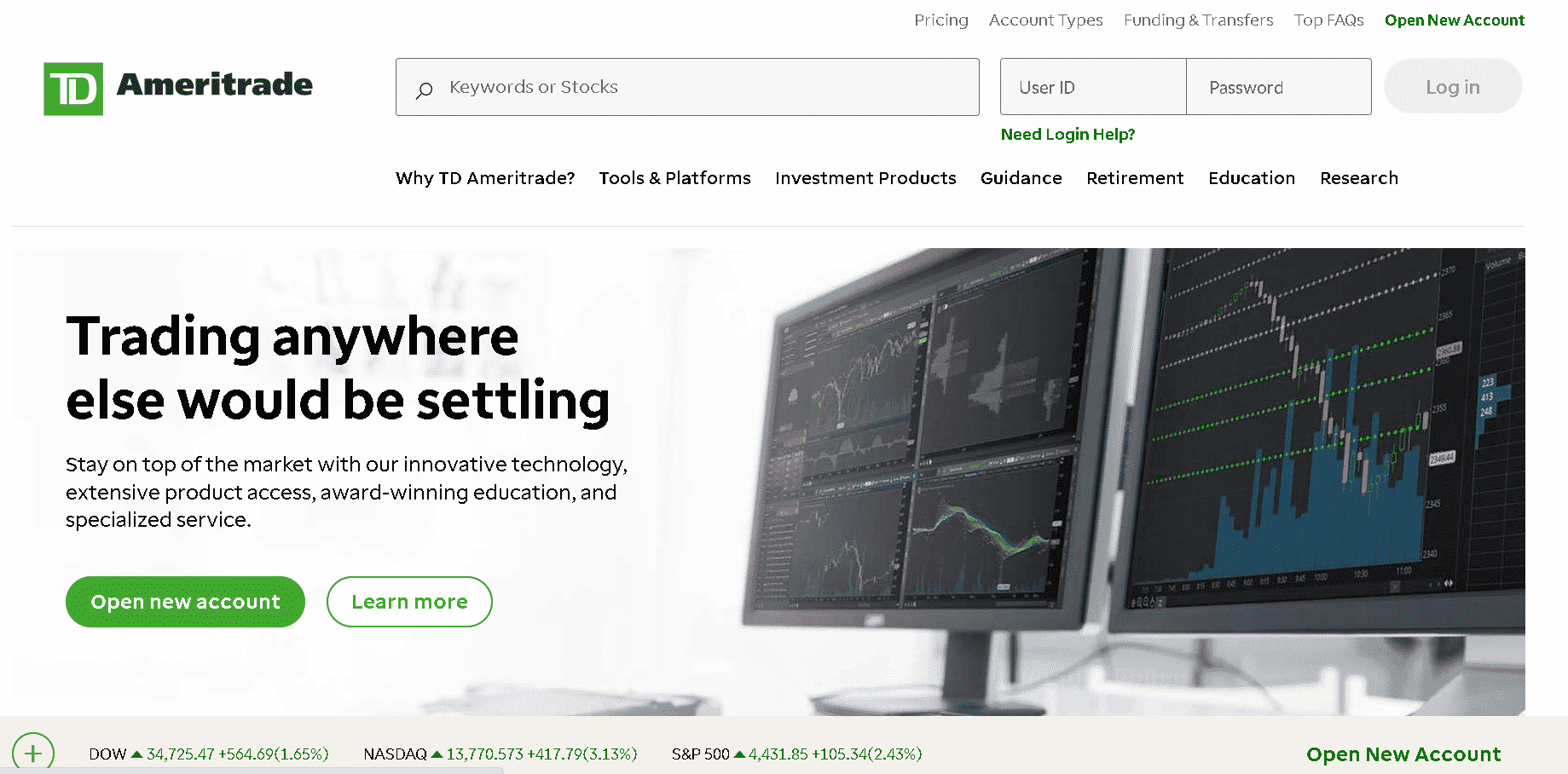 Searching for Robinhood alternatives? The list is incomplete without mentioning this powerful trading exchange, TDAmeritrade. It is a commission-free brokerage firm opted by thousands of novice investors, advanced traders, day traders, and individuals saving for their retirement.
If you are interested in more asset classes like Forex and Futures, TDAmeritrade will be a perfect fit for your requirement. The other trading options it offers include bonds, stocks, and mutual funds.
Another good aspect about this company is that it provides useful educational materials that help beginners to understand & pick stocks and investment options with their analytic tools.
You need not keep any minimum account balance. The exchange is available for iOS and Android users.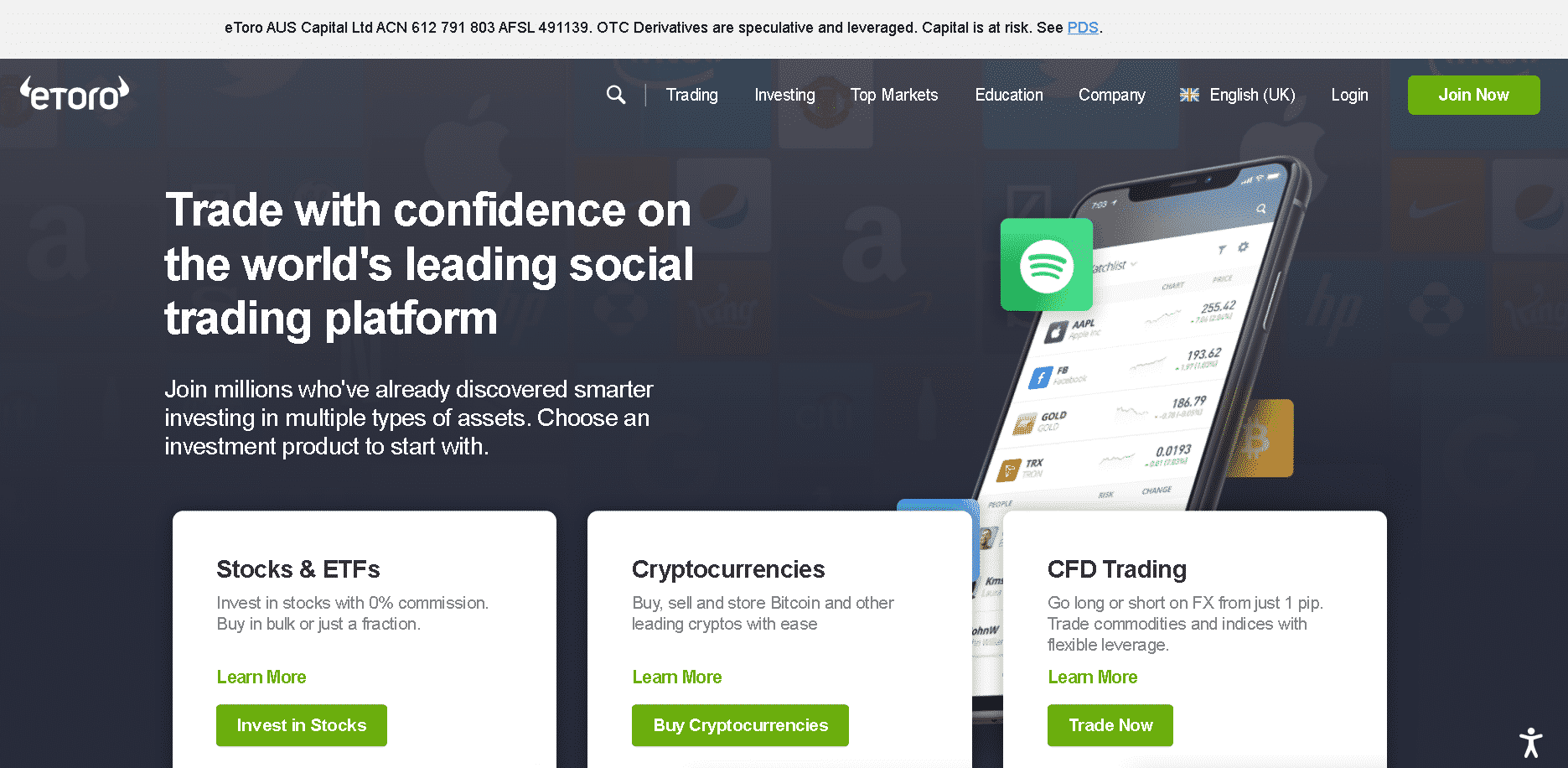 Signing up to eToro is hassle-free. YOu may not get the signup bonus but save plentiful money on commission-free trades.
eToro is a cryptocurrency exchange that supports over 120 cryptocurrencies to buy, store, receive, transfer, and convert 500 + pairs. To name a few crypto assets it offers include Bitcoin, Dogecoin, Ethereum, Bitcoin Cash, XRP, Litecoin, XLM, etc. However, the company claims it will add many more crypto assets in the future.
The leading social investing platform has a greater selection than other US crypto exchanges. Moreover, it facilitates investors to replicate the trades of experienced traders automatically, in real-time.
Stash is a micro-investing app suitable for all types of investors- novice and advanced. However, a majority of young investors looking to manage their personal finance have registered their accounts with Stash.
Besides providing personal finance solutions, the platform allows you to invest in stocks via individual stocks or ETF index funds. In addition, you can also buy a fractional share on this app.
Signing up on this exchange will offer you a $5 bonus to help you get started, as you can start investing with as little as $5.
Also Read: Top 10 Largest Stock Exchanges in the World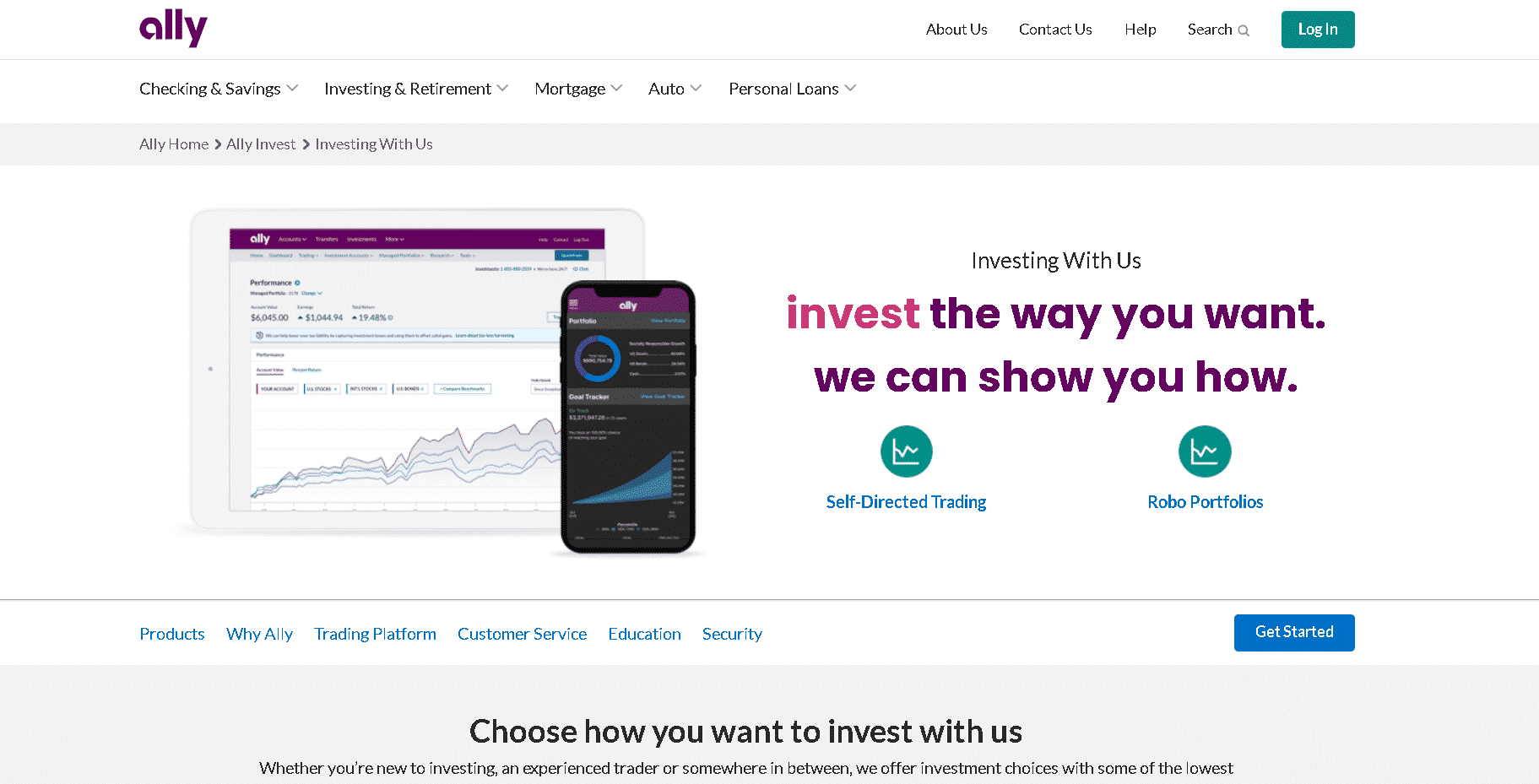 It is a simplified investment platform considered to be one of the best Robinhood alternatives. The brokerage firm allows you to buy stocks and ETFs, mutual funds, bonds, futures, and options.
The magnificent features offered by Ally Invest include zero commission charge, user-friendly dashboard, easy-to-understand functionality, and Robo portfolios option. You can easily navigate the dashboard and check your profits and losses, based on which make a wise decision of making investments further.
The platform offers a quick signup process and enables you to have complete integration between your accounts.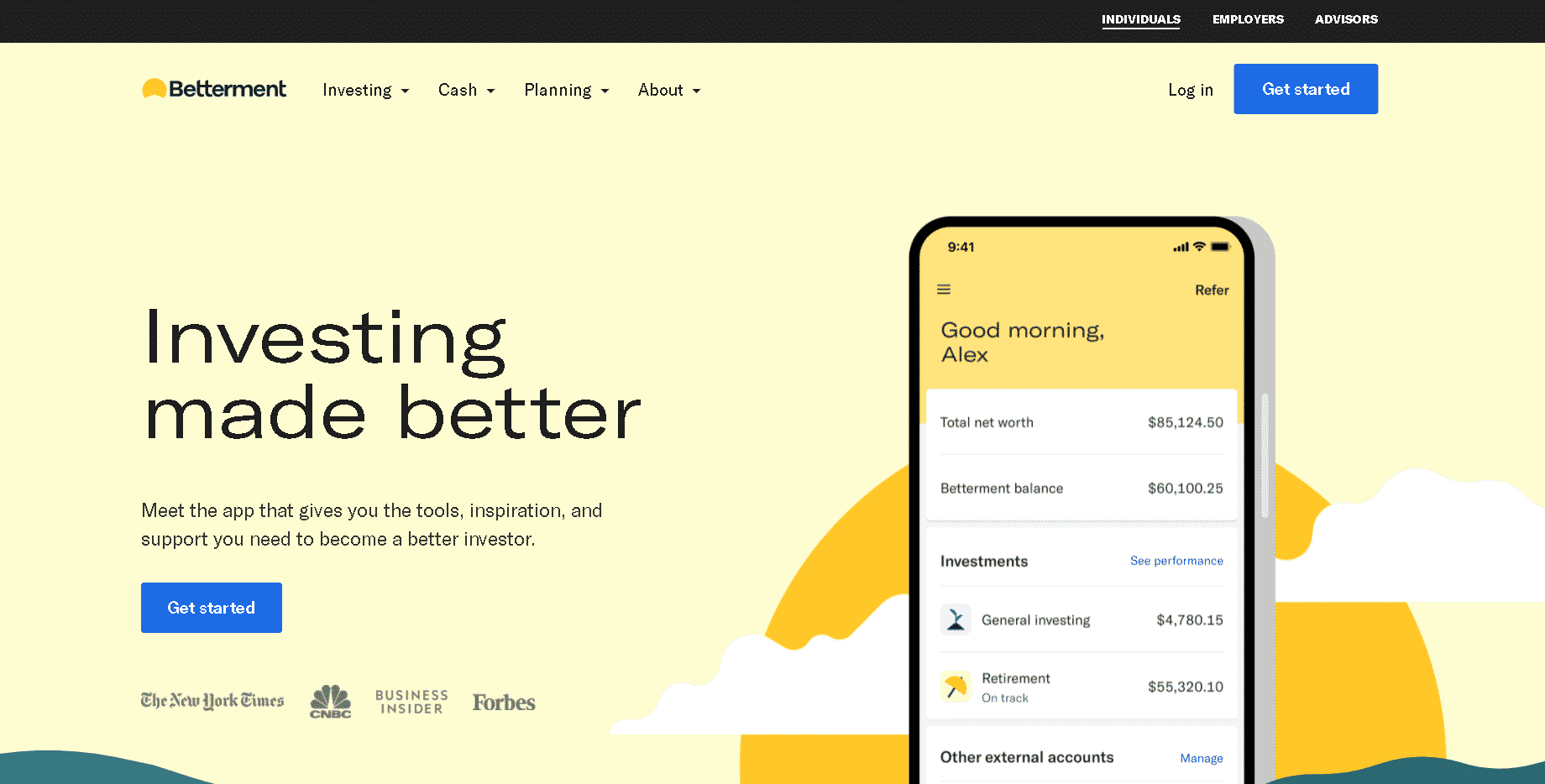 Searching for a Robinhood alternative for a non-US citizen? Betterment uses modern portfolio theory to develop portfolios showcasing utmost diversification. It is one of the reasons why this platform only allows you to invest in ETFs.
The exchange provides you with several options as a Robo-advisor, including advanced portfolio options, dedicated tax strategy (tax-loss harvesting, tax impact preview tool, and tax coordinated preview tool), and paid access to a final adviser.
Another exquisite feature offered by this spectacular platform includes automatic rebalancing on all accounts, which is monitored every day. Betterment will rebalance the drifts for you if they exceed 3%.
Overall it's a stellar app providing its investors with IRA, trust, and a high yield cash savings account.
Also Read: 16 Best Cryptocurrency Brokers
Factors to Consider While Choosing the RobinhoodAlternatives
1. User-Friendly Interface: If the brokerage account is complex and not easy to understand, it is of no use. Even a beginner should be able to operate it and trade comfortably through it. The world's leading investing apps provide YouTube tutorials that help newbies to understand the platform extensively.
2. Low Trading Fees: One of the significant factors before choosing the trading platform is to check its brokerage/commission fee. Not all trading platforms offer free trades like Robinhood, but you may find plenty of options allowing you to buy and sell cryptocurrencies, stocks, bonds, and ETFs for nominal commission charges.
Choosing a platform that charges high fees will impact your potential performance, taper your profits, and impact your overall performance. Hence, it is important to consider a similar low-cost Robinhood alternative.
3. Automated Investment Option: Automated investing allows an investor to trade frequently; on a daily basis. The trading platforms allowing investors to make automated investments are also called Robo Advisors. Usually, they charge lower fees and prove to efficiently meet your financial needs by saving your money each month.
4. IRA Compatibility: If you are investing money into stocks for long-term holding and saving money for your retirement, opening an IRA account will help you to minimize your tax liability and save funds.
5. Markets and Products: It is imperative to know what type of investment you are looking to make before jumping into the trading business. It implies whether you want to trade stocks,  cryptocurrencies, bonds, invest in mutual funds, forex, or go for alternative investments. This will help you make the right choice of selecting one of the best Robinhood alternatives.
6. Account Opening: Before opting for a trading exchange, always check the minimum opening account deposit required by that platform. If the minimum opening balance is high, you may go for the other trading platform with lesser opening account balances.
Another vital element to ensure is the transaction settlement time. Most brokerage firms offer a next-day settlement. However, many trading exchanges are offering same-day account credit once you authorize a deposit into your account. Being an investor, you need not wait for the funds to settle in your account.
7. Deposits and Withdrawals: The best Robinhood alternatives offer multiple means of deposit methods such as credit/debit cards, net banking, and UPI transfer. One should also check the withdrawal methods offered by the brokerage firm.
8. Mobile App: Desktop and laptops are not accessible compared to phones. Due to this, it has become extremely important for trading exchange developers to design their mobile apps.
Users can carry a phone to any place. So, you must ensure your brokerage firm has loaded vital features in their mobile app, making it easy for traders to make investments, navigate, and inform them of the latest market updates.
Is Robinhood a Scam Website?
While Robinhood claims the orders it receives from the investors are not sent directly to a market exchange. Instead, it sends them to 1 of 5 market maker companies, executing the trades on their behalf.
Robinhood is not a scam website; however, the trading exchange was alleged when plenty of illegitimate money was made of Payment for Order Flow (PFOF). Overall, it has been observed by proficient and highly experienced investors that Robinhood is not fully transparent.
Recommended: 14 Best Linktree Alternatives For Your Bio Links
Get Started and Invest!
You can put your money with ease in any of the Robinhood alternatives mentioned above. All of the platforms may not mimic the fee structure offered by Robinhood. However, suppose you are hell-bent on maximizing your trading profits. In that case, you must choose a fleshed-out broker providing you with analytic tools, market news, and valuable data to carry out the trading process seamlessly.
If you are only looking with the platform charging no or very little commission, you can opt for Robo-advisor or automated trading platforms.
You can let us know the trading exchange you have chosen and how you reaped benefit out of those platforms!