Amidst evolving financial developments and growing digitalization, investing in precious metals like gold has become profitable. This innovative approach provides investors with a secure and efficient way to use gold as a store of value and earn great returns. In this article, we will explore the key factors, benefits, and potential of digital gold investment, that make it a great choice in current market conditions.
All About Digital Gold Investment
Diversifying your investment portfolio can be effectively achieved by considering the option of investing in digital commodities. Digital gold investment, for instance, allows for a convenient and flexible approach. It enables individuals to make gradual investments in the precious metal over a specific period, all through digital channels, offering accessibility and flexibility from anywhere, at any time.
Digital gold investment represents a financial asset that closely parallels physical gold. It shares many characteristics with physical gold but exists in a digital format. In contrast to tangible gold, digital gold is securely stored in an online vault. Crucially, it is underpinned by the highest quality, pure gold.
When you acquire digital gold, the seller reserves an equal weight of physical gold in a protected vault. The minimum investment amount for digital gold is just Re. 1, and it is exclusively available through MMTC-PAMP, SafeGold, Augmont Gold, or their authorized agents and brokers.
Best Apps for Digital Gold Investment
Every digital platform offering digital gold investment has established partnerships with specific companies. These partnerships enable users to purchase, sell, or convert digital gold into physical gold. To begin investing in digital gold through these platforms, you are required to complete the KYC (know your customer) process. After your identity is verified by the platform, you can commence your digital gold investment journey. Let's explore the platforms worth considering if you're contemplating digital gold investment!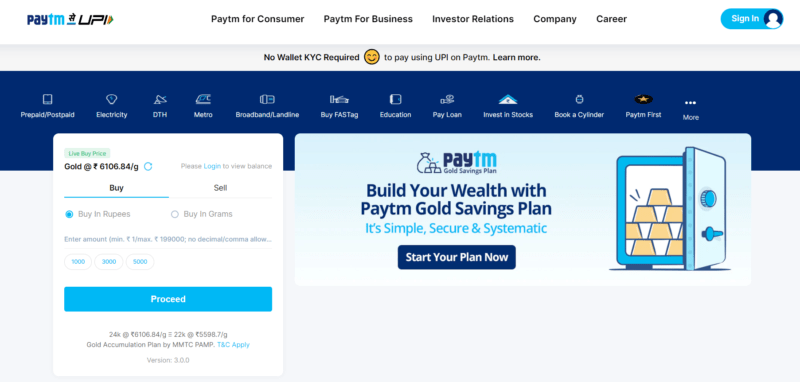 Paytm, a prominent payment application, is the trusted choice of more than 30 crore Indians. This versatile app offers a wide array of services, including money transfers, bill payments, and the ability to check your credit scores. Additionally, it provides an avenue for investment in various financial instruments such as mutual funds, the National Pension Scheme (NPS), and 24K 99.9% pure digital gold.
In a strategic partnership with MMTC-PAMP, Paytm enables users to purchase digital gold through its platform. When you invest in digital gold, it is securely stored in MMTC-PAMP's protected vaults. Monitoring the value of your gold portfolio on Paytm is a hassle-free task, and you have the flexibility to sell, gift, or request physical delivery of your gold holdings whenever you choose. Furthermore, Paytm offers the convenience of establishing a gold savings plan, allowing you to accumulate gold at regular intervals.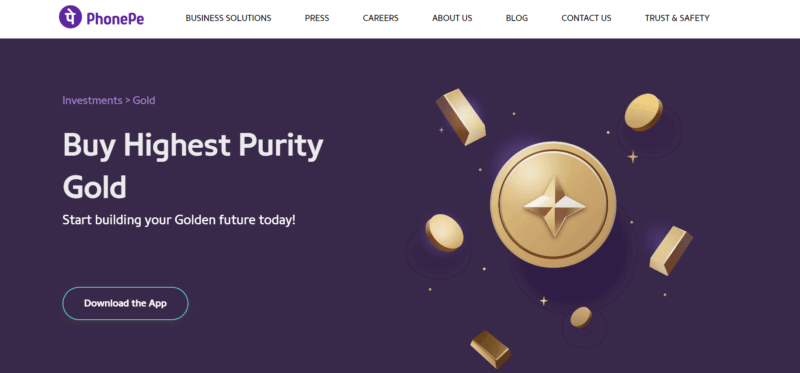 PhonePe is a versatile payment application that facilitates a wide range of financial transactions. It empowers users to conduct transfers, pay bills, and even purchase insurance. Moreover, it provides an avenue for individuals to invest in mutual funds and invest in digital gold. In this endeavor, PhonePe has established strategic partnerships with MMTC-PAMP and SafeGold, ensuring customers have access to 24K gold of exceptional purity, rated at 99.9%.
The process of buying, selling, and converting digital gold through PhonePe is remarkably swift and can be accomplished directly through your mobile device. Additionally, the app extends the convenience of secure bank-grade lockers for safeguarding your precious gold holdings. When you decide to liquidate your digital gold, you can obtain your funds instantly, albeit subject to a nominal delivery fee if you opt for physical delivery in the form of coins and bars.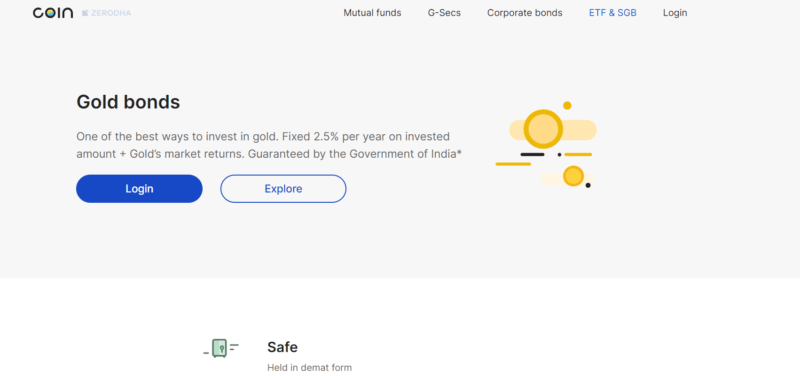 Investing in Sovereign Gold bonds through Zerodha is a convenient and straightforward process. These bonds, issued by the Government of India, offer a fixed annual interest rate of 2.50%. Investors can enjoy bi-annual interest payouts, with the final interest payment being made upon maturity, along with the principal amount.
Zerodha's Gold ETFs are particularly attractive due to the fact that they hold gold assets in the form of 99.5% pure Gold Bullion, minimizing concerns about the purity of the investment. Opting for Zerodha's ETFs over physical gold has several advantages. It eliminates the risk of receiving a lower price due to impurities and reduces transaction costs. Furthermore, investors can invest in digital gold and ETFs in Zerodha at any time during the trading session, even in quantities as small as 1 gram.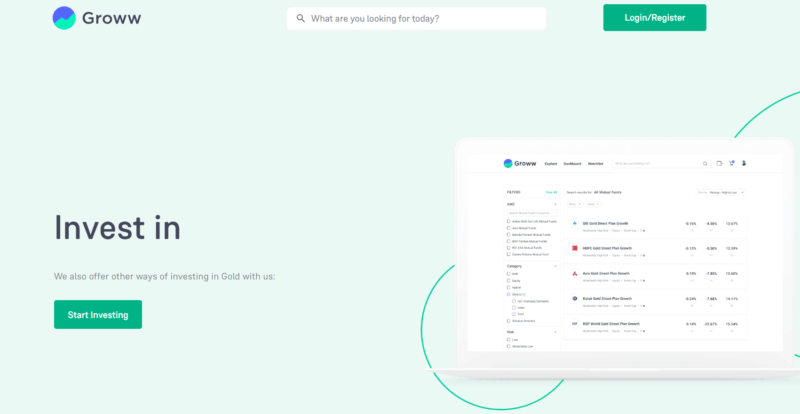 Groww is a user-friendly app for direct mutual fund and stock investments. It offers a seamless way to invest in various financial assets without the hassle of paperwork, all in just a matter of minutes. In order to provide its users with access to gold, Groww has established a partnership with Augmont Gold. When you engage in transactions for purchasing or selling digital gold, these actions are directly facilitated through Augmont Gold.
To initiate your digital gold investments, you need to create an account on the Groww platform. It's worth noting that there are no account opening fees involved, and Groww enables you to purchase gold in smaller denominations, making the process of investing in gold not only easy but also convenient and budget friendly.
Also Read: Groww US Stocks Review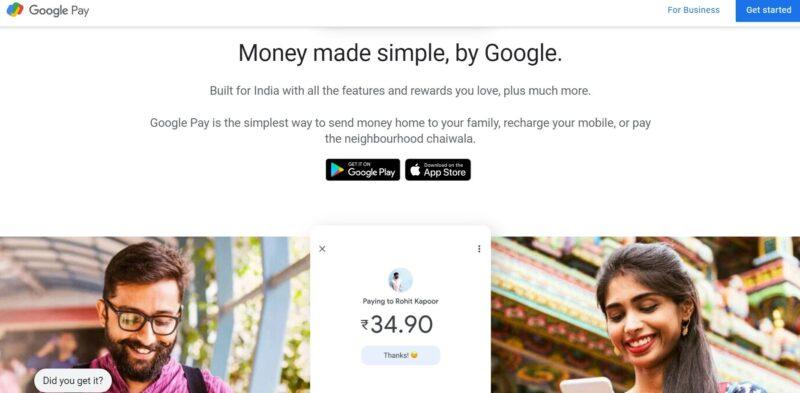 Google Pay has joined forces with MMTC-PAMP to facilitate the purchase and invest in digital gold through its platform. Users can seamlessly buy, sell, and trade digital gold on Google Pay, with the option to invest in 24K gold of exceptional purity, rated at 99.9%. Following the acquisition of digital gold, it gets securely stored in your designated Gold Locker on Google Pay.
For those desiring to convert their digital gold into physical gold, a nominal delivery fee applies, and the gold coins will be dispatched to your doorstep. An appealing feature of the app is the ability to gift gold to friends and also earn gold as a reward. Rest assured, investing in digital gold via Google Pay is exceptionally secure, as all transactions are conducted using your UPI PIN codes for added peace of mind.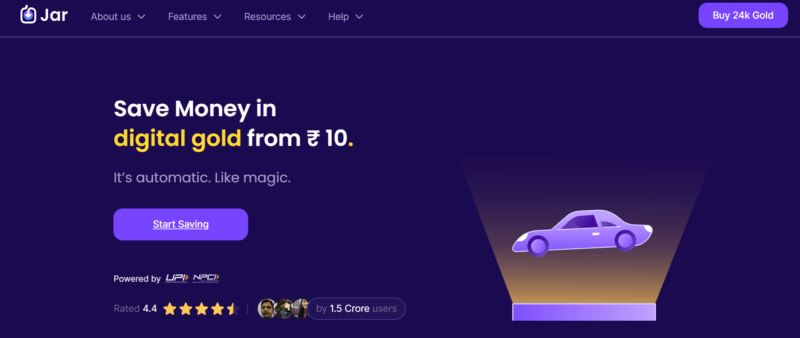 Jar, a daily savings application, is designed to instill a savings habit by effortlessly helping you save money. Its primary objective is to encourage regular investments. The app automatically channels your spare change from transactions into digital gold. What's remarkable is that it allows you to start with a minimum investment of just Re. 1, and you can redeem this amount into your e-wallet at your convenience.
Moreover, Jar adds an element of fun to the investment process. It prompts users to play a spin the wheel game with each transaction, directing the resulting cashback into digital gold investment. The app also provides real-time updates on the value of your portfolio. This means that every time you spend, you not only save a portion of your money but also invest it in gold, ultimately contributing to your wealth creation.
The flexibility of Jar is another notable feature. You have the freedom to buy and sell the gold whenever you choose. Additionally, once you've accumulated a sufficient amount, you can even exchange it for physical gold coins or bars.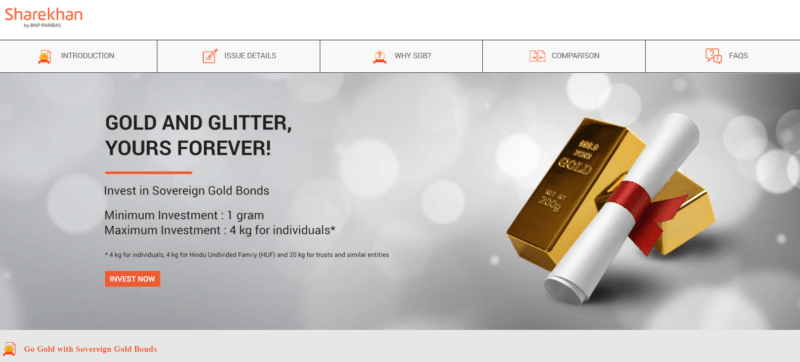 Sharekhan offers a seamless and entirely digital method for purchasing Sovereign Gold Bonds (SGBs), allowing you to hold these bonds in Demat form. Moreover, there's an added benefit – when you invest in SGBs through online payments and complete your application digitally, you receive a discount of Rs. 50 per gram.
Opting for SGBs as a digital gold investment not only eliminates the risk of theft and storage expenses but also spares you from making charges and concerns regarding gold purity. Investing in Sovereign Gold Bonds not only assures the safety of your investment but also guarantees a fixed interest rate of 2.5% per annum.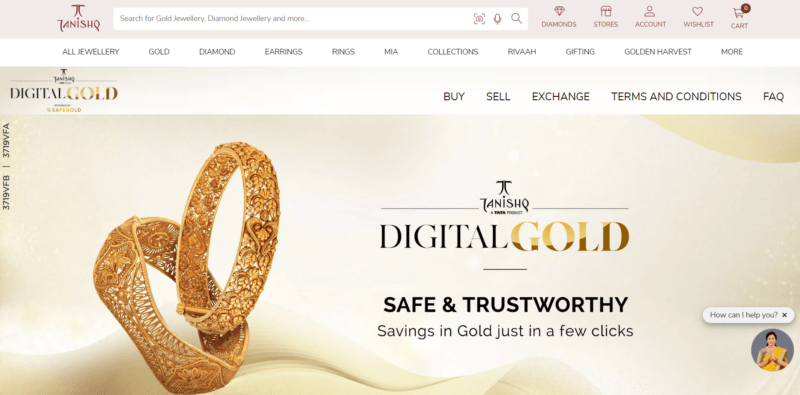 Tanishq, a Tata Group brand and one of the leading jewelry giants, has expanded its offerings to include digital gold investment in partnership with SafeGold. Through the Tanishq app and website, customers can now conveniently purchase digital gold with a purity of 24K for as little as Rs. 100.
What sets this service apart is the flexibility it offers. Customers have the freedom to sell their digital gold at any time or opt to exchange it at any of Tanishq's 350+ stores located across India. Furthermore, unlike some other platforms, the Tanishq app imposes no additional fees for services such as locker usage or transaction processing.
With its strong association with the esteemed Tata Group, Tanishq stands as a trusted and reliable platform for acquiring gold in both physical and digital formats, assuring customers of the highest level of credibility and security.
Amazon, a widely used online shopping platform, offers a unique feature that allows users to invest in digital gold through Amazon Pay. This service is made possible through a partnership with SafeGold and can be accessed within the Amazon app. To buy digital gold, simply search for Digital Gold within the Amazon app or visit the Amazon Pay section.
The gold you acquire is securely stored in highly protected vaults, and you have the convenience of checking its value through the app at your discretion. The investment threshold for this offering is as low as Rs. 5, with the option to purchase up to a maximum of 30 grams of gold. Should you decide to sell your digital gold, you can do so any time after a 24-hour holding period, and the proceeds will be instantly credited to your account.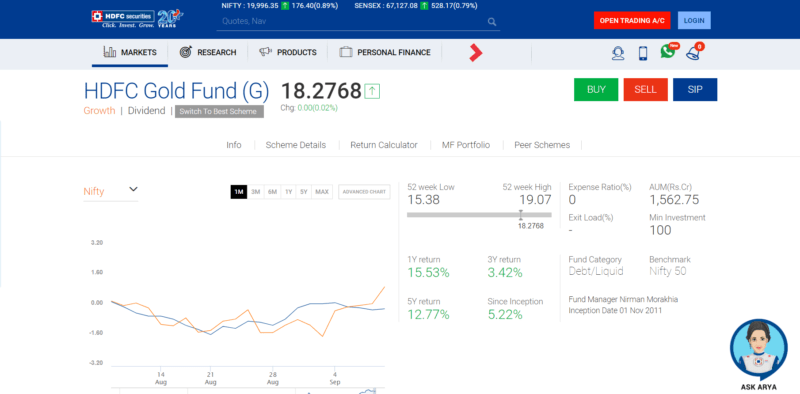 HDFC Securities is a financial services company, operating as a subsidiary of HDFC Bank. Established in the year 2000, its corporate headquarters are situated in Mumbai, India. Among its diverse offerings, HDFC Securities provides users with the opportunity to invest in digital gold.
Through HDFC Securities, individuals can purchase 24K gold, not only in terms of its monetary value but also in quantity. This platform ensures that users have access to top-quality gold, which can then be securely stored in a digital locker. This digital locker offers the convenience of accessibility from anywhere and at any time, providing a safe and efficient means of managing one's digital gold investments.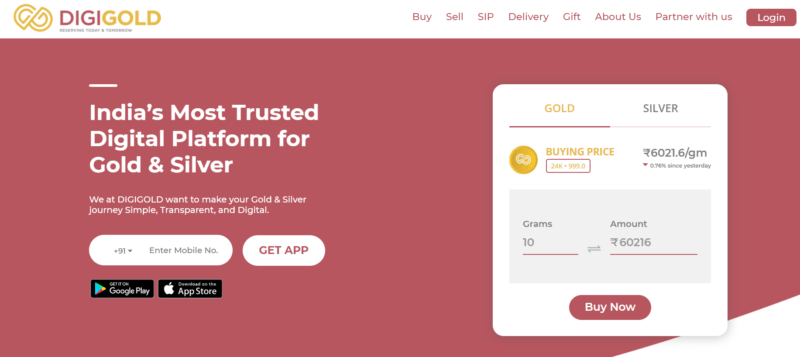 DigiGold stands out as a highly reputable application for the purchase of digital gold and silver. It offers gold and silver of exceptional quality, boasting 24K purity and an impressive 99.9% purity rating. What's particularly appealing is that you can initiate your precious metal investments with as little as Re. 1, all at real-time market prices. Furthermore, you have the convenience of monitoring the value of your gold holdings in your wallet at any given moment.
For those interested in systematic investments, DigiGold allows you to commence a no lock-in period SIP (Systematic Investment Plan) in gold with a modest investment of Rs. 500. This provides the advantage of compounding returns over time. Should you wish to liquidate your gold holdings or convert them into physical gold, DigiGold offers the flexibility to do so. Moreover, the app distinguishes itself by not imposing any delivery charges and ensuring the prompt delivery of your gold within 3-5 days.
DigiGold extends its services to include secure physical lockers where you can safeguard your precious metals. What's remarkable is that you can access and manage these lockers conveniently from the comfort of your home with just a single click through their user-friendly app.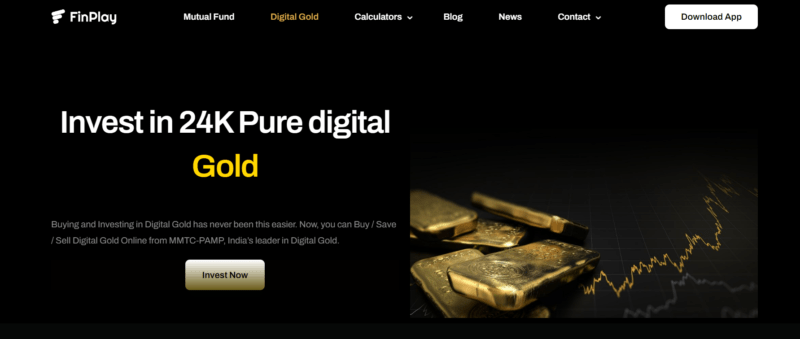 Founded by two IIT graduates, FinPlay is an innovative investment platform that seamlessly merges the captivating worlds of fintech and gaming. This unique platform allows users to engage in entertaining games while earning FinCash rewards, which can be redeemed for discounted financial products available on the platform. Additionally, users can unlock various rewards, such as Amazon coupons, enhancing their overall experience.
As of now, FinPlay primarily offers digital gold as an investment option, boasting the purity of 24K gold at an impressive 99.99% fineness. This gold investment is not only secure but also ensures transparent pricing. Remarkably, FinPlay empowers its users to begin their journey into gold investment with as little as Re. 1, making it accessible to a broad audience.
Looking ahead, FinPlay has ambitious plans to diversify its offerings by introducing mutual funds and stock portfolios in the coming months. Ultimately, their vision is to establish themselves as the preferred wealth creation platform for millennials who are embarking on their journey towards financial prosperity.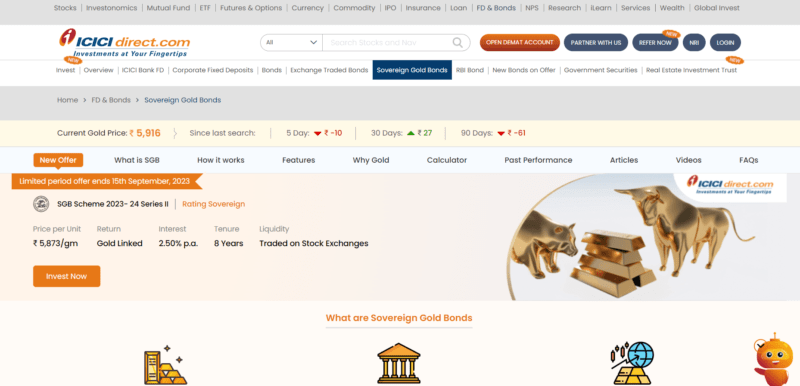 ICICI Bank offers three distinct Gold Deposit Schemes, categorized as Short Term, Medium Term, and Long Term. It's worth noting that, at present, the Short-Term Gold Deposit Scheme is not accessible to the bank's customers. Individuals can select the scheme that aligns best with their requirements to enjoy interest benefits and various other perks.
To participate in these schemes, a minimum of 30 grams of raw gold is required for depositing, which can take the form of bars, coins, or jewelry. Notably, this quantity does not include any stones or other metals. There's no upper limit on the quantity of gold an individual can deposit within the scheme. The bank typically takes about 30 days to process the deposit, starting from the time it's accepted at the refinery or the refiner's purity testing center. The principal (P) in these schemes is denominated in grams of gold with a purity level of 995. Interest on the gold deposits is paid out annually, either on the 31st of March or upon maturity, whichever occurs first.
Motilal Oswal is a versatile financial services firm based in India, offering a range of investment options, including opportunities in gold. Established in 1987 and headquartered in Mumbai, India, Motilal Oswal enables individuals to acquire digital gold starting at just Rs. 1,000. This allows you to invest in 24k pure gold at the most competitive rates and securely store it online.
For individuals seeking a hassle-free way to invest in pure gold, Motilal Oswal offers the ideal solution. As one of India's leading stock brokerage firms, Motilal Oswal Securities has developed the MO Investor app, renowned for its user-friendly interface, advanced features, and real-time price notifications in the market.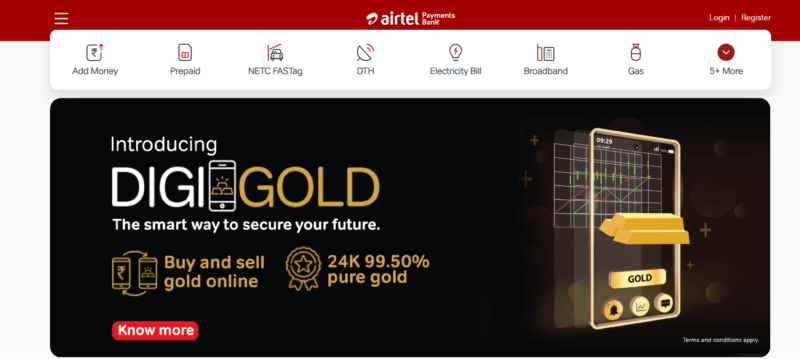 Airtel Payments Bank also offers the opportunity to acquire digital gold of the utmost purity, at 24K 99.9%, through its platform. Nevertheless, it's worth noting that to make a digital gold purchase, you must possess an Airtel Payments Bank savings account. The entry point for investment in this digital gold is as low as Re. 1, and you have the flexibility to purchase it in grams.
Furthermore, the convenience extends to selling the gold at your discretion or having it delivered to your doorstep. It's important to note that gold can only be delivered in quantities of one gram or more; amounts less than one gram do not qualify for home delivery. Additionally, the app provides the option to gift gold to your loved ones, adding a thoughtful touch to your financial transactions.
Jupiter Money is an individualized financial management application designed to empower you in taking charge of your financial well-being. Beyond merely monitoring your expenditures and assisting you in setting aside funds in designated savings pots, it offers a diverse range of investment opportunities. Among these options is the inclusion of digital gold, made possible through a collaboration with MMTC-PAMP.
With Jupiter Money, you have the opportunity to invest in digital gold boasting 24K purity at an impressive 99.9%. Buying and selling gold has never been easier, as a simple swipe enables you to execute these transactions anytime and from anywhere. Furthermore, the gold you acquire is securely stored within protected vaults, and what's even better, there are no associated storage costs for life.
One of the standout features of Jupiter Money is its capacity to help you establish a consistent investment routine. You have the ability to automatically allocate a specified sum toward gold savings on a daily, weekly, or monthly basis. Additionally, the app provides the means to monitor the progress of your gold investments, offering insights into the accrued profits you've accumulated over time.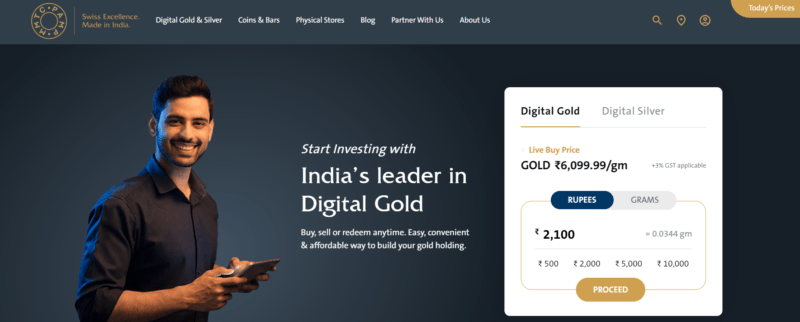 MMTC-PAMP is a collaborative effort between the Swiss bullion brand PAMP SA and MMTC Ltd, a Government of India Undertaking. This app provides an avenue for investing in 24K gold of exceptional purity at 99.9%. You have the flexibility to invest either in grams of gold or based on the current gold value. After your investment, an automated invoice is promptly generated and sent to you.
Furthermore, the app maintains a record of the digital gold's value within your account. At the same time, MMTC-PAMP securely stores an equivalent weight of physical gold in their highly protected vault, under your name. The app offers the convenience of saving incrementally on a daily, weekly, or monthly basis to bolster your gold portfolio. You have the freedom to buy, sell, or redeem your investment at any time during the day. Should you wish to convert your digital gold into physical gold or redeem it, you will be required to cover delivery charges, and the physical gold will be delivered right to your doorstep.
5Paisa is a user-friendly stock market trading application well-suited for both seasoned traders and novices. This app additionally facilitates investment in digital gold, and there are no hidden fees involved. Secure payment options are provided, including debit cards, credit cards, and integrated wallets.
The minimum investment required for digital gold is just Rs. 50. Once you make a purchase of digital gold, it promptly appears in your portfolio. Furthermore, you have the flexibility to sell your digital gold holdings and receive instant funds without any complications or inconveniences.
Features of Digital Gold Investment
Authorized digital gold providers facilitate the purchase of gold using electronic payments while securely storing your gold in physical form within a protected vault on your behalf. These providers can be payment wallets or established commercial banks, all regulated by the Reserve Bank of India (RBI).
Gold vaulting location refers to the process of acquiring digital gold from service providers who hold your gold in an overseas location. You make the purchase in Indian rupees, and simultaneously, the service provider acquires gold on your behalf in foreign currencies.
To ensure trustworthiness, it's advisable for the seller of digital gold to have an independent trustee registered with SEBI who conducts monthly audits to verify the gold holdings.
Pricing of digital gold can vary between providers and is contingent on factors such as the carat purity, whether it's 995, 999, or 9999.
Similar to buying physical gold from a jewelry store, purchasing digital gold involves two prices – a buying price and a selling price, which are typically displayed.
Regarding fungibility and gold delivery, digital gold can be redeemed 24/7, and some providers even offer the option to exchange it for physical jewelry. However, it's crucial to have upfront information about the minimum amount of gold you can redeem and any associated conversion costs.
Ways to Invest in Digital Gold
Digital gold offers the advantage of eliminating concerns related to both storage and purity. These investment options are backed by physical gold, ensuring returns aligned with its spot prices after deducting associated charges. Additionally, converting digital gold into cash or purchasing jewelry is hassle-free, avoiding the deductions often associated with physical gold transactions. Notably, the ability to invest smaller sums of money is a significant draw for investors seeking to accumulate gold gradually.
1. Gold Exchange Traded Funds (ETFs)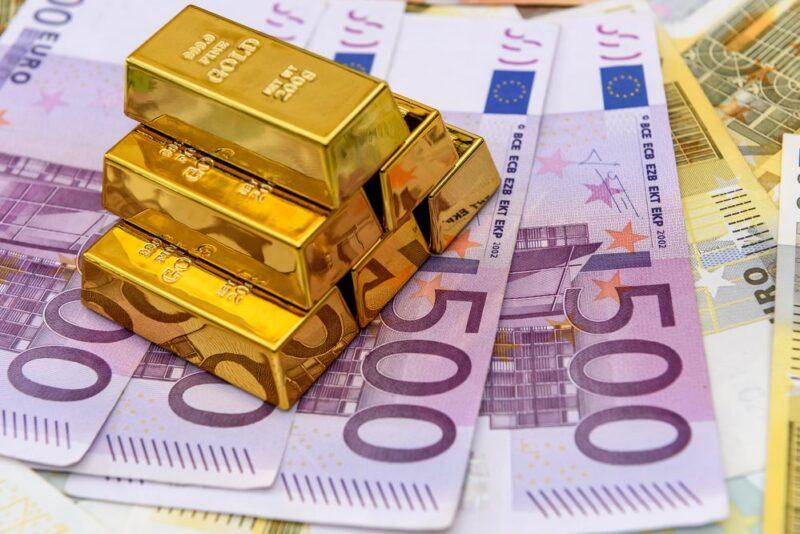 Exchange Traded Funds (ETFs) have emerged as a straightforward method for investing in gold. Gold ETFs are essentially funds that allocate their assets to gold and can be traded on stock exchanges, similar to regular stocks. To get started with gold ETFs, investors are required to purchase a minimum of one unit, which is equivalent to one gram of gold.
Initiating a systematic investment plan (SIP) is a well-planned approach for investing in gold ETFs. As an investor accumulates a significant number of units, there is also the option to convert them into physical gold.
2. Gold Mutual Funds
Investors can introduce gold into their investment portfolios by acquiring shares in mutual funds. Some mutual funds base their holdings on international gold mining company stocks and other assets connected to the gold market, such as gold ETFs. These mutual funds closely track the price of gold as the value of the assets they hold rises and falls. Investing in these mutual funds involves expenses, including a management fee and the cost of acquiring the underlying assets. This means that investors will incur fees when holding gold mutual funds.
3. Gold Futures Contracts
Gold futures are standardized contracts traded on organized exchanges. In India, the Multi Commodity Exchange (MCX) and NCDEX are prominent exchanges for gold futures trading. Gold futures fall into the high-risk category of gold investments and are better suited for experienced investors.
The operation of a gold futures contract involves investors committing to buy or sell a specific quantity of gold at an agreed-upon price in the future. These gold futures contracts must be fulfilled by investors, either through purchase or sale, in anticipation of potential profits or losses. In any case, contract settlement occurs on the contract's expiration date, and investors have the flexibility to buy, sell, or hold the contract until that time.
4. Sovereign Gold Bonds (SGBs)
The Government of India offers sovereign gold bonds through the Reserve Bank of India. Although not widely popular among the Indian populace, these bonds, introduced in 2015, are considered attractive due to their consistent return on investment. Sovereign gold bonds offer investors two advantages: the potential for price appreciation and a fixed 2.5% yield.
Things to Remember during Digital Gold Investment
Minimum Investment: The minimum investment requirement varies from one platform to another. Some apps allow you to start investing with as little as Re. 1, while others set a minimum limit of Rs. 100.
Maximum Investment: In the realm of digital gold, the maximum amount you can invest is capped at Rs. 2 lakhs.
Locker Charges: While most apps typically do not impose locker charges, it's advisable to verify this beforehand, as these charges can be deducted from your principal investment.
Maximum Holding Period: Digital gold investments come with a maximum holding period of five years. Beyond this duration, you must either sell your digital gold or opt to convert it into physical gold.
Convertibility to Physical Gold: It's important to note that not all platforms offer the option to convert digital gold into physical gold. If you desire this conversion feature, select a platform that provides it.
GST (Goods and Services Tax): Digital gold transactions are subject to a 3% GST, which is deducted from the principal amount. Therefore, it's crucial to consider GST when making investment and selling decisions related to digital gold.
Taxes on Capital Gains: When you decide to sell your digital gold, it's essential to account for taxation. Capital gains from gold are taxable at your applicable income tax slab rate, regardless of the duration for which you held the investment.
Regulation for Digital Gold Investment
In India, the purchase and investment in digital gold are legally sanctioned and government approved. The country recognizes three government-approved digital gold vault companies:
MMTC-PAMP India
SafeGold – Digital Gold India
These three entities hold exclusive rights to legally sell or purchase digital gold in India.
However, it's essential to note that digital gold is still an evolving concept in India, and the government is actively working on regulating it. Presently, it does not fall under the purview of any financial sector regulator. Consequently, digital gold exists in a regulatory gray area, lacking oversight from any authority to monitor the processes involved in selling, securing, storing, and managing digital gold transactions.
This regulatory ambiguity implies that investing in digital gold in India carries inherent risks, similar to mutual funds. To mitigate these risks, it is advisable to conduct thorough due diligence on the integrity, credibility, reputation, and business model of the chosen digital gold provider before making any investments.
Is Digital Gold Taxable in India?
Investing in digital gold has become a popular choice, especially among the younger generation, due to its affordability and convenience. However, it's crucial for digital gold investors to be aware of the tax implications associated with their investments.
If you hold digital gold assets for less than 36 months, any returns you earn are not directly subject to taxation. However, in the case of long-term capital gains, you will be required to pay a 20% tax on your returns, in addition to a surcharge and a 4% cess.
So, if you decide to cash out your investment after, let's say, 5 years, you should be prepared to settle these tax obligations. It's important to note that the duration of your holding period plays a key role in determining the amount of taxes you'll need to pay.
Is Digital Gold Convertible?
To convert your digital gold holdings into physical gold, follow these steps:
Step 1: Log in to your digital gold account on the platform where you purchased the digital gold. Here, we use the digital gold platform Augmont.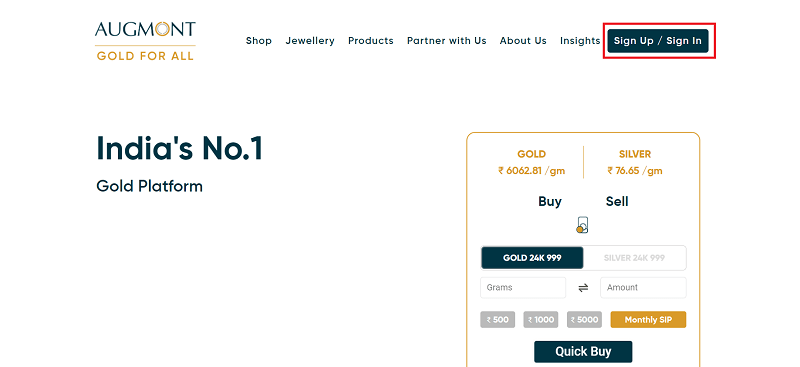 Step 2: Select the option to convert your digital gold into physical gold. You can choose to have it in the form of gold coins, bars, or any other preferred form.
Step 3: Enter the amount of digital gold you wish to convert into physical gold.
Step 4: Carefully check for any additional making or minting charges that may apply. Review the platform's terms and conditions, and look for any other charges associated with the conversion process.
Step 5: Confirm your delivery address and take note of any delivery charges. You typically have the option to have the physical gold delivered to your home or to collect it from a designated location.
Step 6: Be aware that some providers may require additional documents for verification purposes. Ensure that you fulfill these requirements to avoid any delays in the conversion process.
Step 7: Pay the final amount, which will include any delivery or minting charges.
If you have any questions or concerns regarding the conversion of your digital gold to physical gold, don't hesitate to contact the platform's customer support. They will provide guidance and assistance throughout the conversion process.
Pros of Digital Gold Investment
Safe Storage: The company securely stores digital gold in high-security vaults, alleviating concerns about theft or loss. Furthermore, this eliminates the need for expenses related to physical gold locker charges.
No Minimum Investment Requirement: There are no lower limits on investing in digital gold. You have the flexibility to invest any amount, even as low as Re. 1.
Collateral Use: Digital gold can serve as collateral for loans. Lenders readily accept it as collateral due to its 24K purity and secure storage, streamlining the cumbersome process associated with traditional collateral paperwork and reducing the likelihood of loan rejection.
Convenient Conversion: Digital gold can be easily converted into physical gold, providing the flexibility of exchange and the option to have physical gold delivered to your doorstep.
Assured Genuineness: Digital gold boasts 24K purity with a certified 99.99% purity level, instilling trust in its authenticity and purity. This significantly diminishes the risk of fraud, ensuring that investors receive the full value of their investment.
Cross-Reference: Why Gold Is A Good Investment Right Now
Cons of Digital Gold Investment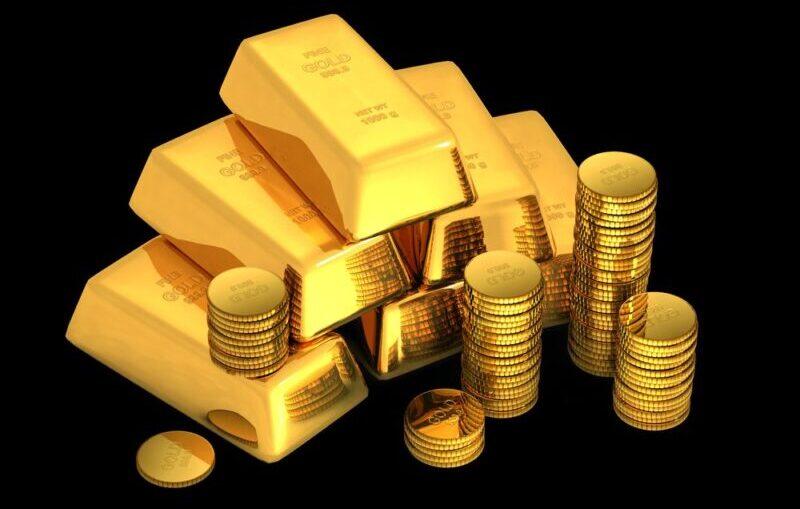 Absence of Regulatory Oversight: Digital gold lacks regulatory bodies overseeing its trading rules and regulations. This significant drawback creates ambiguous areas vulnerable to exploitation by unscrupulous individuals within the system, posing a potential risk to investors.
Storage Time Constraints: Digital gold equivalents are typically stored in secure and insured vaults upon purchase. However, some platforms or sellers impose time limits on this storage. Upon expiration, investors are required to withdraw or sell their gold, potentially disrupting long-term investment strategies.
Investment Upper Limits: Digital gold investments often come with predefined upper limits. Presently, most platforms cap maximum investments at Rs. 2 lakhs, restricting opportunities for substantial investments in digital gold and potential returns.
Absence of Physical Possession and Limited Liquidity: In emergencies, utilizing physical gold as collateral or for sale is a reliable option. However, with digital gold, direct possession of the physical gold is absent, making it challenging to access and employ in urgent situations. Additionally, the liquidity of the digital gold market can fluctuate, impacting the ease and speed of converting it into physical gold or cash.
Also Read: Is Gold or Silver a Better Investment?
Investing in gold presents an opportunity to diversify your portfolios and gain security against economic uncertainties. With the potential for growth and the ease of digital transactions, it's a beneficial option for both beginners as well as experienced investors.