Keeping track of your stock portfolio is essential for effective investing and financial planning. With numerous options available, finding the best one can significantly simplify this process, providing real-time updates, insightful analytics, and user-friendly interfaces. In this guide, we will explore some of the best stock portfolio trackers available in the market, each offering unique features to suit your investment needs. Whether you are a novice investor or a seasoned trader, a reliable portfolio tracker can help you monitor your investments, track performance, and make informed decisions.
What is a Stock Portfolio Tracker?
It is a tool that is used for tracking the fluctuation of securities that are held in your financial portfolio. On the tracker, you would be able to see how the prevailing allocation accumulates up with your long-term goals and examine how your portfolio is doing concerning the market.
The trackers are easy to use, and they are equipped with powerful analytical tools plus, they are also combined with brokerages and stock screener tools. The good thing is that you would be able to track the stocks you have invested in and the ones in which you are interested.
Other features of stock portfolio trackers are:
You can see how your current asset allocation regulates your financial objectives.
It helps in comparing your portfolio's performance with market benchmarks.
You would be able to see all your investment holdings in one location, making it facile for you to track your investment performance.
A few portfolio trackers will also show you vital information on the securities' gain-loss statements by the multiple trades that have been made.
It will also show you how your securities are allocated to distinct market areas like energy, telecom, materials, paper, financials, medical, etc. and transitions in this allocation over time.
Some of the best portfolio trackers provide you with an alternative to add portfolios from your investment accounts or execute hand-operated portfolios to test-specific strategies.
27 Best Stock Portfolio Trackers
Your portfolio might comprise consolidation of financial assets like bonds, stocks, mutual funds, ETFs, etc. It is really tough to manage and track all the assets as you would want to know what's going on with your investments regularly- not just once in six months.
With the advancement of technology, things have become pretty easier, and it also implies the financial markets as well. For example, there are numerous free investment portfolio trackers; with their help, you can keep track of all your investments without a hassle. You would no longer have to juggle between different accounts as you just need to log in on the tracker and check everything related to your investments here.
These were some of the benefits of stock portfolio trackers, but which are the trackers that one should go for as they should have good speed, be reliable, cost-efficient, and possess excellent features. Is it attainable to have all of them in one tracker? Of course, it is. Here is the list of some of the excellent trackers which were created after a lot of research.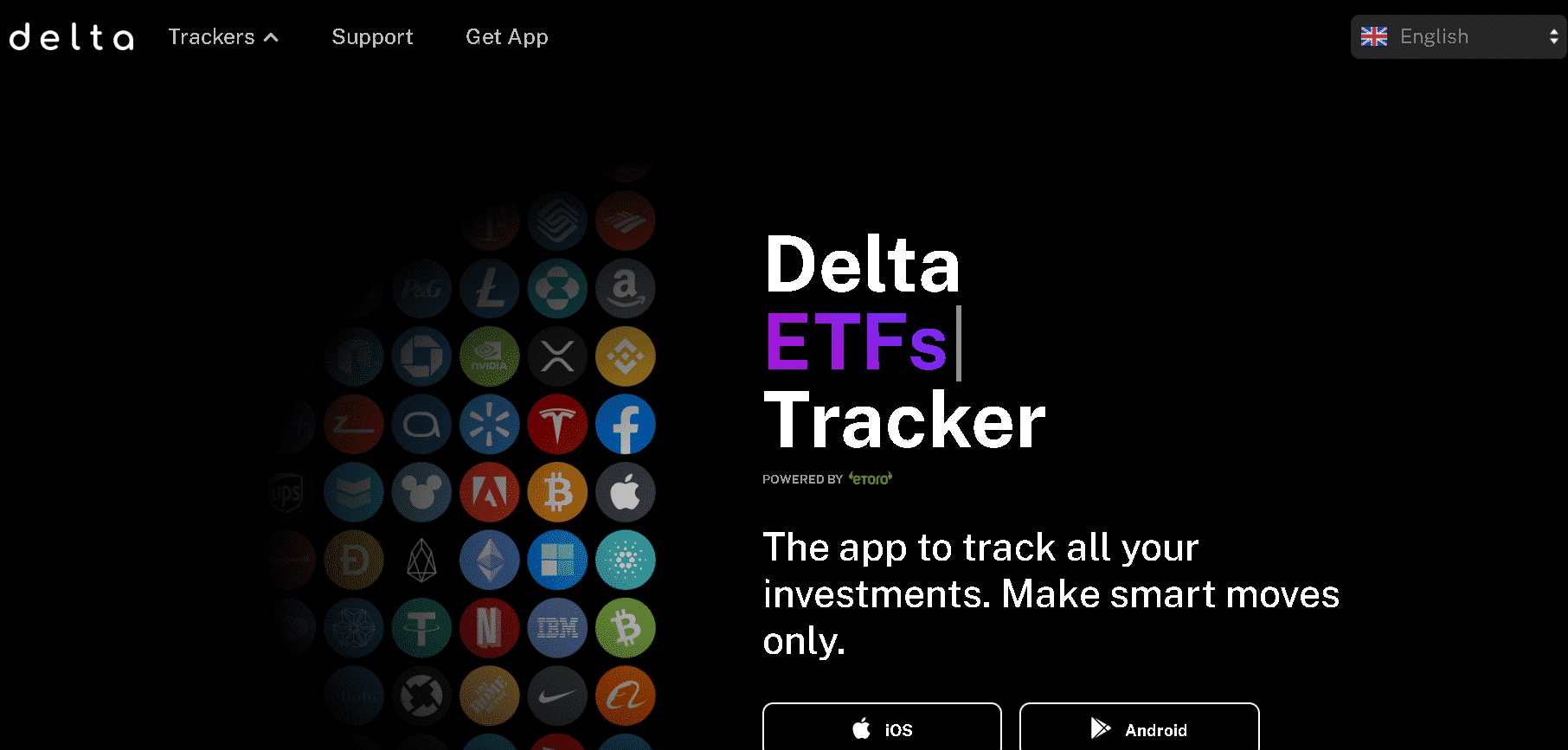 It is a crypto-focused trading app available worldwide for Android and iOS users. It comes in both free and premium versions, you can initially opt for the free version, and if you like its features, then you can go for the premium plan.
Features
You can get the live price changes to a huge range of stocks, bonds, mutual funds, ETFs, futures, options, and cryptocurrencies.
It provides you with a summary of your total portfolio balance and your current market positions and value, percent change, and unrealized capital gains.
Price change notifications.
You can also see the asset details and news for supported investments.
Cons
It does not support commodities or mutual funds.
Intermittently slow.
Thus, the Delta app is an excellent option for you as the majority of its features come for free, plus it is very user-friendly. So, if you want to see all your investments and trends in one place, then choose Delta that comes with dynamic capabilities.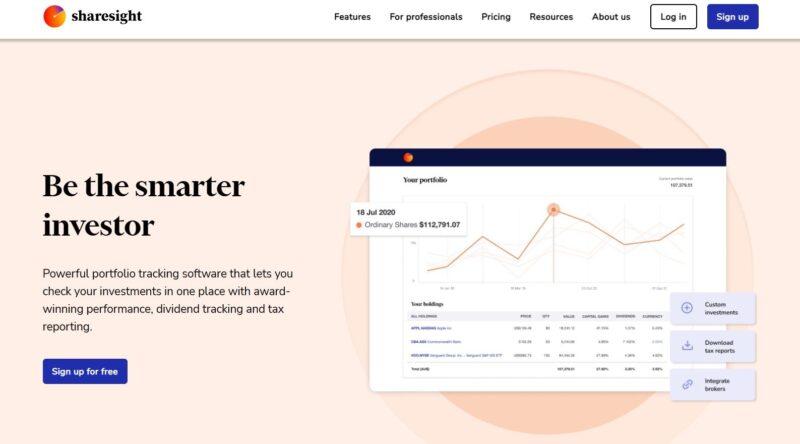 This platform offers you an amazing performance; here, you can track your shares and ETFs from more than 40 exchanges globally. On Sharesight, you would be able to track the performance of all your listed stocks automatically. This tracker is mainly for the users of the UK, New Zealand, Australia, and Canada customers.
Features
Native crypto tracking.
Customizable tax reporting.
With the help of ShareSight, you can track 67 global currencies and follow unlisted, alternative investments like fixed interest and investment properties.
Can also track multiple asset classes like currency, private equity, alternatives, bonds, property, and other custom investments in one place by using their features, called custom groups.
Dividends tracking for supported stocks.
You also get price change alerts.
Can do a comparison against benchmarks.
Cons
They offer a limited free version.
It is a mainly web-based solution.
With the aid of this tracker, you would be able to know your actual performance of all the registered holdings, plus you can also view the result of dividends, capital gains, and currency variations. The premium plan commences at $12 a month.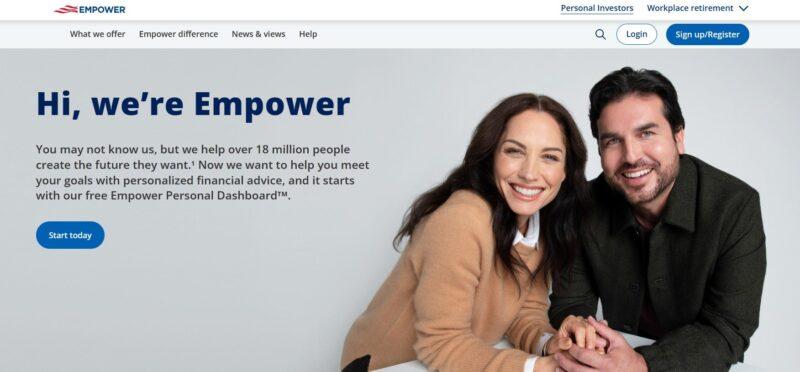 It is one of the best investment tracking apps available for both iOS and Android users. You would be amazed to know that it has more than 3 million users and this number is constantly increasing because of the excellent features and services they offer.
Features
With Empower, you can monitor your portfolios, plus your bills, bank accounts, credit card statements, taxable and retirement accounts as well.
Can get portfolio summary and category breakdown views.
You will get alerts whenever your holdings depart from the aspired portfolio balance. You also get recommendations for altering your asset allocation for improving the portfolio performance.
They also render you with a mutual fund fees analysis tool.
Empower also has an Investment Checkup tool and has a pretty good retirement calculator as well.
It also supports cryptocurrency tracking.
Cons
For US-based customers, only.
It comes in two versions, Free Financial Dashboard version and Wealth Management service, you can choose any as per your requirement. The best part is that you can use both versions for free.
Also Read: 17 Best Cryptocurrency to Mine in 2023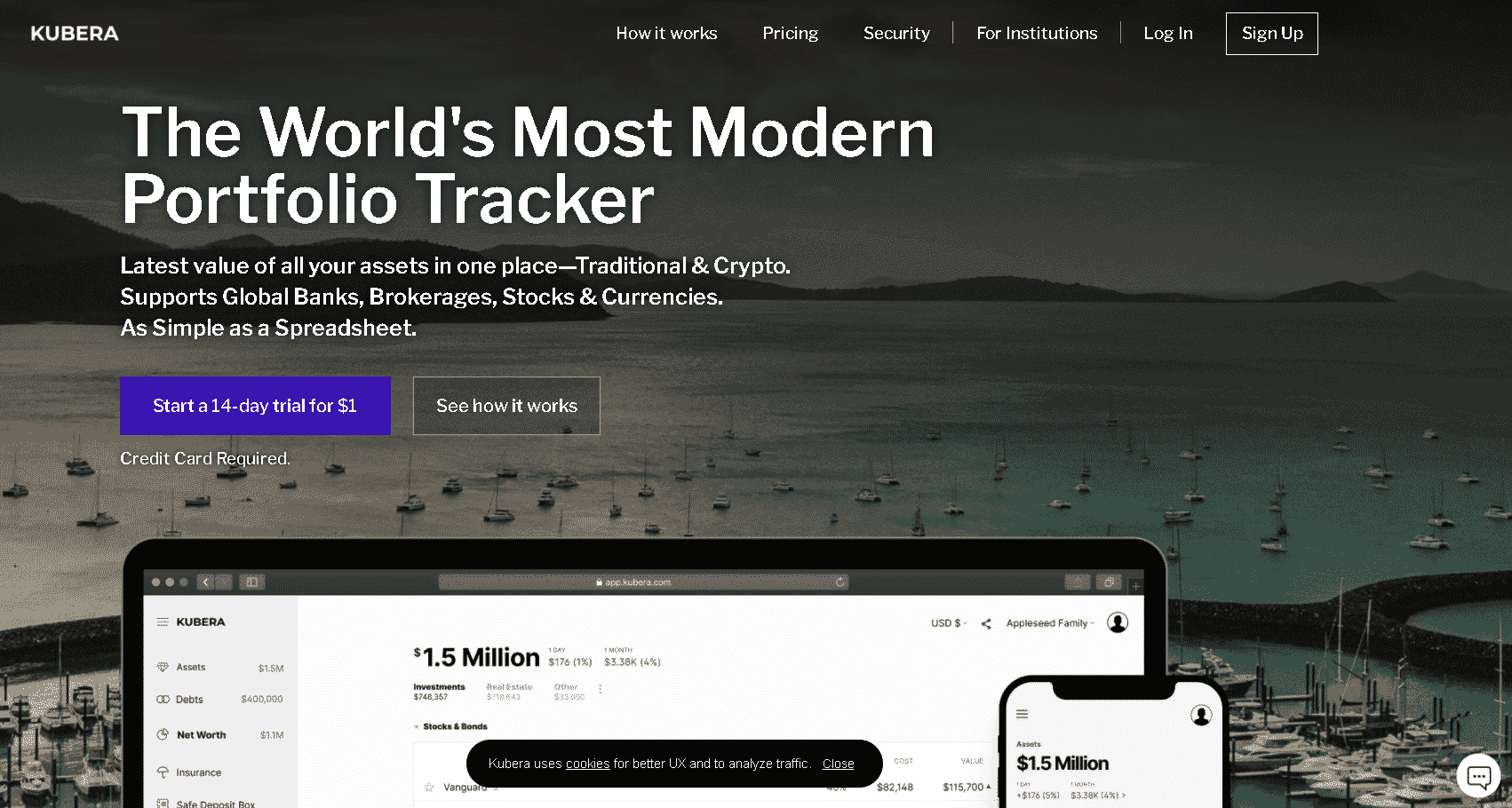 It is one of the most advanced portfolio trackers with thousands of bank connections and tracks all your assets in a single place. It provides you with all the detailed information about your investments and is perfect for newbies, real estate professionals, homemakers, and savvy crypt investors.
Features
It helps equate your online brokerage accounts or can also combine individual stocks to note their value in real-time.
You can also get the prevailing balance from your crypto wallets and exchange accounts.
With the help of Kubera, you can connect with more than 20,000 banks globally to link your accounts.
You can also combine your home value, any vehicles, or web domains you own to know the net worth.
The assets can be added easily by just inserting a fresh row like a spreadsheet.
Kubera has a unique characteristic called Life Beat Check that finds out for an outspread span of inactivity and can transfer your portfolio to a specific recipient.
Cons
The trial period is very less.
It has a free 14-day trial. The premium version costs $15 a month or $150 a year.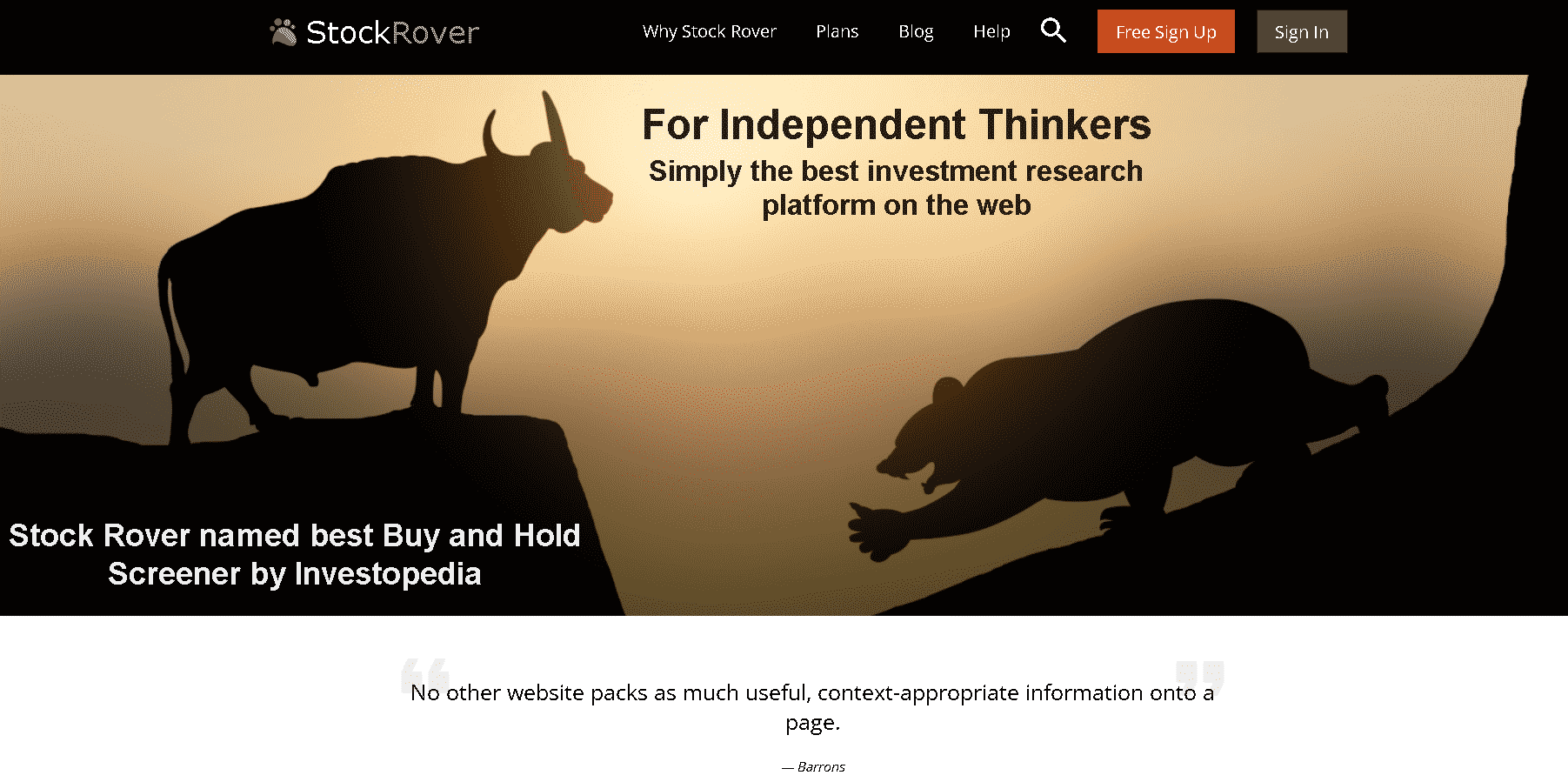 This is a stock screener and analysis tool that is made particularly for learned traders. This app is available for iOS and Android; you can use it on your desktop, tablet, and mobile. The tracker helps you get in-depth information about your performance and offers portfolio analysis tools, trade planning, correlation tools, email performance reports, and re-balancing facilities.
Features
On Stock Rover, you can get all the data offered by them without confusion.
You can combine all your brokerage accounts to this platform, but if you don't want to attach your brokerage, you can put it manually or use a spreadsheet import.
It checks all these accounts on your behalf and provides you with automatic updates on the performance of your investments.
With Stock Rover, you can review your portfolio against benchmarks and make vital decisions using factual data instead of relying on your gut feel.
Once you've fixed the account with them, you will get daily, weekly, or monthly reports displaying your performance. You can use this data to analyze it for various metrics like risk-adjusted return, volatility, beta, IRR, Sharpe Ratio, etc.
Cons
Customer service is complicated as contact is by email only.
It has a free version and 3 paid plans: Essential- $7.99 a month, Premium- $17.99 per month, and Premium Plus- $27.99 per month.
It is one of the best stock portfolio trackers as it renders its users with live market data and supports full extended-hours trading. Webull is an online and mobile trading app that lets you trade in stocks, exchange-traded funds, and options.
Features
With Webull, there is no account minimum, and stock trading is free.
You can place pre-market trades from 4:00 am to 9:30 am and on regular trading days from 4:00 pm to 8:00 pm.
Margin accounts give up to 4 times leverage on day trades, and on overnight borrowing power, it is up to 2 times.
Customizing your homepage can be done, as you can pick the countries and regions, you're most intrigued in viewing and the stocks you're tracing.
Perfect for those seeking margin trading, day trading, and short sales.
You can see real-time data tracking and price fluctuations.
Webull has a trading simulator that helps you know more about their trading platform and intensifies your investment abilities.
Cons
Customer contact is confined to email – no phone contact is available.
Does not promote fractional shares.
It has zero trading commissions; there may be several regulatory and exchange fees imposed on transactions.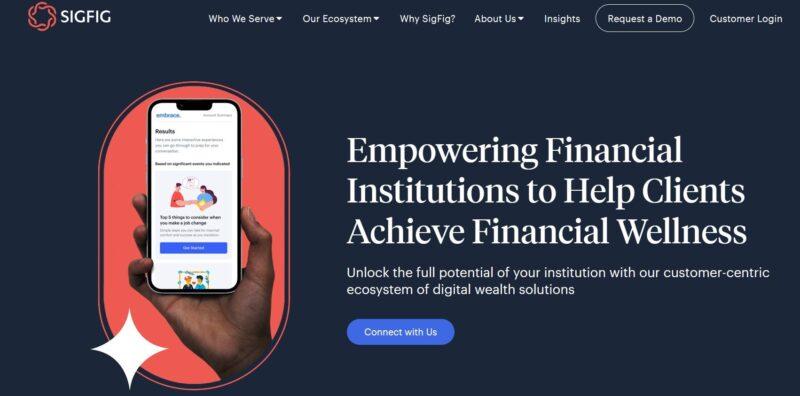 It is one of the best free investment portfolio management software and application. Its user interface is simple, connects the accounts seamlessly, and automatically analyzes your portfolio. In addition, it helps determine if you are overexposed to any specific industry or company that helps diversify your investment and risk level.
Features
It renders automated investing with economical management fees.
You get unlimited meetings with financial advisors.
SigFig offers innovative portfolio tracking tools.
Robust goal-based tools.
It automatically reviews your investment accounts from over 50 leading brokerages into one dashboard to provide you with a real-time view of the stocks, mutual funds, exchange-traded funds (ETF's), and options you possess.
They also send you weekly email summaries of account performance, news that affects your portfolio, and notifications that aim at your top gainers and losers.
Renders everyday audit to keep it on course with rebalancing, dividend reinvestment, and tax-efficient strategies.
SigFig provides free financial counseling.
Cons
No cash management or savings account.
There is free management of the first $10,000 invested, but it has a $2,000 account minimum, which is higher than its competitors.
Also Read: 10 Best Mutual Fund Apps to Invest Online in India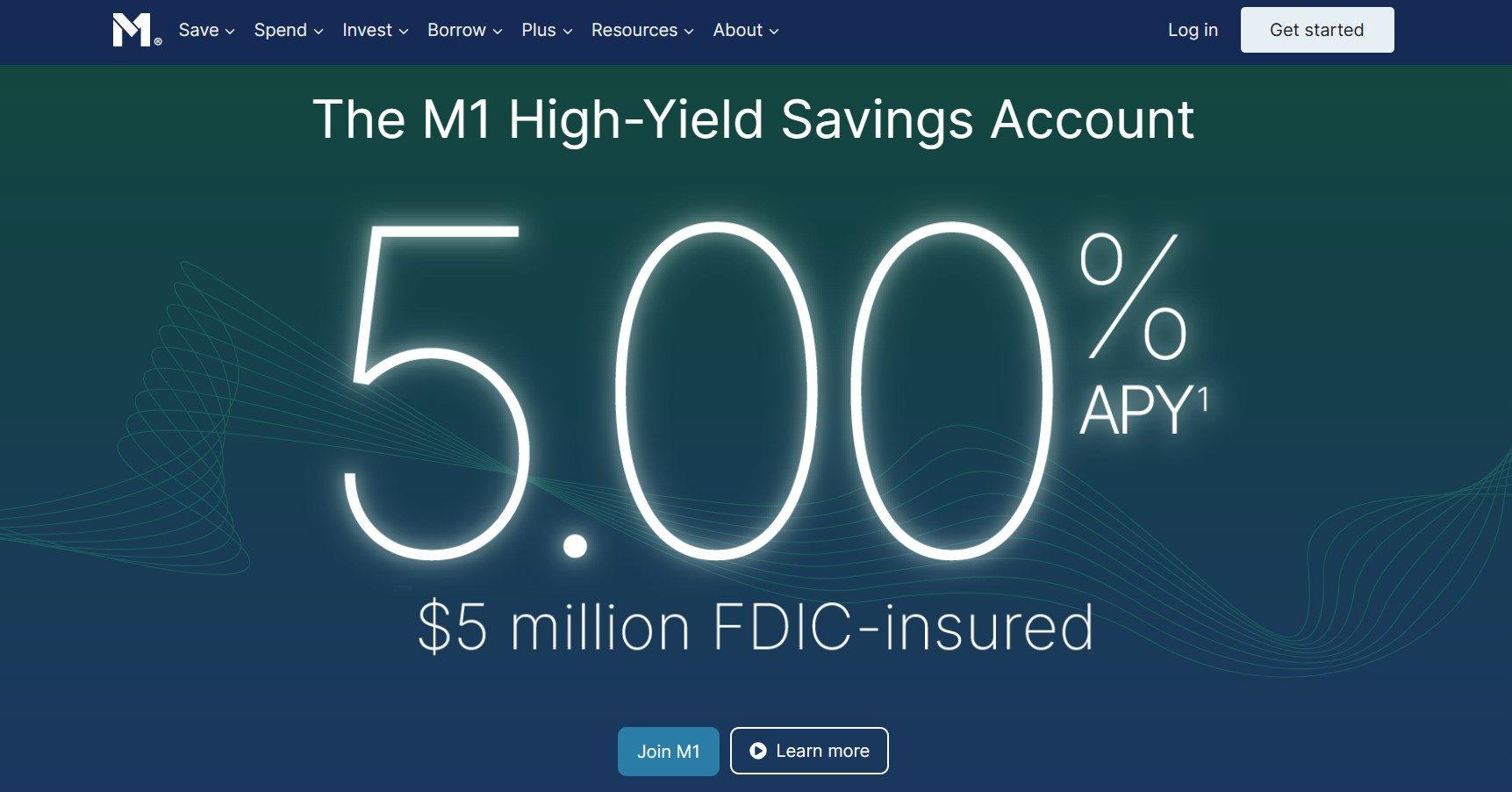 On this app, you can see all your holdings just like slices of a pie. Your job is just to delegate a percentage to every slice, fund the app, and have a stocks portfolio. This app is actually as simple as it sounds, and the best part is that there is no broker fee, and there is no charge on commissions plus no minimum balance required for opening the account.
Features
The platform integrates automated investment management with individual security selection.
It is perfect for investors who want specialists to make all their stock judgments and for people who want to make a fully custom portfolio.
M1 Finance lets you borrow against the credit line at a current rate of 2.0%.
You can select one of the 80 portfolio options built by the specialists.
It also provides you with an option to buy fractional shares; this means that you can buy a portion of a share instead of the whole shares.
Cons
M1 Finance does not provide tax-loss harvesting.
It does not charge advisory fees and commissions for trading.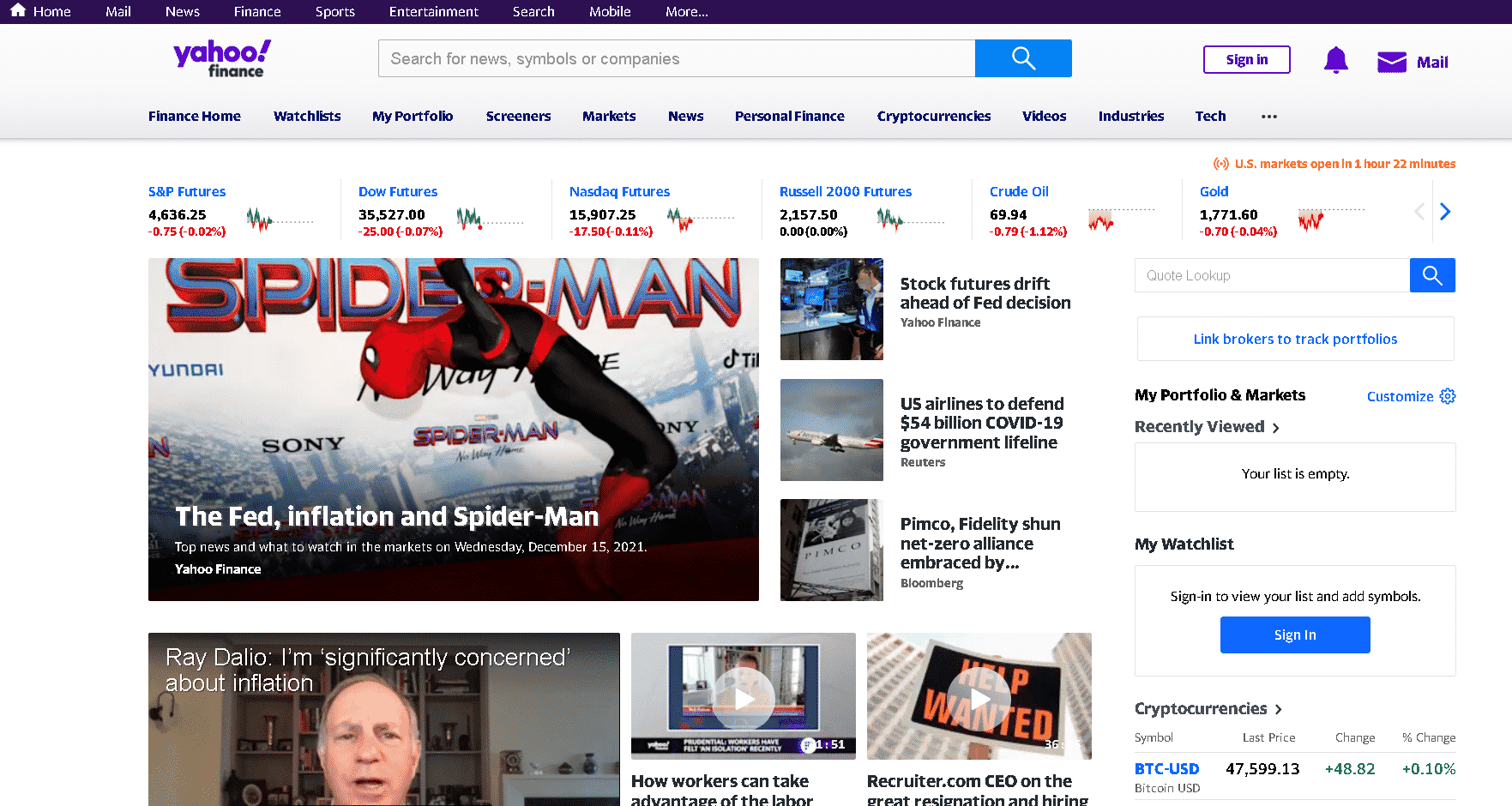 It is a rich watchlist and one of the biggest business news sites in the US with data. Yahoo Finance is available on both online and web interfaces. This platform has a user-friendly design which means that you can easily track your commodities, bonds, stocks, bonds, and commodities. With Yahoo Finance, you can get personalized news and alerts as well.
Features
Asset fundamental details, news, and commentary.
follow market movements in real-time.
quality data across multiple investment types.
Adjust the watch-list and get live quotes as you control your portfolio's performance.
It offers investment research and screening tools.
Users also get quick access to this breaking information at a sight.
performance analysis
Cons
Its mobile app has a very primary portfolio tracking view.
It comes in both free and paid versions; you can opt for the premium version after using the free version.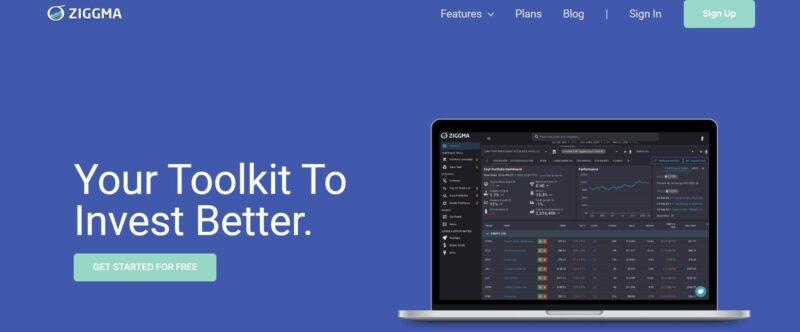 It is one of the best stock portfolio trackers created specifically for making investment and trading easy. Ziggma is also said to be the fastest stock and ETF screener in the market.
There are many investors who cannot keep up with their investment portfolios as they fail to find good methods to optimize risk-adjusted returns. But, with the Ziggma portfolio tracker, you can find the best opportunities based on your long-term goals.
Features
Portfolio Optimization.
Company Performance Scores.
Links your investment accounts.
Multi-Asset screener.
Monitoring tools.
Model portfolios to benchmark.
Intuitive portfolio analysis.
Account Aggregation.
Cons
Customer contact is limited.
This app is perfect for beginners, active investors, and investors who seek opportunities.
Also Read: 12 Best Penny Cryptocurrency to Invest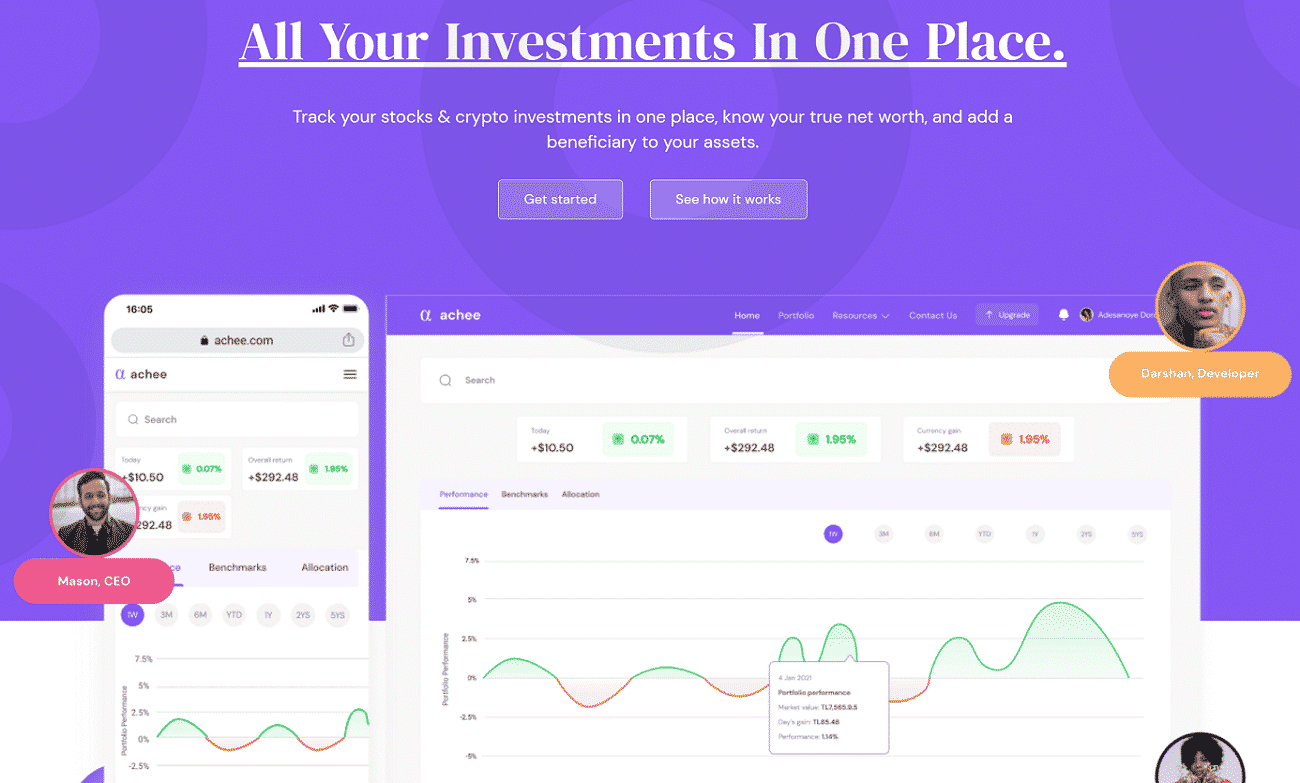 It is an excellent application to keep track of your investments and work out the true performance. There are a lot of things that you can do easily on achee, such as track investment costs, corporate actions, and the performance of your investment portfolio in your chosen currency.
Features
It enables investors globally to track their investments flawlessly.
Achee backs 75+ stock exchanges, 5,000+ cryptocurrencies, and tokens.
It also enables you to track your fixed income instruments as well.
This platform has the ability to benchmark your returns against the leading index funds globally.
You can also get a portfolio health check and recommendations on areas to make your performance sound.
It deals in 170,000+ stock tickers, collected from 70 global exchanges, also includes Nasdaq, NYSE, and more.
Cons
Weak portfolio review aspects.
This platform is apt for people who want to use the latest encryption technology standards as it helps safeguard your personal information.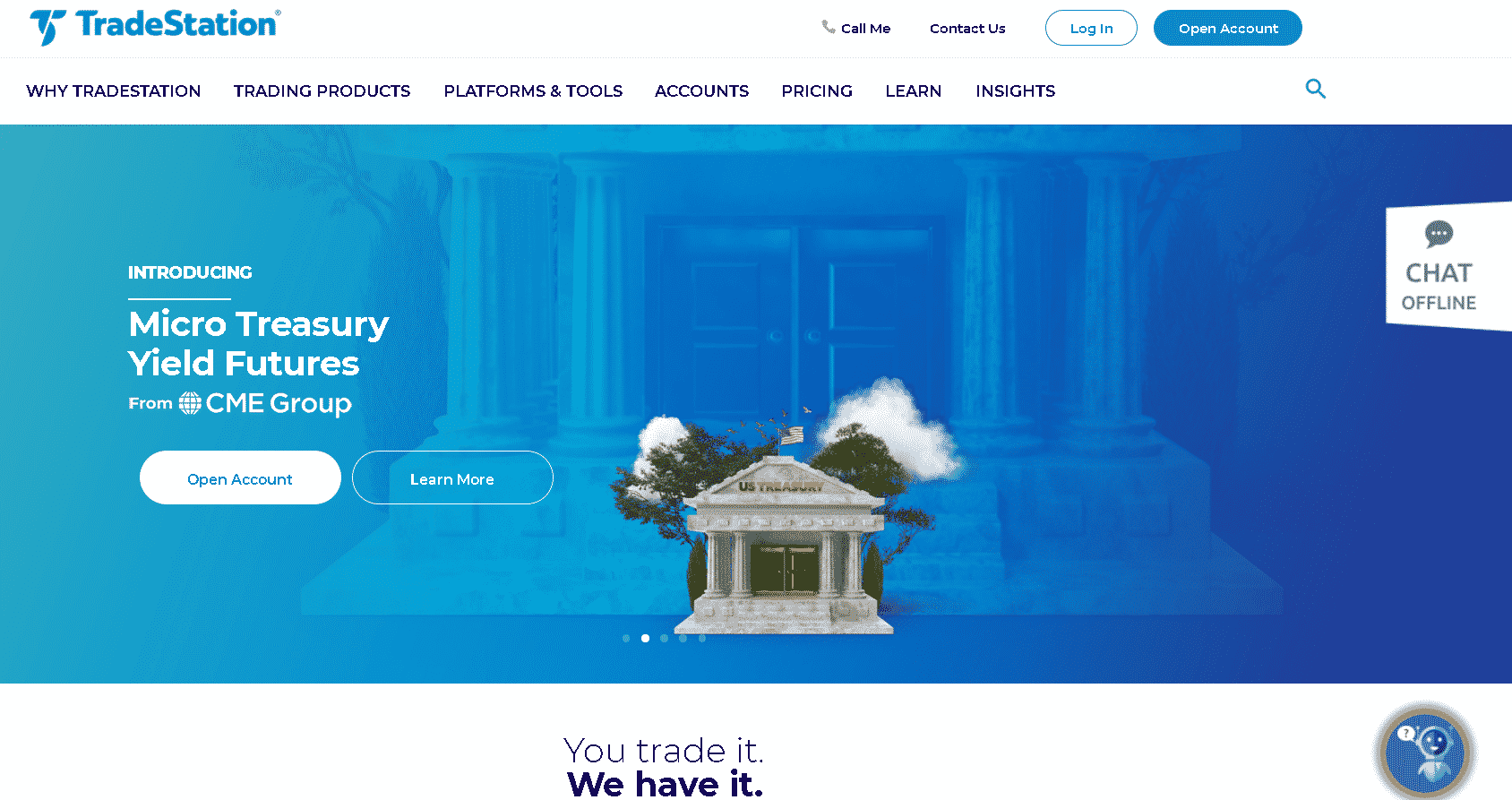 This platform is available for desktop, iOS, and Android. You can trade numerous trading options like bonds, stocks, futures, and cryptocurrency, and futures. It is a great platform as its app is very user-friendly, and a beginner can also operate it without any help. TradeStation has numerous users, and the number is increasing because of the excellent features that it offers-
Features
You get access to various power tools.
With TradeStation, you can do commission-free stock, ETF, and options trades.
There are stock and ETF screeners.
Advanced charting abilities and trading simulators.
Comprehensive research.
Its robust desktop platform makes it an outstanding stock tracking app for PCs.
It comes rigged with brokerage services plus trading education resources that big industry reviewers recognize.
Cons
Plans and pricing can be complicated.
Free trading on an advanced platform demands TS Select.
This app is perfect for intermediate to advanced traders.
Seeking Alpha is a valuable resource for investors, offering a wide range of financial information and tools. As the largest investing community globally, it provides up-to-date news, research, and strategies to help users make informed investment decisions. With its finance tracking app, it offers portfolio-tracking tools and real-time financial data for effective monitoring.
The platform's diverse content, including videos, research pieces, and commentaries, caters to both novice and experienced investors.
Features
Seeking Alpha provides extensive coverage of stocks, ETFs, and other investment options.
The platform features a broad spectrum of topics covered in articles authored by and tailored for investors.
Every month, thousands of contributors publish numerous investing ideas, ensuring a diverse range of insights.
Users can access articles that provide the most up-to-date information about their investments.
Cons
The subscription cost is high.
The interface customization options are limited.
The platform lacks technical depth and sophistication.
Some of the articles provided are inaccurate or contain errors.
Seeking Alpha's portfolio tracker ensures that users can closely monitor their investments, minimizing the risk of missing out on potential gains or unexpected losses. There are three plans available: Basic, Premium, and Pro.
Also Read: 22 Top Money Earning Websites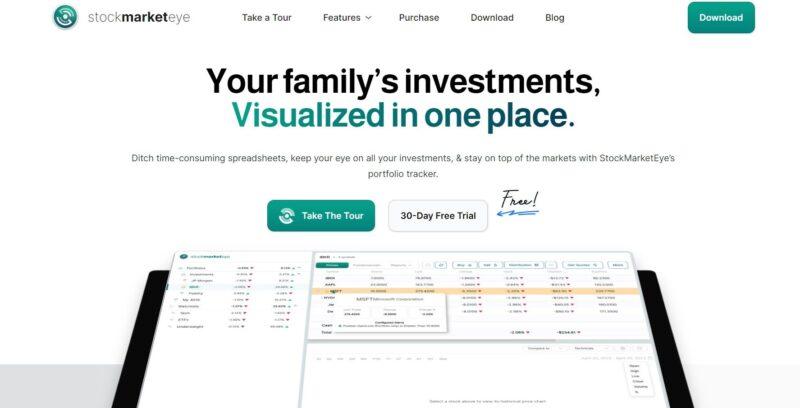 StockMarketEye is a user-friendly and powerful portfolio manager for tracking investments. It provides a range of features to easily monitor the performance of stocks and financial assets in your portfolio. With real-time updates, you can keep an eye on specific stocks or indexes.
Whether you're an experienced investor or just starting out, StockMarketEye offers a comprehensive solution to simplify your investment management at just $74.99. Its intuitive design and seamless synchronization across devices ensure you can monitor your investments anytime and anywhere, empowering you to make informed decisions about your financial future.
Features
Users can easily access the information they require through an intuitive interface.
The platform supports an unlimited number of portfolios, enabling users to track and manage various investments.
Users can create watchlists to monitor specific stocks or assets.
A comprehensive portfolio summary provides a consolidated view of all investments, allowing users to see the total value at a glance.
The platform offers access to major stock exchanges worldwide, and users can access symbols from Yahoo! Finance and Google Finance for their investment needs.
Cons
Each account can have only one active instance.
Charting capabilities are limited in scope.
Mobile apps come at an additional cost.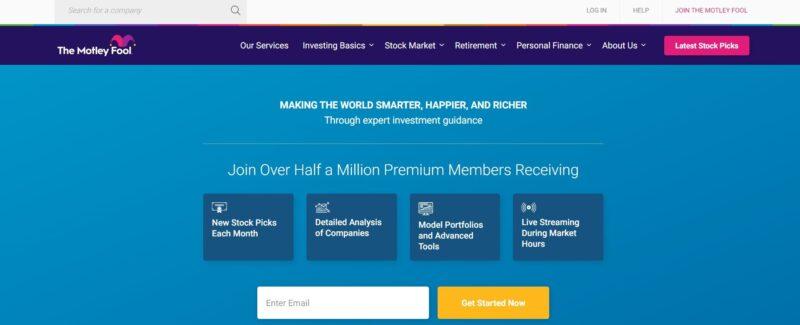 The Motley Fool's Mobile Companion stands out as a top-notch stock tracking app available today. It offers real-time notifications, portfolio news, and comprehensive analysis from their exceptional analysts. With its user-friendly interface, managing investments and gaining insights into the stock market becomes effortless. Personalized notifications can be set to keep you informed about critical thresholds of specific stocks. Moreover, premium subscribers gain access to expert industry analysis and commentary, providing them with an advantage over other investors.
Features
Access a dashboard summary containing stock snapshots and information.
Stay up to date with the latest stock rankings and advice from Motley Fool services.
View detailed information and analytics for stocks in your individual portfolios.
Receive custom notifications specifically tailored to the stocks you are interested in.
Receive comprehensive notifications about the content provided by Motley Fool.
Cons
Tech analysis is not favorable.
Investors should pay attention to "sell" recommendations.
No option to unsubscribe from the newsletter.
Feeling overwhelmed by the numerous product options available.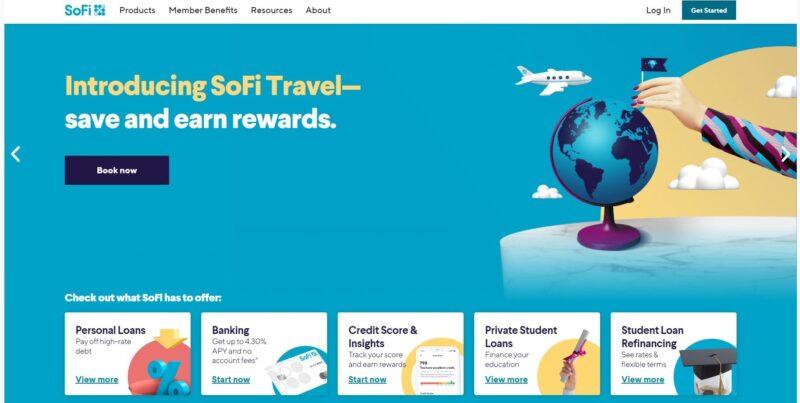 We highly recommend the SoFi app as the best finance tracking app available. It provides a comprehensive solution for managing finances and monitoring financial well-being. With its user-friendly interface and impressive features like credit score tracking, debt management, and investment tools, SoFi makes financial management effortless. It offers a consolidated view of investments, debts, and assets, along with convenient features like auto payments and interest rate tracking.
Features
Earn up to 3.75% APY on your balances with SoFi Checking and Savings.
Get up to $100 in Bitcoin when you trade cryptocurrency through SoFi Invest.
Enjoy zero fees with SoFi Checking and Savings.
Access your funds two days early directly from your paycheck.
Save money faster with automatic savings features.
Cons
The platform does not provide support for FICO scores.
It presents targeted offers and products based on collected data, which may cause discomfort for some individuals.
If you have a SoFi Home Loans account, you cannot link it to Relay.
For those interested in investing, SoFi offers a diverse range of low-cost investments and exceptional customer service.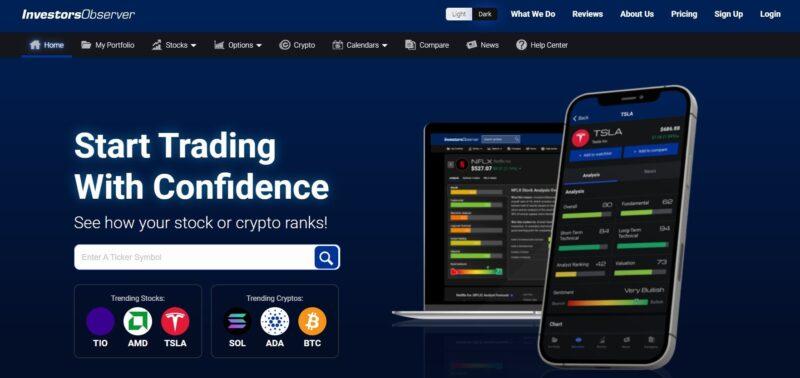 InvestorsObserver is a comprehensive financial research platform that empowers investors with various tools and resources to make well-informed decisions regarding their portfolios. This platform offers a wide range of features, including a stock screener, options trades, interactive charts, analyst recommendations, and daily trade ideas.
However, InvestorsObserver goes beyond merely providing tools and resources. It fosters a community of investors who share common interests and goals. This community allows members to stay informed about the latest market news and trends, exchange ideas and insights, and benefit from the experiences of others.
Features
Investors Observer offers a comprehensive stock analysis tool with detailed information on individual stocks, including earnings reports, price targets, and analyst ratings.
The platform provides an options trading tool that allows users to view options chains, analyze potential trades, and access educational resources on options trading.
Users can manage their portfolios on Investors Observer, track performance metrics, and receive customized alerts based on their holdings.
The platform utilizes a proprietary scoring system, the InvestorsObserver Overall Rating, to evaluate the overall health of a stock based on various factors.
Investors Observer also provides a Stock Score Report, which offers a comprehensive assessment of a stock's current price, historical performance, and technical and fundamental factors.
Cons
There is a lack of information available about analysts who cover a particular stock.
It is not possible to save custom stock screens for future reference or analysis.
The three plans available are: Basic (for free), Premium ($9.97/month), and Elite ($14.97/month).
Also Read: Top 10 Largest Stock Exchanges in the World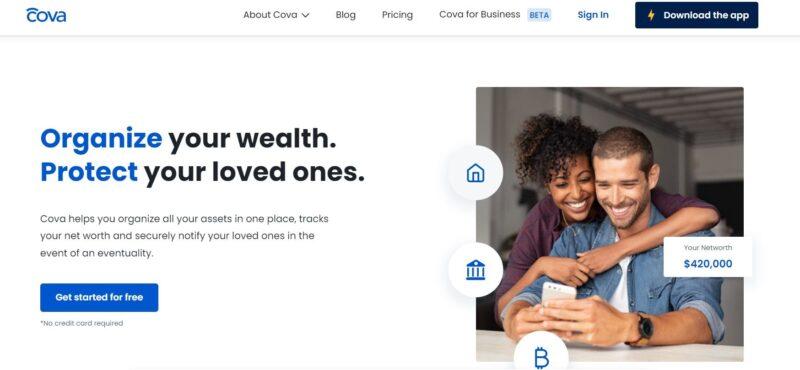 Cova is a smart asset register that allows users to monitor their traditional and digital asset portfolios in one location. It simplifies investment tracking by syncing with banks, wallets, and investment apps. With Cova, users can consolidate their investments and receive notifications to ensure their beneficiaries are informed in case of their passing. It offers protection and assurance by supporting more than 11,000 financial institutions in North America and global cryptocurrency exchanges, guaranteeing secure management of investment data. Cova is a convenient and secure solution for comprehensive asset tracking and protection.
Features
People seeking a centralized solution for managing their wealth and securely handling important documents.
Those who wish to receive notifications for beneficiaries in case of their death.
Investors, both in traditional and digital assets, who want to keep track of their portfolios.
Individuals who prioritize fully encrypted data and high security measures for their investments.
People who want to collaborate with their financial and legal advisors to optimize their portfolios.
Cons
Mobile investors are unable to access the application.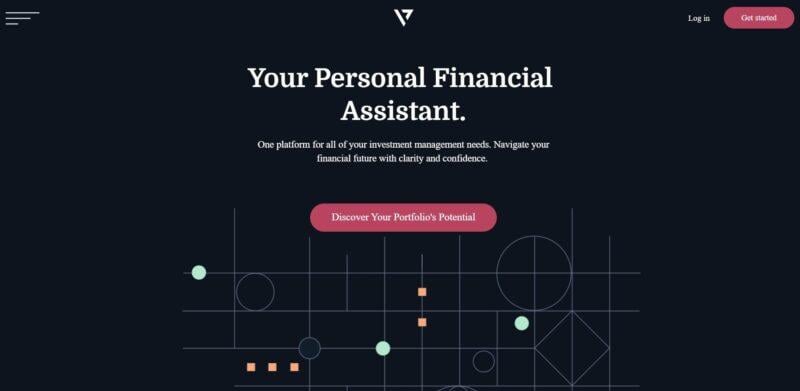 Vyzer is a specialized financial manager that focuses on handling intricate investment portfolios, particularly alternative investments. They offer an intuitive online platform, functioning as a web application, designed to streamline wealth management for investors. Through this platform, users can effortlessly generate performance reports, thoroughly analyze various financial documents, and gain precise visibility into the whereabouts of their funds.
Features
Vyzer offers three ways to connect accounts, including syncing with investor portals and bank/brokerage accounts.
Vyzer's unique feature is the magic box, allowing users to upload documents and have assets created from them.
Cash flow planning becomes more complex with additional cash flow-producing assets, which the app can manage.
Vyzer also supports tracking loans and liabilities that affect cash flow.
It provides real-time monitoring of assets and notifies users about distribution events, ensuring accuracy in calculating returns and analyzing investment performance.
Additionally, Vyzer offers reports such as a balance sheet to determine net worth and a general report listing all accounts, with future plans to generate personal financial statements.
Cons
Third-party data ownership and sharing of banking credentials may deter privacy-conscious users.
Vyzer functions as a read-only platform, requiring users to manually execute trades and manage investments for automatic portfolio updates.
Users must conduct their own investment research as Vyzer does not provide advice or suggest new investment opportunities.
Vyzer's pricing is reasonable for high net-worth individuals with complex portfolios, but casual investors may find more cost-effective portfolio administrators.
The monthly billing option costs $99 per month, whereas the annual billing option is available at a reduced rate of $79 per month, resulting in a total of $948 for the year.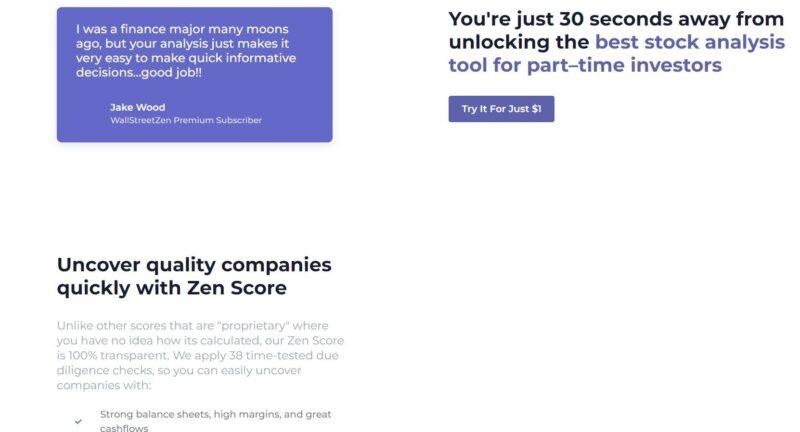 WallStreetZen is a market research website headquartered in Hong Kong. Its primary goal is to provide individuals with the necessary information to make well-informed investment choices. Despite being a relatively small company, WallStreetZen has gained recognition for its user-friendly platform and exclusive stock metrics. The company prioritizes simplicity and accessibility, offering several distinctive features that are scarce in other platforms. The app provides a wide range of tools suitable for every investor, including stock screeners and stock ideas.
Features
The platform is designed to be sleek and user-friendly.
It provides stock screener tools that are easy to use and can be customized with filters.
The pricing structure is competitive when compared to other similar platforms.
The platform offers a proprietary Zen Score, which aids in identifying potential investments.
There is an opportunity to open a free account, although access to certain features may be limited.
It provides ratings from a vast network of over 3,000 analysts.
Detailed stock information pages are available, highlighting important metrics and information.
Users can access information on insider buys for top stocks.
The platform offers concise explanations for the reasons behind a stock's price changes.
Cons
Stock screener tool is not as comprehensive as other top research platforms.
The absence of customizable price alerts for stocks is a drawback.
There is no mobile app available for the platform.
Customer support is solely based on email communication.
The platform lacks customizable charting tools and other technical analysis features.
Limited options are available for platform customization beyond basic watchlists.
You can avail the free plan as well as the Premium plan for $150.
Morningstar, recognized as a highly esteemed market research firm, offers a range of investment research and management services to individual investors. Their flagship product, Morningstar Premium, provides valuable investment insights and portfolio management tools, empowering traders to elevate their trading capabilities.
The company now provides a range of services catered towards individual investors. Among its highly sought-after offerings is Morningstar Premium, an all-inclusive tool that aids in screening stocks and managing portfolios effectively, enabling investors to optimize their assets.
Features
Offers independent market research from a reputable source.
Provides detailed analyst reports on stocks and funds.
Access to Morningstar's industry-leading metrics and ratings for stocks and funds.
Wide range of informative content including articles, newsletters, podcasts, videos, and educational resources.
Offers Top Investment Picks for quick access to potential investment ideas.
Portfolio Manager, Monitor, and X-Ray features provide valuable insights on your assets.
Affordable subscription options with discounted rates for annual payments.
Cons
The ability to sync brokerage accounts with Portfolio Manager is not available.
Customer support can be slow in responding to inquiries.
Customizable charts are not accessible within the platform.
Navigating screeners can be initially challenging.
The monthly payment option is considerably more costly compared to annual payments.
Also Read: 11 Best Cryptocurrency Apps in 2023
Interactive Brokers assists investors worldwide in trading stocks, options, futures, currencies, bonds, and funds through a unified account. Users can fund their accounts with various currencies and trade assets in different currencies. The platform provides access to market data 24 hours a day, six days a week.
Features
Diverse range of financial instruments for trading, including options, forex, derivatives, and USTs.
Access to major international exchanges for efficient allocation of trades.
User-friendly interface that is both fast and stable.
Reliable and high-speed connectivity for seamless trading experiences.
API support for Python and Java, allowing customization and integration with other systems.
Availability of applications from various vendors for additional functionality.
On-demand data feed for real-time market information.
Swift and secure funds transfers and quick account setup process.
Support for all types of accounts, including retail, trading groups, retirement, and institutional.
Real-time quotes update without noticeable delays, ensuring accuracy for retail traders.
Cons
Choose routes for order flow with transparent commission costs.
Include international bonds in investment options.
Explore the use of crypto wallets for margin connectivity in hybrid accounts.
Consider sponsoring FINRA licenses for non-institutional customers.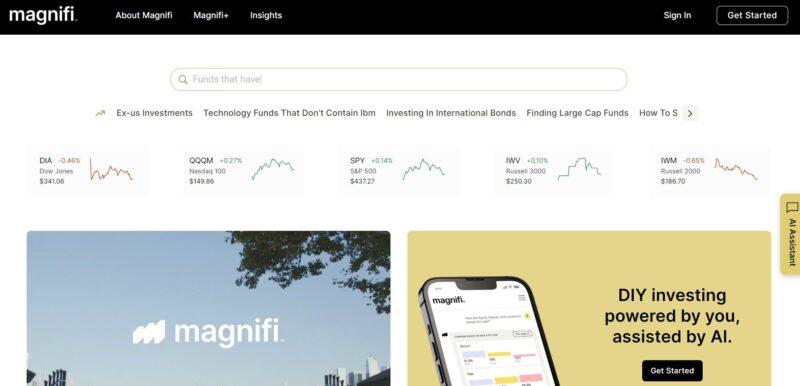 Magnifi is a marketplace that utilizes intelligent design to provide investors with data-driven insights into a wide range of investment opportunities. By integrating artificial intelligence (AI) with traditional brokerage tools, the company facilitates financial literacy and competence. What sets Magnifi apart is its AI-powered search function and investment assistant, which empower users to make informed and confident long-term investment decisions. With a technology-driven platform, Magnifi aims to foster a sense of assurance and proficiency in the realm of finance.
Features
The platform caters to long-term investors.
Personalized assistance is provided to individuals seeking guidance.
New investors can learn how to start investing through the platform.
Users can access an AI-powered investing assistant with a Magnifi Personal account.
Investing is commission-free.
There are over 15,000 possible investment options.
The platform is accessible through a mobile application.
Cons
The cost of Magnifi's paid plans, which is $150 per month, may be too expensive for individuals unless they are financial advisors.
Magnifi currently does not provide options for short selling or options trading.
If you are interested in more active trading or riskier investments, there might be other platforms available that cater to those specific needs.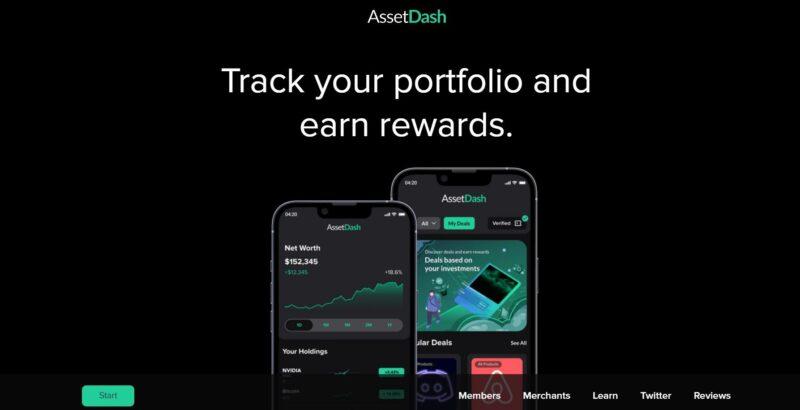 AssetDash was created to provide investors with a comprehensive solution for tracking their portfolios. With a strong background in investments, marketing, and technology, the founders aimed to offer users an all-in-one platform.
AssetDash offers a web-based and mobile platform that combines a crypto portfolio tracker, a non-fungible token (NFT) portfolio tracker, and an investment tracker into a single operating system. Its range of features includes real-time portfolio tracking, alerts for software updates, and notifications for value changes in major asset holdings.
Features
Suitable for crypto traders and investors, NFT investors and speculators, and multi-asset investors and traders.
Caters to both new and experienced traders and investors.
Supports assets stored on different networks, blockchains, or exchanges.
Offers an all-in-one multi-asset investment tracking platform.
Features an intuitive and user-friendly interface.
Provides a quick start-up process.
Provides anonymous login by default.
Enables monitoring of digital and NFT asset values.
Cons
AssetDash offers a wide range of assets, but some assets may not be available on the platform.
It does not integrate with all trading platforms, which may restrict its usability for certain users.
Users may face difficulties in analyzing long-term trends as AssetDash does not provide historical data for all assets.
AssetDash lacks trading functionality, requiring users to rely on a separate platform for buying and selling assets.
It is a paid subscription service, which may deter users who prefer free market data and analytics tools.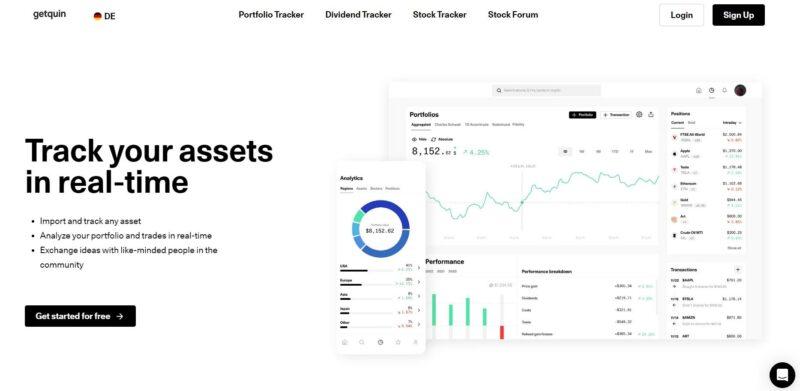 getquin has been providing a platform since 2020 that offers top-notch portfolio management tools, aiming to foster financial independence. It has quickly emerged as one of Europe's largest investment communities within a span of less than two years.
With an intuitive design, getquin enables users to effortlessly analyze and track their portfolios, while also benefiting from a supportive community of investors. Its innovative product offering sets it apart from traditional investment services, allowing users to conveniently monitor and manage all their assets in one place. getquin has made a strong impact as a promising newcomer in the established investment industry.
Features
The platform caters to investors who manage multiple accounts and invest in various asset classes.
It offers tools for individuals to effectively track their investments.
The platform provides a sense of community for newcomers in the financial realm.
It is suitable for investors with diversified portfolios.
The platform is beneficial for dividend investors as it offers a comprehensive overview of their payouts.
Real-time portfolio analysis is available on the platform.
The core features of the platform are free to use.
Users have access to a personal dividend calendar.
Bank-level security measures are implemented to protect personal and financial data.
Cons
Manual addition of transactions and portfolios is required due to potentially slow speeds.
Integration with brokers is limited to German ones only.
The company is a start-up, leading to frequent changes in structure and benefits.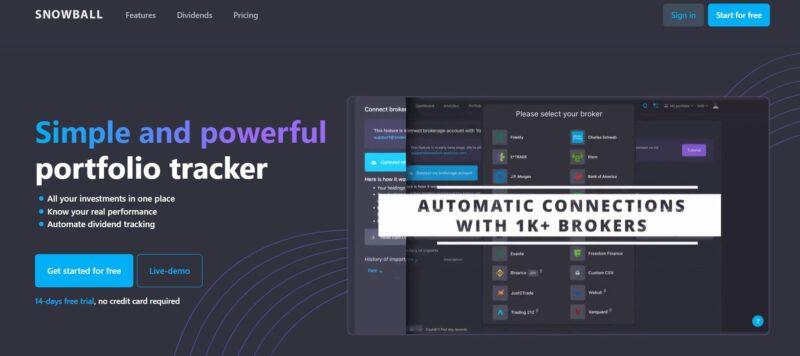 Snowball Analytics simplifies the process of connecting your brokerage accounts, providing you with automatic updates and enabling you to monitor the performance of various tradable instruments such as stocks, ETFs, and cryptocurrencies. It offers a centralized platform to assess your entire investment portfolio, offering convenience and efficiency. With connections to over 1,000 brokers worldwide, including major regions like the U.S., U.K., Europe, and Asia, it allows you to track the performance of almost any stock, ETF, or mutual fund globally.
The platform incorporates innovative tools and user-friendly analysis of historical and real-time data, empowering you with insights for portfolio rebalancing, asset allocation, performance calculation, and benchmarking. By leveraging its comprehensive knowledge, Snowball Analytics empowers you to make informed and profitable investment decisions.
Features
Automatic brokerage connections and updates.
Streamlined data importation.
Supports 1,000+ exchanges and a wide range of brokers.
Comprehensive dividend analytics and reporting.
Great mobile web application.
Diverse tracking capabilities: stocks, ETFs, REITs, cryptocurrencies, and precious metals.
One-click portfolio rebalancing.
Benchmarking to compare results with major funds and indices.
Excellent data visualization tools for portfolio analysis.
Active community for learning and growth.
Cons
Full features require subscription.
No dedicated mobile app available.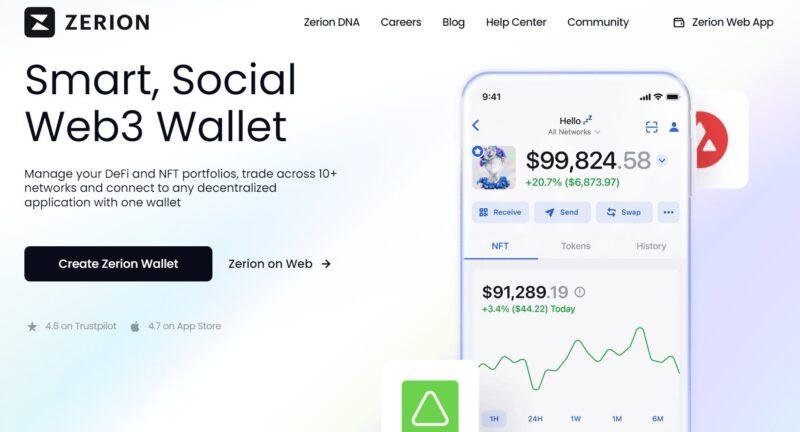 Zerion is a platform designed for tracking cryptocurrency portfolios, enabling users to effectively manage their investments across various wallets and exchanges. With support for over 60 wallets and exchanges, it offers real-time monitoring of portfolios. By connecting your accounts, Zerion automatically imports and tracks your cryptocurrency holdings, providing a comprehensive dashboard that presents the total value of your portfolio and a detailed breakdown of your holdings by currency.
Features
Supports 60+ wallets and exchanges for centralized portfolio management.
Real-time tracking of cryptocurrency holdings.
User-friendly interface for easy navigation.
Tools for investment management, including price alerts and customizable reports.
Advanced security features like multi-factor authentication and encryption.
Read-only API keys for accessing data without compromising wallet or exchange access.
Free version available with limited features.
Cons
Limited features in the free version may disappoint some users.
Advanced trading tools like portfolio rebalancing and automated trading may not be available.
Margin trading may not be supported on the platform.
The pricing structure could be a drawback for certain users.
What is the Best Stock Portfolio Tracker?
There is a large pool of good portfolio trackers, but how would you know which is best for you. Here are a few things that you should check on before choosing the portfolio tracker:
1) Cost: There are numerous stock portfolio trackers that you can use for free. Some platforms might have add-ons that can help you in trading, but it will depend on your requirement if you need them or not. If you are a newbie, then it is recommended for you to opt for the free trackers.
2) Brokerages supported: If it does not support your brokerages, then it is no point using the tracker. Instead, opt for a portfolio that has easy integration with your broker.
3) The number of trackable assets: If you trade in many cryptos, your requirements would be different from a large-cap trader, so think about your investment areas before choosing the tracker. A good tracker enables you to follow all types of investments such as stocks, bonds, ETFs, crypto, etc.
4) Speed: Everyone looks for software or tool that loads quickly, and the same goes for the portfolio tracker. Always check the time the tracker takes to load on your phone or laptop, as speed is vital for getting price updates. You would not be able to trade if you get more than 10 minutes old prices. Hence, a tracker should post real-time stock quotes.
5) Easy to use: This is the primary requirement while choosing the best stock portfolio trackers. The tracker that you choose should have a user-friendly interface, as you would not like using it if it has any complicated features.
Why do You Need a Portfolio Tracker?
You must be managing this well on your own and thinking about why to download an additional app for managing your investment portfolio. But the fact is that you would not have to switch between different apps with the portfolio trackers as you would get all the information here.
1) Make sound spending decisions: The foremost rule of trading is knowing how much money to spend. It is very easy to cross the limit when you see the fluctuation in the market as there would be a time when you would want to invest more and more.
But you need to understand the amount of money that you are placing in. You would get all this information from the portfolio tracker, so pick the tracker that would help you make wise spending decisions.
2) Better management: With the help of the tracker, you would be able to manage the different investments and keep a check on the budget. You need to know how much you can afford to lose, as managing your risk is the other side of spending.
Various traders invest blindly and do not think about the risk involved with it. However, if you are a good trader, then your aim should be to stay in the game for a long, and you can do this by tracking your budget, which you can do with the help of the best investment tracking apps.
Also Read: 120 Best Affiliate Programs
Irrespective of the platform you choose, portfolio trackers are a great way to track your investments easily from anywhere and at any time. These were some of the best stock portfolio trackers, but you should consider all the analytical tools you might wish to use when selecting a stock app. Once you are using a tracker after that, you can focus majorly on making your investment portfolio grow.