India has emerged as a major player in the global dropshipping industry, offering a plethora of opportunities for entrepreneurs and online retailers. With its vast manufacturing capabilities and competitive pricing, the country boasts several excellent dropshipping suppliers. These suppliers provide a wide range of products, from electronics and fashion to home decor and accessories. Furthermore, they offer efficient shipping and reliable customer support, making them ideal partners for both aspiring and experienced dropshippers. In this article, we will explore some of the best dropshipping suppliers in India, highlighting their key features and benefits.
25 Best Dropshipping Suppliers in India

Primarily, dropshipping enterprises are retail fulfillment businesses in India as you do not need to stock or produce any product. You need to purchase all the products from a third party (manufacturer, wholesaler, retailer, or supplier) and take orders from the customers. Once you receive an order for the product you purchased, the third party will ship the product to the customers. It is why the dropshipping job faces no hassle in the middle.
Let's take a look at the table of best dropshipping suppliers in India:
| | | |
| --- | --- | --- |
| Name of Platform | Total Visits (Last Month) | Annual Revenue |
| Shopify | 75.3M | $1B |
| IndiaMart | 62.6M | $1-2M |
| Niche Dropshipping | 53.9K | $900K-1M |
| Meesho | 31.5M | $100-200M |
| Printify | 6.5M | $10-15M |
| TradeIndia | 5.4M | $15-25M |
| Printful | 4.8M | $100-200M |
| CJDropshipping | 2.5M | $5-10M |
| ExportersIndia | 2.4M | $10-15M |
| Spocket | 514.7K | $2-5M |
| GlowRoad | 391.2K | $2-5M |
| SaleHoo | 319.3K | $10-15M |
| Blinkstore | 211.2K | – |
| Doba | 145.8K | $10-15M |
| Modalyst | 144.4K | $2-5M |
| AppScenic | 140.1K | $2.2-2.4M |
| WebdealIndia | 122K | $4-5M |
| Dropified | 119.5K | $5-10M |
| Baapstore | 47.0K | $15-25M |
| Seasonsway | 34.3K | $15-25M |
| Wholesale Box | 27.8K | $15-25M |
| Jim Trade | 25.4K | $25-50M |
| Hothaat | 4.4K | $10-15M |
| Cokoon (previously Coorgle) | – | – |
| Shein | 230.6M | $1B |
If you are planning to start the business, check out the list of best dropshipping sites in India: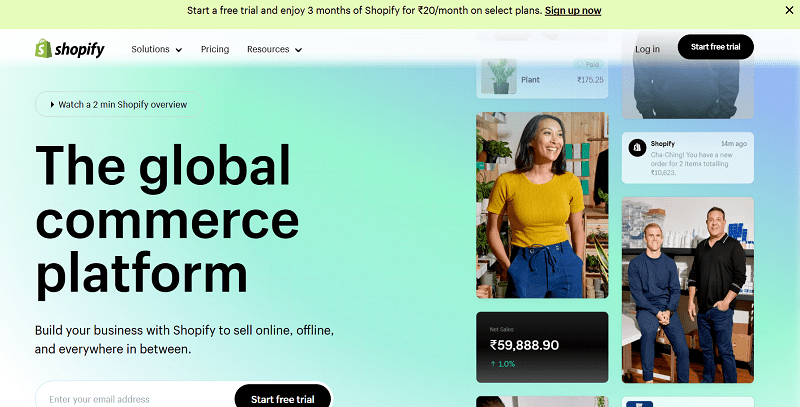 Start your e-commerce journey with Shopify, a reliable platform for hosting your online store. Resell products to your clients and enjoy high returns without worrying about upfront inventory costs. It is one of the best dropshipping suppliers in India.
Shopify's integration with Oberlo ensures smooth logistics and complete transparency, allowing you to focus on maximizing profits.
Whether you're managing unlimited vendors or products, it provides effortless management through your laptop or desktop.
Simply select a product, set the price, and let customers place orders while the product is shipped directly to them.
With a 14-day free trial and subscription plans starting at $29 per month, Shopify is the ideal choice for your dropshipping business in India.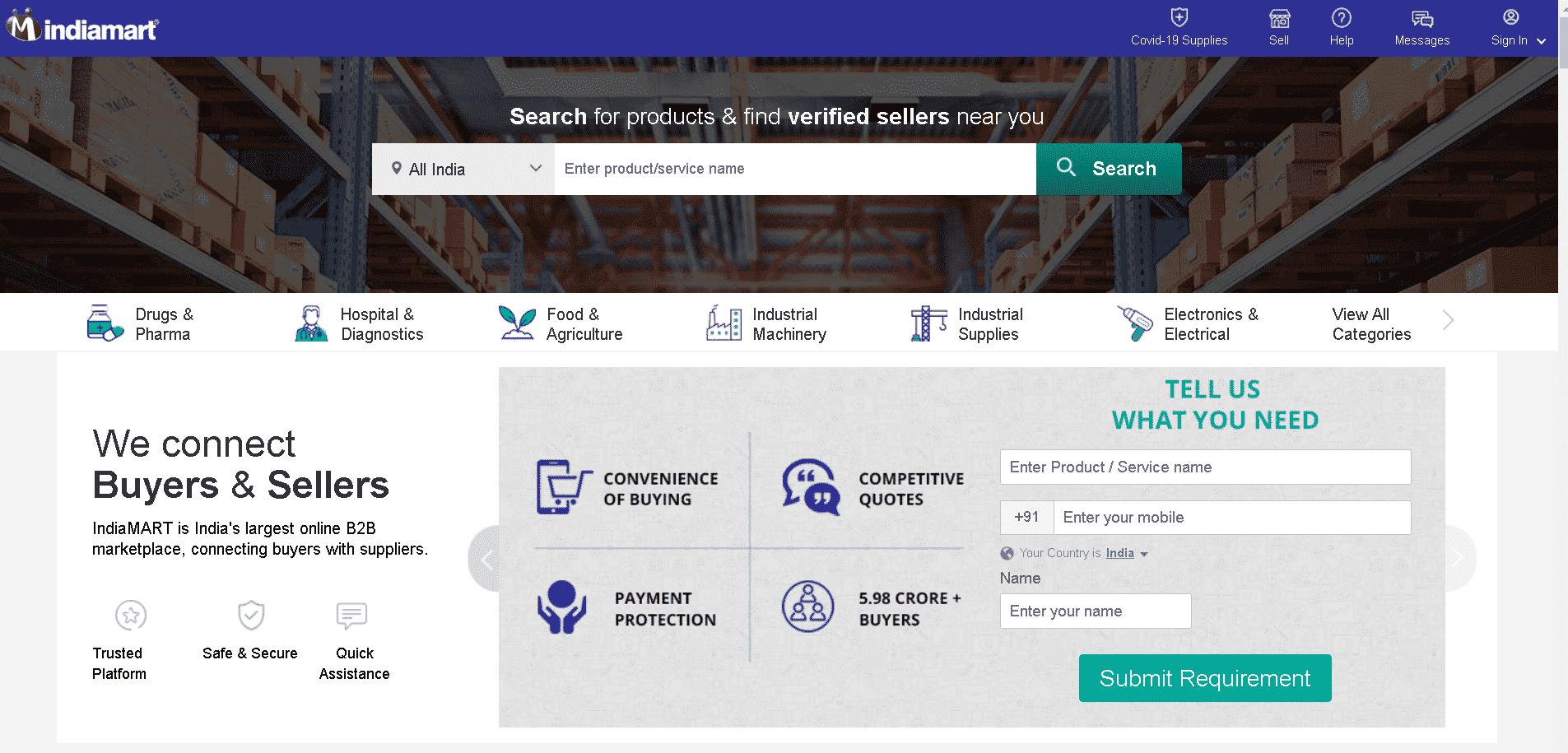 Indiamart, originally a B2B company with 60% market share, has evolved to become one of the oldest and most reputable Indian dropshipping suppliers. By registering on Indiamart, one can easily find reliable suppliers in various industries, such as pharmaceuticals, fashion, furniture, food, and jewelry, making it a convenient platform for dropshipping in India.
It offers a wide range of products and categories, providing extensive branding opportunities.
With its focus on delivery and services, this online business platform offers competitive pricing for products.
Indiamart not only serves as a source for positive branding, but also helps businesses effectively manage their online operations. No wonder it is one of the best Indian dropshipping suppliers.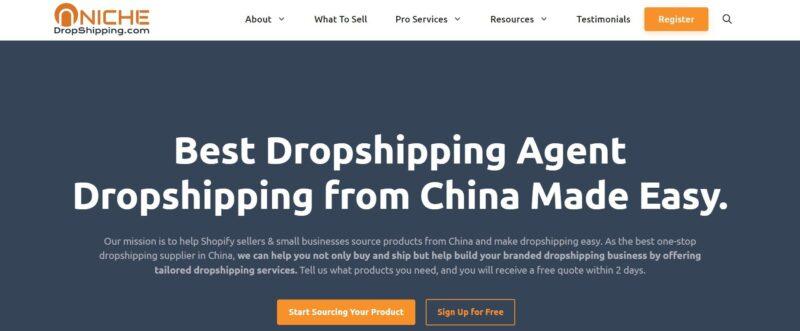 Niche Dropshipping specializes in bulk, private-label, and white-label dropshipping, making it ideal for establishing your own brand while dropshipping to India. It provides an excellent platform for selling branded goods, enabling you to maintain a distinct and recognizable brand identity. It is rightly considered as one of the best dropshipping suppliers in India.
One of the key features of Niche Dropshipping is their product sourcing service, which allows you to request them to find a supplier for a specific product you wish to sell, even if you've seen it online.
It offers bulk storage options, allowing you to purchase items in large quantities and have them stored by the company. When a customer places an order, they will ship the items individually.
If you want to create a product under your own brand, Niche Dropshipping provides private-label and white-label services. They can mass-manufacture a product for you and customize it with your branding. However, note that bulk purchasing is required for this service.
With it, you have the advantage of having a dedicated dropshipping agent who will assist you throughout the process, ensuring smooth operations and timely fulfillment of orders.
Niche Dropshipping offers worldwide shipping, allowing you to reach customers across different countries and expand your business on a global scale.
Niche Dropshipping is a sister company of CJdropshipping.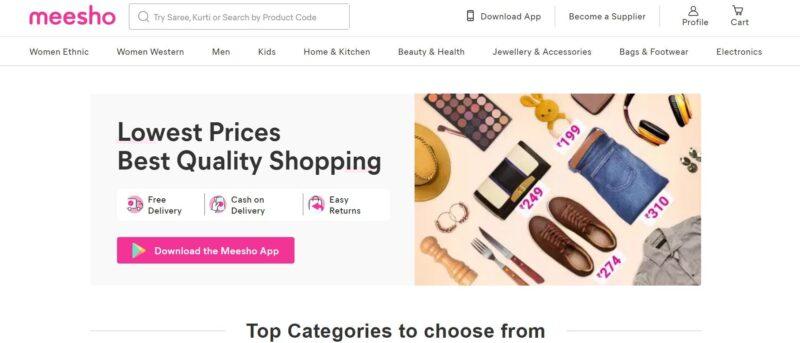 Meesho is a popular social marketplace that offers a wide range of affordable goods. It serves as a platform for both B2B and B2C transactions, making it a prominent player in the dropshipping industry.
Meesho has a high level of vendor verification, and their return process is simple and hassle-free.
Some products on Meesho have a minimum order quantity for wholesale purchases.
It is possible to negotiate with suppliers to have items shipped without any branding labels. This allows you to buy a smaller quantity, typically 5-10 items, and market them under your own brand.
Delivery times may vary depending on factors such as the supplier's location, chosen shipping method, and the customer's location.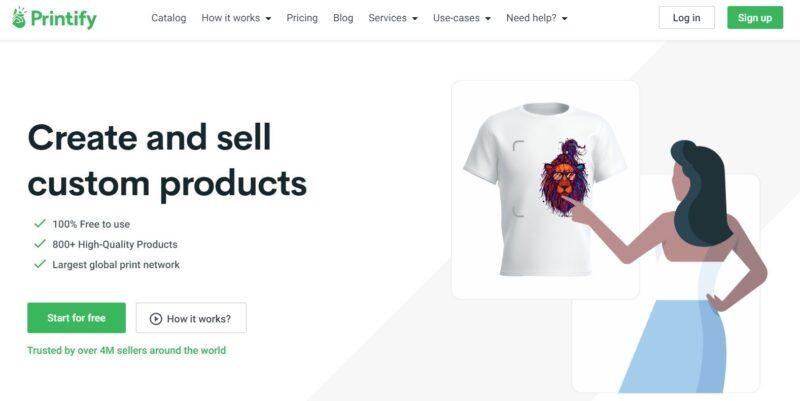 Printify offers a unique approach to its business by allowing users to choose suppliers based on their location, making it particularly beneficial for users in India who want access to print-on-demand (POD) product suppliers near their region. It is one of the best dropshipping suppliers in India.
One of the notable features of Printify is its shipping options. Most sellers on the platform offer a flat rate shipping cost for customers worldwide, with shipping prices varying only for orders to the United States and Canada.
It provides users with a built-in design system, enabling them to easily create and customize their products using the platform's design tools.
Integration is another key advantage of using the platform. The platform allows seamless integration with popular e-commerce systems such as Shopify, WooCommerce, and other compatible systems, streamlining the overall selling process.
Printify boasts an extensive catalog of blank products, giving users a wide range of options to choose from when creating their customized products.
Users can take advantage of its integration with Shopify and WooCommerce, two widely used e-commerce platforms, to enhance their online selling capabilities.
A significant benefit of using Printify is that the service itself is free to use, allowing users to set up their online store and start selling without incurring any additional costs.
It ensures transparency in shipping costs and delivery times, providing users with clear information about the expenses and timeframes associated with shipping their products.
Also Read: 17 Best Free Web Hosting Services
TradeIndia, a leading dropshipping company in India, was founded in 1996 and primarily operates as a B2B platform.  With a wide range of product categories, TradeIndia ensures that users have access to trending items.
The platform prioritizes secure operations and transactions for both buyers and suppliers.
It stands out as a top dropshipping supplier in India, connecting buyers with manufacturers, suppliers, and exporters globally.
It serves as a vital link between retailers and manufacturers, offering comprehensive solutions to businesses.
Notably, joining TradeIndia is free, presenting an excellent opportunity to connect with a vast network of dropshippers and buyers.
Also Read: 55 Best Online Side Hustles Ideas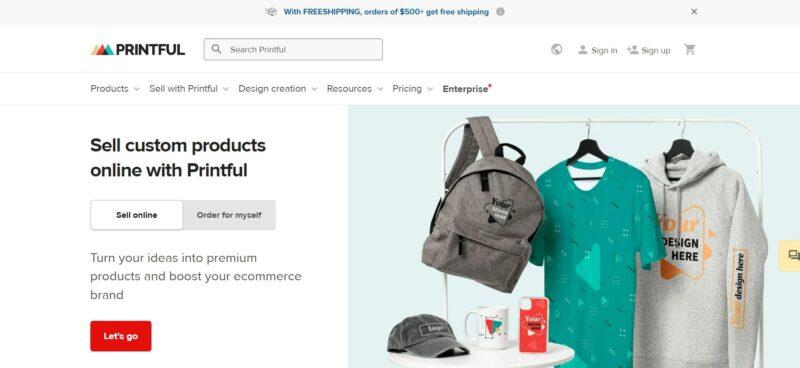 Printful is a renowned print-on-demand company that offers excellent options for dropshipping in India, particularly due to its extensive customization features. By utilizing Printful, you can create and design products that resonate well with the Indian market, thereby enhancing your conversion rate.
Printful offers seamless integration with popular e-commerce platforms like Shopify, WooCommerce, and Wix, allowing for easy management of your print-on-demand business in India.
You can expand your reach and sell your customized products on social media platforms such as Facebook, TikTok, and YouTube through its integration.
Printful provides mock-up versions of each designed product, giving you visual representations of how your products will look when in use.
With its dropshipping services, you can avoid bulk purchasing and inventory management. Simply design your products and purchase them individually at retail prices, while the suppliers handle shipping to customers in India.
Printful offers a wide variety of products, with over 300 options available for customization, catering to diverse customer preferences in the Indian market.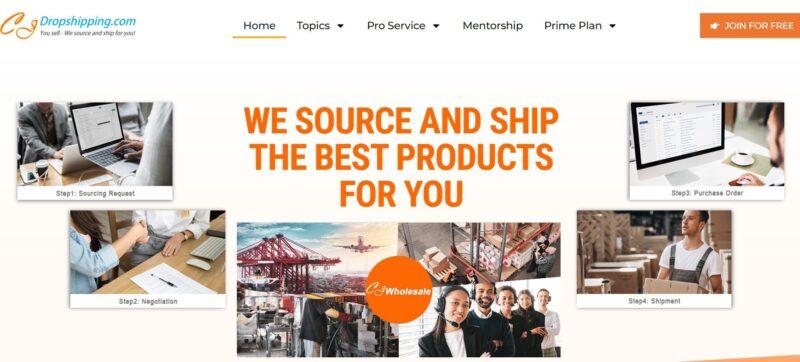 CJDropshipping is a prominent player in the dropshipping industry, and it comes highly recommended for dropshipping in India due to its extensive range of products sourced mainly from China. Since India is geographically close to China, shipping times are typically quick and efficient. It is rightly considered as one of the best dropshipping suppliers in India.
CJDropshipping offers product sourcing service. If you find a product on AliExpress or Alibaba, you can submit a sourcing request to CJ for free. If they succeed in sourcing the product, you can list it in your store, and CJ will handle the purchase from the original source.
Moreover, CJ provides seamless integration options with popular e-commerce platforms like Shopify, WooCommerce, Lazada, eBay, and more.
Although CJDropshipping may not be as vast as AliExpress, it still boasts an impressive product catalog with around half a million items across various categories.
They offer branding options, allowing you to customize your products and establish a unique brand identity.
Additionally, CJ provides print-on-demand services, enabling you to personalize products with your designs or logos.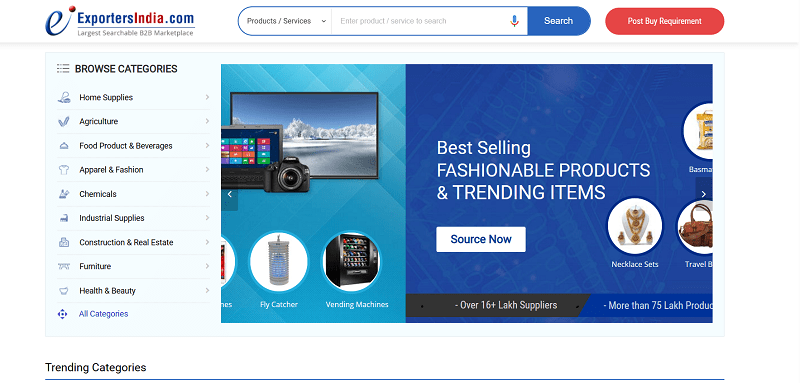 ExportersIndia is an excellent alternative to TradeIndia for those seeking Indian suppliers. It offers a wide variety of options, including Ayurveda, cosmetics, agriculture, and crafts. Consequently, it has become a popular choice for best dropshipping suppliers in India.
This B2B website showcases a diverse range of products from India, UAE, and the USA, allowing suppliers from these countries to list their items.
By utilizing the country-wise selection in the website's footer, users can easily browse through products.
Profit opportunities lie in purchasing popular items at a reasonable price and selling them at higher prices to local or international customers.
The platform allows users to contact sellers for free without any fees. Simply by searching for the keyword 'Dropshipper,' one can access a list of numerous suppliers, manufacturers, wholesalers, and exporters.
If there are any uncertainties, direct inquiries can be sent to the relevant suppliers for dropshipping purposes.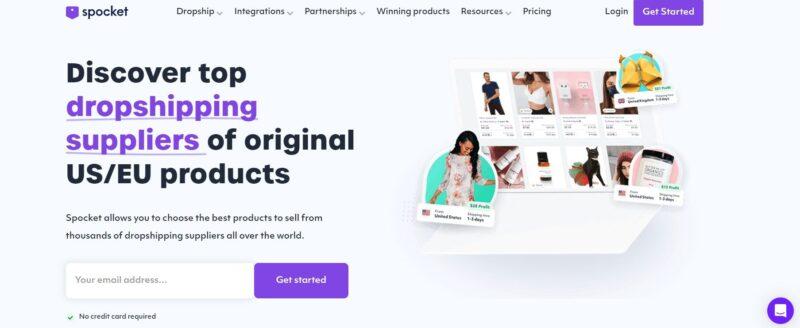 Spocket boasts an extensive collection of dropship suppliers, making it home to one of the world's largest databases in this field. It is one of the best dropshipping suppliers in India.
It offers a unique advantage for Indian dropshipping by providing the option to exclusively work with suppliers from India. This allows you to collaborate with these suppliers and request the production of goods under your own brand name.
Additionally, Spocket simplifies the process of finding suitable product alternatives by utilizing its database when provided with a product image. This eliminates the need for manually checking the dashboard on a daily basis.
You'll receive timely notifications for price alerts, changes, and orders, ensuring you stay updated and informed.
Furthermore, Spocket seamlessly integrates with popular e-commerce platforms like Shopify, offering convenient interfaces for smoother operations.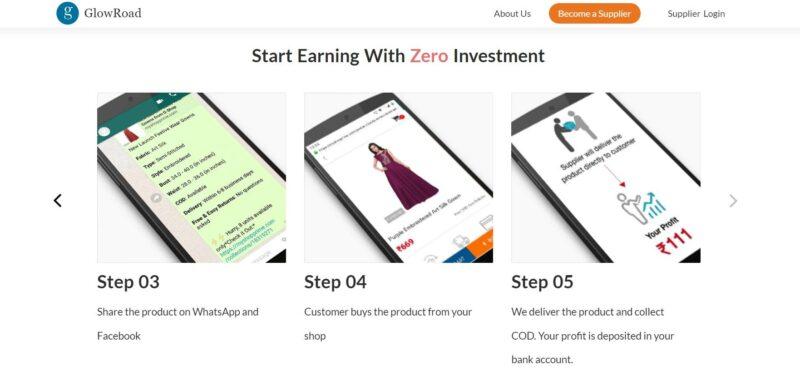 GlowRoad is an e-commerce platform based in India that specializes in dropshipping. It connects dropshippers with a wide range of suppliers and manufacturers across the country. No wonder it is one of the best Indian dropshipping suppliers.
With over 10,000 unique products available, dropshippers can easily set up their online stores and start earning money.
It is incredibly user-friendly for new dropshippers to establish their businesses, create effective advertisements on platforms like Facebook and Instagram, and generate significant profits.
Zero commission charges
Logistics support
Prompt and transparent payouts
No requirement for special product photo shoots
Fair supplier policies
Exceptional supplier support
Automated order tracking
Free shipping
One-click product import
Transparent inventory tracking
No hidden subscription fees

SaleHoo serves as a comprehensive directory for wholesale suppliers, connecting trustworthy suppliers with drop shippers and e-commerce businesses.
It is compatible with Shopify.
It provides access to a vast selection of 2.5 million products, such as apparel, electronics, and home goods, sourced from over 8,000 certified vendors.
To assist entrepreneurs in achieving success with dropshipping, SaleHoo provides valuable educational resources and support. Nonetheless, for small businesses and startups, the cost may pose a challenge.
If you prefer not to pursue integration, an alternative option is to acquire the directory. The directory serves as an online compilation of all the suppliers associated with the company.
By obtaining the directory, you gain access to the contact information of these suppliers, allowing you to directly reach out to them and negotiate potential agreements.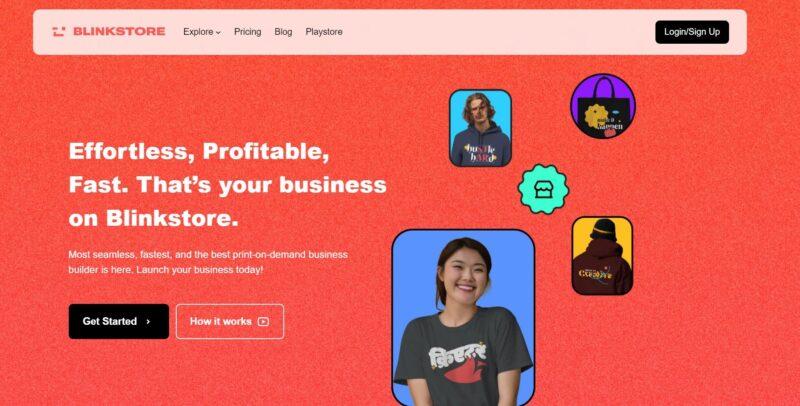 Blinkstore, a popular platform, operates on the print-on-demand model and offers individuals and businesses the opportunity to start their own print-on-demand business without any extra costs. It is rightly considered as one of the best dropshipping suppliers in India.
Users can create a free online storefront with e-commerce functionality, integrated payment systems, shipping options, and access to a mockup generator.
Blinkstore handles the printing of graphics on chosen products and directly ships them to customers.
It has emerged as one of the best dropshipping suppliers in India, making it a promising option to explore in the rapidly expanding print-on-demand industry in the country.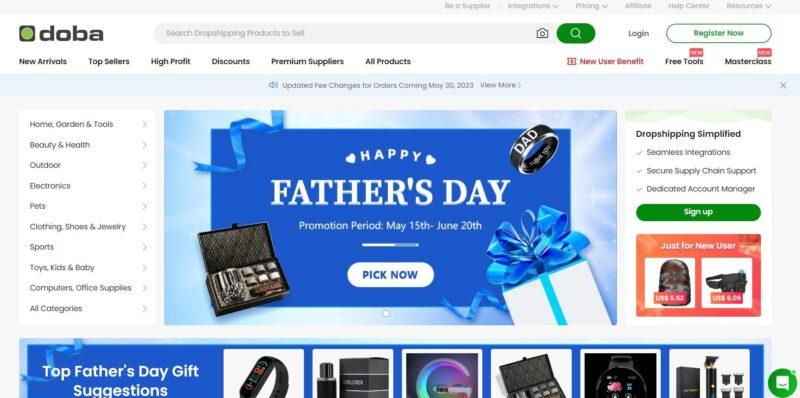 Doba is a well-known name among best dropshipping suppliers in India.
It provides a wide range of products at highly discounted prices, enabling substantial profit margins.
With regular sales, you can acquire goods at a reduced cost.
Doba seamlessly integrates with various platforms such as Shopify, Amazon, eBay, and more, allowing you to manage your operations efficiently from the Doba dashboard.
Any modifications you make on Doba will be reflected across all integrated platforms.
Additionally, as a member, you gain access to exclusive clearance sales, offering products at significantly lower prices.
Modalyst is an excellent dropshipping partner for selling clothing and jewelry, and it is widely recognized that India has a significant abundance of gold. Therefore, if you are interested in selling jewelry, Modalyst is an ideal choice as a dropshipping partner in India. It is one of the best dropshipping suppliers in India.
Modalyst seamlessly integrates with popular e-commerce platforms such as Shopify, Wix, BigCommerce, and Alibaba.
The platform's automated pricing system allows you to set the prices for your products based on your own programming, providing you with information on capital costs, sale prices, and profit margins.
Additionally, once you place an order, Modalyst provides you with a tracking number that you can share with your customers to keep them informed about the shipment's progress.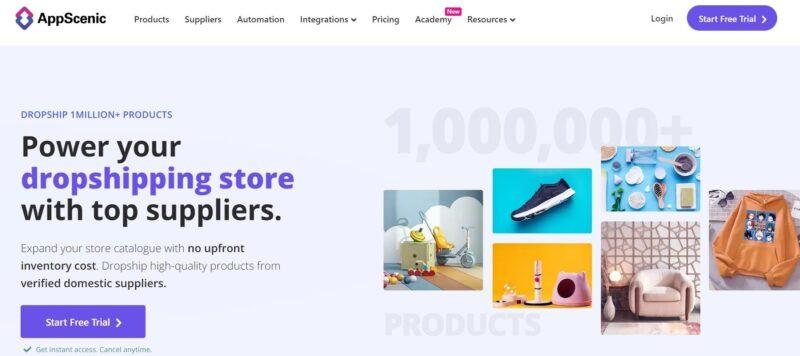 AppScenic offers a wide range of product variations, with over one million products available. It offers a multitude of high-quality products, allowing sellers to choose from a wide range of options for their furniture business. This extensive selection allows it to compete with popular platforms like AliExpress. Additionally, the suppliers on AppScenic provide top-notch items, ensuring quality products for customers.
One advantage of AppScenic is the availability of US suppliers. This means that the products offered are of high quality, as the US is known for its stringent manufacturing standards and quality control.
It provides seamless integration with popular e-commerce platforms such as Shopify, WooCommerce, Wix, and eBay. This integration simplifies the process of managing your online store and enables efficient order processing.
AppScenic provides worldwide shipping, enabling sellers to cater to a global customer base and expand their reach beyond India.
With this platform, there is an automatic ordering process, streamlining the fulfillment of orders and making the selling experience more efficient for sellers.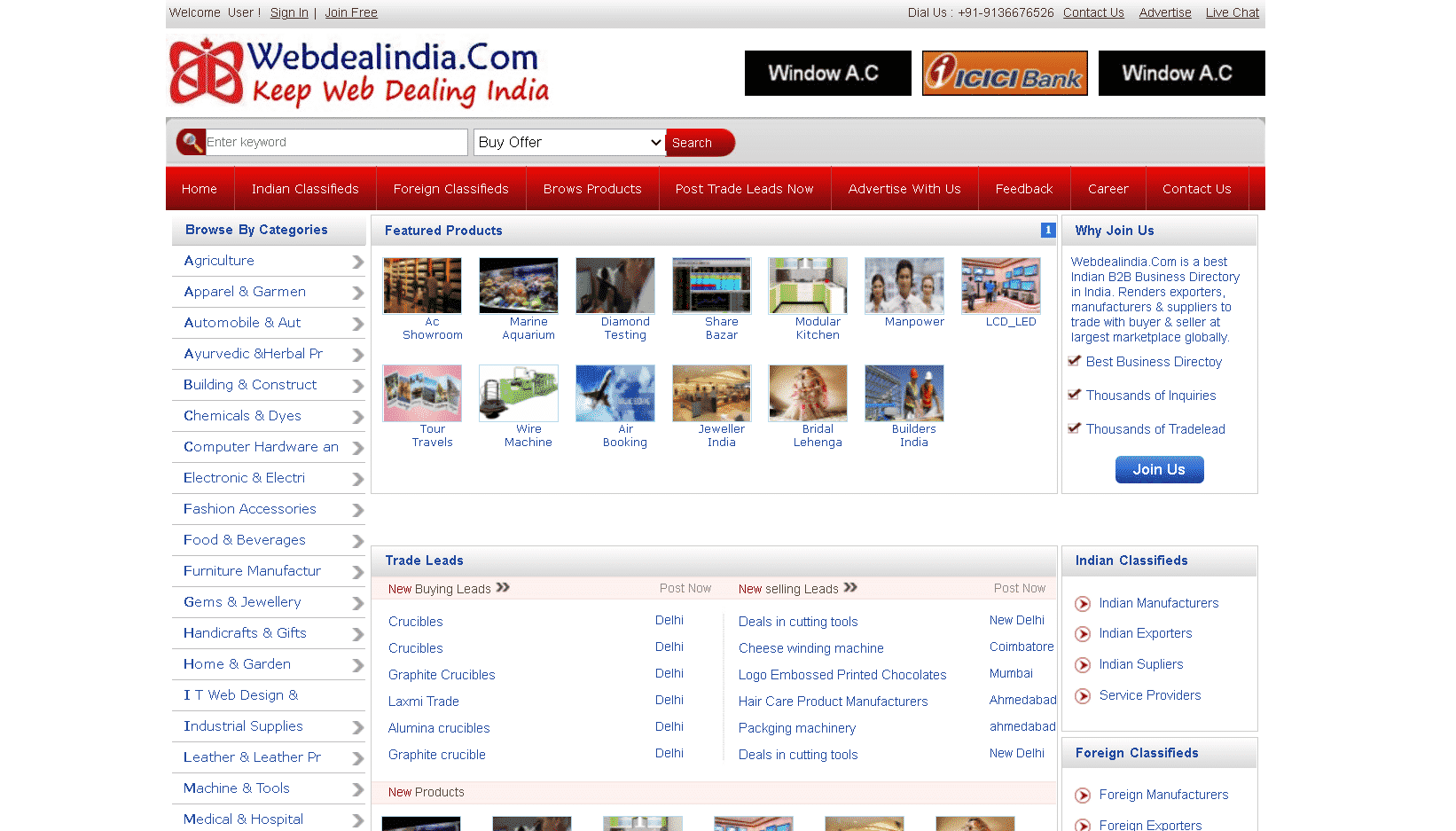 WebdealIndia is a leading marketplace in India, housing a vast network of marketers, manufacturers, wholesalers, and online sellers. As one of the largest marketplaces and top Indian dropshipping suppliers, it offers a unique opportunity for online sellers to operate without the need to maintain inventory.
The platform features an intuitive dashboard, easy navigation, and product categorization, allowing users to browse with ease.
Notably, newly launched products are prominently showcased in the captivating webspace.
Whether local or international, wholesalers can showcase their products on WebdealIndia, with the added benefit of instant notifications to dropshippers when new products are added to the marketplace.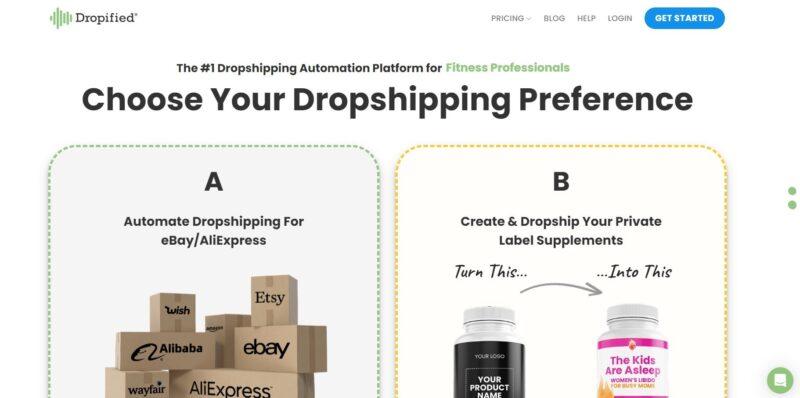 Dropified is an automated dropshipping tool that streamlines the importing and management of products from various vendors. It is rightly considered as one of the best dropshipping suppliers in India.
It seamlessly integrates with popular e-commerce platforms and marketplaces such as Shopify, WooCommerce, and Amazon.
By automating order fulfillment and shipping tracking, Dropified helps save time and minimize complications.
Additionally, the software offers features like product research and price tracking to aid in finding profitable items to sell.
Moreover, Dropified enables the bundling of products at a discounted price compared to purchasing them individually.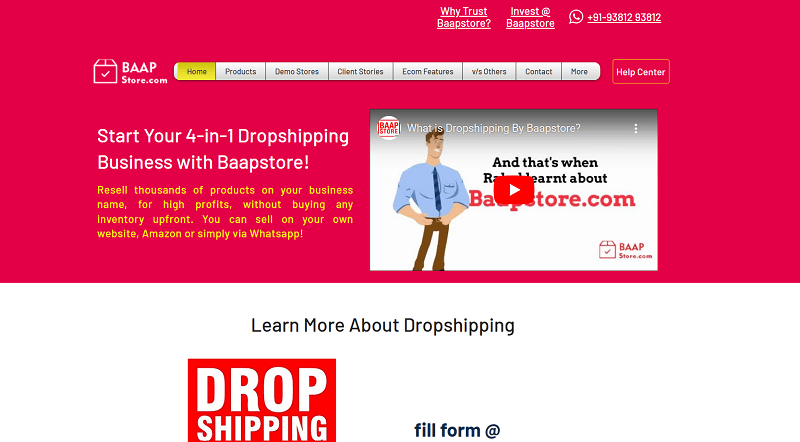 Baapstore is a leading platform for starting a dropshipping business in India, offering over 70,000 products at wholesale prices. It stands out with its vast collection of Indian products and a strong delivery network.
By leveraging Baapstore, entrepreneurs can maximize profit margins while making minimal investments.
The platform provides free delivery services across India and offers efficient shipment tracking, enhancing the buyer's experience.
Recognized as one of the best dropshipping suppliers in India, Baapstore focuses on seamless deliveries, comprehensive cataloging, and seller hosting.
With partnerships with renowned logistics companies like Ecom Express, FedEx, Speed Post, Aramax, and Delhivery, it ensures reliable shipping options.
Also Read: 55 Ways To Advertise Your Business For Free On the Internet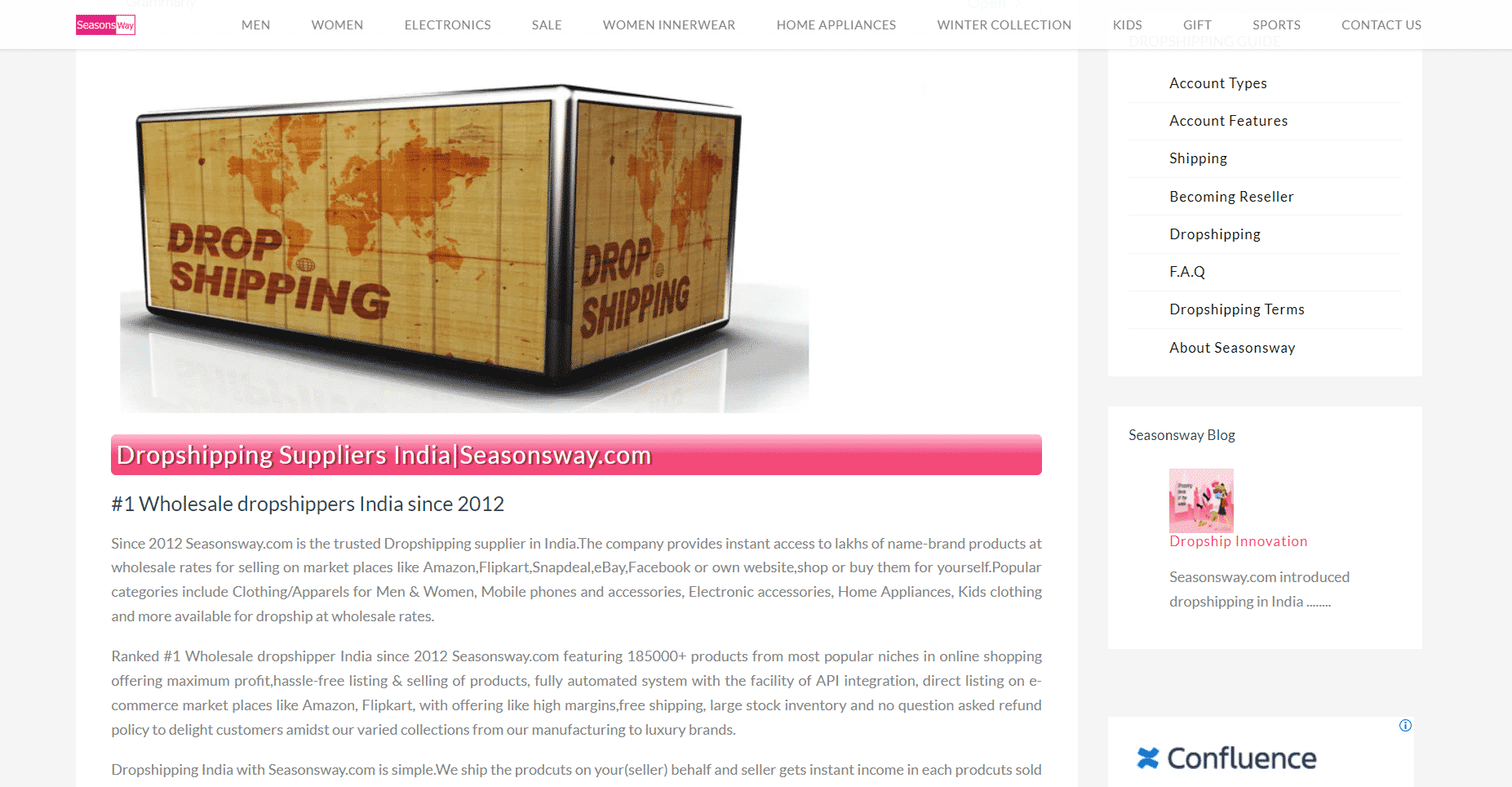 Seasonsway is a top dropshipping site in India, known for its strong partnerships with renowned brands like Puma, Reebok, MTV, Lotto, and more.
Their main goal is to eliminate the need for sellers to invest in and physically store inventory.
With Seasonsway, resellers can acquire products at competitive prices and set their own selling prices.
The platform handles all aspects of stock management, packaging, and shipping, allowing sellers to focus solely on fulfilling customer orders.
Seasonsway ensures hassle-free delivery within the specified timeframe, making it an excellent choice for those looking to start a profitable dropshipping business in India.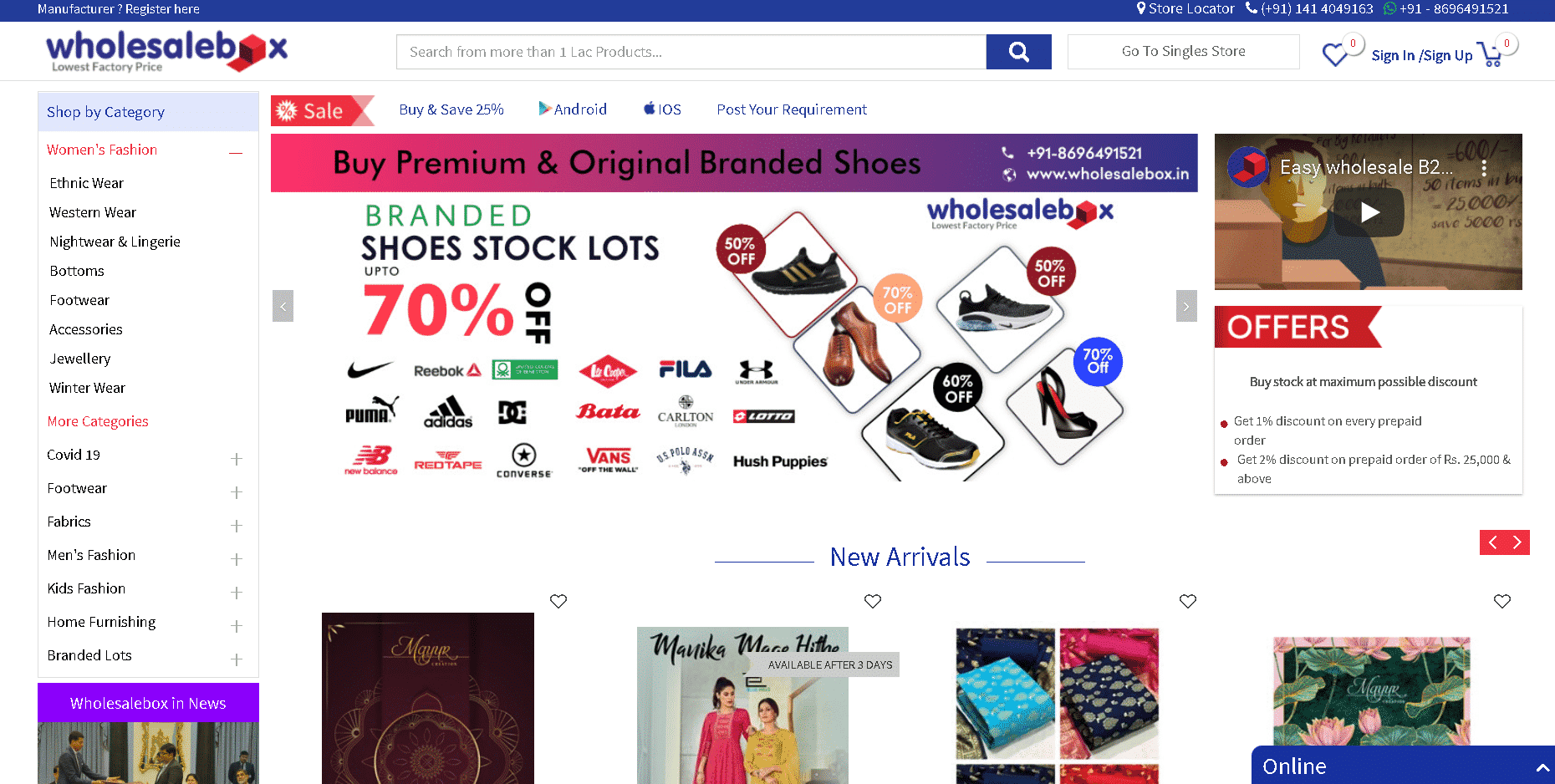 Wholesale Box is a leading dropshipping site in India, boasting an extensive inventory of over 100,000 products. Their offerings primarily revolve around clothing for both men and women, as well as furnishing products.
The platform ensures that all orders shipped bear the reseller's brand, effectively concealing the wholesaler's or retailer's identity from the end customers.
Users can conveniently place orders either from wholesalers or online sellers.
The noteworthy advantage is that even individual products can be purchased if registered as a dropshipper, eliminating the need for bulk purchases typically required by wholesalers.
As a dropshipper, one can directly sell the purchased products to customers without the hassle of storage.
With their excellent customer support, Wholesale Box takes care of all the necessary operations.
Also Read: List of Swadeshi Products and Companies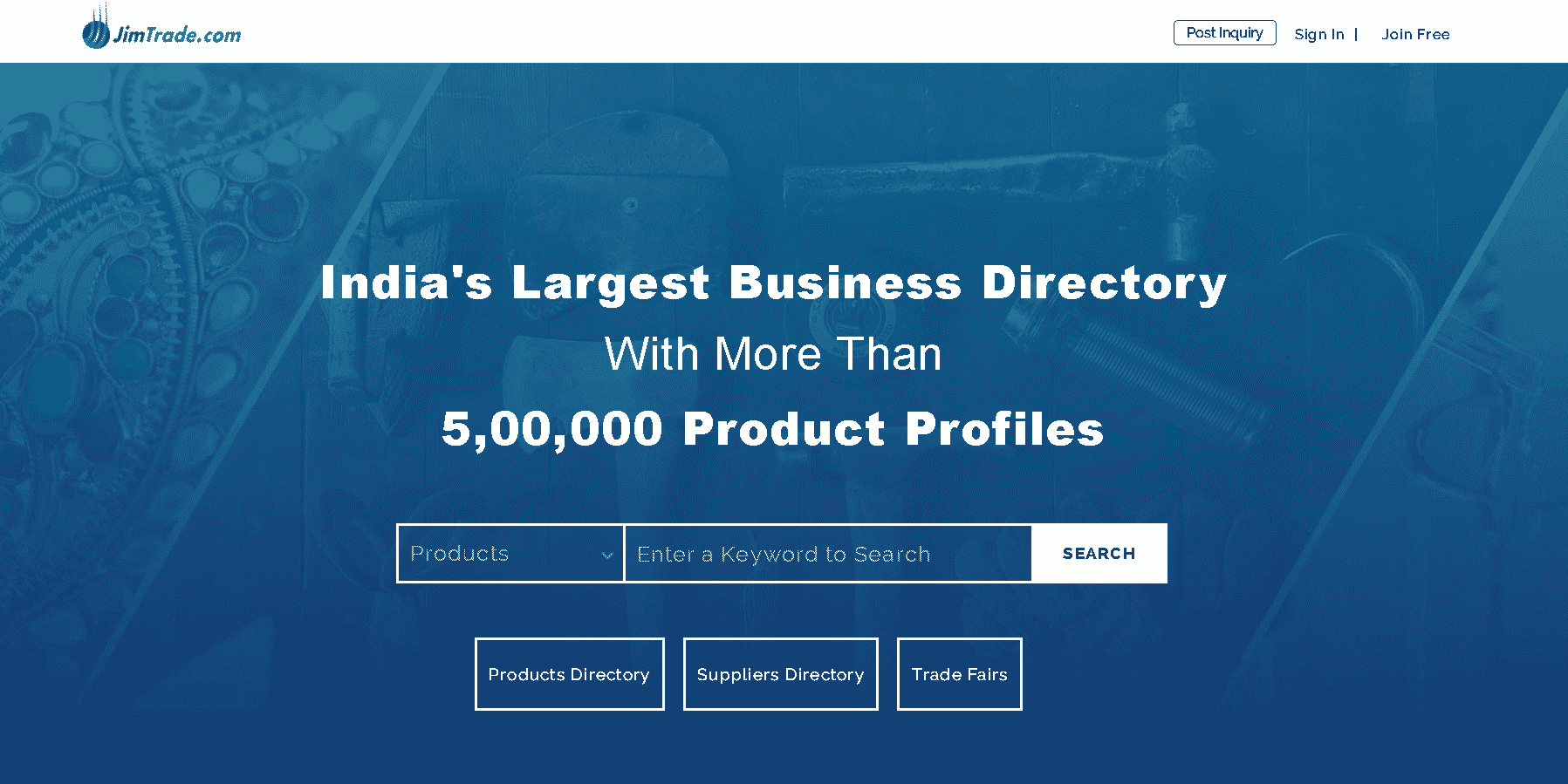 Looking for the perfect supplier who specializes in your niche? Look no further than Jim Trade, an exceptional B2B portal that simplifies the process of connecting with suppliers dealing in various products.
With over 500,000 registered Indian suppliers, Jim Trade enables you to effortlessly reach out to inquire about specific products.
All the suppliers listed on this platform guarantee timely delivery service.
Their extensive range of offerings spans across industries such as construction, agriculture, electronics & sports, beauty, wellness, and more.
Registering on this platform is completely free, allowing you to post inquiries for suppliers and products you require without any hassle.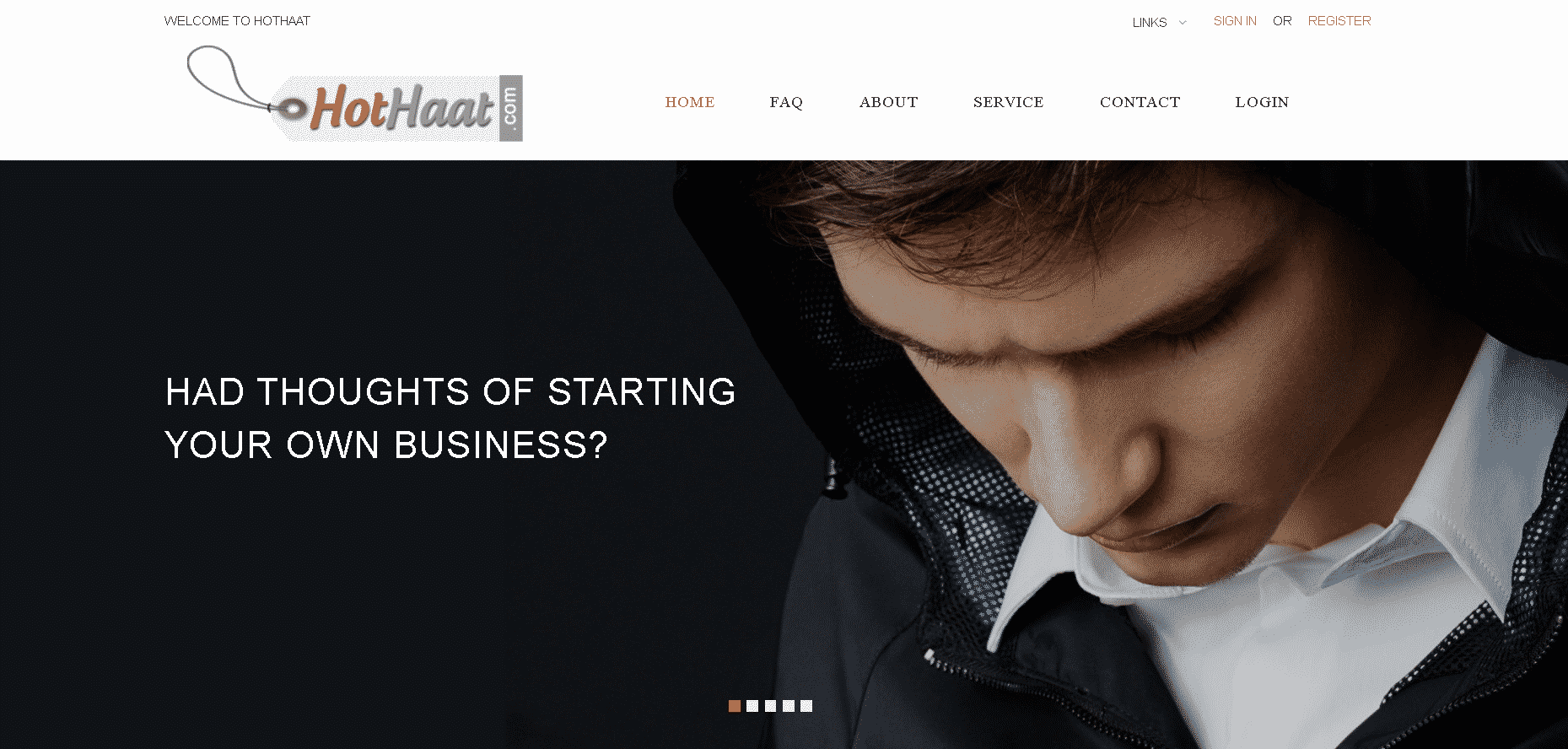 Hothaat, a dropshipping platform founded in 2012, offers a vast warehouse with over 5000 products available for sellers. By purchasing products at affordable prices and selling them at their desired prices, sellers can earn substantial profits. It is rightly considered as one of the best dropshipping suppliers in India.
Hothaat simplifies the selling process by providing an extensive range of products to choose from and handling inventory, packaging, and shipping on behalf of the sellers.
Becoming a dropshipper on this platform is currently free, although sellers are responsible for covering delivery costs and integration fees.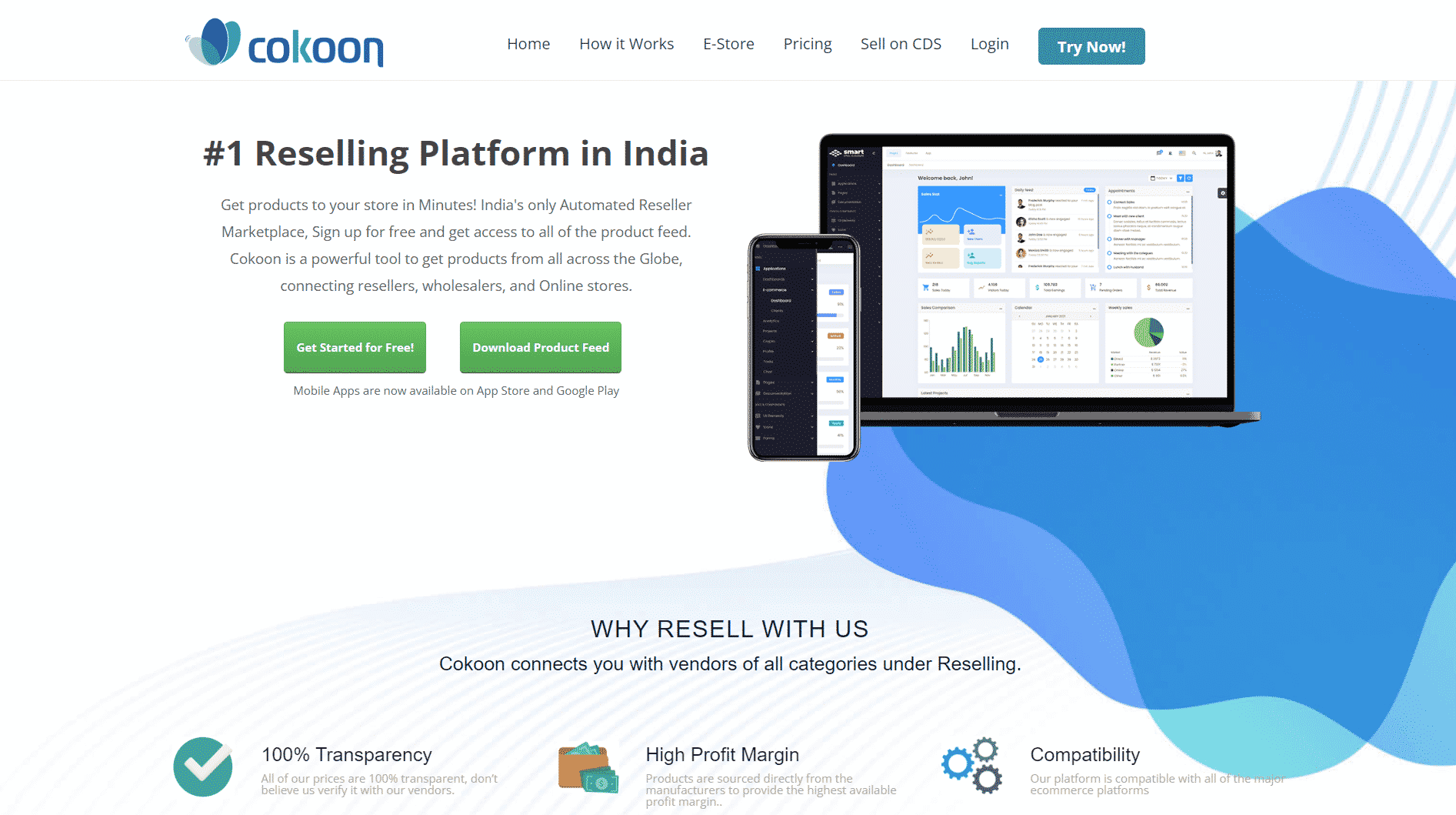 Cokoon dropshipping is an excellent option for individuals seeking one of the top dropshipping sites in India. With Cokoon, entrepreneurs can effortlessly handle orders and explore numerous categories on the online marketplace.
It offers a straightforward registration process for aspiring dropshippers and boasts a wide variety of products to select from.
The platform integrates smoothly with popular e-commerce platforms like Woocommerce, Shopify, and open cart stores.
What sets it apart is its provision of white-label branding, ensuring that all products sold to resellers' customers bear their brand name.
The company had assembled a skilled team dedicated to connecting manufacturers/suppliers with online stores, empowering both parties.
Additionally, their professional customer support team ensures effective resolution of consumer complaints, ultimately improving the overall customer experience.
Bluember, India's oldest dropshipping company, has been acquired by Cokoon, a global platform offering a wide variety of products. With the goal of bridging the gap between resellers and suppliers, Bluember provided resellers with access to a vast array of product categories.
25. Shein
Shein, an e-commerce clothing company, specializes in offering fashionable and affordable clothing and accessories for men, women, and children. They have a wide range of products including dresses, blouses, swimwear, and shoes, and are well-known for their fast delivery and competitive prices. Shein provides a diverse selection of promotional images for their merchandise. Additionally, they offer free shipping for orders exceeding a certain amount and cater to customers worldwide. It is one of the best dropshipping suppliers in India.
P.S.: Shein is currently banned in India. However, there has recently been an announcement that it will be unbanned soon.
Source: Isha Ambani bringing back Shein in India
Pros and Cons of Dropshipping Business
Dropshipping is a captivating business concept that attracts numerous individuals due to its ability to generate income and facilitate product trading without the hassle of managing inventory. Nonetheless, it is essential to recognize both the advantages and disadvantages associated with this business model.
After knowing about the best dropshipping suppliers in India, check out the pros and cons of the business below:
The pros are – 1. Setting up an online store in the dropshipping industry is relatively simple and straightforward.
2. You have the option to trade in a wide range of products, providing flexibility and variety.
3. Inventory management and storage are provided for free, eliminating the need for physical space. Inventory can be easily adjusted and changed, making the business highly adaptable to market demands.
4. Both local and international customers can access the products you offer.
5. Minimal investment is required to start the business. The operational budget is significantly reduced, allowing dropshippers to focus on marketing and business growth.
6. Only internet access is necessary, eliminating rental costs and location restrictions.
7. Sourcing products from suppliers is a simple process, further enhancing flexibility and product selection.
The cons are – 1. Lack of control over product quality can result in a loss of customer trust, so it is crucial to collaborate with reliable suppliers like Sprocket, Modalyst, and others.
2. While you may handle exchanges, returns, and refunds, you do not have the authority to manage the supplier directly.
3. Providing after-sales support to customers can be complicated since you may need to involve the supplier if you lack updates on the product.
4. Shipping costs can pose challenges, particularly when you and the supplier are located in different areas. Transportation expenses are determined based on the distance from the supplier's warehouse to the customer's location.
Why Should You Opt for Dropshipping Business Model Today?
The dropshipping business model offers a distinct advantage by granting merchants complete control over the selling price of their products, in contrast to affiliate marketing. This autonomy enables the potential for higher profit margins and earnings compared to other industries since you have the flexibility to set the desired selling price.
Of course, it is crucial to ensure that the price aligns with the product's value, while also effectively managing the online orders you receive. Having said that, if you have potential buyers for a product, you can do wonders and generate massive revenue to be one of the best Indian dropshipping suppliers.
To summarize, the benefits of dropshipping in India include:
1. Location flexibility: The model allows for flexible locations to operate from.
2. Easy to start: Getting started with this model is simple and straightforward.
3. Lower initial investment: There is less upfront capital investment required.
4. Market testing made easier: It enables testing out different markets with ease.
5. Reduced overhead costs: The model has lower overhead expenses compared to other models.
6. Scalability: It is easy to scale the business using this model.
7. Wide range of products available: There is an extensive selection of products to sell.
Is Dropshipping Better than Wholesale?
Here are the differences between wholesale model and dropshipping business model:
Wholesale Model
Traditional approach requiring significant investment and large storage space for stocked products.
Adds costs to shipments for delivering products and increases overhead expenses like rent, salaries, electricity, and miscellaneous expenses.
Higher cost of goods as customers purchase in large quantities for competitive prices.
Inventory needs to be piled up without a guarantee of being sold.
Also Read: 20 Best Free Reseller Apps In India
Dropshipping Business Model
Offers a different and improved alternative to the wholesale model.
Focuses on attracting prospective clients to purchase products sourced from third-party suppliers.
Emphasizes providing excellent after-sales customer service.
Eliminates the need to manage inventory, as the supplier handles product delivery directly to the customer's location.
How to Start Dropshipping Business
in

India?

Just like the best dropshipping suppliers in India are managing their operations and making retail business a win-win situation for themselves, you can do the same. Following these steps will help you start the dropshipping business:
Determine your niche.
Select the products you want to sell.
Choose a third-party supplier to source the products from.
Initiate contact with the supplier to arrange dropshipping.
Create an online store and set up a payment system.
Develop marketing strategies for digital platforms and social networking sites.
Expand your target audience and identify potential customers interested in your products.
Receive and process orders, forwarding them to the supplier for fulfillment.
Receive payment for completed orders and focus on scaling your business.
Also Read: How To Start Online Reselling Business In India
What are the Best Products to Dropship in India?
In the realm of dropshipping business in India, there exists a wide range of products that you can deal with and offer to customers. Some of them are:
Cosmetics
Water bottles
Blankets
Bicycles
Exercise brands
Yoga and Pilates mats
Living room furniture
Kitchen accessories and essentials
Jigsaw puzzles
Cutting boards
Essential oils and candles
Laptop skins
Mobile chargers and accessories
Tea and coffee
Rugs and carpets
Pet supply
Medical supplies
Educational courses
Books and music
Fashion and clothing
Health and wellness supplies
Electronics
Medical supplies
Greens and plants
Face masks
In order to select the products and operate one of the best dropshipping sites in India, it is important to consider the following guidelines:
Identify highly sought-after problem-solving products that are in high demand and capture people's passion.
Identify products with strong branding potential, capable of creating a lasting impression on customers.
Determine niche market segments that experience dynamic customer buying patterns.
Track and analyze the latest market trends to stay informed about industry developments and changes.
FAQs
Q1. Is Dropshipping a Legitimate Business in India?
Ans. Yes, the dropshipping business model is absolutely legal in India, and everyone is authorized to opt for this business.
Q2. How much can I earn through Dropshipping in India?
Ans. Dropshipping is a lucrative business opportunity not only in India but all over the world. Many dropshippers are earning more than $1,00,000 per year with a successful dropshipping store.
You will need to choose the right suppliers and build a brand to witness the impeccable results and earn a six-figure income.
Q3. How much money do I need to invest upfront in commencing with dropshipping?
Ans. To start with this business model, you need minimal investment, unlike many businesses that require massive investments. The major investment you need is to build an optimized online store and register the online store. Besides this, you also need to plan a budget for the risk of capital for 6 months that you need while scaling and growing your online store.
Q4. Do I need GST for dropshipping?
Ans. Yes, dropshipping is an online business, and you would need a business registration and GST registration to carry on the operations of this business. Simultaneously, having a GST number will facilitate accepting online payments from international buyers.
Recommended: 30 Best Refer and Earn Apps in India
In conclusion, there are several best dropshipping suppliers in India that provide reliable shipping services of quality products at competitive prices. However, it is crucial to conduct thorough research, compare prices and services, and read customer reviews to find the supplier that best fits your specific business needs and goals.