Do you remember the Swadeshi movement that was started during the struggle from foreign rule? Purchasing local products seems to be the idea again as a new motto that Indians are passionate about is "Be vocal about local."
As per India's economy and growth, we need to derail the local economy and buy swadeshi products as much as possible. Numerous local brands are excellent, and you should extend your support for the Indian manufacturers to build a strong and self-reliant economy.
You might get surprised to know that more than 40% of handicrafts are exported, and the artisans earn just enough money to meet their housing needs. Their products are really nice, and they should get appreciation and sale in their country too.
List of Swadeshi Products and Companies
Benefits of buying Made in India Products
The list of Swadeshi Products list is endless, and so are its benefits. Here are some of the benefits of buying Indian products:
It gives you an excellent feeling of patriotism and adds satisfaction as you use an Indian product.
Also, by buying Indian products, you would embrace the people who are working hard and work passionately to create the handcrafted items.
By purchasing products made in India, INR's value also increases, making the currency stronger and reducing Dollars dominance in India.
It will make our country self-reliant and self-dependent. It supports the economy of India plus also helps the lower class of the society as well.
It lessens unemployment and raises the GDP of the country.
This was about the benefits of swadeshi products.
Bideshi Vs. Swadeshi Product List
Here is the complete list of swadeshi (Made in India) and videshi product list in India:
1. Indian/Swadeshi Cold Drinks Brand
Kalimark Bovonto, Rose Drink (Sherbet), Badam Drink, Milk, Lassi, Curd, yoghurt, Chaach, Juice, Lemonade (Nimbu Paani), Coconut Water (Naariyal Paani), Shakes, Real, Jaljeera, Thandai, Roohafza (Hamdard), Rasna, Frooti, Godrej Jumpin, etc.
Foreign/Videshi Cold Drinks Brand: Coca-Cola (Coke, Fanta, Sprite, Thums Up, Gold Spot, Limca), Pepsi (Leher, 7 up, Mirinda, Slice).
2. Indian/Swadeshi Toothpaste Brands
Neem, Babool, Vicco Vajradanti, Dabur's red, MDH, Baidyanath, Gurukul Pharmacy, Choice, Anchor, Meswak, Babul, Promise, Ajay, Herbodent, Ajanta, Garware, Classic, Eagle, Bandar Chap, Emami, Patanjali (Dant Kanti & Dant Manjan).
Foreign/Videshi Toothpaste Brands: Colgate, Hindustan Unilever(HUL) (Closeup, Pepsodent, Cibaca), Aquafresh, Amway, Quantum, Oral-B, Forhans.
3. Indian/Swadeshi Soap Brands
Himalaya, Nirma, Mysoor Sandal, Jasmine, Cinthol (Godrej), Santoor, Kaya Kanti* / Kaya Kanti Aloe Vera*, Medimix, Neem, Godrej, Patanjali(Kesh Kanti), Wipro, Park Avenue, Mysore Sandal, Kutir, Sahara, Himani Glycerin, Swastik, Ayur Herbal, Kesh Nikhar, Fair Flow, Ganga, Hair & Care, Dabur Vatika, Bajaj, Nyle.
Foreign/Videshi Soap Brands: Palmolive, HUL (Lux, Clinic, Lifebuoy, Sunsilk, Liril, Revlon, Lakme, Pears, Rexona), Procter & Gamble (Patent, Medicare), Ponds, Old Spice, Shower to Shower, Head & Shoulders, Johnson Baby, Dettol, Clearasil, Amway, and Vivel.
4. Indian/Swadeshi Toothbrush Brands
Ajay, Promise, Ajanta, Royal, Classic, Dr. Strock, Monet, and Patanjali.
Foreign or Videshi Toothbrush: Colgate, Closeup, Pepsodent, Oral-B, Aquafresh, and Cibaca.
5. Indian/Swadeshi Blade Brands
Topaz, Supermax, Gallant, Laser, Esquire, and Silver Prince, Premium.
Foreign or Videshi Blade Brands: Gillette, 70clock, and Wiltage.
6. Indian/Swadeshi Tea & Coffee Brands and ice cream
Divya Peya(Patanjali), Tata, Brahmaputra, Aasam, Tej, Tate café, Girnaar, Gopi, Himdhi, Vita, Indian Café, Society, Duncan, M.R., AVT Tea, Wagh Bakri, Narasus Coffee, Leo Coffee, Nutrine, Shangrila, Champion, Vereka, Madhu, Mahan, Ampro, Parle, Sathe, Bakeman, Gits, Shalimar, Parry, Rawalgaon, Classic, Amul, Nutramul, Vijaya, Indana, Safal, Asian, Sagar, Mother dairy, Himalaya, Nirula, Windi Tapan, Milk Care, homemade ice cream/kulfi, Vadilal, Arun Ice Cream, Milk food.
Foreign  Tea & Coffee Brands and ice cream: Lipton(Tiger, Green Label, Yellow Label, Cheers), Brook Bond(Red Label, Taj Mahal), Godfrey Philips, Polson, Goodrick, Sunrise, Nestle (Lactogen, Cerelec, Nestum, LPF, Milkmaid, Nespray), Nescafe, Rich, and Bru. Walls, Quality, Cadbury, Dolps, Baskin & Robins, Glaxo Farex, and Kwality.
7. Indian/Swadeshi Shaving Cream brands
Park Avenue, Premium, Emami, Balsara, V-John, Godrej, and Nivea.
Foreign Shaving Cream brands: Old Spice, Palmolive, Ponds, Gillette, Yardley, and Denim.
8. Indian/Swadeshi Shampoo Brands
Himalaya, Nirma, Velvet, Wipro, Park Avenue, Swastik, Mayur Herbal, Kesh Nikhar, Hair and Care, Nycil, Arnica, Velvet, Dabur Vatika, Bajaj, Nile, Lavender, Godrej, and Kesh Kanti (Patanjali).
Foreign Shampoo Brands: Colgate Palmolive (halo, Palmolive), HUL (Lux, Clinic all clear, Sunsilk, Revlon, Lakme) P & G (Pantene, Medicare), Ponds, Old Spice, Shower to shower, Head & shoulder and Johnson Baby.
9. Indian/Swadeshi Talcum Powder Brands
Santoor, Gokul, Cinthol, Boroplus, and Cavin Kare Products.
Foreign Talcum Powder Brands: Ponds, old spice, Johnson, and shower.
10. Indian/Swadeshi Mobile Connection Brands
Swadeshi products list of mobile connections brands is Idea, Airtel, Reliance, BSNL, Tata, and MTNL.
Foreign Mobile Connection Brands: Aircel, Vodaphone, Do-co-mo, Uninor (Indian+ foreign).
11. Indian/Swadeshi Textile Brands
Raymond, SiyaRam, Bombay Dyeing, S. Kumars, Mafatlal, Garden Vareli, American Swan, Gini & Jony, Globus, Madame, Monte Carlo Fashions Limited, Reliance Retail, and RmKV.
Foreign or Videshi Textile Brands: Dorothy Perkins, Bruno Banani, Ashworth, Agile, and Barkin Irons
12. Indian/Swadeshi Mobile and PC Brands
The list of made-in-India products for Mobile and PC brands is Videocon, Onida, Spice, Micromax, T-Series, Orpat, HCL, Wipro, Chirag, and Amar PC.
Foreign Mobile and PC Brands: LG, Samsung, Dell, Apple, HP, Lenovo, Acer, Compaq, and Microsoft.
13. Indian/Swadeshi Footwear and Polish Brands
Paragon, Lakhani, Flash, Carona, Welcome, Rexona, Relaxo-Sparx, Lotus, Red tape, Finix, Wiring, Billy Chavda, Khadims, VKC Pride, Lunar Footwear, Liberty standards, Action, and Kiwi Show polish.
Foreign Footwear and Polish Brands: Adidas, Nike, Puma, Bata, woodland, Converse, and Reebok.
14. Indian/Swadeshi Bike Brands
Hero, Bajaj, Enfield, TVs, and auto rickshaws.
Foreign Bike Brands: Honda and Yamaha.
15. Indian/Swadeshi Jeans & T-short Brands
Spykar, Mufti, Arvind denim, Flying Machine, Numero Uno, K-lounge, and Killer.
Foreign or Videshi Jeans & T-short Brands: Lee, Levis, U.S. Polo, Pepe, Lee Cooper, Benetton, and Wrangler.
16. Indian/Swadeshi Readymade garment Brands
Cambridge, Park Avenue, Oxemberg, Bombay Dyeing, Ruf & Tuf, Trigger Jeans. Peter England, Mafatlal, Trend, Cambridge, Double bull, Zodiac, Don, Prolin, TT, Lux, Amul, VIP, Rupa, Raymond, Altimo, Newport, Flying machine, Dukes, Kolkata, Ludhiana, Hosieries of Tirupur.
Foreign Readymade garment Brands: Wrangler, Nike, Adidas, Duke, Newport, Reebok, and Puma.
17. Indian/Swadeshi Child Food brands
Honey, Boiled rice, Fruit Juice. Amul, Sagar, Tapan and Milk Care.
Foreign Child Food brands: Nestle, Mimmo, Plum, Sprout, First Solid, Happy Baby, Gerber, Happa, and Tiny spoons.
18. Indian/Swadeshi Watch Brands
Titan, HMT, Maxima, Prestige, Ajanta, Chumbak, Fressberry, Roadster, Sonata and Fast track.
Foreign Watch Brands: Rado, Rolex, Swissco, Seiko, Citizen, Baume&Mercier, Bvigari, Chopard, Dior, FranckMuller, Gizard-Perregaux, Hublot, JaquetDroz, LeonHatot, Liadro, Longines, MontBlanc, Mocado, Piaget, Swarovski, Tag Heuer, Ulysse Nardin, Vertu, Swatch and Swissco.
Also Read: How to Earn Free Paytm Cash Online? 
19. Indian/Swadeshi Salt Brands
Tata, Ankur, Sundar, Surya, Taaza, Nirma, Saffola, Catch, Tara, Saindha namak(Patanjali), Sindhav and Low Sodium & Iron-45 Ankur.
Foreign/Videshi Salt Brands: Annapurna, Captain Cook (HUL), Kissan, and Pilsbury.
20. Indian/Swadeshi Biscuit brands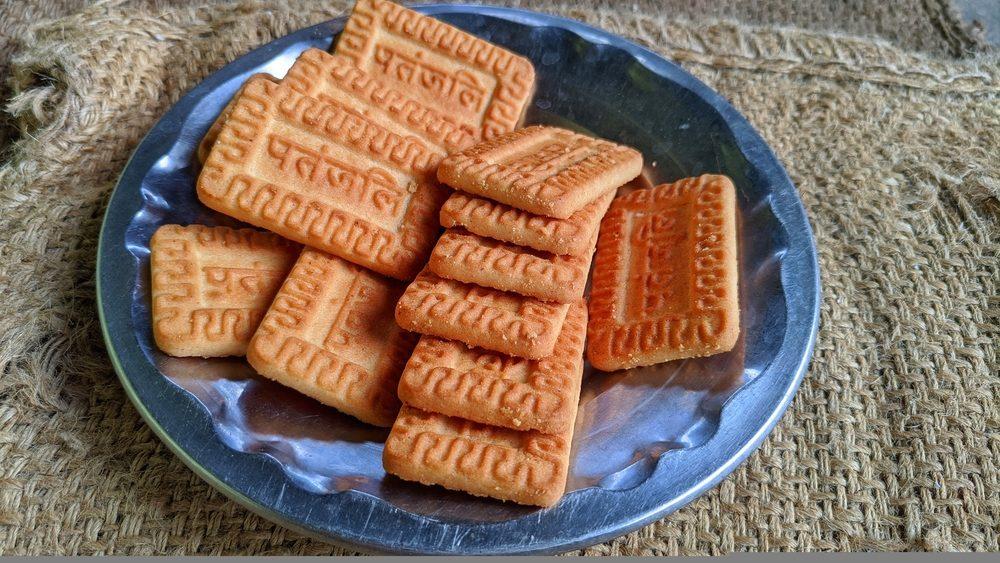 Swadeshi product list of biscuits is Parle, Sunfeast, Britannia, Anmol, Unibic, Cremica, Tiger, Indiana, Amul, Ravalgaon, Bakemens, Priya Gold, Shangrila, and Patanjali(Amla Candy, Bel Candy, Aarogya biscuit).
Foreign/Videshi Biscuit brands: Cadbury (Bournvita, 5Star), Lipton, Horlicks, Nutrine, Eclairs, Bisk Farm, and Huntley & Palmers.
21. Indian/Swadeshi Ketchup and Jam Brands
Home-made sauces, Indiana, Priya, Rasna, Fruit Jams from Patanjali, Tops, Everest, Cremica, and Smith & Jones.
Foreign Ketchup and Jam Brands: Nestle, BrookBond (Kisaan), Heinz, Maggi, Del Monte, Brown, and Paulson.
22. Indian/Swadeshi Snacks Brand
Bikano, Haldiram, Bikaji, Parle, A1, Homemade chips, kaleva, Anamika, Kipps, Maakhan Bhog and Bikanervala.
Foreign Snacks Brand: Uncle chips, Pepsi(Ruffle, Hastes), FunMunch, Kurkure, Knor, and Lays.
23. Indian/Swadeshi Water Brands
Bisleri, Kingfisher, Yes, Ganga, Himalaya, Catch, and Rail Neer.
Foreign Water Brands: Aquafina, Kinley, Bailey, Pure Life, Evian, Sein Pilgrim, and Barrier.
24. Indian/Swadeshi Tonic Brands
Nutramul, Maltova, Chyavan Prash, Patanjali, Amrit Rasayan and Badaam Paak.
Foreign Tonic Brands: Boost, Polson, Bournvita, Horlicks, Complan, Spurt, and Protinex.
25. Indian/Swadeshi Oil Brands
Param, Amul, Govardhan cow's ghee, Mustard oil, Raj oil, Ankur Oil, Maruti, Postman, Dhara, Rocket, Ginni, Sweekar, Cornelia, Rath, Mohan, Umang, Vijaya, Sapan, Parachute, Ashok, Saffola, Kohinoor, Madhur, Engine, Gagan, Amrit, Vanaspati, Ramdev, MDH, Everest, Bedekar, Sahkar, Lijjat, Ganesh, and Shaktibhog.
Foreign Oil Brands: Nestle, Dalda, Tin star foods, HUL, and ITC.
26. Indian/Swadeshi Washing powder brands
Tata Shudh, Nima, Care, Sahara, Swastik, Henko, Rin, Vimal, Hipolin, Fena, Wheel, Sasa, TSeries, Dr. Det, Ghadi, Genteel, Ujala, Ranipal, Nirma, Octo, Dip and Chamko.
Foreign/Videshi Washing powder brands: HUL (Surf, Rin, Sunlight, Wheel, OK, Vim) Ariel, Check, Henko, Reveal, Amway, Quantum, Woolwash, Robin Blue, Tinopal, and Sky Lark.
27. Indian/Swadeshi Cosmetic brands
VLCC, Elle 18, Shahnaz Hussain, Himalaya, Viviana, Neem, Borosil, Ayur Emami, Vico, Boroplus, Boroline, Himani Gold, Nyle, Lavender, Hair & Care, Heavens, Cinthol, Glory, and Velvet (Baby).
Foreign or Videshi Cosmetic Brands: Bobbi Brown, Urban Decay, Mac, Smashbox, OPI,  HUL(Fair & Lovely, Lakme, Liril, Denim, Revlon), Procter & Gamble(Clearasil, Cleartone), Ponds, Old Spice, Detail, Charli and Johnson Baby.
28. Indian/Swadeshi Pen and Pencil Brands
Camel, Flair, Kingson, Classmate, Rotomac, Sharp, Cello, Natraj, Wilson, Today, Ambassador, Linc, Montex, Steek, Sangita, Apsara, Camel, and Luxor.
Foreign Pen and Pencil Brands: Parker, Nickleson, Cross, Rotomac, Swissair, Add Gel, Ryder, Mitsubishi, Uniball, Pilot, and Rolgold.
29. Indian/Swadeshi Electronics Brands
Videocon, BPL, IFB, Wipro, Onida, Salora, ET&T, T-series, Nelco, Jolly TV, Orpat, Oscar, Nelco, Weston, Upton, Keltron, Cosmic, TVS, Godrej, Crown, Bajaj, Usha, Polar, Anchor, Surya, Orient, Cinni, Tullu, Crompton, Loyds, Blue Star, Voltas, Arise, Cool home, Khetan, Everready, Geep, Novino, Nirlep, Elite, and Jayco.
Foreign Electronics Brands: Samsung, LG, Sony, Hitachi, Sharp, and Haier.
30. Indian/Swadeshi Online Shopping Brands
Flipkart, IndiaPlaza, YeBhi, Myntra, Naaptol, SnapDeal, HomeShop18, BookMyShow, MakeMyTrip, yatra, via, Ibibo and clear trip.
Foreign or Videshi Online Shopping Brands: eBay, Jabong, Amazon, and Expedia.
31. Indian/Swadeshi Automobile Brands
TATA, Mahindra, Ashok Leyland, Hindustan Motors, Eicher, Hero, Swaraj, and Maruti.
Foreign   Automobile Brands: Maruti-Suzuki (49% Indian+51% Japan), Hyundai, GM-Chevrolet, Ford, Jaguar, Audi, Mercedez, BMW, Nissan, Renault, Honda, Yamaha, and Suzuki.
This was the list of Swadeshi Product list vs. Bideshi, thus always try and purchase Indian products as they would increase not only the sale but also raise the GDP of the economy. The significant benefit is that it affects the value of the Rupee against the Dollar. Now, your purchase will decide how much does the Rupee stand against Dollar.
All the Indian products are also good in quality, so from now on, opt for Swadeshi products and boycott foreign goods as much as possible.