Business liquidation sales or closeout sales are indicators of a struggling economy which further clarifies the loss of jobs. Whenever a business decides to shut down its operation it becomes very desperate to sell off the very last bit of merchandise in its stock and here closeout stores play a big role. It can be a difficult task to find closeout stores. In this article, we will inform you about some of the best websites to find closeout stores online and stores getting out of business.
What is a Closeout Store?
Closeout is also known as liquidation sale and liquidation sales are a part of the liquidation process. The business houses sell out the excess inventory to interested buyers through closeout stores. You can find a lot of closeout stores online which can offer you the best deals.
16 Best Websites to Find Closeout Stores Online
Closeout is a discount sale of excess inventory by either retail or wholesale. In case of closure of business, a need arises which relates to finding out such closeout stores. One needs to find closeout stores in order to sell the excess inventory. This is where this list will help you. Let us start.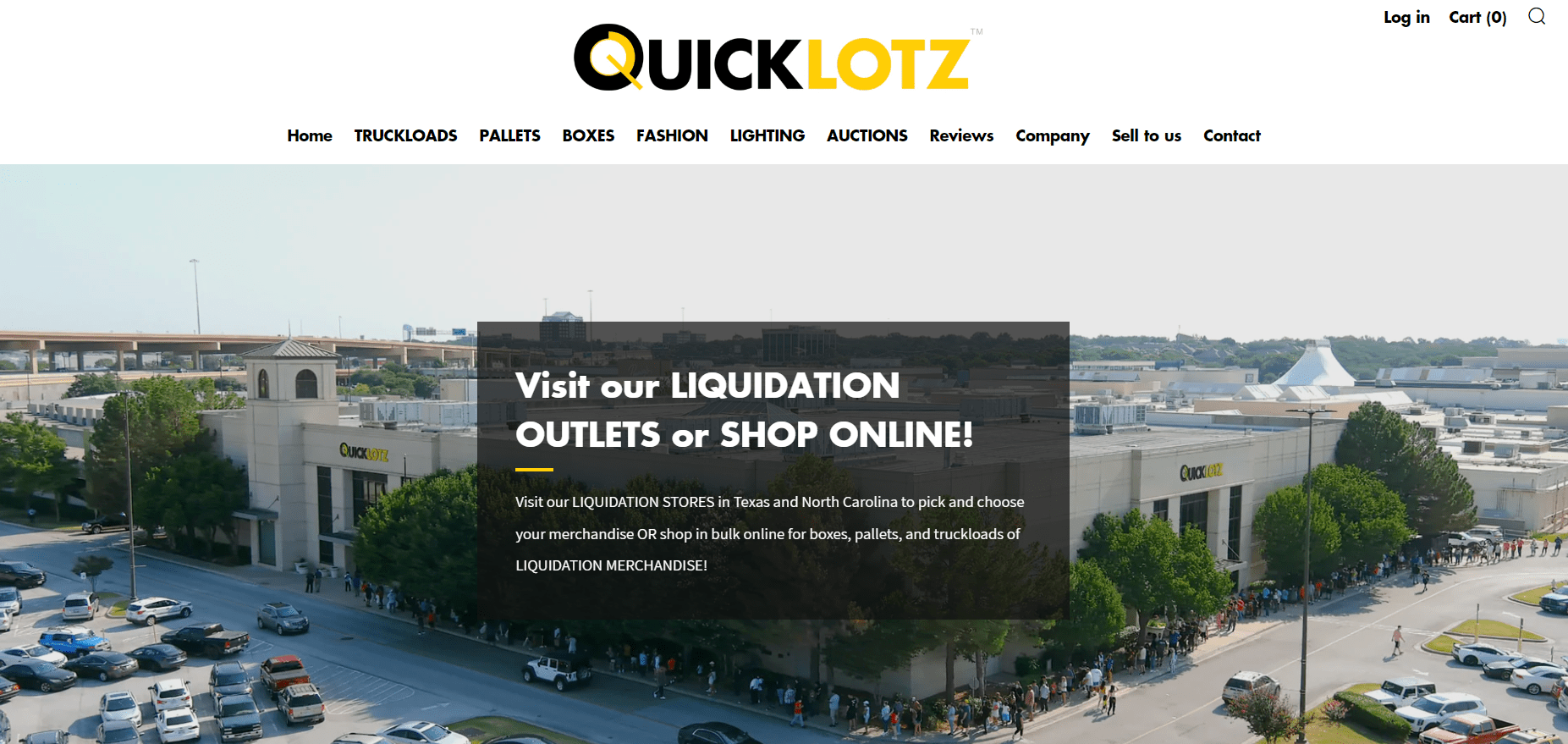 Quicklotz is among the 5000 fastest-growing companies in the US that specialize in liquidation sales and goods. It is suitable for both businesses and individual buyers. The main background of the company lies in retail and wholesale and it has an experience of over 35 years. Customers are located in various locations globally.
The team has major experience in cultural relationships, traveling, international rules and regulations, etc. and has helped many stores going out of business to liquidate their excess inventory. The company deals in the international arena which is not easy and requires a lot of connections. Quicklotz executives have strong relationships in many continents and countries such as Europe, the Middle East, Africa, Asia, Australia, and of course South and North America.

There are instances when a big retailer closes its local store. Direct Liquidation helps you to locate closeout sales and pick up discounted products. Savings offered by Direct liquidation can be as large as 90%. There are many liquidators on the website such as Target, Walmart, and Lowe's and you can find listings even from Amazon Liquidators.
You can find products from global brands such as Apple, HP, Lenovo, Samsung, LG, etc. You receive your shipments quickly because it is located in six convenient locations throughout US and Canada. One can find hundreds of products ranging from electronics to appliances.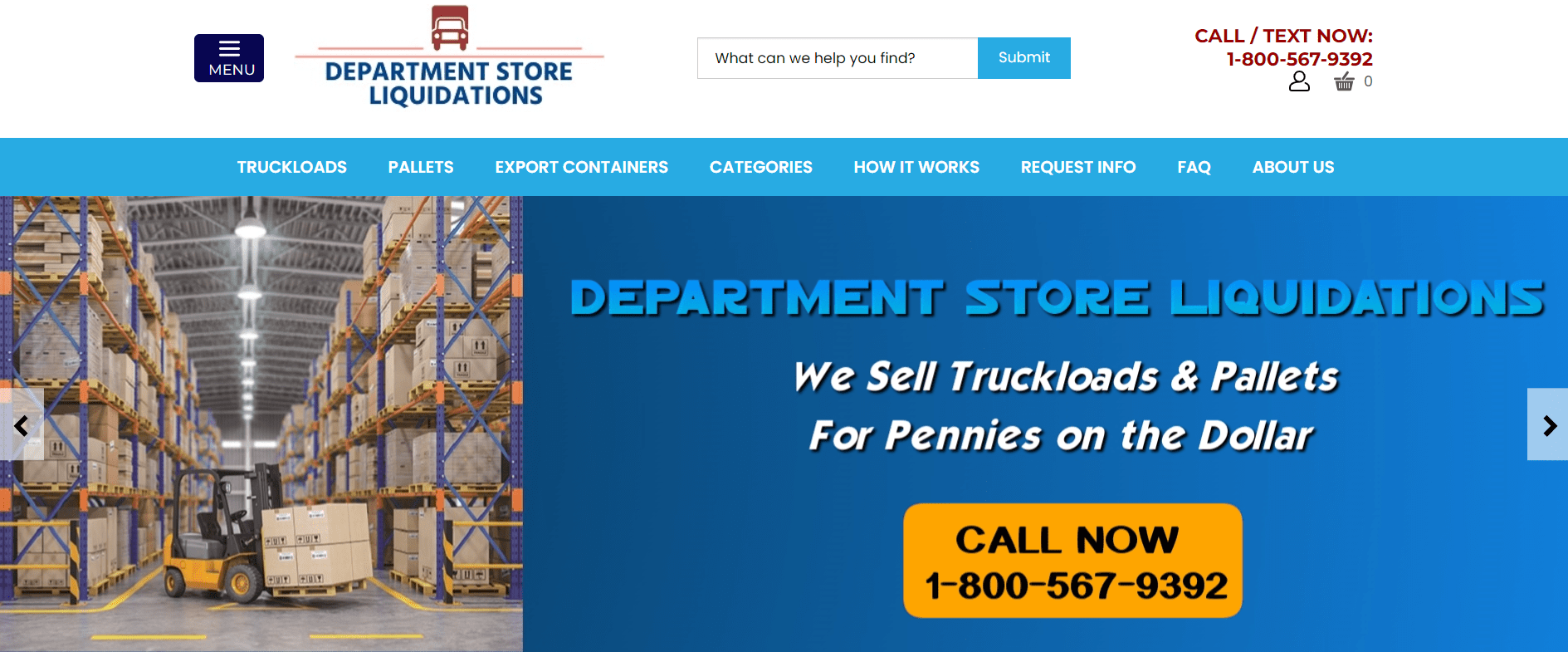 Department Store Liquidations liquidates excess merchandise and surplus inventory. You can find products from closeouts, shelf pulls and liquidations, and overstocks, and these products can be purchased by either truckload, pallet, or as a single item. It is based in the United States but ships its products around the globe.
It sells liquidation merchandise to eBay Auctioneers, Swap meets, exporters, Flea market vendors, etc. The handling and shipping process is handled by them in order to ship the products directly to your doorstep efficiently and without much hassle. The products can range from clothing, sports items, handbags, cosmetics, furniture, electrical appliances, etc.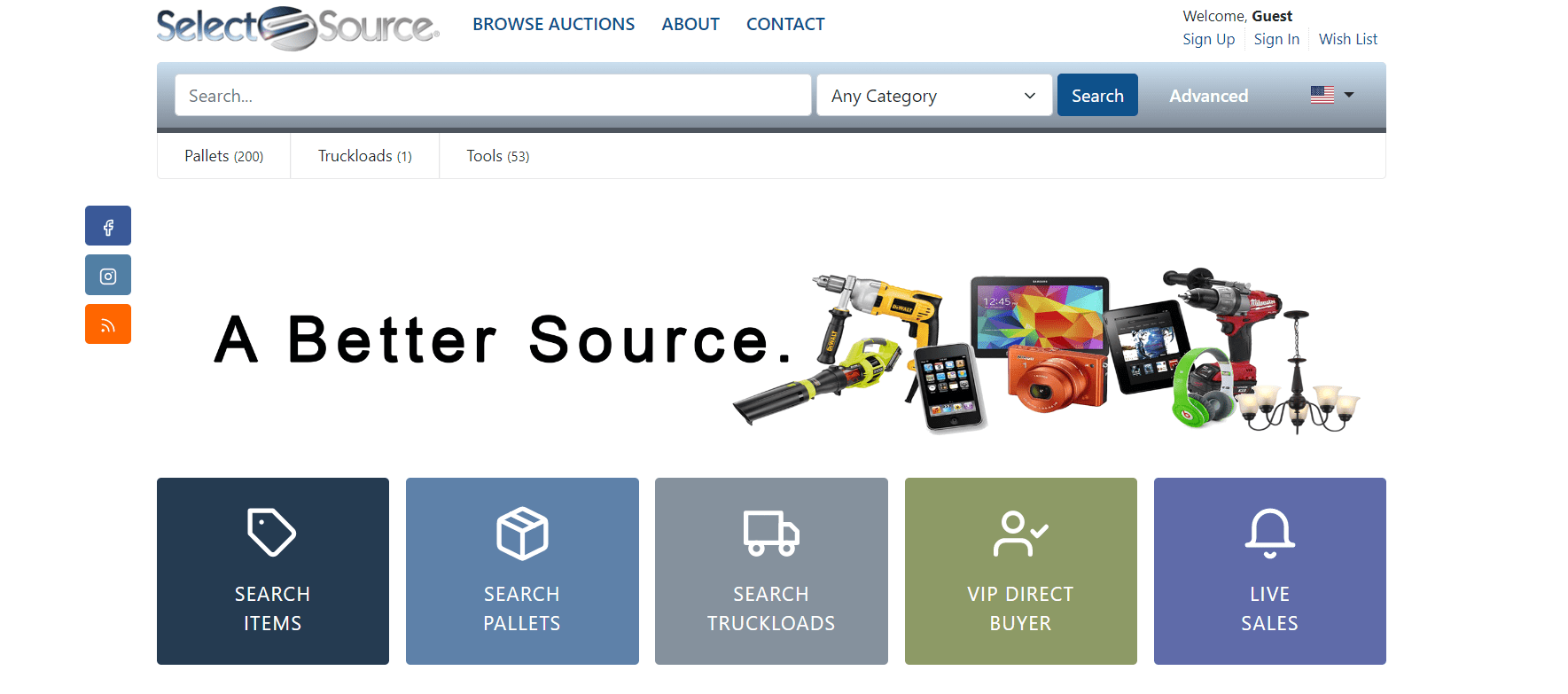 The Select Source has been in the business for over 15 years, delivering a quality experience to both buyers and sellers. This online marketplace specializes in refurbished and used products that are liquidated by other stores. You can find products from a wide range of categories. The customers can purchase single items as well as pallets and entire truckloads.
The payments are transacted via PayPal making it a secure channel but make sure that not all items can be shipped overseas so think before bidding on an item. It brings sellers and buyers together in order to facilitate hassle-free trading environment.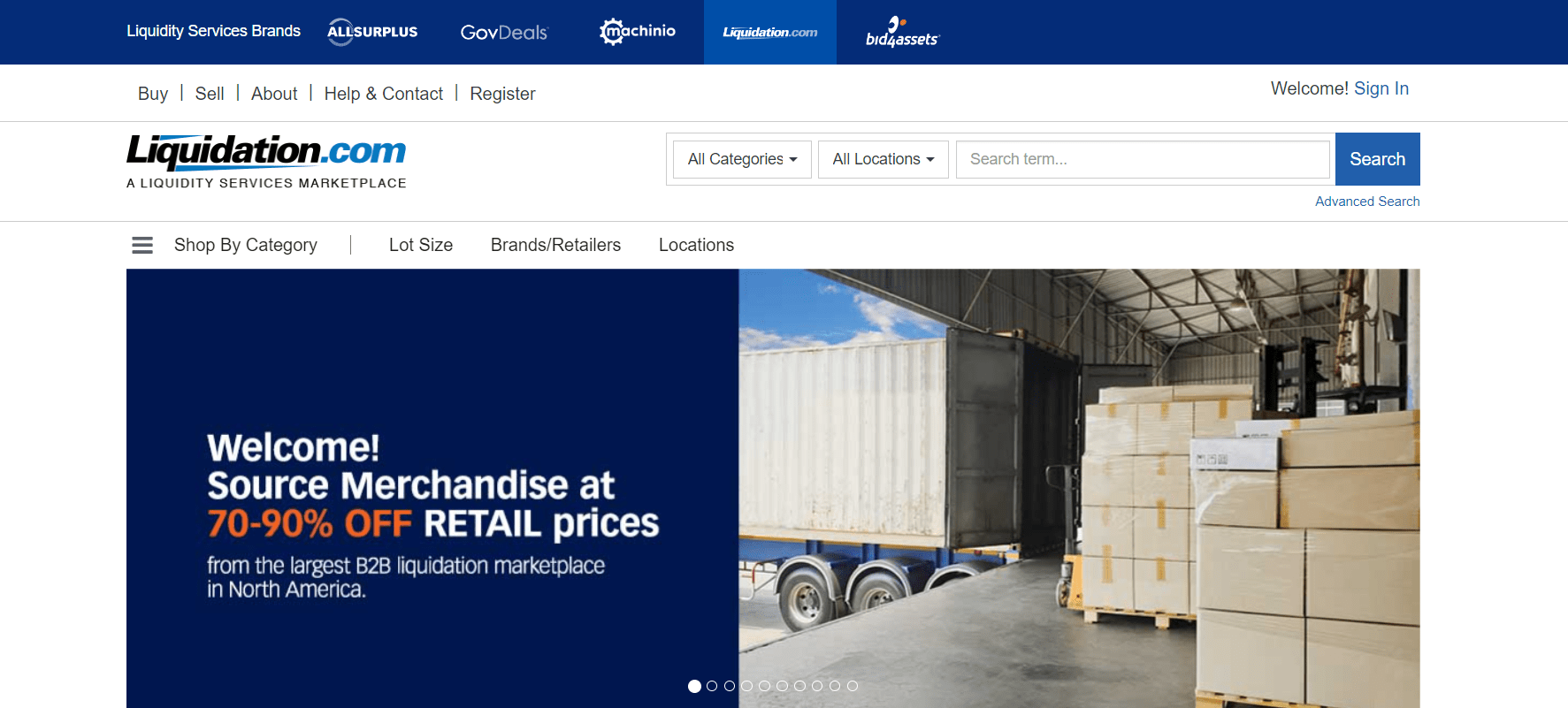 The online marketplace deals in closeout sales, liquidation sales, and selling off inventories of the stores going out of business. You can buy inventory either by truckload or in a small package. Liquidation.com offers liquidation sales across six primary categories that are tools and machinery, computers and networking, jewelry and watches, clothing and accessories, consumer electronics, and houseware and lighting.
You can search for the nearest closeout sale from the search bar. The export section contains items that are available for export if one is an international buyer. The website also informs about the locations in which it operates, some of which are Plainfield, Garland, Las Vegas, Brampton, Phoenix, and Hebron.
Also Read: The Best Liquidation Website USA: The Ultimate List

With TopTenWholesale you can find large retail chains and their liquidation sales. This is one of the best websites to find closeout stores online as it offers a large variety of products such as CBD products, Jewelry, Apparel, Handbags, and Consumer Electronics. One can even find pallets and truckloads from Walmart Liquidations.
The online business liquidation site has a worldwide presence and is headquartered in Los Angeles but the physical representations are located in China, India, Bangladesh, Colombia, Mexico, Philippines, and Vietnam meaning that you will find great deals irrespective of your location. You can save a lot on wholesale purchases of the products offered by verified wholesale suppliers. The website helps you to find verified wholesale suppliers.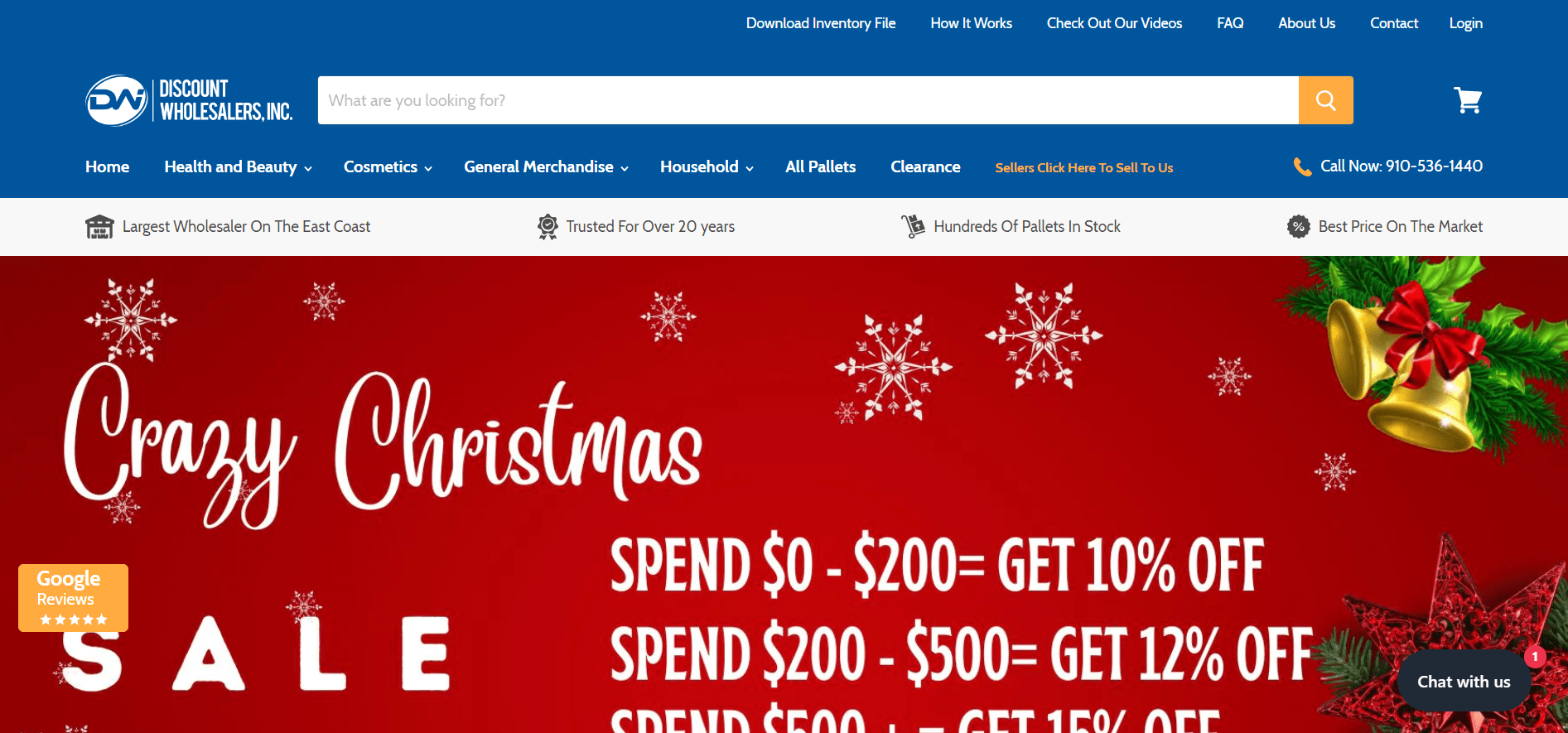 Discount Wholesalers has been the industry leader in closeout industry since 1999. It buys and sells salvage products, overstocks, closeouts, etc. Anyone can buy from Discount Wholesalers be it a big business or an individual buyer. You can find a large range of products such as beauty items, paper products, household items, and general merchandise at the best price.
There's no need to create an account to transact with them and you can receive the order within two days after the payment is received. It offers you the opportunity to inspect the products and merchandise before making the final purchase the dedicated sales representatives are available to answer the questions you might have.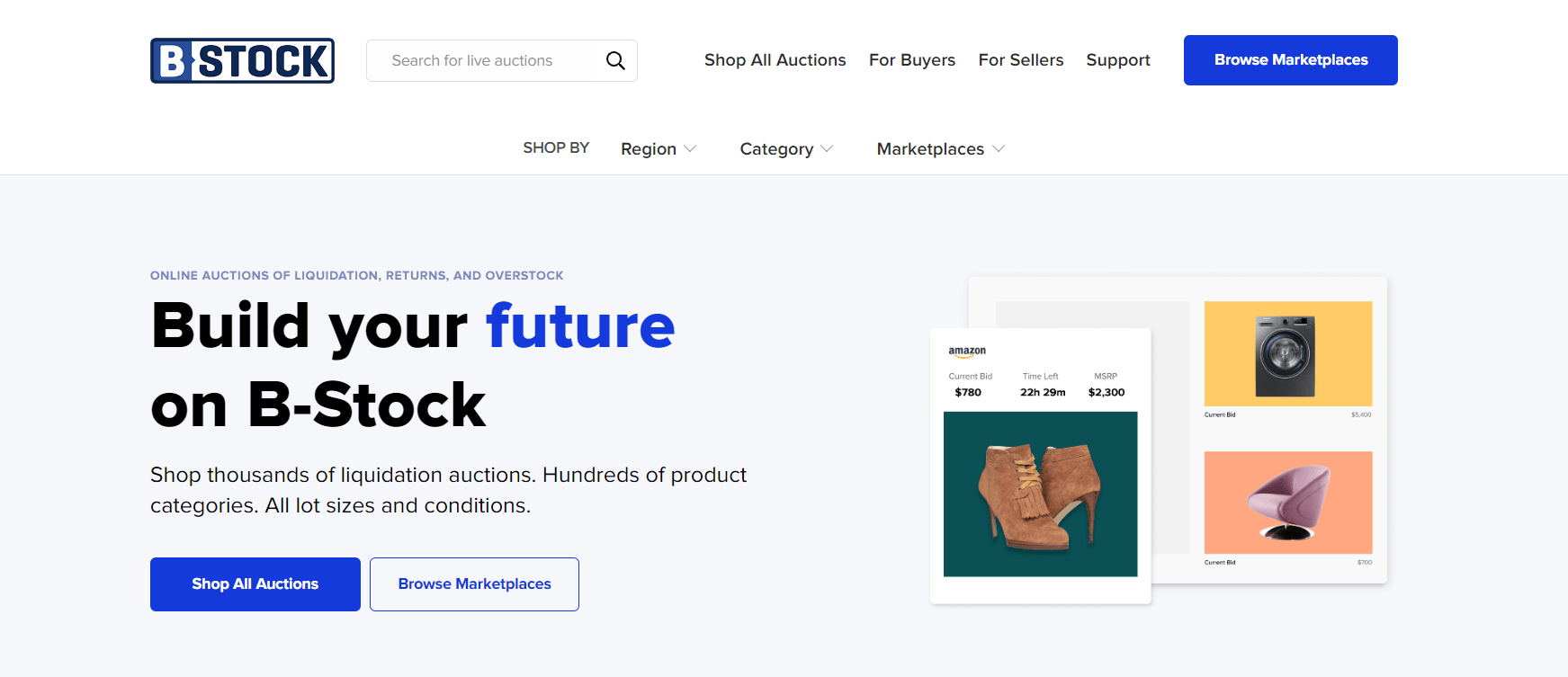 B-Stock is considered the leading liquidation platform for closeout sales. It has direct connections with big US-based retailers such as Best Buy, Lowe's, OfficeMax, Seats, Amazon, GameStop, and Walmart. Whenever these big retailers have excess inventory or return stock they list this quantity on B-stock.
On its website, you can locate the retailers from where you want to purchase liquidated stock. All lot sizes are available with no middlemen in between the processes. The dedicated customer service will help you with your queries. The listings are majorly based in US, Germany, and Canada.

Bluelots is an online liquidation site that focuses on providing inventory by selling liquidated stocks. The payment is accepted through all major routes such as credit cards, debit cards, and PayPal. Retailers can purchase the inventories with profitable margins but the site does not provide for returns and exchanges of the item already sold.
The online marketplace is considered one of the best websites to find closeout stores online connects different businesses. Many large retailers sell their excess inventory to this famous marketplace. It helps various businesses to expand and gives them easy access to incredible inventory. The shipping process on Bluelots is a bit slower than its competitors but flat-rate shipping is applied to each and every auctioned product.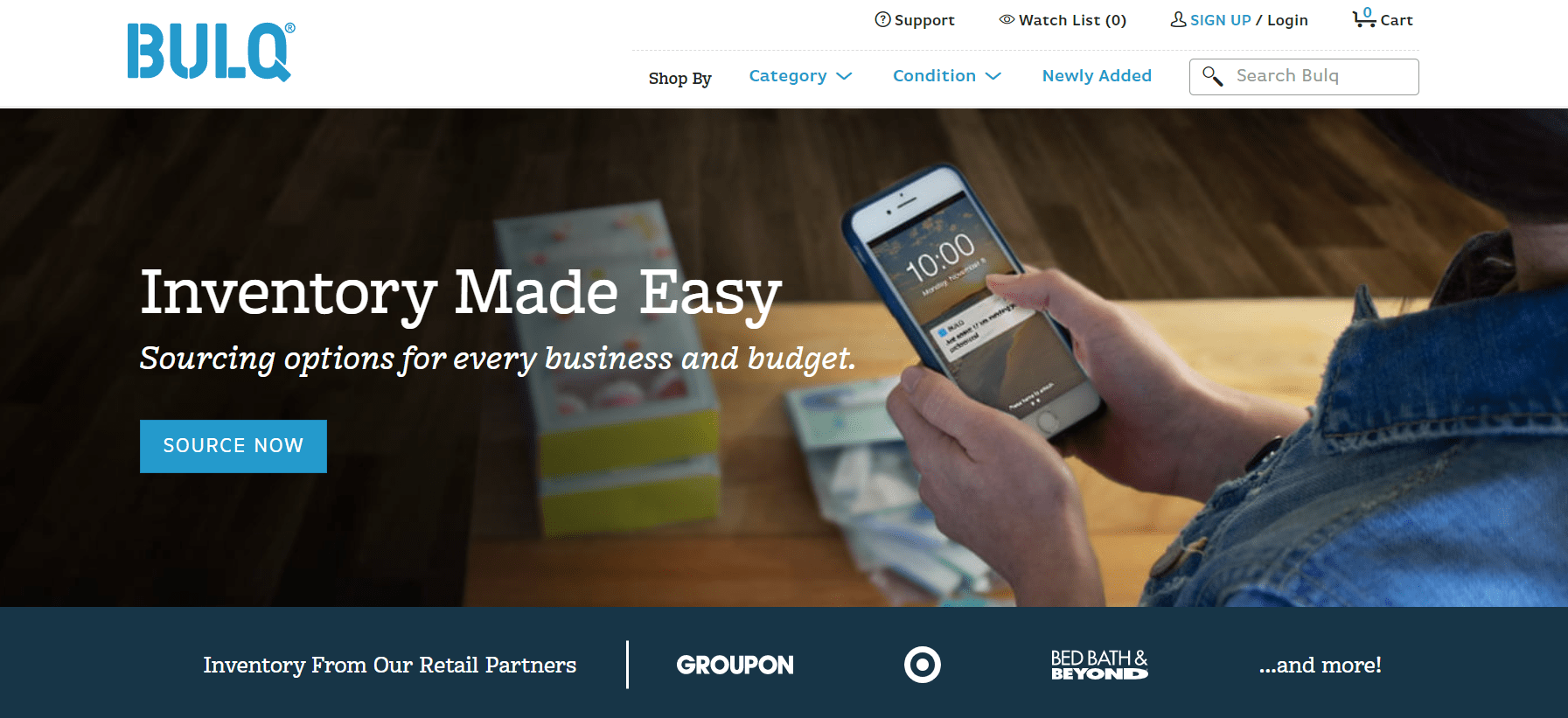 Bulq is among the most trusted and profitable ways to source the liquidation of inventory. It was started in the year 2004 by selling inventory out of a garage. It has a large group of major retailers and has helped many stores going out of business to sell excess inventory also it has been delivering what it promised.
The website has an app that is compatible with both Android and iOS. The payment can be made from different routes such as credit cards and PayPal. Bulq does not offer returns and exchanges. It offers a hassle-free shipping experience and dedicated customer support. The reviews for the company are also good so you can trust Bulq without much thought.
Also Read: Why is AliExpress so Cheap? Is it worth it?

Founded in the year 1992, American Merchandise Liquidators is a wholesale supplier of closeouts, overstock merchandise, and customer returns. You can find merchandise from leading department stores and manufacturers. Its customers and products are located in the US and many different parts of the world.
You get many options such as ending soon, most popular, hot deals, etc. helping you to find the best deals. From a large bucket of listings, a few listings are only for individual customers only. The online liquidation site brings a variety of services and products under one head. AML focuses on building long-term business relationships with its participants.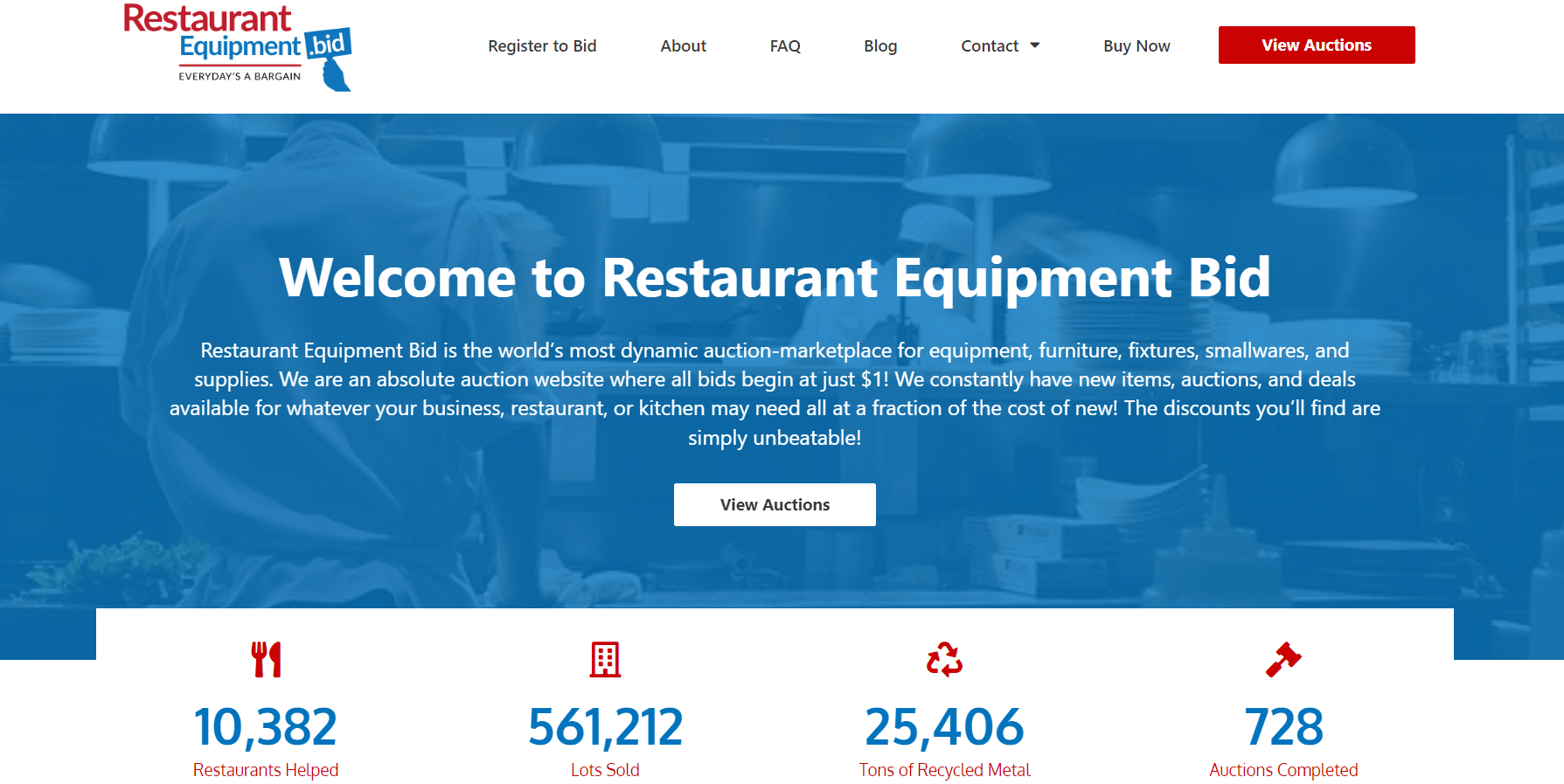 Restaurant Equipment Bid is an online marketplace for restaurant equipment and furniture. On this website, the auctions begin at just $1 meaning that every item's auction starts 99% below the retail price. New items are added frequently and the discounts offered are simply amazing. The marketplace is an early player in the sale of restaurant and food service equipment.
Restaurant Equipment Bid has relationships with many famous restaurants and food service operators and these long-term clients provide them with large quantities of equipment to resell to interested buyers. The site does not have any other products other than the restaurant equipment.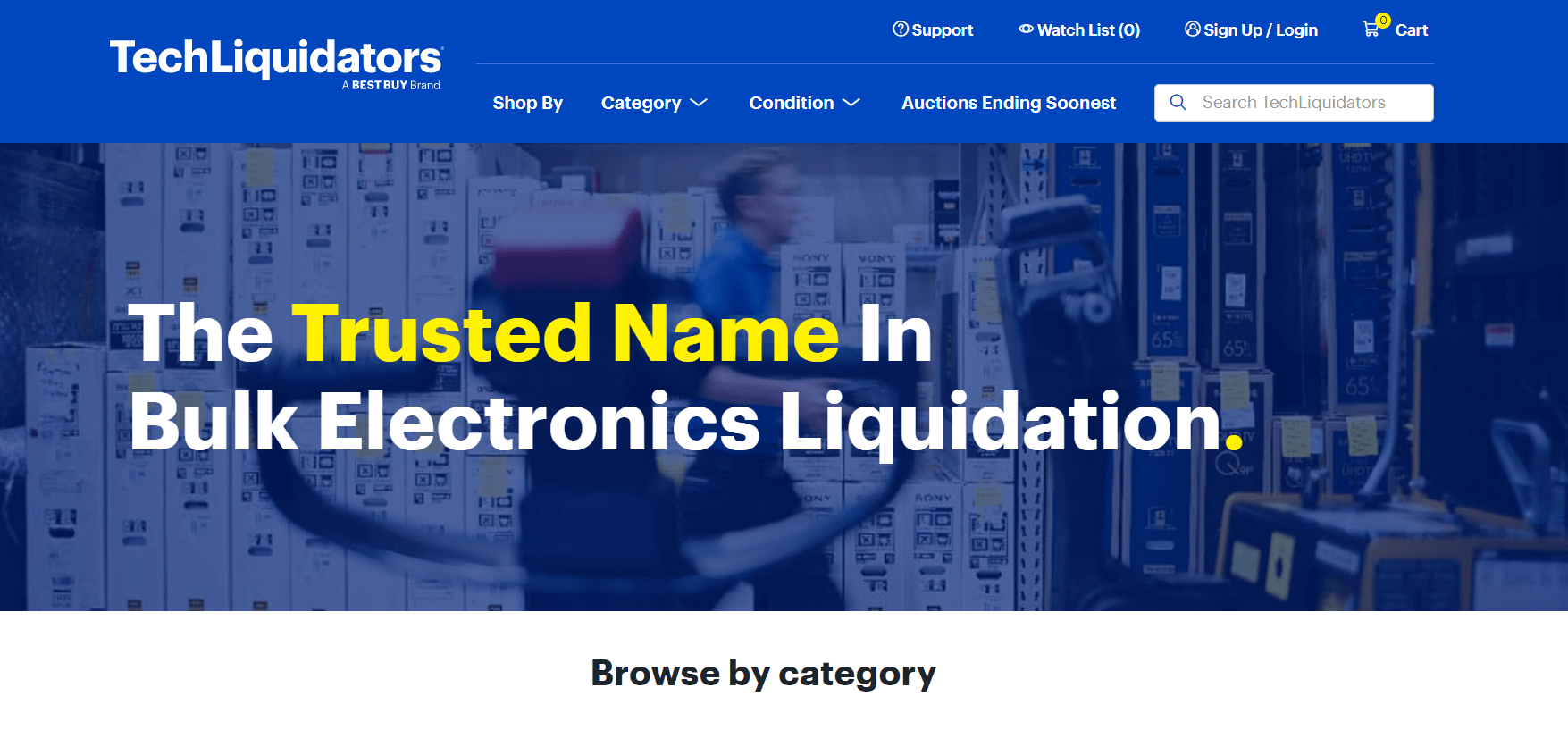 Founded in the year 1999, Techliquidators is considered the largest online marketplace to buy bulk liquidations of new, returned, and used consumer electronics and tech products. It specializes solely in tech and electronic equipment. In the auctions, you can come across a variety of products ranging from mobile phones to home appliances.
The buyers are given the option to search by location so that the shipping costs can be reduced. The products are sold as they're and no operational guarantee is given to the buyers which becomes a major drawback. This site is among the best websites to find closeout stores online.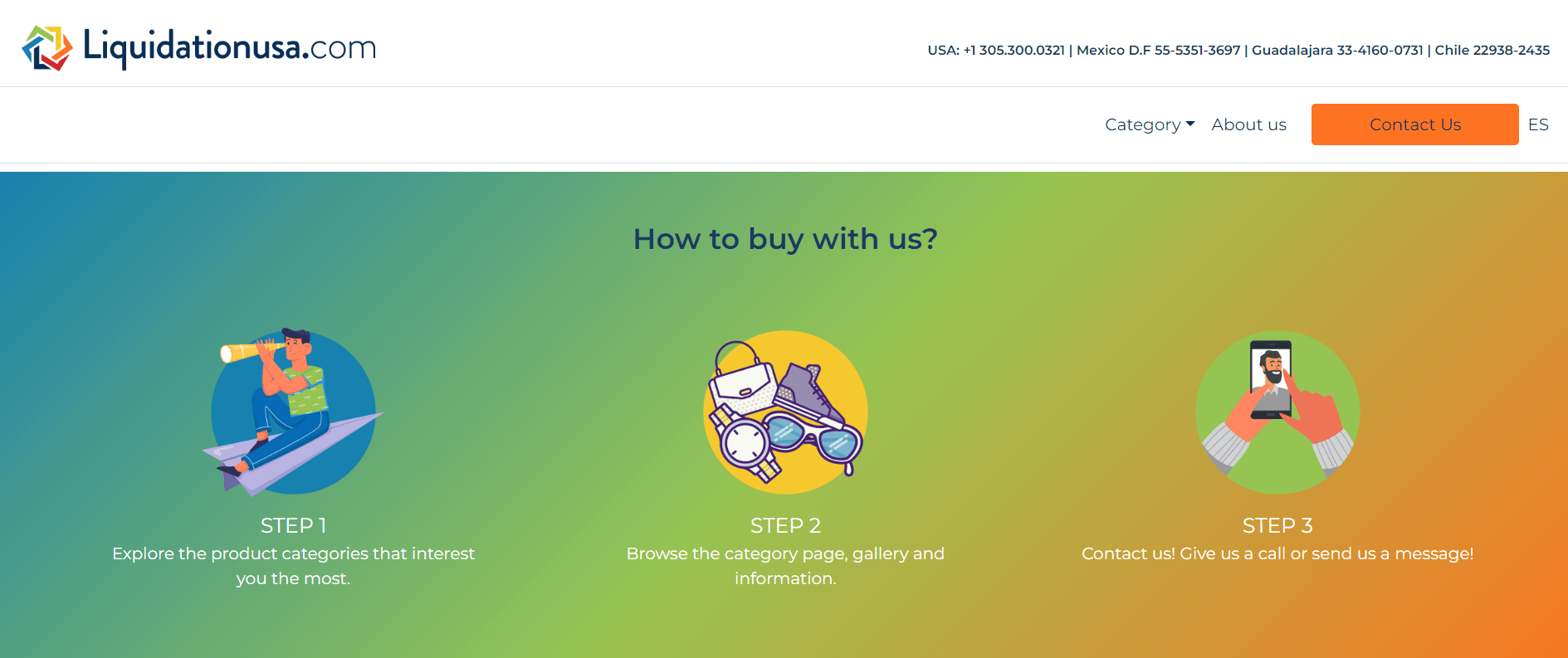 The company was founded in the year 2004. It specializes distribution of products and wholesale. Liquidationusa.com operates in various parts of the world such as Latin America, Asia, Africa, and Europe. The company exports an inventory of clothing, bags, accessories, baby items, bicycles, and sports goods.
It delivers goods to your doorstep hassle-free and you are given reminders of new arrivals and new offers. You get the entire information about your product on the categories page. One has to take an appointment to visit the sales room of Liquidationusa.com and you can book your appointment through email, call, or through WhatsApp.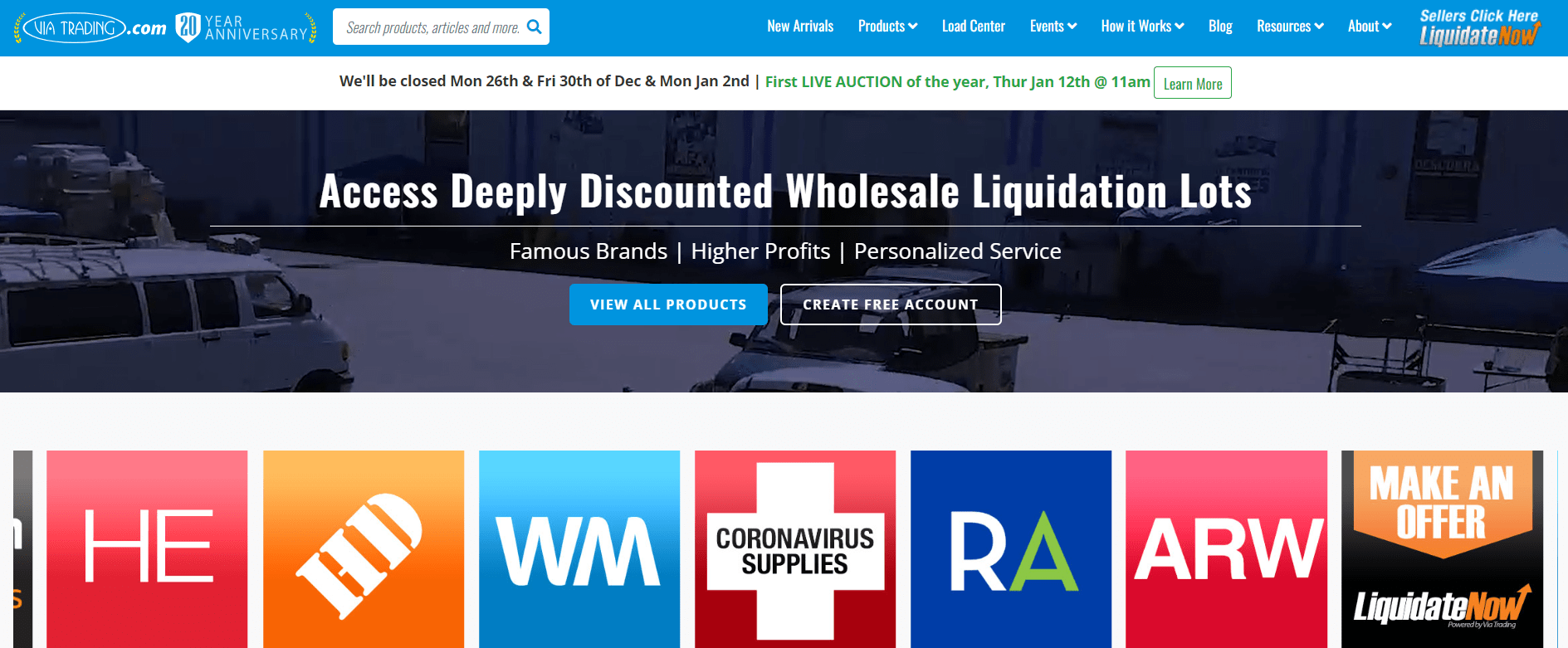 It was founded in the year 2002 in West Los Angeles. Initially, Viatrading focused on purchasing excess merchandise from the market and reselling it through b2c and retail channels. The company caters to almost all kinds of resale businesses. You don't need a business license to transact with this closeout store. Also, there is no minimum order amount.
It operates in many parts of the world such as Mexico, Central America, Canada, Africa, Asia, the Middle East, and Europe. The company has good business relations with many major department stores and e-commerce retailers. Viatrading has the widest variety of goods such as merchandise, furniture, cosmetics, clothing, television, etc.
Also Read: Opinion Outpost Review: Take Surveys, Make Money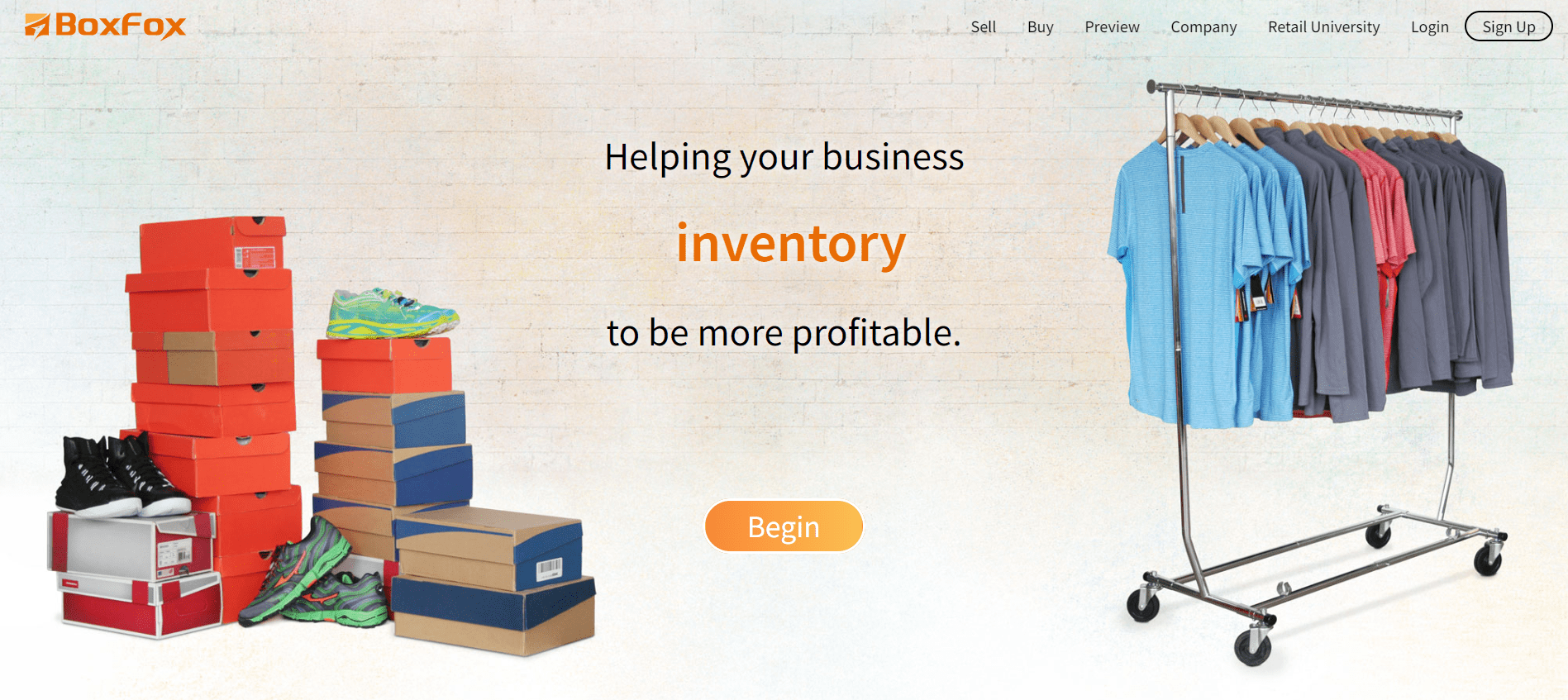 BoxFox is a B2B marketplace for small retailers who want to sell their excess inventory to authorized resellers. Buyers place bids through the auction platform to ensure that they get the best price. You have the option to decline or accept the winning bid at your convenience. You can find a large variety of products such as shoes, watches, clothing, audio devices, and trekking essentials. It has an apple compatible app for users. Here thousands of retailers are connected with thousands of buyers. The buyer here pays the shipping cost of the orders.
We hope that this article on the best websites to find closeout stores online helped you by providing a list of websites from where you can find closeout stores in your locality. Keep reading MoneyMint for more such content.