Reselling apps have gained immense popularity in the online marketplace over the past decade and have proven to be very successful. This trend is not fading away anytime soon, and there are many free reselling apps available that are beneficial for both sellers and buyers. Reselling has become a productive method of earning money by selling unused household items that are no longer in use.
The best thing about reselling apps is that you do not have to find a buyer for selling them. All you need to do is upload a picture of the product, and the buyer will contact you. There are many best-selling apps available that allow you to sell anything from furniture to jewelry and sports gear. However, it is crucial to avoid mistakes when you begin reselling apps, such as not doing proper research or not having a clear business plan.
20 Best Free Reseller Apps In India
In India, there are numerous reseller apps available, but it is essential to choose the best ones that are free of cost and reliable. Some websites even pay you a commission if you refer their app to your friends or family members. Therefore, it is crucial to choose a trustworthy and free website. There are many best free reseller apps available in India, such as Meesho, eBay, GlowRoad, Yaari, and Shop 101, among others. Let's go over the list of best free reseller apps in India:
1. Meesho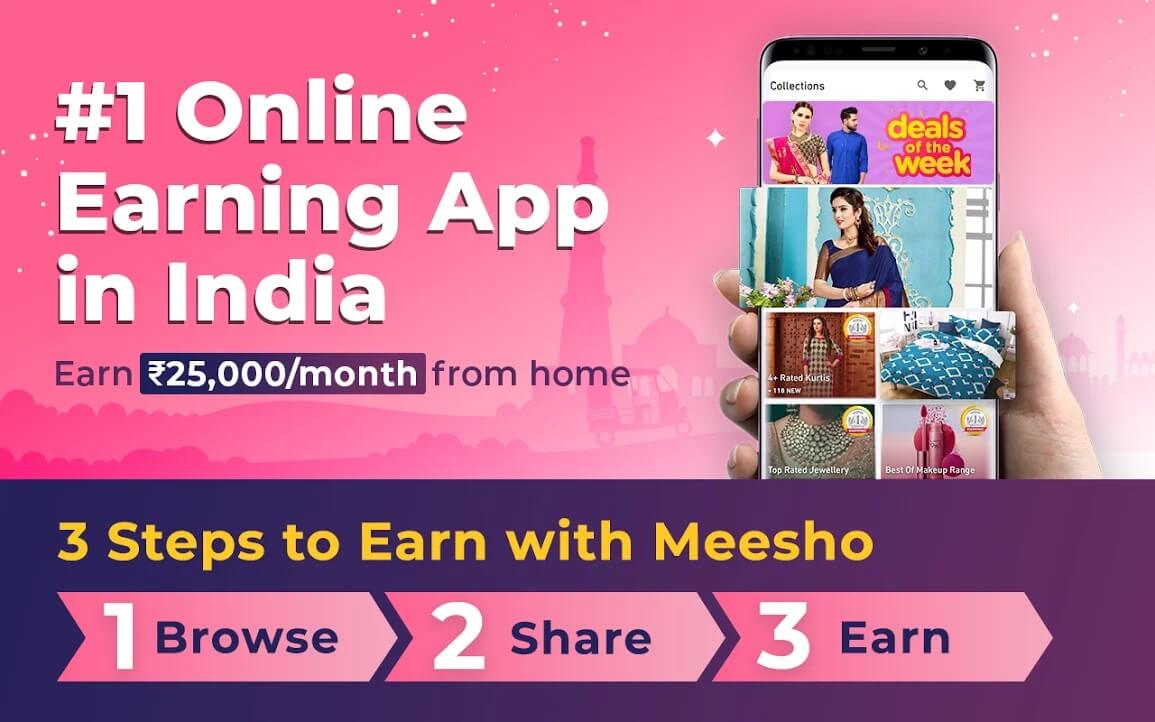 It is one of the best reseller apps, and if you want, you can become a Meesho Reseller and make extra money from it. You would be surprised to know that this app was created by two IIT Delhi graduates, Vidit Aatrey and Sanjeev Barnwall in December 2015. 
As a Reseller, you would have to search the products from their collection and share it with your friends. If your friends like the product and purchase it then you would get a commission for that. Not only this, there are various other money-making options in this app. 
Meesho app helps empower small businesses and people to commence their online stores via social channels. It has more than 10M downloads on the play store and has a rating of 4.5. You will be able to earn a great commission and profit on every product you sell furthermore they also give weekly cash bonus if you meet the sales target. 
App Features
Here are some of the app features that you should know about-
Easy formalities to begin the business

Easy return policy

Products at reasonable prices

The option of cash on Delivery available

Can be done part-time
2. eBay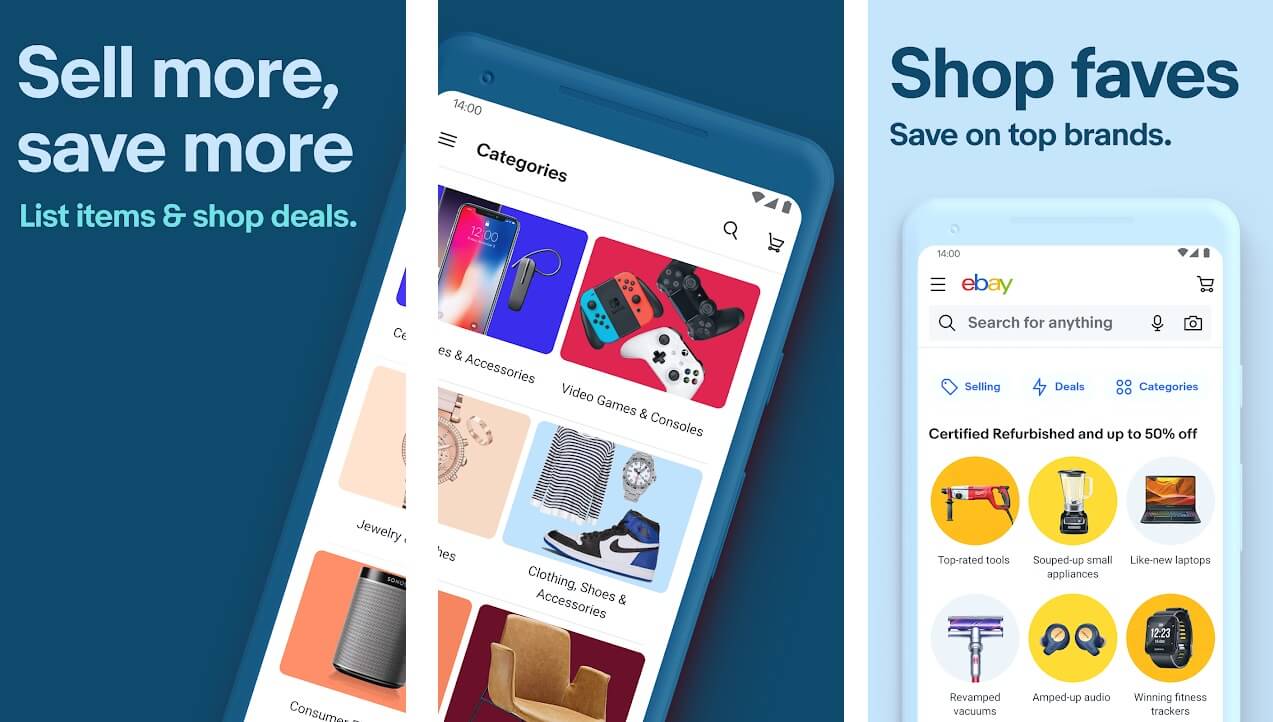 This website is known to be a marketplace for selling things that are shipped. The highlighting thing about eBay is that you can access it from anywhere in the world. This is one of India's oldest reselling websites; you can get sell and buy on this website such as electronics, apparel, cars, cameras, cosmetics, and whatnot. They have more than 100,000,00 downloads and have a rating of 4.6. 
For the products that are big and bulky, eBay allows local listing for them. If you do not wish to pay for the shipping, it can be picked up by "Local Pickup Only". Various local businesses list themselves on eBay to increase sales and offer free Delivery in multiple cases.
App Features
They offer great deals which can help save a lot of money.

User-friendly

Feature to search for discount deals

Free delivery option
3. GlowRoad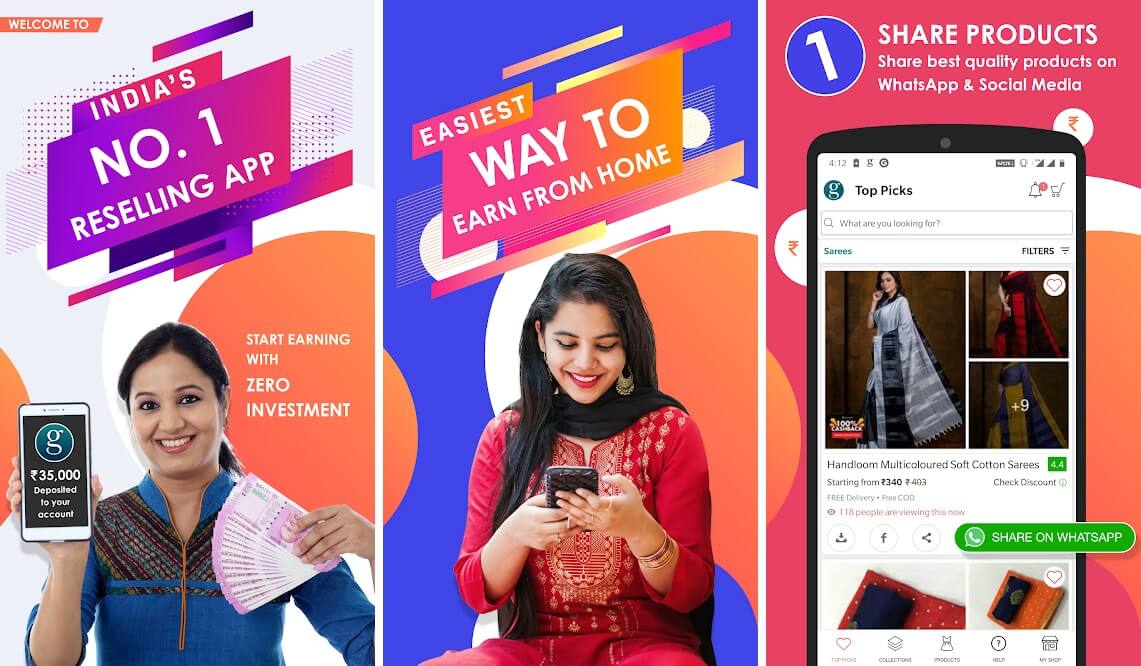 This website is also one of India's best free reseller apps as they have more than 1 lakh high-quality products and over 100 categories for wholesale prices. It has more than 10M downloads and has a rating of 4.5 stars.  
Numerous people are making money through this app that comprises housewives, boutique owners, beauticians, college students, etc. They are well-known for delivering items on time, there have been very few cases when they failed to deliver the products on the mentioned date. 
You would be amazed by their product categories as they have everything starting from clothes, beauty, home décor, utensils, furniture, and much more. All in all, it has all the elements that are required in an excellent reselling app.
App Features-
Great pricing

On-time Delivery

Easy return policy

Easy user-interface
4. Mercari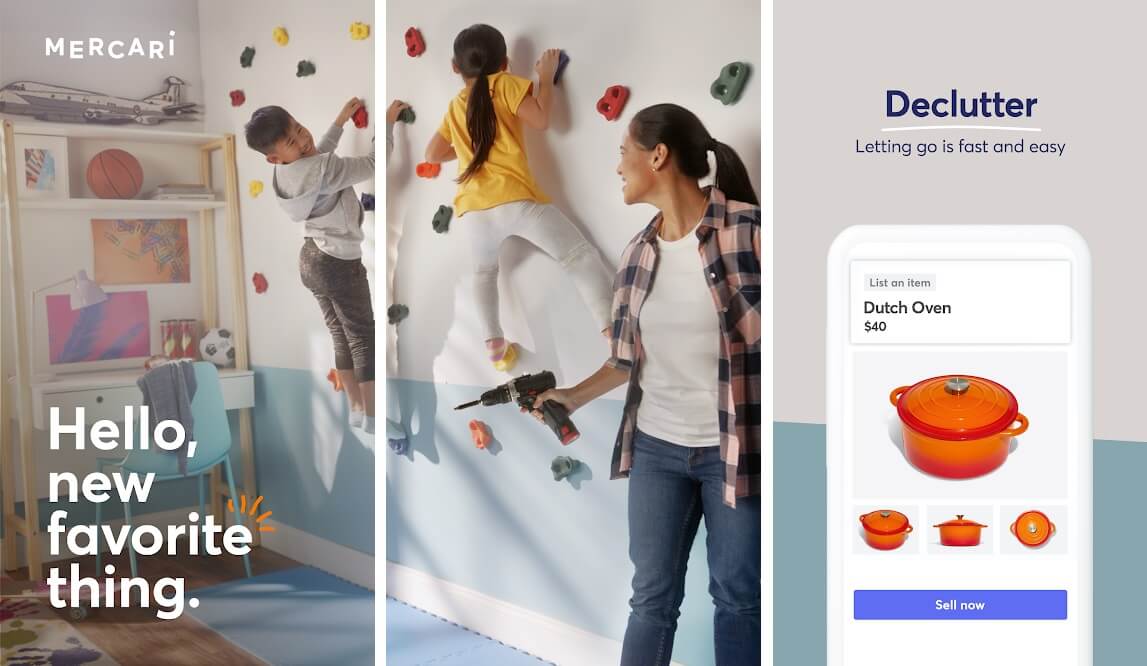 This website provides a vast range of products and is also said to be a flea market app. You can get both used and new items as per your requirement. It was launched in Japan but was started in the U.S. in 2014. People who have used this app have great reviews about its quick buying and selling strategy.
They offer round-the-clock customer assistance and free shipping because of which their users have increased tremendously. For selling the product on Mercari, you would have to put the picture of it along with that you will also have to mention price, brand, condition, and shipping cost.
Here, sellers can choose if they want to pay for the shipping or the buyer would pay.
App Features
A rapid and straightforward method to sell and buy products

Round the clock customer support

Free shipping on millions of products

Printable shipping name is messaged when the product sells
Also Read: 30 Best Jobs For Women In India
5. Shop 101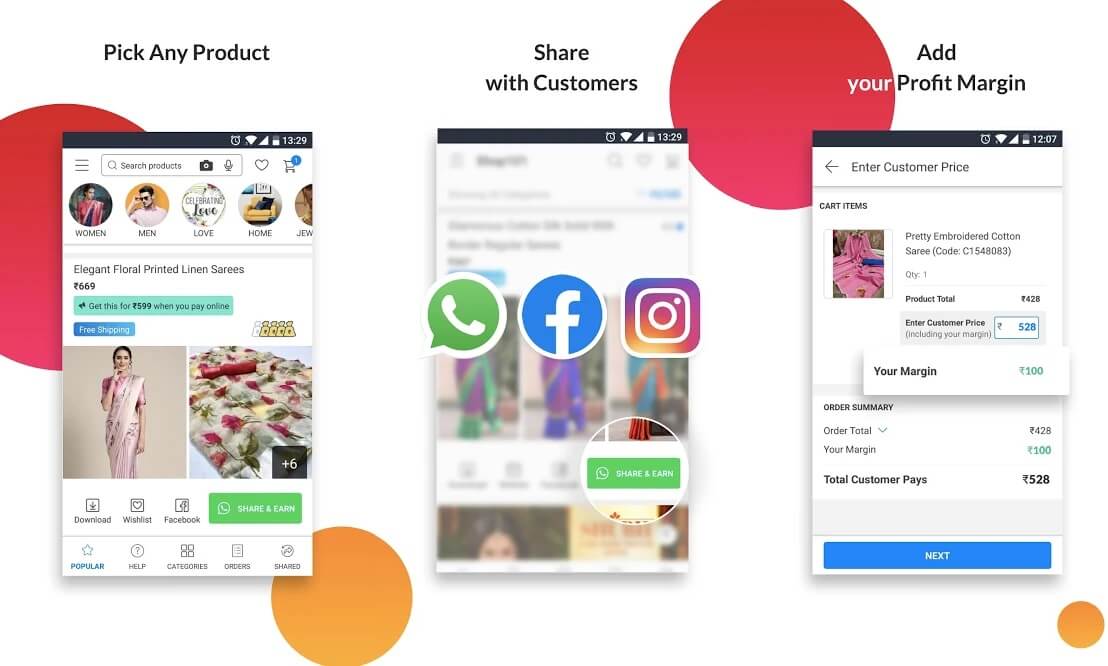 It is a fabulous outlet for all shopping lovers that is the reason why it has become one of the best free reseller apps in India. They render small or home-based business visionaries on social media with zero speculation by proffering an internet store within minutes.
You can get almost all the products you can think of starting from personal care to clothing, electronics, and furniture. 
A unique feature about this app is that it has multi-language options; hence you can choose the language you are comfortable in. They also have various cashback offers for their users which makes this website even more appealing to users. They have more than 50 lakh resellers with a rating of 4 stars. 
App Features
Great profit margins

A vast range of products

Cashback offers
6. OfferUp
They give reselling services to the customers and provide rewards to the sellers who frequently offer a good customer experience. They also have an option for their buyers and sellers to give feedback for the deals done. 
If you wish to ensure more security with genuine identity, you can also link your account with Facebook. It is a reliable reseller app, and it also has more than 10M downloads with a rating of 4.5 stars. 
App Features
You can make a watch list.

In-app chat feature to talk to sellers

Option to make a counteroffer

Great service quality
7. ZyMi
It is again considered one of the best free reseller apps in India as it is authentic and user-friendly. Here you are also provided with an opportunity to create your online store freely. The good part of this website is that you can create your store on their app in a couple of minutes and sell their product.
When someone buys the product, you will get a commission for it. They have thousands of amazing branded clothes that you can sell online. They have a great collection as you can find all the latest editions on their website and you can add them to your collections.
App Features
Authentic

User-friendly

Great collection

Latest fashion products
8. Cartlay
This is one app that is famous for reselling trending fashions from different brands. They also provide you with an option to begin your online business, and there are no funds required for the investment. In fact, you can sell the products through social media platforms such as Instagram, Facebook, etc. 
They have more than 50,000 downloads with a rating of 4.4. Once you install the app and get registered, you would get a notification on a new collection that you can share with your friends or family and earn a commission on it.
Their return policy is trouble-free, plus they have the best quality products. Also, they provide round-the-clock support and quick shipping within just a couple of days.
App Feature
Various payment options such as net banking and credit/debit card

Hassle-free return

Get payment from your cartley wallet.

You have the option to share your collection with friends and family.
Also Read: Top 20 Money Earning Apps In India
9. Hi boss
It is just like Meesho and GlowRoad in terms of authenticity and reliability. They too have more than 1M downloads with a rating of 3.9 stars. You would be surprised to know that they have over 1,000,000 products available in various categories. 
You can sell trendy things at factory price and of great quality, sitting at home and without any investment on this app. They truly care for their users and to make them happy they provide free shipping and COD option as well.
App Features
No shipping cost

Cash on Delivery available

Sell items with ease, just scan and list.
10. 5miles
This app is straightforward and convenient to use. They also provide an option to sell old items, particularly for people who live in urban areas; they do not work great for people living in remote locations. 
On 5miles, you can get a lot of products such as furniture, clothes, antiques, auto parts, electronics, personal care products, and much more. They have more than 5,000,000 downloads with a rating of 4.4 stars.
App Features
Round the clock customer support

User-friendly app

Active reviews for the posted feedbacks

They verify the identity of all users.
11. Shopee
This app is one of the best free reseller apps in India for women as they have more suppliers for women's products such as Kurtis, sarees, jewelry, home decor products, furniture, etc. They have relatively low prices compared to the other apps as they offer products at minimum to a minimum cost.
This is a new reseller app, yet they provide great offers for their users and ensure timely delivery. Their payment option is also great as they pay weekly to their sellers, and the commission is also good. 
App Features
Products at cheap rates

Easy return policy

Easy formalities to start the business
12. Shopmatic
This app is different from others as here you can create a friendly exchanging eCommerce within a couple of minutes without paying any charges. After you complete a year with them, you have to pay 3% of the exchange esteem once you effectively sell your products.
App Features
Can make your e-commerce website

Transaction model and subscription model available

Low price products
13. Facebook buy and sell groups
This is one of the most successful social media platforms, and you can sell your products here as well and earn huge profits. There are just a few steps that you need to follow to sell or buy products here. After that, sign in or Log in to your Facebook account, click on "Buy and sell groups" in the explore menu to join the group.
You would see various groups in your locality or if you want you can also search for it by a particular city or country group. It is important to read the group's guidelines before you join as selling controversial items is restricted plus they can have other rules as well.
App Features
Round the clock multilingual support

Large customer circle

Low price products
| | | |
| --- | --- | --- |
| Facebook buy & sell groups | Visit | N/A |
14. ResellMe
This app is considered to be one of the best because it has more than 100 brands registered there. It is pretty easy for you to get good quality material for clothes and other branded products on this app. The good part of this app is that they help their reseller in every way possible if they face any sort of difficulty.
If you are reselling the products for the first time, this app can be a great choice for you as after installing the app; you would see a video that would explain everything about starting the reselling business with this app.
App Features
User-friendly application interface

Easy login

Wide categories of articles
15. OLX India
This is also a free reseller app and has gained a lot of popularity within a couple of years. Here you can buy or provide used items, and their customers are 100% authentic. A unique feature of this app is that they have a Chat first feature so that you can avert any spam calls for uninterested users. 
App Features
In-app chat feature

Create your own profile

Can get a product from any part of India
16. Quikr
This is a free online commercial centre reseller app where you can get numerous used items such as gadgets, vehicles, furniture, gym products, clothes, and many more such articles. 
The different elements of this website are that they also offer properties for rent and sale that other apps do not. They have more than 10,000,000 downloads, including both Android and iOS with a rating of 4.3 stars.
App Features
You can also search for full-time and part-time jobs.

Can get used products at reasonable prices

Avail pick-up and drop-off of anything anywhere
17. Amazon Seller Marketplace
Amazon is the number one online website worldwide and has the maximum customer base. It can be a great platform to buy and sell used items as people rely on this website because of its great reputation that it has maintained since it started.
They have all the things to make reselling easy such as an easy return policy, timely Delivery, user-friendly app, and massive customer base. It has more than 5,000,000 installs with a rating of 4.3 stars.
App Features
Cash on delivery option available

Free Delivery on specific products

Purchase from any location
| | | |
| --- | --- | --- |
| Amazon Seller Marketplace | Download | 4.1 Ratings |
18. Carousell
This app was started in Singapore and then in the U.S., where people have given good feedback on it. This website is emerging globally and enables you to buy and sell products across broad categories such as apparel, electronics, automobile, etc.
If you want you can also publish the listing on a social media platform and share it with your friends and family. As they purchase the product, you can earn more and more commission. It has over 10,000,000 downloads with a rating of 4.2 stars.
App Features
Can create a profile through social media

Easy login

Round the clock customer support
19. Poshmark
This reseller app is well-known for selling clothes. On this website, you can list both adult and kid's clothing without paying anything. They send you a free pre-paid shipping label once the sale is finalized. This app has a closet where you can upload pictures of the products in real-time.
A unique thing about this app is that the buyers would have the option to see your entire closet. Hence, when the shoppers come on this app searching for a particular brand, they can also have a look at the other products in your closet. They have over 10,000,000 downloads with a rating of 4.2 stars.
App Features
They ensure quick Delivery

More than 5000 brands of every size

Listing items is free. 
Also Read: 25 Profitable Small Scale Manufacturing Business Ideas in India
20. Decluttr
Many people love this application because here they allow selling only those products that are in good condition. Selling the products on this app is really easy as you just need to upload the picture of the product and done.
The buyer will contact you, and as per your pricing, you can sell the product. The good part of this app is that once your product is sold, you get the payment within 24 hours. This app is famous for cell phones, video games, DVDs, and other electronic items.
App Features
Option to scan barcodes

View and manage your orders

List your items for free.
21. Shpock
It is said to be a deal app, here the listing is free, but you have the option to pay more if you wish to promote your listed items. This can be an amazing website for people who have various products and want to clear all of them as they have an option to promote their product.
App Features
View and manage your orders

Round the clock access 

Get good bargains from various classifieds.
Recommended: Cell Phone Accessories Business Plan
When you look at the play store, there are many names available of the reseller apps, making it challenging for you to choose one. Hence, the names mentioned above are some of the best free reseller apps in India with excellent ratings. You can sell or buy your used and unused items here and earn money. 
All of them are good, but you can choose one as per your requirement and comfort. In fact, you can try several apps and then as per your experience settle for one in the end.