Today we are going to discuss some of the best stock market trading apps in India.
Nowadays, technology is growing so fast that people do not stick to one technique or means for getting some information or for performing an activity. Similar is the case with the stock market. Now people not only stick to their mobiles, televisions & their computer screens but also use different apps that have evolved with time. Many apps in this segment are being launched every day.
The launch of these apps has brought a revolution in the investment segment. These applications help people to invest & sell & also track their investments in simple ways.
What are stock market trading apps?
These applications are the apps that provide customers with platforms or an easy way to execute their investments & sale in the stock market through their mobile phones only. They do not have to go to agents & pay commission also. People can just sit at home & execute trades & track their investments. The way these applications are gaining reputation & importance in recent years is commendable.
Why these applications are in demand & are gaining popularity?
Some of the main reasons for stock trading apps gaining prominence are:
As we all know, this is the period of a technological revolution in India, where the most important one is the 'Mobile Revolution.' Now, every person whether poor or rich has a mobile phone with him because mobile companies are offering mobiles at very low prices too with all the features that can attract potential customers & are helpful for them also.
Therefore, now people do not only make calls from their phones, not only play games on mobiles, but they have stepped forward to use different applications coming in the market daily. Similarly, people stick to their phones to get the latest news updates and to check the stock market conditions, which help them to invest in it.
This online system of trading is also helpful as it gives flexibility to an investor to be up to date with the stock market news anywhere he wants & also to trade from anywhere at any time.
It helps in getting updates from all over the world. It gives quick & time to time updates of the global financial markets.
All the famous Indian stock exchanges like NSE, BSE, MCX & NCDEX would be on our fingertips through these applications as we can track them easily.
Sensex & Nifty can also be tracked easily.
The apps make & provide some charts, graphs & other figures which help in taking decisions related to an investment like where one should invest because by observing & analyzing these charts, a person can know the growth & downfall of the market.
The apps also provide helping hands in building investment portfolios & also it can manage our investments & transaction in a much better way than we could do it.
It also assists in choosing our investments as reviews & discussions of the experts are also present there.
12 Best Stock Market Trading Apps In India
Now let's take a glance at some of the best trading apps in India. All of the below-mentioned apps are available on the Google Play store. But not all of them are available on the App Store.
#1 MONEYCONTROL APP
This app is available on both Play Store as well as App Store. It is the most popular app for stock trading now. It has some great features that an investor would surely love like the latest news, in-depth financial information, & it also provides easy access to stats of various stock exchanges. It offers different languages so people from different regions can easily use the app. Some languages that it offers are Hindi, English, Tamil, Gujarati, etc. All the CNBC channel can also be easily streamed on this app. So, to track the financial markets, this app is a great choice.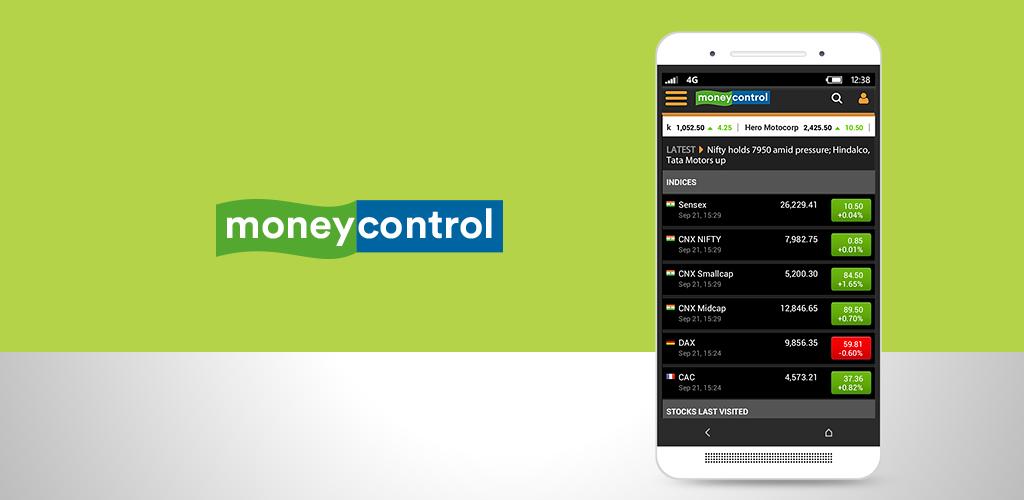 Using this app you can get updates for Indian financial markets as well as international.
It has access to BSE, NSE, MCX and NCDEX exchanges.
You can also monitor the performance of your portfolio using this app.
You can set custom alerts and create watchlists.
#2 ZERODHA KITE
It has some exciting features due to which this app becomes a great app to use. Zerodha Kite is becoming a popular platform for trading now. It has the highest number of customers in India.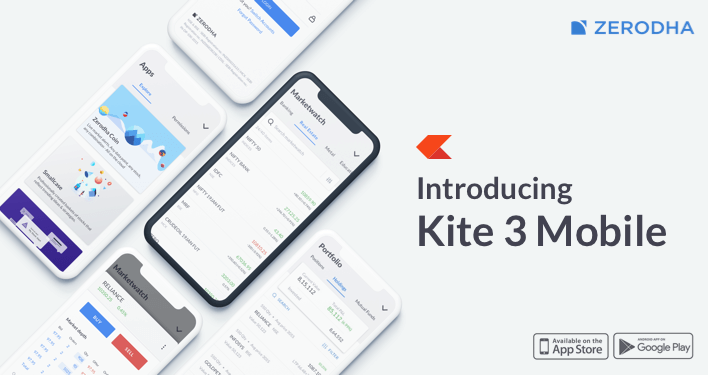 It is leaving discount stock brokers behind by providing free brokerage services. Other than this, it charges a minimal amount of Rs.20 per order from the customers for every transaction. One can find news & data about NSE, BSE & MCX in this app. You can also chat with more than 100 indicators through this app. For android, you won't find an application better than ZERODHA. It allows a person to trade equities, F&O & currencies also.
It deals in equities, commodities, futures and options, and currencies.
This app allows you to trade in Equity, Stock, Index, currency and Futures.
For all investments, zero brokerage is charged and for trading, Rs 20 is charged for every order.
#3 ET MARKETS APP
This application is an app from the side of the Economic Times. Economic Times launched this app for reaching a wide range of customers. One can have eight regional languages for the stock updates in this app. ET NOW TV is also available for streaming for getting updated with financial news. If you are a beginner, you should not miss this app.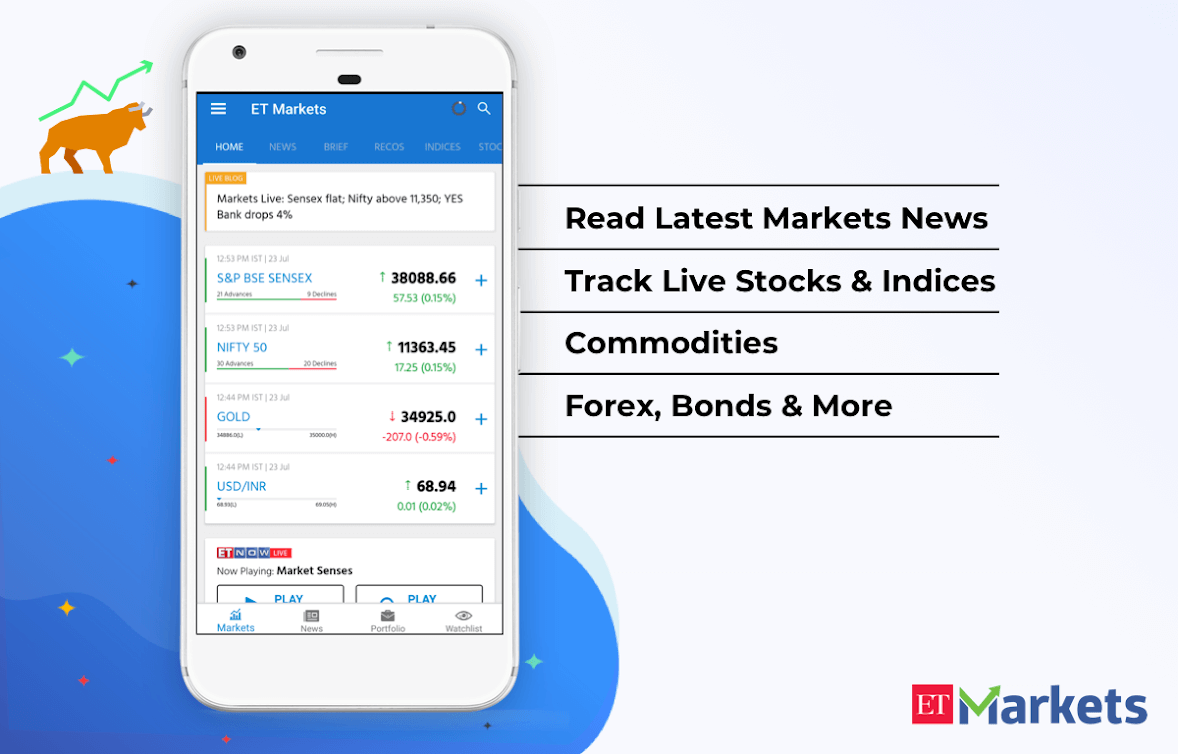 It gives enhanced Markets Data from Stock Market to Sensex, BSE, Nifty, NSE, Mutual Funds, Commodities, Companies, Shares, Movers, Gainers and Losers.
You can track the stocks in your Watchlist, Stock Market Gainers, Stock Market Losers, Stock Market Movers, BSE, NSE, Sensex and Nifty, etc.
You can easily manage/track your investments in the Stock Market.
It will update you with the latest events by displaying a breaking News ticker.
#4 NDTV PROFIT
The application NDTV Profit is launched by the biggest business channel in India, 'NDTV.' You can watch TV live on this app to have some news about the stock market. It makes use of charts & time-frames. It can be treated as the best source of news & information on topics such as economy, business & stock markets.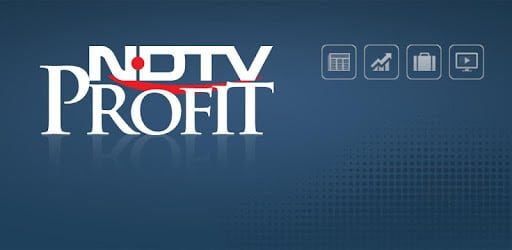 NDTV Profit app brings you live coverage from the financial markets and corporate India.
You can track the markets and get live stock quotes during market hours.
#5 STOCK EDGE
The Stock Edge app has a simple interface through which one can easily research like fundamental, technical & derivative research. It has certain important features & functions to make the application more user-friendly. Some of these are 'My Watch list' which can help to keep track of the portfolio, 'My Investor Group' which helps to create your investor group & lastly, 'My Scan' & this section keeps track of daily activities so, one can easily track his/her daily trading activities.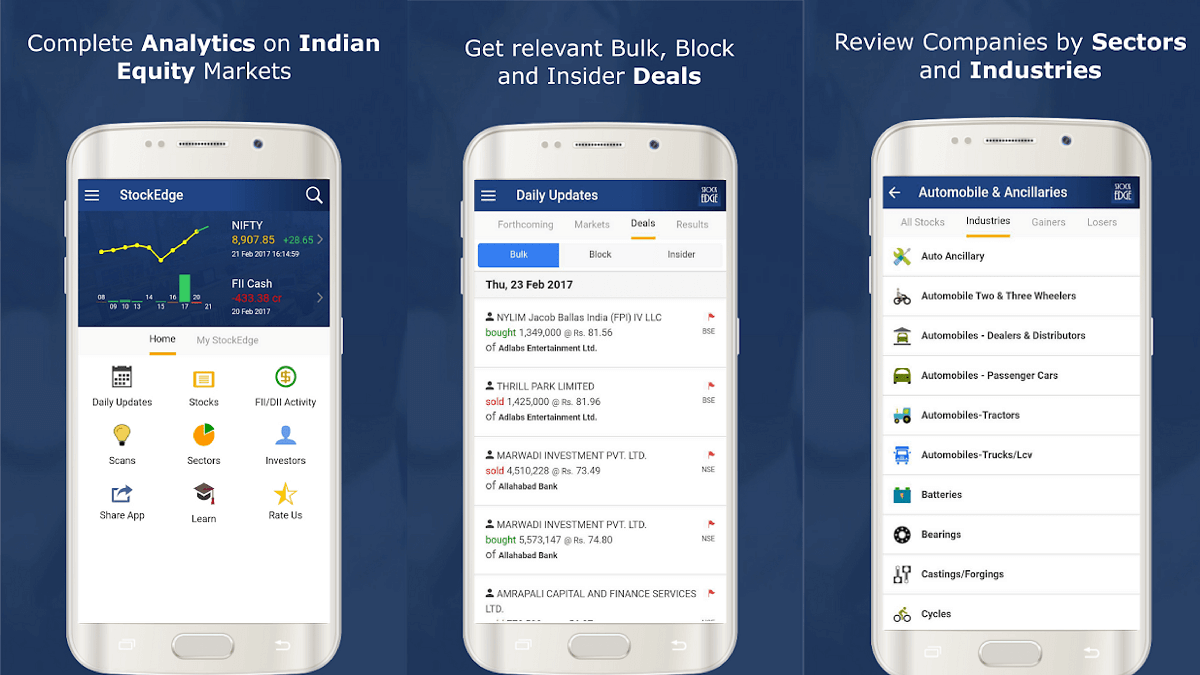 #6 IIFL MARKETS APP
The IIFL Markets app is special because when it was launched, this app received the maximum response from the users in a positive way. We all know about 'India Infoline Ltd.' It is a very popular platform for brokerage & has launched this application.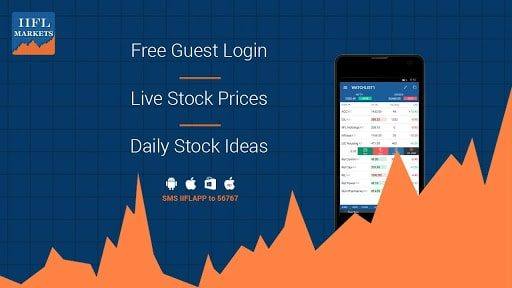 This app serves users as a tool for analyzing & gaining information in detail on the changes in stock market conditions. Through this analysis, people get help in investing & trading. This application is rated very high on the play store.
Recommended: 10 Best Cashback Credit Card in India
For IPOs and OFS clients can easily apply.
You will get financial market access which includes NSE, Nifty, Sensex, BSE 100, Bank Nifty, BSE MID CAP, along with Commodity and Currency Markets.
Through this app, you will get the price alerts.
Financial markets of India like BSE, NSE, NCDEX, and MCX comes under in One tap information.
By using a stock watch feature user can select the stocks right in front of the home screen.
#7 KOTAK STOCK TRADER APP
The Kotak Stock Trader app is launched by the Kotak Industries for real-time trading, tracking the stock market live, etc. The main things that it trades in are equity, derivatives & currencies. A user can easily place his order to trade anytime & if due to some reason, he/she wants to cancel the order or transaction, then that is also available without any problem.

Available balance in the account & the constant portfolio performance can be tracked through this app. From the day you install this app, you can know the number of investments you have been into to date by the 'My Investments' section.
Multi-level authentication, HTTPS protocol, and top-level encryption features that keep your funds and your trades safe.
You will get the live market updates.
Refereeing the Nifty and the Sensex easily tracks the market rates or economic performance.
Without any hassle, you can transfer money from your bank account.
#8 SHAREKHAN TRADING APP
Share Khan these days is very famous among the people. Each & every person, broker & other people know about this application. Sharekhan Trading app offers very fast online services so that people can trade shares within seconds.
Very informative & interactable charts are there in this app that provide information on different topics & share markets. These charts are updated daily according to the market updates.

This app is also listed under the NSE & BSE, providing a platform to the potential investors or to the people reinvesting to deal with shares.
The market can be average, Band-Bollinger, KnowSureThing, MACD, etc.
This app has extra features like OAlert, Chart-book, Heat-map, trade from charts, and many more.
Traders can place orders such as Normal Order, Sell against Margin (SAM), Big Trade, Big Trade Plus, Bracket orders (BO).
Investors has access to financial data, portfolio, watchlist, mutual funds, MarketWatch, reports, IPO, indices, market stats, share market news etc.
Investor and Trader get latest prices of Sensex, NIFTY and international markets
#9 MOTILAL OSWAL TRADING APP
The Motilal Oswal trading app gives various products to trade like equities, mutual funds, IPOs, currencies, etc. It provides some portfolio tools for helping people to make investment decisions easily & timely.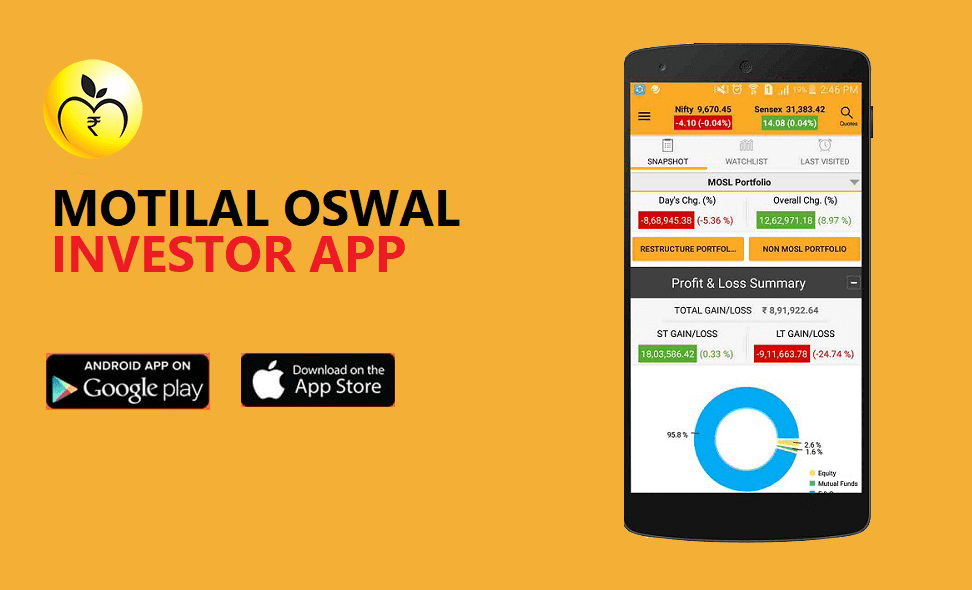 It offers some advanced features. Informative & attractive charts with indicators can also be seen in the app. Transfer of funds becomes easy through this app as it is connected to over 40 banks.
It has access to Equities, derivatives, currencies, commodities, futures & options, Mutual funds, IPOs
To make investment decisions it gives you real-time portfolio monitoring tools.
Throughout the process, you will get a secured operation mechanism.
This app has features like attractive charts with 12 different indicators.
#10 ANGEL BROKING TRADING APP
Angel Broking trading app again is available for both Android & IOS. After carefully analyzing the facts about the stock markets, one can trade stocks through this application. There are some inbuilt tools that affect the investment decisions of people.
This app is designed to track the real-time market changes & to trade in derivatives, futures & options, etc. Once the latest news of the market gets updated on the app, a person can view it & track the holdings.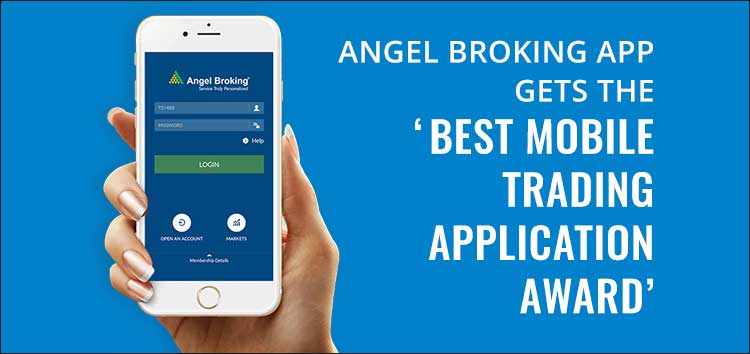 If you have a mobile in your hand, transferring funds is never difficult. You can transfer your money & securities whenever you want & from wherever you want through this app. This application also gives P&L account, account ledgers & statements regularly to the customers.
It has access to equity, derivatives, currencies, futures, and options, etc.
App has features to access the last 10 transactions for Ledger, DP and Funds reports directly.
Get the information about statements regarding your contract, your account ledgers and Profit and loss account by using a single click.
Track your ARQ portfolio and rebalance with just two clicks.
By using ARQ based Portfolio health check utility, improve your Equity and Mutual fund portfolio performance.
#11 5 PAISA MOBILE TRADING APP
5 Paisa mobile trading app is an app providing a discount broker. It gives the customers a great overall experience by its speedier transactions & performance. It offers high-level security to its customers. In this app, everything is on your fingertips which makes it very easy to sell & buy.
The transactions & order execution is so fast that one can complete a transaction within a single day. Even the fund transfer is also rapid. It creates a 3-in one account for every user which includes Demat account, Trading account & the savings account. This account is managed daily by the app itself.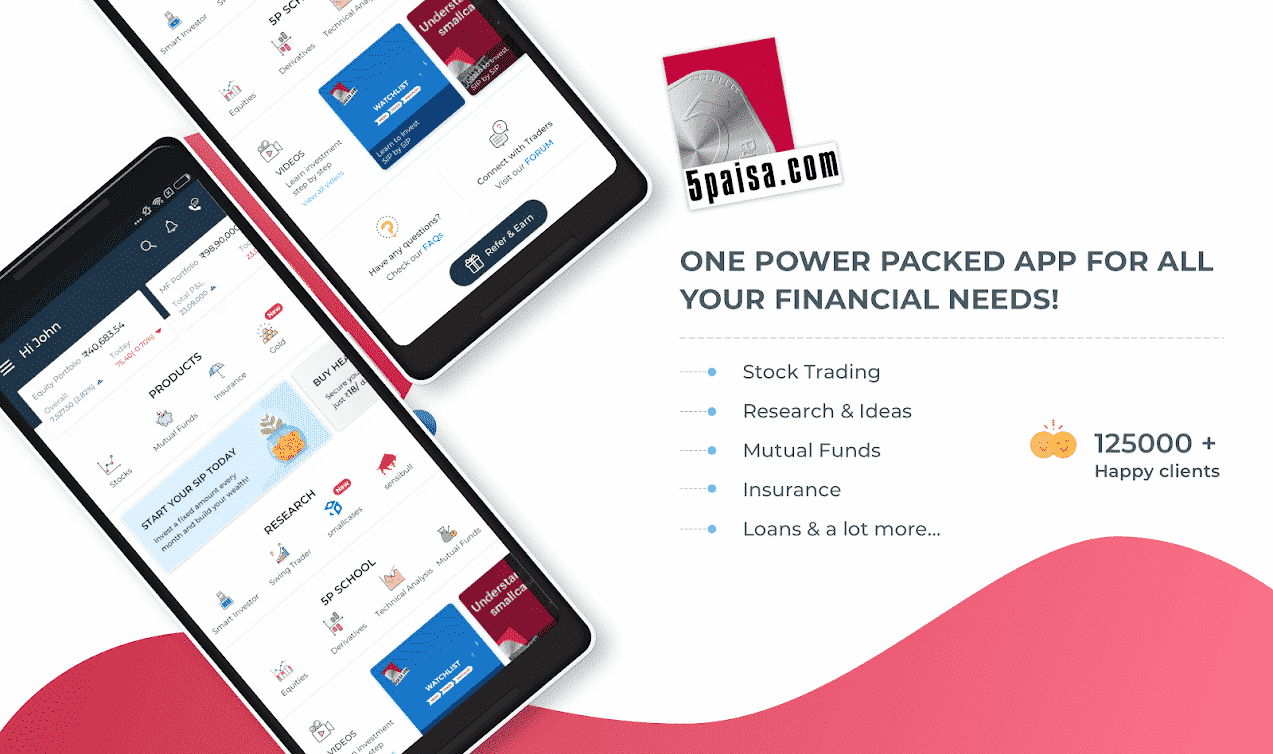 There is a tool called the 'Auto Investor' in this application. This tool knows everything about the user from its objectives for investing, risk profile, income to the expenses. The tool uses this crucial information for making a portfolio suiting the customer accurately. Broadcasting & charting features are also available. A person can also invest in Mutual Funds by using this app.
From this app, you can easily open a Demat Account.
Get the livestock market quotes from NSE & BSE.
Trade-in Equity, Futures & Options (F&O) and Currency segments.
Multi-asset Live watchlist synced across devices.
 For better analysis use Advanced Charting.
#12 ICICI DIRECT MOBILE TRADING APP
ICICI securities launched the ICICI direct mobile trading app. One can keep track of their portfolio & the always happening changes in the stock market. This app also provides the facility of 3-in one account like the 5 Paisa mobile Trading app.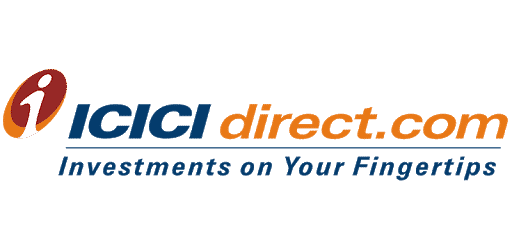 This helps to trade in products like currencies, equities, derivatives & Future & options. It provides research reports share updates that can be collected & tracked from anywhere & anytime the user is comfortable.
Trades in equities, commodities, derivatives, currencies and future & options.
This app has features such as Trade in Equity, Trade-in Futures & Options, Track your portfolio, Get stock quotes, Place order etc.
Track the market movement and also your portfolio.
It gives you a 3-in-1 account facility.
Now we have discussed all the 12 Best Stock Market Trading Apps in India, but if you have something which you think will make a good addition to this list, feel free to drop a comment.
Recommended: How To Improve Your CIBIL Score Instantly
WHAT ABOUT THE SAFETY OF THESE STOCK TRADINGS APPS?
As per the reports, there are no complaints regarding these trading apps till now. But, safety should be kept in mind & it should not be taken lightly. Always have antivirus software installed on your mobile before you decide to download & install any stock trading app.
This will help you to be on the safer side while using the app. After you transfer any particular amount to a trading app, just ensure that the amount is available in your account through which you are going to trade & also observe the process by which the money would be transferred.
By following these simple steps & being careful at every level, I don't think there is any problem regarding safety in these apps. You would gain confidence gradually!
HOW CAN YOU SELECT THE MOST SUITABLE TRADING APP?
To pick an app that will suit you the most, you need to ask some questions to yourself. The points that would help you choose the trading app are-
Firstly, ask yourself whether you are a day trader or you read-only news related to stocks? You should go with Mobile trading apps instead of the apps that just publish news if you are a trader or investor. But if you just need news to read, then don't even try to go for proper trading apps. This would be a total waste. Choose from the best trading apps in India if you seriously want to trade or invest.
What about your phone compatibility? You should know the version & base of your mobile accurately. If you are using an android based phone, then don't look towards the app that is for Apple users. Just stick to your Play Store & choose from among them & save your time. Similarly, if you have iPhone, leave the android apps & focus on App store applications.
You can also look for the number of downloads that an app has from the store. This can help you to know whether the app is good or not, or whether you should download it or not.
The next thing to check about an app is its reviews from the people who have already used it. On the stores, i.e., Play store & App store, people write reviews about the applications & their experience for the same. Also, there is a system of rating the app. So, before deciding to install the app, you should check for all these to be sure about an app. Choose an app that has a rating of at least more than 3.5.
Users leave their feedbacks on the stores as well. These user experiences can also help you while choosing the best app that suits you. This way, you can also get a better picture of the app.
All the applications mentioned above have good reviews about them & also have been getting a positive response in the market. These apps compete and continuously try to enhance their interface & features so that they can be a better choice for potential customers. So I hope to use this guide you will be able to select the Best Stock Market Trading Apps in India.