The digital age has been a significant catalyst in the world of finance and investing, opening up a universe of opportunities for both new and seasoned investors. In the bustling economy of India, the need for competent, user-friendly, and efficient stock market trading apps has been on a steep rise. These apps have revolutionized trading, making it more accessible, convenient, and, to an extent, democratized for the general public. This article will take you through the best stock market trading apps in India. Whether you're a beginner looking for a gentle introduction or an experienced trader seeking advanced features, we've got something for everyone.
What are Stock Market Trading Apps?
Stock market trading apps refer to specialized software utilized for trading securities. They empower investors to initiate, conclude, and oversee market transactions over the internet through a financial intermediary, typically an online broker. Brokers commonly provide online trading platforms either at no cost or at a reduced rate, contingent on maintaining a funded account and/or executing a specific number of trades within a given month. These trading platforms encompass a combination of powerful functionalities and economical charges.
Best Stock Market Trading Apps in India
Now let's take a glance at some of the best trading apps in India. All of the below-mentioned stock market trading apps are available on the Google Play store. But not all of them are available on the App Store.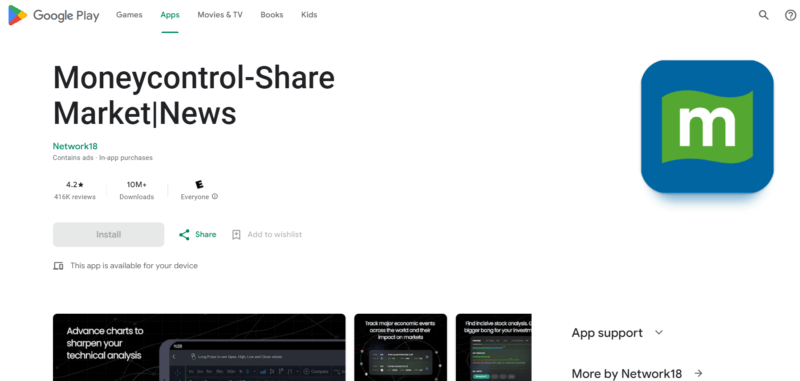 This app is available on both Play Store as well as App Store. It is the most popular app for stock trading now. It has some great features that an investor would surely love like the latest news, in-depth financial information, & it also provides easy access to stats of various stock exchanges. It offers different languages so people from different regions can easily use the app. Some languages that it offers are Hindi, English, Tamil, Gujarati, etc. All the CNBC channels can also be easily streamed on this app. So, to track the financial markets, this app is a great choice. It is one of the best stock market trading apps.
Key Features:
Using this app, you can get updates for Indian financial markets as well as international.
It has access to BSE, NSE, MCX and NCDEX exchanges.
You can also monitor the performance of your portfolio using this app.
You can set custom alerts and create watchlists.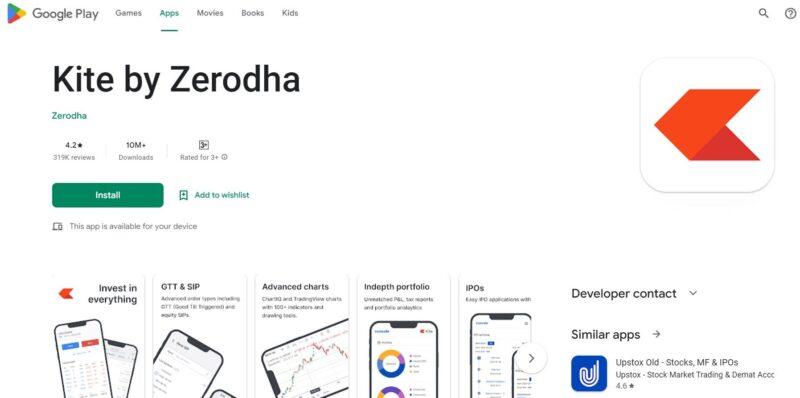 It has some exciting features due to which this app becomes a great app to use. Zerodha Kite is becoming a popular platform for trading now. It has the highest number of customers in India. It stands out among the best stock market trading apps.
It is leaving discount stock brokers behind by providing free brokerage services. Other than this, it charges a minimal amount of Rs.20 per order from the customers for every transaction. One can find news & data about NSE, BSE & MCX in this app. You can also chat with more than 100 indicators through this app. For android, you won't find an application better than Zerodha. It allows a person to trade equities, F&O & currencies also.
Key Features:
It deals in equities, commodities, futures and options, and currencies.
This app allows you to trade in Equity, Stock, Index, currency and Futures.
For all investments, zero brokerage is charged and for trading, Rs 20 is charged for every order.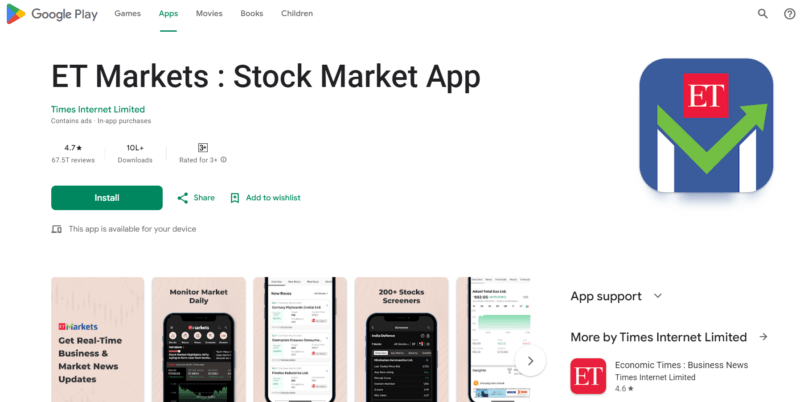 This application is an app from the side of the Economic Times. Economic Times launched this app for reaching a wide range of customers. One can have eight regional languages for the stock updates in this app. ET NOW TV is also available for streaming for getting updated with financial news. If you are a beginner, you should not miss this app.
Key Features:
It gives enhanced Markets Data from Stock Market to Sensex, BSE, Nifty, NSE, Mutual Funds, Commodities, Companies, Shares, Movers, Gainers and Losers.
You can track the stocks in your Watchlist, Stock Market Gainers, Stock Market Losers, Stock Market Movers, BSE, NSE, Sensex and Nifty, etc.
You can easily manage/track your investments in the Stock Market.
It will update you with the latest events by displaying a breaking News ticker.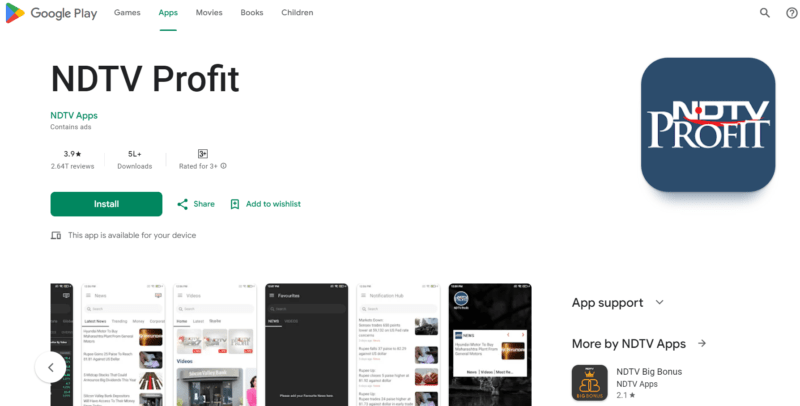 The application NDTV Profit is launched by the biggest business channel in India, NDTV. You can watch TV live on this app to have some news about the stock market. It makes use of charts & timeframes. It can be treated as the best source of news & information on topics such as economy, business & stock markets. It is one of the best stock market trading apps.
Key Features:
NDTV Profit app brings you live coverage from the financial markets and corporate India.
You can track the markets and get live stock quotes during market hours.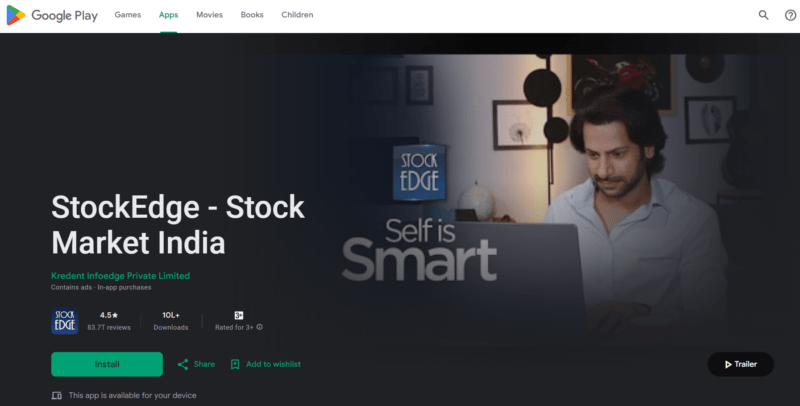 The Stock Edge app has a simple interface through which one can easily research like fundamental, technical & derivative research. It has certain important features & functions to make the application more user-friendly. Some of these are 'My Watch list' which can help to keep track of the portfolio, 'My Investor Group' which helps to create your investor group & lastly, 'My Scan' & this section keeps track of daily activities so, one can easily track his/her daily trading activities. It stands out among the best stock market trading apps.
Key Features:
Delivers FII/ FPI & DII Cash and Derivatives data on a daily, monthly and yearly basis.
Opportunity Scans such as Price Scans, Last week high/ low, Last Month high/ low, 52 weeks high/low, 3 days price behavior.
Stock Research, Sector Research Keep track of stock portfolio in multiple groups.
Also Read: 38 Best Paper Trading Apps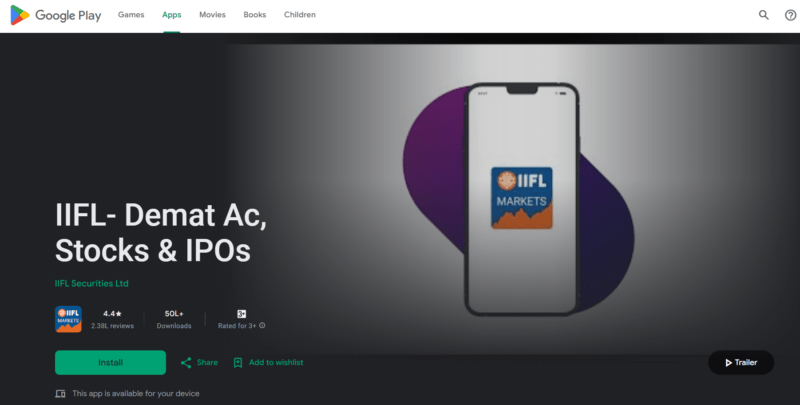 The IIFL Markets app is special because when it was launched, this app received the maximum response from the users in a positive way. We all know about 'India Infoline Ltd.' It is a very popular platform for brokerage & has launched this application. This app serves users as a tool for analyzing & gaining information in detail on the changes in stock market conditions. Through this analysis, people get help in investing & trading. This application is rated very high on the play store.
Key Features:
For IPOs and OFS clients can easily apply.
You will get financial market access which includes NSE, Nifty, Sensex, BSE 100, Bank Nifty, BSE MID CAP, along with Commodity and Currency Markets.
Through this app, you will get the price alerts.
Financial markets of India like BSE, NSE, NCDEX, and MCX comes under in One tap information.
By using a stock watch feature user can select the stocks right in front of the home screen.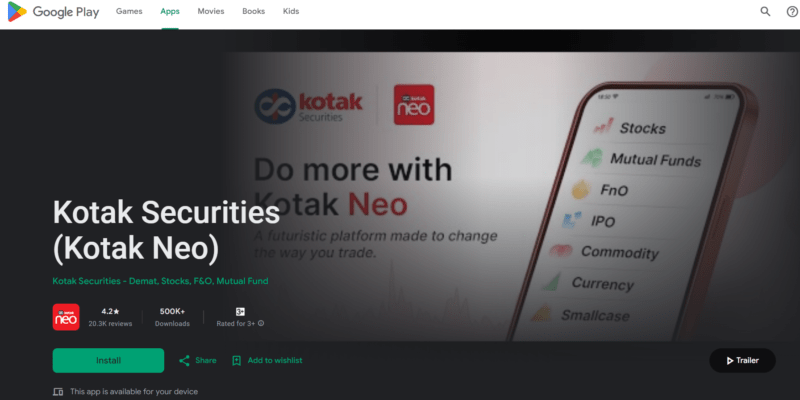 The Kotak Securities app is launched by the Kotak Industries for real-time trading, tracking the stock market live, etc. The main things that it trades in are equity, derivatives & currencies. A user can easily place his order to trade anytime & if due to some reason, he/she wants to cancel the order or transaction, then that is also available without any problem. Available balance in the account & the constant portfolio performance can be tracked through this app. From the day you install this app, you can know the number of investments you have been into to date by the 'My Investments' section. It is one of the best stock market trading apps.
Key Features:
Multi-level authentication, HTTPS protocol, and top-level encryption features that keep your funds and your trades safe.
You will get the live market updates.
Refereeing the Nifty and the Sensex easily tracks the market rates or economic performance.
Without any hassle, you can transfer money from your bank account.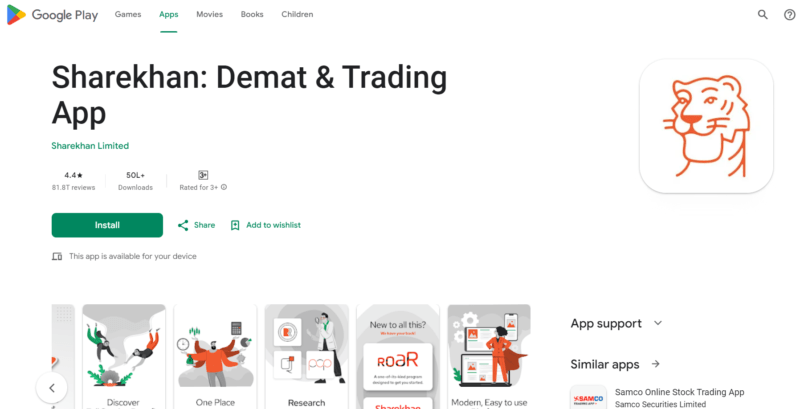 Sharekhan these days is very famous among the people. Each & every person, broker & other people know about this application. Sharekhan Trading app offers very fast online services so that people can trade shares within seconds. Very informative & interactable charts are there in this app that provide information on different topics & share markets. These charts are updated daily according to the market updates. This app is also listed under the NSE & BSE, providing a platform to the potential investors or to the people reinvesting to deal with shares. It stands out among the best stock market trading apps.
Key Features:
The market can be average, Band-Bollinger, KnowSureThing, MACD, etc.
This app has extra features like OAlert, Chart-book, Heat-map, trade from charts, and many more.
Traders can place orders such as Normal Order, Sell against Margin (SAM), Big Trade, Big Trade Plus, Bracket orders (BO).
Investors has access to financial data, portfolio, watchlist, mutual funds, MarketWatch, reports, IPO, indices, market stats, share market news etc.
Investor and Trader get latest prices of Sensex, NIFTY and international markets.
Also Read: Best Cash App Stocks to Invest under $10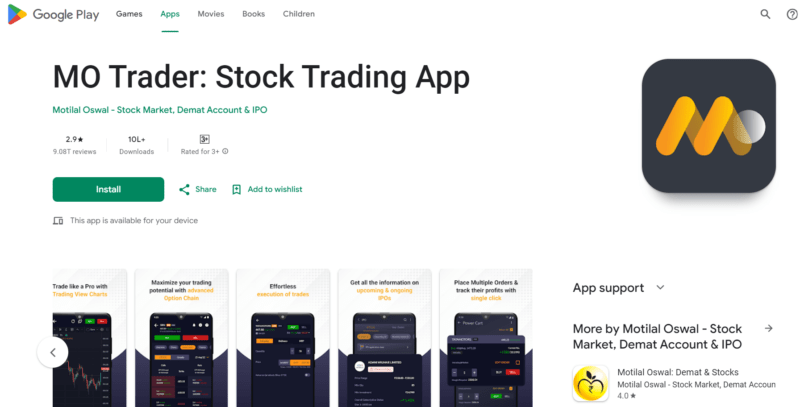 The Motilal Oswal trading app gives various products to trade like equities, mutual funds, IPOs, currencies, etc. It provides some portfolio tools for helping people to make investment decisions easily & timely. It offers some advanced features. Informative & attractive charts with indicators can also be seen in the app. Transfer of funds becomes easy through this app as it is connected to over 40 banks.
Key Features:
It has access to Equities, derivatives, currencies, commodities, futures & options, Mutual funds, IPOs.
To make investment decisions it gives you real-time portfolio monitoring tools.
Throughout the process, you will get a secured operation mechanism.
This app has features like attractive charts with 12 different indicators.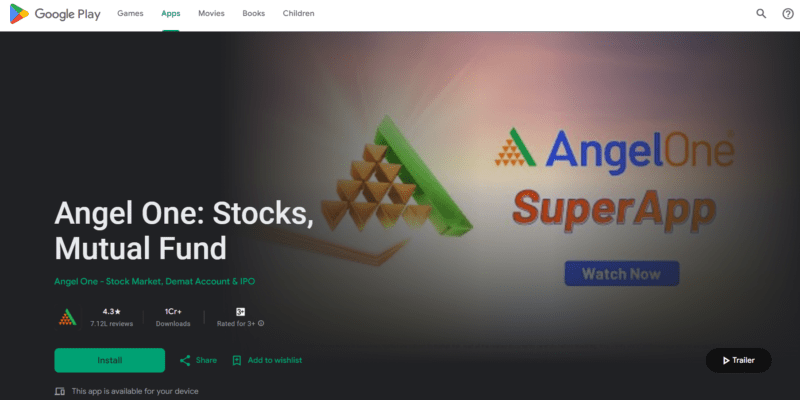 Angel One trading app again is available for both Android & IOS. After carefully analyzing the facts about the stock markets, one can trade stocks through this application. There are some inbuilt tools that affect the investment decisions of people. This app is designed to track the real-time market changes & to trade in derivatives, futures & options, etc. Once the latest news of the market gets updated on the app, a person can view it & track the holdings.
If you have a mobile in your hand, transferring funds is never difficult. You can transfer your money & securities whenever you want & from wherever you want through this app. This application also gives P&L account, account ledgers & statements regularly to the customers. It is one of the best stock market trading apps.
Key Features:
It has access to equity, derivatives, currencies, futures, and options, etc.
App has features to access the last 10 transactions for Ledger, DP and Funds reports directly.
Get the information about statements regarding your contract, your account ledgers and Profit and loss account by using a single click.
Track your ARQ portfolio and rebalance with just two clicks.
By using ARQ based Portfolio health check utility, improve your Equity and Mutual fund portfolio performance.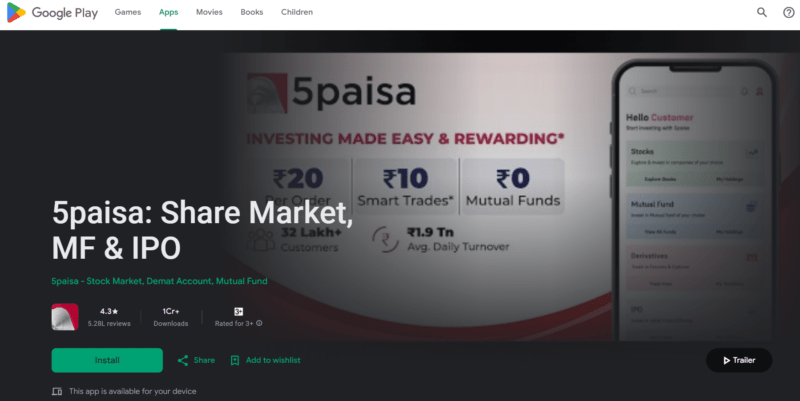 5Paisa mobile trading app is an app providing a discount broker. It gives the customers a great overall experience by its speedier transactions & performance. It offers high-level security to its customers. In this app, everything is on your fingertips which makes it very easy to sell & buy. The transactions & order execution is so fast that one can complete a transaction within a single day. Even the fund transfer is also rapid. It creates a 3-in-1 account for every user which includes Demat account, Trading account & the savings account. This account is managed daily by the app itself.
There is a tool called the 'Auto Investor' in this application. This tool knows everything about the user from its objectives for investing, risk profile, income to the expenses. The tool uses this crucial information for making a portfolio suiting the customer accurately. Broadcasting & charting features are also available. A person can also invest in Mutual Funds by using this app. It stands out among the best stock market trading apps.
Key Features:
From this app, you can easily open a Demat Account.
Get the livestock market quotes from NSE & BSE.
Trade-in Equity, Futures & Options (F&O) and Currency segments.
Multi-asset Live watchlist synced across devices.
For better analysis use Advanced Charting.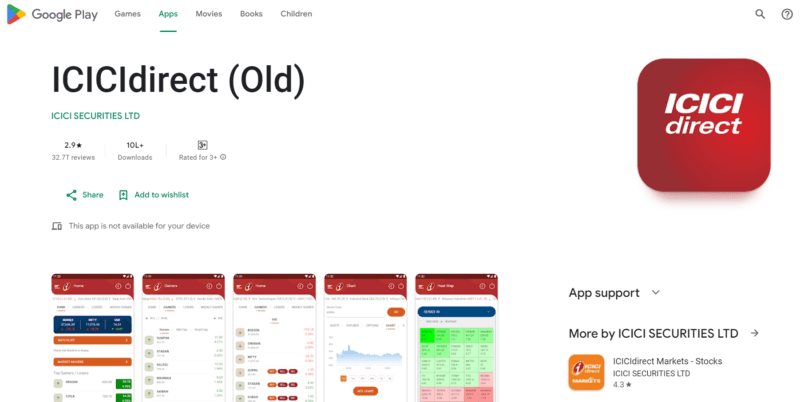 ICICI securities launched the ICICI direct mobile trading app. One can keep track of their portfolio & the always happening changes in the stock market. This app also provides the facility of 3-in one account like the 5 Paisa mobile Trading app. This helps to trade in products like currencies, equities, derivatives & Future & options. It provides research reports share updates that can be collected & tracked from anywhere & anytime the user is comfortable.
Key Features:
Trades in equities, commodities, derivatives, currencies and future & options.
This app has features such as Trade in Equity, Trade-in Futures & Options, Track your portfolio, Get stock quotes, Place order etc.
Track the market movement and also your portfolio.
It gives you a 3-in-1 account facility.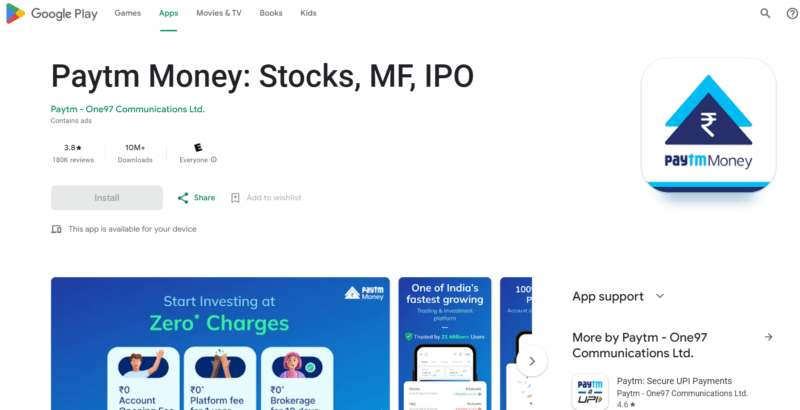 Paytm Money is a registered entity with SEBI, serving as both a stockbroker and investment advisor. The company holds membership with NSE, BSE, and CDSL as a depository participant. Initially established as a platform dedicated to direct mutual fund investments, Paytm Money is currently offering a special promotion this month with Rs. 500 of free brokerage. It is one of the best stock market trading apps.
Key Features:
Free equity trading.
No commission charges for direct mutual funds.
A maximum brokerage fee of Rs. 15 per trade.
No maintenance charges.
Streamlined and entirely digital account opening process.
The capability to seamlessly switch external regular mutual funds to direct mutual funds.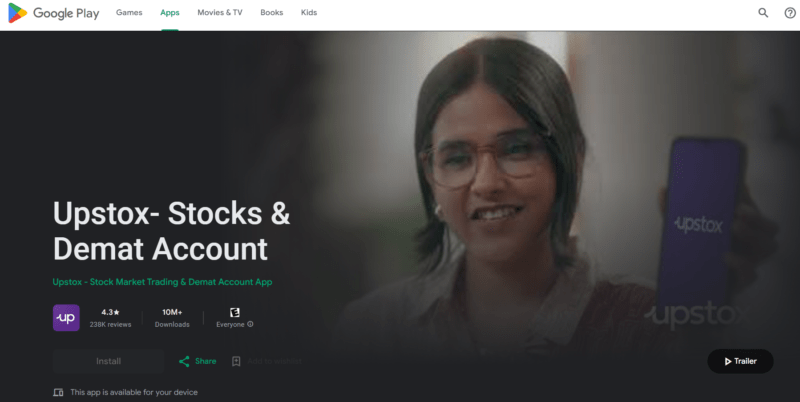 Upstox Pro stands as a prominent trading app in India, under the ownership of Upstox. Renowned for its rapid investment capabilities and extensive stock portfolio encompassing both local and international options, it's highly regarded. Upstox provides cost-effective trading solutions, particularly excelling in offering low-cost services. Notably, they offer commission-free equity delivery (cash & carry) trading, implying no brokerage charges for orders placed in this specific segment. However, for all other trading segments across various exchanges, Upstox imposes a flat Rs. 20 per trade brokerage fee. It stands out among the best stock market trading apps.
Key Features:
Facilitates immediate investments.
Offers the TFC feature.
Permits the setup of numerous price alerts for swift updates.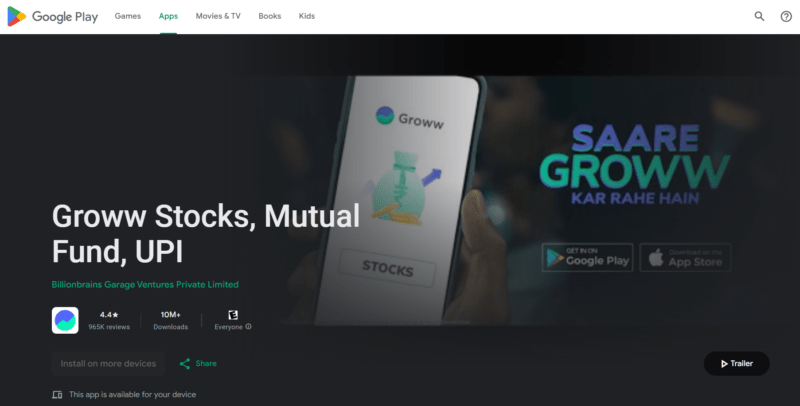 Groww is widely regarded as the most user-friendly trading application for beginners in India. It provides the opportunity to open a Demat account at no cost and offers an array of exceptional trading analysis tools that can be highly beneficial.
Groww stands as an online brokerage platform distinct from full-service brokers by not providing tips, recommendations, or research services. Instead, it offers valuable educational resources like free eBooks, enlightening blogs, and various informative materials. These resources are designed to empower investors and beginners by imparting fundamental knowledge about stock market trading and investment, aiding them in making informed decisions.
Key Features:
Free registration for a Groww Demat account.
Zero commission charges on mutual fund investments.
Intuitive and straightforward user interface.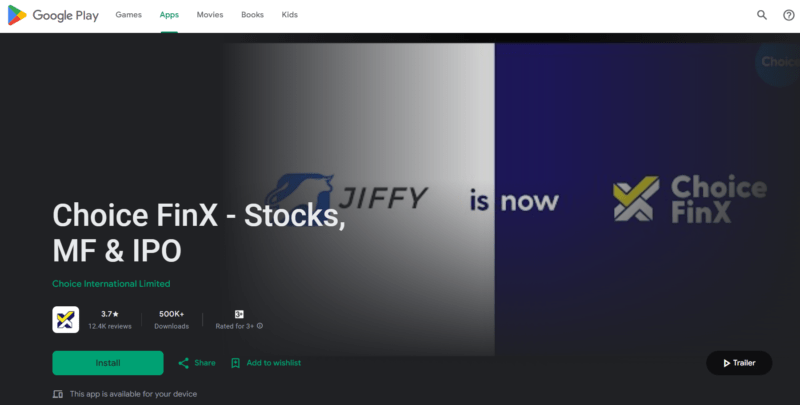 Choice is an application facilitating equity trading across major Indian exchanges such as NSE and BSE. Every investor on Choice is assigned a local number, enabling direct equity trading by connecting with their network of dealers in the respective city. Additionally, Choice offers comprehensive investment advice supported by thorough research to enhance your trading experience. It is one of the best stock market trading apps.
Key Features:
Execute trades using market orders or limit orders.
Engage in both cash and margin trading.
Access opportunities to invest in Exchange Traded Funds (ETFs).
Daily generation of research reports to empower informed decision-making.
The Nuvama App is recognized for its uncomplicated single-touch login function, easily accessible through fingerprint recognition. Nuvama's Mobile Trader app empowers its users to both monitor and trade a diverse range of financial instruments listed on the BSE and NSE. Through this app, customers can access real-time market data, analyze their trades, and keep a close eye on their portfolio's performance.
The app is equipped with a robust charting tool, offering unparalleled charting capabilities on a mobile platform. Additionally, users can stay informed with the latest stock market news, accompanied by sentiment analysis, as well as stay updated on current and upcoming events. It stands out among the best stock market trading apps.
Key Features:
Furnishes an array of advanced market analysis tools aiding precise decision-making.
Enables seamless login using just your fingerprint.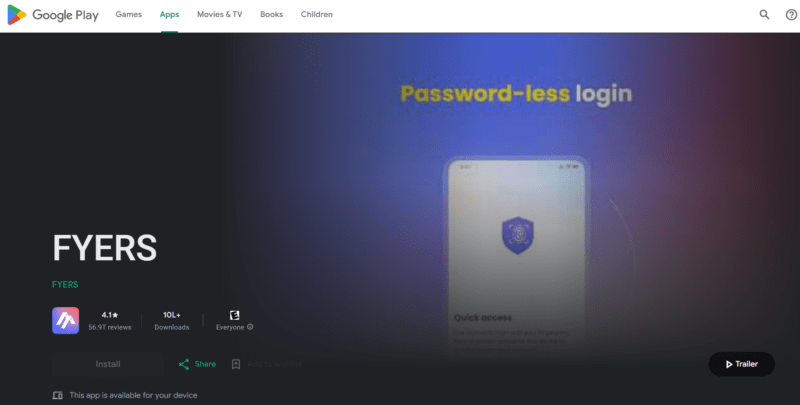 FYERS stands out among the best stock market trading apps in India, facilitating seamless stock trading devoid of geographical constraints. The platform is equipped with a plethora of sophisticated trade analysis tools, empowering users in multiple dimensions.
The Fyers trading platform integrates TradingView Charts, a prominent feature highly valued by traders. TradingView, a top-charting provider based in the United States, is unanimously regarded as the best by traders. This application empowers traders with location independence, providing all necessary functionalities to trade from any corner of the globe. It supports trading in Equities, Derivatives, and Currencies at NSE.
Key Features:
Real-time market data access via market watch.
Swift and dependable charts with live streaming quotes.
The AliceBlue Trading app is known for its extremely competitive brokerage rates within the stock market sector. It presents a wide array of trading possibilities, including commodities, equity, futures, and more, catering to diverse trading needs. It is one of the best stock market trading apps.
AliceBlue provides online trading services through advanced trading software developed by TradeLab. This platform, known as TradeLab, is utilized by several prominent stockbrokers such as Zerodha, Religare, Trustline, and SASOnline. ANT, an abbreviation for Alice Blue's trading software, encompasses an installable trading terminal, a trading website, and a mobile trading app.
Key Features:
Highly affordable intraday trading fees.
Abundant trade analysis tools to aid in decision-making.
Comprehensive availability of various trading options.
Also Read: Best Stocks to Invest in on Cash App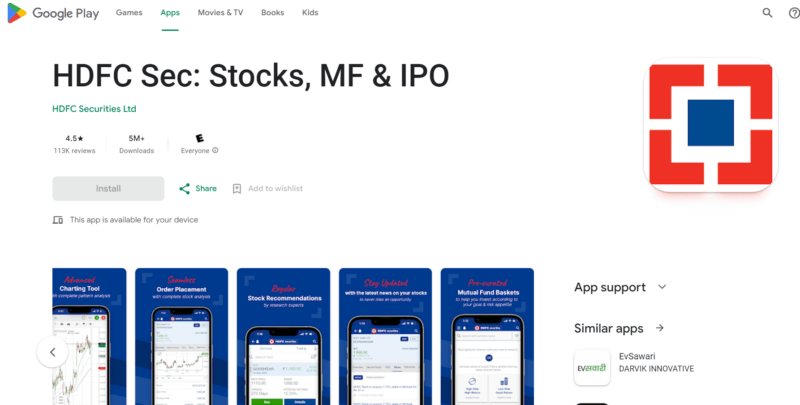 HDFC Securities has introduced an enhanced version of their mobile trading app, designed for easy installation and smooth operation on any smartphone. The app prioritizes speed, ensuring a seamless user experience. Boasting over 10 lakh downloads on the Google Play Store and a commendable mixed rating of 4.2, it stands out as one of the best stock market trading apps in India.
Key Features:
Access to a wide range of technical indicators.
Enhanced security through fingerprint login.
Intraday charts available with multiple time frames, spanning from 1 minute to 1 month.
Customizable watch lists offering real-time price updates.
Unique option to purchase gold, making it a versatile app for stock market enthusiasts.
Various styles of price visualization, including line graphs, bar graphs, and candlesticks.
Ideally suited for both global traders and those interested in buying gold.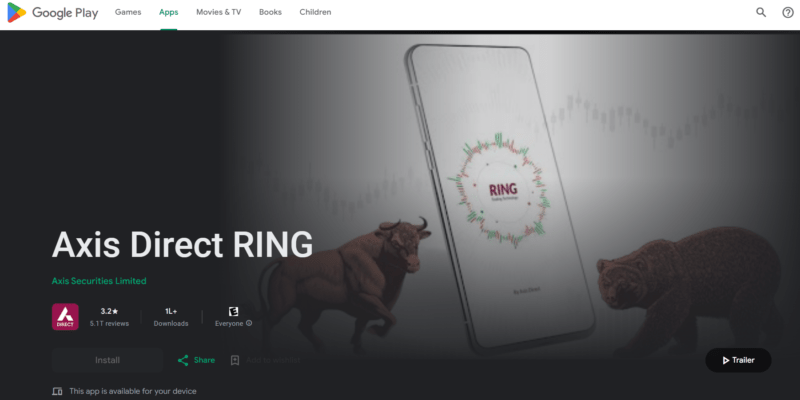 Axis Direct, a subsidiary of Axis Bank Ltd, offers a diverse range of financial solutions and services to retail customers. They provide an extensive spectrum of lending strategies to cater to their customer base. With a clientele exceeding 300,000, Axis Direct facilitates trading across various financial segments like equity, currency, IPO, and more through subscriptions to NSE, BSE, MSEI, and MCX-SX. The platform is designed with the needs of frequent travelers and traders in mind. Axis Bank customers benefit from seamless integration between their banks and Demat accounts, enhancing their overall experience.
Key Features:
Voice command functionality enabling efficient execution of user commands.
Live streaming of asset prices, news updates, and related information.
Abundant technical and analytical tools integrated into the app.
Support for investing in stocks, mutual funds, commodities, currencies, and more.
Particularly beneficial for existing Axis Bank customers.
Detailed information on every IPO is readily available.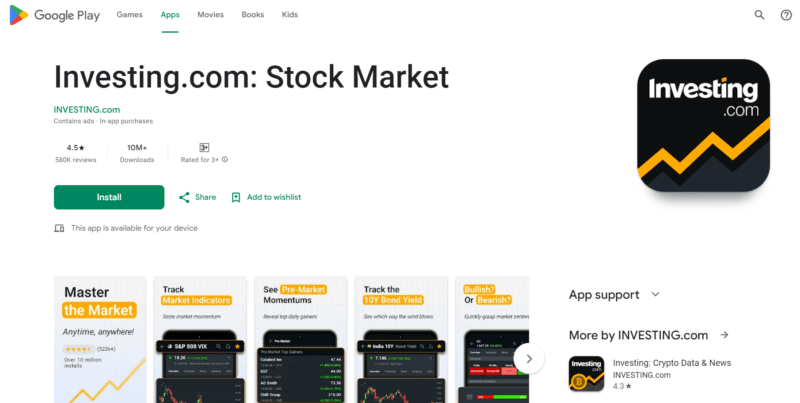 Investing.com stands as a prominent Android application tailored for traders and investors seeking comprehensive financial insights. The app provides a wide array of financial tools and information, including stock alerts, breaking news, portfolio management, watchlists, an economic calendar, and other valuable features. Users can access live quotes and charts for an extensive range of financial instruments, exceeding 100,000, traded across more than 70 global exchanges. It is one of the best stock market trading apps.
Within the app, users can monitor major global indices such as the S&P 500, Dow Jones, and Nasdaq, in addition to stocks, bonds, commodities, currencies, interest rates, futures, and options. A standout feature is the ability to create a personalized watchlist, allowing individuals to track stock quotes, commodities, indices, ETFs, and bonds, all seamlessly synced with their Investing.com account. This watchlist can be easily accessed, offering real-time prices, while the Holdings Portfolio provides a continuous overview of total asset value, accessible 24/7.
Key Features:
Real-time updates on global economic events tailored to your preferences.
Integration of favorite financial instruments and their holdings into your portfolio for streamlined monitoring of vital stocks.
Customizable alerts system to receive notifications regarding any instrument, economic event, or new analysis articles.
Access to breaking news, videos, updates, and analyses covering worldwide financial markets, technology, politics, and business.
Convenient and swift access to a range of top-notch tools, including Economic Calendar, Earnings Calendar, Technical Summary, Currency Converter, Market Quotes, advanced charts, and more.
Now we have discussed all the Best Stock Market Trading Apps in India, but if you have something which you think will make a good addition to this list, feel free to drop a comment.
Also Read: Best IT Stocks in India to Buy Now
Features of Best Stock Market Trading Apps
Cross-Platform Accessibility: In the realm of trading, time is of the essence. Trading applications are meticulously designed to ensure swift access across a variety of platforms, including iOS and Android. This flexibility empowers users to swiftly connect to their trading software from any location or device.
Real-Time Data Accessibility: The primary function of a trading app revolves around providing real-time data, a fundamental need for the trading and investment community. These stock market trading apps enable users to seamlessly trade or invest from the comfort of their homes or offices, granting immediate access to live news, pricing, and other crucial real-time information. Real-time data illustrates the instantaneous fluctuations in stock prices, aiding traders in making informed and profitable decisions.
Notifications: Smart notifications stand as a pivotal feature that no trader can afford to overlook, as they significantly enhance the app's utility. Alerts and notifications play a vital role in assisting traders in executing timely and effective trades. While some apps may charge for immediate alerts, others offer them as a complimentary service.
Facilitating High Volume Trades: Stock market trading apps empower traders and investors to swiftly execute high volume trades, enabling them to capitalize on their investments promptly and efficiently.
Online Communication: Long-term success for any online trading application hinges on ensuring customer satisfaction. Features such as live chat boxes, round-the-clock customer support calls, and toll-free chat options make investors feel at ease, ensuring their queries are promptly addressed.
Why are Stock Market Trading Apps Popular?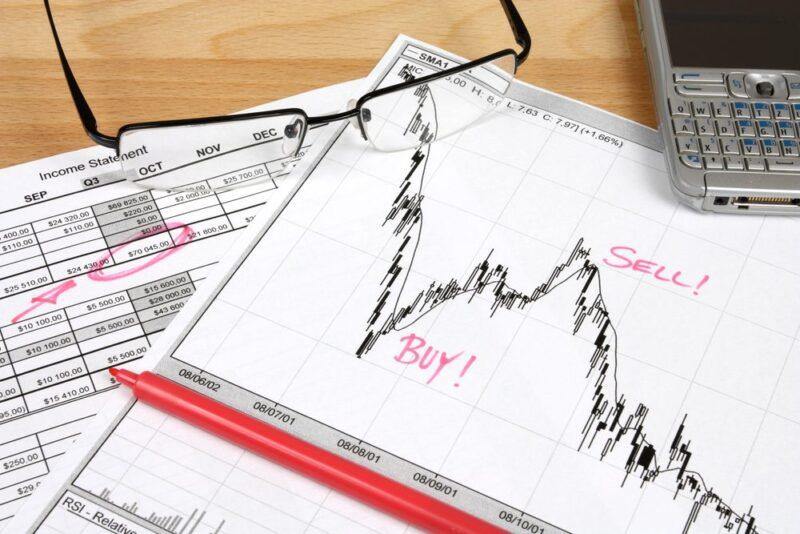 Convenient Accessibility: Advancements in technology and the internet have facilitated easy access to online trading platforms via websites and mobile applications, enabling ordinary individuals to trade at any given time. This accessibility has significantly contributed to the popularity of trading.
Potential for Profit: Armed with sufficient knowledge, thorough research, insightful analysis, and effective strategies, individuals can invest their funds in trading to achieve substantial returns. The allure of high returns in trading has captured the attention of investors in recent times. However, it's essential to remember that potential returns in trading always come with market risks.
Diversified Portfolio: Trading's widespread appeal can also be attributed to the opportunity for a diversified portfolio it offers. Investors can allocate their funds to various securities in the share market, such as stocks, bonds, commodities, and debentures, spreading the risk across multiple asset classes.
Enhanced Liquidity: Trading in shares boasts excellent liquidity, signifying how easily an investment can be converted into cash. Shares are readily traded in the share market, granting investors the flexibility to withdraw their investments by selling the securities at any point in time.
Flexibility in Decision-making: Trading provides investors with the flexibility and autonomy to make investment decisions based on their analysis, strategies, and specific requirements. They execute trades according to their judgment and needs, tailoring their approach to their unique circumstances.
Financial Control Management: Engaging in trading allows investors to assert control over their financial and investment decisions. They actively manage their portfolios and make trading choices based on their analysis and strategies, empowering even the average investor to exercise financial control effectively.
Effective Risk Management: Since trading in securities inherently carries risks, conducting thorough research and analysis before engaging in securities trading is essential for effective risk management. This proactive approach aids in mitigating various market risks, including economic, social, political, and internal factors.
Regulatory Oversight: Government authorities regulate share markets, ensuring the protection and interests of investors. This regulatory intervention promotes fair trading practices, fostering transparency and significantly boosting investors' confidence in securities.
How to Select the Best Stock Market Trading Apps?
Selecting the optimal trading app in India can be a daunting task due to the multitude of options available. However, there are several key factors you should consider finding the most suitable trading software for your needs:
Security: Prioritize safety when seeking a trading app. Look for features like two-factor authentication and encryption to ensure a secure trading environment.
Reliability: The stock market application should minimize downtime, offer excellent customer support, and consistently achieve a high success rate in executing all actions.
User Interface: A high-quality trading app is characterized by an intuitive user interface that enables easy navigation and seamless trade execution.
Features: Functionality is crucial. Look for a trading app that offers real-time data access, charting tools, and trade alerts to enhance your trading experience.
Trading Options: Opt for a trading app that provides a diverse range of tradable assets such as stocks, mutual funds, and more, aligning with your specific trading goals and preferences.
Brokerage Fees: It's vital to choose an app with competitive and transparent brokerage fees. Consider all associated costs to determine the overall value offered by the trading app.
User Reviews and Ratings: Gain insights into others' experiences with the best stock market app by reading user reviews and ratings. This helps in narrowing down the options that meet your requirements and assist you in reaching your financial objectives.
Investment Required to Begin Stock Trading
There is no fixed minimum amount of money required to initiate stock trading. While some brokerage firms may have set minimum deposit requirements, numerous online brokers do not impose such constraints. These platforms allow individuals to begin trading with just a few dollars by enabling the purchase of fractional shares instead of whole shares.
In the scenario where you wish to purchase an entire share of a specific stock, the minimum sum necessary is the current cost of that particular stock. However, it's important to note that stock prices vary widely between different companies. For a well-rounded and diversified portfolio, a common recommendation is to invest in a minimum of 10 stocks. Consequently, your initial investment would encompass the total cost of these 10 stocks, along with any applicable commissions and fees charged by your brokerage.
Pros of Stock Market Trading Apps
Swift order execution for prompt transactions.
Streamlined, paperless account opening procedure.
Live, real-time market updates and feeds.
Cost-effective fees and charges compared to other brokers.
Immediate notifications and price alerts for informed decisions.
Access to comprehensive historical charts and in-depth research reports.
Clear and straightforward brokerage slabs for easy comprehension.
Extensive range of mutual funds with a speedy IPO application process.
Access to expert insights through up-to-date research reports from reputable brokerage firms.
Cons of Stock Market Trading Apps
Constraints in screen size and functionality.
Challenges related to connectivity and reliability.
Possible security vulnerabilities.
Absence of personal interaction opportunities.
Are Stock Market Trading Apps Safe?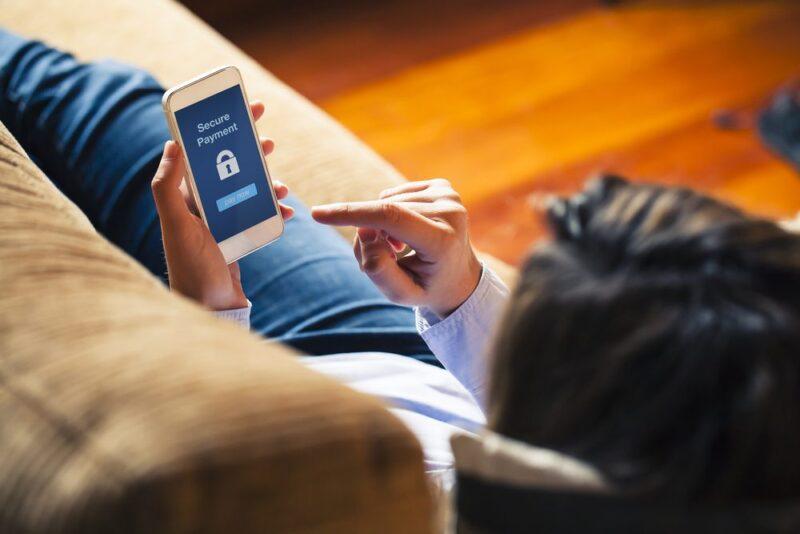 Mobile stock market trading apps offer a secure platform for online trading and investment across various market segments. The brokers operating these apps are registered trading members of exchanges, ensuring that all transactions placed are closely monitored by regulatory authorities. Additionally, brokers adhere to rigorous safety protocols to ensure the safety and security of users while utilizing these mobile trading apps.
As per the reports, there are no complaints regarding these stock market trading apps till now. But safety should be kept in mind & it should not be taken lightly. Always have antivirus software installed on your mobile before you decide to download & install any stock trading app. This will help you to be on the safer side while using the app. After you transfer any particular amount to a trading app, just ensure that the amount is available in your account through which you are going to trade & also observe the process by which the money would be transferred.
By following these simple steps & being careful at every level, I don't think there is any problem regarding safety in these apps. You would gain confidence gradually!
Also Read: How to Invest in International Stock Markets from India? Best Apps
All the applications mentioned above have good reviews about them and also have been getting a positive response in the market. These stock market trading apps compete and continuously try to enhance their interface & features so that they can be a better choice for potential customers.