Mutual funds are one of the most popular investment options in India. With the increasing use of technology in the financial industry, several mobile apps have emerged to help investors manage their mutual fund portfolios. In this article, we will inform you about the best app for mutual fund in India.
Benefits of Using Mutual Fund App
Using apps is quite beneficial these days for the ones who are highly busy on the day to day basis. Similarly, investing in mutual funds through online apps can save a lot of time and effort on the investor's part. Here are some of the benefits of best app for mutual fund:
Easy and Convenient: Mutual fund applications allow you to browse various investment possibilities, watch the marketplace, and invest with a single touch of your smartphone. The applications also allow you to link your bank account and begin investing right away.
Paperless Documentation: The whole KYC documentation and verification procedure is paperless and hassle-free. The smooth progression provides an excellent user experience, saving you valuable time in your hectic schedule.
Hassle-Free Tracking: Via the applications, the overall process of investing in and monitoring mutual funds is simplified and clear. You can look at many schemes, track their performance, and select the one that usually works for you.
Regular Insights: Daily news notifications and insights are provided by most of the best mutual fund app in India. These opinions are extremely valuable if you are an experienced investor or if you are fresh to the market and want ongoing direction for the decisions you make.
13 Best App for Mutual Fund in India
The concept of investing in a mutual fund is simple – invest your money for long-term growth. However, choosing the right one can be a hassle. With time investors are tech-savvy, and the popularity of online platforms has made investing easy for everyone. These SEBI registered mutual fund app will make it easy to keep track of your investments.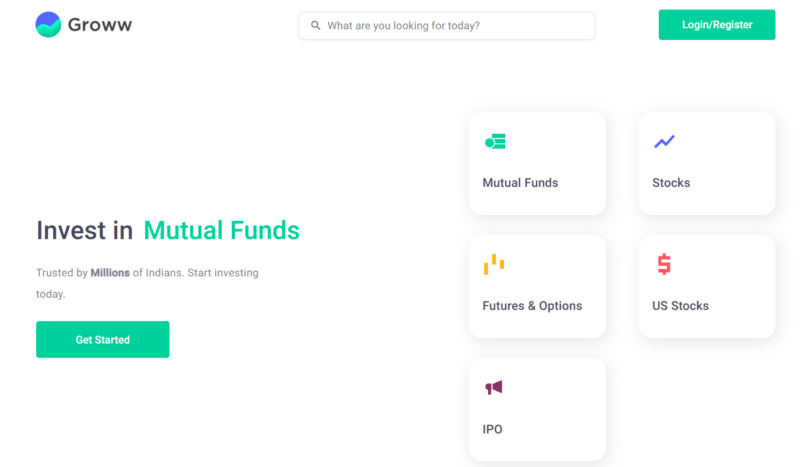 The Groww app is one of the most rapidly developing apps in the Indian mutual fund market. And its sleek user interface deserves recognition. This app assists in free mutual fund investment and is straightforward to use with no paperwork and no difficulties.
It provides you with real-time updates on your mutual fund balance, stock market and scheme news, and other relevant information to help you make educated decisions.
It features a single dashboard where you can track all of your investments, annual returns, and so on. In terms of security, the app uses 128-bit SSL encryption to keep all of your financial information safe. Read on to learn more about the best app for mutual fund.
Features
Groww App may be used as a budget planner and personal financial tool.
The app provides over 5000 mutual fund plans to help you get the most out of your investment while charging no fee.
Groww allows users to connect with other individuals who share their financial and investment interests.
The software also makes suggestions depending on your risk level and age.
The 'Smart saving' option allows you to withdraw cash promptly at any moment, allowing you to earn higher returns.
Subscribe to NFOs to receive information and to subscribe to new schemes offered by various fund companies.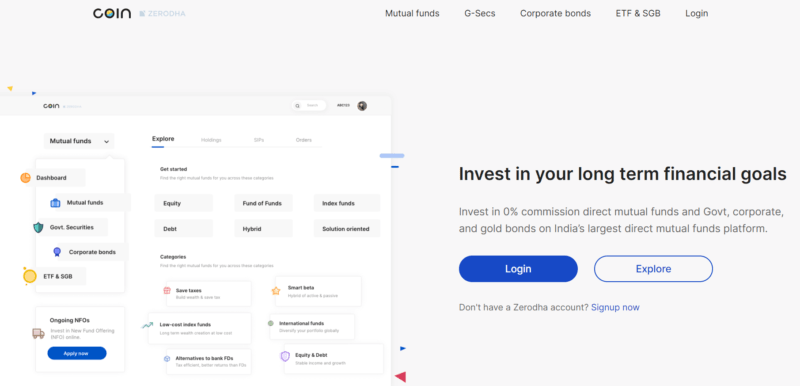 Zerodha is an established financial platform and the most user-friendly software for investing in mutual funds. Furthermore, the Zerodha mutual fund app has a Coin application that is fully compatible if you have an existing Zerodha account.
Simply enter your login information on the app, and that's all. Coin app makes it incredibly simple to keep records of your assets. The UI is clutter-free, and every detail is set out in front of you, eliminating the need to seek anything.
You can make your SIP at any moment. Also, it allows you to adjust the SIP anytime you need to update any information. You can look at several financial schemes, ELSS funds, and tax filing procedures. It is considered the best app for mutual fund.
Features
Coin is an app that accepts customer orders and routes them to the BSE StarMF for implementation.
The app prepares you as a trader by providing an easy investing and management platform via which you may adjust, suspend, or continue SIPs whenever you choose.
Equity, debt, hybrid, index, and solution-oriented funds are among the fund types available on Zerodha mutual fund app.
All investments are direct mutual fund plans with no commissions or additional costs, so you may save up to 1% in fees by investing in such direct mutual funds.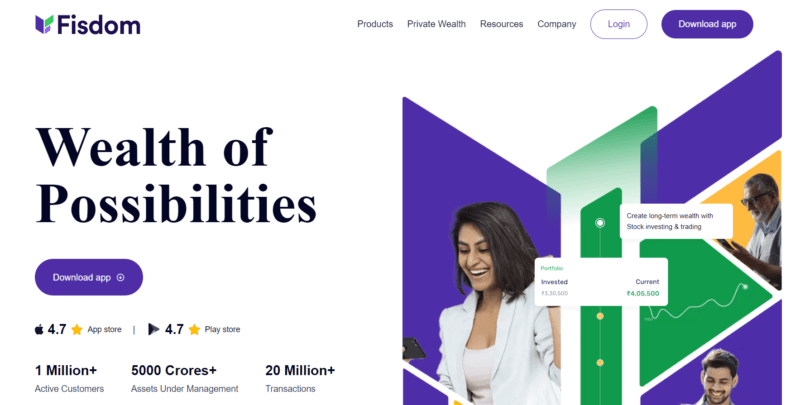 The Fisdom app is an excellent mutual fund investing tool in India, particularly for beginner mutual fund investors. The app is intended to make the investment procedure as easy as possible.
Customers can additionally utilize value-added services such as the 'risk profiler' and 'financial health check' to ensure that they choose the correct mutual funds.
Apart from mutual funds, the Fisdom app allows investors to research the stock market through a highly competitive brokerage framework with no registration fees.
Features
Online investing is a simple paperless solution that allows you to become an investor in a matter of minutes.
Fisdom's many schemes and features include High growth funds, Tax saving funds, Park my savings, hybrid funds, and other equity funds.
The app provides over 5000 mutual fund strategies to choose from for mutual fund investment.
The investment suggestions by this best mutual fund app in India work in your best interests to assist you to pick a well-researched and prudent decision.
Among Fisdom's noteworthy partners include IDBI, Nippon, SBI, HDFC, MIRAE Asset, Franklin Templeton, and others.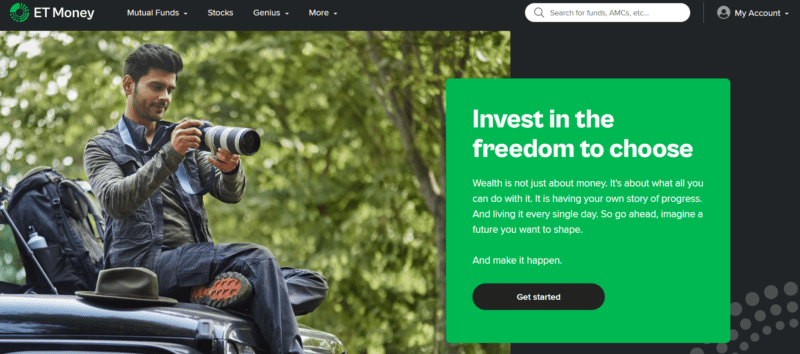 ETMoney was formed by a group of enthusiastic entrepreneurs, IITians, and developers with extensive experience in technology, mobile, and financial services.
This best app for mutual fund, by major brand like Economic Times, is a one-stop shop for all things financial. This is an excellent app for investing in mutual funds and other types of investments.
It is well built, with an exceptionally simple user interface that allows you to invest without difficulty.
Features
The app provides a variety of decision-making and research tools to help you make informed financial decisions.
Integration with various UPI systems is quick and safe.
The ET Money app enables users to invest wisely in mutual funds, NPSs, insurance, and fixed deposits.
You will receive investment health assessments as well as suggestions for increasing returns and lowering risks.
ET Money Money Genius is a premium membership service that provides customers with limitless investment management over MF and stocks, monthly portfolio suggestions, and additional savings.
Also Read: Top 26 Best Home Rental Sites in India

MyCAMS is a centralized platform for investing in different Mutual Fund schemes. The app is simple to use, and it makes it simple to keep track of your money.
The app simplifies the process and makes it quicker, and smarter to deal in direct funds. MyCAMS features include mobile PIN & Pattern login, one view of your MF portfolio, opening new folios, purchasing, redeeming, switching, setting up SIP, and more.
You can also utilize the myCAMS app to speed up your purchasing process, ensuring that you don't miss out on any investing possibilities.
Features
Your investment will contain features such as schemes from several dimensions, redemption or switching, transaction to purchase, creating a new portfolio, and an NFO subscription.
HDFC, IDFC, Mahindra Manulife, and White Oak Capital are among the mutual fund portfolios offered.
When you buy and sell mutual funds, you will not be billed any brokerage costs.
About 17 mutual fund schemes might help you develop an ideal portfolio.
MyCAMS makes it simple to halt and resume your SIPs.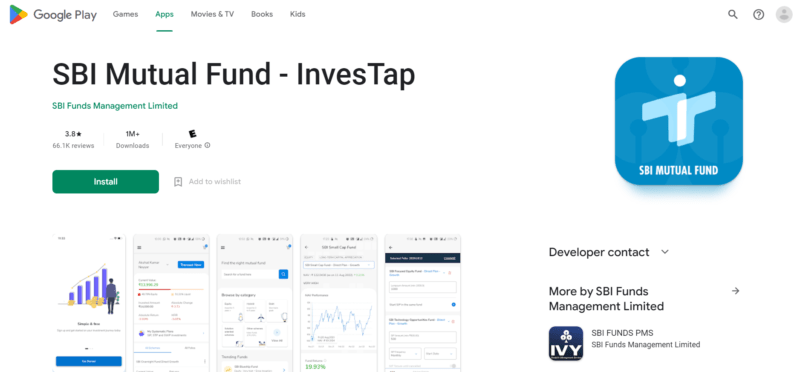 This app is a simple but effective mutual fund application designed by SBI Mutual Funds. It is of higher quality because it is an in-house product.
It provides a plethora of tools that will make mutual fund investments simpler. The app allows you to invest in mutual funds instantaneously, and you will need your PAN card data to get started.
You can obtain a comprehensive overview of the mutual funds in which you have already invested. Read more to learn about the best app for mutual fund.
Features
SBI MF is an easy-to-use tool that allows you to do all financial activities online.
The Family Solution feature assists you in meeting your financial objectives by recommending appropriate investment strategies and doing a risk appetite assessment before investing.
You can establish a watch list of a maximum of three funds to evaluate and monitor before making lucrative investment selections.
To earn money through mutual funds, you can browse through numerous funds, establish your financial objectives, invest, move between schemes, redeem, and track performance.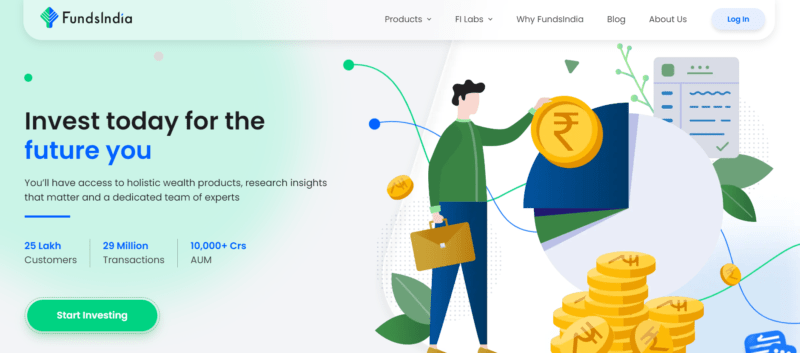 FundsIndia is a mutual fund investment application that makes investing in mutual funds easier than before. This application appeals to several users since it is basic, well-designed, and simple to use.
FundsIndia provides a simple setup process that allows you to get started investing online immediately. When you start the app, the first thing you'll see is the "My Portfolio" screen. It allows you to view your whole portfolio at once, making it simple to track your assets.
Features
Funds India makes your investing and wealth management safe and rewarding, with a 13-year track record and over 24 lakh consumers.
The app's mutual fund calculator will show you the investment amount, SIP period, and predicted returns.
Funds India lets you make investments in mutual funds as a flat contribution or through a systematic investment plan (SIP).
ICICI Pru Nifty Next 50 Index Fund, Axis Focused 25 Fund, Motilal Oswal Nasdaq 100 FOF, and some of their attractive programs.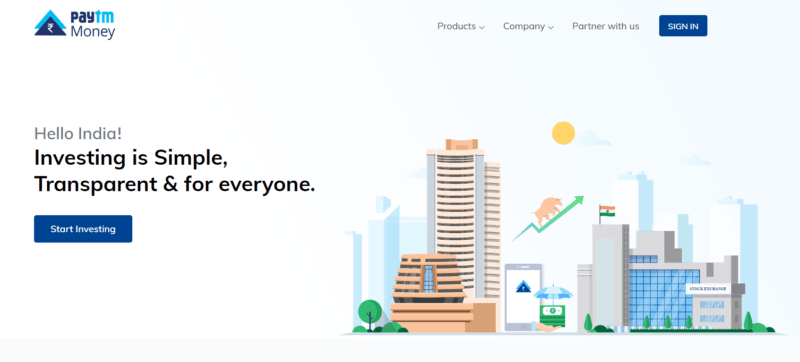 Paytm Money is the best app for mutual fund, wealth management and investing in one. This app is a product of the Paytm group and is quickly becoming one of the most trusted platforms in India.
The app offers up to 1% higher returns by investing in direct mutual fund plans with no commissions or fees on purchasing and selling direct mutual fund plans.
The app assists you in making sensible investments in over 500 mutual fund plans from over 150 fund companies.
Features
To attract new investors, IPOs, Equities, Mutual Funds, Futures & Options, and other investments are available for a low brokerage fee.
For improved investment management, the app provides insights into the portfolio statements and Track Performance.
Using a fully digital KYC procedure, you may establish a SIP with as little as Rs. 100 and invest in over 45 AMCS.
Within 24 hours, you can transfer money from one Mutual Fund to another.
Paytm's popular mutual fund portfolios include equities, debt, ELSS tax saver, balanced, and best-performing mutual funds.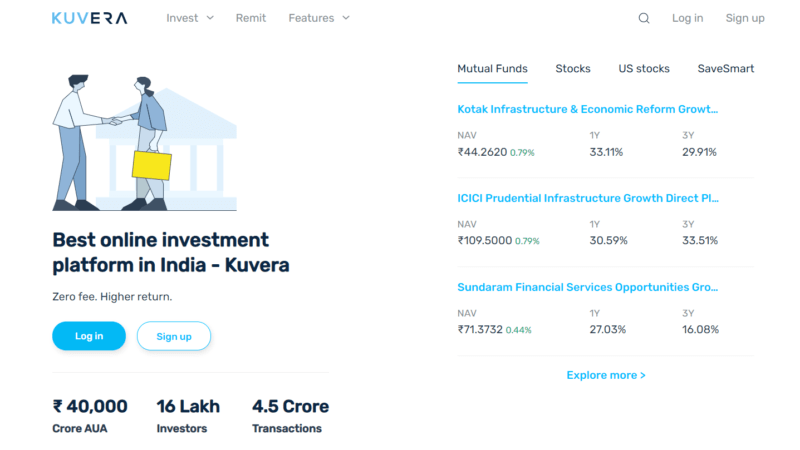 Kuvera is a free-of-cost financial planning application that provides daily recommended portfolios as well as access to a massive library of stock, ETF, and mutual fund information.
The app makes recommendations based on whether you want to save taxes, increase money, stability, or anything else. There are no hidden commissions, AUM fees, or monthly membership costs.
There are multiple features that you can take advantage of. Read on to know about the SEBI registered mutual fund app in India.
Features
The Kuvera App lets you compare shares with peers using simple charts.
The App allows you to follow the success of your assets and examine the value of your portfolio over time, assisting you in making sound financial decisions in the future.
You may invest in liquid mutual funds run by some of India's most recognized investment firms. In addition, you can withdraw up to 2 lakhs in 30 minutes.
The amount you deposit grows over time according to a pre-defined smart plan that meets your needs.
It enables you to invest in many mutual funds at the same time, allowing you to diversify the portfolio.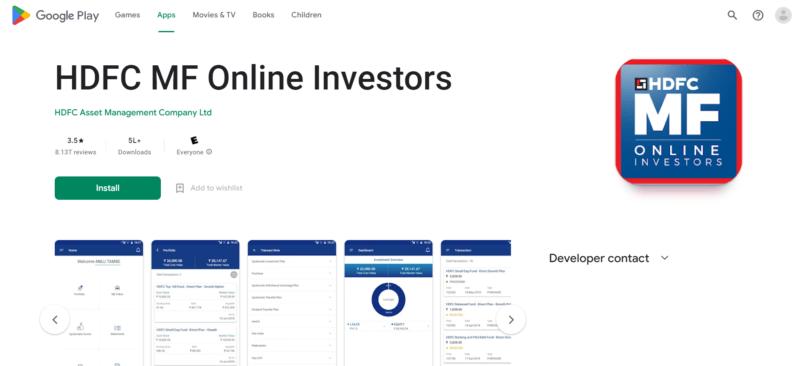 HDFC MF is the primary mobile app for HDFC Mutual Fund clients. It is a rapid, convenient, and efficient platform for investing in mutual funds in many categories such as equities, debt, ELSS, hybrid, gold, and so on.
The app makes it simple to manage mutual fund investments, SIPs, and other investment schemes. This app, like other apps that recommend where to invest, helps its users reach their goals quicker by tracking all investments made by consumers on this app and constantly contacting them if there is a need to leave and invest again.
Features
The software makes it simple to invest in mutual funds, either as a one-time purchase or as a systematic investment plan (SIP).
The software will help with asset allocation and portfolio diversification. Via the app, you may invest in HDFC Mutual Fund NFOs (New Fund Offers).
The app's intuitive navigation aids with the purchase, SIP transaction, or changeover. The many plan alternatives allow you to properly diversify your wealth.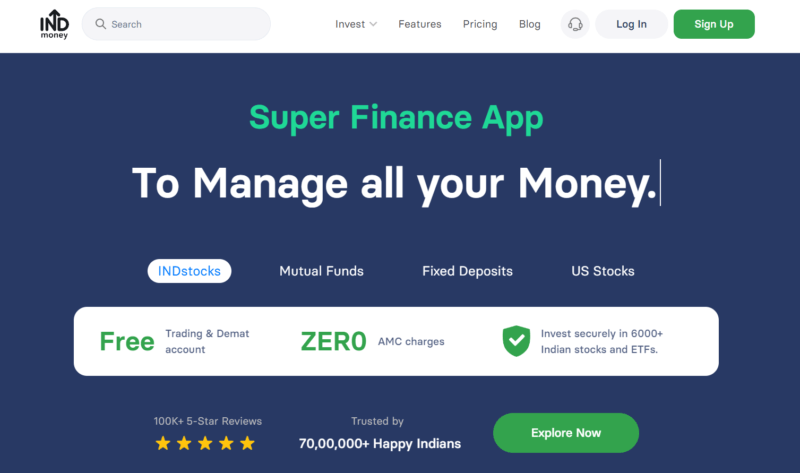 INDmoney is an online investing and trading app with several features and services. This best app for mutual fund makes it simple to identify and invest.
The app is created by a team of specialists that are dedicated to providing users with the greatest possible experience. To guarantee that your data is always secure, the app is periodically updated with the most recent security features.
Features
ICICI, SBI, Aditya Birla Sunlife, Kotak, and HDFC are some of the most well-known funds that you can find in the INDmoney app.
The software provides 0% commission by participating in direct mutual funds for no cost, with no transaction fees or time-consuming documentation.
Flexi-cap, large-cap, mid-cap, and targeted funds are among their top equity funds.
According to your risk tolerance, you may invest in trendy funds, gold funds, the finest SIP funds, or ta savers.
Top debt, hybrid, and index funds are also available, with many schemes to pick from.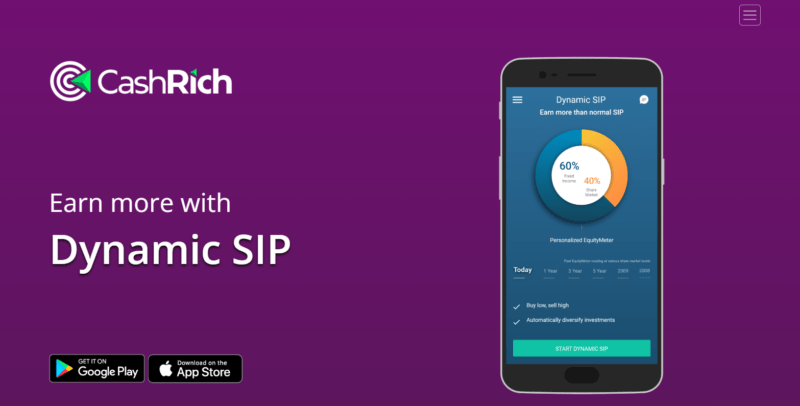 CashRich is the sole best mutual fund app in India that offers a Dynamic SIP option for higher returns than traditional SIPs.
The benefit of adopting a dynamic SIP over a conventional SIP is that you can participate more when markets are advantageous and less when they are not, decreasing risk and enhancing profits.
The impressive thing is that there will be no further expenses for such an advantage. Due to this outstanding functionality, CashRich is often regarded as the best new-age mutual fund app in India.
Features
The software provides users with a one-tap chat capability at all times.
Using the app, you can select from a variety of schemes.
For further protection, the app has a Face Recognition capability.
CashRich assists not only with money transactions but also in deciding when and where to make investments.
The Cash Rich app offers customers Lifelong zero-cost investing accounts.
Dynamic SIP provides greater flexibility and higher returns.
Also Read: 10 Best Direct Mutual Funds For High Return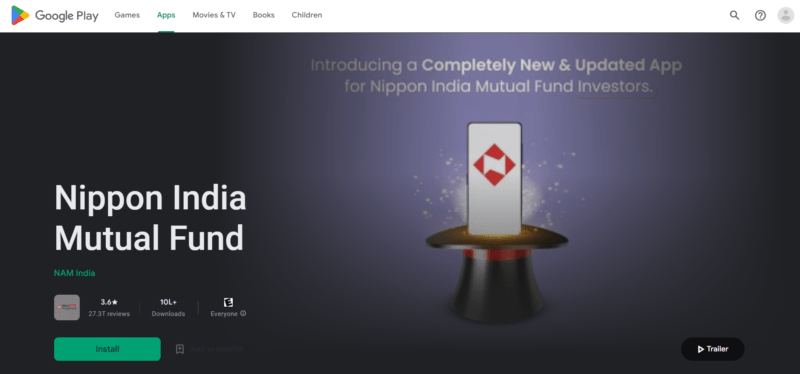 Nippon India Mutual Fund is one of India's leading asset management firms. Before, the firm was known as Reliance Mutual Fund. The primary goal of this best app for mutual fund is to streamline the customer's experience in mutual funds.
It is a one-touch signup application that enables you to invest in a variety of mutual funds and offers a new approach to investing your money.
It also highlights a single view of the assets, managing your profile, making choices, and transacting instantaneously without the need for several applications provided by various fund institutions.
Features
The app offers an investor-friendly documentation procedure, and you can protect access with a fingerprint or M-pin.
The dashboard will assist you in keeping track of pending transactions, renewing SIPs, and updating relevant profile data.
The aggregated portfolio analysis will provide you with information about your investments, returns from a lump sum or SIP, and asset class allocation.
Using categories such as asset class, investing objectives, or risk profile, you can find top trending funds and select the one that best meets your needs.
Comparison Table 
Given below, we have listed some important information about all the apps in this best app for mutual fund list so you can easily decide which one to pick.
| | | | | |
| --- | --- | --- | --- | --- |
| Sr. No. | App Name | OS | Rating | Downloads |
| 1. | Groww | iOS/Android | 4.5 | 1 Crore + |
| 2. | Coin By Zerodha | iOS/Android | 4.2 | 10 Lakhs + |
| 3. | Fisdom | iOS/Android | 4.5 | 10 Lakhs + |
| 4. | ET Money | iOS/Android | 4.5 | 50 Lakhs + |
| 5. | MyCAMS | iOS/Android | 4.0 | 50 Lakhs + |
| 6. | SBI Mutual Funds | iOS/Android | 3.8 | 10 Lakhs + |
| 7. | FundsIndia | iOS/Android | 3.7 | 10 Lakhs + |
| 8. | Paytm Money | iOS/Android | 3.9 | 1 Crore + |
| 9. | Kuvera | iOS/Android | 4.3 | 10 Lakhs + |
| 10. | HDFC MF | iOS/Android | 3.5 | 5 Lakhs + |
| 11. | INDmoney | iOS/Android | 4.5 | 50 Lakhs + |
| 12. | Cashrich | iOS/Android | 4.8 | 1 Lakh + |
| 13. | Nippon India | iOS/Android | 3.5 | 10 Lakhs + |
There you have it! All of the aforementioned apps have their own strengths, and choosing the right app for yourself can deliver the most benefits. Always compare the features and then register for the app.
If you are still not sure which one to use, you can always reach out to an investment advisor who can help you choose the right SEBI registered mutual fund app for your needs.