Are you looking for a secure and reliable UPI Payment Apps for Android or iOS?  If your answer is yes, then you are at the right place. Read on to find out the 7 best UPI Payment Apps to download in 2022.
Presently, India is a country with around 1200 million mobile users and has seen an increase in the number of mobile payments, and the Indian Government has been trying to encourage digital payment.
With the introduction of NCPI's UPI, many Indian banks partnered with the BHIM-UPI platform and launched their payment apps. The same was done by various third-party companies, who partnered with Indian banks. One can find these apps in the Google Play Store and the iOS App Store. At present, around 141 banks are on UPI payment.
Recently the Indian Government is trying to make the QR-Code payment system compulsory in all shops, which may cause an increase in the number of online payments.
7 Best UPI Payment Apps in India 2022
What is UPI?
Unified Payment Interface is a platform that was formed by the National Payments Corporation of India(NPCI) under the guidelines of the RBI. It helps in the transfer of money between bank accounts linked with the mobile number. With the BHIM-UPI App, one can connect the app with the account where they have linked their mobile number. The transfer of money is done on a real-time basis, so instead of IFSC Code, a Virtual Payment Address(VPA) is needed.
Several VPAs can be created using the BHIM-UPI app or using the Bank apps to link more than one account, but for that, your phone number should be linked to these accounts, as an SMS will be sent to your number before creating VPA, for authentication. Social media platforms like Twitter and Facebook are promoting UPI payment modes. Credit card bills can also be paid using UPI.
The NPCI launched the UPI 2.0 version, which has the following new features:
Now the overdraft account/credit account can also be linked with the UPI.
QR Code payment is more secure now due to the addition of signed QR forms. No password is required for QR signing.
One can subscribe to Initial Public Offerings with this.
PayLater service is available in this.
How UPI works?
QR Code: Stores have their QR Code at the display, which needs to be scanned. Earlier, you were required to confirm the amount by entering the MPIN in the UPI App. In the new UPI 2.0, there is no need to enter the passcode. One can use the signed QR & intent.
VPA Id: One needs to share their VPA Id, then store to initiate the payment process. After that, you will receive a notification, and you'll have to confirm the payment by entering the MPIN in the UPI App.
Mobile Number: Money can be sent to any mobile number, which is linked to a bank account by sharing an MMID.
Aadhaar Number: Money can be transferred by sharing the Aadhar number, linked to the Bank Account. One needs to scan the fingerprints for this.
Sharing account Number & IFSC: This is one of the easiest and most used methods of transferring money.
Contact Less or Audio NFC Technology: This uses the Audio NFC technology to transfer money. In this, the Near Field Communication sensor connects the two UPI using devices. Then the transfer is authenticated by matching the wavelengths of the two devices.
Facts and features of UPI
As per NPCI, the upper limit for UPI is Rs. 1.00 lacs.
According to RBI guidelines, one can interlink all their existing KYC complied e-wallet accounts. But, only a few apps provide this service.
A maximum of 20 transactions is allowed in 24 hours.
All transactions take place on a real-time basis.
Though UPI and MPOS work on the same platform, UPI is more user-friendly and easy.
Several Bank Accounts can be added using the UPI app.
Several VPI Ids can be maintained.
As per RBI guidelines, only commercial banks can be Payment System Provider in UPI transactions.
What are the best UPI Payment Apps in India?
1.Google Pay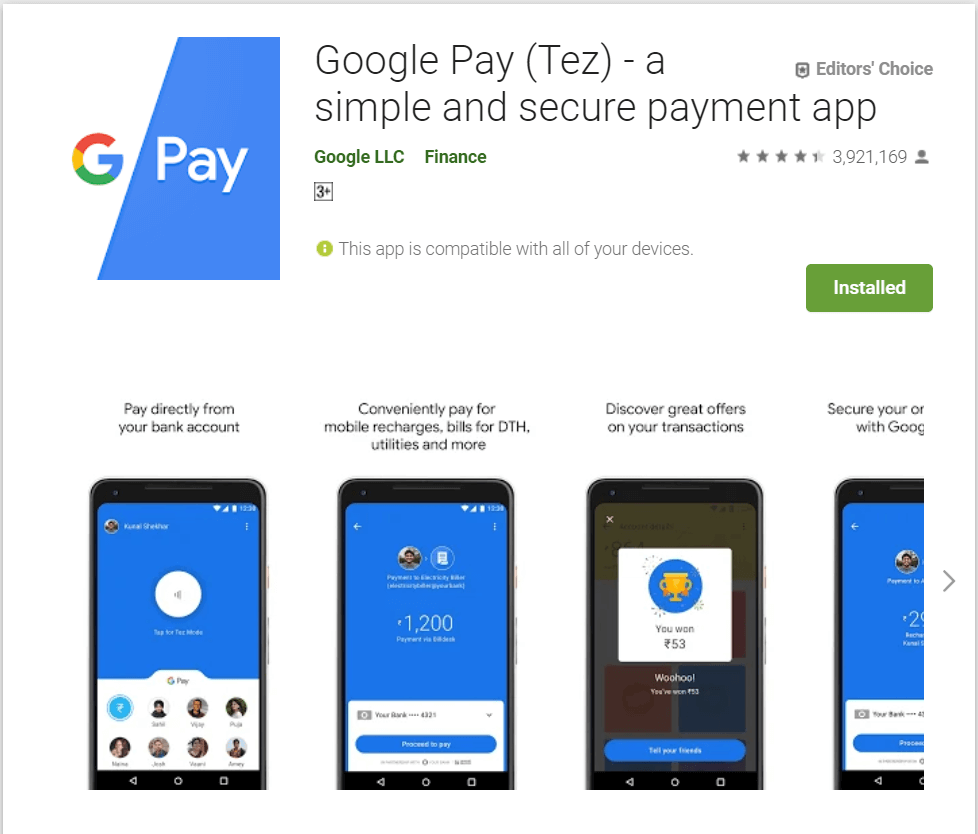 Dominating the list with its uniqueness and user-friendly interface, we have GooglePay at the top. What started as "Tez" now has 45 million-plus active monthly Indian users.
Google has always stood out in terms of innovation and efficiency. Google Pay is the foremost app to provide the ease of Proximity feature, i.e., NFC in this platform. Moreover, it spares you the hassle of uploading and verification KYC documents (owing to the absence of wallet option). A bank account, a phone number linked to the same, and you're good to go. Pretty easy, right?
The online trade world has known the presence of Google Pay as well. With 2000+ online merchants partners in India alone, Google Pay owns more than 35% of market shares in UPI transactions, with figures like 320M transactions in terms of volume and 61000 crores in terms of value being the gems on its mantle.
Google Pay continues to grow, triumphing over its other counterparts, with its feature-loaded package, top-notch reward schemes and offers, an appropriate safety framework, and a user interface that just keeps getting better.
Features
The wallet option is not available. Thus, KYC documents are not needed. One only needs a bank account and a mobile phone.
It is the first to use NFC technology.
In-App Google Play and Google Ad Payment options are available.
One can use it to chat before payment.
It has an amazing UI.
In-App purchases opportunity available.
This app supports 8 Indian languages.
Users will also be able to set reminders and make payments periodically for DTH, utility bills, etc. in future.
Benefits
It has the Google Pay Safe shield feature. One can secure their UPI payments using biometrics.
It has the unique Tez mode, which lets the receiver get the money without revealing any details.
It has the Chat feature, which is useful for first-time transactions. An invoice can also be sent in this.
Transactions made through Tez follow multi-layer encryption and is protected by Tez Shield.
The Cash Mode allows users to transfer money to Tez users in range without entering their mobile number or bank details making the payments more secure than ever.
Download Google Pay here.
iOS
Android
2.PhonePe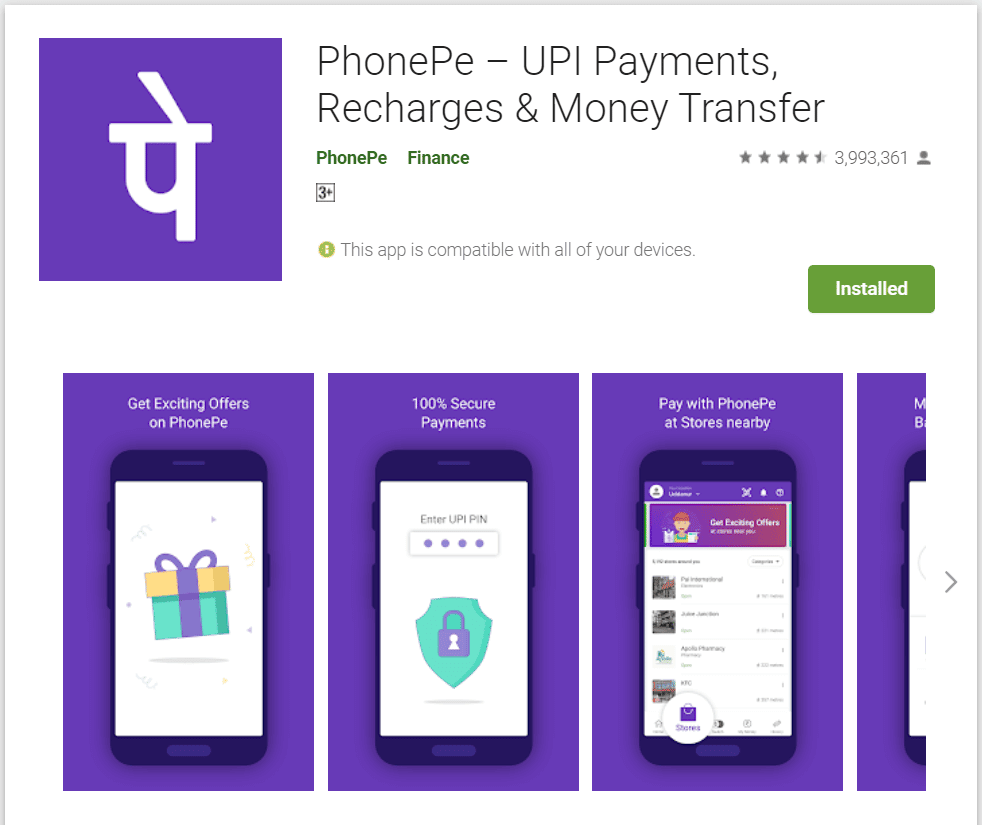 PhonePe is India's first UPI payment platform in India, which was later acquired by Flipkart. Based in Bangalore, PhonePe has partnered with YesBank for providing UPI services and has a magnanimous 37.3% market share in UPI transaction volume. It is soon to be integrated as a payment option in Walmart India's "B2B Cash&Carryy Stores".
PhonePe comes with some interesting features. It's possible to link various e-wallets with the app and easily transfer money between these wallets – thanks to interoperability among the Indian e-wallet providers. PhonePe wallet option is provided by several merchant websites, offering amazing cashback and rewards as well. With money transfer limit using UPI set to ₹1 lakh, one can pay credit card bills too. An outstanding UI is a cherry on top.
The app competes against its counterparts and doesn't cease to grow.
Features
One can link existing JioMoney, Freecharge, and AirtelMoney e-wallet with this.
Gold can also be purchased.
It provides various cashback and reward offers.
It can be used to pay credit card bills.
The upper limit for money transfer is Rs. 1.00 lacs.
PhonePe also allows you to do electricity, gas, DTH, landline, broadband, data card, and water bill payment.
You can also do Store payment using PhonePe.
Benefits
There is no PIN or password required to open the app. There is a separate icon to transfer money to your other account. Bank balance can be checked using this.
One can easily find a recent recipient while transferring money. Bill payments and making a recharge are also very easy.
It is very attentive to negative feedback, and it works effectively towards correcting them.
Download Phone Pe here
iOS
Android
3.Paytm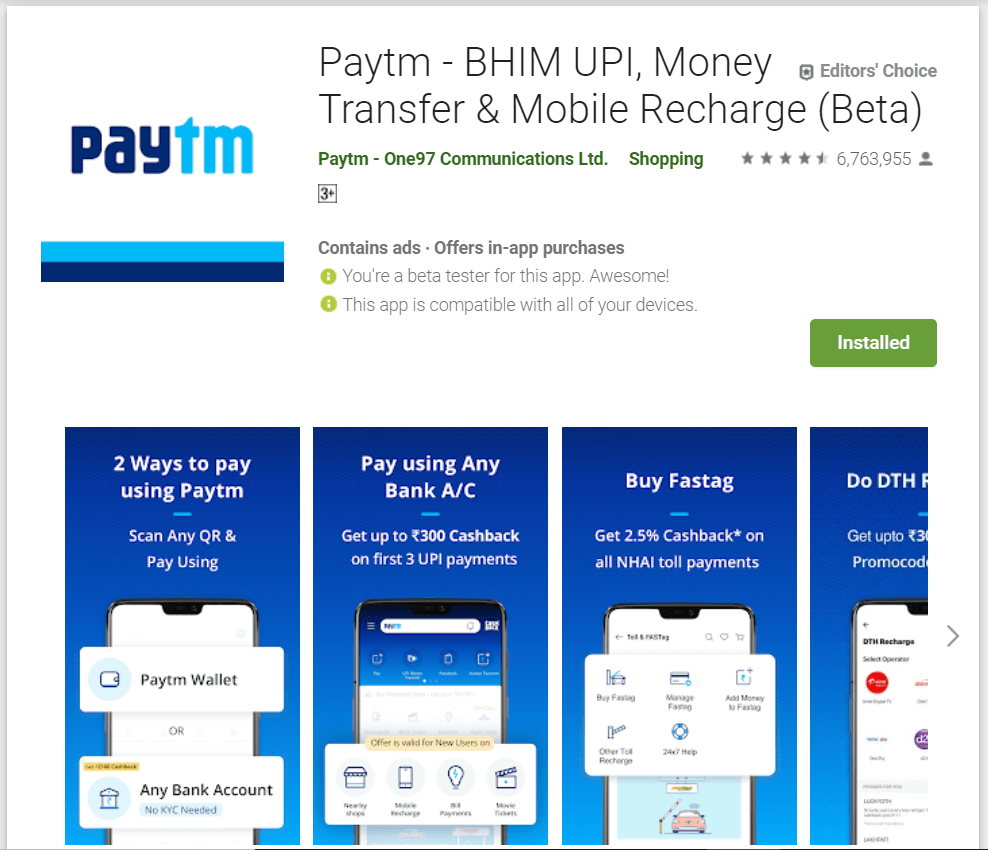 Paytm was the foremost digital payment service in India. It wears the mantle of being India's largest digital wallet service provider, with the most number of downloads amongst UPI apps across both Android and iOS platforms. Dominating QR code-based offline transaction market in India, Paytm has about a 5.93% market share in UPI transactions.
Thanks to it's excellent UI and bringing about several services in one app, Paytm has attracted a lot of users. Just verify KYC, and you're all set to own a Paytm Payment Bank Account. Then you can enjoy the benefits of Credit card bill payment, linkable Rupay Virtual Debit Card, access to Paytm Online eCommerce store through Paytm App or Paytm Mall, special Buy Now Pay Later service for ICICI Bank customers, and lots more!
Paytm has been the most popular money transfer app in India, and continues to stay so.
Features
It has excellent and user-friendly UI.
After the full verification of KYC, one can easily create the Paytm Payment Bank.
Paytm Payment Bank is linked with Rupay Virtual Debit Card.
Transactions take place through QR code.
It provides a Buy Now Pay Later service for ICICI Bank account holders.
You can pay bills, do DTH recharge, and IRCTC bookings through this app.
Benefits
Whether it be local shops or big showrooms, it is widely accepted.
Whether it is school fee payment or recharge or mutual fund investment, it can be used for all.
Through Paytm you can get payment from your friends, customers.
Download Paytm here:
iOS
Android
4.Freecharge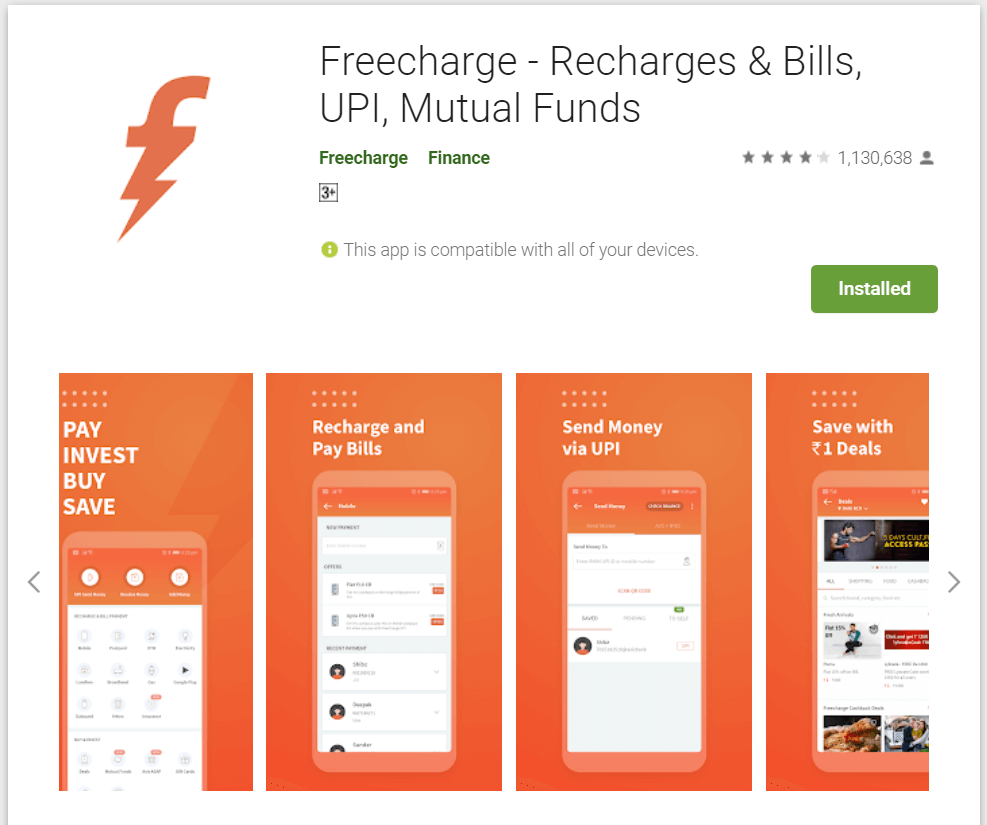 Freecharge is a Gurgaon-based Fintech startup, which has now been acquired by Axis Bank.
It is one of the most popular UPI money transfer apps in India, enjoys one of the highest ratings amongst UPI money transfer apps in both play store and app store, and it's all for very justified reasons. It is possible to add multiple bank accounts linked with the mobile number registered for the Freecharge App. Upload some KYC documents, and you can create a FreeCharge mobile wallet! It's that easy. The key highlight of the app is its many cashback offers, in-app discounts, and other attractive offers. You can also invest in Direct Mutual Funds using the app.
It's a must-try app if you're into UPI payments and online shopping and wish to benefit great deals.
Also Read: SBI mVisa New Mobile based payment solution
Features
You can get your own @freechargeUPI Id using this App.
It gives cashback and in-app discounts and offers.
QR code used for transfers.
There is no charge on the wallet to a wallet or bank to bank transfer.
You can pay bills, do DTH recharge, and IRCTC bookings through this app.
Benefits
It provides many services. One can even invest in Direct Mutual Funds using this.
They look into feedbacks very attentively.
You can get your own @freechargeUPI id powered by Axis Bank.
 Top up your Mumbai Metro smart card easily with Freecharge.
Get Google Play recharge codes on Freecharge.
Download the Freecharge UPI Payment App here:
iOS
Android
5.PayZapp by HDFC Bank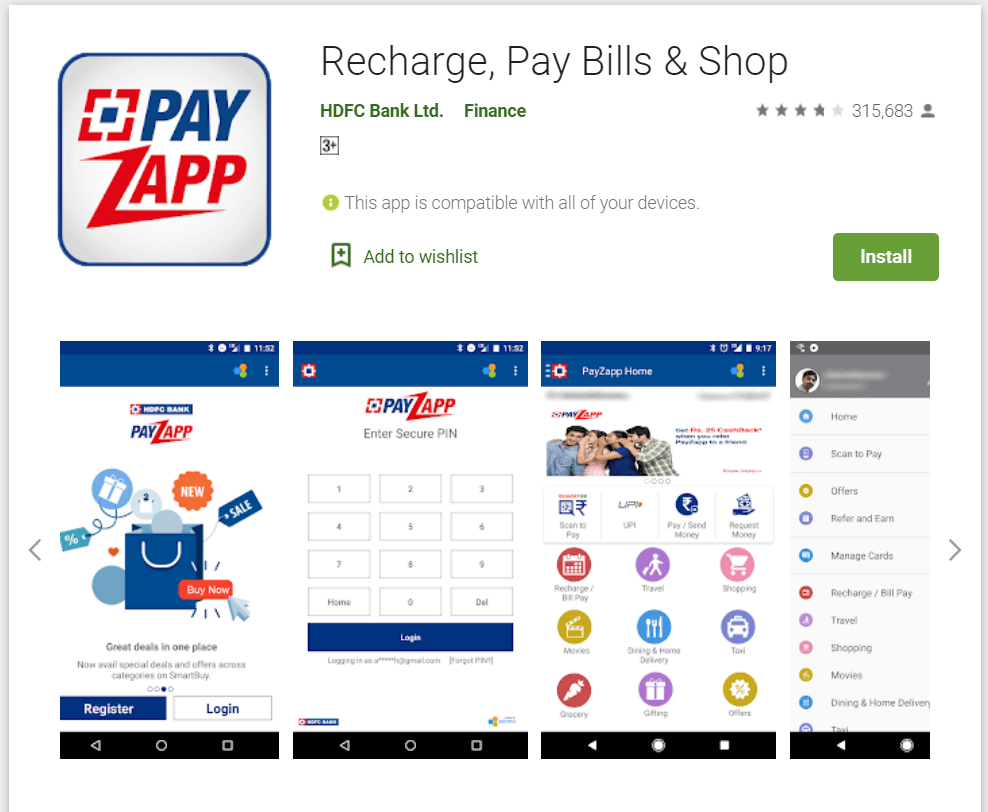 PayZapp is yet another popular digital wallet app providing UPI transactions and is offered by HDFC bank.
It is mainly famous for its various cashback offers and reward schemes across different merchant websites. You can avail of an in-app Visa Virtual Debit card to make online payments. The app is soon to launch Proximity Payments which uses a soundwave communication similar to G Pay. The PayZapp wallet option is offered by all e-commerce websites in India. There's also an option of VPA ID and QR code money transfer, plus a PayZapp business account.
PayZapp is a good option as well for UPI transactions.
Features
One can get a Visa Virtual Debit Card for online payments.
It is going to launch the Proximity Payment.
It has numerous cashback offers.
It uses a VPA ID and QR code money transfer option.
Link your Debit and Credit Card once and then pay whenever you want to. No need to re-load money again and again.
Benefits
The Visa Virtual Debit card makes transactions very easy.
After Google Pay, it is the only one to launch Proximity Payment. This eliminates the need for VPA Id.
"Device ID & call information" is used to save user's devices in the trusted list if users opt to. Also used for push notification services.
Download PayZapp here
iOS
Android
6.Pockets by ICICI Bank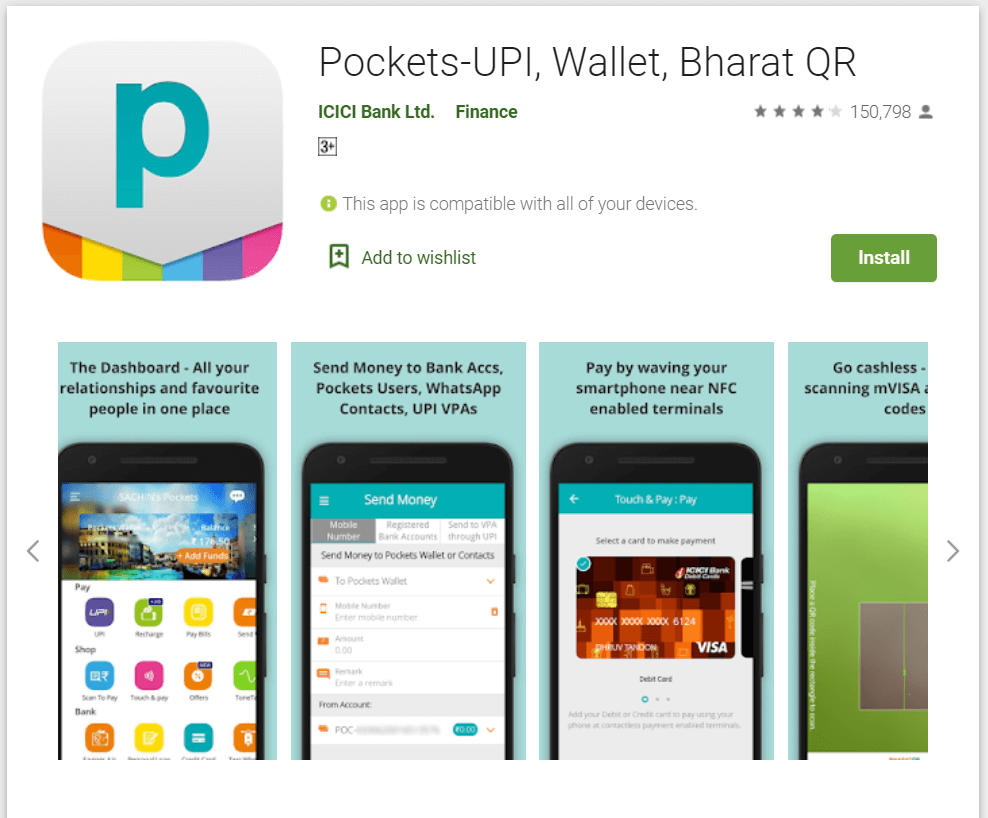 Pockets is a UPI money transfer app by ICICI bank – the bank that's the most innovative amongst its competitors.
It comes feature-packed. ICICI Bank's Pockets can be used as a Digital Bank Account too. Basically, it is a virtual digital wallet convertible into a savings account. Offering a free Virtual Visa Debit Card, users can also avail of a physical debit card, i.e., Domestic Card. Coming with an easy UI, it offers a one-click add fund option along with VPA ID and QR code money transfer. Also, the wallet is accessible with ICICI Bank NetBanking. Pockets use a similar Audio QR technology named ToneTag to pair devices and make contactless payments. It also has numerous offers and discounts with several merchants.
Features
It gives a free Virtual Visa Debit Card. A physical debit card can also be obtained.
It uses a contactless payment method.
It uses a VPA ID and QR code money transfer option.
It can be accessed with ICICI Bank NetBanking.
A bundle of specially chosen deals are available right inside the app.
Benefits
The Visa Virtual Debit Card makes transactions very easy.
It is a virtual digital wallet that can be converted into a savings account. This makes opening a new savings account hassle-free.
Download Pockets here 
iOS
Android
7.Mobikwik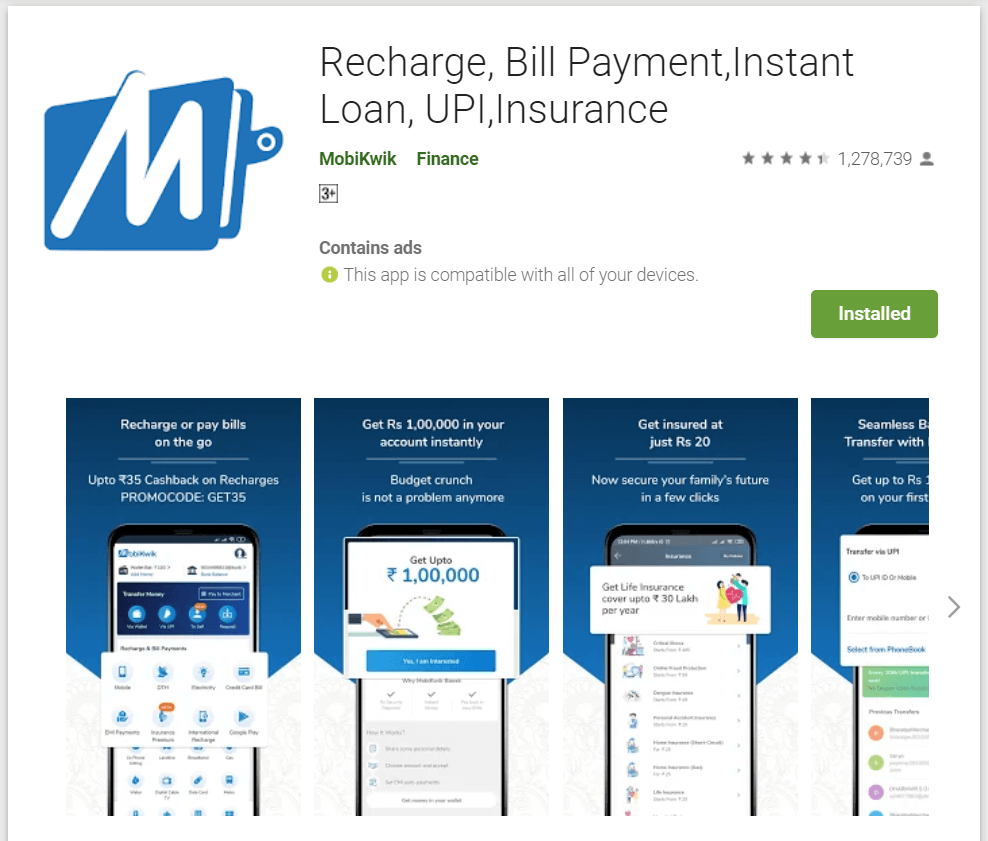 Mobikwik is another popular, one of the highest-rated UPI payment apps on the Play Store and iOS app store, Gurgaon-based money transfer app, and offers tough competition to its competitors. Its popularity is evident by the fact that Uber, Zomato, Dominos, IRCTC, and many others use their payment gateway.
Also read: 10 Best Credit Cards For Freelancers In India
Mobikwik offers clean and minimal UI. One can collect redeemable payback points from mobile recharges or bill payments. It provides an in-App digital loan up to ₹1 lakhs without any paper documentation. Like Freecharge, one can invest in Direct Mutual Funds through this app. You can make in-app health insurance purchases, as well. It also offers various cashback and reward schemes in several merchant websites.
Features
You can get payback points from recharge or utility bill payment. These can be redeemed for future payments.
One can get In-App Digital loan of up to Rs.1.00 lacs without any documents.
It has numerous cashback offers.
Buy life insurance powered by ICICI Lombard & Aegon Life. Buy best life term insurance at Rs 20 & get a cover of Rs 1 lac
Benefits
It has a very smooth and clean interface. One faces no problem while using it.
One can set the Auto Recharge feature for repeated recharge actions.
It maintains all cashless transactions, whether you use it for those transactions or not.
Download Mobikwik UPI App here
iOS
Android
Safety tips while using these Apps
1.The VPA id should not be shared with unknown people.
2.Apps like AnyDesk or TeamViewer siphon the data on the phone. So, one should not install these.
3.Sometimes a message reading "Someone is requesting your money" shows. If accepted, then the UPI linked account will be debited. Fraudsters use this method. Thus, one should carefully examine the source or the way the money is going to avoid any mishap.
4.The Google Play Store is full of untrustworthy apps like Modi BHIM and BharatBHIM. Only trustworthy UPI apps should be installed.
I hope you like this article and now you are sure which among the 7 Best UPI Payment Apps is best for you! But if you still have any questions then feel free to ask them in the comment section.