Paytm has become a necessary platform for digital payments and online transactions. With its multiple features and user-friendly interface, it has become India's largest e-wallet app. Due to rapid rise in its success in recent years, many individuals are curious about its business model and profitability. In this article, we will delve into Paytm net worth, share price and valuation.
Paytm Net Worth, Share Price, Revenue
Paytm, a popular mobile app in India, has become an integral part of smartphone users' lives since its inception in 2010. Its widespread adoption is evident as most Indians have the app on their home screens. Paytm has revolutionized the payment landscape, allowing people to effortlessly handle various transactions, from basic purchases like groceries to more significant expenses like school fees or insurance products.
The app's well-known tagline, Paytm Karo, has become synonymous with mobile payments in India, marking a significant turning point in the country's payment history. Today, Paytm's impact is vast, with over 7 million merchants utilizing its QR code-based mobile payment system. The app's popularity continues to soar, with over 100 million downloads and an impressive user base of more than 420 million, witnessing substantial growth from 2014 with only 11 million registered users.
| | |
| --- | --- |
| NAME | Paytm |
| Founder/CEO | Vijay Shekhar Sharma |
| Net worth | $5.25 billion |
| Valuation | $4.8 billion |
| Revenue | Rs. 2,342 crores |
| Stock price | Rs. 788 |
Source: Paytm Net Worth
About Paytm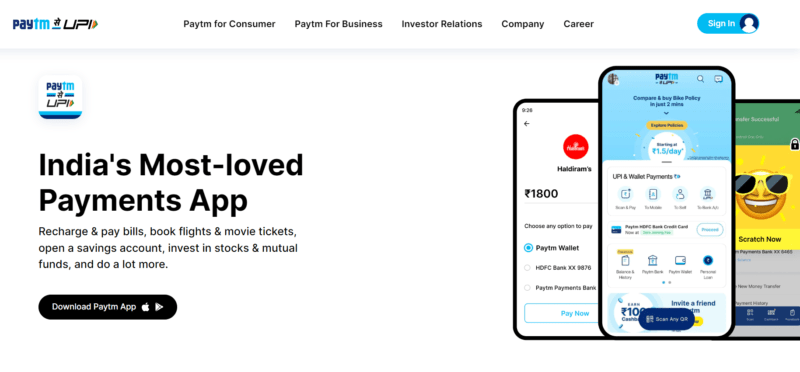 Paytm is India's leading platform for mobile payments and e-commerce, operating under the parent organization One 97 Communications. Initially focused on online bill payments and prepaid mobile recharge, Paytm has now evolved into a comprehensive marketplace for customers. Similar to popular e-commerce platforms like Flipkart, Myntra, Amazon, Voonik, and Snapdeal, Paytm offers a wide range of products.
In 2014, Paytm launched its groundbreaking Paytm Wallet, which quickly became the go-to mobile payment service in India. By November 2016, the platform had amassed a user base of over 150 million. During the demonetization period, the Paytm Wallet proved to be a valuable asset, as a large number of users embraced this convenient payment feature.
Expanding its services further in 2015, Paytm introduced new features such as booking air, taxi, and bus tickets, along with movie ticket reservations. This strategic move led to a significant surge in user registrations, reaching 164 million, and the platform witnessed over 90 million monthly transactions in a remarkably short span of time.
Paytm Net Worth
As of 2023, Paytm net worth fluctuates between 4.75 and 5.25 billion USD. The company's main source of revenue comes from the commissions earned through financial transactions conducted on its platform. Paytm categorizes its income into two segments:
Payment and Financial Services: Paytm generates revenue primarily through transaction fees from merchants and consumer convenience fees, as well as through various financial services like lending, insurance, and wealth management, earning commissions and fees from its financial institution partners. These payment and financial services account for 75% of its total revenue.
Commerce and Cloud Services: Paytm generates revenue through transaction fees from merchants and convenience fees from consumers, while also earning from subscription fees for software and cloud services. Additionally, the company charges merchants for performance and brand marketing campaigns in its advertising business, with commerce and cloud services contributing to 25% of total revenue.
Paytm Valuation
As of July 2023, Paytm's market capitalization stands at 4.8 billion USD, positioning it as the 2219th most valuable company globally in terms of market cap. Market capitalization, which represents the total valuation of a publicly traded company's outstanding shares, is a widely utilized metric for assessing a company's overall worth.
In the January-March quarter, Softbank Vision Fund 1 (SVF1) experienced a gain of 111 million USD, thanks to the increase in Paytm valuation driven by its improved financial performance in recent months.
Paytm Revenue
Paytm revenue from operations has recorded a significant growth of 39% Year-on-Year (YoY) amounting to Rs. 2,342 crores. The company's EBITDA before ESOP costs also showed remarkable progress, reaching Rs. 84 Crores in comparison to Rs. 52 Crores in Q4FY23 (excluding UPI incentives). This represents a substantial yearly improvement of Rs. 359 Crores in EBITDA before ESOP costs.
The growth momentum of Paytm's revenue can be attributed to various factors, including an increase in merchant subscription revenue, a surge in Gross Merchandise Volume (GMV), and a rise in loan disbursements. The company's EBITDA before ESOP margin stands at 4% of revenues, indicating a consistent improvement in profitability due to strong revenue growth, increased contribution margin, and operating leverage. Paytm has managed to increase its EBITDA while investing in growth, and it anticipates that continued revenue growth and operating leverage will drive profitability despite investments.
In the first quarter of the present financial year, Paytm's Payment Services Revenue witnessed a 31% YoY growth, amounting to Rs. 1,414 crores, driven by the increase in GMV and higher subscription revenue. Additionally, during the same quarter, the revenue from financial services and other segments showed substantial growth of 93% YoY, reaching Rs. 522 crores.
Paytm continues to capitalize on its app traffic by providing marketing services to merchants in its Commerce and Cloud segment.
The Commerce & Cloud revenue grew by 22% YoY to Rs. 405 Crores.
The Commerce GMV increased by 10% YoY, reaching Rs. 2,537 Crores, while the revenue saw a growth of 12% YoY, amounting to Rs. 156 Crores.
Similarly, the Cloud business witnessed a growth of 29% YoY, reaching Rs. 249 Crores, attributed to the growth in credit card distribution and advertising business.
Paytm Share Price and Market Share
Since November, Paytm's shares have experienced a remarkable rebound of more than 30%. This increase can be attributed, in part, to the company's strategic decision to invest over $100 million in share buybacks. As of today, the share price stands at Rs. 788, reflecting a decrease of Rs. 14.00 (1.75%).
In February 2023, Paytm's market share in the Unified Payments Interface (UPI) ecosystem, which includes peer-to-peer (P2P) payments, witnessed a year-on-year growth of 60 basis points, reaching 11%. Additionally, in the broader domain of digital payments, encompassing transactions with merchants and other instruments like credit cards, Paytm commanded a market share of 24%.
Owner Net Worth
Vijay Shekhar Sharma, the visionary behind Paytm and a prominent figure in the start-up ecosystem, was reappointed as the CEO and Managing Director of the company in August 2022.
Coming from the humble town of Aligarh, Sharma displayed exceptional academic brilliance and completed his school education at a remarkably young age of 14. He became only the second student from his school to pursue engineering and secured admission to the prestigious Delhi College of Engineering (DCE).
Sharma's major breakthrough came with the launch of Paytm.com in 2010, which quickly gained popularity as an online transaction platform, amassing a customer base of 250,000 users. Within seven years of operation, his Paytm app became the first mobile app for online payments in India to surpass 100 million downloads, and within a year, it achieved an impressive milestone of 200 million downloads.
The inspiring journey of the young boy, who once struggled in a big city and worked odd jobs to pay off debts, led him to become the youngest billionaire in 2018, with an estimated net worth of approximately $1.1 billion as of September 2022.
Regarding his compensation, Vijay Shekhar Sharma receives an annual cash remuneration of Rs 4 crore, which will remain fixed for the next three years.
Investments and Acquisitions
Paytm has adopted a strategic approach to expand its services and strengthen its market position and portfolio through a series of well-planned investments and acquisitions.
It all began in 2013 with the acquisition of Plustxt.
Later, Paytm invested $5 million in Jugnoo, an auto-rickshaw aggregator and delivery firm, marking the initial steps towards diversification.
Notable acquisitions include Shif, a consumer behavior prediction platform, and Near.in, a local services startup.
Additionally, Paytm invested in logistics startups LogiNext and XpressBees.
The company also ventured into the healthcare sector by investing in QorQL, which utilizes AI and big data for medical care assistance.
Further strengthening its market presence, Paytm made significant acquisitions like Insider.in, an online ticketing and events platform, and marketplaces Little and Nearbuy.com in 2017.
In 2018, Cube26 was acquired, followed by the acquisition of the hotel booking platform NightStay in 2019.
Notably, in October 2021, Paytm solidified its position in the financial services space with the acquisition of CreditMate, a digital lending company.
This growth journey demonstrates Paytm's exceptional ability to spot opportunities and make strategic investments to stay at the forefront of the industry.
Also Read: Zomato Net Worth, Share Price, Revenue
Paytm's valuation has undergone large fluctuations due to its dynamic position in the market. However, it remains a prominent player in the financial sector, contributing to India's success in the world of digital payment.
Source: Paytm FY23 Results