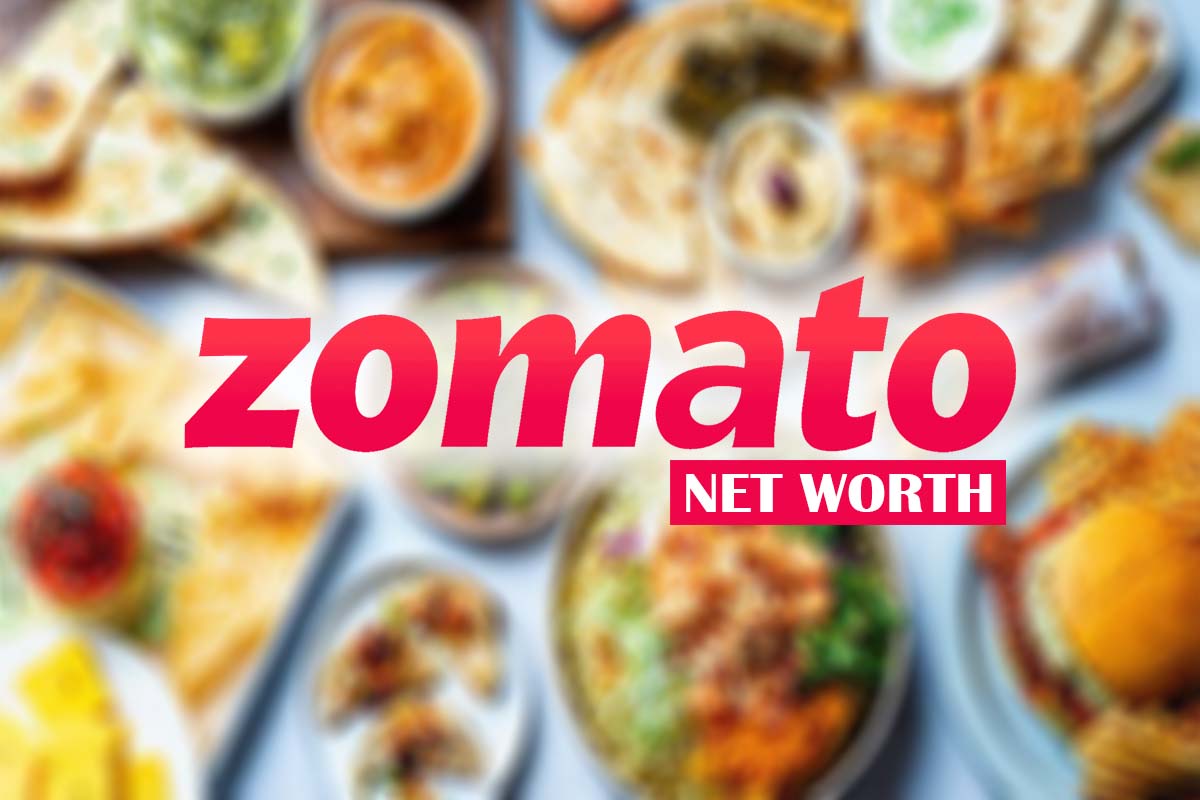 Zomato has been a popular name in the online food delivery industry since its inception. With its user-friendly platform and vast choice of restaurants, it is a sought-after choice for both timely home delivery and dining experience. The platform has gained significant attention in recent years, with people expressing curiosity about its valuation and profits. In this article, we will delve into Zomato net worth, share price and revenue.
Zomato Net Worth, Share Price, Revenue
Gurugram-based Zomato has gained significant popularity as it enables customers to discover new restaurants and have their meals delivered directly to their doorstep. As a result, an increasing number of business owners are embracing this online food delivery system due to its cost-effectiveness and convenience. To understand the reasons behind Zomato's profitability and success in the food delivery industry, it is important to examine its operational model and rapid growth in recent years.
| | |
| --- | --- |
| NAME | Zomato |
| Founder/CEO | Deepinder Goyal |
| Net worth | $5-6 billion |
| Valuation | $8.59 billion |
| Revenue | Rs. 2,056 crores |
| Stock price | Rs. 78.05 |
Source: Zomato Story
About Zomato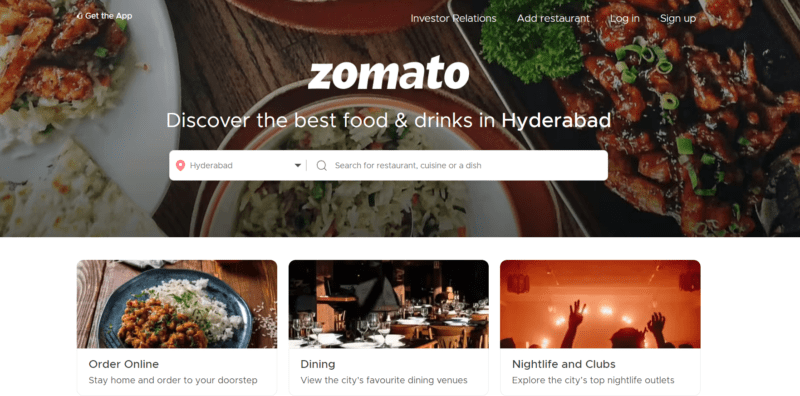 Zomato, a highly comprehensive and user-friendly application, serves as a valuable tool for individuals seeking nearby restaurants and cafes for dining or ordering food online. It offers a wealth of information, including menus, reviews, and ratings, enabling users to make informed decisions about where to eat. By utilizing this information, customers can conveniently place orders and enjoy delicious meals in the comfort of their own homes, with the added benefit of timely doorstep delivery. This eliminates the need for customers to spend excessive time waiting at restaurants.
Zomato has gained immense popularity as an online food delivery platform. Additionally, restaurant owners can enhance their online visibility by registering with the Zomato app.
The primary function of Zomato is to recommend local and neighboring eateries to its users and facilitate order placement. Users can choose their preferred restaurants based on the ratings and feedback provided by previous customers. This level of convenience for users and support for local food businesses has sparked significant interest among entrepreneurs looking to develop similar apps like Zomato, allowing them to elevate their local food ventures to new heights.
Zomato Net Worth
Zomato net worth in 2023 ranges from 5 to 6 billion USD, showcasing their ongoing efforts to expand and enhance their business operations and generate revenue. In addition to earning commissions from restaurants and delivery charges, Zomato derives income from various sources such as in-app advertising, subscriptions, their food delivery service, and Zomato Gold. Furthermore, Zomato organizes food events where attendees contribute a nominal fee as a ticket.
Business Model
Zomato's business model encompasses three key segments:
Users: Zomato serves as an online platform catering to users seeking convenient food delivery options by helping them discover nearby restaurants.
Local Restaurants: Zomato provides an indispensable platform for restaurant owners to promote their businesses effectively and capture the attention of their desired customer base.
Delivery Partners: By offering part-time or full-time delivery services, individuals can leverage Zomato's platform to establish a reliable source of income.
Zomato Valuation and Share Price
Zomato, with a market capitalization of $8.19 billion as of July 2023, ranks as the 1794th most valuable company in the world by market cap. Market capitalization, often referred to as market cap, represents the total valuation of a publicly traded company's outstanding shares and serves as a widely utilized metric for assessing a company's overall worth.
Zomato's valuation has experienced a significant surge and stands at $8.59 billion, compared to its previous valuation of $5.4 billion. This remarkable increase can be primarily attributed to the rise in online food deliveries, which was driven by the lockdowns imposed due to the pandemic.
Zomato's closing price today in the share market stands at Rs. 78.05, indicating a decline of 2.62%. However, Zomato's shares experienced a 6% decline in May following the news of Invesco reducing the valuation of its competitor, Swiggy. By the end of the trading day, Zomato share price reached as low as Rs. 60.94 (equivalent to 74 U.S. cents), resulting in a loss of over $400 million in market capitalization.
Zomato Revenue
There was a significant YoY increase of 70% in consolidated revenue, reaching Rs. 2,056 crores. Although the net loss was lower than the estimated Rs. 356 crores, total revenue fell slightly short of the estimated Rs. 2,122 crores. Zomato's consolidated net loss showed improvement, narrowing down to Rs. 188 crores compared to Rs. 360 crores in the previous year and Rs. 345 crores in the previous quarter.
The food delivery business, which is the company's primary focus, generated a revenue of Rs. 1,530 crores for the fourth quarter of FY22, compared to Rs. 1,284 crores in the previous year. The business-to-business (B2B) vertical also experienced significant growth, reporting a revenue of Rs. 478 crores compared to Rs. 194 crores in the previous year.
Although there was a YoY increase in the gross order value in the food delivery business, rising to Rs. 6,569 crores from Rs. 5,853 crores, there was a slight dip from Rs. 6,680 crores in the previous quarter of FY22. During FY23, Zomato managed to reduce its loss to Rs. 971 crores from Rs. 1,209 crores in the previous year. Additionally, a substantial 69% increase in Zomato revenue was witnessed, reaching Rs. 7,079 crores.
Owner Net Worth
Deepinder Goyal, originally from Punjab, hails from a family of teachers. He completed his Mathematics and Computing degree from IIT Delhi in 2005. While working at Bain and Company in the capital city, he recognized a demand for menu cards among his colleagues.
Seizing the opportunity, he embarked on his entrepreneurial journey by founding Foodiebay in 2008, which later underwent a name change to Zomato in 2010. Presently, he possesses a 5.5 percent ownership stake in the company, having reduced his shares from 7.7 percent in 2020 to 5.5 percent in 2022.
Zomato acquired its IPO in 2021, resulting in a significant increase in Goyal's net worth to $650 million. However, as of September 30, 2022, his net worth stood at Rs. 2030 crore.
During 2020, Goyal earned a substantial salary of over Rs. 3 crore per year, which dropped to Rs. 1.96 crore in FY 21. He later announced that he would not accept a salary for the next three years. Zomato's CTO, Gunjan Patidar, earns Rs. 1.5 crore, while CFO Akshant Goyal has a salary package of Rs. 3.2 crore. The food delivery CEO, Rahul Ganjoo, earns a salary package of Rs. 2.9 crore.
In 2022, Goyal received ESOP shares valued at Rs. 387 crores. He generously donated his ESOP proceeds of Rs. 700 crores to the Zomato Foundation, which focuses on supporting the company's delivery partners.
Investments and Market Share
Zomato made significant investments in various companies during the first half of 2021, totaling approximately $275 million. Over the next 1-2 years, Zomato continued to allocate around $1 billion, with a significant portion of this investment expected to focus on the quick-commerce sector.
As part of these investments, Zomato spent $75 million to acquire an 8% stake in Bigfoot Retail Solutions Pvt Ltd (Shiprocket), as part of a larger funding round of $185 million. The company caters to a wide range of brands and merchants across various categories such as apparel, electronics, beauty and personal care, and groceries, among others.
Another investment by Zomato was $50 million in Samast Technologies Pvt Ltd (magicpin), which secured the company a 16% stake as part of a funding round worth $60 million.
Additionally, Zomato sold its fitness-based mobile application for $50 million to CureFit (cult.fit), a health-tech startup. It invested another $50 million in CureFit, acquiring a 6.4% shareholding in the company.
In 2022, Zomato disclosed its plans to invest in AdOnMo, a digital advertising company, and UrbanPiper, a food ordering system. These investments have been approved by Zomato's board of directors.
Zomato has consistently held its market share at around 55% during the latter half of 2022. As a result, it enjoys a competitive advantage over its rival Swiggy in terms of market dominance.
Zomato has earned a huge net worth due to its widespread national presence and excellent customer service. With the ever-growing popularity, it will surely outperform its competitors in the food industry.