Reliance Industries Limited, commonly known as Reliance, is an Indian multinational conglomerate company founded by Dhirubhai Ambani in 1960. It has grown to become one of the largest companies in India. In this article, we will inform you about Reliance Net Worth, share price and valuation.
Reliance Net Worth, Share Price, Valuation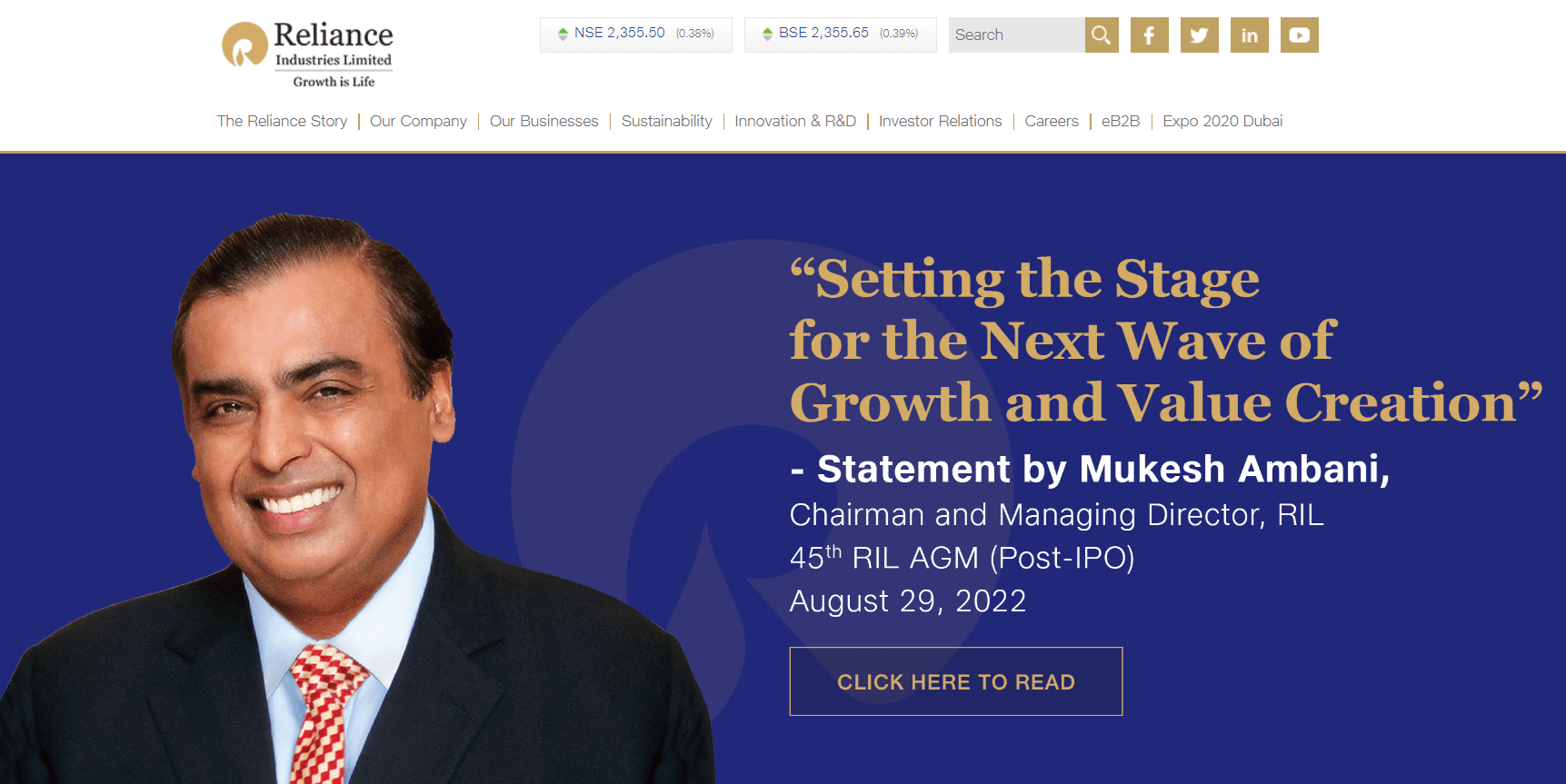 Reliance has grown to become one of the largest companies in India with a market capitalization of over $200 billion. The company has also been involved in several philanthropic initiatives aimed at improving the lives of people in India, particularly in the areas of healthcare, education, and rural development.
| | |
| --- | --- |
| Founder | Dhirubhai Ambani |
| Net Worth | $220 billion |
| Valuation | $200 billion |
| Revenue | $85 billion |
| Stock Price | Rs. 2272 |
Reliance Net Worth
Reliance net worth is a testament to the company's strong financial performance, market position, and diversified business interests.
The company's innovative strategies and investments in new and emerging sectors have helped it maintain its position as one of the most valuable companies in India.
Reliance net worth has been growing consistently for years. In the financial year 2022-23, the company reported an annual net worth of $220 billion compared to financial year 2021-22, where the net worth was reported at $197 billion.
Reliance net worth is a reflection of the company's strong financial performance and market position coupled with diversified businesses. The company has various business interests, including petrochemicals, refining, oil and gas exploration, retail, and telecommunications.
About the Founder
Born in 1932 in the village of Chorwad in Gujarat, Dhirubhai Ambani came from humble beginnings. He started his career in Yemen as a gas-station attendant and later worked in a spices trading company in Mumbai.
In 1966, Dhirubhai founded Reliance Commercial Corporation, which started as a textile trading company. He quickly realized the potential of the business and ventured into manufacturing.
Dhirubhai was known for his entrepreneurial skills and risk-taking ability. He was also a master at navigating India's complex regulatory environment and forging relationships with politicians and bureaucrats.
His visionary leadership and strategic acumen led Reliance Industries to become a leader in multiple industries
In 2002, Dhirubhai passed away due to a stroke. However, his legacy lived on through his sons, Mukesh and Anil Ambani, who took over the reins of the company.
Mukesh, the elder brother, is now the chairman of Reliance Industries and has continued to steer the company towards growth and expansion.
Reliance Revenue
Reliance Industries Limited has been a major player in India's economy, generating significant revenue from various sectors. As of 2023, the present time is company's third quarter and as the market closed, a 15% drop was reported in its net profit of Rs. 15,792 crores.
As of the latest available financial year, which ended on March 31, 2022, Reliance revenue was reported at $85.3 billion, which was a 3.3% increase compared to the previous financial year.
Reliance revenue is primarily generated from its refining and petrochemicals business, which accounted for approximately 60% of its total revenue in the latest financial year.
It has invested heavily in the telecommunications industry and launched its mobile network brand, Jio, in 2016. The Jio platform has grown rapidly and currently has more than 440 million subscribers in India.
Reliance Share Price
Reliance share price as of 2023 has been volatile, but the company's strong fundamentals and strategic initiatives have provided support to the share price.
At the beginning of 2023, Reliance share price was around INR 2,700 ($35.54), which was lower than its peak of INR 2,981 ($39.26) in August 2022. This dip in the share price was attributed to concerns about global economic growth, supply chain disruptions, and rising inflation.
The company has been taking strategic steps to enhance shareholder value, such as increasing its dividend payout and announcing a share buyback program. The company's efforts to expand Jio's offerings and subscriber base have also been contributing positively to its share price.
The commitment to ESG principles has helped enhance the reputation and attract socially responsible investors which play changing role in Reliance Share price.
Also Read: Lenskart Net Worth, Valuation, Revenue
Reliance Valuation
As of 2023, Reliance valuation stands at around $200 billion, making it one of the most valuable companies in the country.
Reliance valuation is a result of the company's strong financial performance over the years, backed by its diversified business portfolio and strategic investments.
RIL has consistently delivered robust financial results, with strong revenue growth and profitability. The company's EBITDA (earnings before interest, taxes, depreciation, and amortization) for the financial year 2022 stood at a whopping $20 billion.
Reliance's diversified business portfolio, strong financial performance, and strategic investments have helped the company achieve a significant valuation in 2023.
Reliance has played a pivotal role in shaping India's economic landscape by contributing to the country's GDP and creating jobs for millions of people.