Lenskart is a prominent online eyewear retailer headquartered in India, known for its extensive collection of eyeglasses, sunglasses, and contact lenses. Since its inception in 2010, the company has experienced remarkable growth and has become a leader in the Indian eyewear market. Lenskart's success can be attributed to its innovative business model, which combines an online platform with a robust network of physical stores. With a strong customer base and a wide range of affordable and fashionable eyewear options, Lenskart has achieved impressive financial results. In this article, we will inform you about Lenskart net worth and valuation.
Lenskart Net Worth, Valuation, Revenue
The omnichannel eyewear brand has amassed over $900 million in funding overall. Also, within the next three years, the company plans to go public therefore increasing Lenskart net worth. Let us learn more about the company.
About Lenskart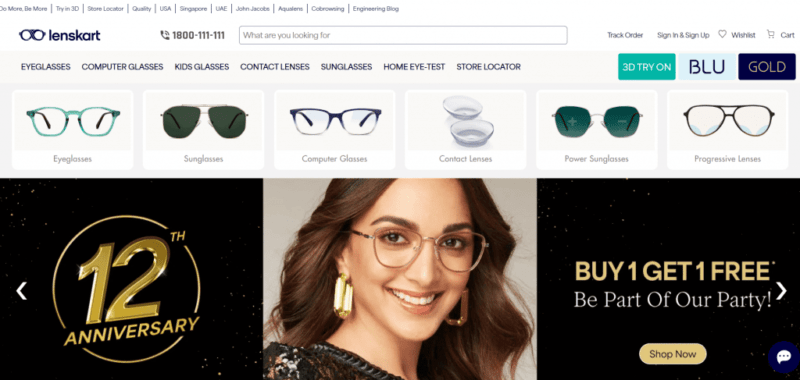 Lenskart is a Faridabad-based company and India's first online optical store was founded in 2010 and has made it easy to obtain a top-quality pair of glasses with prescription lenses. To provide a complete experience, the company also provides home eye exams, 3D try-on, and home trials to its consumers. The company claims that its omnichannel network serves over 7 million clients every year.
It has about 175 locations and nearly 1000 storefronts. According to the business intelligence platform Crunchbase, the company has raised more than $900 million. Bay Capital, Chiratae Ventures, SoftBank Vision Fund, Temasek Holdings and others are among its investors. Read on to know more about Lenskart net worth.
The company also paid $400 million for Japanese eyewear business OWNDAYS in June 2022, which is expected to help it grow throughout Southeast Asian markets. According to Bansal, the Owndays acquisition is a big step toward the company's goal of establishing an Amazon or Maruti-like business group. Lenskart is also nearing the completion of its production factory and is expected to play a significant role in the supply chain to service orders from this unit. Read on to know more about Lenskart price.
Lenskart Net Worth
Looking at the positive turnover of the company and its net worth, multiple investors have shown interest in the company. To this date, there have been 15 funding rounds. And in the next three years, the company will actively work towards issuing an initial public offering. Read on to know more about Lenskart valuation.
On June 9, 2022, it raised $28.2 million, and on August 8, 2022, it raised $12.5 million from the Ravi Modi Family Trust increasing Lenskart net worth. The well-known eyewear startup has set aside 4,79,037 Series I CCPS for consideration for $12.5 Million (INR 99.9 Cr). This round of finance is a continuation of the Series I round from which the company previously received funding totaling about $166 million.
The Peyush Bansal-led business recently raised close to $28.2 million from Avendus Future Leaders Fund II on June 9, 2022, which was not a sizable funding round, according to Lenskart's most recent report. For the $28.2 million in investment, it has allocated 1,053,882 Series I CCPS. But it's also possible that this investment may be a part of a larger round that will be distributed in installments.
On April 11, 2022, Alpha Wave Incubation launched a $100 million fundraising round for the company (earlier known as Falcon Edge). The same (Series I) financing, which was led by Epiq Capital, received an additional $25 million on April 27, 2022. By issuing 910,412 Series I preference shares at an issue price of US$ 25.20 per share, at a valuation of $4.32 billion, the unicorn eyeglasses retail chain and eCommerce startup raised US$23 Million from Epiq in the second tranche of the Series I round. Read on to know more about Lenskart price and valuation.
On July 19, 2021, Temasek and Alpha Wave Global led a prior $220 million fundraising round for it. Before that, the business experienced two previous key rounds: the Secondary Market round, in which it raised $95 million; and the Series G round investment round, sponsored by SoftBank Vision Fund, for $275 million on December 20, 2019. For 15 rounds of fundraising, Lenskart has raised $979.7 million in total. On November 18, 2022, a Series I round of funding was the latest funding round.
Also Read: Harshad Mehta Net Worth, Stocks, Scam

Lenskart Valuation
Based on the recent funding rounds, the Lenskart valuation is over $4 billion. The reason why this parameter is checked is that based on this value, investors assess whether they want to invest in the stock or not.
The process of valuation is used to establish the stock's actual value. This decision is determined after considering several factors to determine if the company is overvalued, undervalued, or valued equally. It is computed by subtracting the owed external liabilities from the fair value of the business's assets. Finding fair value is crucial in this situation, particularly for assets, as it might vary greatly from acquisition value (for non-depreciating assets) and recorded value (for depreciating assets).
The Abu Dhabi Investment Authority (ADIA) is currently in advanced talks with Lenskart and its current stakeholders for an investment of $350-400 million, which would be the largest funding round for the omnichannel eyewear retailer.
With a modest primary round of growth equity at a $4.5 billion valuation, the investment will primarily be made through the secondary selling of shares. After all, is said and done, ADIA will own close to 10% of Lenskart.
Before the year 2022 comes to an end, a final announcement is anticipated regarding the status of the investment by the interested parties. Read on to know more about Lenskart revenue.
Lenskart Revenue
After seeing flat growth in FY21, Lenskart produced a 66% increase in operating revenue over the previous fiscal year. Growth did not come without a price, though, as the business experienced a loss in the fiscal year ending March 2022. On a consolidated level, it is anticipated to be profitable in FY23 and is on target to produce 50% growth in the India business alone.
According to its annual financial statement, Lenskart's operating income increased 66% to $182 Million in FY22. According to documents with the Registrar of Companies (RoC), the sale of eyeglasses items has been its primary source of income, accounting for roughly 94.3% of the company's overall operating revenue in FY22. Subscription revenue increased by 14%, and in FY22, Lenskart revenue from leases, website license fees, scrap, and customer support fees totaled $4 Million.
The Piyush Bansal-led business suffered a loss of $12 Million in FY22 due to an increase in costs of over 72%. At the end of the previous fiscal year, the company recorded a profit of $3.5 Million (FY21) increasing overall Lenskart price.
The company's cash outflow from operations surged by 56% to $22 Million in FY22 as spending skyrocketed. While a glance at the company's financial statements will reveal that rising procurement prices are a major factor in the losses that were recorded, the firm's development into Tier 3 and Tier 4 cities, a crucial component of its growth strategy, would also have increased costs. If market conditions allow, a return to profitability seems only early in FY24, perhaps just in time for an IPO.
| | |
| --- | --- |
| NAME | Lenskart |
| Founder/CEO | Piyush Bansal |
| Net worth | $2.5 billion |
| Valuation | $4 billion |
| Revenue | $182 million |
| Stock price | – |
Owner Net Worth
Peyush Bansal, CEO, and co-founder of Lenskart rose to prominence following his stint on Shark Tank India. He co-founded with Amit Chaudhary and Sumit Kapahi in 2010. His company is worth more than Rs 37,500 crore ($5 billion), with a post-funding Lenskart valuation of $4.3 billion. Under the right leadership of Mr. Bansal, the company expanded from selling contact lenses online to selling eyeglasses and contact lenses within a year.
Lenskart owner net worth, Peyush Bansal, is around Rs 600 crores (approximately $73 million) at the age of 36. He founded the company in November 2010, and a decade later, the company has over 500 locations in 70 Indian cities and is the country's top eyewear brand.
Peyush Bansal is a McGill University graduate with an MPEFB Management degree from the Indian Institute of Management in Bangalore. He worked as a Program Manager for software giant Microsoft after graduating in 2007 but returned to India a few years later to establish his firm. Peyush has tried a couple of other business concepts before Lenskart, but they all failed.
He has invested a sizable amount in companies like dailyobjects.com and Feedo apart from other Shark Tank India businesses.
Also Read: MBA Chai Wala Net Worth, Franchise Cost, Business

Competitor Analysis
Both online and offline players are competitors of Lenskart. With firms like Bausch and Lomb, Coolwinks, Deals4Opticals, GKB, Lawrence and Mayo, Specsmakers, Titan Eye Plus, and Vision express, the competition in this market is undoubtedly escalating. Some manufacturers, including Ray-Ban and Essilor, have internet stores of their own. Additionally, eyewear sellers on e-commerce sites like Amazon, Flipkart, Paytm Mall, and Snapdeal compete with it directly by affecting sales.
With a market of US$2.1–US$2.4 billion, organized players only make up 9–10% of it, therefore there are many growth opportunities.
However, convincing customers to abandon traditional stores in favor of Lenskart's online store is the most challenging task the company faces. The company needs to change people's perceptions about eyewear and instill confidence in them by showing them that they provide high-quality products at lower costs than its brick-and-mortar rivals. Lenskart intends to use the funds obtained to increase its footprint both domestically and internationally.
In 2021, Lenskart increased its global presence in Singapore, the United States, and the Middle East. In addition, in June 2022, it bought the majority of Owndays in Japan, forming one of Asia's largest online eyewear merchants. The company's long-term goal for the following five years is to have 50% of India using its glasses.
As a leading eyewear retailer in India, Lenskart has experienced significant growth and success in recent years. Its strong revenue streams and expanding customer base suggest a promising future for the company.