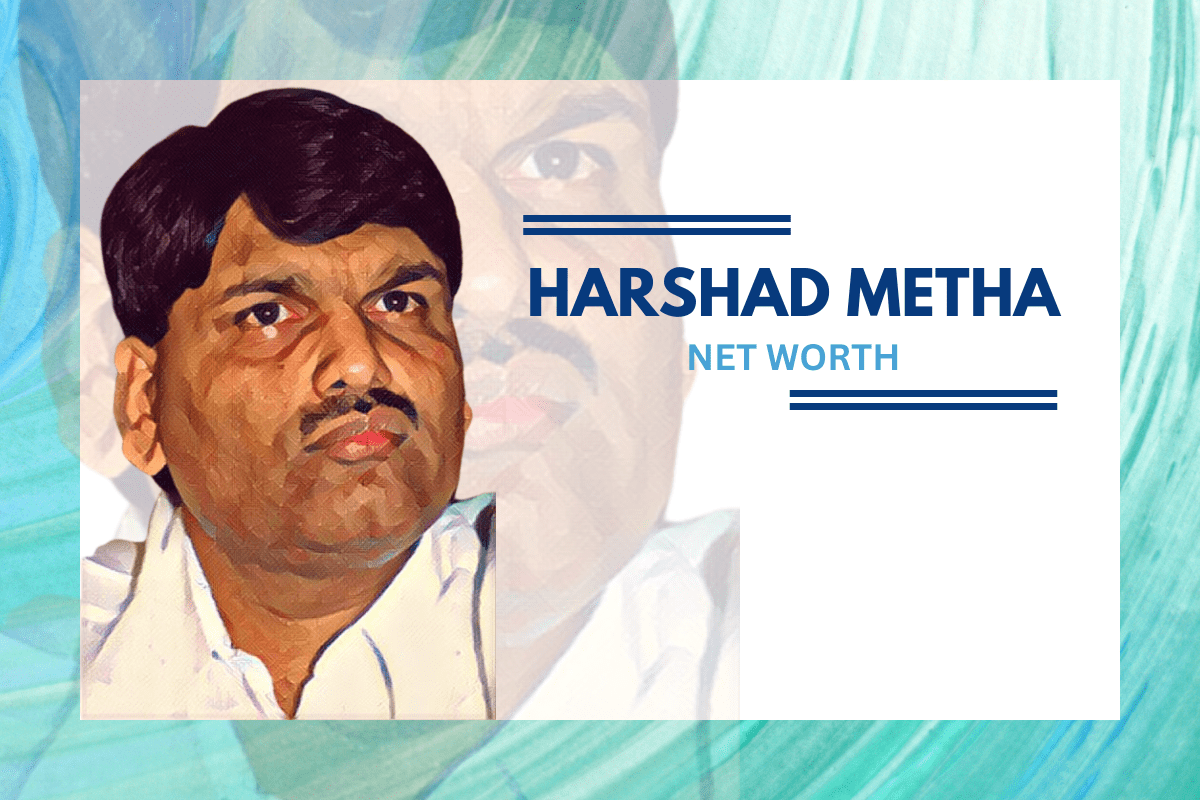 Almost 30 years have passed since the 1992 securities fraud was discovered, one of the most infamous financial scandals in Indian history. The name Harshad Mehta is often associated with it. His story revolves around the world of stocks, investments, and deceit. With a complex web of manipulations and fraudulent activities, Mehta managed to capture the attention of the nation and leave a lasting impact on the Indian financial system. While his wealth and involvement in the stock market remain controversial, he has always remained a subject of interest for many. In this article, we will look at Harshad Mehta net worth and stocks owned by him.
Harshad Mehta Net Worth, Stocks, Scam
You can refer to him as a good stock picker, a flawed genius, or a con artist who is adept at taking advantage of weaknesses in systems. No broker in the Indian stock market, however, will ever have the same popularity and following as Harshad Mehta did. Let us learn more about this maverick.
About Harshad Mehta
On July 29, 1954, Harshad Shantilal Mehta was born in Rajkot, India. He was a stockbroker who earned the nicknames "The Big Bull" and "Amitabh Bachchan of the Stock Market" for his propensity for taking chances. Despite being a Rajkot native, Harshad Mehta spent his formative years in Mumbai before moving to Raipur. He went to Janta Public School in Bhilai.
After graduating from high school, he moved to Mumbai to pursue higher education and a job. He graduated from Lala Lajpatrai College with a commerce bachelor's degree. Harshad held a variety of professions, including selling cement and sorting diamonds. He soon developed a passion for the stock market and started working as a jobber. Read on to learn about Harshad Mehta stocks.
Harshad had been actively investing in the stock market since 1986. With the financial support of his coworkers and associates, he also started his brokerage business, 'Grow More Research and Asset Management', with his brother, Ashwin Mehta. He and his business gained popularity fast, flourished, and finally rose to the position of the highest advanced taxpayer in India. Read on to learn about Harshad Mehta scam.
Personal Life
Businessman Shantilal Mehta and Rasilaben Mehta are Harshad's parents. Sudhir Mehta, Hitesh Mehta, and Ashwin Mehta are his three siblings (Advocate). He was married to Jyoti Mehta, and the two of them had one son named Atur Mehta. Ashwin Mehta, Harshad's brother, graduated from law school in his mid-50s. He is presently an attorney for the Supreme Court and the Mumbai High Court. Learn more Harshad Mehta son net worth.
Harshad Mehta Net Worth
https://www.youtube.com/watch?v=rjfo_ap95WA
Harshad Mehta net worth before his passing was $475 million. The company was previously co-managed by Harshad and his brother Ashwin Mehta. According to reports, Ashwin waged a lone battle to cleanse his brother's name, handing up almost 1700 crores to banks to pay off all debts and NPAs. When he was alive, the fraud he started cost people money totaling Rs. 3542 crores ($475 million)! As a result, even though many people lost all of their fortunes, his net worth rose tremendously.
Harshad Mehta Scam
In 1992, he was accused of securities fraud, which put a stop to his bull run. The Securities Scam of 1992, perpetrated by Harshad Shantilal Mehta, exposed systemic flaws in the nation's banking system and prompted broad stock market reforms. By fraudulently collecting funds from various institutions using fake bank receipts, Harshad Mehta was able to influence equities. He established a vicious circle of fraud involving well-known institutions like the National Housing Bank and the State Bank of India (SBI).
The 1992 Harshad Mehta scam, which cost close to Rs. 4,000 crores but cost over Rs. 20,000 crores after accounting for inflation, drastically altered the stock market. The Sensex rose from slightly over 1,000 points to close to 4,500 points between April 1991 and 1992. During this time, Harshad Mehta also transferred thousands of crores of bank-obtained funds to the stock market. The stock market saw a significant transformation, including a shortening in the settlement period, a minimum balance requirement, and internet trading, among other things. Harshad Mehta has manipulated equities using banking loopholes.
When it was revealed that SBI had Rs. 500 crore missing from its accounts in the form of a Subsidiary General Ledger (SGL) at the RBI's public debt office, Harshad Mehta's downfall officially began. This inconsistency prompted the Janakiraman Committee, a Joint Parliamentary Committee created by the Central Bank, to conduct a more thorough inquiry. Mehta had exploited a "shortcut" that the banks had been using to deal in government securities.
How the Scam worked?
For numerous banks that wished to transact in government securities in violation of RBI regulations, Harshad Mehta served as a broker. For instance, Harshad Mehta would contact both banks as a broker if one bank wanted to sell securities and the other wanted to acquire them. The cycle grew as Mehta increased his use of fictitious bank receipts in his dealings with several banks.
He was charged with misappropriating about Rs. 2.5 billion from the public sector Maruti Udyog Limited (MUL), which led to his conviction. A large number of bank staff, brokers, bureaucrats, and even politicians were implicated in the well-known fraud. More than 600 civil lawsuits were filed against Harshad Mehta and his family members in addition to 76 criminal charges. Read on to learn more about Harshad Mehta property and assets.
Property and Assets
Due to his tremendous stock market success, Harshad purchased a 15,000-square-foot penthouse in Worli that faces the sea. Additionally, it had a swimming pool and a private golf course. He also had apartments 202 and 301 in the Vandana Cooperative Housing Society (CHS), which is situated on Janki Kutir Road in Juhu. Both the Harshad Mehta property is 1,150 square feet in space and both of them are sea-facing.
The publications also included coverage of Harshad Mehta's collection of automobiles, including the Toyota Corolla, Toyota Sera, Mercedes Benz W126, and Lexus LS400. Even the wealthiest Indians at the time did not possess one of them because they were one of the costliest automobiles available.
Stocks and Investments
According to corporate shareholdings disclosed for December 31, 2022, Mehta owns 2 stocks publicly of around Rs. 176.6 Cr which also imparts the value to Harshad Mehta net worth. Here are some of the Harshad Mehta stocks he bought in and attempted to manipulate:
Reliance Industries Limited: He had, surprisingly enough, invested in this Ambani-run business. The stock had a price of Rs. 53 per share in 2002. A share currently costs Rs 2507, representing a multibagger return of 4,629.67% over the previous 20 years.
ACC Limited: A few years after the scandal started, in January 2000, ACC Limited shares were trading for Rs. 241 each. The stock now has a market value of Rs 2,224. The stock has given its stockholders a return of 2,437.41%.
Apollo Tyres: When Harshad Mehta invested in these stocks, the share price of Apollo Tyres Limited was Rs. 17. From there, it shot up to the present share price of Rs. 219, with a return of 3,227.01%.
Tata Steel: Back then, the company's shares were priced at Rs 9 each. From that point on, Tata stocks increased until they reached the present level of Rs. 107, yielding a multibagger return of 1,451% over 22 years.
| | |
| --- | --- |
| NAME | Harshad Mehta |
| Net worth | $475 million |
| Monthly Income | $ 1.5 million |
| Yearly Income | $ 18 million |
| Wealth | Rs. 3542 crores |
| Properties owned and their valuation | Rs. 32.6 crores |
| Miscellaneous assets and their valuation | Rs. 176.6 crores |
Who Exposed Harshad Mehta?
The opulent lifestyle of Harshad Mehta piqued journalist Sucheta Dalal's interest. She was particularly intrigued by Harshad Mehta's assortment of vehicles. In India in the 1990s, the Toyota Corolla, Lexus Starlet, and Toyota Sera were extremely rare and unattainable even for the wealthy.
She continued to be interested, so she looked into how Harshad Mehta acquired his riches. On April 23, 1992, Sucheta Dalal revealed the Harshad Mehta scam in the Times of India's columns. This article will throw light on the Harshad Mehta stocks that he invested in which turned into multibaggers.
Also Read: Gautam Adani Net Worth, Share Price, Controversies
Harshad Mehta Son Net Worth
Atur Harshad Mehta is also known as Atur Mehta. He is his late father, Late Shri Harshad Mehta's sole child. The main reason for Atur Mehta's fame is his father. The mainstream media doesn't have a lot of information regarding the remaining members of Atur Mehta. However, based on material found online, Atur Mehta shares his father's professions as a stockbroker and investor.
Atur Mehta, Harshad Mehta's son, distanced himself from social media after his father's passing. Because of this, nobody is certain of his current address or present way of life now. As of 2022, Harshad Mehta son net worth is around 6 Crores.
Harshad Mehta's financial endeavors, including his involvement in stocks and the infamous scam, had a significant impact on India's financial landscape, leaving a lasting legacy that continues to be discussed and analyzed. His net worth and stock portfolio reflected his success and influence in the financial world.