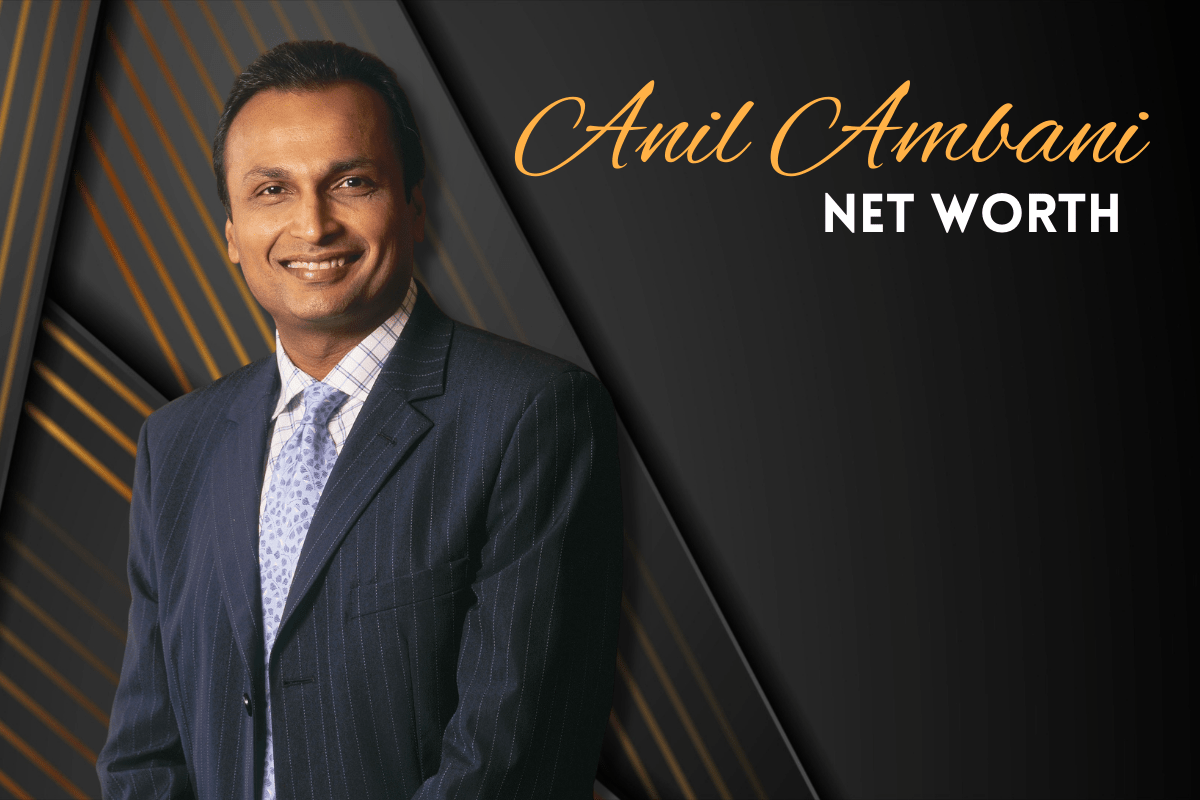 Anil Ambani, a prominent figure in the business world, was once renowned for his substantial net worth and successful ventures. With a diverse portfolio of companies under his leadership, he had carved a prominent place for himself in various industries. Once among the richest men in the world, Anil Ambani is currently facing a dire financial predicament. As in 2019, he was engulfed in debt totaling billions and the value of all shares of his company plummeted. Within a few years, Anil Ambani net worth has rapidly decreased. In this article, we will inform you about the current situation of his companies and income per day.
Anil Ambani Net Worth, Companies, Income Per Day
In 2008, Anil Ambani, who had inherited his wealth and had been named chairman of the Reliance Anil Dhirubhai Ambani Group, rose to become the 6th richest person in the world, according to Forbes, with a net worth of $42 billion (Reliance ADAG). But with time and due to poor choices, he lost most of his wealth. Let us learn more about him.
About Anil Ambani
Anil Ambani was born on June 4, 1959, in Mumbai, Maharashtra. He is the younger son of the founder of Reliance Industries, Dhirubhai Ambani, and his wife Kokilaben. His older brother is businessman Mukesh Ambani. Also, Nina Ambani Kothari and Dipti Ambani Salgaocar are his two sisters. Anil Ambani earned his B.Sc. from Mumbai's Kishinchand Chellaram College before continuing his education at the University of Pennsylvania, where in 1983 he earned an M.B.A. from the famed Wharton School.
He went back to India and worked with his father, Dhirubhai Ambani, in the CEO position. Anil Ambani took over the day-to-day administration of the company's financial ties under his father's supervision after his father had a stroke in 1985.
After their father passed away in 2002, he and his brother Mukesh Ambani shared management of the Reliance businesses. Kokilaben Ambani, the brothers' mother, decided to divide Reliance's assets through a noncompetition agreement in 2005 as a result of the brothers' power struggles.
All the Anil Ambani companies acquired after asset division are telecommunications, power generation, and financial services divisions through a demerger, while Mukesh Ambani seized control of Reliance Industries Limited and its more conventional operations. The brothers decided in 2013 to combine their firms' communications networks in their first significant cooperation endeavor since 2005 after modifying the non-competition agreement in 2010. Read on to know more about Anil Ambani property.
Other Investments
Ambani made his entry into the entertainment business in 2005 when he bought the majority of Adlabs Films, a business with interests in film production, exhibition, and digital cinema. In 2008, Ambani's entertainment firm was given a global platform through a joint venture valued at $1.2 billion with Steven Spielberg's production house DreamWorks. He helped in the creation of numerous Steven Spielberg movies, including Lincoln, which won an Academy Award. Read on to know more about Ambani total money.
The reality of Ambani's allegation that he is bankrupt and has no net worth before a UK court in February 2020, is still up for debate. Between 2004 and 2006, he also served as an Independent MP from Uttar Pradesh in the Rajya Sabha. He is married to the actress Tina Munim, and the couple has two sons, Jai Anmol and Jai Anshul Ambani. Read on to know more about Ambani total money.
Anil Ambani Net Worth
Currently, Anil Ambani net worth is USD 0 Million. In 2007, Forbes reported that Anil's net worth was $45 billion. His brother, Mukesh Ambani's net worth has grown more than nine times since 2006. Anil Ambani claimed that he has declared bankruptcy and had no net worth before a UK court in February 2020. Back in the day, Anil Ambani average annual income is 186 Crores and Anil Ambani income per day is 50 Lakhs. Read on to know more about Anil Ambani companies and assets.
Total Money of Ambanis
Reliance Industries, a family-run corporation that was founded by Dhirubhai Ambani, is the foundation of the Ambani family's fortune. Since that time, Mukesh and his family have amassed incredible fortune, but Anil is unable to work due to mounting debt. Children of the two brothers who are working in the family company must also work to support themselves. Here is the Ambani total money:
Mukesh Ambani: USD 88 Billion
Nita Ambani: USD 40 Billion
Anil Ambani: Nil
Tina munim: USD 3 Billion
Isha Ambani: USD 100 Million
Akash Ambani: USD 40 Billion
Anant Ambani: USD 40 Billion
Jai anmol Ambani: USD 3.3 Billion
Jai anshul Ambani: USD 3.3 Billion
Also Read: Gautam Adani Net Worth, Share Price, Controversies
Companies and Assets
Anil has businesses in the telecom, entertainment, banking, power, and infrastructure sectors. here is a list of Anil Ambani companies under him:
Reliance Health
Reliance Power
Reliance Entertainment
Reliance Capital
Reliance Infrastructure
Properties
Anil Ambani and his family occupy their opulent home, a 17-story building on Pali Hill in Mumbai. Before relocating to their ultra-luxurious mansion, Antilia, Mukesh Ambani and his wife Nita Ambani also resided at this residence. Their mother Kokilaben stayed with son Anil Ambani and his family after Mukesh ambani and his family moved into their new home. It is a large property with a 16,000-square-foot footprint.
The structure has a helipad with a few helicopters on it. This Anil Ambani property also has all of the deluxe amenities, such as an open swimming pool, a gym, and a sizable garage that showcases the family's collection of high-end vehicles. This opulent property, which is estimated at Rs 5,000 Crore, is among the costliest residences in India which matches Anil Ambani net worth before it became zero.
Mr. Ambani use to own one of the largest collections of luxury automobiles in the world, which includes models from Mercedes Benz, Range Rover, Audi, BMW, Lamborghini, Rolls Royce, and Jaguar.
| | |
| --- | --- |
| NAME | Anil Ambani |
| Net worth | $42 billion (before becoming Rs. 0) |
| Monthly Income | – |
| Yearly Income | Rs. 186 Crores (before becoming Rs. 0) |
| Wealth | Rs. 0 million |
| Properties owned and their valuation | Rs. 5,000 Crores (before becoming Rs. 0) |
| Miscellaneous assets and their valuation | $1.2 billion (before becoming Rs. 0) |
Reasons for Downfall
Anil Ambani had to deal with the effects of the 2008 financial crisis, which was the first of many difficulties that lay ahead of him. His financial success was greatly aided by Reliance Communications, although it struggled to compete in the telecommunications sector and was finally shut down in late 2017. This was due to the company's inability to upgrade to 4G networks, its debt trapped situation, and its reliance on risky commercial ventures to stay alive. This article will help you understand the reasons why Anil Ambani income per day dropped drastically.
Anil Ambani purchased Pipavav Defense, which already had debts of Rs. 7000 crores, in a catastrophic move. Additionally, due to Pipavav's failure to pay its debt, IDBI Bank and IFCI brought it before NCLT for insolvency action. In addition to these two Anil Ambani companies, losses were also being incurred by Reliance Infrastructure, Reliance Capital, Reliance Home Finance, and Reliance Power. Due to his loan defaults, Anil Ambani's relationships with other banks and lenders were also harmed. He was eventually hauled before the courts, where he filed an appeal and claimed that he had run out of assets to sell.
Anil Ambani seemed to have experienced everything, from his journey from riches to rags to dealing with court summonses and attempting to pay off his obligations. Anil Ambani net worth has fallen from Rs. 4 lakh Crore after the financial crisis of 2008 to Rs 0.
Experts have claimed that his poor business judgment and incapacity to compete in a cutthroat economic environment were to blame for this sudden collapse. Anil Ambani's financial situation has resulted in bankruptcy, significantly impacting his net worth. His situation appears to be far from ending, and only time will be able to reveal what lies ahead for him.