Mamaearth is a famous Indian brand that offers a wide range of natural and organic personal care products. Founded in 2016, the brand has quickly gained popularity among consumers looking for safe and effective alternatives to traditional chemical-laden products. In this article, we will inform you about Mamaearth Net Worth, its founder, share price and valuation.
Mamaearth Net Worth, Valuation, Revenue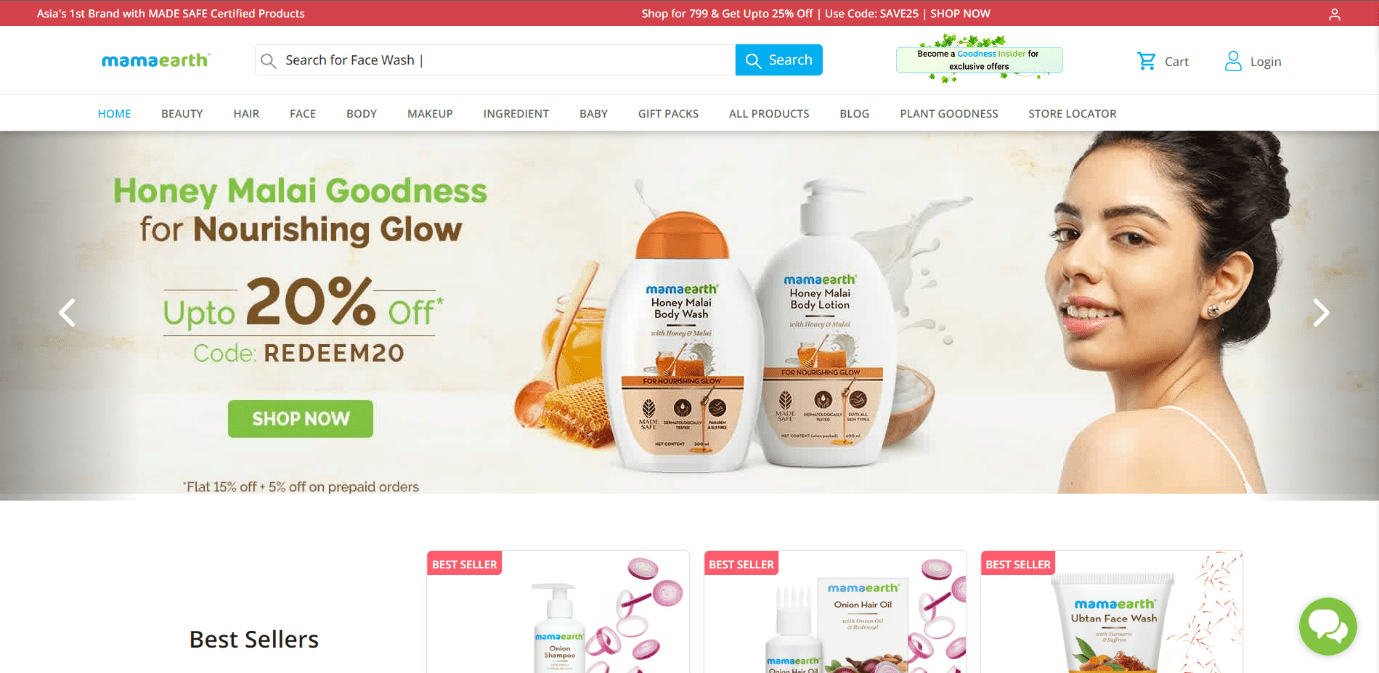 The brand's product line includes everything from skincare, hair care, baby care, and men's grooming products. Mamaearth's products are cruel substances free and have undergone dermatological testing to ensure their safety and effectiveness. Furthermore, the company is dedicated to sustainability and uses eco-friendly packaging materials.
| | |
| --- | --- |
| Company Name | Mamaearth |
| Founder | Ghazal Alagh and Varun Alagh |
| Net Worth | $300 million |
| Valuation | $730 million |
| Revenue | INR 952.4 crore |
| Stock Price | INR 684.40 |
About the Founders
Mamaearth was founded in 2016 by a couple, Ghazal Alagh and Varun Alagh. Both Ghazal and Varun are passionate about entrepreneurship and had prior experience in the e-commerce industry. Before it, they had founded and successfully exited a startup called 'Bemadly,' which was a social media marketing platform.
Ghazal, a mother, was inspired to launch Mamaearth after struggling to find safe and natural baby care products for her child. She saw a market gap for such products and wanted to create a brand that offered high-quality, natural, and safe products for both babies and adults. Varun, who worked in marketing and e-commerce, was eager to join her on this mission.
Mamaearth was ranked as one of the fastest-growing companies in India by the Financial Times, and the brand's co-founders, Ghazal and Varun Alagh, were featured in Forbes' 30 under 30 Asia list.
The company was founded by them with the goal of providing toxin-free personal care products that were safe for the entire family. It has grown rapidly under their leadership to become one of India's leading personal care brands.
Their dedication to providing safe and natural products, as well as their emphasis on sustainability and social impact, has resonated with customers and helped to establish Mamaearth as a trustworthy and dependable brand.
Mamaearth Net Worth and Growth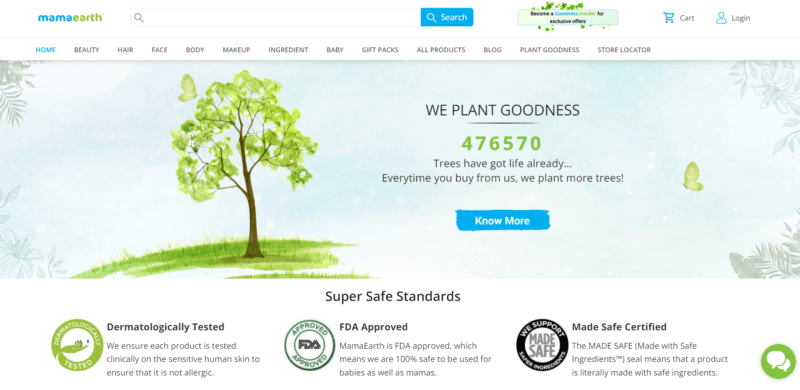 Mamaearth's rapid growth and success can be attributed to its unique product offerings, commitment to sustainability, and focus on social impact. In a short period of time, the brand was able to capitalise on the growing demand for natural and organic personal care products and establish itself as a trusted and reliable brand.
Mamaearth net worth is estimated to be around $300 million. The company has raised a total of $31.5 million in funding to date from various investors, including Sequoia Capital India, Fireside Ventures, Stellaris Venture Partners, and many others.
One of the reasons for Mamaearth net worth rapid growth in net worth is its ability to capitalise on the growing demand for natural and organic personal care products.
Consumers are becoming more conscious of the ingredients they use on their skin and hair, and they are looking for products that are both safe and effective. Another factor influencing Mamaearth's success is its emphasis on sustainability. The company uses environmentally friendly packaging materials and has implemented several initiatives to reduce its carbon footprint.
In a short period of time, the brand was able to capitalise on the growing demand for natural and organic personal care products and establish itself as a trusted and reliable brand.
With its ambitious plans for expansion and continued innovation, Mamaearth is poised to become a global leader in the personal care industry.
Mamaearth Revenue
Mamaearth, the D2C e-commerce unicorn, has turned profitable in the financial year ending March 31, 2022, with a net profit of INR 19.8 Cr on a standalone basis. This marks a significant improvement over the previous fiscal year, where the company had posted a net loss of INR 1,332.2 Cr.
Mamaearth is also advancing INR 1,000 crore in revenue, with total income raised to 101% to INR 952.4 crore in FY22, up from INR 472.1 crore the previous year.
Mamaearth's performance is particularly impressive given the challenges posed by the COVID-19 pandemic, and the brand's success serves as a testament to the resilience and innovation of the Indian startup ecosystem.
Mamaearth revenue impressive financial performance can be attributed to several factors, including its unique product offerings, focus on sustainability, and strong digital marketing strategy. Additionally, Mamaearth's partnerships with various NGOs and its focus on social impact have helped the brand build a loyal customer base.
Mamaearth Share Price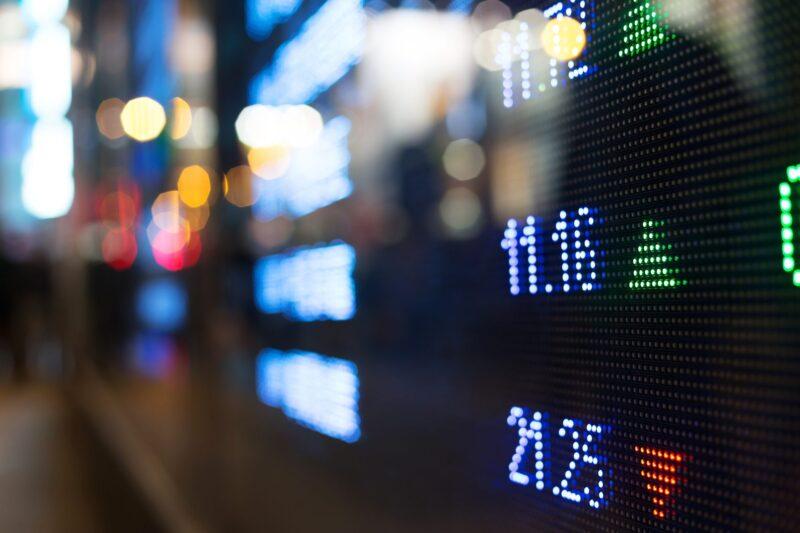 The company's strong financial performance and promising growth potential have made it an attractive investment opportunity, particularly for those interested in sustainable and socially responsible brands.
The startup's EBITDA (earnings before interest, taxes, depreciation, and amortization) margin improved significantly as well, rising from -280% in FY21 to 3.89% in FY22, highlighting the company's efforts to streamline operations and improve shareholder returns.
In February 2022, Mamaearth's shares were listed on the National Stock Exchange of India (NSE), providing investors with the opportunity to invest in the company. The IPO was oversubscribed by more than 2.4 times, indicating strong demand from investors.
Since the IPO, Mamaearth's share price has been on an upward trend, reflecting investors' optimism about the company's future prospects. As of March 2023, Mamaearth's share price is INR 684.40, up from its listing price of INR 565. The company's market capitalization is approximately INR 18,800 Cr, making it one of the most valuable startups in India.
Also Read: Lenskart Net Worth, Valuation, Revenue
Mamaearth Valuation
Mamaearth valuation has been increasing steadily since its inception. In its funding round in August 2021, the company raised $50 million in Series D funding led by Belgian investment firm Sofina, with participation from existing investors including Sequoia Capital India, Stellaris Venture Partners, and Fidelity International. This round of funding valued Mamaearth at around $730 million, making it one of the most valuable personal care brands in India.
The year 2022 was a satisfying year for the founders as they became profitable while closing onto their financials for the particular fiscal year. Honasa Consumer, the parent group of personal care brands like Mamaearth and The Derma Co, made the announcement in January, the first that the company had raised $52 million in a round led by Sequoia at a valuation of $1.2 billion, continuing the funding boom into the new year.
The founders are showing their ambition regarding Mamaearth valuation for the present year as they are trying to raise an amount close to $10-$12 million dollars at a valuation of whopping $3 billion dollars. As a publicly traded company, Mamaearth would be subject to greater scrutiny and transparency requirements. It would also need to balance the expectations of shareholders with its long-term growth goals.
Mamaearth is a prime example of a modern consumer brand that has successfully tapped into the growing demand for natural and sustainable products. The company's focus on transparency, quality, and ethical practices has helped it build a loyal customer base and win the trust of investors.
Mamaearth valuation is a mark for its future prospects and its revenue is appearing bright, with plans to expand its product portfolio, invest in technology and research, and expand its reach in India and internationally.