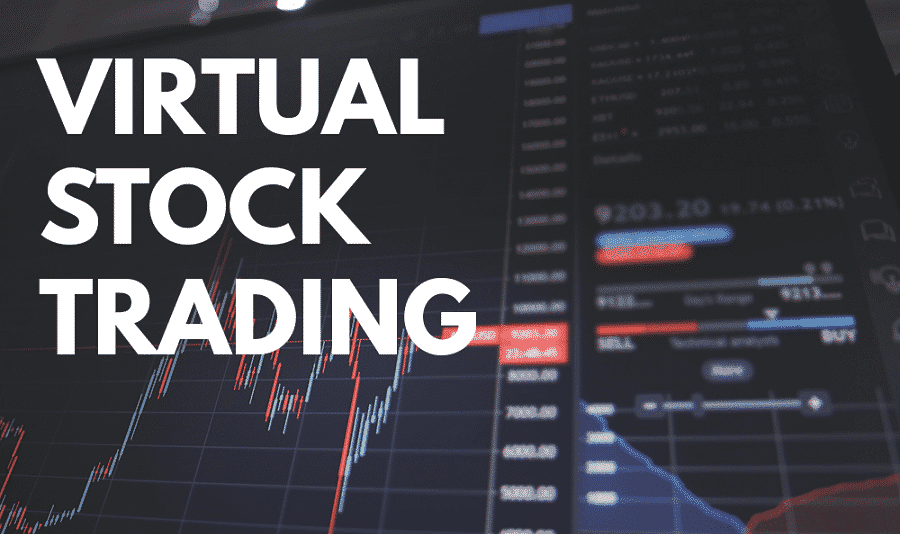 Are you an avid trader? Are you looking to hone your skills by knowing about virtual trading simulators?  If yes, then you are redirected to the right article, which will help you make the right decisions regarding the best virtual stock trading simulators for the Indian stock market. 
We understand it could be tedious for a beginner or amateur investor who has just entered the mutable stock market. One thing is indispensable and need not ignored if you have decided to join this unpredictable market, that stock market trading involves huge market risks, and there is always a risk of losing your money. One thing is for sure, and you must know that the risk can be minimized with your strategy of investing, knowledge, and experience, but can never be eliminated.
You might be wondering how we can solve this problem and make the risk minimal? Let's tell you that it can be achieved by using virtual stock trading programs.
It is always a good idea to learn before you jump into the immense and diversified stream of business. It will help you save a lot of money and help you gain a real experience of trading seamlessly.
Best Virtual Trading Simulators for Indian Stock Market
Now, before we hop on to the leading virtual trading simulators, let's look at what Virtual Stock Trading is and know in brief about Stock Stimulators.
What is Virtual Stock Trading?
The other name of Virtual Stock Trading is Paper Trading. It is not different from the actual trading as it involves buying and selling of stocks. The catch is it does not include any real money as the investment is made through virtual money. Furthermore, the platforms providing these virtual trading facilities are known as Stock Stimulators.
All the profits and losses are experienced in the virtual environment. It acts as a stimulator, which helps the trader to practice and become proficient in dealing in the stock market without using real money. These stimulators make the traders experience an environment that looks very similar to the real one. It overall enhances your practical experience with these stimulators and helps you intriguingly gain knowledge.
Using these simulators is one of the best ways to become develop your expertise by trying different strategies that too risk-free and then apply those strategies in the real-world stock market.
How Virtual Trading Stimulators Work?
You can fully operate virtual stock trading with the stock stimulators; however, one should know about how it works.
Listed below are the steps to use the stock stimulators platform:
The first step is to open an account on the virtual trading app or website and then register yourself to the stock stimulators.
Once you are done with the registration, you will get the virtual money, some random amount (let's suppose 10 lakh) in your virtual trading account.
You can utilize that amount to buy and sell the shares, the same way you do it in the real stock market.
Over the period, you will get to know that you are running on profits or losses.
Once you can gauge your performance, over a couple of days, you will get familiar with the procedure of how the stock market works.
When you think and become confident about your skills and potential, you may have developed gradually; then you can open a real trading account and start investing in the stock market with your real money
Benefits of Virtual Stock Stimulators
Do you want to know why you should use virtual stock platforms before diving into this erratic stock market? Here are the reasons why:
Stock stimulators act as a teaching tool, be it any kind of user, either an independent trader or a trading firm. If you want to learn stock trading for yourself or might be a teacher and introduce the online trading world to your students, the virtual trading simulator is an ideal, which can help you practice and develop your skills to an expert stock investor over time, without risking your money.
It is the best choice for novice investors who are new to the market and are not familiar with the terms and conditions and tactics of dealing in the stock market. It acts as an impeccable tool for building a framework for your future investment portfolio. It also helps you to analyze and process valuable data from wide-network different markets.
You are not required to maintain a trading journal to calculate the profits and losses.
You also do not need to go through any legal documentation process to open your account.
You can test complex trading strategies by using the stock stimulators. Once you have start virtual trading with complex trading strategies, taking a regular follow up will help you learn from your own mistakes, and you will be able to refine your strategy accordingly.
It also provides you with the opportunity to connect with third-party apps and other trading tools to build a personalized trading experience.
It also helps us to be in touch with the latest market trends by allowing you to subscribe to newsletters, investment portfolios, listening to finance podcasts, etc.
Drawbacks of Virtual Stock Stimulators
Here are some drawbacks of using these virtual stock trading stimulators:
No money risk is involved. Although it is an advantage, conversely, it can prove out to be a major disadvantage. As no real emotions are involved while investing in virtual trading, you will not do a comprehensive research before investing your virtual money. Also, you might not explore all the options and cannot build an excellent risk management system. It may lead you to suffer from real consequences when you start investing in the stock market with your real money.
The trade is unrealistic. As it is a replica of real-life experience, in a few cases, it may not be the same as real.
It may also get you allured towards an ingenuine sense of security. While using a stimulator, you might have had the luck of yielding magnificent results. This habit could prove out to be devastating for you when you start investing real money.
Mostly, virtual stock stimulators provide you with limited options and do not give you access to all trading parameters and possible securities.
The virtual stock trading makes you practice on a platform that does not have any adverse effects on external factors. Whereas, when you enter into the real stock market, an array of factors are responsible for the market's fluctuation and affect online trading. These factors are not taken into consideration when you invest in using stock stimulators.
7 Best Virtual Trading Simulators for Indian Stock Market
Our team of experts has done a careful review of all the recognized platforms that provide you with a virtual stock trading experience. Here are the top 7 virtual trading stimulators that are considered to be the best for Indian Stock Market:
1. TrakInvest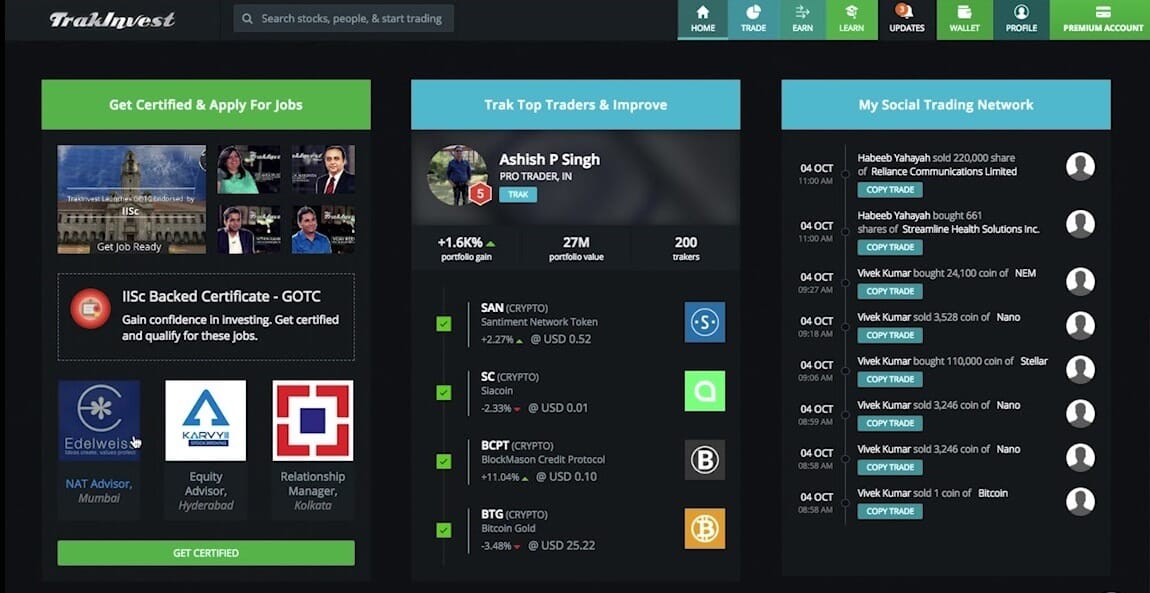 TrakInvest is an investment guide that helps in building up considering the novice investor's point of view. This platform is very convenient for the beginners to let them know about the basics of putting an order, tracking them, and making use of charts practically. Being an absolute beginner, this is the best platform that can help you deeply understand how the stock market works.
It acts as a virtual social equity trading programme which can be easily accessed on the mobile as well as desktop. You can develop your expertise and enhance your investing skills using this platform.
TrakInvest enhances the user experience by providing their customers with a curated market researched data and news from 10 exchanges. Besides, it also offers certification courses designed by industry experts, beginners' guides and videos, and simulations for competing for rewards.
Also Read: Top 25 Indian Companies by Market Capitalization
It also supports a useful feature that lets you track other trades and get information on their trading portfolio. Once you visit their portfolio, you can replicate their trades using a 'copy trade' facility. It also offers other features of high value, including Sentiment Analysis, Price Analytic Charts, Tracking, and many others.
Visit Now
2. Moneybhai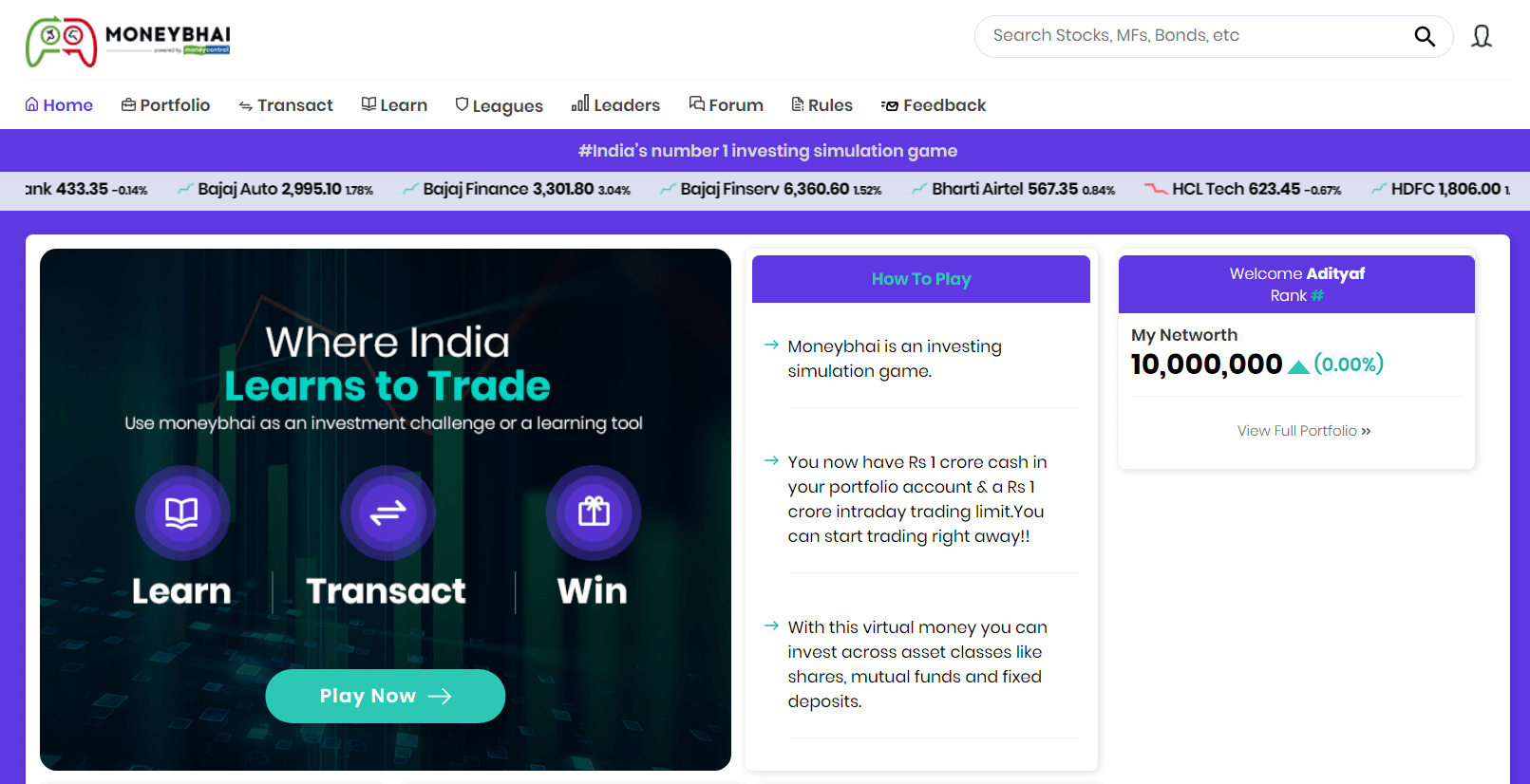 Moneybhai is one of the best virtual trading simulators for the Indian stock market. It is a free virtual trading platform that offers you one crore virtual cash once you register yourself on this platform. You can register yourself using your mobile number, Facebook, Google, and other email ids.
One of the best realistic features provided on this platform is that while you invest in any shares or commodities, it deducts an imaginary 0.50% of brokerage charge. Whereas, whenever you enter the real stock market, you need to pay these brokerage charges.
You can use all the cash to invest in shares, mutual funds, fixed deposits, and other commodities on the platform. This platform also provides you with a free forum where you can put your questions and queries, and even participate in the on-going discussion threads.
Over Moneybhai, you can interact with other players, invite your fellow traders, participate in trading competition league, and do much more, which is enticing and help you learn more than just the basics. This platform also allows you to win the investment challenge.
It also supports a couple of features such as creating a limit order, market order, GTD order, GTC order,  Short selling, and square off. Moneybhai also allows you to reset anytime and start again.
Visit Now
3. Dalal Street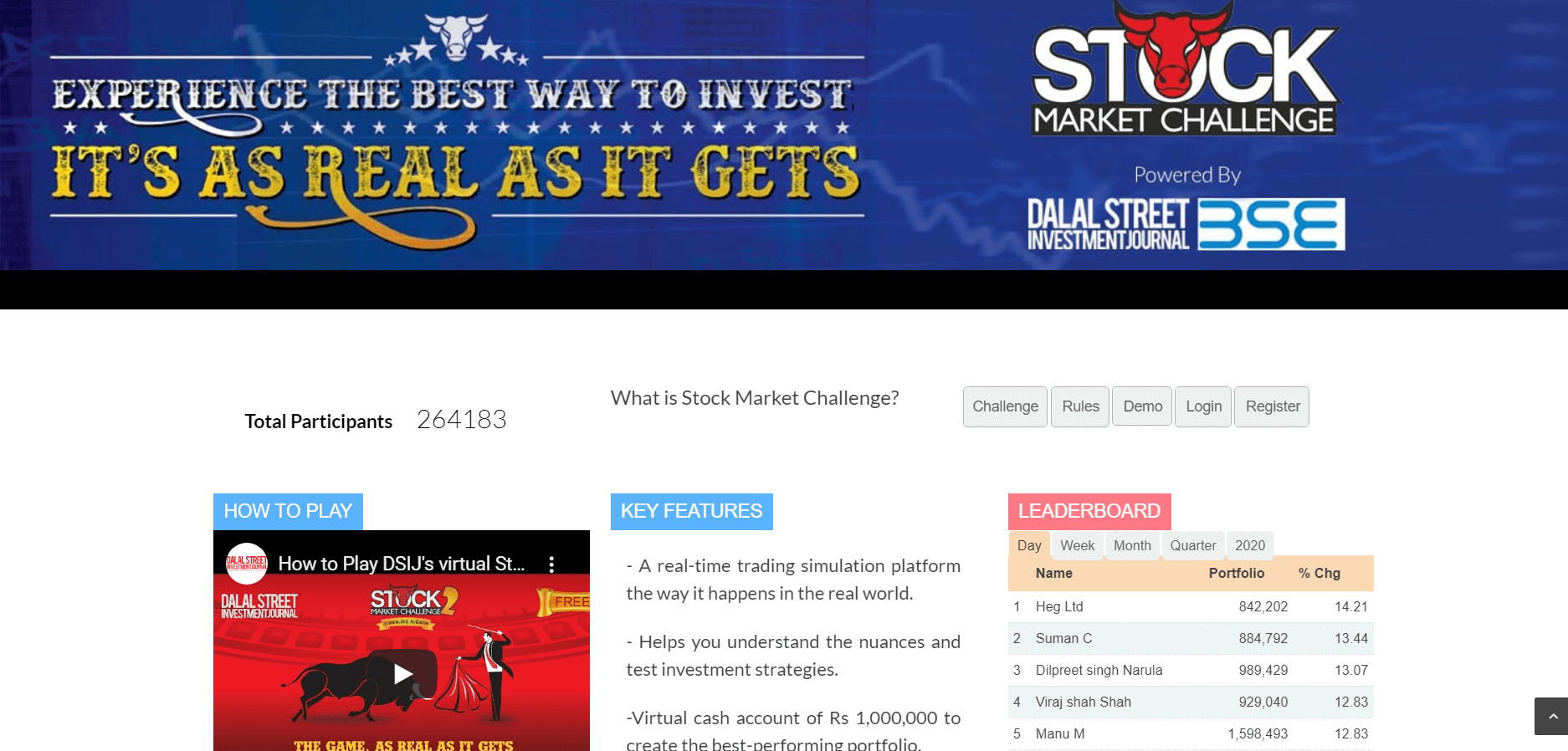 Dalal Street Investment Journal (DSIJ) is one of the most famous real-time trading platforms in India. The game is created by joint efforts of the Bombay Stock Exchange (BSE) and DSIJ. This platform enables you to trade stocks in real-time using a virtual portfolio. Once you are done with your registration, it provides you with 10 lakh virtual cash.
It lets you create your virtual portfolio in this game, which you can use further to participate in different leagues and sharing your thoughts with other traders.
It helps you get a comprehensive understanding of the different trading nuances and will test your investment strategies. Dalal Street also provides you with an opportunity to participate in a group chat or create your own group with like-minded people and discuss the strategies.
It is a fun game that allows you to compete with the best investors on this platform and lets you win prizes on the Dalal Street virtual trading game each day. As BSE plays a crucial role in this platform's establishment, Dala Street follows the BSE stock price.
Visit Now
4. Moneypot
The Moneypot is one of the best virtual trading simulators for the Indian stock market that provide an opportunity to learn the stock market basics to investors, students, and even corporates. It is a web-based stock market simulation game that is much entertaining and useful. Money pot aims at connecting an online investment community through a social trading platform.
It is very easy to sign up and register yourself. You just need to visit the website, will see a signup button at the top-right, just need to click on it, and you are all set to play the game. After signing up, you will get 2 lakh virtual cash that you can use further to trade and invest in shares, FD's, mutual funds, and other commodities.
Various institutions consider this platform ideal for the tutorial to make the students familiar with the Indian Stock Market basics. This platform also offers the prize if you turn out to be the leading traders. Also, it does not offer a stop loss facility.
Visit Now
5. Chart Mantra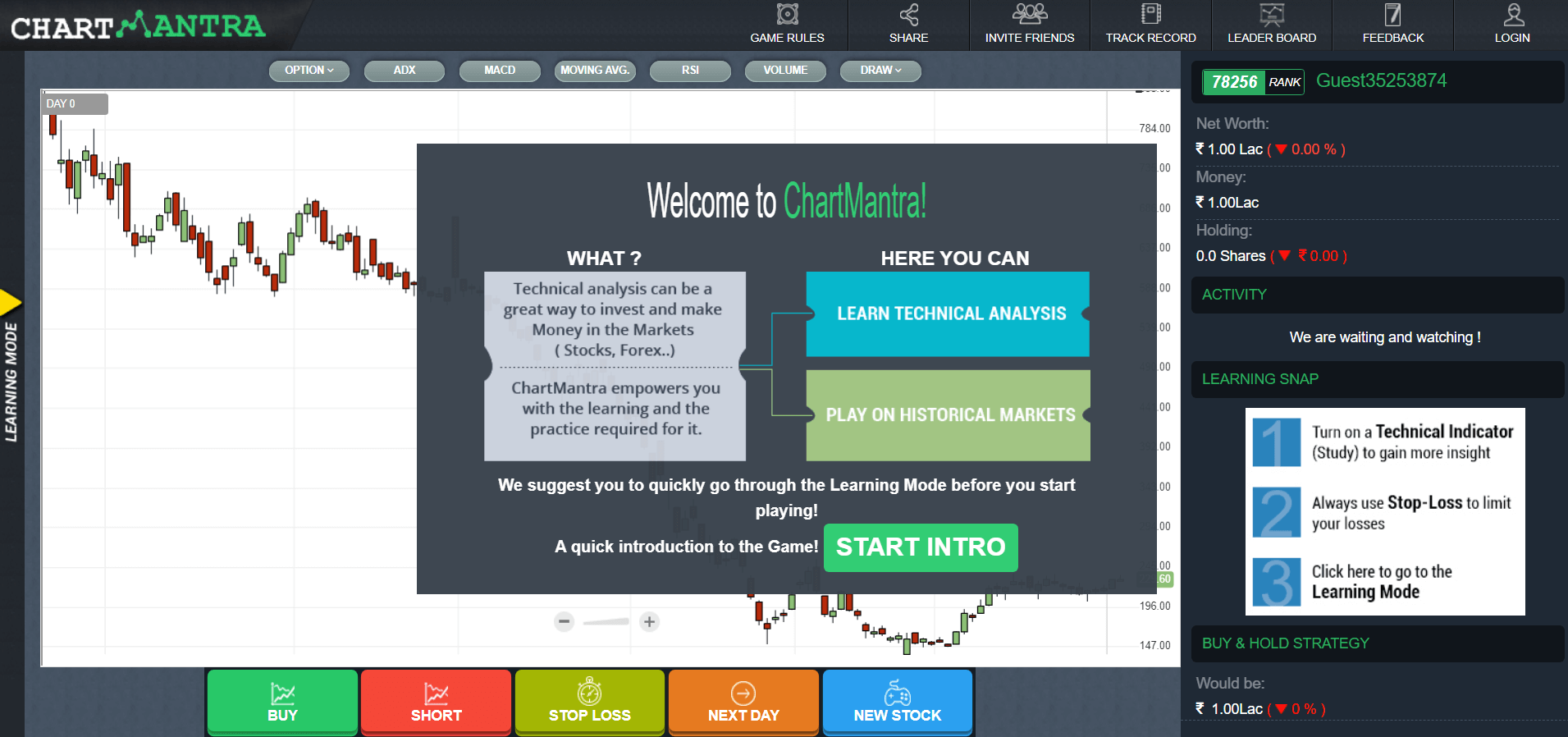 Chart Mantra is a free stock simulator game that is an analytical platform provided by economic times. It is one of the leading games for trading. This game enables you to learn the basics of technical analysis that is vital to carry out the activities in stock trading. You can apply your learning efficiently at the time you enter the real stock market.
It provides you with 1 lakh virtual cash at the moment you sign up for this game. You can easily sign up using your Facebook, Google, or Yahoo id.
Chart Mantra allows you to play on the historical market as the data offered here is historic. This platform will analyze your buying and selling activities, which helps you track your record and overcome your flaws before you apply that on your real-trading account.
This game provides you with the most realistic experience as it charges you 0.1% brokerage commission when you buy or sell the shares in the real trading market.
Visit Now
6. Wall Street Survivor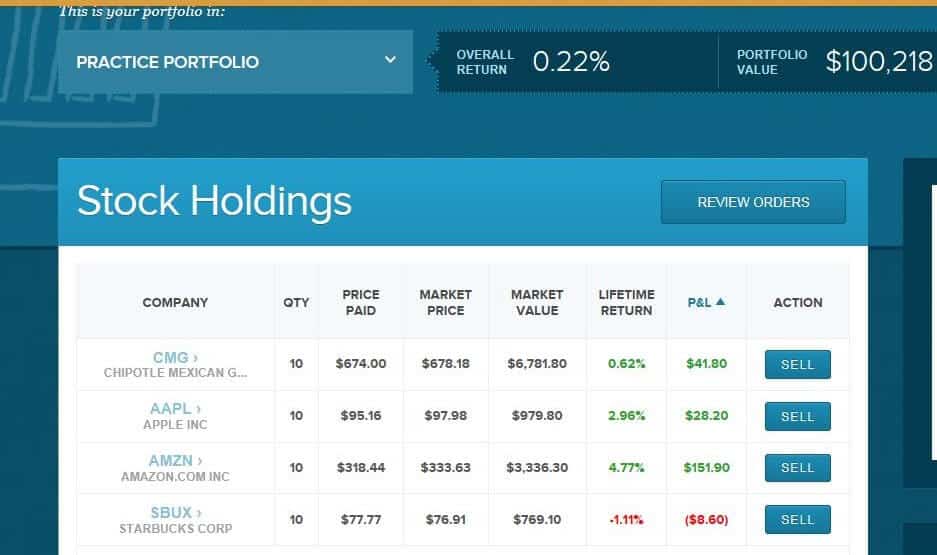 Wall Street Survivor is one of the most popular stock trading games that can let you know more than the basics about the stock market. The virtual stock trading platform provides you with real-feel experience and is based on the renowned financial district of New York City.
The app is equipped with the updated data and does not believe in the theoretical concept of teaching; instead, they provide their user with the practical experience that not only helps them learn better but faster. As the owners of Wall Street Survivor believe that investment is more like fun, challenging, and at the same time, a lucrative activity if it is made all the external factors.
This stock trading game provides you with a random amount of fake cash that you can use further to invest in real companies. As the stocks and companies mentioned on this platform are based on the real financial market. One of the best parts about this platform is that it does not let you invest in fake companies, which might not be realistic.
The platform provides you with the following things, including:
Training
Courses
Investment Advice
Beginners Guides
Community discussions
Competitions
You should try this platform if you want to gain practical knowledge through excellent tutorials that will help you improve your skills and decision making power.
Visit Now
7. Market Watch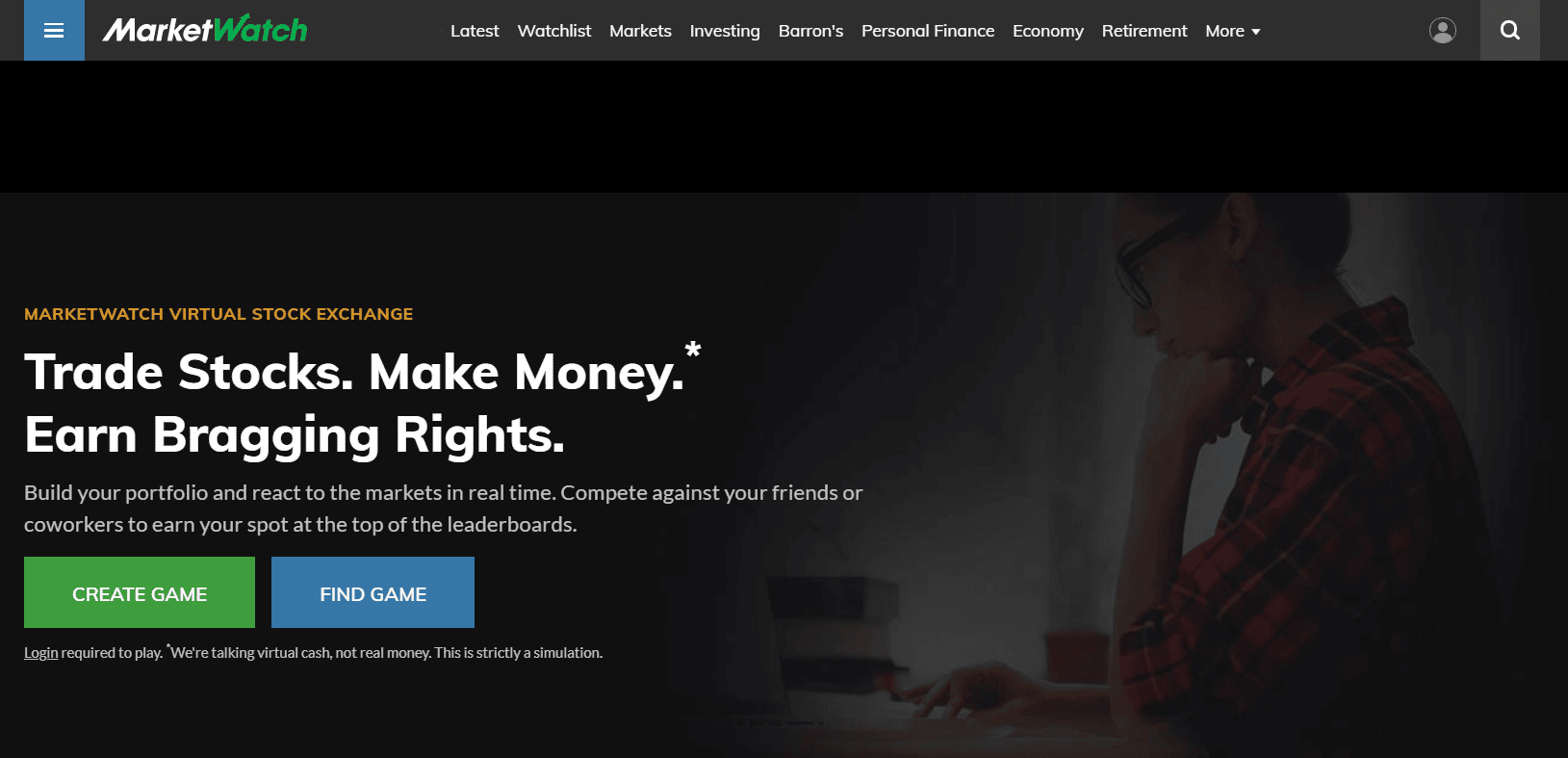 Market Watch is another superlative platform that helps you enlighten about the stock market's basics and facilitates in witnessing a real-time experience.
One of the coolest features of this platform is that you can create your own game and find a pre-existing game. It also provides you with several exclusive features such as:
Create watchlists
Create a virtual portfolio
Join custom-built games as per your needs
Participate in various discussion groups to explore the most efficient strategy
Use advanced features like limit and stop-loss orders
This virtual stock trading game will brief you about the stock market. Once you have used this platform for a few days, it will help you gain all the crucial aspects you need to know before buying and selling stocks with your real money.
Visit Now
Final Thoughts
Still, wondering how to get rid of those clumsy books to learn the basics about the stock market? With the help of all these efficient stock stimulators that makes it a fun activity and very interesting for you to gain insights into the real stock market. As the stock stimulators help you learn by exhibiting practical tutorials, unlike the books.
Nothing can beat the magnificent idea of minimizing your risk before entering into the real-world stock market by learning and practicing the trading with the help of all the above-mentioned platforms. Numerous games are available in the market, however, these platforms will astound you with real-life experience, as they are really close to the real trading norms.
That's it, we hope the above guide was helpful and you were able to go through the Best Virtual Trading Simulators for Indian Stock Market listed above. For any suggestions or feedback, you can write down to us in the comments section.