Quarters have become a popular choice among coin collectors, and because of this, their value has increased immensely. Do you know that numerous modern quarters are worth more than their face value? Having rare and unique features is one of the reasons for their high price. You can exchange the coins for thousands of dollars, depending on the condition of the coins. In the article, we will learn about some pricey modern quarters worth money and expensive modern quarters that may help while improving your coin collection.
About Quarters
Quarters came into existence on April 2, 1792, by the Coinage Act. Along with the quarters worth money, four other silver coin denominators were established: half dimes, dimes, half dollars and silver dollars. These coins launched in the market gradually, along with dimes and quarters being launched for the first time in 1796. Quarters were produced just till 1804 as they were low in demand.
This means that only a few of them were issued, which is why they are rare and in high demand today. US quarters worth money were created in eight designs. To commemorate the 200th anniversary of George Washington's birth in 1932, members of a bicentennial committee requested Congress to issue a 'Washington half dollar'.
What happened next will amaze you as Congress ordered to permanently replace the Standing Liberty quarter and asked to create the head of Washington on the obverse of the new coin. The coin's reverse had an eagle perched on a bundle of arrows, with wings outspread. Today, you will observe the same design if you see the quarters.
18 Pricey Modern Quarters Worth Money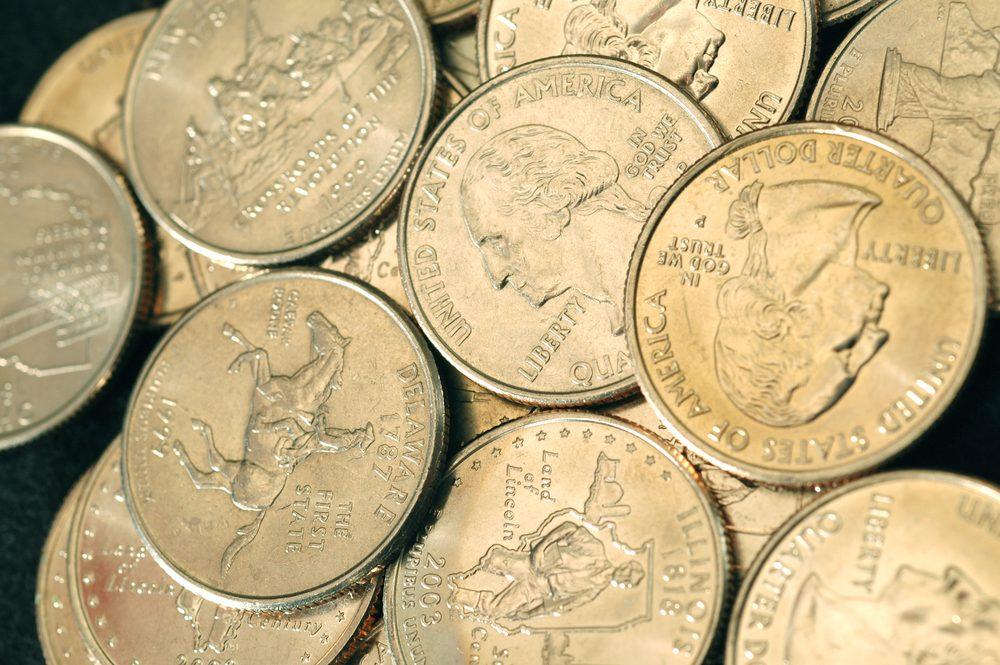 Collectors are always on the lookout for rare quarters worth money. The value of these quarters increases with time and if the quarter is kept in good condition, then it can fetch a lot of money. Let us now begin our list of valuable modern quarters worth money.
1. 1964-D Washington Modern Quarter PCGS MS68
This is one of the most expensive quarters on the list dating from 1964; it was graded by an independent coin authority called Professional Coin Grading Service (PCGS). It is priced at $38,400 at an auction; its high price is because it has an MS68 rating, which means that it is in excellent condition and mint state.
PCGS helps provide unbiased information about the quality and condition of the coins to collectors. This coin is as fresh as the day it was made and has not been circulated in the market. Uncirculated modern quarters like this are always in high demand and have more value than others because there has been no wear and tear.
You must be wondering what MS68 refers to here; 68 is the coin's condition. The coin grades are up to 70, the higher the grade, the better the quality. Thus, 68 also implies an excellent condition. There are very small and tiniest imperfections in it which is why it has been given a score of 68. MS means Mint State.
Another unique thing about this coin is its mintage year, as 1964 was the last year the coins were minted in the US; after that, they started creating coins with copper and nickel in 1965. It came to auction in March 2021, there was a lot of competition from buyers, and it was sold for $38,400.
2. 1932-D Washington Quarters
This is one of the most valuable modern quarters worth money and is the reason why. These quarters were issues when Washington started issuing quarters; this is the primary reason every collector has an eye on it. It is made up of silver and is highly valuable because of its low mintage of only 436,800 pieces. There is just one more quarter that has less than a million quarters, is 1932-S, it has a mintage of 408,000.
It has been given an MS65 rating which is pretty good; this means that this coin has very low wear and tear. These coins are not easy to find, so their value will keep increasing, particularly because it's in an excellent mint state. They are worth $200 to $13,910, but in an auction on November 8, 2003, collectors were ready to pay $32,000 for them.
3. 1932 S Washington Quarter
It is the rarest and one of the most valuable modern quarters, along with 1932-D; this one is also high in demand because it has a mintage of just 408,000. It is one of the most sought-after and more valuable compared to 1932 D because its mintage number is lesser than it. Although both these coins are equally scarce in circulated grades, 1932 S has more value.
This coin also has a grade of MS65, just like 1932-D, which is a good condition, leading to an increase in the price in coming years. If it is found in an average condition, it is priced at $200 and $500-$5500 in uncirculated mint condition. But it is worth mentioning and noting that on January 10, 2013, it was sold for $35,250.
4. 1965 Washington Quarter
It is silver and one of the most valuable modern quarters worth money as it has a higher melt value than its face value. PCGS graded this coin MS67+ which is excellent and is one of the reasons for its increased worth. In fact, they classified it as 'GEM BU,' which means it is in "Gem brilliant uncirculated" condition. Its history and excellent condition give it a high price value; also, it is 1 of 10 coins to exist in such a perfect condition.
Before 1965, the silver value of Washington's quarter was pretty high, but after a couple of years, due to tough economic conditions, citizens started to hold the coins because the coin value was more than the face value. Therefore, it was because of this reason that Congress stated that the coins would be created from a copper-nickel alloy instead of silver.
But, mistakenly, the workers at the mint stuck these coins by mistake on silver planchets; this is why they are rare and makes the collectors keener to buy them. In January 2005, it came up for auction, and its final price, including the buyer's premium, was $12,500.
5. 1943 Washington Quarter: Double Die
You must be thinking, what does a double die mean? Is it something special or some unique design? Well, it's nothing like that; instead, it is an error or mistake on a coin during the minting process. One of the most common types of error happens when the image on one side of the coin is doubled. This mainly occurs when the hub imprints an added misaligned image on a die.
It is a rare coin from the Philadelphia Mint, and there is an easy way to identify this coin. All you need to do is check that the letters "LIBERTY" and "IN GOD WE TRUST" will be doubled. If you take the coin and see it closely, you will see that the year printed is also slightly doubled. This error makes their rarity level high and collectors' favorite.
If you own this coin in an excellent mint stake, you can earn thousands of dollars from it. If you are a coin dealer, you are in great fortune as this coin means you are struck gold. As per USA Coin Book, this coin, in average condition, is valued at $142 and can go up to $6690 for mints. Also, this coin was graded MS66 which means it is a pretty good condition.
In 2018 at an auction, the 1943 Washington quarter was auctioned at $17,400.
6. 1950-D Washington Quarter (D over S)
As the name suggests, this quarter was issued in 1950 and is another valuable & rare Washington Quarter. They are priced so high because these coins have a mint error mark of the letter D over S; you can get even more rates if the coin is of the uncirculated grade. This quarter has been graded MS65, which is pretty decent and implies that it is in good condition.
The variety with MS66 or better is better and rare; PCGS certified a Single MS67 on February 9, 2011. Either way, this quarter is a treasure you can sell and earn lots of money. As per the USA Coin Book, the coin's value is around $68, and for a coin in the uncirculated mint condition, it ranges from $344 to $3316.
1950-D Washington Quarter was sold for $29,375 on June 6, 2013.
7. 1982 Washington Modern Quarter
If you are looking for quarters worth money, you must take advantage of this one. Every coin collector will be ready to spend a good amount of money on adding this to their collection. This particular is a modern rarity, with PCGS rating it as MS68, which gives all the more reason for its increased demand and prices. Also, they are so famous among collectors because the US Mint did not create any of their uncirculated mint sets in those years.
Let us understand this quarter in more detail; at the beginning of the 80s, America was going through an economic breakdown, which slowed coin minting. They started issuing fewer quarters worth money in 1982 as compared to other years in the 20th century. This was why people could not hold coins, and they used them to pay their bills or buy basic living things. Thus, it makes it challenging to find coins of 1982 in uncirculated condition, which makes finding the best quality examples even more challenging.
In fact, MS67 is also tricky to find, making it rare; thus, having a 1982 MS68 can be a huge thing for a collector. Another noteworthy thing that will make you even more excited to own this quarter is that this is one of the rarest modern quarters to have ever achieved such grading. In 2015, it was auctioned in Illinois for $4,242, including the buyer's premium.
8. 1971-S Washington Modern Quarter
In the modern era, this is one of the sought-after quarters. The S after 1971 stands for San Francisco; it is where this mint was created. George Washington inspires the design of this coin. PCGS graded this coin PR69, which implies that it is a proof coin-one that was created carefully by using a hand-finished die, making it rare and increasing its value among the collectors.
It has a different design process as every coin is struck six times with the die, and the minimum pressure is applied at the lowest speed possible, and then this unique coin is created. Also, the creator needs to ensure that they clean the die after every strike; thus, making this coin was time-consuming. Creating 50 proofs took around one hour, whereas, in today's time, mint would 3000 standard coins.
After hearing about its creation process, it is clear they are made using a unique and high-quality minting process, leading to its unique design. They are mainly made for collectors, not circulation, which is why their value is more than regular quarters. The depth and brightness of these coins are rare and worth seeing, making them a must-have for collectors. It was sold for $7,475 in November 2007.
9. 1968-S Washington Modern Quarter
The detailing of this coin is worth noting, which makes it rare and so much in demand. It is created by high-quality minting that makes it one of the most valuable modern quarters worth money. In this quarter, you will see an S behind the neck of Washington, which implies that it was created in San Francisco. It is a proof coin, as PCGS graded it as PR69.
Along with the profile of George Washington, there is an inscription on the top, stating "LIBERTY." On the other side of the coin, you will see an eagle perched on a branch; on the top, it is mentioned "UNITED STATES OF AMERICA" "E PLURIBUS UNUM," and at the bottom, you will see "QUARTER DOLLAR" is written.
Although it is a relatively new quarter compared to others on the list yet, there are very few available in the market, making them rare and increasing their price value. Because of such details and uniqueness PCGS graded it as PR69 DCAM (deep cameo). Despite its mintage value being above 3 million still, its price is high because they are just 23 in the market. Thus, in an auction in 2007 was sold for $2,875, including the buyer's premium.
Also Read: Top 10 Rarest Disney Pins Money can Buy
10. 1950-S Washington Quarter (S over D)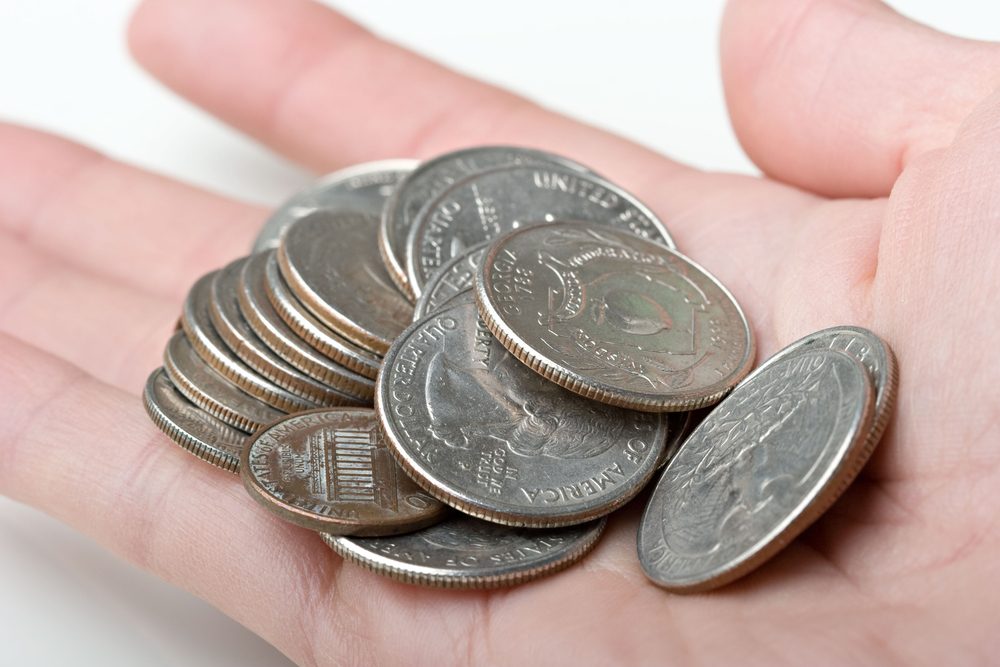 This coin, too, has a double-strike error that makes it unique and increases its value and craze among collectors. During the minting process, the workers mistakenly struck S over the D mark. Here the S stands for San Francisco, and then incorrectly, D was added, which stands for Denmark. To buy such coins, all you need to check is that the opening of the S will be open, and the bottom is closed.
Because of this rarity, people want them in their collections. It is pretty challenging to find such rare coins, but if you own one, it can be sold for a reasonable amount if they are in the best mint state, as holding such coins is a dream of numerous collectors.
The San Francisco mint launched these coins in 1950, and in a low state, the coin's value is around $81. PCGS graded this coin as MS67, which means this quarter is in good condition. In the last auction on September 27, 2013, it was sold for $16,450.
11. 1984-P Washington Modern Quarter
This is yet another quarter worth adding to your collection because of their unique design and some errors as well. The P in this coin stands for Philadelphia, as they decided to strike their coins using the letter P. There are 11 other coins, along with 1984-P, that serve as an example of the highest-quality quarter from that year graded by the PCGS, with none finer. There is another grading company, the Numismatic Guaranty Company (NGC), which certified just 27 coins and only 1 was certified in good condition.
Something unique about these coins is that some of them had mint errors, yet they went into circulation. Some of the mistakes that were seen on these quarters worth money were double die, broad strike and off-center. It is very challenging to find 1984-P coins with errors in the market, but if you are able to fetch one, you can earn pretty well from them.
You can also make good money from the coins without error, but they should be without any wear and tear. Although 676 millions of these quarters worth money were minted that year, there are very few left in the market. In an auction in Feb 2016, this quarter was sold for $1300, including the buyers' premium.
12. 1963-D Washington Quarter
Many things make these quarters worth money; for this one, the unique thing is that it is the rarest of the versions of the 1963 Washington quarters. It is said to be the scarcer issue in the Gem condition; although it has a mintage of 135 million, yet it is in high demand. It is rarer than the 1963 variant and can be said to be a 'mid-range' rarity in gem condition, as the D mints of this era mostly have marks or are not in fine condition.
As per the collectors or experts, the uncirculated coins of this era can be sold for a pretty good price. Getting them is not easy; thus, if you find one, without a second thought, add this to your collection or if you own one, keep it in excellent condition to get reasonable prices. The D here stands for Denver, and their price varies from $6.26 to $16,100; it varies as per their condition.
PCGS graded it as MS67+, which is pretty good, and it was sold for $15,862.50 on November 1, 2013.
Also Read: 30 Most Expensive Sports Cards In The World
13. 1937 Washington Quarter: Doubled Die Obverse
These are some of the rarest quarters that were struck by Doubled Die Obverse error. Now, you must be wondering what the error is; well, here, the major error is that you can see that in words, 'In GOD WE TRUST,' it is doubled. Also, if you check it closely, even the date is doubled on some of the modern quarters. This error can be seen in just a few quarters worth money which makes them rare, and this is the reason why even in an average mint state, the coin is valuable.
These are Philadelphia mint-struck coins created in 1937, and even in a low state, they can be sold for a minimum of $344. If you have the coin is in the best condition or uncirculated mint, its value can go up to $13,577. The coin was sold for $21,150 on January 10, 2013.
14. 1976 S Washington Quarter
This is yet one of the most valuable modern quarters worth money as they are not only limited but have some extraordinary things that make them unique. The uncirculated coins and the proofs are valued much higher than the others. In this quarter, you will be able to see Washington on one side with the year, LIBERTY, and IN GOD WE TRUST incarnate. Whereas on the other side of the coin, you will be able to see a drummer.
The collectors are also interested in this coin because the government released them to honour the nation's history and to support America's 200th anniversary. Along with the collectors and miners, there are a few historians as well who have an eye on this coin and wish to add it to their collection.
This coin was minted in both 1975 and 1976; thus, there is no 1975 coin. A lot of people want this Bicentennial Quarter and like it because of its silver quality, which is at 40%. The S here means that it was produced in San Francisco; this quarter has a glowing, mirror-like surface making it different from others.
In uncirculated mint condition, this quarter would be valued at $8.61-$19,200. Depending on the condition of the coin and the proof of modern quarters, it would be priced at $9.86. It was sold for $19,200 on June 7, 2019.
15. 1942 Washington Quarter
This minted coin is made up of 90% silver, just like every other coin that was made before 1965. This quarter coin was issued in 1942 with a value of 25 cents.
The diameter of this coin was 0.955 inches, and its thickness was 0.069 inches. The obverse has a portrait of George Washington, and on the reverse side of the coin, you will be able to see a bald silver eagle perched on a branch.
The coin's value will depend on its condition of the coin, but its average value is said to be $6.25. If it is in an uncirculated condition, it will be valued at around $8.38 and can go up to $41. As per PCGS, this coin is graded as PR69; thus, if you have a proof coin with you, its value can range from $100 to $1000. The most expensive PR69-proof coin was sold on January 9, 2020, for $16,800.
16. 1962 D Washington Quarter
These coins had one of the highest mintages with over 100,000,000 but getting them in a good mint state or gem condition takes work. Even the uncirculated ones have a lot of marks and abrasions; this is why it is tough to find them, especially in excellent condition. But, even if you find a 1962 D quarter's uncirculated version, you will still be able to make decent money from it. You need to know that the Denver mint struck them in 1962.
Apart from being rare, the other thing that appeals to collectors is its silver luster. The value of the 1962 Washington quarter in average condition is estimated to be around $6.25, and in an uncirculated mint condition, it will be worth between $8.38 to $15 as per its condition. One of the modern quarters with a grading of MS67 was sold for $16,450 on January 10.
17. 1966 Washington Modern Quarter
The reason why this quarter is rare and is priced high is that it is a deep cameo. This quarter is top in terms of quality as PCGS graded it as MS67, which means it is of good quality. This coin is pretty different from others on the list as it had an alluring patina, which the auction house stated as a "champagne house" on both sides.
Although this one isn't the best quarter that was issued that year, another modern quarter from the same year is graded higher than this one. It was sold for $3,738, including the buyer's premium, in October 2006.
18. 1959 Washington Quarter
As the name suggests, this quarter was issued in 1959 and graded MS67 by PCGS, which means that it is of good quality. The minimum worth of this quarter is $4.16; the reason for its high face value is that there is a high amount of silver in them.
You can find these coins in Gem condition without much searching as they are not rare at all. You can easily find frosty white and toned quarters worth money in the market without any challenge.
As per the USA Coin Book, this quarter is worth $6.26 if it is in an average condition, and it could be for $29 if it is uncirculated or proof and in uncirculated mint condition with a pedigree. The value for proofing these modern quarters can be $12 or maybe more. It was sold for $17,250 on April 19, 2012.
Also Read: The 10 Most Expensive Steak in the World
Details on Modern Quarters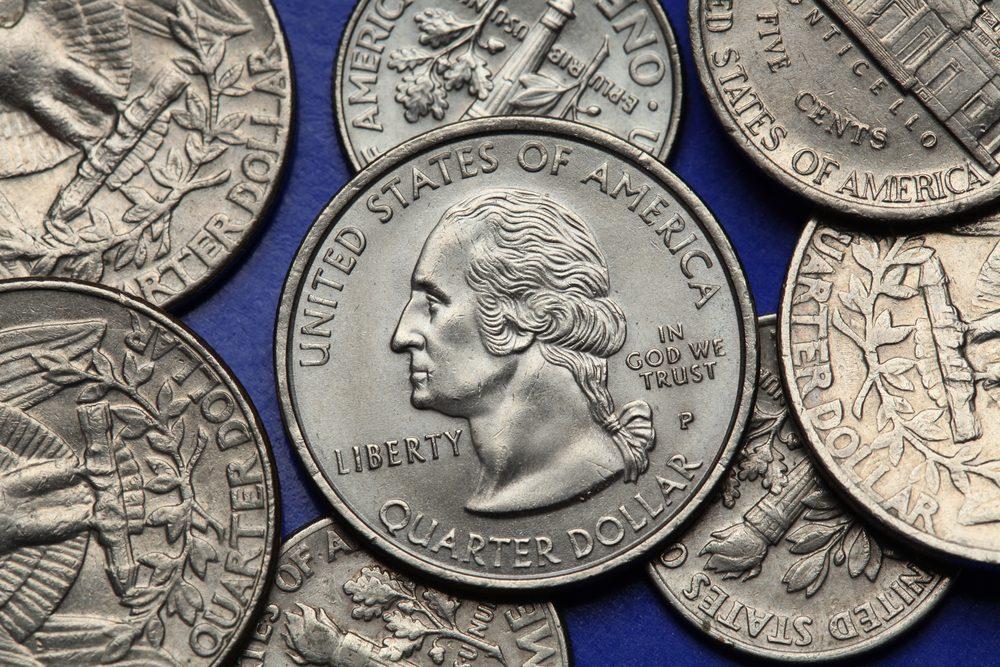 Washington quarters are called modern quarters; their condition and rarity determine their value. These quarters comprise 6.25gm of silver till 1964; after that, it changed to 75% copper and 25% nickel. The design of the quarters was changed numerous times, such as the bicentennial design.
On the bicentennial quarter, at the front, you will see a 1776-1976 date and a colonial drummer is on the back. But the commemorative quarter was the last and final design of quarters.
The most valuable quarters are the oldest ones that were kept out of circulation even before when people did not start collecting them. There are 20 such quarters, and you will be surprised to know they are worth $7.9 million.
These were some of the most valuable modern quarters worth money. Although the list is endless, these were some rare and highly valued ones. But there is one thing you should keep in mind: there is no guarantee that the quarter you purchase or find is worth any money. Some people search for quarters for fun, while others buy them to resell them. Well, whatever the reason, maybe they are rare and can help you earn good money.
FAQs
If you still have doubts regarding rare quarters worth money, then check out the answers to some commonly asked questions below.
Q1. How much is a modern quarter worth?
A1. The quarter's value varies from person to person, although a quarter's worth is 25 cents. But, the collectors have various aspects in mind when they buy such modern quarters; some of the things they look into are history, condition and rarity. Thus, the exact worth cannot be determined; it will depend on different factors and what the collector is looking for.
Q2. What was the composition of coins made from 1932 to 1964?
A2. The metal composition is 90% silver and 10% copper, its weight is 6.25gm, its diameter is 24.33mm, and its estimated average value is around $6.31 to $200.
Q3. What to do if I find any valuable quarter?
A3. It depends on your choice; you can either keep it as an antique in your collection or find a dealer who can pay you a good amount of money.
In conclusion, these pricey modern quarters serve as a testament to the enduring value of numismatic treasures. Their rarity and desirability make them sought-after collectibles, representing a fusion of history, craftsmanship, and investment potential. As time goes on, their worth is likely to appreciate, making them intriguing additions to any discerning collector's portfolio.