INDMoney is a leading personal finance platform to manage money and investments. Besides regular financial services, it provides an opportunity for users to enjoy exclusive rewards through its referral program. In this article, we will delve into the world of INDMoney Refer and Earn program, learning how it works and the benefits it brings. Whether you're a current user or considering getting the app, understanding this system can help you have a fruitful financial journey.
What is INDMoney?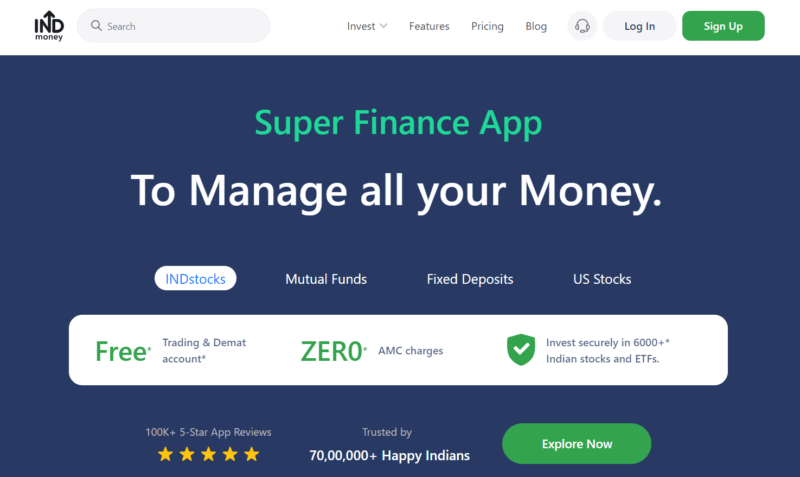 INDMoney is a versatile platform designed to help individuals manage their finances effectively. It acts as a comprehensive money management app, allowing users to consolidate and organize their financial information in one place. The app covers various aspects such as loans, taxes, expenses, credit cards, investments (such as PPFs, EPFs, bonds, PMS, real estate), and enables users to plan for their financial goals and estimate future net worth, including retirement planning. With over 4 million users and a combined net worth of over 1 trillion rupees, INDMoney has established itself as a popular choice among Indians seeking efficient financial management.
INDMoney Refer and Earn Program
Referral programs have become incredibly popular in the market and show no signs of fading away anytime soon. These programs consist of codes that are present in nearly every app today. The primary goal of these codes is to provide users with various benefits such as rewards, discounts, or cashback when they sign up for an app using a code or when others join the app using their code. INDMoney also offers a referral program that allows you to participate and earn rewards by utilizing it.
The INDMoney refer and earn program offers a fantastic opportunity to receive complimentary US stocks by referring your friends. By simply encouraging your friends to download the app and complete the KYC procedure, you can earn rewards for each successful referral. With each referral, you will be granted a scratch card, which can be redeemed for free Amazon stocks. The program enables you to accumulate free US shares by inviting friends to download the INDMoney app and open a new account.
Both you and your friend will receive a scratch card that can be redeemed within the rewards section. The scratch card can grant you a varied amount of stock, ranging from Rs. 10 to Rs. 1000. The beauty of this INDMoney Refer and Earn program lies in its unlimited potential. You can invite as many friends as you want to earn free US stocks. The prize amounts may vary and are subject to regular changes.
The INDMoney Refer and Earn program operates throughout the year without any specific time limitations. Upon joining, every new user receives a unique INDMoney referral code, which they can share with others to receive various benefits. Users have the flexibility to select their preferred reward, such as a US stock or cryptocurrency, from the available options.
How to Earn Rewards by Opening INDMoney Account?
Step 1. Download the INDMoney app from Play Store or App Store.
Step 2. Open the app and proceed to create your account by providing your mobile number.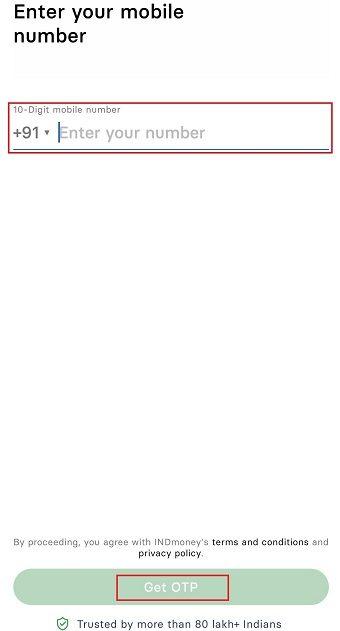 Step 3. During the signup process, enter the given referral code to receive a sign-up bonus of Rs. 150.
Step 4. After entering the code, tap the Proceed button and you will be redirected to the main page of the app.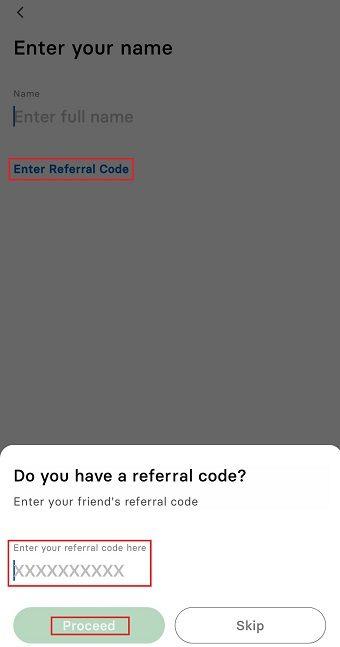 Step 5. Upon successful signup, you will receive the Rs. 150 sign-up bonus in your app wallet, specifically in the IND coin options.
Step 6. Complete your account setup by entering your PAN card number and any other necessary information.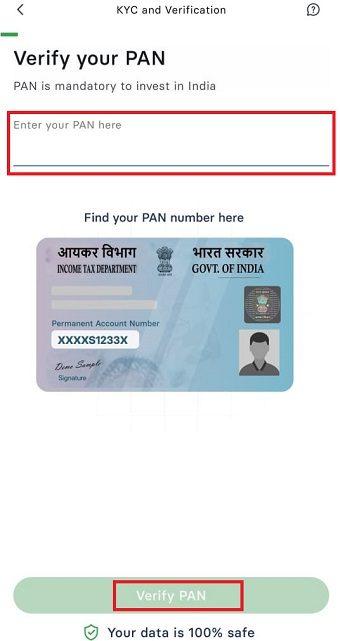 Step 7. Once you have completed the signup process, you will be rewarded with Rs. 250 INDMoney points.
Step 8. To proceed with investing, navigate to the Invest tab located at the bottom of the app and tap it.
Also Read: INDMoney review: Everything you need to know
How to Use IND Money Referral Code?
Step 1. To access the INDMoney app, tap the link provided by your known one to download it.
Step 2. Confirm your contact information by entering the one-time password (OTP) received.
Step 3. Create a new account and enter the required personal details like your name.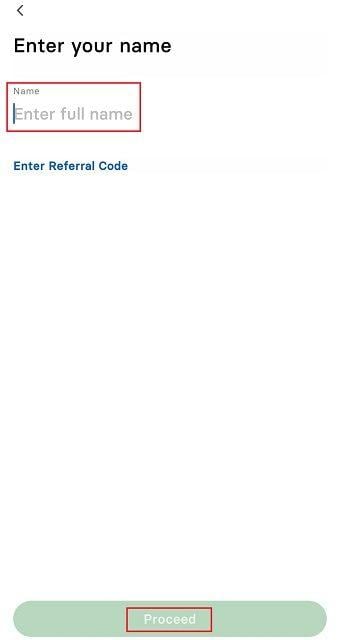 Step 4. Either enter the INDMoney coupon code if you have one or enter your email address.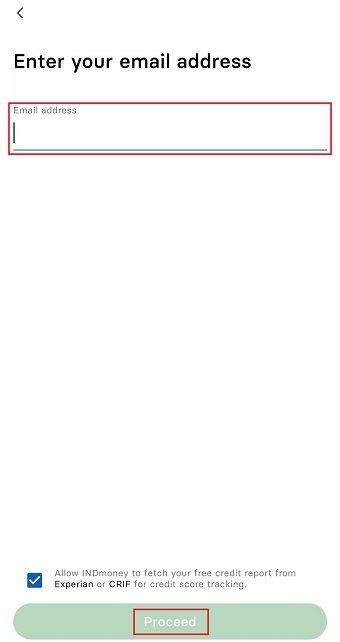 Step 5. Fill in the remaining details on the form, including your Pan Card and residential address.
After a successful verification process, you will be eligible for exclusive rewards.
How to Share Your IND Money Referral Code with Others?
To avail the benefits of your INDMoney referral code, simply click on the referral card located in the reward dashboard and share it with your friends. Within the reward dashboard, you have the option to select the type of reward you prefer, whether it's a US stock or cryptocurrency. Select your desired reward and share the referral code with your friend. Once your friend signs up for the app using your code, you will receive the chosen reward through INDMoney Refer and Earn program, either a US stock or crypto.
Step 1. Open the INDMoney app on your mobile device.
Step 2. Tap the Gift icon at the top of the app.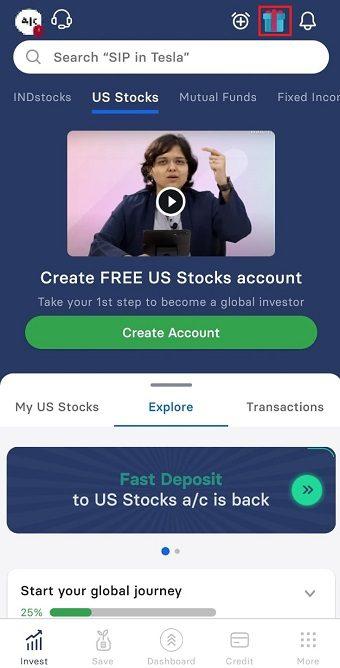 Step 3. You can see the rewards you have earned and your activities. Tap on the Invite Now option. Your phone screen will now display a referral link.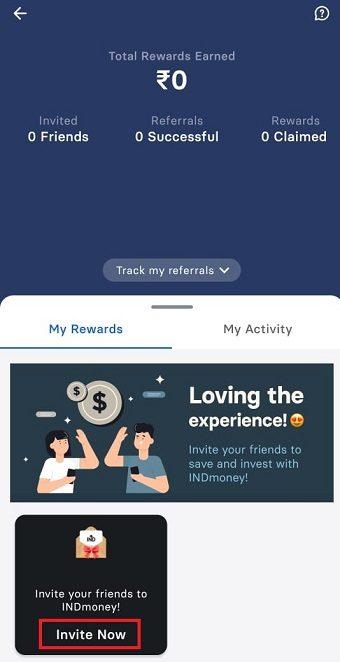 Step 4. To copy the referral link, tap on the clipboard icon located beside the code. The referral link is now copied to your device's clipboard. You can also share the INDMoney referral code through your WhatsApp account.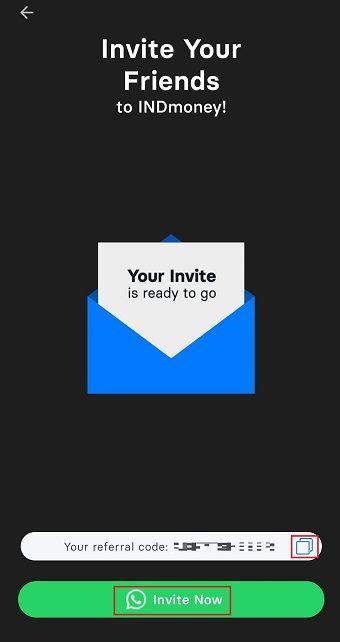 You are now free to share the referral link with anyone you like. If someone signs up for INDMoney using your referral link, you will be eligible for a welcome bonus. By bringing in more users, you can enjoy additional advantages on the platform. You may also receive free US stocks as a reward.
INDRewards Program
INDMoney offers the INDRewards program, which is touted as the most powerful rewarding program in India. This program allows users to earn rewards for exhibiting good financial behavior, such as trading in US stocks through INDMoney or reducing their EMI, loan, and rental burdens. Additionally, INDMoney Refer and Earn feature enables users to earn rewards by sharing their unique referral code with friends and family. When others sign up with INDMoney using the code, the user who referred them benefits and receives rewards.
It is important to note that these rewards must be claimed within 30 days. If left unclaimed, the rewards may expire, resulting in the loss of the associated gift.
Ensure that you utilize the appropriate INDMoney referral code for each reward to avoid missing out on your desired gift. The value of these gifts fluctuates according to market conditions. Once you claim your rewards, they will be added to your portfolio, allowing you to hold or sell the stocks or cryptocurrencies either partially or entirely to earn money.
Many individuals who are avid fans of refer and earn programs often search for them online. Numerous articles display various codes that offer signup bonuses, cashback rewards, or the opportunity to earn 1000 rupees. However, these articles lack credibility, and it is advisable to refrain from using such codes and instead rely on the in-app referral codes.
Clicking on such articles and links can lead to trouble, as they may expose users to potential hackers or malware that can harm their devices. It is better to share the INDMoney referral code with friends and family to benefit from their rewards. Receiving free US stocks or cryptocurrencies should be considered a substantial reward in itself for any user. It is wiser to focus on managing your portfolio and the movements within it, rather than succumbing to greed for more rewards, which may lead to complications.
Rewards from INDMoney Refer and Earn Program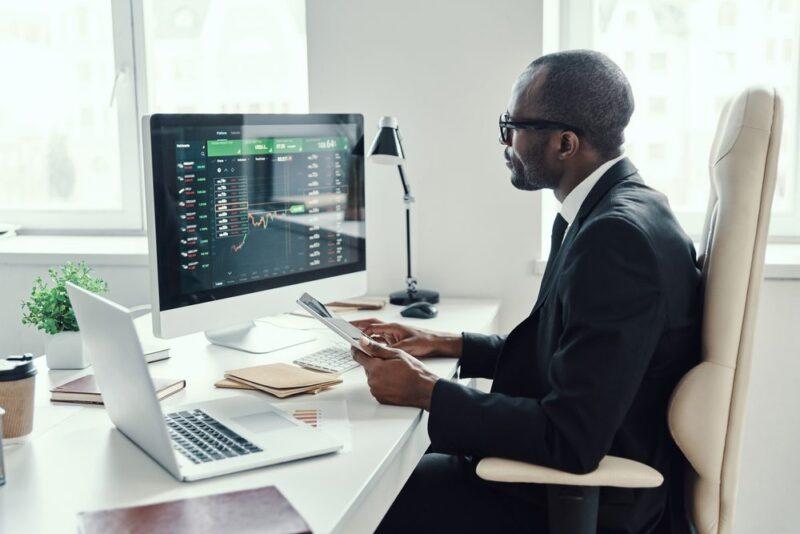 You can earn referral rewards by inviting your friends to INDMoney and encouraging them to open their free US stocks account. When your referrals are successful, you'll be eligible to receive a referral reward of Rs. 500 (subject to applicable taxes, if any). INDMoney is also the exclusive platform for investing in US stocks, giving you the opportunity to earn unlimited real digital cash while buying and selling US stocks. These stocks allow you to become a partial owner of your favorite companies, such as:
Amazon
Flipkart
Apple
Google
Netflix
Uber
McDonalds
PayPal
Starbucks
MakeMyTrip
The value of the stocks you receive as a reward can range from Rs. 1 to Rs. 1,000. By participating in the IND Rewards program, you can transform your expenses into investments and earn up to 1% of your spending as free stock rewards.
The INDMoney Refer and Earn program offers various rewards, such as free stocks when you open a new account on the INDMoney app, and US stocks when your friends sign up using your referral code. Additionally, by joining with a friend's referral code, you'll receive stocks in your INDMoney app wallet.
The platform uses an exchange rate where 1 IND coin is equivalent to Rs. 1, and it automatically converts when trading in US stocks. If you become a prime member, you can earn up to 3 times the IND coins. Take advantage of the INDMoney Refer and Earn program to reap the benefits of free stocks, access to US stocks, and the potential to earn real digital cash.
Also Read: 30 Best Refer and Earn Apps in India
Limits for US Stock Rewards
By activating the credit card statement tracking feature on the app, you have the opportunity to win US stocks valued at up to 1% of your spending on popular merchants. Each unique statement per month can earn you a maximum of Rs. 100 per credit card and Rs. 100 per top merchant. In total, you can earn up to Rs. 200 per month.
Other Ways to Earn US Stocks through INDMoney
Each user receives highly personalized rewards designed to help them become more aware of their investments, liabilities, insurances, and ultimately their net worth. These rewards aim to assist users in earning or saving more money through AI-driven insights and recommendations. Some examples of these actions include:
Automated tracking of investments,
Automated tracking of loans and credit cards,
Automated tracking of expenses,
Adding a family member to INDMoney,
Profile verification,
Improving credit scores,
Lowering home loan EMIs,
Diversifying investments by purchasing US stocks and fixed deposits.
Please note that eligible rewards can be found under the My Rewards tab within the Rewards section, and new rewards are regularly added and updated on a weekly basis.
How to Withdraw Rewards of INDMoney Refer and Earn?
The process of withdrawing funds from INDMoney is designed to be quick, straightforward, and secure for all investors. To withdraw funds from the app, follow these simple steps:
Step 1. Tap the Gift icon at the top to navigate to the rewards dashboard and tap on the My Rewards tab.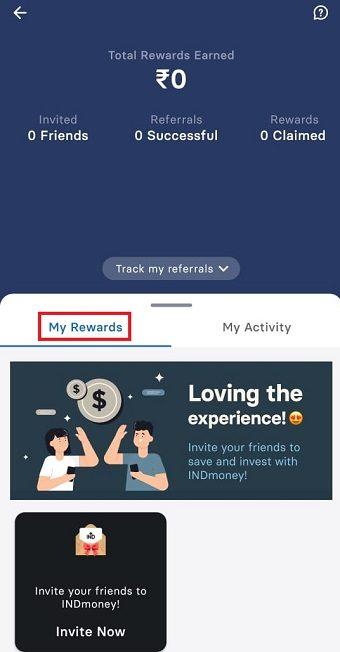 Step 2. From there, select the desired number of holdings you wish to sell.
Step 3. Confirm the sell order, and the chosen amount will be transferred to your registered bank account within 2-3 working days.
One advantage of using the INDMoney app is that there are no specified withdrawal periods. Unlike other financial management apps that impose restrictions on when you can withdraw your funds, INDMoney allows you the freedom to access your money according to your personal needs. Additionally, the app keeps the fixed deposit for a lock-in period of only three months, so you don't have to worry about extended waiting periods to access your funds.
Fees and Charges of INDMoney US Stocks Account
There are no fees for opening the account, completing the KYC process, or opening a Super Saver account. The charges for withdrawing funds from the account are $5, which is the lowest rate in India. Additionally, there are no charges for trading stocks, tracking your investments or maintaining your account.
How to Earn Dividend on US Stocks through INDMoney
When stocks in your INDMoney account pay dividends, the dividend amount will be automatically deposited. However, it's important to note that these dividends are subject to a 25% tax at the time of receipt. Therefore, the money you receive in your US stock account as a dividend payment will already have the tax deducted. For instance, if a US-based stock declares a dividend of $10, you will earn $7.5 after the 25% tax is applied.
In India, the tax liability for these dividends is assessed based on the full dividend amount of $10. However, you have the opportunity to deduct this tax from your yearly income tax returns in India and receive full credit for it. INDMoney simplifies this process for you when you open a US stock account and become a premier member, handling all the necessary paperwork. This way, you can take advantage of the tax benefit associated with deducting the tax on dividends.
Terms and Conditions of INDMoney Refer and Earn Program
The program is only applicable for mobile applications. Users who complete the account opening process on the INDmoney website are not considered for the program.
Eligible users who successfully open a Demat and Trading account with the company can participate in the program.
Referrers need to share their referral link/code, and their friends must complete their KYC and open a Demat and Trading account using that referral link/code.
To be eligible for the referral reward, the referred friend must add a minimum of Rs. 1,000 in a single transaction to their INDstocks wallet and place at least one trade within 30 days of opening the account.
The referrer can receive a referral reward of Rs. 500 per successful referral, limited to a maximum of five successful referrals in a calendar month. Taxes may apply to the referral rewards.
The referrer can claim the referral reward by swiping up the applicable reward card. The reward will be directly credited to their INDStocks wallet within 3-5 working days.
The referrer must claim the reward within thirty days of becoming eligible. After thirty days, the referral reward card expires, and the referrer cannot claim the reward.
The referrer receives the referral reward once the referee's account is activated and the referee meets all the criteria for a successful referral.
All payouts to referrers under this program are subject to Tax Deducted at Source (TDS) at a rate of 5% or as per applicable law.
Opening a new account after closing an existing account does not count as a successful referral, and the referrer will not be eligible for a referral reward.
Is INDMoney Safe?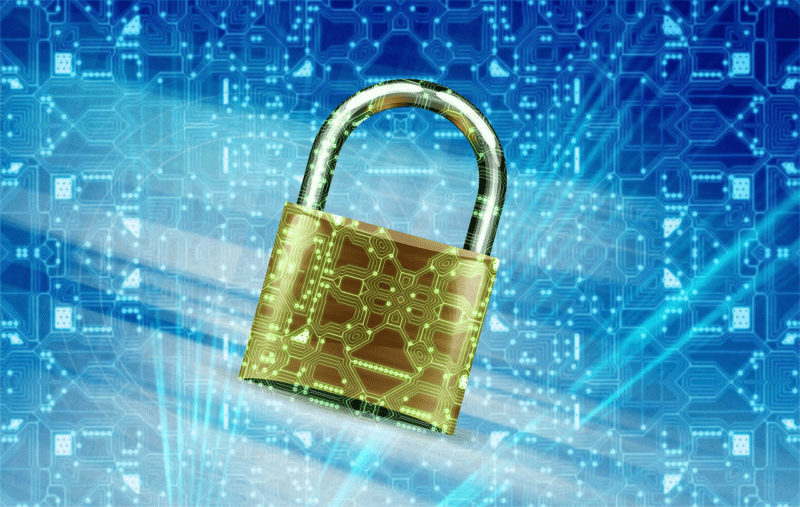 The security of the INDMoney app is assured by multiple factors. Firstly, INDMoney is a SEBI-registered financial advisory company, ensuring it operates within the regulatory framework. Additionally, the app undergoes comprehensive security audits conducted by Bishop Fox, a reputable company known for performing transparent data privacy audits for major industry leaders such as Zoom, Amazon, Google, and Coinbase.
To protect user data, INDMoney implements robust measures. This includes the use of 256-bit SSL encryption and two-factor authentication (2FA) to safeguard user accounts. With 2FA, users are required to provide a second form of authentication, such as a one-time password or fingerprint scan, to access their accounts. Furthermore, INDMoney's data is hosted on Amazon's AWS Cloud, widely recognized as one of the most secure cloud platforms available.
Also Read: Solitaire Cash App Review – Is It Legit or Scam?
Pros of INDMoney
Diverse Range of Financial Products: A wide array of financial products is available to you, accessible through your smartphone. With just one app, you can conveniently invest in Indian and US stocks, mutual funds, and fixed deposits.
Consolidated Trading Accounts: You have the flexibility to manage multiple trading accounts within the same app, making it easy to track various assets in a single location.
AI-Powered Investment Recommendations: Thanks to AI-powered algorithms, you can receive personalized investment recommendations based on your specific goals and risk tolerance. These algorithms analyze market trends and suggest suitable investment opportunities, helping you make informed decisions.
Real-Time Portfolio Tracking: Stay updated on the performance of your investments with real-time portfolio tracking. Whether it's stocks, mutual funds, or fixed deposits, you can monitor your portfolio's value, gains/losses, and overall investment performance.
Goal-Based Investing Feature: If you have specific financial goals in mind, such as retirement planning, education funds, or purchasing a house, you can leverage the goal-based investing feature. This allows you to create customized investment strategies tailored to your objectives.
User-Friendly Interface: The mobile app offers a user-friendly interface designed to cater to both experienced investors and beginners. Its intuitive design ensures a seamless and effortless investing and tracking experience.
No Charges on Investment: Enjoy the benefits of investing without any charges or trading fees on mutual funds, fixed deposits, and US stocks. By eliminating transaction costs, you can maximize your investment returns.
Data Security and Privacy: Rest assured that your personal and financial data is safeguarded with robust security measures. The platform prioritizes the privacy and confidentiality of your information.
Net Worth and Family Portfolio Analysis: Evaluate your overall financial position and manage your family's investment portfolios within a single platform.
Exciting Rewards and Incentives: Exciting rewards and incentives await those who meet specific criteria set by the platform. By actively engaging in investment activities, you can take advantage of bonus offers and promotions.
Cons of INDMoney
Limitation in Investing: Inability to invest in Indian stocks within the platform, necessitating the use of another app for trading in Indian stocks.
Performance Issues: Experience frequent performance issues and lag while using the app for various services.
Separate Crypto App: Users can earn crypto rewards but cannot trade cryptocurrencies within the same platform, requiring a separate app for crypto transactions.
INDMoney Refer and Earn program provides an excellent opportunity to earn rewards by referring others to the platform. With its user-friendly interface and wide range of financial services, the app is valuable for individuals seeking to manage their finances efficiently.
Source: INDMoney US stocks