The importance of a second or third income stream in today's time cannot be understated. In a time when inflation and recession are striking various countries simultaneously and jobs are being lost daily there seems to be no escape from the grim reality that investments have become a necessity. Be it mutual funds, stocks, or any other asset that you prefer. Today we share with you INDMoney review, INDMoney is a one-stop app for all your stock market investing requirements. This article will include an in-depth analysis of INDMoney and will compare INDMoney vs Zerodha, shed some light on INDMoney hidden charges and INDMoney SEBI status.
INDMoney review: Everything you need to know
Before we get into the thick of things we will first look at What is INDMoney, whether there are INDMoney hidden charges, what all features can be used once you have made your account on the application, and how to get the app on your device.
What is INDMoney?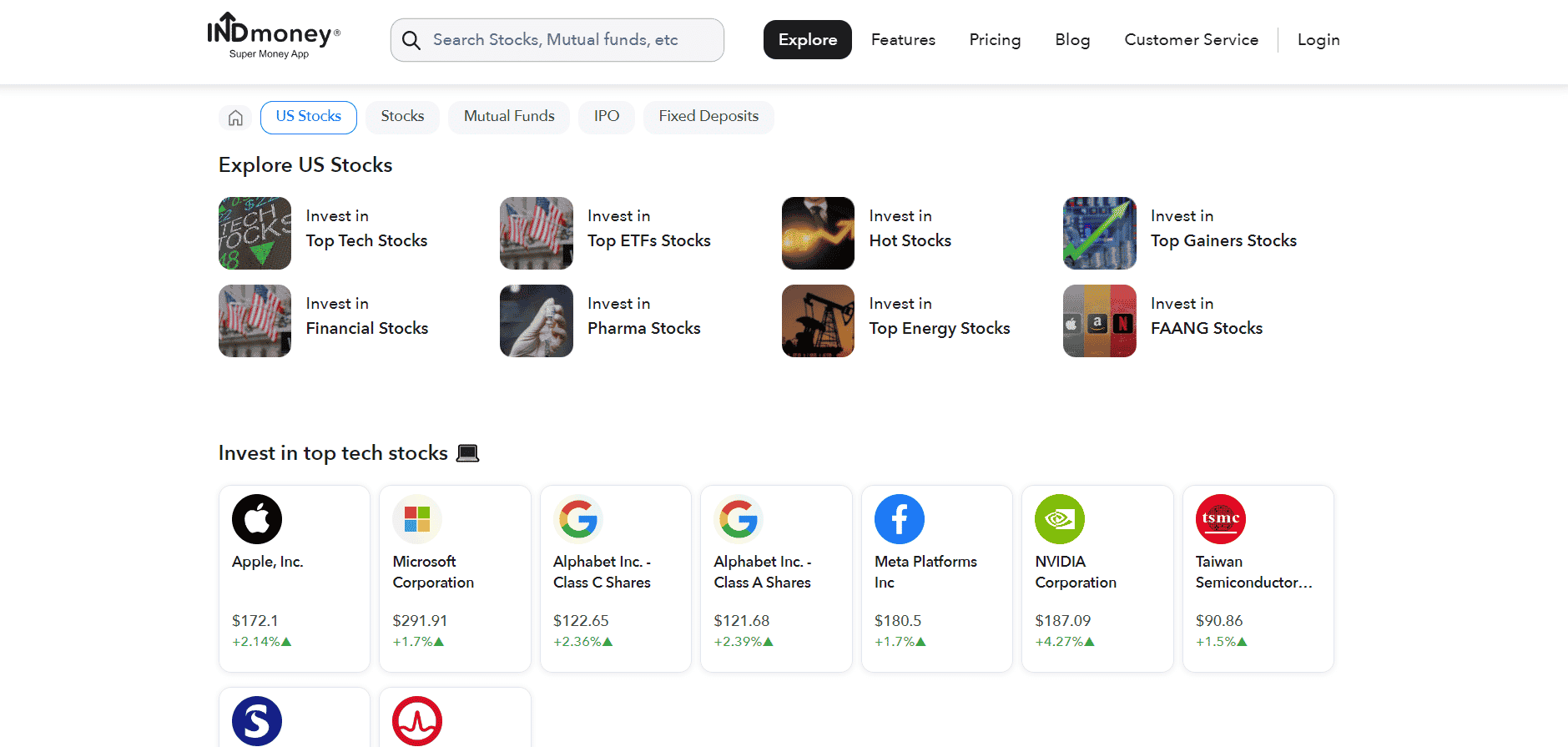 INDMoney is an application that allows you to purchase stocks from the US as well as Indian markets. It also allows you to invest money in mutual funds, fixed deposits and many other assets. Let us look at some of its features in detail in this INDMoney review.
Super Saver Account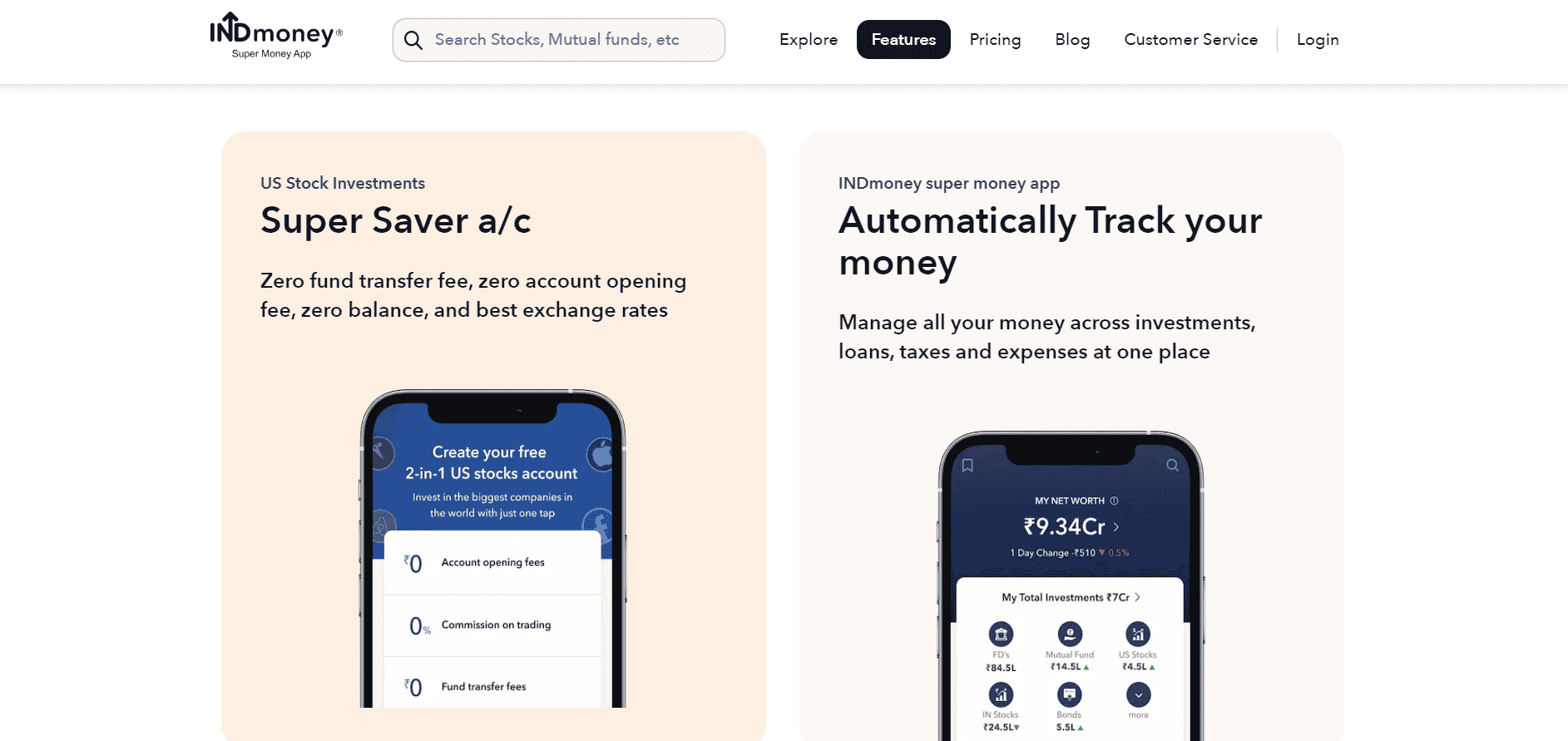 INDMoney has collaborated with the State Bank of Mauritius and this collaboration has been approved by the Reserve Bank of India. Due to this collaboration, the users of the app get 2 in 1 account which comes with several benefits like users getting a zero balance account, there is no charge on the conversion of forex, fixed deposit rates are as high as 7.5% per annum, users can also manage their wealth and deal in US stocks via the app.
Stock market analysis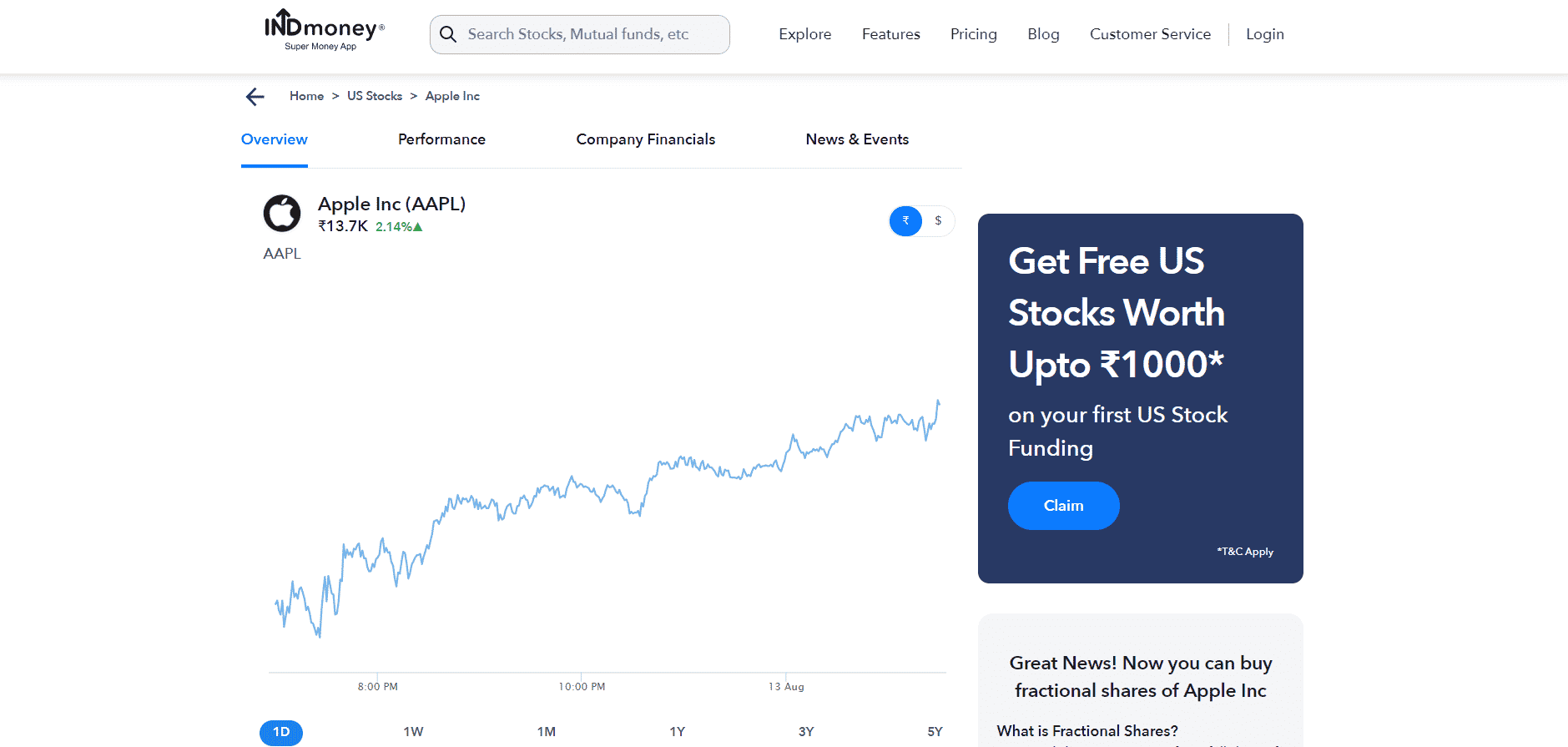 INDMoney with the help of AI helps you analyze the Indian stock market. You can link your Zerodha or Upstox account to INDMoney and in no time you will get important information regarding the stocks that you may be interested in.
You can get to know about Stock momentum ROE, NET, EPS, and a lot more things via the app. The app also lets you know when to buy or sell a share based on its AI robot-advisory system's call which helps you to avoid loss and to make a profit.
Invest in Mutual Funds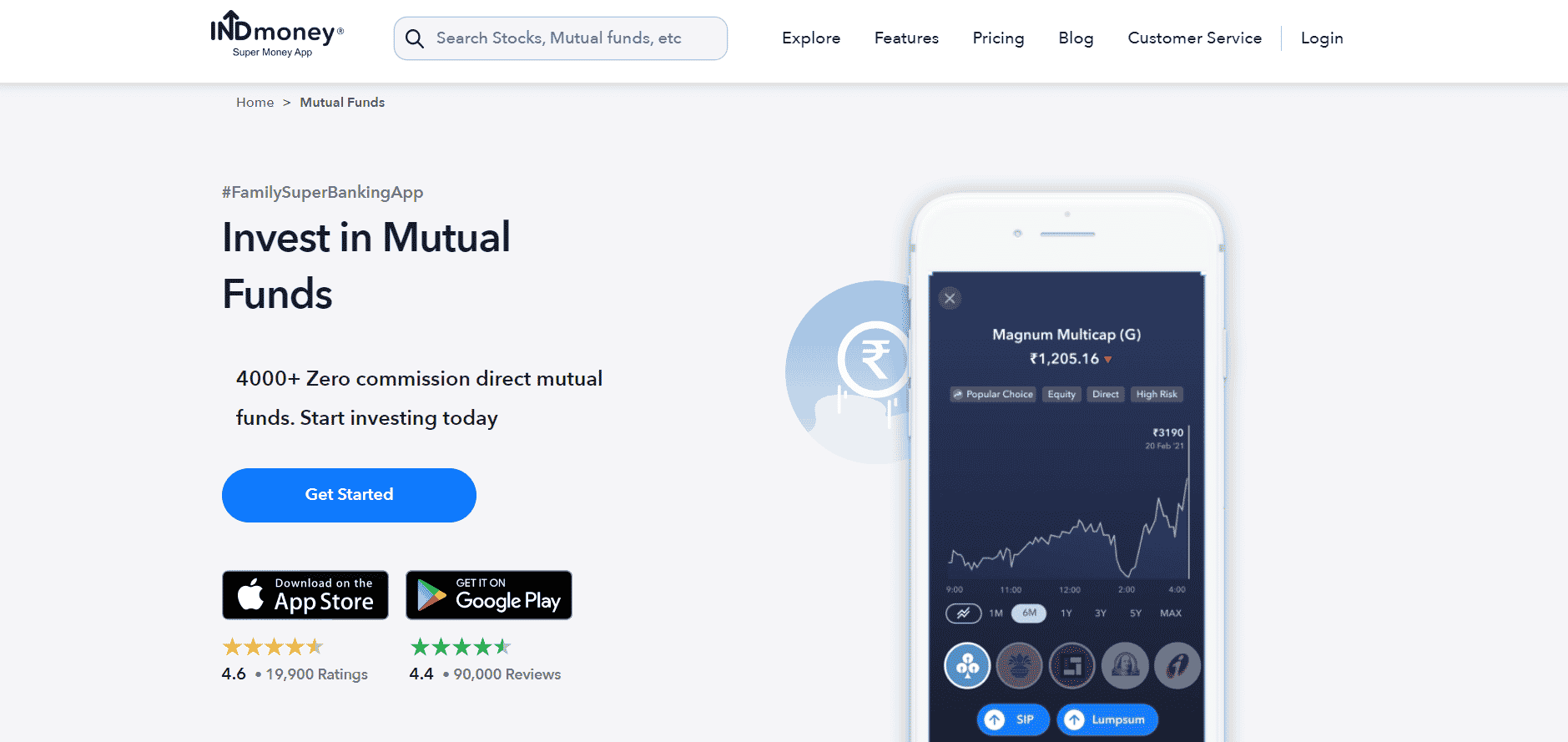 The app takes no charge or no commission from the user and lets them select from options of various types of mutual funds like High returns, Tax saving funds, etc. The app also allows you to create a mutual fund basket wherein you get a detailed plan on what amount to invest and where to get a specified amount.
All you have to do is put in your target and the app makes a plan for the user. The app also automatically rebalances your portfolio if you use the STP feature. Let us continue INDMoney review and check out some of its other features.
Tracks cards and expenses and provides reward
Till now it was about investing but the app does more than managing your investment. The app looks after your credit card expenses, EMIs, etc. not only this but also the app reminds you when your next payment is due. It offers you INDCoins when you use your credit card to pay at certain outlets and these INDCoins can be used to bit certain cryptocurrencies like Bitcoin and Ether.
The app also gives you a refer and earn benefit in the form of 200 INDCoins or 20 rupees. Lastly, INDMoney also offers the user stocks of certain companies that you have made payments to. For instance, paying the bill for Starbucks makes the person eligible to buy their stock or partial stock as per the bill amount.
Track your Crypto Portfolio
The app allows you to track your Crypto portfolio. You will regularly be informed about your portfolio's ups and downs. The app now also allows the users to buy cryptocurrencies from the app itself which is a welcomed change.
Premium features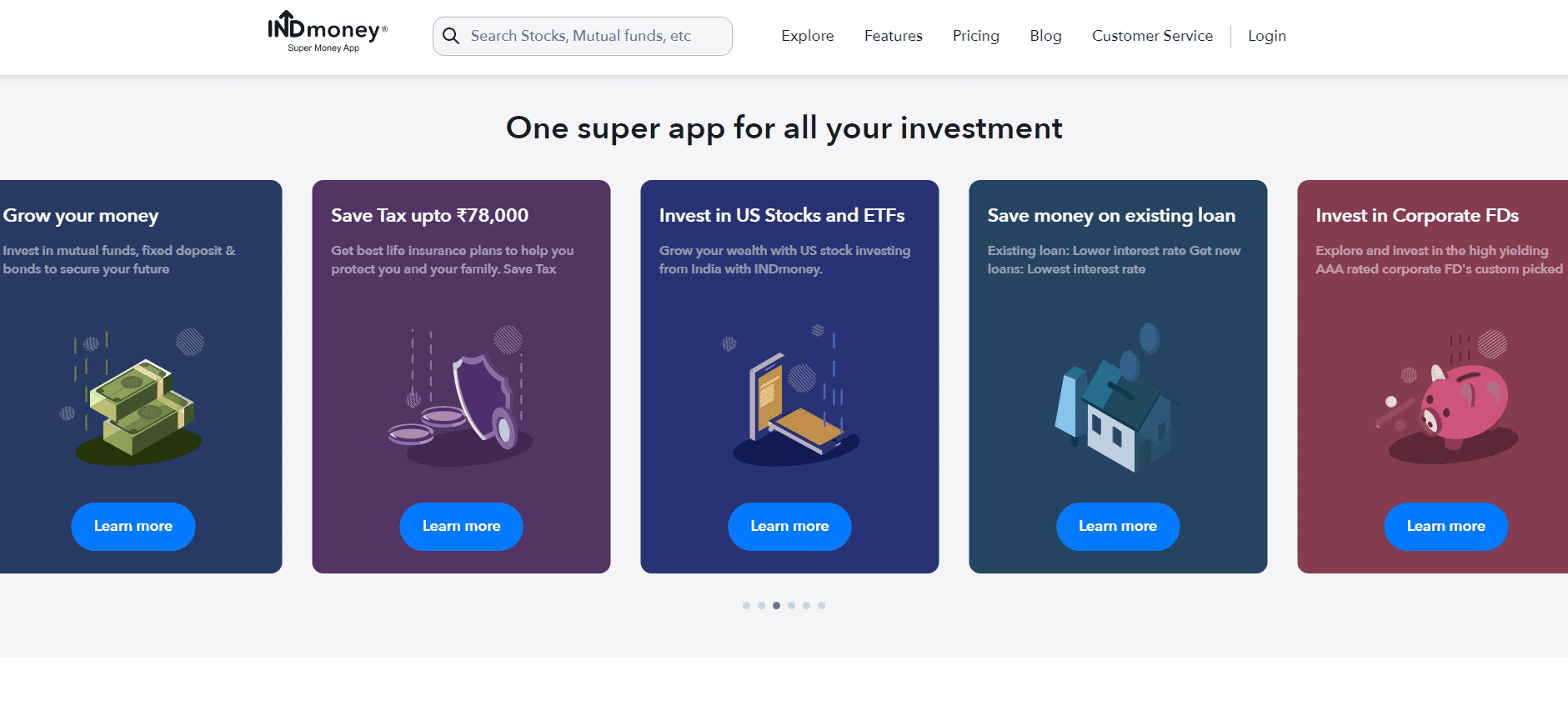 On INDMoney you can track the whole family's investments in one place. The app also provides personalized financial planning and wealth management, tax planning and insurance benefits, and much more.
Also, you can choose from multiple plans as to which family investment plan suits you the best and accordingly can pay to access additional features. Schemes start at 399 rupees per month and go up to 5,999 rupees per month, you can also build a custom plan for which you will be charged accordingly.
Check your credit score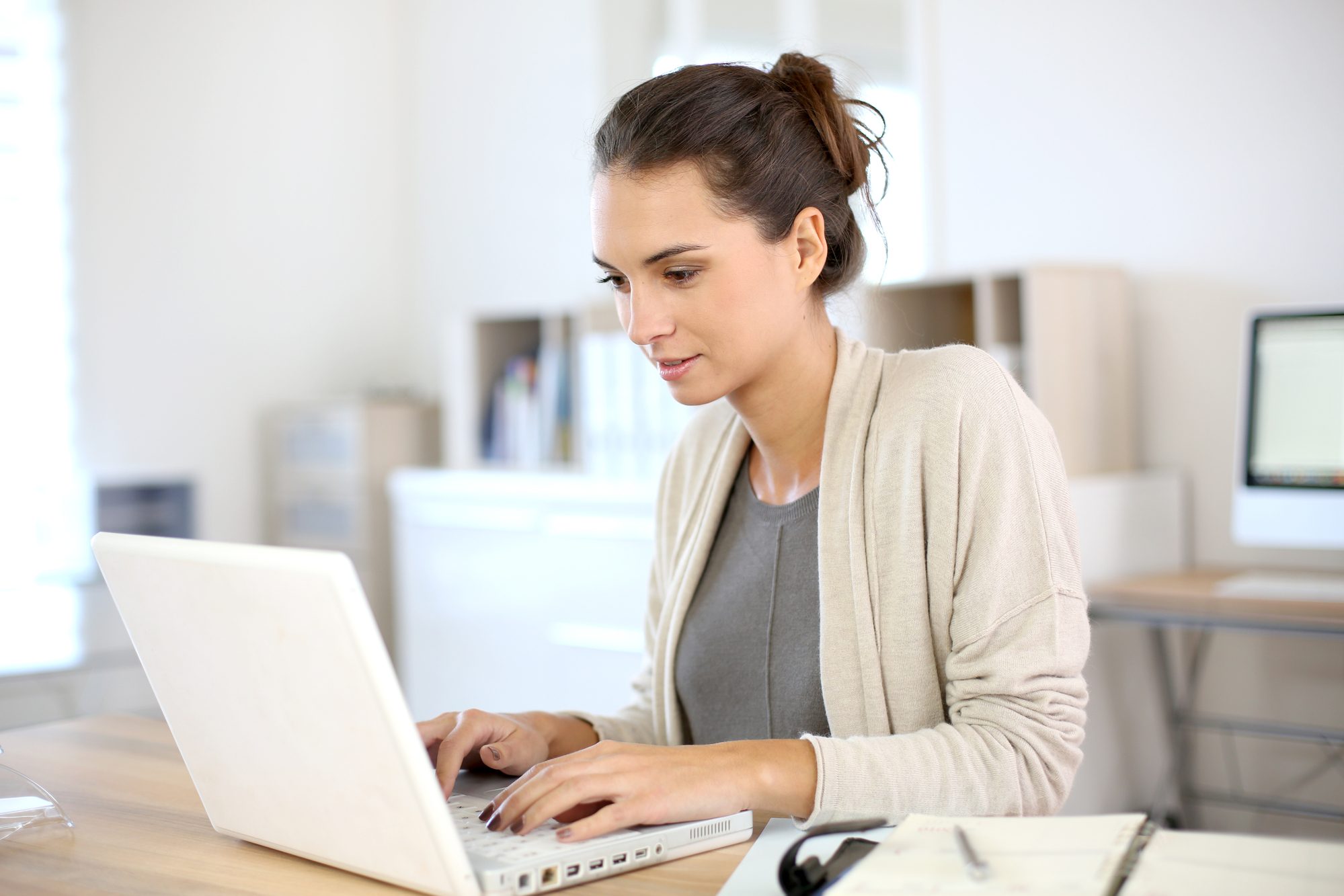 INDMoney app lets you check your credit score for free. A credit score is a rating system that determines which person is eligible for a loan and who is not. The app not only lets you check your credit score but also helps you improve it by reminding you to pay your dues on time and avoiding default.
How to download INDMoney?
After understanding its features, the next thing in this INDMoney review will be about downloading the app. In the next section, we will go over INDMoney vs Zerodha comparison.
INDMoney boasts of a user base of more than 40 lakh people. The app claims to have a combined sum of around 1 lakh crore invested via its platform.
INDMoney has tons of blogs on various topics that are helpful for its users that are updated daily. The app has been awarded NASSCOM INDIA AWARDS – India Fintech 2021, Excellence in WealthTech – Startup 2021 and CBInsight Top 250 Fintech 2020. This multiple award-winning app can be easily downloaded on your mobile by following the steps mentioned below,
Step 1 – Open App/Play store on your device
Step 2 – Search for INDMoney
Step 3 – Locate the app and click on Install
INDMoney vs Zerodha
So far we know what INDMoney is and how it works and what it can do, now we shift attention to one of its competitors, that is, Zerodha. Zerodha is another investing app that enjoys a huge fan following.
The app has more than 9 million users and the app allows you to invest money in stocks, futures and options, currency derivatives, IPOs, mutual funds, bonds, and government securities.
While INDMoney and Zerodha share common features like supporting investing in stocks and mutual funds, however, there are numerous differences between them, and here we break down INDMoney vs Zerodha in this INDMoney review.
First of all the user base of Zerodha is almost double the user base of INDMoney.
INDMoney allows you to invest in US stocks which is something that is not possible with Zerodha.
INDMoney tracks your credit amount and reminds you to pay them timely, however, Zerodha is purely investing app and does not provide any such use as to maintain your credit record.
INDMoney can help you check your credit score which is again something that Zerodha can't do for its users.
Zerodha has a charge of 20 rupees on Intraday and F and O. INDMoney does not ask for any such charge from the users.
INDMoney does not have the option to allow its users to invest in currency derivatives and other segments which are available on Zerodha.
INDMoney takes zero fees for a balance transfer as well as zero account opening fees whereas on Zerodha there is a fee involved for both the process mentioned above.
This was all about INDMoney vs Zerodha and how they compare with each other.
INDMoney hidden charges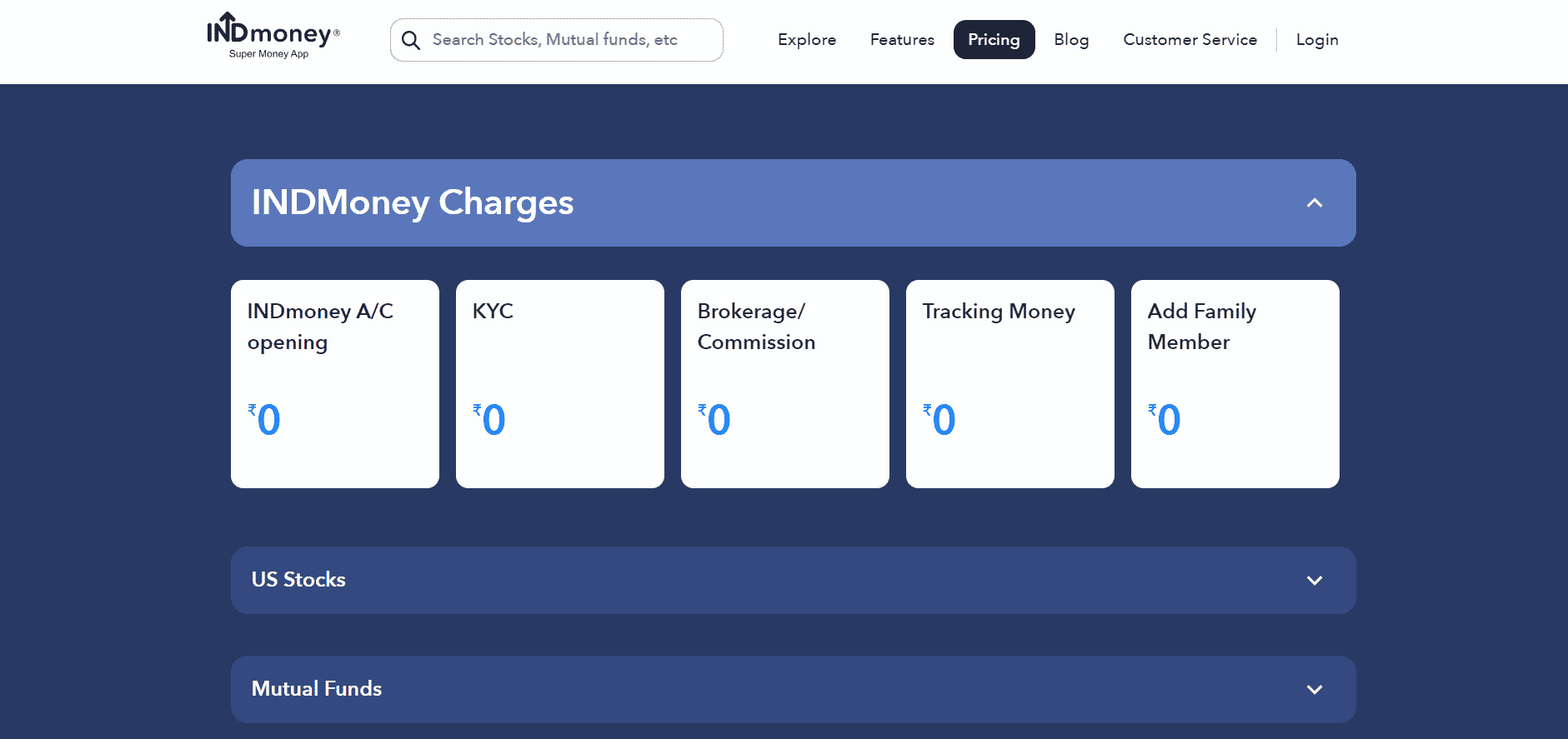 One of the best things about INDMoney is that INDMoney hidden charges are not a thing. The app has no hidden charges that you need to pay to access any feature.
Be it checking your credit score, doing fund transfers, investing in US stocks, Indian stocks and other assets. The app is available to download for free meaning the app itself is free as well and so you can make up your mind and make an account on the platform at any given point of time without breaking a sweat. Now you know all about INDMoney hidden charges.
INDMoney SEBI approval
Another plus point with INDMoney is that it is SEBI approved. But what exactly SEBI is and why does their approval matter? We have explained it further in our INDMoney review.
What is SEBI?
SEBI also stands for Securities and Exchange Board of India and the name itself is self-explanatory. The job of SEBI is to promote and regulate the securities market and also look after the interest of investors.
This makes SEBI a guardian/watchdog for the people who wish to get involved in the securities market. Now let us understand why INDMoney SEBI connection is important.
Why does SEBI approval matter?
Everyone needs security/guarantee when it comes to money and when you have a legal body that backs an institution it increases the investor's trust in that company.
Thus, INDMoney SEBI approval helps the app become a more trusted and acknowledged platform for investors. Also, having SEBI backing works in the favor of INDMoney.
Also Read: Is MoonPay Safe To Use?

Pros and Cons of INDMoney
Everything has its own sets of pros and cons and an investment app comes under special scrutiny. Similarly, INDMoney is no exception and has its own set of pros and cons which are as follows:
Pros
It's all in one app and performs the functions of multiple apps. From investments to credit cards to managing expenses to insurance plans and much more. You get all of it in one place.
You can get loans through the app be it against property or otherwise.
The app lets you run a zero-balance bank account which is not very common.
You can invest in the US stock market without paying a transfer fee.
On withdrawal from your US a/c, the amount payable is lowest as compared to its competitors.
The Fixed Deposit rates offered by this app are highest when compared with its competitors.
The safety and security offered by the app are second to none and SEBI backing also makes the company trustworthy.
Cons
The app does not come with an in-house chatting platform which is a drawback for some users.
Reports suggest that the premium version of this app is average and not worth the time.
Some users have a problem with its mediocre customer support which sometimes leaves them unsatisfied.
That concludes everything you need to know about INDMoney. A detailed INDMoney Review is there for you to read and understand why the app is a must for you. We also provided a detailed analysis of INDMoney vs Zerodha which also paints a picture showing the stark difference between the two apps. There are no INDMoney hidden charges and INDMoney SEBI approval is another tick on the company's profile.