YouTube is not just about watching videos and listening to music – it has proven to be a great revenue-generating platform for many creators in this era. While watching your favourite artists demonstrating their skills, you may want to join their ranks and start making money on such a huge platform. Well, don't worry – anyone can become a content creator and start making money here. In this article, we will help you in this field by suggesting some of the best ways to earn money from YouTube in India.
11 Best Ways to Earn Money from YouTube in India
YouTube is one of the best and biggest video-sharing platforms in the world. With more than 2.5 billion active users, it is one of the most lucrative platforms from which many individuals and businesses generate enormous revenue online. If you talk about viewers, more than 1 billion hours of videos are watched daily.
Earning money from YouTube is not just a source of passive income – it provides lucrative primary income for many creators. But what did these creators do to earn more than entrepreneurs and shareholders? You should know all the effective ways to earn money from YouTube in India. Let's discuss all the strategies that will help you generate decent amount of revenue from YouTube. You could become the next famous creator earning a fortune from YouTube – but remember – good things take time. So, do not rush and follow the ways we have listed below:
1. Do Affiliate Marketing on YouTube
Affiliate marketing has spread its roots not only in India but worldwide. So, why not become an affiliate marketer, and earn money on YouTube by making referrals? Let's briefly understand how this works:
Affiliate marketing involves 3 parties: buyer (customer), seller (product manufacturer), and affiliate marketer (an individual who is promoting the product). You can promote a brand or a specific product in your video and add links in its description. If the customer purchases the product through the same link, you will earn money from YouTube in India, particularly a commission, varying from 0.2% to 25%, depending on the industry.
You must follow these steps to start affiliate marketing on YouTube:
Begin affiliate marketing on YouTube by selecting a niche – technology, food, comedy, or music.
Choose a reliable affiliate network, like CJ Affiliate, ShareASale, Amazon Associates, etc., and partner with multiple brands by signing up for free.
Copy the affiliate links of the product you want to sell and paste them into the video description.
Every time a customer uses that link and makes a purchase, you get entitled to a commission.
You can also use YouTube shorts to promote your affiliate links.
Affiliate marketers on YouTube are paid under 3 models, including:
I. On Click
The affiliate marketers are paid based on the number of clicks they can generate for the product manufacturer's or seller's website, i.e., the amount of traffic they can generate. It is known as Cost Per Click (CPC).
II. On Conversion
On Conversion model allows an affiliate marketer to earn the commission only on the products sold. It is given based on conversion rates that are decided in the agreement.
III. On Generating a Prospective Client
This model works by diverting potential buyers to the creator's site. The more you are able to divert potential clients, the more commission you will earn.
Also Read: 22 Best Affiliate Marketing Websites to Maximize Your Passive Income
2. Join YouTube Partner Program
The YouTube Partner Program grants revenue to the users by letting them access monetization tools, YouTube resources, and the Google Creator Support team. It is the best way to monetize your content on YouTube.
Creators use different monetization features and earn money from YouTube in India as a part of the revenue from advertisements on their videos. The best part is that anyone can become a YouTube Partner. All you require is to follow these simple steps below:
Step 1: Once you sign into the YouTube account you want to monetize, you must click the icon for your account in the top right corner.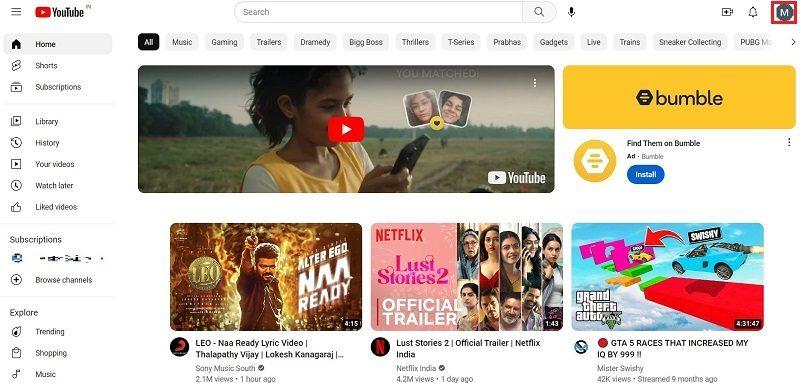 Step 2: Click on the YouTube Studio option.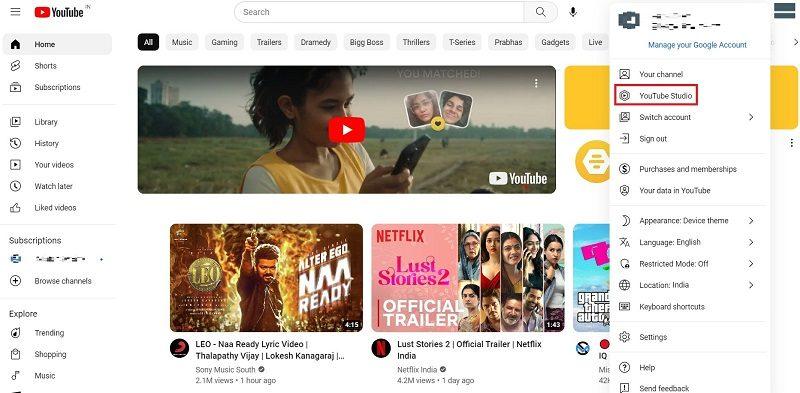 Step 3: Click on Earn in the left panel.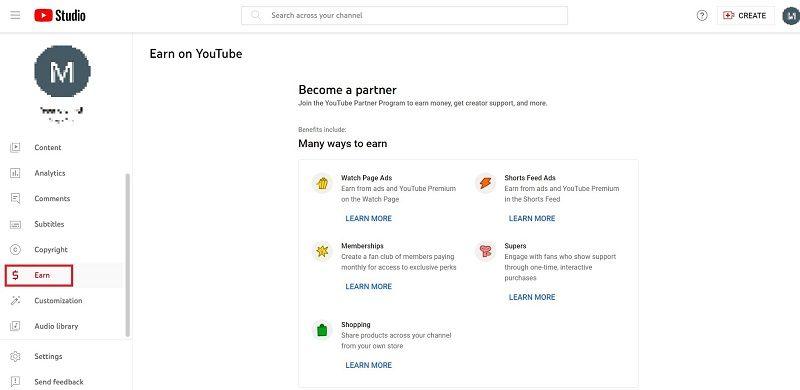 Step 4: As you need an AdSense account to get paid, you need to create one or connect an existing one to your YouTube channel.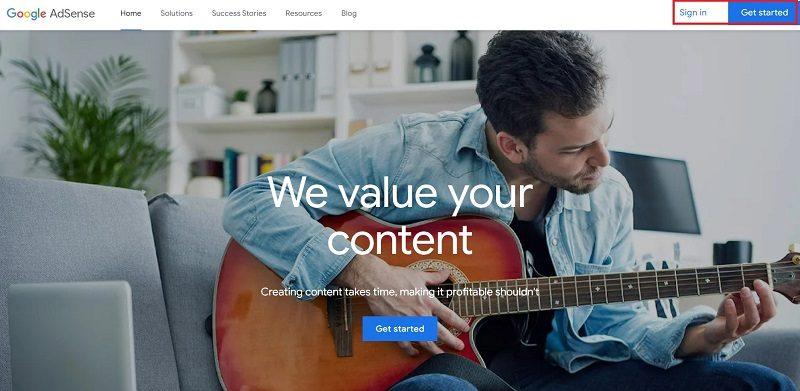 Step 5: Set your monetization preferences.
As you receive a confirmation email stating approval, congratulations, you have become a member of the YouTube Partner Program. However, there is a guideline you need to follow before applying for it.
You must have reached the threshold of 500 subscribers.
Your videos should follow YouTube advertising guidelines.
Your location must be eligible.
You must have at least 4000 viewers watch hours within 1 year.
Your Google Adsense Account should be linked to your YouTube Channel.
If you meet all requirements and adhere to these guidelines, monetizing your YouTube content becomes easy through this program.
3. Create Quality Content
It is the key element that helps you earn money from YouTube in India. Producing high-quality, engaging content your audience wants to watch, not what you want them to watch, will help you increase your YouTube earnings.
Accepting the relevant contract modules and creating content that meets advertiser-friendly content guidelines will attract a lot of new subscribers who might not have found your channel.
It might take a lot of effort, dedication, and hard work to produce content your audience like. But doing this will be completely worth it, which will help you set yourself apart from your competitors.
4. Engage in Brand Endorsements/Sponsored Videos
YouTube is an army of creators. Creators value their audiences, and YouTube value their creators. You can make the most of this platform with a considerable subscriber base.
If your YouTube channel is getting lots of views and subscribers, you have the opportunity to earn money from YouTube in India by doing sponsored content for companies. These brands can pay you a significant amount, ranging from Rs. 5000 to several lakhs, to promote their products or services to your audience. In simple terms, you get paid to talk about and recommend their stuff to your viewers. Let us understand this with the help of an example:
Amit has over 1 million subscribers on his YouTube channel. He regularly posts comedy content on his channel. XYZ is a company, and they want their brand to be promoted on Amit's channel. So, it asks Amit to wear one of the T-shirt on which the company name is written. Amit agrees to this, wears XYZ T-shirt, and mentions their tagline while talking to his audience in his next video. The very next day, the company started receiving more orders than before. This is the power of endorsement that helped Amit earn a decent amount of money.
Brand endorsement or creating sponsoring content is an incredible way to earn money from YouTube in India by promoting brands in your videos. However, you could only execute this strategy with a huge subscriber base.
5. Collaborate with Other YouTubers
Finding ways to increase your YouTube income in India? You can yield recurring earnings on YouTube by collaborating with other YouTubers. You can promote each other's videos, that helps in gaining more viewers and subscribers for both. Otherwise, both of you can create a video together based on a same topic.
Collaborating with other creators and creating such videos will help you diversify your content and get exposure to new audience. Moreover, if both of you are popular creators, and have a substantial number of subscribers, you can leverage each other's audiences to make more money.
6. Sell Your Own Product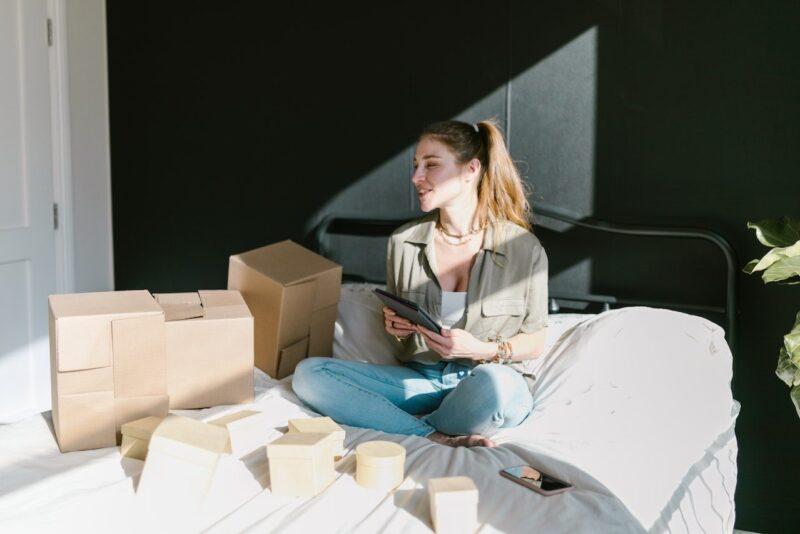 Another way to earn money from YouTube in India is to engage your audience by posting content in which you sell your own merchandise. Yes – this is also one of the most effective ways to monetize your YouTube channel.
You might have seen many YouTube videos asking audience to click the links provided in the description, the end screen, or the profile banner. Through these links, you can boost the sales of your personalized product. Follow the given steps to utilize the full potential:
Create a design that represents your business and appeals to your target audience.
Choose a print-on-demand service like Printrove, Qikink, or Blinkstore, where you can upload your designs and sell products without having to keep inventory or ship items yourself.
Register on your preferred print-on-demand service to establish your online store. Customize it with your branding and upload your designs.
Promote your merchandise to your audience through videos or social media posts. Include links to your store in video descriptions or on your social media profiles.
When someone orders your merch, the print-on-demand service will handle the printing, packaging, and shipping. You'll receive a commission from the sale as your profit. Make sure to set appropriate prices to cover your costs and generate a profit.
However, before you sell your product, it is vital to understand the concept of video automation. It enables creators to yield massive profits.
7. License Your Content to the Media
Start licensing your content in exchange for money if you have an established YouTube channel and plenty of viewers on your video. If your videos go viral, you may hear from online news websites, TV organizations, and other creators regarding using your content.
They get a license to use your video and pay you well in return. If you are searching for marketplaces where you can post your content and find potential buyers who buy them, you can choose Storyful, ViralHog, Jukin Media, etc.
8. Create YouTube Shorts
YouTube announced that it will pay 45% of the net revenue from YouTube Premium, allocated to monetizing creators for Shorts. Primarily, it's a $100M fund created to reward hundreds and thousands of high-quality content creators on YouTube for their unique contributions and for making the platform more exciting. To be eligible for the YouTube Partner Program for shorts, your channel needs to meet the following requirements:
You must have at least 1,000 subscribers.
Your channel should have received at least 10 million public shorts views in the past 90 days.
You should be living in a country where the YPP is available.
Your channel must not have any Community Guidelines strikes against it.
All the content on your channel must be original and should not have fake views generated by bots.
So, keep creating top-notch short videos that draws in target audiences.
Also Read: How much Money do YouTubers make in India? Full Guide
9. Get Financial Support from Your Audience
Your fans may provide regular support in exchange for rewards. YouTube calls them Perks. Let's see the various ways to do so:
YouTube Premium: You can earn money from YouTube in India in this way if viewers with a subscription watch your videos. You don't need to do anything extra to enable this feature as long as your videos follow YouTube's rules.
Super Thanks: Viewers who really enjoy your videos can show their appreciation by purchasing a one-time animation. They can then leave a special and personalized comment in the video's comment section.
Super Chat: During live broadcasts and premieres, fans can interact with creators by using Super Chat and Super Stickers. Fans can buy Super Stickers to have animated graphics in the live chat or Super Chats to highlight their messages.
10. Use Crowdfunding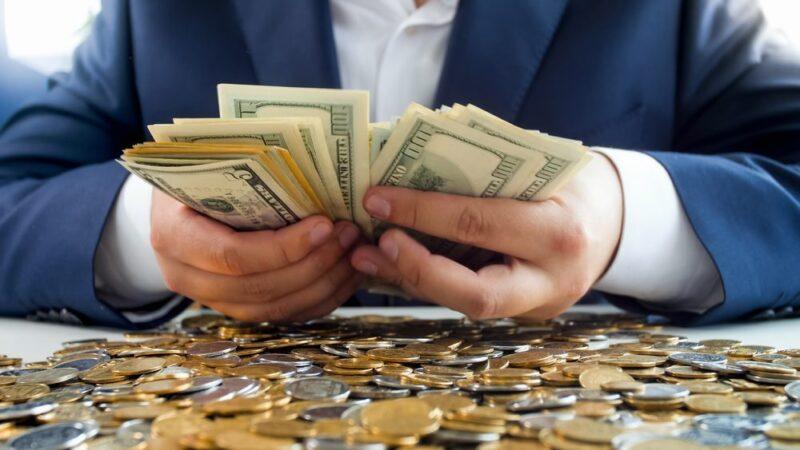 If you have an interesting idea that inspires your audiences to contribute their money, all the perks transpire on YouTube. You can ask your audience and the crowdfunding community to assist with actor hiring, purchasing equipment, or other production costs.
Some of the best crowdfunding platforms you can use are Kickstarter, CicrleUp, IndieGoGo, GoFundMe, and others.
Using these platforms, you can ask for donations from your fans, launch new products, or expect to fund your side ventures or ideas.
11. Focus on SEO
Making money from YouTube is not as easy as it sounds. The competition is fierce, and with so many creators on this platform today, it is quite challenging to become visible. So, to ensure your content is visible, optimizing your YouTube videos for SEO will help your content to show up in search results, which will further help you gain more audiences.
But how do you optimize your YouTube videos with SEO? Firstly, choose keyword-rich titles that accurately describe your video content. It is essential to use keywords in your video descriptions and tags to enhance visibility. Secondly, you should do is include a video transcript. This will help YouTube to understand your content better and enables viewers to find it when they search with related keyword easily.
Now that you know how to maximize the returns from your YouTube channel, let's learn about how to set up your YouTube channel if you are beginning your YouTube journey as a creator.
How to Set Up a YouTube Channel?
The first question that may come to your mind is whether opening a new YouTube account is free. Yes, luckily, there is no cost to open a YouTube account because it is a part of your free Google account. There are a few steps to follow to create your personal channel on YouTube:
Step 1. Sign into YouTube Account on PC or Android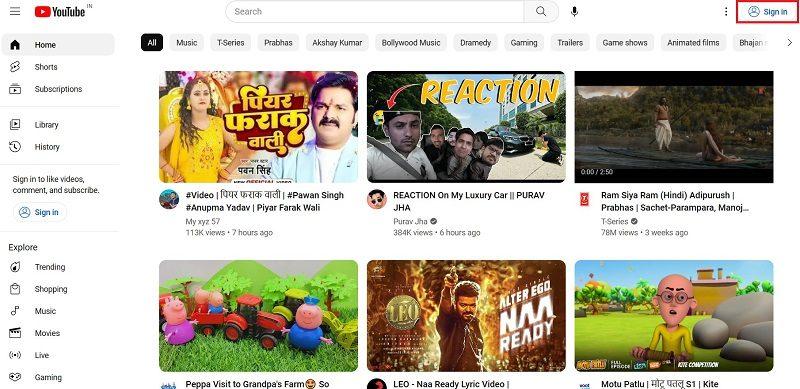 A Google account is required to set up your YouTube channel. You can even use an existing account or create a new one to become a creator on YouTube.
Step 2. Humanize Your Channel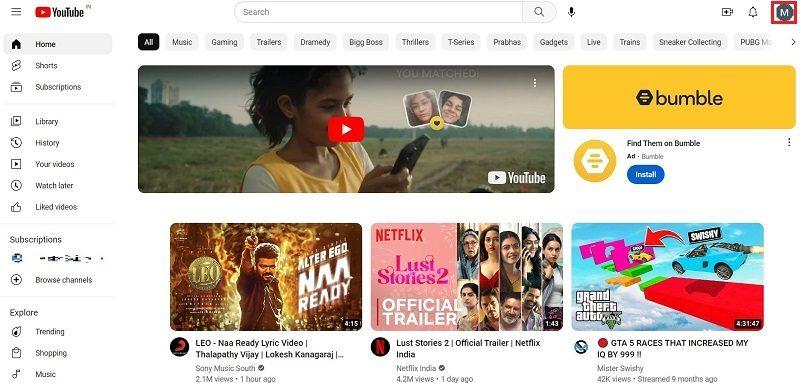 The next step is to configure your channel. To do this, you need to click the avatar icon in the top right corner of the screen. Once you click this, enter your first and last name on the next screen. Always ensure the name you enter must be reader-friendly; it will be used to identify your YouTube account.
Step 3. Add Visuals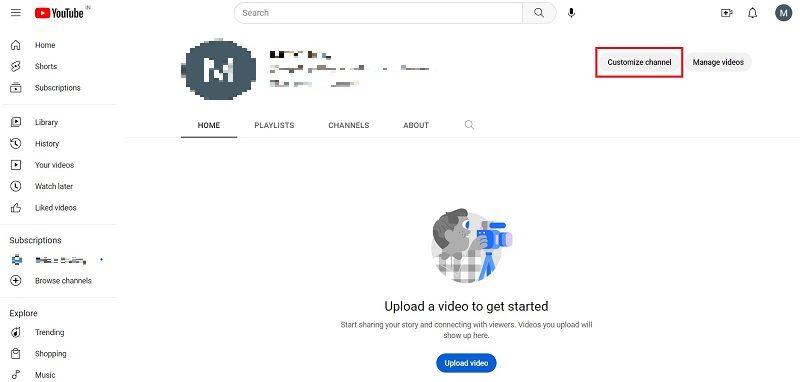 Numerous videos, more than 2.3M new videos, are uploaded to YouTube every day. Therefore, to make your video look unique, you must personalize your YouTube channel and add visuals to make your video enticing.
You need to click on Customize Channel after selecting Your channel. Insert your YouTube profile and cover image and price the creatives before posting them. The ideal size of the channel icon is 800×800 pixels.
Ensuring this will help your account look professional and contribute to its visual appeal.
Step 4. Write the About Section Concisely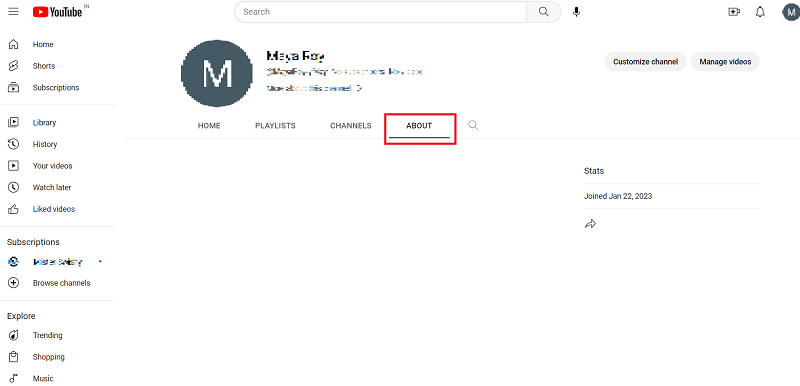 It is essential to give your YouTube channel a powerful introduction that catches the interest of your target audience by explaining who you are, what you do, and what makes your channel different from others. Remember, the About section must be curated, keeping in mind you draw both followers and leads.
Also Read: 50 Richest YouTubers in the World
How to Enhance the Visibility of Your YouTube Channel?
There are a few effective tips and tricks to gain visibility and views on YouTube channels to earn money from YouTube in India. Let's get to know about them all:
1. Write Engaging Titles
YouTube marketing relies extensively on presentation. Titles are a major factor in making your video look impressive and worth watching. The key to crafting compelling titles is captivating your viewers and intriguing them to watch the videos.
The optimal YouTube video title length should be around 70 characters. Ensure to follow the YouTube-friendly titles and use tools like CoSchedule Headline Analyzer, which recommends using 55 characters for an engaging headline.
2. Know Your Audience Needs and Create Content based on Appropriate Keywords
Do you know what can maximize your traffic? Educating your audience on niche subjects that will add value to their lives will maximize the first-mover advantage. The question is, how will you educate your audience?
Know your audience and then analyze what type of content they want to see on your channel.
While creating video content, you must also look at your competitors and identify which videos get the most views and engagement.
Identifying popular keywords is essential for attracting a significant number of searches from your target audience. You can use tools like Google Keyword Planner or UberSuggest to determine the search volume on Google.
Additionally, consider utilizing the YouTube auto-complete search function, as YouTube is the second most popular search engine globally.
By typing in your keyword and observing the recommendations, you can gain insights into users' recurring searches, allowing you to optimize your content accordingly. Once you have selected a relevant keyword, follow the steps provided to optimize your video around that phrase and enhance its visibility.
YouTube Analytics is another element you can take advantage of while you create videos and earn money from YouTube in India. Better understand the YouTube metrics and augment your strategies accordingly.
3. Optimize YouTube Videos through Description, Tags and Categories
YouTube videos show up in more than 70% of the top 100 Google search results. Being a YouTuber, you must know how to make the most of this opportunity. Any how-to query or a product on Google will fetch the results and return something from YouTube.
YouTube is the second largest search engine after Google. Thus, such results even pop up when searching for a traditional website or blog post. It is the sole reason why YouTube videos and titles must be optimized regarding keywords, tags, etc.
Follow the best practices that will increase your chances of showing up, such as:
Include target keywords in your titles and descriptions.
Saying your target keywords in your video can help the search engine, YouTube understand comprehensively what your video is about.
Using categories will enable YouTube to understand your target audience and will show the videos to your prospects.
To determine the rank of your video, YouTube uses parameters such as Likes, Views, and Comments in the search results.
YouTube gets more content about your video if you use Tags.
4. Nurture a Community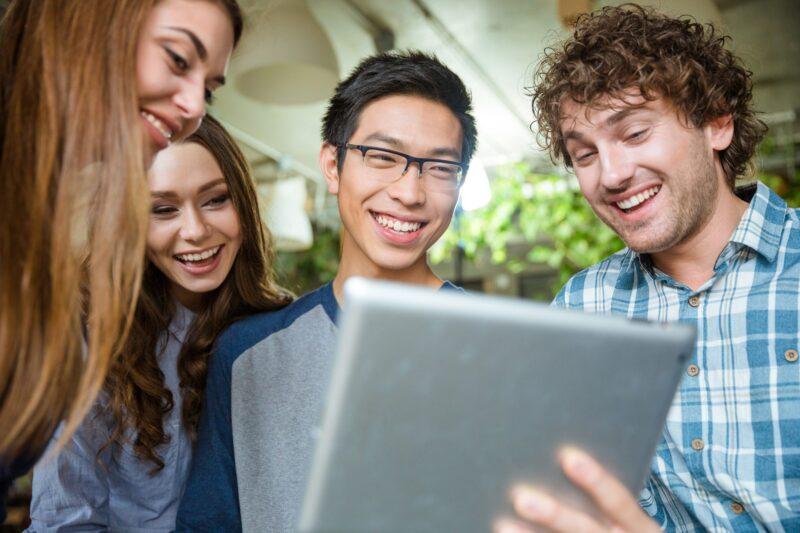 If you don't perceive YouTube as a social media network, you should change your perception of seeing this platform. YouTube is a thriving community that allows content creators to engage with their viewers via content, comments, likes, and profiles.
Engaging with your subscribers or pinning a top comment to write a personal note to your subscribers will foster a relationship with your audience.
5. Customize your Thumbnails
Try creating custom thumbnails; it is one of the most effective tactics to grab viewers' attention. If you do not add any thumbnail, YouTube will randomly add a blurry screenshot from your video by default, which won't leave a good impression on your audience. Therefore, creating thumbnails yourself will make your video appealing and depict professionalism, helping you to earn money from YouTube in India.
6. Use Powerful Call to Action (CTAs)
Creating videos without a Call to Action is like making a dessert without adding sweetness. Therefore, you must add a CTA enabling your viewers to drop a like or comment or press the bell icon to subscribe. Content creators commonly use these reminders in the description or in the video itself.
Asking your viewers directly to check out another video is also an effective way to keep your audience rolling. You can also drop an external link to serve as a sort of CTA, which will drive more clicks to your website.
7. Promote your Content on Social Media
Whenever you add a new YouTube video, inform your followers on other social media platforms. It will help you to gain more followers and visibility. For instance, you can post 30 second or 1-minute teaser of your YouTube video on your social media account and insert the link of your YouTube video.
8. Run a Contest or Giveaway
Most audience likes giveaways. It drives engagement and encourages people to subscribe to your channel. All you need to do is keep your contest simple so that people like your video, drop a comment, and press the bell icon to see your channel's posts regularly.
If you are running a contest or giveaway, ensure that you adhere to the YouTube policies, and follow the best practices such as:
You would not want to attract freebies. So, ensure that the giveaway revolves around a gift related to your brand.
Incorporate user-generated content and other non-traditional entry requirements.
However, this strategy must be executed cautiously. Hosting too many frequent giveaways may waste your time, money, and resources and may not help you get desired results. So, after you host the first giveaway, identify subscriber drop-off rate and engagement numbers. If the giveaways are not bringing in engaged subscribers, it's useless, and you might need to change your strategy.
9. Embed your YouTube Videos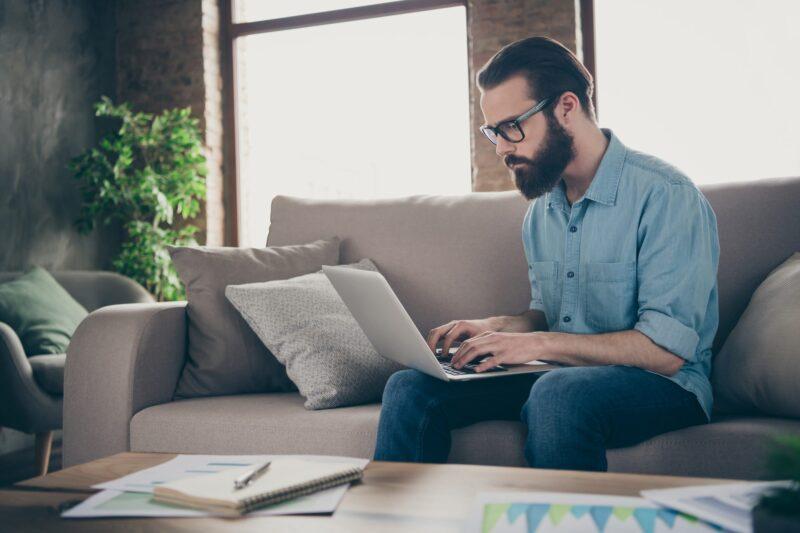 Embedding a video is a good idea to increase conversion rates and lower the bounce rate on a site. But how will embedding a video help you promote your YouTube channel? Besides engaging more visitors and traffic to stick around a product or a blog post, embedding videos can also bring more viewers to your YouTube channel by redirecting the blog post's traffic to click and open the video. This way, you can earn money from YouTube in India.
10. Try Live Streaming
While the trend of live videos is increasing every day, more and more brands are getting on board. Social media platforms like Facebook and Instagram have made it easy to stream live videos, but YouTube has recently started picking up steam.
Now that you can use your YouTube channel to post live videos, some of the examples you can use YouTube live feature are Webinars, Q&A Sessions, Live Tutorials, and Product Demonstrations.
11. Add Subtitles
When people watch videos on the internet, sometimes they don't have the sound turned on. This often happens when videos are shared on social media platforms like Facebook, Instagram, and Twitter, where autoplay is enabled but the sound is muted. To ensure your audience can still understand your videos, it's important to include subtitles. Subtitles allow viewers to follow along with the content even without sound.
While YouTube offers automatic subtitles, it's recommended to embed the subtitles directly into your video during the editing process for better viewing experience. PlayPlay, a video creation tool, even has its own automatic subtitling feature to make the process faster and easier. By adding subtitles to your videos, you can reach a wider audience and keep viewers engaged regardless of how they watch your content.
12. Focus on End Screen and Cards
At the end of your video, it's a good idea to include some additional elements to engage your audience. These can be things like a link to subscribe to your channel, suggestions for other videos to watch, or a link to your latest video. These components help keep viewers interested and encourage them to spend more time on your channel.
Another way to promote your brand and other videos, and earn money from YouTube in India, is by using pop-up notifications called cards. These cards give viewers the option to click on them for more information or to watch related content, but they disappear if the viewer chooses not to interact with them.
Also Read: 22 Best Debit Cards In India: Features & Comparison
How do YouTubers Get Paid
in

India?

YouTube takes into account the following factors when paying its creators:
Subscriber count: The more subscribers a creator has, the better their chances to earn money from YouTube in India.
Video views: The number of views a creator's videos receive plays a significant role in determining their earnings.
Viewer location: The location of the viewers also influences the payment, as some regions may have higher advertising rates.
Watch time: The amount of time viewers spend watching a creator's videos is important for determining their earnings.
Factors that Influence YouTubers' Video Earnings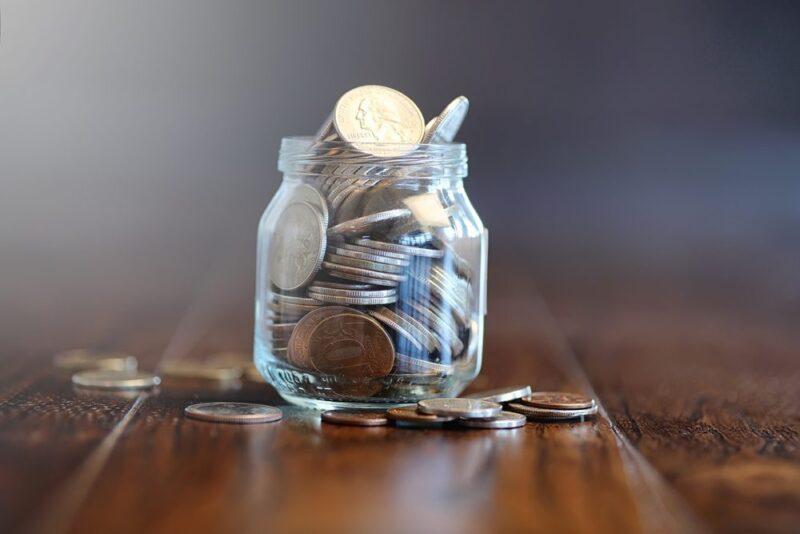 1. CPM, or Cost Per Mile: This is the amount advertisers pay to content creators for every 1,000 views their ads receive. The CPM rates vary depending on the location of the views. Norway has the highest CPM rate, followed by countries like Germany, Moldova, Algeria, South Korea, Sweden, Finland, the UK, Canada, and the US. In India, the CPM value is Rs 53.46 for every 1,000 views.
2. RPM, or Revenue Per Mile: RPM is the metric that YouTubers are most concerned about as it represents how much they earn for every 1,000 views on their videos. The RPM varies depending on the video's niche. Niche categories such as affiliate marketing, stock market, investment, drop shipping, content creation, personal finance, sports, beauty, and fashion tend to have higher CPM rates.
3. CPC, or Cost Per Click: It refers to the amount that advertisers pay for each click on their ads.
Which Categories are the Most Profitable?
You can earn money from YouTube in India from a video, depending on the topic it covers, called the niche. Creators pick their niche based on what they know well. YouTube pays creators based on the type and quality of their content. Here are some categories that make the most money:
Affiliate marketing: Promoting products and earning commissions.
Stock market: Sharing knowledge and insights about stocks and trading.
Investment: Providing advice and tips on investing money.
Drop shipping: Running an online store without keeping inventory.
Content creation: Making videos on various subjects to engage viewers.
Personal Finance: Offering guidance on managing money and finances.
Sports: Creating content related to sports events and news.
Beauty and fashion: Sharing tips and reviews on makeup, clothing, and style.
Comedy: Producing humorous videos to entertain the audience.
Entertainment: Creating engaging content for general entertainment purposes.
How much Money for 1K Views on YouTube? How much does 1000 Views on YouTube Pay India?
On average, an Indian YouTuber makes around 5 paise for every view they receive. As a result, they earn about Rs. 53.46 for every 1000 views on their video. However, this figure goes higher if you are a well-established creator.
However, the salary of a YouTuber does not directly correspond to the total revenue earned per video. YouTube pays 55% of the earnings to the creator, while taking 45% of the generated revenue for itself. This means that the amount a YouTuber actually receives as salary is a portion of the total earnings, with YouTube retaining a significant share.
How much does YouTube Pay for 100K Views in India?
For 100k views, content creators should earn between Rs. 2,000 to Rs. 5,000 for 100k views. However, this number can go up to Rs. 2.9 lakhs per 1 lakh or 100k views if you are already established in this field.
How much does 1M Views on YouTube Earn in India?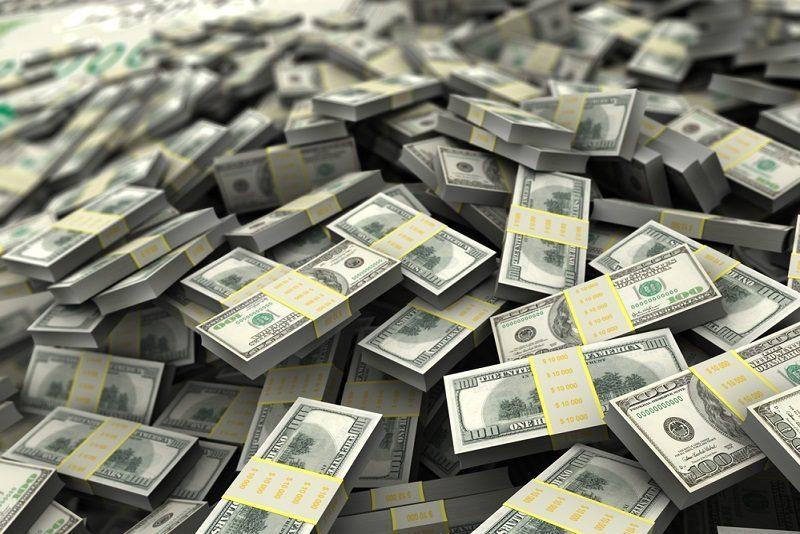 Getting 1M views on your YouTube video is not easy. You can earn money from YouTube in India handsomely – around Rs. 50,000-60,000 – if you can get more than 1M views! Moreover, YouTubers earn up to 68% of YouTube's advertising revenue, implying that they can reap up to Rs. 6.8 lakhs in ad revenue.
FAQs
Q1. Is earning money from YouTube challenging?
Ans. Making money is a challenge. Not only YouTube, but you can take an example of any industry. Thus, many people are toiling hard to make money on YouTube. It is because even if you succeed, you must be consistent and keep delivering good content to retain and grow your audience. The simple formula to earn money from YouTube is- You keep working hard and growing your viewers.
Q2. Does YouTube pay every month?
Ans. Yes, YouTube practices a monthly payment system.
Q3. How much do YouTubers earn in India?
Ans. The amount a YouTuber earns varies depending on the YouTube creator's subscribers and the success of their YouTube channel. The higher the engagement, the higher their earnings will be. So, to earn more on YouTube, you must focus more on creating good quality, engaging content alongside discovering your channel's traction.
Q4. How much can a beginner earn from YouTube?
Ans. If you are a beginner and recently established your YouTube channel, you can earn around $0.5 to $6 per 1000 views on your channel.
Q5. Is there a way to earn money by watching YouTube videos?
Ans. Yes, you can even earn money from YouTube in India by watching videos. A few platforms, including Paid2YouTube, pay viewers to watch YouTube videos.
Also Read: Top 50 YouTubers in India
We have clarified the money-making maze on YouTube in this article. With some hard work and a lot of passion, you can easily earn money from this giant platform. So, buckle up – maybe you can become the next YouTuber to inspire the future generation of YouTubers to chase their dreams!