It's no secret that a successful career on YouTube can be incredibly lucrative. In fact, many of the world's richest individuals are YouTubers earning millions annually.
YouTube has become a popular platform for creators to showcase their talent and earn money. Many YouTubers have become millionaires by creating engaging content that attracts a massive audience. In this article, we will explore the world's richest YouTubers and how they achieved their success.
Who are the Richest YouTubers in the World?
We have the inside scoop on who is making big bucks on YouTube. These content creators range from being impressive beauty mentors to magnificent gamers and artists who produce music and amusing content. Check out our list of the top 50 highest-paid YouTube stars and see how they made their fortunes.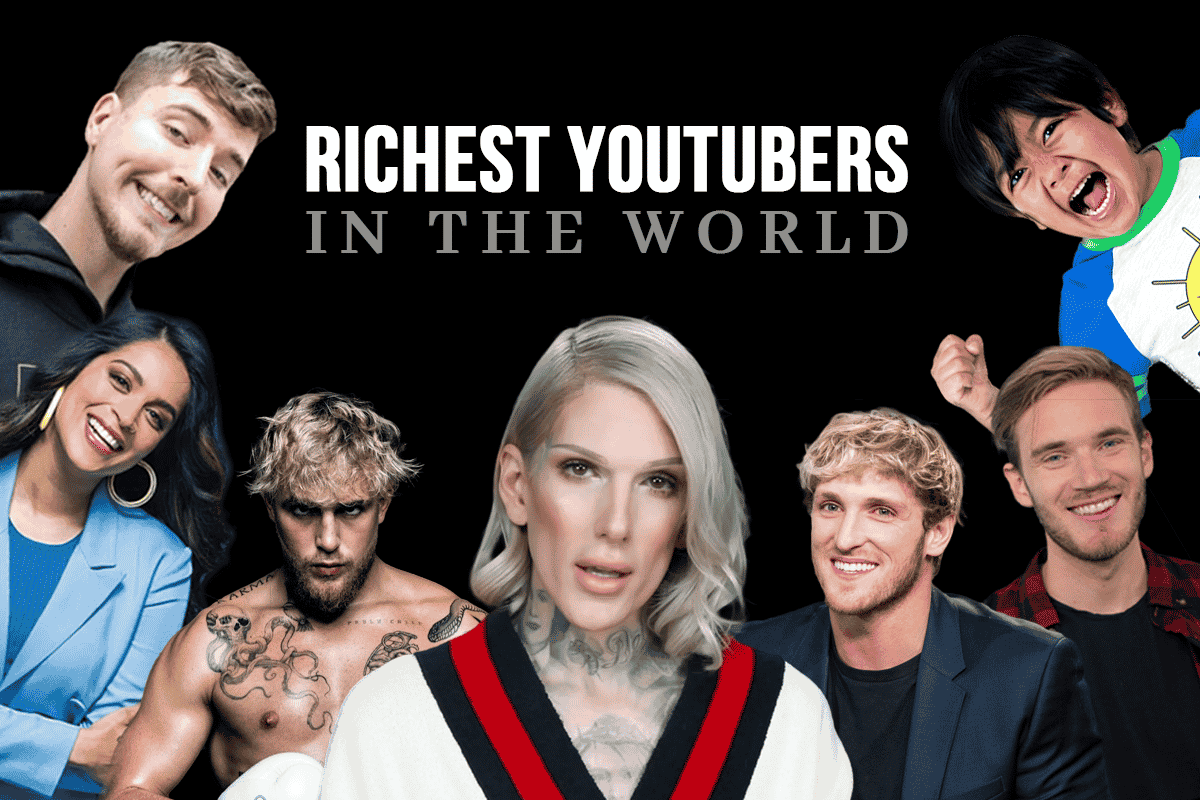 50 Richest YouTubers in the World
The world's richest YouTubers have all one thing in common. They're full-time YouTubers who made their money through video content on the platform. It makes them more relatable for people looking to make careers out of these channels, which we consider worth taking a look at. That's why we have come up with this article to inform you about the richest YouTubers in the world. The list includes the top 50 highest-paid YouTuber stars in the world, and it is fascinating to see how much money they make.
Net Worth: $54 Million
In 2021, MrBeast was ranked as the highest paid YouTuber star, earning over 54 million dollars. He has given away millions of dollars to charitable causes, and his channel has over 149 million subscribers. MrBeast, whose real name is Jimmy Donaldson, is famous for his big-money giveaways, stunts, and charitable initiatives. He has become a household name and has amassed a massive following on the platform. His net worth is around 54 million, and most of his earnings are from YouTube.
Net Worth: $45 Million
Jake Paul is one of the world's richest YouTubers, with over 20 million subscribers. He is known for his hilarious pranks and stunts, which have contributed to making his YouTube channel's views in millions. However, some people are concerned about his behavior, as he has been known to be reckless and careless with his actions. In December 2017, his brother Logan posted a video filmed in a Japanese forest that is grimly famous as a suicide spot, which was not well-received by his fans
He has a net worth of around $45 million and has been able to maintain his popularity with over 20 million subscribers tuning in to watch his antics.
Net Worth: $40 Million
PewDiePie (Felix Kjellberg) is a Swedish YouTuber, video game commentator, and the most subscribed channel on YouTube. He originally pursued a degree in industrial economics and technology management at Chalmers University of Technology but dropped out after one semester, citing disinterest. Before his involvement with YouTube, he worked at a hot dog stand.
His content consists mainly of Let's Play videos and comedic formatted shows. PewDiePie's rise to fame was rapid; he gained over a million subscribers within a year of beginning his channel.
Felix's life has been a series of ups and downs. He started as an artist, working to get hired; he even had the chance to be an apprentice in advertising with one well-known agency from Scandinavia.
In 2015, he was ranked the No. 1 person on Forbes' list of the world's highest paid YouTube stars, earning $12 million. In 2016, he again topped the Forbes list by earning $15 million annually. At present, it is the third most-subscribed channel on YouTube and the second most-watched individual user channel in the world. His net worth is $40 million, with a subscriber count of 111 million and still counting.
Net Worth: $35 Million
Markiplier is one of the richest YouTubers, a successful gamer and comedian. He is best known for his video game series Five Nights at Freddy's and Satisfaction City.
He has raised over $2 million for charities such as the American Cancer Society and the Make-A-Wish Foundation. In addition to his gaming content, he also runs a successful web series called 'Drunk Minecraft.'
In 2012 this Canadian comedy actor started out doing sketch comedies but then moved to other forms such as vlogging. Markiplier is also a philanthropist and has raised millions of dollars for various charities.
In 2019, Markiplier and Ethan created a new YouTube channel called Unus Annus. They made videos regularly which helped them gain over 1 million subscribers within just 7 days!
The first live stream on this platform peaked at around 15 thousand viewers. Markiplier's income is $35 million, and his channel has over 34 million subscribers.
Net Worth: $30 million
Rhett & Link are two American YouTubers, businessmen, and comedians. They are best known for running their YouTube channel Good Mythical Morning, with over 5 million subscribers.
The two friends from North Carolina met in first grade and have been besties ever since. To commemorate this meeting, they created a documentary about it called 'Looking for Ms. Locklear', which became one of the most popular YouTube videos on their channel to date. Their combined net worth is around $30 million.
Net Worth: $28 Million
Using the popularity of Minecraft, a popular video game, Nathan Graham built his YouTube channel. On YouTube, he is known as Unspeakable. He runs a total of four channels and a combined subscriber count of over 15 million.
Apart from playing Minecraft, he makes videos doing silly challenges and funny stunts. He also does giveaways on a regular basis. Unspeakable income is estimated to be around $28.5 million.
He recently became rich because of his deal with Spotter. According to this deal, Spotter owns the video catalog of Nathan's channel and has paid a hefty amount to him in return. They will get to license future videos of Nathan along with the existing ones.
Net Worth: $27 Million
As a kid, Ryan Kaji loved playing with toy cars and trucks. Eventually, he created his own YouTube channel, 'Ryan's World.' On his channel, Ryan reviews different toys and unboxes them, plays games, and goes on fun adventures to encourage his viewers.
Since its launch in 2015, Ryan's World has become one of the most popular channels on YouTube. With a net worth of $27 million and over 34 million subscribers, Ryan has millions of fans worldwide, and his videos have been viewed billions of times.
In addition to being ranked as one of the highest paid YouTube stars, Ryan is also a philanthropist. He has partnered with various charity institutions to help raise money for children in need. If you are looking for an entertaining and educational YouTube channel for your kids, check out Ryan's World. You won't be disappointed. His present net worth is $27 million.
Also read: 14 Ways To Earn Money From YouTube

Net Worth: $22 million
Nastya was born in 2014 with cerebral palsy. Her doctors thought there was a chance she would never speak or talk, but by the time Nastya was two years old without signs of cerebral palsy, her parents had managed to sell their businesses and devote all their time to caring for the little girl they loved so much.
Nastya and her family started their YouTube channel, 'Like Nastya', in 2016. They traveled around the world to six different countries within just one year. The whole time they spent was on an adventure. When she first started posting videos on Youtube, the channel was not very profitable.
However, her earnings quickly grew by dubbing her content into different languages and internationally uploading them to generate more revenue for her. Her net worth is $20 million, and the channel has over 105 million subscribers.
Net Worth: $20 million
Dan TDM, or The Diamond Minecart, is one of the most popular and richest YouTubers. He focuses on Minecraft videos and has amassed a vast following of dedicated fans.
Dan's success is mainly due to his unique style and personality. He's funny, relatable, and creates amusing videos of top-notch quality, which keeps viewers coming back for more.
In 2016, the famous YouTube gamer turned his channel into DanTDM. He wrote a bestseller novel called Trayaurus and the Enchanted Crystal. In 2017 with more than 2 million subscribers across all channels (including gaming), this man has now become one of the highest paid YouTubers by net worth.
If you're looking for some top-tier Minecraft content, you need to check out DanTDM. His net worth is $20 million, and at present, he has almost 26.8 million subscribers.
Net Worth: $20 million
Ninja YouTuber has been around for a while but started gaining recognition recently. He is known for his fast and efficient gameplay and his entertaining commentary. Ninja is an excellent resource for those who want to learn more about the game 'Fortnite'.
He regularly uploads videos that showcase his skills and provide tips and tricks to help viewers develop expertise in Fortnite and other games. Ninja is a Twitch streamer who left his channel in 2018 to join Mixer, an exclusive streaming platform created by Microsoft.
If you're looking to improve your Fortnite skills or want to watch someone good at the game, then Ninja YouTuber is your channel. His present net worth is $20 million.
Net Worth: $20 million
Started their YouTube journey in 2009; the guys from Dude Perfect are a group of former college roommates who met on the Texas A & M campus. They've been creating videos since 2009. Their YouTube channel has over 59 million subscribers. 
The content they create includes tricks, shots, contests as well as good-natured games or proposals to surprise your favorite sports star with an adoption ceremony if he/she is available during one specific time period.
When you think of sporting events, it's easy to associate them with one particular team. But there are actually many teams in the world; having their unique identity and tradition, one among them is Dude Perfect!
In 2016, the sports-themed YouTube channel 'Dude Perfect' went from a Cannonball Studios internet phenomenon to having a major presence on ESPN. They have been featured in commercials for brands such as Nike and Toyota Corolla. Their income is over $20 million and the channel has over 59 million subscribers.
Net Worth: $19 million
Logan Paul is a popular YouTuber with over 24 million subscribers. He is known for his vlogs, challenges, and comedy videos. Logan started his YouTube channel in 2013 and has gained a large following.
He has also appeared in several films and television shows. Logan was studying industrial engineering when in 2014, he dropped out to focus on his YouTube career. Logan's YouTube channel has been criticized for its controversial content.
In 2017, he uploaded a video of himself and his friends visiting Japan's "suicide forest." The video sparked outrage and led to Logan receiving a lot of backlashes. Despite the controversy, Logan's channel continues to be popular, and he has remained world's richest YouTubers. His net worth is around $19 million.
Net Worth: $18 million
Vanoss Gaming is a popular YouTuber known for creating fascinating gaming videos. He studied economics in college but dropped out to focus on YouTube, where now he has over 10 million subscribers with videos; from Call of Duty battle royale games like Fortnite and PUBG Mobile to live streaming sessions.
Vanoss Gaming is also a famous music producer and voice actor. He released his first album, 'In Pieces', in October 2019, which became an instant success worldwide. His net worth is $18 million, and he has over 26 million subscribers.
Net Worth: $16 million
James Charles is a high school graduate who overcame the odds to get what he wanted. Charles was born on April 23, 1999, in New York, United States. His parents are Deborah and Stephen Charles. He has two sisters named Erin and Lily. When he was 14 years old, he started watching make-up tutorials on YouTube and became interested in becoming a make-up artist.
When James wasn't working as a makeup artist in New York, he started posting compelling make-up videos on YouTube. He gained millions of followers by 2016 and became CoverGirls's first male ambassador that year. His channel grew to over 24 million subscribers while having 688k Instagram followers. By 2019, Charles's net worth was estimated at 12 million dollars.
Net Worth: $15 million
YouTube has become a platform for people to share their creativity over the years. One of those who found success on this site was an individual named Preston Arsement. His success has made him one of the richest YouTubers. 
After starting as TBNR frags back in 2012 with videos about Minecraft and Call Of Duty, he changed his moniker later into plays where you could find more pranks like 5 Ways To Prank Your Little Brother's Minecraft House, which currently stands at over 55 million views.
Nowadays, there are five channels total operated by one person, PrestonPlay. His net worth is $15 million and has over 23.6 million subscribers.
Also read: 25 YouTube channel ideas without showing your face
Net Worth: $14 million
The YouTube star IISuperwomenII started her YouTube career in 2010. She graduated from York University that same year with a degree in Psychology. Lilly Singh is a Canadian YouTuber, comedian, talk show host, and actress.
She was ranked 10th on Forbes magazine's list of the world's highest-paid YouTube stars, earning $10.5 million. Singh has also ventured into acting, writing, and producing. In 2016, she wrote, produced, and starred in her feature film, A Trip to Unicorn Island.
Lilly has also appeared in several films and television series, including Bad Moms (2016), Ice Age: Collision Course (2016), and HBO's Fahrenheit 451 (2018).
By 2017, she had won four prestigious awards for her work on YouTube, including the People's Choice Award as a favorite online personality. Her income is around $14 million, and her channel has 14.5M subscribers
Net Worth: $14 million
David Dobrik is a YouTuber who has been creating content since 2015. He is known for his hilarious and unscripted videos, which often feature him and his friends getting into wacky situations. In addition to his comedic skills, David is also an accomplished businessman.
David has already made a massive impact on the online world despite his relatively young age and no signs of slowing down anytime soon. David's content generally focuses on his personal life and experiences, but he also covers various topics in his videos such as current events, news, and pop culture. In addition to his YouTube career, David has also appeared in various television shows and films.
He recently starred in the 2020 Netflix film 'The Dirties'. His net worth is around $14 million, with subscribers of over 18 million.
Net Worth: $13 million
Blippi is a Washington native who wanted to be an air force pilot or limousine driver when he grew up. But instead, Steve served in the U.S Air Force as loadmaster and planned cargo placement for planes during wartime periods, after which he moved back home again.
Seeing his nephew watching low-quality YouTube videos, inspired him to start posting on social media sites like Twitter, where people could see live updates from Blippis HQ. He's had a very successful career as an entrepreneur and used his experience to help others succeed.
He began to produce videos in Spanish and released DVDs for sale on his website. He also created Blippi Toys, a line of toys that can be customized with an app downloaded from iTunes or Google Play store. His income is around $13 million, with subscribers of over 18 million.
Also read: 30 Best High Income Skills to Learn

Net Worth: $13 million
Roman Atwood is a popular YouTuber known for hilarious prank videos. He has been making videos for over 10 years and has amassed a large following of over 10 million subscribers.
Roman's pranks are often elaborate and well-planned, and he has even been featured on major news outlets such as The Today Show and Good Morning America. In addition to his successful YouTube career, Roman is also a successful businessman, with his line of merchandise and a highly successful vlogging channel.
Roman is a multi-talented individual who has made a name for himself in the online world. His net worth is $13 million, with over 15 million subscribers at present.
Net Worth: $12 million
KSI is a British YouTuber, comedian, actor, and rapper. His YouTube channel has over 22 million subscribers, and his videos have been viewed over 5 billion times. KSI's real name is Olajide William 'JJ' Olatunji.
He first gained prominence for his FIFA commentary on YouTube before branching out into other games and vlogs. Being a boxer, he has fought dramatically so far. The YouTuber has also become known for his disc tracks, Lamborghini, Sorry Mate and Down Like That, among others.
KSI has also appeared in numerous films and television series, including Bodied (2017) and Laid in America (2016). His current net is around 12 million. He is among the most famous and richest YouTubers.
Net Worth: $12 million
Emma Chamberlain is a popular YouTuber known for her funny and relatable videos. She first started gaining popularity in early 2017 when she posted vlogs and fashion haul videos.
Since then, she has amassed over 8 million subscribers and continues to grow her channel. Emma is also a successful businesswoman, launching her clothing line and coffee brand. In 2018, she was included on Time Magazine's list of the 25 most influential people in 2019.
Emma Chamberlain is someone who always keeps it honest. She doesn't try to be perfect or put on a persona; she is just herself. And that's what her fans love about her. She has about 10 million subscribers at present and earns out of other means as well. Her net worth is around $12 million.
Net Worth: $12 million
John Green is one of the most successful novelists in America, with his books becoming international bestsellers. He also has two YouTube channels which he runs with the help of his brother Hank. He makes both educational videos and entertaining ones.
John Green is successful in the world of writing, but he still enjoys sharing his creativity with YouTube audiences. He has several channels on this platform, including an educational series that helps kids learn about computers or trucks for homework. His current net worth is $12 million.
Net Worth: $9 million
Rosanna Pansino hosts one of the most popular cooking series on YouTube. She is a famous American YouTuber who shares scrumptious recipes on her channel.
Baking is in her blood. She started baking with her large Italian family at the age of 4, and it has never stopped since then.
Her love for food led her to this passion. She now teaches others how to make their favorite goodies while also providing recipes so that everyone everywhere can enjoy what she knows best, be it pastries & pie filling. She teaches her viewers everything and starts from scratch to help her audience make tasty food by using quality ingredients. Recently in 2017, Forbes listed Rosanna among the top influencers under Food.
She has remained one of the highest-paid YouTube stars, with over 12.7 million subscribers and 3.2 billion views. Her net worth is around $9 million.
Net Worth: $6 million
Liza Koshy is a popular YouTube personality who began her career on Vine before moving onto other social media platforms.
Liza's celebrity status as 'Internetainers' helped her ease into Hollywood while also hosting star-studded events and interviewing the former U.S. President Barack Obama (and many more). As of now, she owns two trending channels on YouTube. One has over 17 million subscribers, and the other has more than 8 million subscribers. Her net worth is around $6 million.
25. React (Formerly Fine Bros Entertainment)
Net Worth: $5 million
FBE's YouTube channel combines over 15 million subscribers and has more than 12.5 billion views collectively as of January 2022, making it one of the world's most subscribed and watched YouTube channels.
The brainchild behind these numbers is Benny Fine (CEO), who started his first endeavor back in 2004 with Rafi Fine, an online media company known today simply by its acronym 'Magic.' Together they produced videos across different genres like React TV series and narrative web serials where each episode was connected with previous ones while still telling unique stories within those worlds; but what skyrocketed their channel in popularity was the comedic sketches called MyMusic, a sitcom centered on producing music professionally.
Presently they have over 44 million subscribers over all platforms. At present, their net worth is around $5 million.
Net Worth: $5 million
Music is an art that can express emotions through sound waves. Whether it's a channel for aspiring musicians to get noticed like Justin Bieber or just some new material that happened across and you want more of it, musicians have always found YouTube as a platform to showcase their talent and reach new audiences with video content on the site.
One of the richest YouTubers in the world, Andre Willem Benz founded Trap Nation in 2012 to promote electronic music. Since then, he's expanded into other genres and created channels showcasing them all. All channels falling under Trap Nation have over 29 million subscribers. His net worth is around $5 million.
Net Worth: $4.5 million
YouTube power couple Zoe Sugg and Alfie Deyes became a YouTube sensation ever since they started their channel in 2009. Since then, both have built an enormous fan base by posting content from beauty tutorials to lifestyle advice. She has around 11 million followers.
The channel is about lifestyle and beauty products, and they take viewers through an engaging day-to-day life with tutorials for different types of jobs or hobbies and tips from famous people who share what works best when it comes to living your life.
Sugg currently reaches nearly 18 Million viewers who look forward to anything related to lifestyle/beauty aspects from within this community segment. At present, their net worth is around $4.5 million.
Also read: 23 Ways to Get Paid to Watch Videos
Net Worth: $2.5 million
Matthias Fredrick is one of the richest YouTubers. The known personality has extensive experience in different streams ranging from vlogging to creating family-friendly content. He started by posting daily updates on his channel, which eventually turned into team Edge, a multi-room network that includes at least eight active channels today.
He started with posting updates from his personal life with his wife and kids but then realized other families were looking for the same exposure, so they could enjoy it too. Fredrick included his brother and brother-in-law and their wives/partners, which gave them access to five channels dedicated to kid-friendly videos ranging from cooking tutorials to toy reviews. His net worht is around $2.5 million.
Net Worth: $2 million
Studio McGee is a design company started by Shea and Syd. They both had different careers before deciding to work together as interior designers, with her having graduated from communications school while he studied architecture at the university level.
She wanted to opt for something more creative than getting involved in these fields, so she turned to the home designing stream. Studio McGee is a team run by a powerful and charismatic couple with an entrepreneurial spirit.
This fresh approach from their YouTube channel has attracted larger audiences online who love watching them create beautiful spaces for people living all across the United States.
They have recently been featured in the new Netflix series Dream Home Makeover. Their net worth is around $2 million.
Net Worth: $2 million
The YouTube cooking channel Babish Culinary Universe is a massive hit with its unique and entertaining videos. The brain behind this extraordinary production has used popular media formats to create recipes that would otherwise never see the light outside instructional books or blogs.
The YouTube channel has uploaded videos where chefs recreated recipes featured in film, television, and video games regardless of how traditional or strange they seem. The first video was posted in 2016, and till then, the channel has had over 8 million subscribers. His net worth is around $2.9 million.
Also read: 51 Ways to Make Money Online For Beginners

Mark Wiens, a 33 year old American, is one of the most successful and well-known English teachers in Thailand.
His YouTube channel has uploaded hundreds of videos chronicling his travels around Asia with captivating food. He is running the blogging content for those who follow him from country to city or even home-cooked meals.
His travel vlogs quickly gained popularity with 100 thousand subscribers at first and over 7 million as of November 20th, 2020. His net worth is $4.17 million.
Lauren Rihimaki is a Canadian YouTuber who has turned creating DIY tutorials into an empire. She initially joined YouTube in 2011 when she wanted to post her sewing videos online and now has over 1 billion total views on the channel.
In December 2020, Lauren announced that she would be taking some time off from doing any major work but will continue posting regularly through social media platforms like Instagram or Twitter, where people can find all kinds of projects they want for their homes.
She has received awards at the Shorty Awards and Streamy Awards in the Lifestyle Category. Her channel has over 8.8 million subscribers and she deserves to be on this list of richest YouTubers. At present, her income is around $5 million.
The YouTube channel Bright Side is one of the fastest-growing video sites globally, with over 35 million subscribers. It's also been criticized for containing misleading information and not providing enough context or sources, but still, its success speaks volumes about what people want from internet today. The net worth is around $26.1 million.
The Tonight Show with Jimmy Fallon has been on the air since 1954 and is known to be one of television's longest-running talk shows. He took over this late-night talk show from NBC in 2016, which made it one year later when we saw clips popping up online, with his episodes having over 5000 video views of around 11 billion.
As of June 2020, it has been found that the channel has over 24 million subscribers and is considered the 50th most subscribed channel globally. The net worth generated from this channel is around $60 million.
Tasty YouTube channel is filled with videos about comfort food and recipes. Their posts have been trending in recent times; the most popular is 16 million views on Facebook! With four different segments, Tasty Junior, Tasty Happy Hour, Tasty Story, and Mom vs. Chef, he shares personal stories while showing how much work is involved in preparing particular dishes.
At present, he has over 16.2 million subscribers and is still counting. His income is around $7.34 million.
Lele created a YouTube channel in 2016 that quickly grew to over 17 million subscribers. Lele is more than just an average YouTuber. She creates impressive comedy sketches and original content that looks into her personal life.
In addition, this talented actress has also taken part-time jobs, including acting roles in movies/TV shows(including Selena Gomez's recovery video after the rich singer went missing), and releasing music with other artists through Sony Music Entertainment Group Ltd. Presently her net worth is around $3million.
Guava Juice joined YouTube in 2006 with his friend Alex Wassabi, and is known to be one of the most successful and richest YouTubers. His channel has over 10 million subscribers, and his videos have been viewed over 2 billion times. He is known for his creative and wacky videos justifying his adorable personality.
Guava Juice originally started out making Minecraft videos but has since expanded to include other games, challenges, DIY projects, etc. He has also collaborated a few times with other popular YouTubers such as PewDiePie, Jacksepticeye, and Markiplier.
They continued promoting their products through other channels and created a new one called 'Wassabi Games', having more than 150k subscribers today. At present, his net worth is around $20 million.
Collins Key is an American YouTuber who has earned fame through his YouTube channel. He's the first magician to make it into the finals of America's Got Talent and now performs magic tricks live on stage with other celebrities!
He and his brother together post comedy videos. His videos are full of fun and entertainment that entices the viewers. As of June 2020, he has over 21 million subscribers. His net worth is $17.5 million.
TheRichest is a renowned YouTube channel founded by Sarah Larkin, Kevin Flavius, and Rachelle Lewis. The platform is widely known for featuring people with luxurious lifestyles like celebrities and wealthy individuals.
The videos on this website cover their activities in-depth, showing you what they do for fun, their lifestyle and how much money these rich guys make each year. With over 14 million subscribers and an income of 7 million + dollars, it's no wonder why this channel has become one of the most popular on YouTube today.
Twin brothers Lucas and Marcus are an American dancing duo that rose to fame on Vine. They have over 35 million subscribers across three different YouTube channels they run. The Dobre Brothers recently launched The House, allowing them to collaborate with other top-tier creators.
Their video contents are mainly based on pranks, experiments, vlogs, dances, etc. At present; their net worth is $20 million.
The Ellen Degeneres show has been running for over 10 years and is still going strong. Her YouTube channel showcases various episodes of her talk show and other content related to it, such as review shows where she gives her comments on what's happening within pop culture.
It was created in November 2006 and now has over 37 million subscribers, making it the 27th ranked channel across all categories for video content creators. It is also one of the most-subscribed YouTube channels globally. Her net worth is around $370 million.
As a music producer, Christopher Comstock first started using Soundcloud as a platform to showcase his Talent and later joined YouTube in 2015. He used the site primarily to share remixes of other artists' songs alongside his original/exclusive work labeled as the Marshmello sound.
This unique mix combined genres like dubstep with more traditional EDM styles into something entirely new. This creativity helped bring change within dance culture by allowing music lovers from across demographics to enjoy themselves at clubs. He has over 45 million subscribers, and at present, his net worth is around $50 million.
Also read: 31 Best Pay Per Lead Affiliate Programs
Tana is a YouTube personality who became famous for her crudeness and storytelling videos on the internet.
She established her channel in 2015 and started as an ordinary person with 2 million subscribers, but now she's one of the renowned social media personalities with over 163 million video views. It has made her one of the richest YouTubers on the platform.
Her success can largely be attributed because Tana's uploads are raw, showing everything from what clothes make someone look fat or thin in their closet.
Tana's uniqueness lies in whatever she does as she is known for creating magnificent videos showcasing what contemporary fashion is. The best part is that she picks up concepts that any other person on social media does not highlight. Presently, her net worth is around $4 million.
One of the most famous YouTubers in America, Dream is an Austin-based gamer and Minecraft streamer. He initially introduced his channel with minimal followers while uploading video content in July 2019.
Since then, it's gone viral for its captivating gameplay videos that will have you guessing what happens next and there are 7 different channels total showcasing all sorts from adventure maps to speed runs with over 36 million subscribers. At present, his net worth is $4 million.
The largest video platform around today, T-Series was founded in 1983 by the famous Indian Businessman Gulshan Kumar. Right now his son Bhushan Kumar is the owner of T-series.
It is an Indian music and production company with up to 70% to 80% share of the Indian music market. It also owns a YouTube channel with 191 million subscribers and 162 billion total views on its videos alone.
The multi-channel network has 30 different YouTube channels, combining 360+ million viewers as of January 2022. Presently, they earn $7. 99 million from this channel.
Whindersson is a Brazilian comedian and one of the highest paid YouTube stars known for his parodies, vlogs (or video blogs), songwriting tutorials, and movie reviews.
He started as just another internet user in 2013, but with the help of some fantastic friends, he created one entertaining channel. In 2016 alone, it became Brazil's most subscribed YouTube account. His channel currently has over 42 million subscribers, and his present net worth is $5.5 million.
HolaSoy German is a popular YouTube creator from Chile who uploads videos about life and fictional topics. He started gaining an audience attraction due to his fast-paced, quirky style videos relatable to many people worldwide.
By 2012 he had reached one billion total views on all of the channels combined and successfully reached over 14 million subscribers making him the third most subscribed behind Smosh and PewDiePie.
Additionally, he has three other channels German Garmendia, JuegaGerman, and HolaSoyGerman2. His present income is $9 million.
Bhuvan Bam is a YouTuber from India with over 25 million subscribers to his comedy channel, BB Ki Vines. Bam was born in Delhi, India, on January 22, 1994. He completed his schooling at Greenfields. Bhuvan has also acted in a few short films and web series.
In 2018, he won the YouTube Silver Play Button Award for surpassing 100,000 subscribers on his channel. The founder of BB Ki Vines is not just an actor but also writes songs and engaging scripts for videos that range between 1 to 5 minutes long.
His series Dhindhora, where he played different roles, became an instant hit. As per 'Business Connect India', Bhuvans' net worth was $3 million as of 2021.
In a world of YouTube sensations, Ashish Chanchlani stands out from the crowd by creating humorous videos. He started his YouTube channel in 2009 and has since become one of the most popular YouTubers in India, with over 27 million subscribers.
His videos often feature him reacting to various situations amusingly, and he has also been known to collaborate with other Indian YouTubers such as Amit Bhadana and Bhuvan Bam. Currently, 'Business Connect India' estimated that this Lucknow native earns $115k-$180K per month.
Gaurav Chaudhary is a popular Indian YouTuber with over 22 million subscribers. He is more commonly known by his online handle Technical Guruji and is an Indian tech YouTuber who lives in Dubai.
His videos cover a wide range of topics, including history, science, current affairs, etc. In addition to being a successful YouTuber, Gaurav is also an author and public speaker. He is the author of two books and has also performed at various conferences and events. Recently 'Business Connect India' estimated his net worth at $45 million.
So, there you have it all on the same page. The world's top 50 richest YouTubers. While this list will undoubtedly change over time, it is interesting to see who is making the most money right now from this ever-growing industry.
We hope you also got some insight and ideas on how you can start your YouTube channel and grow it to make more money. If YouTube entices you, start planning a strategy and execute it to become a YouTube star.
Did your favorite YouTuber make it to this list? Let us know in the comments below!