Many people these days want to create videos on YouTube and become successful YouTubers to get fame and earn loads of money. Numerous people have talent but are camera shy and think if they can create a YouTube channel without sharing face.
Do you also think the same way and look for YouTube channel ideas without showing your face? Don't worry; there are various ways of doing that and earning money. The good part about making such videos is that it requires less equipment and just needs content to create a video, no such location, plus you are saved from the hassle of getting ready.
50 Best YouTube Channel Ideas without Showing Your Face
Here are some of the best videos ideas that you can use for creating your YouTube channel without showing your face:
1. Create Animation Videos
Animation is an excellent method to convey your thoughts, experience, knowledge, message, or idea you wish to spread across people. People love watching animation videos, especially when you entertainingly explain complex ideas. Pick a trending or interesting topic, break it into an easily understood way, and present it through animation.
These types of videos are trending a lot on YouTube these days, but it is essential to have a unique style for creating such videos as then only you will be able to keep viewers entertained. It is a nice way to earn money on YouTube without showing your face, as you just need to upload your animated video. This is one of the top YouTube channel ideas without showing your face.
If you are good at it, you can earn a good amount of money.  This needs artistic talent and skills; thus, you would need to learn animation skills for that as you would need some training for it. Or, you can also hire someone who can create videos for you; all you need to do is share the concept and type of video you are looking for.
2. Product Reviews and or unboxing
This is another video type that can be created without coming in front of the camera. If you like shoes, you can unbox and review shoes; if you love gadgets, you can buy different types of gadgets and share your reviews with the customers, etc.
You can do this for any niche you like as there are various channels that are made, especially on this concept. You just need to create a video showing the product in your hand, unboxing it, and then share the review.
Remember that you should never be biased while sharing the reviews, always tell both good and bad points about it. There are many people who like to see the review of the product before purchasing them, as this tells them if the product is worth buying or not.
It is a kgreat YouTube channel ideas without showing your face, where your share your opinion without coming in front of the camera.
Also Read: 12 Best YouTube Channels for Indian Stock Market
3. Cooking channel
In a busy schedule, people always search for some tasty and quick recipes, and they can get this easily on YouTube these days. If you are a pro in cooking, why not start your own YouTube channel to create videos without showing your face.
You don't have to know some different or gourmet cuisines; it can be about making healthy dishes, protein-rich dishes, quick meals for breakfast, etc. You can create different kinds of videos based on different concepts as it appeals to viewers, and they can straight away go to your channel and see the category in which they are interested.
In cooking videos, you just need to show your ingredients, gas, or oven, show how you are making it by chopping, mixing, stirring, etc., with your hands, and create the video without showing your face. This is one of the top YouTube channel ideas without showing your face.
4. Gaming
If you want to create Youtube channel ideas without showing your face, this is a great option. Numerous gaming channels are trending these days, and a lot of them have more than 100 million subscribers, and all they do is just post gaming videos on YouTube.
If you are good at gaming, you can create a channel demonstrating your skills. You can make your videos interesting and unique by adding funny comments or giving challenges to your viewers.
You must have heard of the famous YouTube channels Ninja and PewDiePie; they have millions of subscribers and earn a handsome amount every month through ads, sponsorships, live streaming, views, and endorsements.
In these videos, all you need to do is record your gaming sessions, keep talking to the viewers, and give them tips on making their game better. In fact, you can post videos in which you just talk about some tips and strategies players should use for becoming an ace in the gaming world. This is one of the top YouTube channel ideas without showing your face.
Also Read: 65 Best PayPal Games that Pay Real Money
5. Faceless tutorial videos
Millions of times, people type on YouTube writing, "How do I?" For a lot of people, YouTube is the place where they go when they need help with anything. Thus, if you are a professional or expert in any field, you can start making videos about it and teach them how to do it easily.
You can become a dancer, singer, painter, play any instrument, photographer, DJ, or anything that you are good at. You need not show your face and earn a decent amount of money every month.
For example, suppose you are good at programming or software. In that case, you can screen record yourself doing programming or talking about the software, as there are various people who are always searching for these kinds of helpful videos.
Various other ideas include creating handmade jewelry, handmade embroidery, etc. show people how you do it and telling them the hacks to do it neatly and quickly.
6. Cryptocurrency channel
Crypto is the most trending topic these days, and a lot of people are searching about it on YouTube and Google it. If you want to grow quickly, you can use this hot topic; of course, you need to have a thorough knowledge of it.
Many people want to know about the update and predictions on crypto, and you can help them by creating amazing and knowledgeable videos on it. Many people think that crypto is about Bitcoin, but the fact is that thousands of currencies have been introduced; you can tell people about them and how they can earn by investing in them.
You can start your videos talking about how to earn through crypto, different types of crypto, mining tips, how to diversify the portfolio, the best platforms to invest in, etc.
For starting a channel on crypto, you will have to analyze the stats, share your predictions about the boom or inflation, etc. This is one of the top YouTube channel ideas without showing your face.
Also Read: 11 Best Cryptocurrency Apps
7. Meditation
This is a pretty popular niche on YouTube these days, as people these days look for peace through meditation. These videos can be created in different formats, a few of them have a voice in which you guide the viewers, and in some, you can use music in the background. Thus, you can create such videos with stock images and music and outsource the writing and audio writing.
So, if you are into meditation and can give tips around it, you can create a YouTube channel around it and guide others about it. Various such channels are trending on YouTube, and people are following them as people who cannot go out for doing meditation can subscribe to your channel and do it sitting at home. This is one of the top YouTube channel ideas without showing your face.
8. Time-Lapse videos
A lot of people wonder how the time-lapse videos are created as they really look beautiful but don't know the simple technique of creating them. A time-lapse can be created for anything and everything; for example, you can turn on the camera, put a flower and let it wither. You can create a time-lapse video and show it degraded with time.
You can create a time-lapse video of stars, clouds, fruit, cityscapes, etc. This has become a very popular concept over time, and many people see such videos as they find it easy by following the steps of watching a video. If you love traveling, you can transform your vlog videos into time-lapse videos and upload them on YouTube. This is one of the top YouTube channel ideas without showing your face.
It is important for you to create interesting videos as this is one niche in which you can quickly grow your subscribers.
9. Office or home tour
If you don't want to be on camera but want to earn money by creating videos on YouTube, you can also create videos on office or home tours. The good thing about these kinds of videos is that they can work for any channel type you work for.
For example, if you run a cooking channel, you can give your kitchen tour. Or can give a tour of your music room if you are a musician, etc. You don't even need a camera person for that as you can shoot it by yourself and explain the equipment you use and how you work. This is one of the top YouTube channel ideas without showing your face.
10. Travel Videos
If you love traveling or going to adventure places, you can start recording the places you visit and tell their specialty, history, or anything that you like the most in the videos. The best thing is that you would not need to show your face in such videos.
Your video might go viral, and this way, you can earn a good amount of money through this profession. There is something more than you can add in your traveling videos if you are a food lover and like to explore the authentic dishes of the place wherever you visit.
You can create a video of famous food wherever you travel and give reviews if you like it or not. Also, you can capture the famous street food available in the city or around it; people love such kinds of videos and watch such videos before traveling to know the specialty of the place.
So, if your passion is traveling, convert it into a good earning source by creating videos and uploading them on YouTube. This is one of the top YouTube channel ideas without showing your face.
11. Use Presentation slides
You can also create presentation slides and use them for making voice-over videos; slides can be created by Microsoft PowerPoint or Keynote. After creating the slides, you can also use them to make videos. These videos are perfect for creating explanatory videos.
You can create professional-looking videos by using simple animation and design; the good thing is that you are not required to show your face in these videos. PowerPoint comes with a feature wherein you can record your slideshow and narration, and once this is done, you can export it as a video. Isn't it an amazing feature?
So, it is a great YouTube video idea without showing your face; all you need is a nice and trending topic to start your presentation or video. This is one of the top YouTube channel ideas without showing your face.
Also Read: 40 Best Influencer Marketing Platforms
12. DIY craft video ideas
DIY is another excellent niche for making wonderful faceless videos on YouTube. It is one of the most creative contents on YouTube; in this, you can create or repair something new from the old household items yourself. This is one of the top YouTube channel ideas without showing your face.
In this, you just need to show your creativity by moving your hand and telling the hacks of doing them; you need not show your face. But, you need to be very creative for starting a DIY channel; not everyone can start it. If you are not creative and have no such ideas in your mind, then starting such a channel would be of no use. This is one of the top YouTube channel ideas without showing your face.
13. Podcasts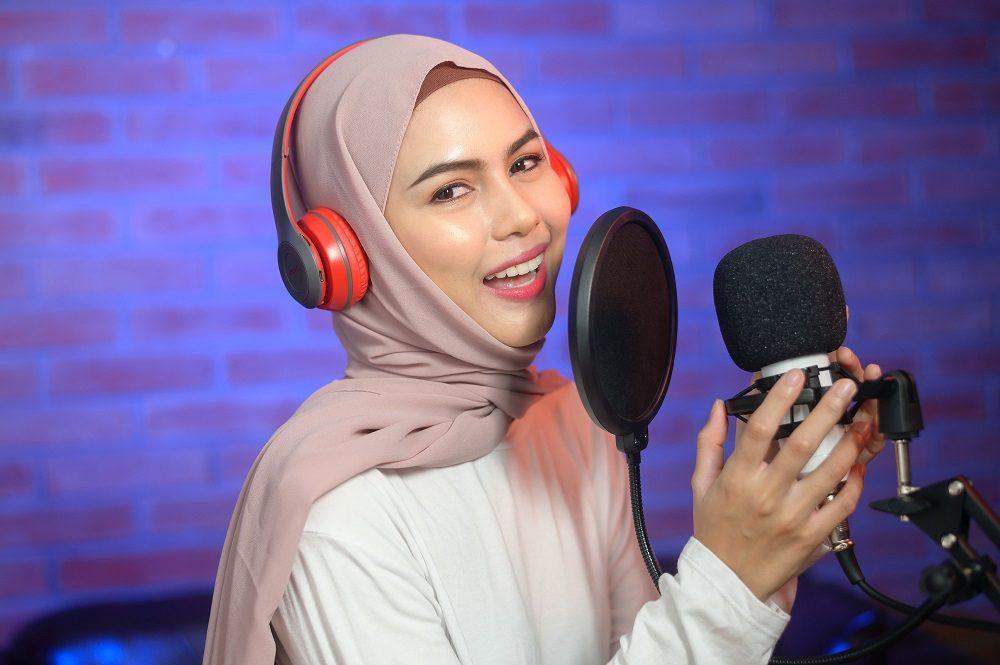 On the podcasts, the main content is usually in its audio; thus, you can also create podcasts as well if you do not want to come in front of the camera. You can begin a podcast on any topic you like, such as education, sports, politics, games, etc.
You can use a static image or moving graphics in your podcasts, record the audio and then post it on YouTube; a lot of people are doing this these days, so you can also opt for this idea if you are camera shy. This is one of the top YouTube channel ideas without showing your face.
14. Creative MeMe videos
It might seem easy to you, but the truth is that you can create such videos only if you have a creative and innovative mind. It is not a child's play to create MeMe videos as; first, you need to research content on which you will create a video, then you will have to think of ideas for creating Meme, and lastly, how to present it to the audience so that it is entertaining and funny.
A Meme makes people see the world differently than a normal person. Thus, start these kinds of videos only if you are creative and can edit the videos in a funny way. As per the reports, you should know that memes are the fastest-growing content on social media platforms; thus, it increases the probability of your video becoming viral and getting more views. This is one of the top YouTube channel ideas without showing your face.
15. Top List Videos
There are numerous successful YouTube channels that create videos by gathering footage from other videos. People love to rank and list things, for example, best singer, best videos from 2020 from 10 to 1, list of best dancers from 5 to 1, etc.
You would be amazed to know that people also look for the weirdest videos on YouTube, best shades of nail paint, etc. Therefore, you can also make such a list by compiling this data, and the good part is that your face is not required to create such videos.
Also Read: 14 Ways To Earn Money From YouTube
16. Software Tutorials
There are various people who find it tough to use new software, and some want to know some specific features of apps or phones. If you possess skills in using software, then here is the idea, you can make video tutorials where you can show your screen and tell the viewers how to use it step by step.
They are not like how-to-videos; you need to do screencasts thus, it does not require any camera setup. For starting such a channel, you need to be a software expert so that you can explain every detail about the software and answer all the questions of your viewers, in case they ask you any questions about it. This is one of the top YouTube channel ideas without showing your face.
17. Stock footage
When it comes to YouTube video ideas without showing your face, this is one idea that must not be skipped. You can use stock footage available online, and you need not show your face for that. In these videos, you need to insert a voice-over on the pictures and stock videos, but you would have to do good quality editing to get a professional-looking video.
If the quality of the video is not good, the viewers would not prefer watching it and skipping it. For engaging customers and creating a good connection with your viewers, it is imperative to do good video editing.
18. Home Decoration
You can create a home decoration YouTube channel as people love decorating home for every occasion, be it Diwali, Christmas, New Year, wedding, or any other special occasion. Every year people wait for their favorite festivals, and the world is full of festivals.
People always search for beautiful and easy home decoration ideas, but the home décor search increases during the festival time. Thus, if you are creative and good in this field, why not create a channel and earn a decent amount of money.
Apart from decoration, you can also give tips on other things such as making your space look bigger? Types of colors used to make your home look subtle? Etc. Get started if you have knowledge of decoration items or got some extraordinary skills on regular housing ideas.
19. POV Adventure
There are numerous methods of making money on YouTube without showing your face, and this is one of them. If you love traveling or enjoy doing adventure or thrill-seeker, strap on your GoPro or drone, you can do record them.
POV stands for point-of-view videos; if you can create such unique videos, you can get incredible footage, and your video could go viral. So, if you want to get many views on your videos and earn money without showing your face, then transform your traveling passion into a profession and start earning. This is one of the top YouTube channel ideas without showing your face.
20. Music Videos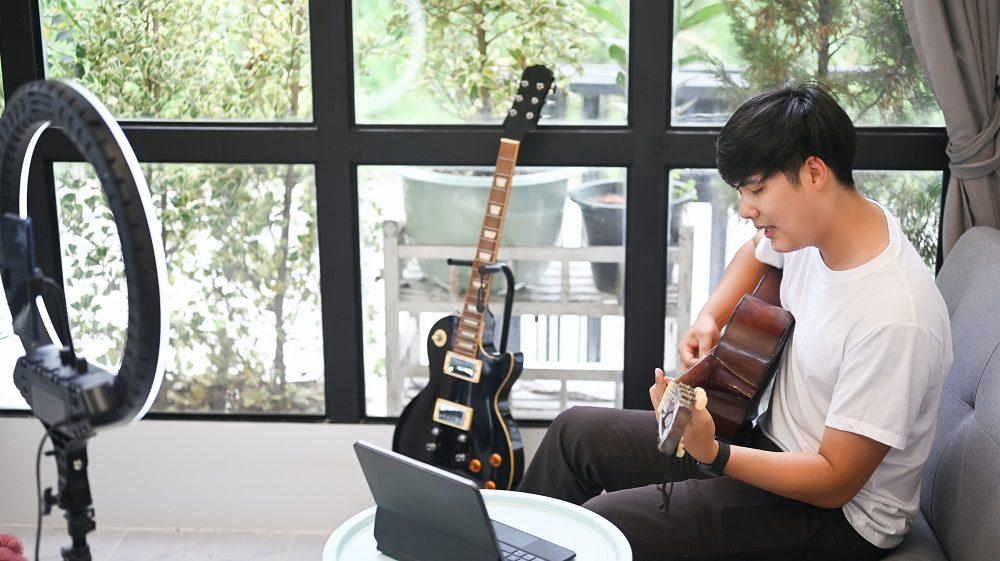 One of the best Youtube channel ideas without showing your face is creating music videos. You can either create original music videos or recreate some old songs or music you like. You can show your hands playing piano or any other instrument or use the album cover and play your song in the background. It depends on your choice what type of music video you create, and later you can transform it as per your viewer's demand.
These days' music videos are trending and getting a lot of views, so if you have singing skills or like playing any instrument, you can start your own channel. You should keep in mind that you do not expect the response too quickly; keep patience as it might initially take months for you to get more views.
Also Read: Top 100+ Social Media Sites & Platforms
21. Facts YouTube channel ideas
Sharing facts or strange things about a place can be a pretty interesting YouTube channel, and it can be created without showing your face. For starting such a channel, you need to do a lot of research and study the place you create a video on.
You can create videos on haunted places, cursed places, dolls, historical places that are less explored, etc. Try and search for source-related pictures and place them in your video. This is a great way of making regular videos unique and special; people love reading about such interesting places and knowing more about them.
Thus, you can consider this an option if you are good at doing research and reading about new and mysterious places.
22. Luxury
The rich and famous beat everyone when it comes to the number of followers on Instagram. If you love owning or reading about luxury items such as watches, cars, pens, bags, footwear, etc., why not start your own YouTube channel and talk about them.
Don't worry; you need not own such things for starting a channel; you can just talk about them, their value for money, reviews, cost, compared with other similar brands, etc.; this content would be freely available on the internet. All you need to do is research and compile the data before you start creating the video. You can also create a PPT by editing pictures and putting them together and recording a commentary over it. This is one of the top YouTube channel ideas without showing your face.
23. Documentaries
You can also create documentaries as they are one of the best ways to present visual summarization of a specific incident or anything in history. This can be a great option for college students, teachers, or people who love knowing about history; if you are a history lover, then you can share incidents or stories about history in a visual form.
Creating a documentary is very easy; all you need is to use some actual images or videos to give it an apt visualization. Remember that the images and videos you use should be directly associated with your video content. Once you collate all the data, just overlay a nice voice for the documentary created.
If you are a newbie, you can watch other documentaries to get an idea of how to create it and what you can do differently.
24. Biography videos
Just like the documentary videos, you can also create biography videos as well. You don't require any special skills or knowledge for making money on YouTube without showing face for creating biography skills. You would find various such channels on YouTube where people have created Biography videos, and they have millions of subscribers.
 So, for creating biography videos, you need to search biographies of famous people and celebrities. Once you decide the person for whom you will create the biography, pen down the main points or events you want to include in the video, such as educational background, struggle, family, etc.
To make things easier, you can create a blueprint of the points and mention how you would start and end. For example,
Introduction
Birth
Family Background
Education
Struggle
Experience
Achievements
Other
Recommended: 55 Best Online Side Hustles Ideas
25. The Pet channel
There are a lot of pet lovers, and they like knowing more about them or seeing funny pet videos. If you also are an animal lover, you can start a YouTube channel and talk about them, share some tips on keeping them clean, their vaccination food, etc.
You can also talk about different breeds, abilities, behavior, etc. The best part is that in such videos, you need not show your face; you can either create a PPT or play some animal video in the background and talk about them. If your channel gets many viewers, you can also sell animal products by becoming their affiliate partner.
26. ASMR
One of the most popular types of content for YouTube channel ideas without showing your face these days is ASMR videos and stuff. While sound or music channels can be confused with an ASMR channel it is vastly different and can be easily classified separately. These kinds of videos won't require you to contribute in a visual or vocal capacity since your work will be limited to behind-camera stuff.
You can go ahead and record or stream creepy voices or spine-tingling sounds from an abandoned place or you could record the silence of the night or the sound of waves and stuff like that. While you might be thinking who would watch that kind of stuff know that there is a good and sizable audience for stuff like this and you can enter the niche and earn well from videos on such stuff.
27. Silent Movies
It might not be the early 1900s anymore but that's no reason or excuse to not go ahead with an idea as great as this. We have a population of more than 800 crore people on Earth and so it would be hard to find a niche that doesn't have an audience as long as an idea is a sane one. Silent movies might be easier to make and also reduce your work as a content creator. The production work might go down significantly and maybe even the cost of making the movie goes down with this idea. And what's better is you don't even have to act in it or come on screen as you can play a narrator or a ghostly figure as a shadow on the screen and a silent horror movie will perfectly complement it as well.
28. Street Interaction
These kinds of videos are the ones that are currently ruling the internet as well as social media platforms. You all must have come across videos where we see a person head to the streets with a football, chocolate, a flower, or any other thing in their hand and then interact with people on the streets asking them to give him/her a first bump or score a goal using the ball provided to them. While the market for such videos may come across as saturated, this niche has more than enough place for every creator that is willingly switching to this field daily and so you can also go ahead and use this idea and make YouTube videos without coming on-screen.
29. Slow-motion videos
We have all been guilty of stopping our scrolling on social media sites to pause and watch a slo-mo video which was a huge thing a few years back. If done rightly then even today a slo-mo video can hold the audience nicely and that is why we have this recommendation on the list. You can have water balloons being popped in slo-mo, a dance step executed in slow motion, or any other stuff that can hook the audiences and you can shoot such videos and add good music in the background to make them more appealing. Using this idea you can make great videos for your subscribers while staying behind the camera. This is one of the top YouTube channel ideas without showing your face.
30. Nature videos
While it may sound similar to doing a travel video it doesn't necessarily have to be. In a travel video, the focus is on traveling and heading to newer locations and exploring them but with a nature-based video the flora and fauna are the central focus. You could record clipping where you have come across newer and rarer species of plants or creatures or you can share videos showing new and exciting natural phenomena which not many people on your subscribers' list may not know of. Again, you can limit your presence to behind the camera and can enjoy traveling while your viewers can enjoy what you have to show and what they see on your channel.
31. Fashion videos
While cooking channels or meditation channels can be found aplenty on YouTube a fashion channel is rarer which makes it the perfect suggestion. We are not talking about the plain old tutorial-type videos where you talk about makeup items or similar stuff but the one where you or a model hired by you can sport various dresses in front of the camera without showing the face. If you are a fashion designer or a retailer or wholesaler selling clothes then such a channel can surely help you boost your sales as well while also running a channel on YouTube that can grow in popularity over time.
32. Video game
Gaming videos are the ones where you can put clips of yourself playing a game or stream it live for your viewers but there's more that you can do with video game videos. Without coming on screen with your face you could make videos where you share tricks and tips to complete a mission or the game. These are called walkthrough videos where you help the viewer with verbal or visual references as to how certain things need to be done in a game. You can also review games for your viewers by not on the surface like a tutorial video but rather doing an in-depth analysis like a movie review of sorts. This is one of the top YouTube channel ideas without showing your face.
Also Read: How to Resell Items on Amazon? A Complete Guide
33. Motivational videos
Without us telling you, you must already have realized this is a very good and feasible YouTube channel idea. If you think you have wisdom or knowledge that is worth sharing with the world, then all you need is good calming music and some good stock images to go with your words. Without coming in front of the camera you can simply do a voiceover where you read or narrate the script prepared by you and put music and images with it. The world is a harsh place and anyone or everyone can do away with a little motivation which is why creating a channel in this niche may do very well as long as the content of the video is relevant.
34. News Channel
We aren't asking you to build a multi-billion news corporation on YouTube but what you can do is put up news videos that address issues in your area or from around the world that may be relevant to your subscribers. You don't have to go overboard with visuals and drama and simply need to keep the focus on the clippings and news bits. It doesn't necessarily even have to be a news channel addressing issues just like your usual news channels, but you could rather cover positive bits of news. While your face won't have to be on screen in the video make sure no controversial stuff makes its way to the video as well.
35. Educational
If you are a teacher or from an educational background, then this must have been a large part of your day-to-day to-do list when the pandemic hit. While the pandemic has taken a back seat making educational videos doesn't need to. Even while working your primary job of teaching kids at school or college you could still go ahead and pursue this secondary job.
Or, this is rather a task where you take to YouTube and upload videos using animations or images and voiceovers where you can explain complicated terms or complex stuff for the people who need a briefing on such stuff. Since the videos are educational you could end up with a huge subscriber list while pocketing good money from YouTube. This is one of the top YouTube channel ideas without showing your face.
36. Infotainment
You can have an entertainment channel where you post stuff that entertains people one way or the other or you can have an educational channel as mentioned above that aims at teaching stuff to others. But if both these options don't appeal to you then you can take the middle path and go for an Infotainment channel. Such a channel would require you to dish out informational content but the way of delivering it has to be a fun one and not preachy. Just like you have Dora the Explorer on TV for kids something along similar lines could be done by you where you use animations and graphics to run the channel while you stay behind the camera.
37. 3D/360 video channel
Get yourself a 360-degree camera and make the world your oyster. Videos of stuff from daily routine or something as simple as traveling from one to another can be presented in a whole new exciting way if you shoot it with a 360-degree camera. Just by making a slo-mo or time-lapse video, you can see how an ordinary video becomes something more exciting. Similarly, if you could just shoot video using a 360-degree camera and then add good music to this footage then you have got yourself an idea, an idea that is worth viewing and also has good money-making potential. What's more, is that you also don't have to be on screen, it can just be the clips and music with you behind the camera.
38. Gardening channel
Don't underestimate any niche these days for you never know what becomes a hit tomorrow. Gardening might not sound that great an option for a YouTube channel but it surely is one of the best ones. If you are interested in trees and plants or have a nice garden in your backyard or neighborhood then rush there and start making videos right now.
It can be a video on how to take care of specific plants or you can demonstrate grafting and other such plant-based processes which has more than a sizable audience out there. You can just be fulfilling your hobby of gardening but before you know you could also start making money from it. This is one of the top YouTube channel ideas without showing your face.
39. Compilation video channel
Just like you have a stock footage channel option and a channel for uploading plain old videos, the two can be combined and you can come up with a compilation video channel idea. If you can shoot videos then great or else look for videos that are free from any copyrights and then accumulate these videos and stitch them together. Add music to them preferably comedy sound effects (most times such videos are based on funny content). YouTube has quite a few channels that do this but all of them aren't necessarily good at it so make sure your video has the standout factor as well as the crowd-pulling factor.
40. Hand videos
You have channels with cooking videos or DIY videos that usually fit this type of criteria. But those are not your only options. You could just be painting something or drawing something which is for your fun. By simply streaming this or putting a video of the same you get yourself a YouTube channel. People would watch any type of video as long as it is entertaining or has an attention-holding capacity and so simply using your hands you could create various kinds of content that attracts viewers. You could do something like nail art or even paint your hands to look like animals and that would also bring you more than a decent number of viewers.
Also Read: Vinovest Review: Diversify Your Portfolio with Wine
41. Celeb channel
You have so many celebrity fan pages on various social media websites where a dedicated team of followers post content dedicated to the celebrity. Why can't you have a YouTube channel for the same? A YouTube channel dedicated to a star can be a great idea for a faceless YouTube channel as all you would have to do is share news revolving around the life of a celebrity or make videos dedicated to them and stuff related to them which you could even do so using stock images or easily available material. So by simply putting in less effort, you can get yourself a great channel with a huge following in no time. This is one of the top YouTube channel ideas without showing your face.
42. Streaming live events
If you are a host or frequently indulge in various events then you can stream live events to your viewers (of course with the permission of the event organizer or concerned person). You could be visiting a Zoo one day or heading to a magic show the other day and you could just casually be streaming it to your viewers who could enjoy the same thing as you from the comfort of their homes for free or otherwise. The pandemic sent comedians online where they now needed to host live zoom shows, an idea along the same line could come to your rescue.
43. How-to videos
While you have educational videos where you share bookish knowledge or other stuff and you also have tutorial videos where you teach particular stuff like how to use an app or something along the same lines. But you can also have a how-to channel that is dedicated to teaching people simpler stuff. Such videos would require you to look for simple stuff that people struggle with and then make videos on them for your viewers. Think of your channel as a Google search on YouTube and again you can run the channel without having to show your face to your viewers.
44. Investment videos
If you are from a finance background or understand how stock markets, crypto markets, and other such investment avenues work then you can create a channel where you can share videos where you explain complicated market stuff. You can simply put up graphs of stock or use images and other stuff to create such a channel. You also wouldn't have to put on music or so on these videos as a voiceover that explains stuff going on the screen can take care of that stuff.
Again this idea can see your channel score quite a few viewers in no time and you won't have to go on screen or in front of the camera when running this type of channel. This is one of the top YouTube channel ideas without showing your face.
45. Comment collage
We discussed above how you can compile videos made by others or shoot stuff yourself and stitch them together for your YouTube channel but apart from that you also have the option of a comments collage channel. You can head to places like Quora, Reddit, or other such platforms and search for questions that you think might have funny replies or comments under them.
Take screenshots of these comments (cover the user name) and stitch them together as a video or a clip and add funny sound effects or that kind of background music to them and post it on your channel. If you don't post offensive content and at the same time your content is also creative and knows how to get a laugh from the audience then it could work very well for you. This is one of the top YouTube channel ideas without showing your face.
46. Puppet show
Feel free to call puppetry a dying art but it is far from it. If you know a way to find your audience and connect with them then going ahead and starting a puppetry channel might not be a bad idea. Kids love cartoons and puppets for them are cartoons as well. So if you can write a storyline and get those puppets talking and laughing then you can churn good content from this. By pursuing this idea you also ensure that you stay hidden behind the camera while your videos go out there in the world and bring audiences to your channel. This is one of the top YouTube channel ideas without showing your face.
47. Movie breakdown videos
You can recommend movies or you can have a channel that helps players with the video game walkthroughs but what you can also do is have a channel on YouTube that specializes in breaking down films. Ask people how tough it is to watch Nolan movies and not scratch your head or how you can miss out on minute details in Marvel or DC movies. To help with movies of these kinds you could start a channel where you pick on these details, break them down and explain their significance to the viewers. Since a lot of such stuff is open to interpretation there is also no right or wrong with this idea there just is an opportunity. This is one of the top YouTube channel ideas without showing your face.
48. Hack channel
People are very excited to watch videos that teach them life hacks or essential skills that might be of some use to them in certain situations. So just as you would make a tutorial video to help people understand how to use an app or a device you could have a YouTube channel that tells people how they could perform a task more simply or efficiently. The stuff you teach them doesn't have to be life-changing or something out of the box, it can be something as simple as teaching them a hack that teaches them to fold their clothes or iron them in less time than it usually takes them. This is one of the top YouTube channel ideas without showing your face.
Also Read: Harshad Mehta Net Worth, Stocks, Scam
49. Ghost story channel
All of you can act brace now but at one point in our lives we have all been afraid of ghosts or some of you might still be but again that hasn't stopped any of us from wanting to listen to a ghost story or tell one of our own and that is exactly why a channel based on this kind of content will work. You don't necessarily need to have real-life stories as you can create a good script that has all the elements of a good ghost story.
This story then needs to be supported by complementing music that can push the scare meter a bit further. And as for visuals, you could have scary ghost photos or clips of ghosts playing on screen while you stay off-camera. This is one of the top YouTube channel ideas without showing your face.
50. Language video
For some reason, people love to learn languages other than their own and that is what gives weight to an idea like this. You have various translation or language-teaching apps available for download but alternatively, there are also YouTube channels out there that engage in this type of content. They use images, voiceovers, and mellow music to churn out language-teaching videos.
If you know popular languages like French, sign language, English as a second language, or others then you can stay behind the camera and still dish out some great content that will see your channel bring in a huge crowd while your subscription list will also grow significantly at the same time. This is one of the top YouTube channel ideas without showing your face.
These were some of the best YouTube channel ideas without showing your face. You can start any channel as per your skills and interest, so even if you are camera shy, it cannot stop you from being a successful YouTuber. You can spread your knowledge, skills, and experience without coming on the camera; you can use video editors that can help create one of the best and most unique videos.
So, what are you waiting for? Grab your phone and start your YouTube channel now