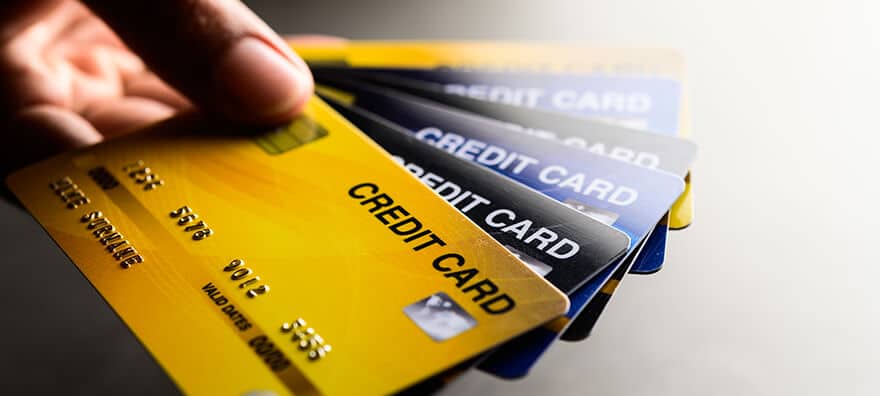 Credit cards have entirely changed our spending habits, but are you aware of the types of credit cards available in the Indian market and how they work?
There are a variety of credit cards offered by a number of issuers in the market. Now, the first step to selecting your first credit card is to figure out the type of credit card you need based on your spending habits and expenses.
Credit Cards: Types And How They Work In India
What is a Credit Card?
A thin plastic card that comes with a pre-approved credit limit and works just like a debit card in terms of making payments. The limit of your credit card is decided by the financial institution or bank that issues the card, factors that they consider while deciding your limit is your credit score or CIBIL score, and your loan repayment history. The better the history and higher the score, the upper the limit. The bill payment methods these days are shifting from cash payment to a card or electronic media payment mode. Almost all the businesses out there give customers the freedom to use any of these. However, credit cards are accepted everywhere other than exceptions. Bill payment using credit cards is one of the popular and most used payment modes for buying any services or consumer goods.
There is also a condition with credit cards that it imposes some terms and conditions on the cardholder that they had to repay the borrowed money within a certain period of time along with the interest or any agreed-upon charges on the cards services. After the deadline is expired, the cardholder also has to pay some extra late charges. In other words, one can say that credit cards work on the local money lenders principle of lending money, but the difference is the rate of interest you have to pay is pre-decided on some RBI regulation, and any institution cannot charge you interest more than a certain limit, which in the case of local money lenders is not definite. By using your credit cards, you get the freedom to pay in any corner of the country. You don't need to ask anyone for money, and you can withdraw money or pay your bills whenever you want to.
Generally, a line of credit (LOC) is a grant to the cardholders by the card-issuing institution, which allows them to withdraw money in the form of cash using the credit card and interest levied upon the cash withdrawal is always higher than those on bill payment. Cash withdrawal limit on a credit card may differ from the actual limit of the card, and this is also pre-decided by the lending financial institution after taking account of the cardholder's credit rating (it also differs from customer to customer).
It is very easy to use credit cards; you can just swipe the card in the same way you do the debit cards to make any payment for your purchase, any bills, or any online transaction. Your credit card differs from your debit card in only the way that, when you swipe a debit card for bill payment, the amount is debited directly from your bank account registered with that card, but in case of credit card the amount is deducted from the limit that is decided by your card issuing financial institution. If you are a credit cardholder, one thing you need to be alert about to avoid penalty charges is the expiry of the stipulated time frame of repaying the borrowed amount. And if you are going to apply for a credit card then you must first be aware of the types of credit cards available in the Indian market.
To avoid any fraud regarding your credit card, you have to keep your credit card details secure with yourself. Always avoid sharing any of the details with anyone. The issuing authority keeps your card details very safe and secure and never discuss or communicate that sensitive information with you on a phone call or text message. So be extra alert while communicating any detail of your credit card, or you can end caught in the trap of any of those fraudsters out there.
What are the types of credit cards?
These days financial institutions and banks offer numerous types of credit cards that have different needs to cater and are different in nature and feature you can get them as per your requirement. They differ in the credit limit, the facilities they cater to the cardholders and their benefits. They tend to acquire some cash back or reward points based on your transaction. Some of these cards give you benefits like exclusive airport lounge access, exclusive discounts on some purchase, or an option to select desired dining facilities available in the town.
Financial Institutions offer various types of credit cards but we recommended you to get some of these cards as they come with huge benefits. Before deciding the right card for you, think about your needs and get to know all types of available credit cards in the market. Select the credit card after comparing your needs, type of available cards, and the benefits they offer to the holders.
Types of credit cards available in the market are:
Here are the types of credit cards offered
1. Women credit card 
These cards are specially designed for women and their day to day needs. Almost all the available financial institutions available in the country offer one or two custom-designed credit cards for women. It gives benefits as special discount offers across some grocery chains, department stores, malls, and supermarkets. Makes you eligible for rewards on travel expenses like flight fare, accommodation, and entertainment expenses like movie tickets. You can access various offers on dining or other lifestyle products in your city.
These cards are only available for women, and they have the freedom to choose any available credit card option.
2. Student Credit cards
These are the credit cards issued to college-going students of 18 years or above. These cards come with a very low-interest rate and are valid for five years from the date of issue. The credit limit of these cards is also very low compared to all other credit cards available in the market. These cards are designed for students only and to make sure that they don't fall into the debt trap of overspending. These cards make sure that you get benefitted as a student. To get a student credit card, one needs not to give any income proof. Many of the financial institutions provide these cards as an add-on to the credit cards of the student's parent. These cards cater to reward deals on shopping, travel as well as food expenses.
3. Classic Credit cards
They are considered as entry-level credit cards, very ideal for beginners with a not too high credit limit and negligible or low annual charges. Almost all financial institutions offer this type of credit card. A person with a classic credit card can maintain his credit score by repaying the borrowed credit on time. It is accepted globally; you can swipe it to pay your purchase in any corner of the world accepting payment with credit cards. You get many rewards and cash backs on your purchases, waiver on fuel charges, travel insurance, and many more benefits.
4. Silver Credit cards
These cards are customarily designed for those who are salaried and seek premium rewards. People with a decent credit history are also eligible to get these cards. The annual fee to be paid by the cardholders of these cards are almost negligible or very low. You can enjoy about 25 -50 days of interest-free periods on your borrowings through these cards. These are also considered as entry-level premium credit cards. In compression with classic credit cards, the advantages of silver credit cards are more.
5. Gold Credit cards
These are considered as premium credit cards and designed for individuals with high income and a handsome credit score. The limit you get on these cards is comparatively higher than silver, and they give you benefit oo withdrawing as much money as the actual limit of the card. They give you benefits more than silver on all the purchases, exclusive access to offers, and airport lounge. You get the facility to opt for add-on cards for your family from the same account. You, by default, become eligible to travel insurance and many other cashback offers. Some of the gold credit cards are also given the benefit of insurance against theft and other losses.
6. Titanium Credit cards
These are premium credit cards offering benefits similar to gold credit cards differ in the only way that titanium cards facilitate you to opt for a credit facility that is revolving, means as you pay off your debt, your credit gets updated, and you become eligible for titanium reward point scheme. It gives you the freedom to withdraw cash as much as your limit is. You get benefits of insurance coverage that covers accidents too. Some of titanium credit cards are also in association with a large number of shops and brands due to which you get hefty discounts at those shops on your purchases.
6. Business/ Corporate Credit cards
These credit cards are designed for companies and businesses, government-run companies and partnerships, limited companies, and banks. It is useful to keep track of all the expenses of the business, either small or large. If you are an owner of a corporate office or a small start-up, then you are eligible to get a business credit card. Generally, the head of the business held the card, but you can opt for employee's credit cards too and put a cap on then to limit your employee's expenses. The repayment of borrowed money from multiple business credit cards can be made in one go. These cards also provide you with benefits of reward on travel expenses, accommodation, and entertainment expenses.
7. Rewards Credit cards
These credit cards are made by keeping in mind the need for a shopaholic individual. You need to have a decent credit score to get this type of credit card. On your every purchase with your reward credit card, you get rewards, and these rewards are basically points that will get you some discounts in your future purchase before the month ends. You can also use those points to purchase goods and services listed on the cards. Some cards also offer you some financial rewards on your purchases with these credit cards, which you can use to pay back the debts. Almost all the financial institutes' reward credit cards come with some tie-ups to malls, supermarkets, renowned brands retail outlets. These cards come with a slightly higher interest rate in comparison to other credit cards.
8. Cashback Credit cards
You can sense about these credit cards from its name only. They are exclusively designed to get cashback on all the purchases made using these cards. They give you cashback ranging from 5 to 25 % on each purchase. The cashback rates differ from cards to cards. Generally, they provide cashback on fuel charges and wavier on fuel surcharges. The annual fees of these cards can be adjusted in the cashback you earned during your purchase. These cards come with a list of places where you will get dining privileges. They also bring cashback on payments of bills, purchase of groceries, or movie tickets.
Recommended: Best Cashback Credit Cards In India: Review and Detailed Comparison
9. Entertainment Credit cards
The name of these cards itself gives you an idea of what these cards are all about. It makes you eligible for rewards and discounts on the purchase of entertainment services and goods. These cards benefit you on the purchase of movie tickets, concert tickets, or an event's ticket around you. They also come with the benefits of regular shopping. You can get rewards on the purchase of lifestyle products, club memberships, travel expenses. The rewards or points you earned through these cards can be used to buy a movie ticket or travel booking (entertainment services or products only).
10. Lifestyle Credit cards
These credit cards are considered among premium credit cards, which brings you all the benefits from lifestyle segments. These cards are fit for those whose lifestyle and income changes from time to time. They cover the benefits from segments like sports club memberships, luxury dining privileges, and travel expenses. These can give you access to luxurious lifestyles and many luxuries considered exclusive around the world. They come with higher rewards for shopping and traveling expenses.
11. Prepaid Credit cards
These cards can be considered an amalgamation of a credit and debit card, as they behave like a debit card and gives you benefits of a credit one. You can deposit a certain amount in your account with a prepaid credit card. You can swipe your card to pay for your purchases, and the deposited amount will be your credit limit. Your bills will be paid with the amount you deposited. It will behave like a prepaid mobile recharge; you need to redeposit money in your account every time your credit limit goes down to make payments. These cards bring some rewards on your every purchase. These cards are the best fit for those who have the issue of a low credit score. It will enable such individuals to avail of all the benefits of a credit card.
12. Travel Credit cards
A credit card exclusively designed for those who are passionate about traveling and believes in spending morning, afternoon, and evening of a day at different places. These cards are generally in association with travel agencies and airline companies. It brings benefits like airport lounge access, reward points, air miles, etc. You can travel across the world using travel credit cards. You also get benefits on hotel accommodations, dining privileges, and holiday packages.
Recommended: Best Forex Cards In India
13. Balance transfer Credit cards
These credit cards give you the freedom to transfer your credits, which means if you have credit in the SBI credit card, then you can transfer it to a new credit card in PNB bank. The facility of transferring the remaining credit of a card to another is provided by almost all the banks to its customers. These credit cards suit best for those who have a low credit score. It reduces the burden of debt on the borrower and help in improving the credit score as well. You can transfer the credit to another card and convert the balance into scheduled easy EMIs comparatively on a low rate of interest.
14. Secured Credit cards
These credit cards are issued to the cardholder after they deposit some security amount or any collateral. These cards are suitable for those with a low credit score. You need to open a fixed deposit (FD), and then on that, a credit card is issued to you. The FD is considered as security to the bank in case you default your card. The credit limit of these cards is decided as some percentage of your FD amount. These credit cards can also be treated as balance transfer credit cards to convert credit repayment into easy EMIs installment. The rate of interest in these cards is less.
15. Subprime Credit cards
These credit cards are designed for those who don't fulfill the requirement of credit cards according to the market interest rate. The credit history of such individuals is very poor. It is generally referred to as a second chance to such individuals. This was started in the USA in the 90s for all with poor credit score, loan defaulters, or bankrupts. The rate of interest levied on these credits is much higher than others, and the credit limit is also comparatively very low. Not all the financial institution in India provides the facility of subprime credit cards.
Why should you start using credit cards?
They are the safest way to pay your bills as the entire process channel is validated. All those out there accepting payments with credit cards need to be approved by the credit card company and must deposit a certain amount with them.
Some crucial securities you get with these cards are:
Gives buyer protection (you can call the credit card company anytime and ask to file a dispute suit).
Get protection against theft (your card gets on another hand; you just need to inform the company, and you are protected).
Other offers and reward points welcome you.
It keeps track of all your expenses.
Terms you need to be aware before getting a credit card:
Billing Cycle: Period between one statement to another. You get all the credit and debit amounts written in a statement of a particular period recognized as the billing cycle.
Interest-Free Period: Considered a free credit period in which the borrower need not pay any interest.
Credit Utilization Ratio: It's the ratio of how much you spend from your card against the available credit limit. Ideally, one should keep this below 30%.
Finance Charges: If you pay all the bills of your credit card in time, you need not pay any interest ever. If the bills not paid in time, it can prove itself the costliest form of borrowing to you, so you better use it wisely
Minimum Amount Due: For any reason, you are unable to pay your total due then, the bank gives you the option to pay a minimum amount and keep using your card. The amount consists of a percentage of the new purchase, additional charges, and EMIs due to the period.
How do these cards work in India?
If you own a credit card, then you need to be aware of the billing days of your credit card and how these cards work. You should know how your bill is generated when to pay these bills, what happens when you pay bills and not pay them, how interests are calculated etc. you should also know what these cards mean to banks and merchants and how they benefit them.
All the banks and credit card issuing financial institution assigns a credit limit for the card user, which becomes the highest limit to which they can spend or borrow. The billing date is also assigned to the user, which remains the same every month on which you get your statement with all the details of your expenditure. The user needs to pay all the bills in a certain deadline given by your issuer, which is generally 15-20 days of the following billing period.
For any reason the user is unable to pay the bill in full, he can make a choice to pay the minimum amount of the bill mentioned in the statement. After paying this minimum amount on time, the user can continue using his credit card, and no extra charges or a late fee will be imposed on you. But keep in mind that the remaining amount will attract finance charges, also called interest. And in the future it can cause a more problematic situation or cost you high, so always prefer to pay all your credit card bills in time.
Now based on your preferences and expenses, you can select one from all the types of credit cards mentioned above in this article.