Do you love shopping? Well, only once a year does Santa Claus appear and fulfill your wishes. Until then, credit cards let you purchase pending wishes at the click of a button without having to worry about your bank balance or salary. A credit card is something in which you don't have real money, but the bank allows you a predefined credit limit. In this article, we will go over the best credit cards in India with no annual fee and divide them into three categories i.e. best credit card for daily use, best credit card in India for students and best credit card in India for salaried person.
Best Credit Cards with No Annual Fee in India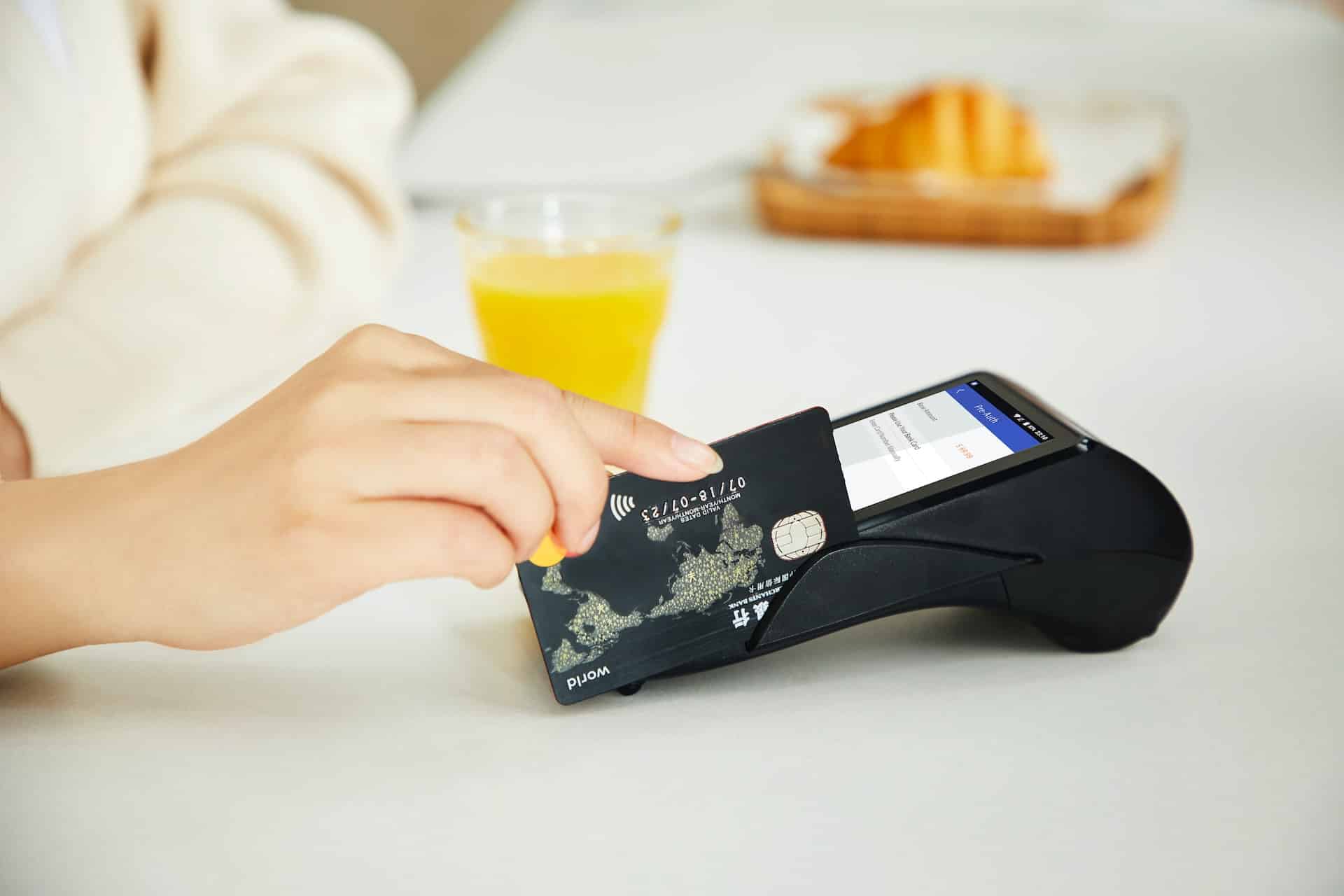 Before we begin, it is important to understand the concept of credit limit. A person can make a transaction up to the limit provided by the bank and you may also create an easy EMI to clear your dues smoothly.
Credit cards may be used for shopping; buying movie tickets, airline, or rail advance tickets; paying fees; paying insurance premiums; and refueling at gas stations. They should be maintained properly; that means dues should be paid before the deadline, which helps you increase your credit limit.
Using a lifetime free credit card almost eliminates hidden fees. Banks are the ones who put cost with respect to a particular card. You just pay for what you use. There are so many such credit cards that are used in India.
Each card has different features. Let us start this guide on the best credit cards in India with no annual fee by checking out the best credit card for daily use.
Best Credit Cards for Daily Use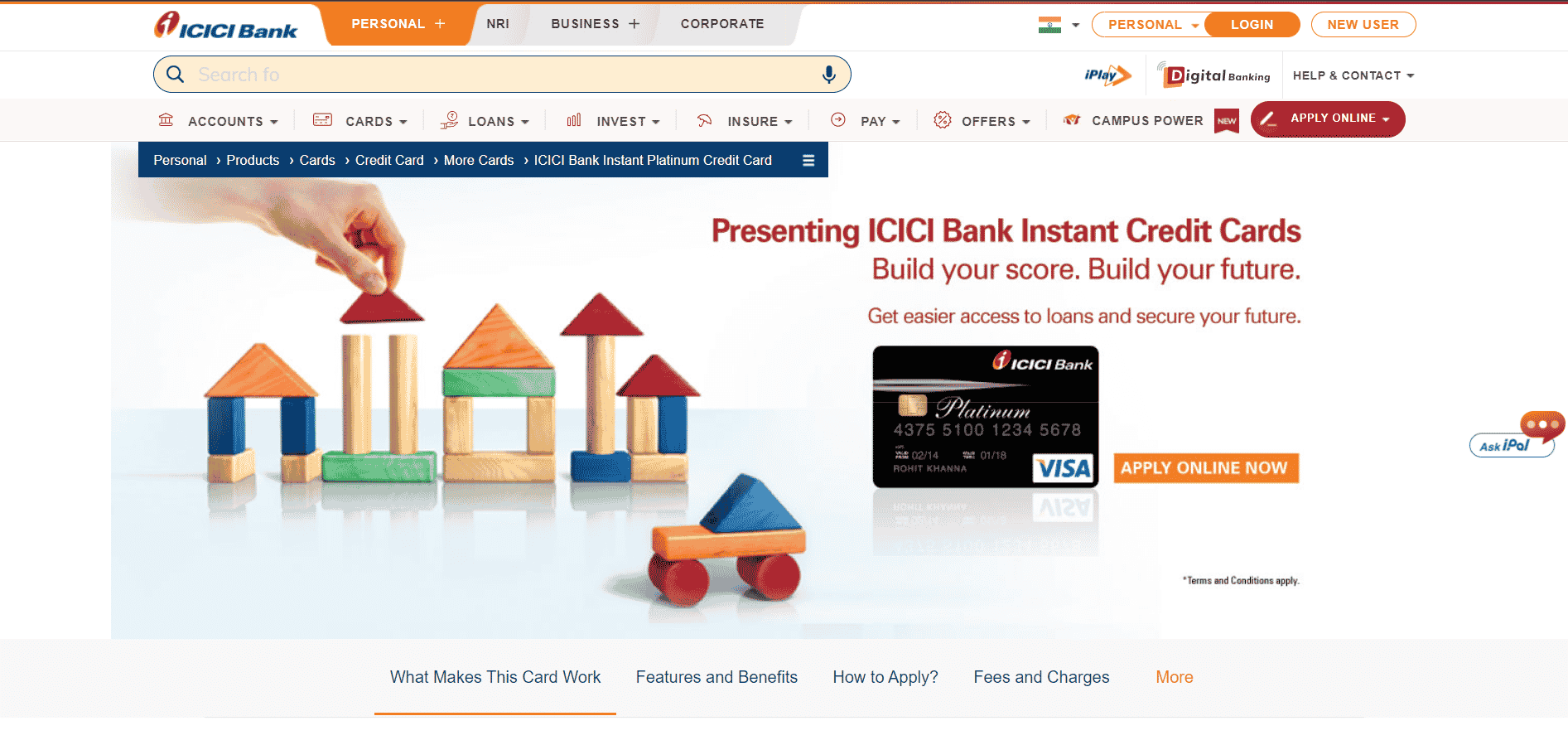 If a new user is looking for a secure credit card, they can try ICICI Bank's Instant Platinum Credit Card. Since an existing fixed deposit account is required in the bank, it is very easy to apply just by logging into the website.
Among the many benefits of this card, a prominent benefit is that this card is free for life. This means you won't be charged for the credit card service, but you must have a minimum fixed deposit balance of at least Rs 20,000. Apart from this, there are other features that make the ICICI Instant Platinum Card one of the best credit cards for daily use, such as:
You will earn PAYBACK points for every Rs.100 spent.
You will have access to the ICICI Bank Credit Builder Program.
Fuel purchases under Rs 4,000 are exempt from the 1 percent fuel fee at the HPCL pump.
Get up to two movie tickets every month for upto Rs. 100 less via BookMyShow.
Get access to xclusive dining offers through ICICI Bank Culinary Treats Programme
Fees & Charges:
The interest rate on financial service charges is just 2.49% per month.
Annual fees – NIL
Joining fees – NIL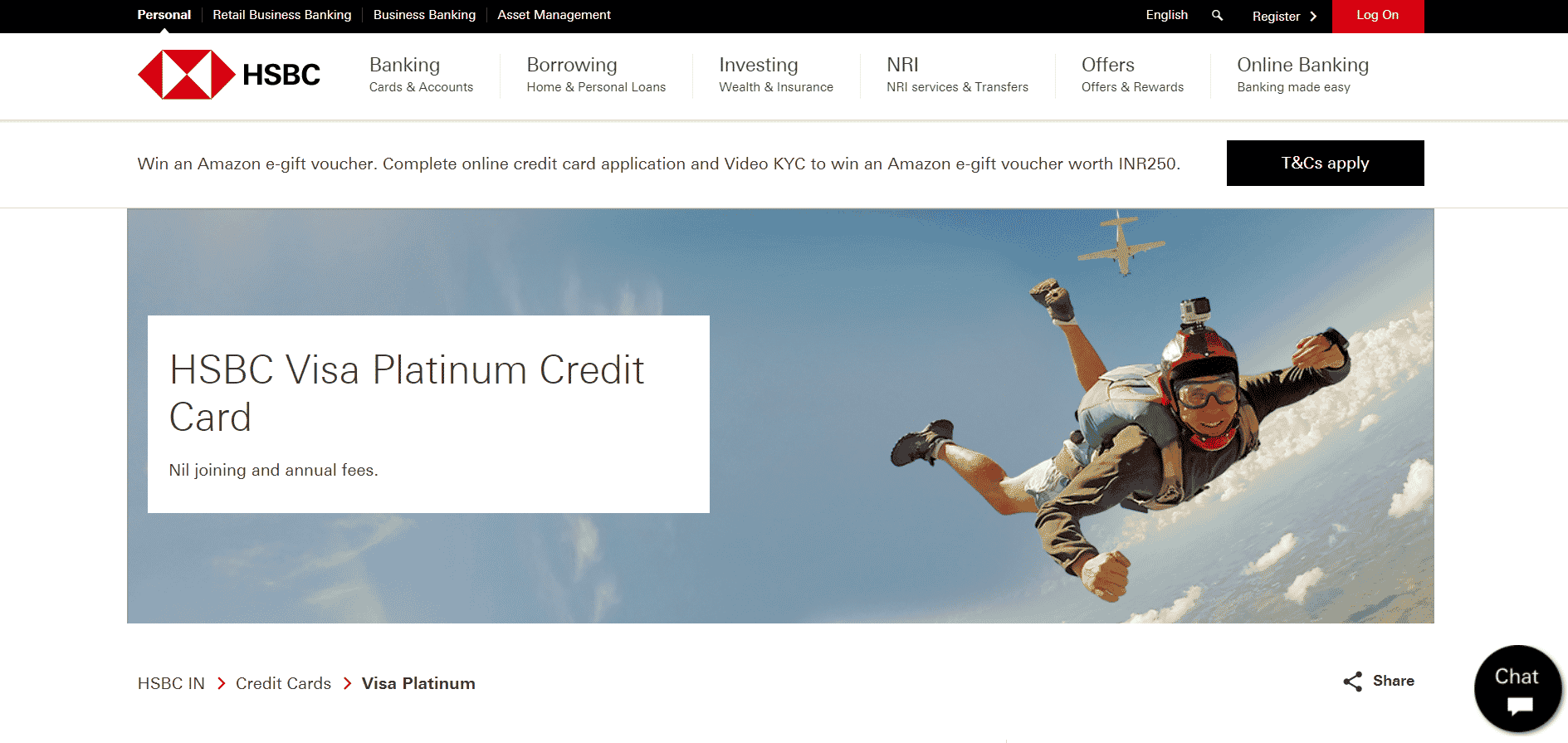 The HSBC Platinum Credit Card is best for the person who wants discounts and benefits on everything – the best credit card for daily use. For more savings, the best credit card offers reward points for a variety of purchases. A few of such benefits for cardholders include:
Automatic EMI credit card debt transfers.
Free of cost, emergency replacement of lost or stolen cards & a cover of 3 lacs if misplaced card is reported within 24 hours.
A gift voucher worth Rs.5000 is included as an introductory offer.
A discount (up to Rs.100) is provided on the first transaction at Google Pay.
10% cashback of up to Rs.2,000 is given upon conducting 5 transactions worth Rs.10,000 within the first 60 days of the card being issued.
Each time you spend Rs.150 on your card, you'll earn 2 reward points.
At more than 1,000 restaurants in metropolitan cities such as Mumbai, Pune, Delhi, Noida, Chennai, Hyderabad, Bengaluru, Gurgaon, and Kolkata, diners may receive discounts of up to 15% on their tabs.
If the transaction cost of fuel is between Rs. 400 and Rs. 4000, you receive cashback up to Rs. 250 per transaction.
After spending more than Rs. 4 lakh, up to a maximum of Rs. 10 lakh each year, 5X reward points are awarded.
Upon spending over Rs.50,000 per month, you will receive a movie ticket voucher worth Rs.500.
You can easily earn & redeem Air Miles on InterMiles, British Airways and Singapore Airlines.
The best part is that HSBC Platinum Credit Card reward points are valid for three years, giving you the benefit of using them at your leisure.
Fees & Charges:
Annual fees – NIL
Joining fees – NIL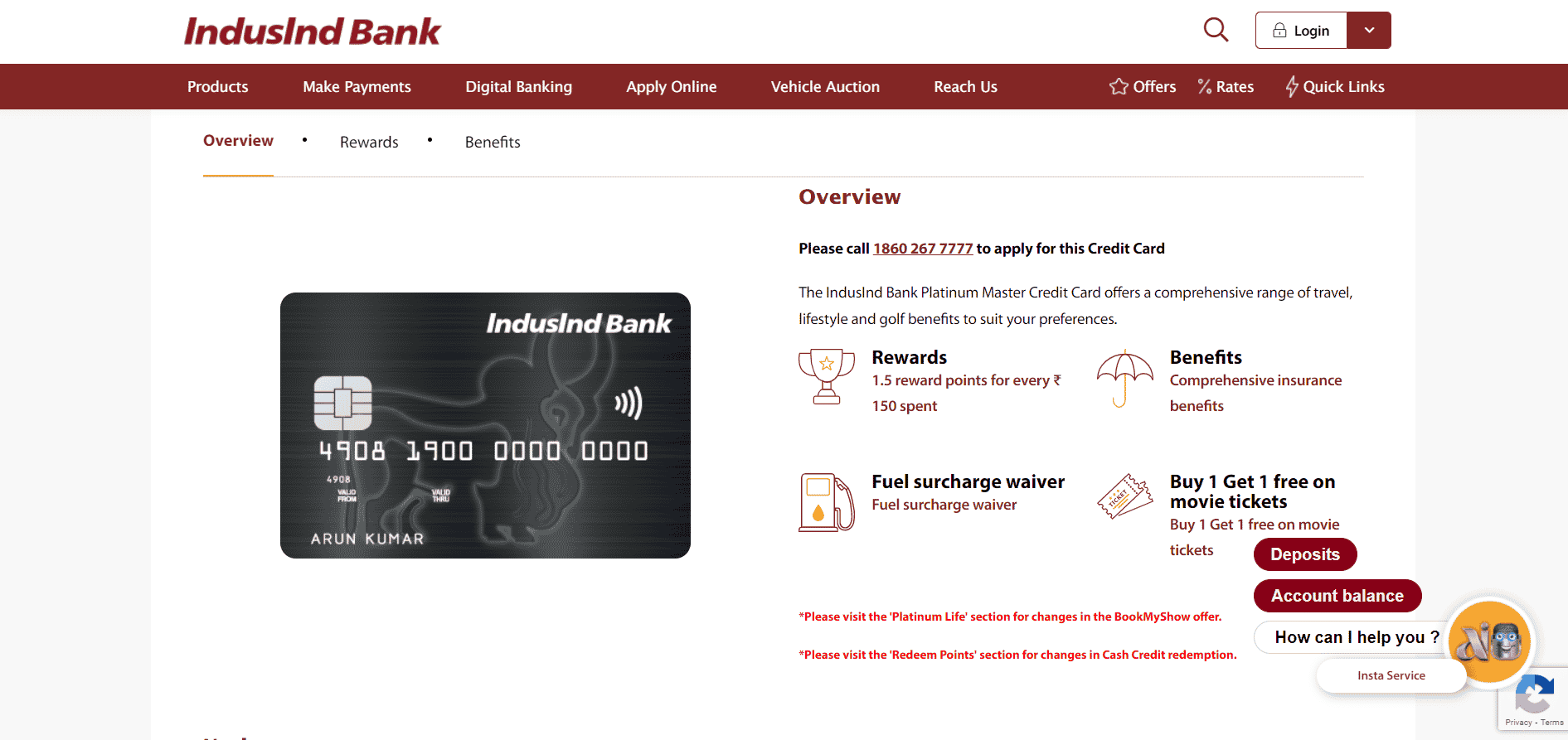 Among the best credit cards in India with no annual fee, the IndusInd Bank Platinum Credit Card offers the highest reward percentage. This card is a valuable addition to your wallet since it offers movie ticket savings, fuel fee waivers at all gas pumps, and hefty benefits with every transaction. People who want the best lifestyle benefits on a single card with minimal upkeep can choose this card at any time.
The premium IndusInd Bank Platinum Credit Card offers a variety of dining, leisure, and entertainment rewards.
Acquire a 1% fuel fee waiver at all gas stations nationwide.
Auto Assist offers 24-hour roadside assistance for every situation.
Purchase insurance to protect yourself against fraudulent transactions and unlawful purchases.
You may earn 1% in rewards on all of your weekday purchases and 2% on weekends.
Additionally, it offers up to Rs. 25 lakh in flying accident insurance coverage.
Free membership to Priority Pass grants accesses to more than 700 airlines worldwide.
Free golf instruction from certified instructors at several high-end golf clubs in India.
You can also get pre-trip assistance, exclusive bookings, hotel reservations, and other concierge services.
Additionally, with a value of 1 reward point = Rs. 0.85, you earn 1.5 reward points for every Rs. 150 spent which can then be easil redeemed.
Fees & Charges:
Annual fees – NIL
Joining fees – Rs. 3000
Best Credit Card in India for Students
As opposed to salaried individuals, the financial needs of a student are quite different. And thus, the following credit cards have been customized to cater to these expenses.
1. SBI Student Plus Advantage Credit Card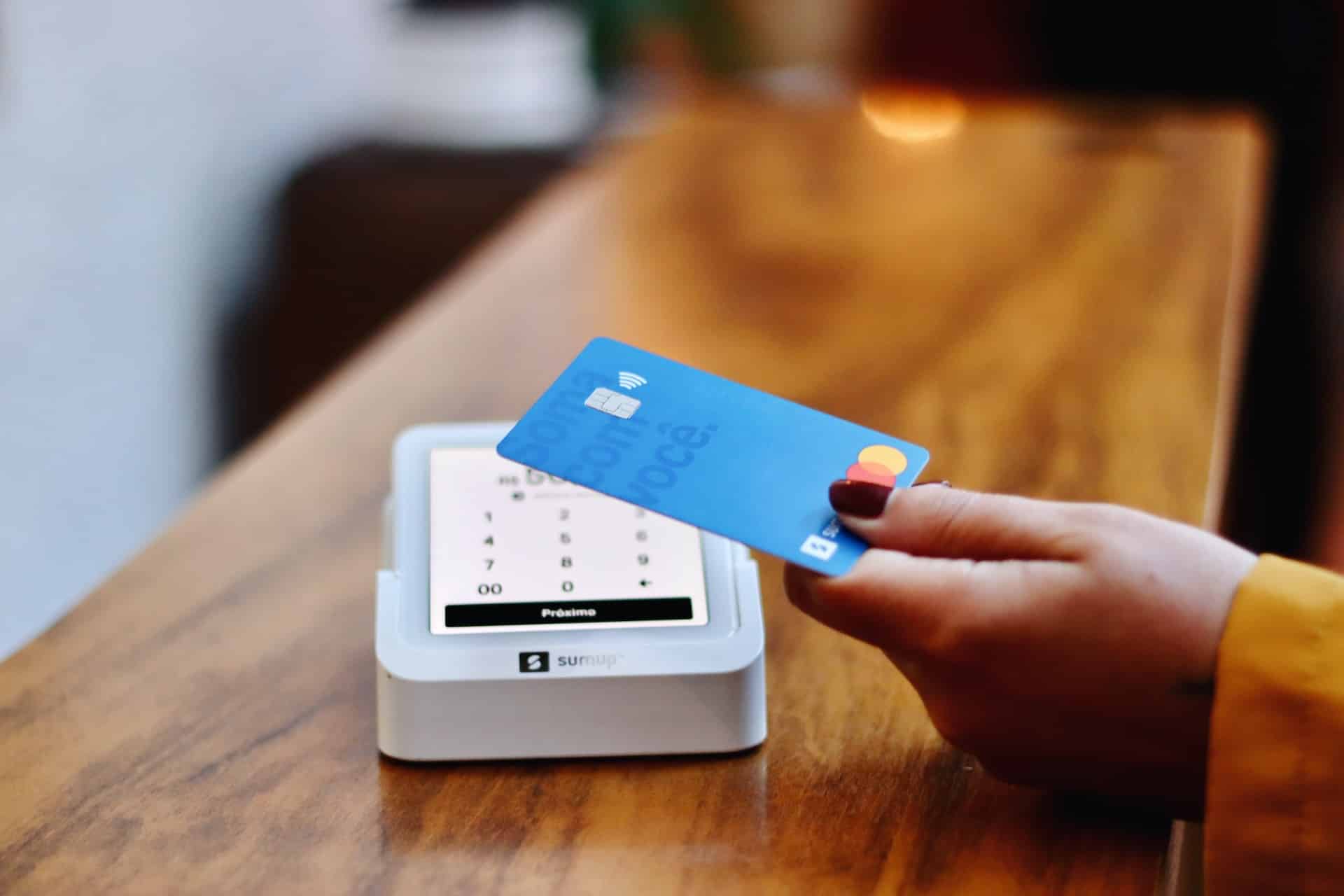 The SBI Student Plus Advantage credit card is an option for college students who want to keep track of their spending. If you have a State Bank of India (SBI) student loan, you are eligible to receive this credit card from the bank. As long as you have a fixed deposit as collateral, you are able to obtain a secured credit card without paying an annual fee.
You receive 1 reward point for each Rs. 100 you spend using the card.
On all gas transactions between Rs. 500 and Rs. 3,000, the 2.5% fuel levy is waived.
Over 24 million stores around the world, including over 3.25 lacs Indian stores, accept international purchases made by this credit card.
Additional benefits offered by this card include 2.5% rewards on all supermarket and department store transactions.
For all of your global expenditures, which is excellent if you're studying abroad, you also receive the same reimbursement.
On the IRCTC website, you can book your train tickets and have them delivered to your place.
Even your utility payments can be settled using this credit card.
Interestingly, if you have unpaid balances from other credit cards, you can transfer them to your SBI Student Plus Advantage Credit Card to pay them off at a lower interest rate.
Fees & Charges:
Annual fees – NIL.  However, if the annual expenditure in the previous financial year was below Rs. 35,000, an annual fee of Rs. 500 is charged.
Joining fees – NIL
Finance Charges will be levied at 2.25% .
Card Replacement Fees is standard Rs. 100
Late Payment Fees is charged between Rs. 100 and Rs. 750 depending on the outstanding amount.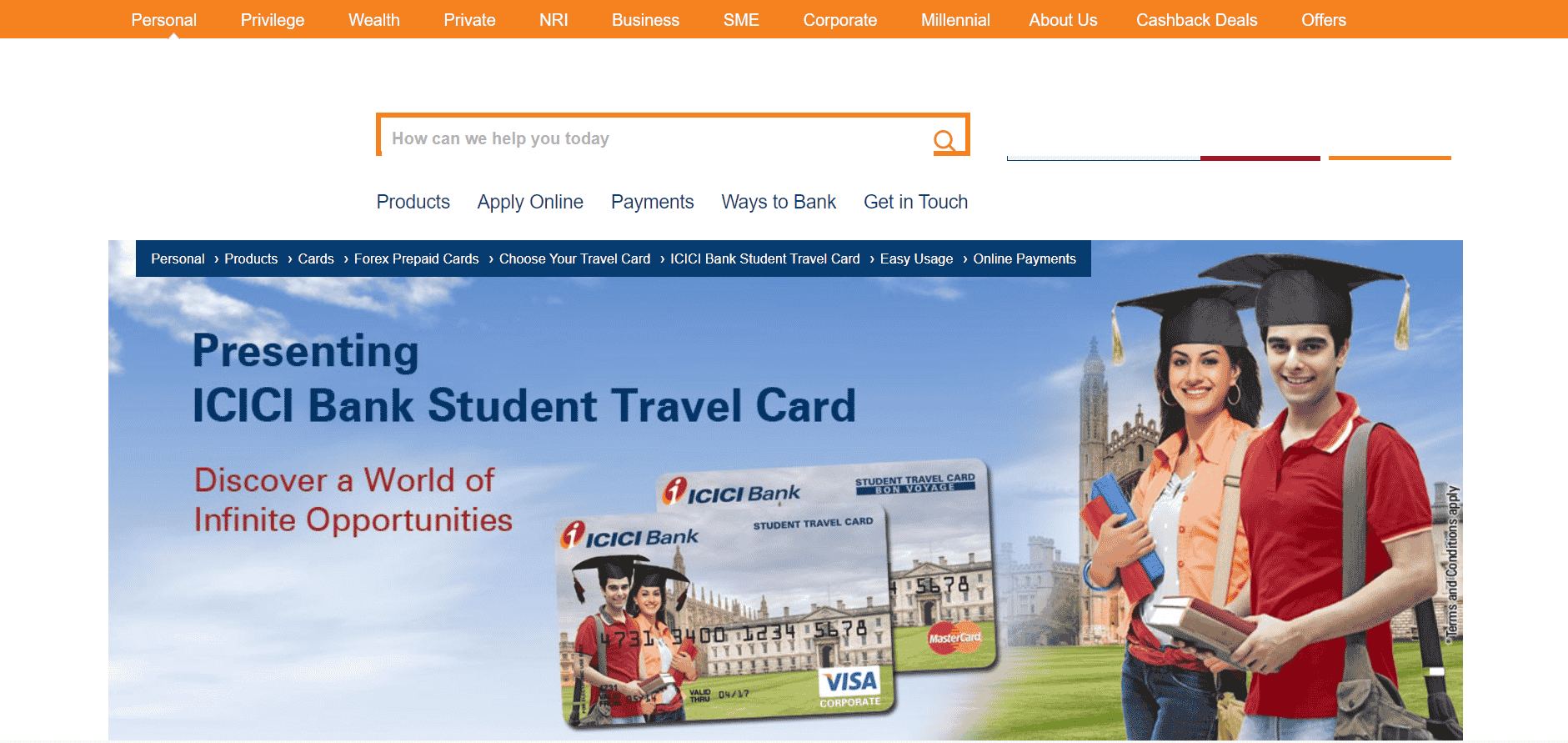 Students, especially those studying abroad, can benefit from the ICICI Bank Student Travel Card. The credit card enables you to keep track of your daily spending and may be used everywhere Mastercard is accepted. Through this card, students may cover their essential costs and pay fees. In addition to online payments, the card can be swiped manually to pay for application and course fees. The card is rightfully among the best credit cards in India with no annual fee especially for students.
Students who take the card are eligible for joining rewards worth Rs. 5000.
Furthermore, this card makes you eligible for the International Student Identity Card (ISIC), a discount on oversize luggage, and courier service.
It offers card protection insurance, and liability coverage for counterfeit cards up to Rs 5 lakh.
Payments can be made with this card for travel, air reservations, accommodation, and recharges on international prepaid mobile phones.
A special rate of foreign exchange is available to students.
You get access to international toll-free lines for 24-hour customer service in 16 different countries.
Fees & Charges:
Annual fees – NIL for the first year, after that Rs. 199 per year
Joining fees – Rs. 499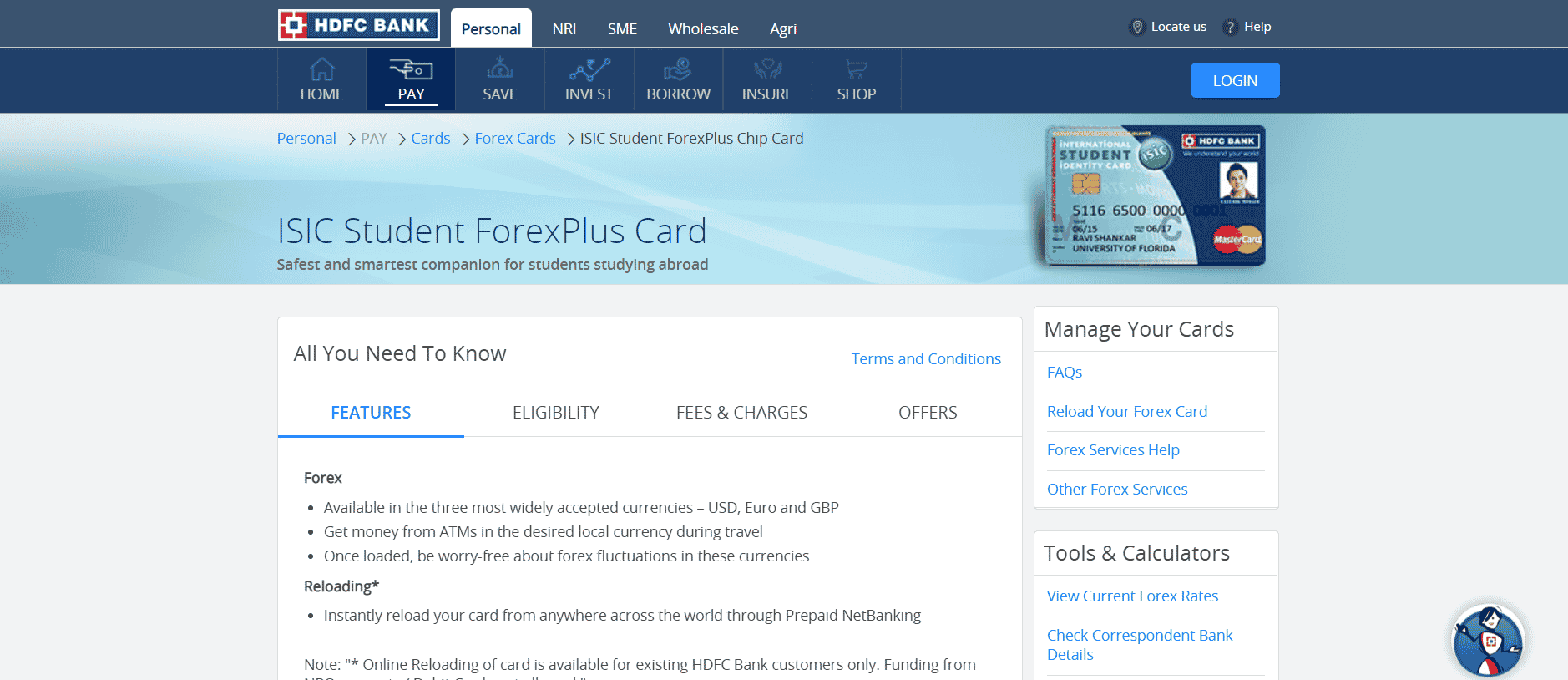 For students who are studying abroad, the HDFC ISIC Student ForexPlus Card doubles as a student ID card. You have access to several currencies with this card. Every business that accepts MasterCard or Visa accepts this card. While making a transaction, this card won't get affected by changes in market rates. Students can use ATMs to get local currency when traveling. This is thus, among the best credit card for students in India and abroad.
Students are eligible for special discounts and offers on books, food, shopping, lodging, leisure activities from more than 41,000 establishments; all thanks to this worldwide student ID cum credit card.
It protects customers against card misappropriation, counterfeiting, and skimming for up to Rs 5 lakhs.
Students get complimentary insurance coverage as users get Rs. 25 lakh accidental death benefit coverage.
Credit card perks include emergency cash, chip-based security, and savings on food, literature, and lodging in 130 countries.
With prepaid net banking, you can keep track of all your worldwide spending and receive monthly expense reports.
You can get Amazon Voucher worth Rs. 1000 on loading or reloading it through HDFC Bank Debit card with 1lac.
Fees & Charges:
Annual fees – NIL and Rs. 75 for reloading
Joining fees – Rs. 300
Re-issuance of stolen or lost cards – Rs. 100
Also Read: 27 Best Credit Card in India

Best Credit Card in India for Salaried Person
Each salaried person often has high needs but not enough resources to meet these requirements. Hence, the following tips while using credit cards will definitely help you manage your finances better:
If you use your card to pay bills on time, you can maintain a good credit score and even, improve it.

Credit cards give you a credit liquidity of 40–50 days depending upon card type

. Hence, it greatly helps in times of financial crunch.

You can use your credit card to buy things on EMI.

More importantly, you can use it to make emeregency payments especially at hospitals, pharmacies etc.
Since most cards offer reward points along with cashback from time-to-time, it clearly is a win-win situation. Let us look at the comparative table and then, discuss each credit card for daily use in detail.
Name of Credit card
Fees and Charges
Eligibility Criteria
Cashback Offers & Rewards
Best Suited for
ICICI Instant Platinum
Annual fee-NIL

Joining fee-NIL

Must be 25 years old. Salary income > Rs.15000 per month
Dine at partner restaurants and save 15%.
Travel, movies, and dining
HSBC Visa Platinum
Annual fee-NIL

Joining fee-NIL

Must be 18 years old Annual income > 4 lacs per annum
Buy 1 Ticket, Get 1 Free on BookMyShow
Movies, shopping and dining
Induslnd Bank Platinum
Annual fee-NIL

Joinin fee-  Rs. 3000

Must be 18 years old Salaried or Self-employed with income > Rs. 25000 per month
Gift vouchers from EazyDiner, Montblanc, Luxe Gift Card
Travel, Fuel, Dining, and Movies
Axis Insta Easy
Annual fee-NIL

Joining fee-NIL

Must be 18 years old Salaried person's income > Rs.9 lacs per annum
Amazon e-vouchers, exclusive online discounts on food and groceries.

Complimentary Priority Pass lounge visits and golf rounds.

Shopping, Travelling, and Dining
SBI SimplyClick
Annual fee- Rs.499

Joining fee-NIL

Must be 21 years old with solid credit score.
1 reward point on every Rs.100 spent

 

With Amazon, Cleartrip, BookMyShow, FoodPanda, UrbanClap, and Lenskart as partners, you'll get 10x rewards points.

Online shopping and Dining.
Bank of Baraoda Prime
Annual fee-NIL

Joining fee-NIL

Anyone between 18-65 years of age
Every purchase, you'll get 1% cashback.

 

There is no gasoline surcharge.

Travel, Fuel, Dining, and Movies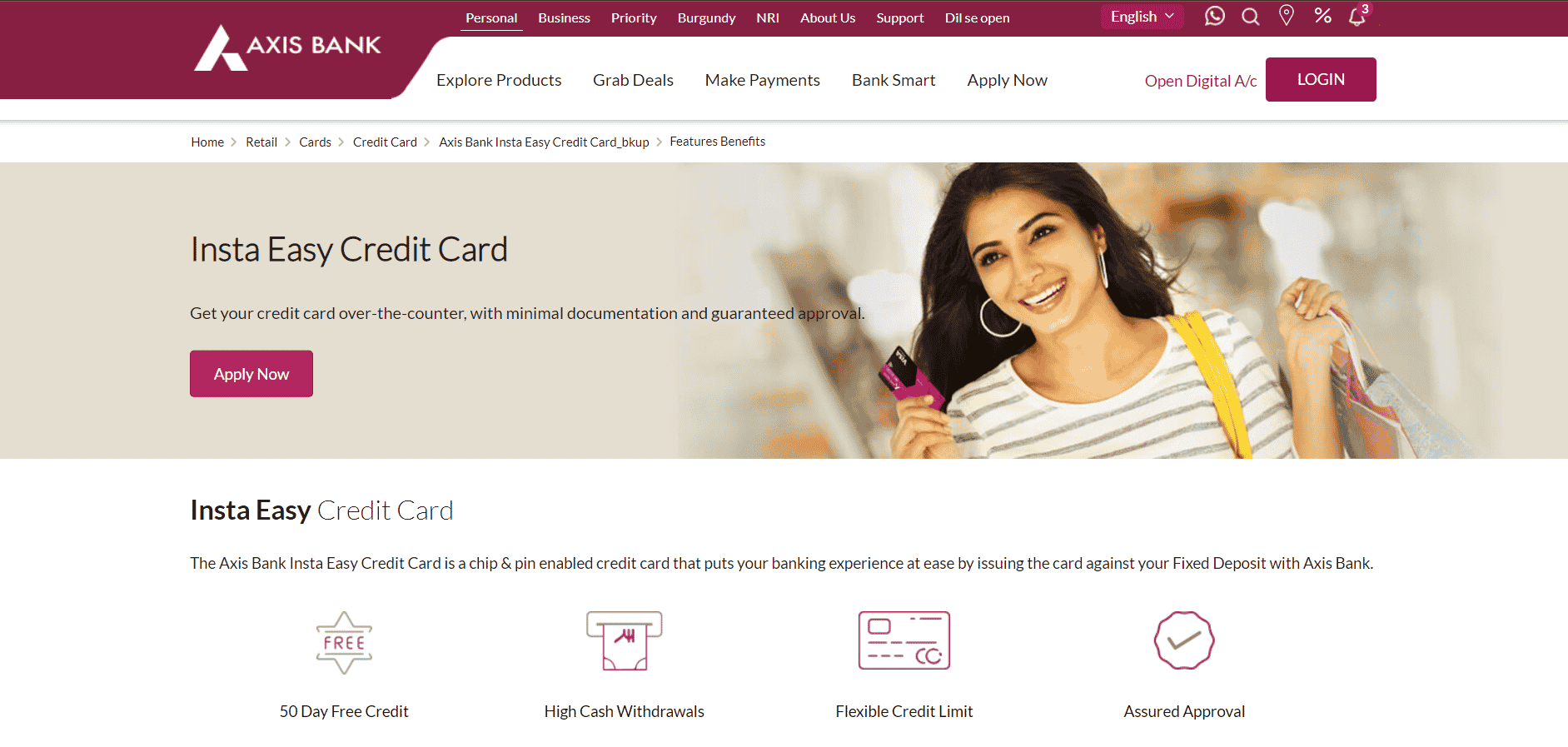 The Axis Insta Easy Credit Card is a chip and PIN-enabled card which can be issued against your Axis Bank Fixed Deposit. Credit history is not necessary to apply for this card. Having an FD in the bank between Rs. 20,000 and Rs. 25 lakhs makes you eligible for the benefits of this card.
A platinum chip on the card prevents duplication. This aids in defending your credit card against theft, fraud, and other nefarious actions.
The card comes with several alluring credit card advantages, including no signup and annual fees, making it one of the best credit cards in India for salaried people.
You can establish flexible credit limits, with cash withdrawals permitted up to 80% of the fixed deposit and 100% of the credit limit.
Enjoy a 1% gasoline fee waiver on any fuel purchases in India that total between Rs.400 and Rs.4,000.
Get meal discounts of up to 15% at partner restaurants.
With your Insta Easy credit card, transactions above 2,500 can be quickly converted to immediate credit card EMIs.
Fees & Charges:
Annual fees – NIL for Burgundy otherwise 3k
Joining fees – NIL for Burgundy otherwise 3k
Over Limit Penalty is levied at 2.5% of overlimit amount
Late payment fee ranges between 0-1000 Rs. depending on outstanding amount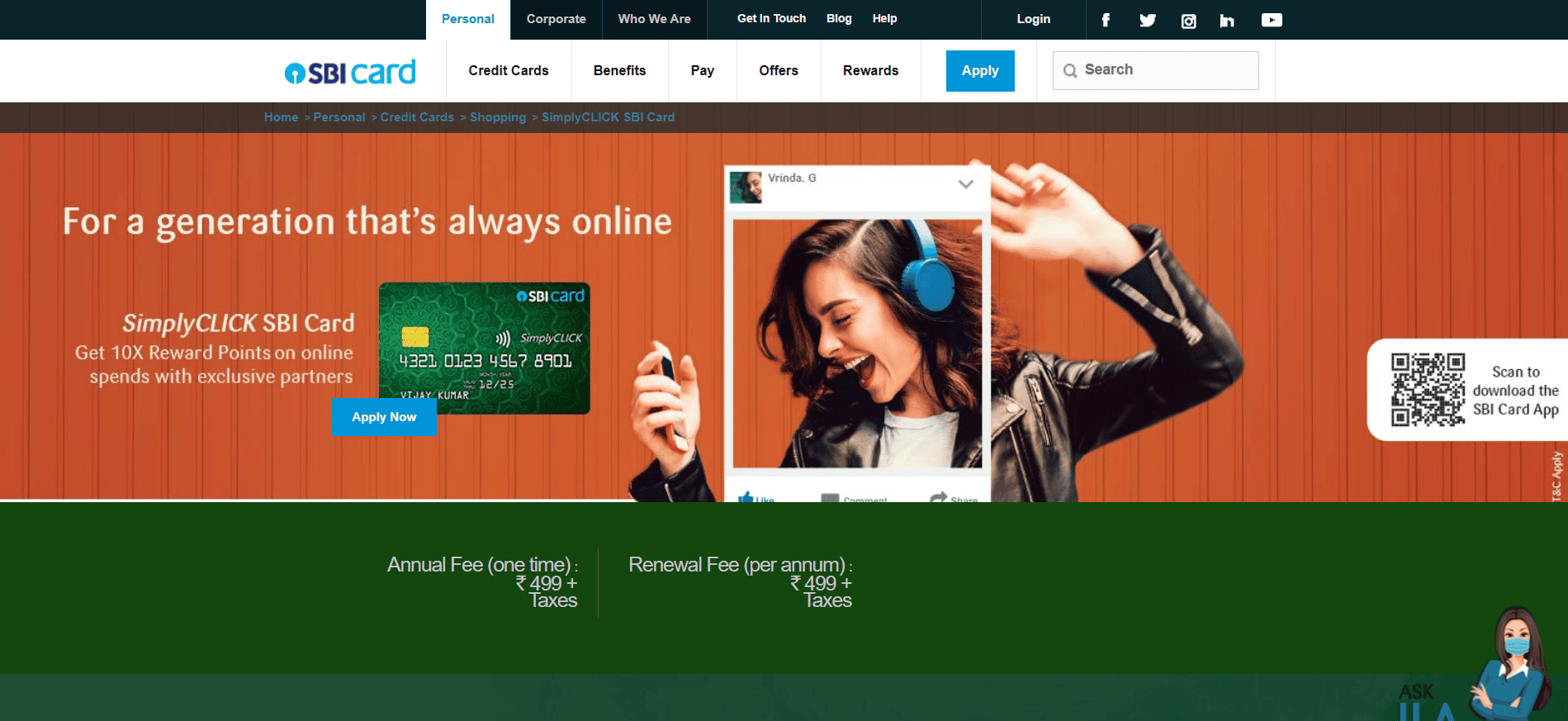 If you often purchase things online, you should use this card. However, you must earn at least Rs. 30,000 per month in order to qualify for this card. If cardholders use their SBI SimplyClick credit card for yearly spending of more than Rs. 1 lakh, the annual charges are waived off, which makes it one of the best credit cards in India for salaried people.
Why it has earned a spot in the best credit cards in India for daily use with no annual fee list? Here's why:
On all purchases made with the credit card for online shopping, get up to 5x points.
E-vouchers in the form of additional gifts are also earned when you make purchases with your card. You can receive Rs. 2,000 e-vouchers for spending Rs. 1 lakh.
1% fuel-surcharge waiver up to Rs. 100 per month for a year.
Spending with SBI's partners, partners like Amazon, Apollo 24X7, BookMyShow, Cleartrip, Lenskart, Netmeds, you will earn 10X rewards points
With other partners like Rentomojo, UrbanClap, OLA, and ZoomCar, you will earn 5X rewards points.
You even get an Amazon welcome coupon for Rs. 500. Moreover, the same will be given on payment of annual fee.
Fees & Charges:
Annual fees – 1st year Rs. 499 per annum. 2nd year onwards waived off for expenditure > Rs. 1 lakh
Joining fees – NIL
Renewal fees – Rs. 499 per annum.
Some unique benefits of this card include:
Add-on cards feature for family members
Contactless payments
Annual fee reversal if annual expenditure limit is met.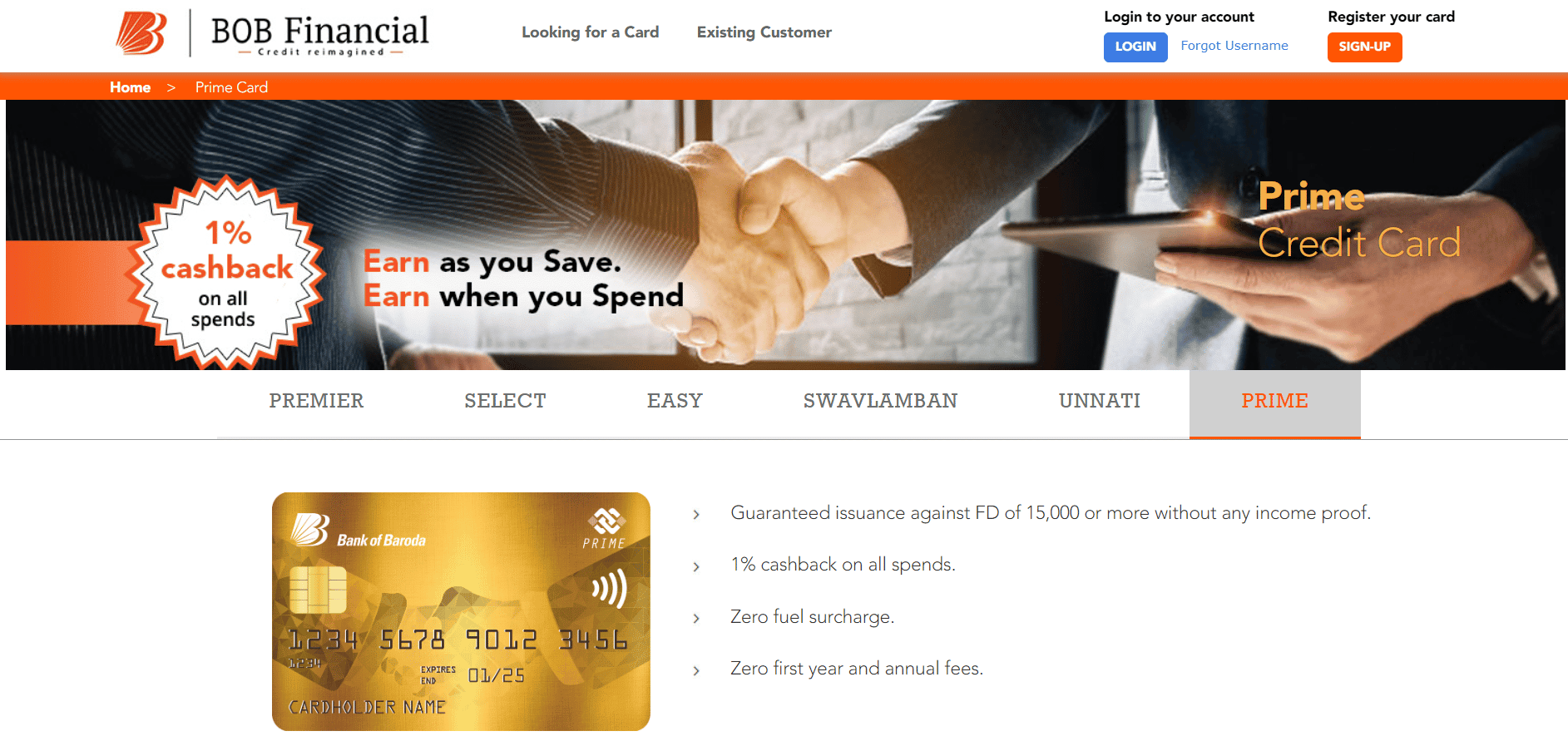 The BOB Prime Credit Card is a product of Bank of Baroda that falls under the category of the best credit cards in India for a salaried person offering a variety of features and advantages. This credit card requires no income documentation for Bank of Baroda customers. To apply, you simply need to have a minimum Rs. 15,000 fixed deposit in the bank. The best candidates for this Bank of Baroda Prime Credit Card are those seeking cashback on regular purchases.
An interesting feature of this card is the ability to convert purchases over Rs. 2,500 into 6 to 36-month EMIs.
Additionally, per Rs.100 spent, you earn 4 reward points, each worth Rs.1, thus getting 1% cashback on all purchases.
You are eligible for a zero fuel surcharge up to Rs. 250 if you spend within Rs. 400 – 5000 per month.
Immediate family members over 18 will be eligible to get three add-on cards.
On all purchases, there is a long interest-free period of up to 50 days.
Like other cards on the list, it too offers Accidental death cover and zero liability on lost cards when reported timely.
Fees & Charges:
Annual fees – NIL for 1st year only
Joining fees – NIL
There are many types of credit cards, and each has its own set of advantages and disadvantages. You won't find all the features in one card. We thus, hope this article helped you find the best credit cards in India with no annual fee for daily use. The comparisons made between the best credit card in India for students and best credit card in India for salaried person might help you choose the most suitable card.