Can't wait for the next movie in line and also don't want to pay such a high price for the first day first show? How about a credit that lets you book tickets and gets you free coupons, discounts, and even free tickets. Let's find out the best credit cards for movie lovers in India.
Who doesn't like going to the theatres, enjoying movies after a long working and tiring week? So, what's better than getting those expensive tickets at a much less amount just by using a credit card! Nowadays, most of the banks are increasingly trying to collaborate with the movie booking agencies & the fact is that many have already done it.
10 Best Credit Cards For Movie Lovers In India
If you get a credit card that helps you get discounts and save your money while watching a movie, nothing can be better than that. Especially the people who go for a movie regularly can get benefits by watching more movies.
We all know how going to the theatre to watch a movie which you have been waiting for so long, ends up burning a hole in our pocket. Not just tickets but everything, be it having snacks during the movie or proper dining before or after the movie or say any other small expenses you might incur after you step out of your house.
Hence, it's wise to fetch some good discounts & offers.
So, if you want to go for a movie or take someone special for a movie, without thinking about your bank balance or a thought of going broke, have a look on these credit cards which are surely going to save you from spending gigantic amounts of money you earned with so much hard work.
Here are the top 10 best credit cards for movie lovers:
These credit cards offer amazing coupons, discounts & offers & even free tickets, followed by the lucrative benefits they provide on services other than movies.
#1 ICICI BANK EXPRESSION CREDIT CARD
The name of the card exactly justifies the card. You have the option or advantage so that you can make your card very unique & distinct to the maximum extent possible. The card should suit your personality; therefore, the bank here provides you with a privilege that you can personalize it from among the different designs available according to you.
Eligibility:
To be the owner of this credit card, you need a Fixed Deposit with the bank of Rs.20000 minimum having a tenure of 180 days or more.
The minors & the foreign national people cannot get this card issued.
The last eligibility criterion is that the fixed deposit that you would do in a bank must not be in the name of some partnership firm, society, Trust, companies, etc.
Benefits: 
The cardholder gets 3 reward points whenever he spends Rs.100 on anything except fuel charges.
This is a movie discount special card, so obviously, you would get discounts on tickets. If you book tickets from Bookmyshow, you will get a discount of Rs.100
You can visit the lounge of the domestic airport every 3 months free of cost
You can get a maximum of 15% discount at 2100 different restaurants spread across India vis-à-vis the culinary program that the bank has.
Many more special discounts are offered on hotels, spas, lifestyle stores, etc.
Drawbacks: 
The biggest drawback of this credit card that you may consider is that you can get this card only if you have a fixed deposit with the bank.
The APR rate of the card is much higher when compared to some of the other credit cards like HSBC.
Apply Now
#2 KOTAK PVR CREDIT CARD
This card has some attractive & appealing benefits specially designed for the daily moviegoers. This bank, i.e., Kotak Mahindra has a tie-up with the PVR cinemas to offer several discounts to the customers. 2 movie tickets are given free of cost each month from the date you get this credit card. An insurance cover is also available to the cardholder for the unfortunate cases when the card gets lost or is stolen.
Eligibility:
The person who applies for the card should only be either an Indian or NRI. No other person would be able to own the card
The essential documents required are income, address & identity proof
Benefits:
If you spend at least a sum of Rs.7500 in any billing cycle, you can get a movie ticket free.
Similarly, on spending Rs.15000, you can get 2 tickets for free
You just need to shop anywhere in India & you will get a ticket for free every month
In case you lose your card, 'PVR protect' is always there to help you. It provides insurance cover in such cases.
You can redeem the coupons accumulated on the official PVR website & can also select your seats as per your choice.
Drawbacks:
Some of the people might find the joining fee here a bit higher.
Apply Now
#3 HDFC TITANIUM TIMES CREDIT CARD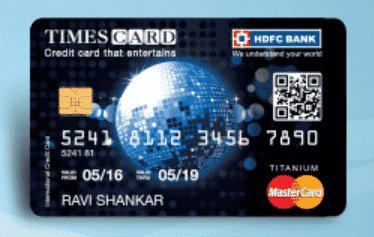 HDFC through its Titanium Times card gives the customers several cheap deals in different aspects such as dining, lifestyle, movie & fuel charges. The fee for this card is not at all high & doesn't go by its name 'Premium.'
Eligibility:
If a salaried person wants to get this card, then he must be above 21 years of age & below 60 years. But, if a person is self-employed, then it range changes to 21-65 years of age.
Benefits:
2 reward points are awarded whenever a sum equal to or more than Rs. 150 is spent
As welcome gifts, vouchers are given
If you out for food on weekdays, then you will get 5 points on every Rs.150
Just register on smart pay which helps you in paying your bills
Drawbacks:
There are 2 major drawbacks. First is the APR rate, which is high at 40.80% annually & second is in the point system. Just getting 2 points for spending Rs150 might sound unpractical to many.
Apply Now
#4 HSBC PREMIER MASTER CARD
This card is exclusively designed for its premier customers. You may like the privileges that you get on various things like food, movies, etc. once you are the owner of this card.
Eligibility:
The minimum age requirement is 21 years
The person must have an income of  Rs.5,00,000 in a year
You must maintain a balance of Rs.5,00,000 in your account within a quarter to get this card
Benefits:
com gives a direct 5% discount when you shop using this HSBC card
Bookmyshow offers 1000 vouchers once you spend Rs.75000 in a month
Even when you are not India, you can spend without worrying. This card gives 1.5% discount on the sum you spend abroad
You can visit the premier airport lounger twice every year
Recommended: HDFC Diners Club Black Credit Card Review
Drawbacks:
A major drawback which is not at all apt for a developing country like India is that this card is only for people earning 5 lakh or above.
Apply Now
#5 SBI CARD ELITE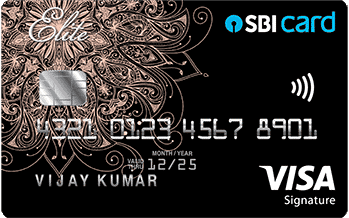 It offers a very useful deal that can help you save a lot of money while spending. You get benefits of up to Rs. 30,000 each year. This sum can be spent & availed by you as per your requirement easily
Eligibility:
Anyone over 21 years of age & has a regular income of his own can apply for this card. The necessary documents to be resented are income, address & identity proof.
Benefits:
Every month, you get 2 movie tickets free of cost
You can visit any airport lounge in the world
You also get some extra services alongside. These are golf course bookings, vehicle reservations & hire, movie tickets, etc.
Various brands give you welcome gifts that have a worth of Rs.5000 as a whole. These brands could be Hush Puppies, Marks & Spencer & Yatra.
Drawbacks:
The annual charge that it asks for may seem to be high which is Rs.4999
Related: SBI Elite Credit Card Review
Apply Now
#6 CITIBANK CASHBACK CREDIT CARD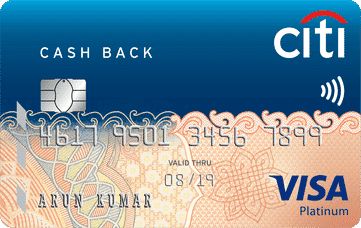 As there's already a Cashback in the name of the card, this card does this job perfectly! Added, they have a hassle-free redemption process and hence enables customers to get cashback quickly & automatically.
Eligibility:
All you need is your basic identity cards that are address proof, income proof, ID proof, etc. Secondly, to get this card, a good credit score is a prerequisite condition.
Benefits:
You get a 20% discount from 2000 restaurants in India.
5% cashback on movie tickets up to Rs 100 per month and telephone bills.
You can redeem the cashback in multiples of 500. Once it reaches 500, the amount gets credited automatically,
Drawbacks:
The only drawback it has is that the offers they provide are very minimal that is just once a month and that too up to the extent of Rs.100 only.
Apply Now
#7 ICICI CORAL CREDIT CARD
This card is considered under the Gemstone collection started by the bank. Paying your daily bills becomes easy through this card which comes with a very low annual fee. Shopping & movie treats can be considered the highlights when using this card.
Eligibility:
The minimum age of the person should be 23 to apply for this card. But, the add-on cardholder can be 18 & above
The people who are salaried must have a minimum of Rs.45000 as their salaries & for those who are self-employed, they must have an annual ITR of Rs.5,40,000 at least
Benefits:
When you are an ICICI Coral cardholder, you are offered with free movie tickets from Bookmyshow. There are 2 tickets that are of Rs.250 each or Rs.500 in total. You get these tickets every month.
You get a 15% discount on dining bills in India under the 'Treat program' that the bank has.
You can visit the lounge of the domestic airport twice every 3 months.
Drawbacks:
The only disadvantage that may be important for many is that the APR is as high as 40.8%.
Apply Now
#8 AXIS BANK NEO CREDIT CARD
This bank is offering some great deals and cashback for those who love to watch movies and shop every now and then. The benefits and rewards offered on entertainment are too high, along with the attractive welcome offers. This also increases the convenience of people while shopping online.
Eligibility:
The cardholder must be of a minimum age of 18 and either a resident or a non-resident Indian.
Benefits:
The cardholder can get 10% off when he books his tickets from Bookmyshow
Myntra offers you a movie voucher that has a worth of Rs.200. Along with this, it also gives a present to the cardholders as its welcome gift. This gift is worth Rs.500
Recharge your devices through the Freecharge app & they will offer you flat 10% discounts.
Whenever you spend Rs.200 or above where you use the card, you will be rewarded with 2 points.
Redbus also gives a 10% discount
In case your card is stolen, you need not worry about that. 'Zero card liability' service comes along with this credit card which protects you in such cases if you have reported the case immediately.
Recommended: Citibank PremierMiles Credit Card Review
Drawbacks:
The significant drawback here too is the APR rate. The APR is very high when compared to some of its competitors. It is 46.78%
The reward point system is also not good. ICICI expression card awards 3 points just for the spending of Rs. 100 where on the other hand, this card offers 2 points even after spending a sum of Rs. 200
Apply Now
#9 SBI SIGNATURE CREDIT CARD
This is the best card for those who want to enjoy lifestyle privileges and don't mind paying a little extra for that. Indirectly, here you get 'expensive discounts.'
Eligibility:
The age gap it caters to is between 21 to 62 years. Id proof, income proof, address proof are some of the necessary documents required.
Benefits:
If you use this card every month, you can easily get 2 movie tickets of Rs. 250 each from BookMyShow
Paying utility bills can also help you in earning some crucial reward points
2 reward points are given as a bonus if you spend Rs. 2,00,000 or above within a year
If in case of loss of card, you must report it within 48hours, then you are eligible for the fraud cover offered by the card worth Rs.1 lakh
This credit card also gives you premium access to all those Luxury Airport lounges across the globe that you wanted to travel at least once
Drawbacks:
As was mentioned earlier, its joining and the annual fee is a little extra from the rest. It's Rs. 4999!
Apply Now
#10 IDBI BANK IMPERIUM SECURE CREDIT CARD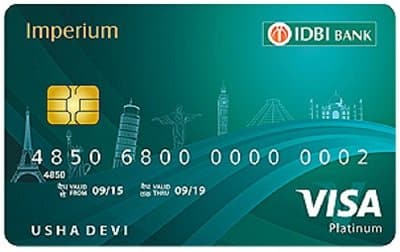 For all those who were unable to get benefited by the services of credit cards because of a bad credit score, IDBI bank has a card for you all. To get this card, all you need is a fixed deposit with the bank. Just spend & earn! This is the policy of the bank that offers rewards on movies & other purchases.
Eligibility:
As mentioned earlier, you need to have a fixed deposit of at least Rs. 20000. Also, the minimum age of the cardholder must be 18 years.
If your FD is in the name of any company, Trust, partnership firms, clubs, etc., then this FD will not be considered while issuing the credit card
Benefits:
Spend Rs.150 & above for movies, food, etc. & earn 2 points each time
This card welcomes you with 500 bonus reward points
You can redeem your points to get amazing offers on the brands of your choice from among a wide range of choice
Lastly, the bank also gives credit up to 85% of your Fixed Deposit amount
Drawbacks:
Here the disadvantage is that this card doesn't offer free tickets every month or quarter like the other ones, but, offers discounts on your movie spends.
Apply Now
How to apply? 
There are different ways in which you can apply for these cards. Contact a bank agent, visit their website, and get it done yourself directly or visit the bank itself! Don't worry about the procedure and time taken to get these cards, and the process is quite quick and straightforward!
We can conclude that the number of credit cards available for movie lovers is not at all less. So, now it's up to you what you choose. But, as we say, you should make your choices wisely as there is a lot of competition in this market.
Also, look for the benefits offered by each of them in detail & then choose the best credit card for you. It is recommended to look out for the eligibility criterion that best suits you. If you consider these points, you might end up choosing the best Credit Card for your eternal love for movies!