The growth of the Internet has spawned a large number of full-time bloggers and online entrepreneurs in India who make their living online in the digital world. Not long ago, blogging in India used to be a hobby with little or no sources of income. Bloggers would rant about their grievances and post their deepest thoughts online with little expectation of making an income. But this has changed in the last couple of years.
Since 2010, the growth in the Indian economy and the large base of mobile Internet users in India has attracted companies who are now willing to advertise online. So bloggers can now monetize their website with ad-sense and other affiliate networks earning a stable income every month.  Since then some of these bloggers have graduated from earning a few thousand every months to earning in several Lakhs!
These bloggers all started small, taking a dive into the unknown, risking all they had. The risks they took have now started paying them rich dividends. So if you are looking to make money online, you should subscribe to updates from these bloggers and follow their every move.
Out of these 5 bloggers, I have met 3 of them in the offline world and they are extremely pleasant and humble people. They were willing to share their knowledge without any pretenses or expectations. Some of them have evolved and have now gone on to convert their blogs into an entire business.
I believe these are the top 5 bloggers in the Indian Online Professional blogger space. My ranking of these top 5 bloggers is based on my interactions with them and the high quality of their blogs.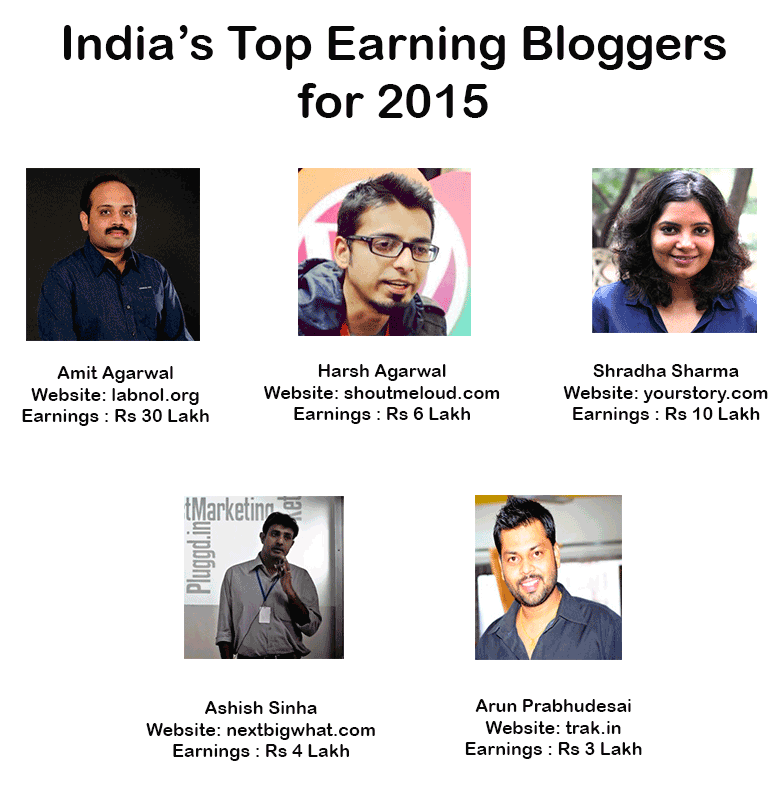 Amit Agarwal – www.labnol.org
He is the first professional blogger from India who made it big, he is now also a columnist on the Wall Street Journal. Amit Agarwal currently earns at least Rs 30 Lakh every month through his blog Digital Inspiration which is hosted at Labnol.org. His main source of income is Google Adsense.
He has previously worked at Goldman Sachs and Merrill Lynch. In 2004, when he quit his job to blog full time he became India's first and only professional blogger.  Amit writes about Technology and How-To-Guides. You can read more about him on his About page. To inspire new bloggers, he released a video documentary about professional blogging some years ago. You can watch it below:
Harsh Agarwal – www.shoutmeloud.com
Another Agarwal who made it big online, Harsh started his blog Shout Me Loud in 2008. He currently makes around Rs 3 Lakh every month as of January 2015. He is famous for publishing his monthly earning reports online that have neophytes of the blogging world swooning. You can read his latest monthly earnings report for January 2015 where he made around US$10,000 (Rs 6 Lakh) in revenue.
Shradha Sharma – www.yourstory.com
Shradha is originally from Patna, Bihar but works from Bangalore, India. She was with CNBC-TV18 before she started her venture aptly called Yourstory.in. The website which was started in 2008 has profiled more than 15,000 entrepreneurs over the last 6 years and is now a globally recognized brand.
She has now built a diversified team of bloggers and in 2013 received a funding grant of Rs 70 Lakh from the Omidyar Network and the Rockefeller Foundation. Yourstory is estimated to earn at least Rs 10 Lakh every month through advertisements and sponsorships.
Yourstory's flagship event called Techsparks attracts participants from across the length and breadth of India. You can read Shradha's latest posts here. Last year she was interviewed on Chai with Lakshmi ( Another promising Indian Entrepreneur on Youtube.)
Ashish Sinha – www.nextbigwhat.com
Ashish Sinha is a Bangalore based blogger who started Pluggd, in in 2007, which in 2012 re-branded itself as NextBigWhat.com. He makes around Rs 4 Lakhs every month through advertisements and tie-ups with start-ups. His blog mainly carries articles about Technology, Entrepreneurship, and Start-ups.
Every year it holds a conference called Unplugged where Start-ups demo their products. I remember way back in 2008 when Myntra and Flipkart were present at this conference. They have now gone on to become billion-dollar companies.
Arun Prabhudesai – www.trak.in
Arun Prabhudesai is a Pune based blogger who writes about the Telecom and Online Media Space. Trak.in was started in 2007 and is now one of the leading Telecom blogs in India. You can read more about him here. Trak.in is estimated to make at least Rs 3 Lakh every month.
So these are the top five bloggers I follow online. Do you know anybody else that I should follow? Let me know in the comments section.