Nowadays, the opportunity to teach from the comfort of your living room has become increasingly accessible and rewarding. With the rise of digital platforms and virtual classrooms, online classes offer a flexible and innovative approach to sharing knowledge. In this article, we will explore the opportunities, strategies, and essential tools that can empower you to teach online from home and create an enriching virtual classroom experience. Whether you're an experienced educator or just starting out, you can easily navigate the dynamic landscape of online teaching and discover the keys to success.
How to Teach Online from Home
When it comes to online teaching, there are three primary approaches:
Utilizing Your WordPress Website with a Learning Management System (LMS) Plugin: This involves creating and delivering courses through your WordPress website with the assistance of a Learning Management System (LMS) plugin.
Online Teaching Platforms: Another avenue is leveraging dedicated online teaching platforms designed to host and facilitate your courses.
Online Course Marketplaces: Alternatively, you can opt to list and sell your courses on established online course marketplaces.
If you seek comprehensive control over all aspects of your information product business, it is recommended to offer courses directly on your WordPress website. However, it's important to note that online teaching platforms and course marketplaces also have their own advantages.
Best Platforms to Teach Online from Home
The digital landscape is witnessing a rapid surge in online teaching and tutoring platforms, presenting lucrative opportunities for educators across experience levels. These platforms encompass diverse domains such as language learning, tutoring in various subjects, and higher education.
Moreover, these platforms streamline the process of establishing an online teaching presence by offering assistance in creating a virtual teaching environment, providing educational materials, and furnishing regular feedback to enhance teaching performance. If you seek a straightforward approach to commence your online teaching journey without the complexities of setting up technical aspects, joining a reputable teaching platform could be an excellent option.
To become a part of these platforms, demonstrating expertise in your field and showcasing strong teaching skills is essential. Anticipate undergoing a trial lesson, which could either be conducted live or recorded, as part of the approval process. Here are some distinguished companies in this domain: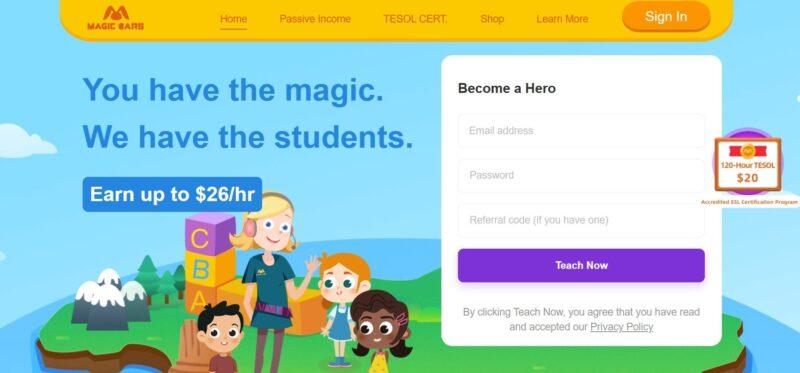 Magic Ears is an online educational platform that emphasizes small class sizes for teachers, maintaining a 1-on-4 student-teacher ratio. The students typically range from 4 to 12 years old. As an English instructor with Magic Ears, you'll have access to cutting-edge technology in your virtual classroom and an interactive platform for your students. However, Magic Ears has stringent requirements for their teachers—you must be ESL certified, possess a bachelor's degree, and have a strong command of idiomatic English at a minimum. Previous teaching experience is desirable but not mandatory.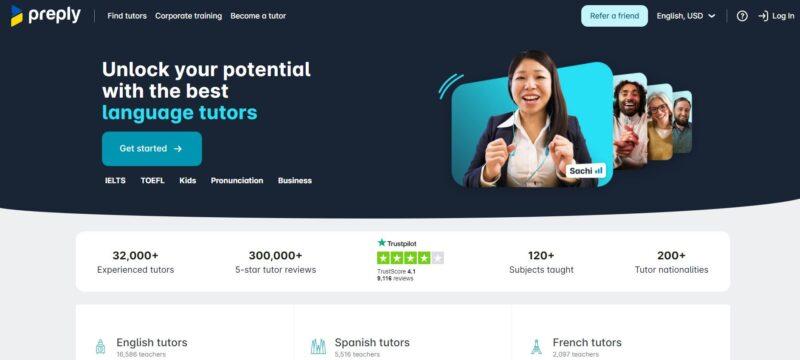 Preply operates as an online language learning platform, allowing students to work with their preferred tutors at their own pace and schedule. They welcome passionate individuals to join their expanding community of tutors. It's important to note that Preply deducts a commission fee from your lessons to facilitate connections with students worldwide and provide necessary tools like video features and instructional materials. This commission decreases over time based on the number of hours you dedicate to the platform.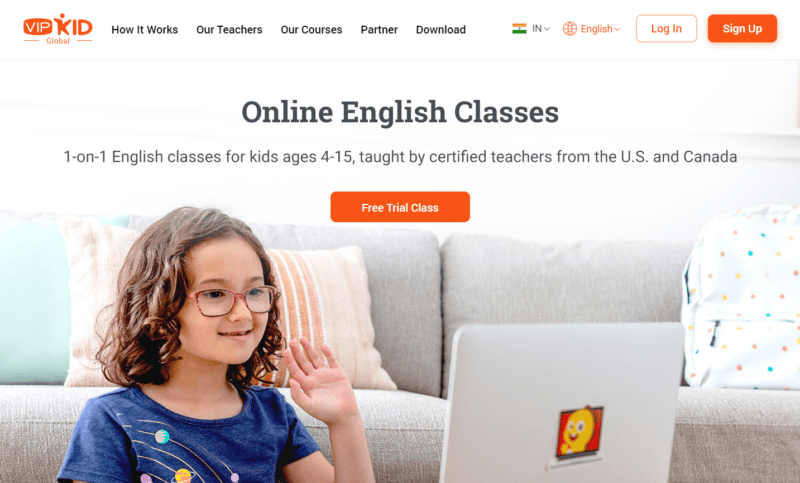 VIPKid, headquartered in Beijing, offers one of the best-paying online teaching opportunities for those interested in teaching English online. They handle all aspects of lesson planning, grading, and curriculum development, enabling you to focus on what you do best—inspiring your students. Contracts are typically six months long, allowing you the flexibility to work according to your preference. Payments are streamlined through direct bank deposits between the 10th and 15th of each month.
Lingoda stands out as a language instruction provider by not requiring fluency in English to become a teacher. They seek native speakers of Spanish, German, French, and English. Courses consist of small groups of adult students, and you have the flexibility to set your own working hours. Additionally, teachers enjoy a 25% discount on any language course offered by Lingoda.
5. SayABC
SayABC focuses on providing English-language learning to children aged 5 to 12 in China. Headquartered in Beijing, the company offers one-to-four online classes taught by certified teachers. The onboarding process for new applicants is efficient, often allowing you to start teaching within two weeks. Contracts typically last for three months and can be renewed.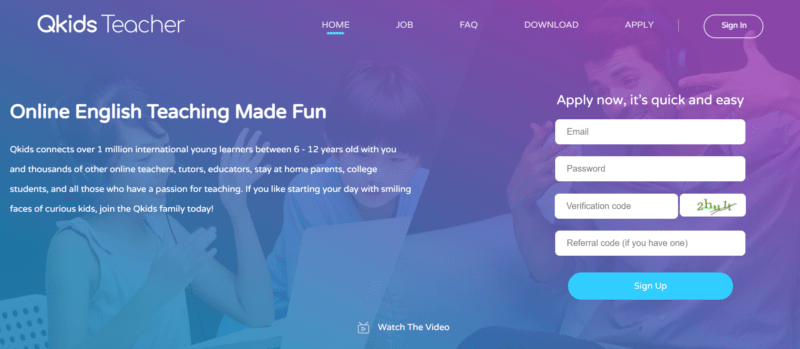 If your schedule is already quite busy, the teaching opportunity with Qkids might be an ideal match. Classes typically run between 5:40 a.m. and 8:10 a.m., seven days a week, with additional slots available after 7:40 p.m. on Friday and Saturday. Teaching English online to Chinese students aged 5-12 can earn you approximately $20 per hour.
7. DadaABC
DadaABC is a highly regarded Chinese online English education company. They have partnerships with the American TESOL Institute, Pearson, Highlights, and National Geographic Learning. Teachers have the opportunity to work one-on-one with children aged 4-16. Classes are conducted daily, and teachers have the flexibility to set their own schedules.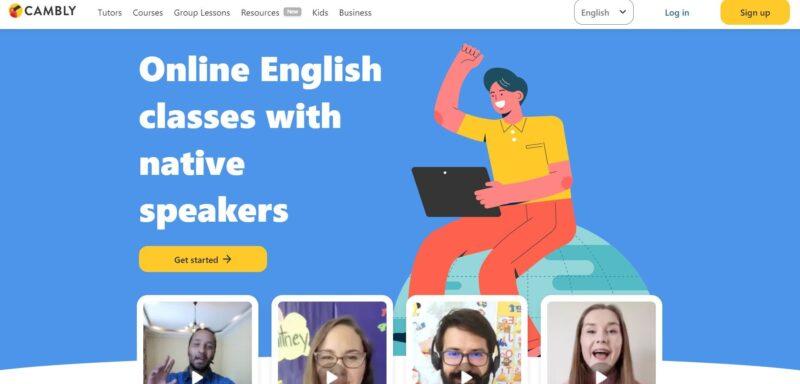 Cambly differentiates itself from other online teaching platforms by providing a platform where students from around the world can engage in conversations with online tutors for a fee. If you're looking to earn by conversing in English, this is a great opportunity. You can choose to work as little or as much as you want, logging in whenever convenient or booking scheduled shifts to share courses.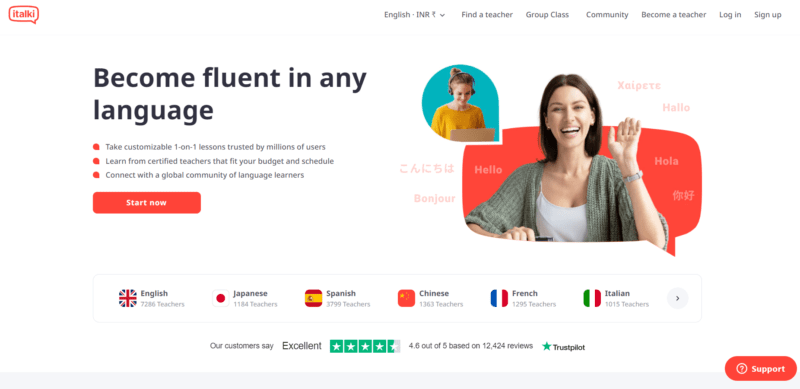 Italki stands as the world's largest marketplace for online language teachers, allowing fluency in various languages. Whether it's Japanese or German, you can register as a teacher on Italki. What sets it apart is that you get to set your own pay rate. However, striking a balance is important – setting a rate too high may limit your potential students.
At Synthesis School, children learn critical thinking through intricate games and simulations that challenge them to collaboratively solve problems. As a teacher, your role involves creating the best possible learning environment, including team formation, selecting suitable challenges, and leading discussions to encourage reflection and insight. They are seeking candidates with backgrounds in teaching, coaching, improv, theater, outdoor education, and more.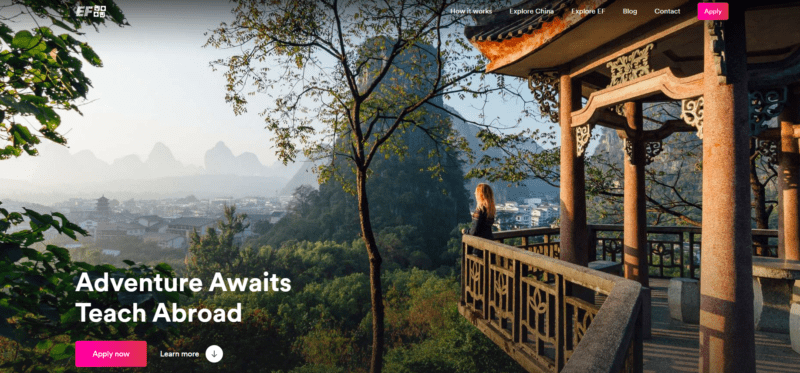 English First offers teaching positions either in Shanghai, China, or through online platforms accessible globally. Online instructors have the flexibility to choose their working hours, catering to both children and adult classes, making it an excellent option for students seeking additional income. EF has offices spread worldwide, ensuring local assistance for teachers, smooth communication, and prompt payment.
Englishhunt is actively seeking native English speakers from the USA to teach conversational English to Korean business students via a softphone application on their computers. The classes are one-on-one, lasting between 10-20 minutes, and come with a provided curriculum, granting the freedom to work from any corner of the world.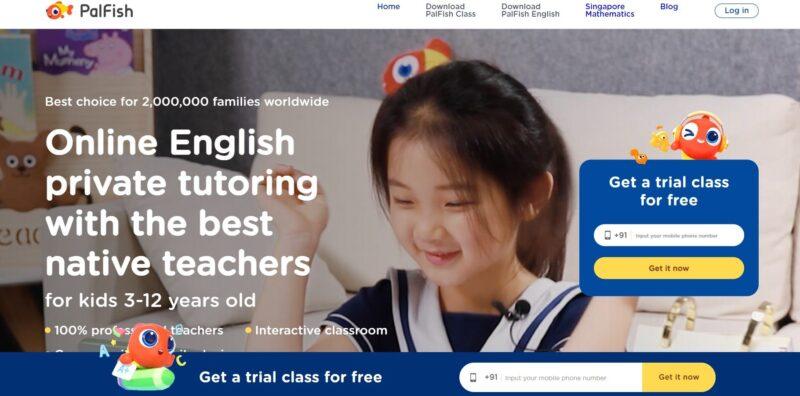 Palfish stands out for its flexibility, providing an app-based platform to engage with students via mobile devices or tablets. With a minimum commitment of 3.5 hours per week, educators can earn by conversing in English with both adult and child learners. The teaching environment is described as easy and enjoyable, offering an immediate start and the freedom to set personal hourly rates.
Also Read: Best Online Course Platforms with Certificate
14. Oakary
Oakary serves as a convenient platform connecting individuals with various teaching opportunities. By submitting a single application, your profile is forwarded to multiple teaching job openings, including reputable platforms like Magic Ears, VIPKID, and more. These positions predominantly involve teaching children aged 4-15, with some options for adult classes.
15. iTutor
iTutor offers competitive wages and a flexible schedule to qualified educators. Committing to a schedule with 10 peak hours, including four during weekends to accommodate ESL students primarily based in China, Taiwan, and Japan, is necessary. Contracts span a year, and opportunities for overtime are available.

Hurix's e-learning solutions prioritize delivering an optimal learning experience for students. Utilizing cutting-edge technology, Hurix tailors digital learning solutions to cater to the unique needs of each learner, positioning it as a top-notch online teaching platform. Hurix also provides personalized learning paths and adaptable content to meet specific organizational or individual requirements. Their extensive suite of e-learning solutions empowers learners to acquire knowledge, hone skills, and stay abreast of the latest trends in their respective fields.
As the largest higher education technology company in South Asia, UpGrad stands out as a prominent online teaching platform. Offering a diverse array of online courses across various domains such as science, technology, business, marketing, and finance, UpGrad caters to a wide audience. Additionally, UpGrad is a valuable platform for educators, providing them with robust opportunities for growth and dedicated career support.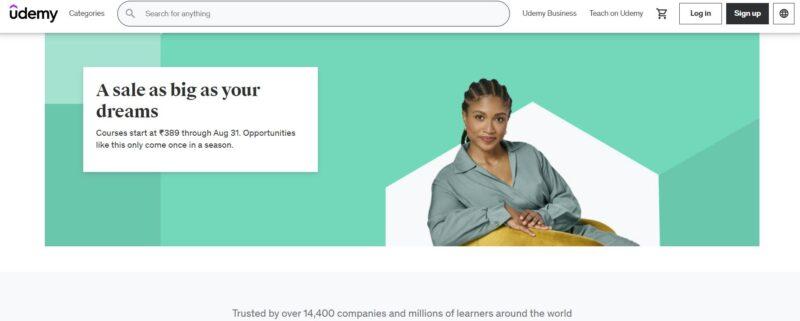 Udemy is a standout platform for creating and monetizing courses. Educators have the ability to design courses, share them with students, and earn revenue from their offerings. This online learning platform features video courses covering a wide range of topics, from technology and design to photography and business. Moreover, Udemy collaborates with renowned universities globally to curate courses that are relevant to industry needs and engaging for learners.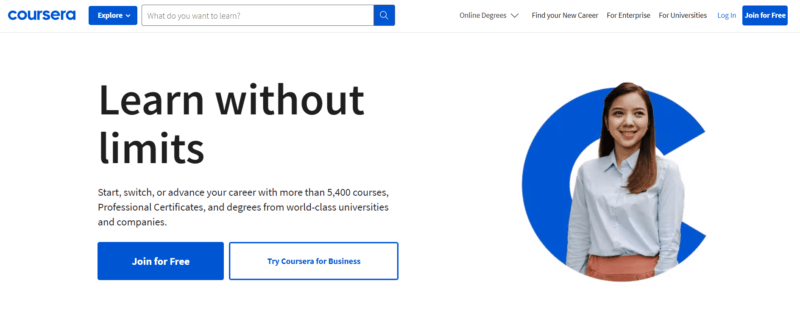 Coursera, a leading massive open online course (MOOC) platform, enjoys immense popularity as a teaching and online learning hub. With a vast selection of over 7000 courses spanning subjects like computer science, engineering, and business, Coursera provides educators with the necessary tools and resources to embark on their online teaching journey from anywhere in the world. The platform also offers certifications, enhancing educators' credentials.
Edureka serves as an online teaching platform that enables educators to deliver lectures and courses to students worldwide. Offering an array of features and tools to facilitate effective course delivery, Edureka covers a wide spectrum of courses, from introductory to advanced, across various subjects. Educators also have the opportunity to create and publish their own courses on the Edureka platform.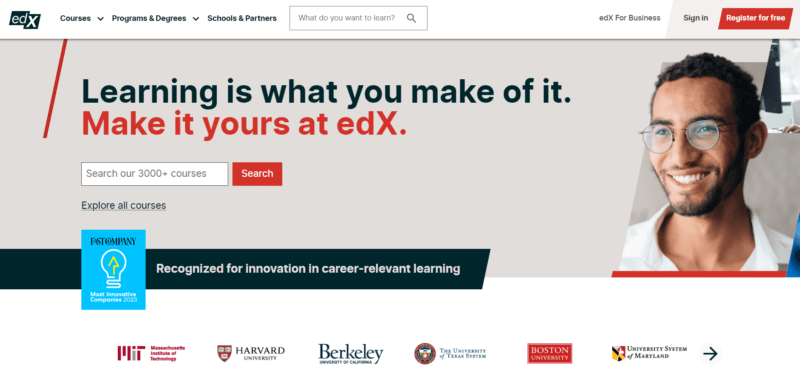 edX stands as an online platform where educators can create and share courses from leading universities. It's an ideal choice for educators aiming to deliver lectures and courses to a global student base, regardless of their teaching experience level. edX provides a user-friendly platform for educators to create and share their knowledge with students.
Udacity is a specialized platform focusing on teaching computer science, engineering, and related technical subjects. The platform offers course materials, tutorials, and project-based learning. Educators are equipped with various tools to enhance their teaching experience, and the onboarding process is designed to be simple and accessible, even for those new to teaching.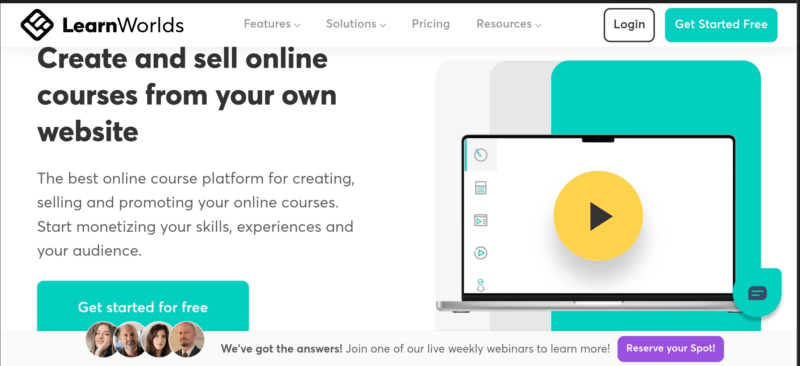 Learn World empowers educators to craft and share courses, disseminating knowledge to students worldwide. The platform offers a range of features to support educators in course creation and delivery, including video hosting, course outlines, and student management. Additionally, Learn World fosters a community where teachers and students can connect and collaborate on projects.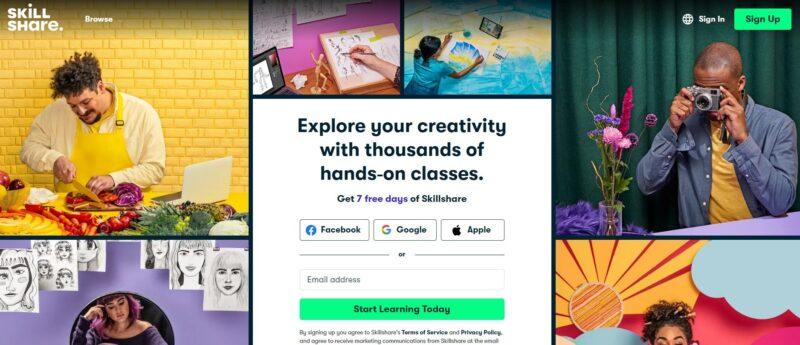 Skillshare boasts an extensive array of courses covering diverse subjects, from business to design and education. The platform offers a teacher certification program, enabling educators to attain certification in their chosen fields. With its creative course offerings, Skillshare appeals to teachers across various subjects. The courses are thoughtfully designed and easily navigable, making it an excellent platform for educators.
Teachable is an online teaching platform catering to educators, including classroom teachers, adjunct professors, and curriculum specialists. Through Teachable, educators can actively engage with their students, monitor grades and assignments, and foster a personal learning community. The platform equips educators with assessment tools and resources to create engaging and interactive class content.
Simplilearn stands as an exceptional online educational platform, offering a dynamic space for knowledge sharing and networking among teaching professionals. It provides an opportunity to assist students, enhance one's career, and generate substantial income. The primary goal of Simplilearn is to foster a platform where proficient trainers and experts relevant to various industries collaborate to develop compelling, informative content for students.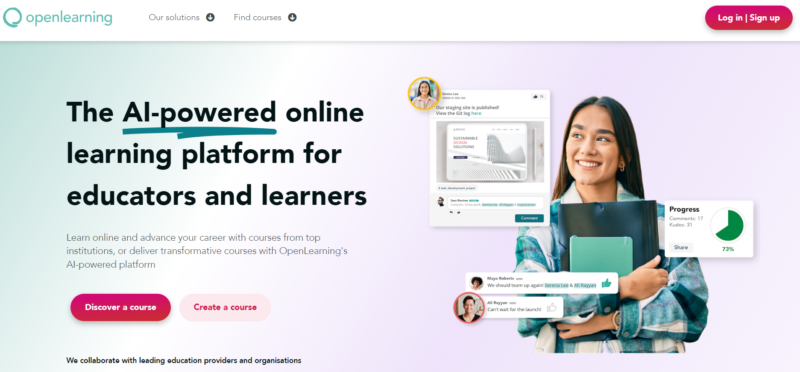 This is an online education platform designed for educators with an entrepreneurial spirit who possess the capability to create and deliver valuable learning experiences to students. On this platform, you have the opportunity to develop and promote your own online course within its framework.
Their core belief revolves around the significance of high-quality content, striving to offer the best course material for the subject you teach. Open Learning equips you with all the necessary tools to craft, design, deliver, and market your course effectively. By handling the technical aspects, Open Learning empowers you to invest your time and efforts in crafting and delivering exceptional educational content.
Course Craft stands as a significant online educational platform catering to educators. It offers a user-friendly interface, granting educators the liberty and adaptability to craft a diverse range of courses. There are no limitations imposed regarding the quantity of courses you can provide or the volume of instructional content you can generate. When a student enrolls in your course, you receive direct payments via PayPal.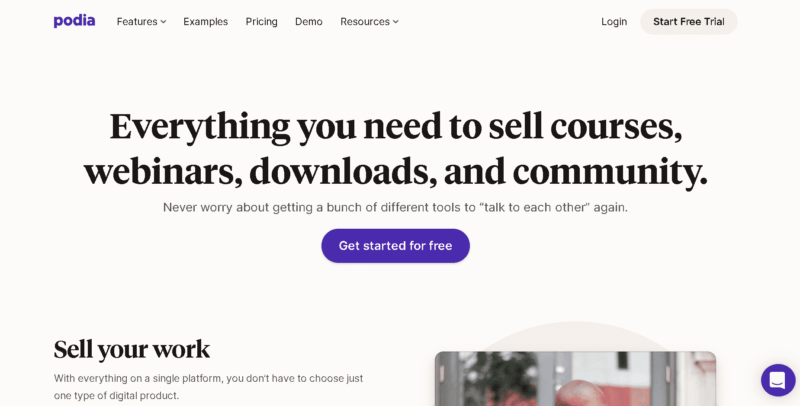 Podia stands as a prime example of a top-tier online teaching platform, offering diverse avenues for earning. Beyond marketing your courses, you have the option to monetize various forms of content such as e-books, audiobooks, and PDFs. Furthermore, you can engage students through webinars and memberships, generating additional income. The platform allows unlimited content uploads for teaching purposes, encompassing videos, texts, quizzes, and more.
Engoo provides a flexible work schedule, granting you the freedom to teach from any location at your convenience. There's no obligatory set number of hours, giving you the flexibility to teach as much or as little as you prefer. Engoo offers pre-arranged lesson plans, enabling you to focus solely on your teaching role. It also connects you with students globally, broadening your reach.
Notably, Engoo ensures 24-hour support for its educators. Starting your teaching journey on Engoo involves a straightforward process, commencing with registration and a basic automated English test. Subsequently, the tutor recruitment team will provide training materials, preparing you to commence your teaching duties. This platform remains highly sought after for online teaching opportunities.
How to Build an Online Course Business on Your Own Platform?
Many entrepreneurs opt for WordPress, a free and versatile Content Management System (CMS), to create websites for their online businesses. While WordPress was initially designed as a blogging platform, it has evolved to accommodate a wide array of functions. By integrating a suitable Learning Management System plugin, WordPress can serve as an effective teaching platform for delivering restricted access lessons and educational content to students.
In essence, utilizing WordPress to construct and market online courses through your website provides the only solution among the options discussed in this article that grants you complete control over your teaching venture. This control encompasses various aspects, including:
Identifying your target audience for courses.
Strategizing and executing marketing approaches for your courses.
Determining course pricing.
Scheduling sales and discounts.
Tailoring the format of course material (text, audio, video).
Customizing the visual design of your course website.
Managing student contact information.
Establishing course evaluation methods.
Accessing reporting and analytics.
Choosing to teach in cohorts or individually.
Implementing drip scheduling for course material.
How Much Money Can You Earn by Teaching Online?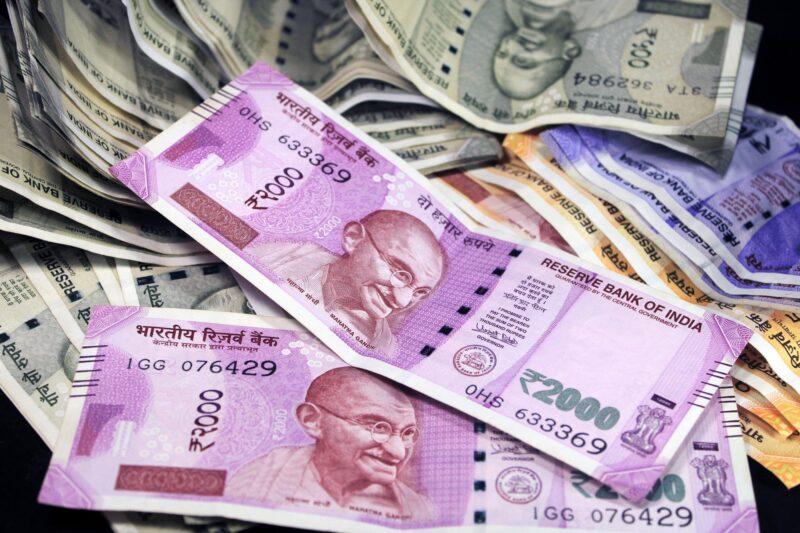 The compensation for online teaching varies significantly based on the educational platform and location. For instance, the average pay for an online teaching job across the United States stands at $21.71 per hour. In regions where demand is higher, particularly for experienced instructors, the pay rates are even more lucrative. On the other hand, online tutoring operates on a time-based model, with tutors typically earning between $20 to $60 per hour. The pay scale often hinges on factors such as the complexity of the subject being taught, ranging from challenging topics like Calculus to fundamental ones like basic arithmetic.
For those opting to develop and sell their online courses, the potential financial returns come with both high risk and high reward. Earnings from selling courses, hosted on platforms or private websites, can span a broad spectrum — anywhere from $500 to an impressive $500,000 annually, contingent on the subject's popularity among consumers.
How to Prepare to Teach Online from Home?
Skill Mastery and Readiness in Technology: Develop expertise and readiness in technology to stay at the forefront of advancements and applications.
Create a Productive Workspace: Set up an efficient working environment to enhance productivity and facilitate focused engagement.
Promote Interactive Dialogue: Foster lively discussions that encourage active participation and diverse perspectives within the learning environment.
Ensure Open Communication: Establish regular and transparent channels of communication to facilitate an open dialogue with students.
Inspire and Encourage: Motivate students through encouragement and inspiration, fostering enthusiasm for learning and growth.
Clearly Define Course Expectations: Articulate clear expectations for the course, helping students understand goals and benchmarks for success.
Maintain Active Presence: Be consistently engaged and available, ensuring a supportive and active presence throughout the educational journey.
Pros of Teaching Online from Home
Enhanced Personal Connection: Online teaching fosters a more intimate student-teacher relationship due to one-on-one interactions, encouraging students to comfortably engage and ask questions without inhibition.
Flexibility in Time and Location: Online classes offer the flexibility to tailor study schedules and choose locations, allowing both students and teachers to adapt learning to their convenience and circumvent geographical constraints.
Comfort and Accessibility: Students and educators can participate in classes from their preferred setting, eliminating the need to commute, ensuring a convenient and accessible approach to education.
Efficient Communication: Online platforms promote focused communication, aiding learners to engage better and enabling easy questioning through chat features, enhancing the overall teaching and learning experience.
Improved Teacher Access: Online classes facilitate consistent teacher-student interaction, bridging gaps in accessibility and ensuring a reliable connection for educational guidance.
Optimized Study Focus: Learning from a comfortable environment enables students to concentrate better, fostering a conducive atmosphere for focused and undisturbed study sessions.
Enhanced Learning Opportunities: Online classes save time and energy spent on commuting, allowing for increased learning hours and an enriched educational experience, ultimately promoting more profound knowledge absorption.
Safety-Conscious Learning: Online education provides a secure learning avenue, particularly important during the pandemic, ensuring both students and educators can continue their educational journey while prioritizing safety.
Utilization of Modern Teaching Tools: Educational platforms offer an array of modern teaching aids, facilitating an improved teaching and learning process, encouraging educators and students to adapt to contemporary instructional techniques.
Heightened Engagement: Online classes witness heightened student engagement and interactivity, showcasing a positive shift in students' willingness to participate and contribute to the learning process.
Also Read: Best Online Tutor Jobs in India
In conclusion, remote teaching offers unparalleled flexibility and access to a large audience. The virtual classroom creates a dynamic space for effective learning, ensuring continued educational growth. As technology evolves, the potential for online teaching remains promising and expansive.